The shelves are very useful, mainly for all of those that have small rooms and many things to accommodate. The shelves are more than convenient when it comes to not having much space and wanting to take advantage of the area of the walls to decorate or to organize, because sometimes many things that would look messy are flirtatious with these beautiful shelves.
On the walls we find perfect surfaces to store all our things. We can place furniture, paintings and of course, shelves.
We all have shelves at home, and we usually buy them to fulfill a specific function: to store books, to put organizing boxes, children's toys, etc. But what happens when we are thinking about how to redecorate and reorganize our things, or when we want to go one step further and play with the decoration? What to do with those blanks that we don't know how to fill?,
Perhaps it is time to place new shelves in your home.
One of the attractive things about this decoration is that the shelves can be made of different materials such as wood, resin, etc. but they are also different in color, white, brown, and that adds novelty and makes them look very varied and modern, but they also have the aggregate that are of different sizes and shapes and so you can use to place either a class of ornaments maybe your books or several things that you like and interest you … in a creative and clever way.
In this article, we will present to you this idea to decorate with shelf, some basic shelves of different materials such as PVC and resin that become an addition to the decoration and are imposed by its beautiful design. Now you can go thinking about those trophies at home, the cute little vases that you have received as a gift or so many ornaments that seem to have no place and that we want to exhibit, on these shelves you can show them off and decorate the wall or walls very beautifully.
We will tell you some ideas on which you can be inspired, and we will leave you a super simple guide with elements that you can easily incorporate and that will give your shelves a unique style.
35 Wall Shelving Ideas That are Functional and Adorable

In a house we can accumulate many objects, and we are always looking for ways to organize all these items and sometimes we get mad because everything is messy. One of the most used options to keep an organized house are shelves.
Shelves can be your best allies to tidy up all your accessories. They are also the ideal complement to decorate and give a more personal touch to the spaces of your house. They can even serve to divide rooms and different environments.
Today, we want to show you the best shelf ideas to give a modern, minimalist or rustic touch to your home. But first, here are a few pointers you can think about when looking for your shelves:
Living Room Wall Shelving Ideas
The most basic thing is to place planks supported by squares that support them. It will be the style of the wood, the squares and the size of the shelf that will give us one or another sensation.
You can also paste woods in geometric shapes; Hexagons that mimic a honeycomb are a great idea.
If you have some boxes left over that you no longer use or you have rescued old fruit boxes, you can stack them so that you create a set that serves as a closet or a bookcase. You will avoid making holes in the wall.
Another idea in which you will not need to drill the wall, will be to acquire a wooden plank and place shelves together on that same plate. A simple and economical way to place any type of item you want.
You can use old beams and cover a whole wall with rustic shelves. You will get a distinctive touch and at the same time your house will be much more organized.
Bedroom Wall Shelving Ideas
You can place fruit boxes on the wall, restore them and paint them. An original way to create a shoe cabinet or closet on the wall.
Not only can you place straight shelves, dare to explore and get a piece of wood that has a round finish. It will give a different touch to your bedroom.
Bathroom Wall Shelving Ideas
In bathrooms with little space you can place boxes to store the items you use the most. So you will have them on hand and ordered.
Another option would be to hang a box with the help of a hook and a rope. You could use both the inside part and the surface of the box itself to place all your stuff. It is ideal because you won't have to drill the marble of the bathroom
The shelves serve to make the most of the space we have. Currently the newly built apartments or houses are not as large as years ago. For this reason, many times we are obliged to devise them in order to effectively store all our things.
With this type of shelves, whatever you choose you will have no problem. In addition, they look great inside these homes, it is cozy and its care is not complicated at all.
You can also place shelves in the kitchen or in the garden. There is no problem where you put them as long as they do not bother you and help you maintain an organized, clean and neat home.
we will leave you some ideas that may well inspire you to know how you could add them in your room and thus be able to integrate them with the colors of your walls and with the decoration that you already have. Dare to try some of these ideas to get more space at home, ideal shelves; some simple to place and that will give you very good results.
You will surely like them!
1. Black Shelving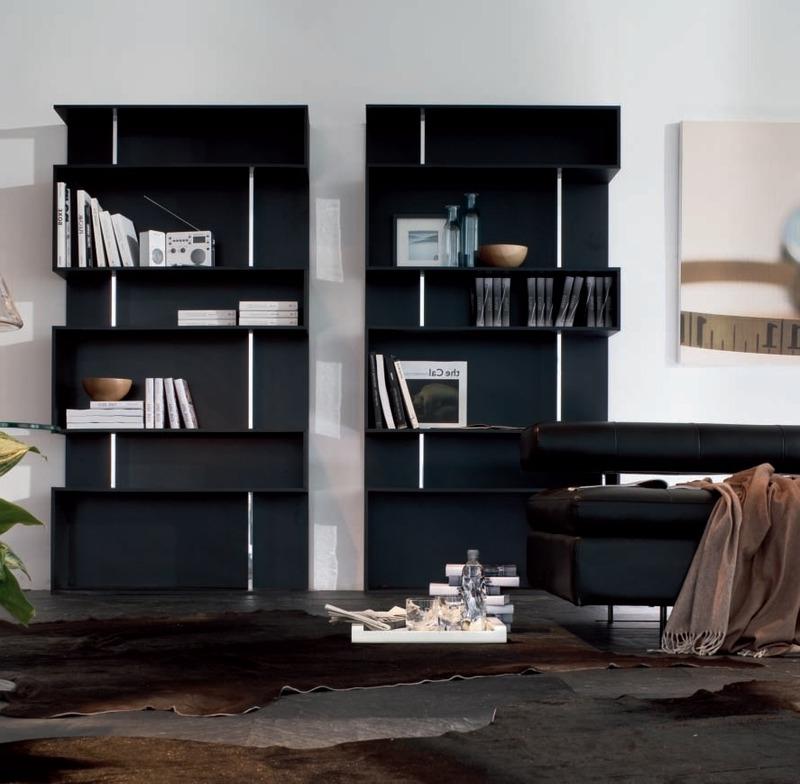 These are large shelves ideal to store art and books. The combination of the black wood with the silver details is the perfect match for the room's style, modern country we could say, with the rough leather carpets. These shelves are ideal to use on any eclectic, modern nor neo modern decoration.
2. Shelving Made Out Of Boxes To Place In The Wall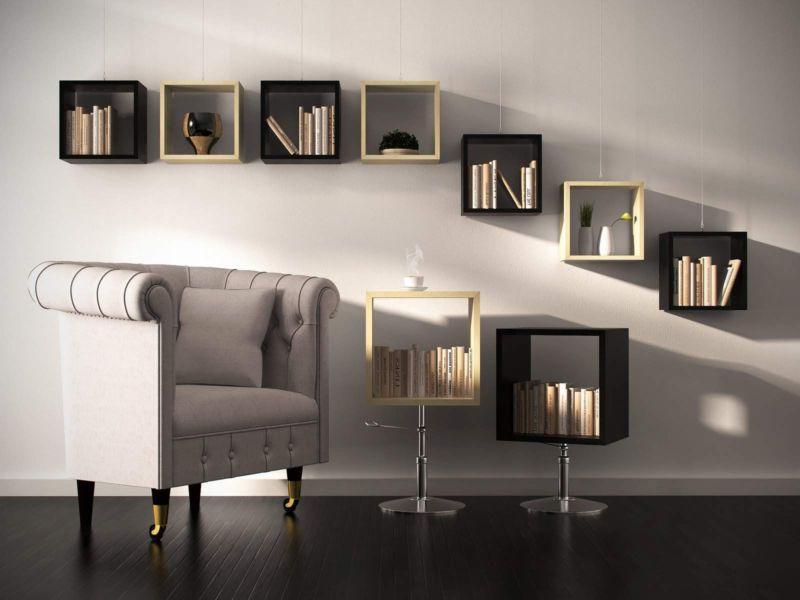 This is a very popular idea when it comes to modern interior design. The use of boxes to place on the walls, or even o the floor, as you can see here, is an idea that always works great. If you do not want to ruin your walls, you can always hang them from the wall, as it has been done on this room.
3. Cool Ideas For Wall Shelves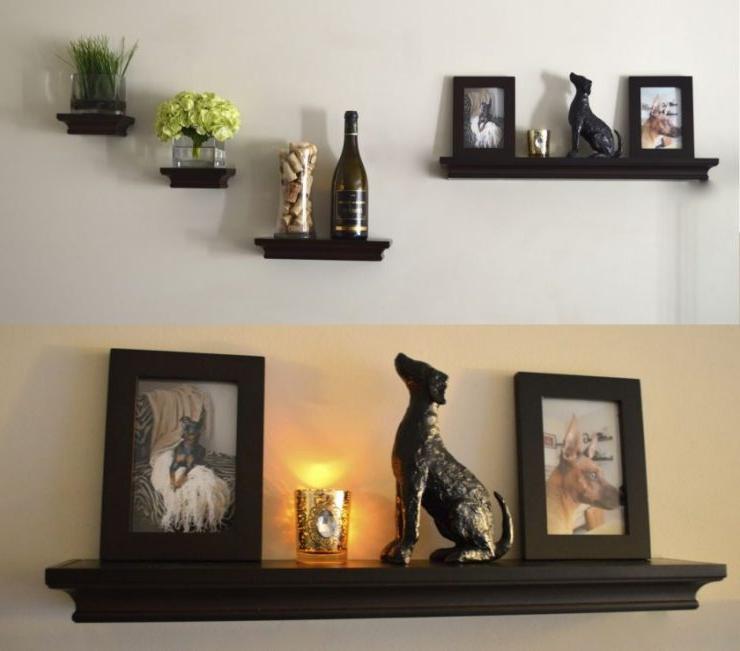 These shelves have one level, and with their nice style and varied sizes, they are great to locate anywhere you want. It is just a matter of choosing the wall, seeing the available space to place them and then picking up the right one to decorate your wall. In this example, there are 4 shelves, all with different lengths in order to create a more attractive effect.
4. Shelf For A Corner Wall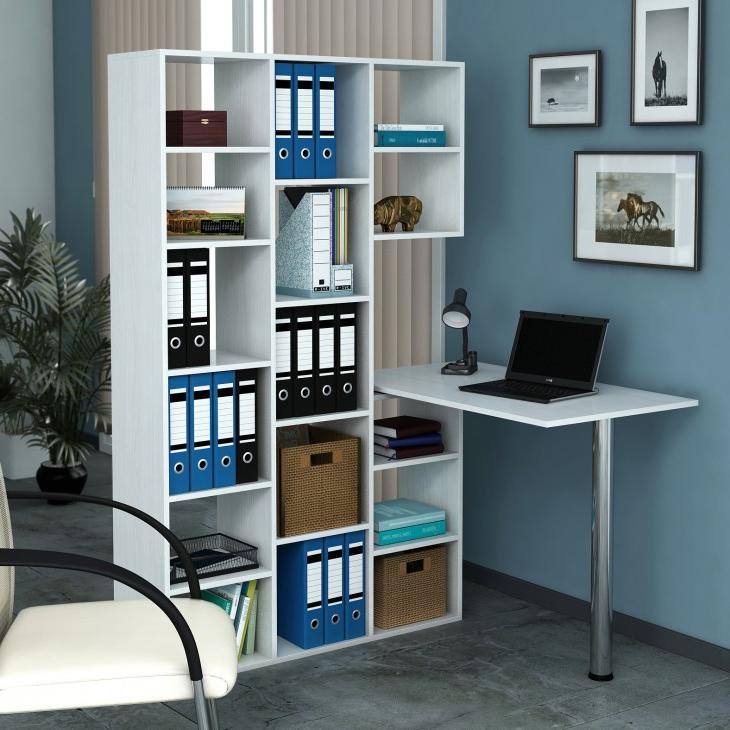 This type of shelf is ideal to place in a corner wall, to maximize the use of space and add a different item to your decoration. Just locating this piece on any wall could change the whole room's style, because this piece is really modern. Made in MDF wood, this model is very commonly used on offices and libraries.
5. Cozy And Soft Shelves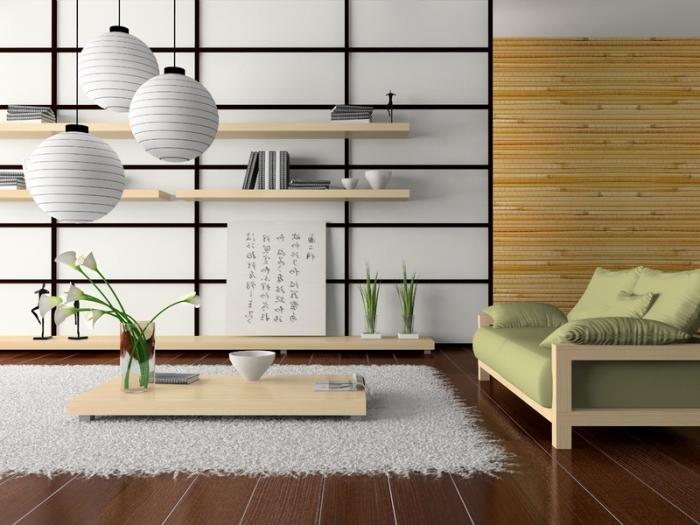 In this oriental design you can notice how shelves are still a great idea. Although this style of interior design normally lacks of these elements, in this case the home owners decided to take the challenge and create this soft looking shelves that matches greatly the cozy design of the whole room. There are 2 superior levels to store books, discs and small items, and a bottom shelf that have enough height to showcase a large Chinese painting.
6. Creative Gyratory Shelves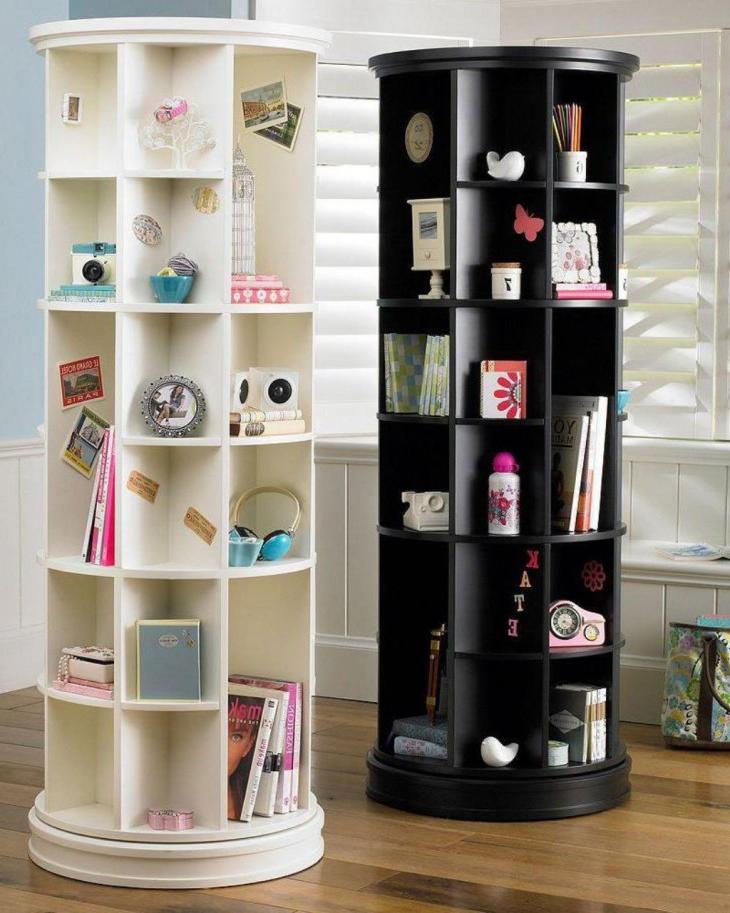 If you are looking for shelves but you want something that is modern and that make people remember, then these shelves are perfect for you. Not only their design is tubular, but also the shelf is actually movable. You can turn it into any direction fast and easy to reach anything you need with no effort. This shelf features different sizes level in order to allow you to store anything you need.
7. Decorative Library Wall Shelving Ideas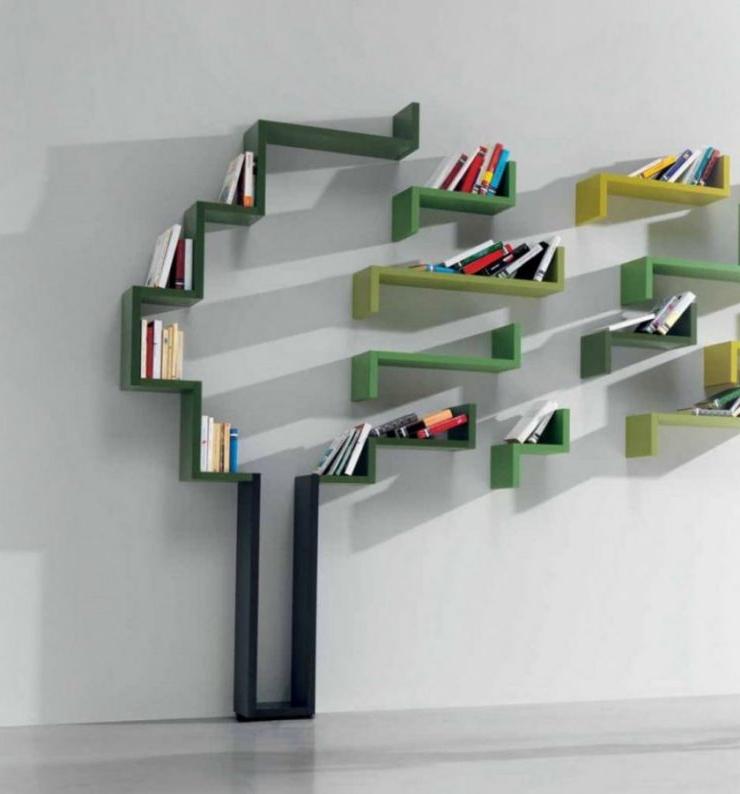 Placing shelves in your walls does not have to be boring. You can find interesting and very artistic models like this one, that combines the shape of a tree with a few extra particularly shaped shelves to complete the style. This is a very modern style that could benefit you greatly.
8. DIY Shelf For Any Room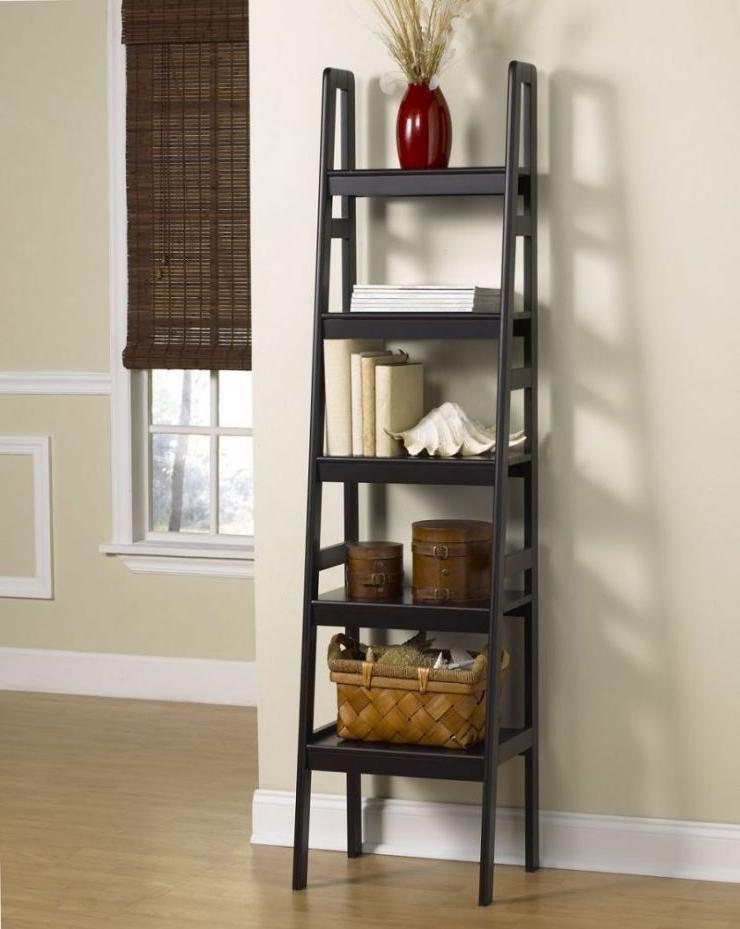 This shelf is very easy and affordable to acquire, because it is done by restoring an old furniture piece, such as a ladder or an old storage unit. This DIY project is easy and fast to do. It is just a matter of finding some painting and the perfect place to place it.
9. Corner Shelf Made Artisan Way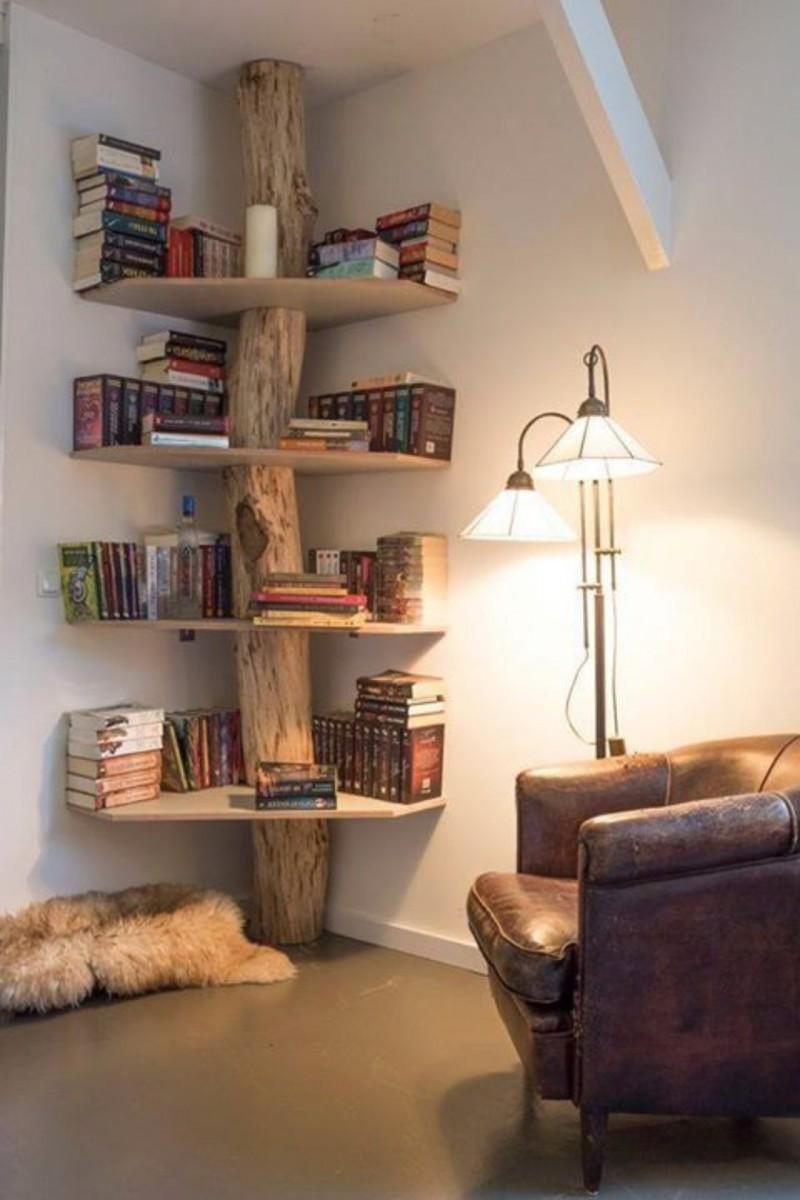 If you have some building skills, you can go for something made by yourself, like this great looking shelf that was made by using a tree trunk and a few layers of wood. The magnificent shelf becomes into something more, transforming at the same time into an sculpture that enhances the vintage style room.
More Wall Shelving Ideas On The Next Page…