Flowers and other plant life are a piece of living décor that are beneficial not only aesthetically but also for your mental health. Outside of your traditional garden beds pots and planters are a great way to display your plants in a different way, which adds colour and texture that expresses your design style outdoors.
25 Flower Pots And Planters To Up Your Plant Game

For those who don't have the luxury of having their own gardens pots and planters are a necessity to make plant life a part of their home. They can also be the vehicles to bring plants onto your patios and into your home so you can enjoy the health and wellness benefits that's plants provide throughout your whole property.
So if your garden could do with a little bit of a make over here are:
1. Bulbous Rustic Plant Pots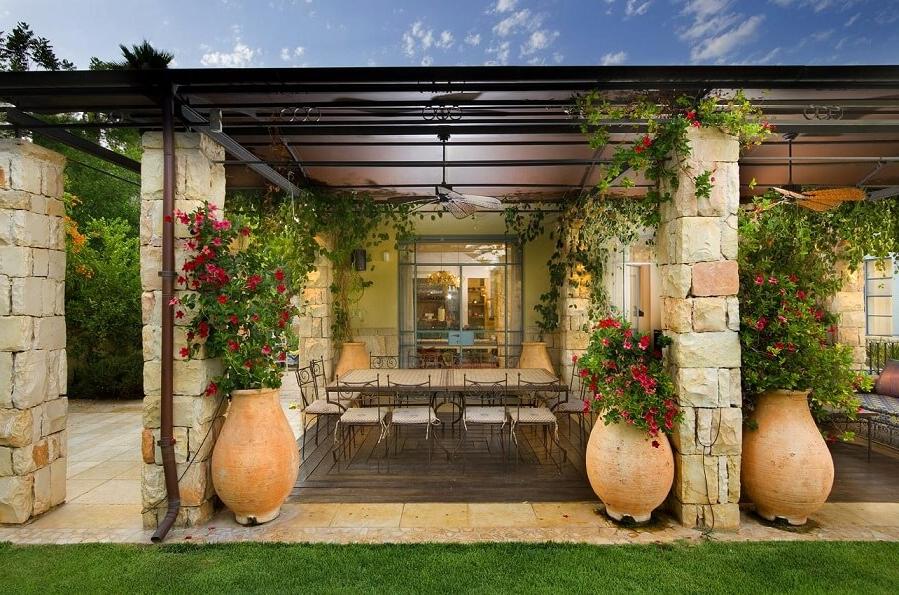 These big Italian style vase style pots are perfect for this rustic country style home. Their large scale makes them hard to ignore and are ideal to pair with tall, flowering plants that frame the patio in a spray of colour. The large pots are used throughout the space, flanking the stone-faced columns, as a bold decoration that ties the space together.
2. Upcycled Chair Planter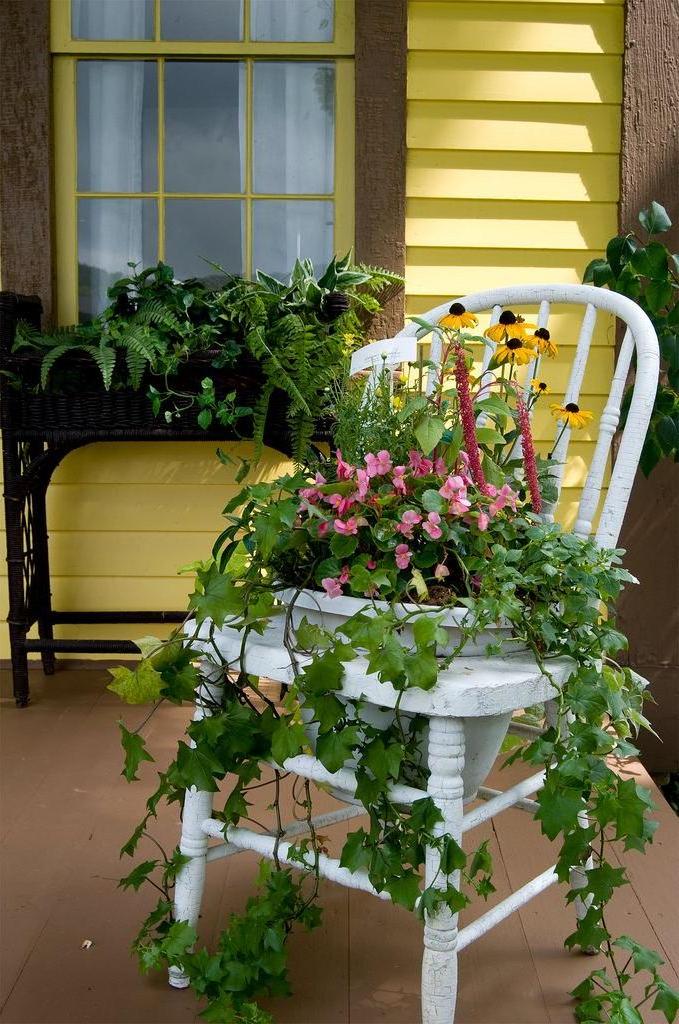 Upcycling is a technique that lends itself perfectly to creating some truly unique and personalized planters. This eco friendly style can be easily DIYed using an old chair at home that isn't structurally sound anymore or a thrifted option, which can be picked up for relatively cheap. The beautiful vintage chair has been white washed with acrylic paints with a shallow pot placed on top, overflowing with flowers and draping plants that reach towards the ground.
3. Four Tiers Of Flowers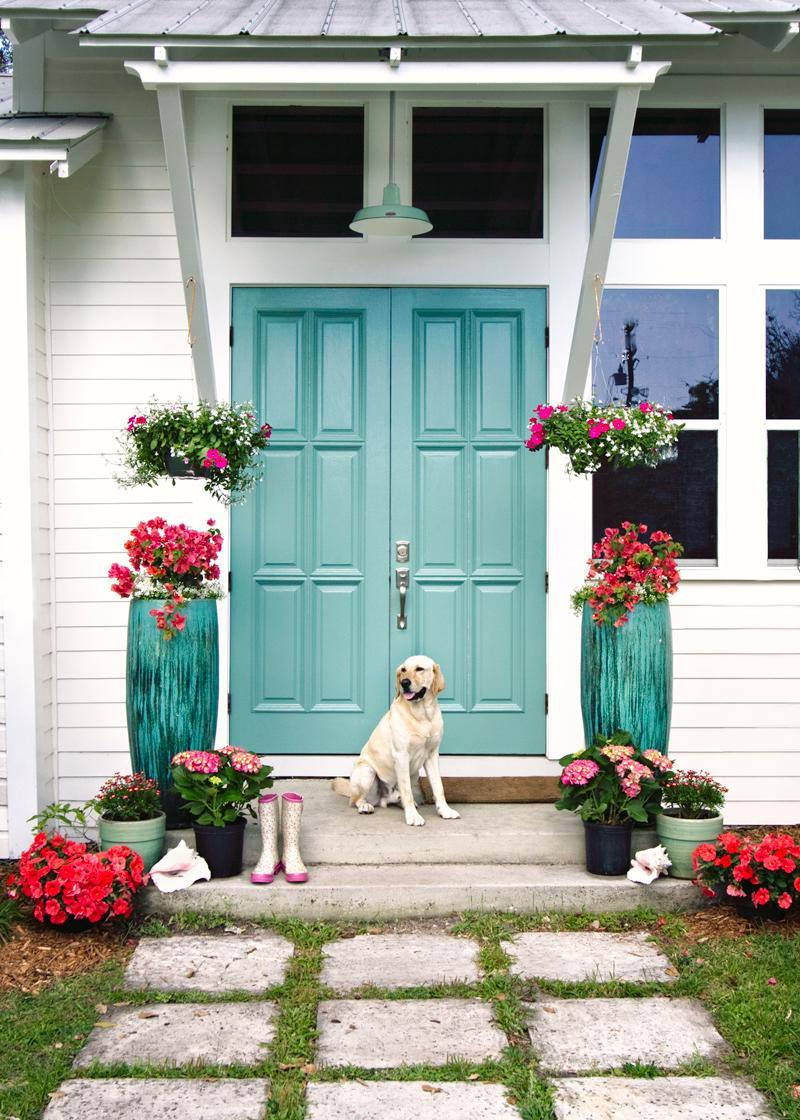 This delightful little doorway has artfully used tiers of planters to create an entrance that is both symmetrical and natural. Starting at the bottom the four layers of pink and red flowers are made up by flowering bushes planted in the ground, teal pots on the bottom step, tall blue plant pots on the step above that with hanging planters suspended from the porch roof to finish the design off. The mosaic of bold colour created by the combination of planters and blooms makes the entrance to your home look enticing and inviting through the power of nature.
4. Simple Concrete Planters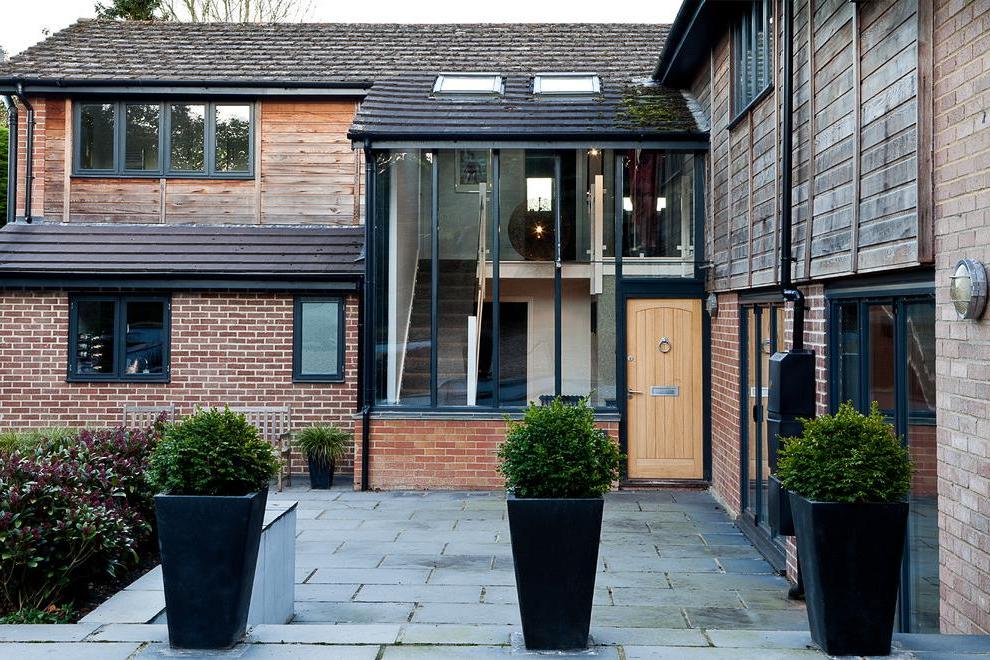 This triplet of black concrete planters sitting on a concrete flagstone steps do the double duty of bringing plants onto a patio space while also acting as an attractive alternative to a balustrade. Round bushes top the elegant conical planters, which results in a look that is simple and classy. The black pots have been carefully chosen to tie in with the black window and door frames across the façade for a wholly cohesive exterior.
5. Wall Mounted Crimson Pots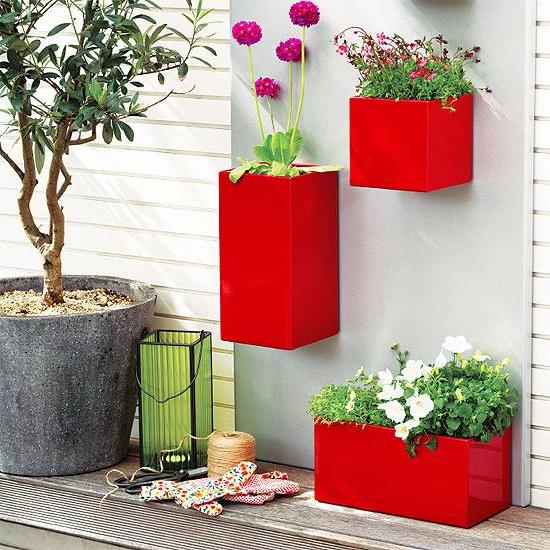 These vibrant wall mounted pots are a fun way to display plants in an unexpected place. The grey wall panel provides the structure as well as a beautiful neutral backdrop to the bright colours of the flowers and the pots they live in. The varied design has been created using pots of three different shapes and sizes pots hung at different heights in an eye catching crimson. The three dimensional wall mural is anchored to the patio through the singular pot sitting in the floor.
6. Pebbled Triplet Flower Pots and Planters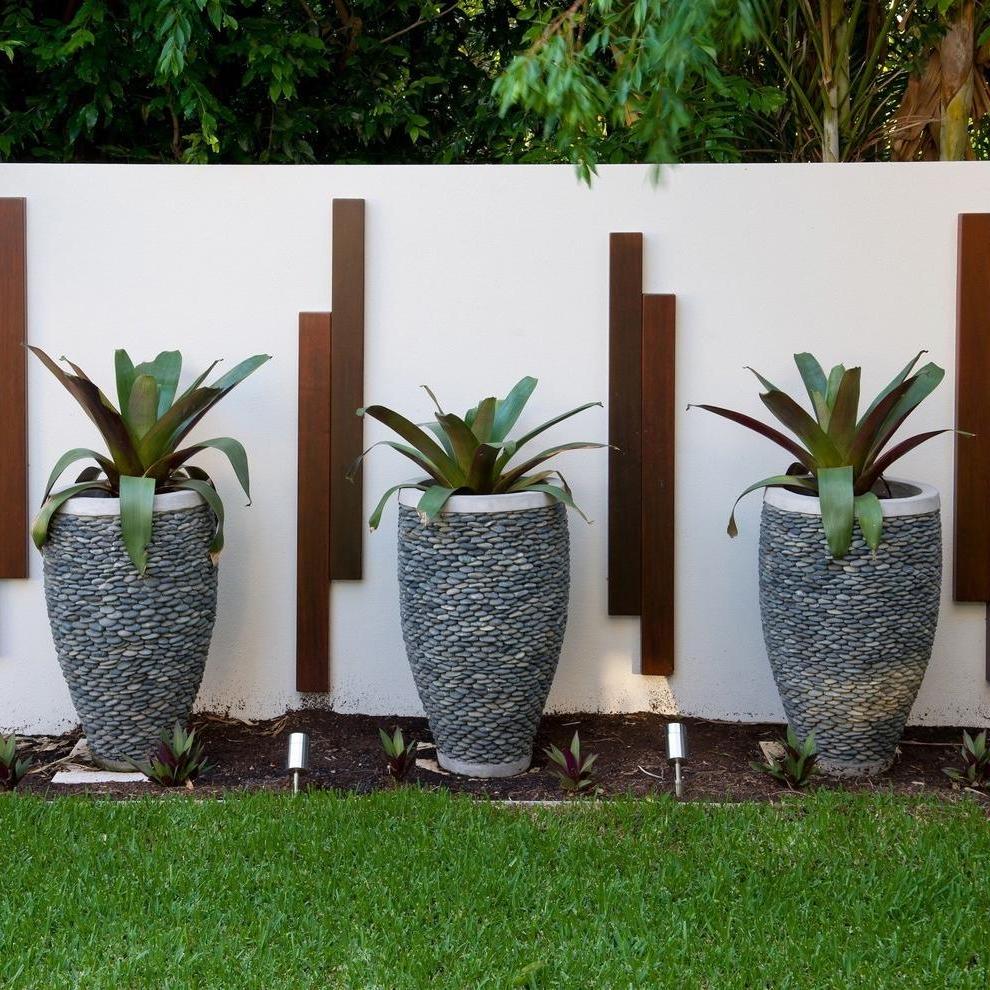 This elegant symmetrical design has collaged a variety of materials in neutral shades to form this gorgeous garden decor. The three large pots are made of cast concrete that have been embedded with layers of small grey pebbles, which forms a mosaic of grey tones across the surface. From inside the pots some tall, green plants erupt in a spray of gently flopping leaves. The three matching pots have been alternated with offset timber wall treatments that team up to create a rich texture against the white back drop.
7. Stacked Concrete Block Planters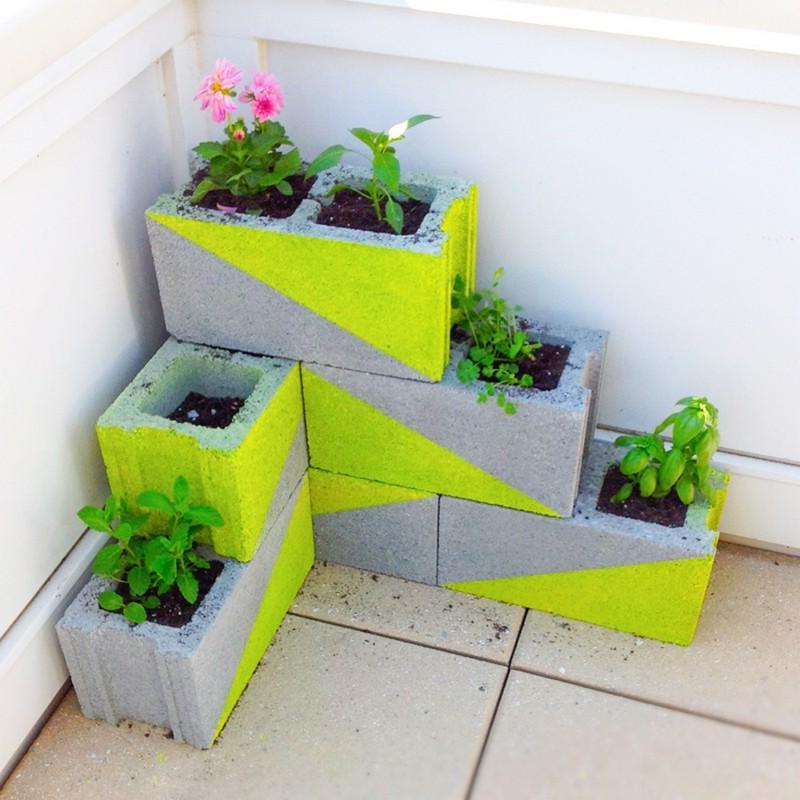 If you're a fan of DIY but don't have that much experience never fear you can upcycle some premade concrete blocks to create multi-layered planters like these. Concrete blocks have two convenient holes built into them so all you need to do is set the blocks on a base, stack them in the shape of your choice and fill those holes with soil. You can easily personalize the planter and add some colour to your courtyard with acrylic paint.
8. Large Balcony Flower Pots and Planters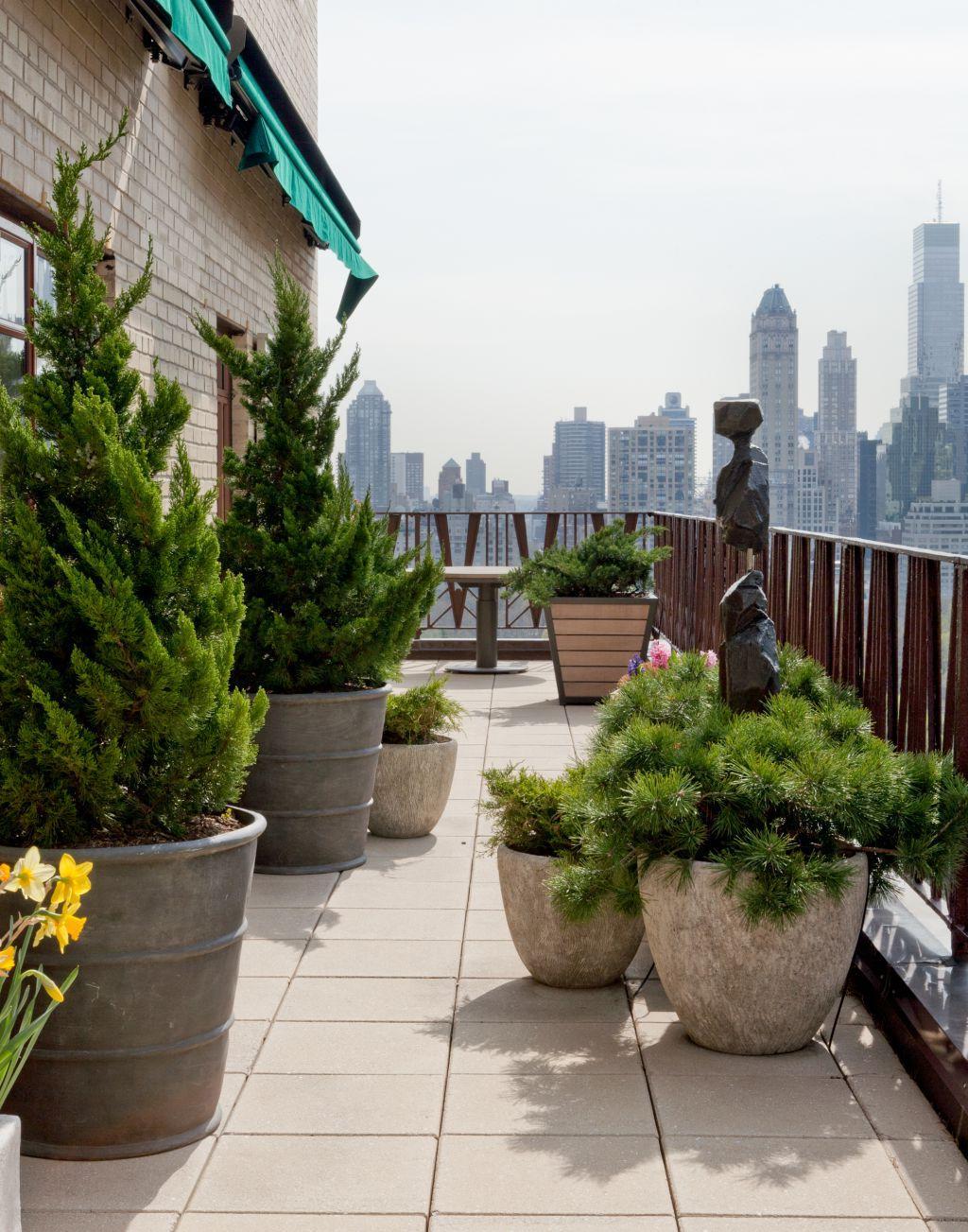 This gorgeous city penthouse has maximized on its views with a glamorous wrap around patio. The airborne space has been decorated by three different styles and sizes of pots dotted along its length. The combination of these three: short potbellied mottled pots with fluffy bushes, tall grey ribbed barrels holding small fir trees and the conical wood paneled planter in the distance breaks up the monotony and creates variety within the large space.
9. Upcycled Wooden Palette Planters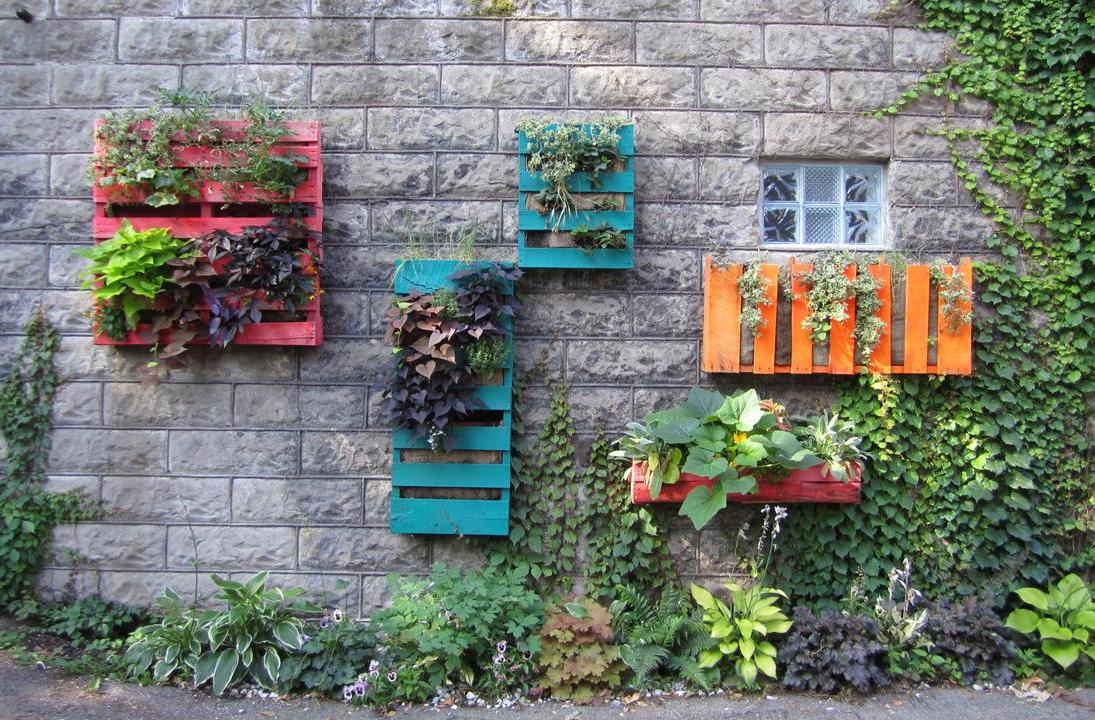 Upcycling palettes is a really popular trend right now because of their adaptability and eco friendly material. Here they have been mounted on a stone wall and stained a mosaic of bright colours that lets the wood grain shine through the tint. This eclectic collection have made use of the built in hollows in the palette's frame that can be lined with a planting medium or used to hang plastic plant pots to create a series of planters. This rainbow has been connected to the small flower bed underneath it by a creeping swath of ivy.
10. Glowing Orbs Of Flowers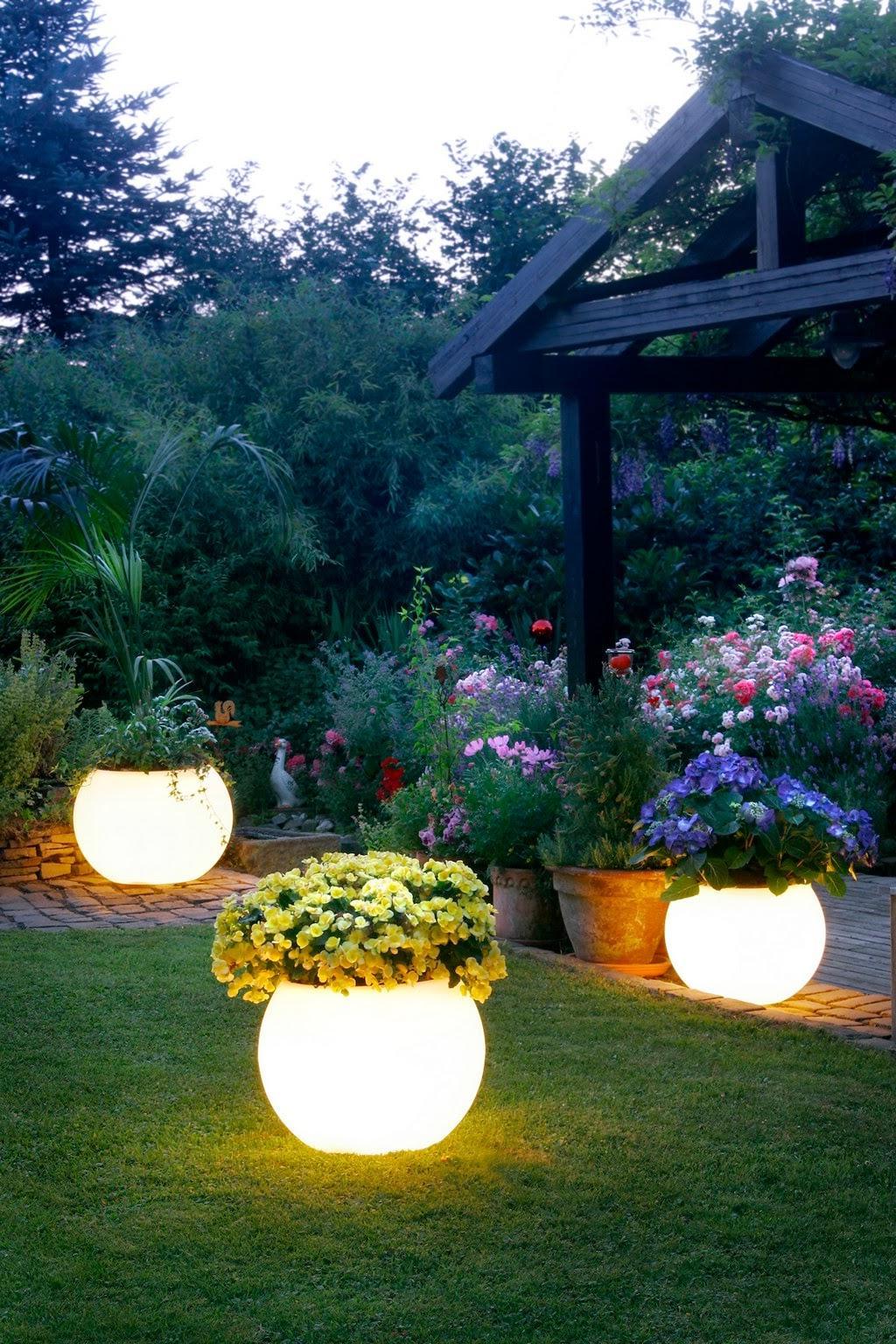 These innovative round pots light up at their centre so the flowers appear to be hovering over a softly glowing orb. This unique style is quirky and adds an air of whimsy to your garden. During the day the pots look like a simple white round pot but once the sun goes down they transform into illuminating other worldly beings. This combination of garden lights and planters makes for the perfect two in one garden decoration.
11. Raised Bed And Hanging Baskets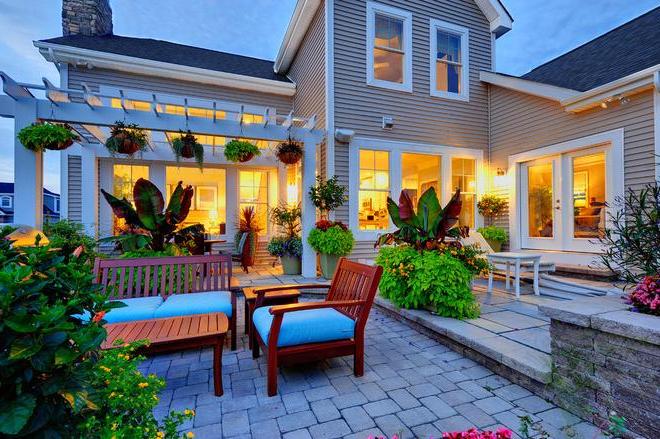 This classic ship lapped house has used a collage of planters in different forms to design their patio space. A string of hanging baskets spilling over with greenery and flowers decorates the lean to roof close to the house. Tall beige planters with small trees run around the house's perimeter and finally the outdoor lounge is surrounded by stone faced raised beds filled with layers of plants that separates this socializing space within the large space. Dividing the space using permeable plant life makes the space feel comfortable and provides you with a collection of interlocking spaces all with their own unique use.
12. Graphic Monochrome Pots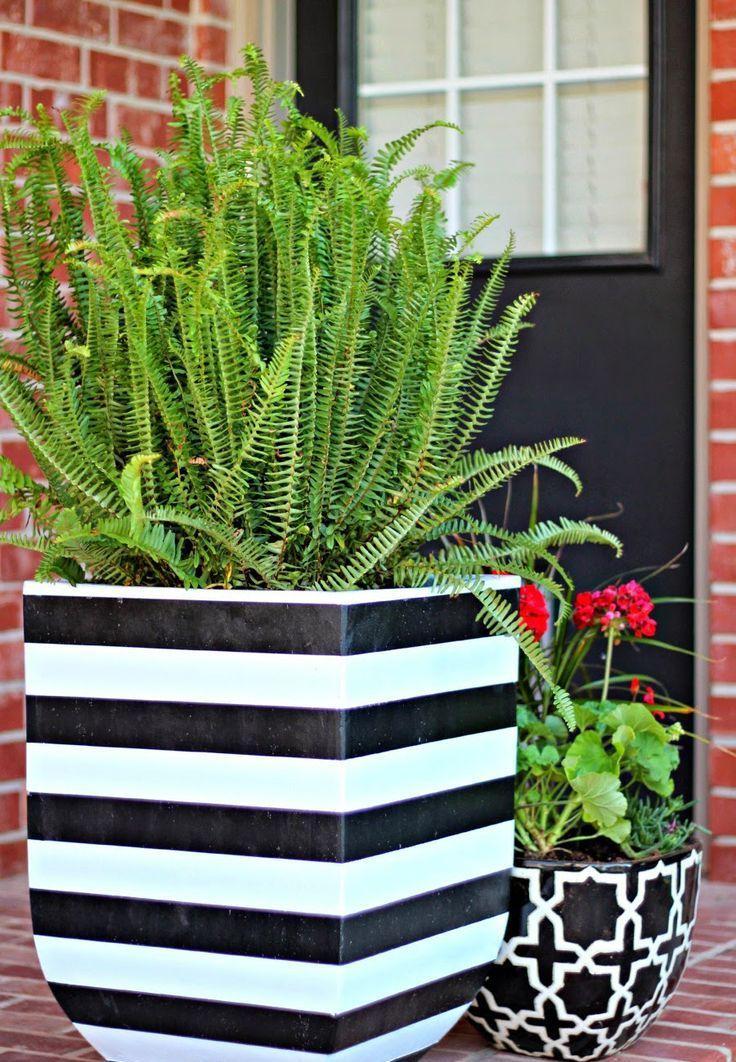 These quirky pots are an example of how to pair together mismatched pots using one common thread. These two coordinating but not matching pots of drastically different shapes and sizes are united by their black and white graphic paint jobs. This shabby chic style is something you can execute at home with some cheaply bought hardware store pots and acrylic paints as a fun DIY project. If you choose to make them yourself you have complete freedom to customize the pattern depending on what you like. The lack of colour also serves as a plain canvas for the makes the vivid colour of the plants stand out against.
13. Concrete Heads With Floral Hair Dos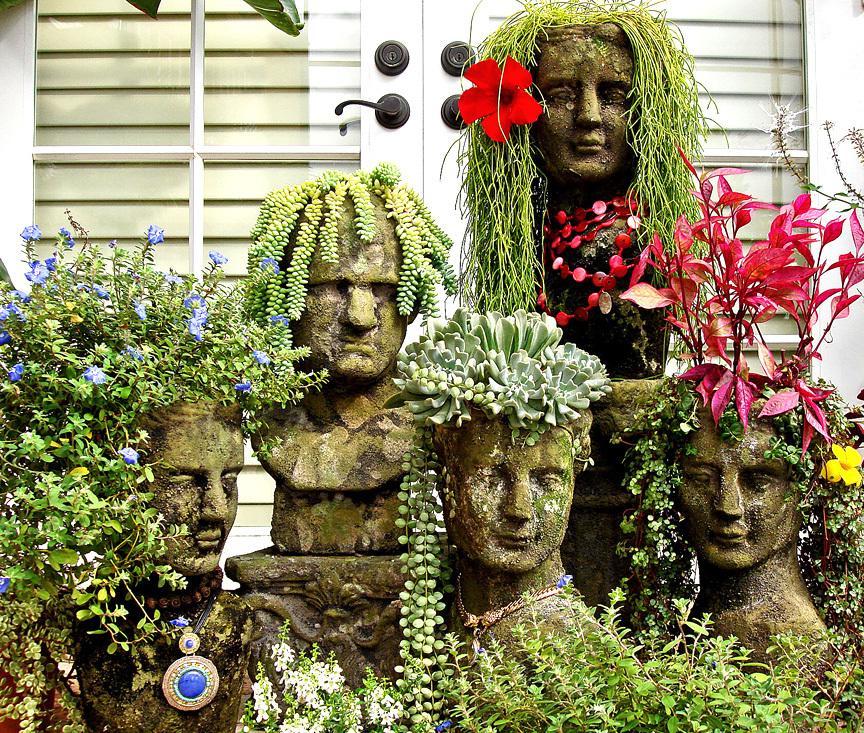 If you enjoy expressing your sense humour through your landscaping this style of pots will be right up your street. This little group of concrete heads is clustered together as if posing for a family portrait with the plants growing in the planter in the top of each head creating the hair do of each character. This is not only amusing but is a look that is always changing as the plant moves and grows. Some heads have even been adorned with necklaces and other accessories for an added layer of fun. The concrete planters have been left outside for a long time so they are weathered and covered in multi coloured lichens that adds an aura of mystique to this beautiful group.
14. Roman Style Urn Planters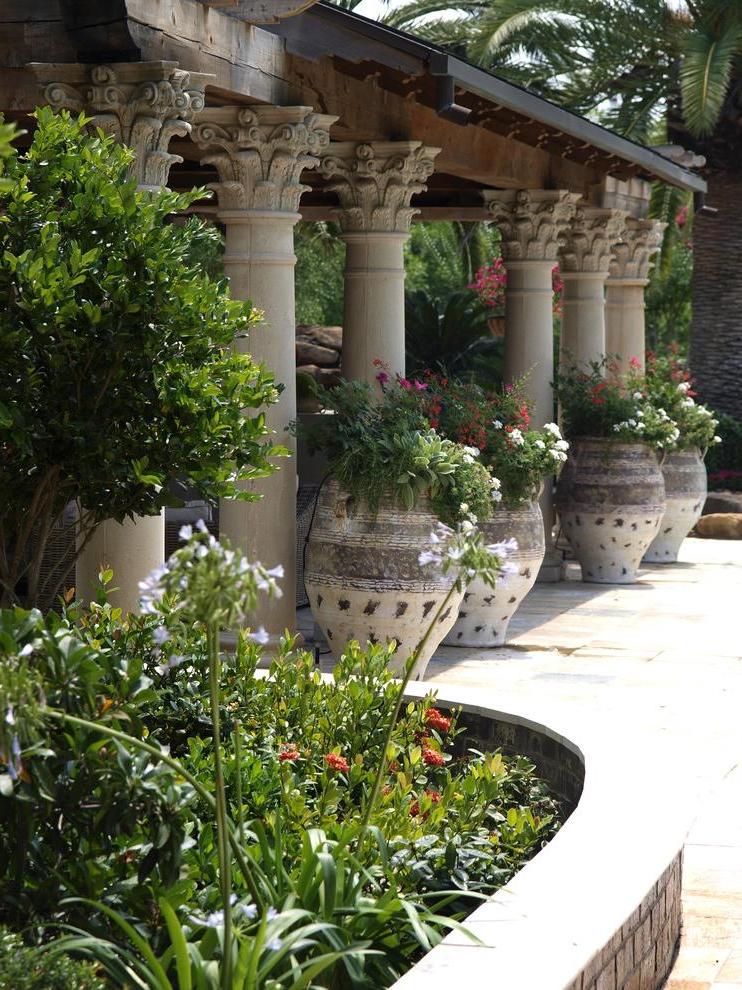 This over the top gorgeous entrance way has taken its inspiration from Italy and lined covered walkway with Corinthian columns lined and urn like pots. The potbellied pots are overflowing in greenery and flowers to add to the rural villa aesthetic that is going on with this grand entrance. Raised flowerbeds faced in brick and filled with flowered bushes flank the doorway to finish off the look.
15. Upcycled Steel Drums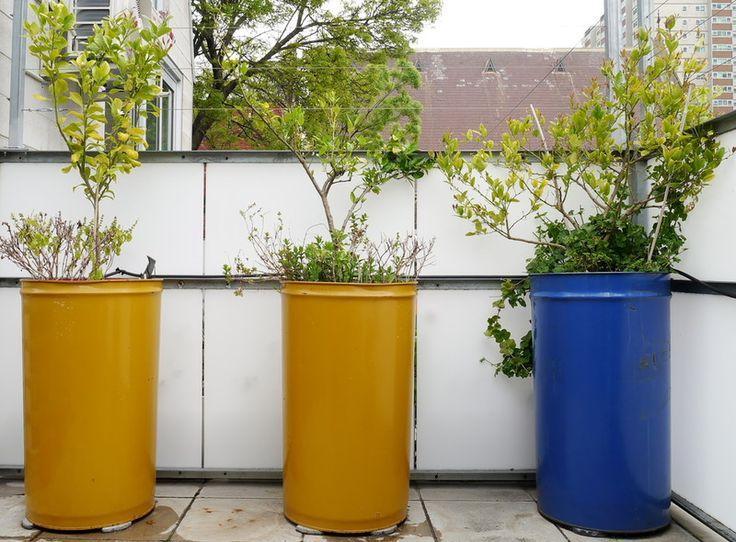 These brightly coloured eco friendly balcony planters have been made from upcycled steel drums. This trio can be easily DIYed into colourful planters using some cans of cheap spray paint and some growing medium. Holes have been drilled in the bottom for drainage. If you make them yourself at home you can paint them whatever bright colours suit your aesthetic and mix and match as you please. The slim line planters hold spindly little trees and are perfect for balconies and garden's with little space.
16. Concrete Block Jenga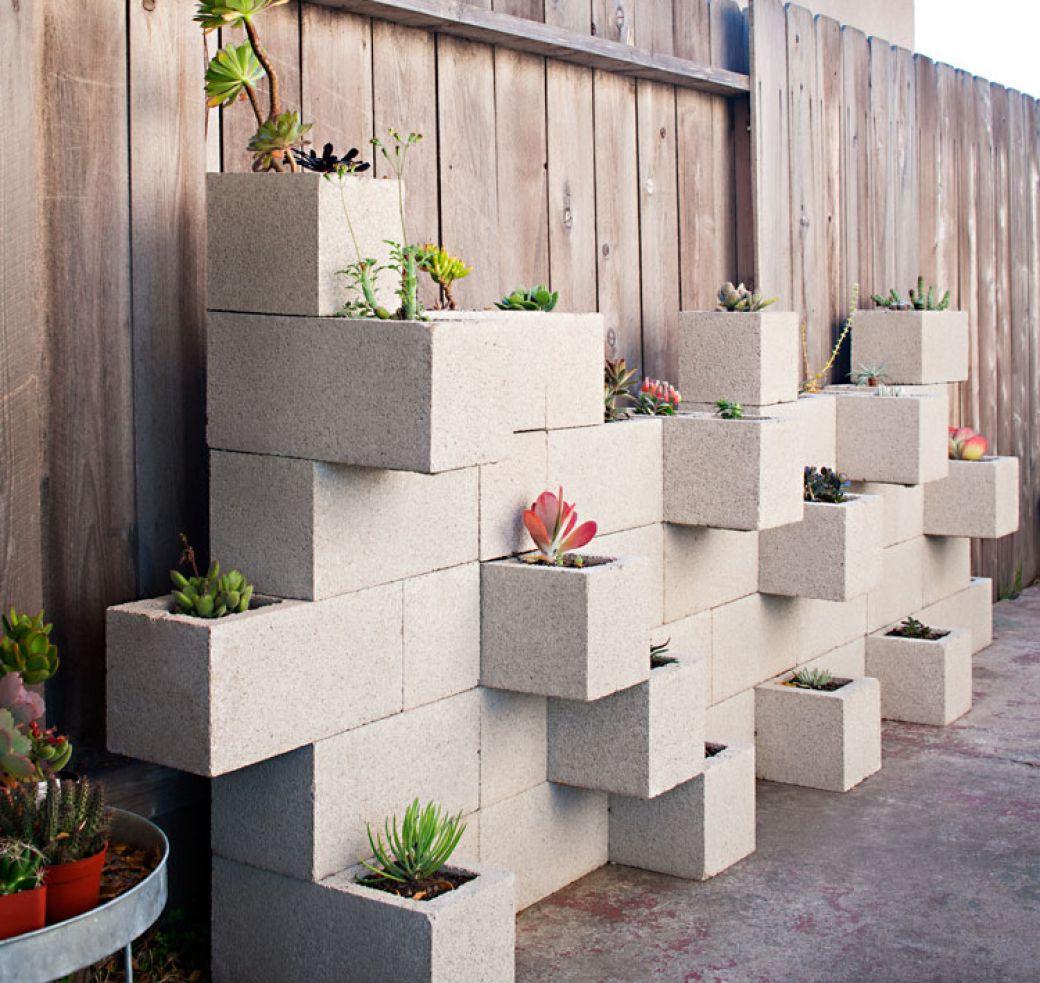 Similarly to example 7 this brutalist style planter uses stacked concrete blocks to build a three-dimensional game of jenga. The haphazard manner that they are stacked creates a multi leveled planter with built in small planter compartments. These hollows can be lined with plastic, filled with soil and planted with succulents to create a modern rock garden.
17. Little Colourful Boots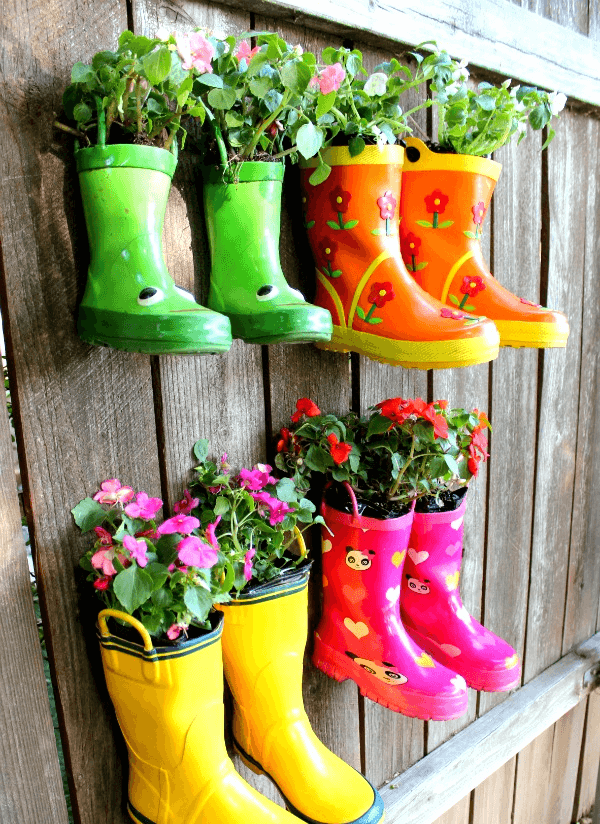 This fun and super easy DIY project uses upcycled children's old wellington boots that they have grown out of to create a quirky wall planter. This flower pots and planters design is lightweight and ecofriendly since you are using materials that are already as your disposal. The look is cute, easy to hang and personalized specially to you and the ones you love most. The beauty of this design is that you can always be adding more as your kid's grow out or wear out another round of shoes.
18. Stacked Aluminum Buckets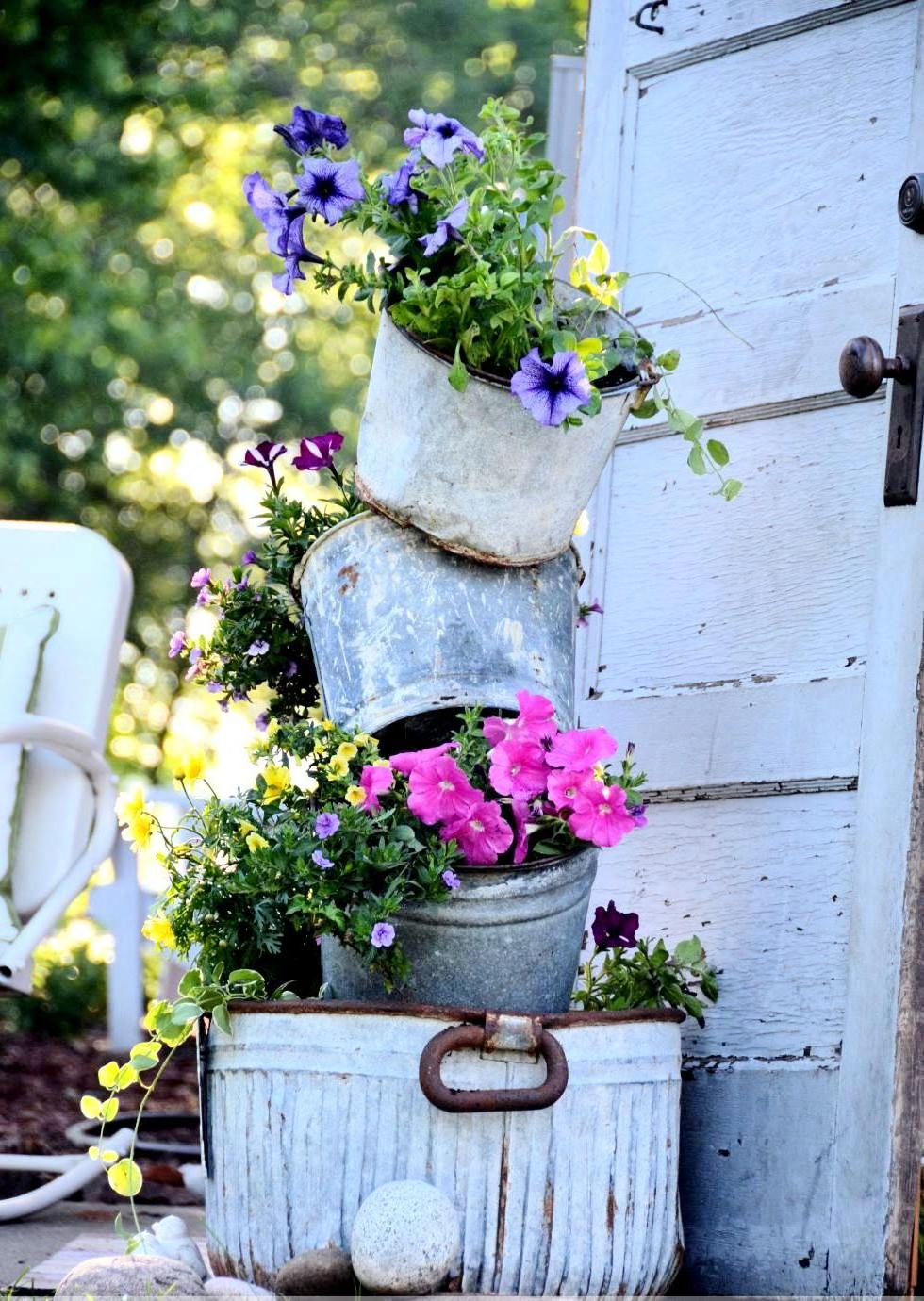 This rustic stack of buckets is a quirky planter style that you can DIY at home using old containers you've found at home or thrifted from junk stores. The buckets have been filled with planting medium and attached to one another at odd angles to leave the buckets open to fill with flowers. If you fill these strategically, planting different flowers in each bucket, you can create tiers of rainbow flowers pouring out down the surface.
19. Terracotta Pedestal Pots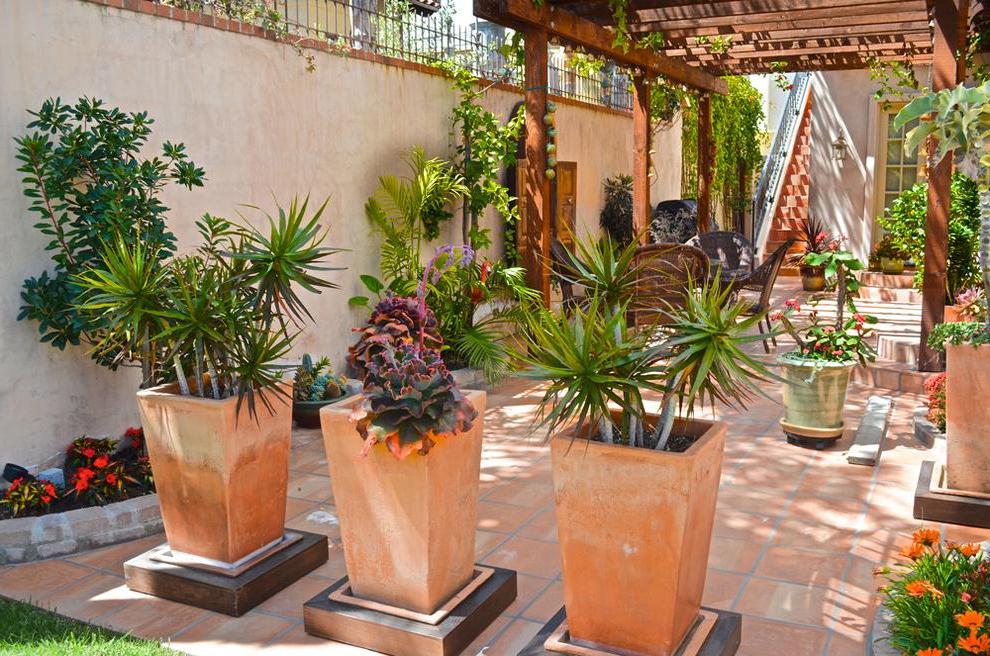 These tall terracotta flower pots and planters sitting on little square pedestals have been collected together in clusters along the perimeter of the screen covered patio as a permeable barrier between that and the lawn. A secondary set of planters line the edge of the boundary wall, little half moon raised beds filled with luminous flowers to continue the floral trend throughout the space.
20. Little Boxes of Colour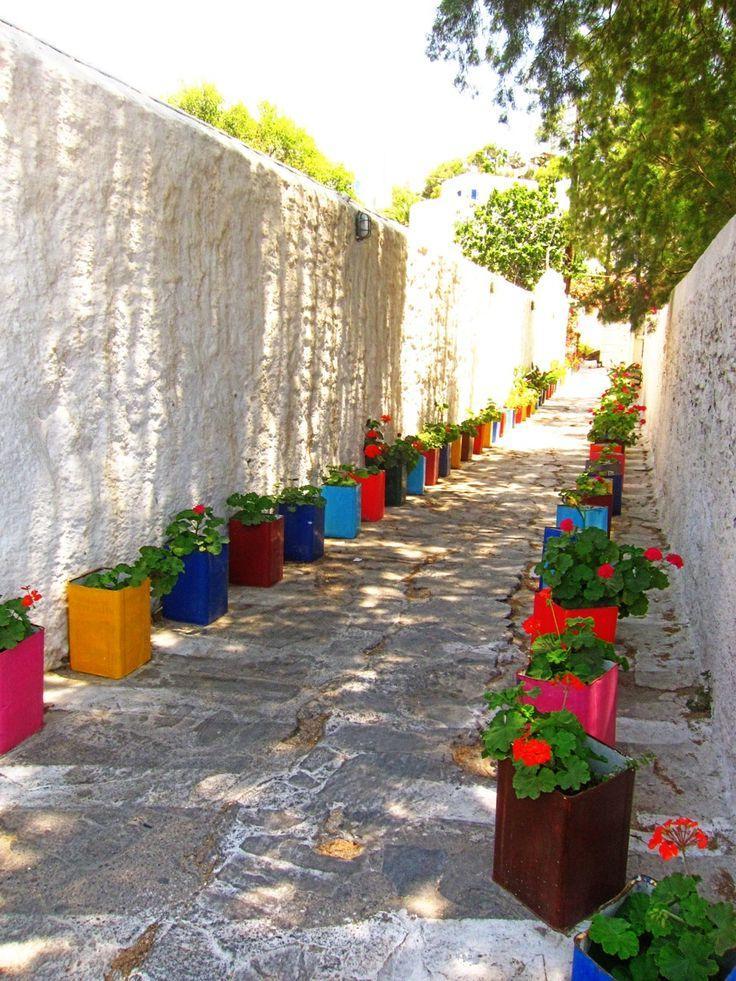 This kaleidoscope of little pots has been used to decorate a long alley way that would be monotonous if left bare. The small square pots are the same size and are all filled with geraniums; the only thing that changes is the colour of the pot itself. The mosaic of colour leads you down the stone path surrounded by tall walls on either side that creates a whimsical feeling in a previously bland space..
21. Colourful Collection Of Pots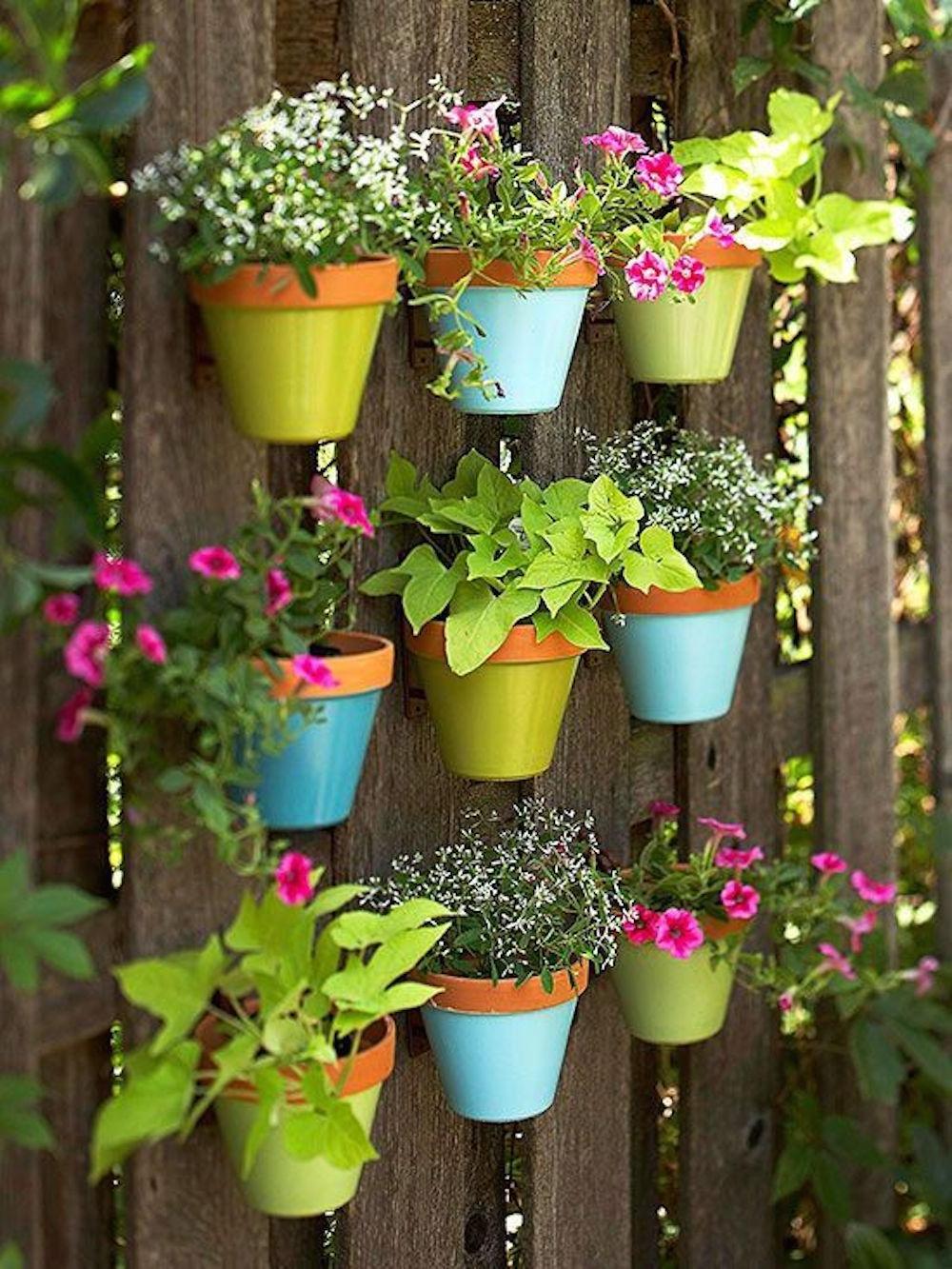 This collection of hanging terracotta pots is another beautiful iteration of the hanging garden that can be DIYed at home. The terracotta pots can be bought at any hardware store or nursery and painted in whatever bright colours you favour. These have then been hung on hooks hammered into the reclaimed timber frame. You can plants different plants in each one or maybe even create a hanging herb garden making this a useful and cute piece of garden décor.
22. Monochrome Monolith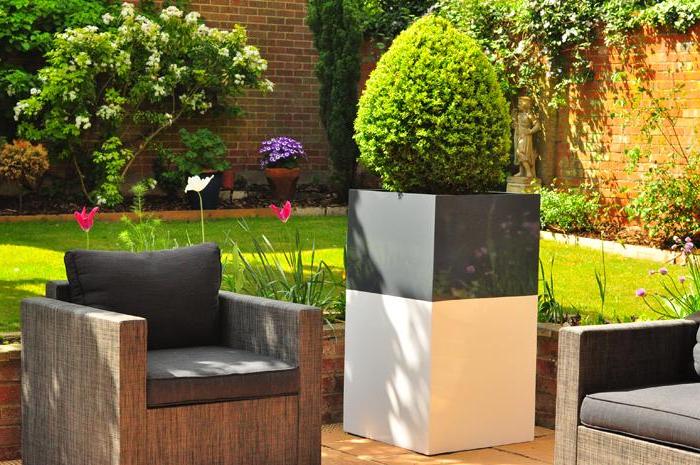 On this modern patio a tall blocky planter has been used to anchor the brick patio in the corner. Just over half of the pot is painted white and the remainder a matte black topped by a small round bush held up high. This design plays with height and simple geometry to great effect. A second layer of planters that are raised above the lawn and filled with tall flowering plants rings the patio area and infuses the space with a hint of colour.
23. Weathered Timber Planter Boxes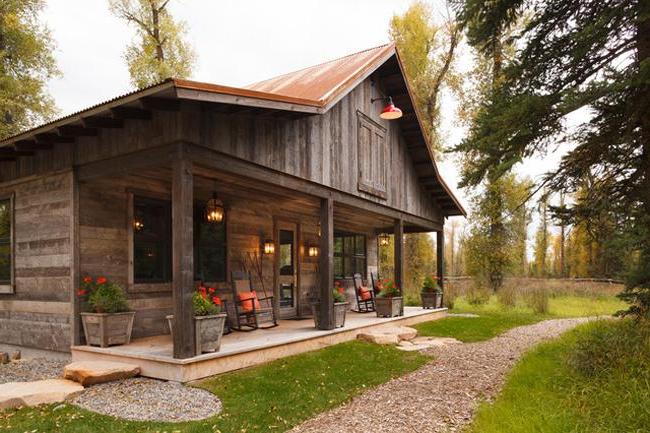 This matching set of low pots has been cleverly constructed out of the same timber as the house so they coordinate perfectly. These can be made out of offcuts from the timber used to build the houses to reduce waste and decorate in a more eco friendly manner. The boxes line the porch at every junction and beside each column to infuse the space evenly with bright green leaves and red flowers that stand out beautifully against the weathered timber.
24. Innovative Fence Top Planters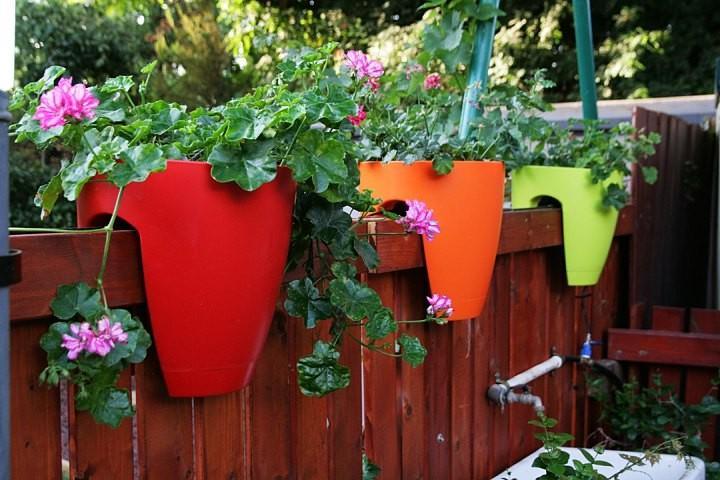 The futuristic mitten shaped fence top planters are perfect for small gardens or just for some added decoration for a garden fence. The moulded plastic hollows are filled with soil up to weigh it down and keep it firmly anchored atop the fence. The unit comes in a variety of bright colours that can be displayed together and maybe even coordinated with the colours of the flowers inside for true cohesion.
25. Wicker Basket Flower Pots and Planters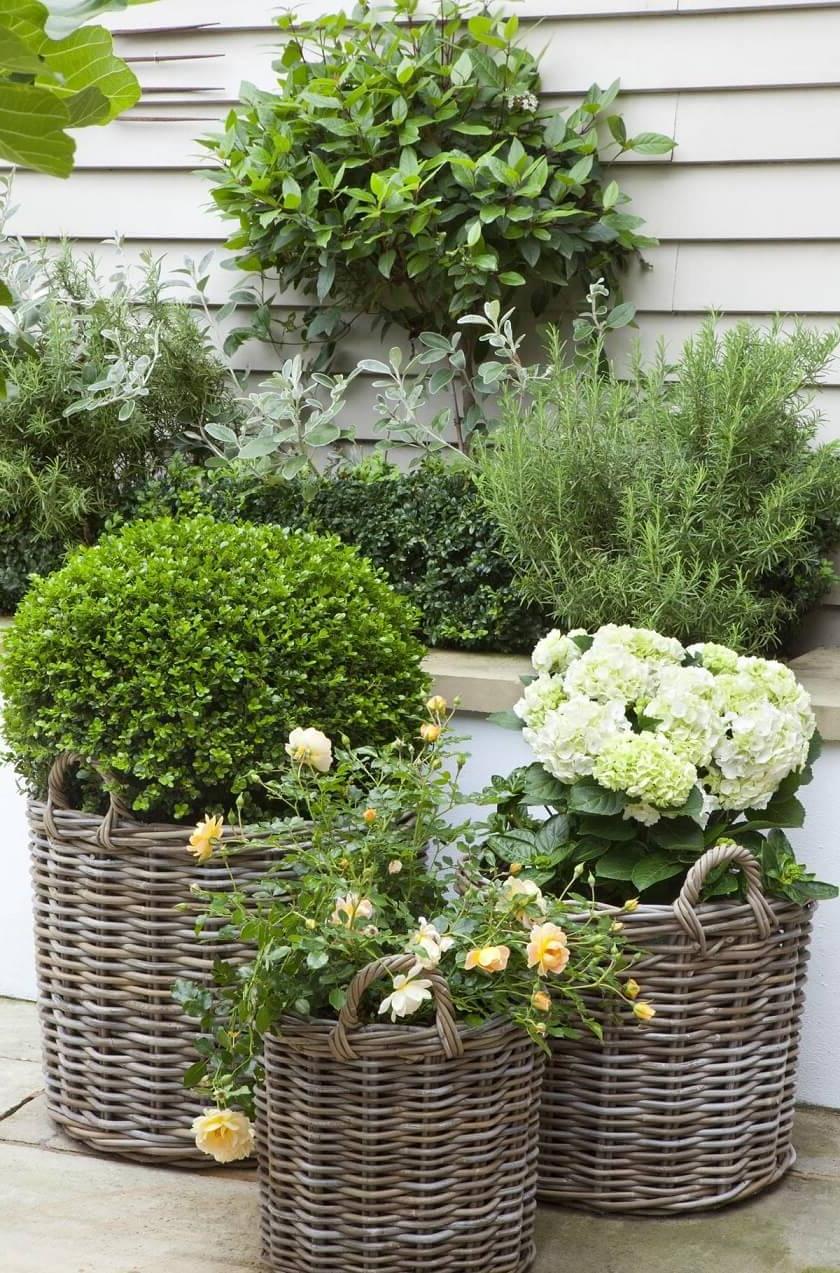 This ship lapped house exterior is another example of using layers of planters to liven up your space with a collage of foliage. A raised planter bed full of bushes of varying shades forms the top layer with a trio of wicker baskets planters sitting in front of a it. The baskets are woven from eco friendly materials that imbue the space with another element of texture. Large planter pots have been slotted inside the wicker baskets, which allow for drainage out the bottom and planted with yet another series of greens that contrast against one another. Using different sizes of the same design results in a coordinated look that is rich in texture and visual interest.
Conclusion
As you can see from these diverse examples, flower pots and planters come in a variety of designs in every shape and size that you could possibly ask for to display your plant babies to their greatest advantage. In conjunction with flowerbeds, planters can be used to change up your landscaping and create some variety in the look of your garden.
They also provide the unique opportunity for you to display plants in unexpected places like running up a wall and sitting on top of a fence. This novelty factor lets your express your creativity through the medium of living things.
So get your green thumbs ready and get planting with these beautiful flower pots and planters as inspiration.