Simple, elegant and functional, have you guessed what they are? Glass shelves! They are ideal for any room as they combine with everything with no problems because of their simplicity, and of course, they give us storage! You can use them for books, figures, clothing and more. Glass shelves are not only beautiful, but they are also useful.
Glass shelves bring a lot of sophistication to interior decoration. And although it is a delicate material, they have a very strong aesthetic presence. Therefore, they are a clear bet when it comes to designing a modern space.
This type of furniture is great to exhibit decorative objects, even if they are made with the same material. You can combine glass objects created with a different technique and with different colors, sizes, shapes and finishes.
However, it depends on the preferences of each one to evaluate the function of the glass shelves. There are those who use them as bookstores, while others use them to place their leafy ferns.
In this article we want to present you with some interesting ideas you can think about when picking your next glass shelves. Scroll down to see some interesting ideas.
30 Amazing Glass Shelf Ideas To Decor Your Home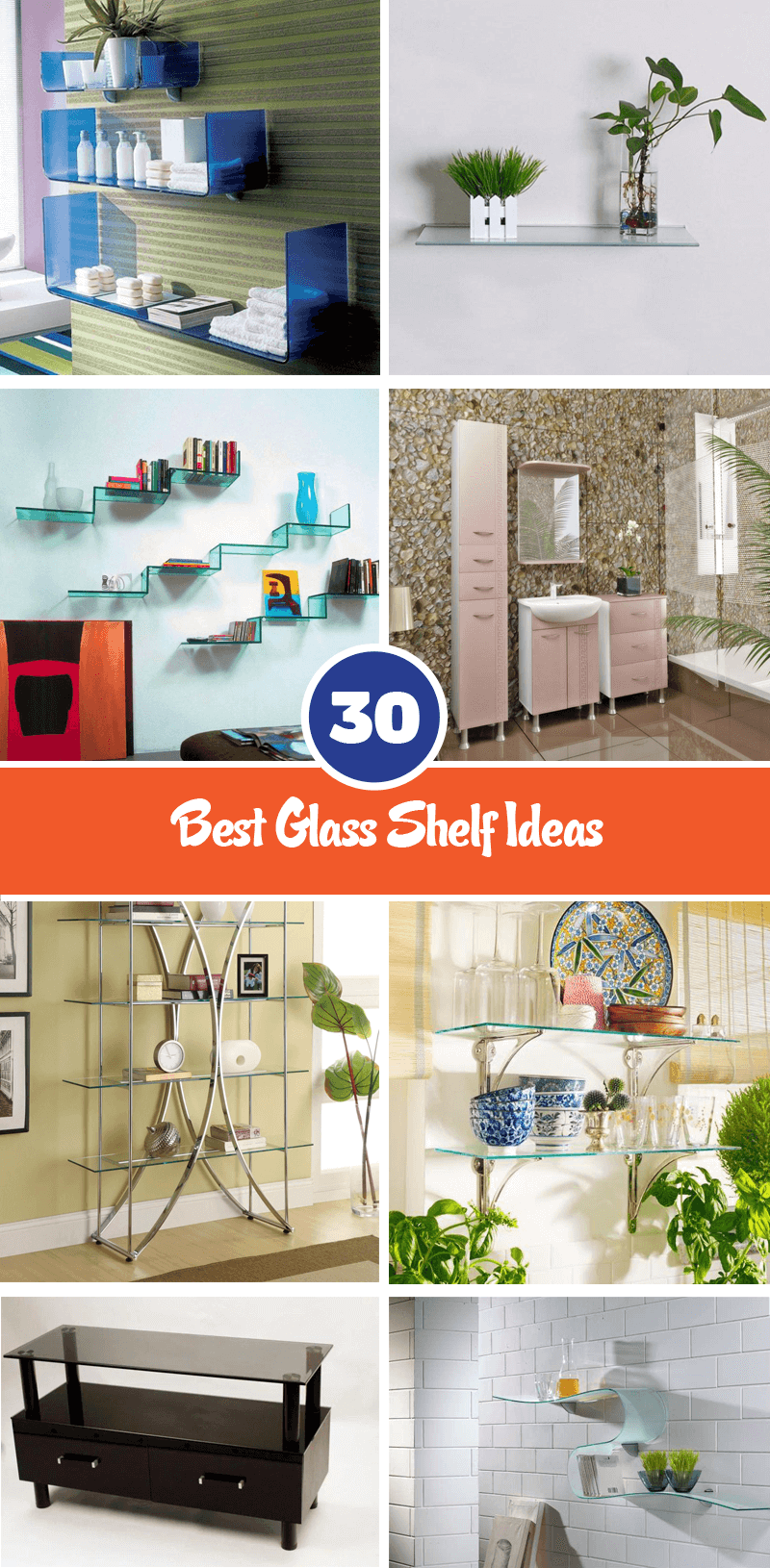 The glass is a very appreciated element in decoration, its neutral aspect makes it easy to combine with other materials, both with wood and steel, its brightness makes it bright and attractive, its sobriety gives elegance to the space and you can also choose by variants such as smoked or glass decorated with color.
Thanks to the commitment to design, in recent times the glass has been gaining positions in everything related to the world of decoration, as it allows to create avant-garde, modern, classic and basic environments gaining in lightness and breadth. It is an ideal material to design and manufacture bathroom furniture, kitchen, interior and exterior doors, ceilings, floors
Types Of Glass Shelves
1. Fixed
As the name implies, this type of shelf is fixed to the wall and, in general, has a structure with rectangular shapes, »in the open»; that is, without doors. Depending on the design, it can rest on the ground or stay in the air.
For safety, it is recommended to choose the models that have polished edges and a glass of medium thickness. Also, it is essential to install them correctly on the wall, and secure them well from end to end. Now, regarding to the best place to locate them, you can choose between the living room and the dining room.
2. Independent
These are the glass shelves that have a completely independent structure. Within these, you can find several more types: corner, rectangular, curves, and so on.
The thickness of the glass in the independent shelves varies according to the material of the base. For example, if the structure is made of metal, in general, the thickness of the glass is standard so that the structure can support the weight of this and the elements to be added.
1. Blue Glass Design That Enhance Any Space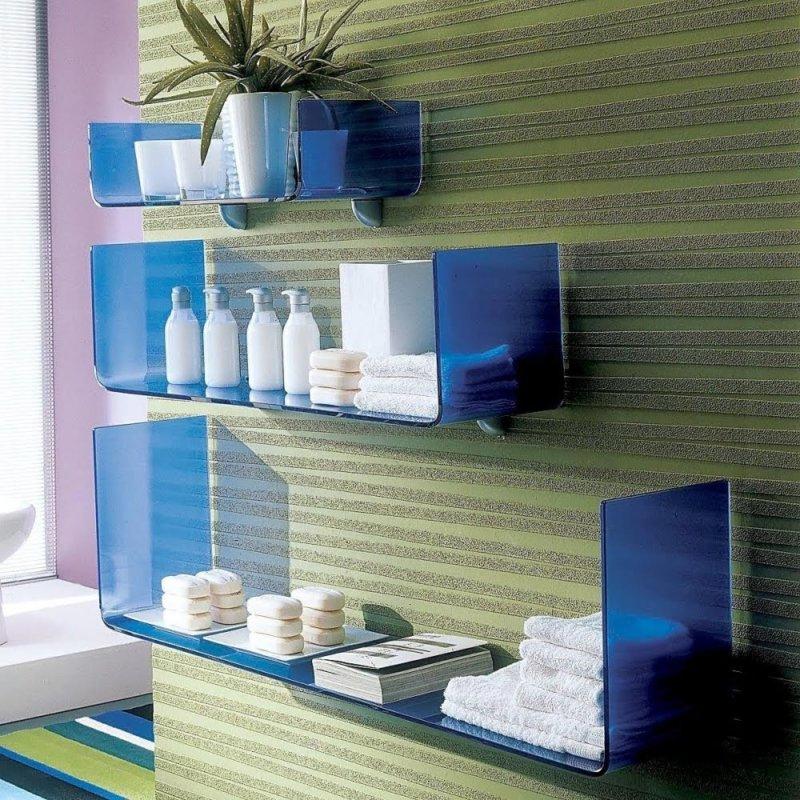 Glass shelves have different finishes, opacities, textures and colors. Smooth and transparent designs maximize lightness, blend with the existing decoration and require little maintenance. This example brings color and style, and being open make them very easy to clean.
2. Creative Glass Shelves Ideas Fixed In The Walls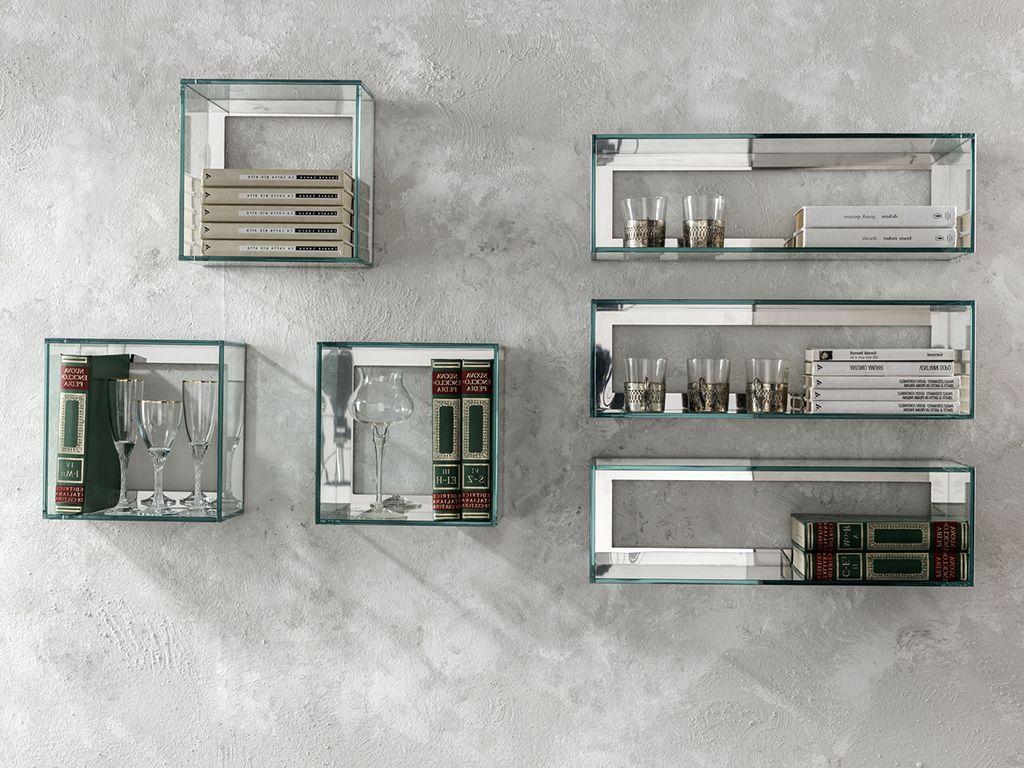 When choosing a glass shelf, make sure that the glass meets safety standards and, in case of breakage, fragments into small pieces and not into helmets (such as laminated glass, tempered glass or glass). safety glass).
On the other hand, consider maintenance and cleaning requirements as well as the adequacy of the shelf style and location. Artistic models can constitute a focal point of attention in the stay; the simplest, transparent and smooth, in addition to requiring minor maintenance, adapt to all types of decorations. These shelves are definitively modern and chic. The shiny factor makes it look elegant as well.
3. A Glass Tree Perfect For A Living Room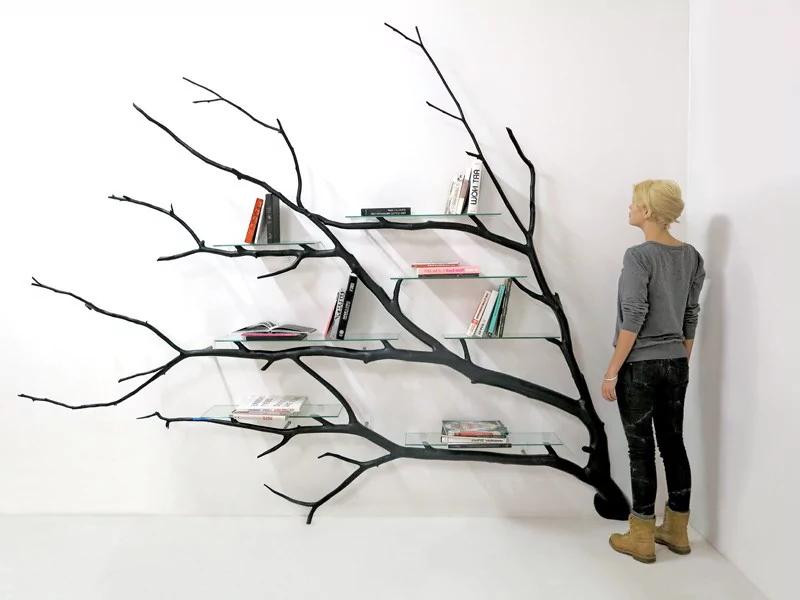 If you think glass shelves are boring and monotonous, think again, there are many models and designs of glass shelves between which you can choose, of different sizes and styles, they are much more than glass, they are elegance and style. What if not elegant is this amazing glass shelf that imitates a tree? It is certainly something to talk about.
4. Floating Simplicity To Exhibit Nature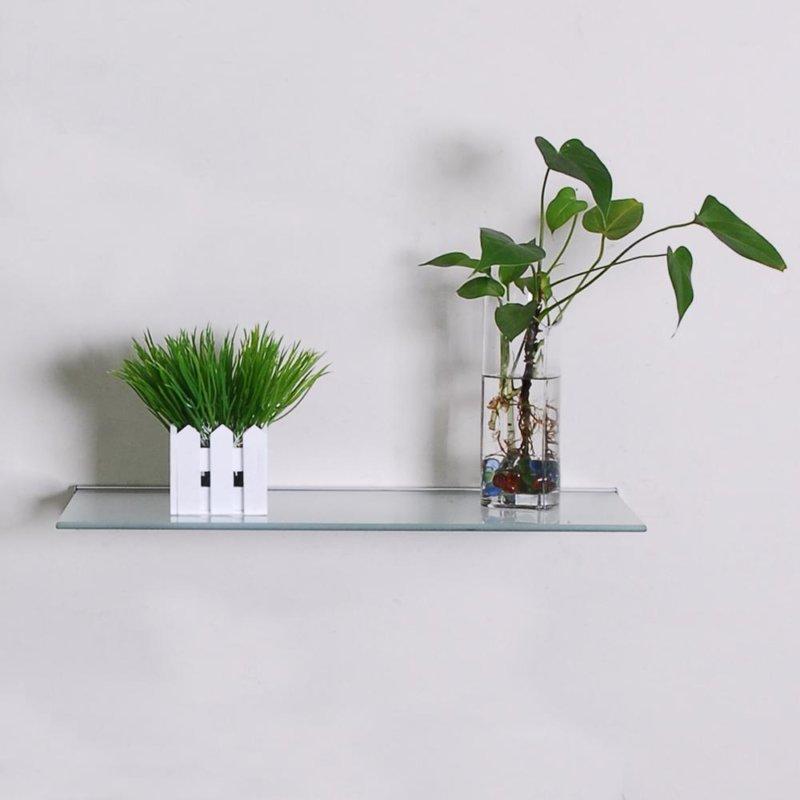 It is important that aspects such as the height, the fixing position or the adjustment possibilities of the furniture correspond to our needs. Floating glass shelves are a great option because they look simple and elegant at the same time. This shelve is used to showcase plants and they both look simple and beautiful.
5. Glass Shelves To Store Your Decorative Items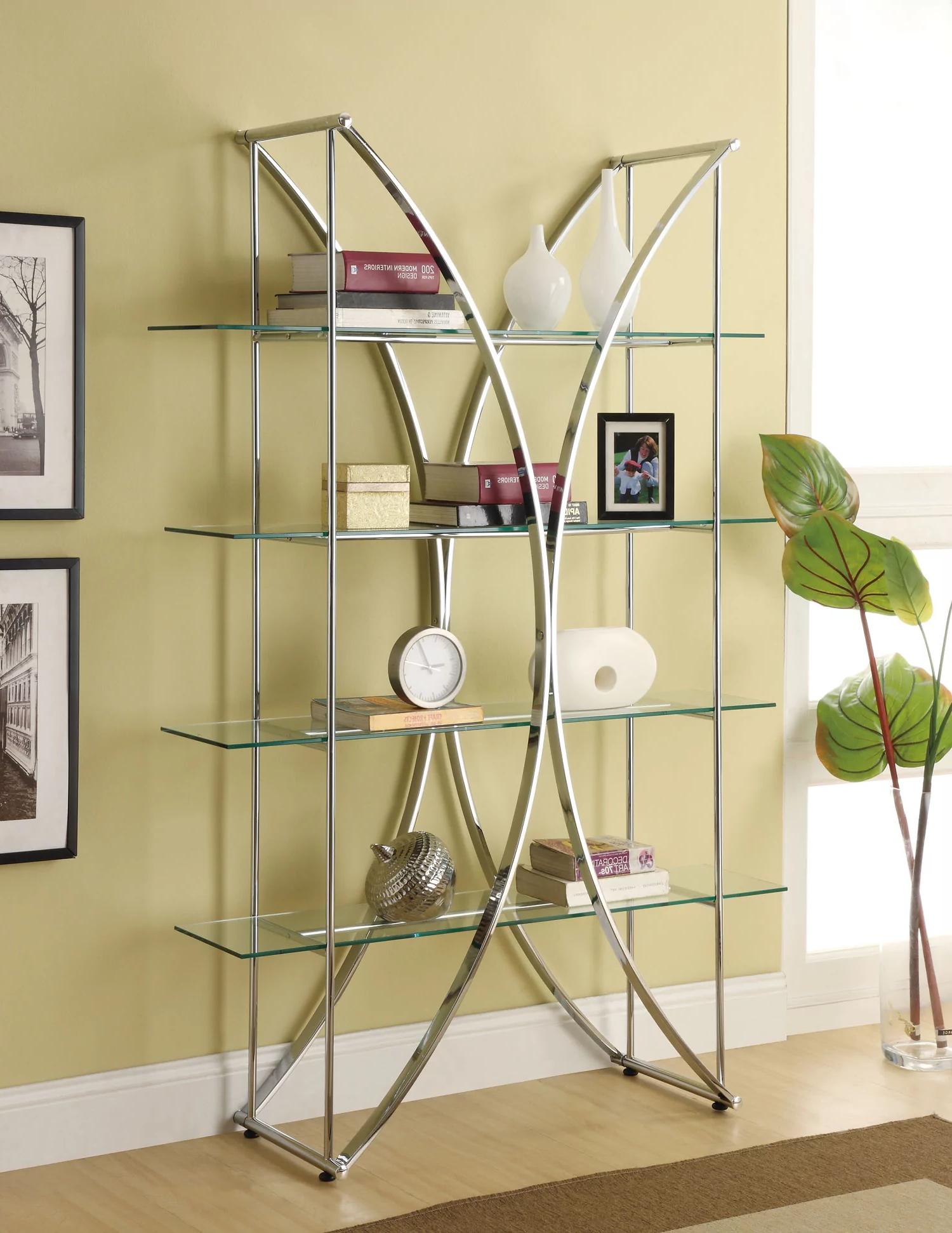 Metal is very fashionable these days, so if you want your home to be in trend, you should incorporate a piece of furniture that integrates metal and glass at the same time. With this you will get a very modern atmosphere, like this one that combines both materials to perfection and allow you to showcase your prettiest decorative items, or maybe to place some books.
6. Floating Glass Shelves To Place Flowers And Vases
There is a wide range of materials to use to build wall shelves. Almost as many as the possibilities offered as a decorative element because the shelves can be much more than a piece of furniture in which to place objects. In this case, they are an active part of the whole home's style.
7. Glass Shelves Useful To Storage Cosmetics And Bathroom's Linens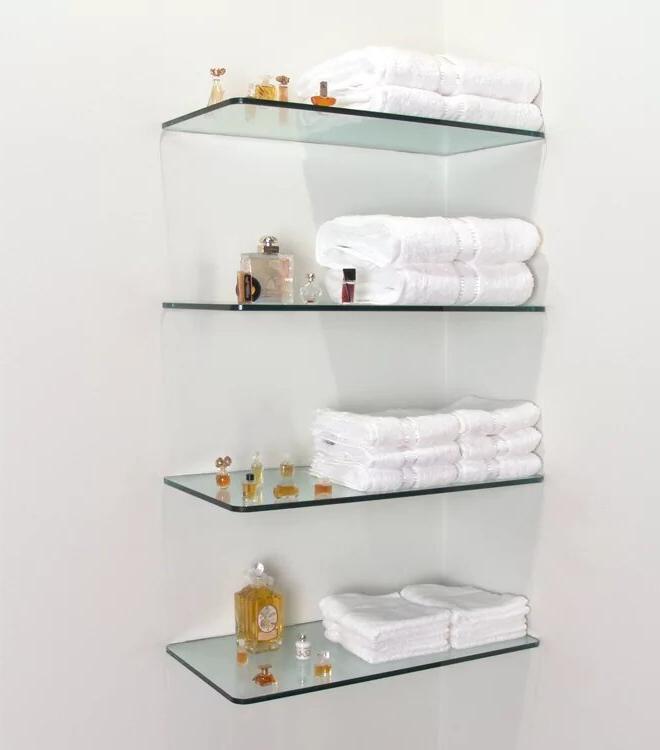 There is a wide variety of accessories that can be manufactured with glass and will be ideal in your bathroom. The main advantages offered by this material in these types of rooms are: cleanliness, luminosity and spaciousness. In this case, the 4 levels of shelves would look to much in any other material, but in glass, it looks minimalistic and clean. Combining it glass objects, it is the perfect combination of decoration and storage.
8. Metallic Structure For A Glass Shelf Of 5 Levels
Although they can have a "cold" air, furniture that combines glass and metal is, without doubt, very striking. There are industrial-type models that mimic the shelves of old pharmacy warehouses that can add a retro touch to the decor. This shelf enhances the vintage style of this room.
9. Bathroom Glass Shelves That Bring Elegance To The Bathroom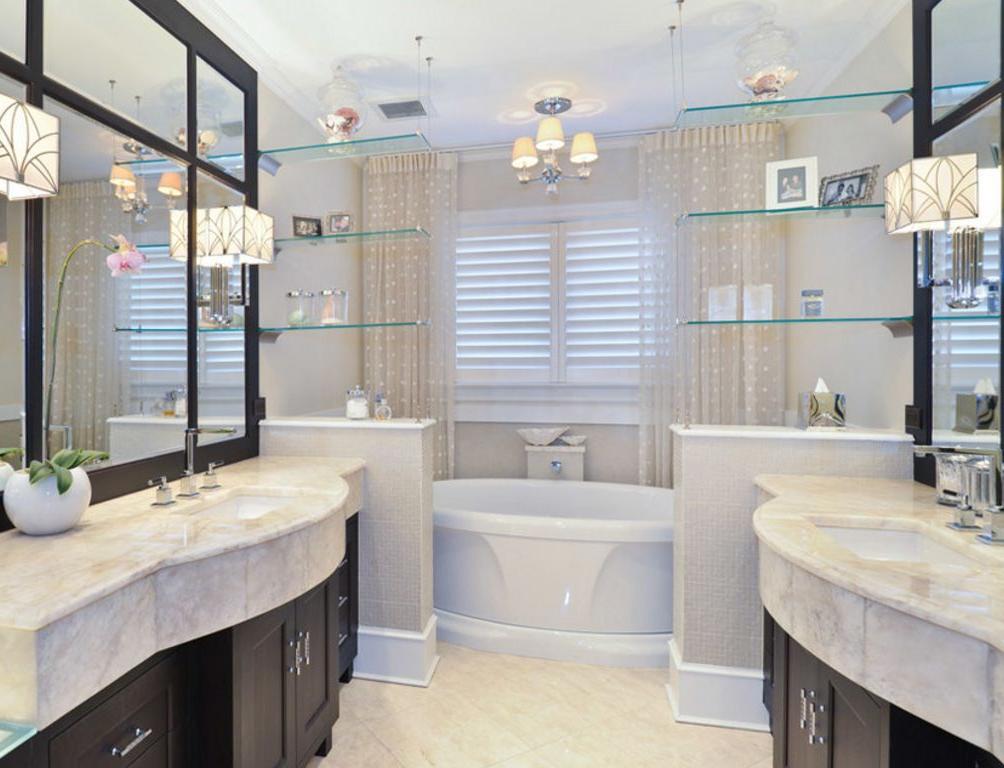 Glass brings brilliance to your space, and you can find this type of glass shelving in many models, so it will be very easy to fit great with your furniture and products. In this bathroom, the addition of glass shelves at both sides of the room, makes it look spacious and elegant.
10. Glass And Wood: Strength And Character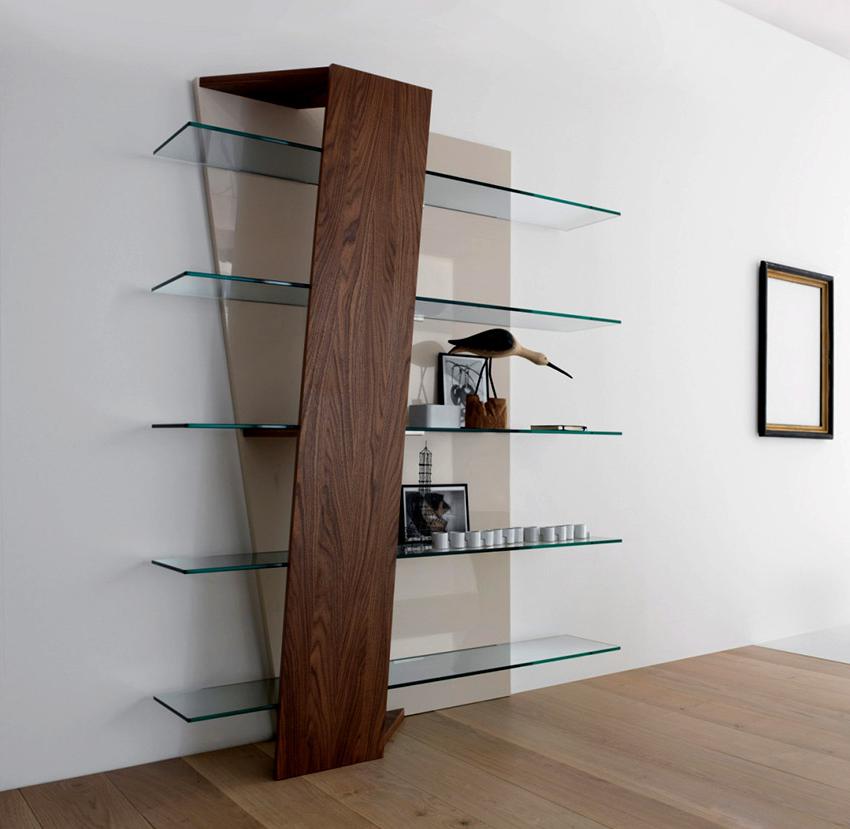 Regardless of the type of glass you choose, you can combine it with different materials, such as wood of many types. This combination is very elegant and gives an appearance of quality. Some glass shelves made in these materials cannot be found in any store. The wood, like in this picture, also makes the shelf more weight resistant, giving you the chance to store more things on them.
11. Minimalistic Hanged Glass Shelves For The Kitchen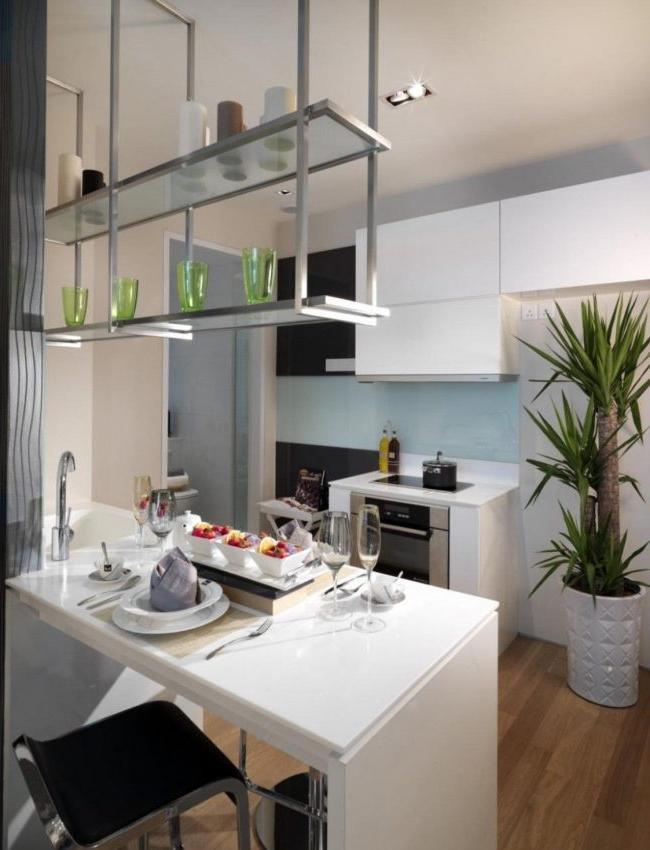 How can you storage object without losing sight of them? In the trends of decoration for this year shelves, cabinets and open bookstores made with glass, make objects of daily use an important part of home decoration, like in this room where hanging shelves help gratly to improve space.
12. Hanged Glass Boxes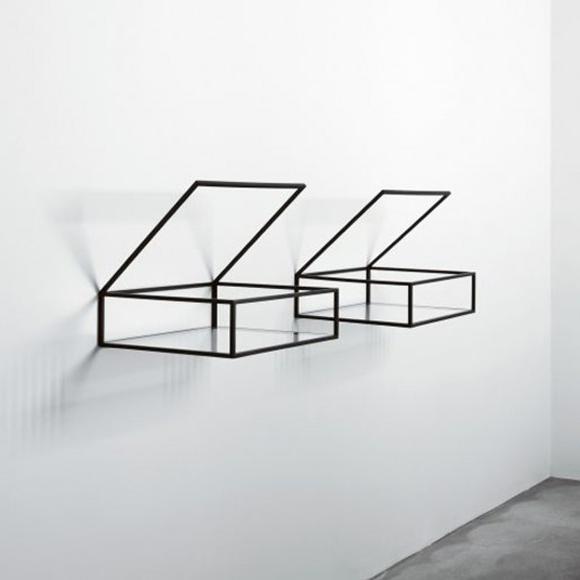 Everything is within our sight. Store with creativity is the new trend that will give warmth and personality to the home. It is a casual and creative way of interpreting space. Try a style like this if you want to have a spotlight space in your rooms.
13. Glass Shelves Enhanced With LED Lights For The Living Room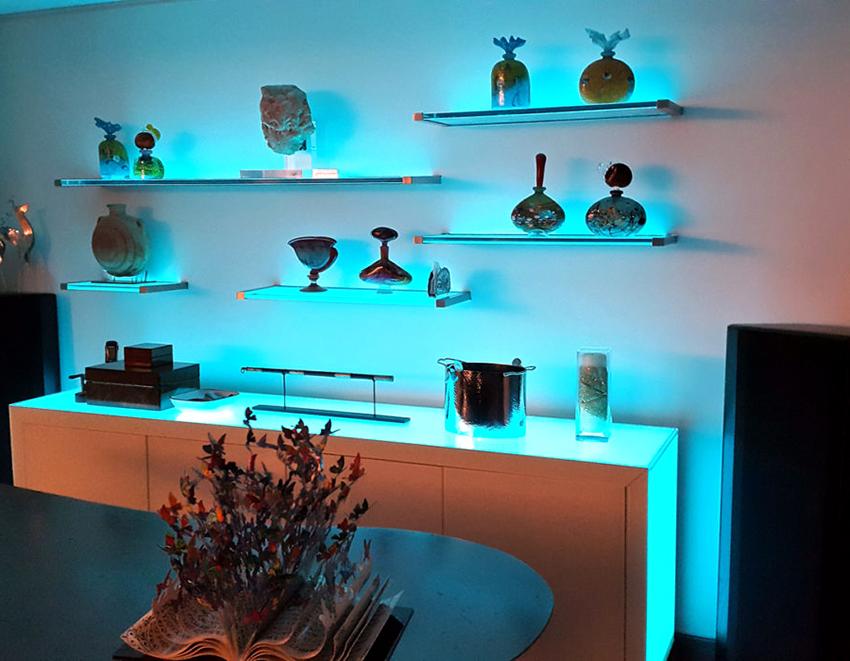 Another advantage of glass or glass shelves is that we can use them as an exhibitor for our most precious assets: we can store our collection of porcelain cups, decorative glass figures or dishes that we only take out on special occasions. And if you add LED lights like in this example, the results will be even better.
14. Wood And Glass With Led Lights For The Walls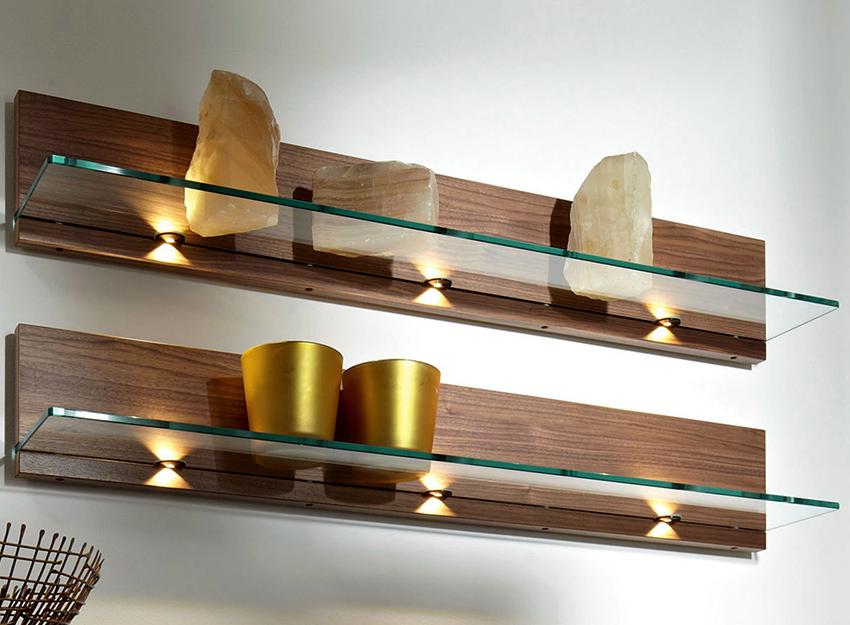 Shelves made of tempered glass are a special form of decoration to complete the living room or any other room of your home where you need to add a touch of light and elegance. It can always be combined with all kinds of styles, it does not matter if the room is classic or modern, it always generates elegance and creates a more pleasant decoration. These shelves are with glass and wood, and the led lights make it almost shine.
15. Glass Shelves Of Sheared Blue To Locate In The Living Room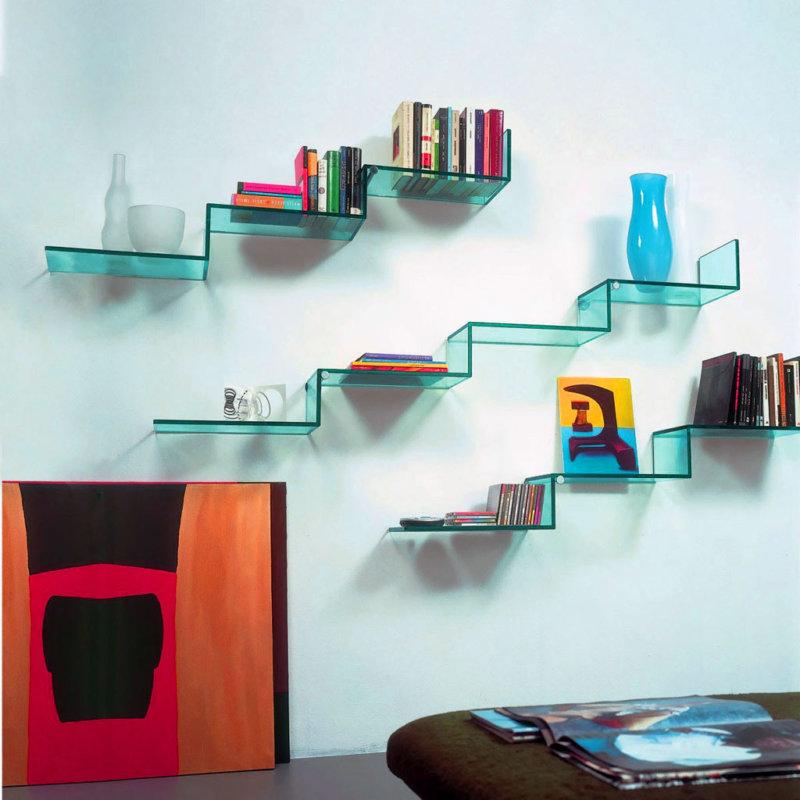 Glass shelves are modern and elegant in their aesthetics and they are great to create storage spaces and provide a feeling of spaciousness and cleanliness. They are perfect for storing glasses, bottles, liquors, ornaments, bathroom accessories, pots, etc. These shelves that are designed to look as stairs have something different on each level.
16. Modern And Stylish Bathroom Vanity Set With Glass Shelf With A Mirror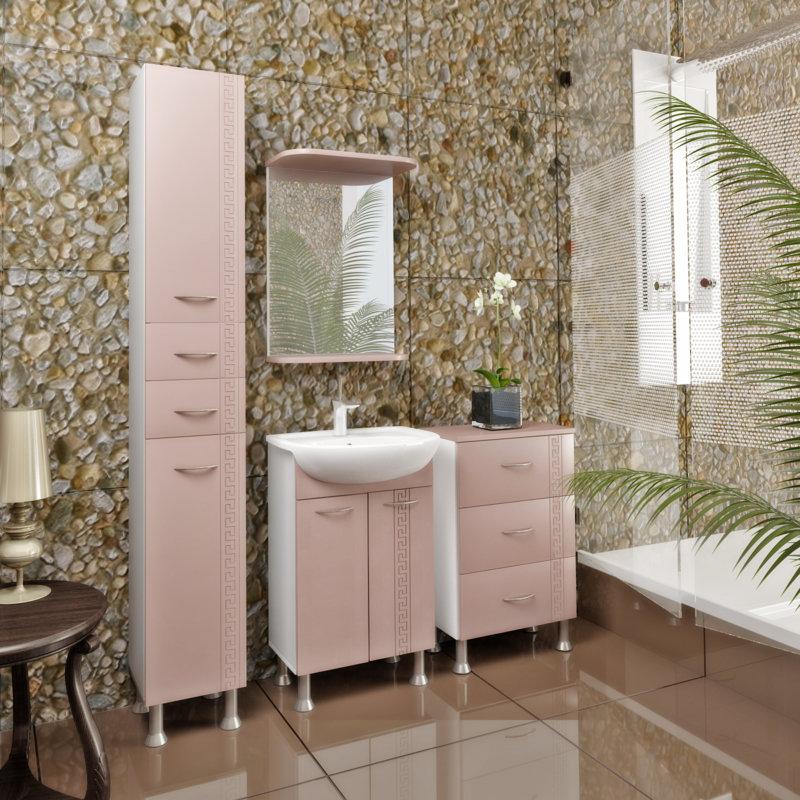 Glass is an element that has become a boom in the world of design and decoration, the introduction into the market for this material has diversified widely, and you can find that it is used for interior, exterior doors, for bathrooms, and more. In this example, it is a part of a set of vanities, with modern colors and stylish designs,
17. Modern And Sober Glass Shelf Ideal For The Living Room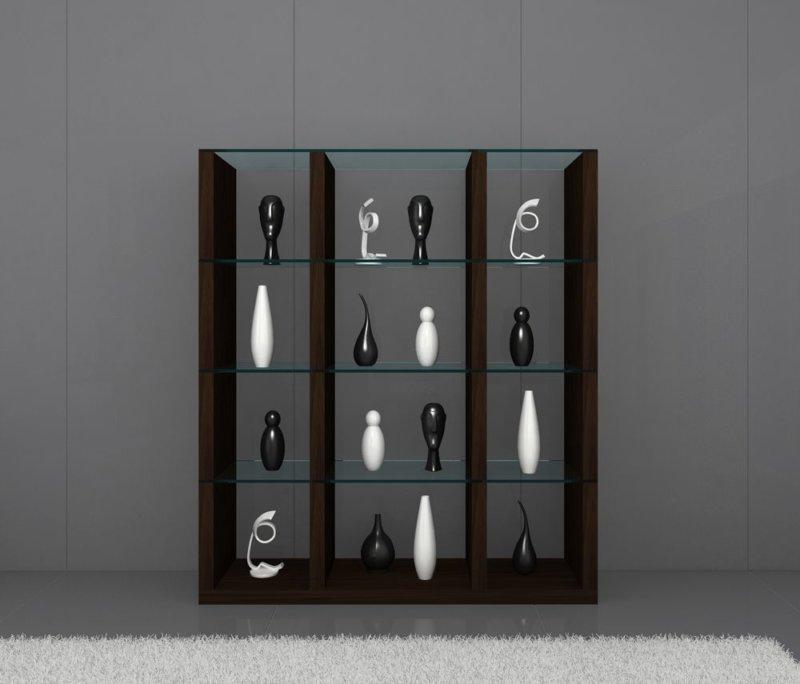 Glass shelves allow you to see your screen elements from all angles, but overloading them can cause damage to both shelves and items. Maximum weight load of glass shelves depends on several factors, including the type of glass, its thickness and the distance between the supports where the shelves stand.
18. Beautiful Glass Shelves With Mount Holders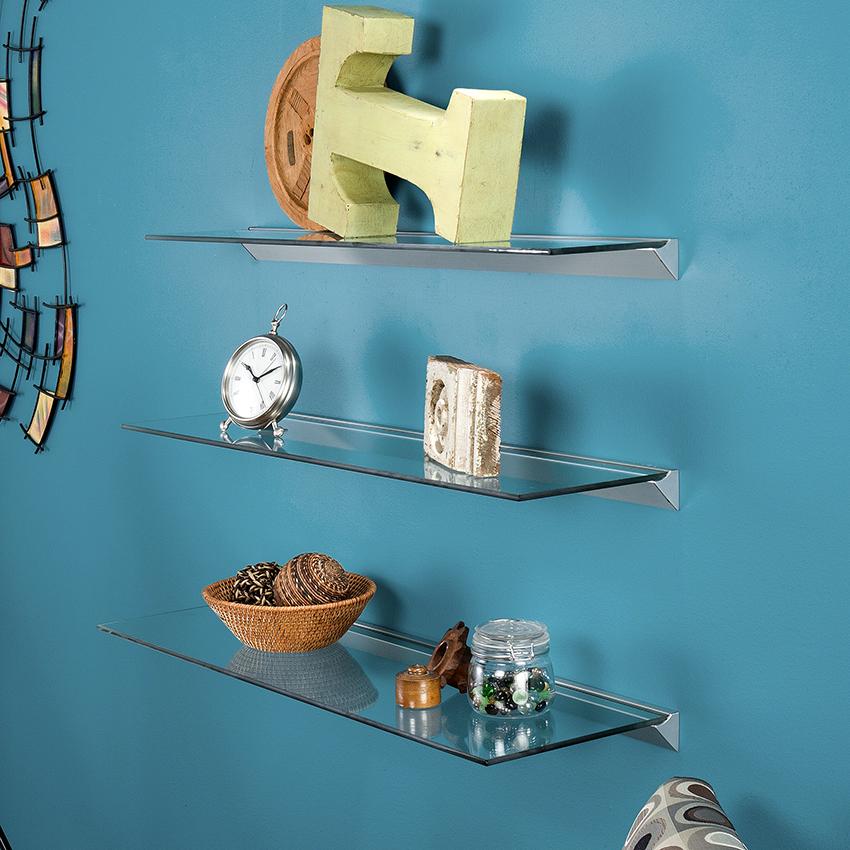 Most modern homeowners are turning to shelves to give their contemporary interiors a unique touch and a colorful personality. Add to this the fact that the shelves are not there because filling them with books only allows you to have a fresh platform that allows you your precious possessions and memories, such as an antique watch, like in here.
19. A Metal And Glass Rack To Fix In The Wall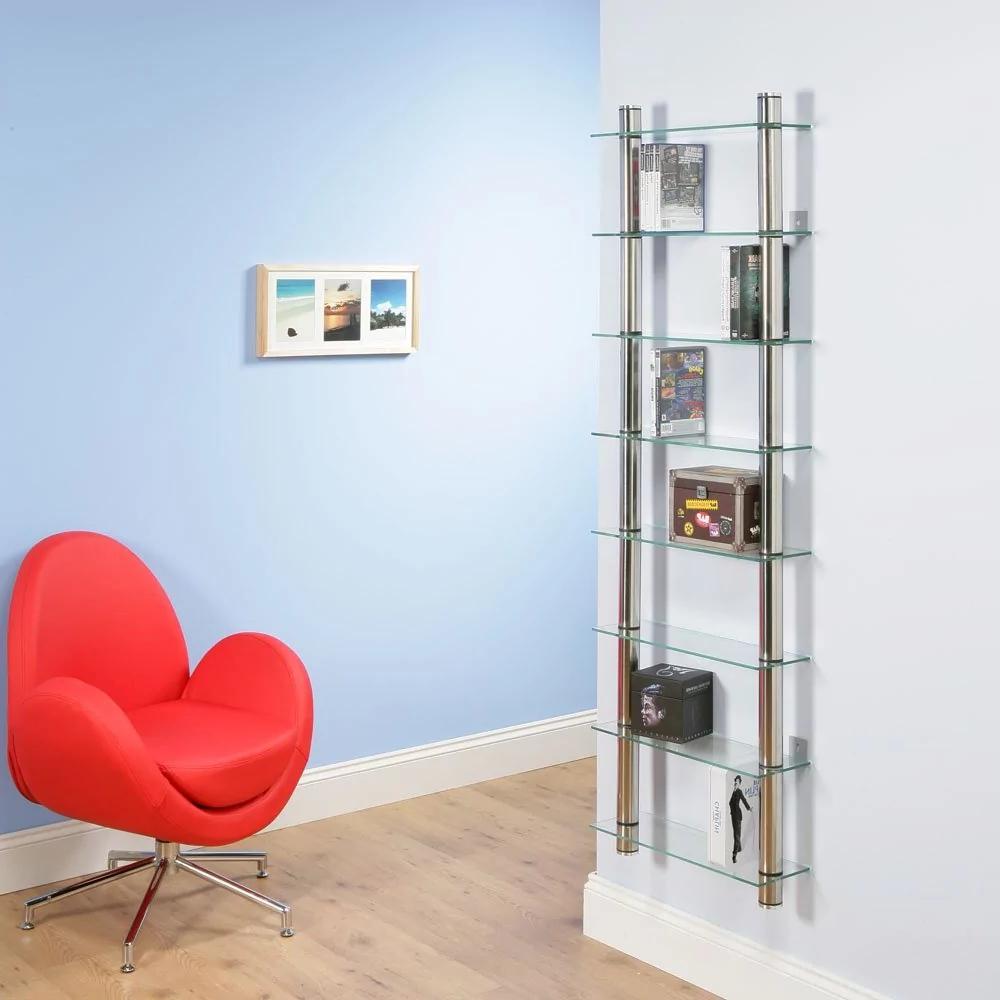 A good idea is a vertical narrow column with small shelves located in a simple steel guide, it is a way to decorate a wall and it is also useful, since you can place in these shelves an infinity of objects, like in this example where it is used to place little decorative boxes, photo frames and books.
20. Attractive Red Glass Shelf To Make Your Life Easier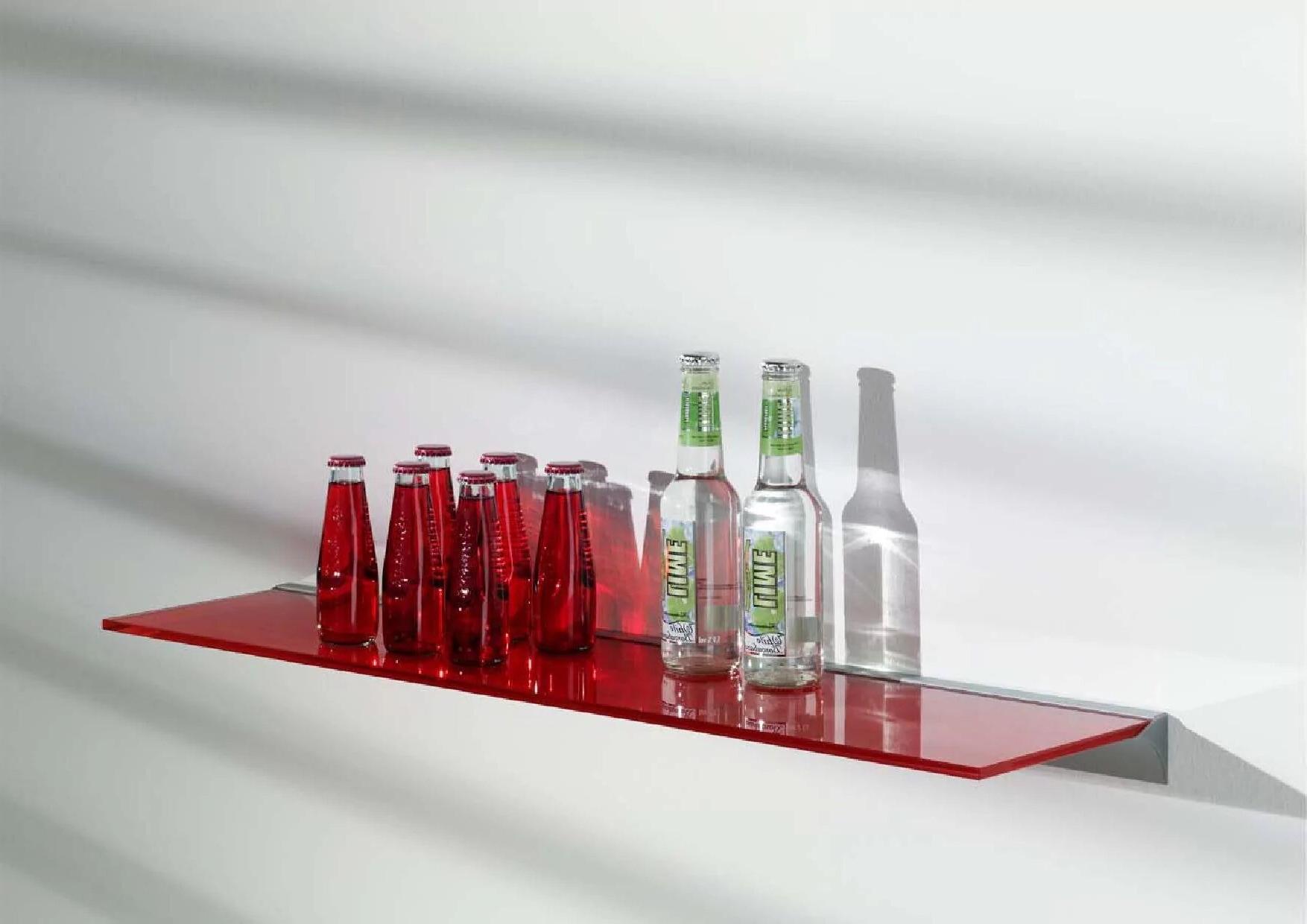 The glass shelves allows you to store lots of different things. And, if that is not enough, you can also take advantage of these items to store objects that are attractive, such as glasses or eye-catching bottles, just as the people of this photo did.
21. Glass Shelves For The Corners With Accessories Storage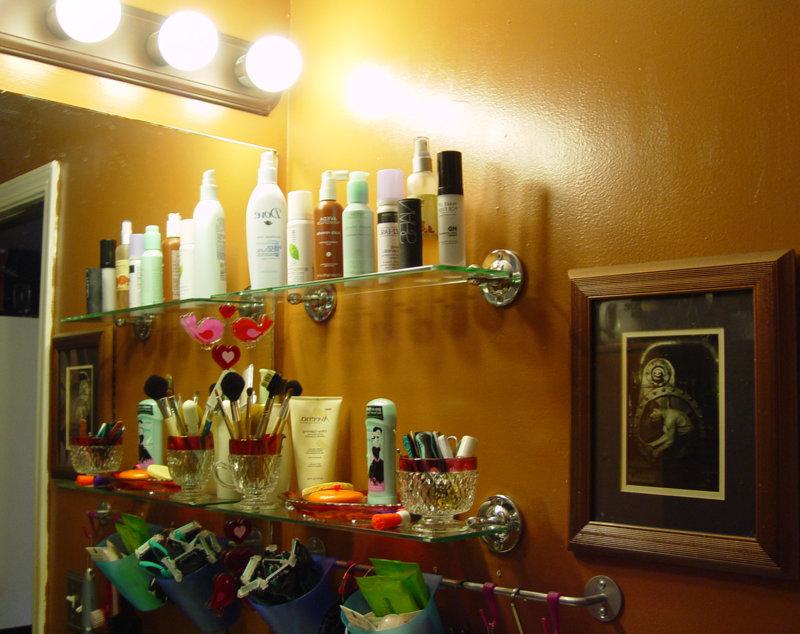 An open shelf can help keep everything in order, ensuring that you can find what is needed in a much easier way. Closed furniture has the advantage of not visually affecting the space, but those that are open help to have everything in view. In this example the shelves are very well organized, so the space still looks aesthetically pleasing.
22. Corner Shelves Ideal For The Bathroom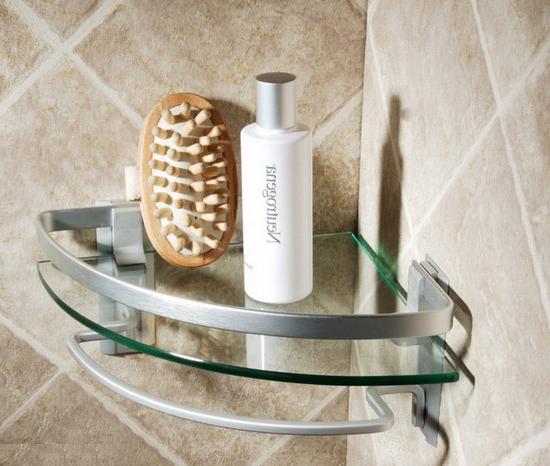 The shelves that you can have are important and they increase the space to store or place what you need. This corner glass shelf for the bathroom helps you to have everything near your hands when you need, keeping the place looking elegant.
23. Stylish Glass For All Tastes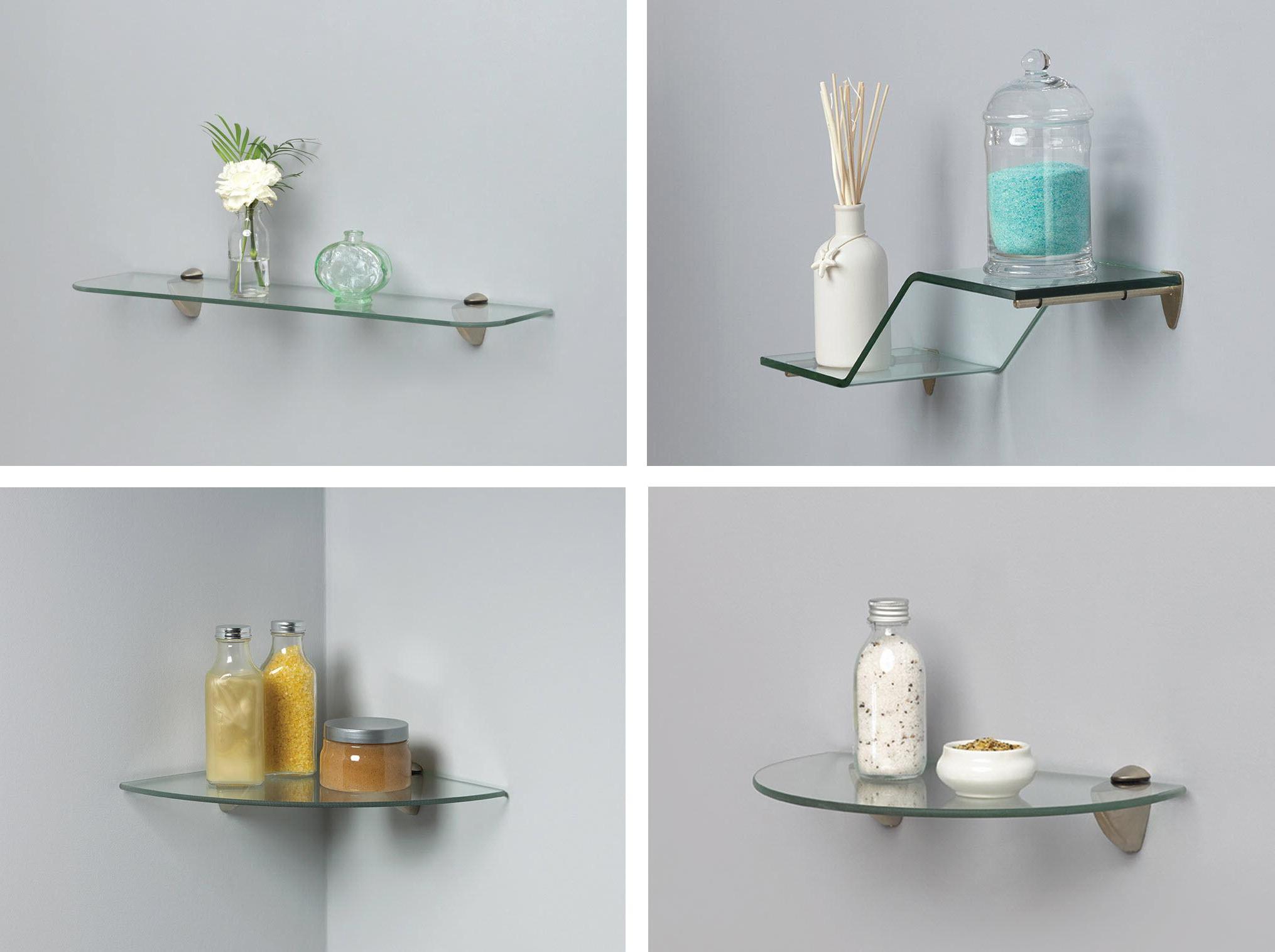 The shelves are very convenient and in recent times have become fashionable being in sight, like in these examples, where different shapes and sizes glass shelves are used to enhance, and storage.
24. Thin Glass Shelves For Style And Glamour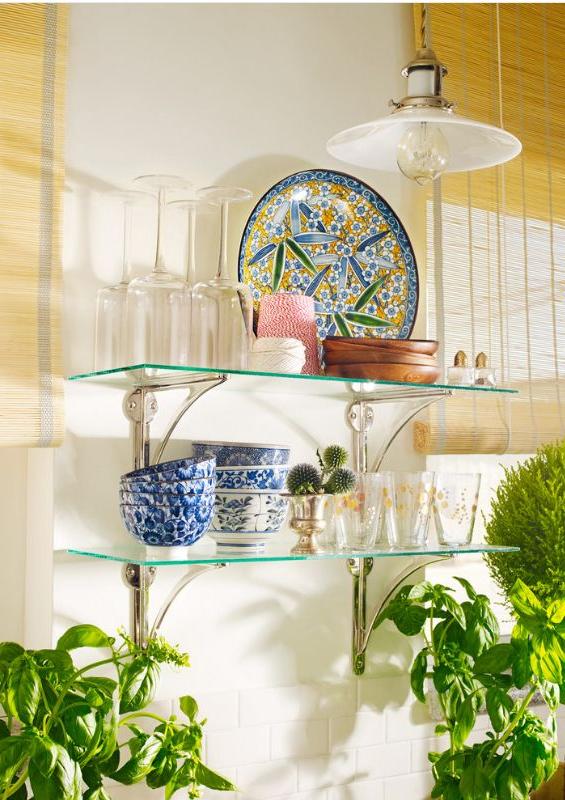 To obtain a wider shelf you can add additional shelves in different levels, but you will have to foresee the size of the things you want to place so that you do not end up putting everything in an improvised way.
25. The TV Can Also Use A Glass Shelf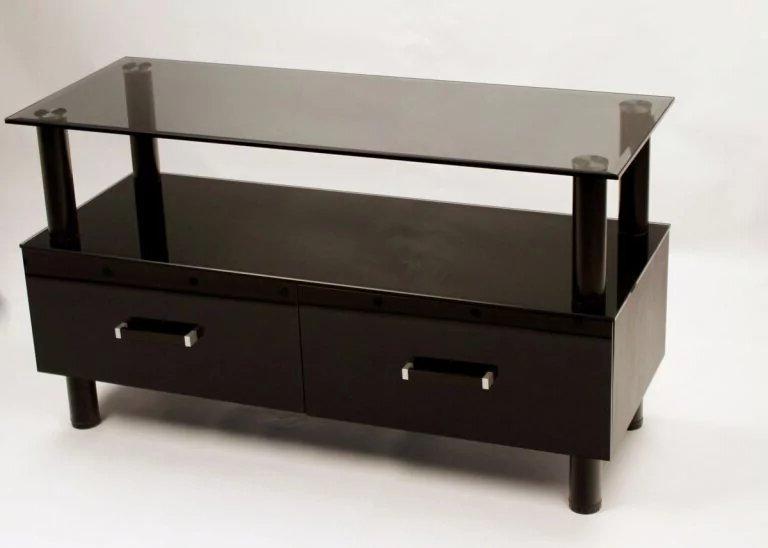 The standing glass shelves, with wooden structure and doors are one of the most popular models on the market. And although they continue to show part of what is placed in them, the doors put a very clear protective barrier between objects and the ground, or curious hands.
The doors can have the same finish as the shelves or they can be opaque or with reliefs. Everything will depend on the taste and the degree of discretion desired.
26. Unique And Modern Hanging Glass Book Shelf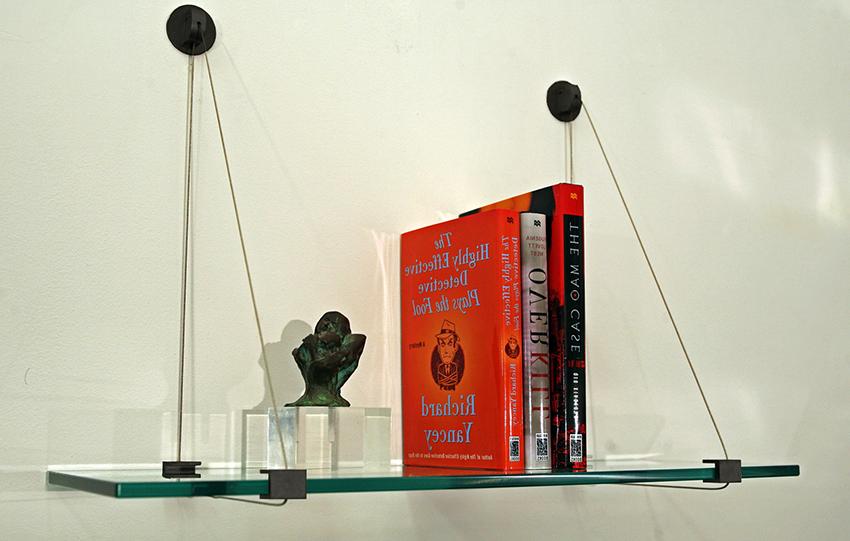 One tip to break with the "cold" aspect of these models is to place several plants or books on the shelves. In this way, the furniture will look much more »homely». This ultra modern shelf can look a little cold, but the red books make everything a little warmer.
27. Dark Glass Shelves Ideal For Any Space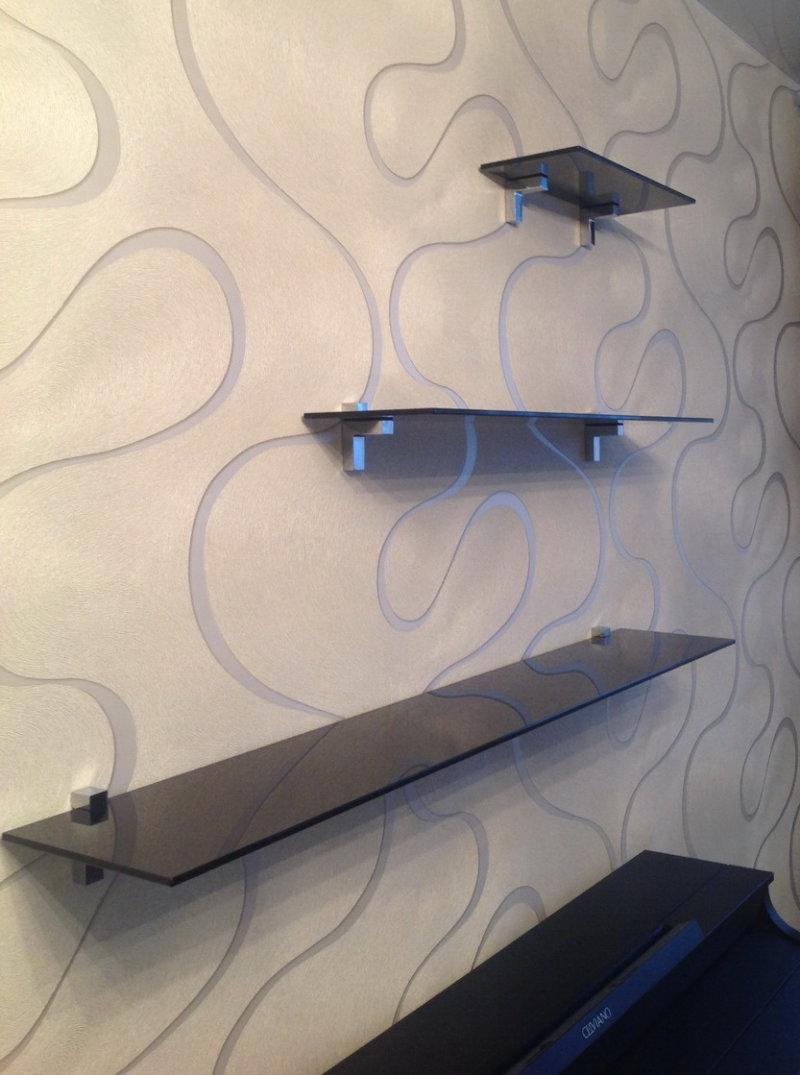 Having many objects has not been a problem when talking about a large place, but when we speak of a small place, decoration, furniture and others tend to saturate the space visually. For this reason, one of the solutions is to use of the walls that are usually only occupied with paintings or tapestry. This method helps to maximize the benefits of construction and optimize space, maintaining the order of the place. If you choose dark colors like these as well, the space will look more elegant.
28. Fun And Unusual Shapes For Glass Shelves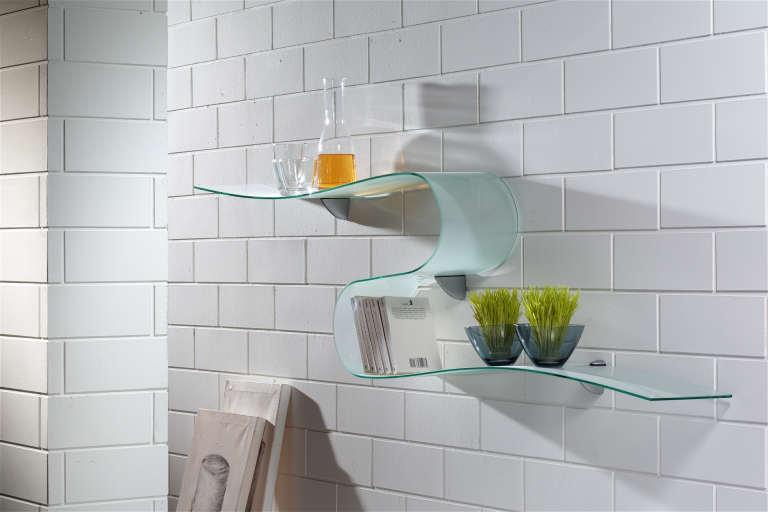 Glass is a very versatile material that easily adapts to our decorative needs, the possibilities are many and what makes it is so interesting for interior design and for the general public is that they can create a cozy atmosphere in the home.
29. Interesting Ideas To Set Glass Shelves In The Walls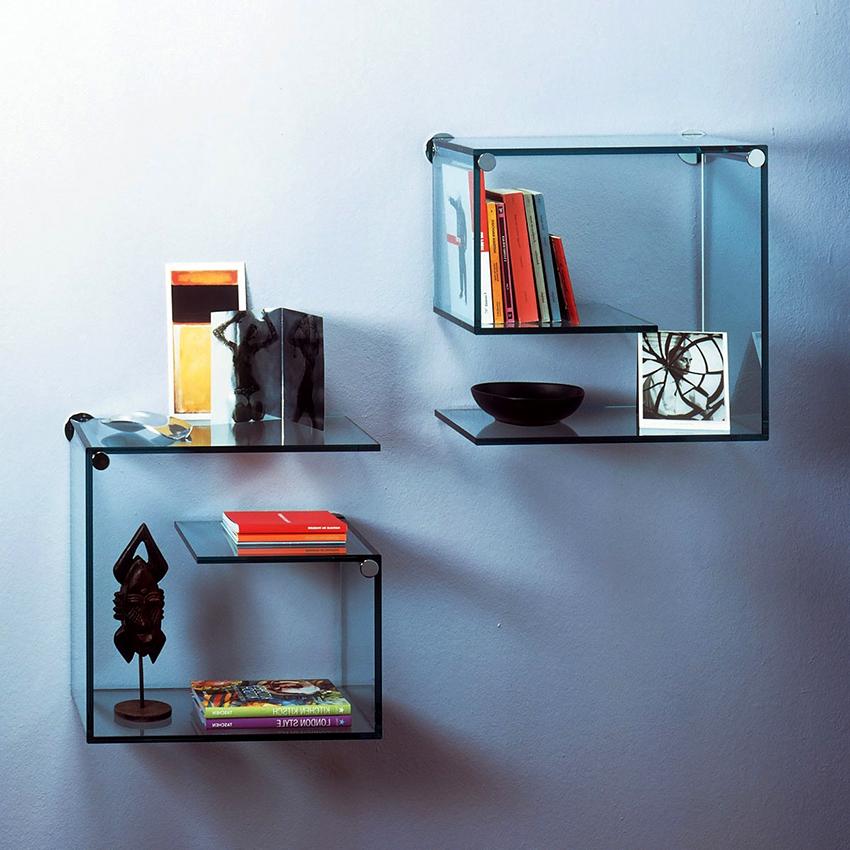 They have a place in any part of the house. In the bedroom, next to the bed to store the books before sleeping. Or in the studio to archive magazines. No matter where, you will sure need a shelf to make the best from the available space you have. And glass can always be a great option.
30. Glass Shelves In A Night Stand Or Entertainment Center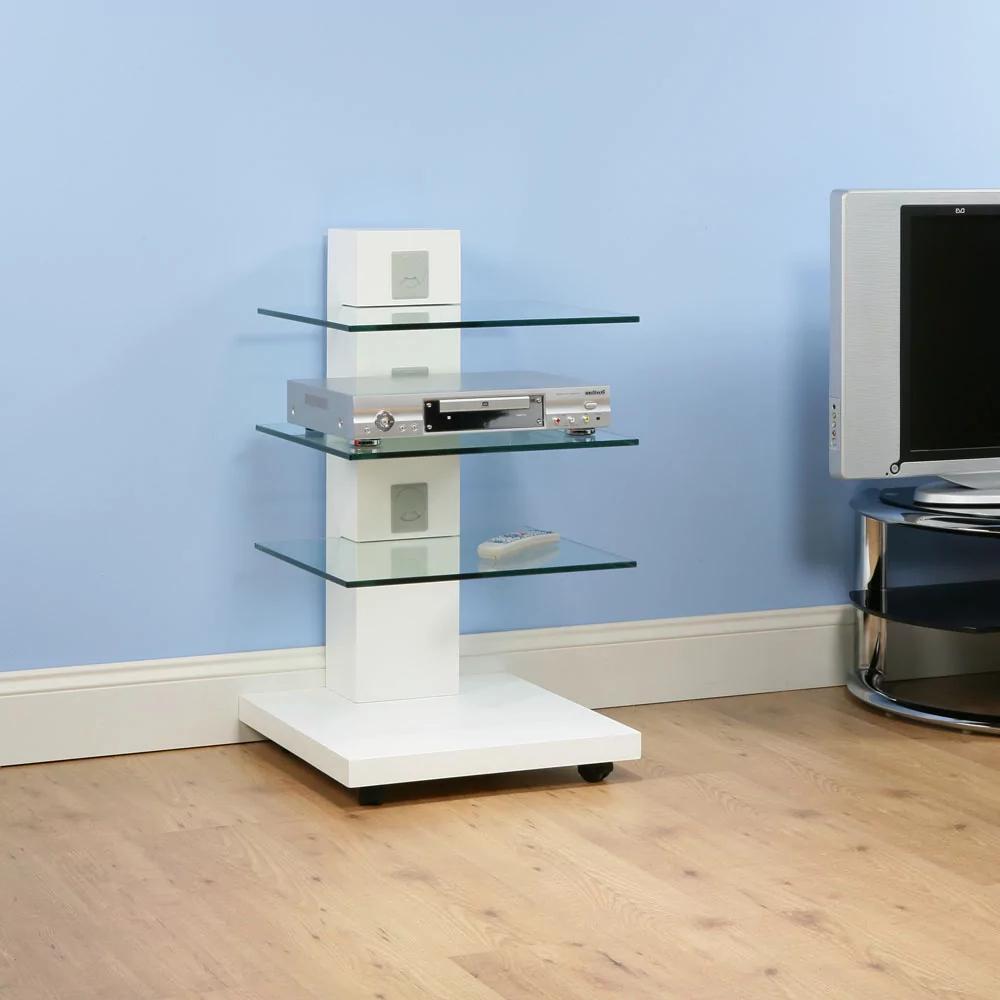 Floating glass shelves are a good choice in design, since their elegant style and neutral colors contrast with any type of decoration, as well as being more accessible than some custom wooden shelves. This model can work an entertainment center, a nightstand or anything the person needs.
If you have decided to include a glass shelf in your home, do not choose the first one you see. Evaluate the model well, keep in mind the decoration you have and what you want to achieve. There is a wide variety to choose from.
Obviously, this type of furniture is not the most chosen when you have children in the home, given the risks involved. However, today there are several designs that are quite safe that can be taken into consideration.
The shelf, shelf, shelf, shelf or shelf always serves to hold something. At the beginning a table held with one foot. Today they float on the wall, because they are encased with a bolt. At the beginning they were tables, today they can be rectangles, hexagons or any type of hollow figure that allows to place something in their level. And the wall can be any, coated or not, free or in equal niche. The shelves are flexible, they only care about their usefulness. They can be in the bathroom, in the kitchen, in the studio and wherever you want.
Today we show you some photos and we remind you that they have not gone out of style. You just have to choose with good taste the type of shelf and the place. And by the way at the beginning they kept the nostalgic objects in them, even the photos in their photo frame. Today you can place what you want and use them as a focal point. By the way you can illuminate them.