The facade of a house is like a business card that has your home for all visitors, since it represents you significantly, that is why working on its appearance and maintenance is vital, but many think that the facade is only painting or good ceramics and even small decorative elements on the wall, but sometimes you forget something that if it is not well worked can damage the entire image of your home. It is neither more nor less than the door of your house.
The access door to your home is essential for all housing, not only for safety, but the aesthetic level changes the whole perspective the moment we cross that threshold of the door, it is like leaving behind all the bad vibes to focus on something more positive and relaxing to enjoy a perfect world built by us, in a nutshell your home.
But we are not going to talk about any door, we want to talk about how the wrought metal doors express that inside your home the most precious thing of your life is protected, because thanks to its hardness as well as its resistance, these manage to conceptually offer that feeling that we have just described.
35 Metal Front Doors Perfect To Enhance Any Home

A vital aspect of any home is the fact that it makes us feel safe and confident to be in it, and this is precisely where the barriers of protection that we decide to put it have a place and importance: door and window bars, gates, fences, etc.
How would you include any of these gate options outside your home without losing the style? The key lies in the ingenuity and precise alternation between contemporary materials and good quality; remember that not everything is in aesthetics, it is also essential to protect in our refuge. We even have some examples; do you want to check them out?
1. Black Metal Front Door With Windows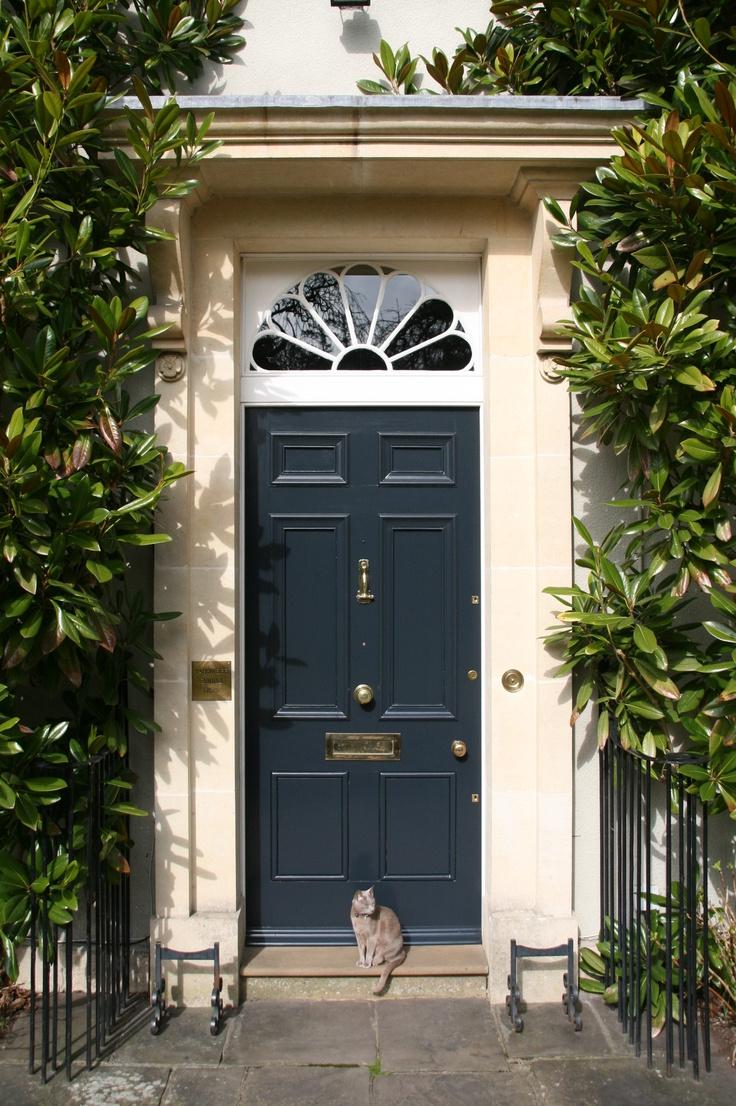 The iron doors give us the facility to adapt with great ease to any type of entrance, besides that if it is built by an excellent professional, its finishes will be really beautiful and delicate, giving you the opportunity to obtain several designs despite being a material so resistant. This is a simple metal front door with drop-designed windows on top.
2. Bohemian Style Metal Doors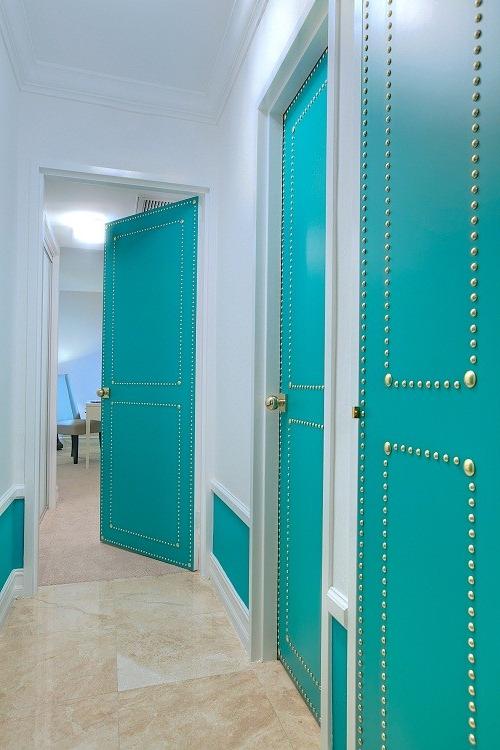 A metal door not only looks incredible, thanks to the artisan beauty with which it is counted, but it also provides a character of strength and security without losing warmth. This type of doors are characterized by being used together with traditional or classic architectural styles, but they are not limited to these typologies, we can also find wrought iron doors in modern and contemporary houses. These metal doors are beautiful because of their design and color.
3. Elegant And Modern Metal Door Gold And Grey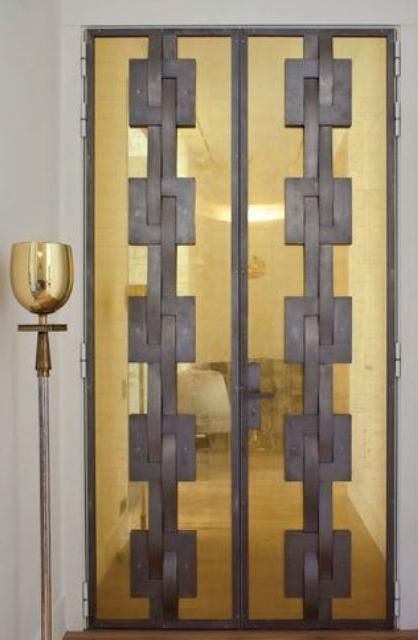 Metal exterior doors have modern designs that combine the use of materials such as wood and glass to forge a door that is a balance between contemporary aesthetics and modern protection. In this case, the combination is of two different types of metals that also differ in color.
4. Cheap Steel Metal Doors For The Front Entrance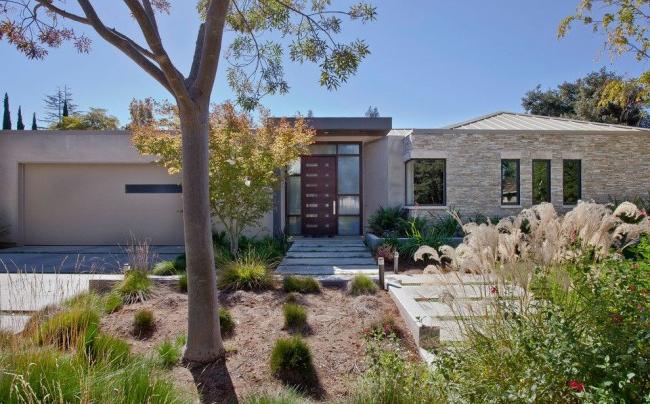 A metal door as an entrance to the home is elegant and generates distinction. This style of opening combines with any type of decoration and is extremely safe thanks to the weight of the material. At the same time, it has an extended useful life and is very difficult to be damaged or corrupted. The only drawback is that it is an expensive model, but given its benefits is a good investment. This model is inexpensive yet very pretty.
5. Cheap And Elegant Front Door For An Apartment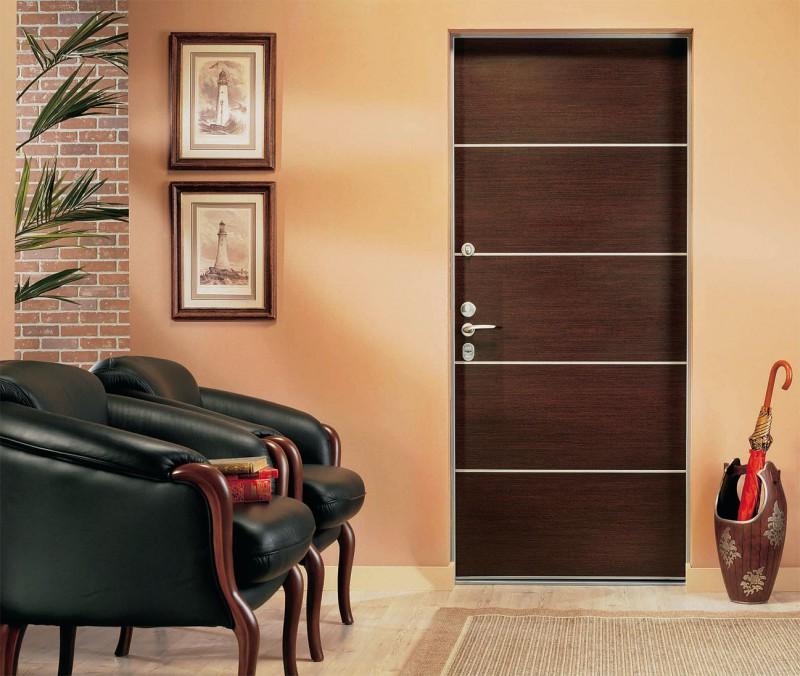 The iron doors, totally solid and flat, offer a character of unsurpassed strength and go very well with styles of modern and contemporary architecture. They are ideal for houses and apartments like this one.
6. Steel Entrance For A Large Home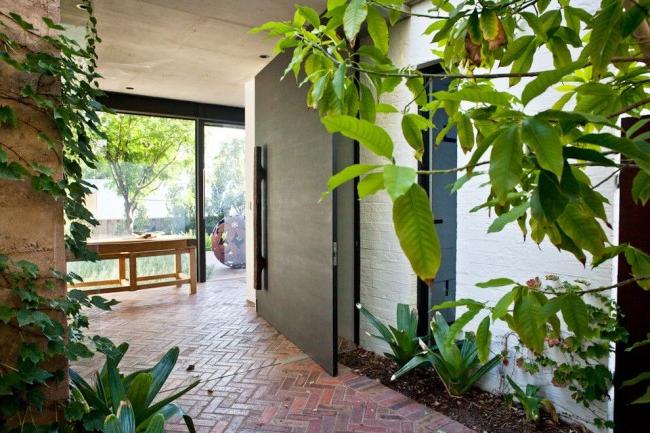 The metal doors are a safer option because the metal plates make them very difficult to open, even using a lever. In addition, they are heavier and act as an insulator of sound and temperature, which can be key in case of fire. This type of door is expensive and, therefore, choosing it requires a large initial investment. This big door showcases everything metal entrance doors are all about.
7. Easy To Find  Metal Front Doors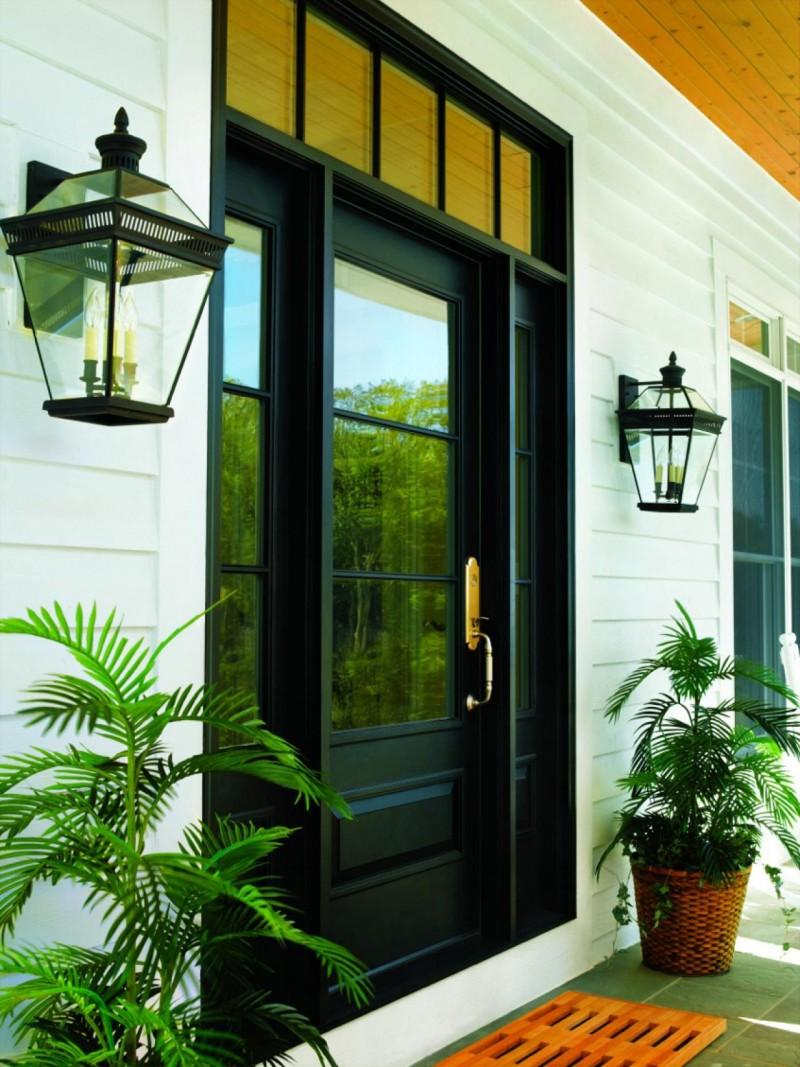 The industrial style metal and glass structures are perfect to use in the entrance. A decorative trend that is sweeping today. And it is not surprising, since they give character to a space without sacrificing the comfort and functionality that these should have. Metal doors can be adapted to all types of designs and styles, since they fit with any type of decoration. This simple metal door is easy to find at any store, which is also reflected on its price.
8. White Metal Front Door For An Apartment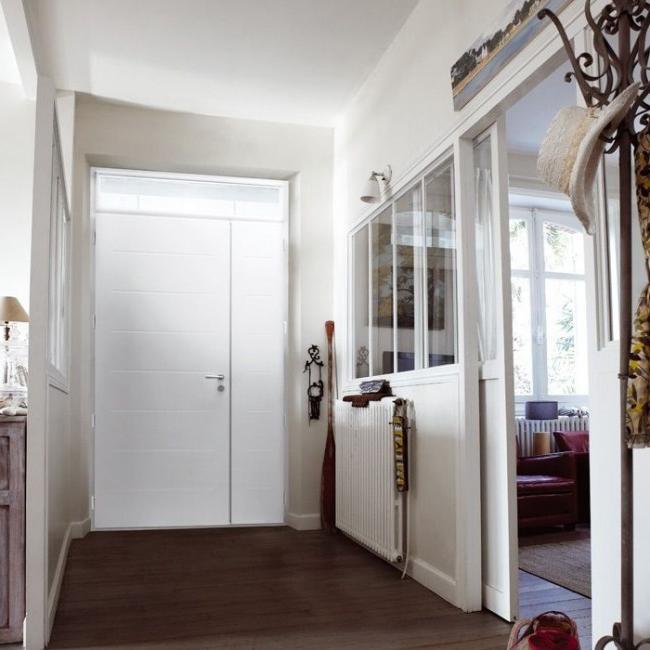 If we need to separate a room in our house and we want to do it in an elegant way, of course a metal door is the ideal solution. Not only will we be able to divide the spaces comfortably, but we will also provide personality to the different environments. This house features 2 different types of metal doors.
9. Large Vintage Metal Front Door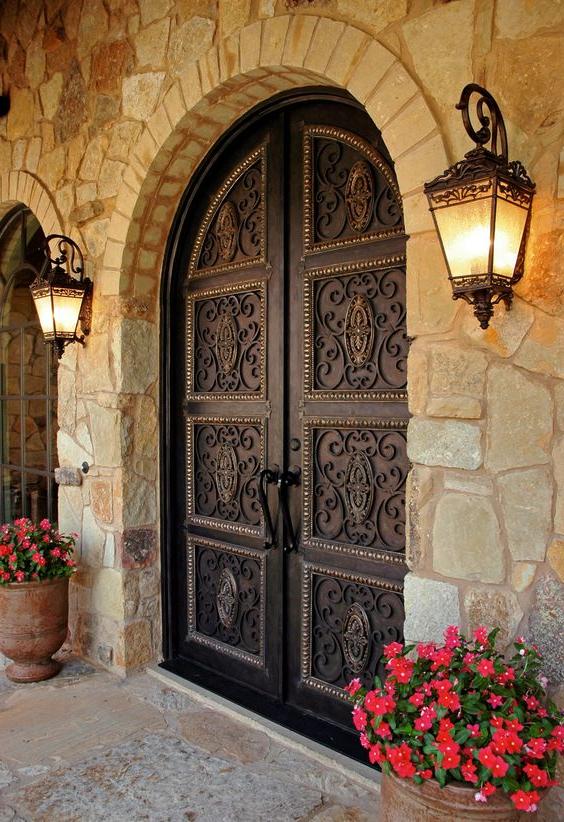 Metal doors can be used on the facades, garage doors, gates and more. The metal withstands any climate, without presenting, over the years, disadvantages with respect to corrosion. The price of this material is one of the highest, however, the investment is justified by the high performance of it. This vintage large double door is definitively expensive, but the design and security it offers is worth it.
10. Front Metal Door With Decorative Design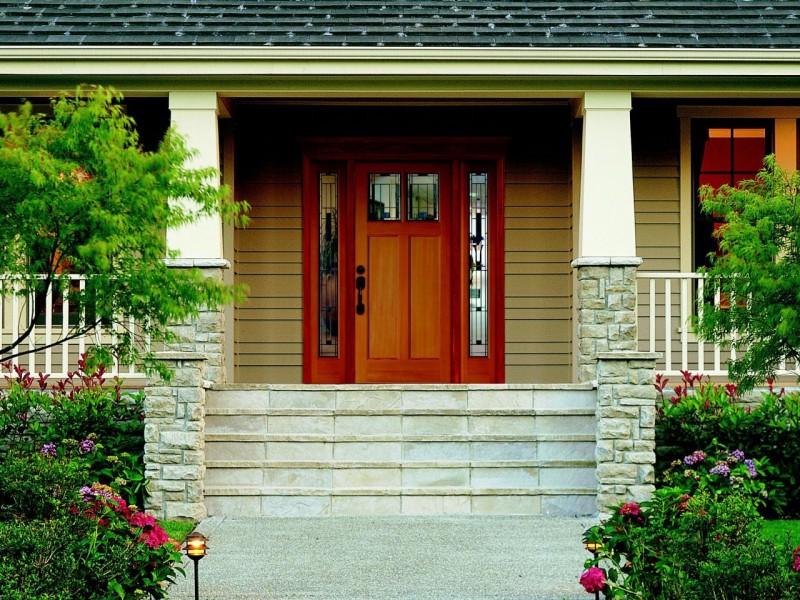 The first thing you see of a house is its exterior. From it we can imagine what a house will look like inside, that is why it is so important to take care of its appearance. Therefore, if you have enough space and your pocket allows it, you can place a metal door that draws attention visually. Although at the time of choosing it, it would also be advisable that you consider other issues such as its resistance and the security it offers. This front door looks luxurious with its modern yet simple design.
11. Wood And Metal Decorative Front Door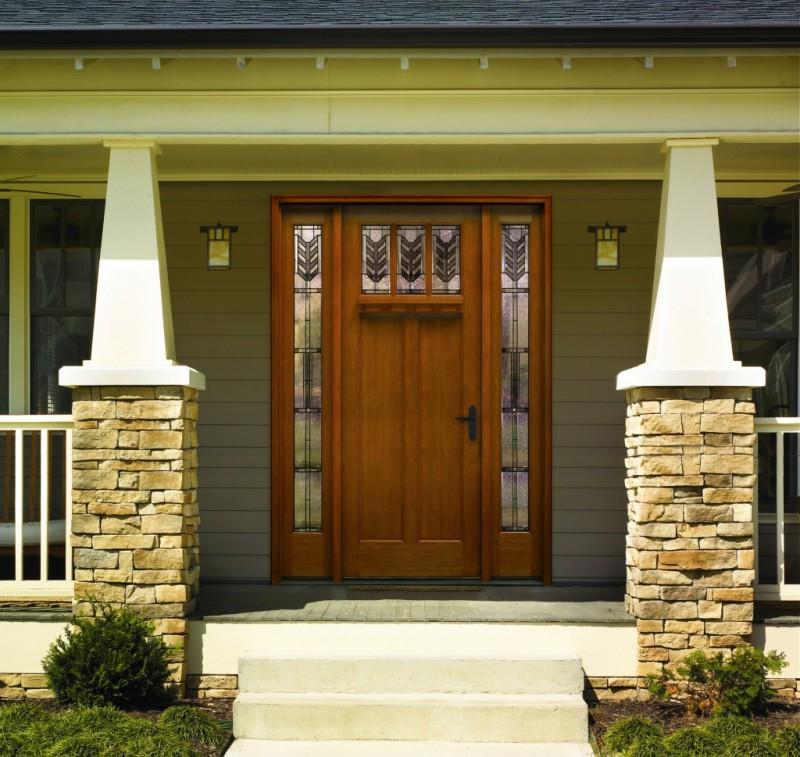 The doors or entrance gates are important elements of a facade, not only have a special meaning, mystical and scenographic, but also form part of the architectural composition. Whether the door of the house or the gate of a perimeter wall, the design of these elements can be as minimalist as we want to baroque, the important thing is that they are always in tune with the design of the house. This front door is made of metal, wood and glass, making the house look stunning.
12. Large Doublé Metal Front Door With Ornaments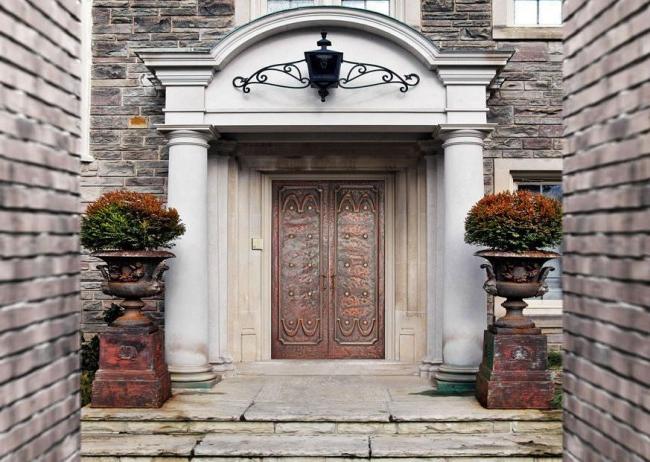 Metal front doors tend to have a more modern design than the classic wooden doors of a lifetime. They have a series of strength advantages, simplicity in design, safety and longer life. Above all, they are used for outdoor use, although their use indoors is also growing little by little. The sale of aluminum windows is also gaining strength.
13. Steel Entrance Door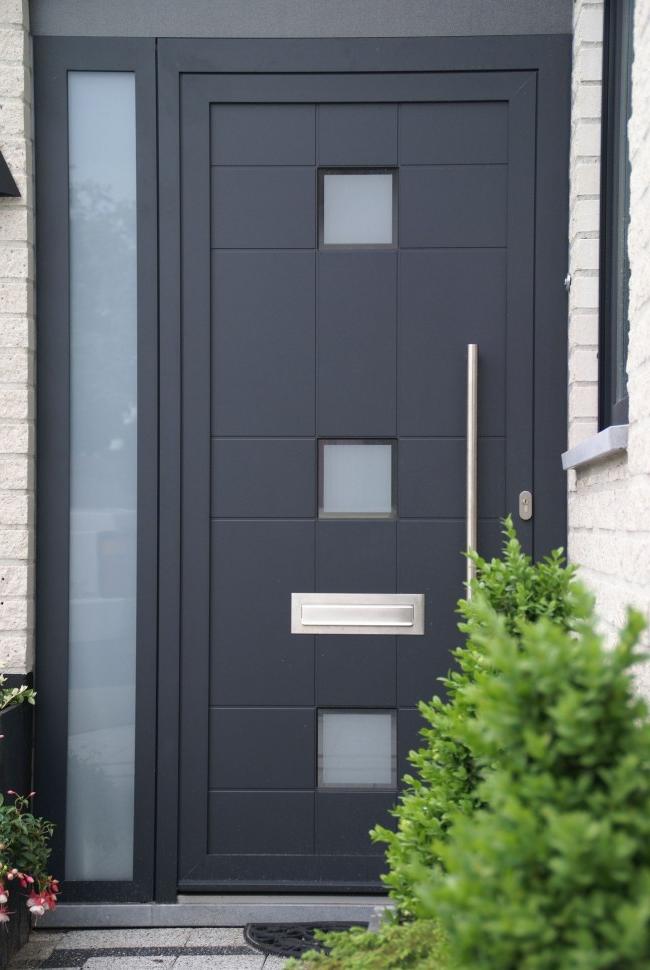 Another great advantage of metal or aluminum doors is that they are excellent insulators of outside noise and that is appreciated in certain spaces. Doors like this black metal one is very thick, so it is a great insulator.
14. Joyful Front Metal Door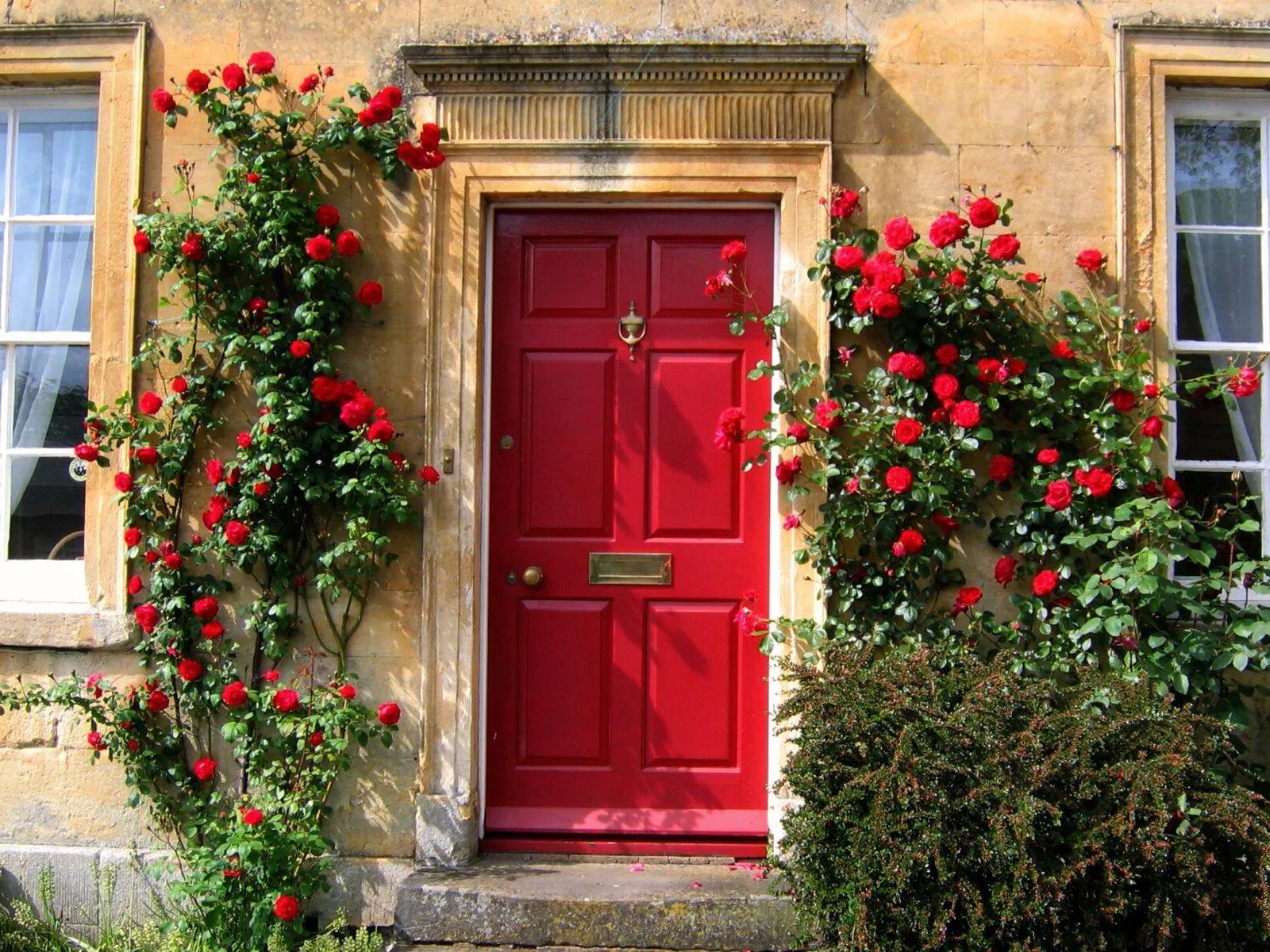 If you are just planning the design of the facade of your house, it is vital that you consider for this the design of the main door you will have, either from a fence or the one directly on the door of your house, so you we bring the best designs of main doors starting with some of the most popular options, that is metal main door designs.
15. Steel Metal Door Of High Quality For The Entrance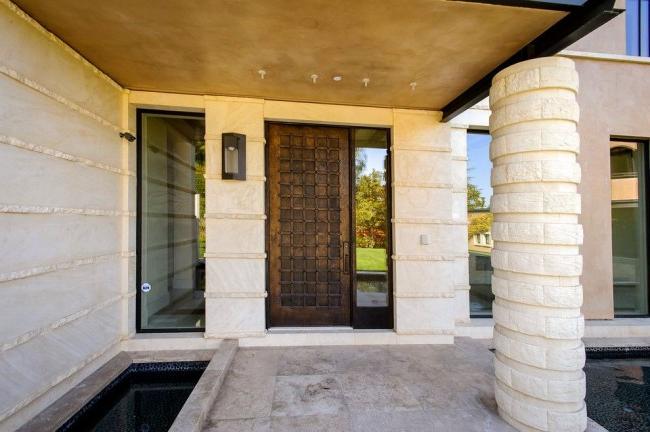 One of the most outstanding searches inside the aluminum or metal doors, are the entrance doors. Its use is applied to houses, apartments, floors and doors of buildings and developments. The metal doors allow better the incorporation of security systems such as locks, bars, etc.
One of the great advantages of this type of doors in its low maintenance per year compared with doors made in other more classic materials such as PVC and wood. This fact involves a significant saving of money in this investment. They are higher quality than other materials, which is one you should consider the use of one.
16. Metal Front Doors Made Of Iron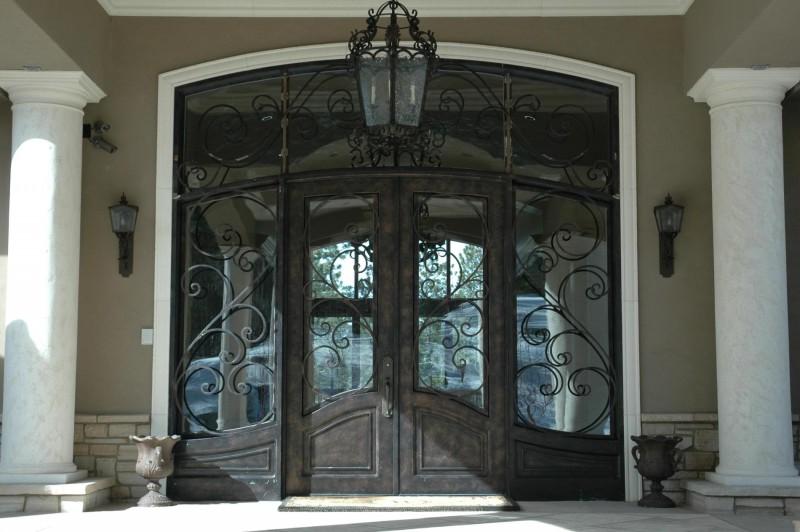 There are endless designs of ironwork gates that can be adapted perfectly to the style of your home and what you want to achieve in the decoration, it depends a lot on the style of your house, the design that will have the door, gate, or fence, so consider every detail so that you choose well. There are different colors of gates, the most typical are in black, dark brown or copper color. Before you choose your metal door, see some gate designs in different places so you will have more offers to consider since it is a big cost that you will do and that should be worth it. This design features glasses ornamented with swirls In the most popular colors.
17. Large Front Doors Made Of Metal And Glass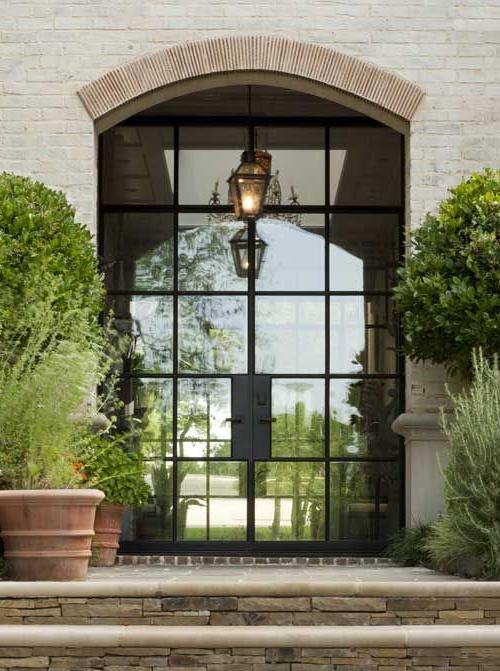 The metal main doors are responsible for giving that final touch to any facade of the house, plus it is one of the most important elements that will allow you to have your home safe, to avoid intrusion or people from the outside intruding … While decorating our facade, with designs of metal main doors like this one, you can make your home look with personality and modernity, like this house, that features an old style classic metal framed door.
18. Metal Front Door With Wood And Decorations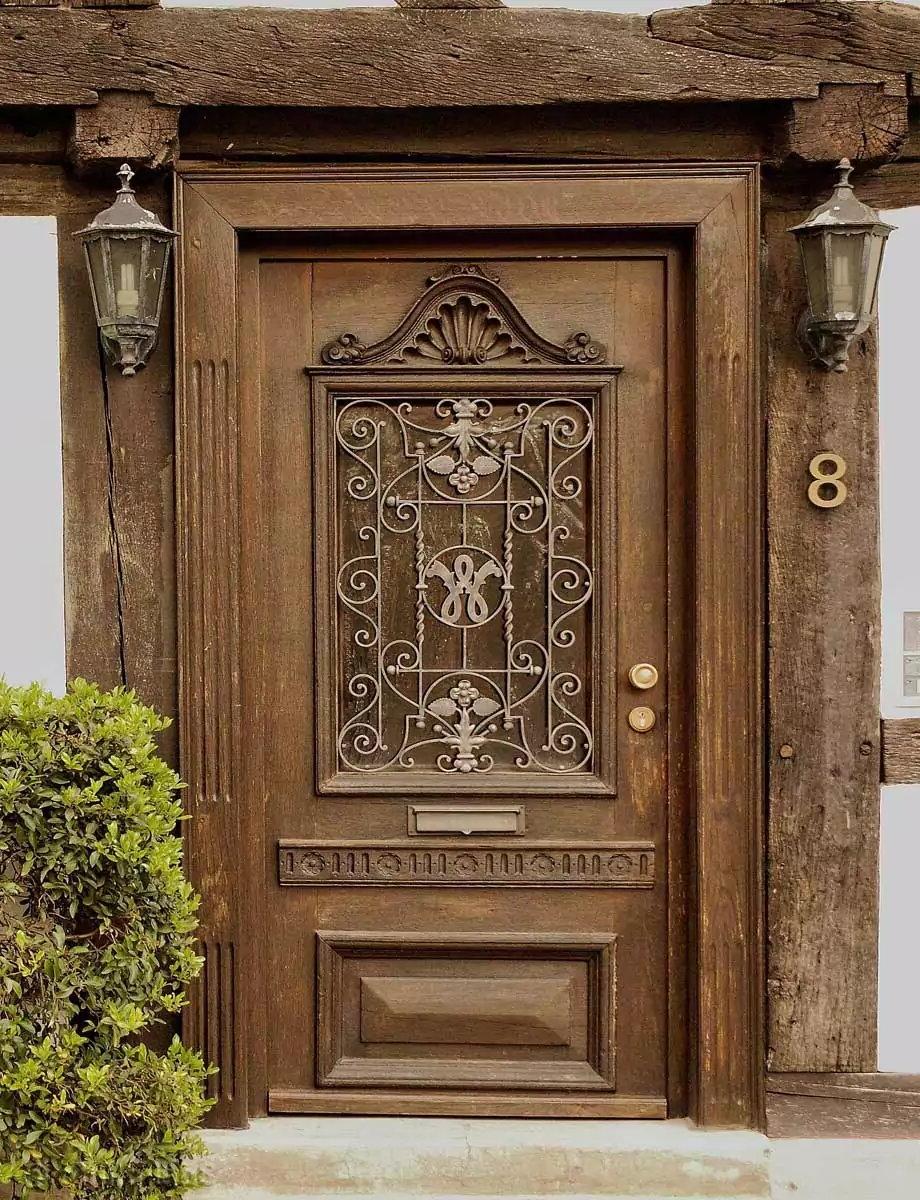 One of the most sought after options by many people in the network, are designs of iron and metal doors simple and beautiful, because what many we want is a cute design of ironwork gates but at very affordable prices. So consider different designs and finishes so you do not pass your budget, another advice is to ask for a quote in different companies that are dedicated to making blacksmith doors so you have different options. With a design like this you can have both worlds: a metal door that is affordable and that combines two favorite materials: wood and metal.
19. Beautiful Combination Of Metal And Wood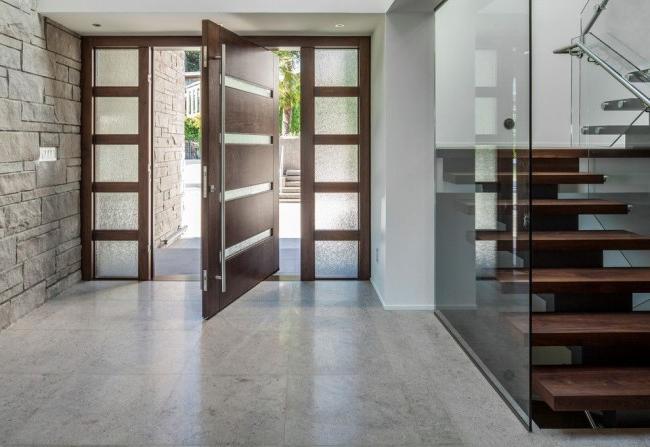 Something that differentiates our suggestions of blacksmith main doors is that we will always share the most modern designs … The wrought iron allows you to get practically the shapes you want, although for modern exteriors simple designs predominate, which are limited to vertical bars or horizontal.
20. Metal Framed Doors To Enter The Backyard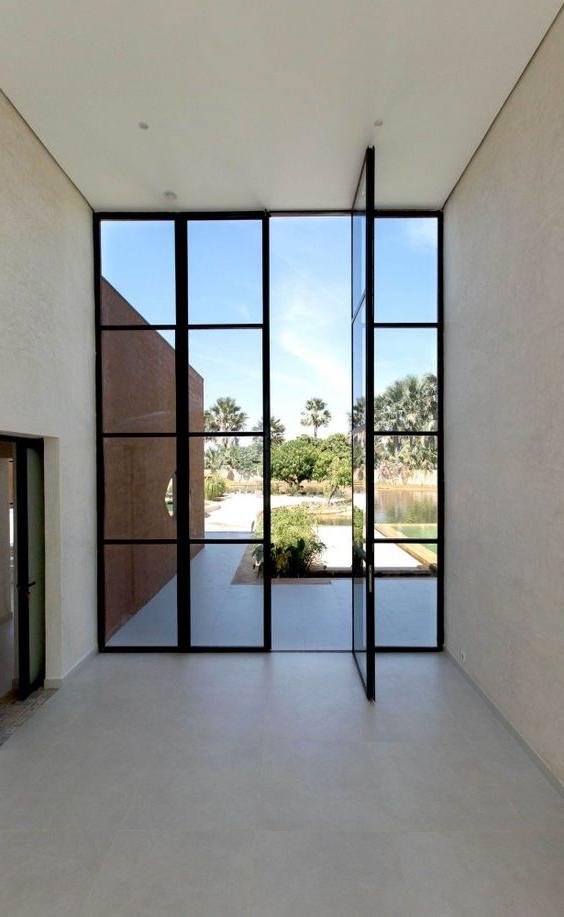 The minimalist style since a few years ago has become the sensation not only in the interior decoration, but also in the exterior design of different homes and also commercial stores or established companies. This is because it gives a lot of style, elegance and sobriety to the spaces at the same time. So if you want to add a bit of this style to the facade of your house, you can find pieces like this metal framed door with windows.
21. Sculpted Black Metal Front Door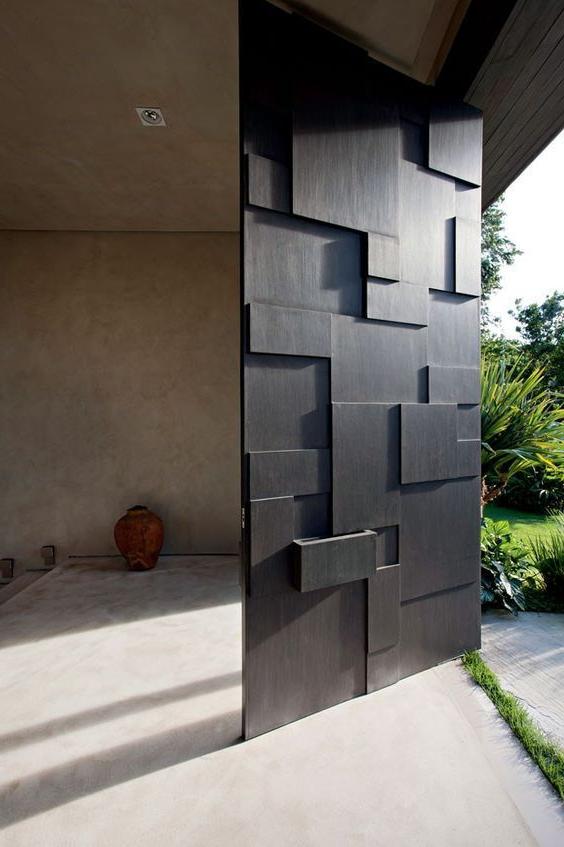 The main doors are responsible for giving that final touch to any facade of the house, plus it is one of the most important elements that will allow you to have your home safe, to avoid intrusion or people from the outside intruding … While decorating our facade, see examples like this design of main door: a unique and sculptural style that will help you to make your home look with personality and modernity, besides catching every bodie's attention.
22. Colorful Metal Door With Painting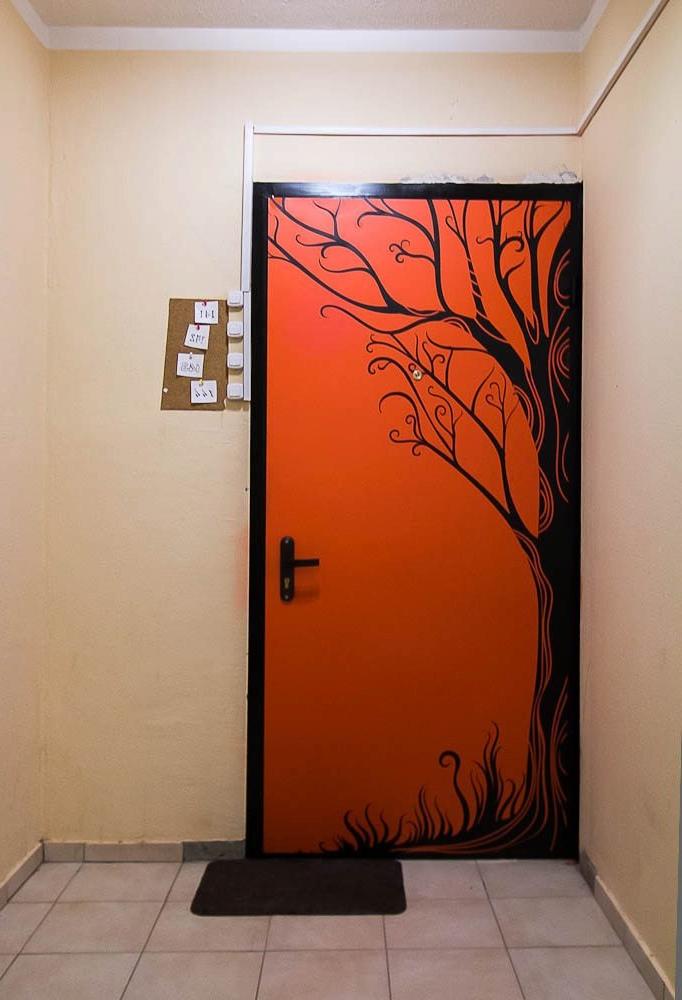 Some designs of modern metal front doors give a great finish to the facades of the houses, especially if you do not intend to add ironwork gates to your home, but if you can consider doors for the entrance of your house that is you will see incredible. Metal front doors can really be incredible with many different designs that combine the best with the house's personality a pretty metal front door like the one in the example you will be able to transform your door in a super modern design.
23. Big Black Metal Framed Door With Glasses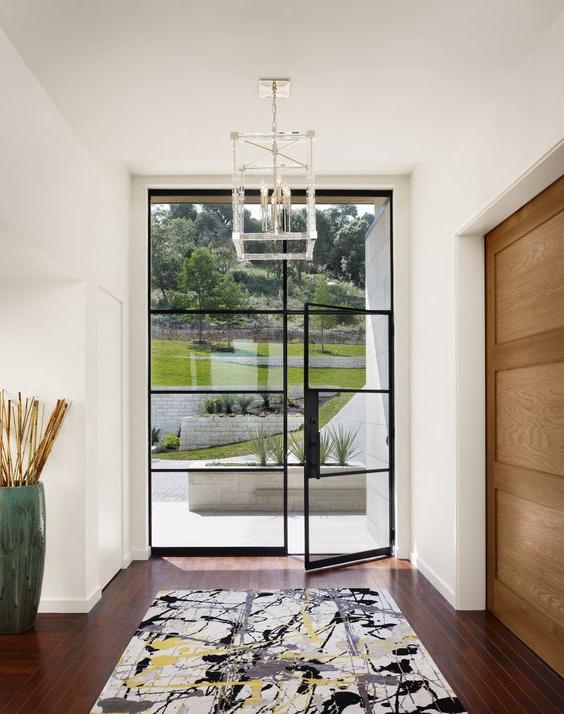 An excellent way to make the doors look modern is to opt for simpler designs, almost adhering to the minimalist. This design of modern metal front door can be attached to any model of modern housing, with electric gates, hand gates, different materials in trend, etc. Everything so that you do not miss any detail that you can use to design the door for your house. This is a very minimalistic door, with metal frames and transparent windows.
24. Impressive Front Door For An Apartment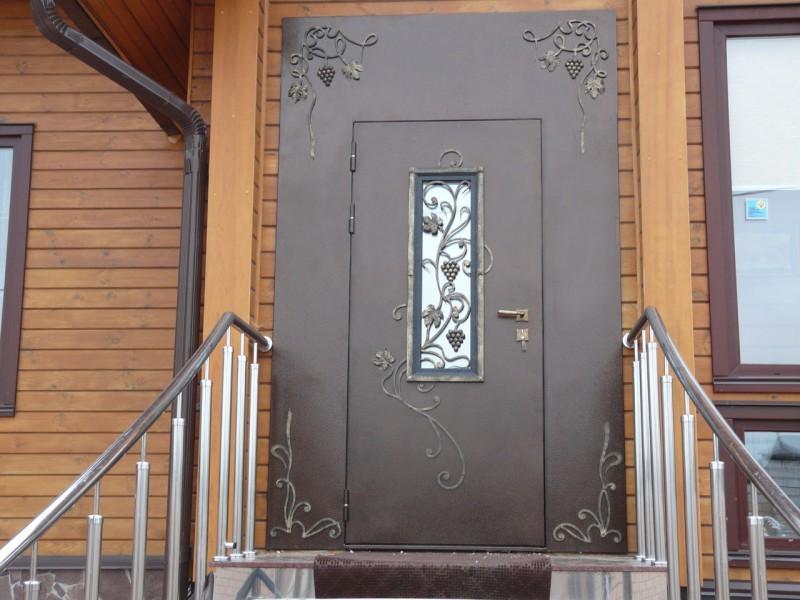 Metal front doors become a vital detail for the design of any house and façade. Metal doors can be made in minimalist, modern and classic designs, and wherever you place it, its style will predominate. consider contemporary materials with good quality, which are what make the difference in these designs. Like for example this metal front door, that is very impressive and large, ideal for the entrance of a condo.
25. Rustic Metal Front Door For A Rustic Design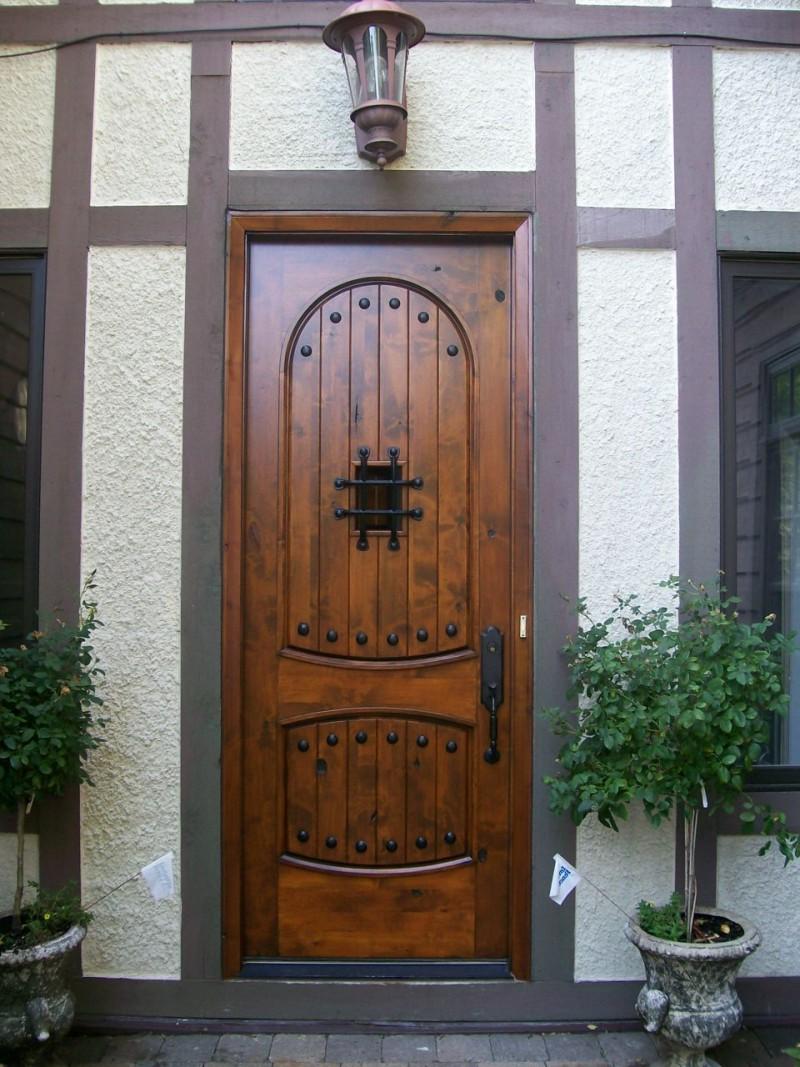 The prices of metal front doors can vary greatly from one another, considering the company in which you send them, also the design of your door and how much iron it has on its composition. Another detail that will influence too much in the price of your gate will be the measure of this, how long and wide, thickness, etc. This metal front door is made of wood and metal, so its price is less than other models.
26. Extra Large Steel Front Door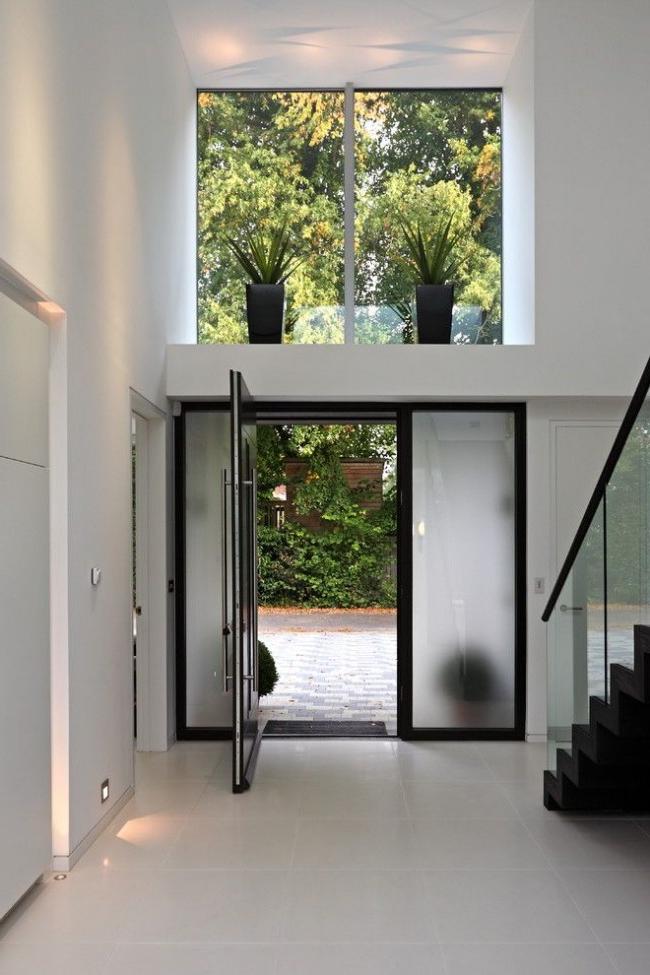 Metal doors can be used not only on the front door, but also to access the backyard of our house. This will allow you to make your home safer, so if you look for suitable ironwork gates for this part of your house, you will not be disappointed. In examples like this one, the size to choose should not be neither too large nor too small. You will add points to the view of your house believe me with doors like this one, that features tempered glass with a blur effect.
27. Modern Glass And Metal Front Door With Geometric Figures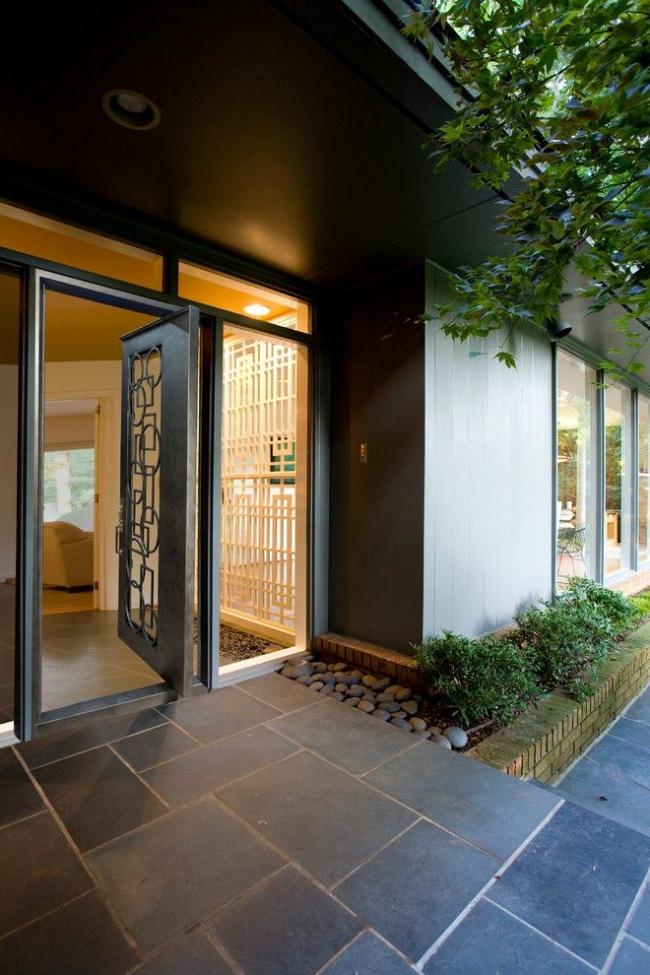 The spacious houses have many more advantages over the rest, since you have a lot of space to create the design of metal front doors that you want or the one you have always imagined. Metallic materials can also favor the appearance of your facade if it is wide, do not hesitate to add details of stainless steel or aluminum to get a more modern door and the color you choose will also greatly influence the final design. This is a perfect example on how great a gigantic front door made of metal looks in your home.
28. Black Metal Door For Entrance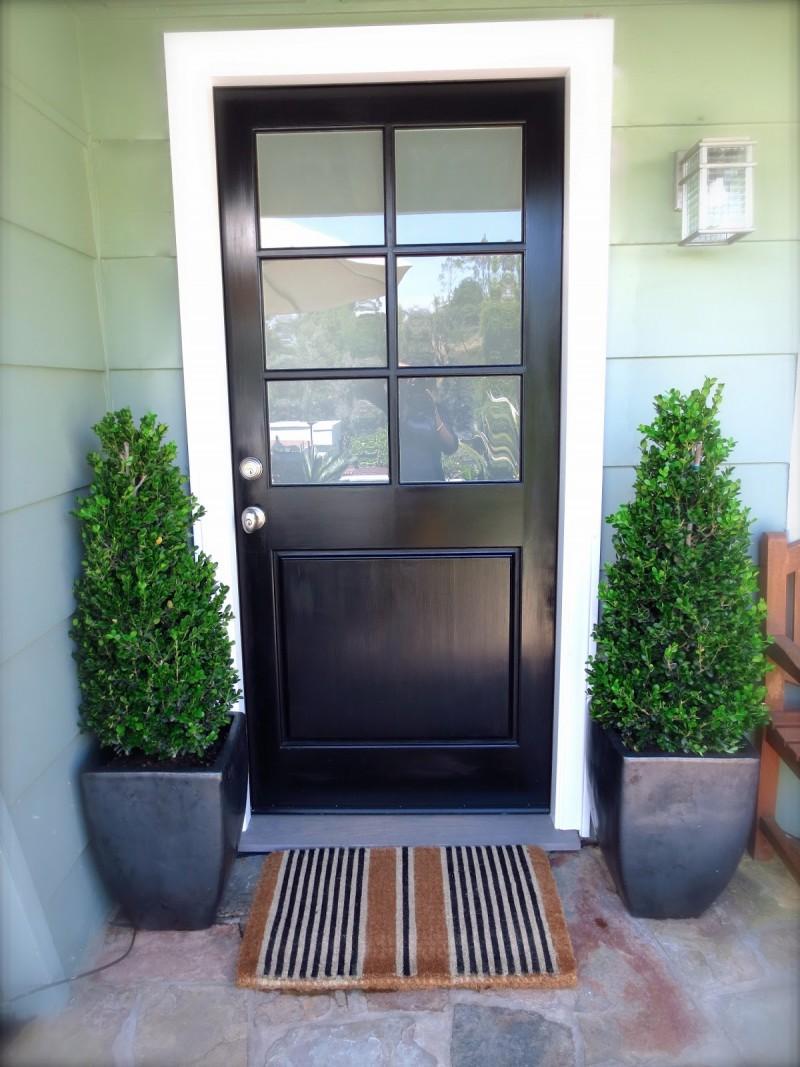 Do not be afraid because you are attracted to a gate but it is a large house, if your home is small, there are also options for it. Since if you work hand in hand with architects, they can guide you to size any façade or gate that you like to the right size of your house. For example, this metal front door is small, simple and high quality.
29. Elegant And Stylish Steel Doors For Different Spaces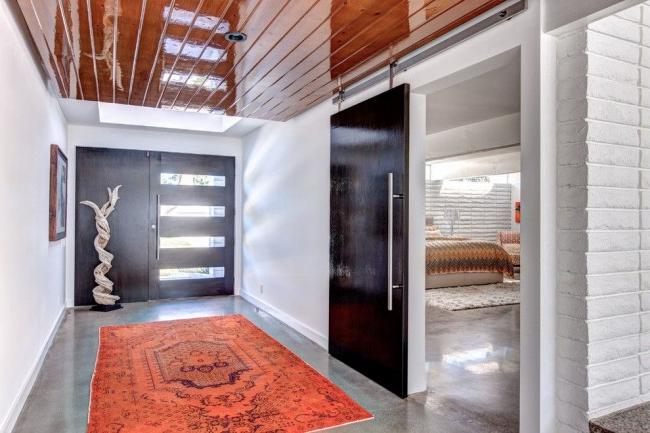 Here you can see two different metal doors. The first one is a type of aluminum doors that are perfect for residential areas, and for urbanizations. These doors slide when you are trying to open them. Aluminum sliding doors can be manual or automatic. You can also get very modern models and with an excellent decorative style like the front door that lets the light inside while protects the house.
30. Impressive Swing Metal Doors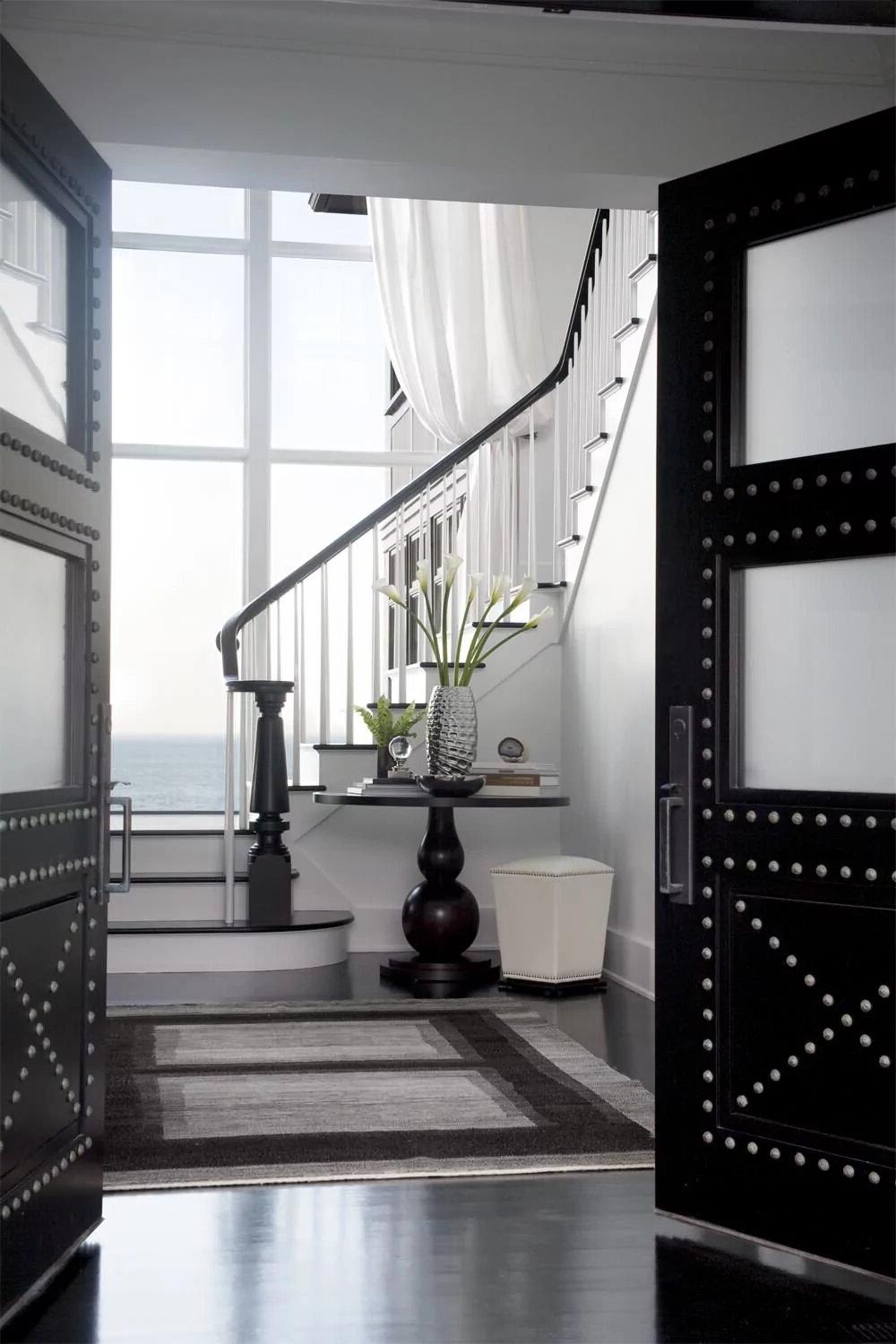 A very interesting variant in the design of metal or aluminum doors is glass. Metal doors with glass are very demanding for all kinds of spaces. They are very decorative. These doors allow us to enjoy more of the exterior views. Less bars and door plus field of visibility. Beware that we do not lose security with the use of glass in this type of metal doors because, just like in this one, they are made with extra strong tempered glass.
31. Super Classy And Unique Metal Doublé Doors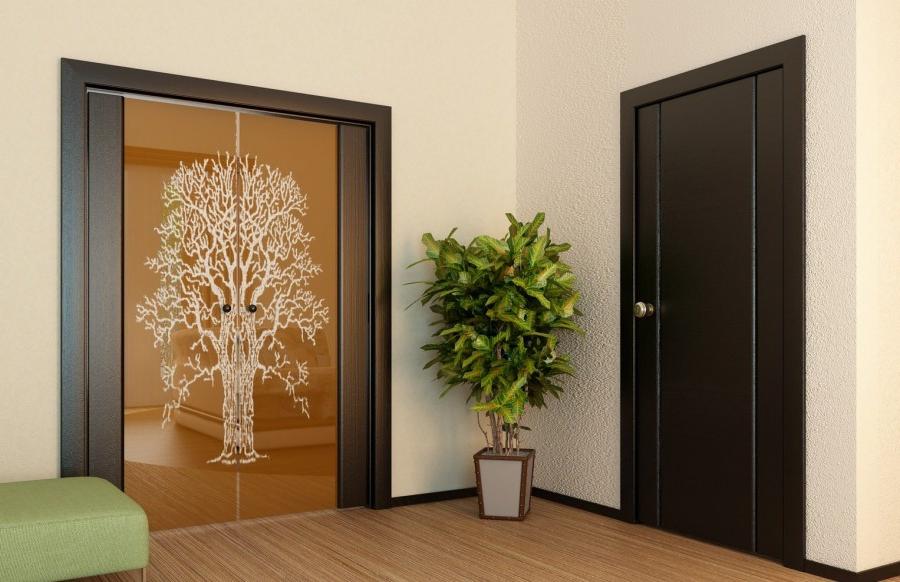 The metal doors are a great advantage for any home, which gives maximum security to your home. Since they can completely cover the front of your house or add some modern and novel design, just to complement the design of your facade. This door with the impressive and classy tree design will definitively make a design statement.
32. Unusual Shaped Metal Front Door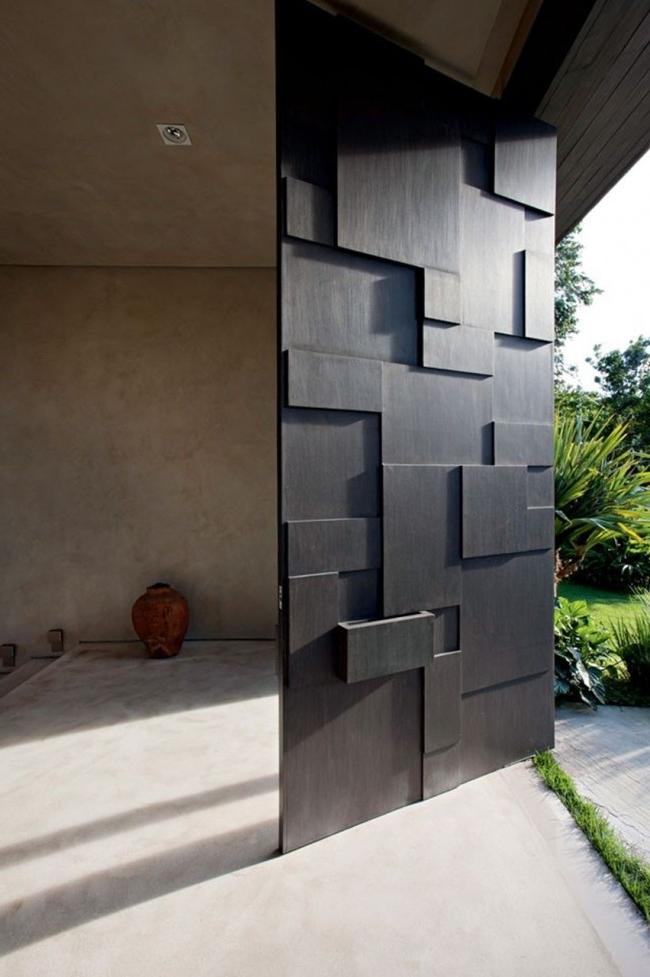 Another very interesting use is aluminum doors for outdoor, specifically for gardens. A big advantage of metal doors for gardens is that we forget the problem of humidity if we compare it with wooden doors. Here we saved good money. We can also get modern and retro designs that make very good play with our gardens. Perfectly this type of doors can become an important decorating element.
33. Stylish And Elegant White Metal Doors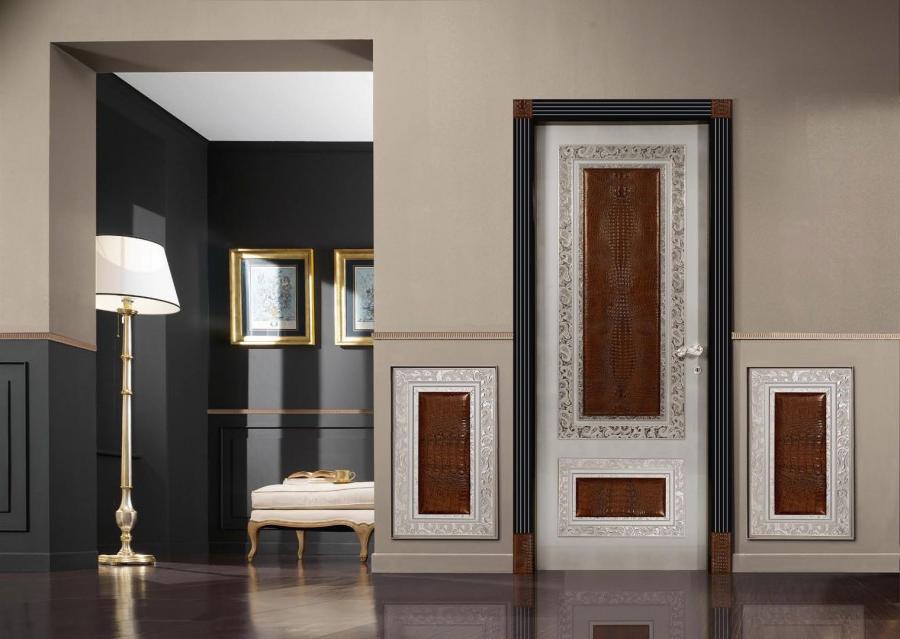 The metal front doors have become more popular thanks to the concern of many people to protect their homes, also to have more privacy or for the simple fact that your home feels more secure. And if you choose styles like this elegant white one, you will make your home feel cozier.
34. Metal And Wood Doublé Metal Front Doors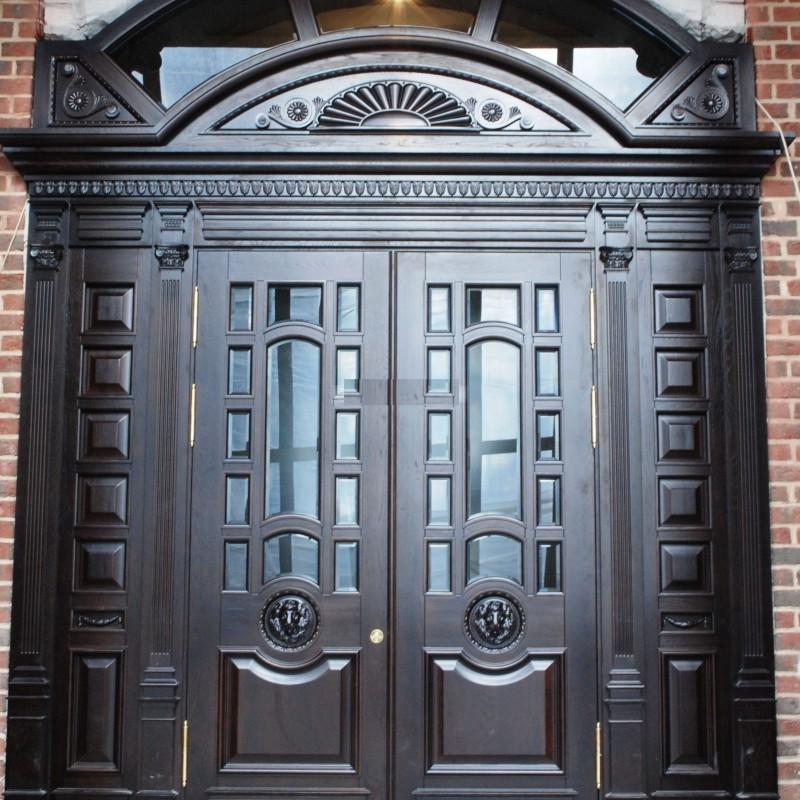 Although the material is currently used to innovate thanks to the new transformation processes that exist to work it more easily today, many people love to have a more classic touch in their metal doors. If you are one of these people, then you should not hesitate to incorporate a beautiful iron door combined with glass like this one, which will give you access to your very elegant home.
35. Metal And Glass Double Entrance Door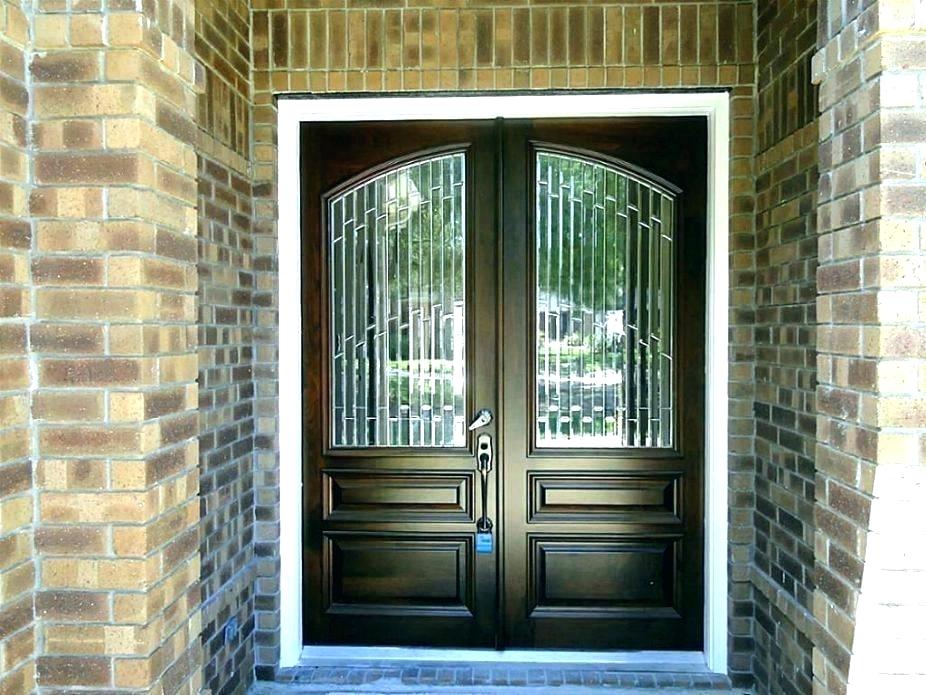 All these designs are vital in the appearance of the facade of our house, since they will be the first things that our neighbors and guests to the house will see. Remember to consider the style of the facade of your house too, if it is modern, if it is minimalist, if it is classical, etc. The metal doors will give a very sophisticated and elegant look to all homes. You must also take care that the design you choose combines or makes harmony with the windows of your house, with the color and with the materials that you have chosen for it. This design is great as the first door of a home.
Many only see the doors of the house as an element of security, something that prevents people from outside to sniff the inside of our home, leaving aside another important quality of these elements, which is to contribute to the style and decoration of our facade.
A metal door can be a very decorative element in your facade, metal being a malleable material can acquire many shapes that other materials will hardly acquire. A metal door or gate is not only an aesthetic element but also gives the impression of being stable and solid, generally difficult to penetrate. And while it is an element that is related to the classic or traditional style as you can see in this book of ideas can be incorporated even modern or contemporary architecture.