10. Cheap Idea For A Man Cave In A Garage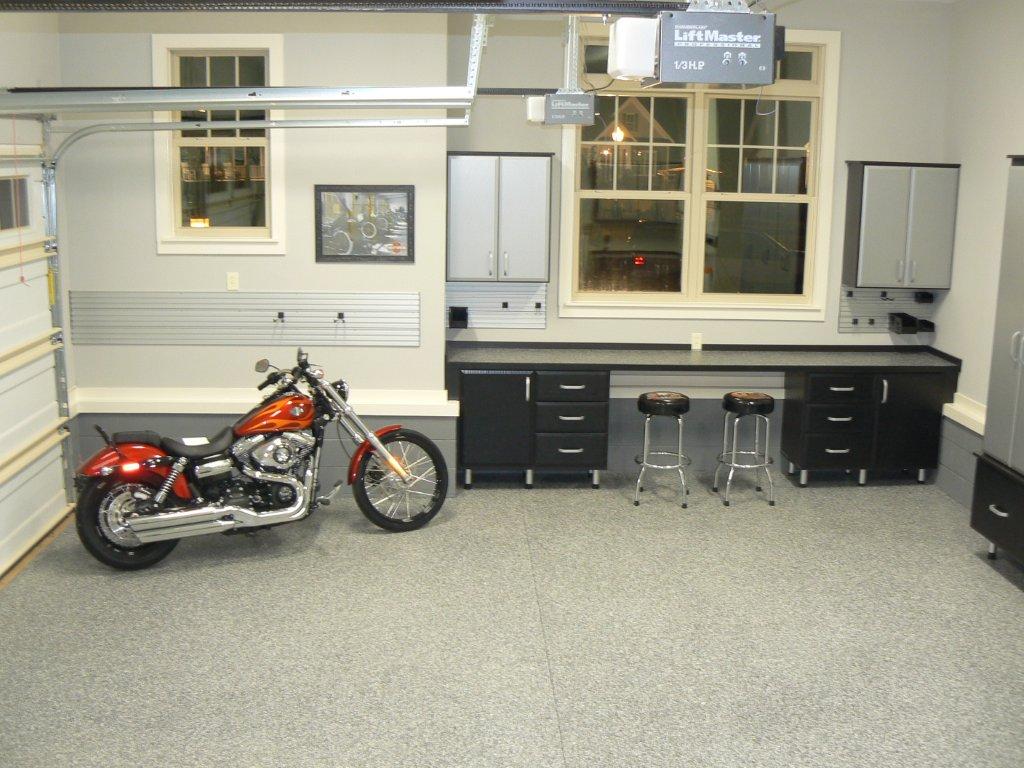 For those who want to build their cave with staying on budget, we found this cheap idea you can realize in your garage. Consider keeping your motorcycle inside and mark your spot in an automotive unique manner. A cave like this is simply arranged and owns only what's necessary for your accommodation. Feel free to 'steal' this idea today and turn your garage into the perfect resting spot that won't cost you much money.
11. Colorful Man Cave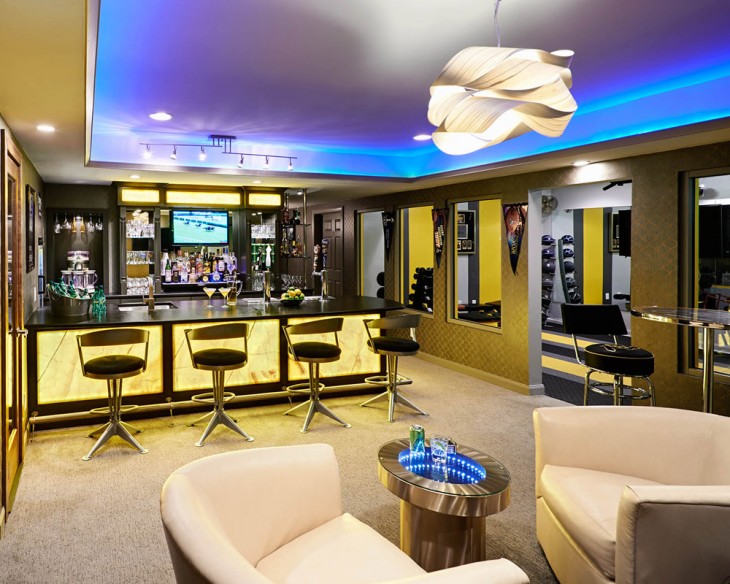 Dreaming of a colorful modern cave that will impress your pals and keep them entertained while they visit your secret spot for relaxation? Take a look at the cave we presented on the photo and use the idea to create a modern and stylish resting place with an impressive look. Be careful when choosing the lighting and consider installing a blue lighting that will match the whole appearance and create a relaxing atmosphere. Resembling a nightclub with a bar and creative decoration, your new cave will become your favorite hanging out spot.
12. Contemporary Man Cave With A Large Built-in Home Library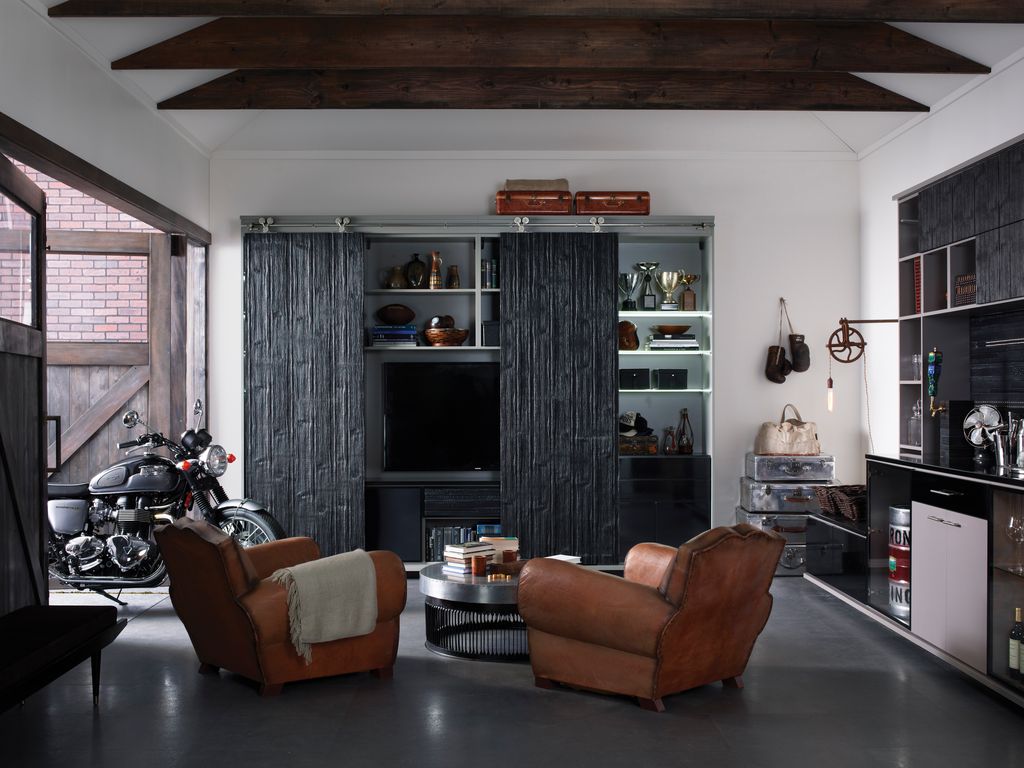 Small contemporary cave builds in a garage with a home library and a motorbike peaking inside the perfect relaxation spot decorated with modern ornaments and classy furniture. Are you a book lover who enjoys reading alone in peace and quiet? If yes, then chose this idea and install a library in your cave that will be always at your service. Consider arranging the rest of the space in a similar manner and keep the modern style with adding a small elegant kitchen and comfortable leather armchairs. We are sure you will enjoy spending your spare time by getting lost in your books more than outside going outside.
13. Cottage With Fireplace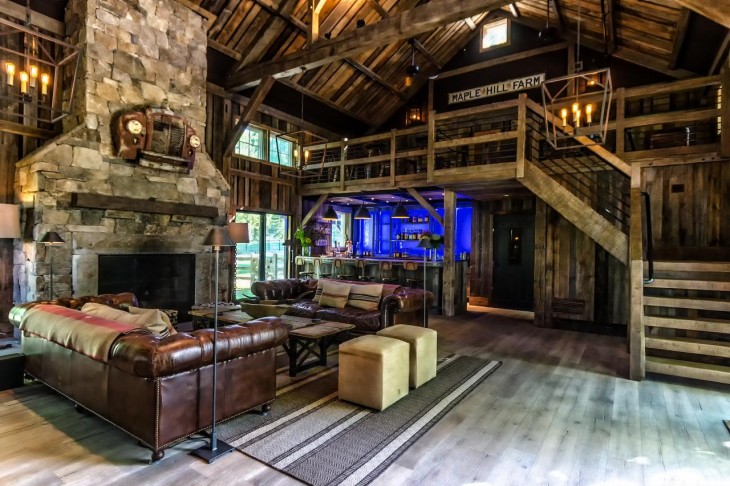 A cozy cottage with fireplace is a dream come true for every man who wants to own a comfortable private place for relaxation or hanging out with friends. Adding a contemporary bar with blue lighting like in the example we provided on the photo will only embellish the space even more and heat up the atmosphere. Feel free to use this idea and realize it starting today. Your friends will love your new cave.
14. Cozy Man Cave Ideas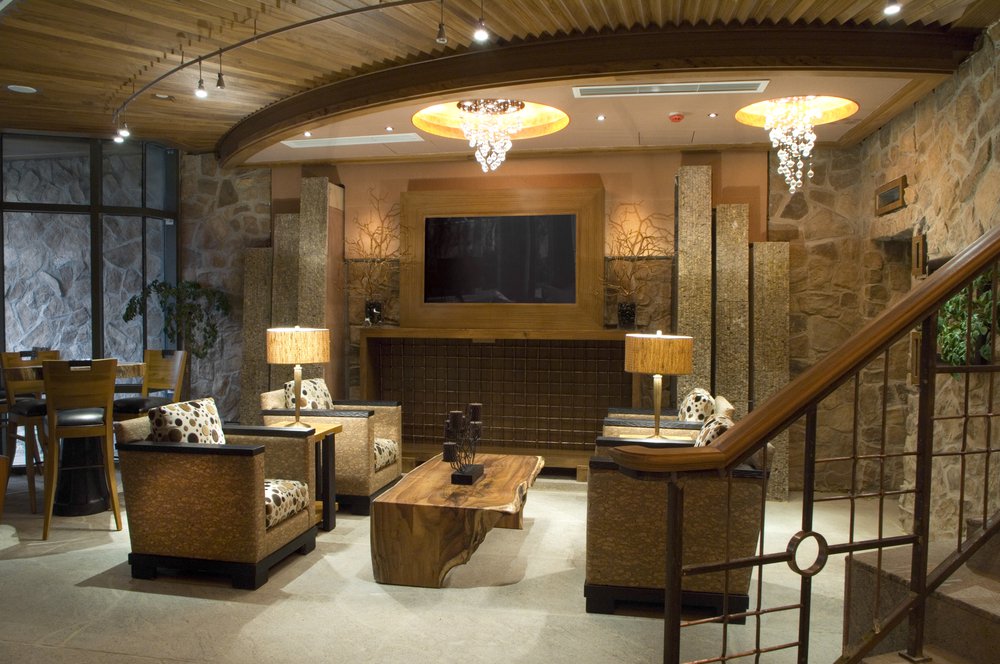 Another cozy place for hanging out and relaxing. Modern ornaments and furniture are the main features of this contemporary and comfortable cave. You can realize this idea in your small basement or in a medium-sized available room in your house. Chose stone walls and wooden furniture in a rustic style to embellish the space and mark it in a modern creative manner. You will enjoy hanging out in your new cozy escape place together with your friends.
15. Creative Man Cave
We always come up with the most creative ideas and this one is no different. A wide man cave resembling a movie theater where you can gather your pals and grab a beer while watching some of your favorite movies or games. The comfortable leather armchairs matching the color of the lighting will turn your cave into the coziest place and allow you to spread your legs and relax. Aside from the many screens, the place contains a fireplace with decorative stone walls that complete the stylish appearance.
16. Man Cave Decorated With Dark Wood Furniture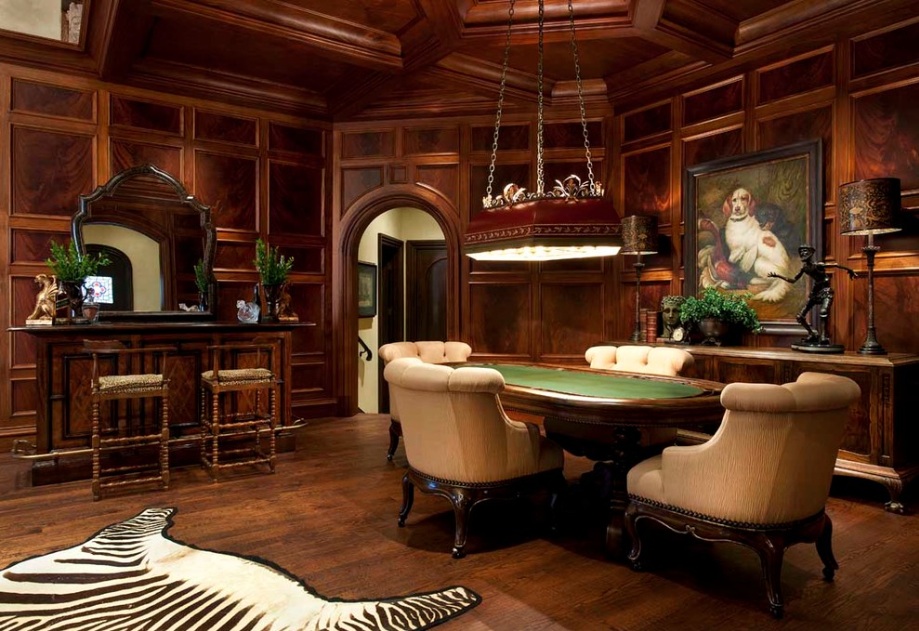 Remember those man rooms you've seen in movies and you always thought: 'I want this in my house'? Now you have the opportunity to own one in your basement or other larger room in your home. The cave we presented on the photo will definitely meet the refined taste of landscaping that not every man has. Are you one of those who wants to arrange his man cave in an old-fashioned and classy manner? If yes, follow the example and improvise with a dark wood furniture and a card table where you can play poker or some other games with your friends. Chose the carpet and decoration wisely and let them complete the appearance of your new favorite cave.
17. Game Room With Leather Armchairs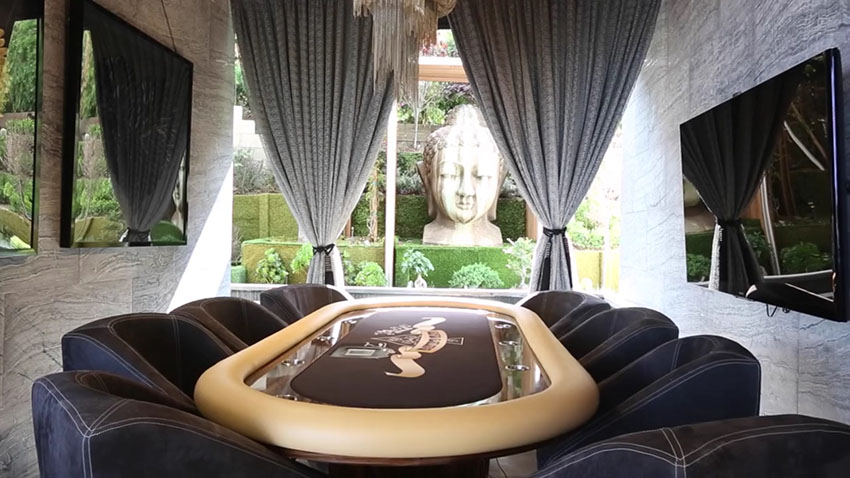 Are you often playing games with your friends at their place? Why not arrange your new game room in this manner and invite them at your place for a change? Place armchairs that will allow you to enjoy the comfort while playing and arrange the rest of the space in a casual manner with minimal decoration. Aside from the comfortable chairs, consider choosing a location that provides a view of your lovely yard and let nature turn your man's cave into an eye feast.
18. Game Room With Stone Walls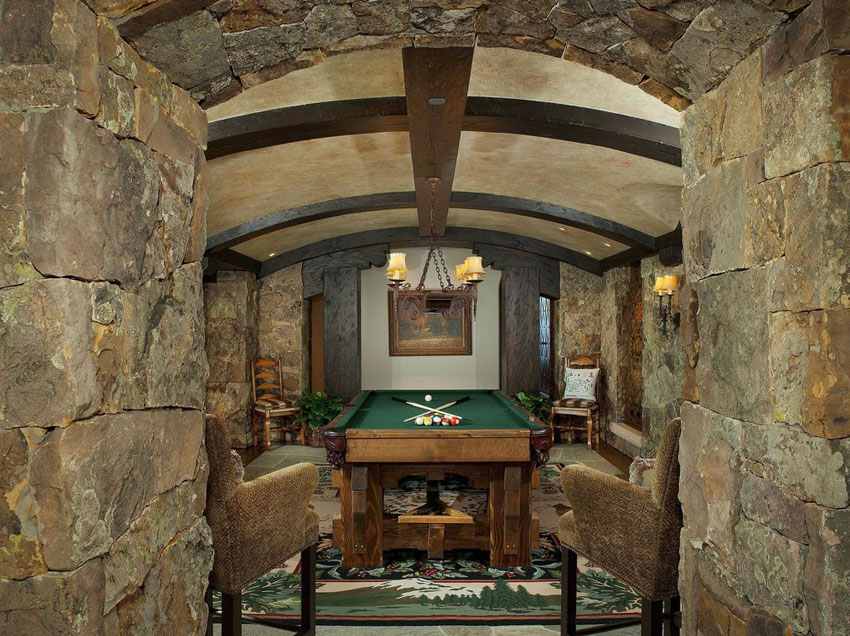 Stone walls always give any space a striking appearance and create a cozy warm atmosphere for relaxing. Are you a fan of stone walls? Why not arrange your man cave with stone walls then and enjoy spending time in your new comfortable hanging out spot together with your friends? Consider adding a rustic or vintage furniture and old-fashioned that will match the whole appearance and a pool table where you can spend some quality time with your friends and keep them amused. We promise they will be impressed by your new resting spot and come to visit you more often.
19. Home Theater For Small Cave Room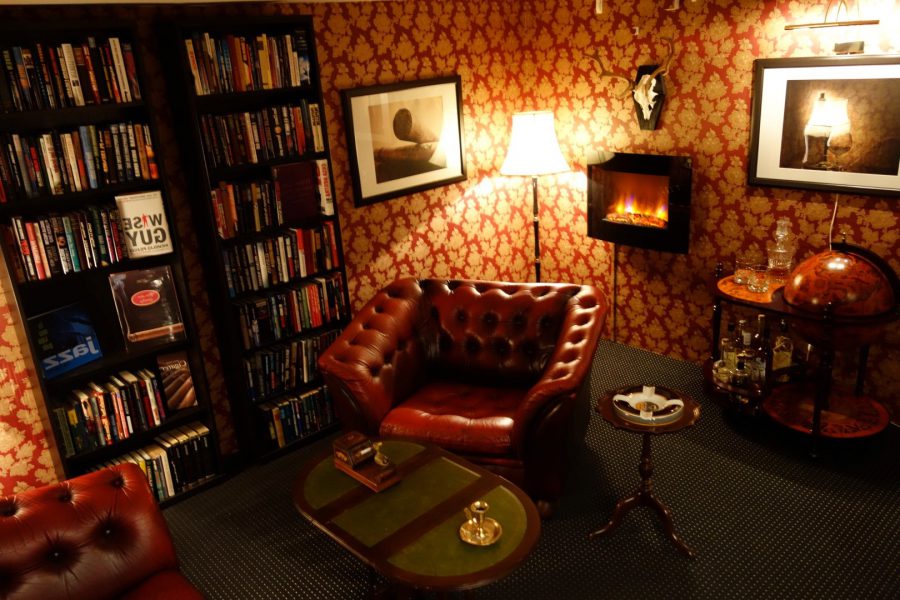 For those of you who don't own a basement or larger available room that you can turn into a cave, don't worry because we have the perfect idea that will match a small room and help you arrange it with style. Just follow the example we provided on the photo and use it as a startup for creating your comfortable man cave that will allow you to spend some time alone or hang out with friends while watching movies. Add a few leather armchairs and dark wood furniture that match the gloomy atmosphere and chose a minimal lighting. Consider adding a home library also, if you're a book lover and read your books in quiet while resting in your new small man cave that will perfectly meet your needs and imagination.
More Man Cave Design Ideas On The Next Page…