The dining room is the social area of our house where we share conversations, meals, and in general, the day to day with family and friends. Therefore, we can choose different ways to decorate it and achieve a comfortable and cozy environment for all members of the family. Here we show you 40 different modern dining room furniture styles and ideas that you can consider for your environment. Take a look around!
40 Modern Dining Room Furniture Ideas That Will Make Your Spaces Look Taken Out From A Magazine

The dining room is one of the most important rooms in our home, since it is the space where we can be calm and meet friends and family.
That is why it is important to have a suitable decoration that allows us to relax and feel comfortable. It is of utmost importance that your dining room is well arranged or no matter how small the space is.
Consider these aspects:
Modern Dining Rooms Space
If your dining room is in the same room as the kitchen, choose a small dining room that is simple in design. If your dining room is in a separate room, consider the space you have.
If the space is large, you can purchase an oval or rectangular dining room. But if the space is small, it is better that you choose a round table of extendable preference, it is a type of table that does not take up much space and is useful for seating more people.
Modern Dining Room Wall Decoration
When decorating the dining room area, there are many composition and style details that one should be aware of. Aside from the trends in furniture, colors and textures, there are also small artistic details, material options and design structures that make up the space.
Tables For Modern Dining Rooms
The modern style is mainly characterized by the use of clean lines and simple designs. Modern tables can be made from a huge range of materials, such as wood, glass, metal, and even plastic.
Regarding the shape, we can find square, rectangular or round. The choice will depend on your personal taste and the space available.
Modern Dining Room Chairs
One of the elements that a house can dress the most and that we hardly notice are the chairs. We do not usually pay attention to them, but when we see them we perceive a set that can suggest different sensations, depending on the choice we have made: elegance, freshness, warmth, comfort, etc.
Dining chairs are part of the decoration, without neglecting their functionality and must be chosen according to the sensation we want to convey. There are many designs and colors of dining chairs.
Modern Dining Room Colors
The color options are very varied and there are many shades that are perfect for the dining room. We just have to use them correctly, make them adapt to our home and maintain a balanced environment.
Colors generate emotions in people and we must find a perfect one for our dining room, which also creates a space where we want to stay and share moments with our loved ones. You can use the color on the walls or use the color on accessories such as chairs, curtains, board games, etc.
Modern Dining Room Accessories
To choose the right accessories, it is very important that you consider the type of decoration and design of the modern dining room furniture you want to buy. Once you know what you really want, you can choose decorative accessories such as pictures, vases, candle holders, napkin rings, among others. All the decorative accessories have to go according to the style of the decoration that your dining room has.
If you are going to use wooden utensils or accessories, you will be able to create an informal or romantic atmosphere. But if what you really want is to seek elegance or give a formal character to your dining room space, you have to use utensils or accessories that are made of metal, glass or porcelain. In addition, you should avoid and stay away from those synthetic and plastic things.
Now, delight in these wonderful and beautiful ideas so that you can design and decorate your own dining room with modern style.
1. An Affordable Example Of A Rustic And Beautiful Modern Dining Room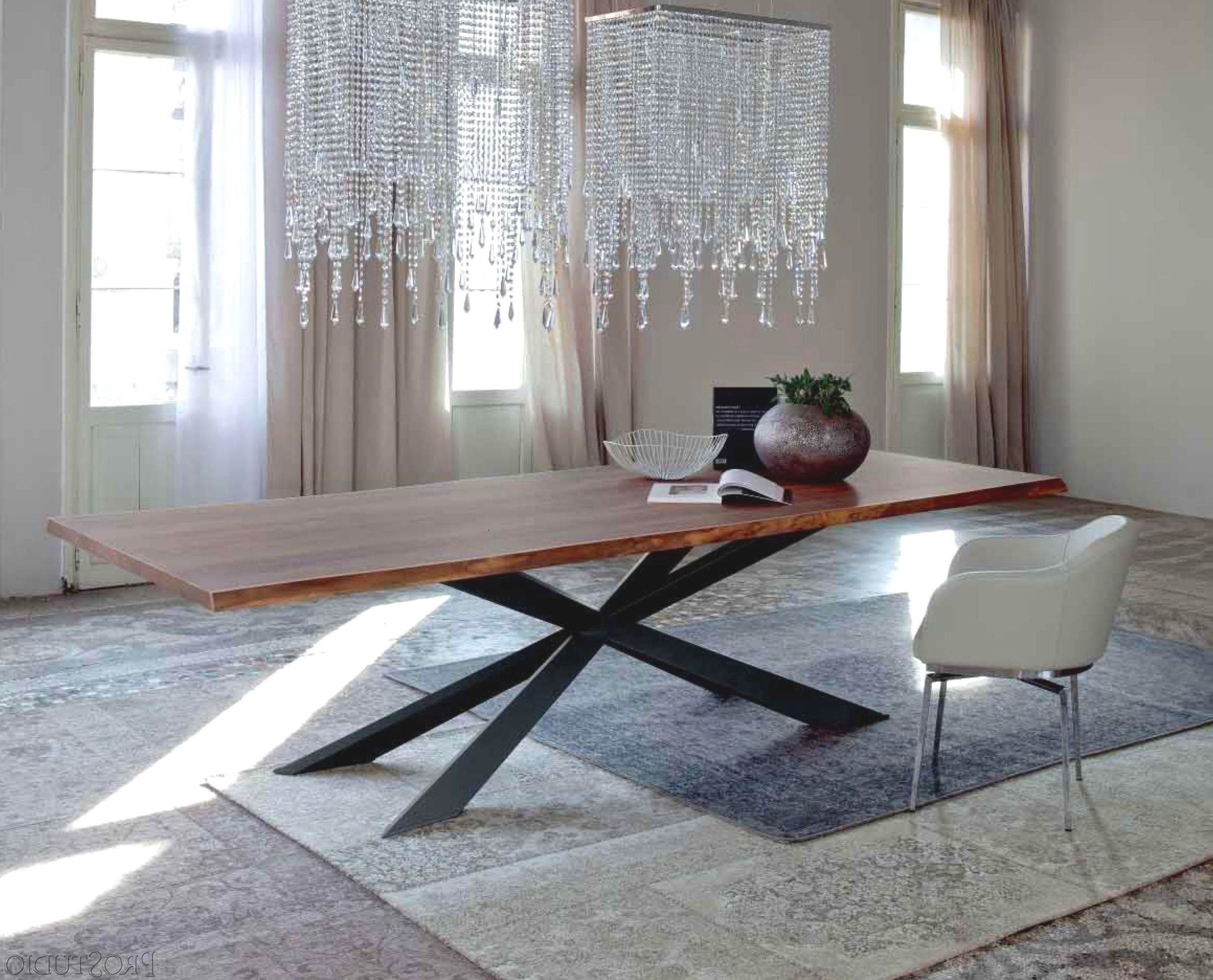 If you are on a budget but want a beautiful dining room, the minimalist style is perfect for you. This classic style never fades, and they are always a design and decoration option. Simple lines and few decorative elements, recreate a very calm and orderly space. As in this example where a simple wooden table with metal legs makes the environment look beautiful, simple and elegant. The extra large chandelier lamp also contributes to the aesthetics of the place.
2. A Dinning Room With Large, Colorful Chairs And Matching Drapes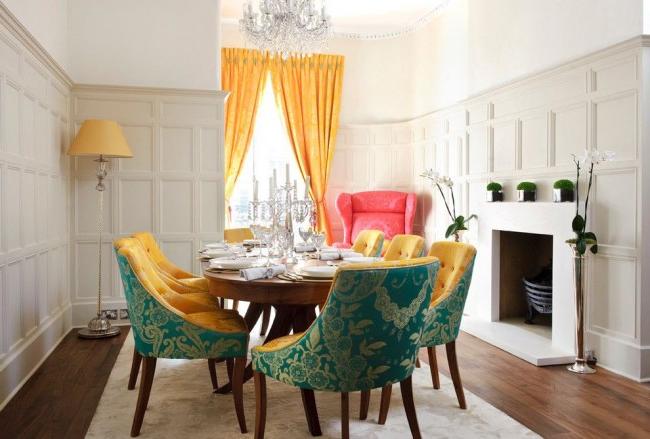 Colors are essential to decorate any space in your house, they not only help to create a relaxing environment, but also favor decoration. To choose the right colors you have to take into account the space in the room. In this case, the yellow color of the curtain and the large chairs make the white walls of the room shine. On the other hand, the chairs are also green and with a gold print that increases the color of the room.
3. A Classic Dining Room With Wood And Light Colors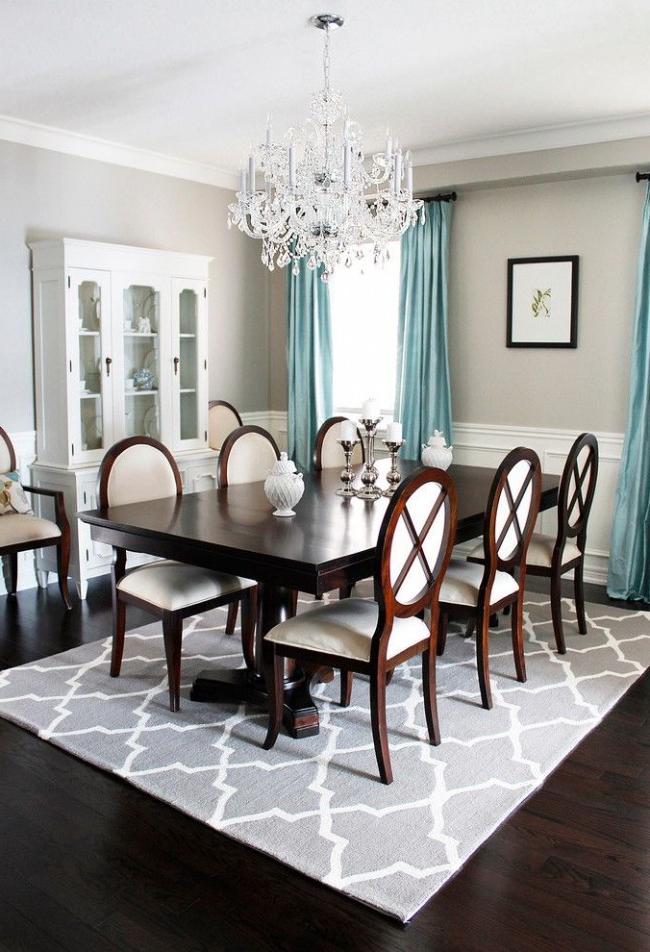 The traditional style that presents the traditional, old fashioned chairs, rather square and with their corresponding backrest, have also been reinvented in terms of designs, materials and colors over time. Don't be afraid to look boring or classic by choosing traditional chairs for your dining room, there are thousands of models, as you can see in this dining room in which the classic dark wood and the light and bright colors combine perfectly to create a memorable room.
4. A Tropical Style Dining Room With A Central Impressive Lamp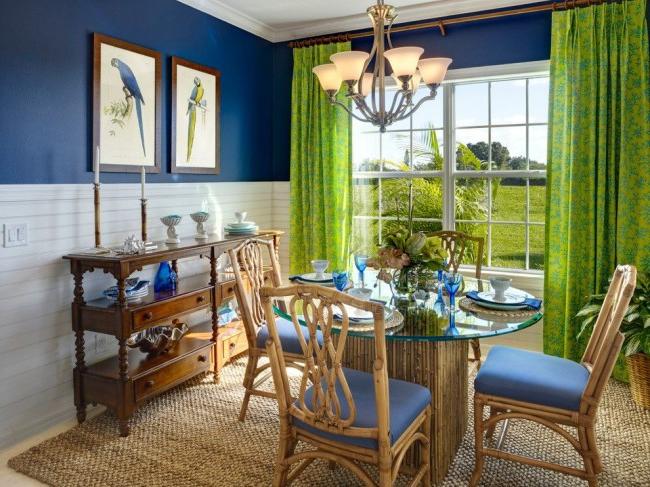 If you like different and interesting styles, you can opt for a tropical decoration and design like in this dining room, where all its elements remind us of vacation homes, resorts, and getaways. The chairs and table are made of wicker, which perfectly complements the natural fiber rug. In addition, you can see flashes of blue everywhere: the chairs, the table, the walls, and the decorative elements. The view definitely helps to recreate the Caribbean charm, with a lot of natural light entering the room, but if you do not have large windows do not worry, choose a lamp like the one you see in the example and you will have everything resolved.
5. A Fancy, Casual, Light Dinning Room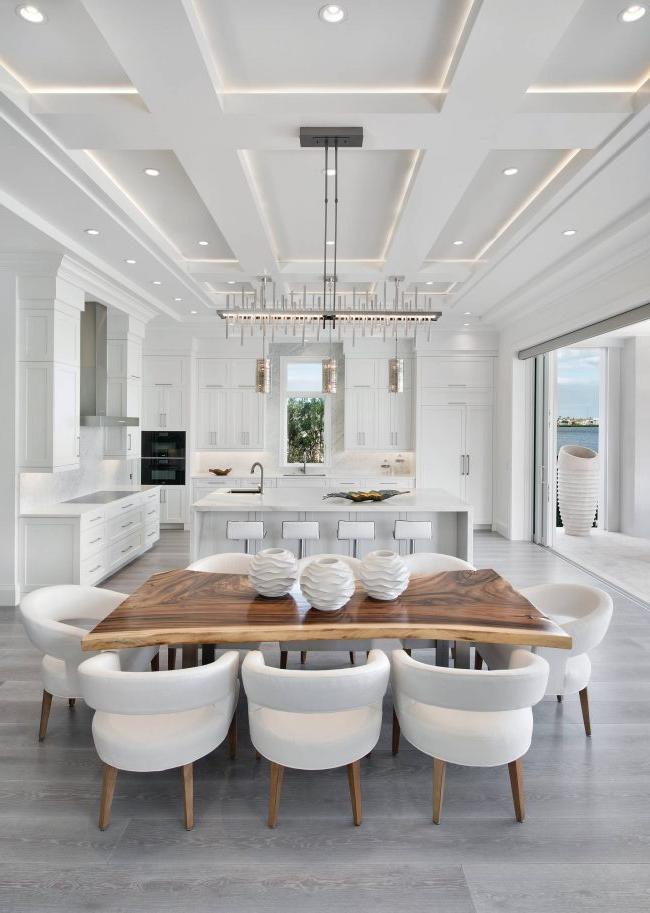 The white color is a classic for any room in the home, and in recent years it has been booming, especially in casual styles, such as this dining room. Combined with natural wood like the one of this spectacular table, and with light colors like the one that reigns on walls and floors, it looks fabulous. All an example of what is a room that is casual, but at the same time elegant while remaining colorful.
6. An Exterior Dining Room That Is Cheap And Elegant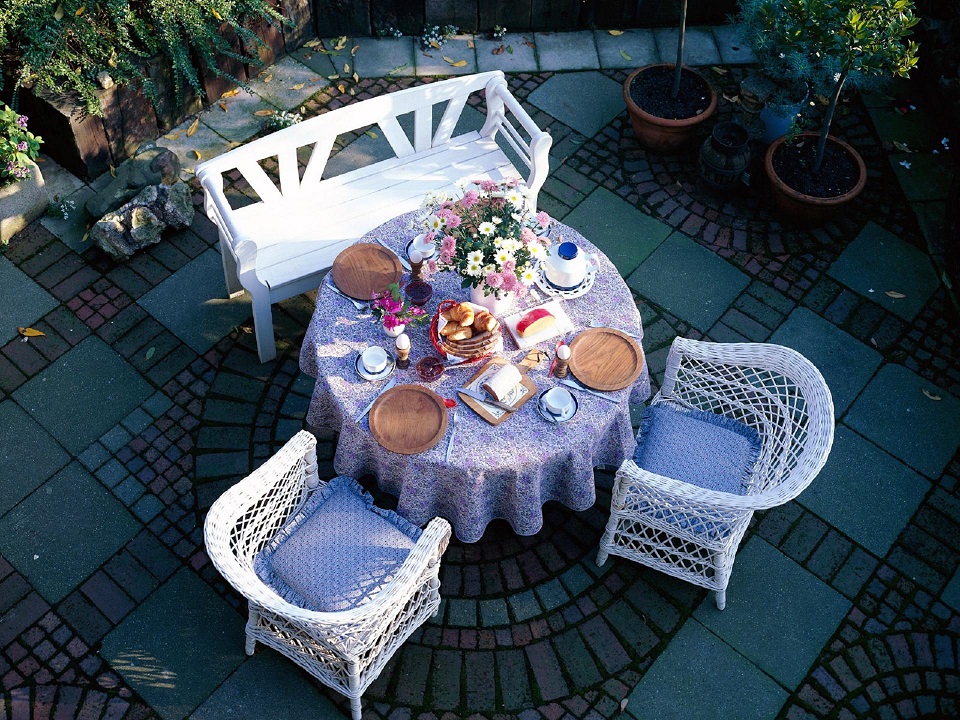 If you have a small budget but you want to do something special and you have outdoor space, why not making an outdoor dining room? In many stores you can find quite a few models of outdoor furniture that are very cheap without ceasing to be cute and comfortable. In this example of an external dining room, two armchair-style chairs with armrests and a bench with 2 to 3 seats were chosen. This style makes the dining room fun and informal, perfect for a dining room outside.
7. A Modern And Contemporary Style For A Dining Room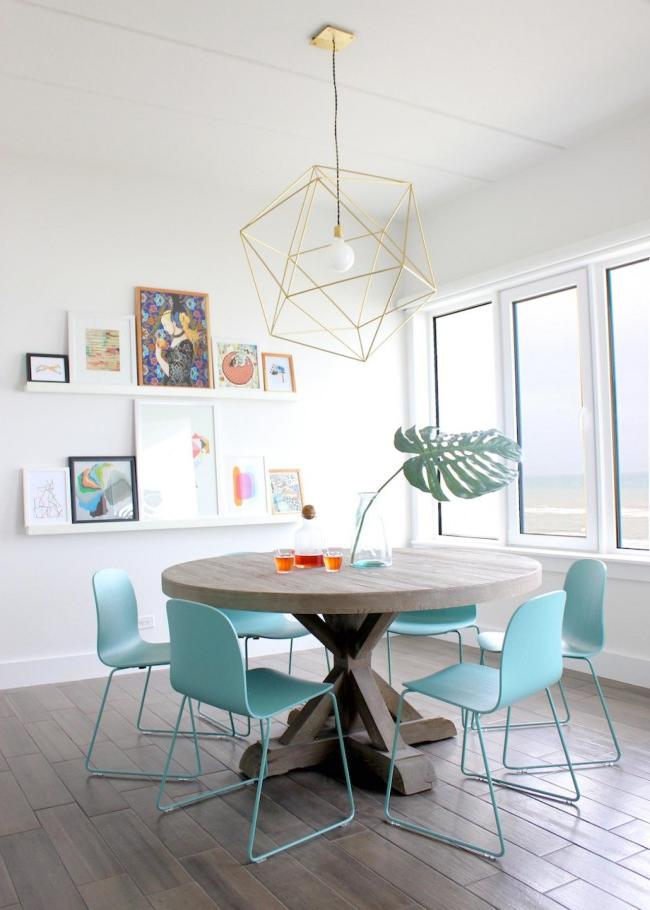 If you like modern and contemporary style, you don't need a classic opulent crystal chandelier. You can look for a unique piece, like this one that has a style and design that will definitely give your guests something to talk about. As well as the other elements of the room are unique and very striking, such as the bright blue chairs, the round table in solid and rustic wood and the art hanging on the walls. Everything is a complete expression of what the contemporary means.
8. Unique Dining Room With Different And Contrasting Chairs And Impressive Modern Chandelier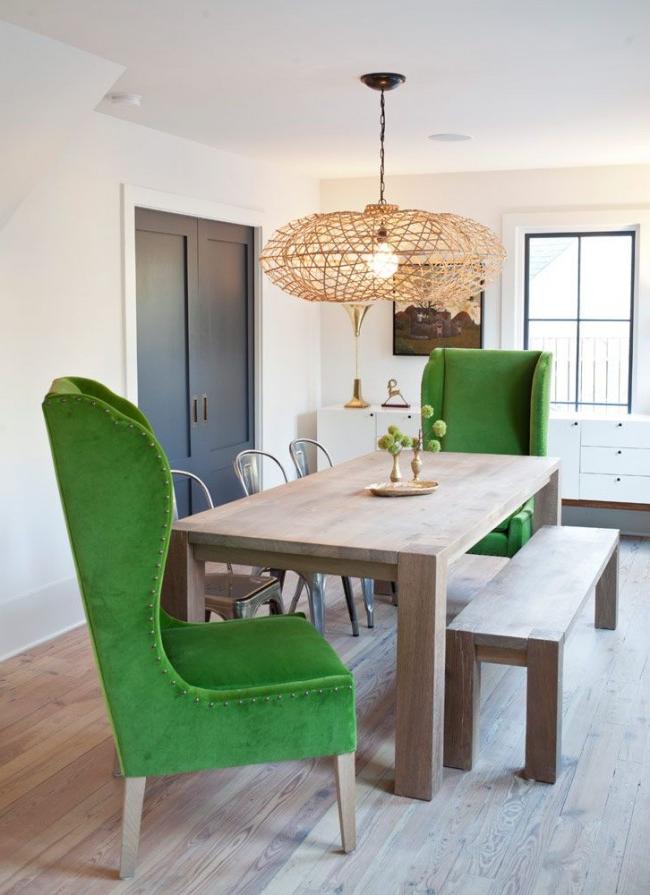 A new decorating trend for modern dining rooms is to forget about dining room furniture with the same table and chairs matching with each other. Mixing furniture and fabric styles make a dining room a more interesting space. It is a relaxed style of decoration that is gaining more and more ground within the world of decoration, and you can see it perfectly in this example. the huge green throne-style chairs are part of this dining room which also has a bench on one side and three chairs on the other. In addition, the large ceiling light is definitely impressive and contrasts perfectly with the rest of the decor in the room.
9. A Separated Dining Room In A Home With Large Windows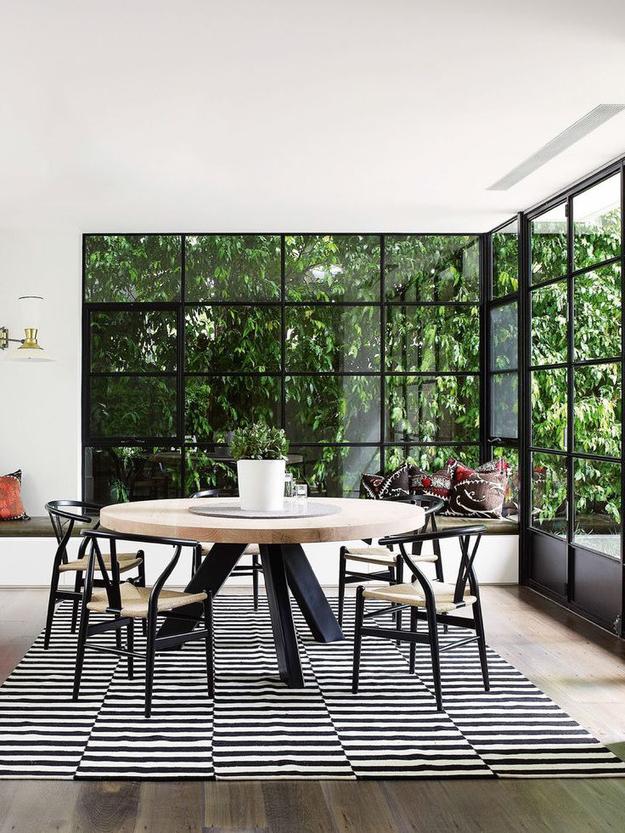 This modern style dining room has one of the most appreciated characteristics in this type of room: the large windows. And is that many dining rooms are usually very dark, so a space like this is usually highly appreciated. In this example, it was decided to enhance the wonderful view by creating a beautiful, bright and very colorful space that combined with the beauty seen outside. Few decorative elements are needed when there is so much to look through the glass.
10. A Rustic Dinning Room With Wicker Chairs And A Stone Wall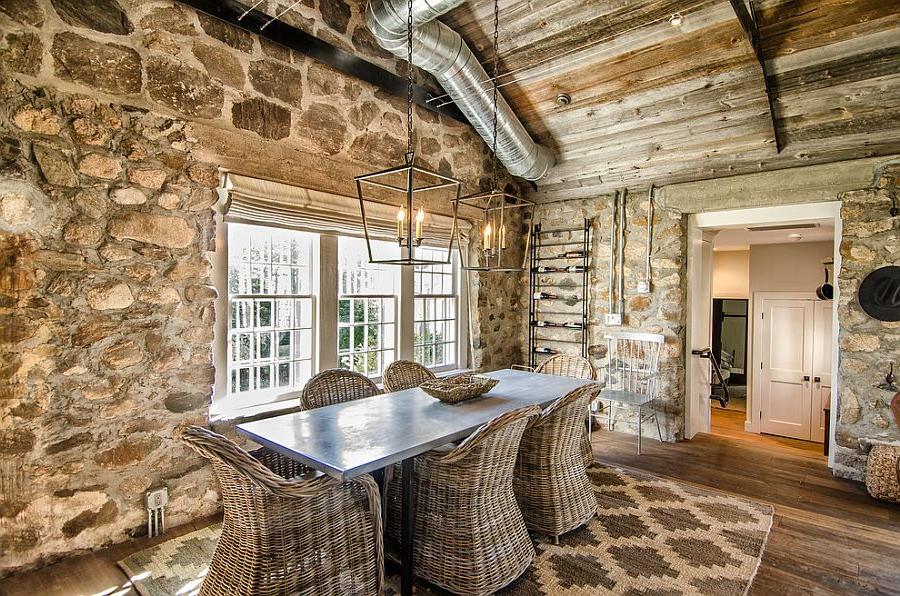 The rustic style is still modern, as you can see in this example, which looks so good and combines two traditional elements of this style. Traditionally used as an exterior cladding, stone is incorporated into houses from the 1950s and 1960s, when architects began to use it as cladding for dining rooms or around fireplaces. As for the wicker, it is a style generally associated with the Caribbean that has become very popular in recent years.
More Modern Dining Room Furniture Ideas On The Next Page…