Hallways are very often under used dead spaces, purely there to funnel traffic in and out of your house. However, with the addition of a small hallway bench this space can be transformed into an area that is useful and visually appealing at the same time.
25 Small Benches For Hallway Ideas That Will Warm Your Heart and Home

These small benches for hallway may be compact but they can come in many forms and incorporate many uses into one little package. A basic bench could merely provide you with a place to sit while you put on your shoes whereas a more multi use bench can incorporate everything from hidden storage to coat hooks and shoe cubbies. Whatever space you have to work with and whatever needs you need fulfilled a small hallway bench could solve all these issues while making your space more attractive and in keeping with your interior design.
So if your hallway needs a little helping hand here are:
1. Hallway Bench With Built in Shoe Storage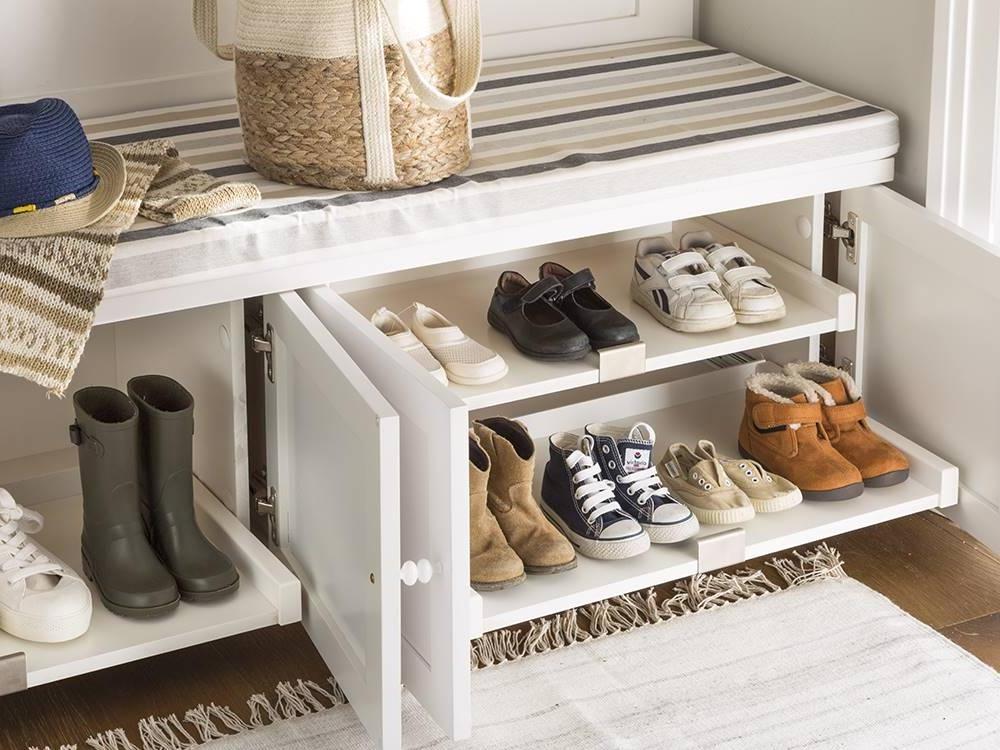 If you have a strict' 'No shoes in the house' policy this multi purpose hallway bench is the one for you. Crisp, white cupboard doors underneath the bench seat conceal layers of shelves that slide out to conveniently store your shoes as you walk in the door. The thin seat upholstered in a cream and blue stripe adds a little bit of subtle pattern into the hallway and makes the bench far more comfortable. This multi purpose design is the perfect combination of minimal and useful, ideal for any family home.
2. Contemporary Hallway Chic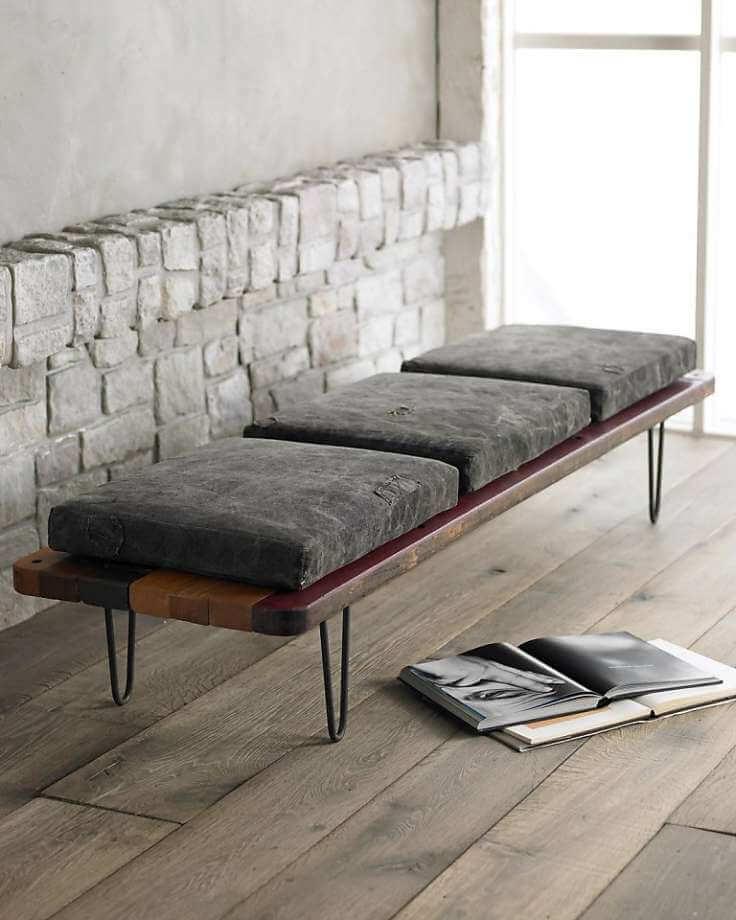 This contemporary hallway bench is the ideal addition to this stylish hallway. A quartet of black V shaped legs hold up a rectangular timber bench, polished smooth with rounded edges. A trio of square corduroy cushions to make the whole set up a little more comfortable tops this minimal look. This tiered design adds to the juxtaposition of textures already present in the hallway through the wide wooden floorboards and low stone facing on the wall lit by sunshine through glass.
3. Convertible Vintage Hallway Bench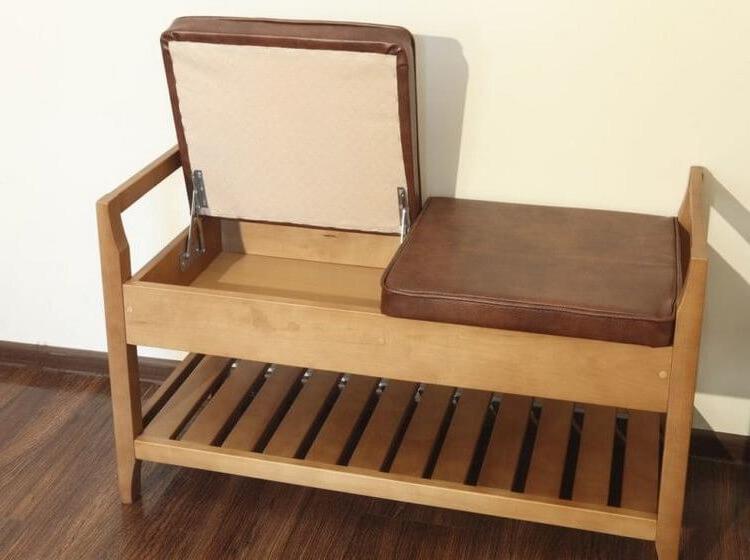 This neat all in one piece is a great example of how hallway benches can be super efficient while taking up very little space. The vintage bench has a timber framework with a slatted shelf underneath the seat to keep your shoes neatly stacked by the door, but this is not the only built in storage compartment in this little unit. Each leather seat cushion flips up on silver hinges to reveal a shallow hidden compartment beneath for any messy knickknacks that may be cluttering up your space.
4. All In One Hallway Mud Room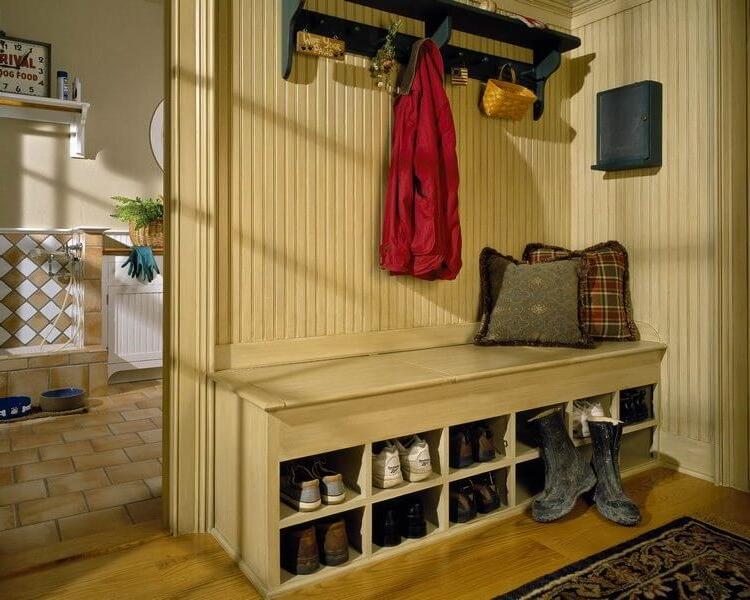 This hallway unit, designated by the thin wood paneling behind it, with its cream, timber bench is a smart alternative to a mudroom if you don't have space for a whole separate room. Shoe cubbies have been built in underneath the low wooden seat with hooks hanging above for your coats with a basket for your keys, making this your one stop shop as you leave and enter your home.
5. Upholstered Leather Bench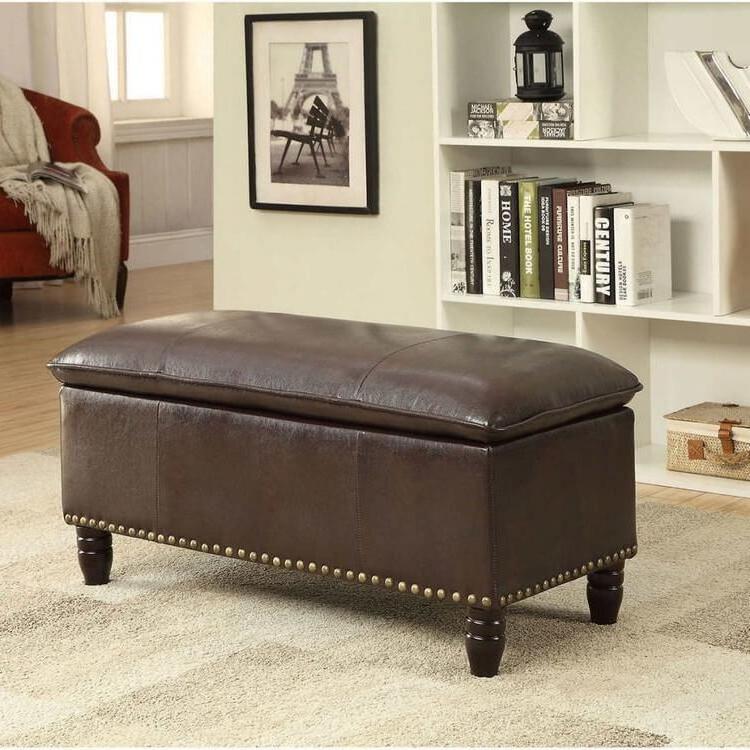 This chunky leather chest is a versatile style that can be used throughout the home. It makes an ideal small bench to furnish a hallway so you can sit comfortably while you take off your shoes. The buttery brown leather is detailed with a ring of golden rivets that holds the leather taught on the frame. Like previous examples this soft seat has a small hidden hinges that allows it to lift up and reveal a storage space hidden beneath.
6. Long Pastel Hallway Bench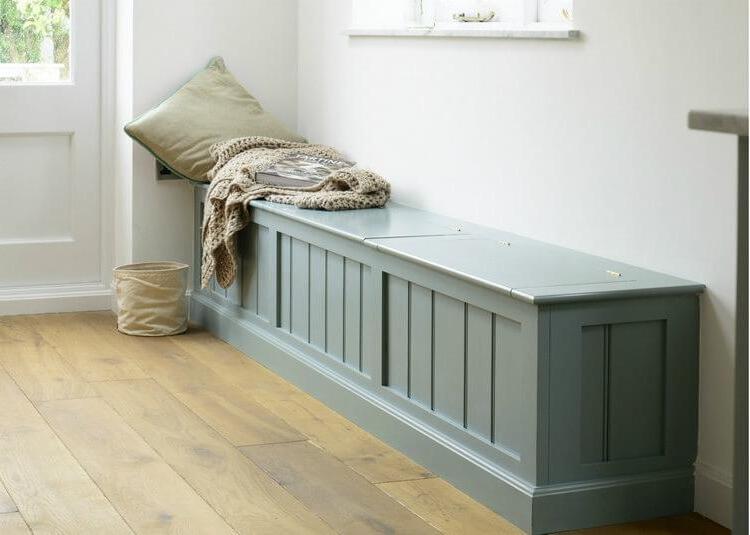 This timber paneled bench seat tucked into the corner of this bright hallway provides you with ample space to sit while bringing an eye-catching colour into the white space. The combination of this solid colour, wooden flooring and white walls results in a space that oozes contemporary minimalism. The triplet of teal seats opens via a pair of little gold hinges to reveal three storage containers underneath.
7. Timber Windowsill Bench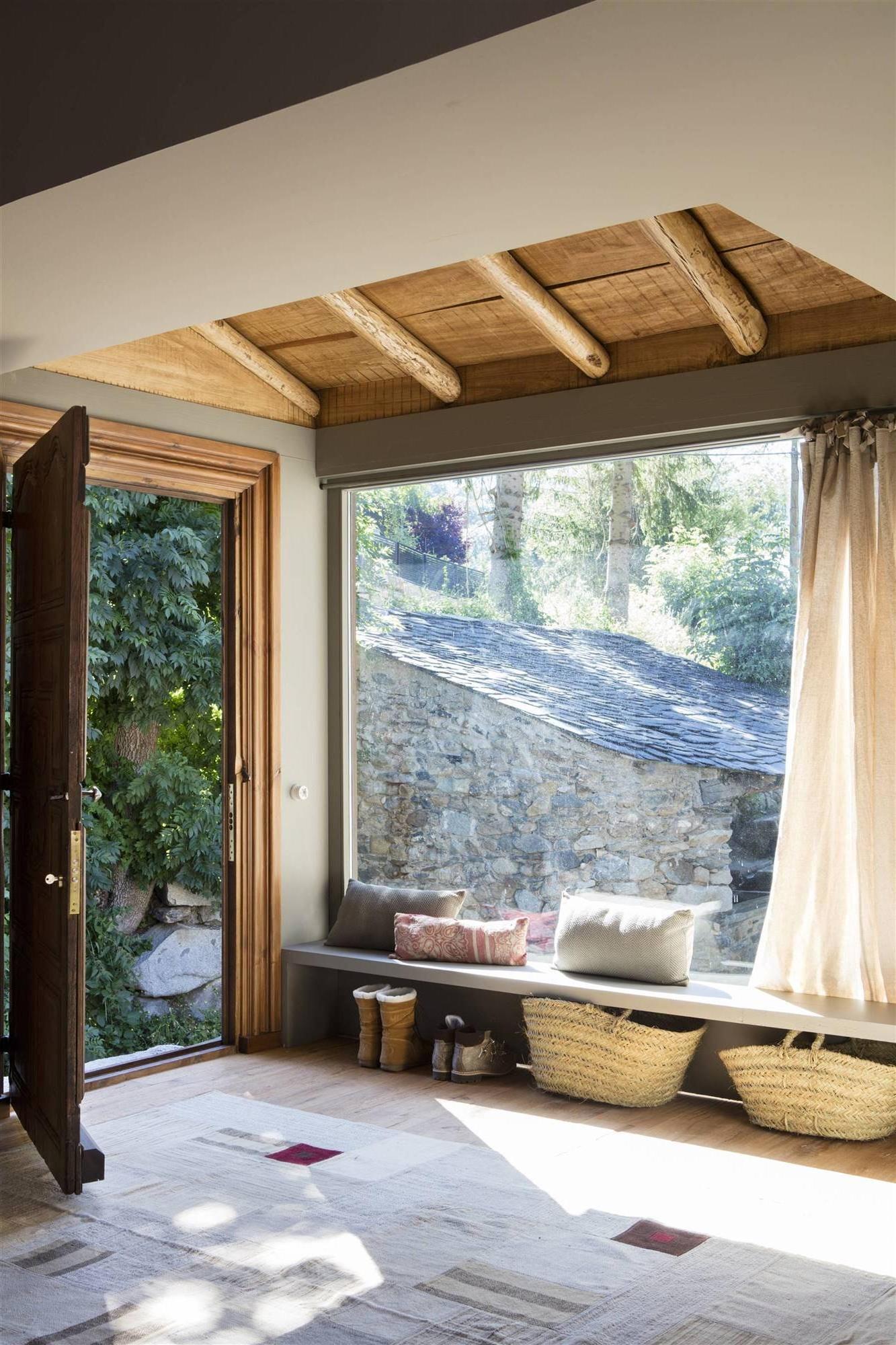 This low to the ground timber bench painted a pale grey sits beside the floor to ceiling window in the entrance way and acts like a windowsill. A cluster of throw pillows decorates the bench so you can sit in the window in comfort. Even though the bench is short there is just enough space to store shoes and wicker baskets underneath to tuck all your paraphernalia away neatly.
8. Minimal Metal Bench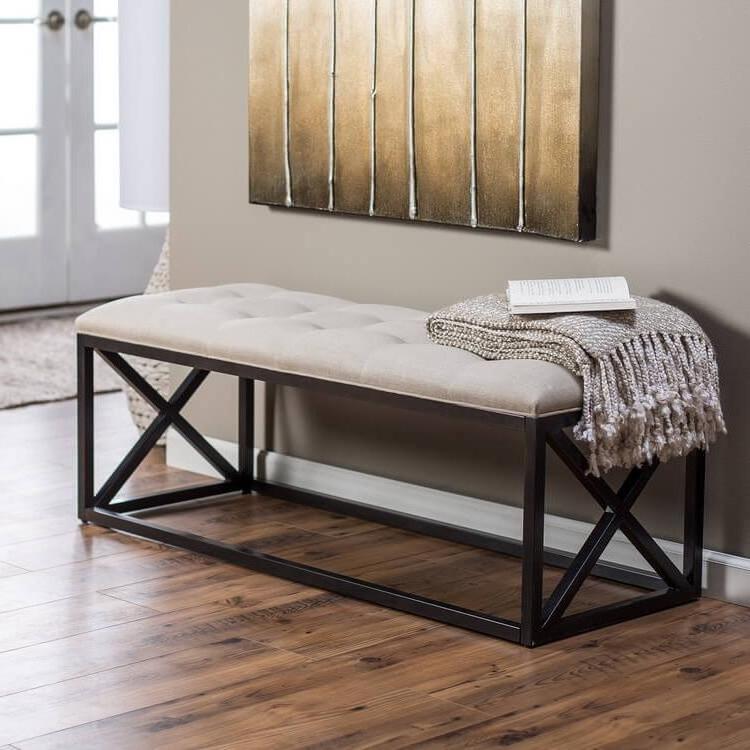 This hallway bench is a simple black metal framework that is effortlessly sophisticated to match the surrounding room. The X shaped framework is decorative but also serves to make the piece feel less bulky and take up as sitting space as possible. A beige quilted seat signs off the whole look, which is pale, slim line and comfortable all at once.
9. Minimal Timber Hallway Bench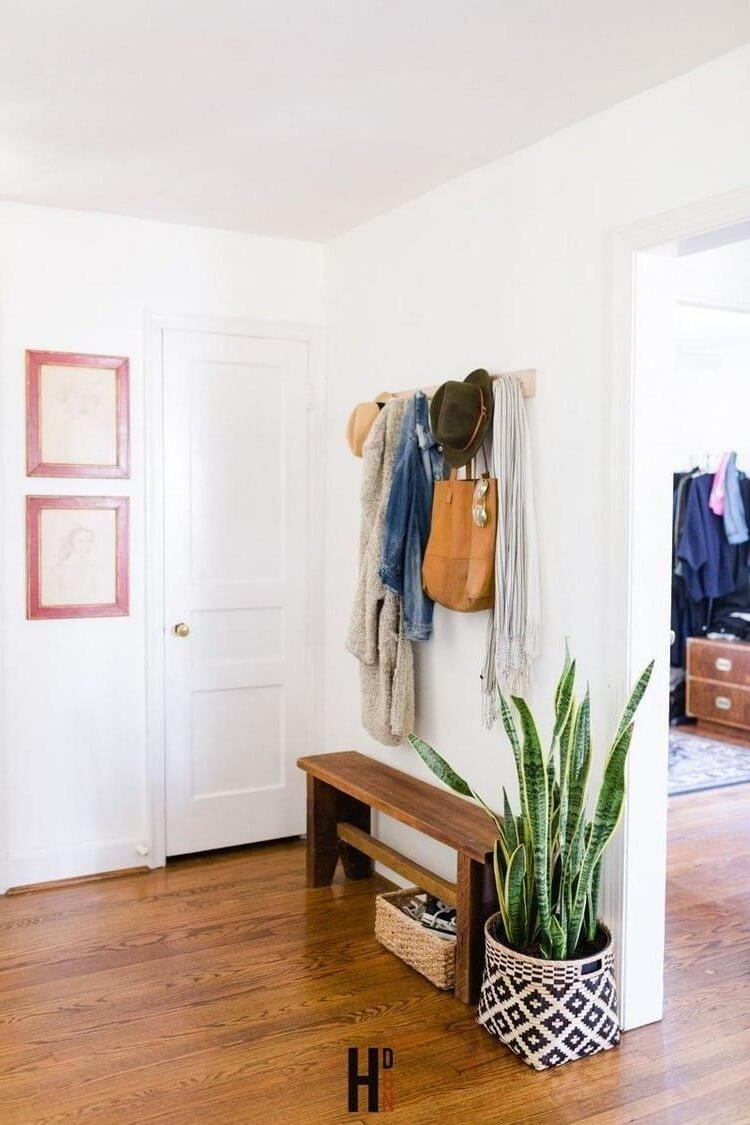 This elegantly thin wooden bench with its wedged legs and branch of support running between the two fits in just out of the way of the door in this open plan hallway. The slim surface provides just enough space to sit and for a small wicker basket to fit underneath. The bench has been paired with a set of hooks above head to hang your coats and scarves.
10. Vintage Hallway Bench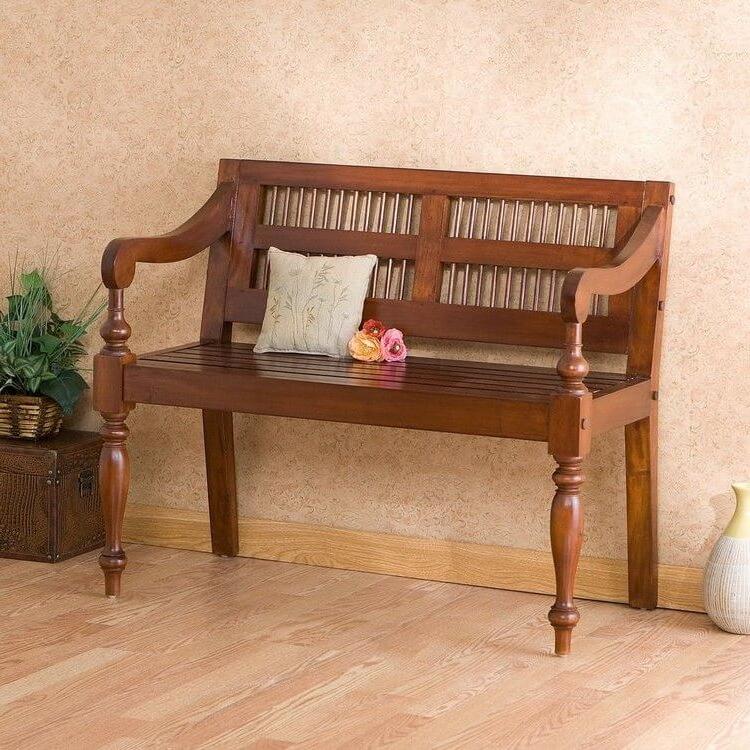 This classic bench style is a refugee from the hallways of grand Victorian manors. The timber bench features little arm rests and quintessentially vintage lathed legs in front and straight counterparts at the back. The slots have been cut out of the backrest to add texture, a linear pattern that is echoed in the closely spaced timber slats of the wide seat.
11. Quirky Hallway Storage Bench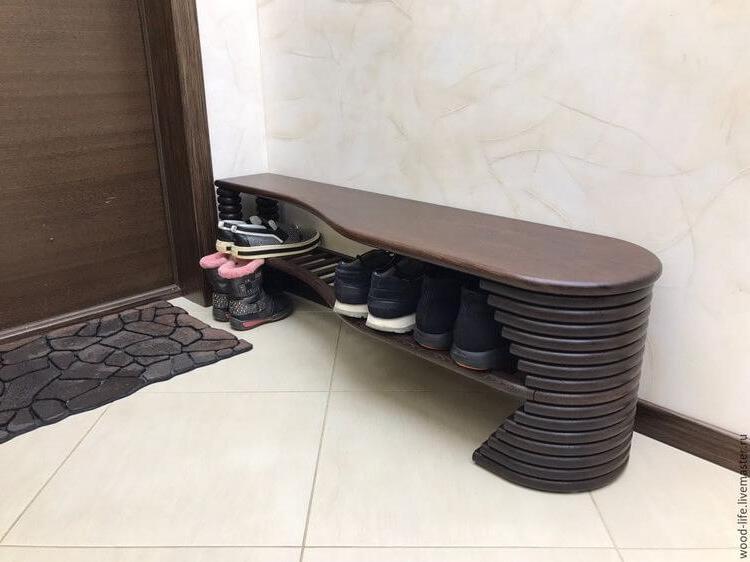 This eclectic hallway bench has a distinctly asymmetrical curving design with unusual rounded ends. One leg seals off the end of the bench in elegant ribs with a smaller version at the other end framing a slatted shelf that has been built in to store away your shoes. The whole piece is innovative and interesting and rendered in dark timber to make a statement in the pale marble hallway. Choosing to go with a style as unusual as this uplifts the stark hallway and makes it a sculptural feature of the transitional space.
12. All In One Hallway Bench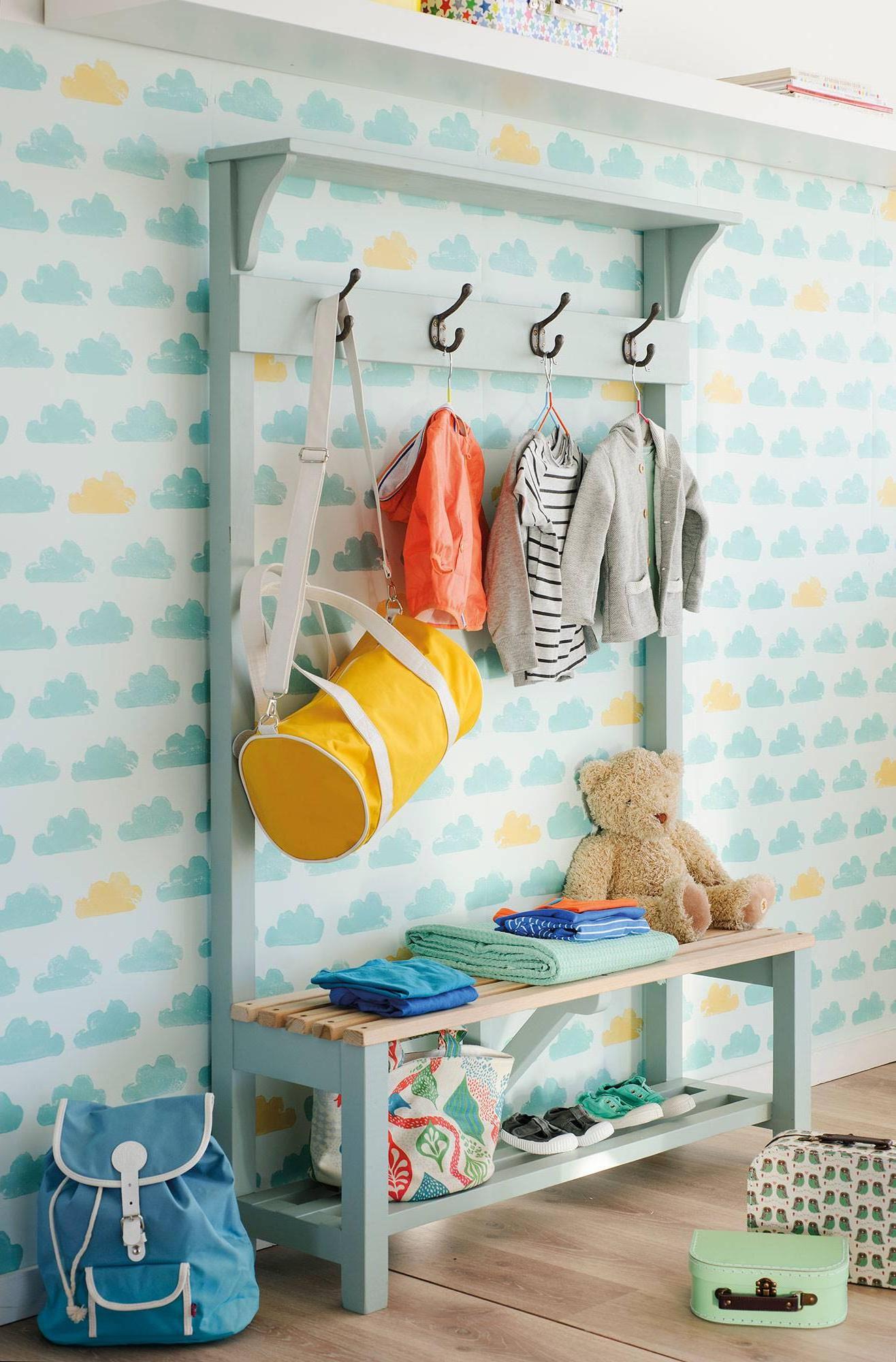 This little blue hallway unit is perfect for a house with small children set against the backdrop of fluffy blue clouds. The timber seat has been sanded smooth to enhance the comfort factor and suspended in a painted timber framework with a shelf beneath it for shoe storage. In a style that seems to be a classic in hallway bench design the unit has a set of coat hooks incorporated above. The pastel colour scheme with a few pops of yellow is a calming colour scheme that instills a feeling of peace in every person that steps foot in the door.
13. Thin Rustic Hallway Bench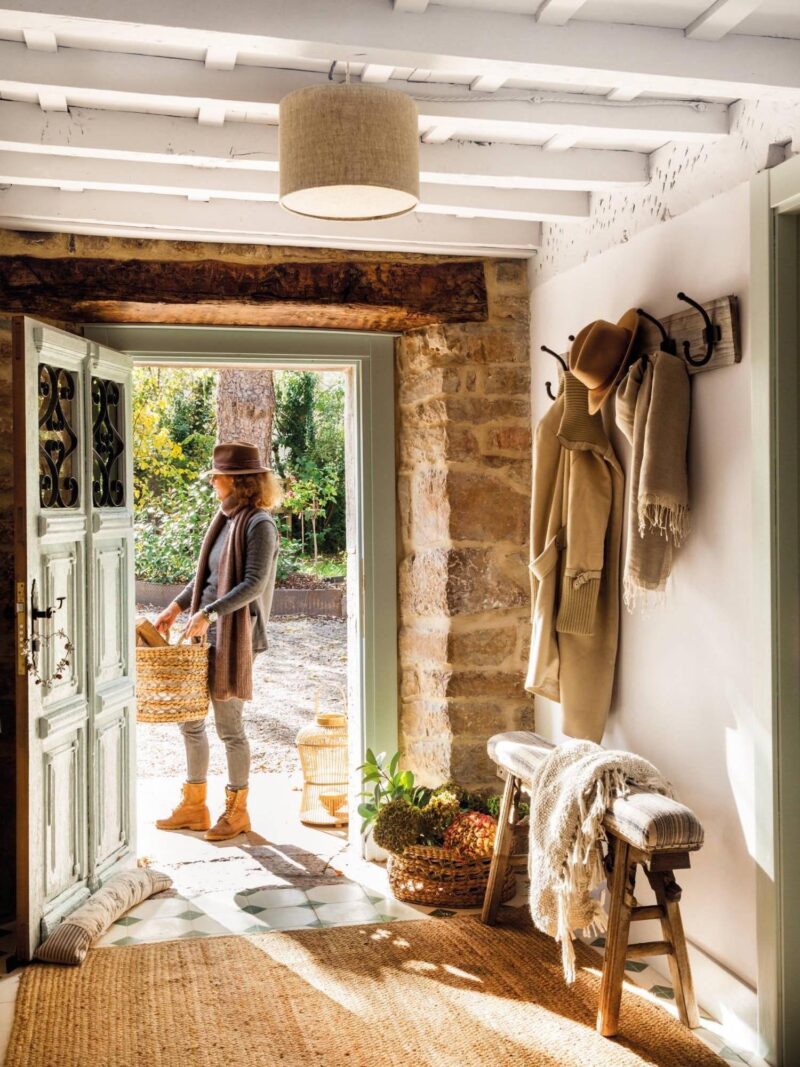 This slim timber bench sitting on the woven grass rug tucks snugly beside the exposed stone wall in this rustic hallway. On top of the 'A' frame legs sits a slim, upholstered seat, thin enough to comfortably perch on it on your way out the door. The upholstered seat has been well stuffed to convert a thin piece of wood into a comfortable spot to sit. The coat hooks above have been made out of the same timber as the bench to make the little space feel seamlessly cohesive.
14. Wrought Iron Hallway Furniture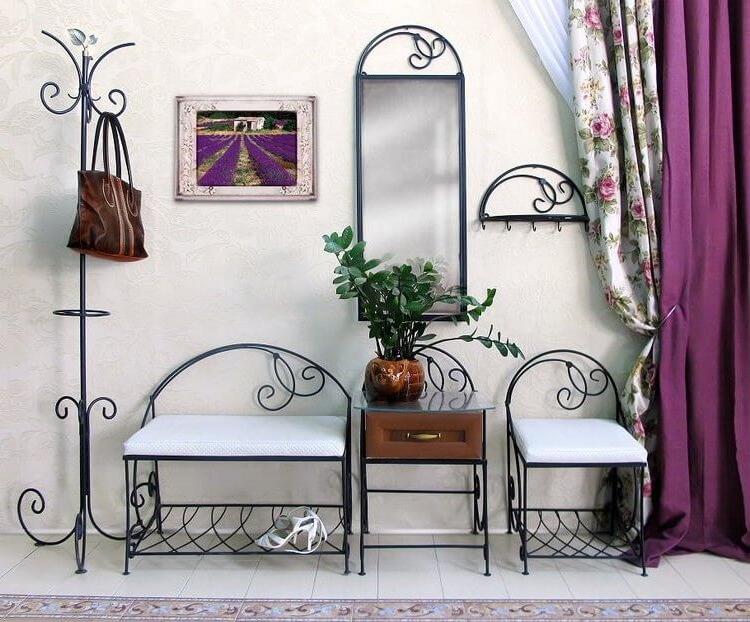 This eclectic hallway has gone all out with this matching set of wrought iron hallway furniture. The key hooks, mirror, coat rack, hallway table and two hallway benches. Decorative thin curlicues of wrought iron patterning runs through out each dramatic piece that make this hallway feel whimsically harmonious. The benches are upholstered in a bright white fabric that stands out within the black frame, have been divided in two, a single and a double to accommodate three people comfortably in one space.
15. Antique Hallway Bench And Table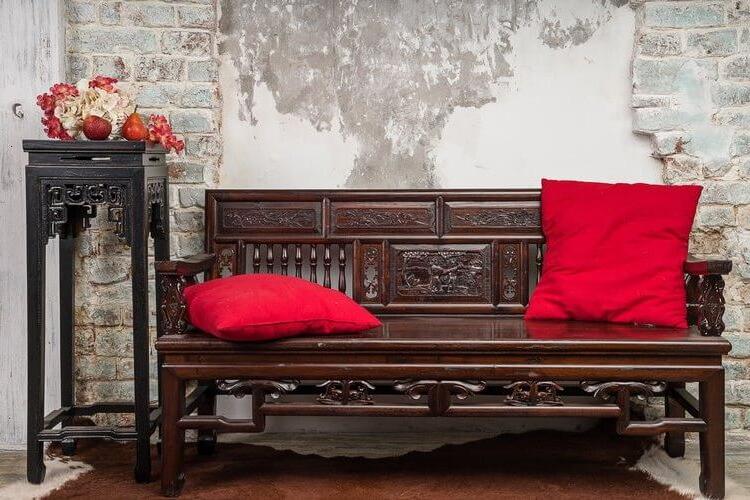 This antique artisanal hand carved timber bench paired with a tall, matching table elevates this simple hallway into a truly grand entrance. The bench has been stained the traditional deep brown with the table in an inky black to set them apart. This pair appears almost gothic when placed together and accented with red cushions, a style that has been updated by its location against the exposed brick and plaster wall behind it. The combination of these two styles is quintessentially shabby chic and really makes a statement the second your guests walk in the door.
16. Wicker Basket Bench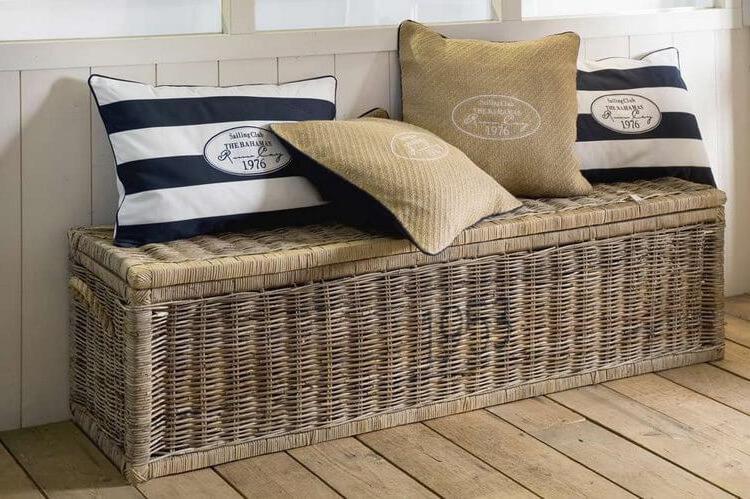 Perfect for a rustic home this oversized woven basket acts as a beautiful, chunky hallway bench with a hinged lid that opens to reveal a deep storage container in an unexpected often wasted area. The rich, woven texture works beautifully in collaboration with the painted wood paneled walls and timber floorboards that make this hallway exude a rustic charm. The basket is sturdy enough to sit on and in relative comfortably, which is helped along by the cute scatter cushions decorating it.
17. Retro Bamboo Hallway Bench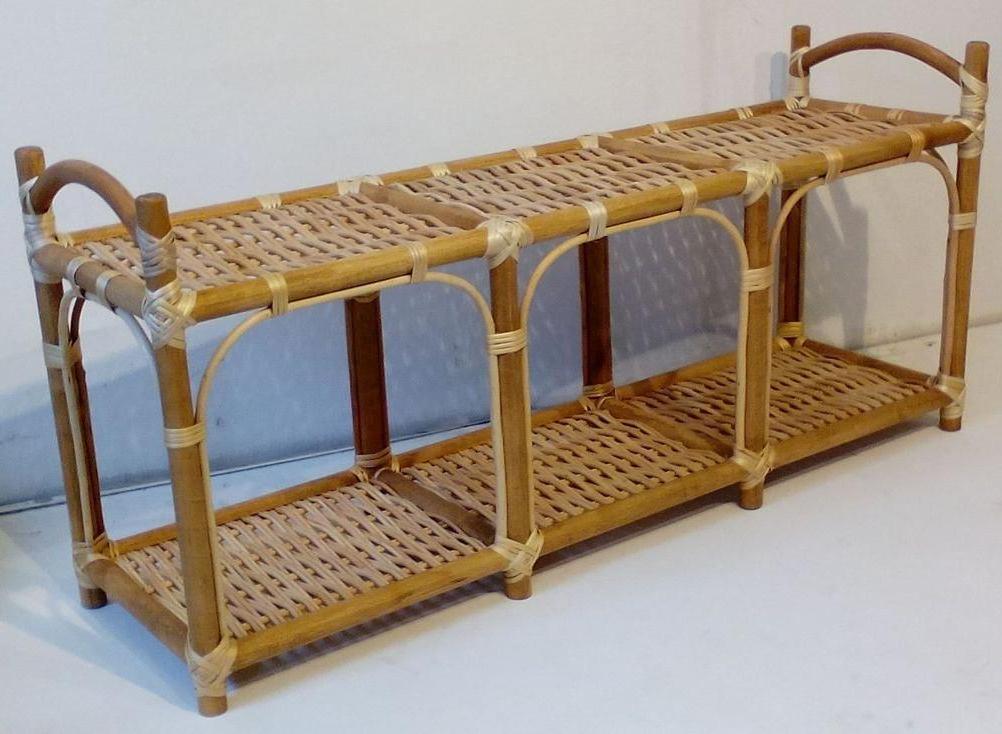 This bamboo hallway bench is a retro but classic home ware design that has the added benefit of being eco friendly since these materials can be quickly replenished. The structure makes full use of the strength natural materials with thick bamboo poles making up the structure, which are tied together by wicker reinforcements. The seat and shelf below for shoe storage are made of a woven wicker that makes this a comfortable place to sit while you pass through the hallway.
18. Elegant Upholstered Hallway Couch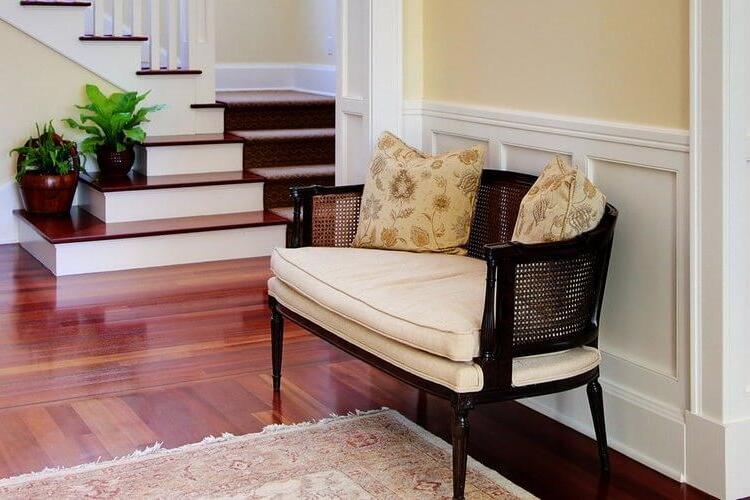 This luxurious hallway is furnished by a sumptuous hallway couch that feels right at home in this spacious hallway. The black timber framework filled in with mesh arcs around the white upholstered half moon seat with plump throw pillows like a gentle hug. The double layered seat is soft and inviting, tempting you to take a moment to pause and relax within this brightly lit hallway.
19. Delicate But Comfy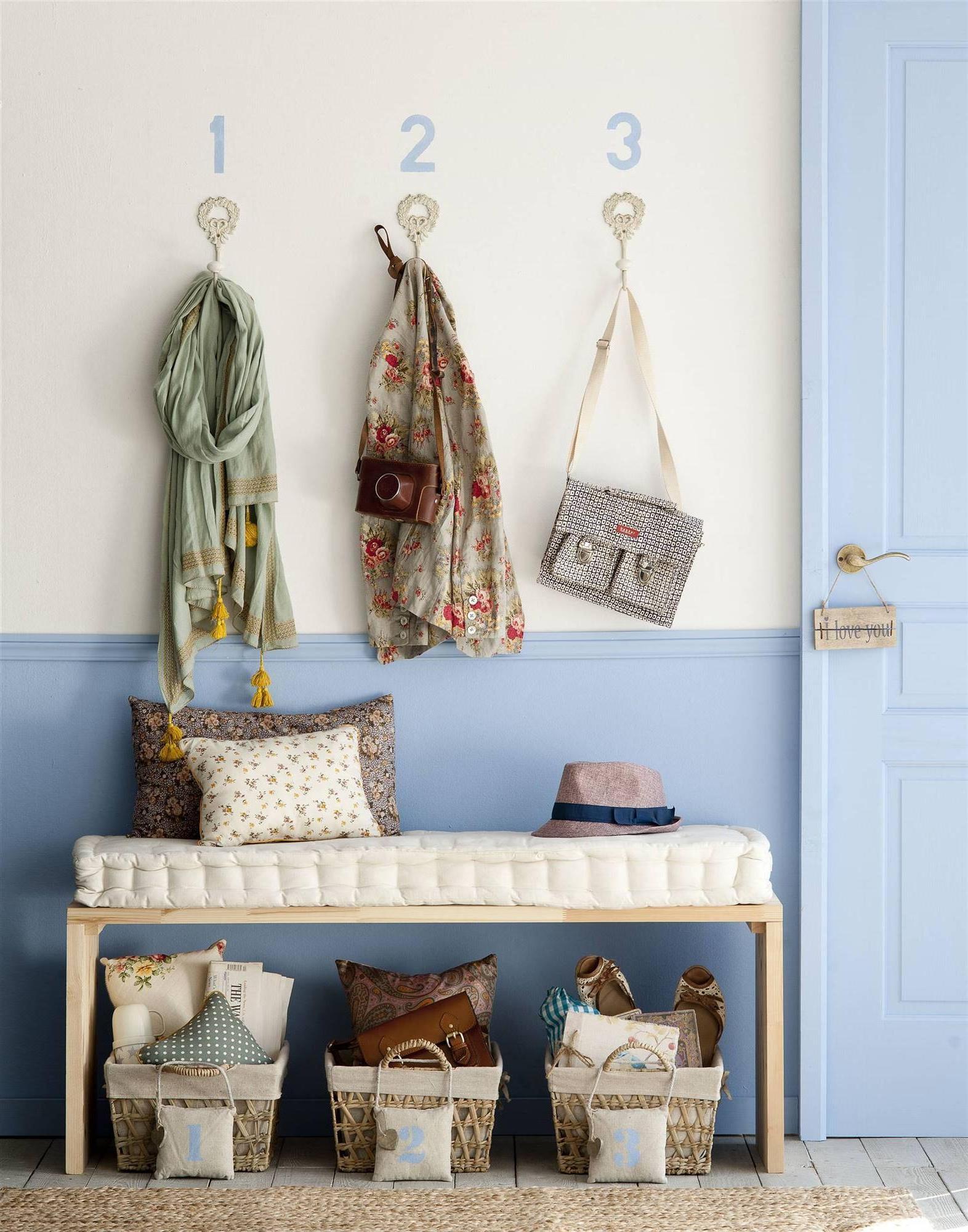 This rustic little hallway, rendered in a calming combination of cream and blue, has been furnished with a simple rectangular timber bench topped by a luxuriously thick chair cushion. This comfy little piece with its pale colour scheme stand out against pastel blue half of the wall and works perfectly in this pastel environment. The bench has teamed up with some hallway design classics to make this space as useful as possible. These classics are in the form of little numbered coat hooks on the wall above and a trio of wicker storage baskets slotted underneath to keep the hallway neat.
20. Built In Hallway Bench And Coat Rack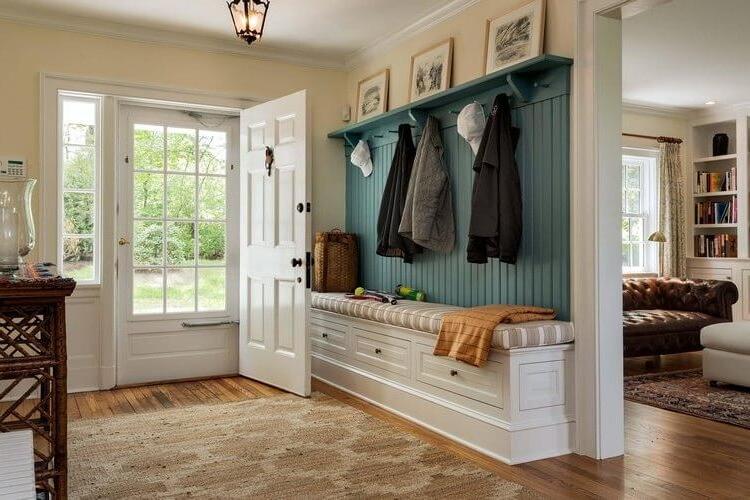 This all in one wall unit incorporates a bench seat with a teal wood paneled backrest that culminates in a set of coat hooks. The body of the bench is painted white to coordinate with the doors and window frames throughout the house. A set of three wide drawers with small unobtrusive handles has been built into the base to add yet another element of usefulness to this already multi purpose wall unit. The design is finished off with a striped upholstered cushion in the same neutral tones found within the rest of the hallway.
21. Built In Bench Nook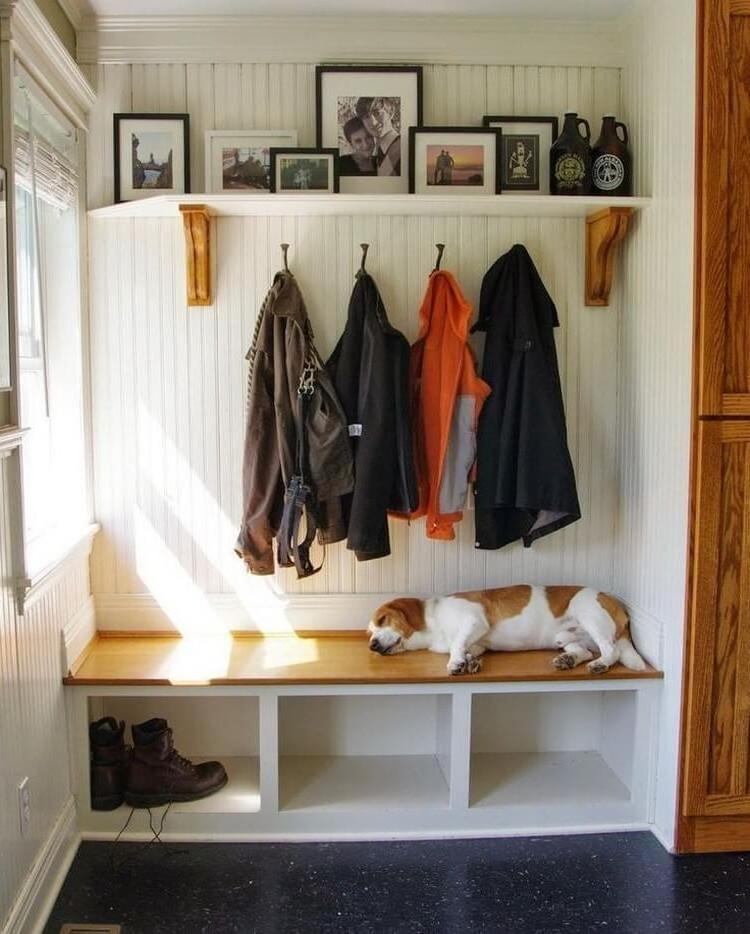 This small hallway bench has embraced the spirit of using all the space you have as it's built into a recess between the hallway cupboard and window. The whole unit is made up of a white paneled wall with coat hooks hung beneath a decorative shelf above that displays family photos in an effort to add a personal touch even in the most unexpected of places. A triplet of cubby holes for shoe storage are snuggled under the highly polished timber bench, which is all finished off with the same white skirting board as the wall below.
22. Ivory Wrought Iron Hallway Bench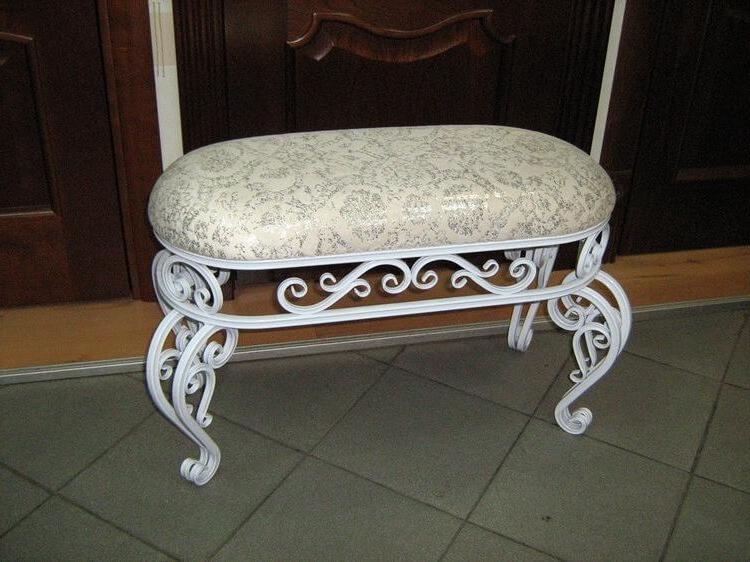 This ostentatious little hallway bench has the power to transform the plainest hallway into something far grander. The intricate white frame is made up of a plethora of wrought iron curlicues that form the sensuously curving legs holding up an oval frame filled in with even more metal curls. Sitting high above the lavish legs is the flocked seat that has been upholstered in a chic cream fabric with silver embroidered pattern across its surface. The dramatic design manages to be comfortable, beautiful and useful all at once and breathes new life into a dull hallway.
23. Rustic Chic Hallway Bench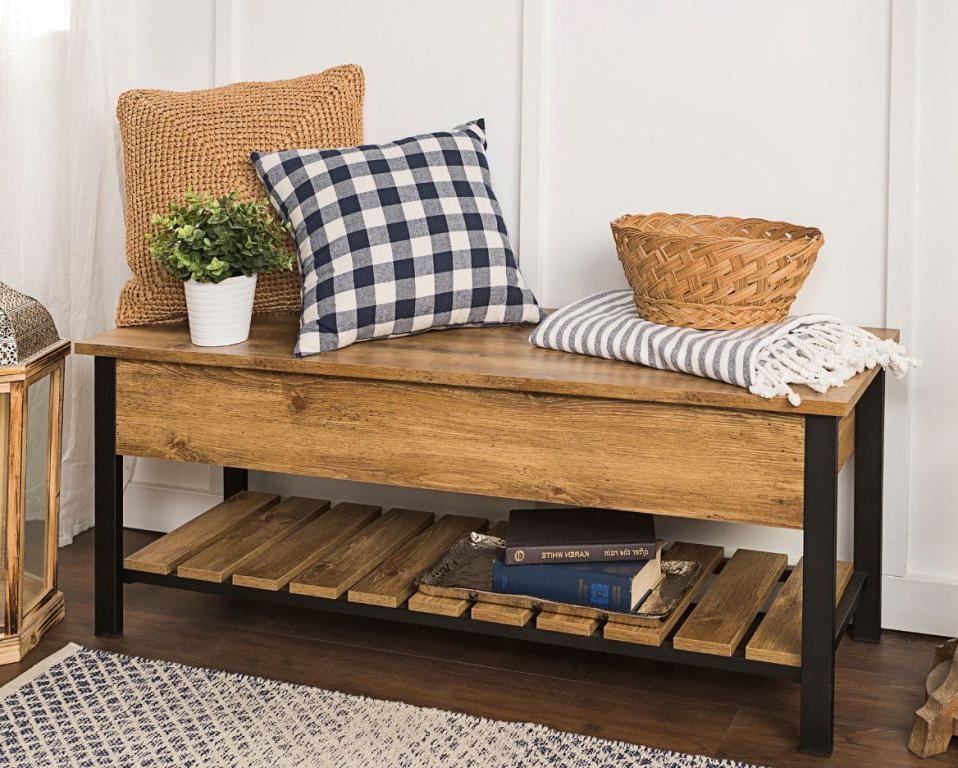 This artfully designed hallway bench has used a combination of naturally beautiful timber held up by an onyx metal framework that looks effortlessly chic. This small bench is the epitome of innovative and efficient design as it serves many purposes at once in one small space. A slatted shelf provides you with space to store your shoes underneath the bench top while the seat itself acts both as a space for decorative pieces and hides within it a secret storage compartment.
24. Vintage Hallway Bench Seat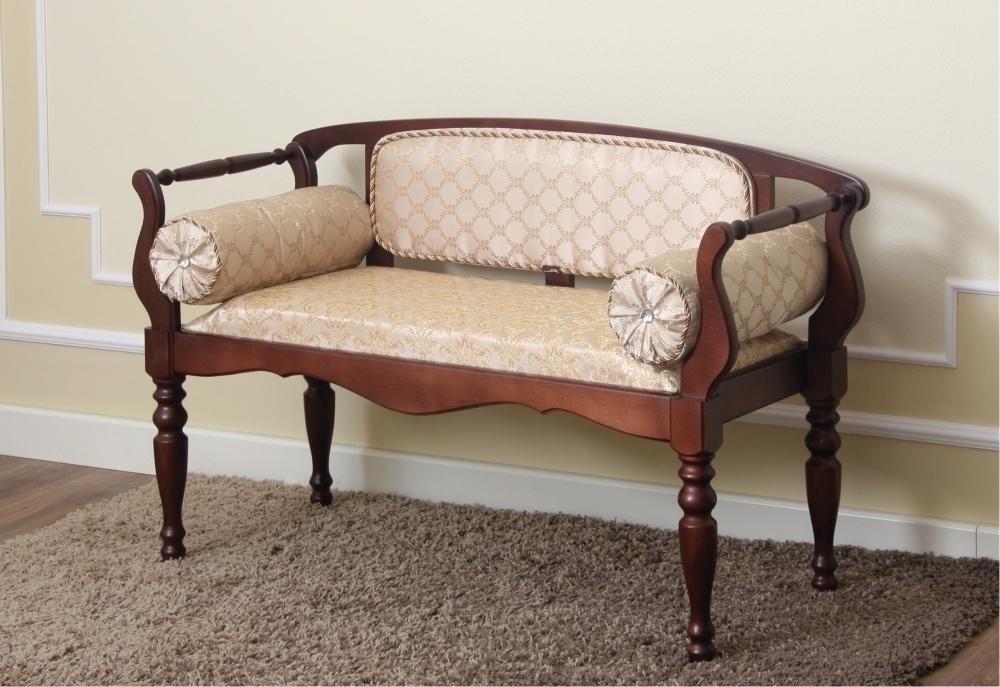 This dainty little hallway bench is a throwback to a bygone era, which could be found at any antique store. The piece has been left in its original style and placed within a cream hallway to creating an aura of prosperity as you walk in the door. The beautiful lathed legs and timber framework is stained a deep brown and polished to a high shine finish that is finished off by the gilded off white upholstery and round armrest cushions.
25. Medieval Style Bench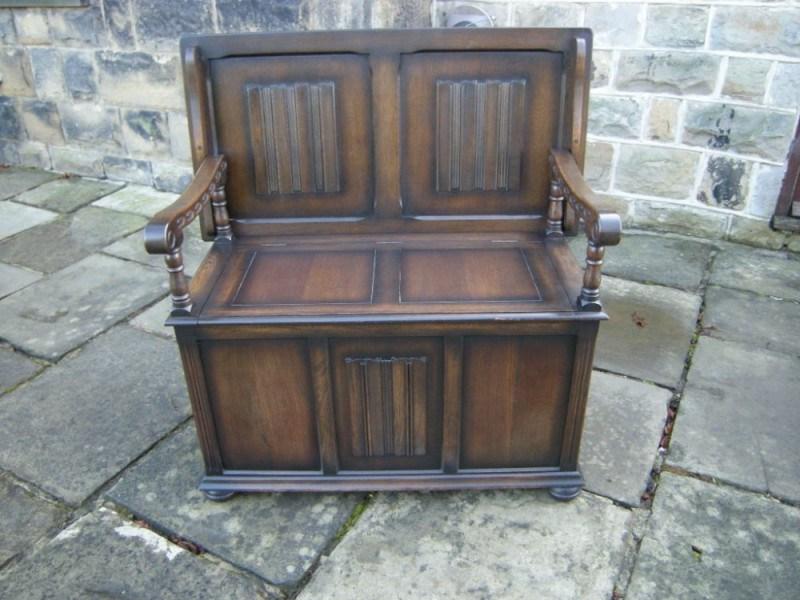 Although this may not be the most comfortable place to sit this medieval style does the job to set the tone of as you enter the room. The piece is made of panels of hand carved timber with some delicately lathed armrests that show off the artistry of the craftsmen of the time. Putting an antique piece like this in your hallway gives you a place to sit while setting the tone for the rest of the house.
Conclusion
Built in or freestanding, slim and basic or tall and multi purpose; the humble hallway bench manages to wear many hats. These units can single handedly solve your storage woes, give you a comfortable spot to put on your shoes and make your hallways looks more attractive.
If you prefer something rustic chic or bordering on the austere these versatile piece can be found to fit just about every style you may favour. So why not get up, glance into your hallway and see if maybe you could benefit from adding a small hallway bench it your life.