Great ideas to design and decorate a rustic bathroom in your home

A very important part of all houses are bathrooms. But sometimes they get less attention than other house's rooms when it comes to designing ,and the truth is that bathrooms are an oasis where people can get rid of all the stress of the day, when having a refreshing shower or taking a relaxing bath after a hard day. Let us face it,bathrooms are a very important feature in the house, and they should be treated as such.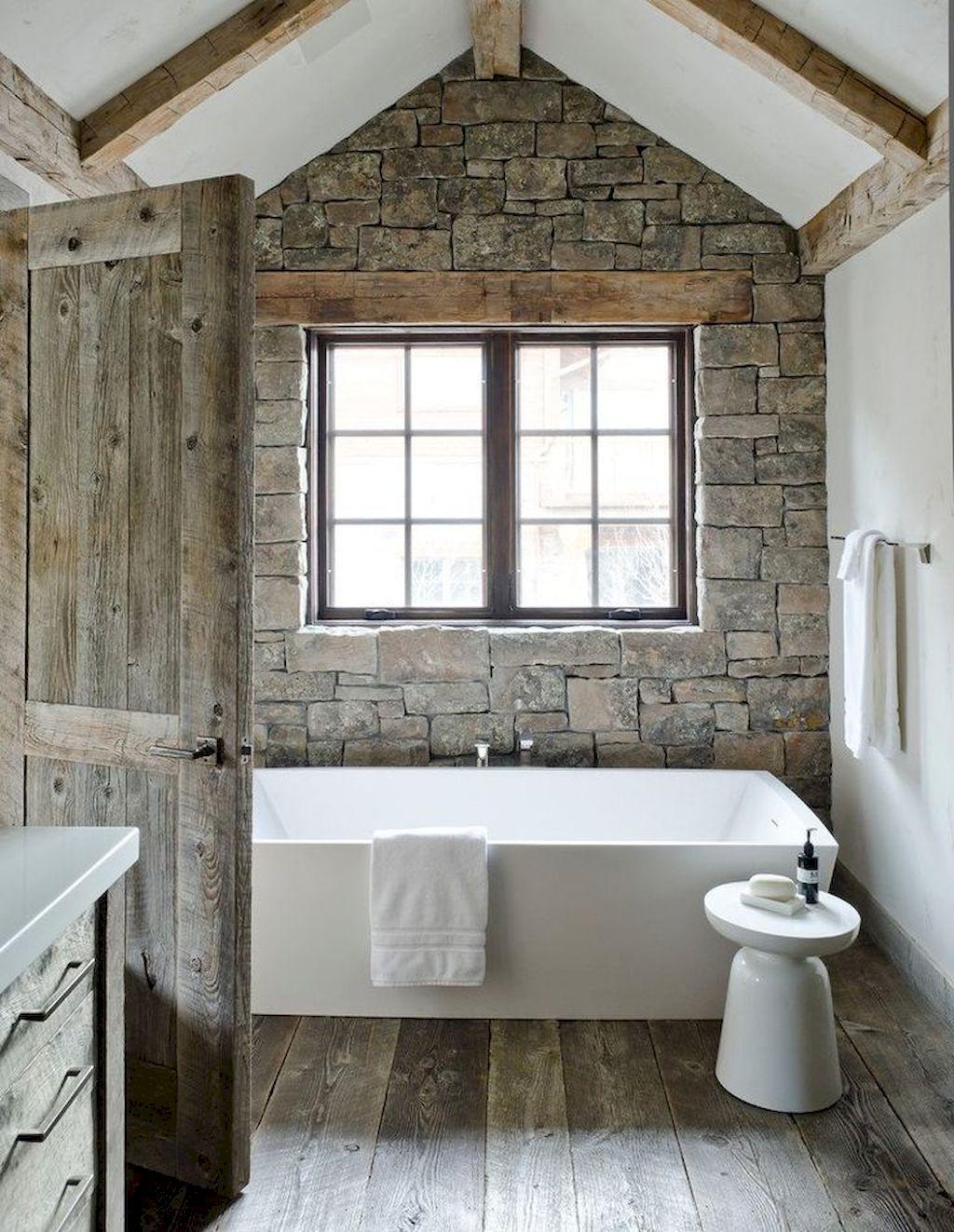 Rustic Bathrooms – Today's trend
Rustic Bathroom Designs are the trend of the day. They are not only installed on the country houses, on farms, on mountain houses or on the suburban areas, but they are often included in postmodern designs in all kinds of constructions. Rustic bathrooms give any house a touch of nature and an outside feeling to it, evoking nature with their touches of wood, stones, metals and earthy colors.
This kind of designs are very trendy today, being a favorite to design by enthusiasts who like to change the atmosphere on their homes, or by people who just simple needs to give special features to their houses before putting them in the real state market. They choose this style because it is easy to pull by mixing and matching different elements like colors, materials and accessories to create unique designs that are very distinctive and attractive.
This spaces do not have to be empty or careless rooms to name them rustic, it is about to use colors in the nature scheme, like browns, greens, grays, and even black or whites; and natural origin materials like stone, wood, and different metals for counter tops, tiles, accessories and finishes to give your home the distinction of artistic spaces that will improve greatly the value of your house.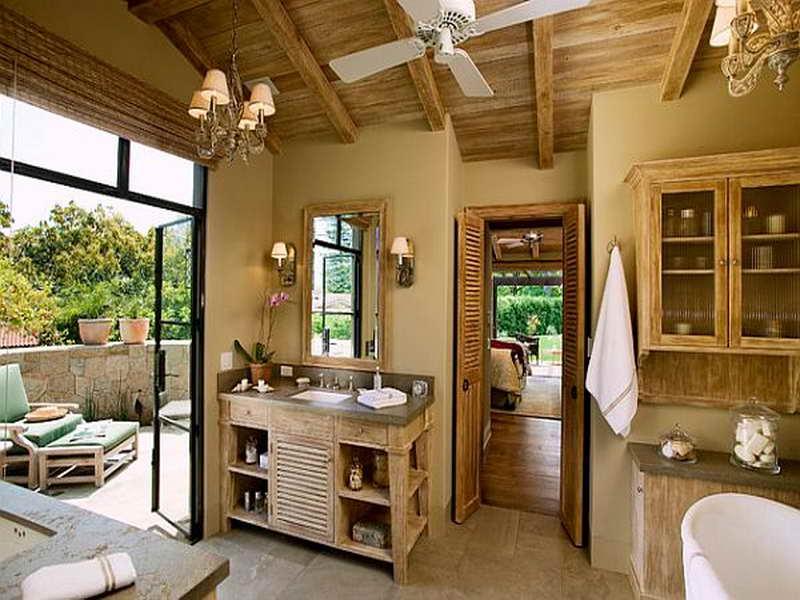 This kind of style works perfect in spaces with great natural light, with nature views or with big natural ventilation to complete the outside -­‐ inside the house look. Like in this house with an open to a terrace bathroom where you could enjoy from the breeze and the vegetation while taking a delicious bath. This rustic delight combines great elements of this style: the wood cabinets in a light beige shade. The bathroom entrance made in wood with blinds and dark metal handles. The rustic iron frames in the french doors that takes out to the terrace. The exposed wood in the vaulted ceiling. The texturized stone counter tops in all surfaces and even the stone wall right beside the green chair, sings rustic into this house that tops its flawless design with beige painting in the walls that combines perfectly with all the elements in this
well thought room.
But rustic style is not exclusive for wide, open, country edifications; it is also a great design choice for city constructions. If you want to give your bathrooms and powder rooms this great and very current style that is so on these days, we want to help you by giving you a few ideas that you can mix and match until you find the perfect space adapted to you every wish. All of our ideas are thought to help you create a unique and exclusive spa feel sanctuary.
Color Scheme
When creating a rustic bathroom, one of the vital topics you need to think about is color. This is very important because the color scheme you decide to use in your bathroom will be the starting point to all the work you are about to do.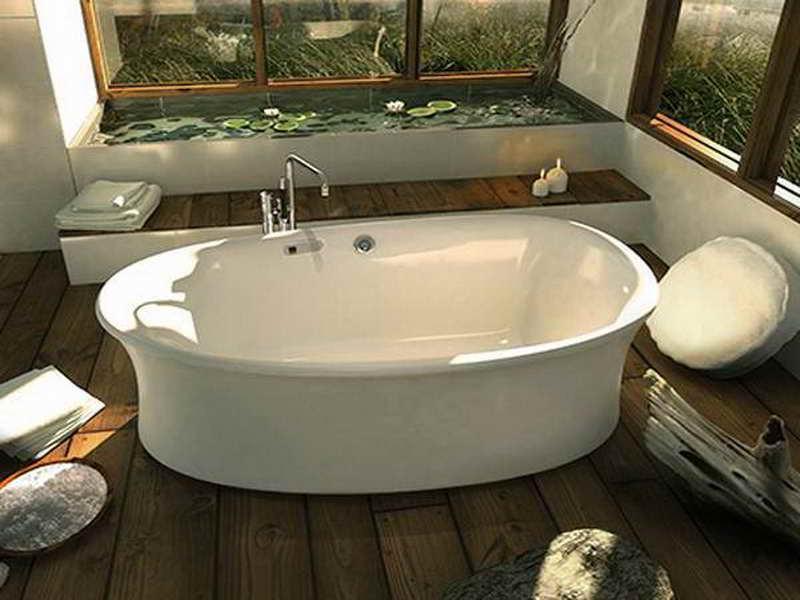 Obviously, the star on the rustic style's colors is brown. This earthy and nature tone is an essential when looking for a rustic feeling. Anything on the brown scheme is valid; from deep brown to very soft beige, with brown you cannot go wrong in your bathroom design. Like in this room, where dark brown was used for hardwood floors and details like the windows' frames.
Dark browns reminds us to trees, rocks or the natural ground, while lighter browns takes us to the leaves that fall from the trees. Beige is very resembling to sand, so it is a great idea for a marine style kind of rustic design.
Since bathrooms are normally a smaller room on the house, you can choose lighter colors like soft brown, beige or light beige to color the walls, and then you can keep the floor a little darker, with the use of brown in, for example, hardwood floor or tiles. This dark color can also be used in cabinets and storage to balance the colors used to give life to the space.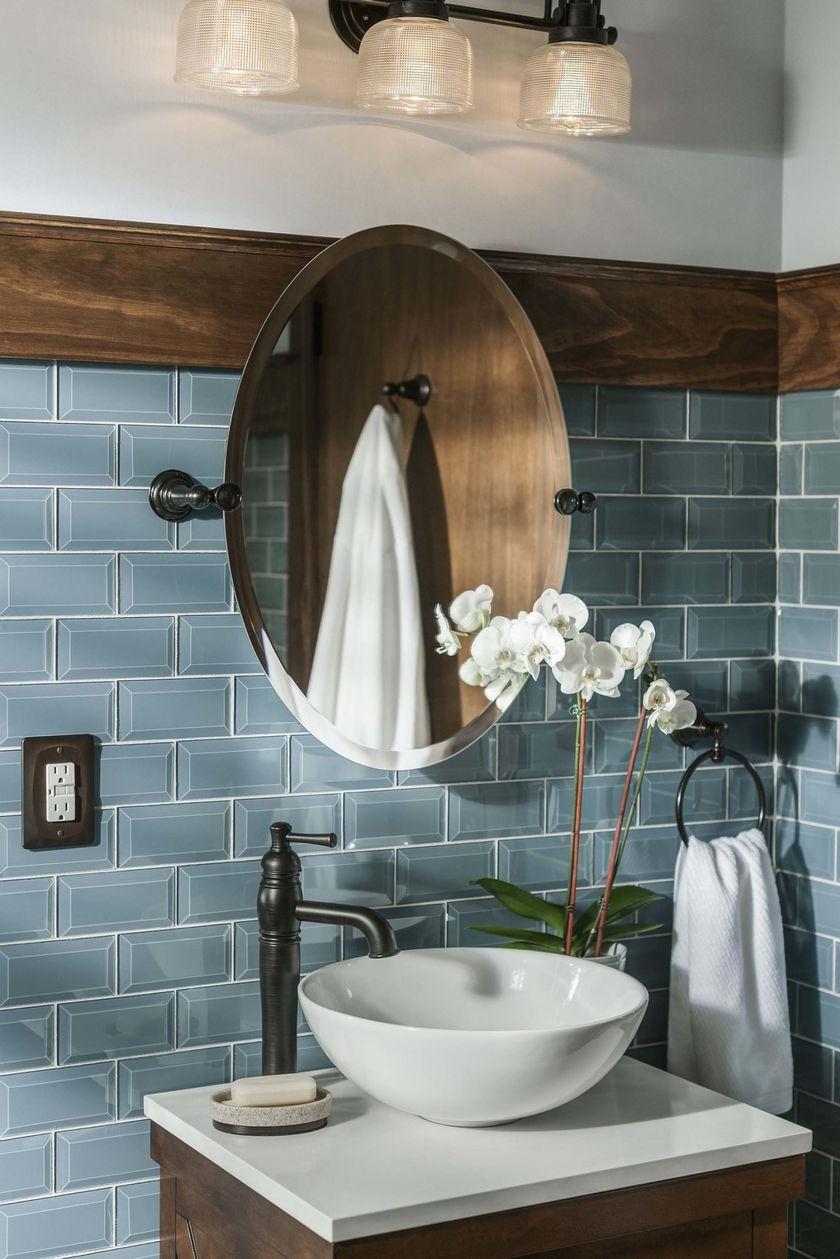 Another great color that you could try for rustic bathrooms is gray. Given its resemblance to materials like natural stone it is a great decision when it comes to details like paint or flooring tor the bathroom. In this bathroom right here,the combination between gray and brick style tiles, make a great example on a nice color scheme. The look is completed by the use of wood for cabinets and wall details, forged dark iron for the faucet and towel and mirror holder that also features an old style design, the presence of fresh flowers, and even the outlet shows roughness design with a frame made of wood. A modern mirror balances the elements on this bathroom creating a simple and creative style.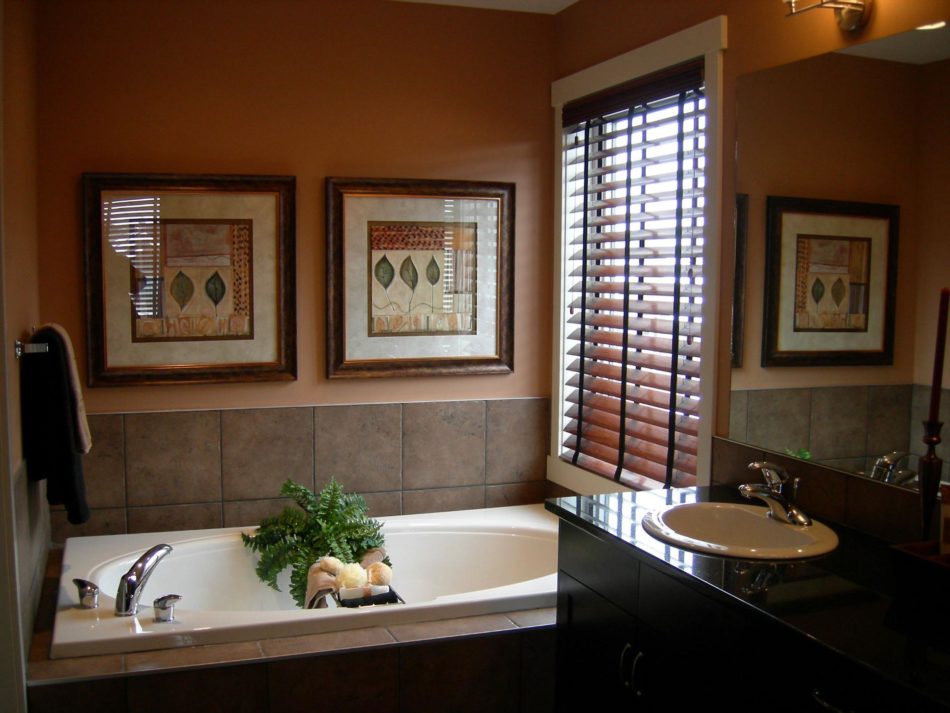 When it comes to rustic colors, let us not forget about green, the second most nature -­‐ feeling color for home decoration. And how could it not be, when green means life, plants, nature and all that is alive? So, for your design you could use this very vibrant color to enlighten your bathroom, by putting some touches of this color in the walls, or maybe even in counter tops or bathroom pieces. You can also use a bold touch and use green for storage cabinets.
If using green in any of the previous suggestions is just a little too much for you, but you do not want to resign using the color altogether, another way to use the color in your rustic bathroom style is by using plants to get that aliveness feel in your decorations. In the room above, a small but very pretty plant puts a sprinkle of wildness in a city space. The color and smell of a plant can improve a lot the bathroom experience.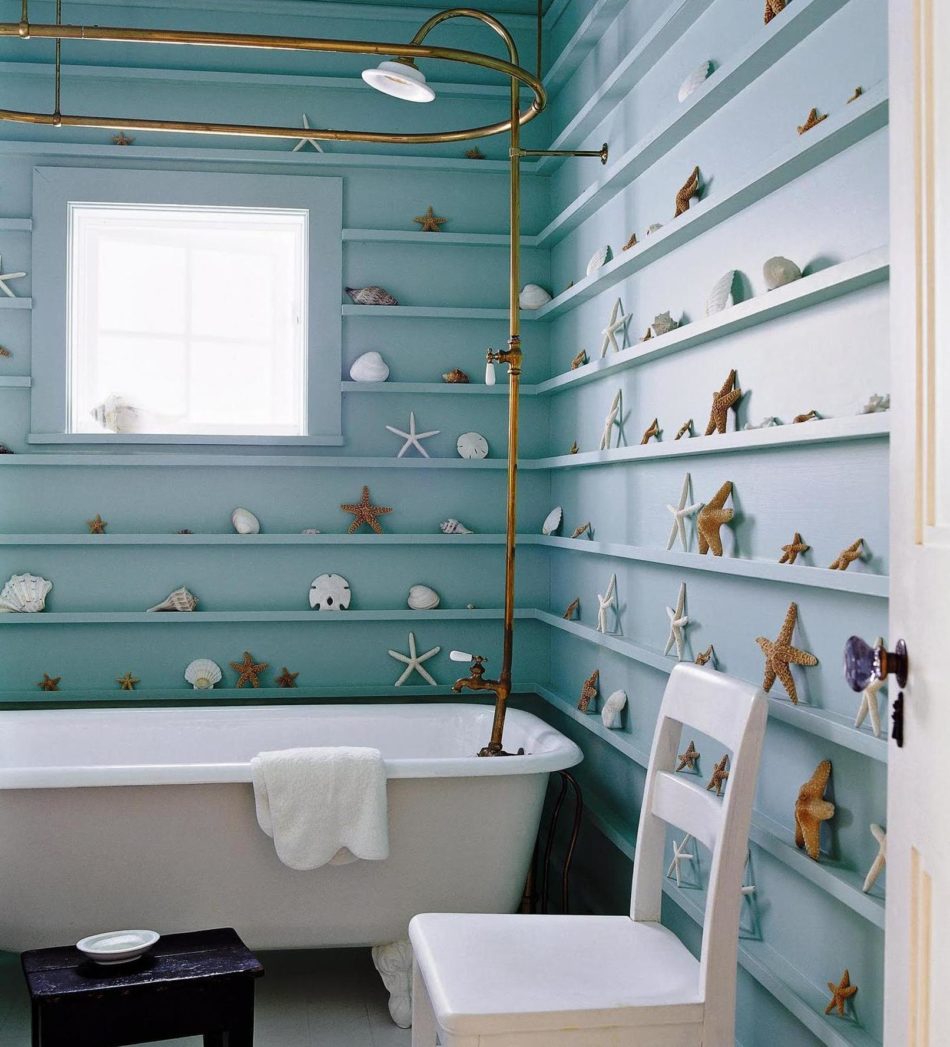 And last but not least we cannot forget to mention blue, the color of clear skies and water. This color brings calm and will give a soft rustic and marine or celestial feel to your bathroom. Taking a bath in this rustic marine feeling bathroom most make anyone feel like being deep inside the ocean, with all the sea decor, accompanying the light yet bright blue paint in this relaxing style designing choice. The wood thin shelves throughout all of the walls' surfaces allow displaying cute little ornaments that play a big role in the design of a space. The room is completed with the choice of white bathtub and wood chair to contrast.
Remember to mix and match some of this colors thoroughly without exaggerate. Rustic bathrooms are characterized to feel comfortable, suitable and relaxed, so do not over do this style that has to be loose.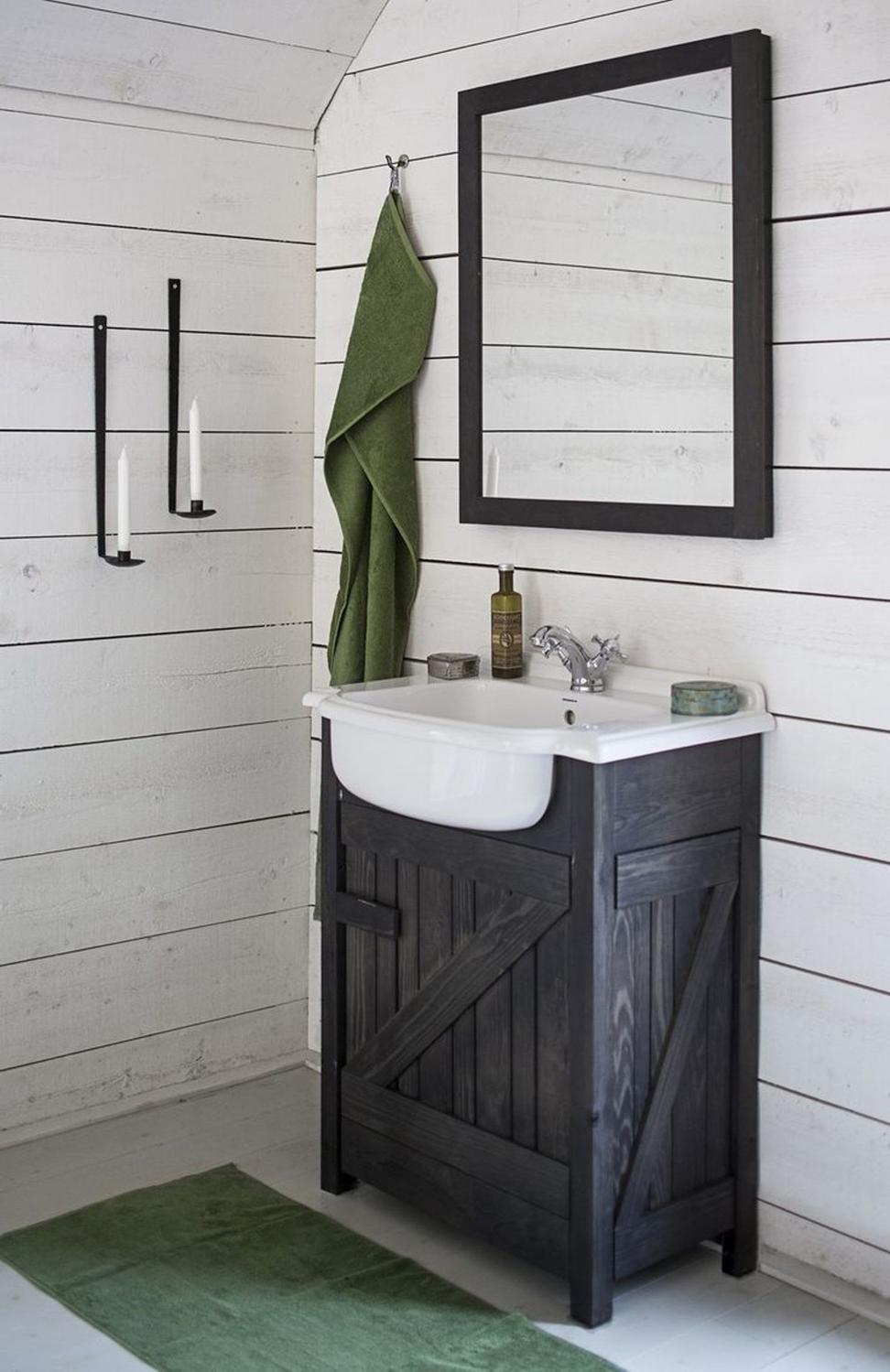 Also keep in mind that no matter what style of decoration and designing you decide to use, any color scheme you choose will combine just great with the always reliable and good looking black and white. Like in this piece, where white wood walls combine perfect with the black wood cabinet and mirror and just a few touches of green, that comes from the rug and towel. Other rustic elements like the old style sink and forged iron candle holders are also present in this design.
Materials
Now that you have chosen the colors you will use to give life to your bathroom, it is time to search for materials that will put the rustic touch on it. There are different options that you can use for panels, counter tops, cabinets and storage, lamps, and even accessories like towel holders or soap dispensers.
The first thing that comes to mind when thinking rustic is wood. Wood is an obvious choice but always a great idea. Nothing says nature or rustic in design like wood. So, if you want to use this feature to improve your bathrooms, make sure to make it stand out in your decorations using it in different ways or making a stand with it.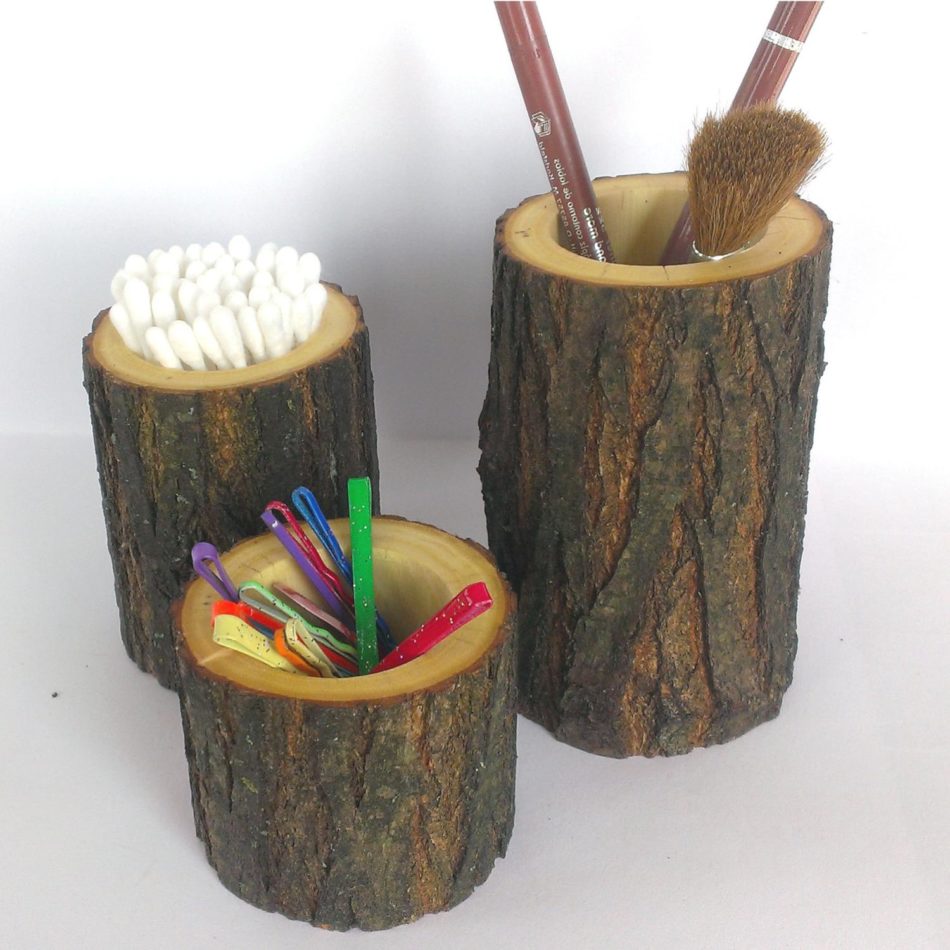 For example, you can choose different wood recipients and use them to contain swabs, make up brushes, hair clips, or any other thing you keep in your bathroom. Try not to use wood containers to put wet things like toothbrushes, since the water could damage the wood, making it last for less time. These wood containers are beautiful and possible to be constructed at home.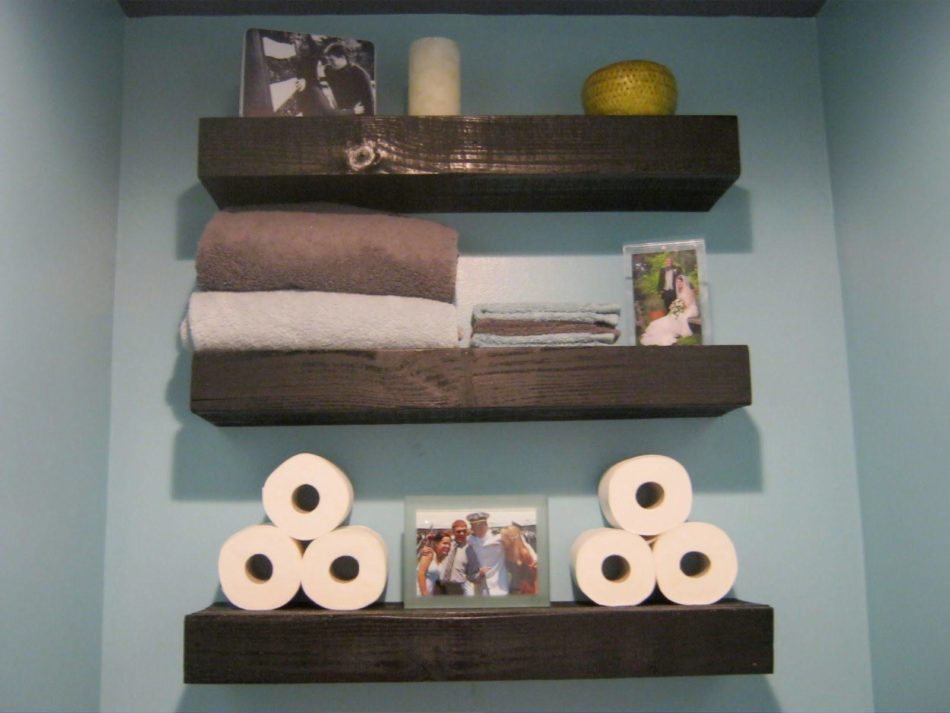 Another way to use wood to improve your rustic design is by the use of shelves to keep towels, candles, photos, toilet paper and more. Your bathroom will have a rustic and very tidy style, like this one right here.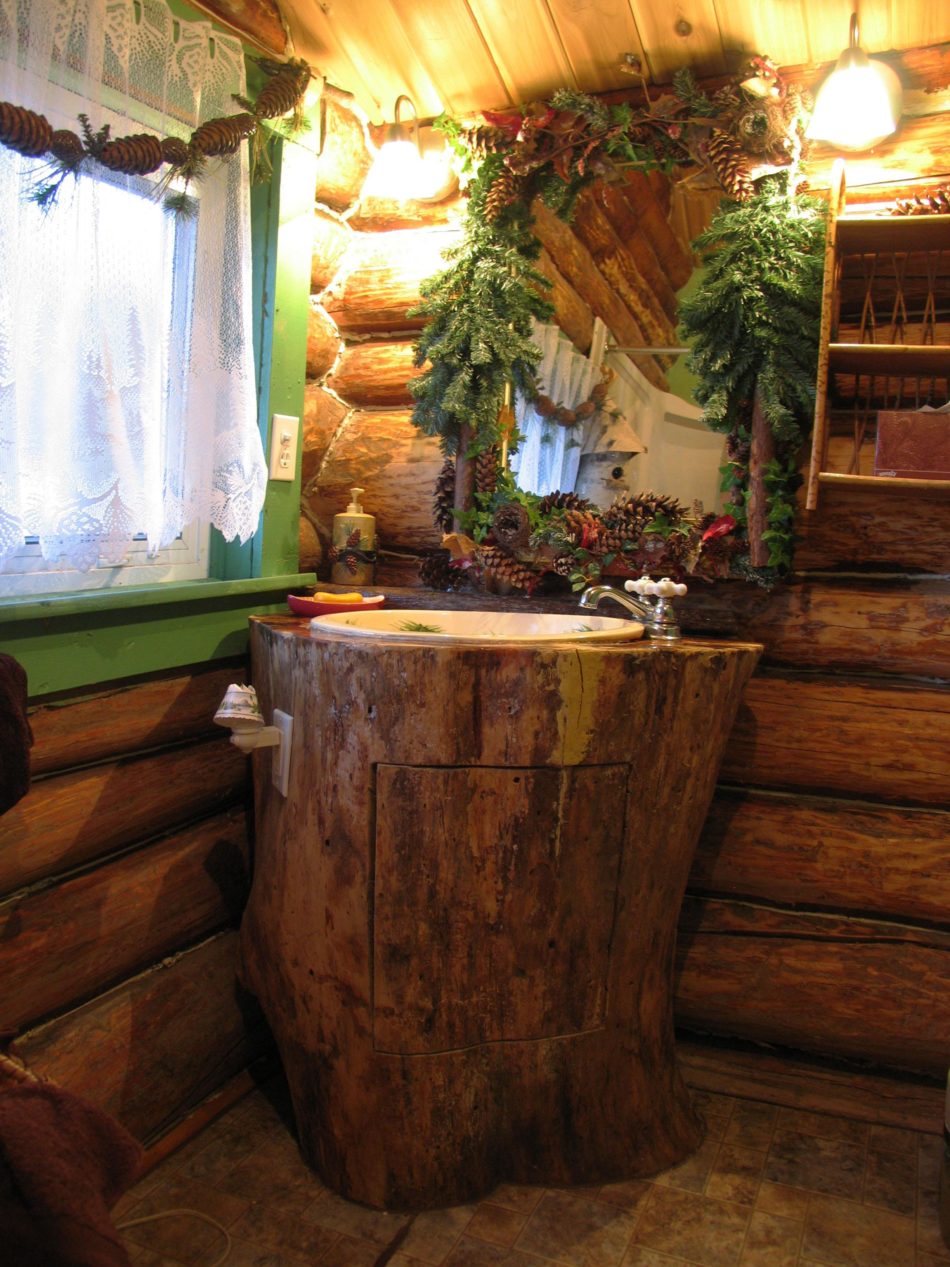 Do not be afraid to go for an all -­‐ wood bathroom. This rustic style is very pretty and gives a very warm sensation when you are in it. In this room, the sink was made with a tree trunk, making a hole inside it to fit a rounded sink. The walls used nature wood lamination with rustic finishes and the mirror on the wall uses pines and bush imitations to capture the feeling you get when you are in a cabin inside the woods. Note how pines are also garnishing the green wood window frame that has an old style lace curtain. This bathroom is a rustic country style design, perfect for a cabin, a farm or a house in the mountains. The floors use stone -­ texturized tiles with earthy tones like gray and brown, completing the look.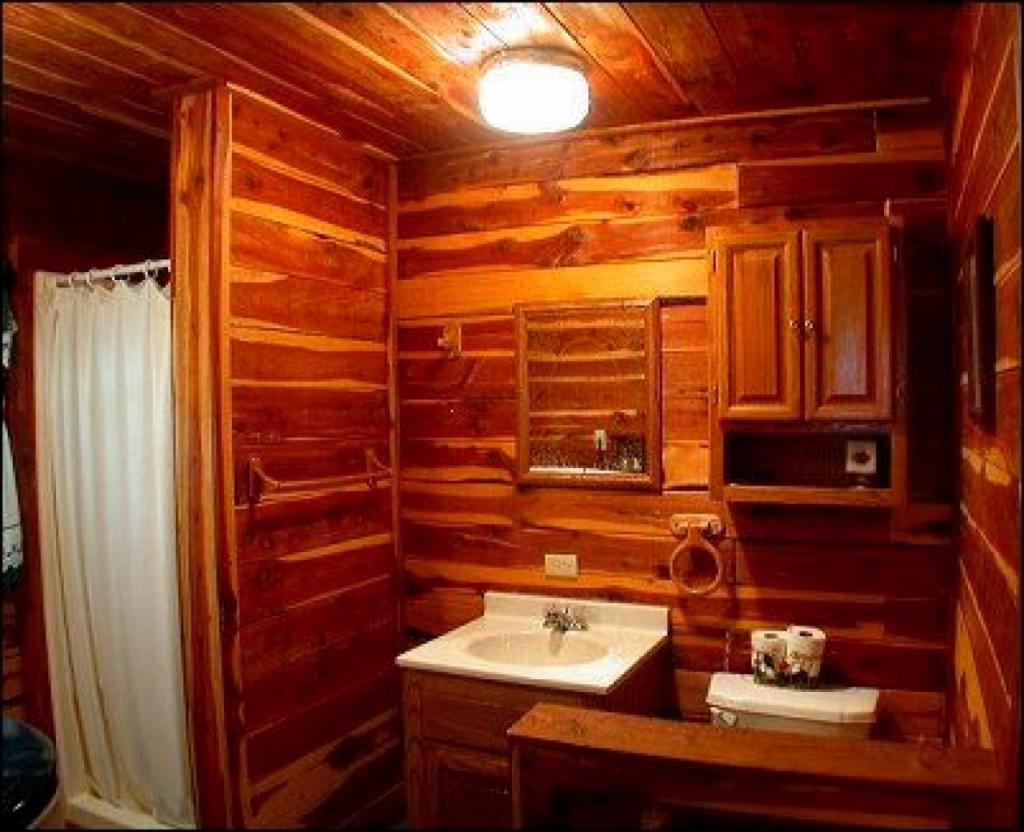 See how this all -­‐ wood bathroom displays natural wood treated with colored varnish. In this space you cannot turn your head to a woodless place. You have wood in walls, sink, mirror, towel holder, cabinets and every single detail in this room. Wood took over this room, and it gives a cabin feel to this small space.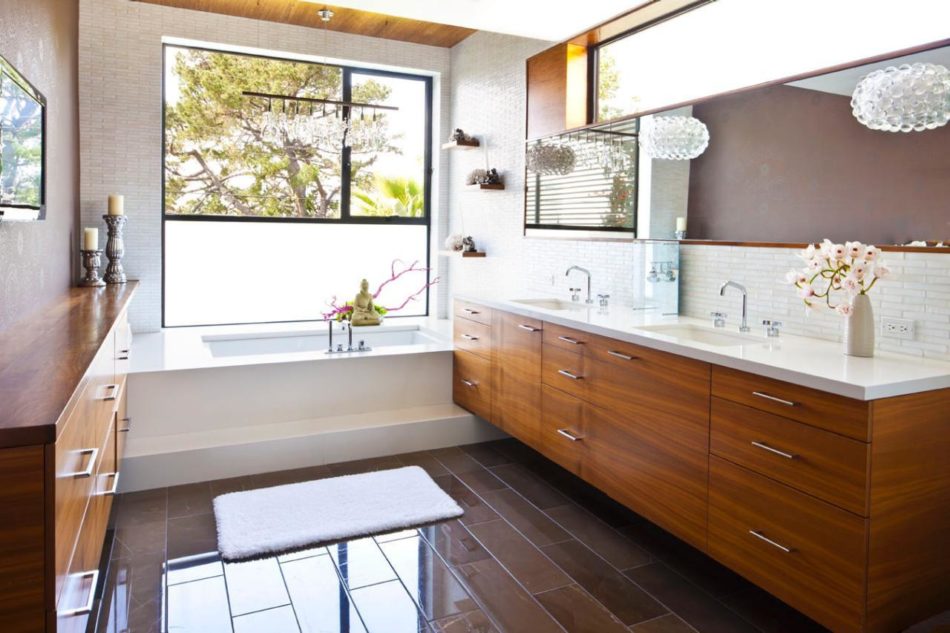 Another material great for rustic ideas is stone. This beautiful material has an enormous amount of natural colors to it, giving you the chance to have a wide variety of tones to choose from when using this vibrant nature element. You can find stone in colors like gray, brown, black, white, yellow, in all of their tonalities, lighter or darker; or you can even find combined color stones, that mixes colors with each other, like in the case of marble, granite or quartz, that have stunning veins going throughout all of its surface, creating amazing and one of a kind looks, because normally there are not two pieces of these materials with the same pattern, so you can count on originality and uniqueness right there.
Stone can be use in many different ways. If you like a more polished rustic look, you can use high -­‐ end tiles in marble, granite or even quartz to decorate your walls and floors with elegance and distinction. Like in the picture above where you can see a very polished and luxurious bathroom with deep brown stone flooring with small yellow veins that adds a serious and elegant character contrasted with bright white granite counter top for the double sink and the bathtub. A small touch of more natural materials is included with the installing of wood cabinets and counter top, but always keeping the elegant style on all the components of this very illuminated room.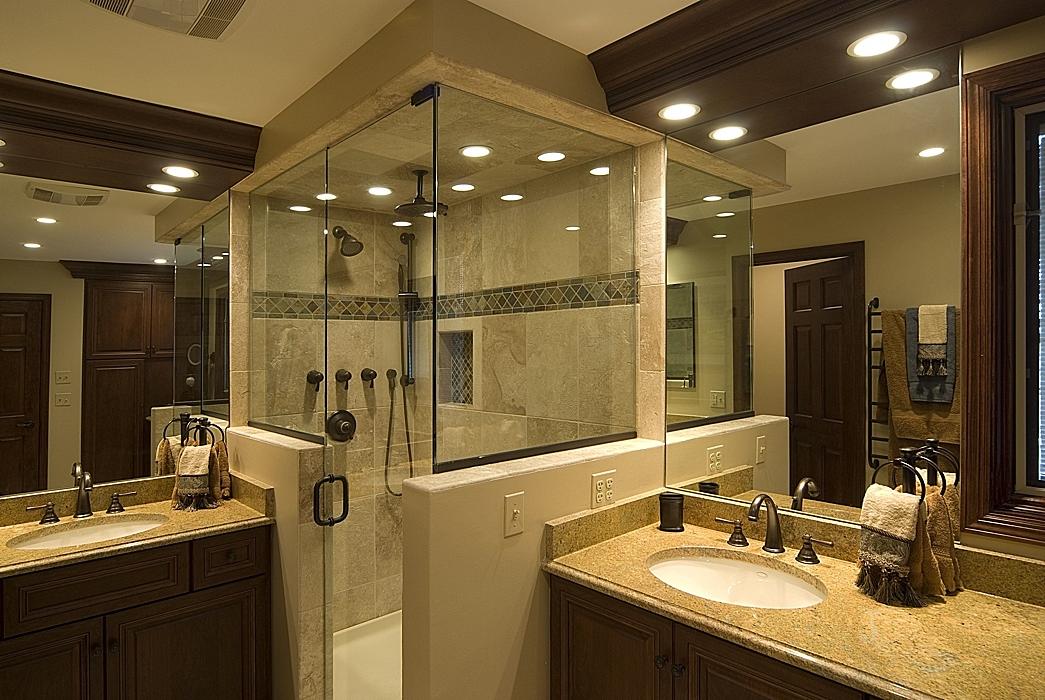 Stone can also make a great material idea for counter tops, shower floors and walls and bathtub finishes. In this beautiful master bathroom you can notice the style given to all the space by the use of beige granite counter tops in the sinks that are located both sides of the shower space. The huge size grey and green tiles with veins that are delimiting the shower case also give a luxurious flare to this room perfect for any house.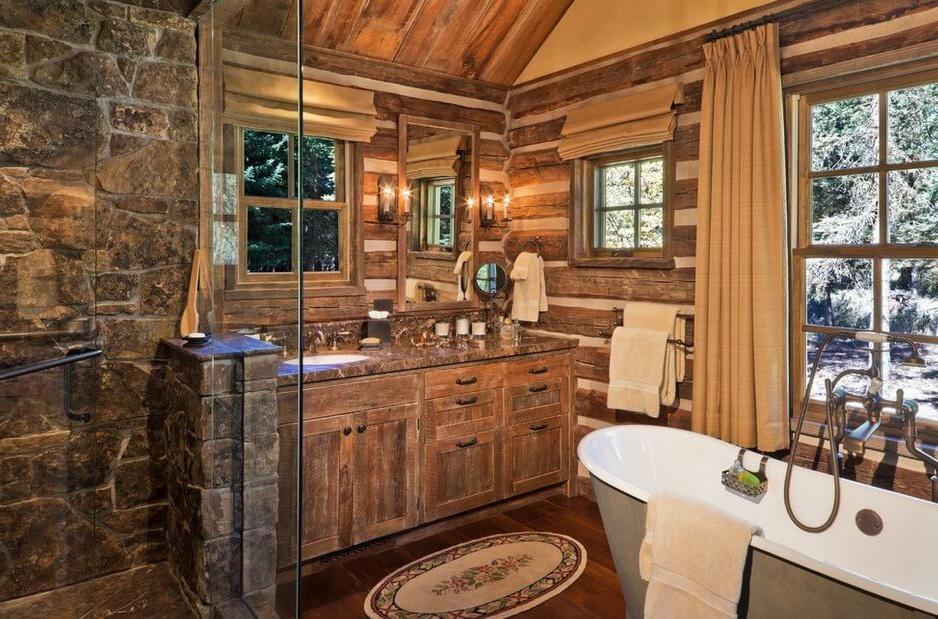 Or, if you are more into the all -­‐ rustic look, you can use unpolished stone with non -­‐ uniform shapes or surfaces to dress your walls, and you can also have textures that you can feel when sliding your hands (or feet) in their surfaces. This great bathroom is all texture, featuring wood for the cabinets, walls and floors. Inside the shower you get a fest for your senses with the presence of this marvelous rustic stone tiles with natural color. The color scheme is perfect for the rustic design: gray, brown, white and beige do more than enough to combine all the different elements in this work of art and make it into one cozy and warm room. The feeling is completed when you take a bath and you get to see that precious exterior full of nature.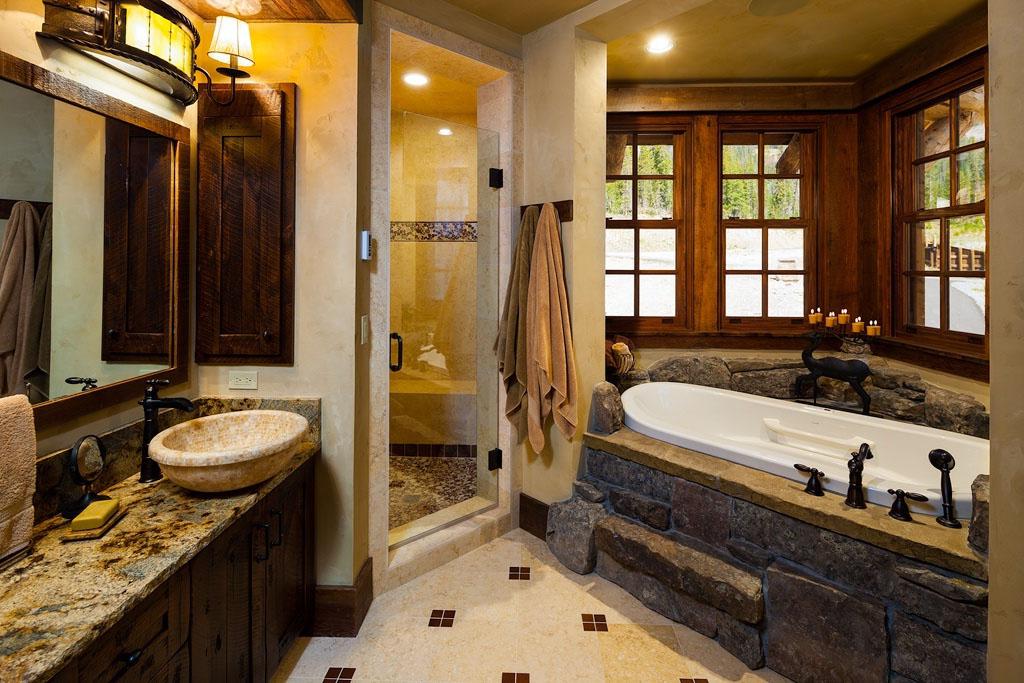 And, if you feel bolder you can take an ordinary bath tub and turn it into something more luxurious by creating this risky but astonishing design that features a whole stone Jacuzzi style bath tub that is surrounded by all kinds of iron forged details like the candle holder. Note the beautiful and original stone sink white with many yellow veins toping the amazingly colored granite countertop. Wood here and there in pieces like window frames, cabinets and doors; and iron forged accessories combine great with the colors chosen to paint the bathroom.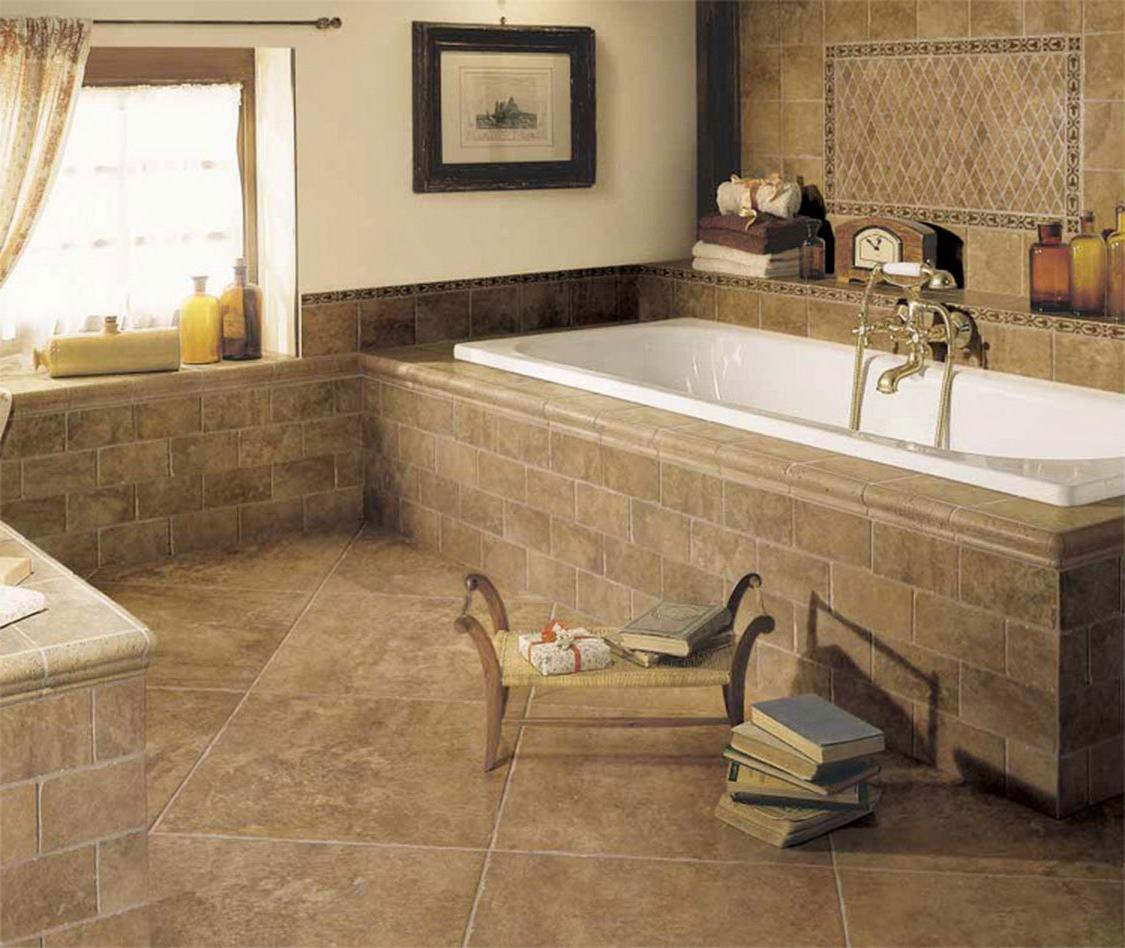 This is a classic look all stone bathroom. The rustic feel comes from the brick – style tiles for bathtub and sink, as well as the half part of the walls that is covered with tiles. The space also features stone in big size floor tiling, wood details like the clock and the magazine holder, and finishes with old style plumbing for the bathtub faucet and handles. It keeps the recommended color scheme for this type of design style, with the use of gray, beige and white, giving brightness to a normally dark room, and taking advantage of the natural light that comes through the window. Remember, light colors keep spaces brighter.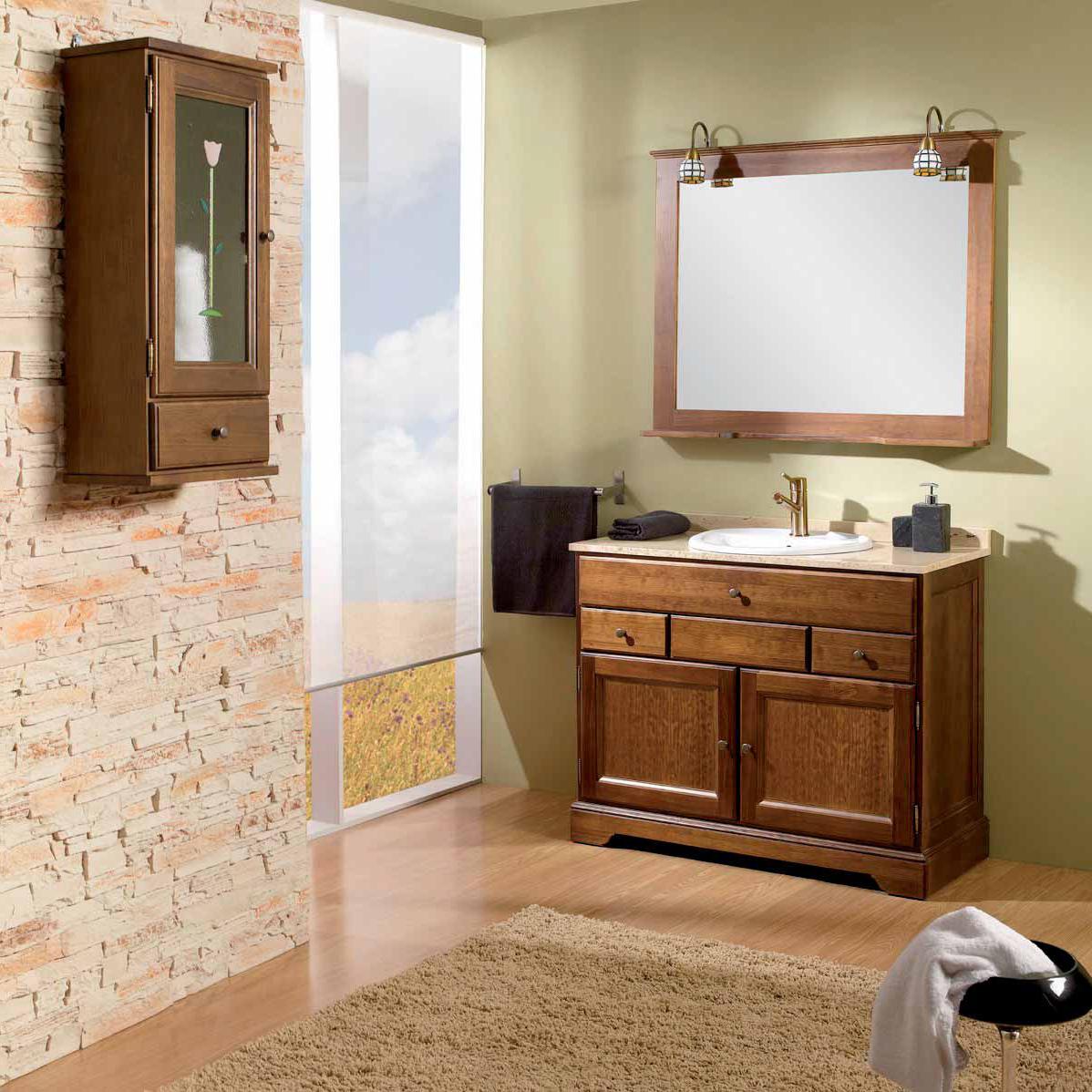 The use of brick is also a good idea if you are going for a rustic feeling in your bathroom. Exposed bricks can give very natural and hard look to your spaces. It is enough to expose just one wall into the bathroom, but some people prefer to let brick show in more then one wall or even make the hole space a showcase for exposed brick. This bathroom introduces wood for cabinets and the mirror in a natural shade that complements greatly the red exposed brick wall, the light brown floor and even the rug. The white blind allows covering the window without losing too much light.
Other nice materials you can use when designing your bathroom with the rustic mood are metals like iron, brass and copper. This materials that spell rustic are better when in darker or natural colors, keeping them simple in faucets, handles, or any other detail where they can add not only a rustic but also a vintage look to all of our ideas.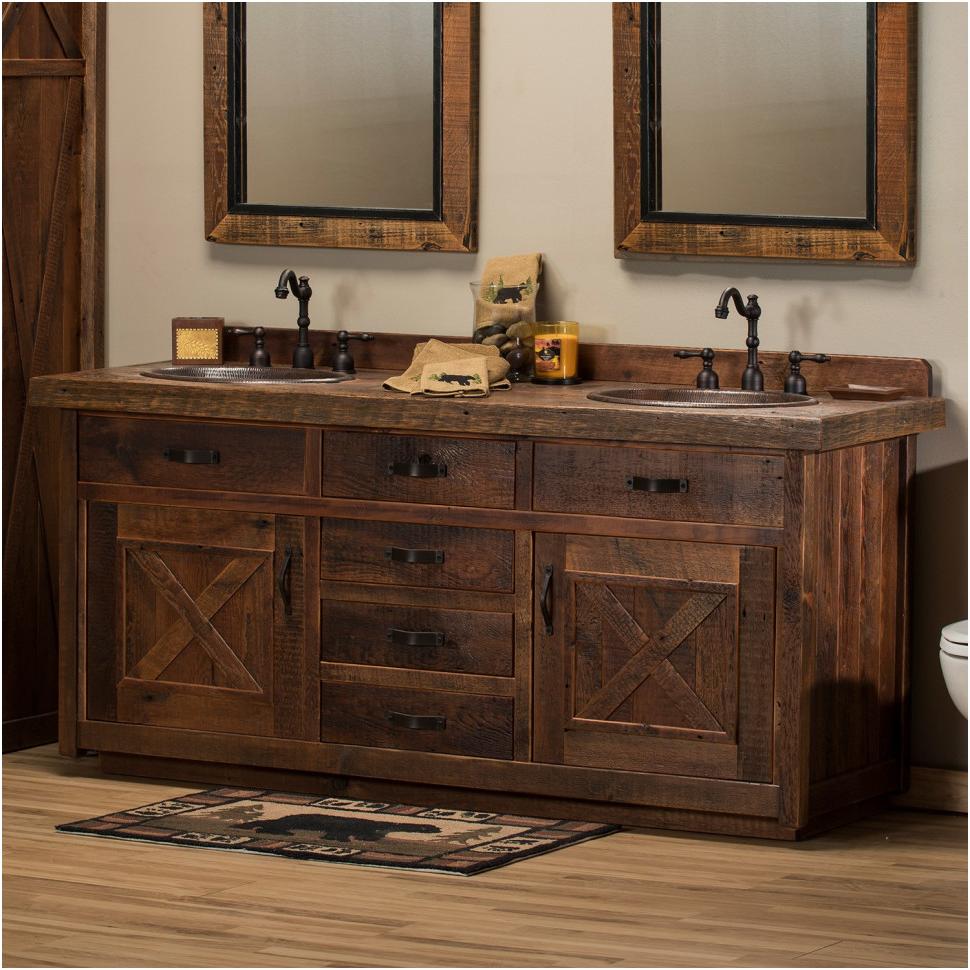 A good example on how to use this material to customize your personal space is this rustic bathroom, that features black iron faucets and handles on this great double sink wood cabinet. The sinks are also made of rustic metal, in a natural grey color, and you can also see how iron
is present in the drawer's handles too. The cabinet presents a very traditional and simple vintage design with both doors and drawers, and topping the cabinet two beautiful wood framed mirrors finishes this beautiful way to showcase truthfulness. Do not forget to check the light brown wood floors and the carpet showing the figure of a bear.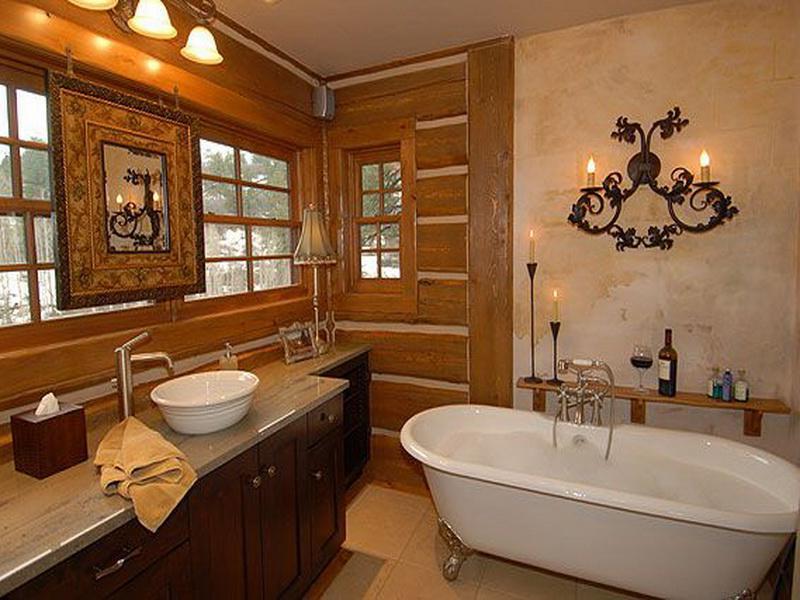 Add rustic flare to your space using accessories like forged iron candle holders that will look beautiful and stylish as a center piece on your bathroom, like this one that was placed on a center point of view in the room, accompanying a room that features vetted wallpaper and wood in the walls. The wood designs like the cabinet, the shelve beside the bathtub or even the tissues box in this room also showcase the versatility on this kind of decoration. This style features big pieces that catches attention, so do not be shy and go for a look like this.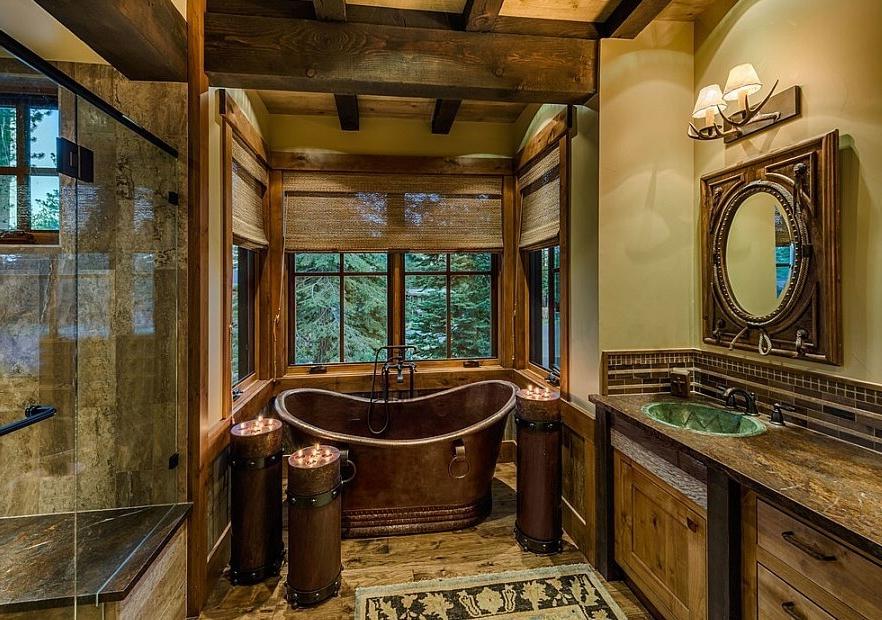 This bathroom features an amazing tub made with copper. It resemblance an old day's bathtub that could easily have been in a farm in the country side many years ago. This bathroom is big on wood, with the ceiling details that are the exposed beams; the framing on the windows; the cabinets with doors and drawers and the magnificent rustic floor. Rustic metal details can be also found on the faucets, handles and even in the mirror. Finish this vintage rustic look with the adding of these three great looking and very original copper candle holders. Note how in this design, the space combines rustic and modern elements to build a unique creation that is topped with the unique detail of horns in the lamps above the mirror.
Accessories
This is the simplest way to add rustic details to your bathroom if you are not thinking to remodel the space beyond some tweaks here and there. The use of accessories to improve your spaces can be a very inexpensive way to add a lot of value to your room, giving it a more expensive look with a tiny inversion. All you need is creativity and time and you will get great designs that fit your budget.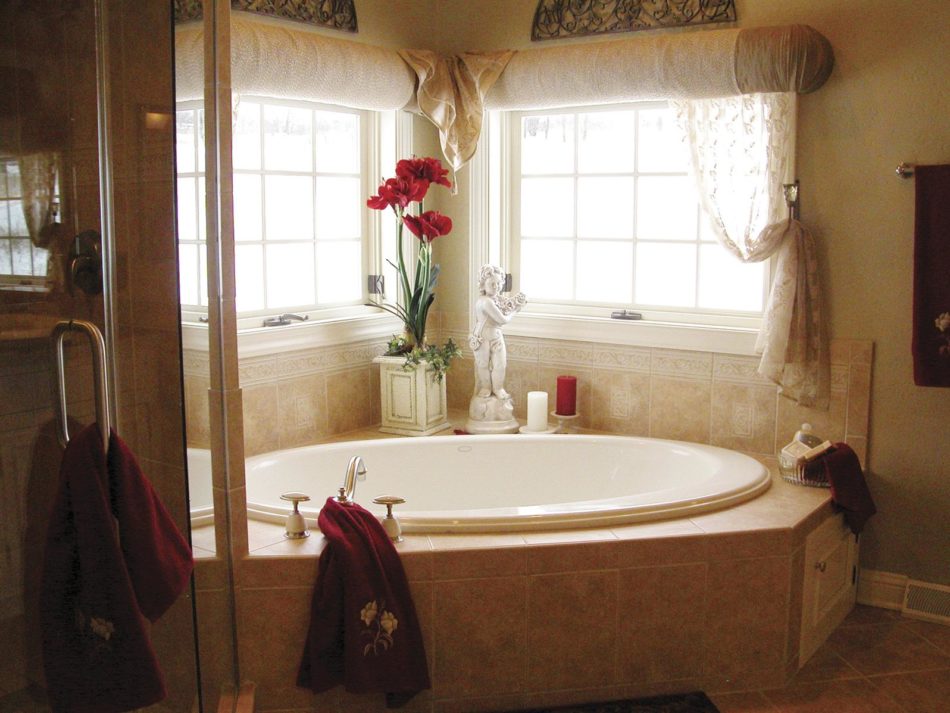 You can use candles for a rustic feel, since they take you back to the days when lighting was provided this way. Candles will make your bathroom more private too, and it is a great way to relax when taking a long bath to remove all the tensions from your body after a long day of work, taking care of the children or running errands. This bathroom speaks placer with its light tones of beige and brown in walls and tiles; the white bathtub, windows, curtains and other accessories like the statue and the flower vase that contains beautiful natural red flowers complete the spa scent in this oasis to forget about a rough day, or to simply enjoy a nice bath.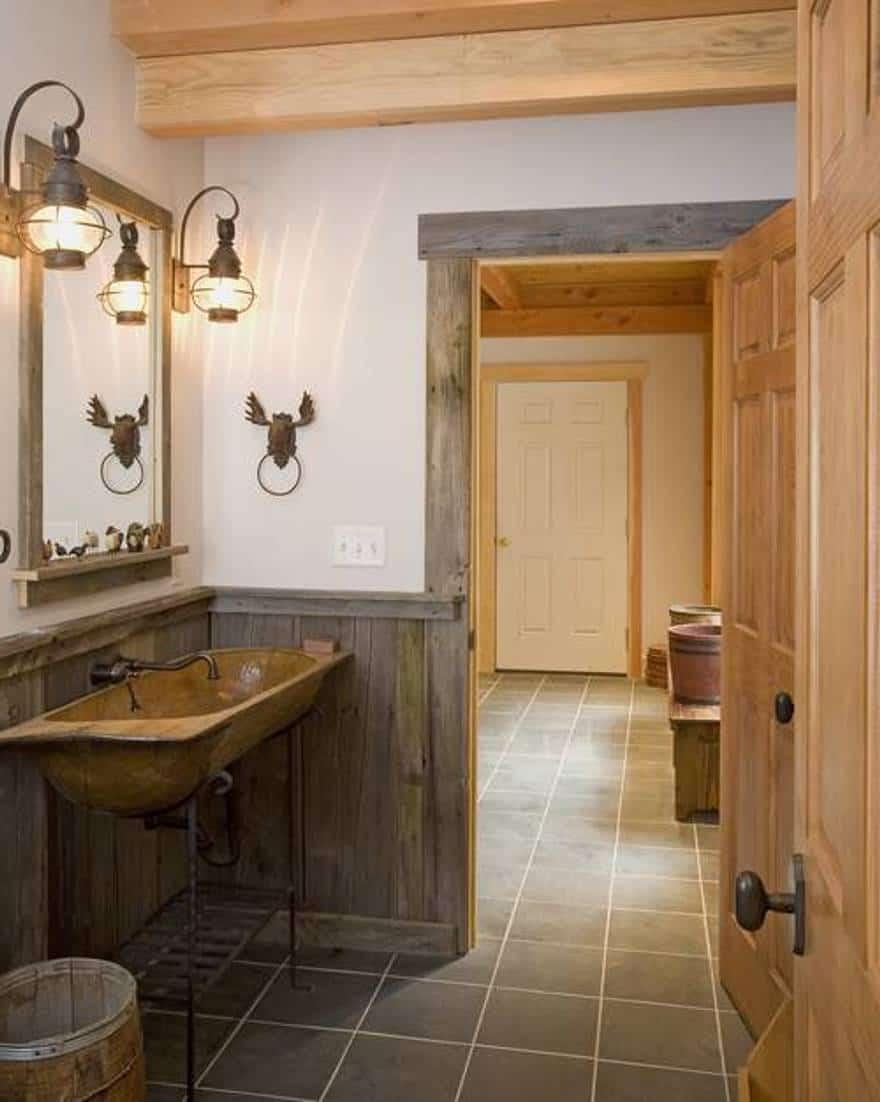 Another nice accessory for your rustic bathroom can be as simple as trash cans or water containers, that using materials like wood or bamboo, as you can see in this example, gives a rustic sense and are very utilitarian too. This bathroom has grey stone tiles, same color as the wood panels on part of the bathroom, door frame and square mirror. The color and materials are combined with a wide wood sink in a forged iron frame that is very rustic an pretty. Knobs, towel holders and lamps also features this metal, and the ceilings showcase wood in all its extension.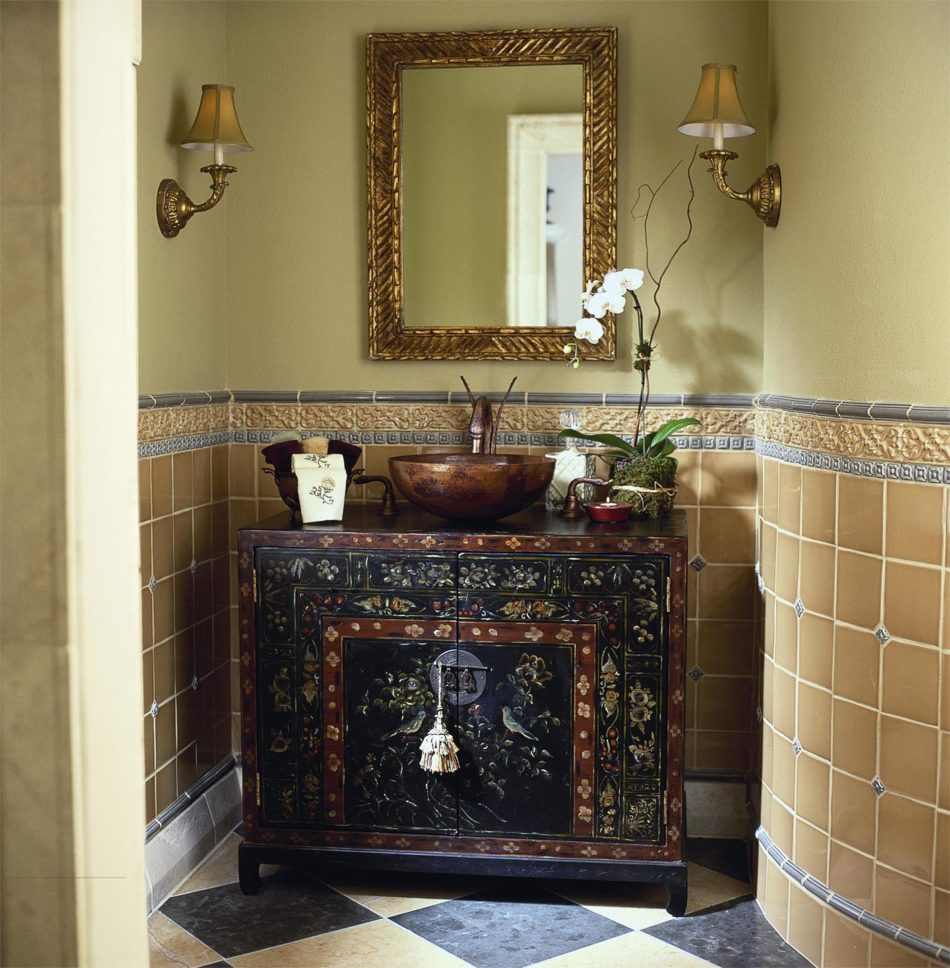 Mirrors are a must have accessory in the bathroom. This mirror made with bamboo and then painted gold, is a great way to include rustic and natural materials into your design and then tweaking it a little to make it look more like you and to be original, of course. In this powder room we can find other very original elements like the painted wood cabinet, thus uses black for the background with details on brown and hand painted flowers. To finish making it unique, its open by a metal hook with a very dedicated design. On top we can see a wood rounded external sink with copper faucet and handles, flowers to add a living detail in the style, a red candle holder and a wood vase to keep hand towels. This room is an example on how rustic can also be romantic. The style goes perfect with the ethnic tiling work and the golden lamps above.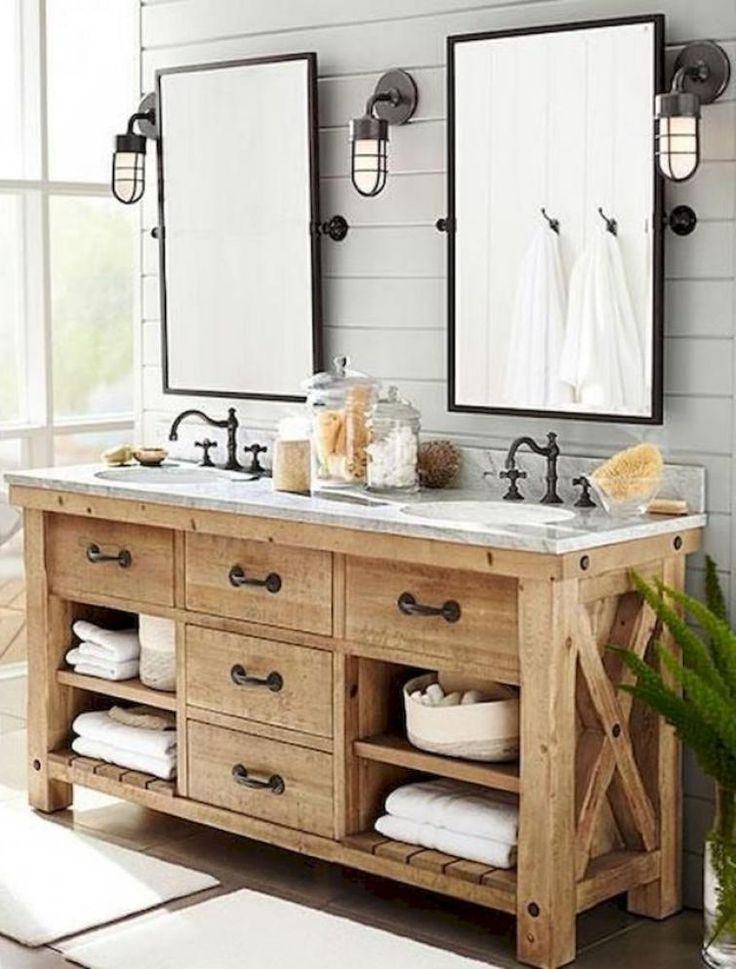 Here you can see other mirrors, this time they are rectangular shaped made of beautiful forged dark iron, that adds character to this bathroom. This space also features forged faucets and water handles for the sinks, wood and iron cabinets, industrial look wall lamps made in steel and polished granite counter tops that maintains the rustic look without taking it too far. It is important in any decoration to keep the balance between all the elements used. A nice plant by the side gives the natural look that a rustic style can always use. Wall is paneled with white wood matching the countertops, rugs and towels.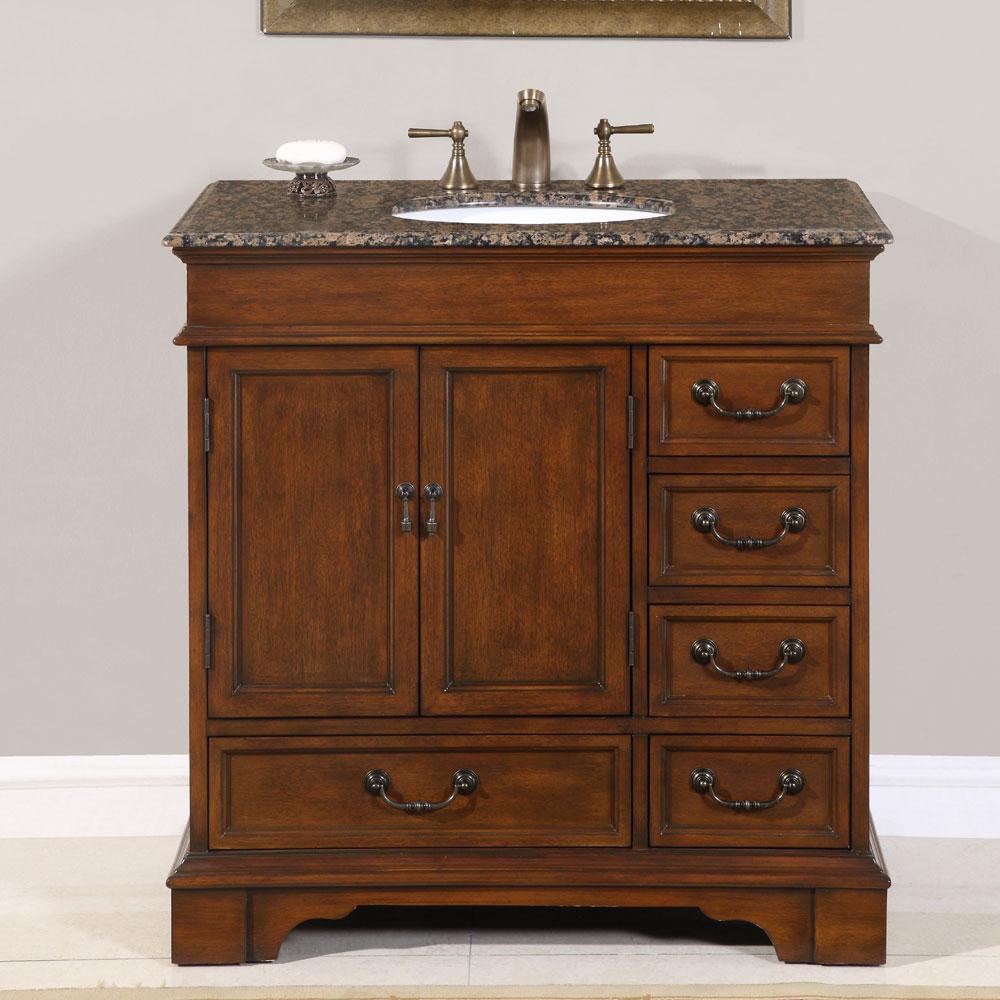 Cabinets and storage places in the bathroom can also give you the opportunity to imagine a rustic space and then make it happen. Use wood cabinets to have the obvious but also perfect touch of ruthless combining it with forged faucets and granite stone counter tops like the owners have done in this nice and very well designed sink. Note the great vintage looking doors and drawers handles made in iron. They finish a perfect looking cabinet.
This cabinet features two basics on the rustic feeling: a complete wood cabinet with three drawers that also has wood boxes inside, and the stone double sink and counter top, in beige with brown veins. The look is complemented by the aged metal faucets and handles, just as the cabinet's doors and drawers handles. Even the accessories like the soap and tooth brushes containers help with the general feeling in the room. Light color walls in a beige scheme and the long bright window completes the design that also present rustic theme with frames and the painting they show.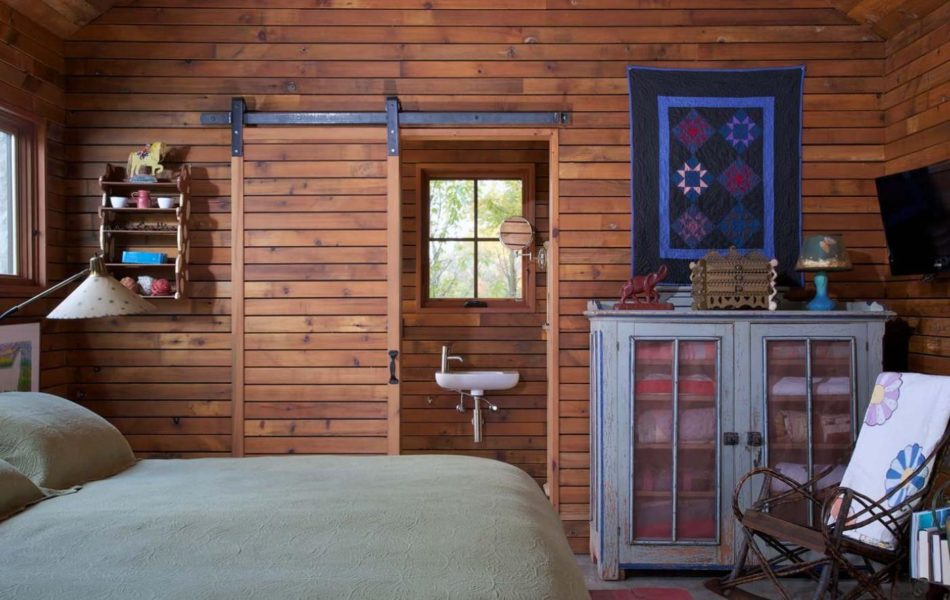 Using painted cabinets made of aged wood can also be a very nice element to include in your design ideas for a rustic flare. This look is very easy to make by yourself at home if you are low on budget. This hole space is made in wood and have several elements that, even they are
very different from each other, complement greatly the hole space. A sliding door sustained by iron rail lets you take a glance on a rustic simple simple sink and the external nature view.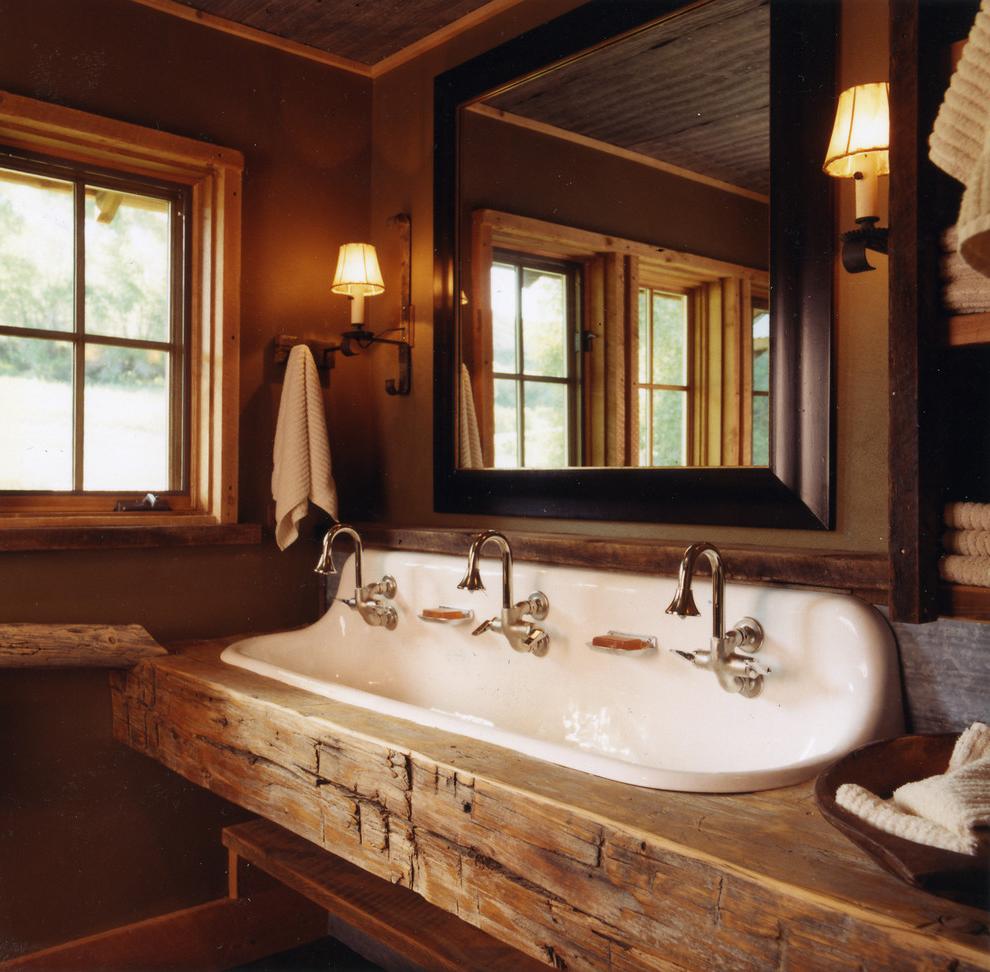 Lamps can be another way to achieve this style that carries the best of the old and modern trends and turn them into an eclectic feel. In this bathroom you can see how the wall lamps are place by the mirror's sides. They feature a candle holder design made in forged iron and then painted black. It is a great way to give character with this very serious accessories. Note how the lamps are combined with other rustic elements: the square big black wood mirror; the very rustic and texturized huge stone sink; the three vintage faucets with two soap holders in shiny metal; and all the other wood elements such as the towel holder, the shelves, the cabinet by the mirror and even the bowl over the sink are very well combined in this trendy space that completes the style using the recommended earthy colors for this concept.
Some examples of mixing and matching styles for rustic bathrooms
In all the ideas we have presented to you in this article, you could see how combining materials, colors, accessories and other elements, you can come up with a great looking rustic bathroom that a professional designer would feel proud of. In most of all cases, the rooms combine more than one style, here you have some other good examples on mixing designing styles to create unique spaces.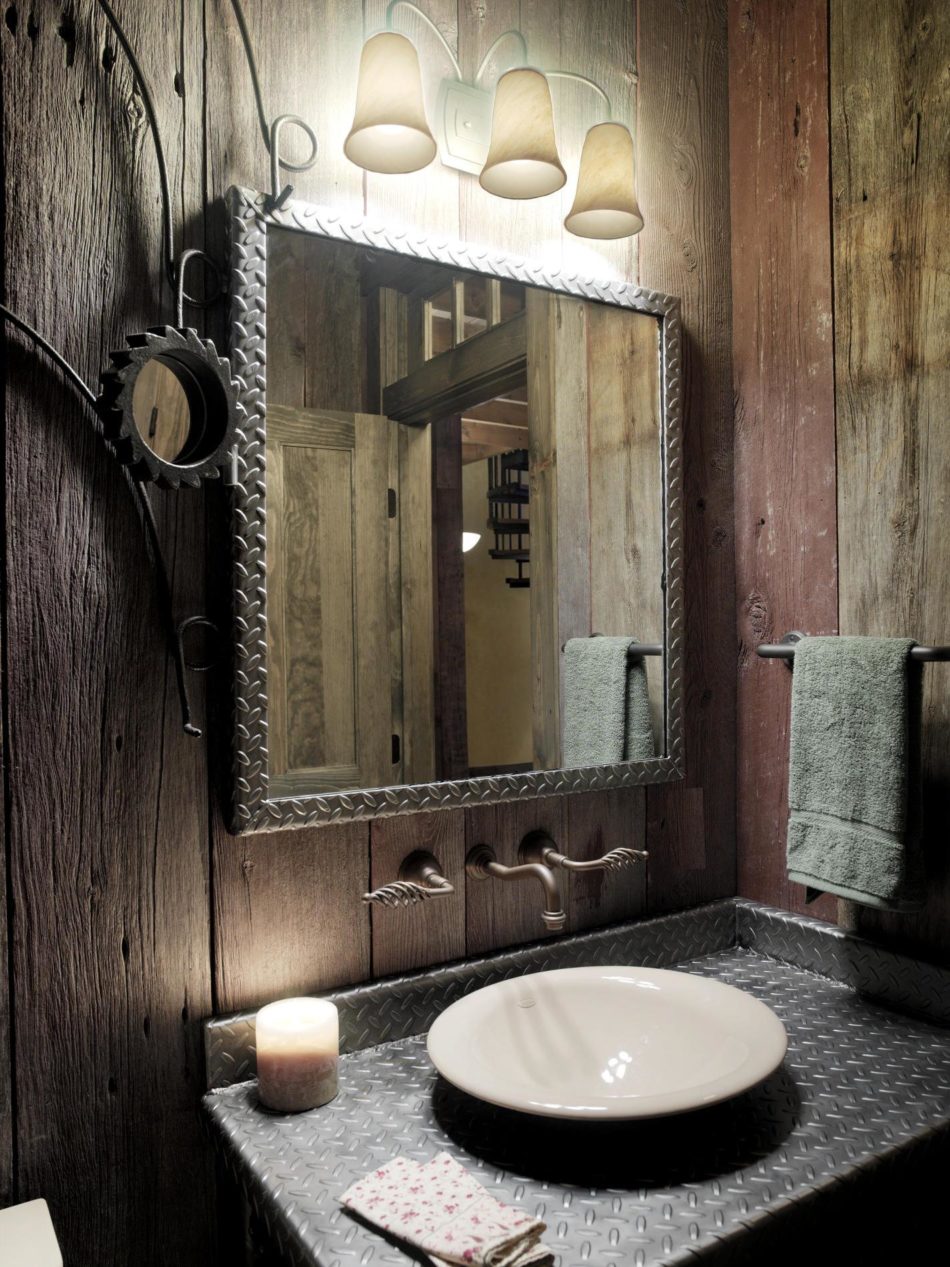 This rustic design features an industrial and rustic look all over the place. Choosing dark grey iron with patterns just like the sewers, and the use of darker color in the wood panel on the wall makes this space a creative combination between industrial and rustic design styles. A great example on how you can combine styles in your home with a great sense of taste. This space also combine some of elements that we have reviewed in this article: candle light for ambiance, rustic artistic iron faucets and handles and colors like green that you can see in the hand towel. When it comes to design you have to think about everything.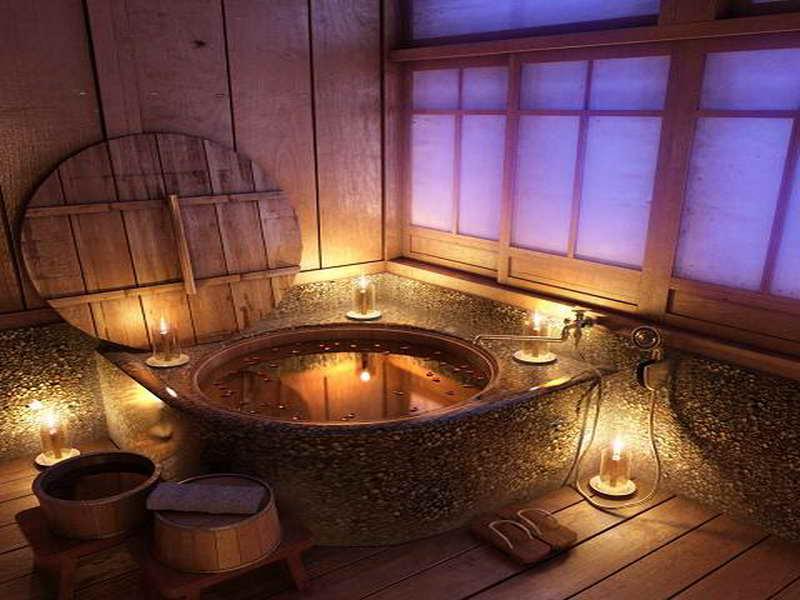 In this design you can see how people combine different materials in a great looking, very original and definitively rustic and ethnic style with the mixing of wood and stone that ends up with the creation of this relaxed spa -­‐ like Japanese inspired bathroom. Anyone would agree that this simple design says, "calm". The amazing work done in the tub raped by thousands of small stones is a perfect match for the wood and bamboo terminations in windows, inside the tub, container and an interesting feature, the tub lid, regularly seen in this kind of Japanese rooms. The candles make the space feel private and relaxed as well.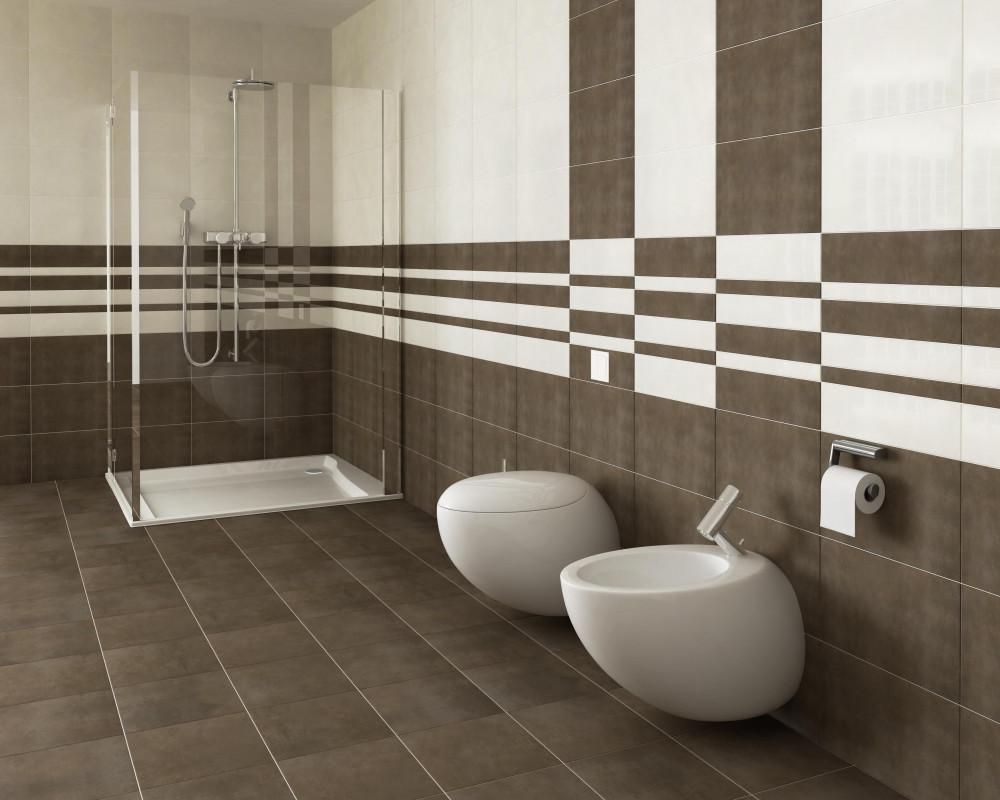 Now, if you think that rustic is not the style for you, then think again. Rustic style does not have to mean old. There are many different rustic design ideas for those who prefer a more modern style in their spaces. In this bathroom for instance, the rustic look comes from the minimalist display and the dark grey and white stone tiles for floors and walls. Combined with the all glass shower case, this bathroom is an ode to good and elegant taste that believe it or not, falls in the rustic category. The bidet and toilet have a very futuristic construction with their diagonal orientation. A stainless steel toilet paper holder adds the industrial touch to this big room.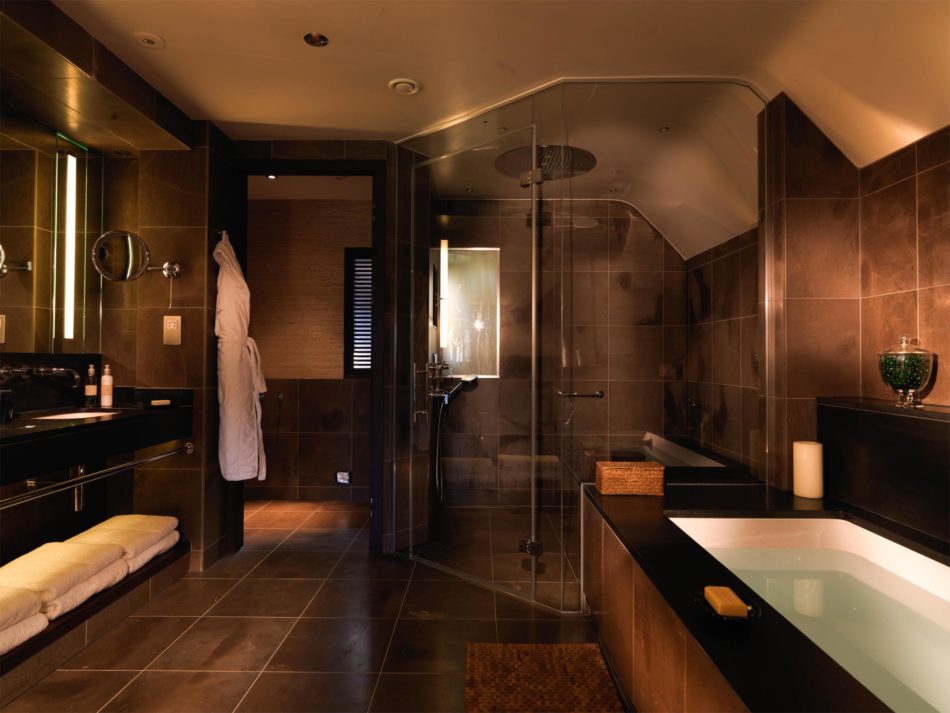 This bathroom is a perfect example on how you can combine elements to make a rustic bathroom that is also very luxurious. In this room, the characteristic dark color of the luxurious designs is combined with rustic elements, like the stone material used for the floor and walls' tiles, and the small decor elements such as the candle by the bathtub side, the woven chest in the tub´s corner and the small mat on the floor. Also the color brown is present in these accessories, completing the look. Stainless steel details like mirrors, faucets, towel holders and others make the mix of industrial style that always works with the rustic one.
Conclusions
We just showed you how easy it is to make your bathroom have a special rustic style of design. We gave you tones of ideas of how you can chose materials, colors, different elements to make this often forgiven space pop. You now know that you can combine styles like luxurious, industrial, romantic, ethnic or any other with rustic. Is just a matter of daring to try something new and risky to create a style that you can call your own, that has a part of your personality on every inch of the room. You have nothing to loose by experiencing decorating your house in a different way. You get inspired to redo some other spaces on your house, so what are you waiting for? Go ahead and give a spin to your home's design.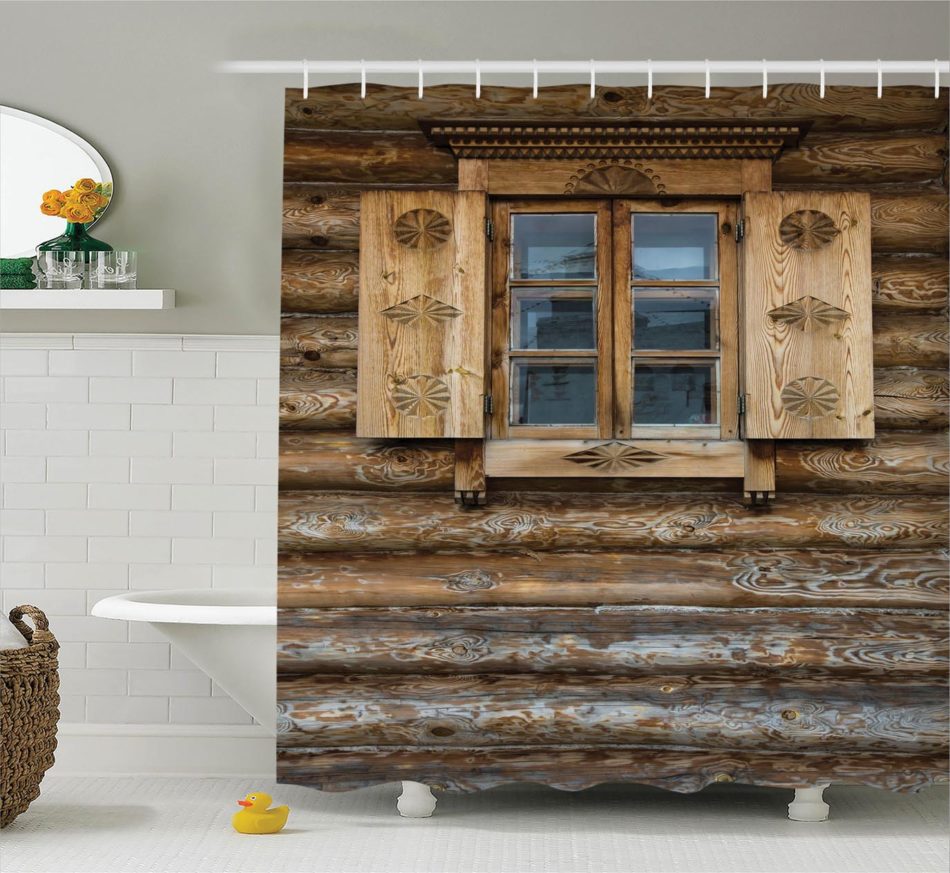 But, if after reading all of this article and looking to all of these pictures with ideas and advices you just are not sure whether this style will work for you, take a little glance on how some little rusticity can do great things for your designs by installing a simple but cute and stylish shower curtains in your showers or bathtubs. They will let you have a little idea of the beauties on the rustic style designing, and surely you will want to complement those curtains right away with any of our previous advices.
This curtain mocks up a cabin wall with windows that look so real, they even have a reflection on them. Take the chance of at least trying rustic a little bit with details like this one. The different shades of brown and grey in this creation are a perfect complement for any bathroom.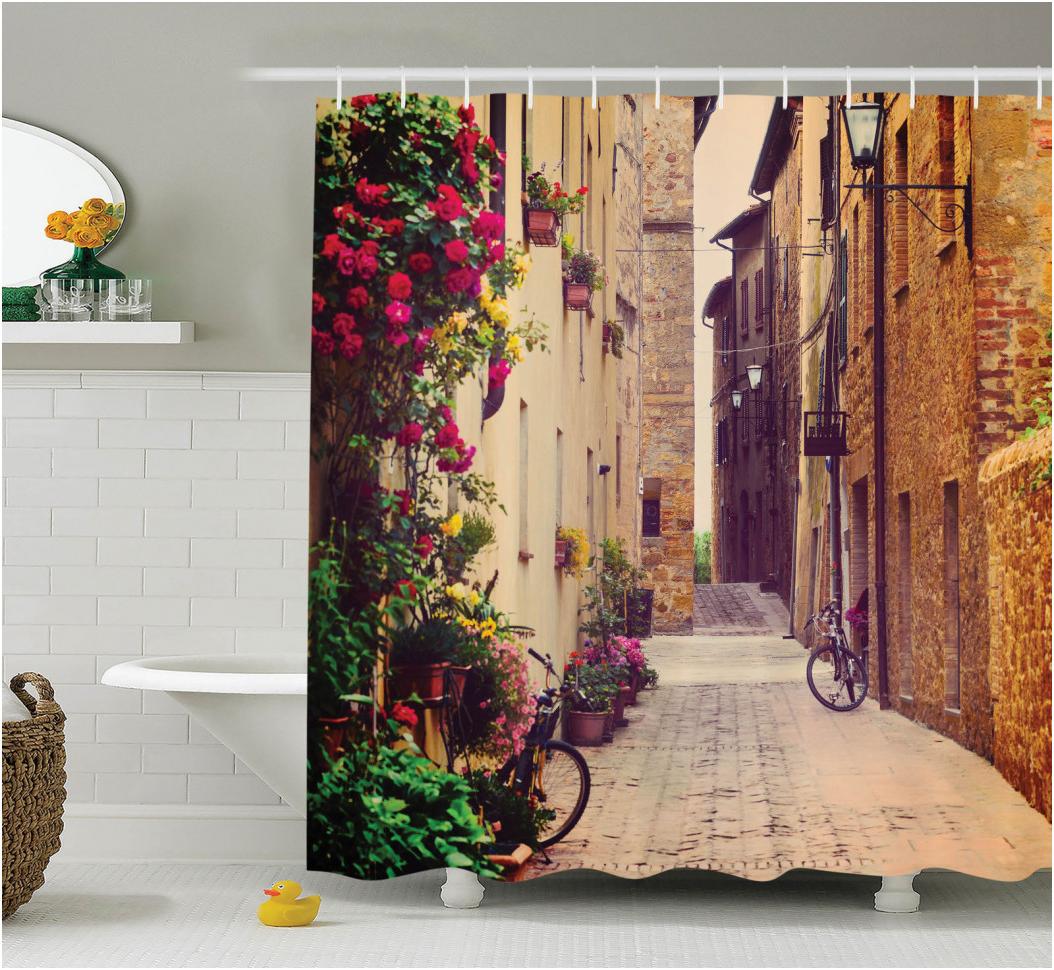 This shower curtain takes you outside and makes you dream how it would be to live in an old style street, maybe somewhere in Europe. Fortunately, in the bathroom you can be anywhere you want by just closing your eyes while you shampoo your hair. With this beautiful curtain that looks so real, you can imagine how the flowers smell, how the texture on the walls feels like to your hands, and you can imagine walking down that long stretch aisle in Paris, Rome, or anywhere you choose to take your imagination to.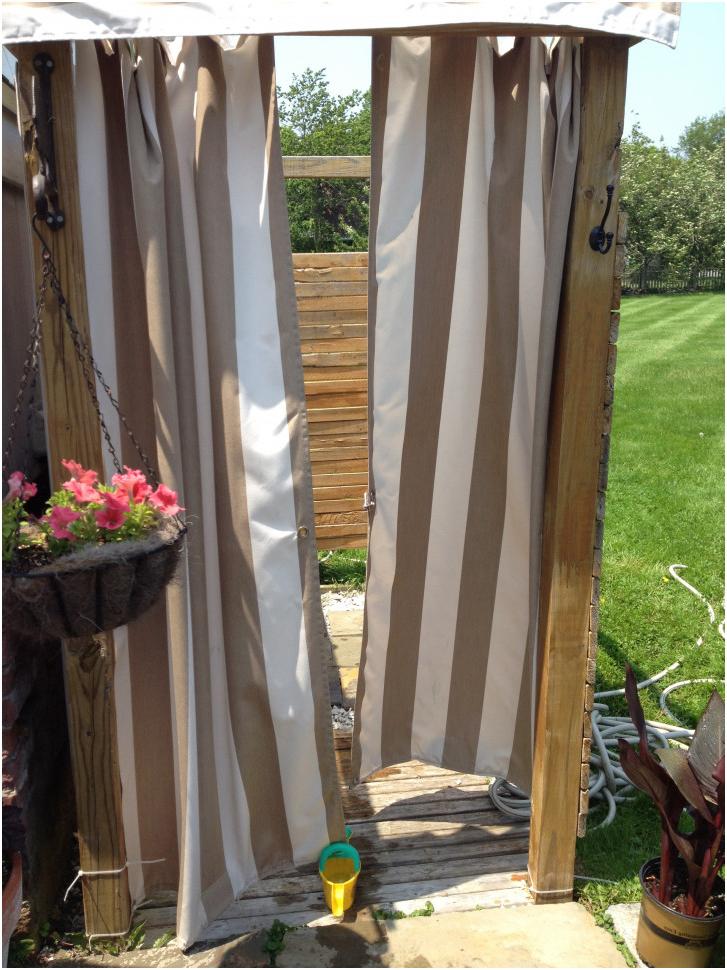 Rustic bathrooms do not have to happen only on exterior places, on country houses or farms. You can have beautiful designs of this trendy style right inside your house, no matter where you are located. You just need a little imagination, creativity and a few elements to turn your bathroom into a rustic heaven within your own house. Get a rustic bathroom and start feeling outside without leaving your place with any of the many, many ideas we just proposed you today, take your own ideas to create your customized design or, if you will, combine some of our advices and suggestions and mix them with anything you imagine to make your personal sanctuary. After all, the best thing about the rustic style is that it is very eclectic, so you just need to take some elements and combine them together into a creation that you will feel proud of when finished. You will love it when you are in your bathtub, enjoying a glass of wine under candle lights and letting time pass by while you rest in you tiny in – house spa.