Offices are spaces that most people spend a lot of their time in. Unfortunately the actual design of these spaces often falls by the wayside resulting in a bland beige room filled with buzzing fluorescent lighting and lifeless cubicles. Luckily we have come a long way when it comes to small office design and studying the effects that the work place has on their inhabitants.
20 Small Office Design Ideas That Make Going To Work More Fun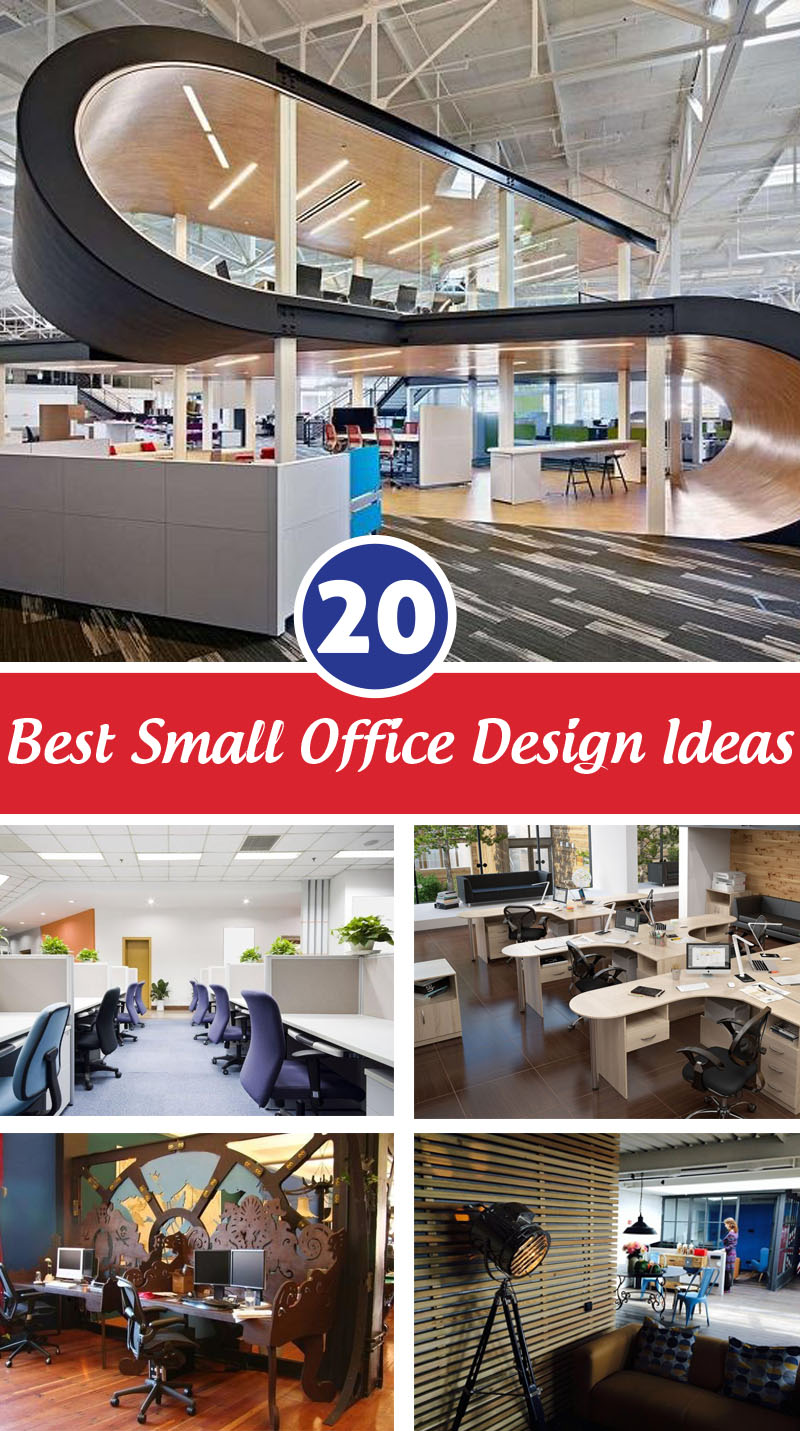 In this list we're going to show you some fun and unique examples of how to do a workspace right. From a simple home office setting to larger corporate environments, there is a way to make the place you get the job done feel like a comfortable and productive space to work in.
To see some beautiful examples of offices with a difference here are:
1. Wall Divider Creating A Small Office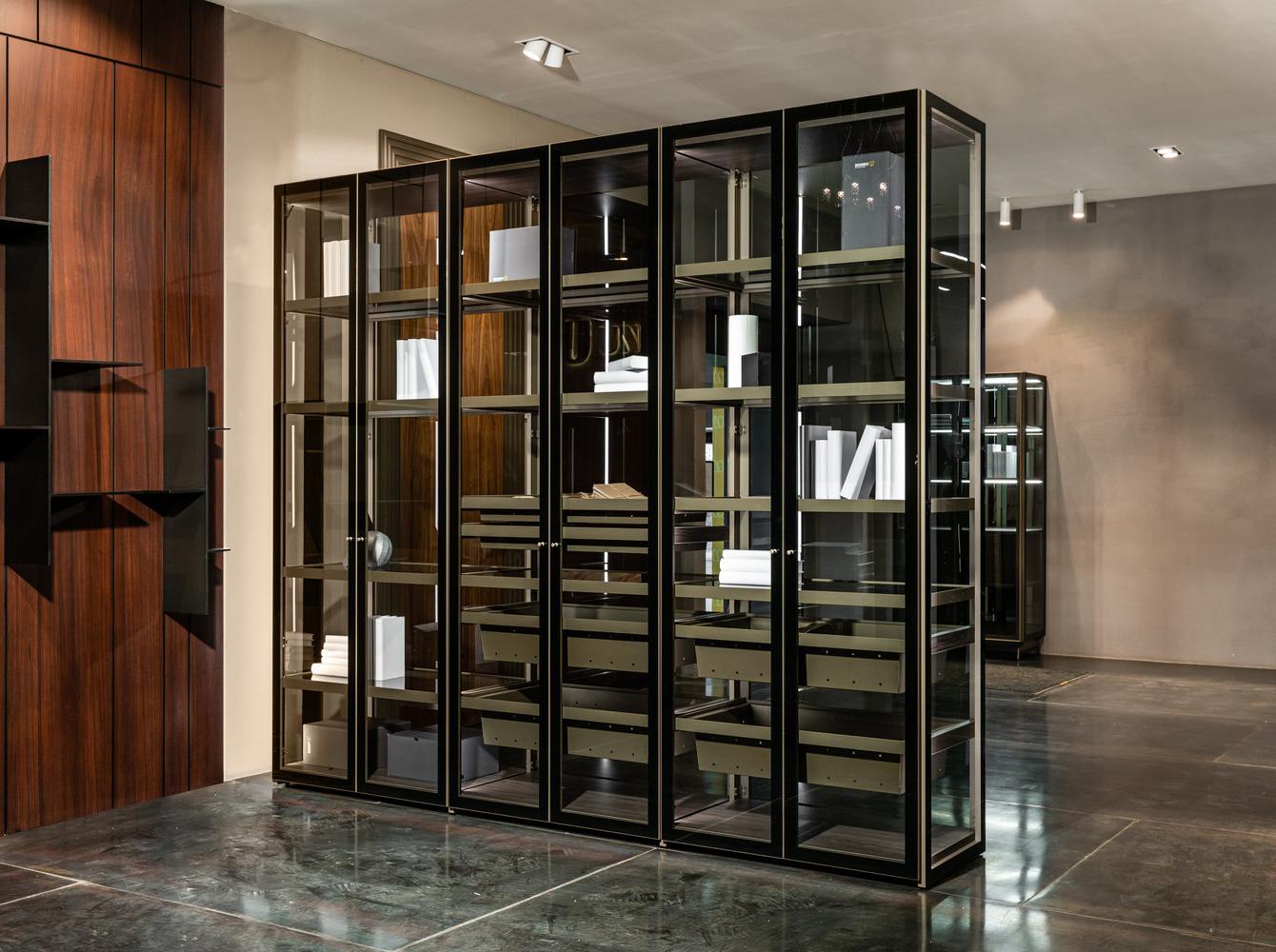 This is a great example of how to create a home office by working with the space you have and adjusting it to fit you. This semi permeable wall divider has been placed in a larger room to create a new space for your home office to fit in without closing up the overall floor plan. The wall also acts as the storage unit for your office paraphernalia.
2. Industrial Inspired Office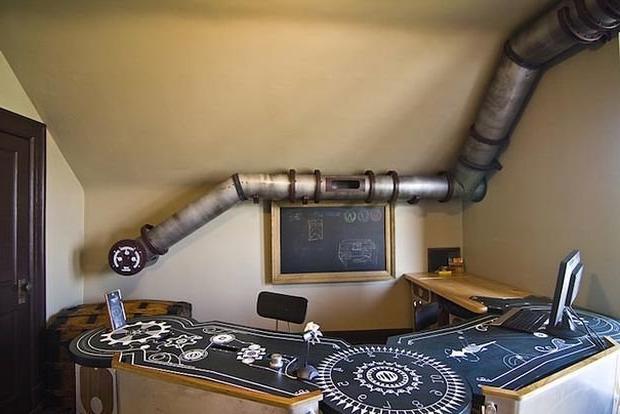 This home office would be perfect for an engineer or industrial designer due to its industrial aesthetic. The air conditioning vents have been brought out of the ceiling and left exposed inside the room as a rough metal utilitarian feature. The unique three sided desk has circular junctions when it changes directions with elegant curves between all covered in decorative inscriptions of cogs and dials inside a timber framework.
3. Little Office with Hanging Box Storage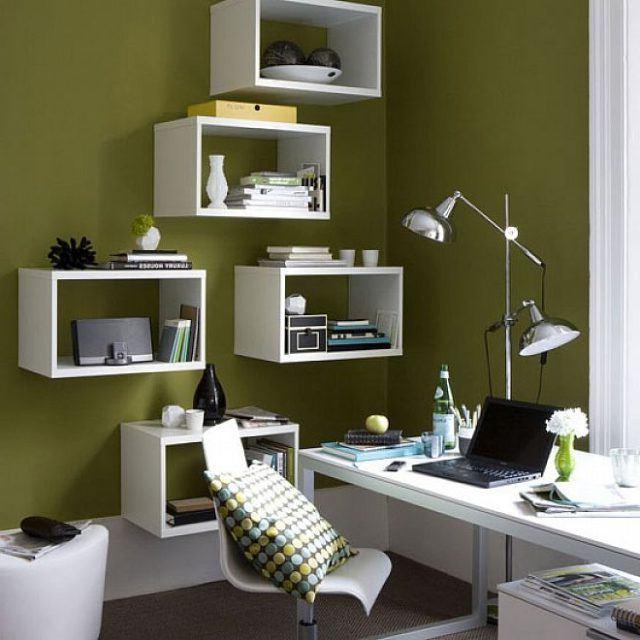 Secreted away in a little corner this beautiful home office is naturally lit by a beautiful window. The small, simple desk with has no built in storage, which can be chunky and take up a lot of space. To solve the storage issues hanging white backless boxes have been hung against the wall haphazardly to be both decorative and useful. These works perfectly against a colourful feature wall which visually separates this space from the rest of the room.
4. Minimalist Small Office Design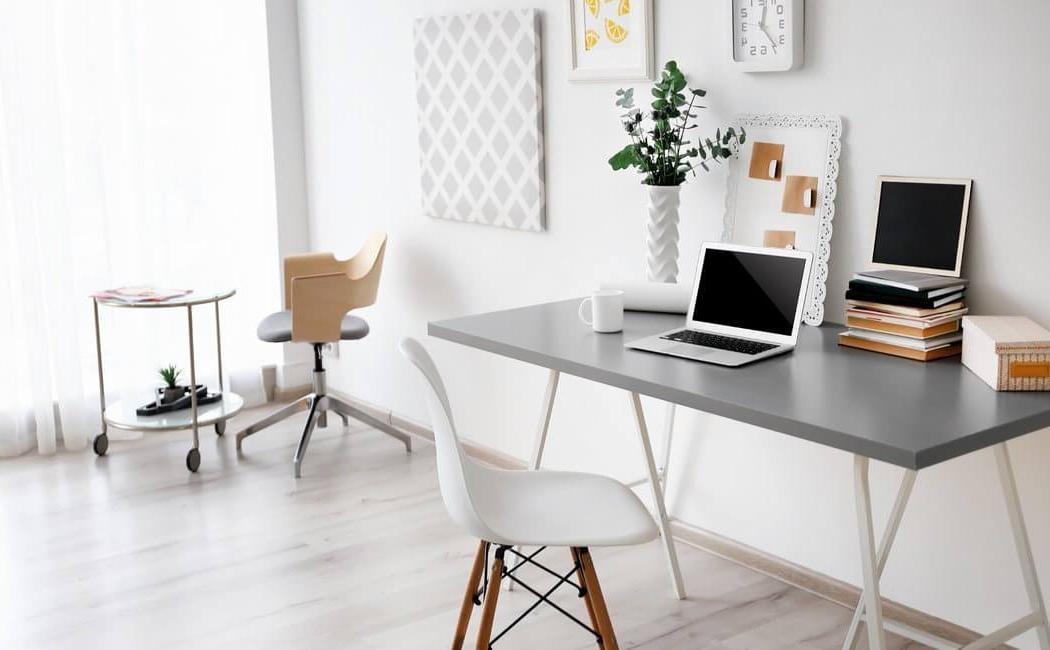 If minimalism is more to your taste this workstation is perfect. The clean grey desktop has just enough room for a laptop, some notebooks and some minimal decoration. It stands on white A frame legs that blend into the white wall and the white plastic chair with wooden legs. This all comes together to create a very peaceful and calming space to work.
5. Futuristic Office Pods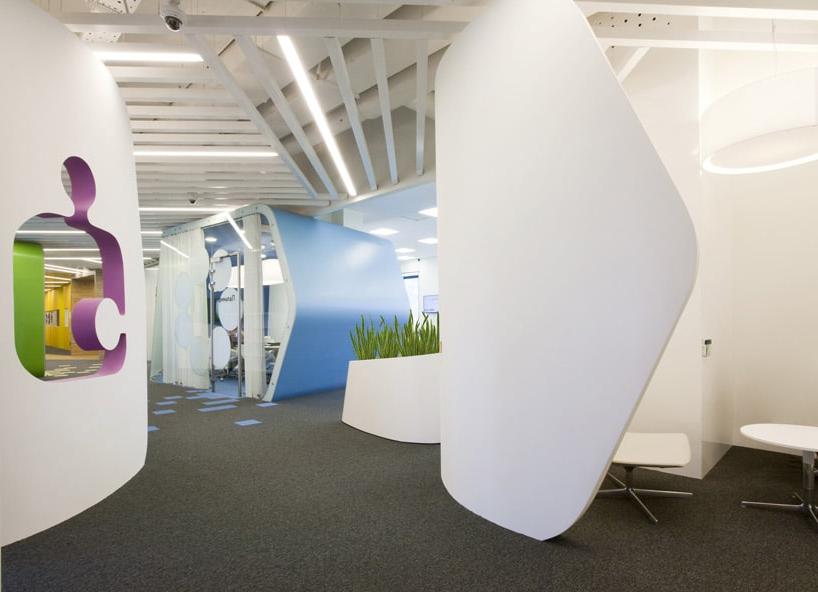 This modern office is a much more futuristic take on the tired 80s cubicles in an uninspired beige. Large white curving panels wrap each work space like a calming hug lit by a gentle diffused light fixture. These amorphous beings can be perforated or painted a bright colour to add visual interest. The singular blue pod with a thick white outline distinguishes the conference room space from the others at the centre of the large office.
6. Wooden Sculpted Office Cubicles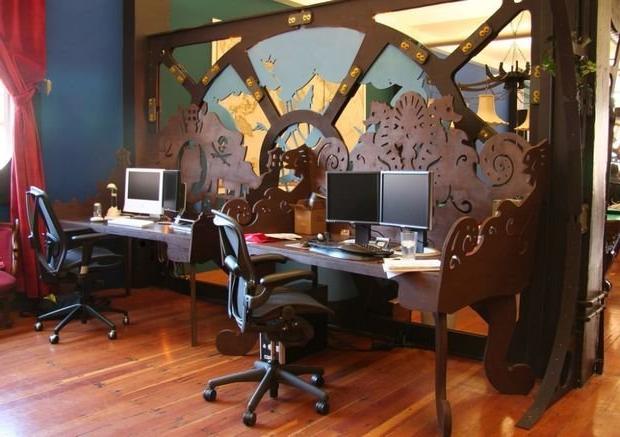 Another twist on the boring office cubicles these beautiful wooden screens make working in close quarters with others much more fun. The perforated cubicles feel comfortable and spacious and fit two monitors. Shining wooden floors and ergonomic chairs with a symmetrical wall divider perfectly finishes off the space.
7. Quirky Conference Room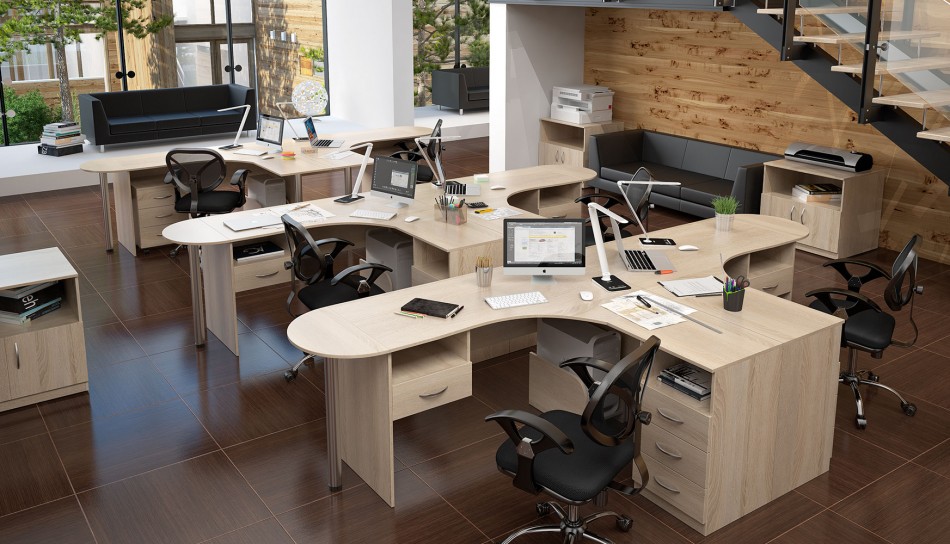 This quirky conference room is in the same office as above and sits on the opposite side of the statement wall divider that creates the illusion of the sea floor shining through. The stereotypes of a clinical, intimidating conference room has been thrown out the window and instead the room has been designed to resemble a dark academia style dining room with unique hanging lamps and a mix of frames taking up the wall space.
8. Plush Office Cubicles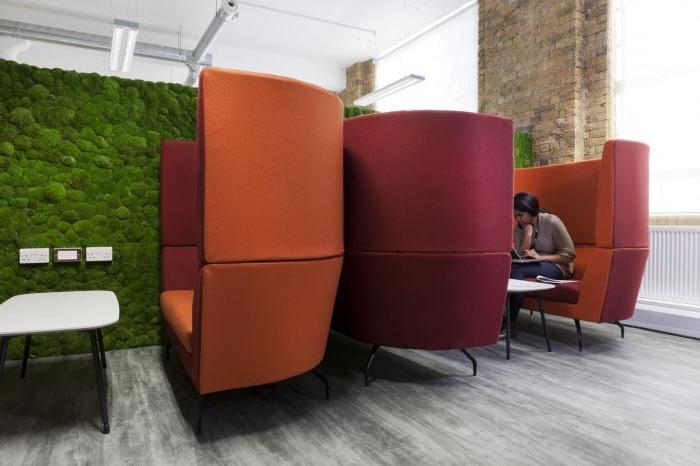 These colourful, tall, upholstered cubicles wrap around bench seating against a faux living wall that creates a comfortable and novel place to work. The pods can double as a work cubicle and a meeting space. The whole office itself is filled with a variety of textures from the wooden floor and exposed bricks that creates an eclectic appearance when paired with the cubicles.
9. Fun Corner Cubicle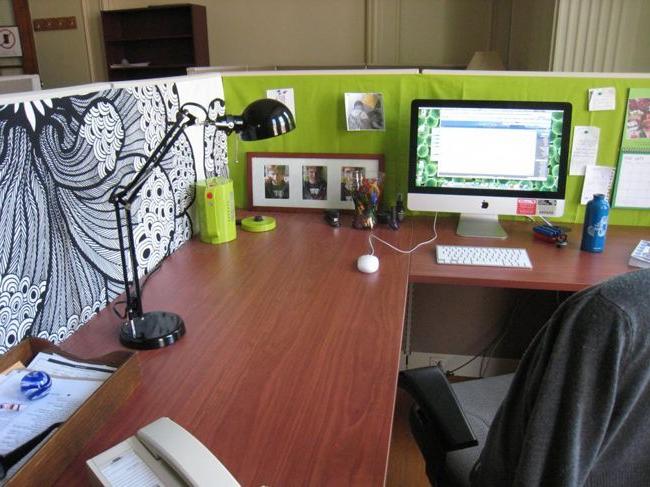 Although this cubicle has a similar layout to the expected it has been easily updated using colour and a beautiful black and white graphic to make the little space more cheerful and fun. The large desk space wraps around the corner slowing you to work at your computer in comfort with extra desk space for paperwork and other storage.
10. Contemporary Cubicles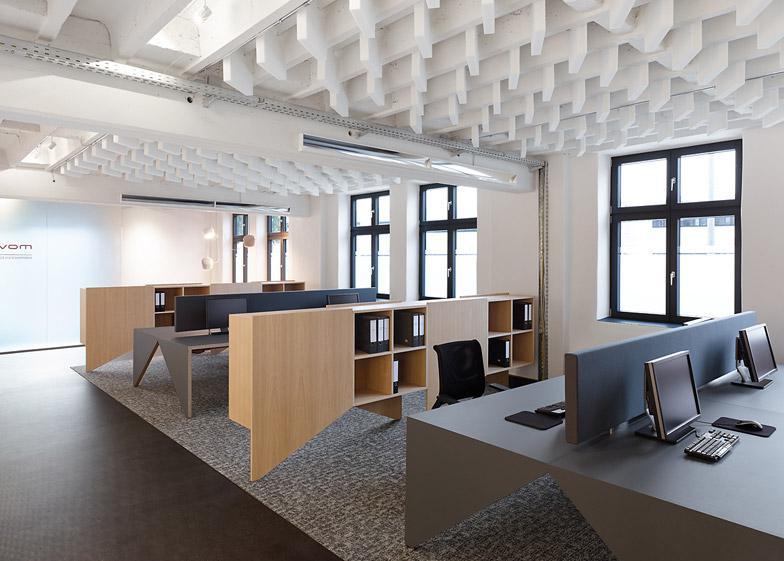 This brightly lit contemporary office has used an alternating combination of slate great triangular legged desks and hovering timber storage to create a useful and comfortable open plan workspace. Partitions have been placed between the grouped desks so that you aren't weirdly staring at your coworker throughout the day. The high ceiling has a beautifully unique structure that adds some flavour to this spacious office.
11. Innovative Small Office Design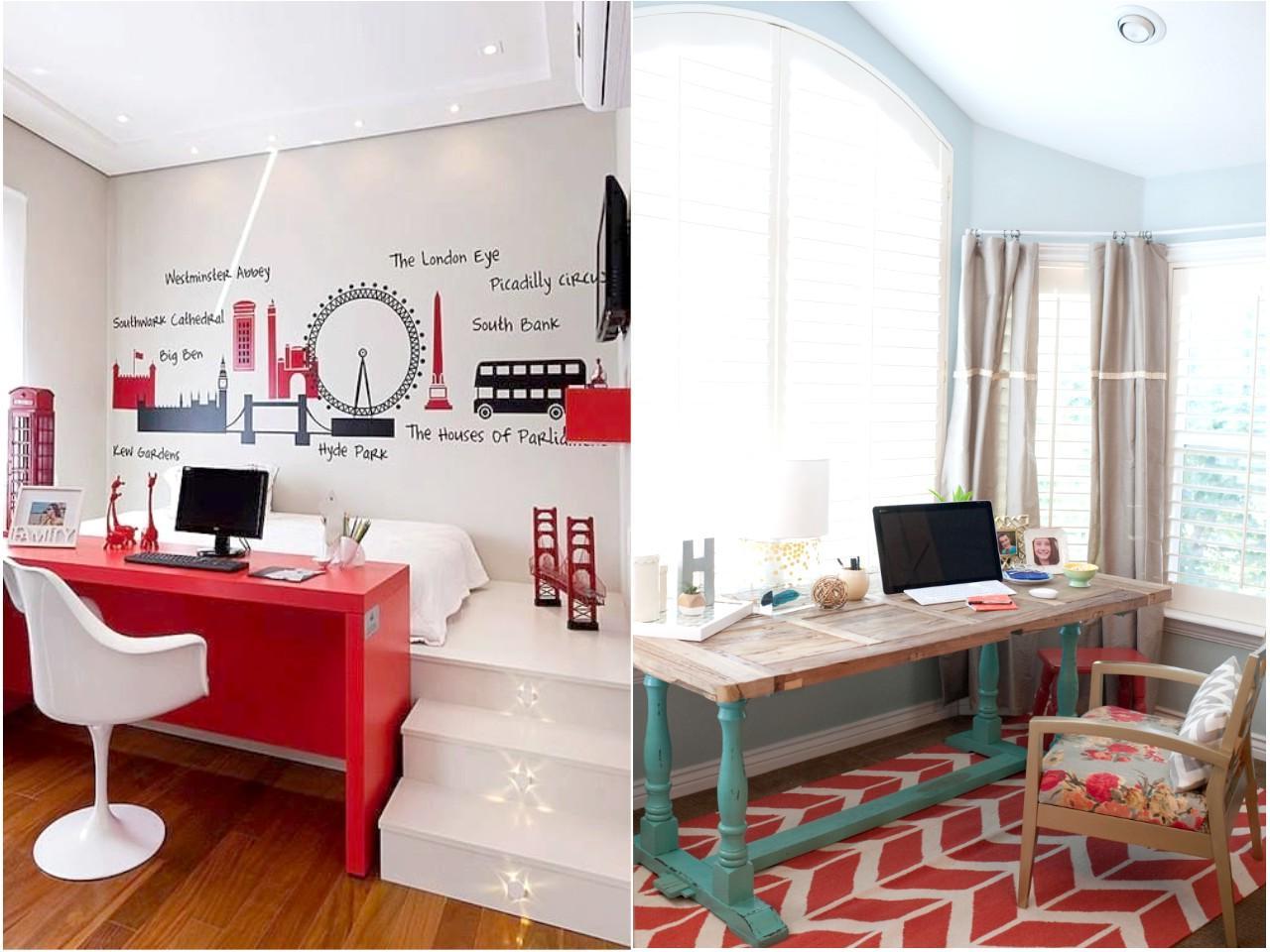 This small room has used modern colour blocking of white and red to make the room feel bigger and more visually impactful. A white high gloss finish has been used in the chair, ceiling and set of lit up stairs beside the desk. The off white walls have been adorned with fun London themed decals in back and red which ties in with the desk and decorative items dotted throughout the room. This is a very efficient small room that uses the space in a really smart way; as you ascend the white stairs you find a bed hidden behind the desk on an elevated platform. This kind of minimal design is smart and shows how you can merge two spaces into one effortlessly.
12. Imposing Conference Room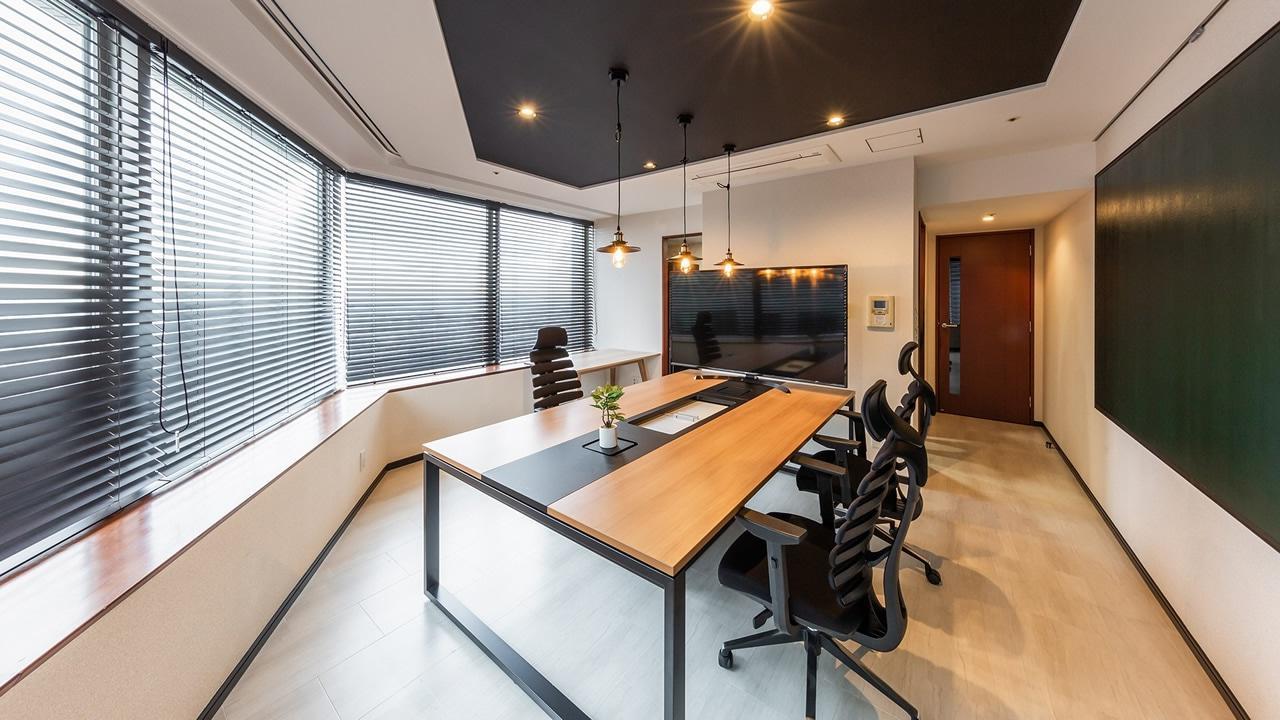 This huge conference room has leaned in to the expected aesthetic of a very imposing conference room but in a contemporary setting. Large windows take up the majority of the room and can be shaded or left open to the view depending on the time of day or the feeling the head honcho wants to create in the space. The huge table is furnished with expensive desk chairs with a black strip down the centre that ties in with all the black accents throughout the room with some delicate hangings lights overhead. Black has been chosen as the accent colour because it invokes a feeling of strength, it can be found in the furniture, shades and the painted polygon on the ceiling above and the rectangle on one wall.
13. Multi Use Open Small Office Design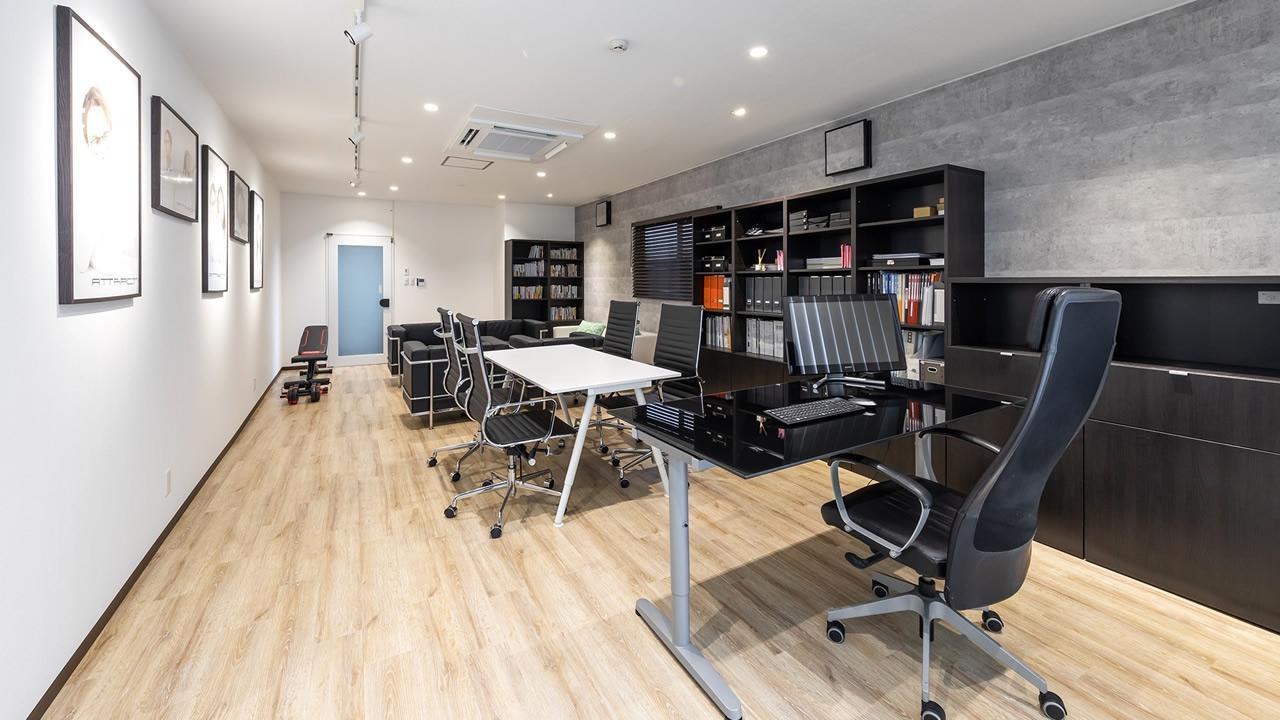 This long office could be in a home or a corporate space that combines many uses in one place. The boss' shiny onyx desk sits at one end of the room with a black storage unit to its left that changes its form as it runs along the length of the room. From the desk the boss can overlook the white conference table and a comfortable seating area beyond. This allows you do your work, have business meetings and have more casual discussions all in one place. The use of the space can be changed up depending on what you have on your calendar.
14. T shaped Open Cubicles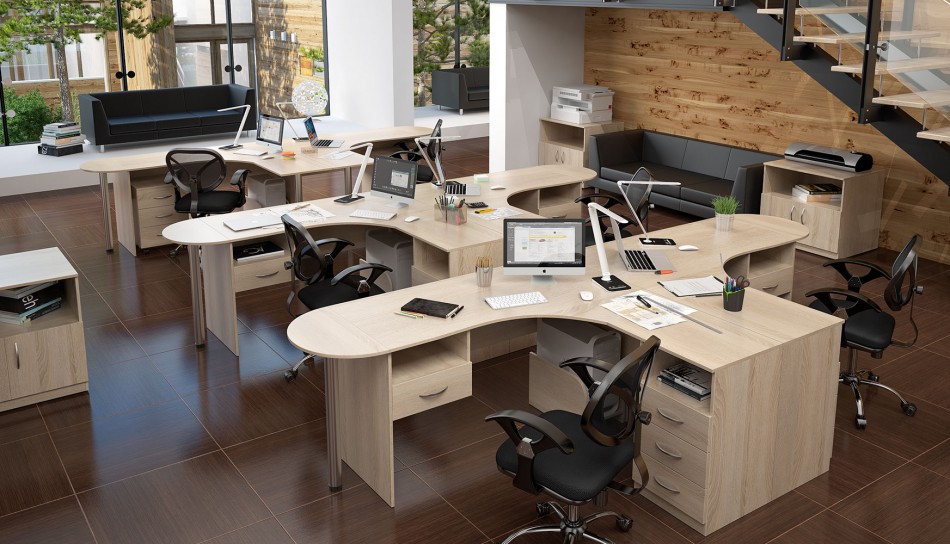 This gorgeous open plan office uses some quirky, curved desks to create spacious and comfortable open cubicles. The contemporary space is lit by a set of large windows so no fluorescent buzzing interrupts this sophisticated office. The pale timber T features two curved desktops to accommodate two people side by side. Each worker has their own built in set of drawers for storage. When a series of these are collected together they create an undulating pattern across the mock wood tiles.
15. Huge Spacious Modern Office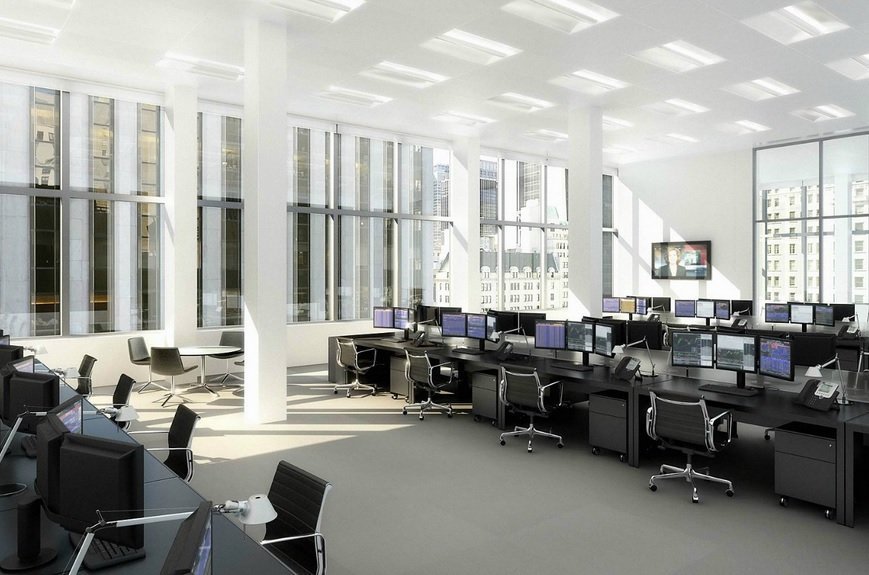 This stylish office manages to seat a lot of people in one space without feeling cramped and on top of one another. The space is divided up by three strips of black desks made up of four sets of facing desks with an elegant desk chair at each station. Each pod comes with a comfortable amount of legroom and an under counter cupboards for storage. The space manages to still feel big and open because each strip of desks are spaced far apart and the high ceilings are lit by floor to ceiling windows which reflects off the white walls.
16. Dark Minimalistic Conference Room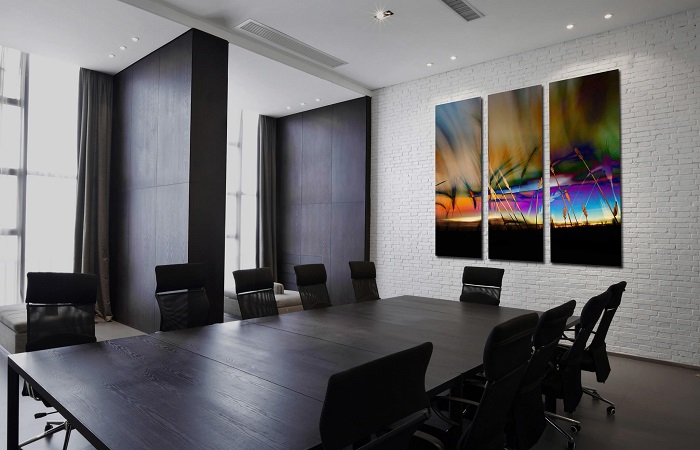 This conference room has used a monochromatic colour scheme with very high ceilings to create the feeling of sophisticated minimalism. The high ceilings make the room feel grand and the floor to ceiling windows only serve to enhance that effect. The main conference table is a dark timber monolith with black chairs that match the wall dividers in the space beyond, these tall chunky walls divide the glass wall into smaller meeting spaces that can be used for smaller meetings or at the same time as the main table is being used. The black and white space is only broken up by the colourful triptych of modern art at the head of the table.
17. Classic Conference Room With A Twist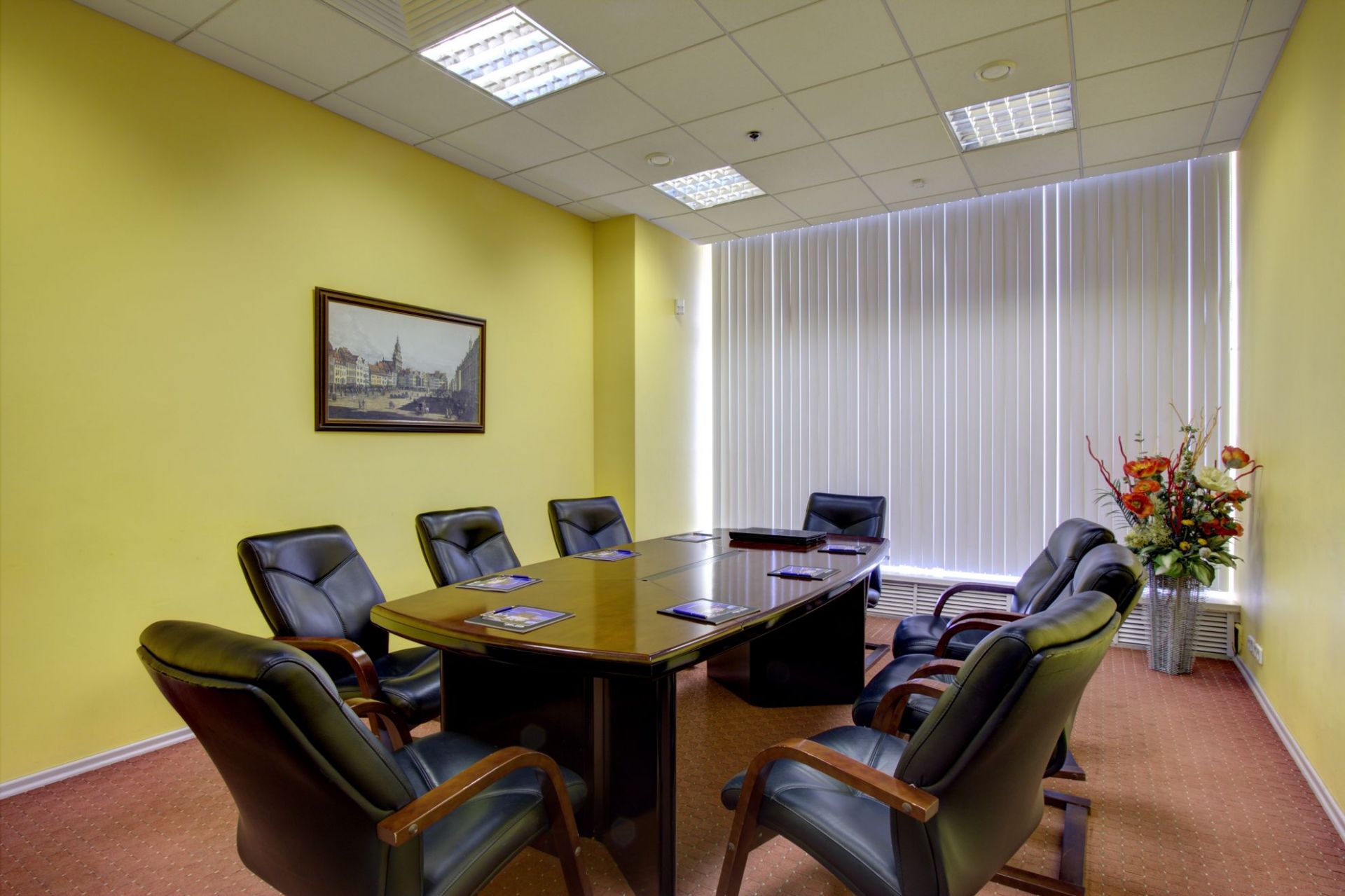 This small conference room has all the trappings of a classic conference room that has been seen for years down to the old school artwork on the wall. The glossy conference table with its lavish leather chairs sits on a brown carpet with a typical square, suspended ceiling board above. The twist however is the buttercup yellow walls that takes the stern aura of your average conference room and makes it feel more light hearted and fun.
18. The Classic Cubicle Set Up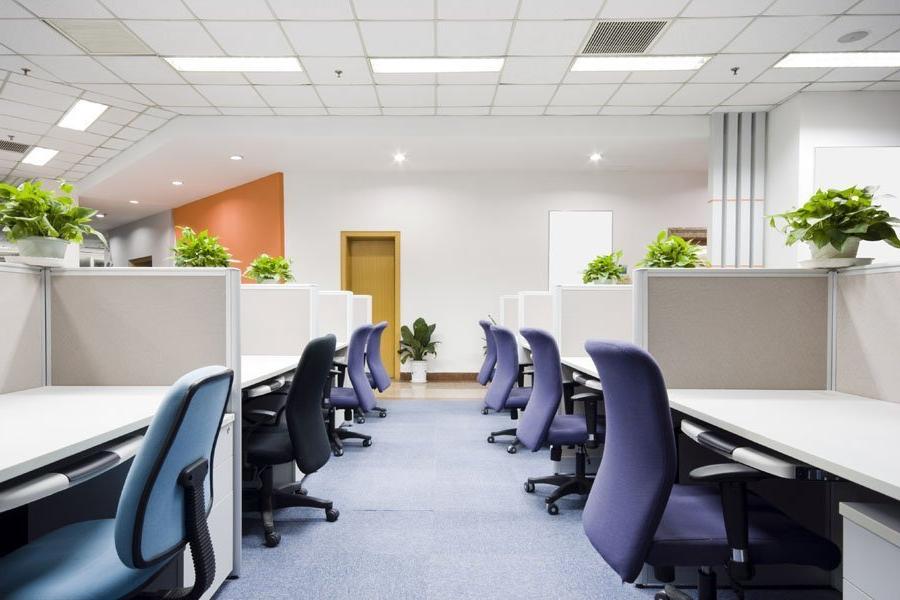 This office is set up like the tried and true cubicles that have been around for years. The taller ceilings and paler colour cubicle units make this layout a little brighter and less claustrophobic than your average office in this style. The junction between each cubicle is also decorated by a little potted plant to bring a hint of nature into the artificially lit room.
19. A Meeting Space As Abstract Art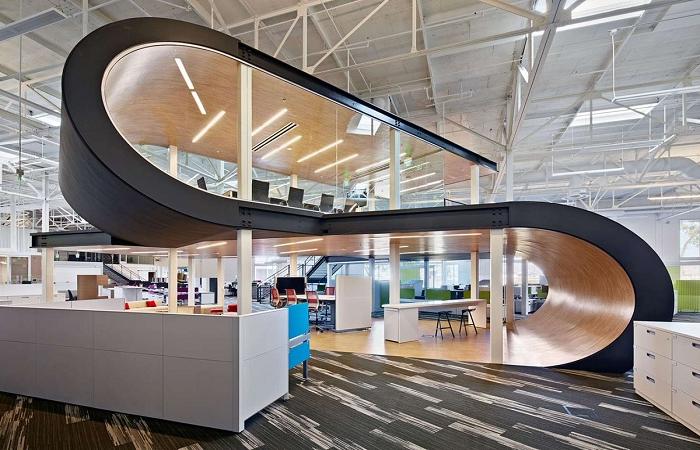 This innovative twist of steel and timber creates a gorgeous serpentine shape that houses the communal meeting space within a factory style urban office space. The structure is made up of a thick black steel frame faced in a timber that flows smoothly from the floor of the ground floor meeting space, up the curved wall and onto the ceiling. This is then repeated on the floor above, which encapsulates the more private glazed conference room.
20. Clever And Quirky Work Pods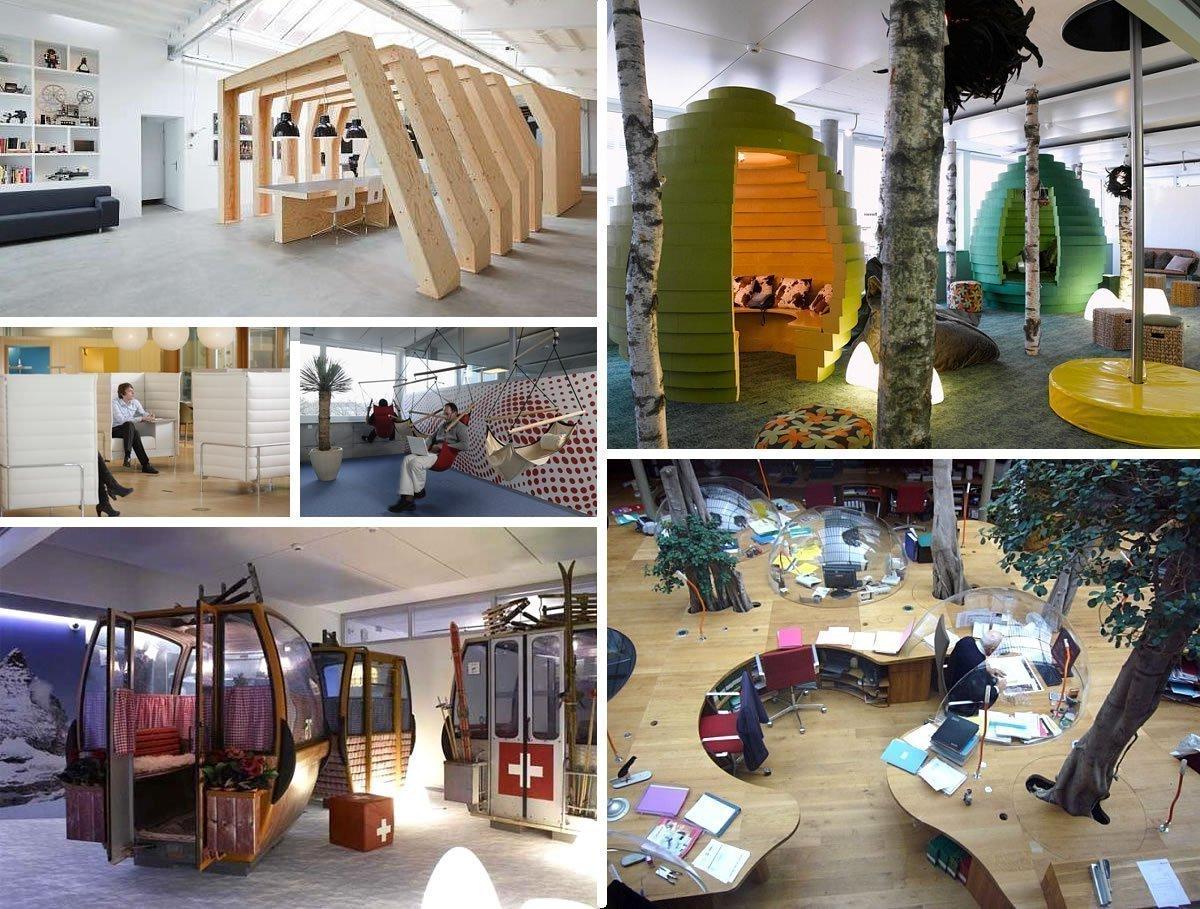 This collection of unique workspaces shows how you can create creative work pods out of almost anything. From a carved out timber island, equipped with its own real tree, to actual alpine ski lifts; the world is your oyster when it comes to finding novel inspirations to liven up a drab office space. Having fun with interior design within a space like this takes the seriousness and drag out of coming to work everyday and enriches its inhabitants with a relaxed and happy state of mind that is the ideal setting for really positive work to be done.
Conclusion
As you can see, office design has come a really long way. Boring, cell like cubicles are a thing of the past and a communal office space that makes you feel productive has swooped in to replace them. Even home offices or conference rooms have been renewed over time to move away from being purely a place to earn your rent and become a space to harness your creativity in an environment that makes you feel nurtured.
We all need to work in a space that helps us feel happy and these examples are proof of that. So if you run and office or work from home why not start taking some steps to find out how to make your work space the best it could possibly be for you and your coworkers.