If you need to divide a room into smaller sections but you don't want to build walls, or you can't build them because of a low budget or because you're renting a space, temporary and portable partitions are the solution. Partitions may not offer as much privacy and sound control as actual walls, but they can create a visually separate space, redirect traffic, and fix some interior design issues.
In this article we show you how.
26 Stylish Ideas For Using Portable Room Dividers
When you have a single environment, something broad and you want to separate it so that the functions of each one are completely separate, but at the same time you don't want to divide it completely with a wall or partition that closes the space, In this case you can achieve a partial division with some designs that differ from each other, since some are more closed others more transparent.
In order to convert a divided space into the same room, the first thing you must do is thinking about what type of separation you want to create and what is the objective. You should also think about whether that idea you have in mind would be for something temporary or permanent. And finally, how much budget do you have to be able to divide the space for more privacy. You must answer all these questions in order to know how to start making the change.
Here are some tips you can follow to divide your spaces.
Evaluate what functions the division must fulfill. Divisions are often used to reduce visual distractions between activity areas in a wide space. Office cubicle partitions are a good example of this. The flow of people traffic may be another division job. Stores often build divisions to direct the flow for marketing purposes. Divisions can also provide funds where there is nothing: a special piece of furniture may need a fund of some kind behind it to focus attention on it.
Adapt the division to the environment. Freestanding partitions that are not attached to the ceiling or floor, such as shoji screens, are not a good idea in homes with young children and pets. These divisions are very likely to fall into houses where there is a lot of hustle. Very large and heavy partitions, such as accordion door sets or mirrors, will not be practical in situations where space changes regularly. Stores and community centers are good examples of constantly changing patterns that need lightweight, highly portable partitions.
Duplicate the task of a division. You can create a partition wall and increase storage and display space at the same time using bookcases. Finish the back of the bookcase with an attractive material, such as wood siding or plaster. Add trim to complete the "wall" look. Don't overlook using metal cabinets and shelving as partitions. You can also mount a thin but solid panel to the back of a desk or console table to create a dual-utility partition. Both are very effective in dividing rooms shared by children and adolescents.
Offer only a suggestion for a division. If you just need a subtle visual separation, without any hard surfaces, consider creating a fine net suspended partition or thin rods or angler bars. You can make wonderful suspended partition screens with beads and ordinary objects like clips. The partitions through which you can see how they are surprisingly effective, at least visually, to separate spaces in spacious rooms.
Folding curtain partitions. Curtains have been around since people have built roofs over their heads. Houses in the Victorian era and up to the 1930s often divided rooms with curtains made of rich materials such as velvet. The right materials in the right colors can make an exceptional division in any room in your home.
Recycle and store. Another option is to stack discarded objects, such as glass or concrete blocks, or unusual items like old computer towers, to create unique partitions. However, keep safety in mind to prevent these stacked walls from falling.
If what you want to achieve will not be in your stay forever because it is something temporary, you do not need to invest much money or much energy in achieving it. Below you will be able to find some ideas for a temporal division and thus find intimacy in two spaces in the same room.
Curtains in a room can offer you what you need, for example fabrics that go from ceiling to floor is an economical and very decorative option to separate a single room. Adding privacy in a shared bedroom by hanging curtains in the middle of the bedroom can make the stay much more pleasant and practical. But the curtains are a good option for any other room where you do not want to invest a lot but want to create a good privacy.
Screens are also an excellent option to create a temporary separation and to enjoy privacy in a room, but with different areas. Portable screens can be removed, replaced and relocated whenever required making it a versatile and inexpensive way to achieve practical beauty in a room. Screens are available in a wide variety of materials, including sustainable materials such as bamboo, rice paper, etc.
But if what you want is to create a permanent division, then you must have other types of solutions in mind that will also work perfectly for you.
Large floor shelves are a good option to separate spaces, especially if you want to separate a living room from a small office, so large floor shelves will also help you have extra storage space. But the shelf cannot be any; it will be necessary for you to opt for large, wide and quite high shelves. Depending on the space to which it is directed, you should look at the different characteristics.
Sliding doors are a great option to separate a room into two totally different ones. With this option you must invest some budget, since it is an option that requires a minimum of work, but the results are incredible. You need to install a wooden frame, glass or acrylic walls so that it can slide, if you do not know how to do it, it is best to call a professional so that you can make a budget according to your needs and what you want to achieve in the room. Sliding doors are a very elegant solution to divide a room in two and have absolute privacy. If you want to put curtains that hang on both sides of the door, you will be even more beautifying the rooms
Today we are showing you 27 divisions of spaces with portable room dividers so that you can be inspired to create the one that suits you best, for your home in a small space.
1. Attractive Aluminum Portable Room Divider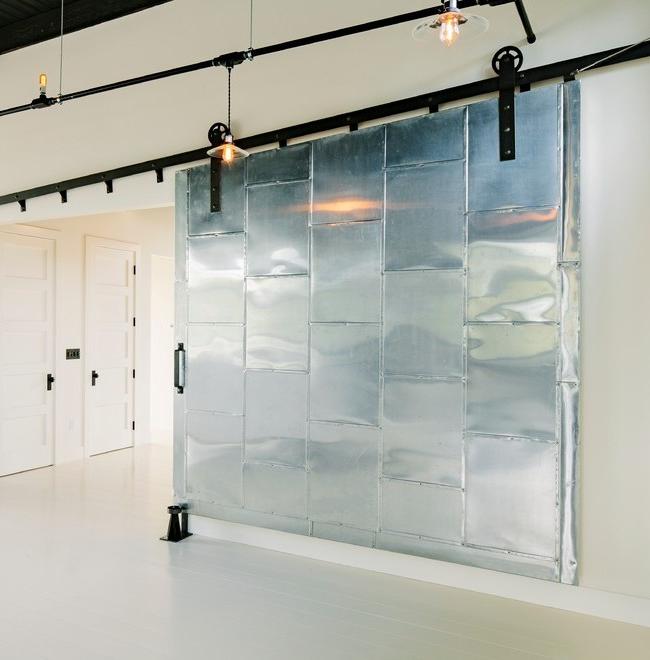 Sliding doors are a great option to separate your spaces because they are beautiful and easy to install by a professional. This enameled metal sliding door looks wonderful in this industrial-style home that adds character to the all-white space.
2. Bamboo Portable Bathroom / Bedroom Room Divider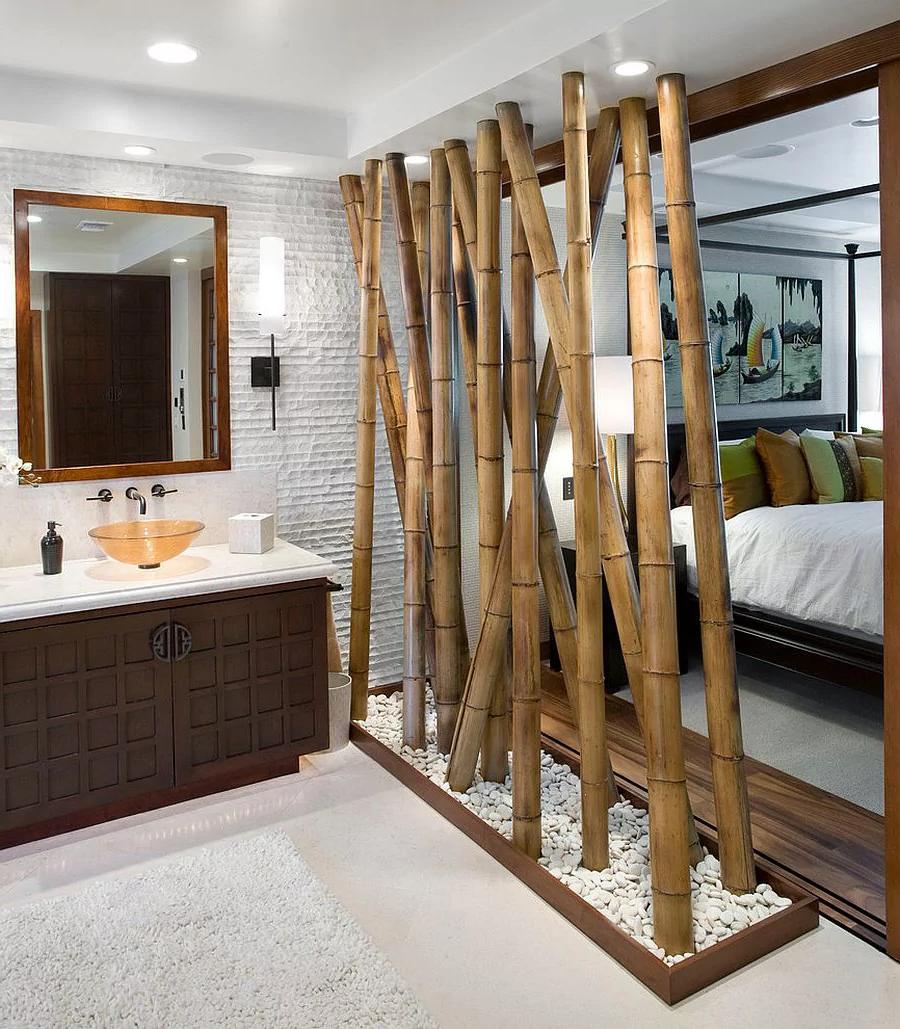 Portable dividers don't always have to be folding screens or false walls. See how this wonderful, sculptural bamboo partition adds character and style to this room while separating them from the bathroom.
3. Metal Bead Portable Room Divider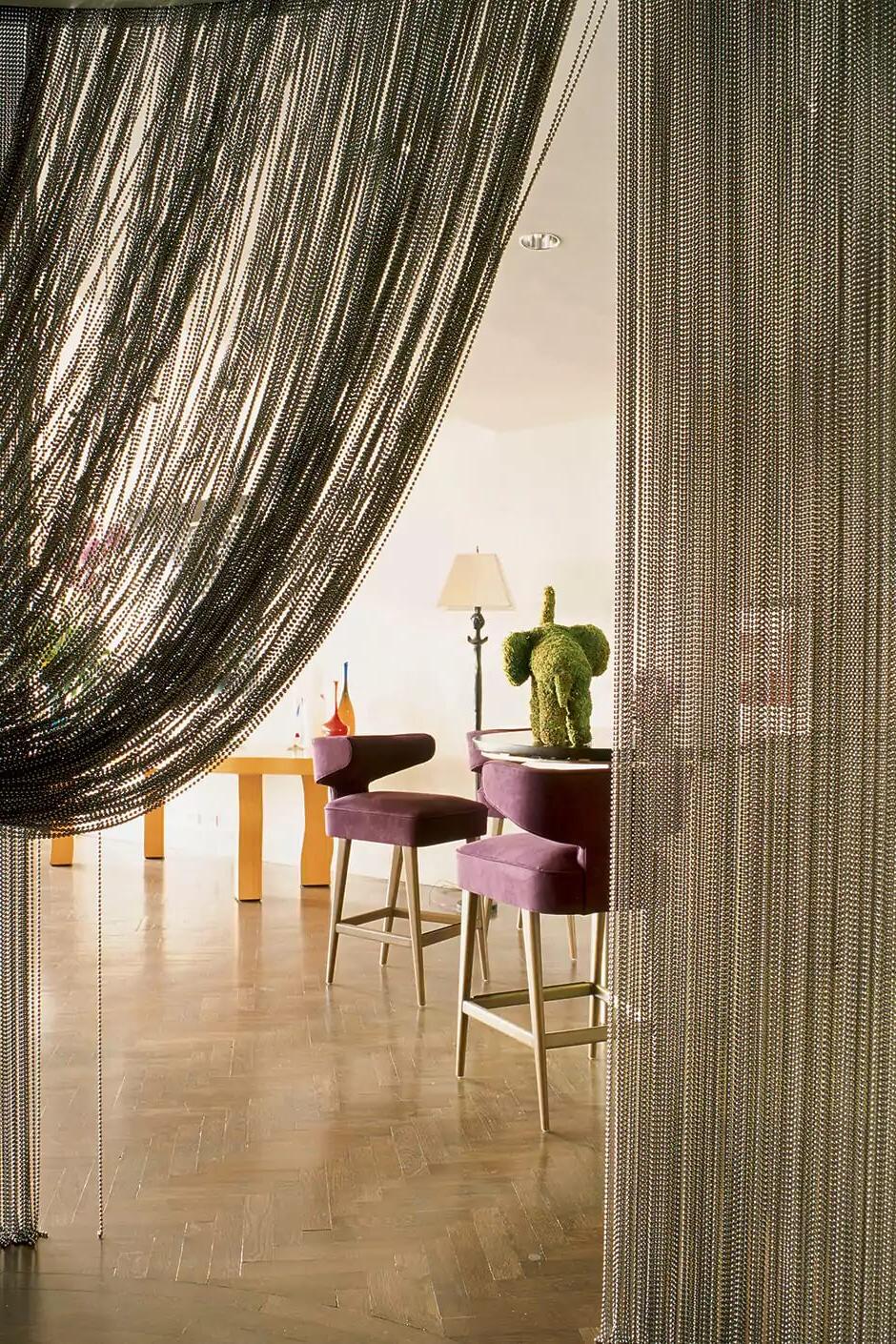 The curtains are very often used portable dividers, but these curtains are much more stylish. It is a curtain of metal beads in silver that serves perfectly to separate the dining room from the living room. It is stylish, elegant and functional.
4. Cheap White Portable Room Divider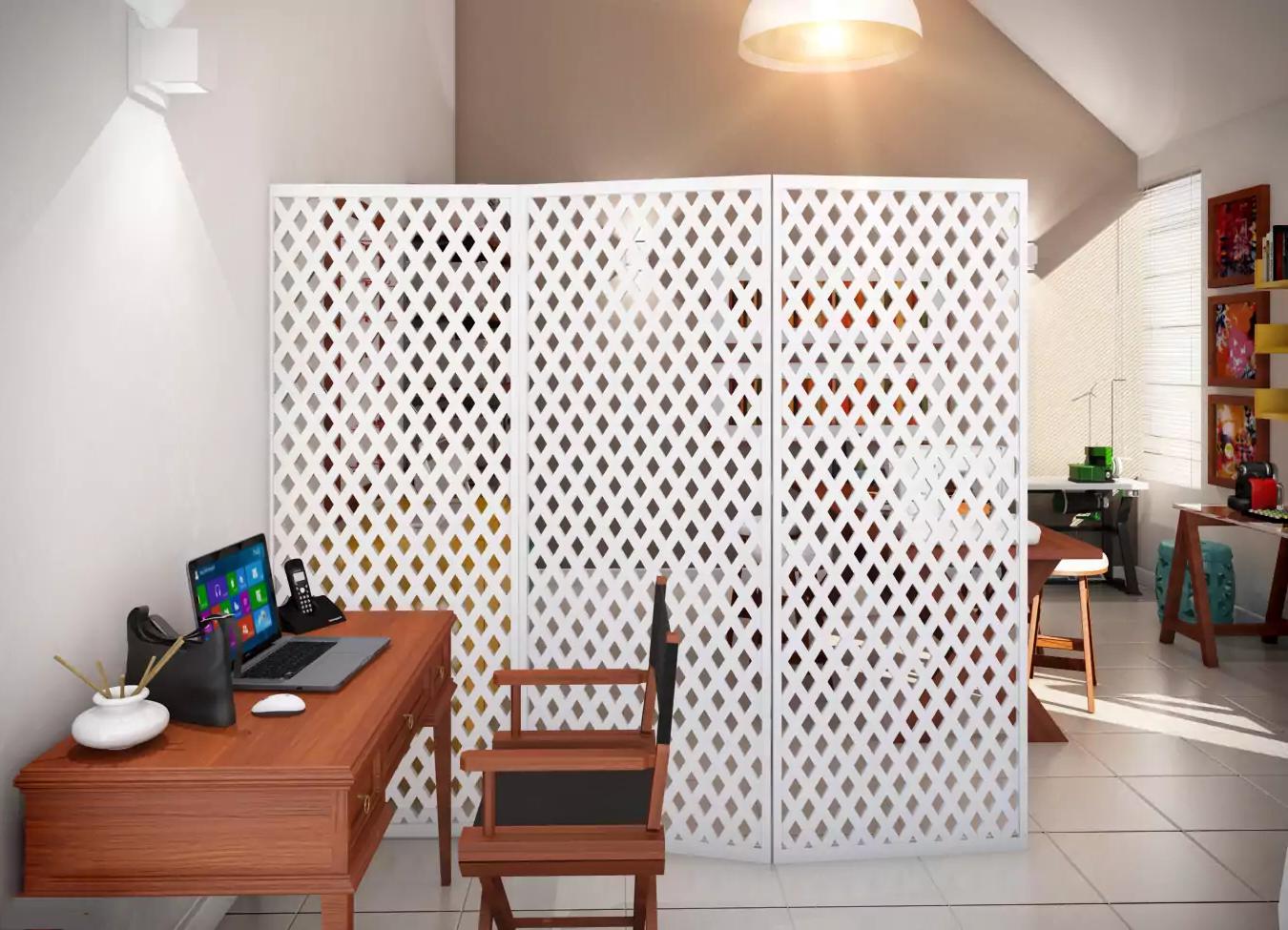 This cheap white painted wooden folding portable screen separates the large room very casually and pleasantly into two spaces: a sleeping room and a small office.
5. Decorative Portable Room Divider Forming An Arch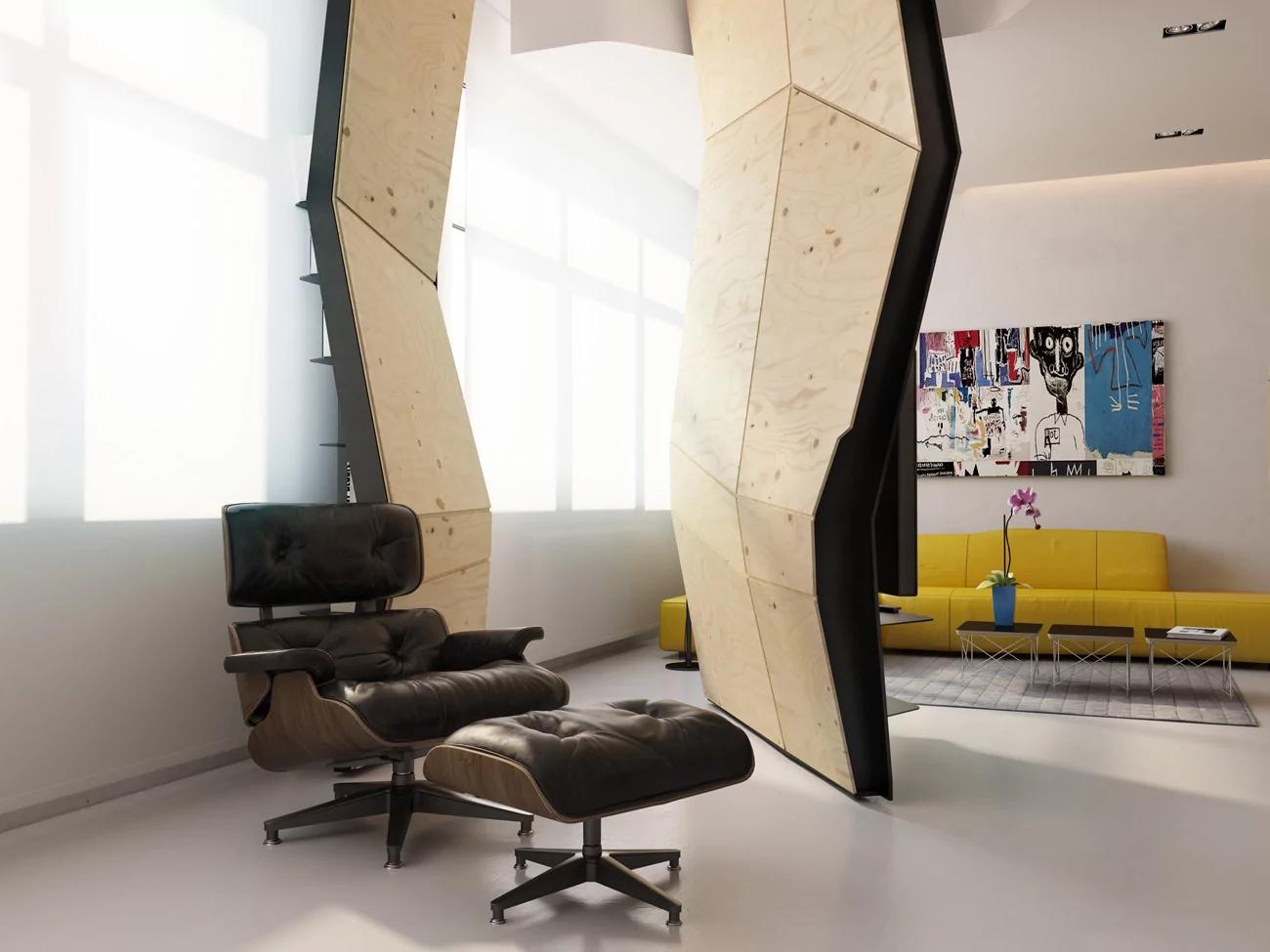 Portable partitions separate spaces with style and design, and don't always have to represent an entire wall. In this space, two very artistic divisions were used to form a kind of arch that allows one to see from one space to another, but which clearly separate the living room from the room for watching TV.
6. Decorative Weaved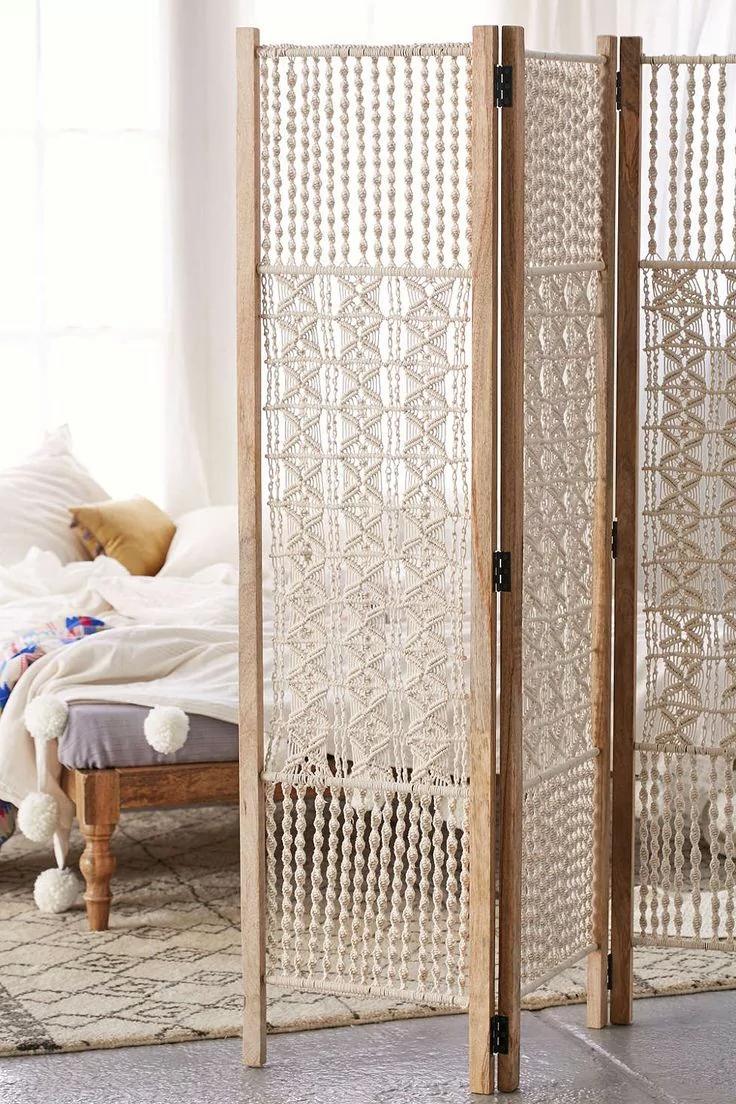 You will find many options on the market that will allow you to add your personal style to these functional and decorative elements. Take a look at this beautiful example of an accordion-like portable wall made of wood frames and beautiful natural fabric. The functional can also be chic and romantic.
7. Clean And Modern DIY Room Divider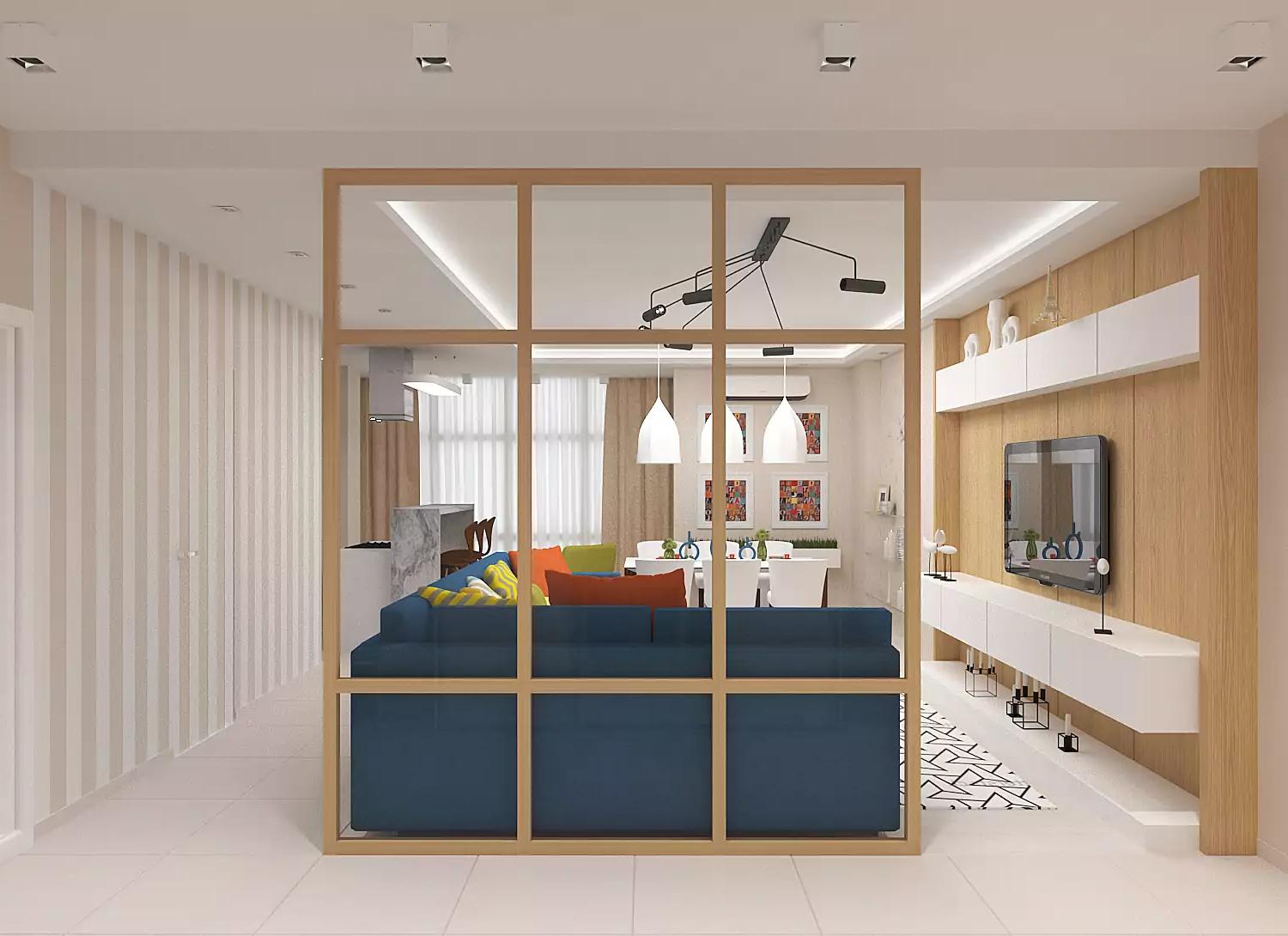 If you are more modern and clean, this geometric style portable divider goes perfectly with any room in the house. the wooden frame separates the space, but being transparent allows creating a much more open and fluid style. Furthermore, you can make it yourself.
8. False Wall Style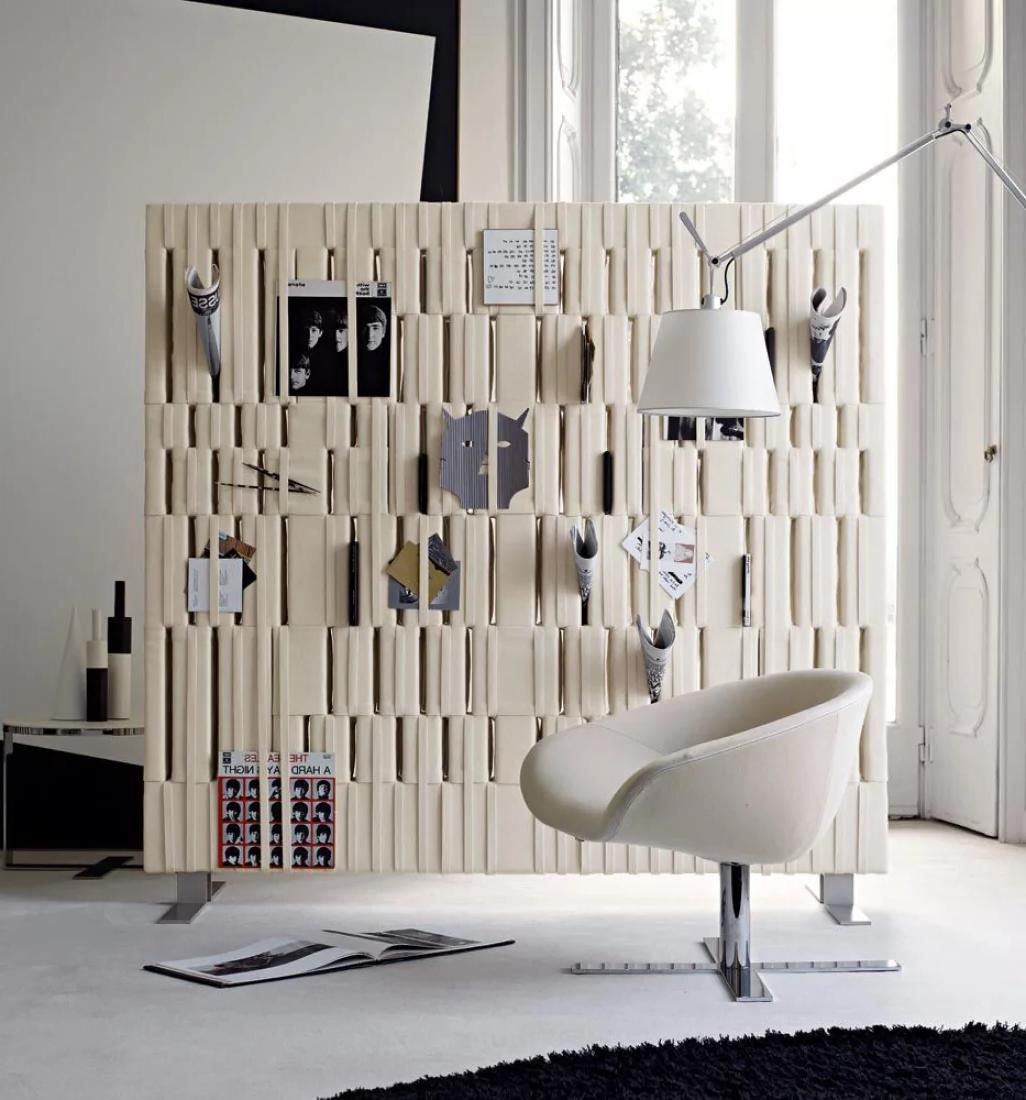 This false portable wall has a double function. It does not only separate the spaces but it also serves to place some items such as newspapers and magazines. It even accommodates decorative objects. With a modern and highly stylized style, it does a great job of separating the room from other spaces.
9. Portable Room Dividers With Storage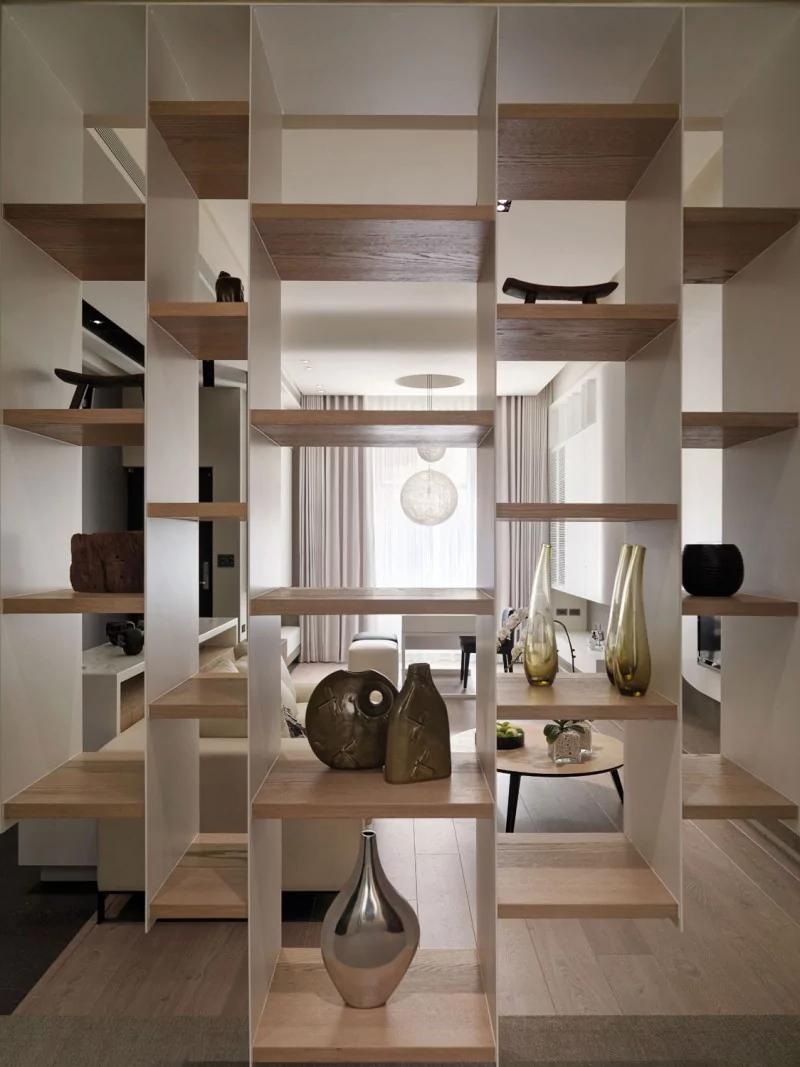 This is an oversized shelf that displays art objects while separating spaces. This style of portable room dividers is widely used in large houses where there are also many objects to store.
10. Loft Style Portable Room Dividers With Pipes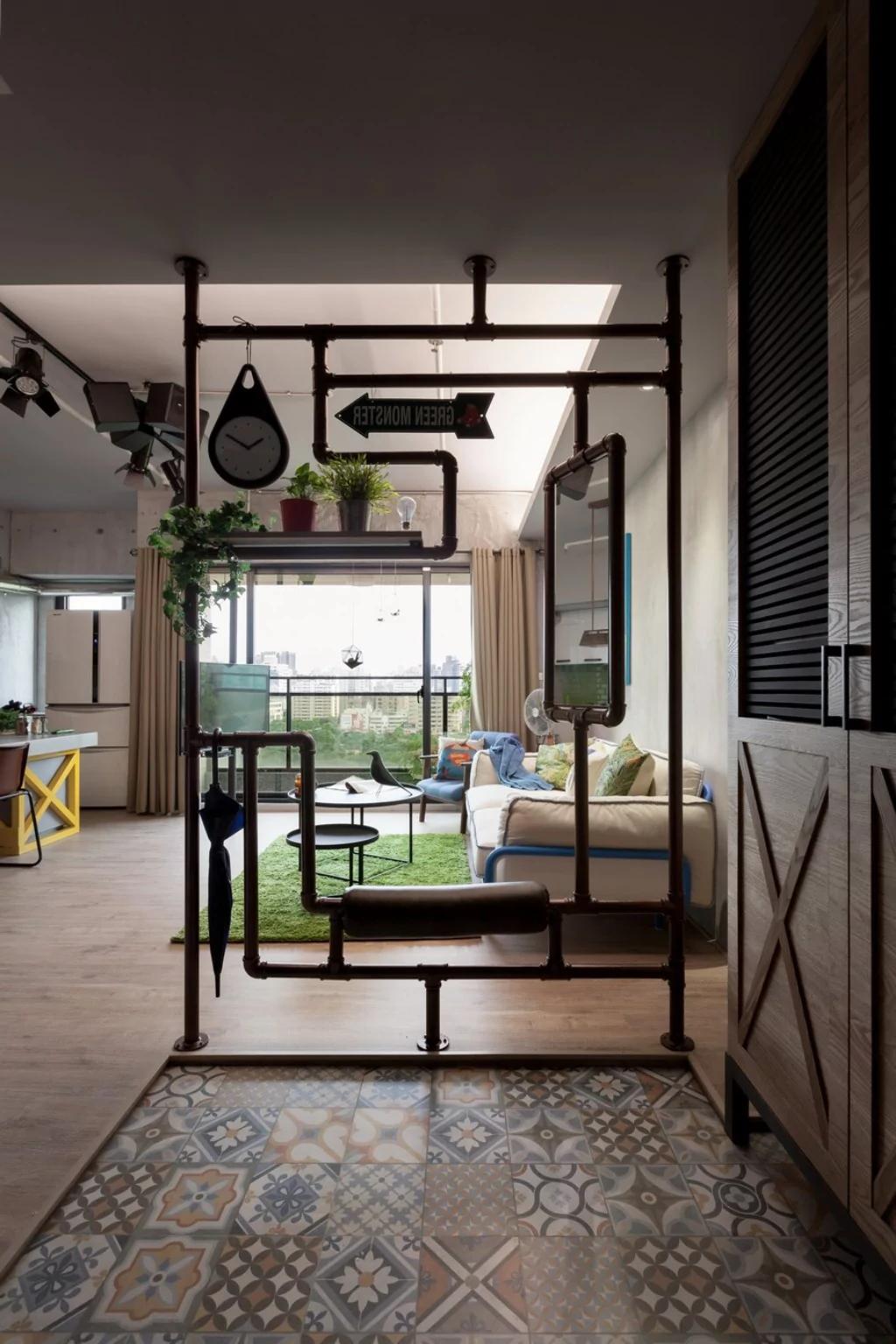 A very fun idea that you can make yourself is to make a portable division of space using some pipes and giving them various shapes, as in this example where they also serve to store some objects and display others. An umbrella, a clock, a mirror and some decorative objects find their place in this divider.
11. Metal Divider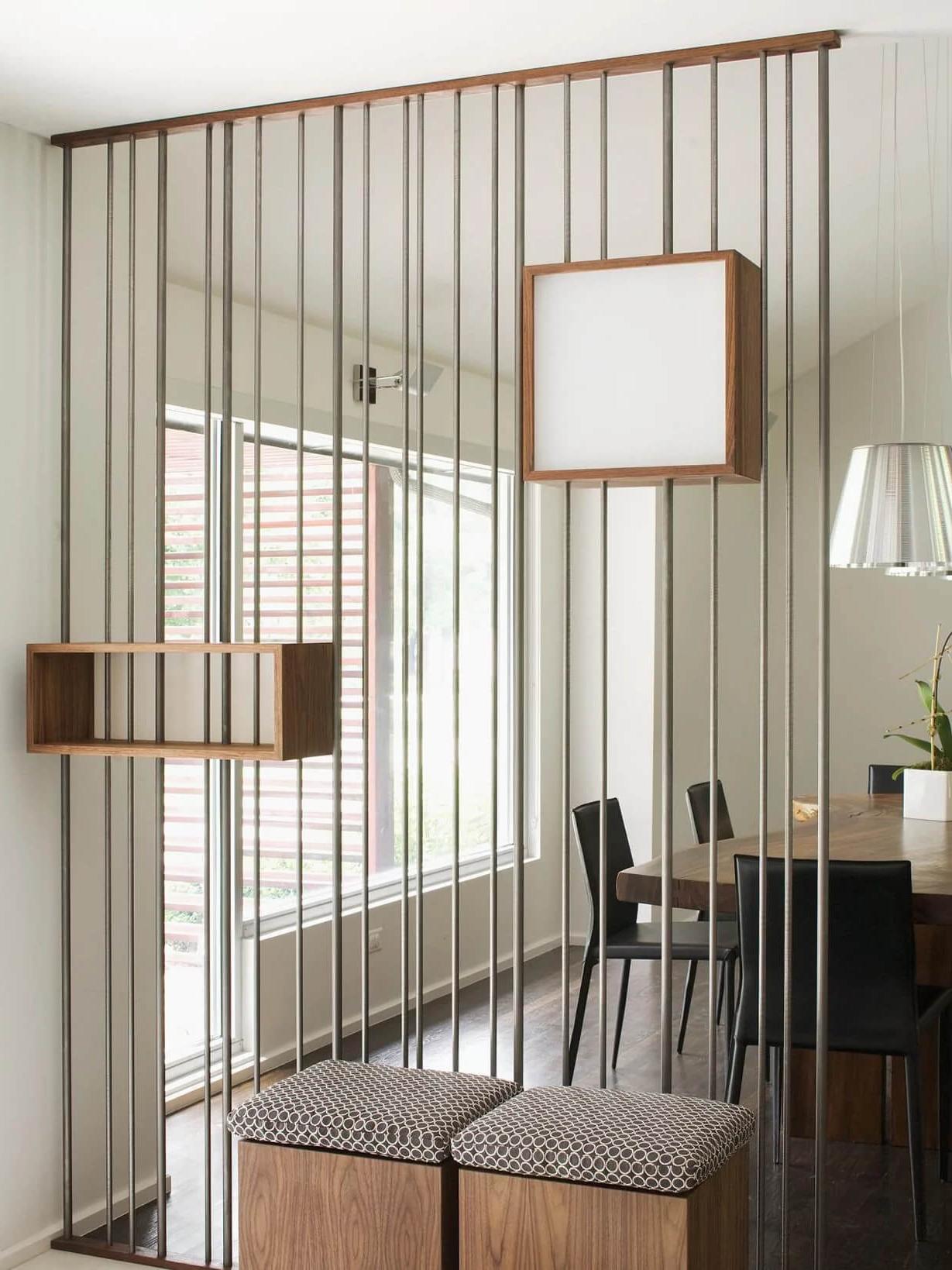 This is a very simple and yet very aesthetic idea to separate spaces. a portable room divider made of metal tubes in a wooden frame. For a personal and innovative touch, a shelf and even a luminaire are included. Elegant and modern.
12. Metallic Portable Room Divider With Pattern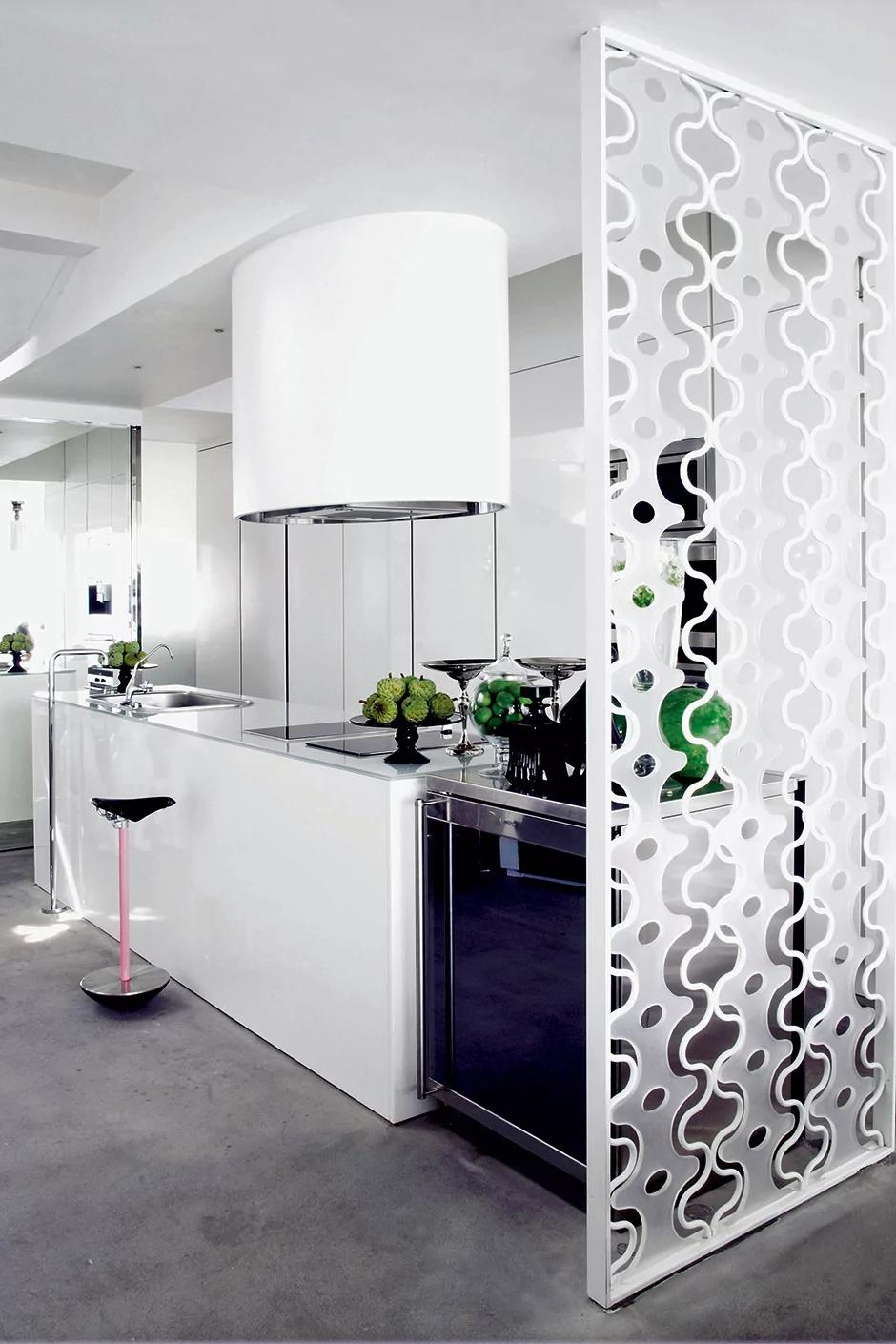 If you have an open concept house, but for some reason you want to divide it, you can go for the portable room dividers because this way you can decide if you really want to have each space more defined. This kitchen is separated from the living room with a metallic false wall that has a nice curved pattern, which separates without completely obstructing vision.
13. Zoning Space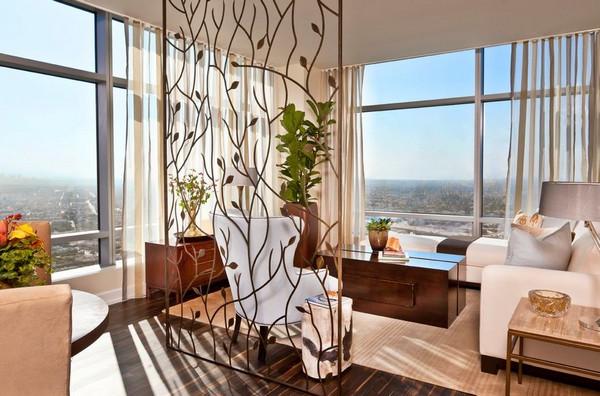 If you like design objects, you can choose a model like this one, which separates the spaces while adding a touch of art and style to the rooms. This is a leaf-patterned divider that blends seamlessly with the hints of wood and earthy colors in this apartment.
14. Modern Style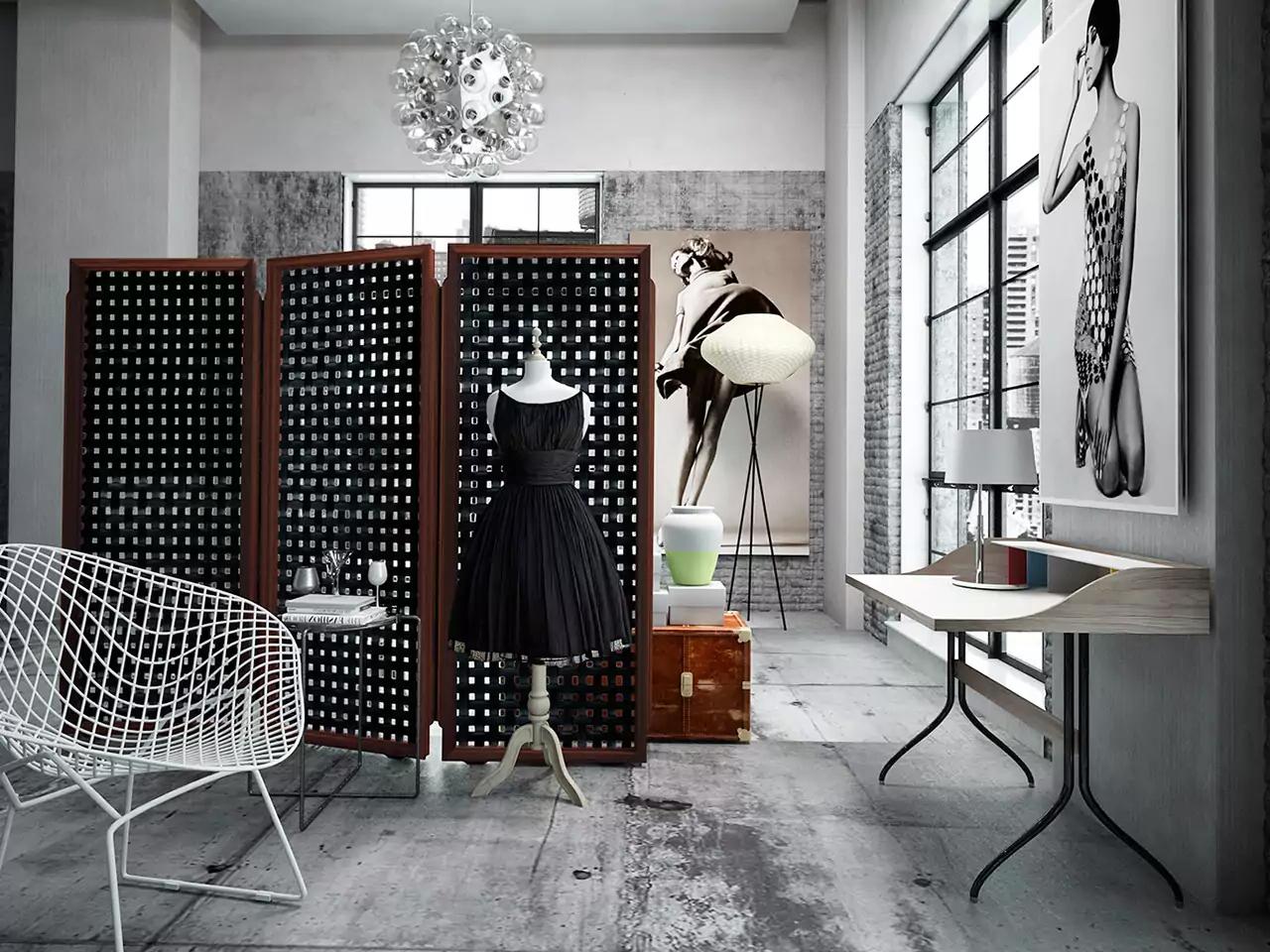 You can find portable room dividers not only in houses. It is common for commercial spaces to be one very large space, and the best way to divide them without spending a lot of money, especially if it is a rental space, is the use of these dividers.
15. Glass Blocks Interior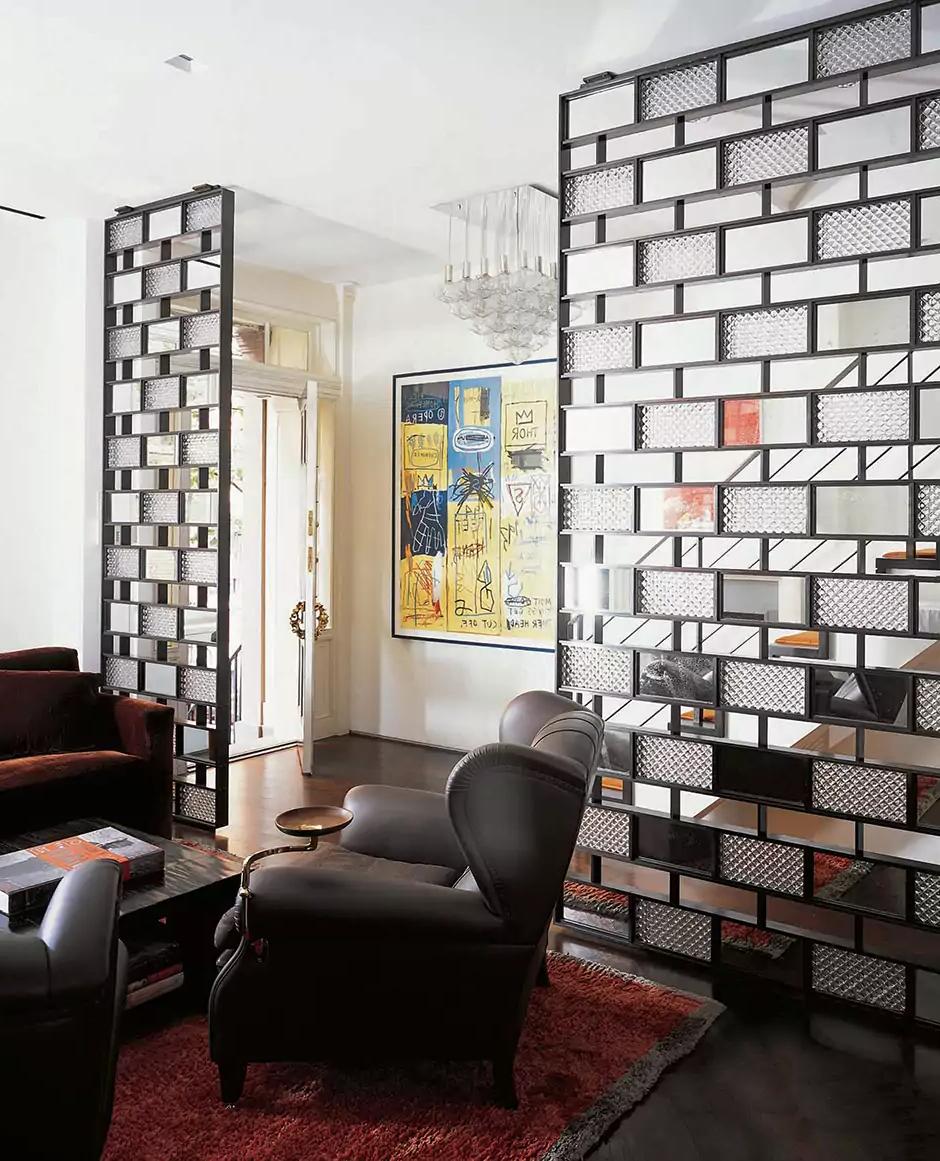 This portable divider adds a lot of style and separates the spaces without making them feel closed, since it allows the vision through the different frames, some with dark glass, and others with textured glass. It is a casual and very modern style.
16. Pendulum For Interior Spaces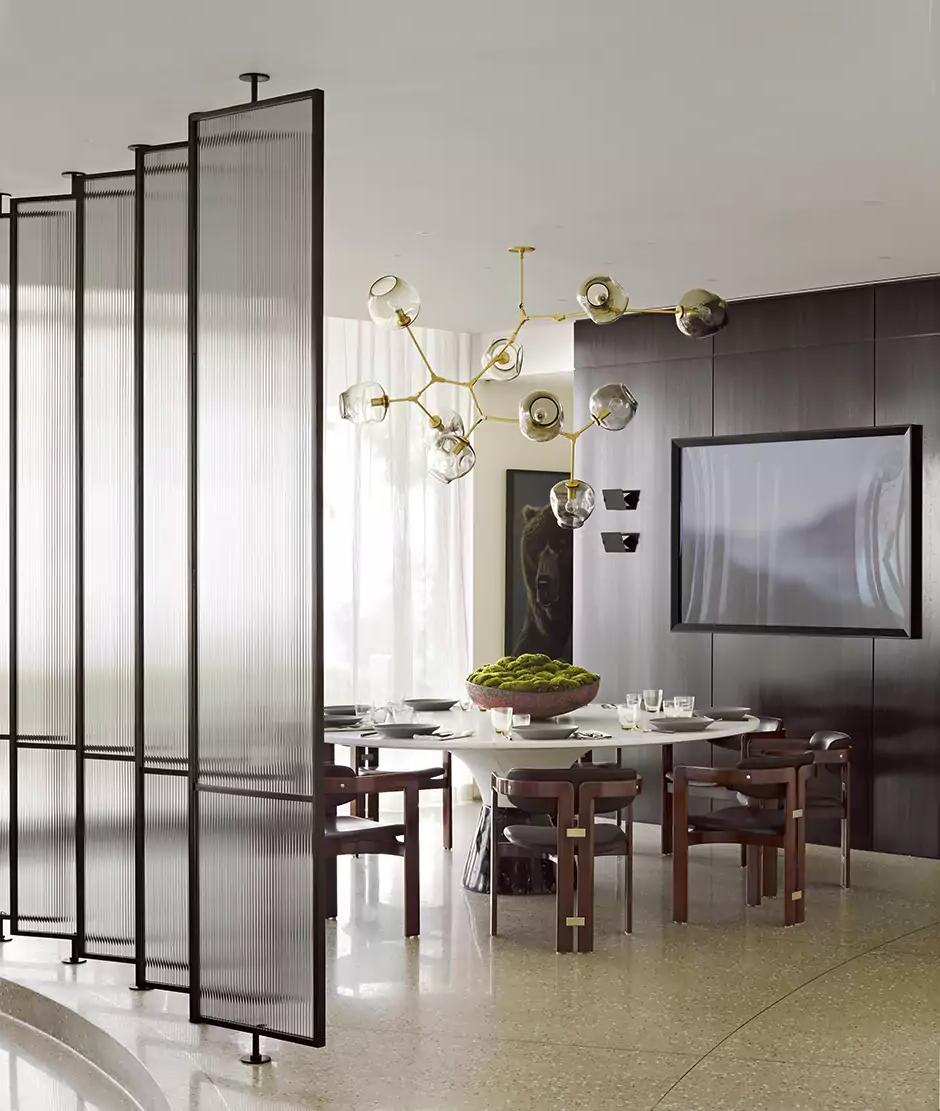 This interesting portable space divider has tinted windows and each panel can be moved, so you can decide how much you want to see from each space. In this example it is used to divide the living room and dining room.
17. Plasterboard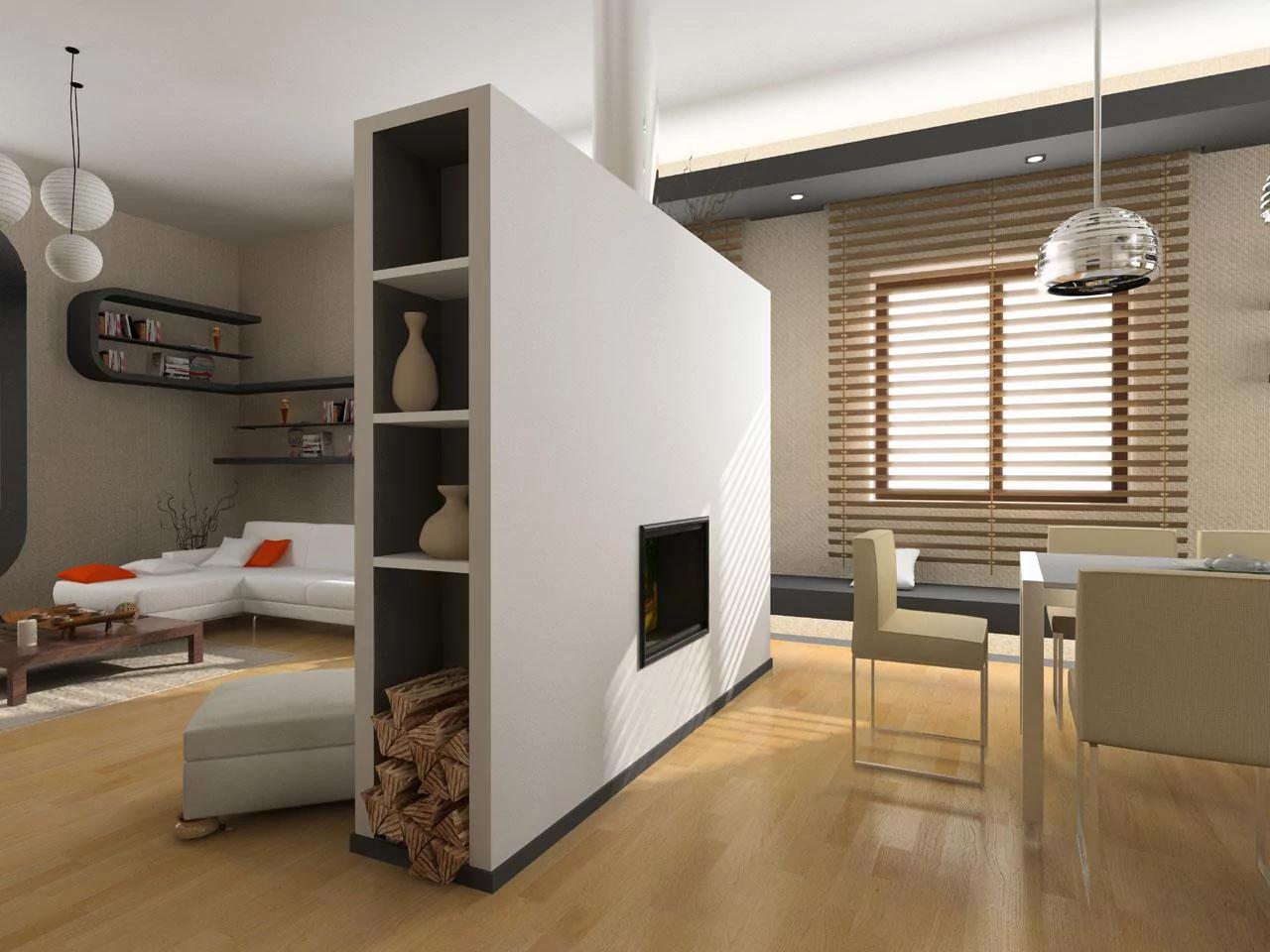 Another good portable option to separate spaces and which is also very functional is the use of shelves or cabinets where, in addition to dividing, you can store different things, such as clothes, sheets and more.
18. Asian Style Curtain
This is a very used style that despite the passing of the years is still trending. It is an Asian-style screen that features a beautiful cherry tree. The material of the divider allows the light to enter without being able to fully observe what is on the other side, which adds privacy.
19. Office Room Divider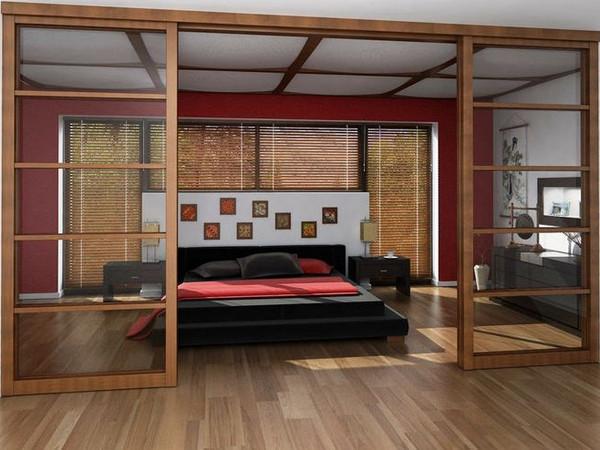 If you like the architectural style, you can go for a portable divider like this one that, in addition to having a very attractive color, has bold and artistic shapes ideal for creating an office.
20. False Wall Portable Room Divider With Storage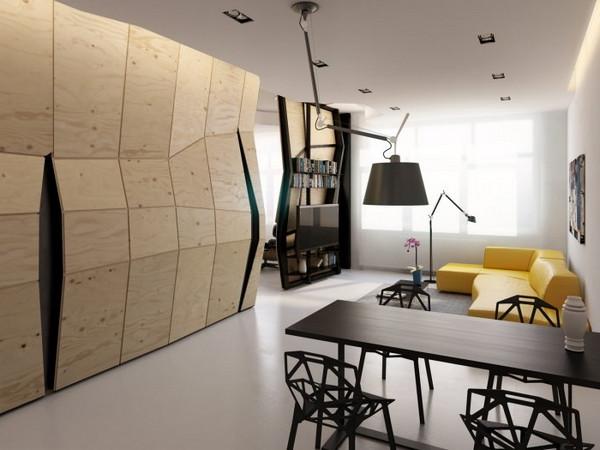 You can also go for a design like this that is easy to move at will and that you can use as a closet and shelf for any number of things you need to store. It is modern and very useful.
21. Sliding Glass Room Divider With Patterns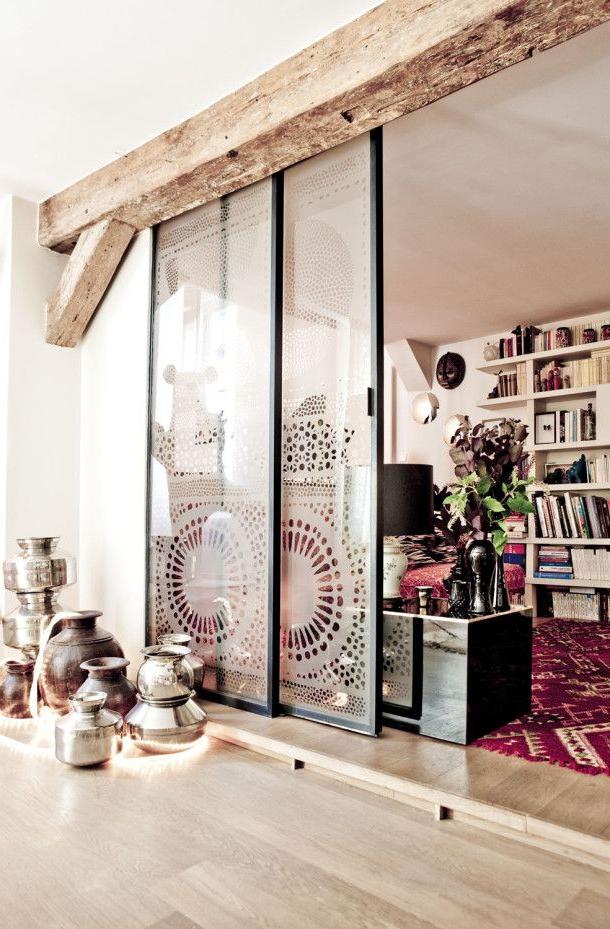 Sliding doors are a classic of portable dividers because although they require installation, it is very simple, as well as removing it if you wish. This sliding door features glass with a nice tinted design that gives privacy without completely eliminating visibility.
22. Temporary With Screen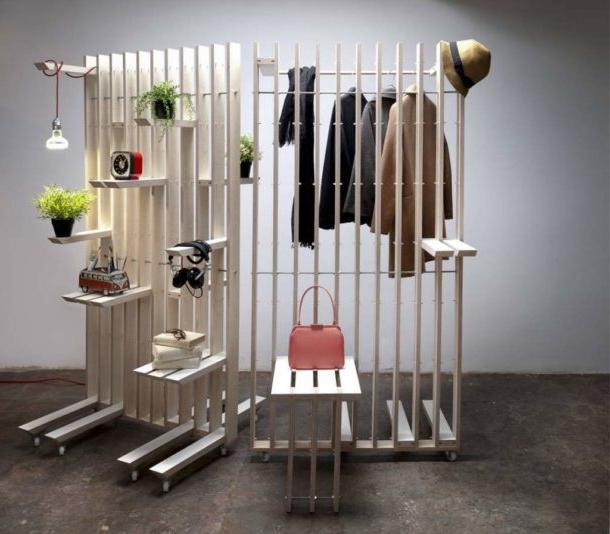 This modern portable room divider features a dark screen that separates the spaces, still allowing you to see what is on the other side, so that the rooms continue to feel open and light.
23. Accordion Portable Room Divider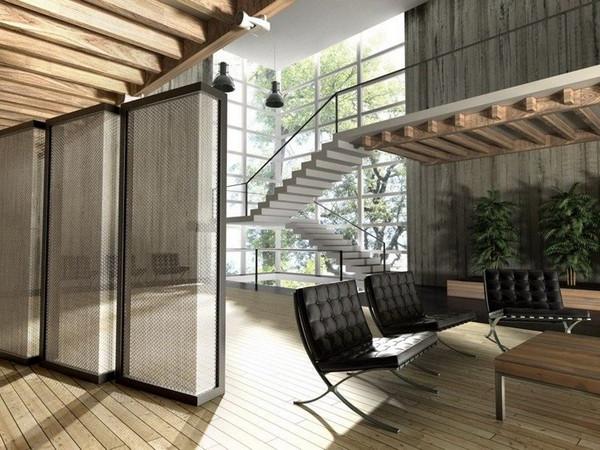 This beautiful screen is ideal for those who are not totally sure that they want to leave the portable divider in place for a long time. In addition to being foldable, it has wheels that allow it to be moved easily at will. In addition, being transparent it keeps the flow and the feeling of openness in your rooms.
24. Mobile Divider For The Bathroom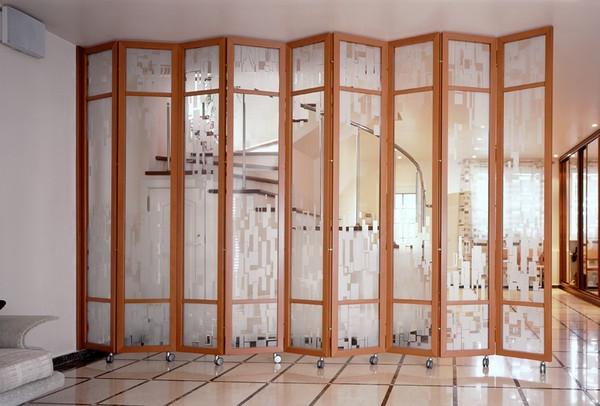 This beautiful portable wall is used to add privacy at bath time, as it creates a wall that prevents it from being seen through the window. The old-fashioned style of both the wall and the bathroom work very well together.
25. Unique Room Divider In Wood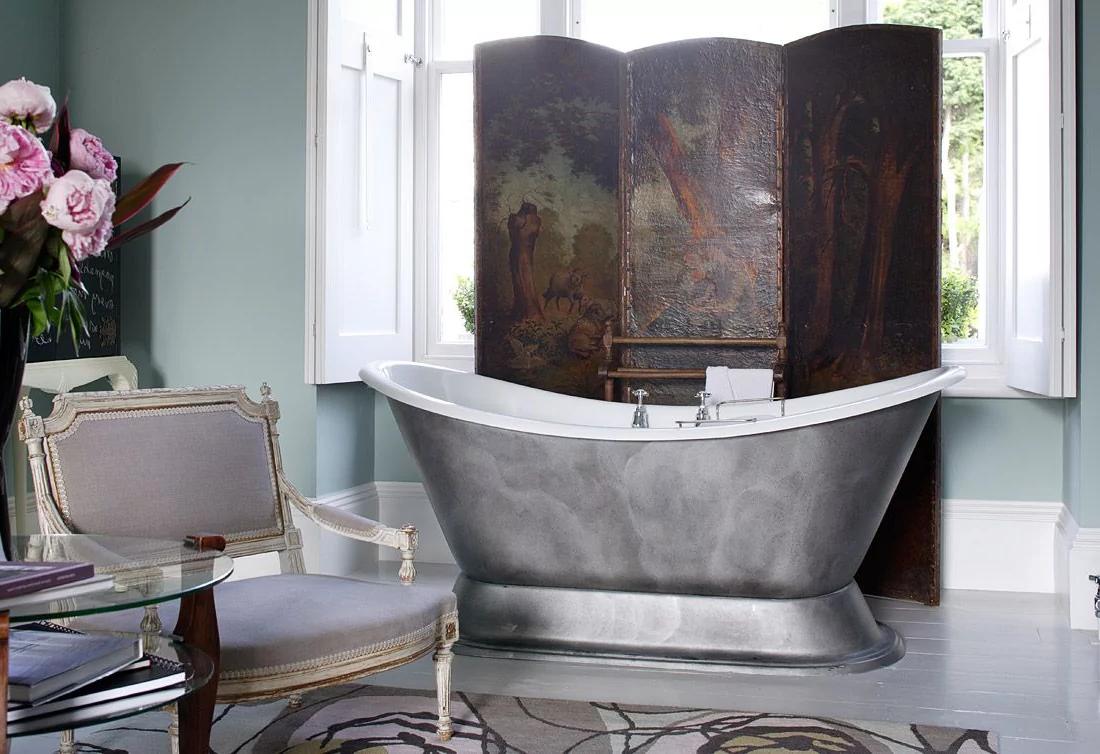 When you want to divide a room, a good idea is to go multipurpose. This allows you to get more out of the division. In this case, this portable divider has many benefits: it is foldable, so you can adapt its size, it has wheels, so you can easily locate it in the place of your preference, and in addition to everything it is utilitarian, since it has shelves to place some objects, and even with a bar to hang clothes. Ideal for spaces where there are no shelves or closets.
26. Sliding Glass
Portable sliding dividers are ideal for closing and separating spaces like this room in an open concept home.
Conclusion
It is possible that you have a fairly large room and that you want to achieve greater privacy by creating two different zones in the same room. It is also possible that you have a room that you must share with other people and that you need a part of that room to make a different use, such as an office in a living room. What if you are sharing the bedroom and need to have a more intimate area for yourself?
Without a doubt, when you need to divide a room but you don't want to, you don't have the budget to build walls, or you don't own the space you inhabit, temporary and portable partitions are the perfect solution, and today we showed you some ideas and examples for you to inspire.
Do you know more options to divide a space to have more privacy? Tell us your ideas!