Front doors are the presentation letter of your home. They are the first element that welcomes people after the facade and that is why their correct choice is so important.
The front doors can be made of wood, glass, and aluminum or combined; the possibilities are endless and they are up to the different taste of those who choose them. Whether you are building your home with contemporary, classic, or any other kind of decor; or that you are looking to modernize or upgrade your home, front doors are a great way to start the task.
From the door of the entrance that should combine elegance with security, when we talk about modern front door designs like the ones we are going to show you in this article, the key lies in the diversity of models that you will find in the same style to fit your personal taste.
We want to take you on a ride to see exciting modern front door designs that you will fall in love with. Keep reading and choose yours!
27 Modern Front Door Ideas and Designs That Will Make Your Home Look Inviting

The first type of door and one of the most fundamental choices is the entrance door that should combine aesthetic, beauty and safety.
At the time of ending your house's construction and choosing the finishes, along with the coatings of the walls and floors you should also choose the type of front door you will want and find a model that goes with the style and colors of your home.
The exterior doors have a function of privacy and security; you can find them in different styles and materials, although before buying a door for outdoor you must know what the fundamental characteristics these doors must have:
Manufactured with materials suitable to withstand inclement weather and high durability.
Offer maximum security against possible thefts.
Isolate our house from outside noise and serve as a thermal insulator.
Design and aesthetics, will be the first impression visitors receive when entering the house.
Although you may think all modern front doors are the same, each and every one of them has its own characteristics. For this reason, you must differentiate within the security doors in armored, armored, solid, and metallic.
Armored exterior doors
They are designed to achieve maximum security. Instead of having a wooden panel, this is replaced by sheet metal. It is usually used in apartments, villas, townhouses …
Armored exterior doors
They are usually used in outdoor homes. They consist of an MDF frame that has been covered with wood veneer.
Solid exterior doors
They are ideal to be placed in rural homes or at homes with a related style. They usually carry a treatment to protect the wood.
Metal exterior doors
They have a 1.5mm steel frame with a sheet of double galvanized steel sheet.
Come with us to see 27 amazing modern front door ideas models that you can take as an example of the wide variety you can find in the market.
Get inspired with these designs!
1. Artistic Art Noveau Entrance Door For A Modern Home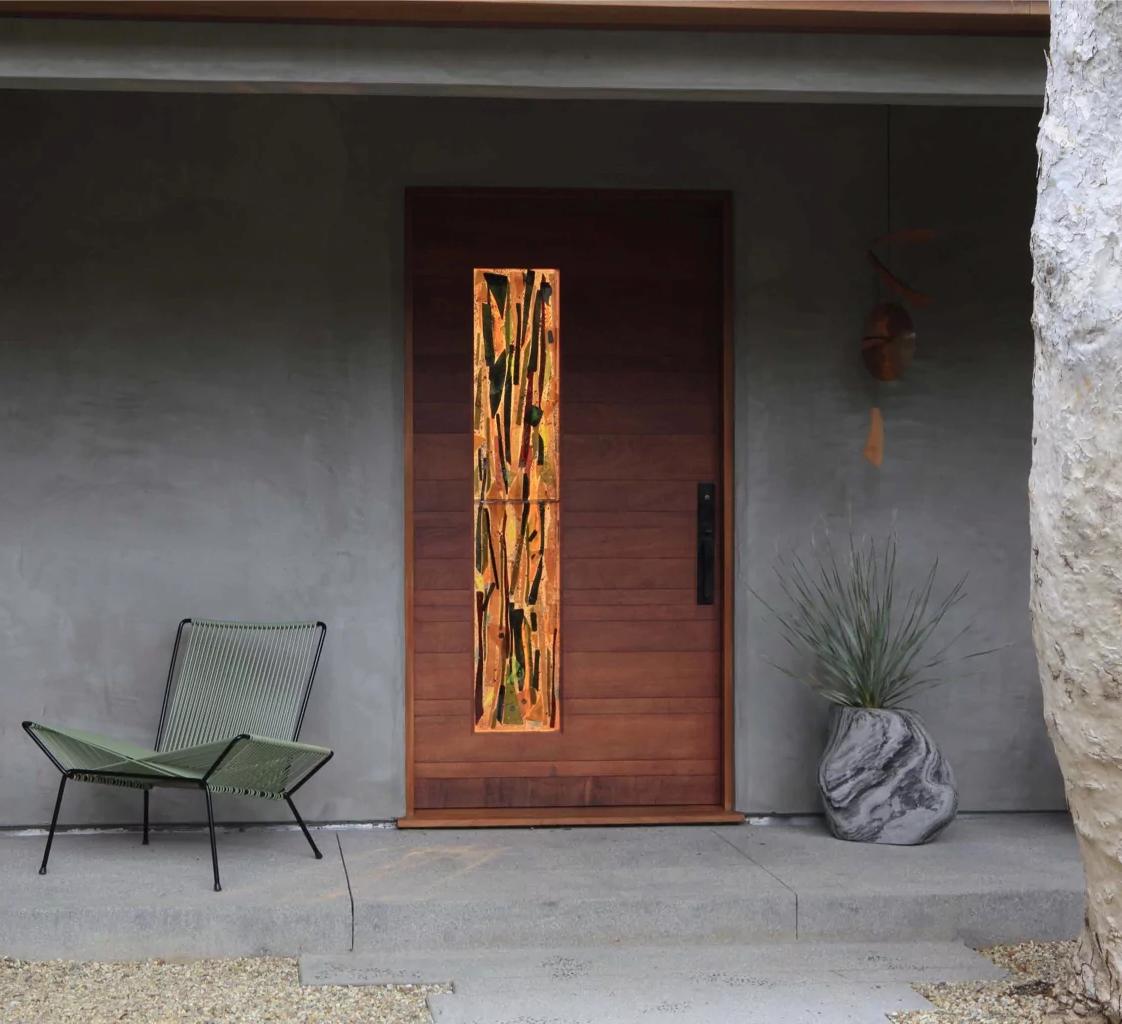 The originality of the modern front doors allows you to express your personal style. Since the materials they can be made of and combined with are so diverse, you can experiment with the color by opting for doors in black, red, blue or yellow.
Adding color to a modern front door will always help you to add more warmth to the outdoor environments. This modern front doors shows how a little bit of color can completely change the aesthetic and style of your home.
2. Modern Front Door With Autumn Style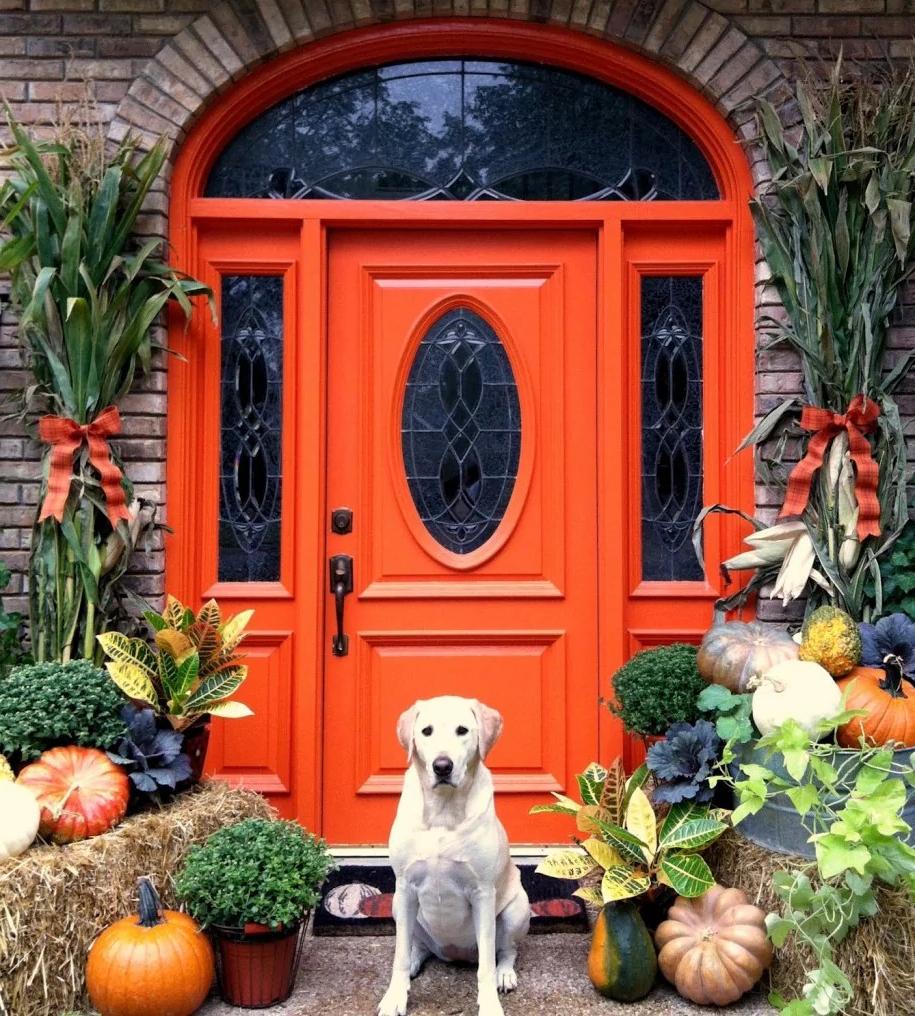 Whether you are renovating your home or building a brand-new home, it is important to consider your budget. Knowing in advance how much money you want to spend in this area will allow you to make a better choice of materials. This modern front door is not cheap, but it I certainly perfect for this autumn style home.
3. Blue Simple Yet Elegant Modern Front Door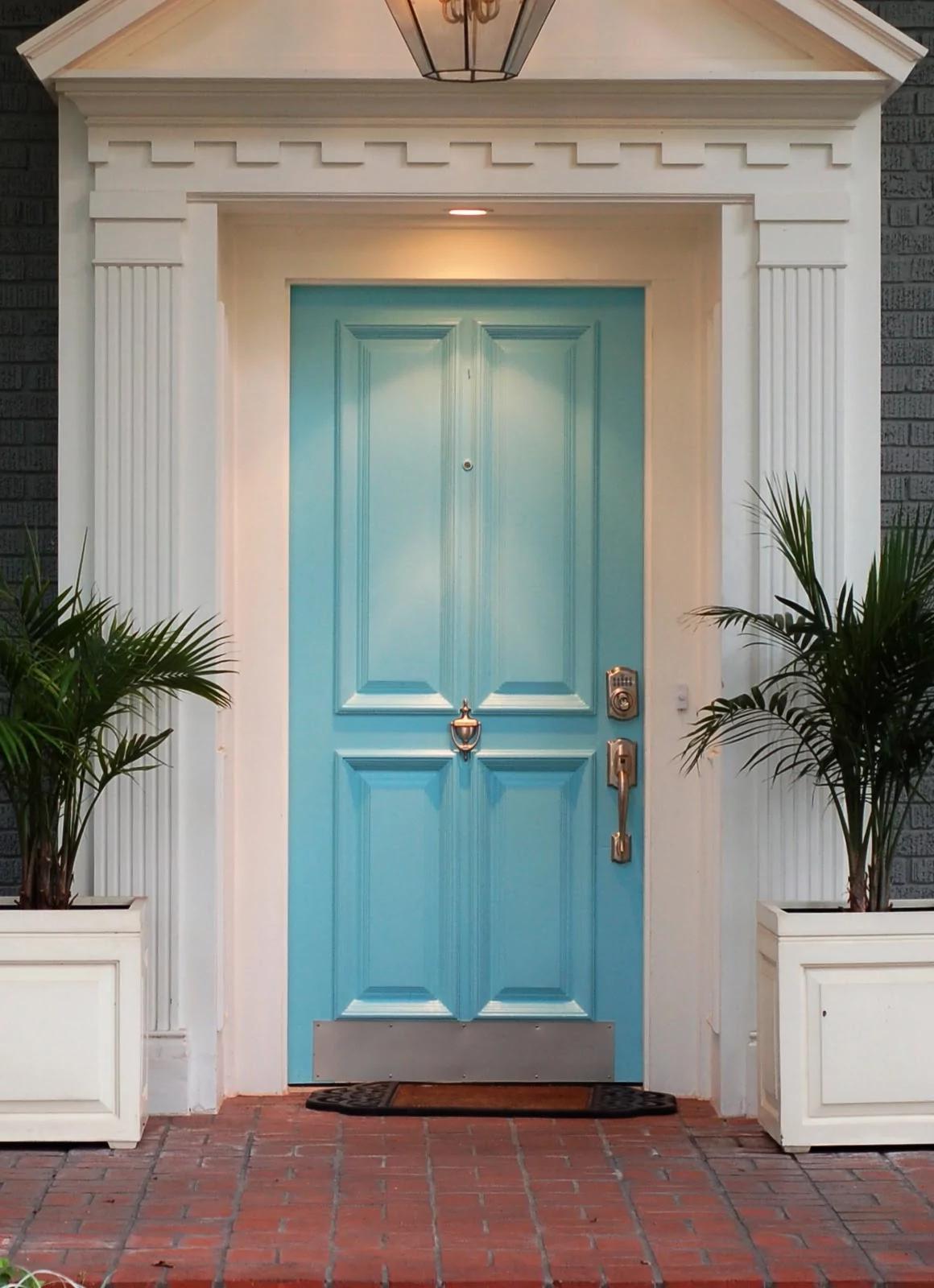 Consider all the doors you want to install, considering that there are certainly doors such as the entrance that for your requirements will be more expensive than the others. Write down the points that are important to you, regardless of whether you always dreamed of a wooden door or if you require security systems. You should prioritize and adjust your purchase based on these details that make a difference for you. For example, this blue door really outstands from others with its charming color.
4. Owl Carved Wooden Front Door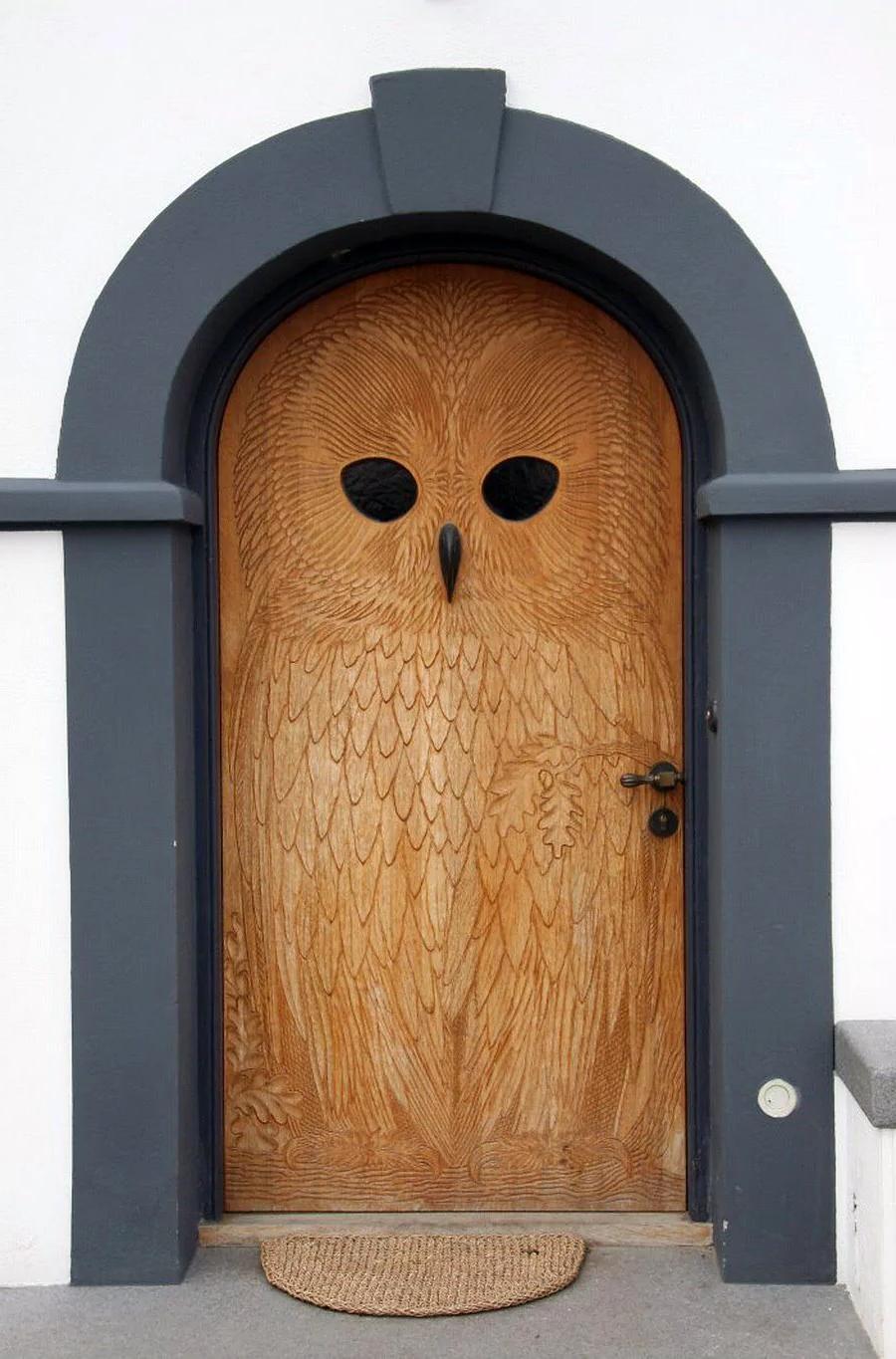 This amazing modern front door is an artistic piece on its own. With the carved owl, it really makes a statement. No one that visits this house will ever forget how the door looks.
5. Stylish Modern Yet Classic Front Door Design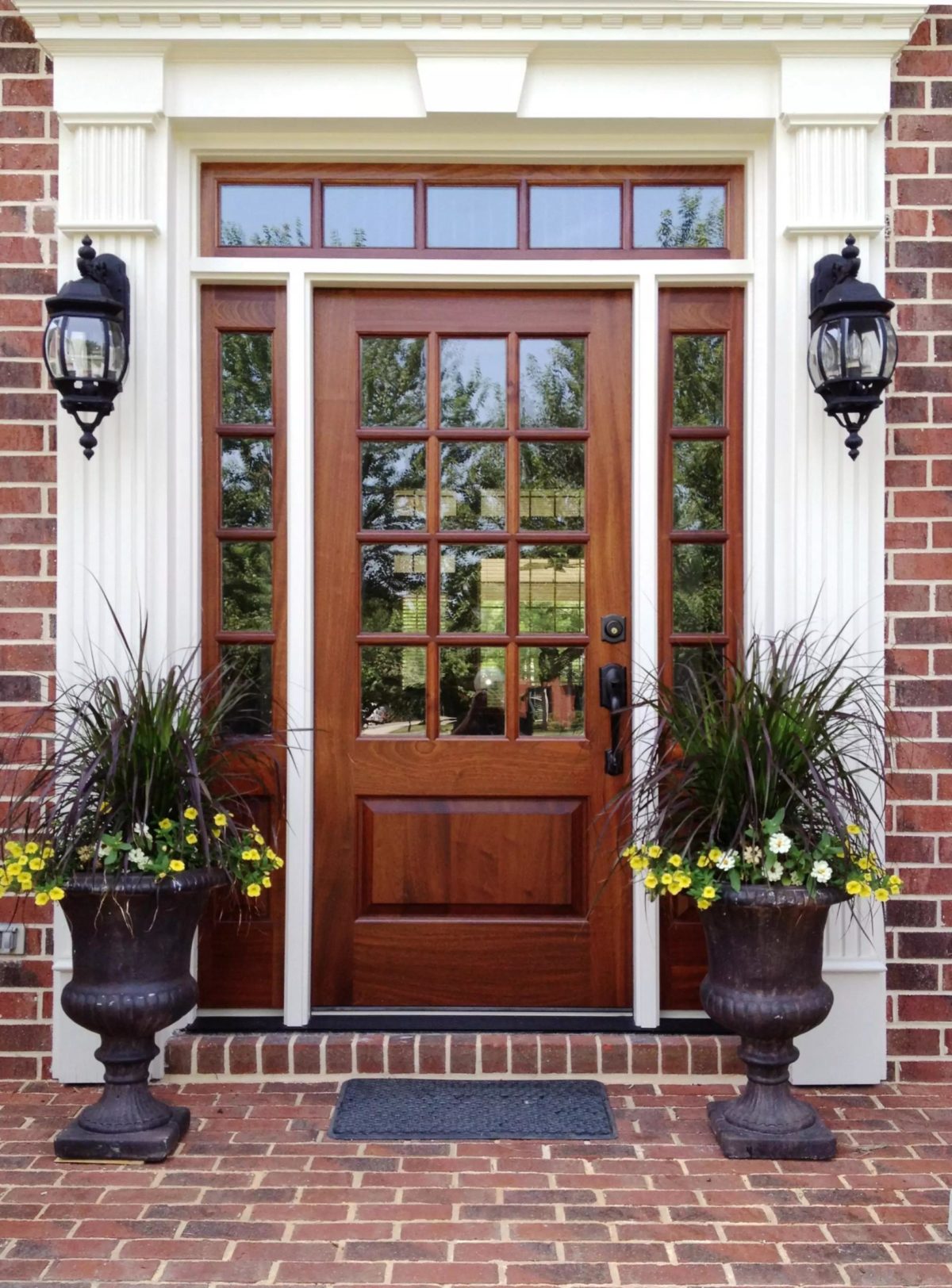 Combination of materials is always a plus on any decoration style, and modern front doors are not an exception. This beautiful front door combines wood, glass and metal in one classy and elegant design.
6. Modern Front Door Decorated With Flowers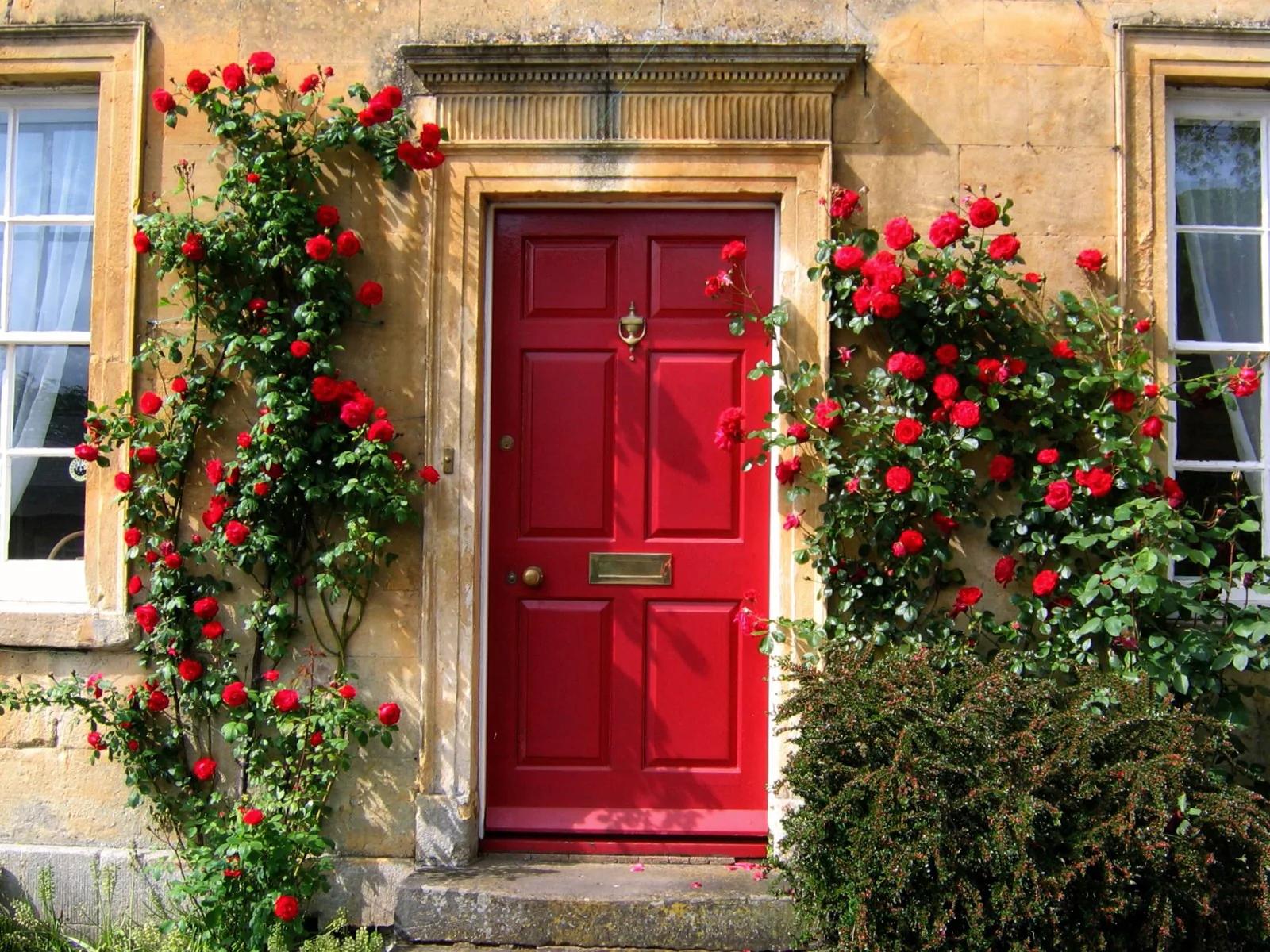 A modern front door comes in varied materials, sizes and styles, but the rest of the house's facade is also important, entrances with style will also help to make an overall style, like in this house where the flowers covering all the front house's wall, match perfectly with the entrance door, as well as the rustic style that goes from head to toe.
7. Modern Front Door Featuring Metal And Glass In Decorated Entrance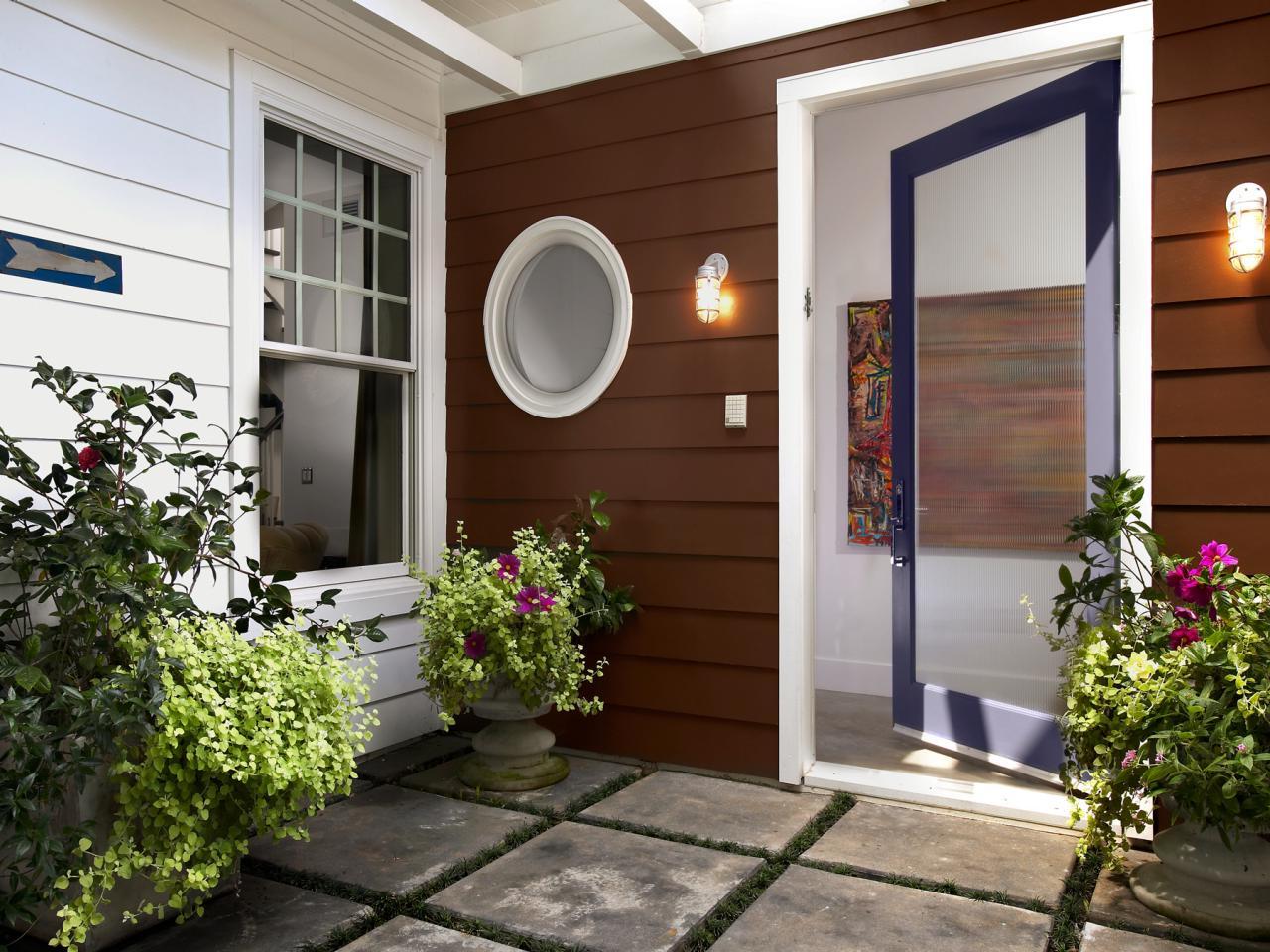 If your house entrance is far from the property's entrance, you can go for a style like this, an extra large front door that features a steel frame and a center made of glass with a subtle texture on the glass that keeps it from being completely see through. This door perfectly complements the overall style regarding material, colors, decoration elements and the rest of the house's design.
8. Modern Front Door With A Mirror In An Industrial Decoration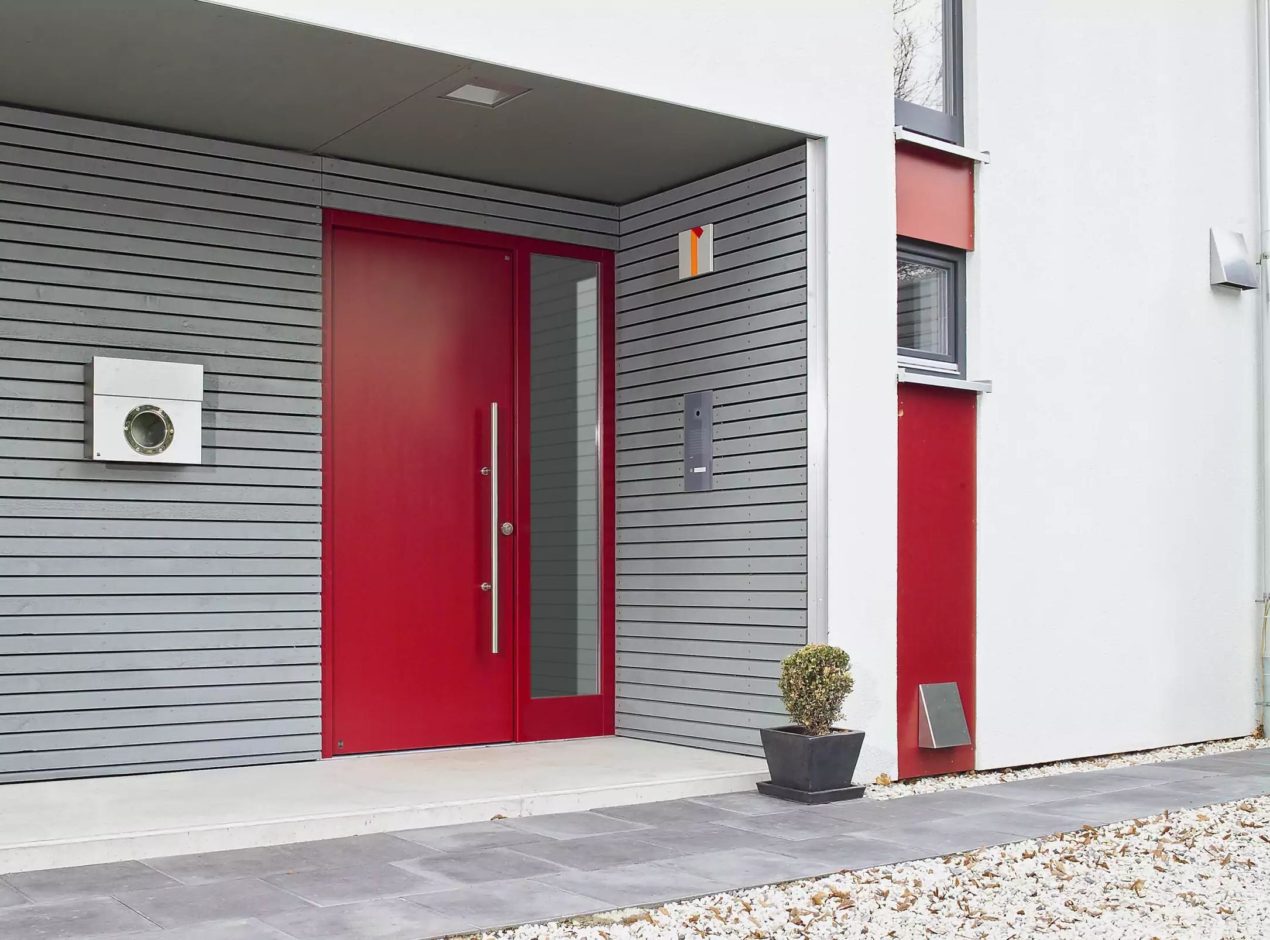 Modern front door are, of course, perfect to garnish any industrial, modern design. In this house, the red front door features an external mirrored glass where you can check out you look while you wait for the door to be opened. The combination of cold colors with the metallic red is the perfect way to use the style that even is serious, is also very interesting.
9. Metal Decorations Of Forged Iron To Complement A Thick Rustic Wooden Door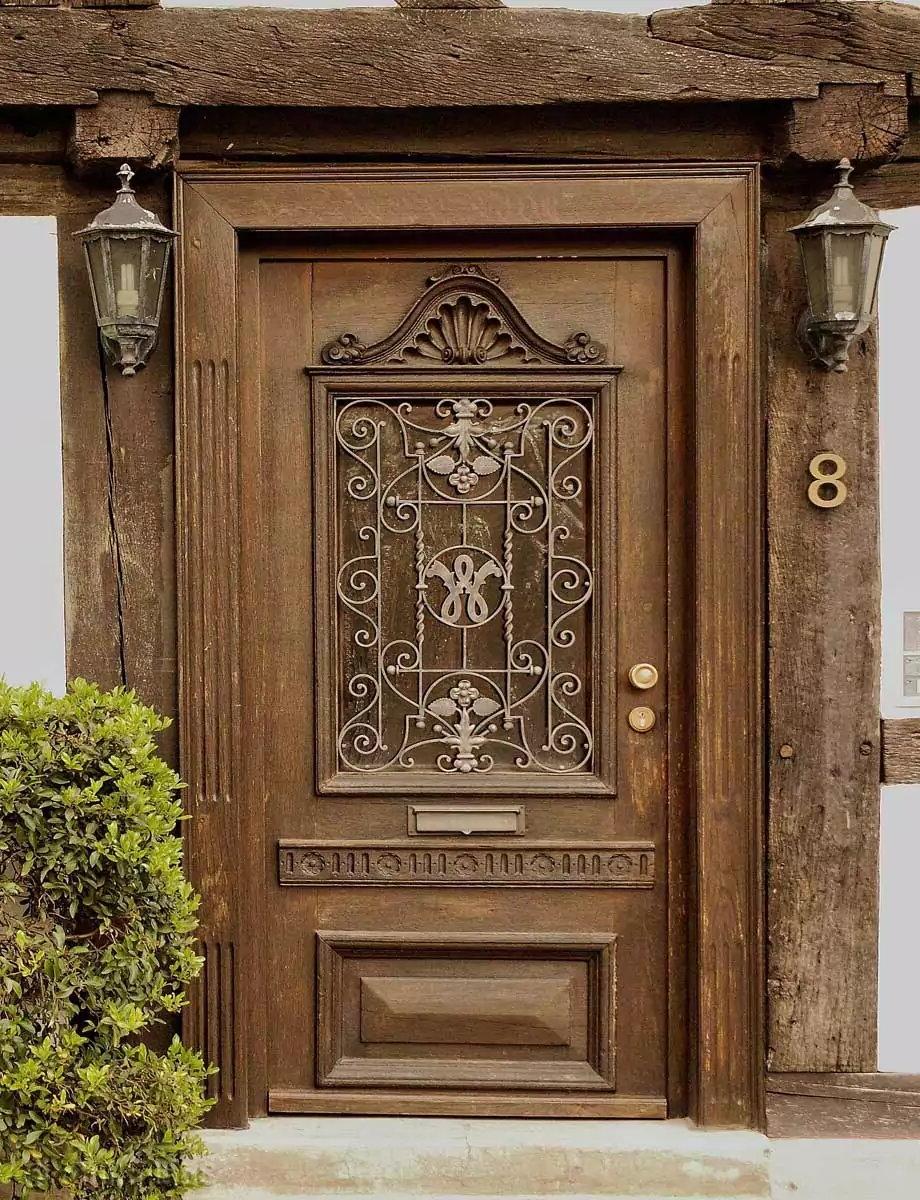 A modern style can really benefit from an old style decoration like this one, where the rustic, very thick, vintage wooden door is complemented with the old style iron fence with forged curved design. The old wooden beams and lamps match perfectly the modern energy saver light bulbs.
10. Minimalist Artistic Modern Front Make Of Wood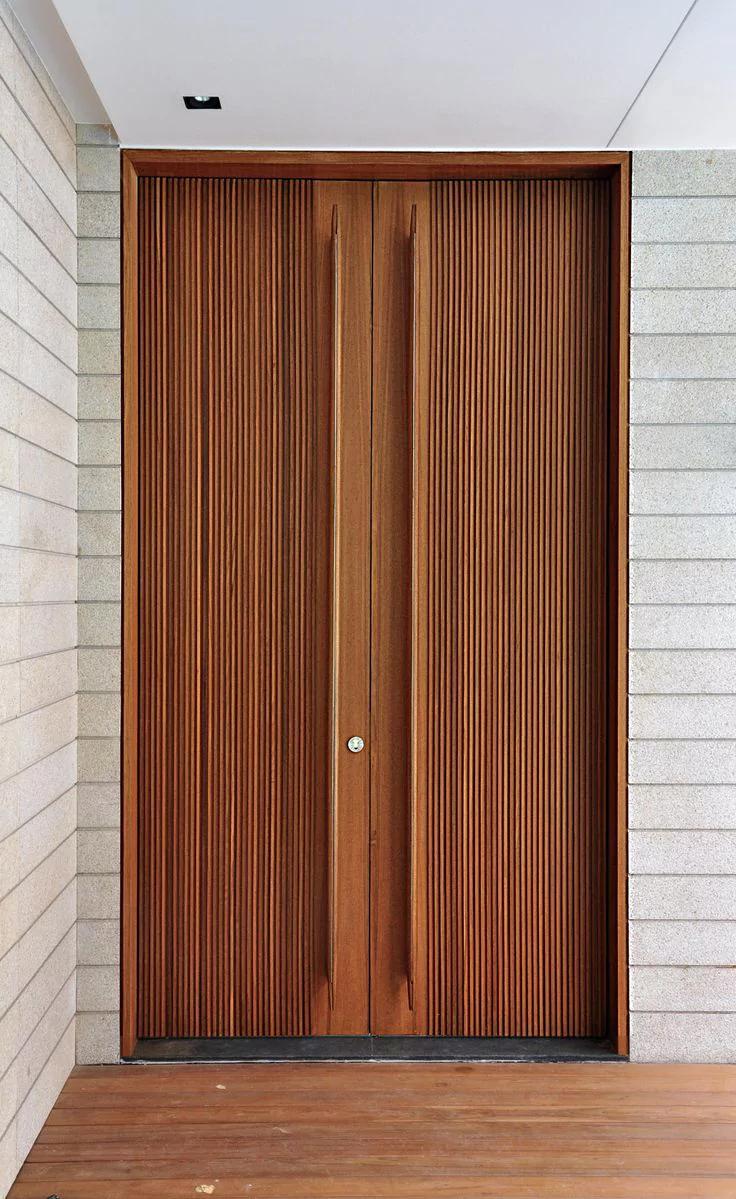 This may look as a sliding door, but is in fact a French style front door made of carving wood. The minimalist, very artistic design is also vintage, with a light colored varnish very similar to cherry wood. The small lock and particularly large handles makes this a very unique design that takes us back to the 60's and 70's in a modern style home.
11. Moroccan Style Frame For A Modern Decor
The modern front door is way more than just the actual door. Other elements such as the frame, or even the decoration around count when it comes to creating that effortless yet well though style. This Moroccan style frame combined with all the other elements work perfectly for this house. The combination of pinks and greys in the painting, the plants, and even the floor color makes it grain of sand when it comes to create the perfect ambiance. And one thing you may not have noticed: the Moroccan style frame is not a real frame, just a very well done paint job.
12. Modern Front Door Decorated To Receive The New Year To Come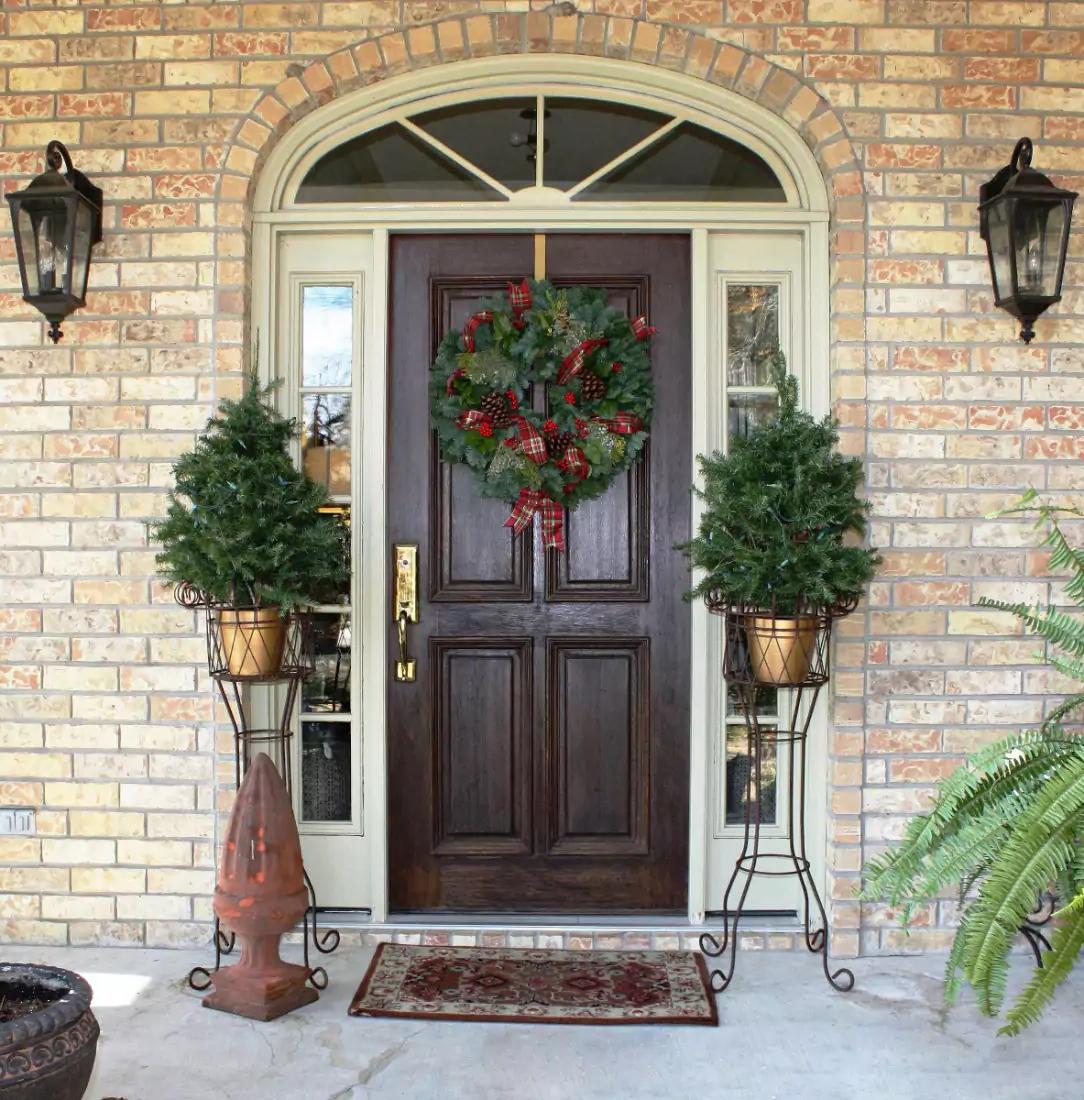 You can also create a modern style décor with your everyday front door if you do not have the time or money to crate a whole modern style design from scratch. In this example, to celebrate the holidays, these homeowners decided to add golden metal details to enhance the place, such as planters and more.
13. Paint Job To Turn Any Door Into A Modern Front Door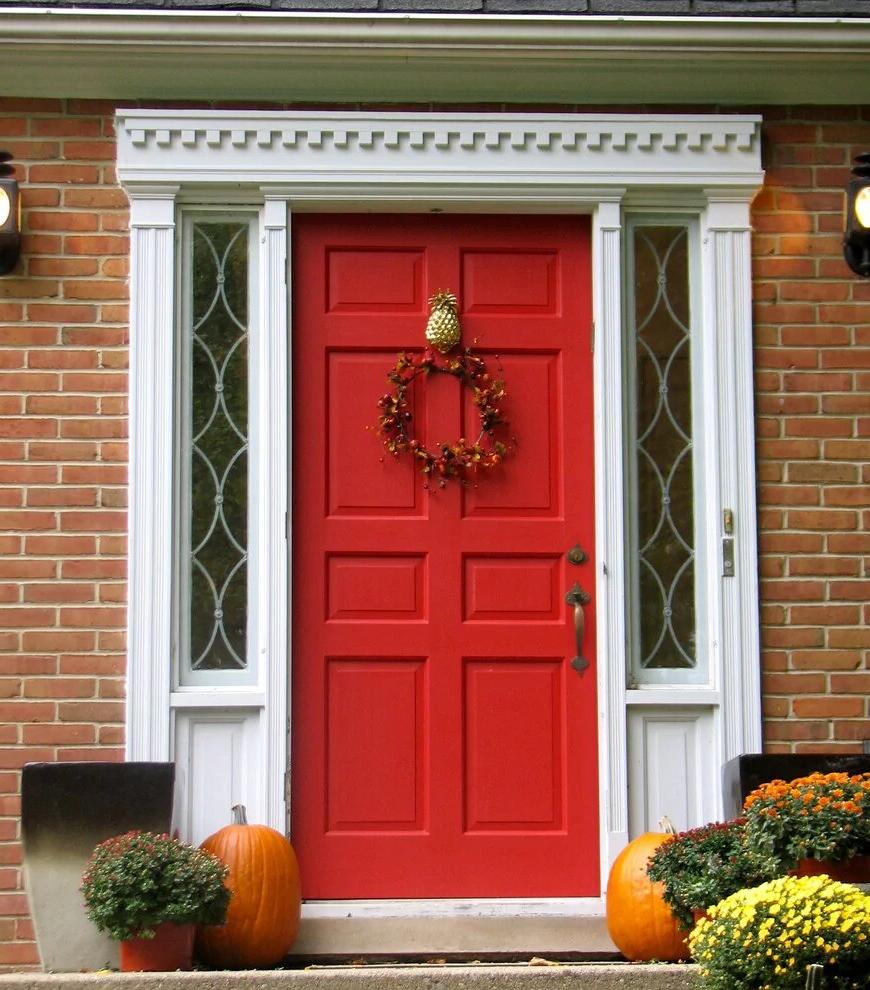 With just the addition of a few colors and fun details in your decoration, you can turn a simple front door into a modern front door in no time. This otherwise traditional front door takes a whole new perspective when a very bright red paint is added to the surface of the door. Leaving the frame in white makes the door outstand even more, and the ornaments complete the design that cannot be missed.
14. Partially Bright, Partially Cold Modern Door Design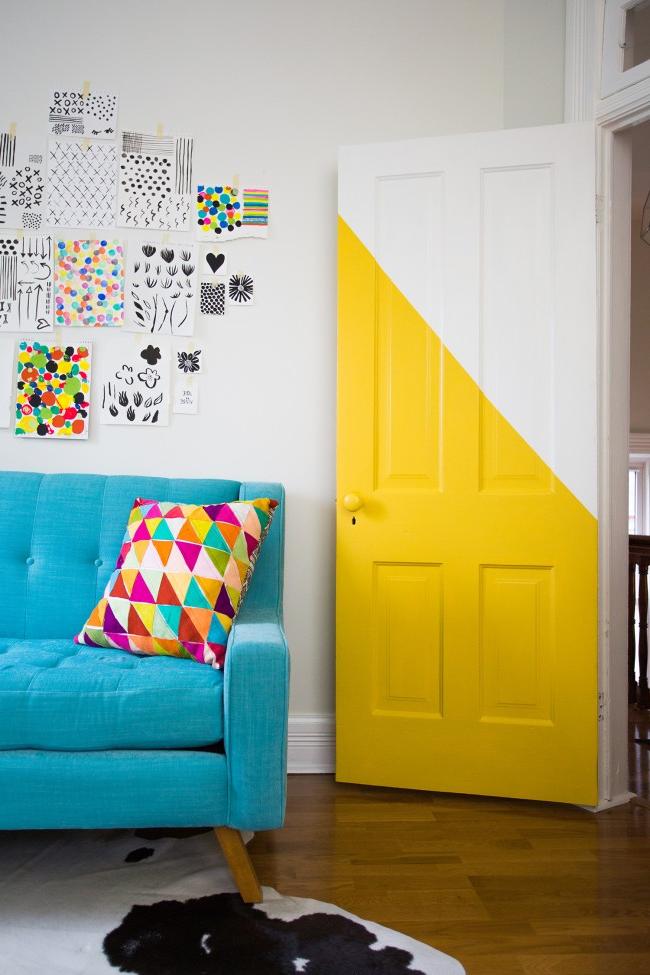 This modern front door belongs to an apartment, where normally you do not find very bright things, but this door will certainly bright up the building. The combination of a very bright yellow, almost bright as the sun itself, and a very stoic grey is just the beginning when it comes to this place where the whole decoration is a combination of styles, colors, designs and more. Eclectic is the perfect definition for this style.
15. Wallpaper To Add Modernism In Just Minutes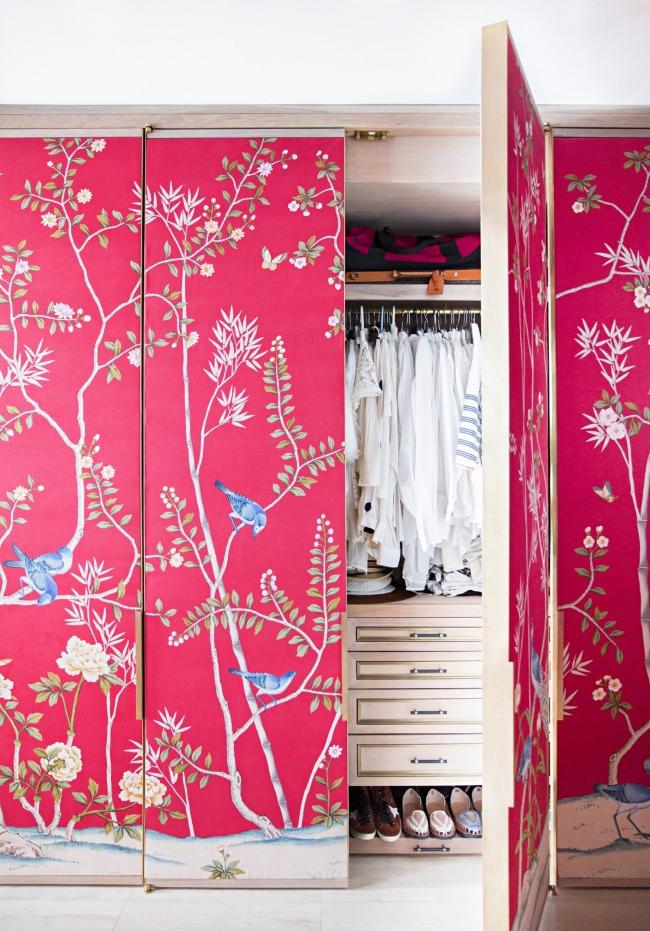 If you are feeling attracted to the modern style, but you are not fully committed to it yet, you can get a glance of how it will make you fell by using a wallpaper that looks like the style you would go for if you replaced your door. In this example, you can see how a traditional oriental design with very vivid bright colors can make a door look. You do not even have to use your front door. You can try it on your closet doors.
16. Pivot Metal Framed Modern Front Door With Glasses Vintage Style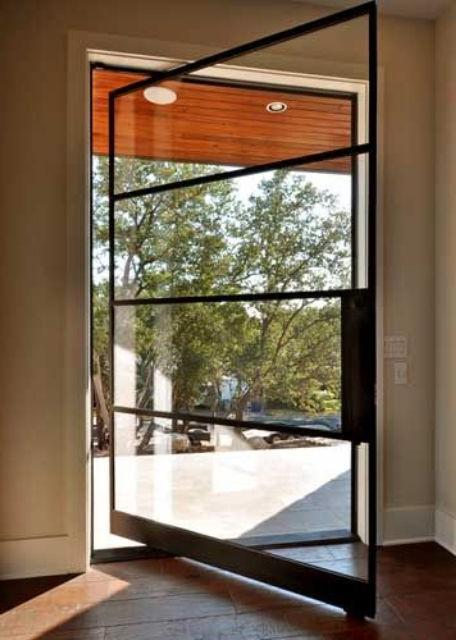 Instead of hinges, this vintage style modern front door uses a pivot to open and close. This is a very modern use of a front door, which is not normally used, but is very safe, and also stylish.
17. Front Door Decor With Porch With A Romantic Style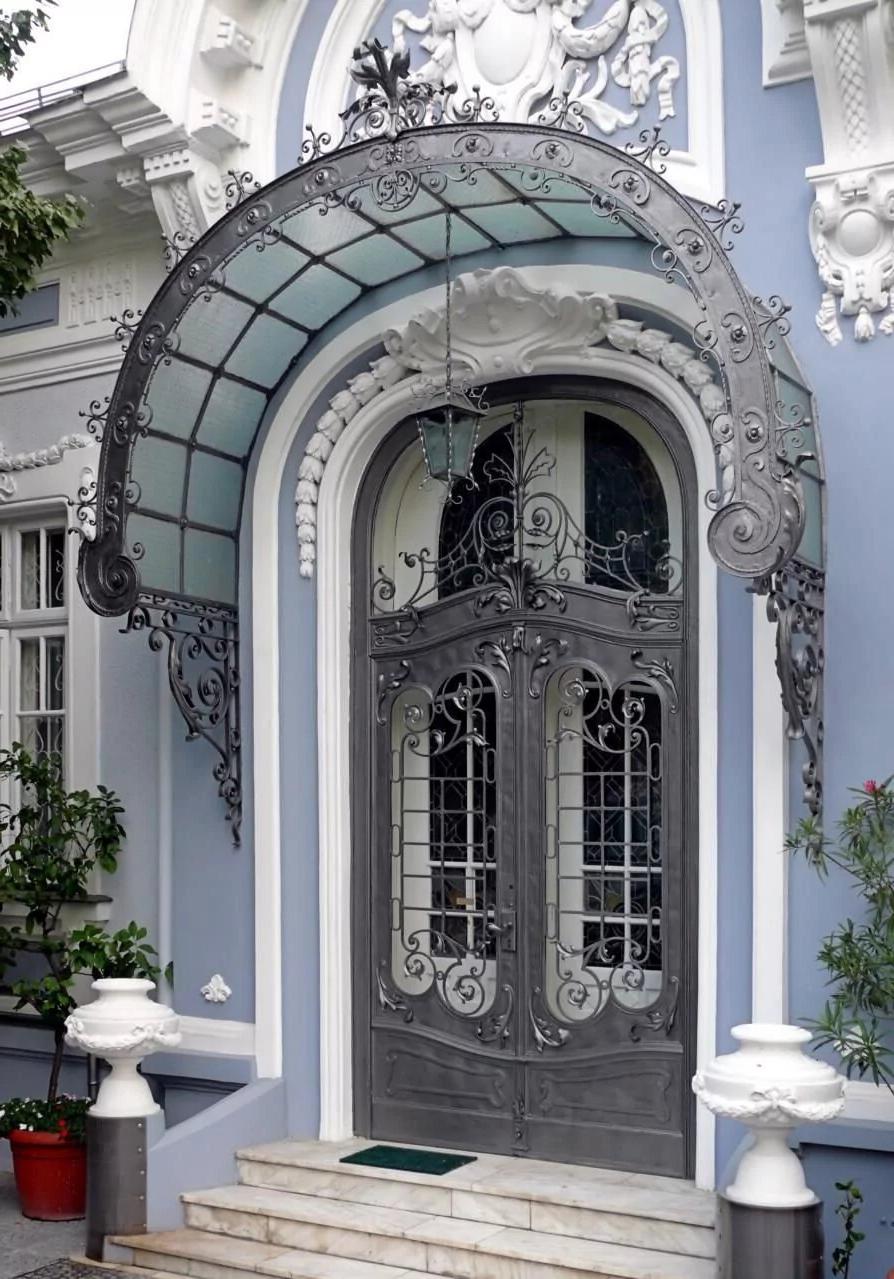 Are you looking for something that can take people's breaths away? If you have a large home you can go for an over the top design like this one, where ornaments are everywhere to complement the Victorian style entrance of this big home. The colors used work in a perfect harmony with the rest of the design's elements. A touch of red on the planter seems random, but it is certainly not.
18. Purple Entrance For A Modern Style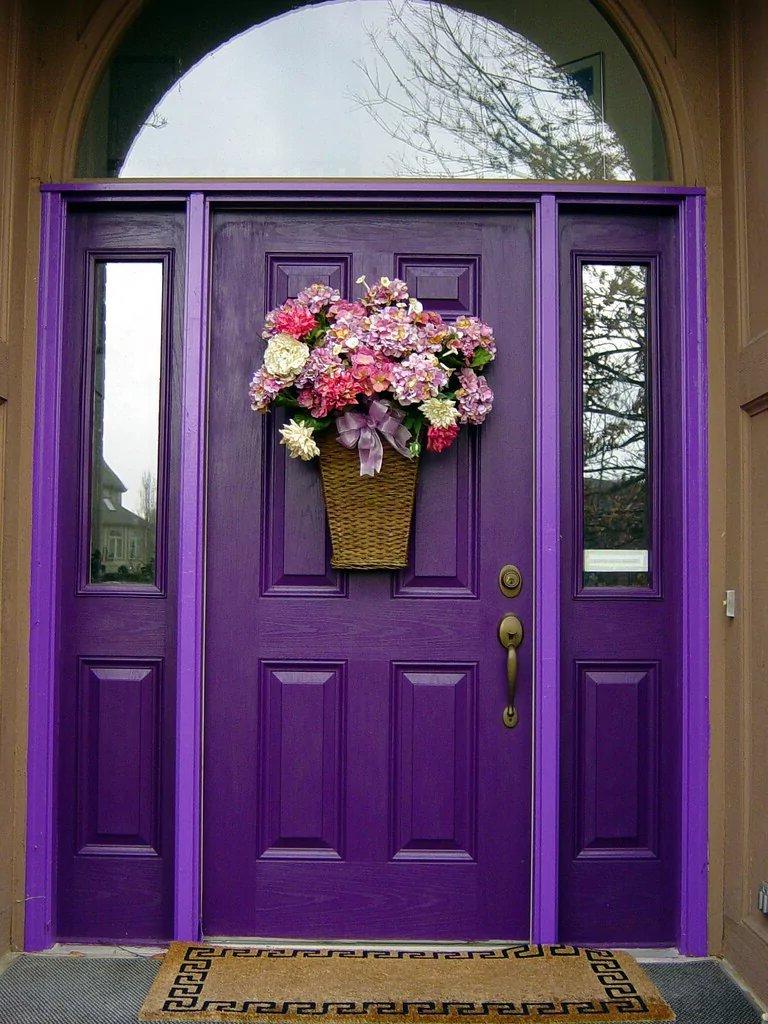 If something say modern is purple. This color definitively has been featured a list in a inch on many many modern designs, because we associate it with technology. Even though the door is traditional, the entrance is traditional, and the frame is traditional, the presence of this color will make people say "wow, it is so modern", right away.
19. Cute And Romantic Modern Front Door Design For A Small House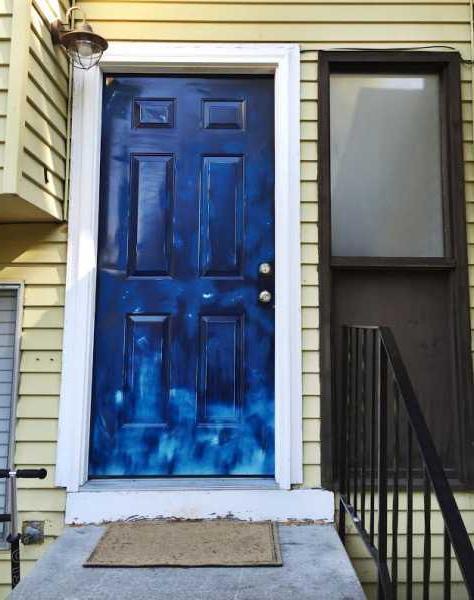 Imagine you are in the ocean, or even better, in the night sky. It will be a lot easier to imagine it if you are sitting or standing at the front of a home with a door like this. The 2 tones of blue can perfectly mimic the sky or the beach. It is truly a romantic view that will give a modern element addition to any place.
20. Scandinavian Design In A Modern Front Door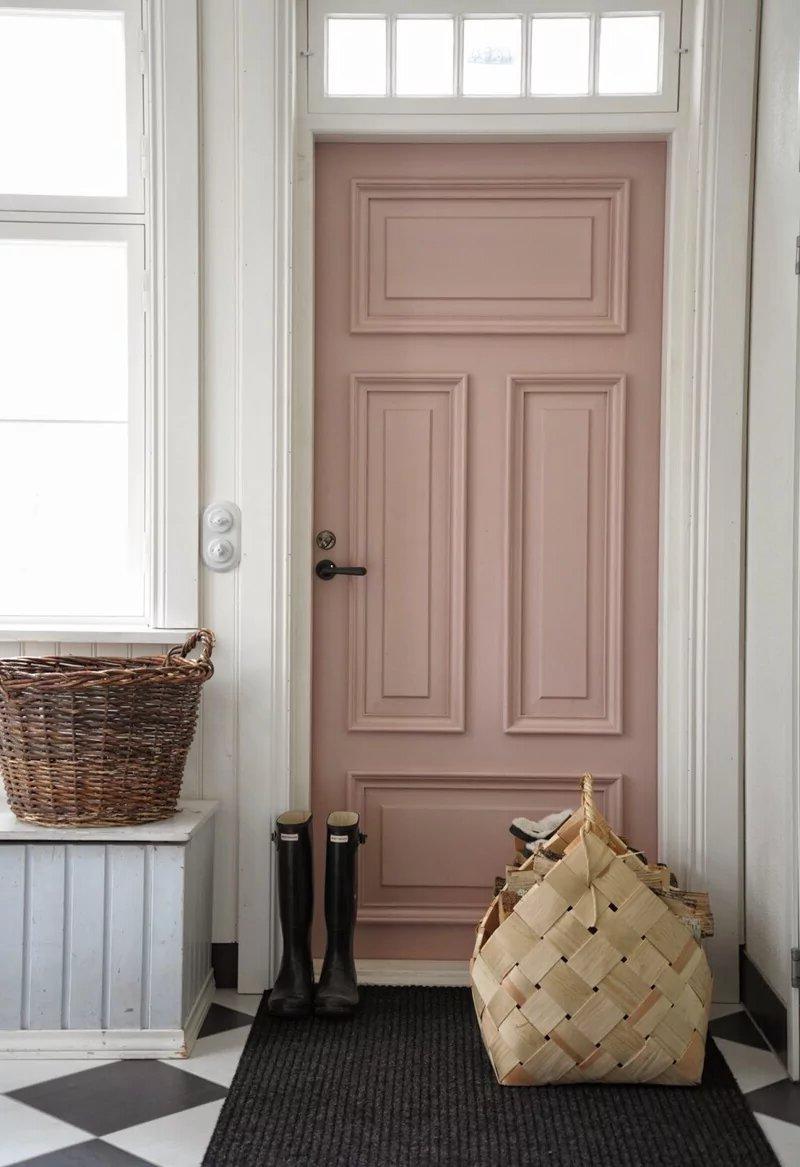 Vintage is the new modern. This trend is used on anything possible, from the furniture to the garden, and of course, the front doors cannot be forgotten. This front door in a Scandinavian style feature a beautiful soft pink color that makes it look romantic and soft with the addition of the different decoration elements. Certainly it is a style that beautifies any home.
21. Artificial Tulips Decorating A Modern Front Door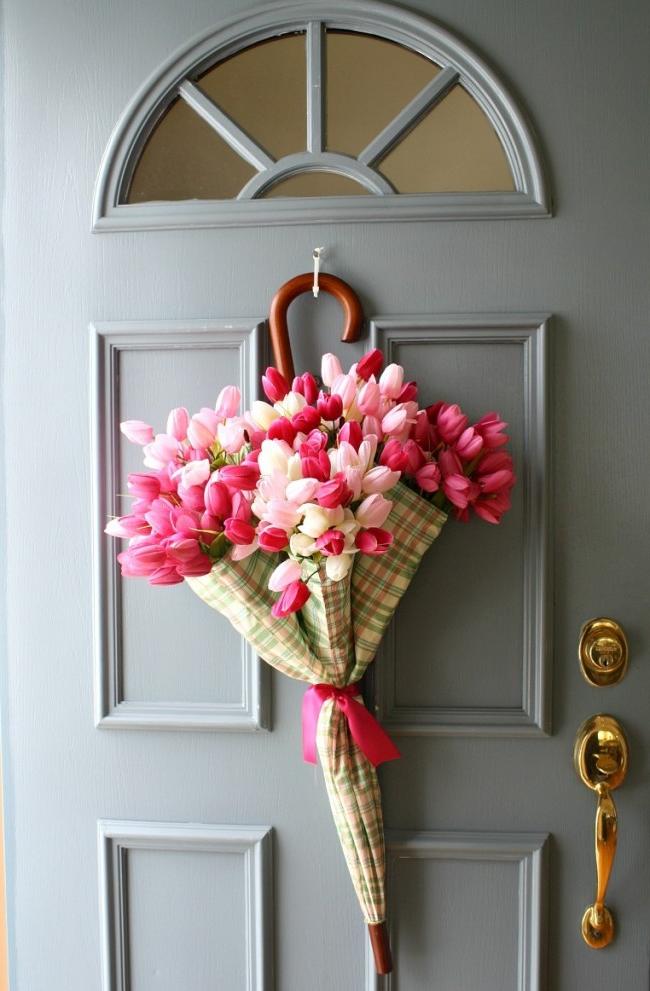 Another nice way to modernize your front door is by adding different design elements that allow you to create a unique style in your home. You can do a do it yourself project like this, where the umbrella filled with artificial tulips give a spring feel to the other wise cold grey door. A sample of how you can use other elements to make your front door be modern and stylish in no time and with a little budget.
22. Spring Floral Decorations For Modern Front Doors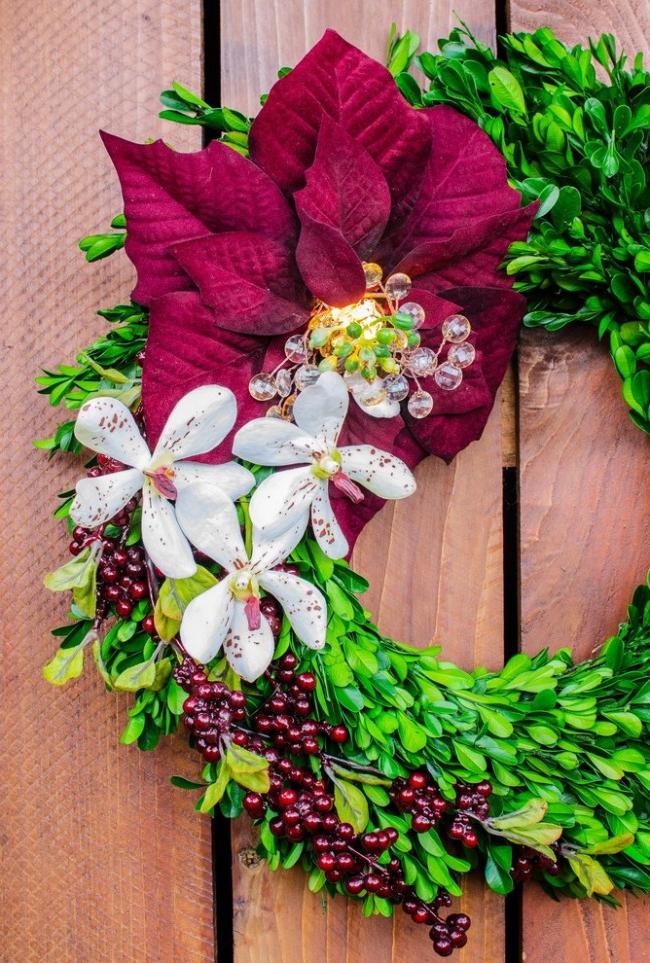 Here you can see another example on how you can use different elements to enhance the style on your spaces. A regular traditional front door can go through a real transformation just by adding different decorations elements. Flowers are always a trend; so do not hesitate into adding these elements on any type of front door. The fact that it is a trend will instantaneously transform your front door from simple and boring to trendy and modern.
23. Stained Glass Modern Front Door With Elegant Magnificent Columns For A Mansion Type Entrance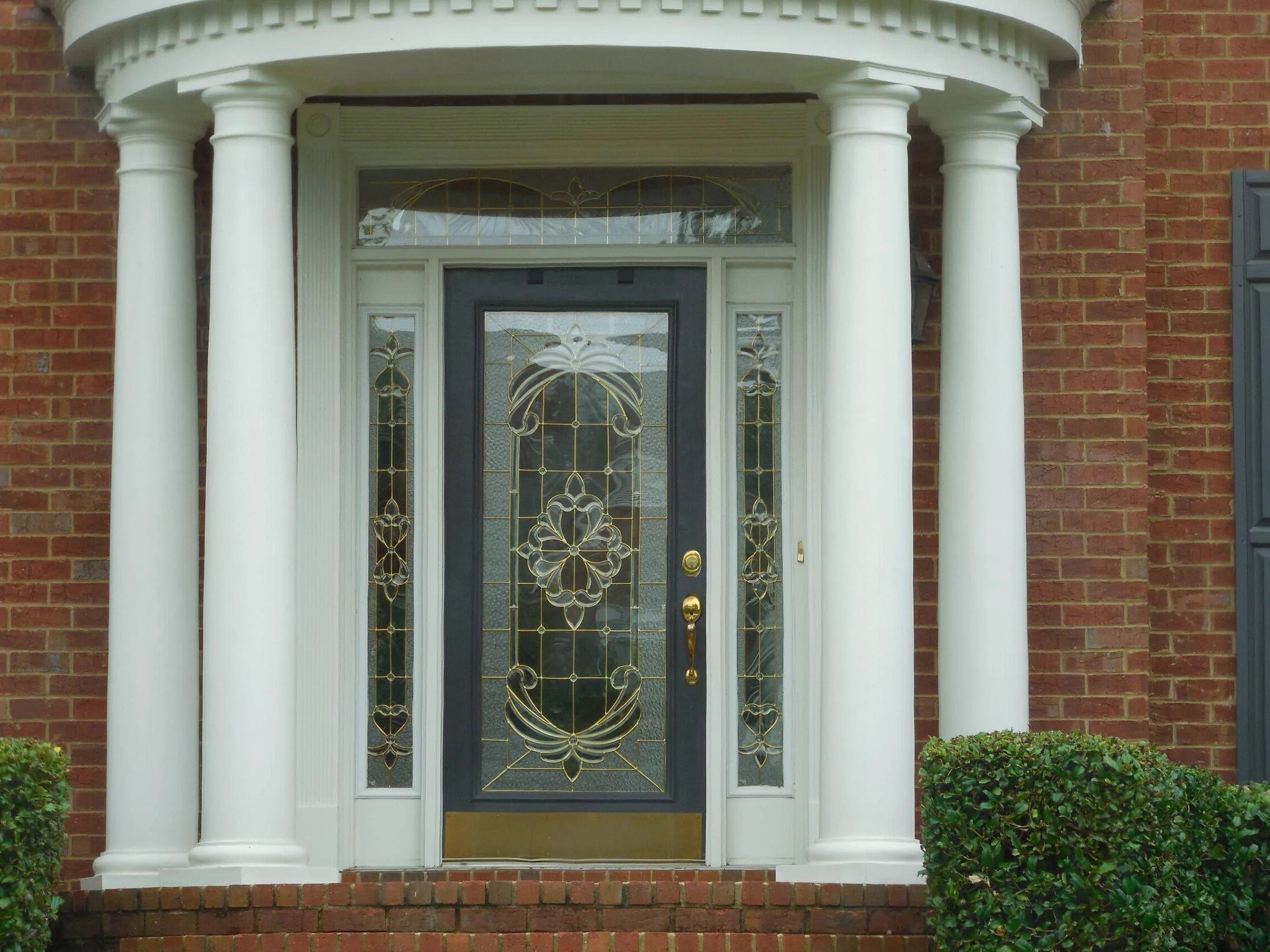 You can add a touch of greatness to any design with a few elements. This majestic front door does not really take so much work. The columns have a roman style, with a porch ceiling made in cement. But the real big piece is the door, a metal frame painted gray and gold with a large glass that has several styles on the same composition. Tempered glass that is natural in some cases, stained in other, and all the gold details in swirls and other curve and straight shapes makes this entrance unique.
24. Swing Doors Decorated With Rivets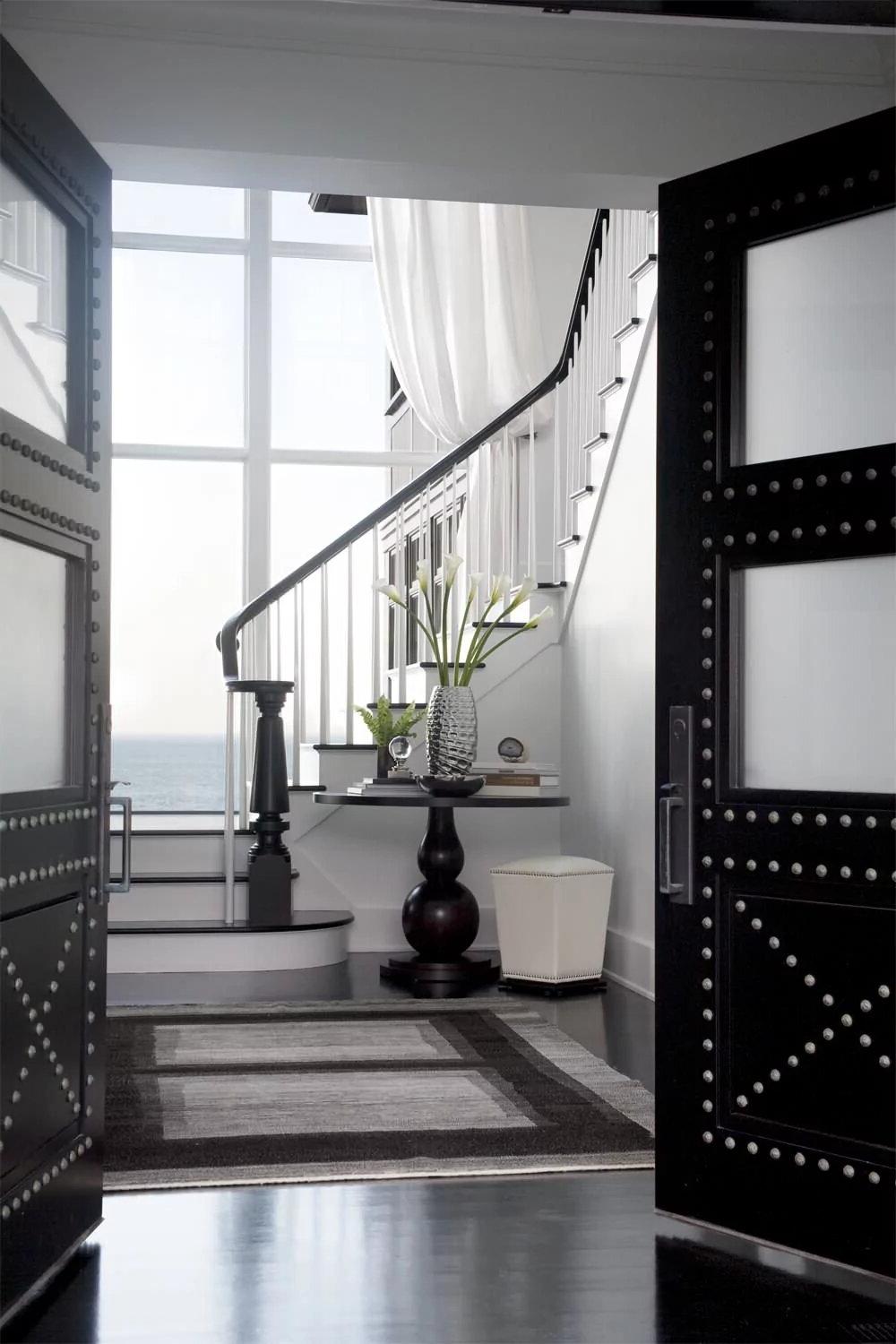 This front door definitively screams modern. Impressive colors, shapes and details is what makes modern, modern. And you have a lot of those attributes on this front door with a deep bright black paint and silver rivets that create shapes. Also, this door features two windows on each individual door and steel handles in a rustic style. You could only hope that these doors gave entrance to a clean, modern home with a predominance of black and white.
25. Unusual Modern Front Door Design On Inside Doors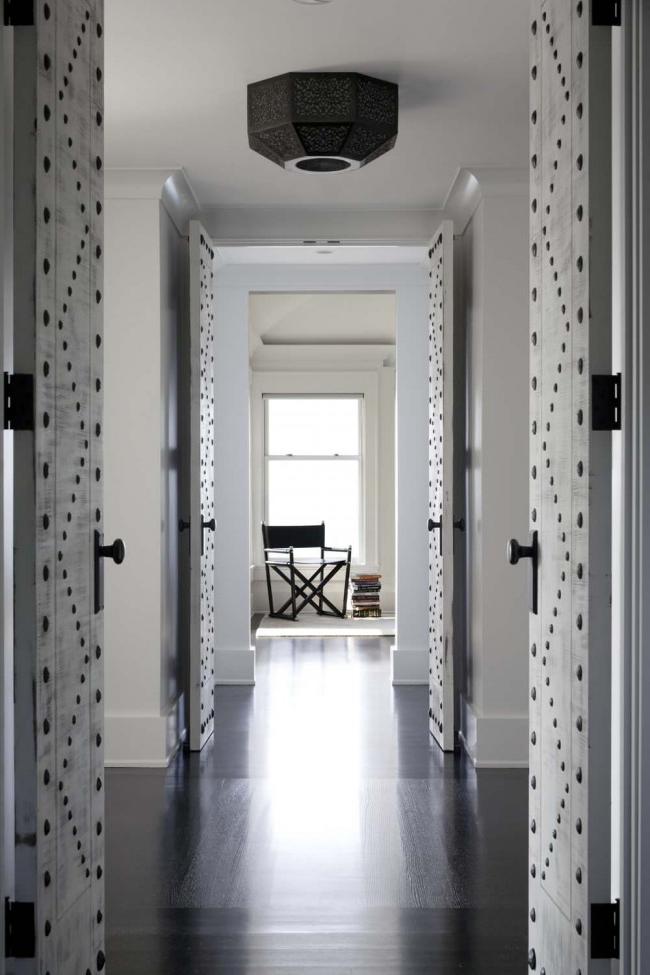 Take the modern front door design to the inside of your home and create amazing styles like this one that is very similar to the previous picture, but with the inverse color palette. White wood is the perfect detail for this modern – vintage decoration
26. Modern Entrance With Glass And Wood Front Door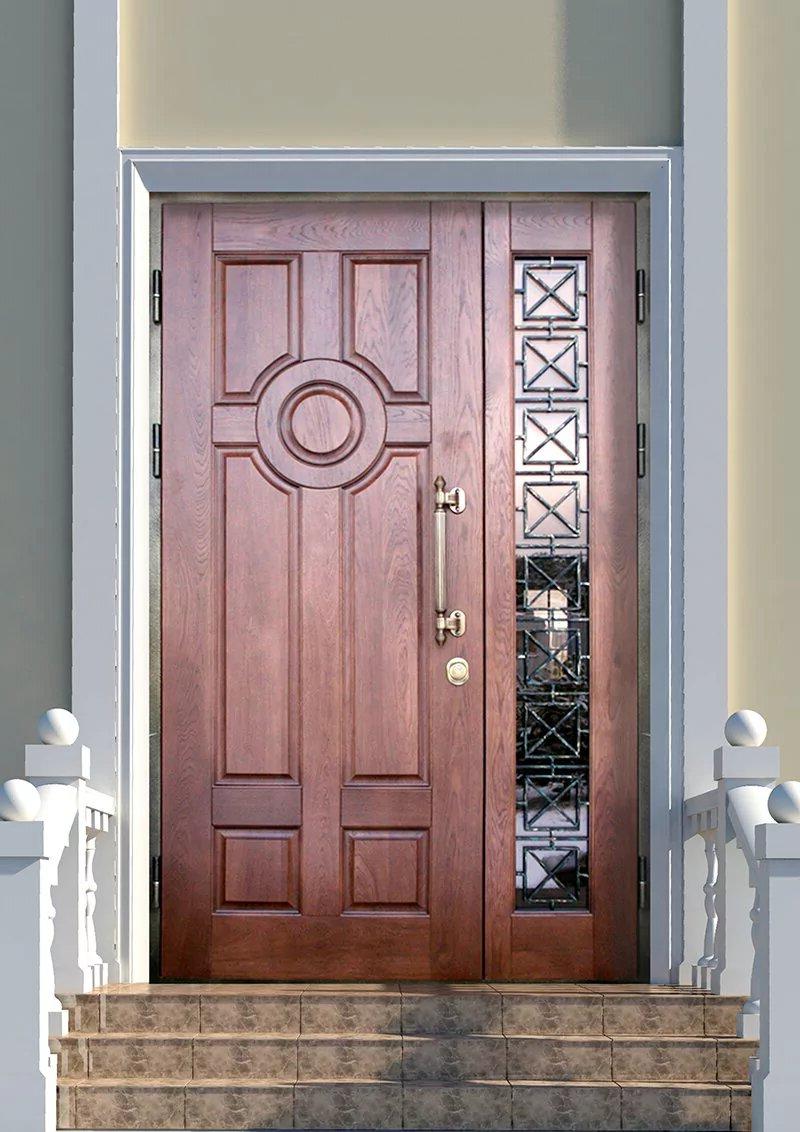 This modern entrance features stair cases made of brick, stair rails made of concrete beams and a wooden door with a pretty glass design on one side. Modern and yet classic and timeless.
27. Wrought Iron Decorations For A Wooden Front Door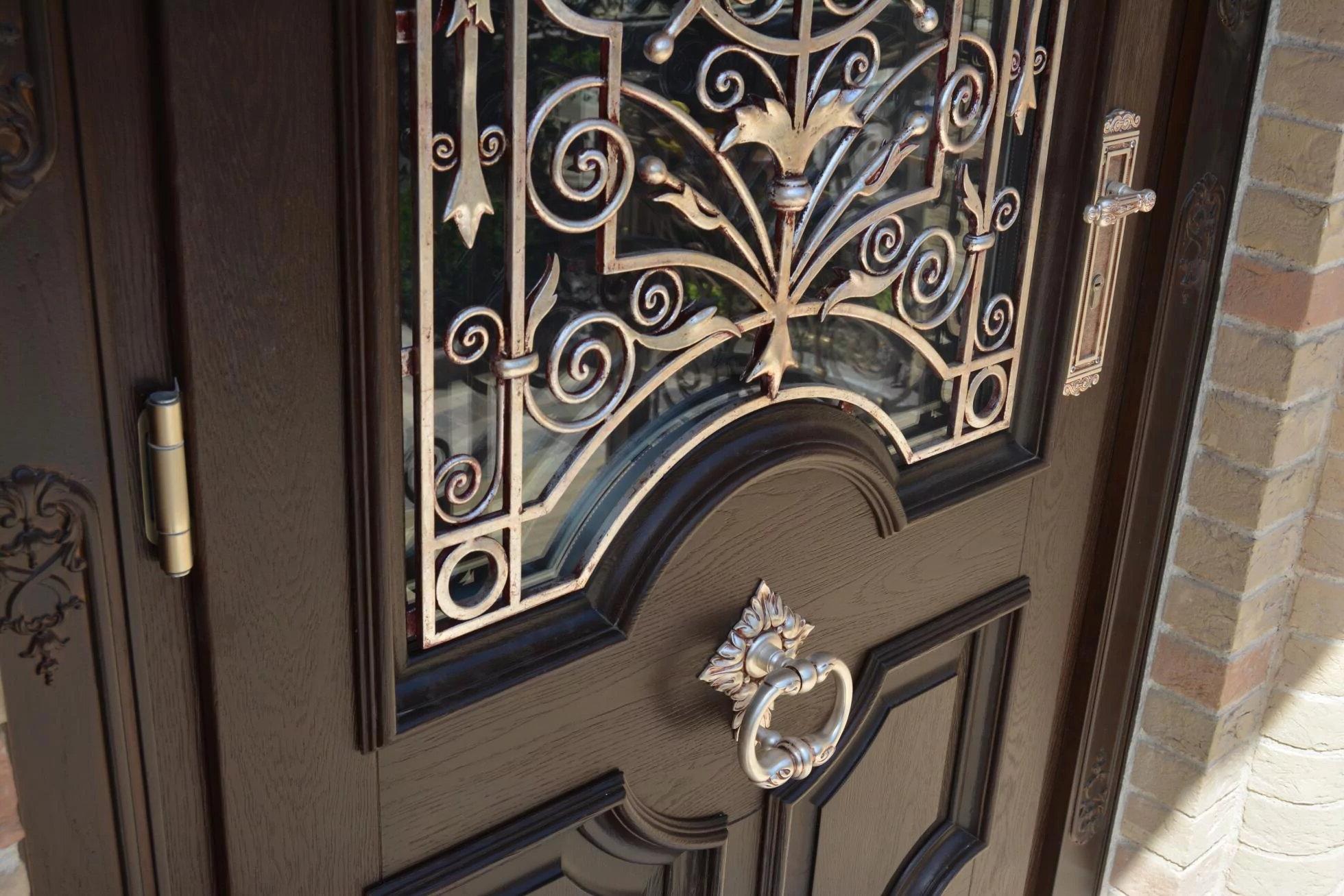 Combine elements like wrought iron with wood and create impressive designs like this one that matches perfectly with a modern or industrial type of decoration.
The front doors of a homework for a double function: On one hand they must be integrated with the rest of the aesthetic elements, managing to respect the style that you try to create. On the other hand, it must also protect you and your loved ones and give you the security that you expect from them.
Security is one of the biggest pros of modern front doors, because elements that did not exist before have arisen both in terms of materials and technology.
Safety is measured by levels and class depending on the materials and construction of the front doors, so now you can have a very elegant front door that it is still very well armored.
These doors are built with special reinforcements on all of its parts, to help you protect the sides and the locks. Modern front doors are available in standard sizes, but they can also be ordered custom made to fit your particular needs.
Versatility is another great advantage of modern front doors, because you are no longer limited to the classic wooden doors, but you can look for materials that go perfectly with the contemporary atmosphere of your home. This is the case of many of the modern front doors that we are about to show to you.