Automatic gates are becoming more and more common as more houses are built with walls around them to enhance our sense of safety. However they've become more than just a remote controlled entrance way, they've become an element of our houses design. Let's face it to have an automatic gates like these, you have a nice house behind it. Living in a house with an automatic statement gate is a luxury.
It may seem like a boring inconsequential household item, but think about it as your houses' first impression. It's the first thing people see before they even step you're your home. You can make a statement about yourself and your family without opening your mouth.
30 Statement Automatic Gates to Make Your Home Stand Out

From classic styles and materials to modern inventions and contemporary designs, you can buy or commission the perfect gate to suit your house and reflect who lives behind it.
You need help finding ideas for a gate people will take a second look at driving by on the street here is some inspiration.
1. Practical Aluminium Gates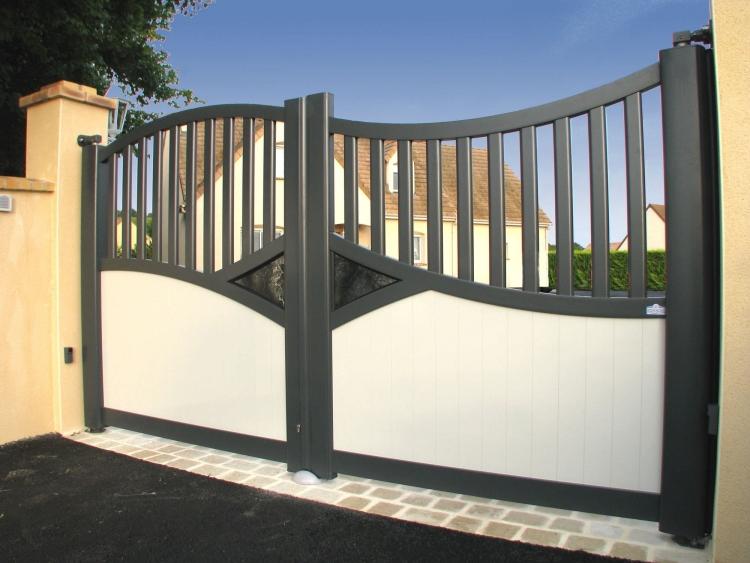 Aluminium swing gates are a very practical option for arranging the entrance to your home if you have space in your driveway. This material is light and incredibly strong, it is also treated with a tough coating so they will last you years with no need for maintenance. Aluminium gates can be made into a variety of different designs to suit the style of your home. This juxtaposition of a curved top, horizontal lines and triangular insets come together in an elegant, asymmetrical design that sits on top of the solid white base. This is a simple but elegant way to invite someone into your home.
2. Delicate Forged Gates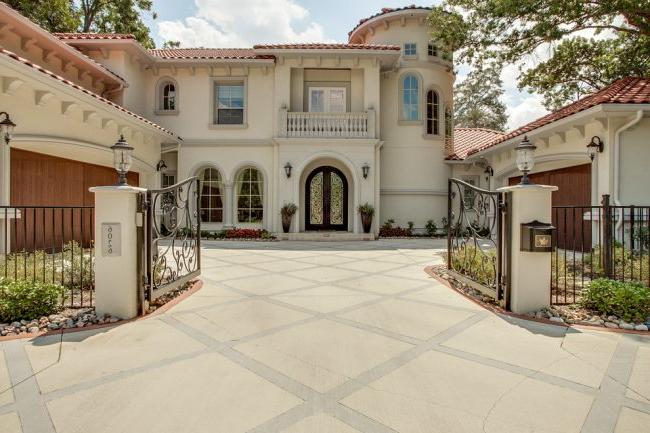 Forged gates cast into intricate designs like these curlicues are the perfect compliment to a large, stately house. The driveway is large enough enough for swing gates, the house itself is very large and striking so bringing such detail into something as pedestrian as a gate is a sign of pure luxury and prosperity. If you want to show off a little, this style of gate is for you.
3. Professional Flooring Gate with Wicket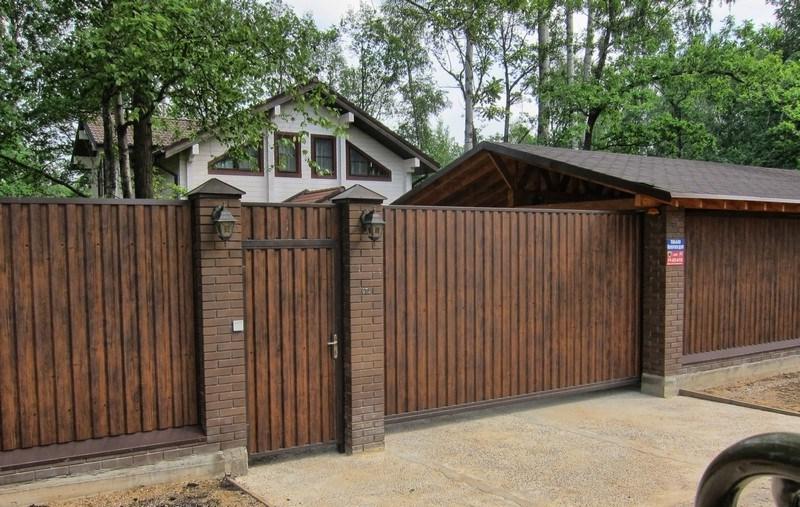 Playing with unusual materials is a great way to adapt your gate to suit your home. This beautiful wooden gate with a wicket (pedestrian gate) is made from professional flooring treated with a weatherproof treatment give distinct rustic feel. This compliments a house that already has its own wooden accents while also speaking to the tree-filled location it is in.
4. Graphic Electric Sliding Gate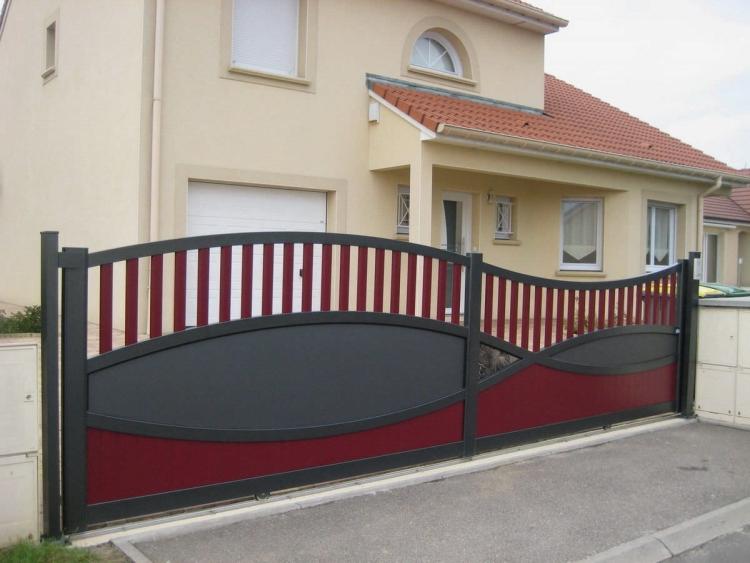 If you like the style and material of the first gate we spoke about but don't have the space for swing gates this ones for you! This design shows off the same versatility and combination of shapes and colours to make passers-by look twice. However this one slides sleekly aside behind the boundary wall; beauty and efficiency all in one.
5. Bespoke Fantasy Gate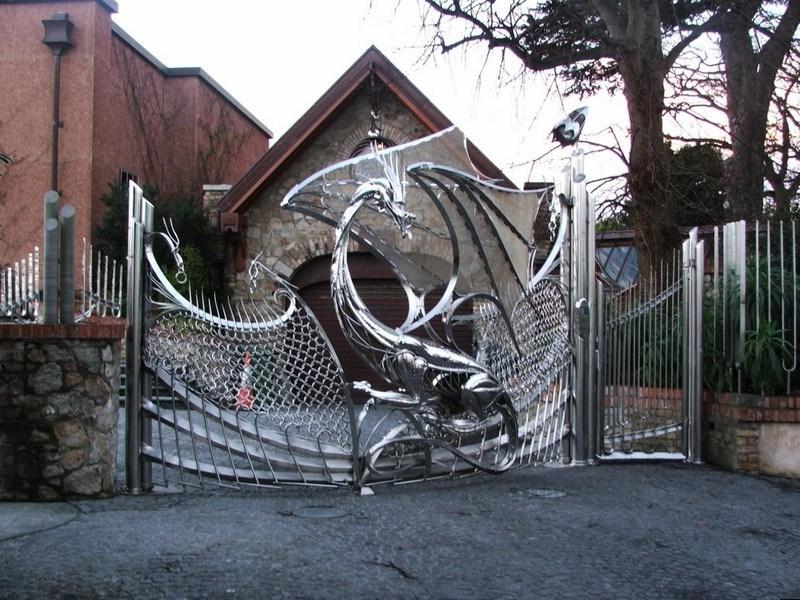 Are you a little bit extra? Is your life ambition to live in a castle guarded by dragons, Khaleesi style? Then you'll love this bespoke, magical gate. The traditional stone and brick house is the perfect backdrop to the showstopper than is this metal sculpture that doubles as a gate. If you wish you had a dragon guarding your gates, why not have one as your gate. If this style doesn't give you the freedom to express who you are, I don't know what will! This immediately tells your visitors or passers by that you are someone who loves a hint of fantasy in your life and imbues your house with a whimsical atmosphere without even setting foot in the door.
6. Graphic Folding Gate
Did you think sliding or swinging gates were your only options? Well this gate is here to mix it up! Stacking doors is something seen more commonly in inside/outside spaces like patios and conservatories but this gate design tests the norm in the most beautiful way. The angular design is striking even when closed and the cut outs that create the beautiful patterns allow a little glimpse of the property from outside. This is the perfect design for you if you need to maximize on space in your entrance way.
7. Forged Automatic Accordian Gates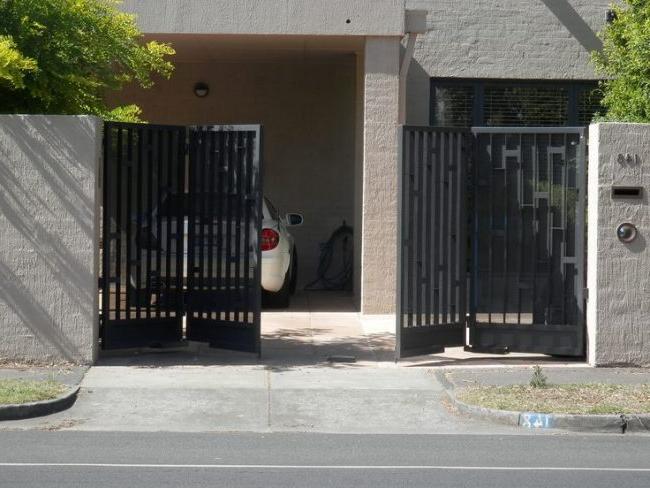 In the same vein as the last gate, this accordion gate borrows a style usually associated with patio doors. The semi translucent metal leaves folds themselves away neatly on either side of the entrance when opened. This not only saves even more space than a sliding gate but adds a little drama and flair at the same time.
8. Graphic Colourful Forged Gate
I know some of you prefer to not to be able to see through your front gate. If you want a gate that gives you complete privacy from the outside world but you still want an eye catching design then these forged gates are perfect for you. The forged metal framework can be designed in many shapes and the metal inlays give you the oppourtunity to add colour and dimension. This style provides privacy and design freedom to make it uniquely yours and stand out on the street.
9. High Tech Style Gate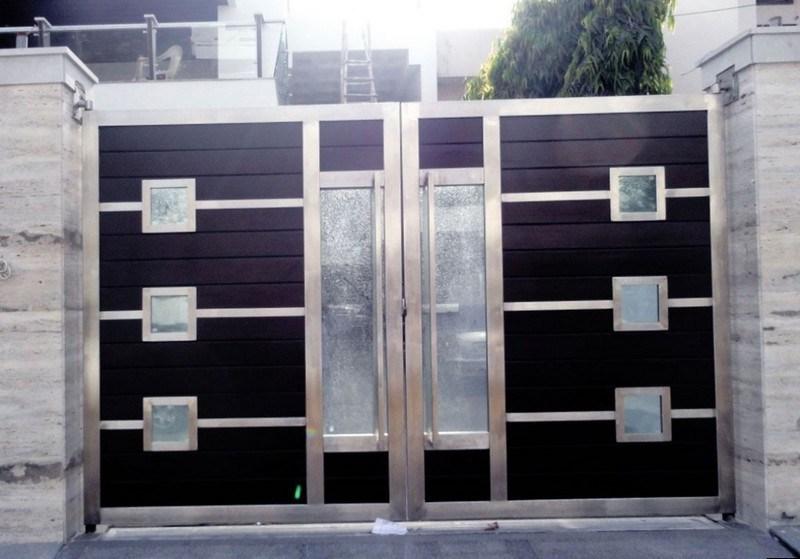 A modern house needs a modern gate. This one however goes from modern to superhero villains lair in one foul swoop. The large, imposing design is very solid and symmetrical. Frosted glass in lays tease at a view of the interior which adds an air of mystery. The combination of metalwork, wooden slats and frosted glass makes for a beautiful, if intimidating, frontispiece to your home that oozes an air of strength.
10. Vertical Lifting Gates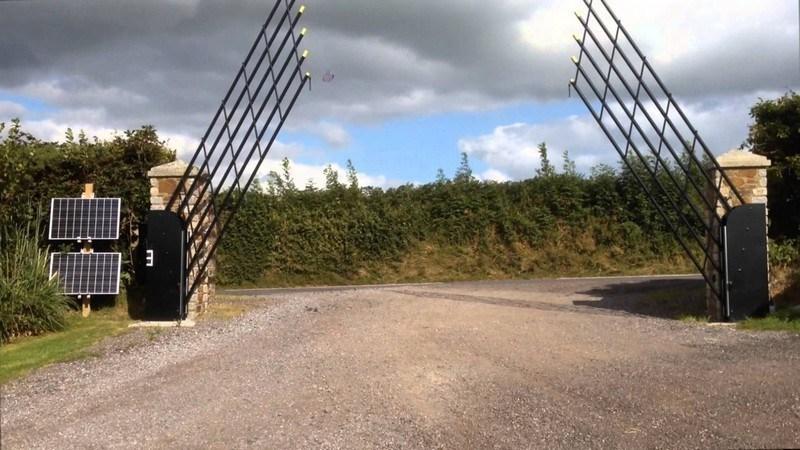 We've seen sliding gates, swinging gates and folding gates but we're not done yet! Enter the lifting gate. This rural setting has informed the design which resembles a classic farm gate but when it opens; lifted vertically with solar powered motors; it becomes so much more. This is the sort of gate you would expect to find on a large country estate. This is might be a pricey option but if its in your budget this one is a show stopper.
11. Luxury Metal Sliding Door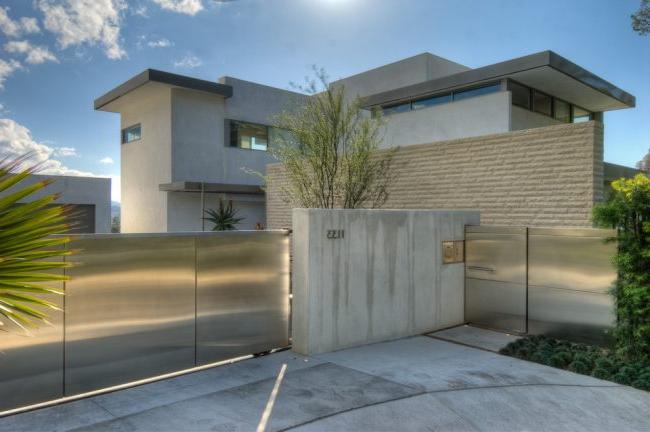 A sleek metal sliding gate is the perfect accompaniment to a house with such a distinctly contemporary design. The house itself has a mix of materials with a matte textures; smooth concrete walls with a rough stone wall across. This is a beautiful example of using your gate as a design feature since the shiny, reflective metal surface of the gate contrasts with the house in such a complimentary way. It even blends in with the houses overall colour scheme. This is a very simple way to tie your design together.
12. Metal and Wood Fence Style Gate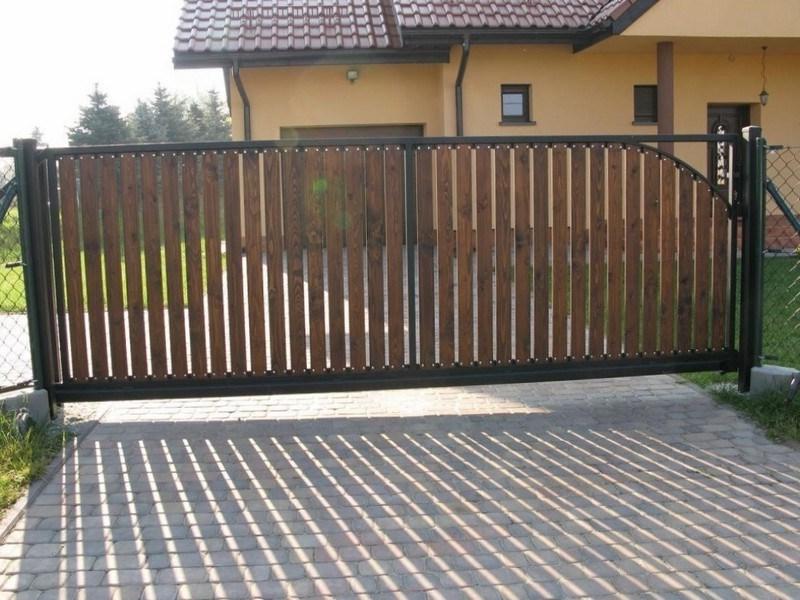 This gate is a good example of how to mix materials to tailor a certain aesthetic. This combination of a metal framework with wooden slats takes inspiration from a classic wooden fence and creates a rustic look to your entrance. The little curved cut out adds a little hint of uniqueness to an otherwise traditional style without going over the top. This is a good design for when you're on a budget.
13. Colourful Metal Gates with Glass Inserts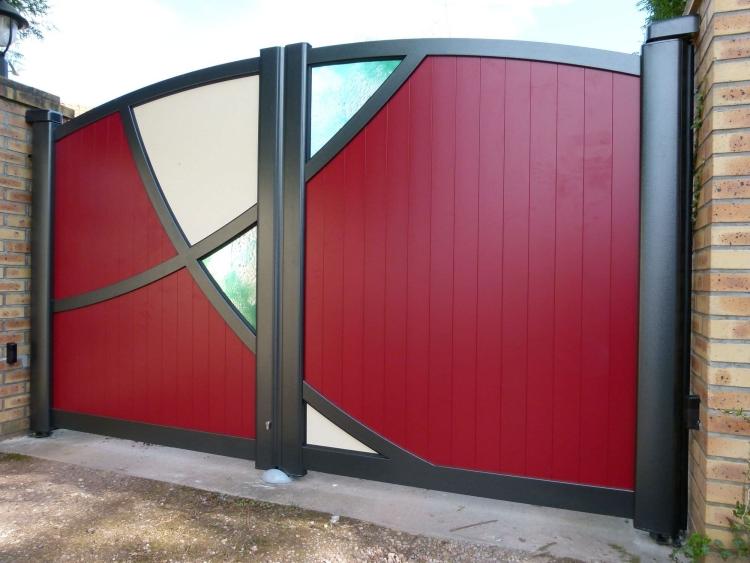 Just like the previous example this gate has used mixed materials to their advantage, however in this case its to create a design that's truly modern. By choosing to use a statement colour like red it means no ones going to miss your house driving down the street! The glass inserts cut into curved recesses lets you glimpse a hint of what's behind such imposing gates. You can use bright contrasting colours like this to draw attention to any form of decide, regardless of budget.
14. Modern and Functional Garage Doors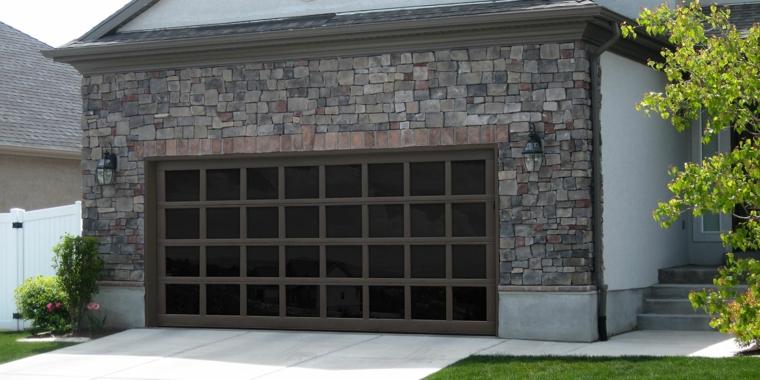 Some entrance gates could be garage doors and they can be just as versatile as entrance gates. This design is a modernized version of a traditional paneled garage door which; instead of being painted one solid colour; frames each black square in an deep brown. This design is functional, simple and elegant.
15. Modern Graphic Gate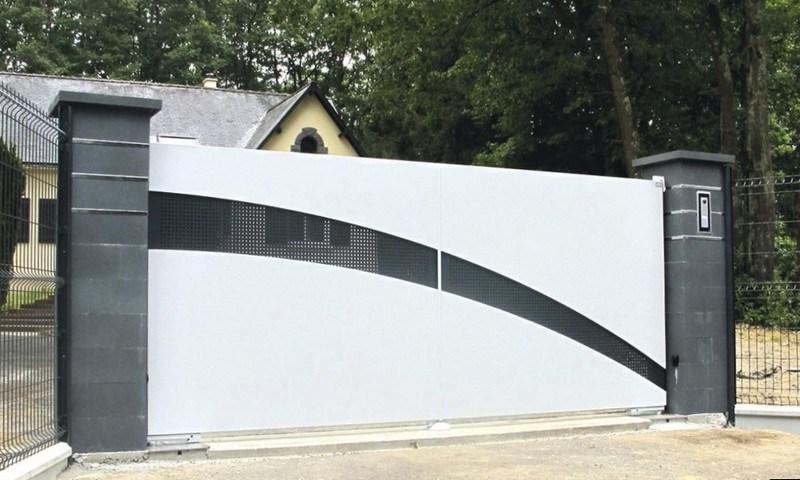 This house takes the expected and flips it on its head. Instead of solid walls and a more permeable gate, the fence is made of a very thin wire fencing while letting the gate be the big solid entity. The gateposts are dark and very solid which perfectly frames the stark white rectangle of the gate itself. The swooping arc from one corner to the other is made of a fine mesh, which is the cherry on top of this artful mix of materials.
16. Rolled Wooden Garage Door
Rolling garage doors have been around for years but one like this shows that they can be updated to be a part of the buildings' design. The thin slats are the perfect shade of wood to compliment the grey hues of the building. The slats are horizontal with a slit cut into each one, this works with the design of the building which is also very horizontal in nature. The rolling door can also be operated with a remote control.
17. Sliding Aluminium Gates with Fence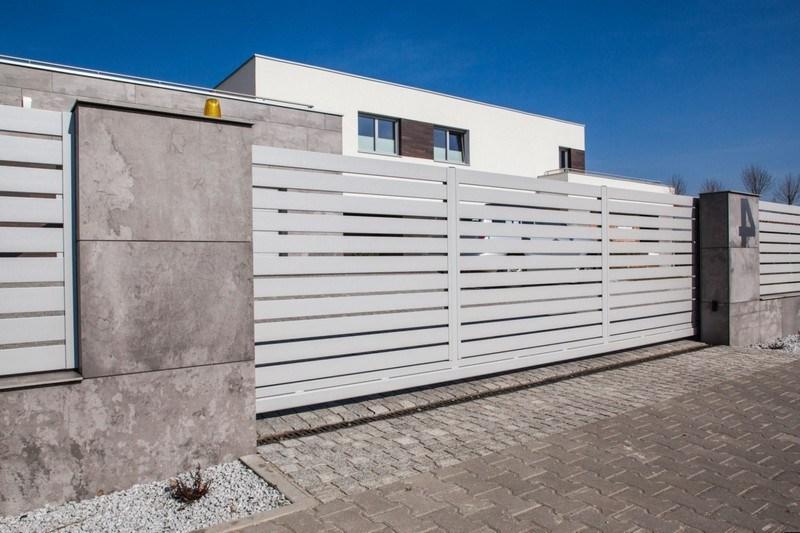 As we've seen aluminium is a material that is ideal for gates but it is very good for fencing too. This is a very basic slated design that saves a lot of space but making the fencing in the same material makes the design far more seamless. This type of simple space saving design can be cheaply adapted by changing the colour to hit your homes exterior.
18. Sliding Gates on Wheels
Sliding gates can either run on multiple small wheels or fewer large wheels. Choosing to put your gate on larger wheels rather than smaller low ones can be an aesthetically pleasing little design detail. Using two big wheels lifts the gate off the floor at only two points, almost giving the impression that it's hovering there. They also require far less maintenance since there are fewer wheels to get jammed.
19. Stylish Nature Inspired Swinging Gates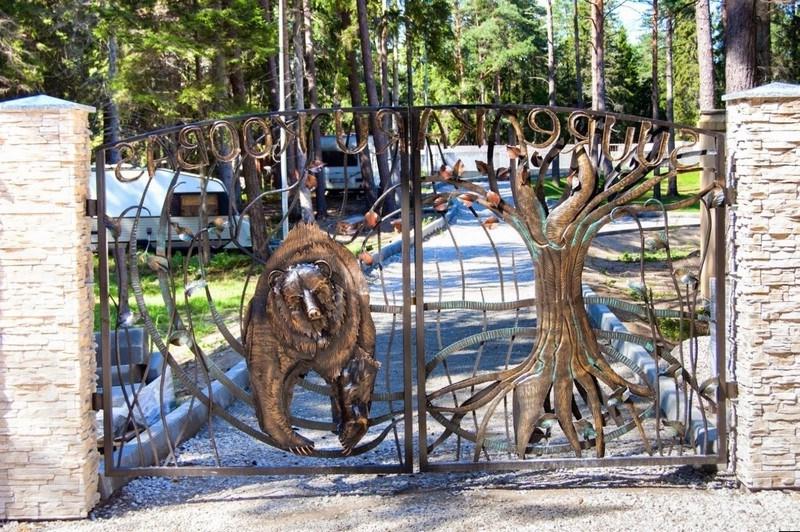 If you really want to make your gate a statement; like the dragon gate; bespoke design is the way to go. The metal worker has created a layered design that incorporates the houses name as well as depicting a tree, leaves and the bear, this is a detailed design that only a craftsman can create. This may mean that this may be on the pricey side but designing your gate to be made just for you means you can show who you are right as you come in the door.
20. Brushed Metal Swing Gates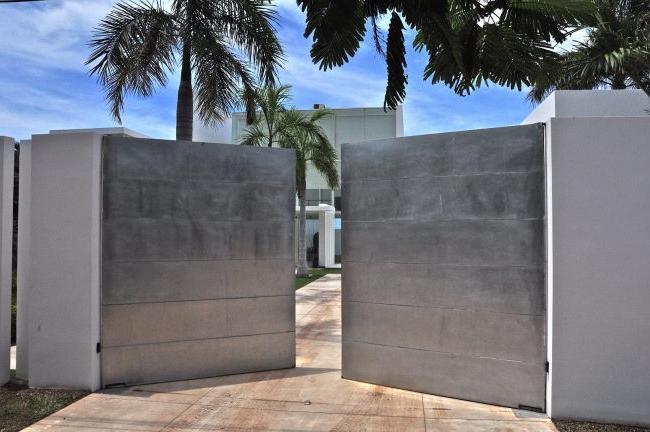 Here is an example of using lines and texture to bring your gate into your design. This house is clearly incredibly modern and minimalistic and the gate is no different. The house and driveway are both very smooth and shiny so the shine the of brushed metal paneling fits in perfectly.
21. Gothic Swing Forged Gates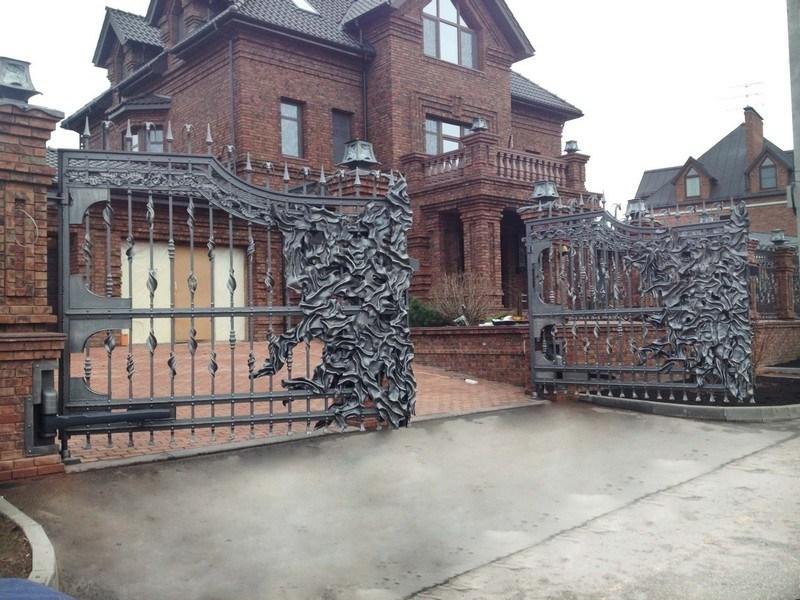 This one's for lovers of the Addam's family. This American Gothic house adds a little something extra to the goth with these forged metal swing gates. The ironwork that was common in the era forms the bases with an amorphous, foliage like metal works blooms from the centre. This adds to the spooky vibe and gives your guests a feeling of atmosphere before setting foot in your house. This is a great example of using the style or period of your house to influence your gate choice.
22. Summer House Swing Gates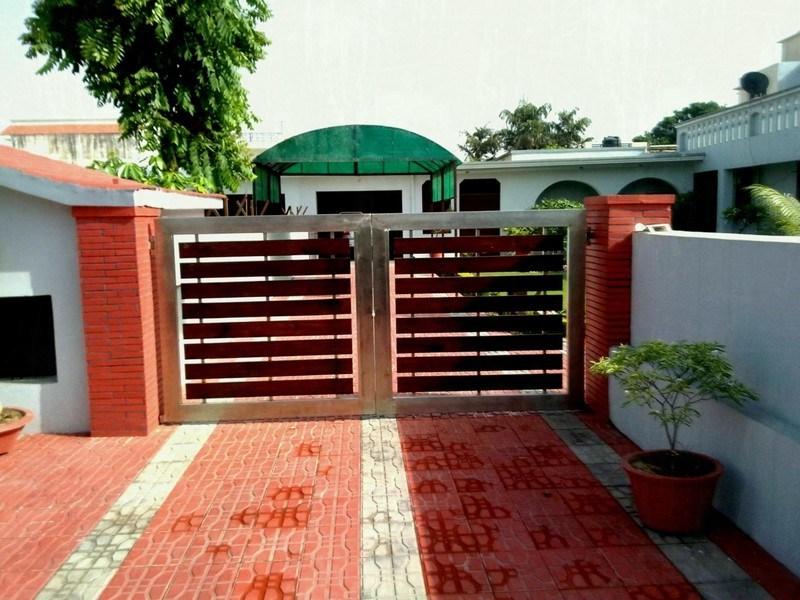 These swing gates share a lot of traits with other gates we've seen so far. They're mixed materials, they're horizontal slats and they have large gateposts. What sets these apart however is how it uses colour to emphasise its use as a summer house. The simple metal and warm wood slatted design compliment the red and white brick paving that forms the driveway. The same shade is used in the pillars. All these together gives the vibe of hot summer days in a very simple way.
23. Wooden Swing Gates with Paving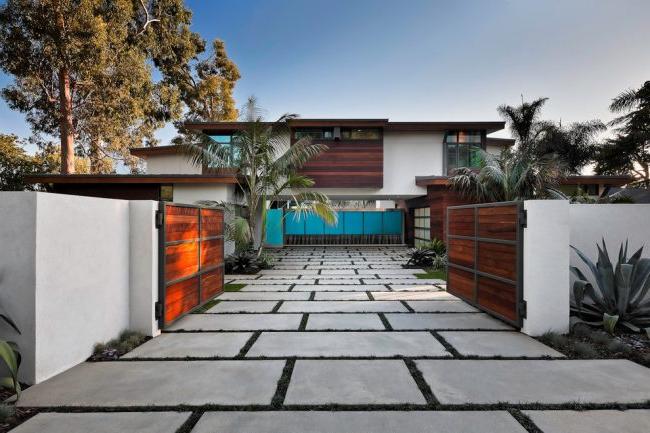 If you have the chance to design your landscaping this is a chance to integrate your gate into the houses front garden. These wooden swing gates have definitely been chosen with the driveway paving in mind. The sizes of the warm wood panels are a very similar size to the larger pavers. Co-ordinating your paving with your automatic gates choice is a very easy way to give your entrance way a very cohesive design and make it look intentional.
24. Simple Metal Swing Gates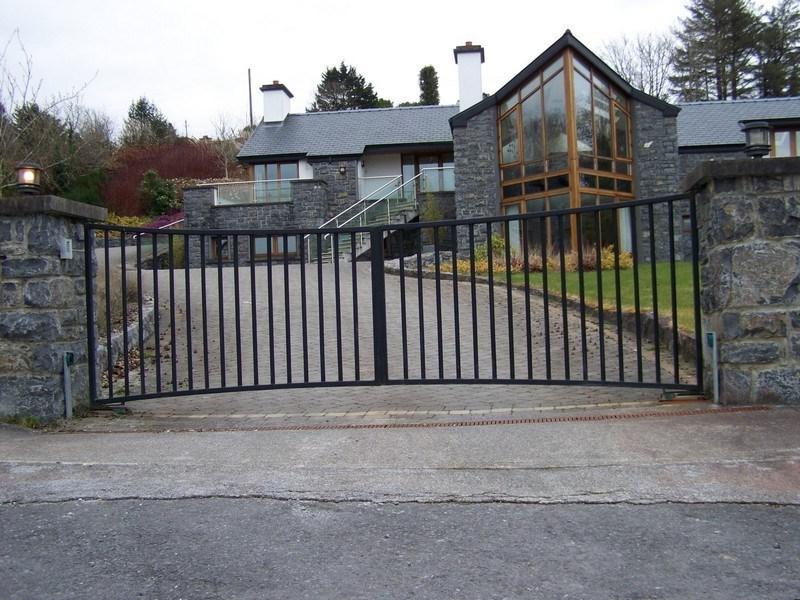 Sometimes a design doesn't need to be dramatic to catch your eye and compliment your home. This is, in essence, simple vertical metal gate. However by curving the top and bottom slightly to create a bowed affect makes enough of a difference to turn the plain into elegant. This would also be a budget friendly option since it avoids elaborate metal work and multiple materials.
25. Unusual Curved Sliding Gate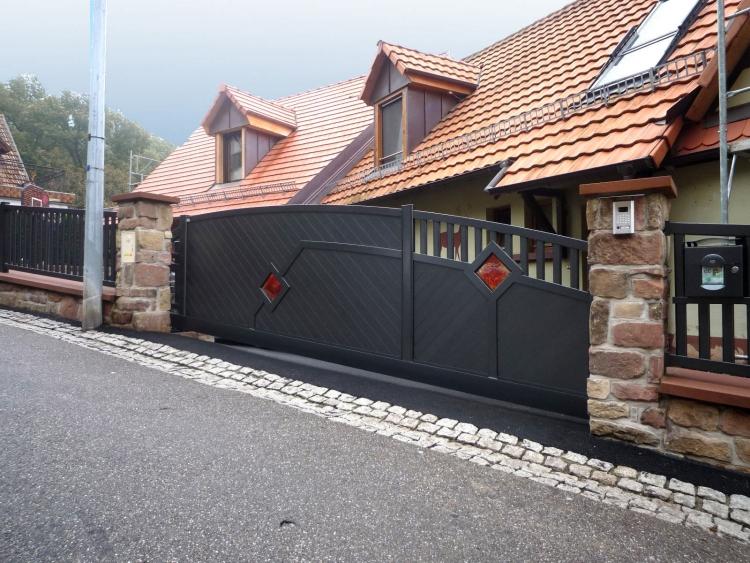 Just like number 22 and 23, this gate has been chosen with its location in mind and it makes all the difference. The house is located on a sloping road on a small site so the design of the gate reflects it. Its shape is curves to mimic road and takes up very little room. The design of the gate shows again another example of using cut outs, colour and geometric shapes to set it apart. In this case the gate has been made to stand out in stark contrast to the traditional house.
26. Wooden Accordian Garage Doors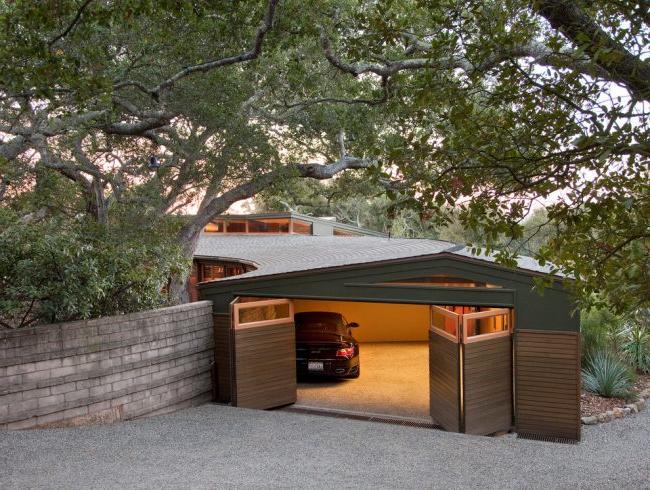 We've seen stacking entrance gates now we have stacking garage doors. The design is sleek and elegant and has even been incorporated into the landscaping to this clearly luxury home. A simple wooden slat design has been given a little character with window slits being placed at the top of the doors. The effect is sleek and seamless and ties in well with the tree filled surroundings.
27. Classic Painted Wooden Swing Gates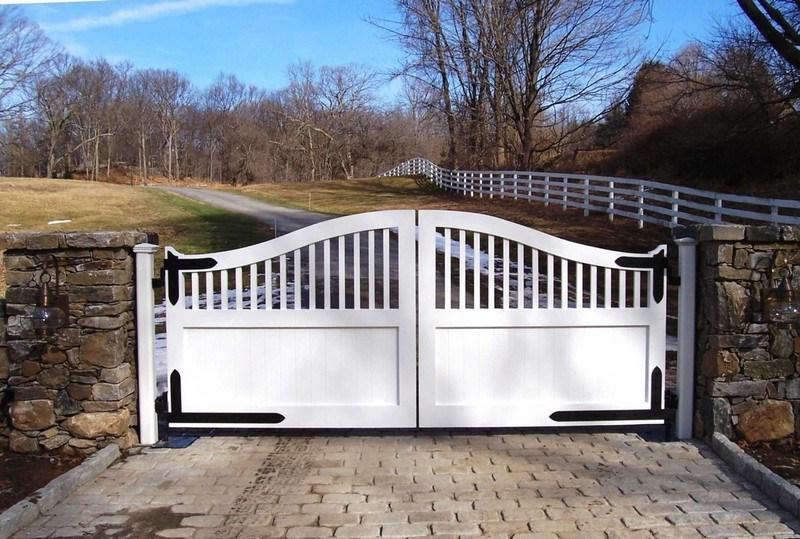 Sometimes you have to go for a classic. This style of swing gate, though previously not automatic, has been gracing the entrances of country estates for centuries. They are the kind you expect to be followed by a long drive with like the one pictured. It has a sense of rustic chic and timelessness that are ideal in this rural setting.
28. Wrought Iron Gates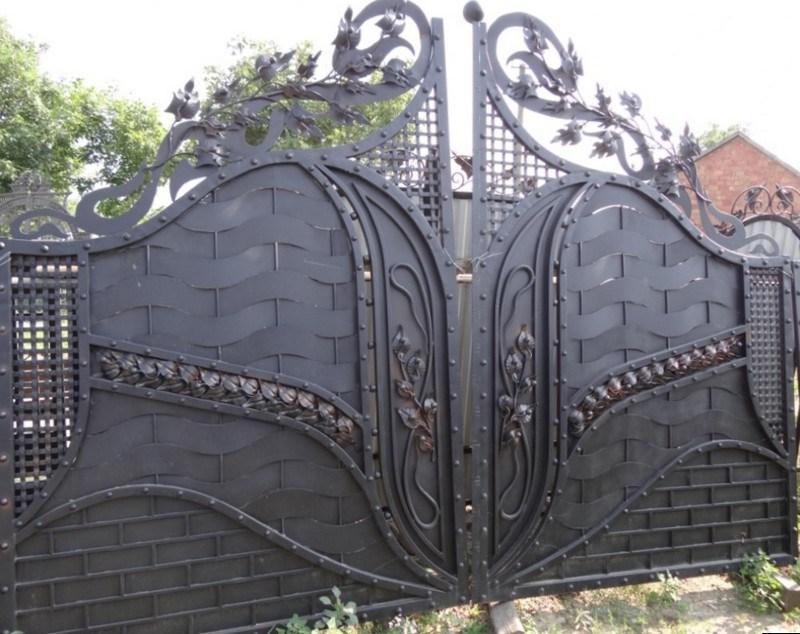 This guys another piece for those who love a fantasy style entrance. This is the kind of gate you'd expect to find at a king's fortress. The appearance is very detailed and elaborate, which lends itself to its medieval style inspiration. Wrought iron is a material that has been used for this style of work for as long as it has been around which gives it an edge of authenticity. If you want to feel like you live in a castle why not go the whole hog and add a gate fit for one.
29. Sliding Gate Disguised as a Fence.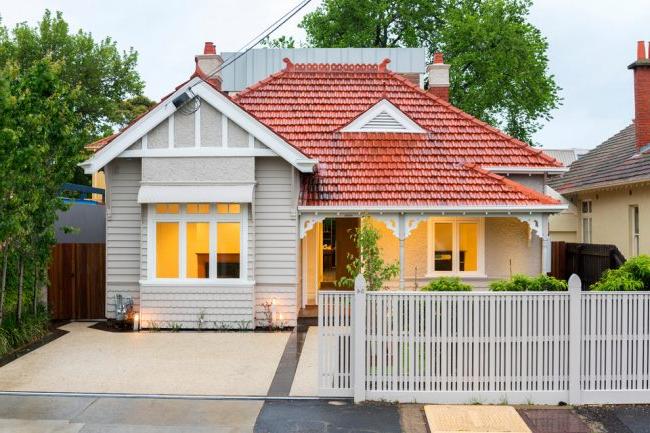 We saw a version of this in number 17 but this design idea takes being seamless to the next level. The sliding gate has no fence posts and is in the exact design of the fence it slides behind. This creates a seamless face when the gate is closed, and an almost invisible effect when it is open. This particular design and house combination has chosen to take the white picket fence style of perfection into its style in literal form.
30. Sliding Automatic Gates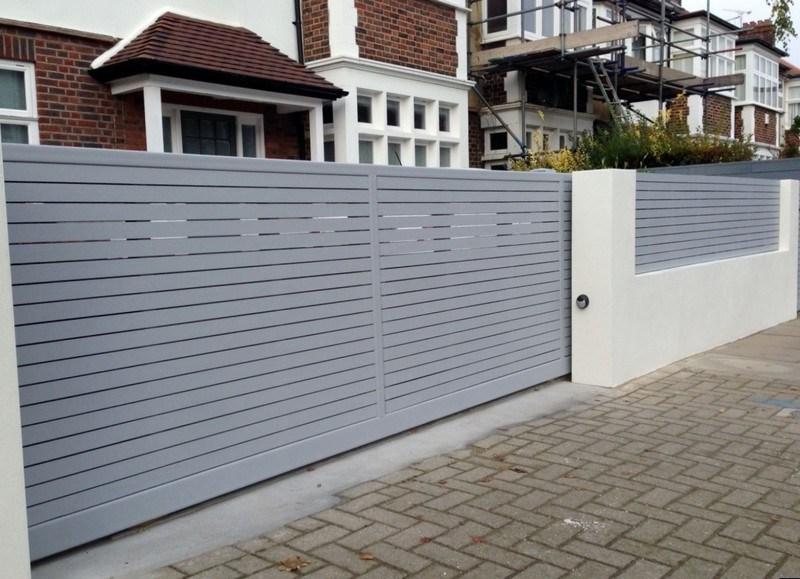 This design makes use of the same design concepts as number 17. A simple slatted coordinated fence and sliding gate combo is intention looking and sleek. There is clearly very little space at the front of the house, which the slim aluminium sliding design solves perfectly. This is another design that can be changed up cheaply by changing the colour.
Conclusion
And there we have it, 30 different styles of automatic gates to inspire you for your own home. The amount of choice available to you is endless; from colours and materials to opening mechanisms and style; you can tailor you automatic gate to exactly what you want to introduce your home.
Here are a few things to keep in mind when picking out your automatic gate:
1. What type fits my space?
From sliding, lifting and stacking doors, no matter what your space limitations there is a solution for you than can fit your home perfectly.
2. Materials
The materials you pick can depend on where you live and what the weather is like there. Each material also comes with its own set of maintenance requirements that you should make yourself aware of before committing to it.
3. Buy or Commission
Depending on your needs and budget you can buy a premade gate or you can pay more to make something made to your exact specifications. If you want a dragon gate, you have to be willing to pay for it!
I hope these have inspired you to spruce up your properties with some eye catching automatic gates.