Gaming now a day is a multi-billion dollar industry and a major shareholder in the entertainment sector all over the world. This huge business in driven by the religiously dedicated video gaming enthusiasts, who spend lavishly to satisfy their cravings for an excellent video gaming experience. Similarly, the market for board games, which is much smaller than its electronic contemporary, has its charm and following. If you are one of such hobbyists and pleasure seekers, having a dedicated room for playing games must be a heaven on earth for you. You can set up a special room for this ever indulging experience, or transform your bedroom or living room into a place for a comfortable and enjoyable gaming experience. You must have the craving to design each and every bit of your own gaming cafe so that it may reflect the world of games inside you and you would get the feeling of being in your zone while enjoying your favorite games.
Video game-themed rooms are mostly associated with children and youth, who are more expected to be into gaming and are more enthusiastic about it. But believe me; adults are also getting into the clutches of this genre of entertainment. Many aged people are in love with modern video games and thoroughly enjoy this youthful experience. Also, girls are more and more inclined towards video games as there are many games available on the market specifically designed for females. So extending this hobby into the visible outlook of your gaming spot will add a level of seriousness and playfulness.
Another way to exhibit your inclination towards the video games is to design your home interior using decoration items inspired by the theme of a game. It can be a bookshelf or a chair designed or painted based on video game content, or only hanging a banner or lying down a rug with a video game character on it. Also, you can draw your favorite characters on the wall using bright colored paints.
So video games can provide some new themes and fresh decoration ideas for home interior design. It is not necessary to leave imprints of your love of games in your bedroom and gaming room only. You can decorate your bathrooms, kitchens and other parts of your home with funky and delightful themes and interesting collectibles.
We have compiled some of the best decoration ideas for video game rooms and other places inside your house.
1. Gaming Since The Classical Era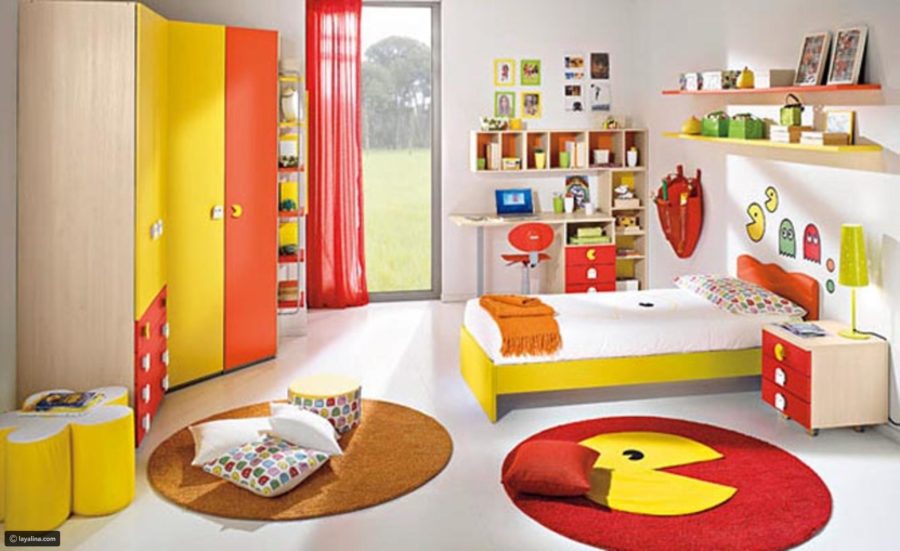 For those people who are in love with video games for decades, they must have played or at least be familiar with pac man. This legendary video game of classical era is nicely implemented as a theme in this bedroom, adding energy, fun and cuteness to the place. The overall white painted room makes it more spacious and well lit, while the yellow and red colors from pac man theme are wonderful to watch. Beautifully crafted characters on the wall and adorable drawer and shelving knobs are well supplemented with a stylish rug, making it a perfect treat for a pac man lover.
2. Expanding it Visually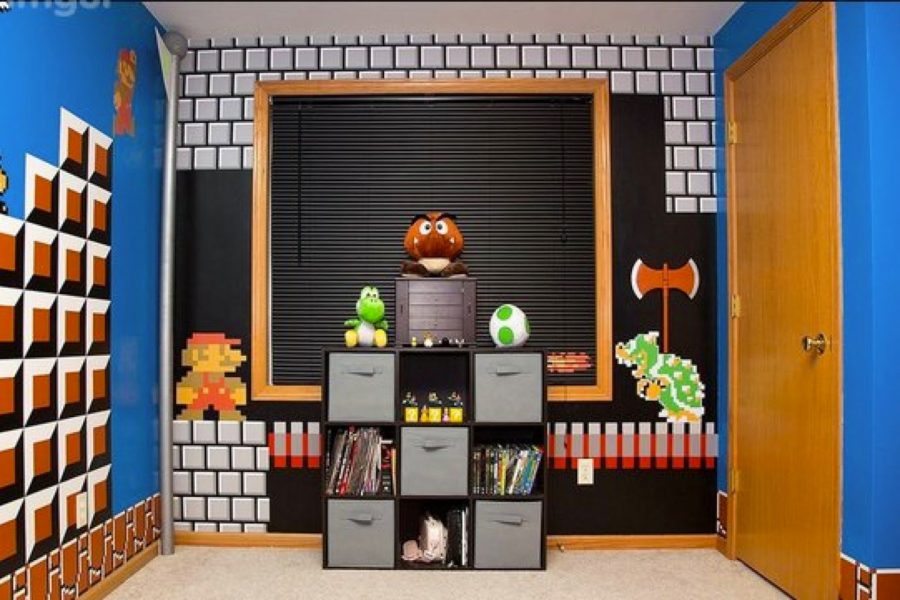 This smartly designed corner can be a part of your bedroom, gaming room, living room or study room. The catch is in the intelligently used color scheme inspired by the classic video game, which makes this small place look like having a tremendous depth. Both walls are painted with visuals of Mario in the gameplay, complemented nicely with the stuffed toys belonging from the same scenario placed on a simple but sophisticated and creatively designed drawer. Even the shades on the window in the background painted in continuation of the gameplay scene gets in nicely with the overall theme.
3. Inside a Spaceship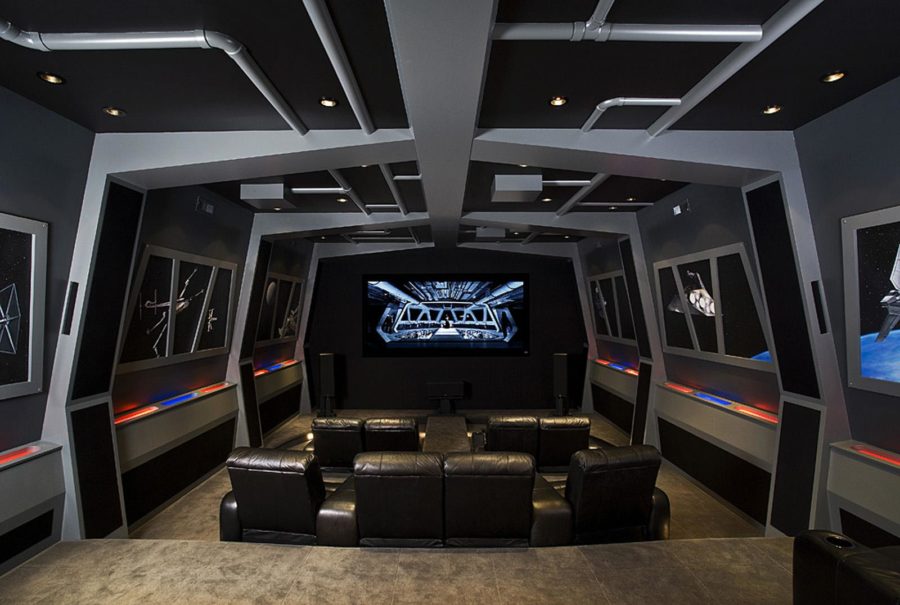 This horizontal space is creatively transformed into a look-alike of the interior of a space ship. Such settings can be seen in many sci-fi movies and video games. You can have an out of this world experience with this decoration idea. On the side walls, nicely printed frames are used to simulate windows from where you can view the virtual outer space. The design of roof themed in black and dark gray colors reinforces the feeling of being in the tunnel of a space ship. The place is excellent for movie watching along with playing video games.
4. Daylight Incorporated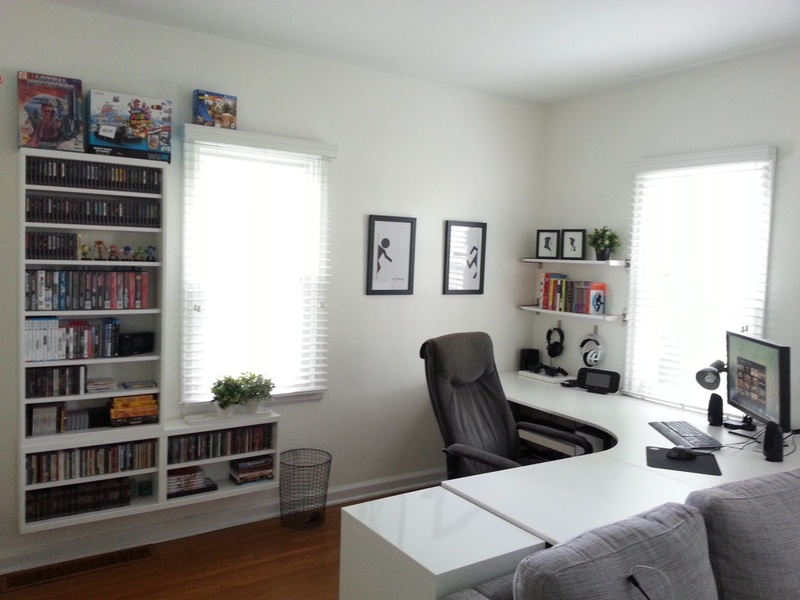 Some people like to enjoy their gaming experience in a more illuminated place rather than sitting in the dark. For those enthusiasts, this setting is a perfect choice. With lots of natural light peeping in through the windows, this milky white place looks more bright and clean. This spacious and airy room is simplistically decorated with sophisticated shelves where you can store your board games and video gaming consoles and CDs. The simple and large desk has enough space to hold your gaming equipment and accessories, which is complemented nicely with a cozy revolving chair.
5. Reinforce the Visual Tool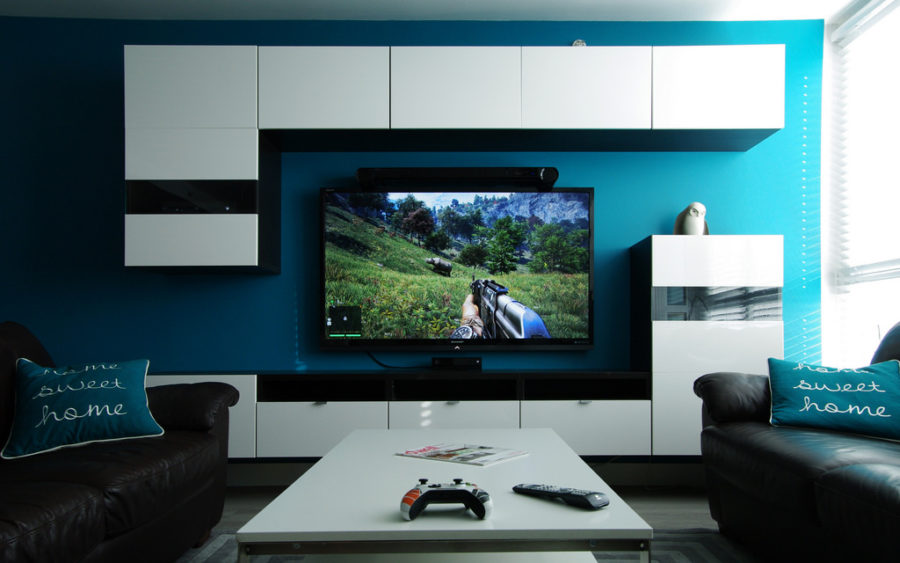 The main feature by virtue of which this design stands out is the intelligent use of framing for an enhanced focal effect on the large screen. This setting has an elegant theme for a gaming place which is more suitable for your multi-purpose living room where you can also watch movies and television while spending quality time with your family. The Dark blue color of the back wall sets in nicely with the black screen, while the milky white cabinets present a pleasant visual contrast. Some matching pillows on a great seating arrangement supplement this decent room for gaming purposes.
6. Illusionistic Flooring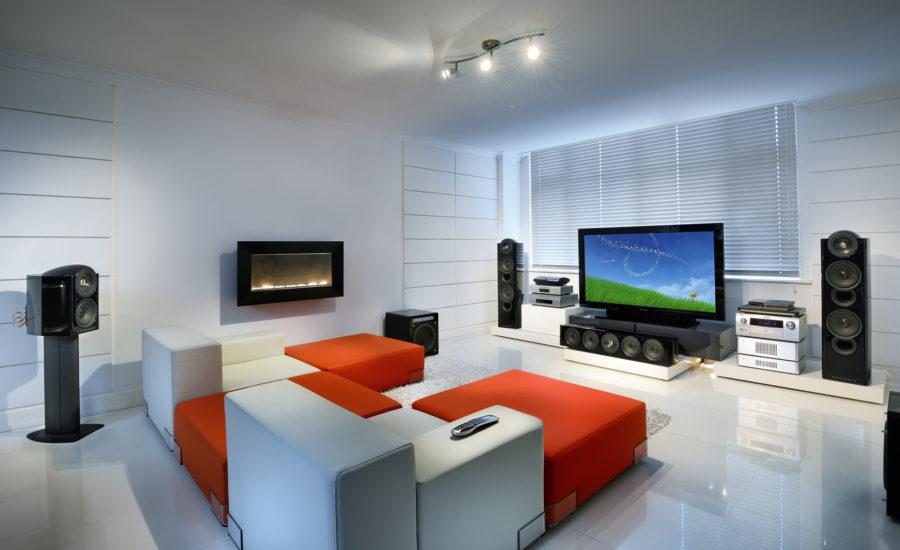 The highlight of this gracefully designed gaming room is the shiny reflective flooring. It creates an illusion of an enhanced depth of the room. The reason being it works the same way as a large mirror does in a relatively smaller place. The overall white color of the walls, ceiling, and furniture not only increases the grace and exhibits cleanliness but also adds to the visual expansion of the space by supplementing the mirror like floor. You can enjoy your perfect gaming experience by sitting comfortably on futuristically designed modular sofas.
7. Beauty Simplified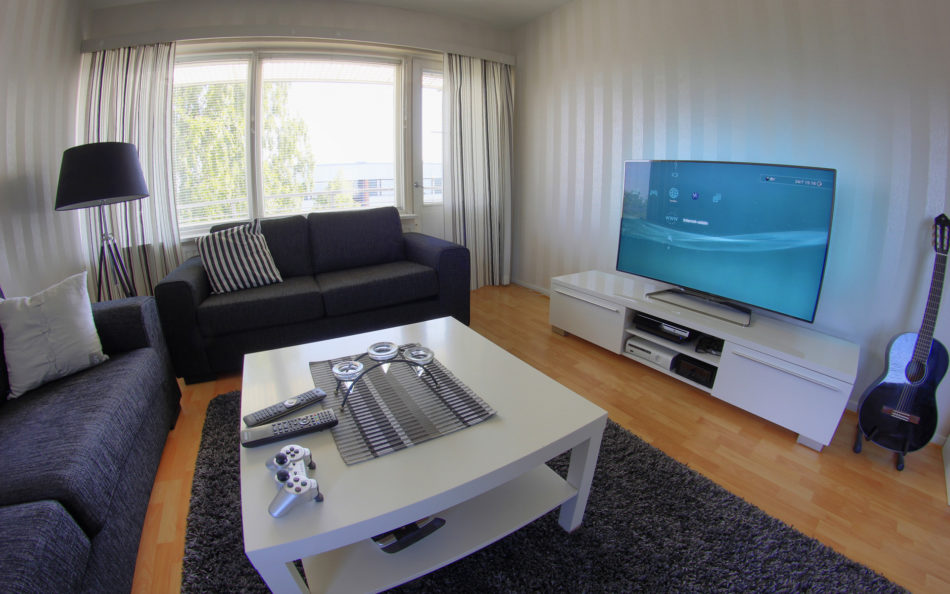 When it comes to the interior design of a gaming room, it is not necessary to load it up with bright colors and outrageous decoration. Sometimes a simple setting can exhibit a lovely sight. Such is the case with this simple design. Elegant wooden flooring with overall white themed room gels in nicely with dark color rug and seats placed on it. The simple white table can be used to put a cup of coffee and other accessories while enjoying a video game or a movie.
8. Multi Monitor Gaming Setup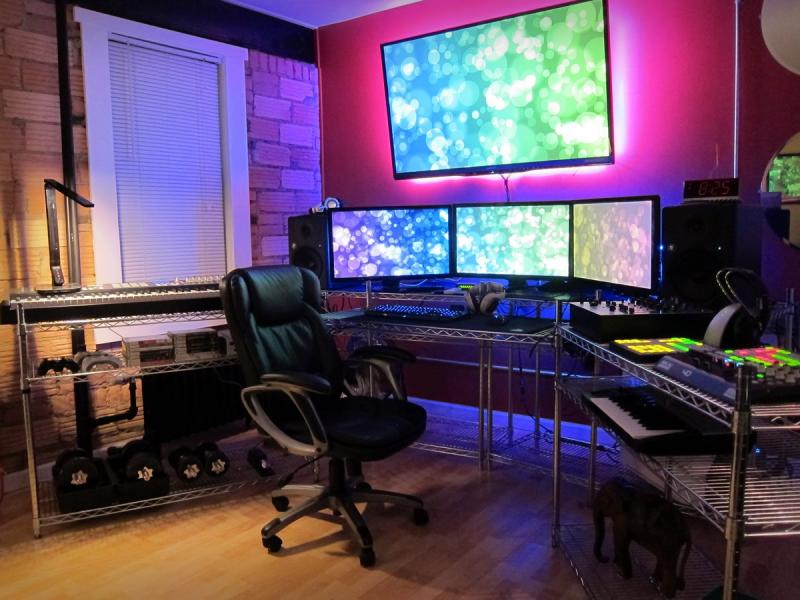 If you have a small space to spare for your specialized and customized gaming corner, a simple but futuristic way to make the place look bigger is to install multiple screens as done in this video game room. The screens can function like virtual windows and add to the techy look of the space. The dark and bold color of the background wall while keeping the color of other walls, ceiling and flooring lighter are other fantastic strategies to increase the visual depth of the otherwise limited space.
9. Mario in the Loo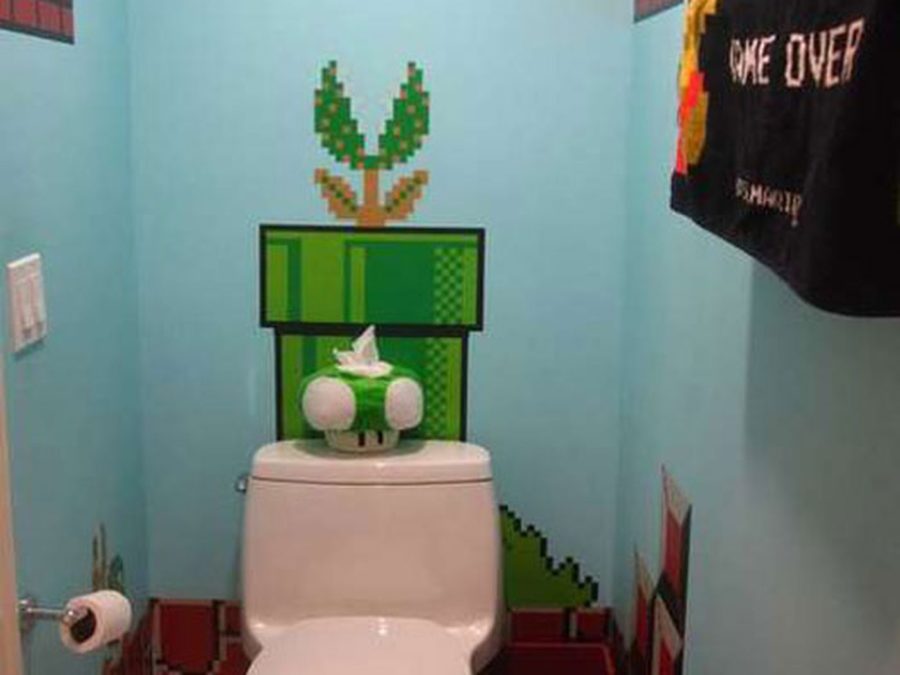 This decoration idea may give a feeling to some people that the diehard fan of Mario video game has got carried away with his thoughts of expressing the passion. But you would agree with the idea to be cute and adorable. This Mario bathroom is the best way to surround yourself with this legendary video game, especially for those who got bored from conventional bathroom décor and wanted some fun theme for their toilet. So if the person with whom you share your bathroom is not offended by such creativity, then get inspired by this idea and let your imagination go wild.
10. Lighting it with Red and Blue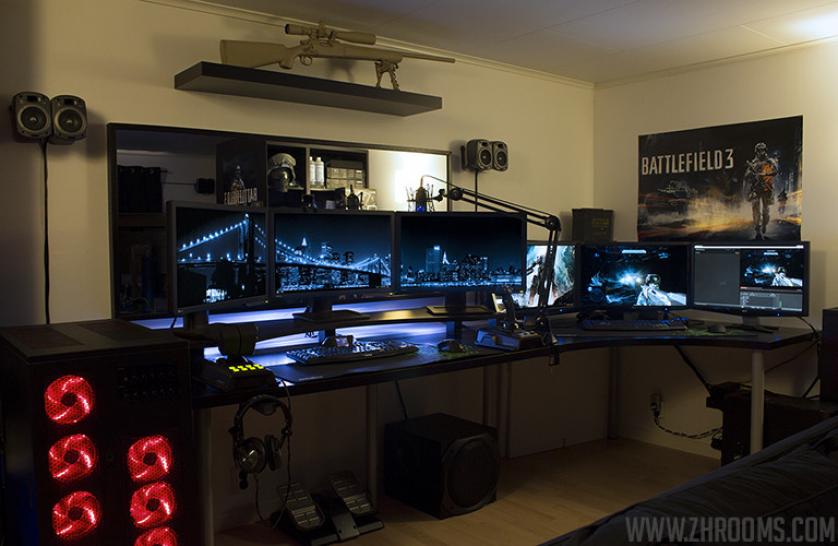 It is a challenge for every gamer to find a perfect color combination for the ambient light in the gaming place. This problem is solved rather creatively in this design by using blue and red in combination to light up this otherwise dark setting for gaming enthusiasts. The model of a gun on the top shelf and a poster on the wall signify the place to be reserved for video game play only, while simple wooden flooring and white color of walls ensure that the location can be used for any other purpose anytime without much effort.
11. The Shelvey Wall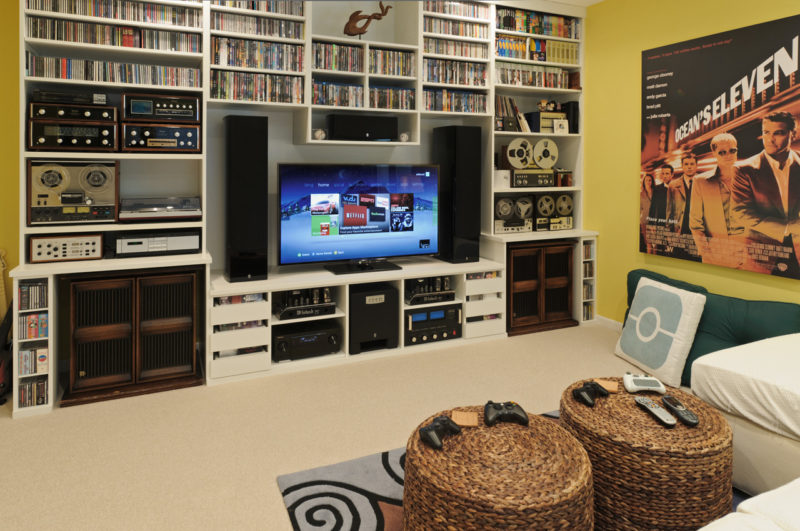 If you are a serious video game player and gaming is your passion for an extended period, you will end up with having an extremely large collection of gaming consoles and CDs. In such situation, you may end up wasting a lot of time in finding your desired title every time you decide to spend some time for this hobby. This issue is smartly resolved in this gaming room design by setting up an aesthetically pleasing shelf covering the wall up to the ceiling. You can organize your collection in a convenient way and save you precious time for the love of video games.
12. Playing with Street Art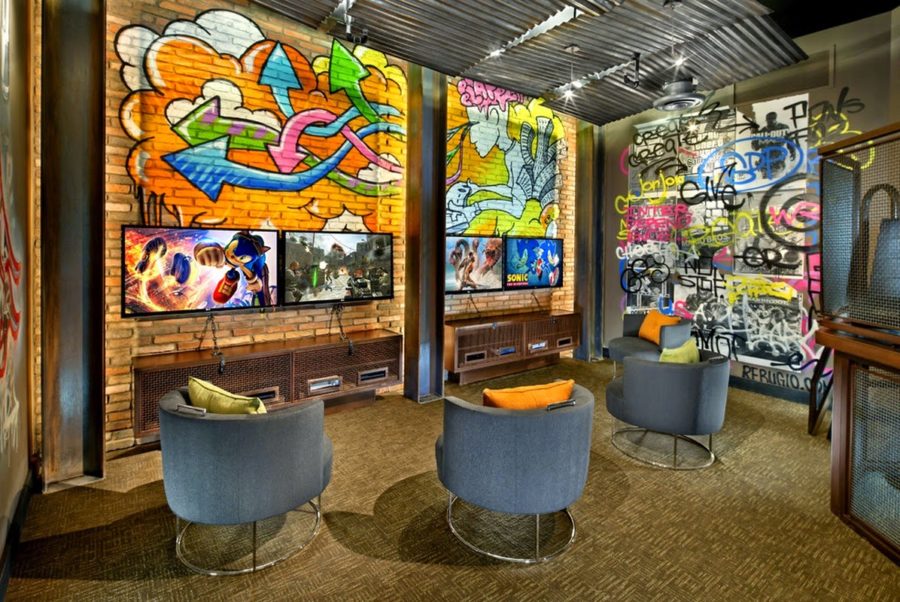 Street art usually doesn't find its way into the mainstream home interior design as it may require bold and fearless decision making to introduce such craziness and insanity inside your house. But game rooms being a private place and can be made oozing out with casualness are the perfect place to energize with a whimsy street art. The backdrop is nicely decorated with sharp colors depicting scenes from modern games. Otherwise, the room has a conventional arrangement you can find in various modern video game rooms. Multiple screens on the designed for street walls enhance the techy feel of the place.
13. Back to the Future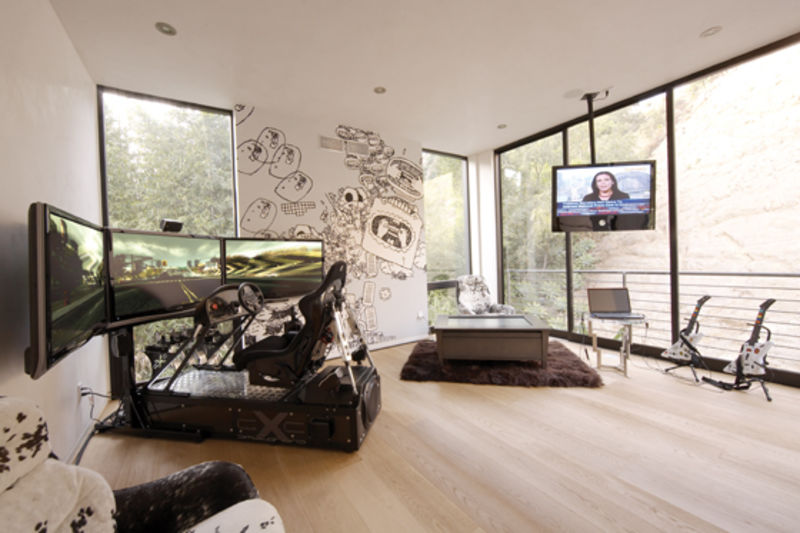 The openness of this video game room is evident from the first look. The ambient light is abundant and natural, while the light colored theme of this room makes the most of it and gives the place cleanliness and clarity at the same time. Usually, interior designers look for symmetry when it comes to the dimensions of the space to be decorated. In this case, the obtuse angle between the walls is utilized smartly to install three wrapped around screens. This makes it a futuristic sight for a video game room supplemented by the dedicated equipment for racing games.
14. Bold Blue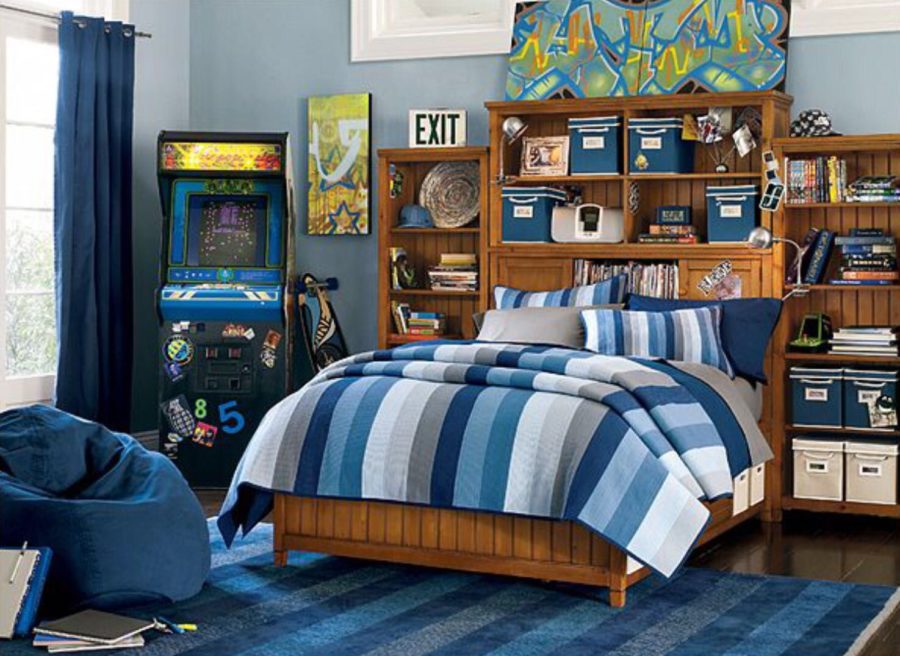 The blue color is associated with male gender, especially the stronger and darker shades of it. This bedroom is, therefore, a perfect match for boys with the passion of video games. The room is nicely themed with video games with an eye-catching classic arcade gaming machine. Various shades of blue are amalgamated to result in a masculine feeling you will immediately experience on the first sight. Be it the alternating colored rug or storage boxes on the shelves or the shades and the wall; blue is aesthetically contrasted with conventional furniture hue.
15. Ambient Lighting Modernized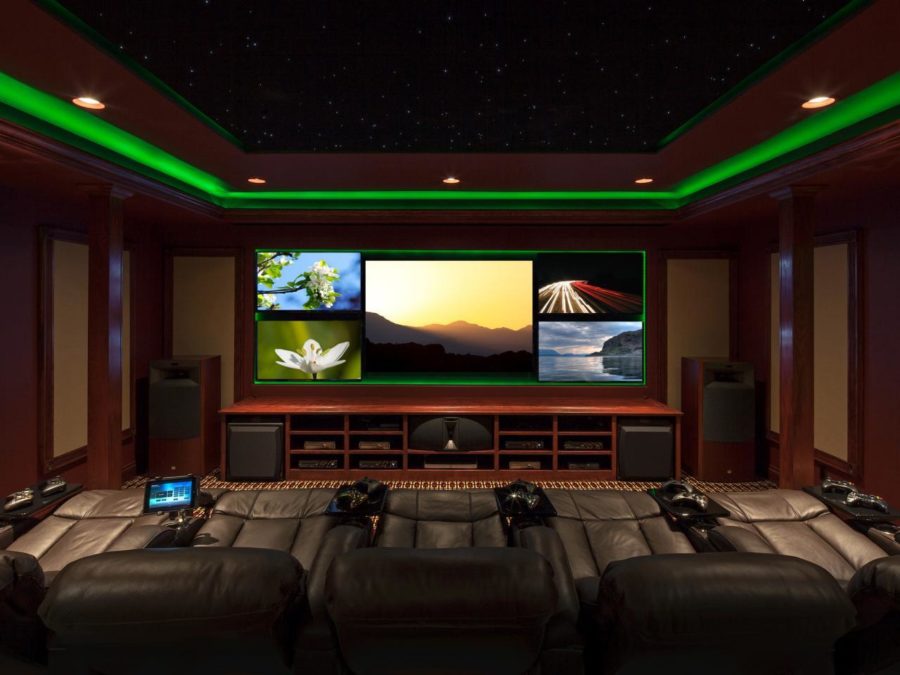 This futuristic and lavishly crafted design idea for video game rooms stands out due to its modern and aesthetically pleasing ceiling layout. The green lines of light emitting from the border of screens and the outline of the ceiling makes you feel enjoying your passion of games in a place outside this world. The somber dark hue of the cozy and luxurious seating arrangement and wood paneling brings some calmness and sophistication to this ultramodern setting. The armrests with controllers placed on them along with five screens installed simultaneously define what the room is designed for.
16. Living Room in Starship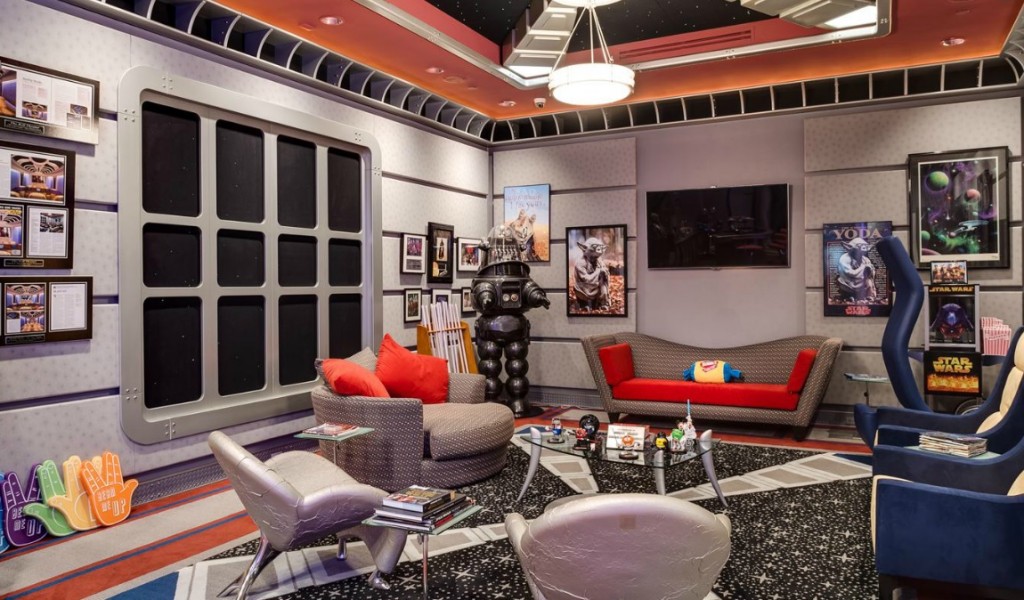 A nice way to reflect your love for a particular game is to leave its impression on your living room. This stars wars themed setting brings the gaming passion out of the video game room and portrays it nicely in the most public place of your home. The star wars themed center table and matching color of walls in light gray provide a perfect background for the full sized robot statue placed in the corner but not cornered at all. Different colors used in the furniture set over the themed carpet and framed prints on the walls portray a perfect feel of star wars.
17. Passion for Old Games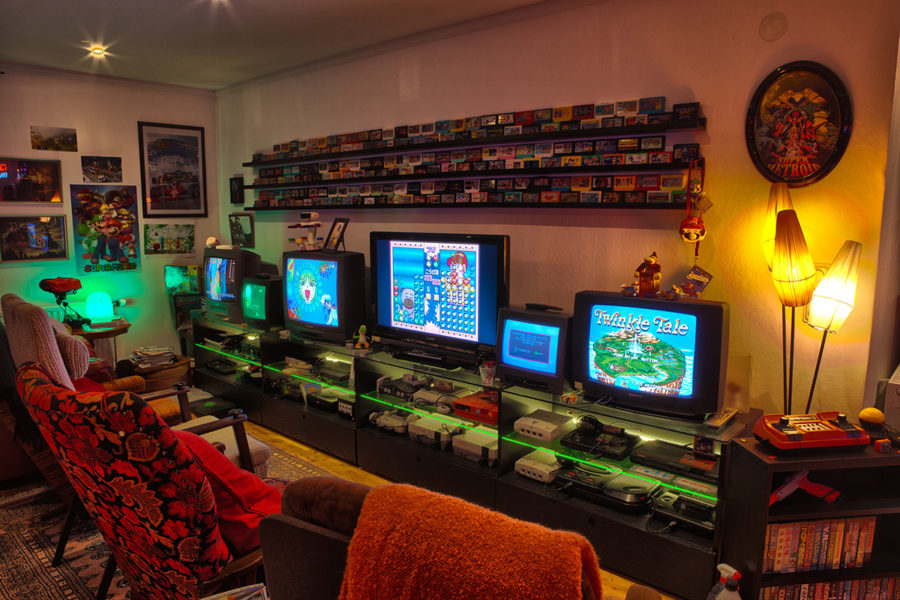 If you are a dedicated video game enthusiast for a couple of decades, then you must have an extensive collection of old gaming consoles and cartridges. Such a collection can be decorated and beautifully displayed in the manner shown in the video game room design above. The classic gaming consoles are organized in stylish cabinet display along with well sorted out gaming cartridges in the top shelf. There are multiple television screens compatible with the old consoles properly connected to enjoy the nostalgic feeling anytime.
18. Multipurpose Simplicity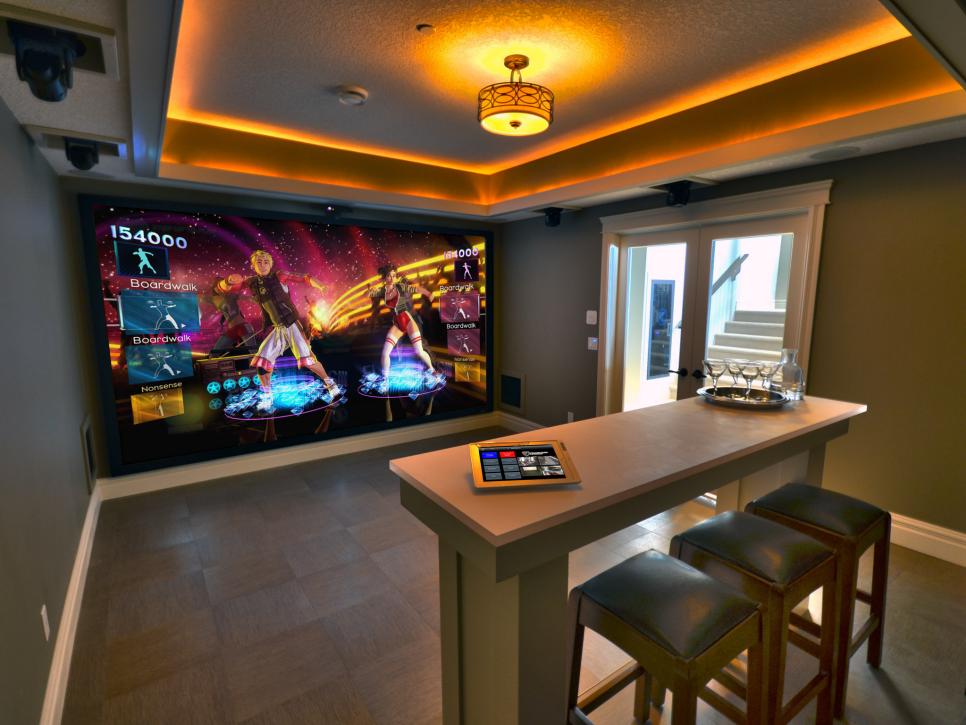 Sometimes you don't get a dedicated room for your nurturing your passion for video games. And you still want your video gaming room to be unique and well designed for an overwhelming experience. In such cases, this video game room decoration idea offers an excellent trade off. With this simple layout, you can enjoy the luxury of a specified video gaming place, and at the same time, you can always use this room for other purposes without changing anything in the interior decor.
19. For the Love of Board Games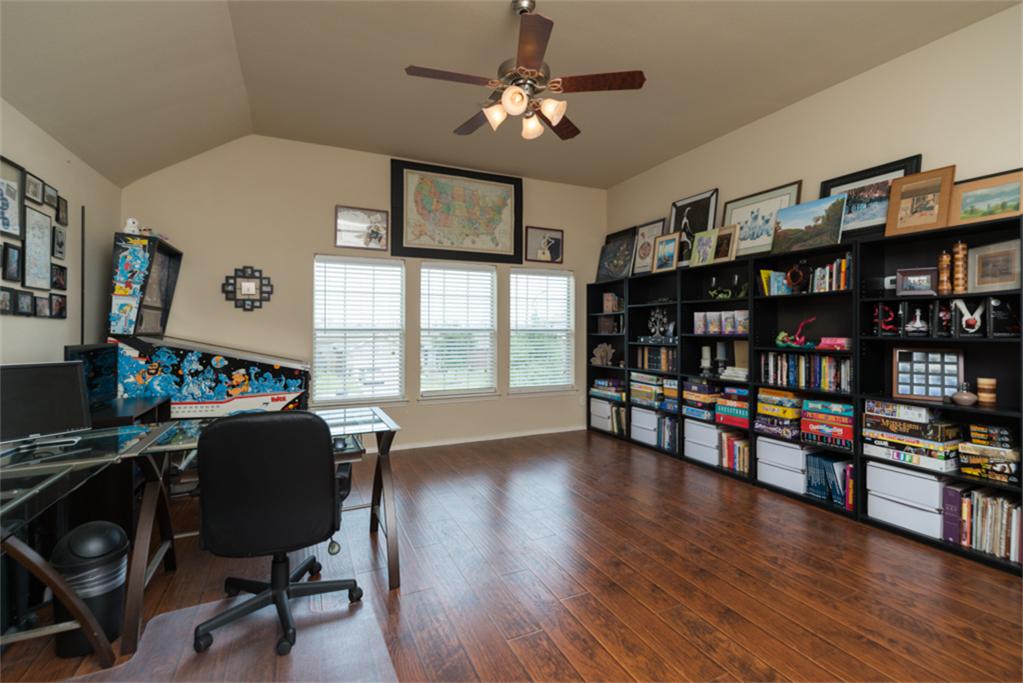 It is not necessary to decorate your game room based on the themes of electronic video games. The classical board games have their charm, and they still attract many people. For such people this design has it all; a huge shelving space ensures storage of all your board games collection. The classic pinball game has also found its place in this setting in the form of arcade machine. This room has a plenty of space, so an opportunity for future alterations. The wooden flooring, pure white paint on walls and a classic chandelier add to the elegance of this game room.
20. Tetris Bathing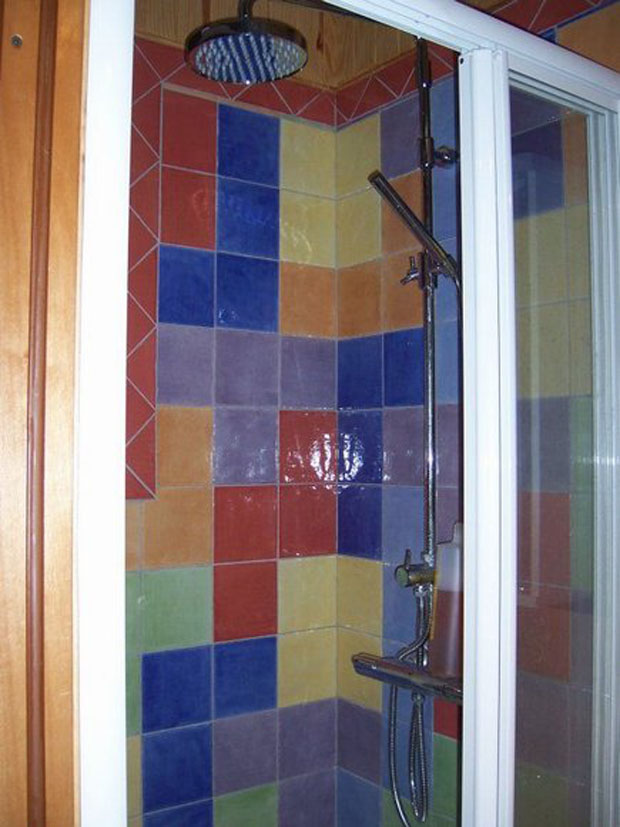 Most of the shower areas and Jacuzzis are decorated with monotonic tiles and conventional designs. If you are fed up of such designs and want something different and funky in your bathroom, then this decoration idea for bathroom gives a real inspiration. Also, this design is economical as it needs a few tiles of different colors and some creativity to arrange them. Such a decoration idea can be a treat for your children.
21. A Sports Club around the Corner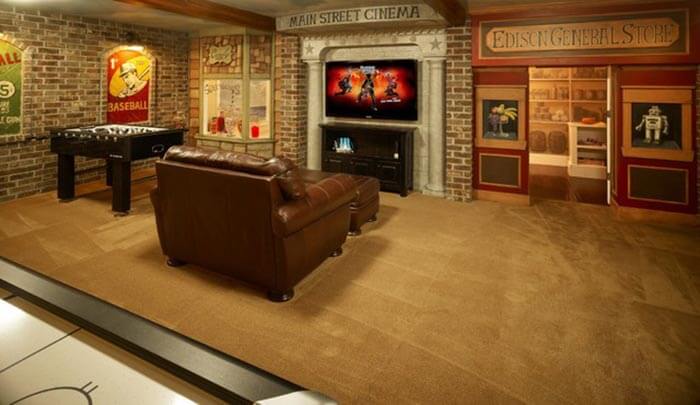 In this room, you can enjoy the feeling of a local gaming bar. The overall theme of this setting is similar to a classic pub. One corner of this spacious room is equipped with old-timey and more traditional games, and the look of it is further reassured with classical sporty posters on the wall nearby. The central area is occupied by a more modern mode of gaming, where the fireplace is redesigned to accommodate the screen for video games.
22. Filling Colors in the Dark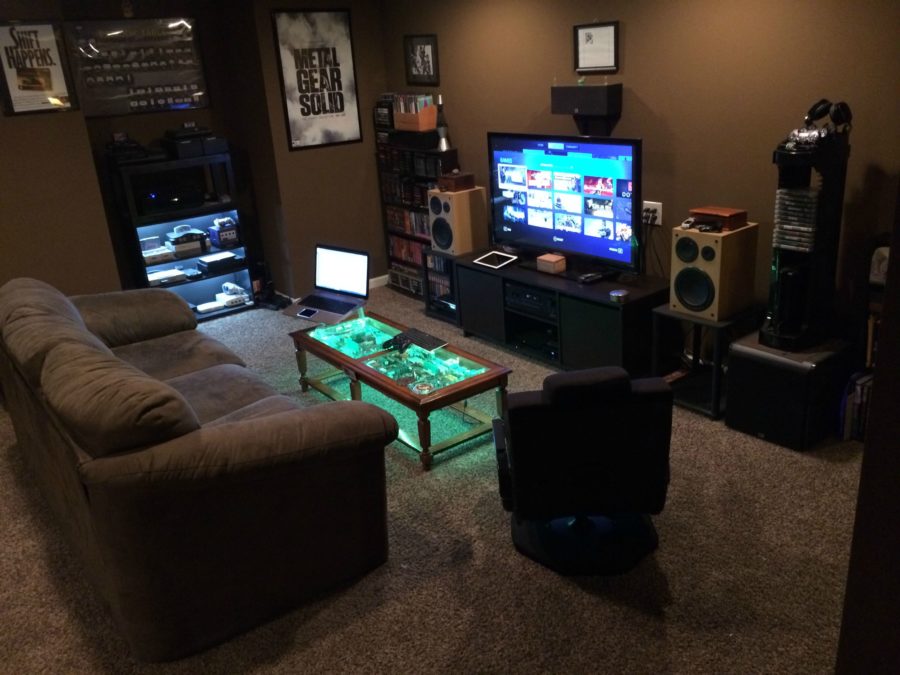 Some gaming enthusiasts like to play video games in a darker locale to thoroughly enjoy the graphic details and bright colors of the game. But you cannot undermine the need for ambient lighting which is a must to set up your video game room conveniently. This room decoration idea has catered for all these factors quite intelligently. The dark colored walls and furniture dim the overall profile while the bright funky spotlighting under the table and in the cabinet make up for the dark theme of the room.
23. Gaming on the Bed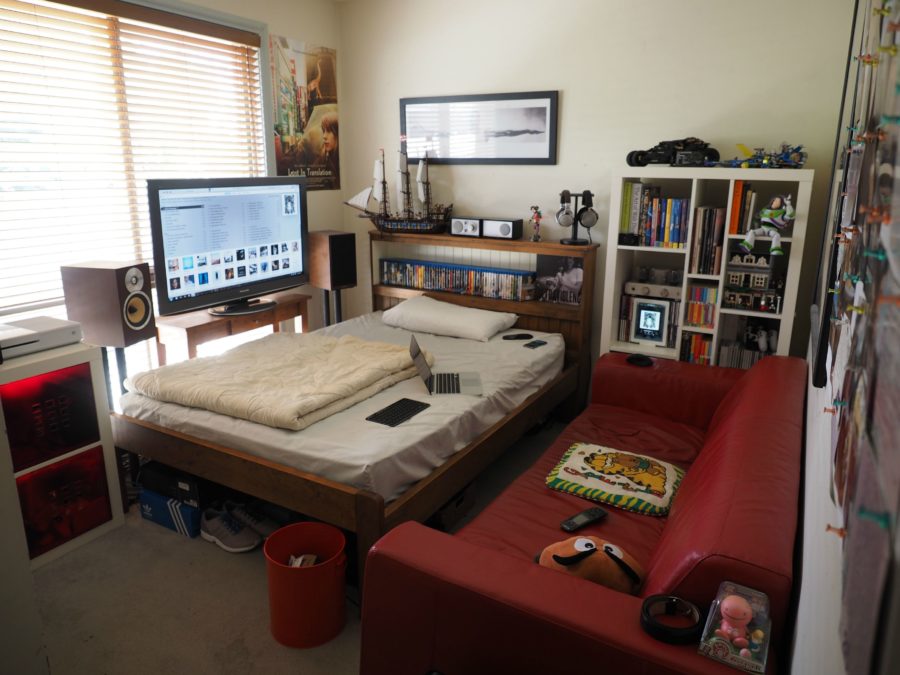 Many dedicated gamers are not well provided with ample space in their home to set up and decorate a separate room for the passion of gaming. Such enthusiasts may find their bedrooms to be the best place to quench their thirst of gaming. This creative video game room decoration idea is perfect for the gamers having a small room. A large couch is positioned along nicely with the necessary existence of bed, so that the bed may act as a large virtual table when the gaming mode is on.
24. Like the Old Days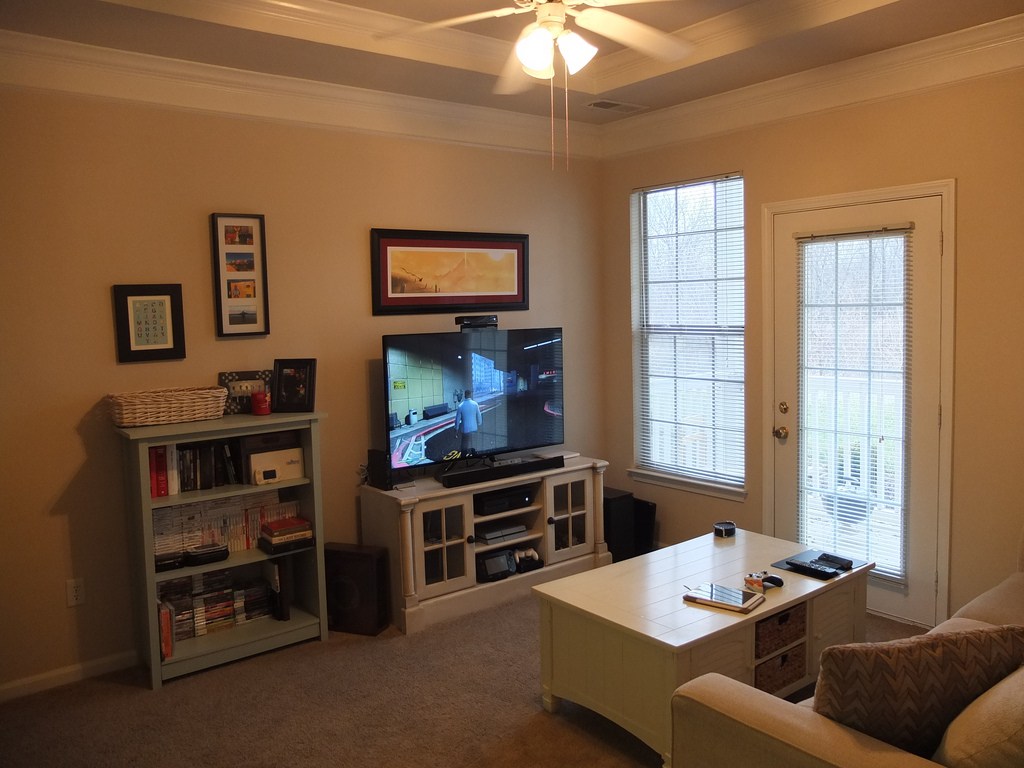 In the days of classical home gaming consoles, most of the households with video game lovers used to set up their gaming arrangement in their TV room due to only one television screen available in the house. That can be relived today as a brilliant video game room decoration idea. All you need is a shelved coffee table and a rack to place your gaming equipment. A media center cabinet used to place the screen also helps the cause and keeps it clear when gaming mode is off.
25. Underground Gaming Club
If you have a spare basement area on your disposal, you can convert it into a wonderful place of your own where you can enjoy a perfect gaming experience. In this decoration idea for video game room, we have a traditional large billiard table with cone lights on the top creating an environment for a club we often see in movies. On the other hand, a large screen with projector image on it represents the modern techy way of playing video games.
26. Gamer's Customized Bedroom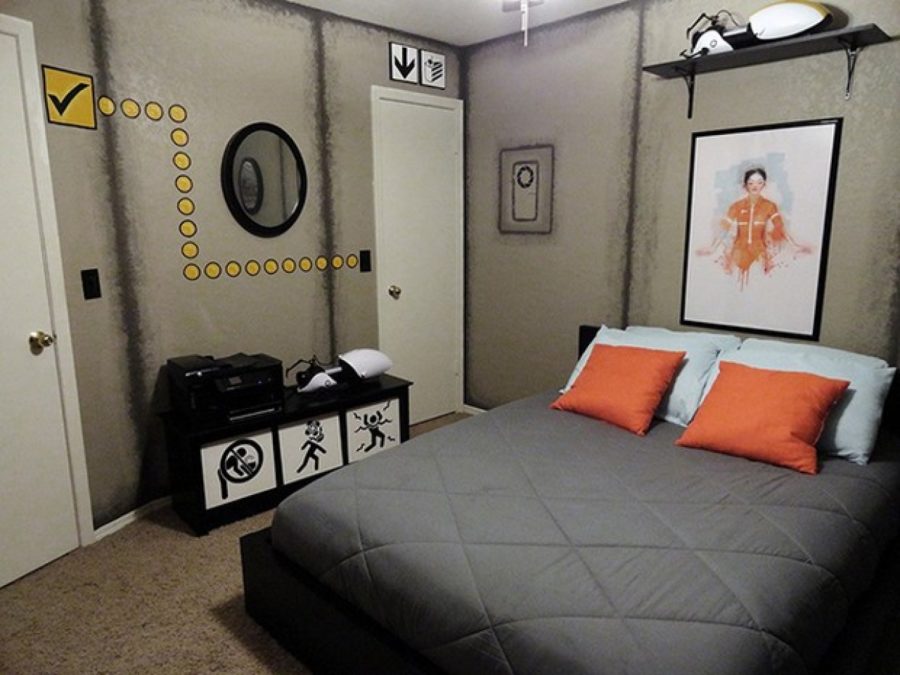 The bedroom décor signifies the likings and inclinations of its tenants. A gamer would love to decorate the bedroom as shown in this video games themed setting. There are motifs used in this room along with gaming related signs and symbols to express the love of video games. The large water painting on the wall behind the bed and the contrasting color of cushions on it makes it a futuristic décor with simplicity.
27. Colors Say It All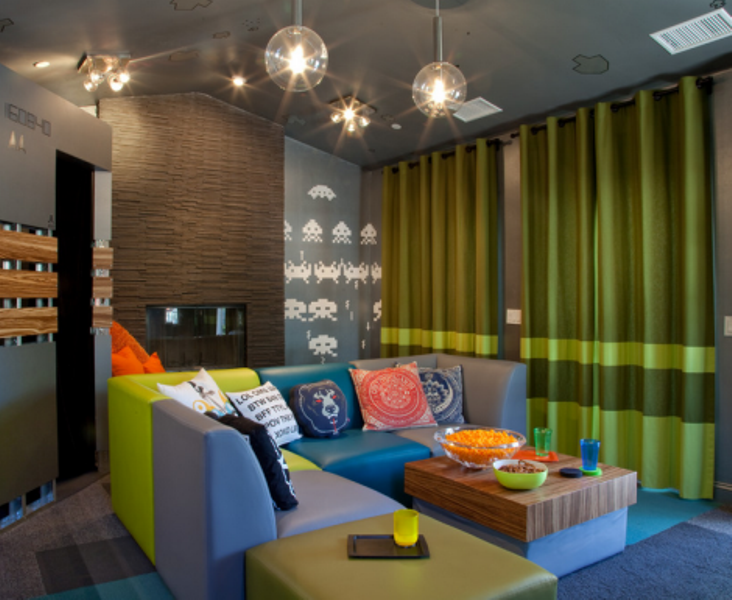 The otherwise simple living room is well decorated with the classical video game characters on the wall, making it a perfect setting for a video game lover to express the passion. White painted characters on a light gray wall are prominent from a distance; while the bright tone of curtains hanging right from the ceiling makes the place livelier. The multicolor sofa with adorably printed cushions is fantastically illuminated by the funky spherical glass chandelier.
28. A "MARIO"fied Bedroom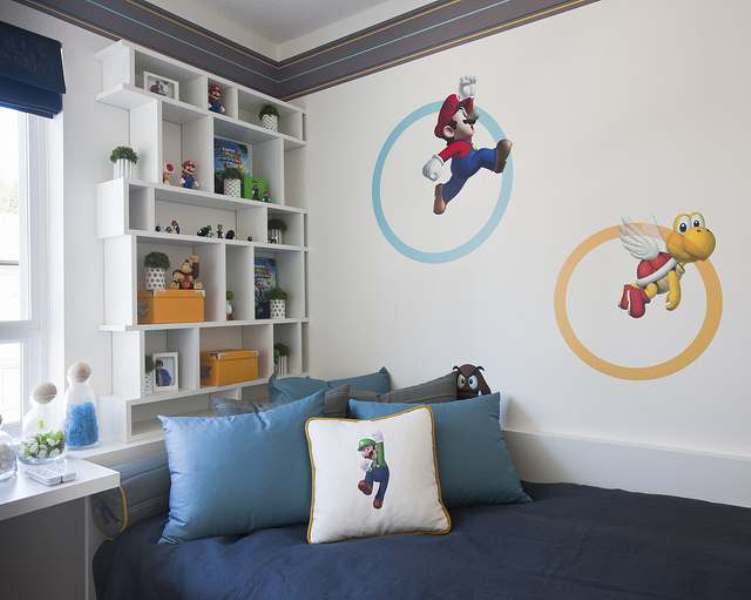 Mario is one the most recognizable character when it comes to the world of video games. Either the gamers from the classical era or the modern video games consumers, almost everyone have played this legendary game. This bedroom decoration idea has employed the game as a theme and creates a beautiful bedroom corner. From the small statues of Mario on the shelves and print on the cushion to the stickers of characters inside colored circle gives a pleasant feeling to this overall simple bedroom.
29. Angry Birds Everywhere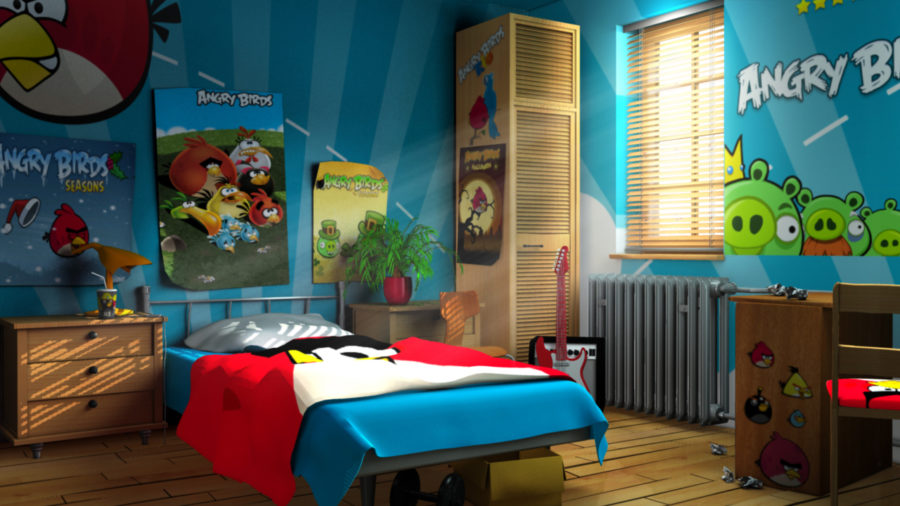 One of the most celebrated video game characters of the modern times, angry birds has ruled the hearts of many consumers in recent past. In the age of smartphones and gadgets, the angry bird characters have gain popularity within no time. This bedroom has employed the concept as the theme to decorate. The walls are full of blue theme color with posters portraying all the characters on it. From the bed linen to the stickers on the desk and the closet, you will find the loveable characters everywhere in this room.
30. Creative Art on the Walls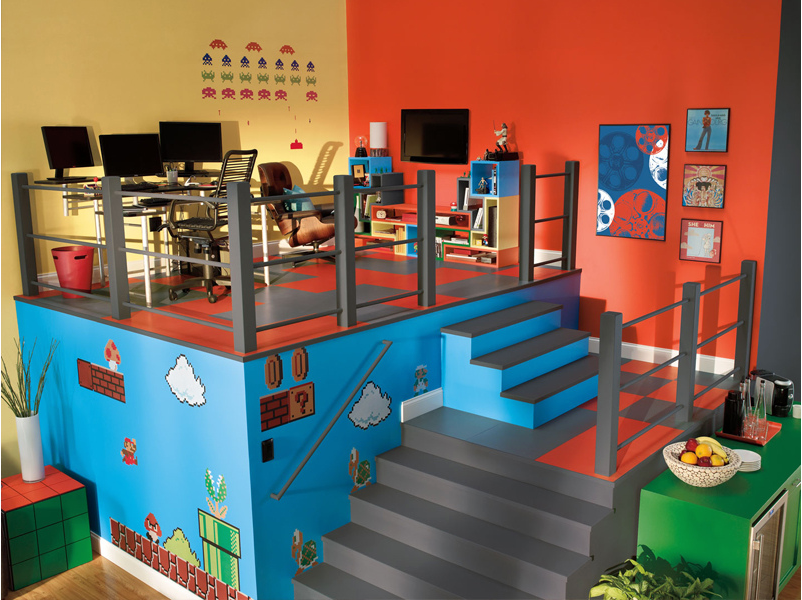 This decoration idea for video game room is original and utilizes the unused vertical spaces of this multilevel room quite intelligently. It gives the smaller walls of the platform a beautiful look of virtual reality, as space is transformed into screen shots of the video game Mario. The checked floor of the platform with contrasting colored paint of the walls makes it a fun place to enjoy your hobby. Framed painting on the wall and the stand below the white vase, inspired the popular cube game gels in nicely in this bold mix of primary colors.
31. Ambient Illumination by Light Bar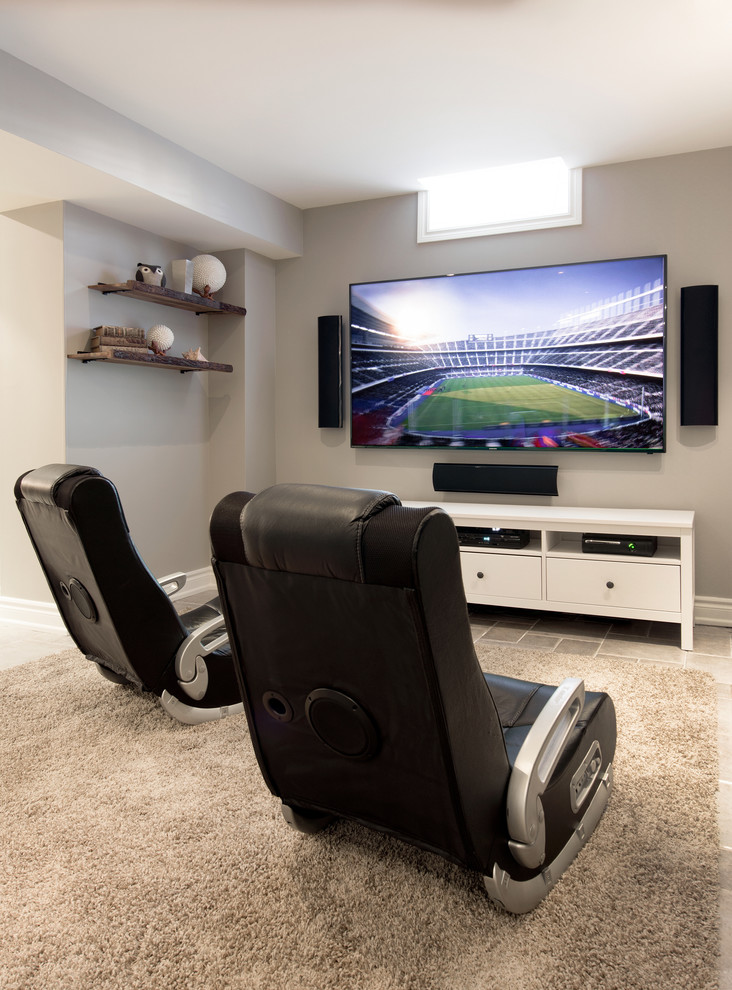 In a room with limited space, the provision of proper ambient light is a difficult design issue. Also it is essential to make sure that the background light is bright enough so that the eyes of the gamer, which are compelled to spend hours in front of the screen, may not be stressed out by the sharp colors of the video games. This issue is comprehensively addressed in this theme where a large light bar is providing the necessary illumination. The light color scheme of flooring and walls are supplementary for the bright little game room.
32. Gathering it All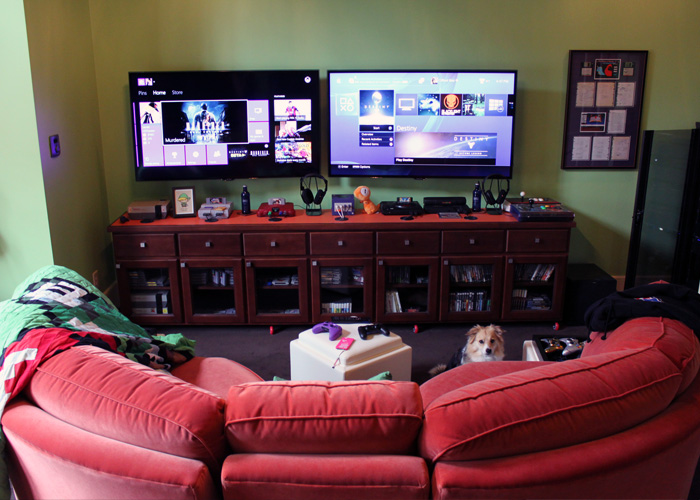 There are occasions when you don't have enough finances to buy all the furniture and accessories while setting up the video game room of your dreams. In such a scenario, you can manage the already owned pieces and gel them to gather to get an excellent video game room as displayed in this picture. A semicircular comfortable sofa placed in front of a couple of large screens is enough to accommodate spectators along with the players. The existing cabinet has been smartly employed to store and display a large collection of video gaming items and accessories.
33. Perks of Being a connoisseur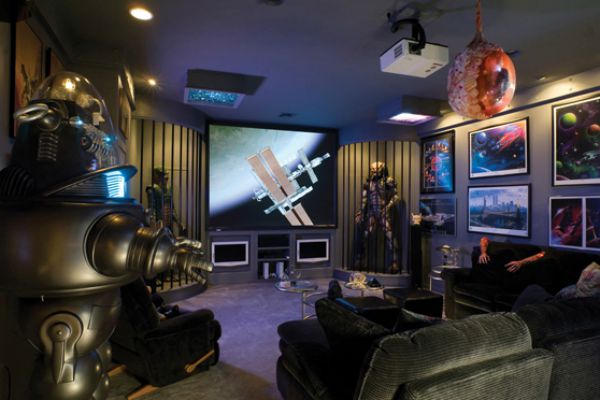 For those who religiously follow the upcoming trends in the world of gaming and a knowledgeable in this field, this video game room design idea can be an inspiration. They can translate their good taste and vast knowledge into a beautifully themed gaming room. In this gaming room, three full sized statues occupy the corners of the space while an extensive collection of theme prints on the wall give a more futuristic look in cool spotlight.
34. An Accent of Arcade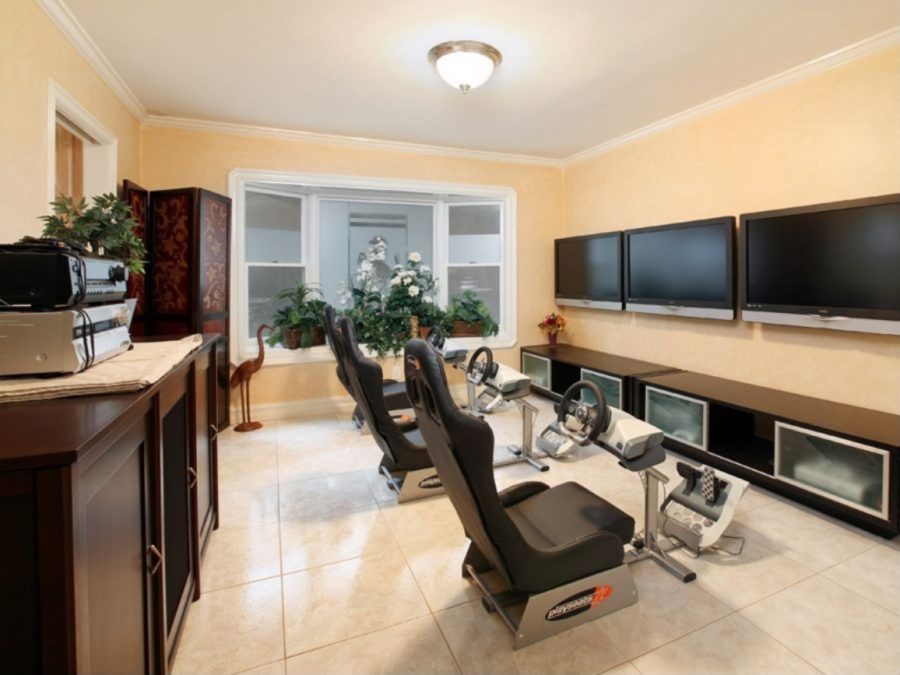 This small and simple video gaming room has only one and the most famous point of focus for present day gaming enthusiasts; the arcade experience. Multiple accommodations for players make it a heaven for real-time multiplayer gamers to compete for side by side and relish an experience like never before. Otherwise, the room is decently decorated with dark brown furniture and light-colored floor tiles. The light pastel color of the walls makes this small space look bigger with the feeling of cleanliness.
35. More Interaction for Gamers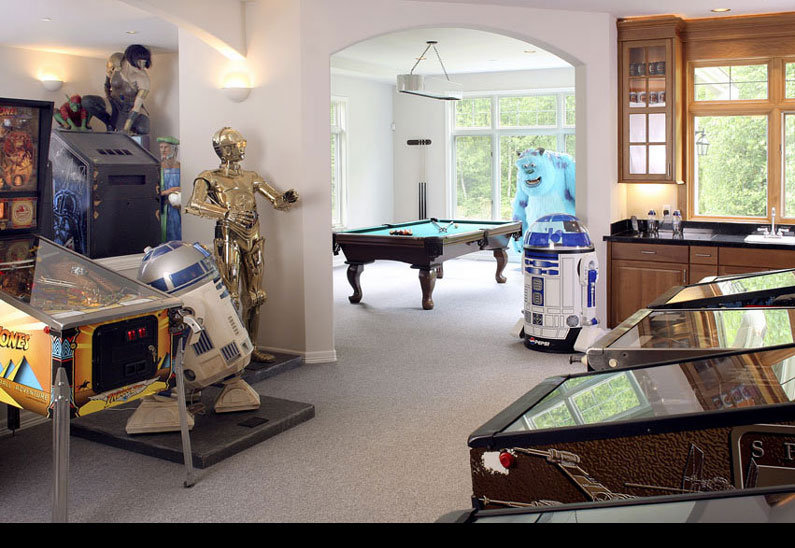 This decoration idea is not confined for you gaming room only; rather it works much better if implemented in your living room and other parts of the house. There and many interactive items from the world of gaming, which collectively express your love and passion for video games. The classical pinball game available for playing on machines and other non-electronic forms of games allows the physical interaction not available in digital games.
36. A Star Wars Follower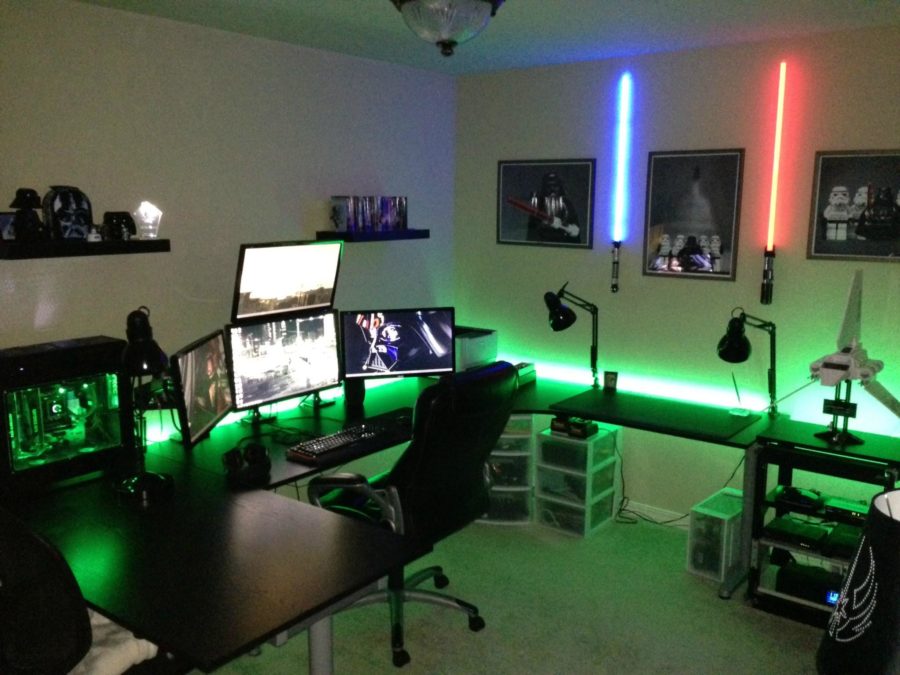 The generation of star war lovers has revered this sci-fi concept since its inception as a comic. They have enjoyed interaction with their favorite characters through various media like films and video games. If you are one of them, this video game room is an inspiration to decorate your place with such a legendary concept as a theme. The light sabers on the attract your attention on the first sight, while the green fluorescent illumination across the border of the tables set up the tone for this simply decorated video game room.
37. Games Games Everywhere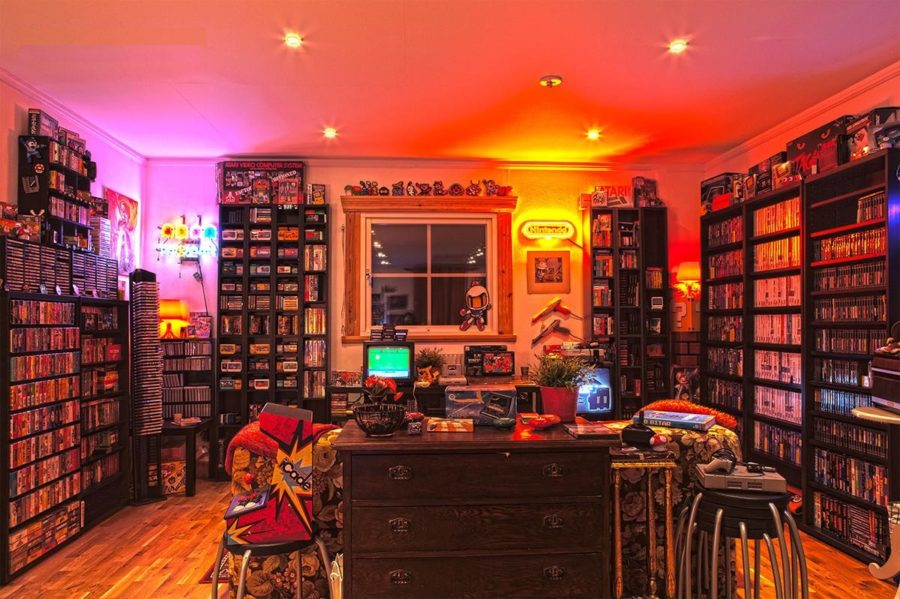 A true lover of video games never sticks to a limited set of franchises and genres. They go across the board and challenge themselves to master every new game in the market to quench their thirst for this amazing art. So they end up having a humungous collection of video game cartridges, CDs, and DVDs. This decoration idea addresses the problem of such enthusiasts as there is an extensive accommodation for the organization.
38. Gaming Room Audiofied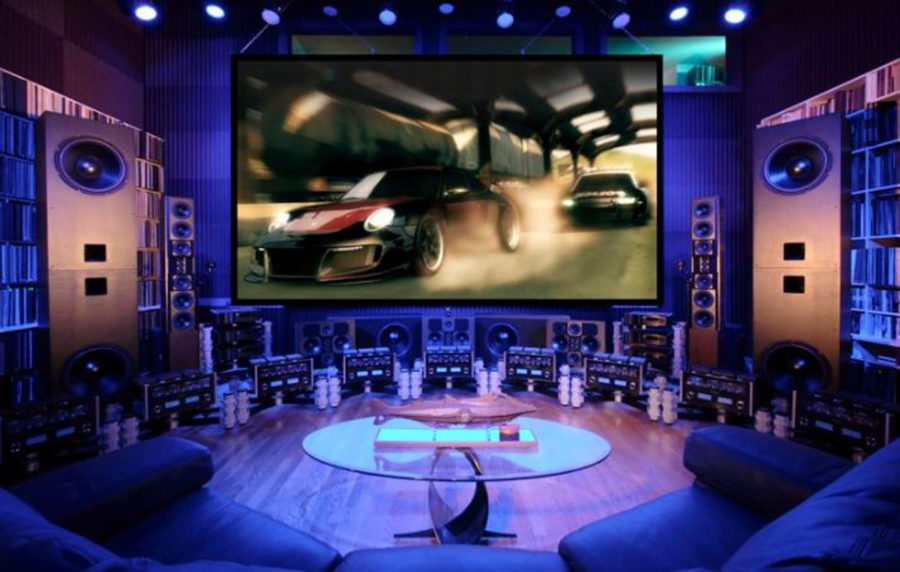 If you are a dedicated gamer for many years, you can fully understand the essentiality of audio experience. In some games, it is a necessary for complete control and proper handling, while in others it maximizes the thrill and mesmerizes your senses. If you have enough space and budget to finance this idea of installing an array of speakers in various sizes, then you should implement it to amplify the video gaming experience. With an exceptionally large screen and cool ambient light, the sound system will blow you away.
39. Sleek and Stylish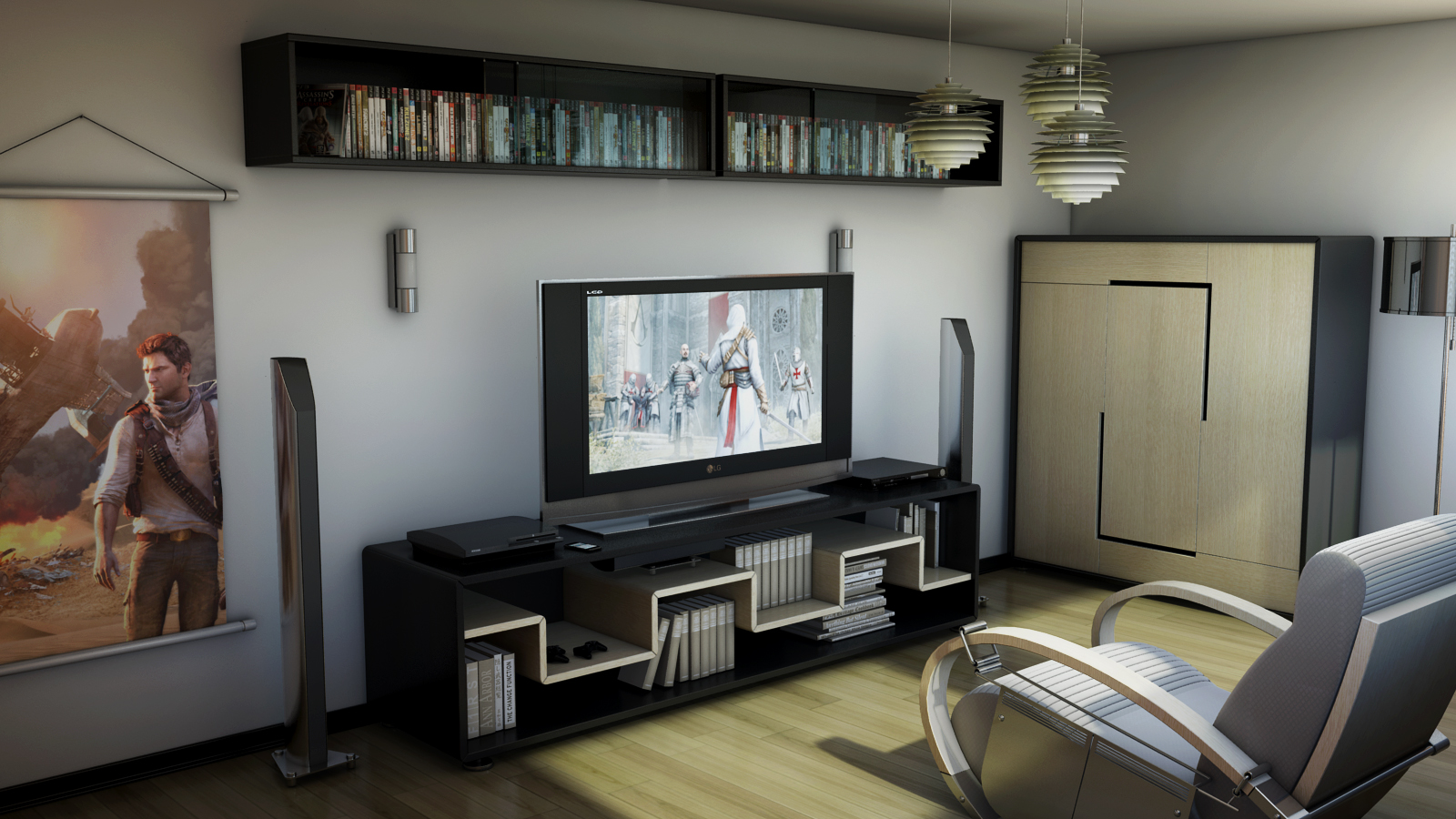 The video game room decoration does not always require outrageous and showy designs and themes. Sometimes, a feel of sophistication and calmness is all you need to relax while enjoying your favorite video game play. The sleek twin tower speakers with a voguishly designed cabinet placed in between provide a stylish look. A beautifully designed chair is making a statement, and a large poster of a favorite game adds to the elegance of this room.
40. Gaming Under the Night Sky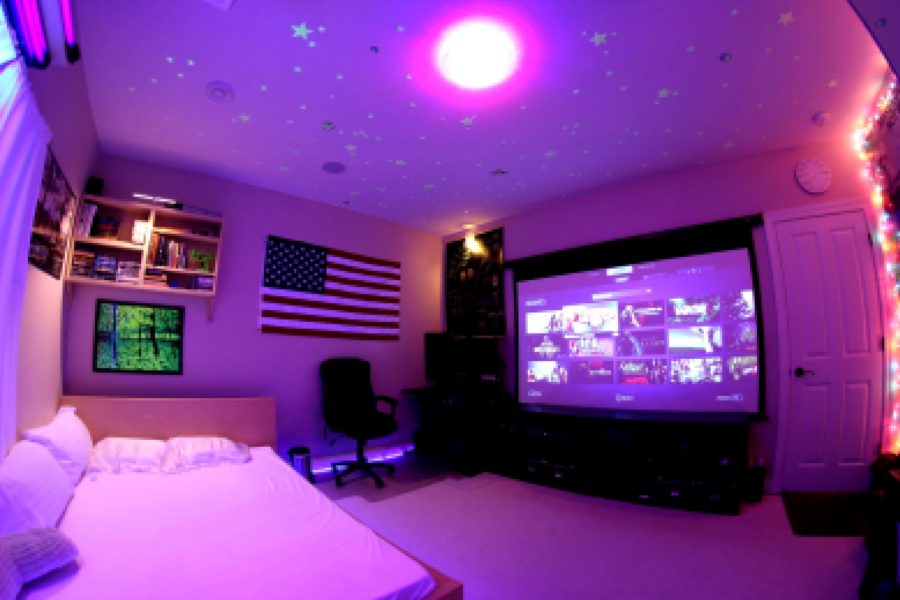 A large screen is a necessity when it comes to a well-designed video game room. In this idea, the screen fits in nicely in a small bedroom. The standing out feature in this setting is the unique lighting scheme. The multicolor pattern on the outskirts of the wall gives a lively look to the purple shaded ambient illumination. The reflection of stars on the ceiling portrays an otherworldly feeling. A framed picture and national flag on the wall completes this simple and inexpensive décor.
41. Elegantly White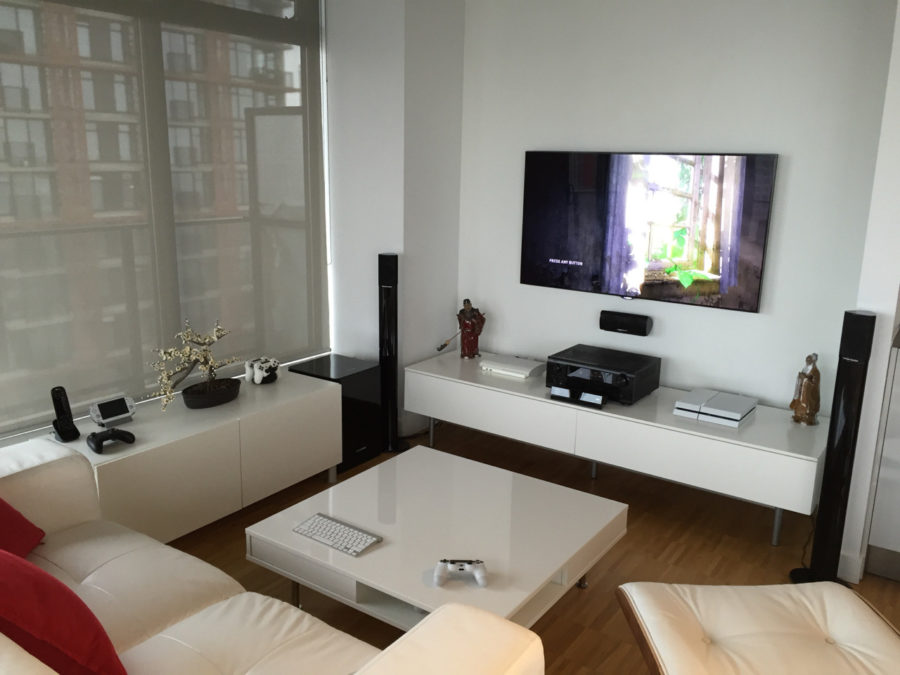 Sometimes too much decorative outrage can overpower the real purpose of a video game room i.e. to conveniently and enjoyably play video games. Especially when it comes to a smaller room as shown in this picture, one must keep it simple. This elegant design idea serves the purpose nicely. Pure white tables with cozy seating arrangement make your video gaming experience relaxing and enjoyable for you. With the natural background illumination, the design idea is based on the minimalist approach.
42. A New Angle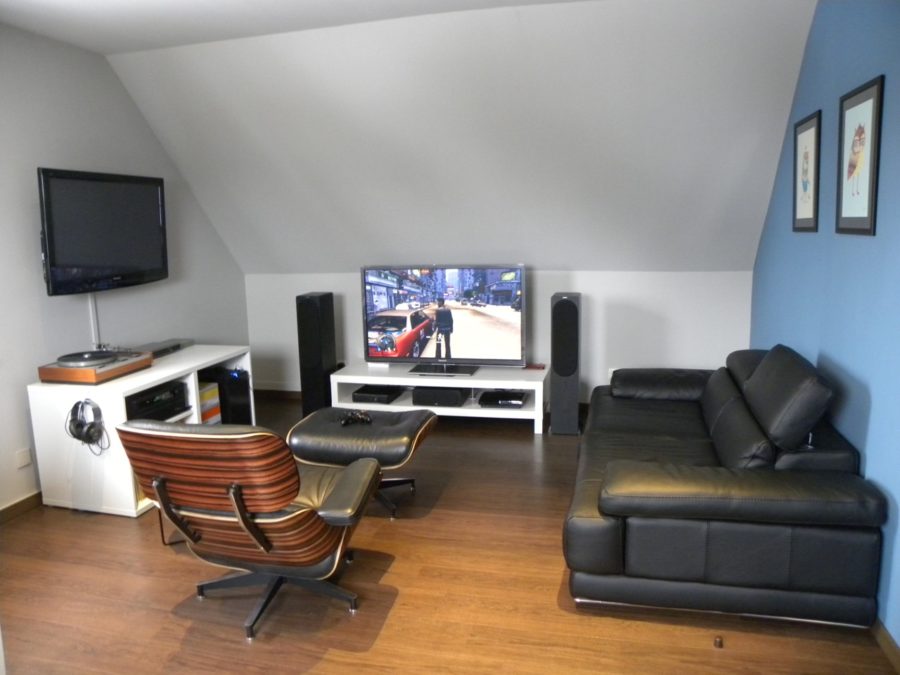 In most houses, you may find a room or a place with asymmetric walls or oddly angled corners. Such places may not be usable for living room or a bedroom, but you can always utilize such places into your video gaming place. The angled ceiling below the staircase makes this space shown in picture odd for proper décor, but you can fit in the screen nicely with the smallest wall in the backdrop.
43. Get your Bathroom Invaded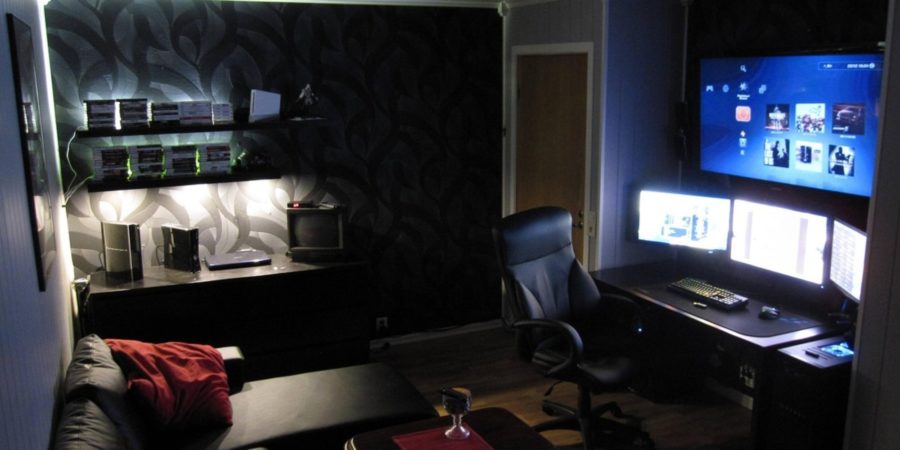 The biggest advantage of 8-bit games is that they can be easily incorporated straightforward your interior design. As in this case, the all famous space invaders have been accommodated on the walls of the bathroom by using simple white tiles combined with a few black tiles of the same size. This simple and fun bathroom decoration idea is a great inspiration for the lovers of such elementary games. An uncomplicated and basic level video game is creatively portrayed as a splendid sight.
44. Focus on the Action
The arrangement of the seats can always help defining the purpose of the setting. Same is the case with this video game room, where the circular arrangement of the sofas with the center towards the screen ensures that the people occupying them are all ears and eyes towards the action. The overall white themed room with contrasting dark seats define this elementary design, while three speakers are placed smartly to ensure a uniform and enhanced audio output.
45. Gaming in the Corner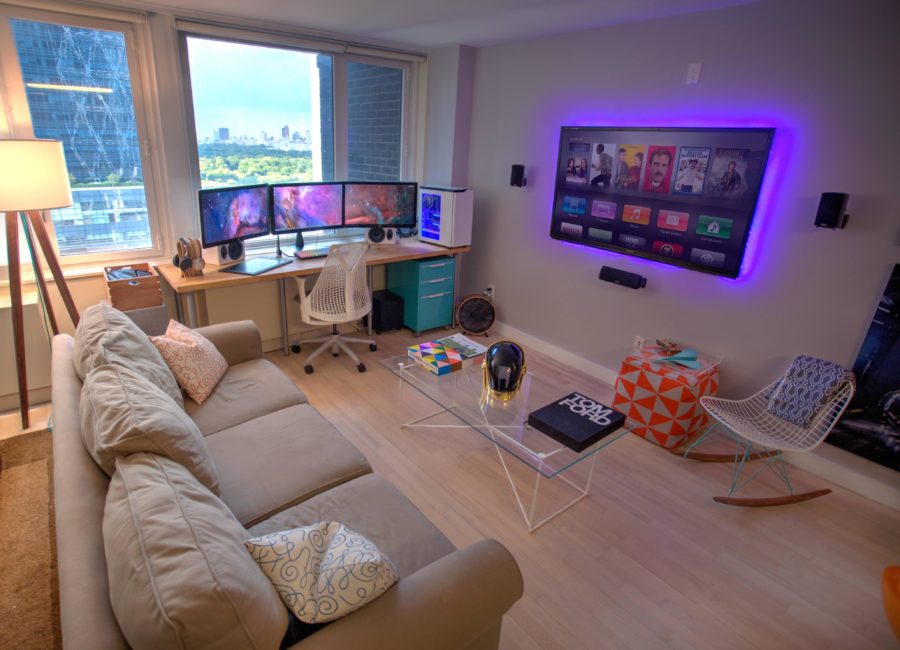 Sometimes you may not get the permission to convert all the space of your living room into a gaming café of your own. An alternative approach for such cases is the set up your video game equipment in a corner or a side of your living room. In this decoration idea, the setting for TV watching is untouched and more screens are employed, which are placed on a table placed against the window. A cozy revolving chair and natural ambient light complement it nicely.
46. Star Wars in Cool Blue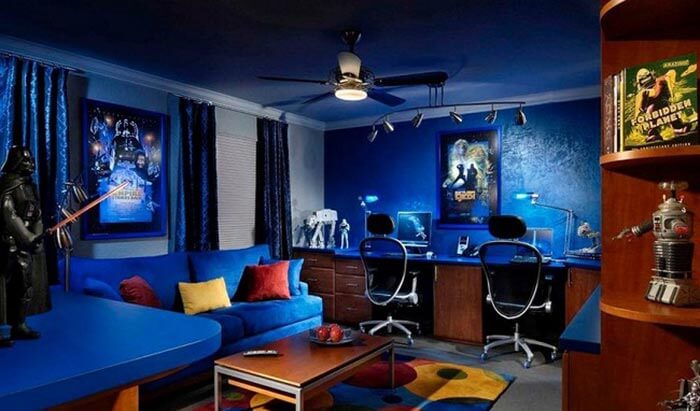 The cool blue theme of this wonderful video game room sets up the tone nicely for a soothing gaming experience. Posters on both walls and statues of different movie characters and Star Wars merchandise just add to the expression of love and enthusiasm towards the world of modern computerized video games. Ceiling, walls, curtains and furniture, all are nicely hued in the dark blue, with some sprinkles of red and yellow in cushions and adorably printed rug.
47. Spotting Light in Darkness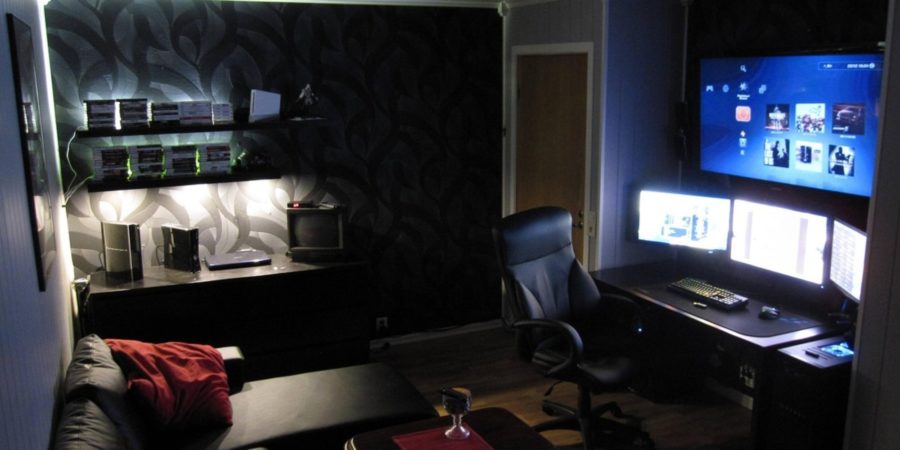 This overall dark video gaming room is partly illuminated by the recessed lights in the shelving, while the remaining requirement is fulfilled by the bright screen. This small gaming space is looking more reduced due to the dark color of furniture and gray walls. This helps the player to lay more emphasis on the game and at the same time, gives this space a voguish look.
48. Gamify your Bedroom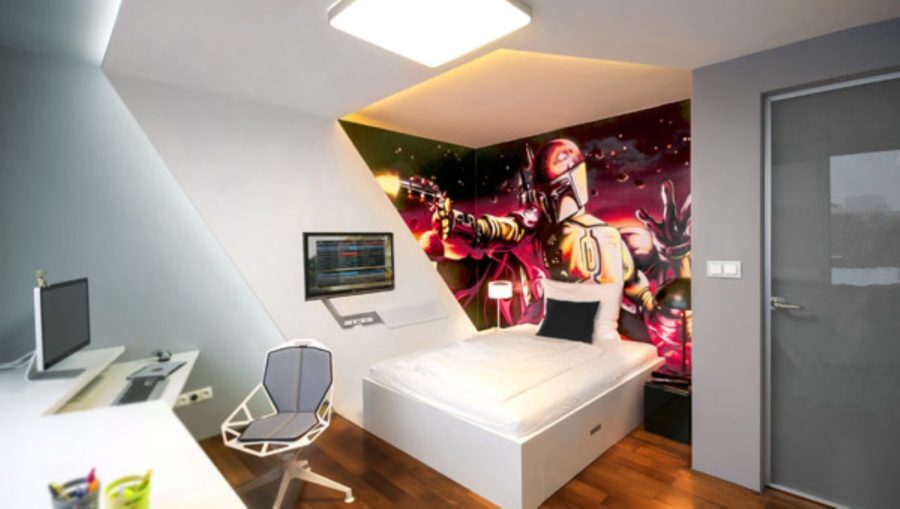 Bedrooms are sometimes the best place to set up your private gaming zone. You can give your room the necessary décor as well as to enjoy the luxury of perfect gameplay in a cozy environment. This design implements that idea quite intelligently. The huge wall painting in the corner behind the bed enhances the visual depth of this small asymmetrical room. Another set up for gameplay is installed alongside the bed for more intimate gaming experience.
49. Play Where You Work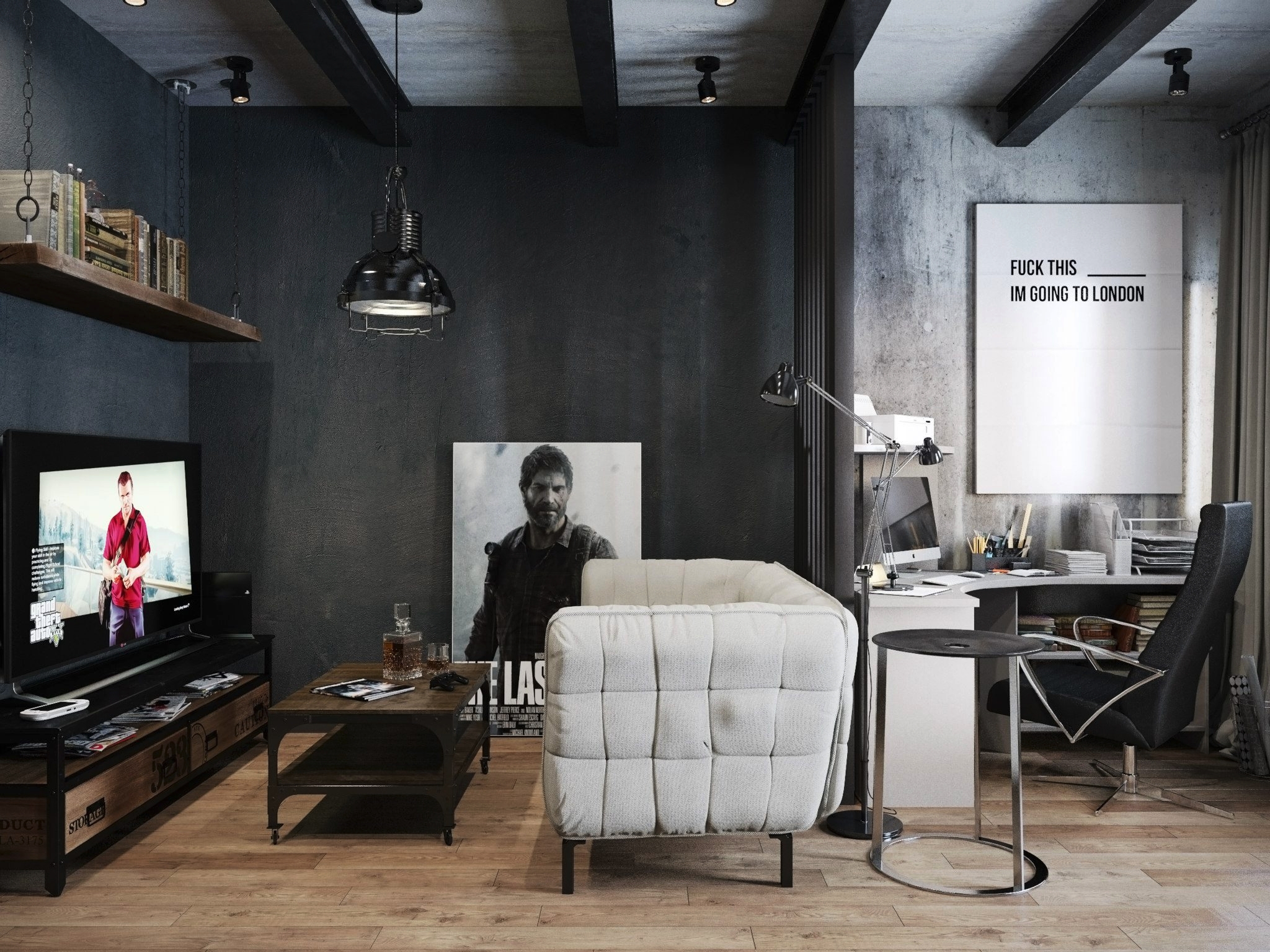 If you are one of those people who work from home in their in-house maintained office, then it would be a good idea to build your video gaming space inside your office. It not only saves the space but also give a fun and lively feeling to an otherwise dull and boring environment. The overall theme in this decoration idea is kept same for flooring and ceiling, but dark vertical blinds are installed to define a border between play and work. Also, the work screen is placed at an angle away from the direct view of gaming LED.
50. Tetris on the Wall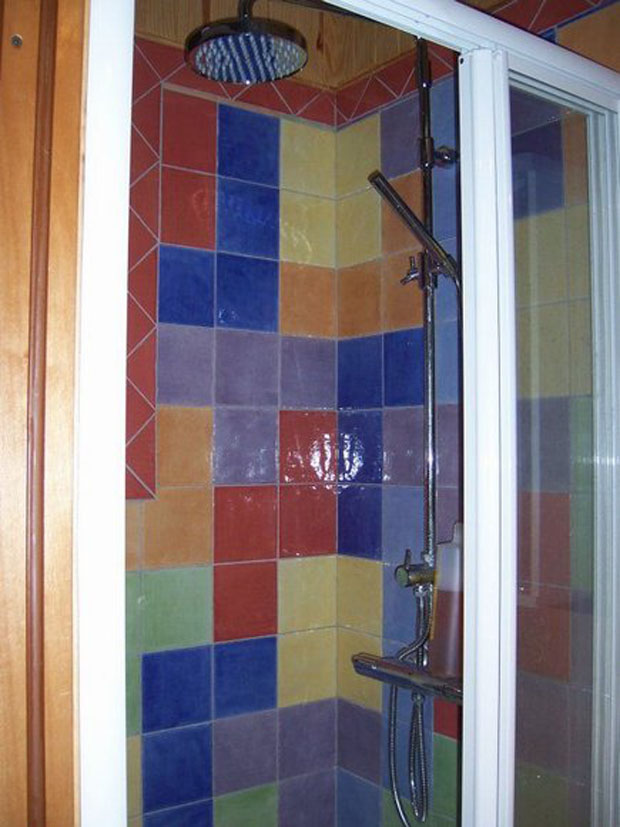 Tetris is declared as one of the most popular video game ever developed and played. It ruled the gaming market for several years, and still there are many enthusiasts of this legendary game. This decoration idea is inspired from the puzzle game and converted a simple and clean wall in an adorable sight. The playfulness and high energy emitted from this fun design lift up the mood of this corner of your bedroom or living room. A light colored sofa and plain white cabinet give this setting the necessary calmness and elegance.
Check Out The Video Portrait of Awesome Video Game Room Decoration Ideas