17. Passion for Old Games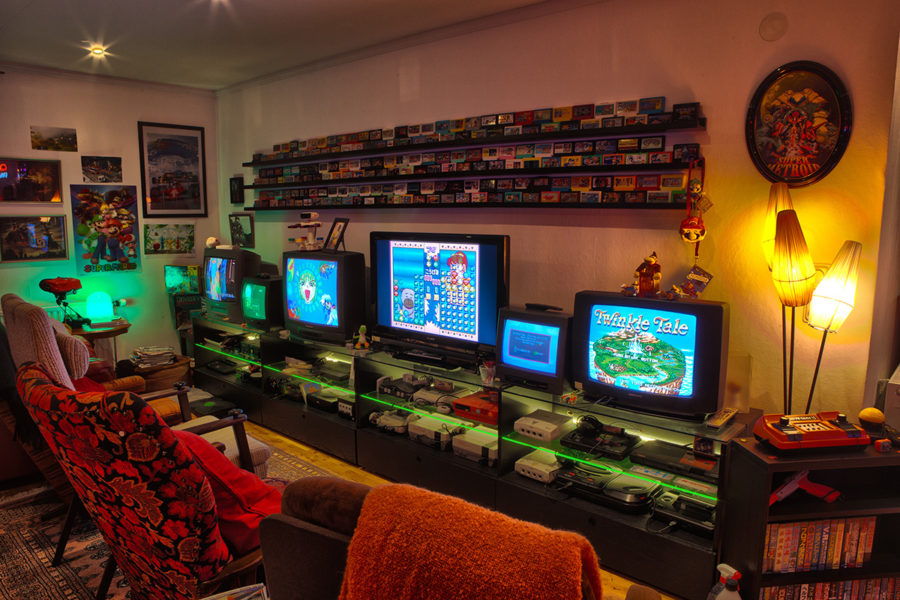 If you are a dedicated video game enthusiast for a couple of decades, then you must have an extensive collection of old gaming consoles and cartridges. Such a collection can be decorated and beautifully displayed in the manner shown in the video game room design above. The classic gaming consoles are organized in stylish cabinet display along with well sorted out gaming cartridges in the top shelf. There are multiple television screens compatible with the old consoles properly connected to enjoy the nostalgic feeling anytime.
18. Multipurpose Simplicity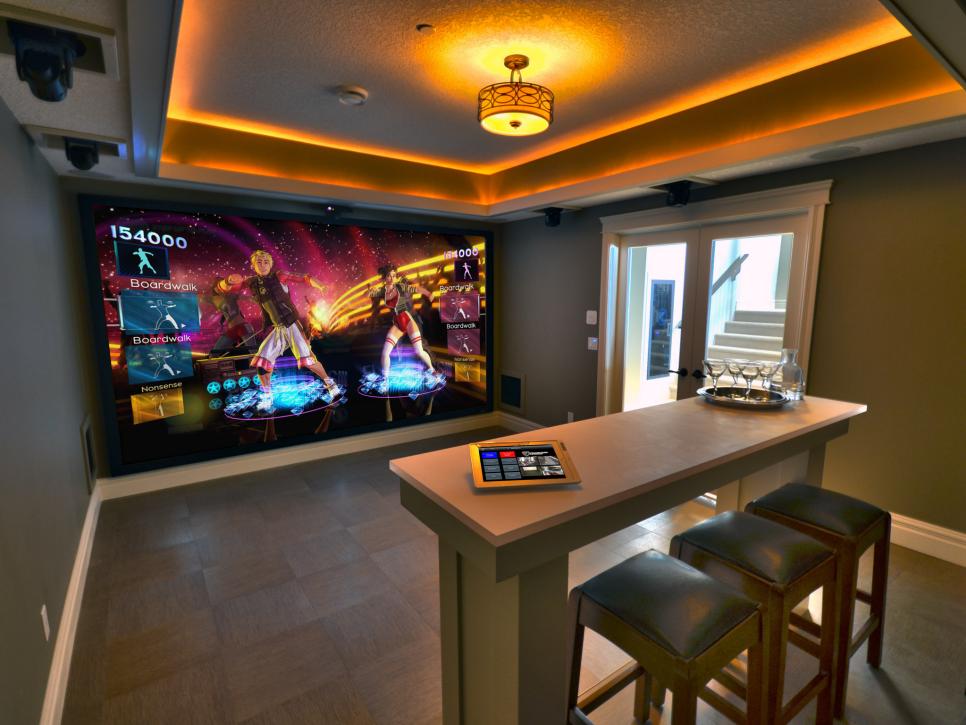 Sometimes you don't get a dedicated room for your nurturing your passion for video games. And you still want your video gaming room to be unique and well designed for an overwhelming experience. In such cases, this video game room decoration idea offers an excellent trade off. With this simple layout, you can enjoy the luxury of a specified video gaming place, and at the same time, you can always use this room for other purposes without changing anything in the interior decor.
19. For the Love of Board Games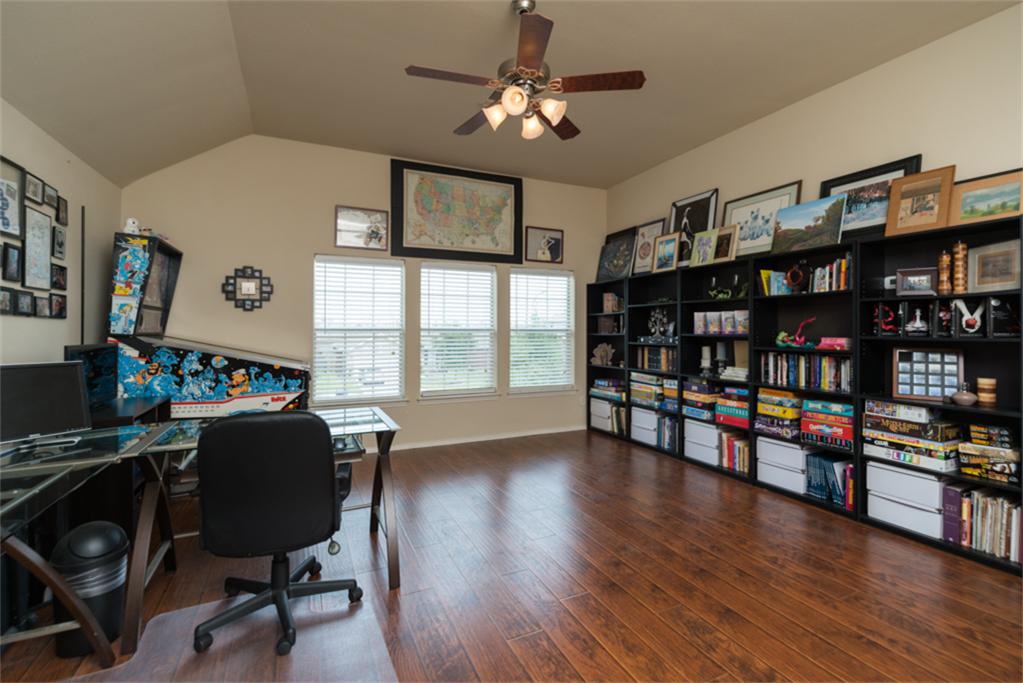 It is not necessary to decorate your game room based on the themes of electronic video games. The classical board games have their charm, and they still attract many people. For such people this design has it all; a huge shelving space ensures storage of all your board games collection. The classic pinball game has also found its place in this setting in the form of arcade machine. This room has a plenty of space, so an opportunity for future alterations. The wooden flooring, pure white paint on walls and a classic chandelier add to the elegance of this game room.
20. Tetris Bathing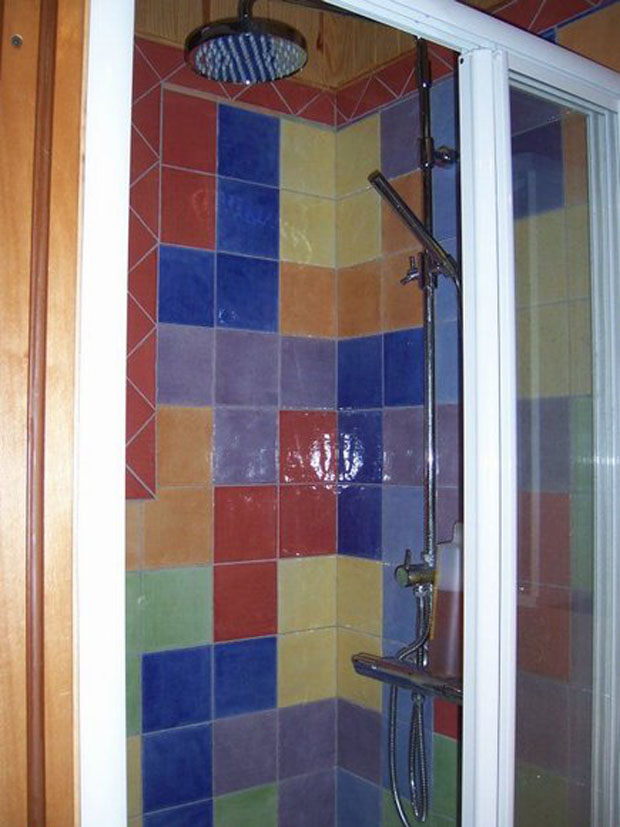 Most of the shower areas and Jacuzzis are decorated with monotonic tiles and conventional designs. If you are fed up of such designs and want something different and funky in your bathroom, then this decoration idea for bathroom gives a real inspiration. Also, this design is economical as it needs a few tiles of different colors and some creativity to arrange them. Such a decoration idea can be a treat for your children.
21. A Sports Club around the Corner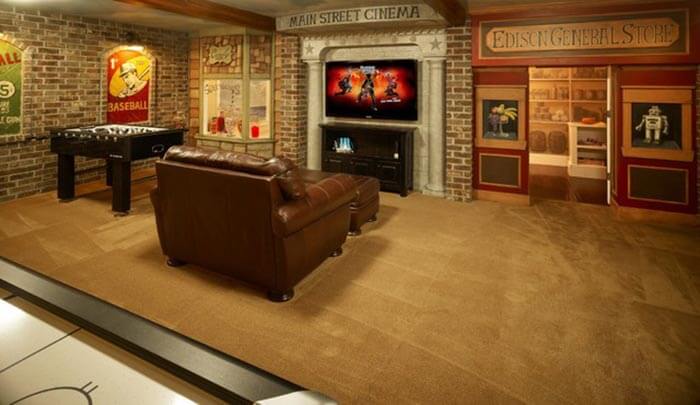 In this room, you can enjoy the feeling of a local gaming bar. The overall theme of this setting is similar to a classic pub. One corner of this spacious room is equipped with old-timey and more traditional games, and the look of it is further reassured with classical sporty posters on the wall nearby. The central area is occupied by a more modern mode of gaming, where the fireplace is redesigned to accommodate the screen for video games.
22. Filling Colors in the Dark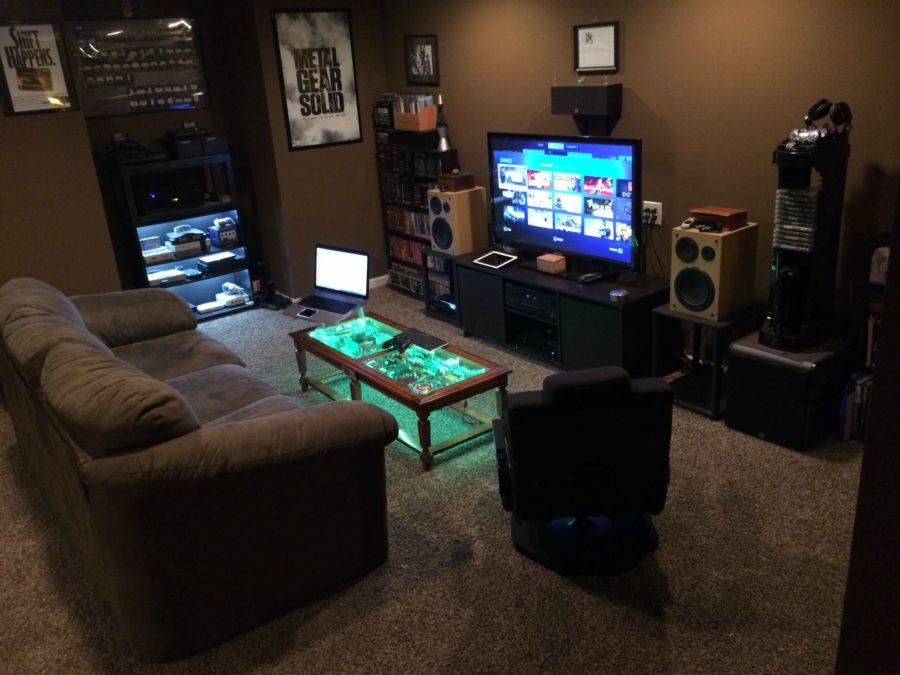 Some gaming enthusiasts like to play video games in a darker locale to thoroughly enjoy the graphic details and bright colors of the game. But you cannot undermine the need for ambient lighting which is a must to set up your video game room conveniently. This room decoration idea has catered for all these factors quite intelligently. The dark colored walls and furniture dim the overall profile while the bright funky spotlighting under the table and in the cabinet make up for the dark theme of the room.
23. Gaming on the Bed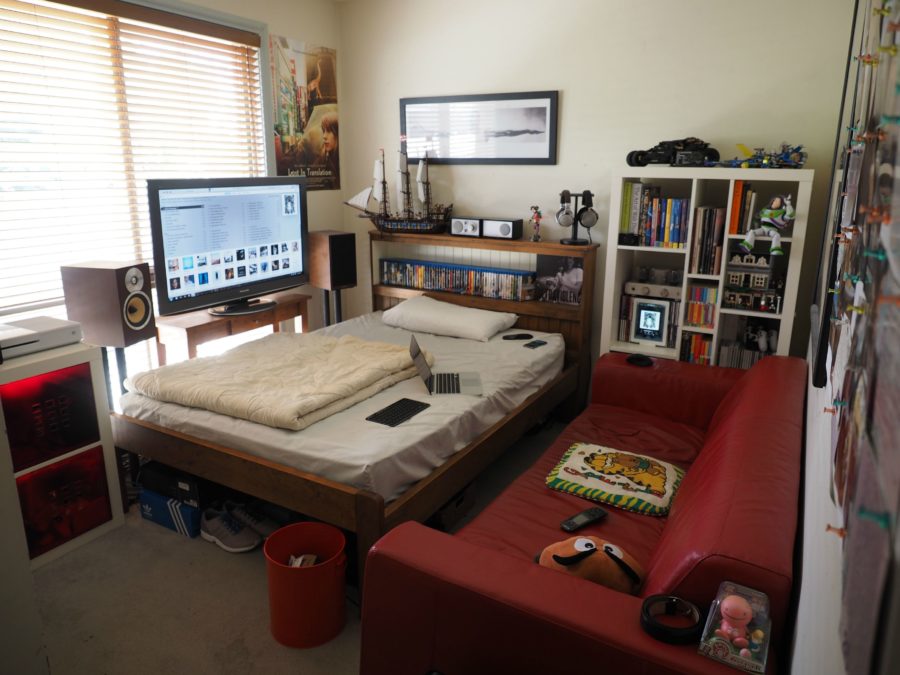 Many dedicated gamers are not well provided with ample space in their home to set up and decorate a separate room for the passion of gaming. Such enthusiasts may find their bedrooms to be the best place to quench their thirst of gaming. This creative video game room decoration idea is perfect for the gamers having a small room. A large couch is positioned along nicely with the necessary existence of bed, so that the bed may act as a large virtual table when the gaming mode is on.
24. Like the Old Days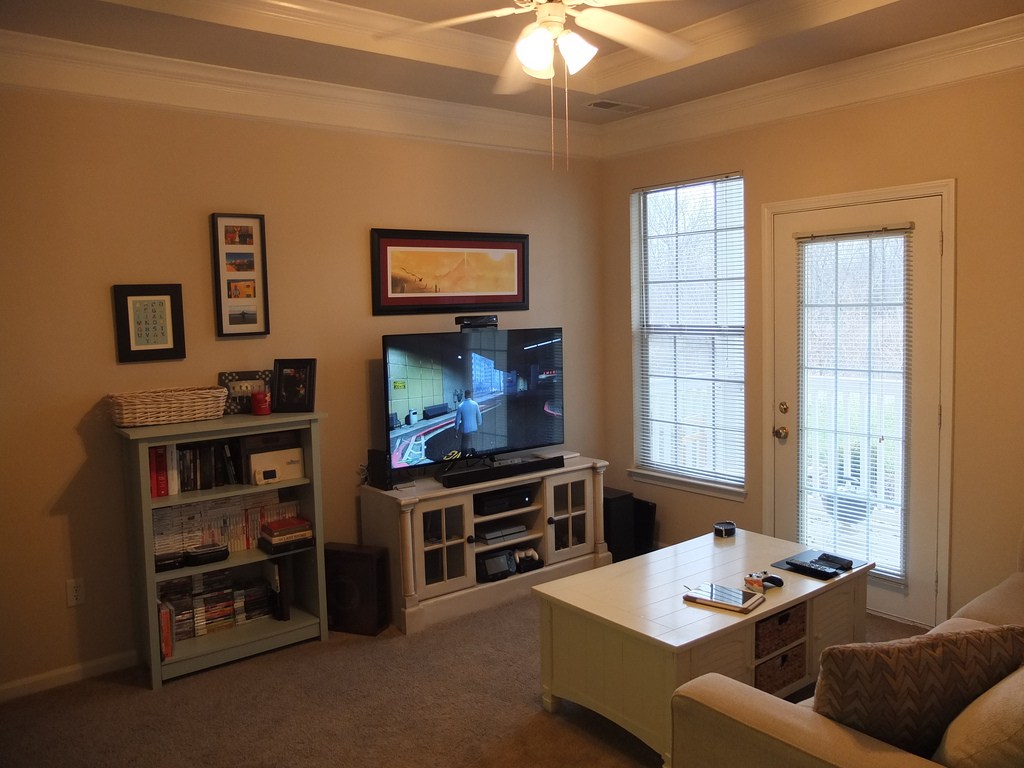 In the days of classical home gaming consoles, most of the households with video game lovers used to set up their gaming arrangement in their TV room due to only one television screen available in the house. That can be relived today as a brilliant video game room decoration idea. All you need is a shelved coffee table and a rack to place your gaming equipment. A media center cabinet used to place the screen also helps the cause and keeps it clear when gaming mode is off.
25. Underground Gaming Club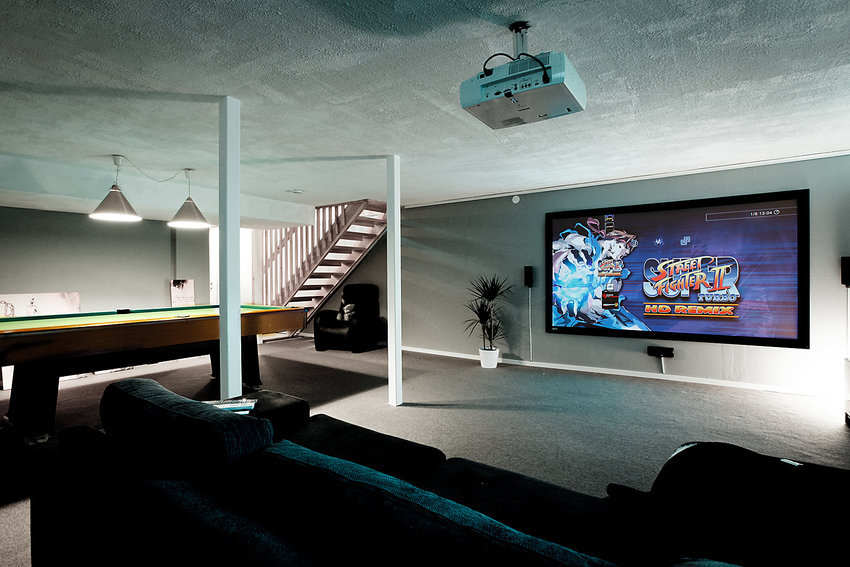 If you have a spare basement area on your disposal, you can convert it into a wonderful place of your own where you can enjoy a perfect gaming experience. In this decoration idea for video game room, we have a traditional large billiard table with cone lights on the top creating an environment for a club we often see in movies. On the other hand, a large screen with projector image on it represents the modern techy way of playing video games.
26. Gamer's Customized Bedroom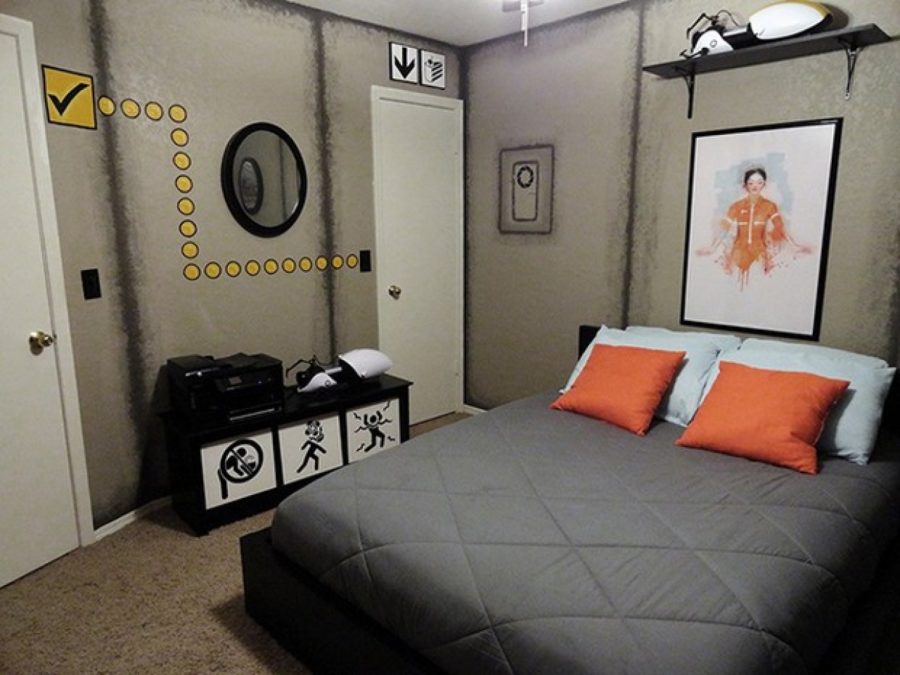 The bedroom décor signifies the likings and inclinations of its tenants. A gamer would love to decorate the bedroom as shown in this video games themed setting. There are motifs used in this room along with gaming related signs and symbols to express the love of video games. The large water painting on the wall behind the bed and the contrasting color of cushions on it makes it a futuristic décor with simplicity.
27. Colors Say It All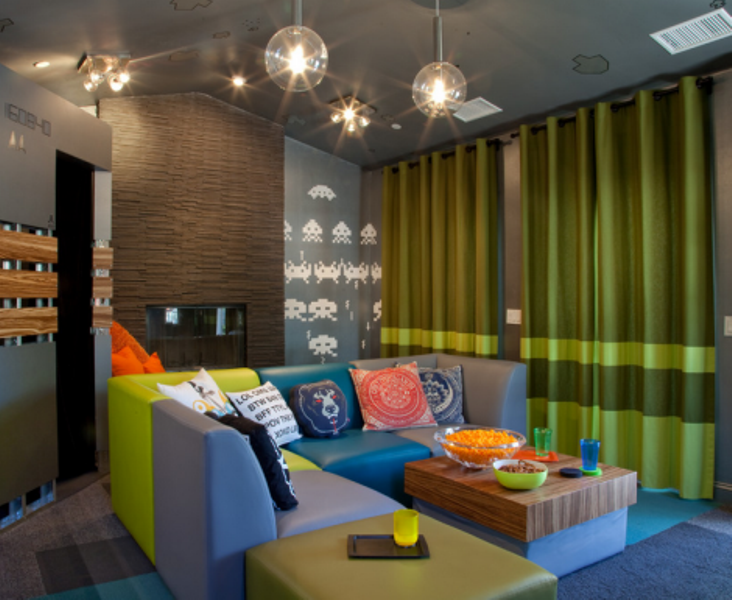 The otherwise simple living room is well decorated with the classical video game characters on the wall, making it a perfect setting for a video game lover to express the passion. White painted characters on a light gray wall are prominent from a distance; while the bright tone of curtains hanging right from the ceiling makes the place livelier. The multicolor sofa with adorably printed cushions is fantastically illuminated by the funky spherical glass chandelier.
More Video Game Room Decoration Ideas on the next page…