If you're working with a bedroom with limited space, the best way to maximize space is to make use of a low platform for a bed. Instead of using the usual beds available in most furniture stores, you can opt for this to give an illusion that the room is larger than it really is. In this bedroom, the room is kept in a simple color palette that resonates throughout the room. This follows in the sheets used as well as the rug in the middle of the room. To give the room a breathable environment, a plotted plant is added.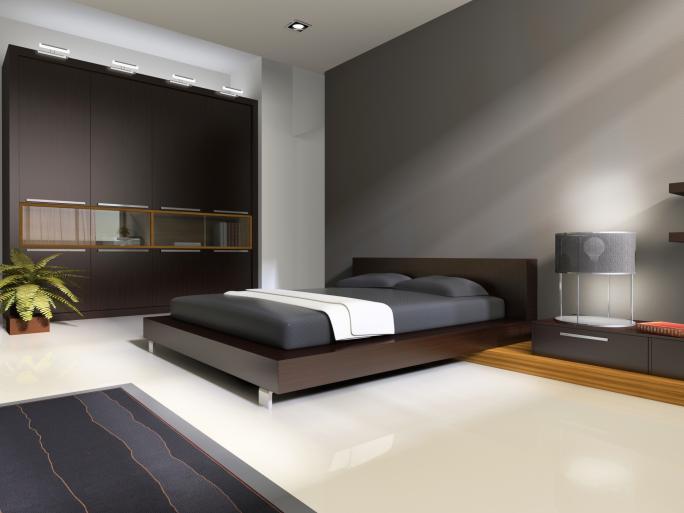 41. Funky Bedroom Style
If you have a funky personality and you would like to incorporate this into your bedroom, the best way you can do it is by mixing different patterns. It's always a good way to mix and match patterns and colors if you want to make your room look fun. You can even throw in a faux fur duvet and use it as a cover for your bed. You can also opt to go with an Art Nouveau sketch and hang this on top of your bed. The trick here is to go for colors that are light and fun. Let your personality shine through and don't be afraid to go for unique items. If you are planning to use throw pillows, go for pillow cases with a variety of colors but the same design. The good thing about a funky bedroom style is that there are no rules to it.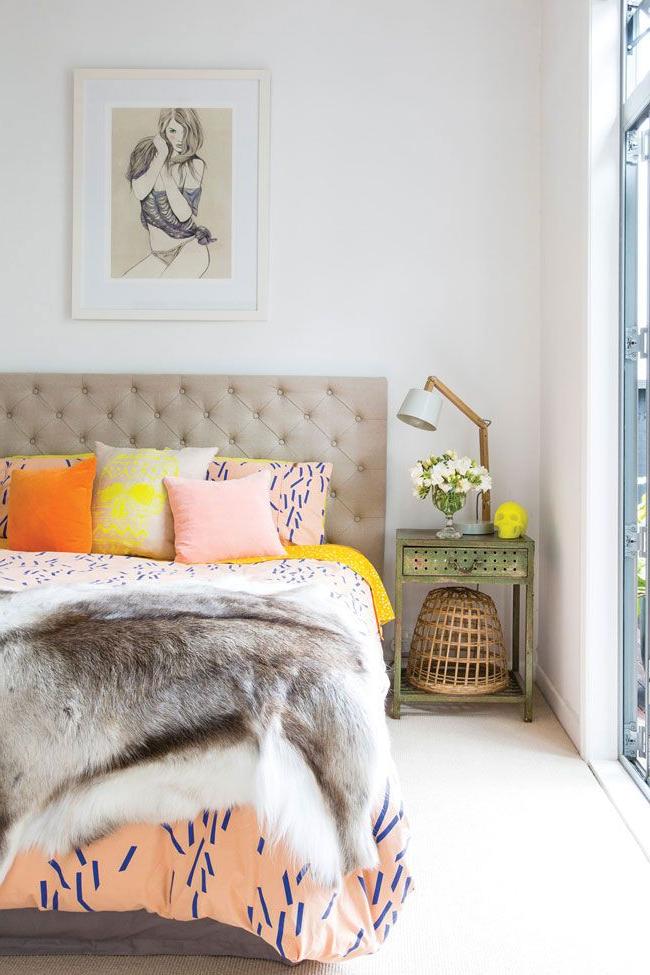 42. Industrial Loft Bedroom Design Ideas
In the recent years, industrial design has become such a huge hit for those who wanted a low cost home improvement idea. It was not limited to households as there were a number of establishments that followed the theme. If you are into the industrial theme, you can incorporate this into your room. The trick is to make use of brick for your walls. To give it the industrial feel, have some stencil art done on the wall. You can throw in a flower themed duvet to lighten the industrial feel in the room.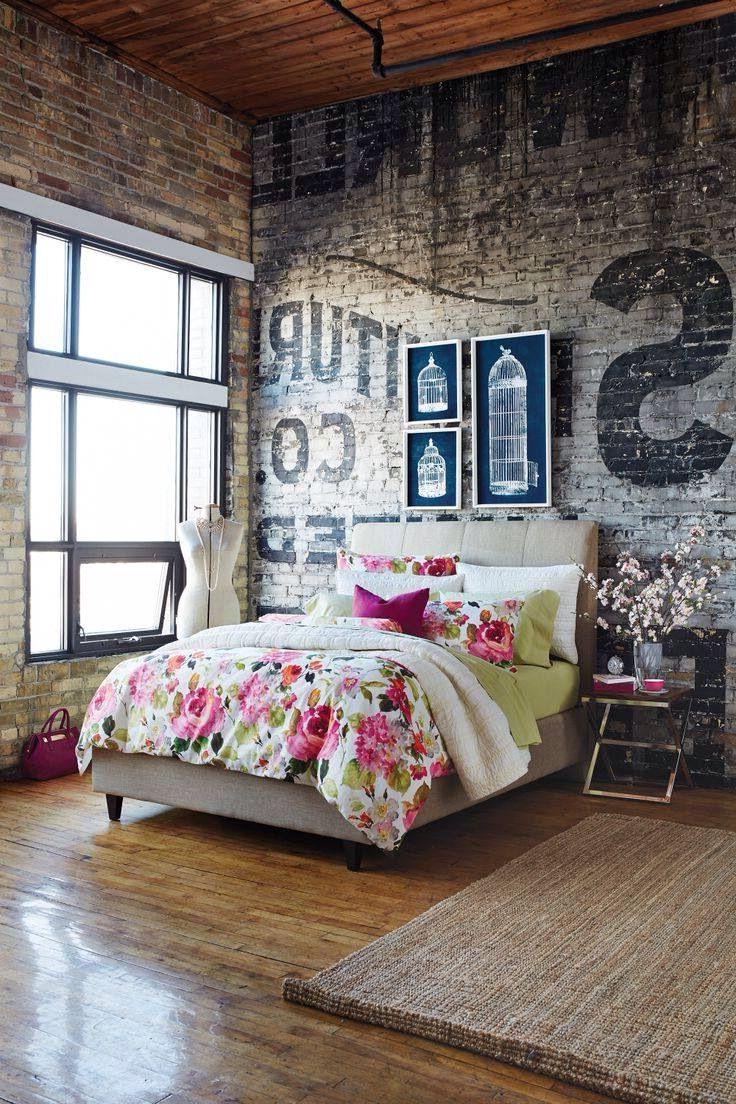 43. Posh and Elegant
If you are the type of person who does not go after strong color contrasts, the best way you can decorate your room is by making use of neutral colors and browns. You can use white furniture in your bedroom and match this with cream colored furniture. You can also add in a crystal chandelier to give personality to the room. To have a royalty feel in the room, you can add in a white bedroom bench. Without the use of rugs or carpets, your room is actually a lot easier to clean and maintain.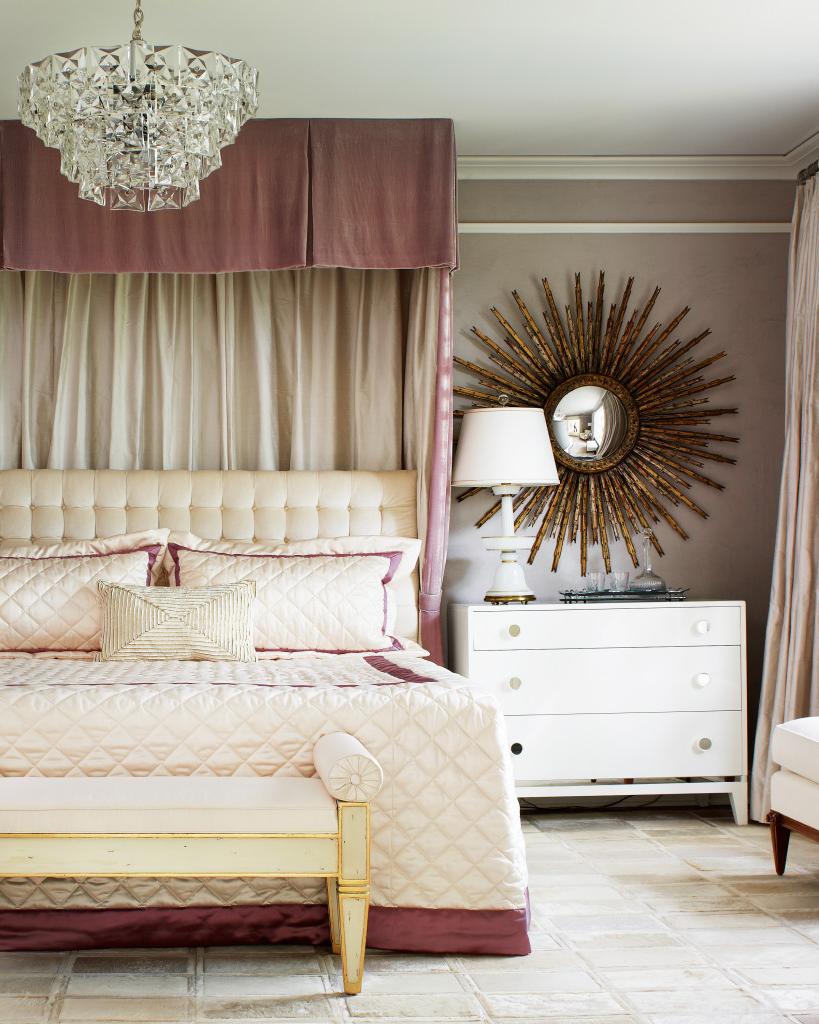 44. Blue French Contemporary
For years, it's been proven that the blue color helps make an individual relax. If you believe that a bedroom is a place for relaxing, it's a good idea to follow this sound advice. To start off, go with dark blue color on the walls. Once you already have this color in place, you can look for pieces that bear a color that are complimentary of this main color. You just have to be careful not to go overboard with your blues. Otherwise, you'll end up with a nautical theme in your room. And that's a different bedroom design you can take into consider.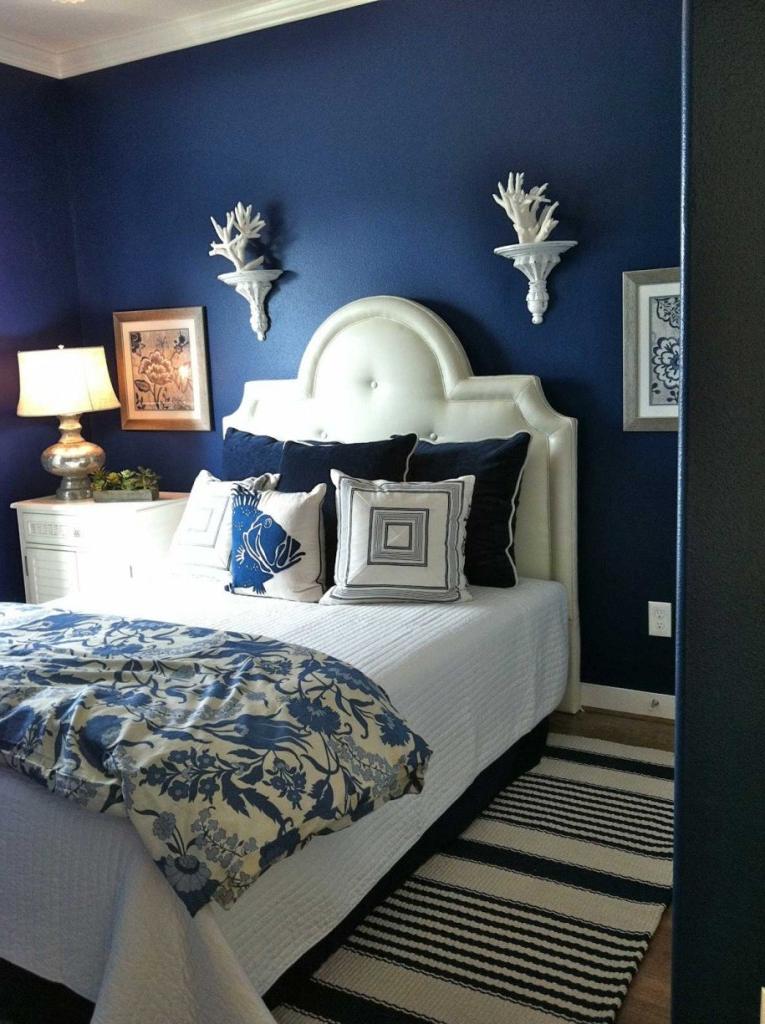 45. Black and White Elegance
There's no comparing to an elegant room. This is why there are so many different bedroom designs that follow an elegant design. One way you can achieve this is by making use of black and white colors and use this to give your room a classic touch. To add contrast, you can throw in some beige colors or royal gold as wallpaper or slip covers.
46. Just The Right Amount of Yellow
For those with a penchant for yellow, the same idea can be used to mix colors in a bedroom. The important thing to remember about decorating a yellow room is to avoid letting the room turn overly bright or too garish. This is why there should be a balance between earthly tones and cream. Just like in the photo, a cream wall is used to balance everything out. The pieces left in yellow are the upholstered chair, lampshades, and the striped bedroom bench. When you tone down on the yellow and opt for beige, cream or goldenrod, you get to subtly maintain the bright energy in the room.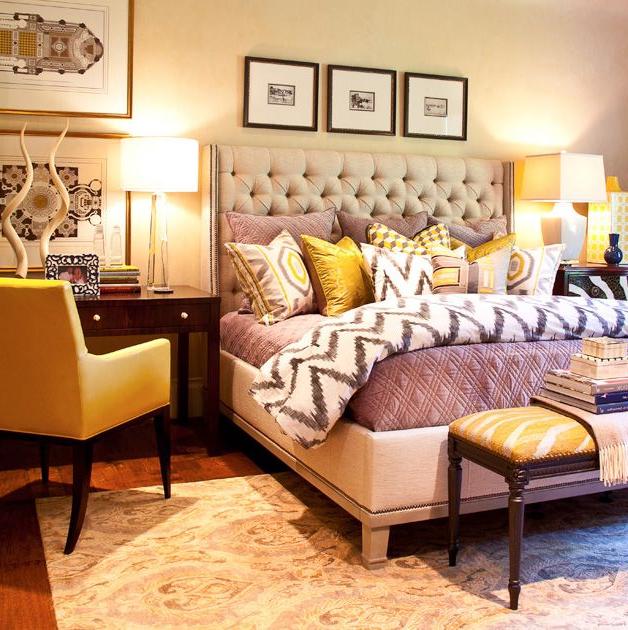 47. Smooth in Gray
Only a few bedroom designs make use of the color gray. It is unfortunate that the color is often undervalued by those who do not have much idea that this is a good color to use for a bedroom. The good thing about gray is that it adds dignity and elegance to a room. Combined with white lights and glass, the gray color can be livened up. In the bedroom in the photo, the brushed gold candlestick and the copper bed posts go really well against the gray wall. To keep the color balanced, the furniture and the walls are left in either white or black color.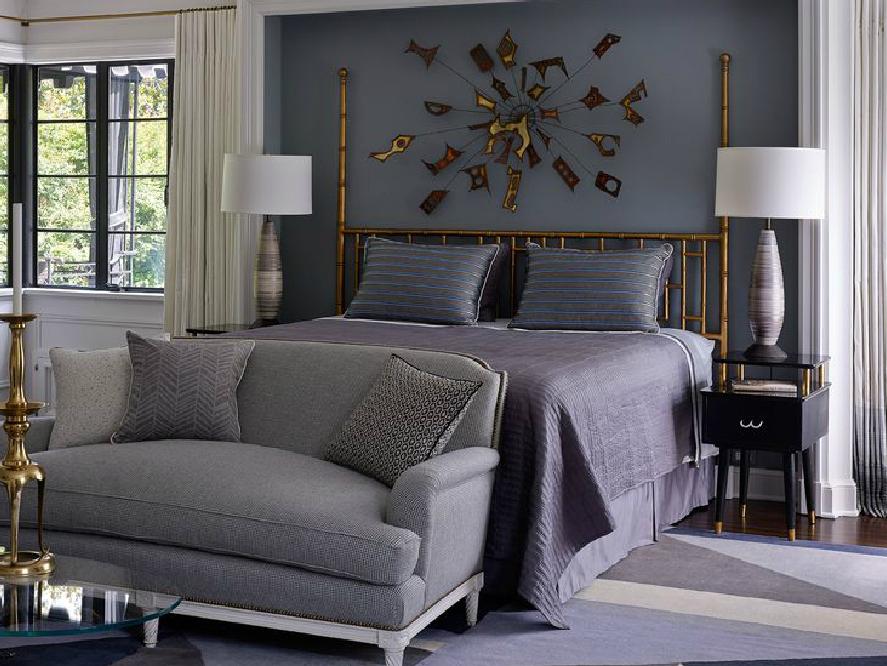 48. Shabby Chic
Another trend that looks like it's going to crossover to 2021 is the use of shabby chic furniture in a bedroom. The good thing about going with a shabby chic themed room is that you don't necessarily have to use brand new furniture. Just like the ones used in the photo, you can look for old pieces of furniture that you can repurpose, repaint and make look weathered. The white walls, floors and sheets gives a bright energy to the room. This also gives accent to the weathered furniture used in the room. To give a chic vibe, you can use floral curtains and throw pillows.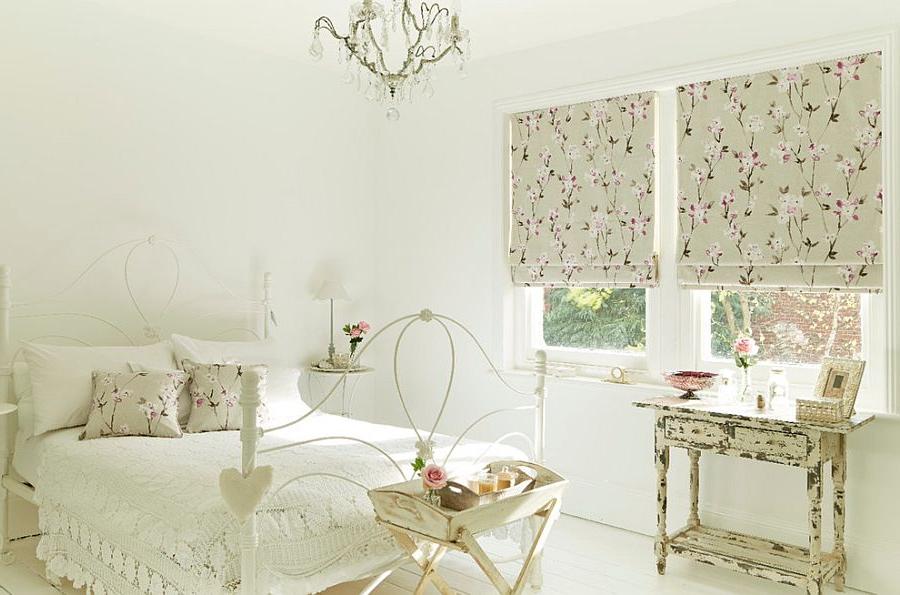 49. High Ceiling Bedroom Design Ideas
If you are working with a high ceiling bedroom, the best way you can decorate it is by adding in a large chandelier. Apart from giving illumination at night, the chandelier can be a stunning signature piece in the room. This works best when decorating a symmetrical room.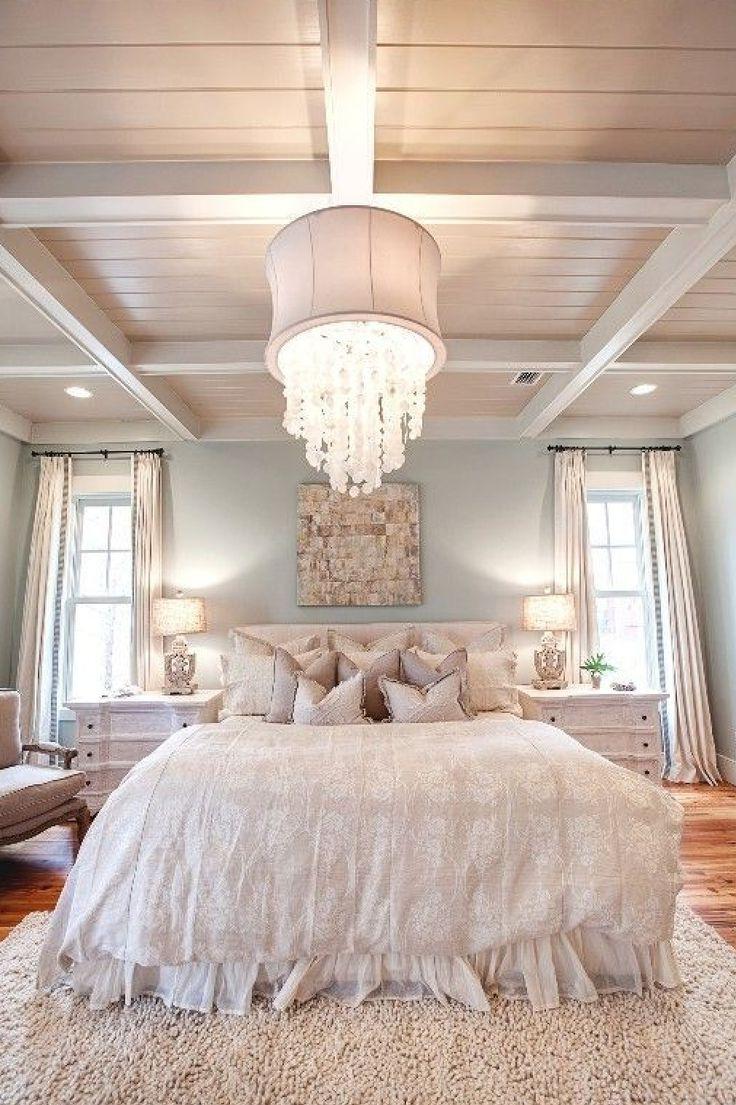 50. Mosquito Net on Bed
Another way you can make your high ceiling bedroom look good is to make use of a mosquito net. You can add this piece to a four-poster bed so you can give your room an old-fashioned touch to it. To keep things modern, however, you can make use of wooden walls.
No matter how much your budget is, the important thing you have to remember about decorating your bedroom is to follow a theme that is true to your personality and a design that you enjoy. There are different ways you can design your bedroom. All it takes is to understand what design works best for you.