31. Weatherproof Metal Fence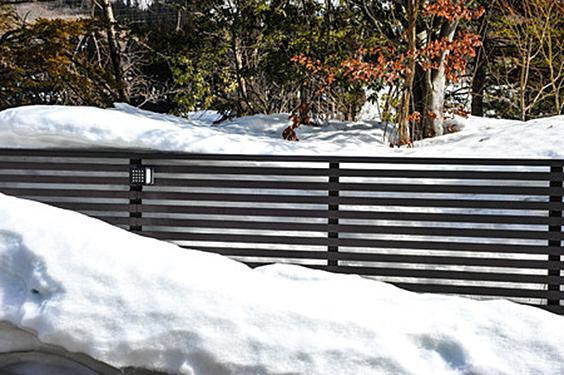 This galvanized steel fence is made of horizontal black elements that stand out starkly against the bright white snow. In areas that are prone to heavy snow your fence has to be constructed out of a durable, rust proof material that can withstand the significant weight of the snow. Designs like this are simple but also manage to be beautiful and effective within this harsh climate. The fence has been paired with a matching gate that blends in seamlessly behind it as it opens with an elegant flair.
32. Black Timber Garden Fence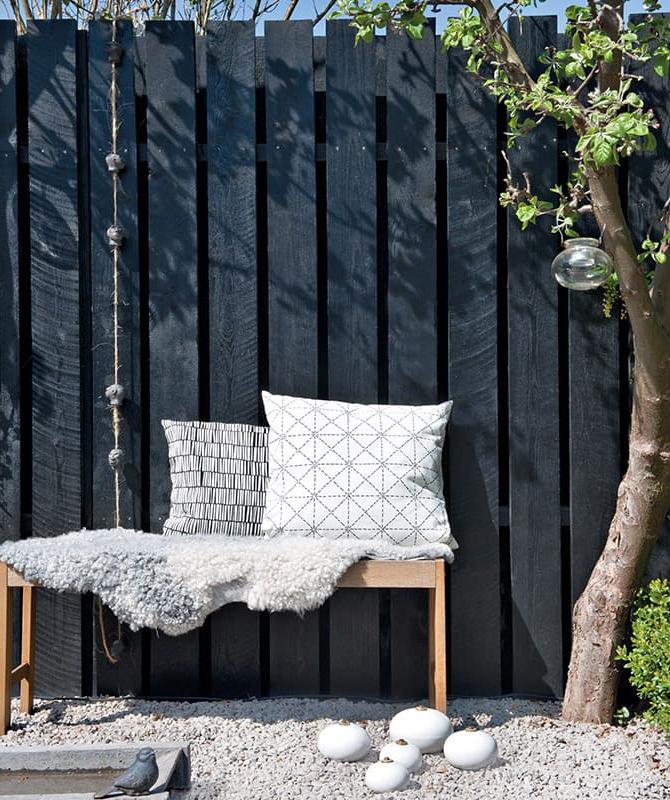 This timber fencing manages to go from traditional to contemporary rustic by merely changing up the colour. The thick timber slats are stained black rather than painted so that the wood grain peeks through when the sunshine hits its surface. The matte black surface also acts as a backdrop to this beautiful outdoor entertainment space. The bench that has been placed in front of it is made of pale timber with light soft furnishings sitting on pale grey stones that stand out against the black fence and oozes contemporary minimalism.
33. Traditional Red Brick Fence Ideas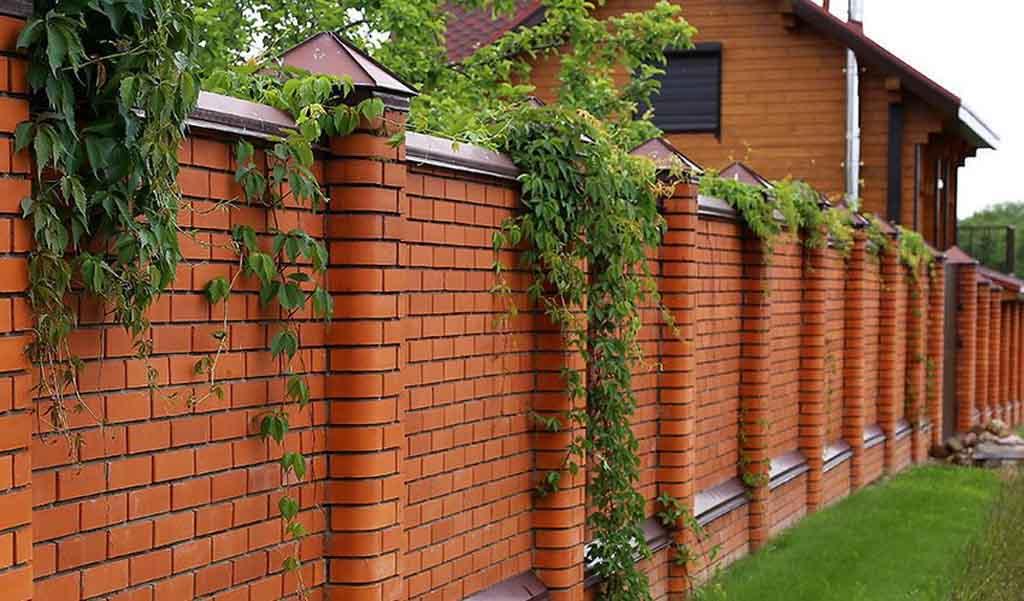 Two classic pieces of architecture have been brought together in this property whose tall red brick wall surrounds the traditional wood paneled house. The wall is permeated by fence posts every two metres or so which are topped by a turret that matches the curving wall topper and bottom panel. The bricks of the fence posts are curved to get rid of any harsh edges. The design is broken up by creeping plants along the top of the wall, letting nature reclaim the space.
34. Bamboo Screen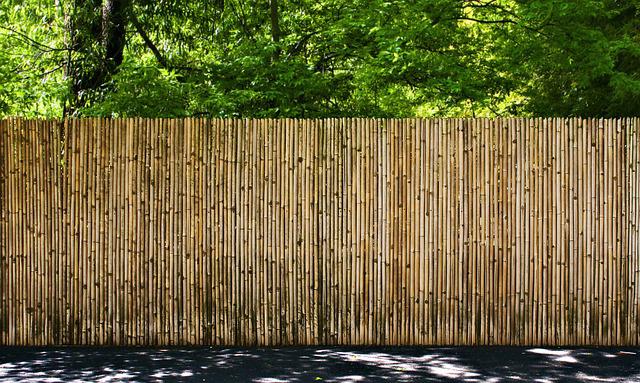 Bamboo is a material with very few drawbacks; the plant has a beautiful natural texture and is eco friendly because it is easily to replenish due to how fast it grows. To form this screen fence the bamboo stalks have been tied closely together to create a visually impenetrable wall. This style of fence is lightweight and easy to erect yourself. This is also a budget friendly choice because they don't require a foundation and can be bought in rolls from any hardware store.
35. Contemporary Timber And Frosted Glass Fence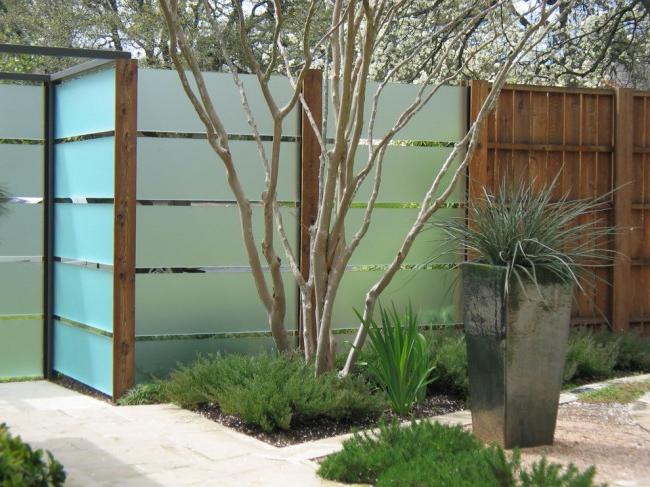 This contemporary fence is another example of how to combine two materials artfully. Rough timber paneling encloses the whole property until you reach the entrance where it gives way to horizontal frosted glass panels that wrap around to create a recessed entryway with a matching gate. Small gap between each panel and the translucency of the material allows a hint at what lies beyond the fence while maintaining privacy. The signature fence is finished off with a little sprinkle of greenery with gorgeous spindly tree taking centre stage.
36. Black And White Boundary Fence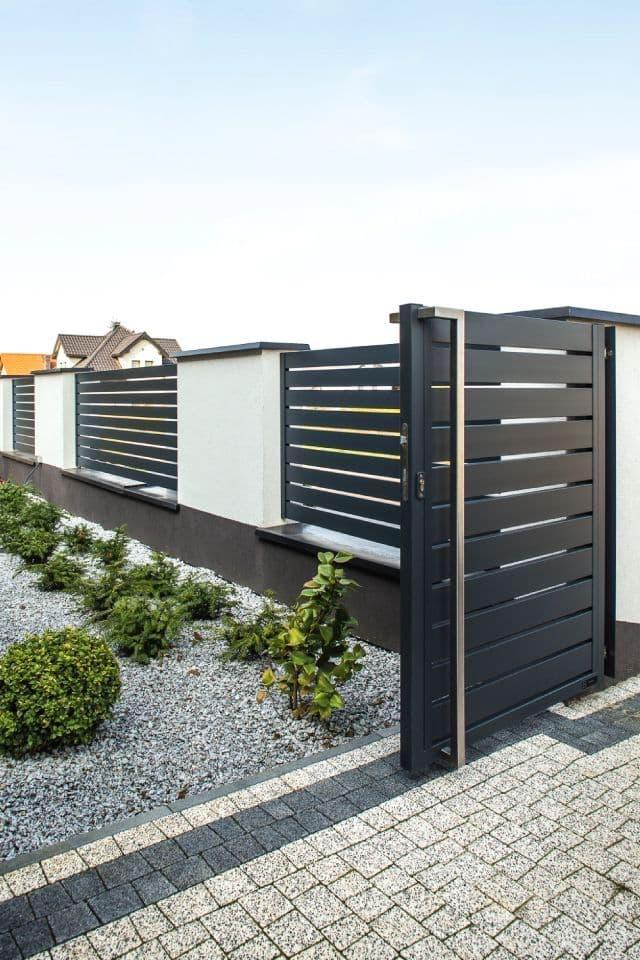 This stylish black and white fence with a matching gate has, yet again, combined two materials to create this simple monochromatic design. The main structure has been constructed out of brick that has been rendered and painted white to form the fence posts and faced in black marble to distinguish the space beneath. Weatherproof steel panels in an inky black, the same material that has been used for the matching automatic gates, fill in the spaces between the large fence posts. The slight gaps between the black bars allow a vague glimpse into the garden beyond while keeping your garden feeling private. Grey stones and little green bushes in the garden bed in front of the fence accent the design and provide the only element of colour in this house's boundary.
37. Plain And Simple Timber Paneling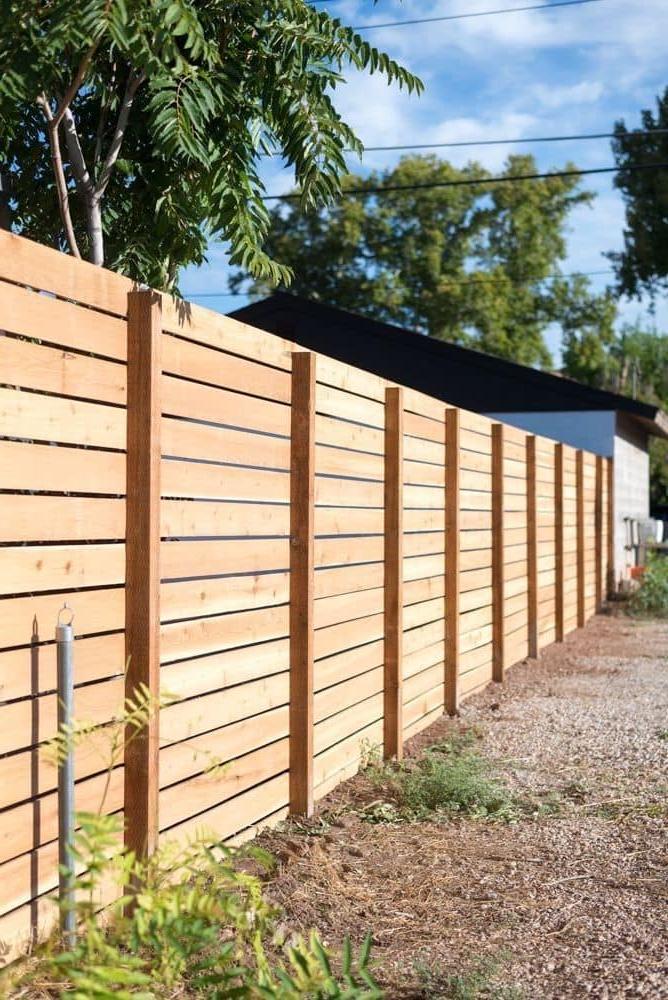 This really simple pine fencing is beautiful and effective, letting the strength and appearance of the natural material do the talking and makes it one with its rural setting. Slender posts have been hammered into the ground and faced in slim timber panels with a thin gap between to create a lightweight boundary wall. The fence is sufficiently tall to prevent anybody seeing into the garden without having to fuss around with heavy masonry or a foundation. The warm wood is also the perfect backdrop to flower filled garden beds on the other side.
38. Ranch Style Timber Fencing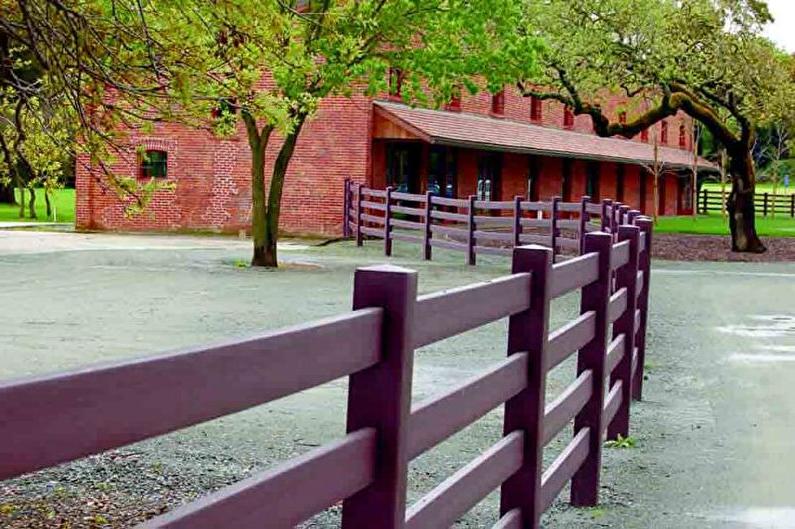 This ranch corral fencing styles is a staple when it comes to rural architecture, especially properties with livestock. This big red brick farmhouse has used a maroon version of this timber staple to set it apart from your regular old farm fencing. The classic timber structure is easy to climb over as a person but manages to keep in animals from horses to pigs. The garden and farm grounds surrounding the house take up acres of land and this ranch style fencing is the perfect choice to separate the large farm property into useable slices for recreation, grazing and corralling.
39. Mock Rock And Timber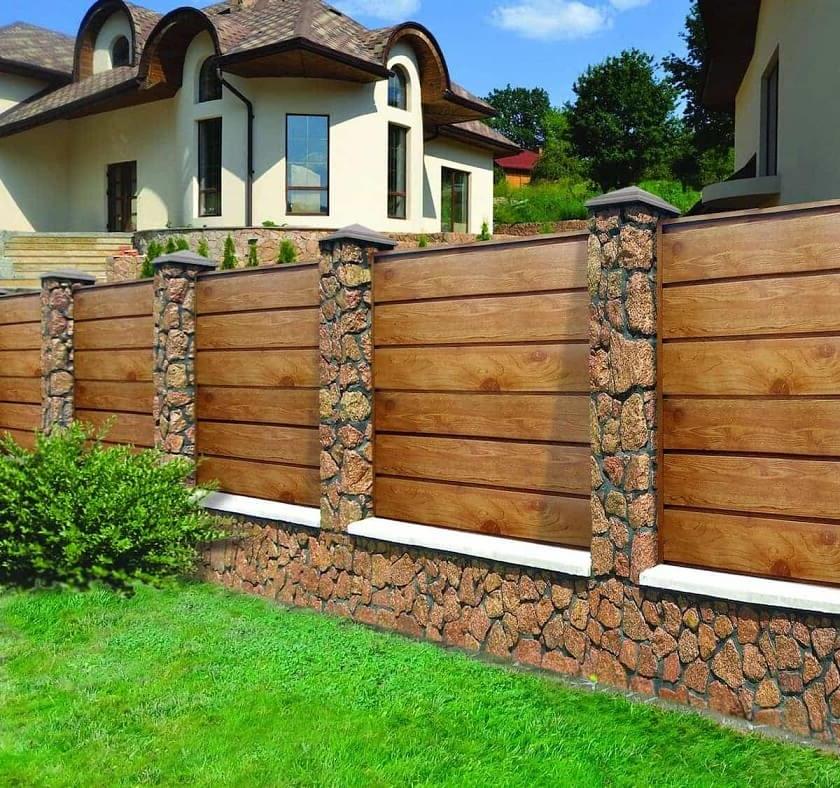 A roughly textured mock stone facing has been used for this rugged fence as a much cheaper alternative to real stone. The fence posts and the base of the wall have been constructed from brick that is plastered and faced in the faux stone and topped by little turrets. The concrete base is finished off with a bright white cell for rain run off. Within this framework large slats of highly polished timber create an impregnable visual barrier between the garden and the street that is thin and light. The juxtaposition between the two textures gives your home a distinctly rustic aura before your guests even put a foot in the door.
40. Traditional Fencing Styles With Brick and Iron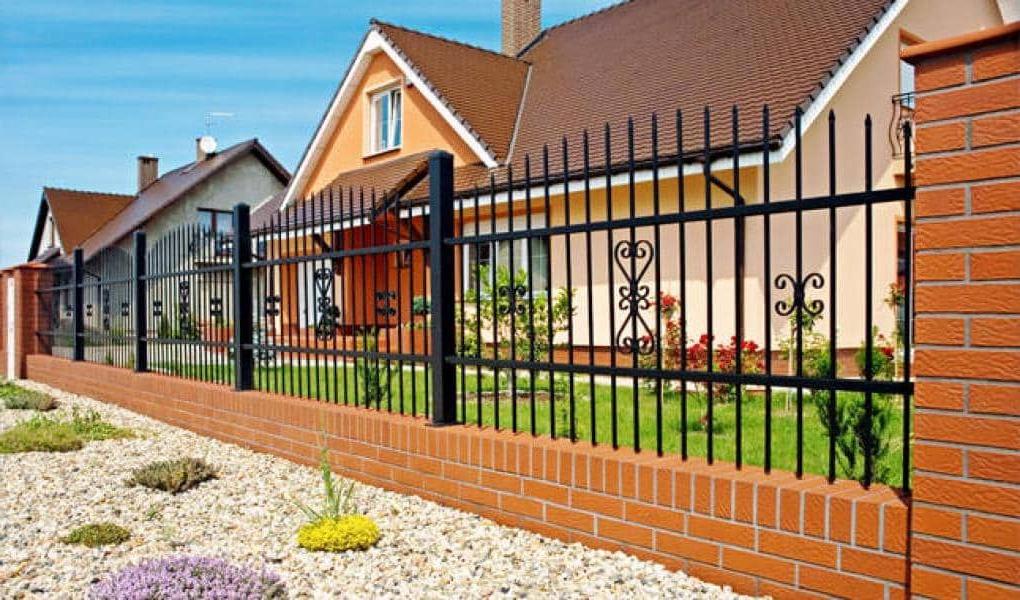 In a very similar technique to our first example this fence has combined the traditional materials of red brick black and wrought iron to create a beautiful boundary wall. Tall brick red fence posts that grow out of the base frame the grid of wrought iron fence panels. The panels wave gently between the wrought iron fence posts decorated by a three symmetrical curlicued designs along its waist.
More Fencing Styles and Designs On The Next Page…