21. Forged Decorative Fence Panels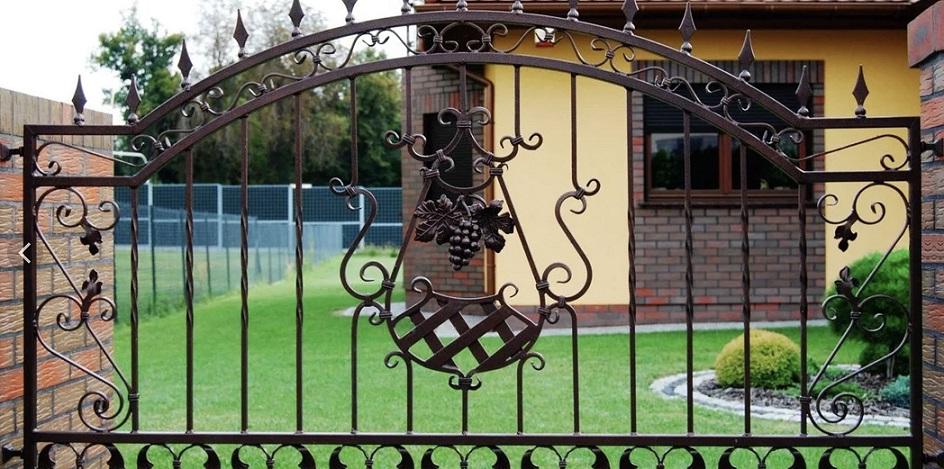 In a more elaborate version of our first example, this beautiful fence combines brick and wrought iron to create a multi dimensional design. The simple red brick forms the fence posts and bottom portion of the fence that makes up the framework for the spiked wrought iron panel that sits between, which serves both an aesthetic and safety function. The defensive, spiked crown sits on top of the decorative panel that are made up of vertical twists, curlicues and leaf montif at the base with a stylized bunch of wrought iron grapes in a basket in the centre. This combination allows for visual permeability between your neighbourhood and your home that keeps you safe all at the same time.
22. Wrought Iron Curlicues With A Built In Clock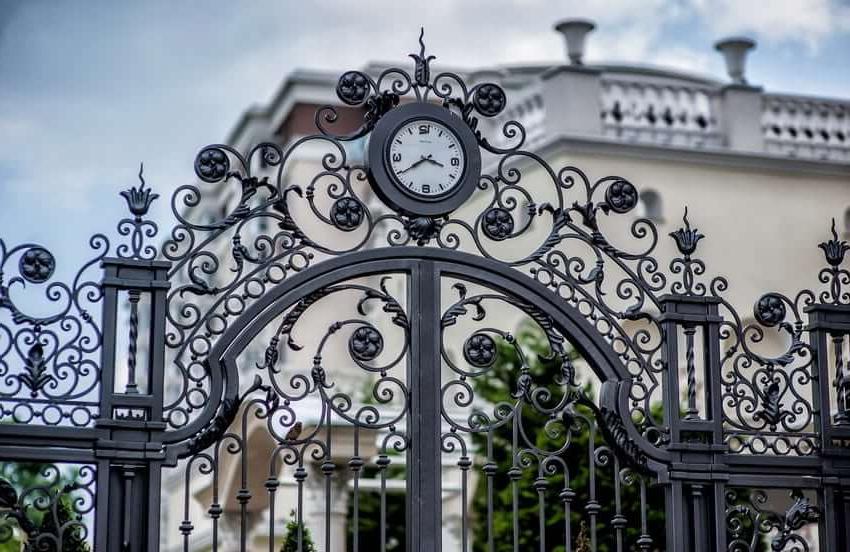 This elaborate wrought iron gate and fence combination is an incredibly intricate design that makes arriving at this grand house a real experience. The spiraling fence has a clock built into it, which is completely unique feature of your expected fence design that allows people to tell the time as they walk by your house. The ostentatious curlicues allow you to see through the fence to the dramatic house beyond to show off this glamorous home as much as possible.
23. Metal Fence With Wood And Gate Combo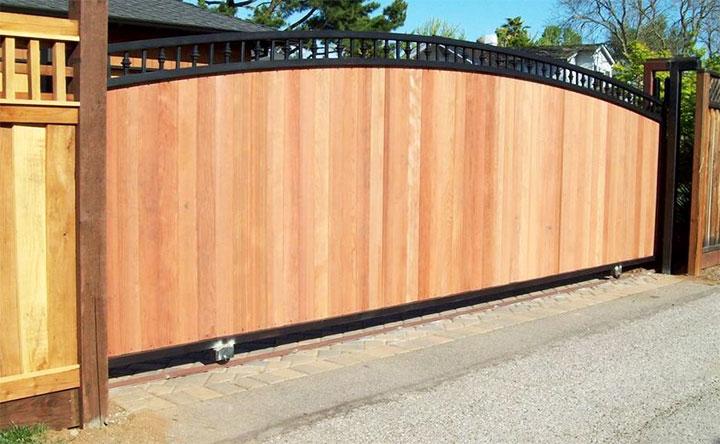 The metal fence with wood and gate combination has used timber in different finishes, thicknesses and colours to create a collage of timber along the front of this house. Smooth, red hued wood paneling has been used for the gently curving gate in its black wrought iron frame on little wheels while the fences flanking it have been constructed in a chunky, rustic style fence in a yellow hued shade of timber. These beautiful finishes combine to great an opaque barrier that obscures the garden beyond and allows you to enjoy your garden in privacy.
24. Mesh Cage Of Stone Fencing Styles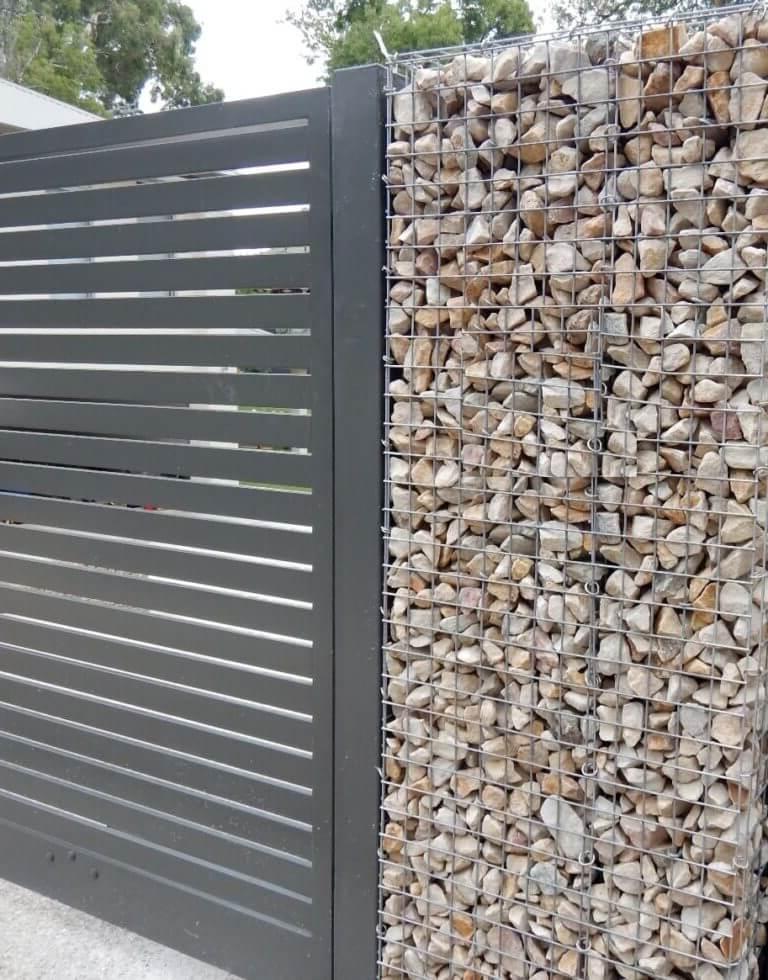 In a similar technique to our second example this chunky fence is constructed out of columns of wire mesh filled with small pale stones. The fence is paired with a simple metal gate, which makes this whole entrance way feel super contemporary and beautiful. This combination uses colour, texture and a juxtaposition of textures that culminates in a entrance that is imposing, beautiful and safe.
25. Gilded Wrought Iron Detailing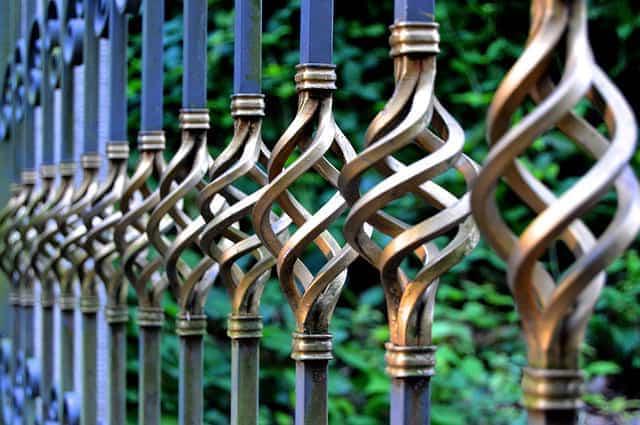 Forged wrought iron is a sturdy and safe staple in fence design that can be designed with built in decorative elements. The gilded orb like twists are a delightful example of these details, which can be even painted gold to add some points of difference from the rest of the fence. These twists are mounted on straight bars that turn into elaborate curls at each end in a design that is effective and beautiful without compromising on safety.
26. Rippling Fibrecrete Fence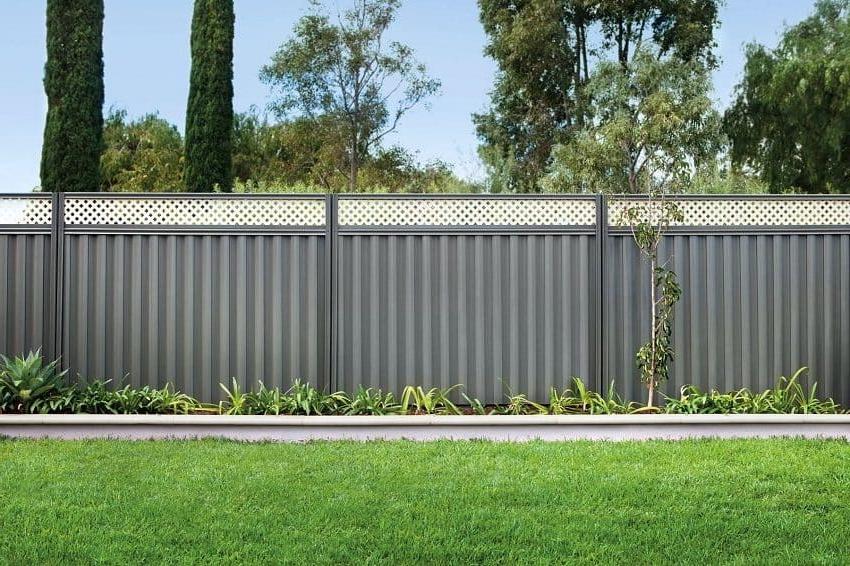 Fibrecrete is a material that is a lightweight and relatively cheap option for fence construction that doesn't require a foundation. The mesh panel that runs along the top of the rippled sheeting adds a subtle hint of decoration and breaks the monotony of the smooth finish. The natural slate grey of the cement based material is a very aesthetically pleasing backdrop that highlights the flowerbeds in front of it. This style of fence act as more of a partition is a lightweight to alternative to heavy masonry.
27. Woven Grass Garden Screen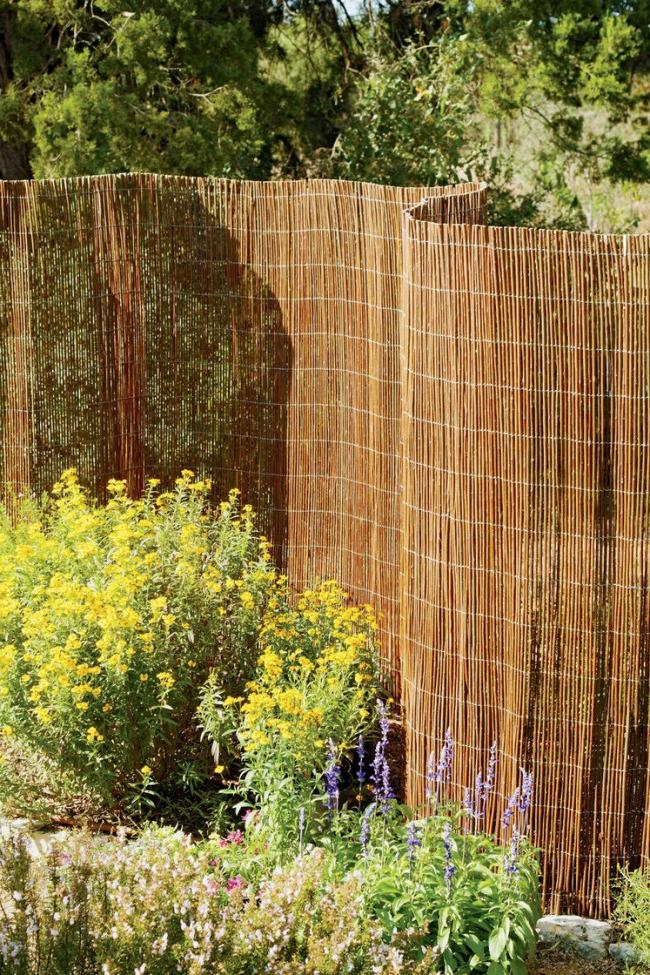 Woven grass screens like these are a cheap alternative that is easy to adjust yourself and can be bought by the metre from any hardware store. The flexible, movable screen can weave in and out of the plants so you don't need to uproot any of your plant children to make way for your fence. The translucent material allows you to view the garden beyond at different opacities depending on where the light hits it, which changes the look on a daily basis.
28. Wall Of Spinning Wheels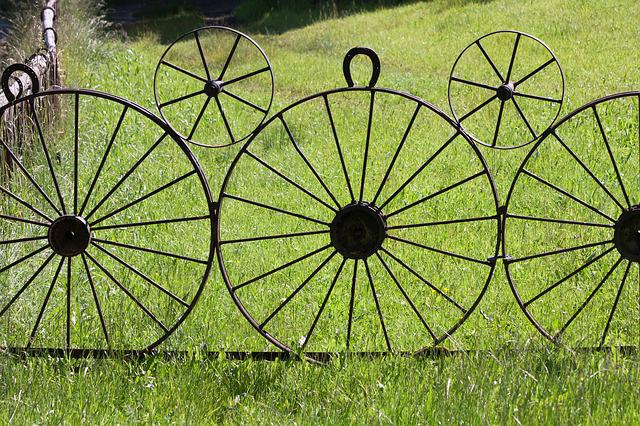 This unique garden fence has perfectly illustrates how to effectively use upcycled materials to adds visual interest to this sprawling garden. This iteration has utilized old iron wheels that could be found in any antique or junk store. Two layers of different sized wheels have been welded to a base frame and stacked next to and on top of one another to create a permeable divider between two pieces of a large garden to add some farm style décor to a rural home.
29. Stylized Wrought Iron Fence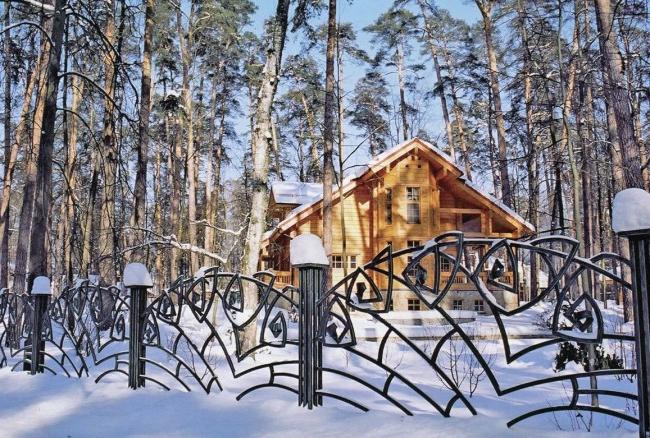 Wrought iron is a great material for snowy areas as it is rust resistance, durable and can easily withstand the immense weight of the freshly fallen snow. This gorgeous abstract floral pattern is supported by chunky cylindrical fence posts that adds to the romantic, almost fantasy woodland setting of this log cabin. The remote location in the forest removes the immediate need for a security fence so the pattern has the freedom of being purely decorative with stylized flowers on top of splaying arcs of wrought iron.
30. Contemporary Wire Fencing In A Rural Setting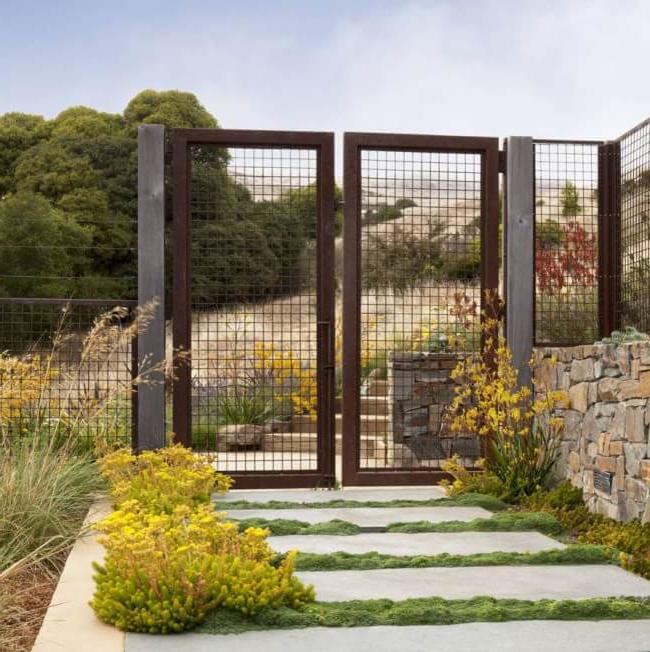 This rural fence and gate have taken inspiration from the square wire mesh often found in traditional rural fencing. This influence has been updated and made more relevant by being framed in a rust effect chunky frame held up by weathered wooden posts. This conglomeration of materials, along with the stone retaining wall on one side blends the entrance into the rural natural surroundings and lets nature take centre stage.
More Fencing Styles and Designs On The Next Page…