41. Whimsical Reclaimed Timber Garden Fence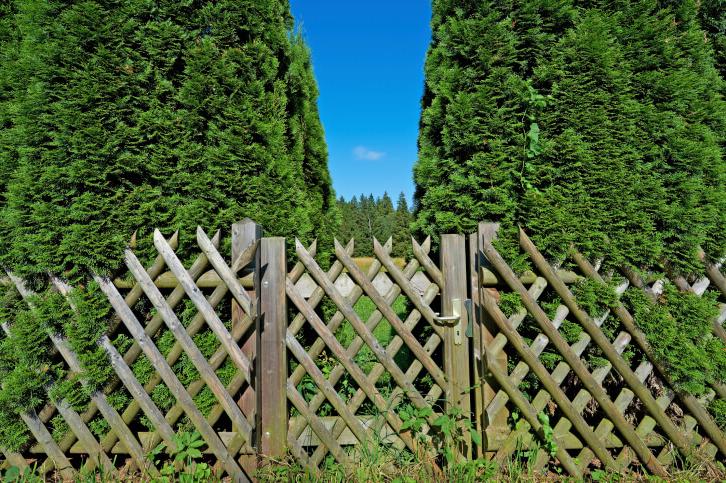 The gorgeously rustic fence is a structure that could be easily DIYed at home by hammering together reclaimed timber. The fence is a basic framework with a coordinated garden gate that are filled in by crisscrossed panels that's are made up of thin branches that have been left in their natural form besides being stripped of its bark. This green hued timber screen is a beautiful feature that divides up the large garden. The exposed timber has been allowed to become weathered, which is not only attractive but blends the man made structure into the foliage as if it was a part of nature.
42. Fantastical Forged Garden Gate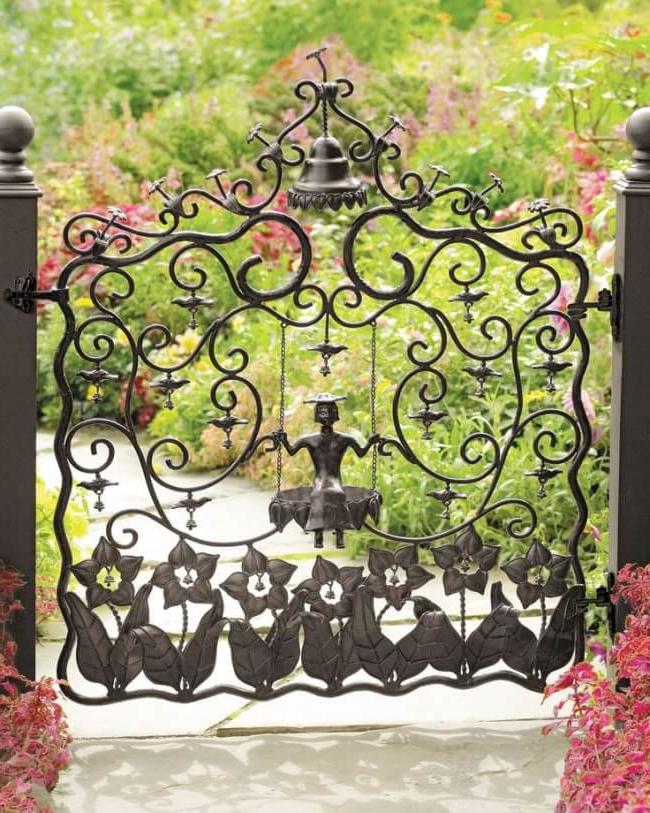 If a magical garden from fairy tales is your dream this design is right up your street. This forged gate is a bespoke design by an artist that has hand made this whimsical design to the client's precise specifications to bring this design to fruition. A wiggling framework topped my large stamened flower encapsulates the curlicues and stylized flowers with a little dancer at its centre and flowers at the base. This is the perfect entrance to the little pathway being overlapped by a wild garden full of flowers beyond.
43. Miniature White Picket Fencing Styles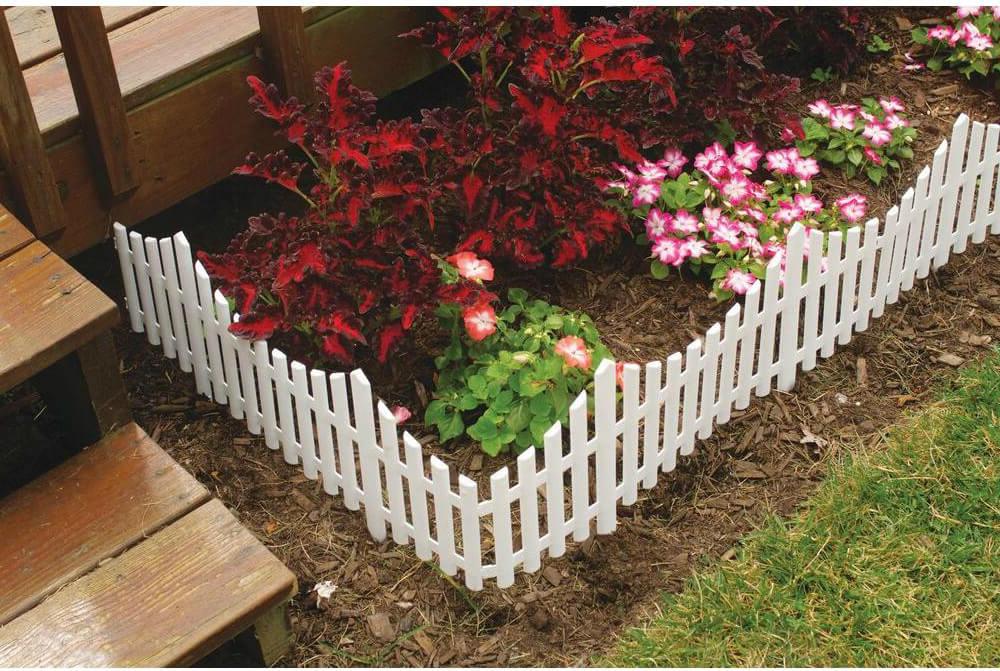 In a complete about turn this kitchy little miniature picket fence is a cute way to protect your garden and decorate the perimeter of the flowerbeds simultaneously. The tiny suburban white picket fence is easily spiked into place around the flowerbed and keeps your children or pets away from your flowers in an aesthetically pleasing way.
44. White Vinyl Fence Panels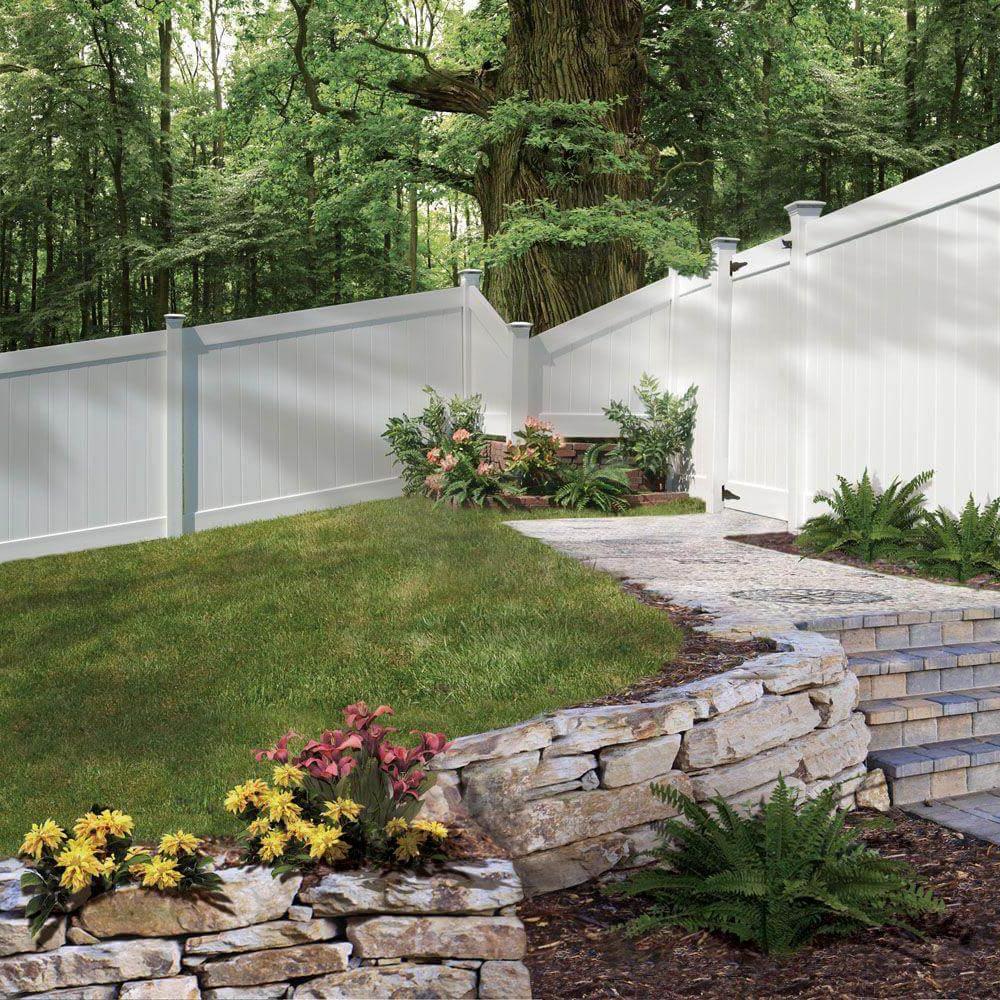 Vinyl is another material that is ideal for fencing that is lightweight and doesn't require a foundation except for the little excavation for each fence post. The timber fence posts support vinyl panels that resemble painted timber paneling. A large tree from in this forest setting that has encroached on the lawn has been highlighted by the fence, which has been specially made to wrapped around the tree in triangular pieces to highlight the massive trunk.
45. Woven Grass Fence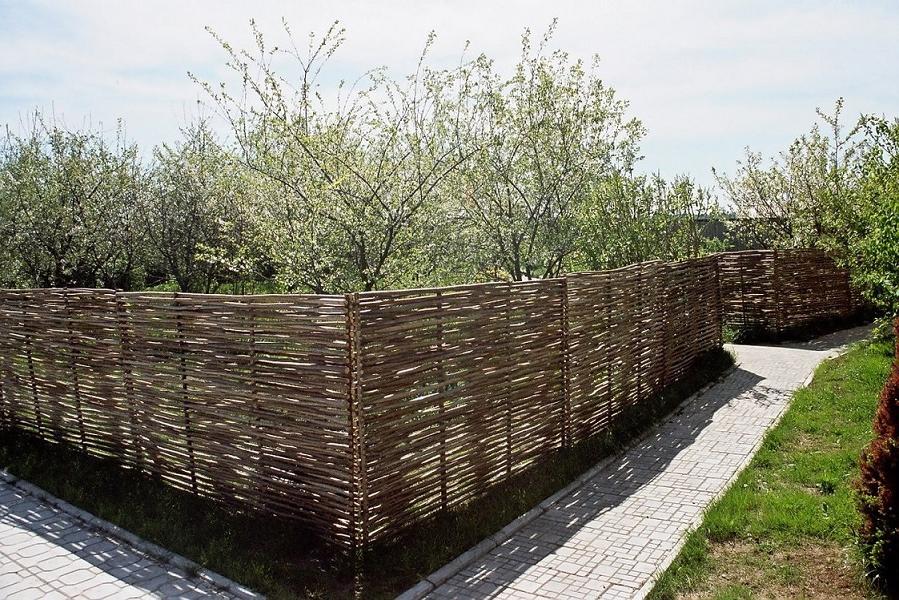 This garden screen design utilizes lightweight woven grasses to create an eco friendly fence that blends in with the luscious plant life it surrounds. This cleverly planned out garden divides up the space using these screens to create some beautiful little nooks throughout the garden itself, which feels both intimate and fun. Some grey paving has been used to forms paths lead you between each obscured garden so you can leisurely wonder through the huge garden and discover what is hiding behind each fence.
46. Budget Fence and Gate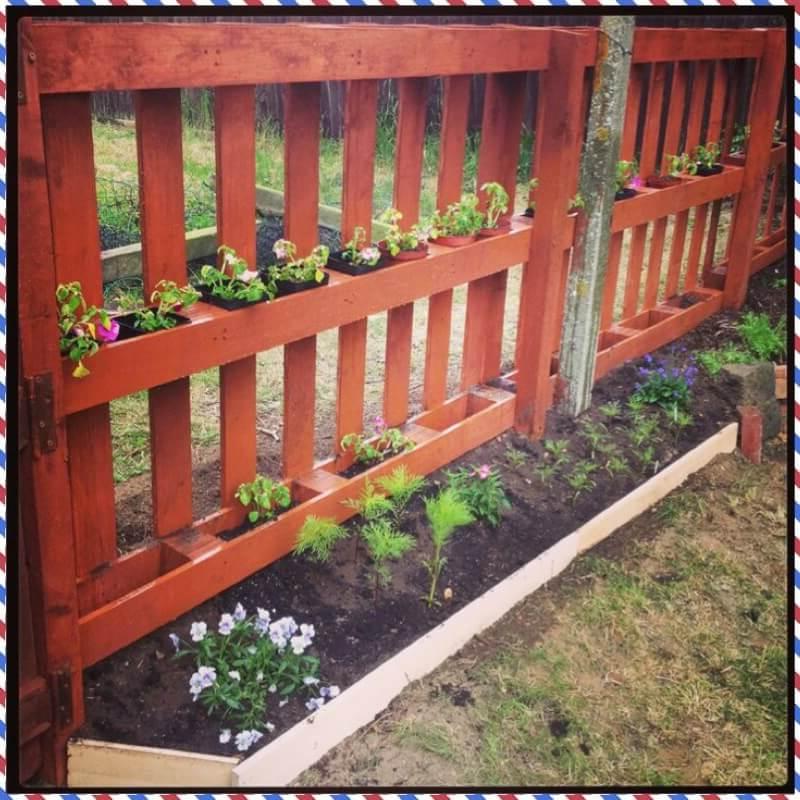 This budget fence and gate design has taken the palette furniture trend and switched it up for form a rustic garden screen with built in pot plants. The stained upcycled palette is an easily DIYed fence using an eco friendly material that can be found at just about any junkyard. The fence is held up by a concrete post and paired with a matching gate. The pockets of space that already form part of the design of the palette itself provides space for you to transform into planter boxes by either lining them with a porous fabric or hanging small pot plants in the holes. The hovering planter boxes are paired with a flowerbed underneath it to create layers of plant life running vertically up the fence.
47. Reclaimed Timber Lattice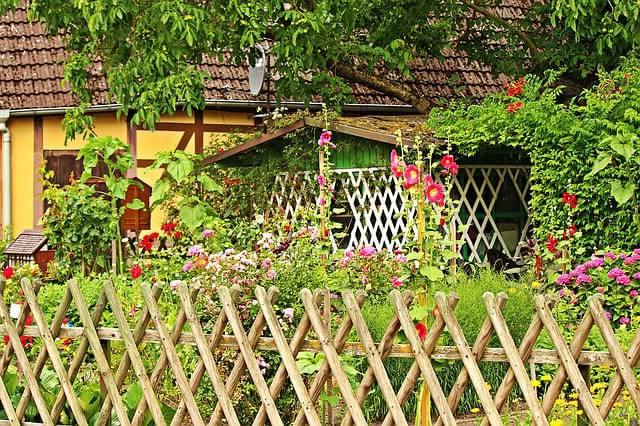 This rustic cottage and its rural garden has been accented by a series of crisscrossed timber fences that divide the wild flowerbeds from the carefully planned vegetable garden. The fence is an eco friendly design that uses thin branches of reclaimed timber that have been stripped of their bark and hammered together in a frame. This lattice is a really easy fence to DIY at home using branches collected from your garden and a simple hammer and nails. The framework makes it really easy for you to grow creeping plants like jasmine or honeysuckle along, which will imbibe your garden with their whimsical, calming scents.
Conclusion
And there you have it, fifty fencing styles and ways to use fencing to protect or adorn your home and garden. These unexpectedly versatile fencing styles and structures can be low, to indicate a boundary and just generally look attractive or high and imposing to protect your private property. They can be solid and impenetrable or visually permeable to let passersby have a glimpse at your garden as they pass by. The man made materials can even collaborate with plant life to blend them into your garden and create a calming natural oasis within our busy world.
Fencing is both versatile and can be very beautiful with just a bit of imagination so think twice before you underestimate them and why not use them to create a beautiful feature that tells the world who you are and what you love as they pass by your home.