A kitchen is a home's most important space where the family often spends some quality time together. I other words, the kitchen is a gathering place where family members can get close to each other and communicate more while preparing food or clean the cooking mess after. Anyway, is not the furniture or the equipment that makes the kitchen a warm place for hanging out but the way she's modeled and organized by our own taste, budget, and space. We know that not every home size allows a big kitchen and sometimes we've got to find a way to adjust our ideas with the available space and budget we have. This doesn't mean your kitchen won't look beautiful and cozy; you just need to leave everything to your gut and our creative ideas. Whether you want to renovate your old kitchen cabinet and turn it into a modern or you want to start building your kitchen cabinet from scratch, we've got plenty of impressive ideas; one or few will definitely meet your needs and desires. All you have to do is pick the right one and start with remodeling or designing your new functional kitchen cabinet that reflects your lifestyle.
40 Amazing Kitchen Remodeling Ideas to Improve Your Dream Kitchen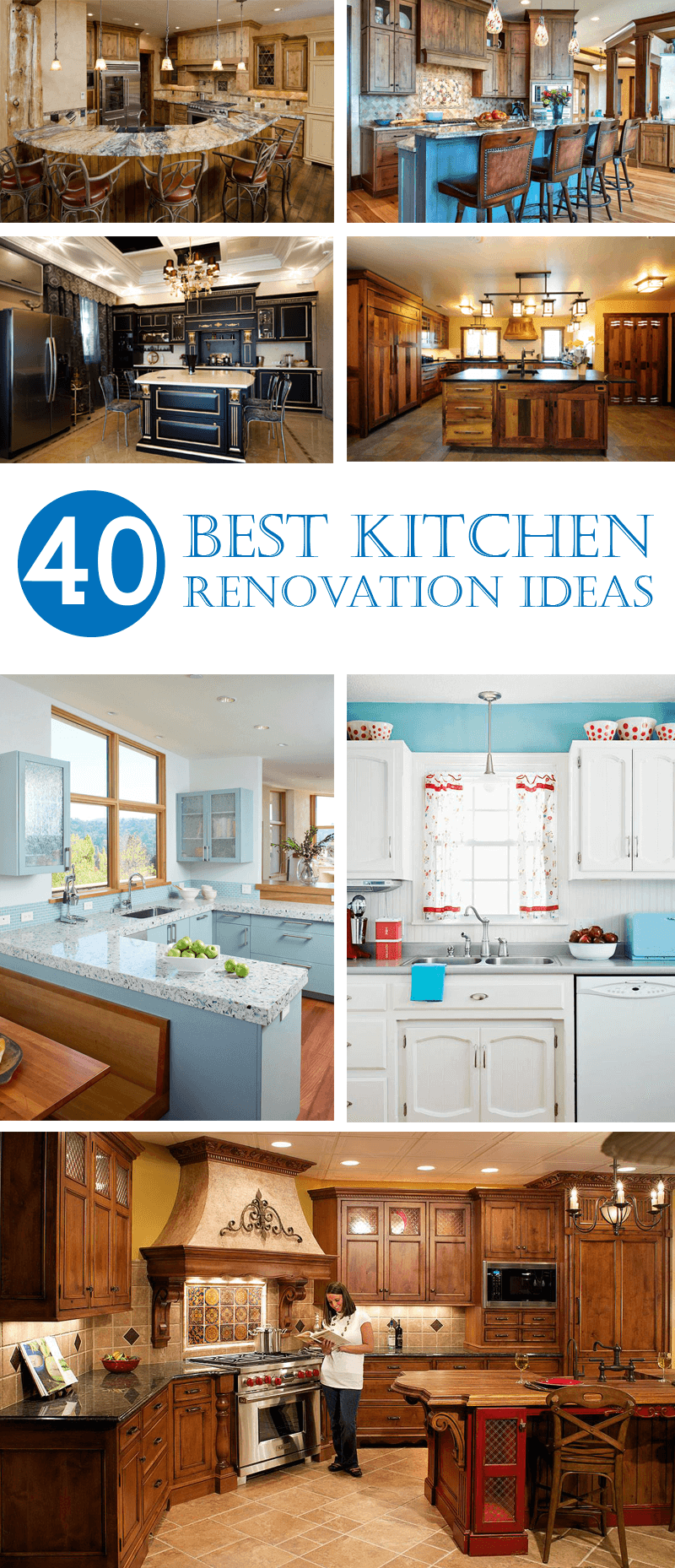 1. Affordable Kitchen Cabinet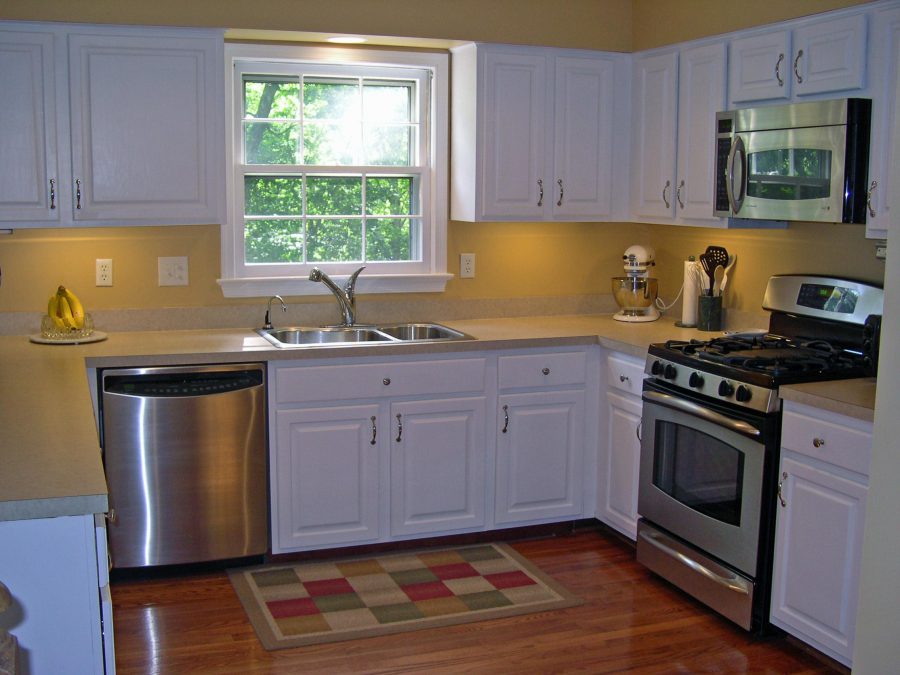 As we mentioned, we're aware that sometimes we need to adjust to our available space and more important, our budget because we don't want to spend more on remodeling than we can afford. This affordable kitchen cabinet renovation idea on the picture is just perfect for those who want a fresh new look for their kitchen cabinet without spending too much money. Composed of minimal ornamentation and flat surfaces that can be easily remodeled and replaced, this kitchen cabinet idea will certainly meet your simple taste in the limits of your budget.
2. Apartment Kitchen Cabinet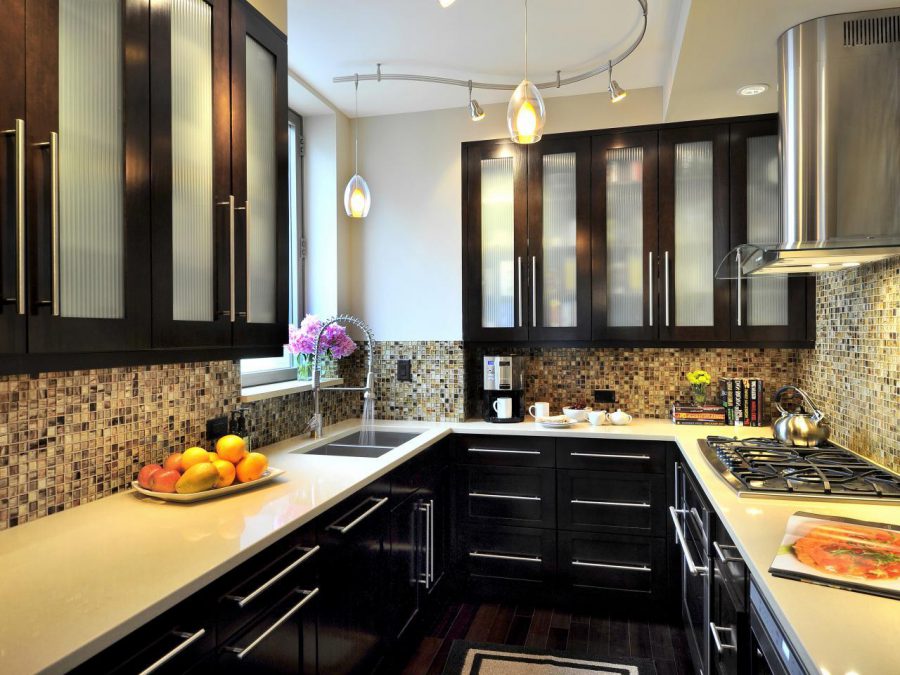 Renovating an apartment kitchen cabinet can be easy and simple once you decide what you want to remodel or replace. Apartment kitchens are usually simpler and smaller than the ones in houses, however, sometimes they can be harder to remodel but not for us; We suggest you use this specific idea and remodel your kitchen with black elegant cabinet doors and drawers and white surface that will balance the black and wrap your new kitchen with elegance.
3. Black Kitchen Remodeling Ideas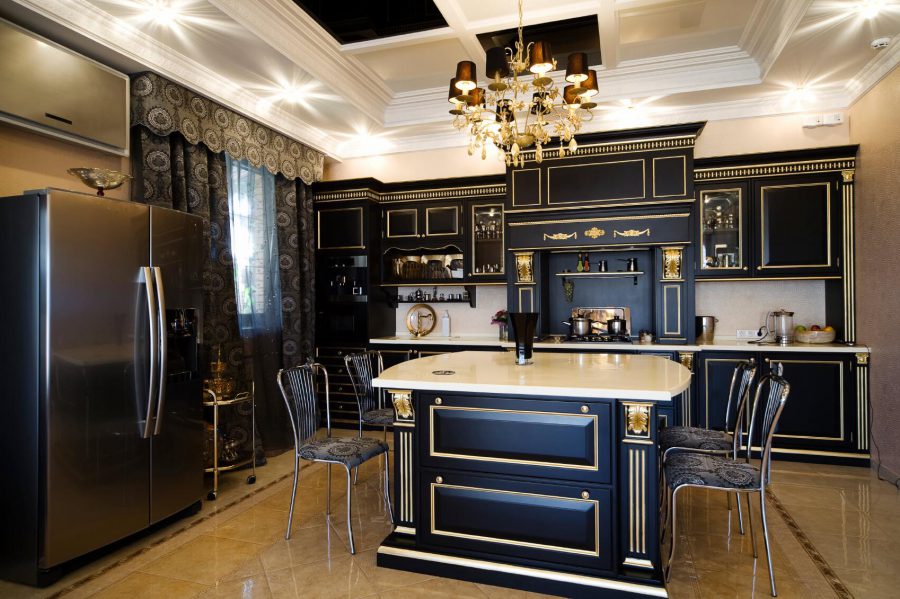 Black kitchens cabinets never come out of fashion due to their elegant tone. Once you see a black kitchen with minimal golden or white ornamentation and flat surfaces, you won't be able to take your eyes off her. Go ahead – take your eyes of this elegant, delightful kitchen we offer as a remodeling idea for your home. Having a table that matches the simple style, ornated with gold elements makes the entire space even more appealing.
4. Cheap Kitchen Renovation Ideas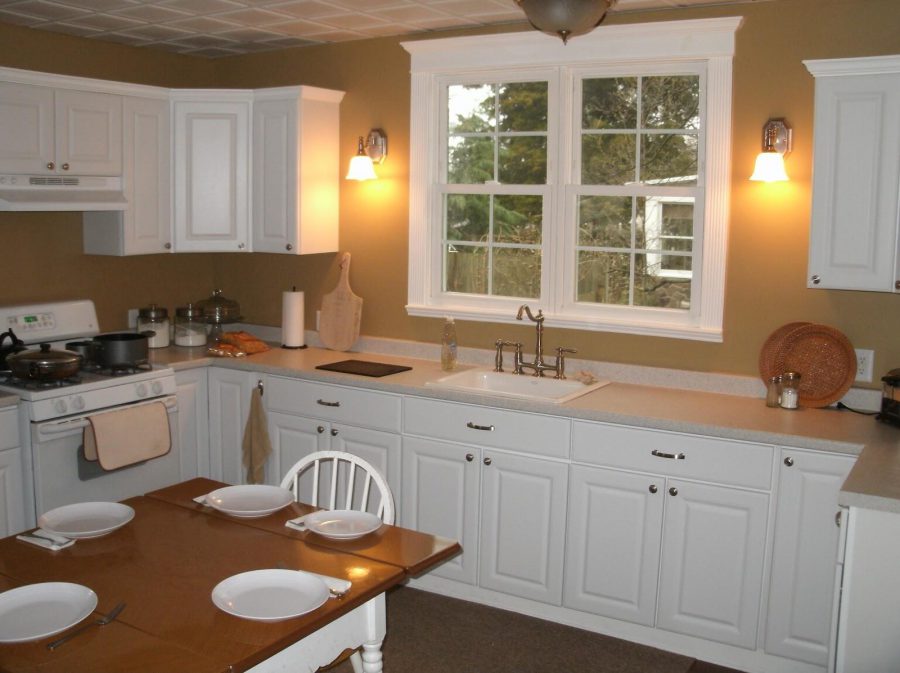 You want to renovate your kitchen cabinet but not spend a lot of money? Why not try this cheap kitchen cabinet renovation idea and save some money in your pocket?  Simple cabinet doors and drawers repainted in white and light brown walls that give the entire kitchen a warm tone and make it a pleasant place for small family meals and hanging out. Every other equipment and furniture match the color of the kitchen which makes it easier if you wish to remodel it once more and stay on a budget again.
5. Contemporary Kitchen Renovation Ideas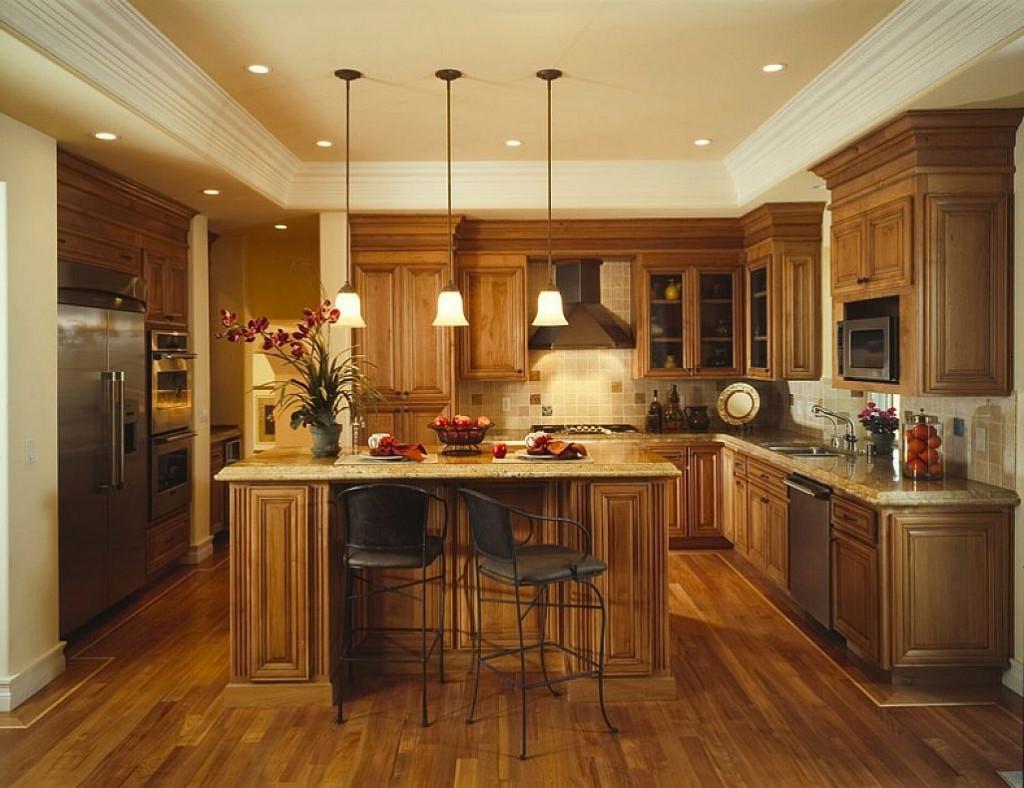 Want to turn your traditional old kitchen into a modern one? Although traditional kitchen cabinets never come out of fashion, a change is always welcome and giving your old kitchen a new fresh look means reviving her again. Use the idea of replacing your old kitchen features with wooden equipment in caramel color if you want to create a contemporary kitchen and we're pretty sure you'll be very satisfied with the outcome at the end of the day.
6. Cool Kitchen Renovation Ideas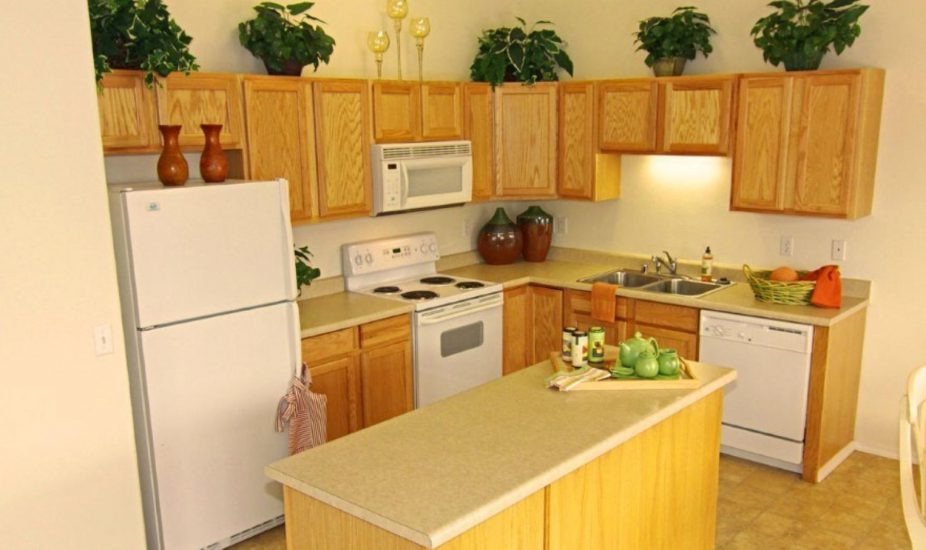 A cool kitchen like this one in bright colors will match the spirit of the open minded people who love nature and simplicity. You can use this idea to remodel your small apartment kitchen and create a delightful place in earth colors filled with green plants that will bring freshness in your home. If you're ready for a notable kitchen change, this idea will perfectly meet your needs.
7. Corner Kitchen Remodeling Ideas
Another remodeling idea for a small and cozy kitchen you can use for remodeling the boring kitchen you have in your apartment or your home small-sized kitchen. By replacing your old cabinet doors and drawers with the redwood equipment and the ornaments in pale brown or white, you'll get a brand new kitchen that will definitely embellish the rest of your home with its striking appearance.
8. Cottage Kitchen Renovation Ideas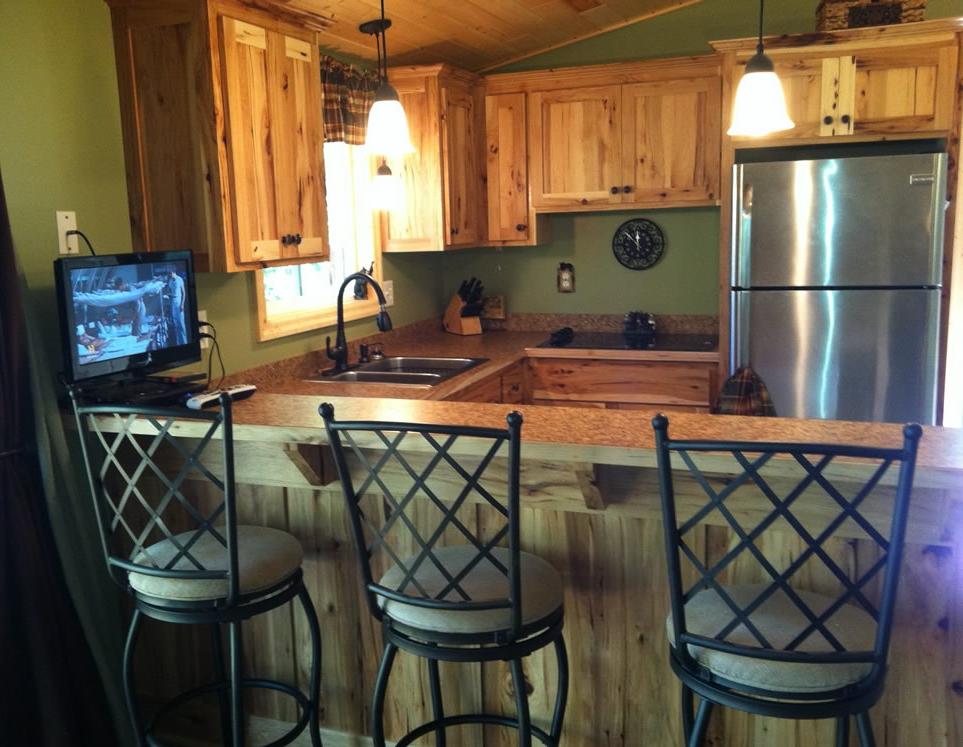 Giving your dwelling a cottage kitchen renovation will definitely turn your kitchen into a timeless and beautiful place with a relaxing setting. Composed of minimal ornamentation and wooden surfaces, this renovation will give your kitchen a warmer tone and embellish your house interior. Not to mention the small bar with few high chairs that will make you feel like you're sitting in your new favorite pub with a beer in your hand; the only difference is that won't have to catch a taxi to get home after because you're already there.
9. Country Kitchen Renovation Ideas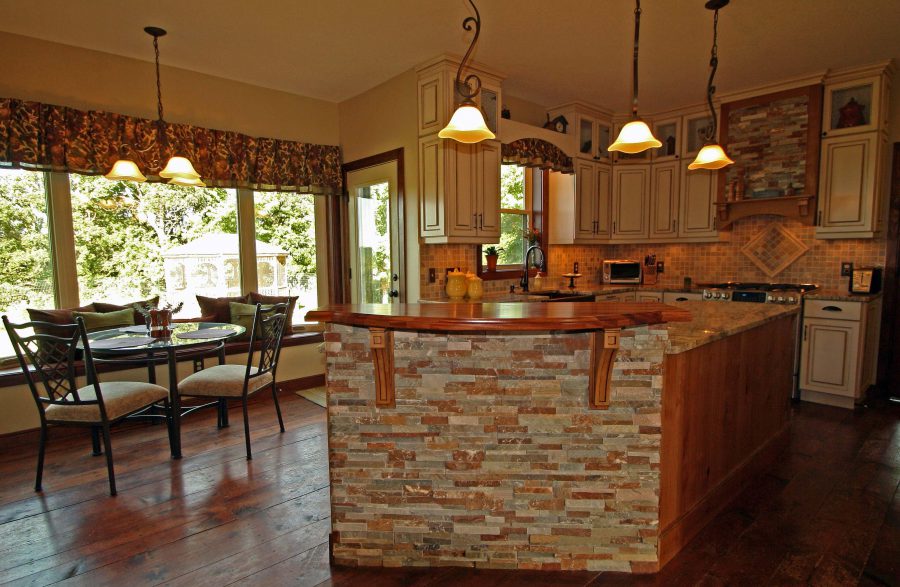 If you decide to renovate your old kitchen by turning it into a country kitchen cabinet, you'll probably make the best renovation decision. Having a country kitchen in your home means having a place where you'll spend more time with your family than your living room. A country kitchen actually looks like a living room due to its down-to-earth style and comfort she offers. Composed of warm brown colors, painted and glazed cabinets and drawers, the country kitchen will definitely become your family's favorite spot for hanging out in the house.
10. DIY Small Kitchen Remodeling Ideas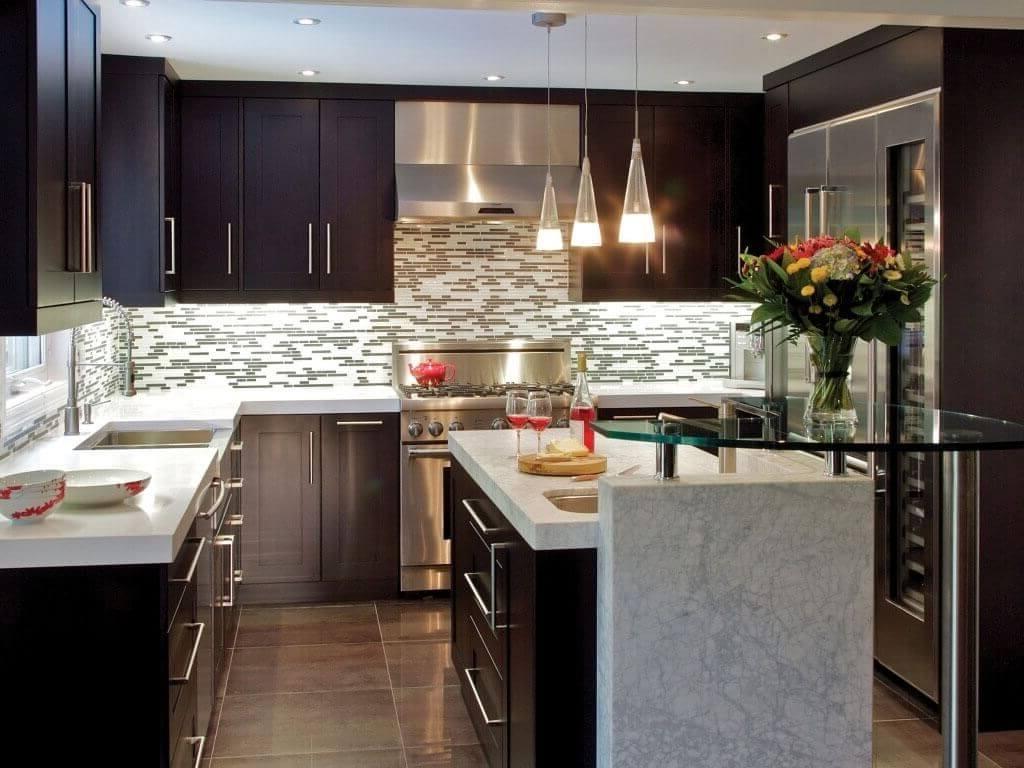 Why paying for an expert or builder when you can remodel your kitchen alone? Here we've got a perfect remodeling idea for your small apartment kitchen – 'steal' it today and turn your kitchen into a delightful, inviting place with a modern look where you can hang out with your family.
11. Family Kitchen Cabinet Renovation Idea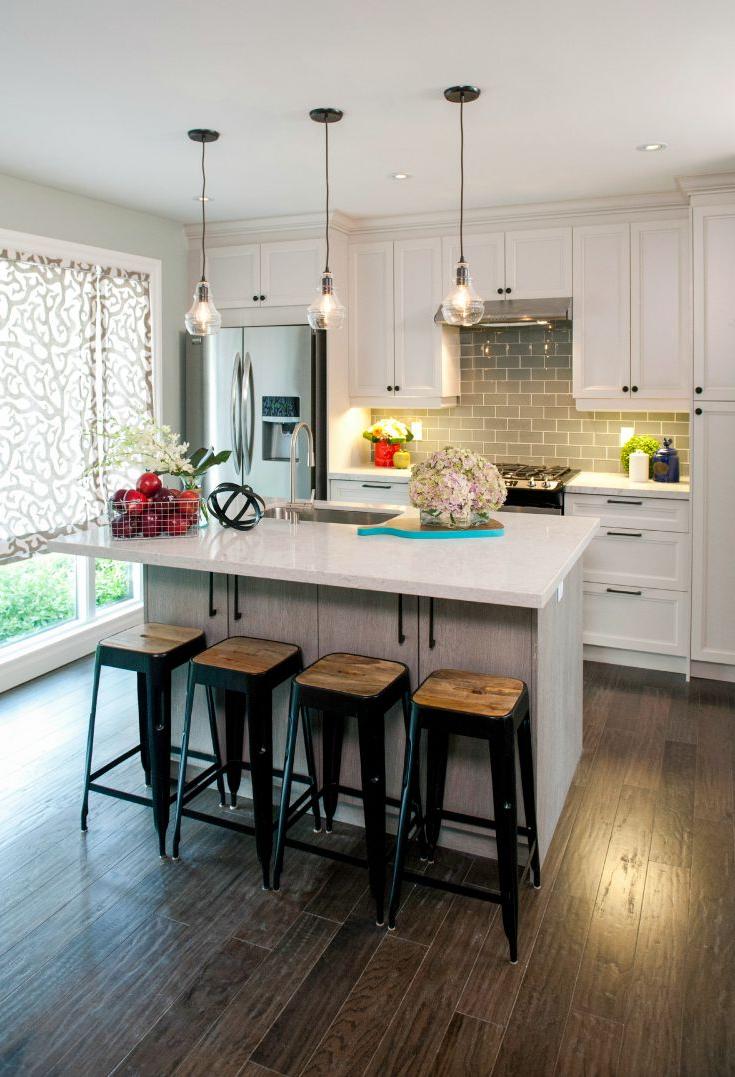 A simple white kitchen cabinet with a table that matches its style and color and has few high chairs never comes out of fashion. Just looking at this kitchen, you can't help yourself from imagining four little children sitting on those high chairs and having breakfast while their parents prepare coffee near the sink. If you were looking for a simple and elegant renovation idea for your family kitchen, this is the one perfect for you – 'steal' it right now and start remodeling!
12. Farmhouse Kitchen Renovation Ideas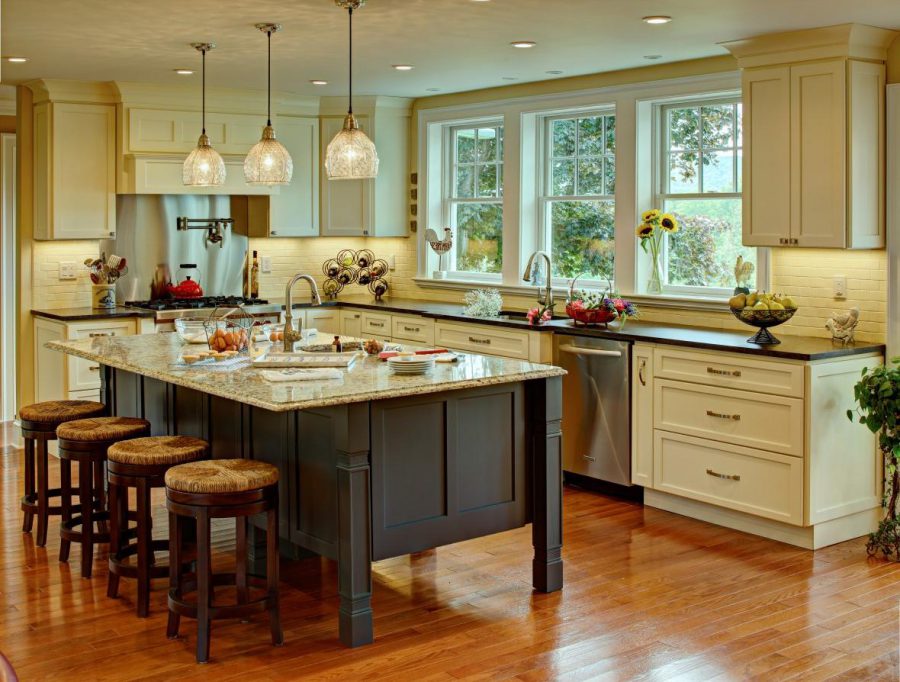 A farmhouse kitchen design will provide a warm and welcoming kitchen in your home. For those who want a mix of rustic and traditional design, the farmhouse renovation ideas perfectly meet your needs and desires. All you have to do is decide which farmhouse idea you'll realize and turn your old boring working space into an inviting farmhouse kitchen where you can spend some quality time with your family and friends.
13. Functional Kitchen Remodel Ideas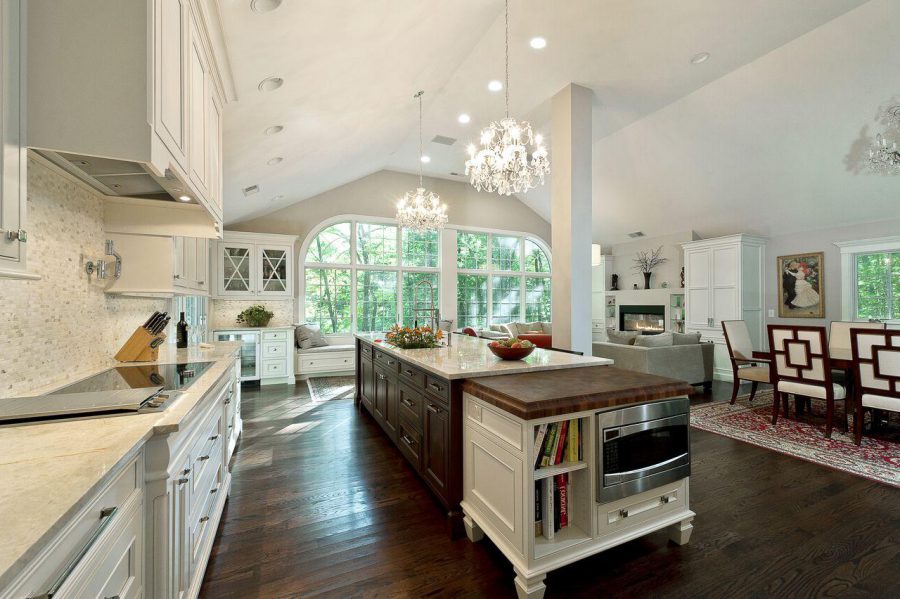 Creating a functional kitchen for your home is a bit complicated, however, we're here to help with this renovation idea and give your imagination a little push. A functional kitchen is usually bonded with the living room, turning your home into a warm place where everything is easily accessible. Don't hesitate on 'stealing' this idea and turn your home space into a more functional one, starting with remodeling your kitchen in this style.
14. Green Kitchen Remodeling Ideas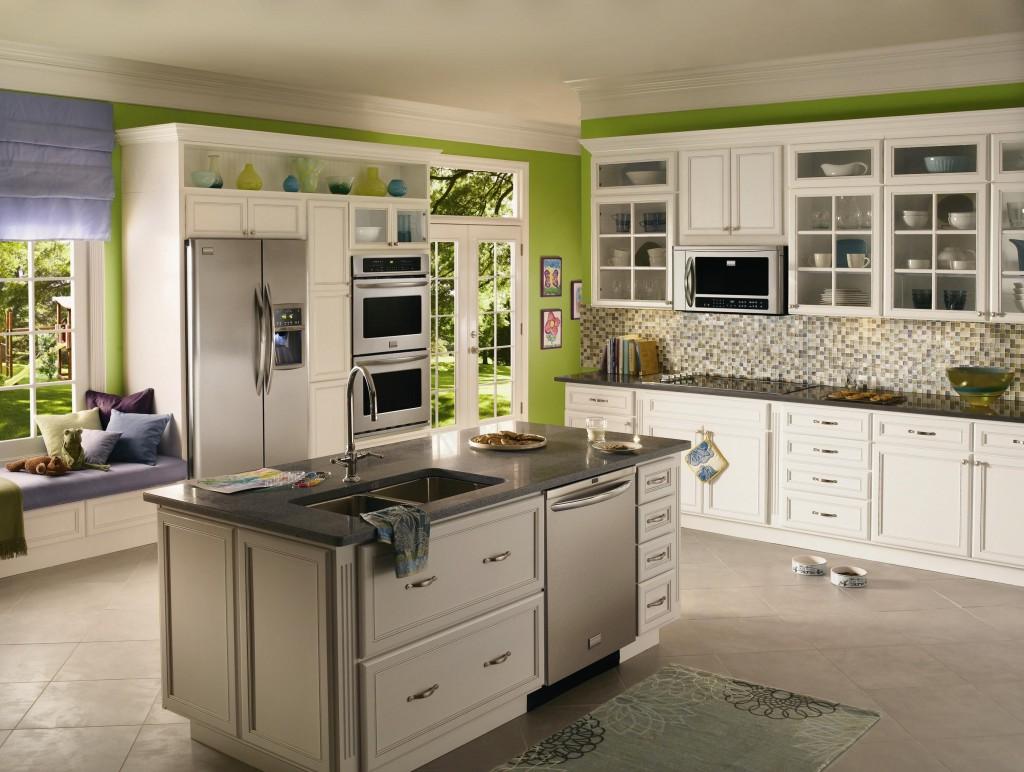 Nature lovers, we've just found your dream kitchen cabinet – a simple green-white kitchen that will bring out your creative side. Consider remodeling your old boring kitchen into a green wide open like this once if you're seeking for an idea that will provide a more brighter and fresh simple look. No need of ornamentation, this kitchen cabinet will remain as an ornament to your house itself.
15. Inexpensive Kitchen Renovation Ideas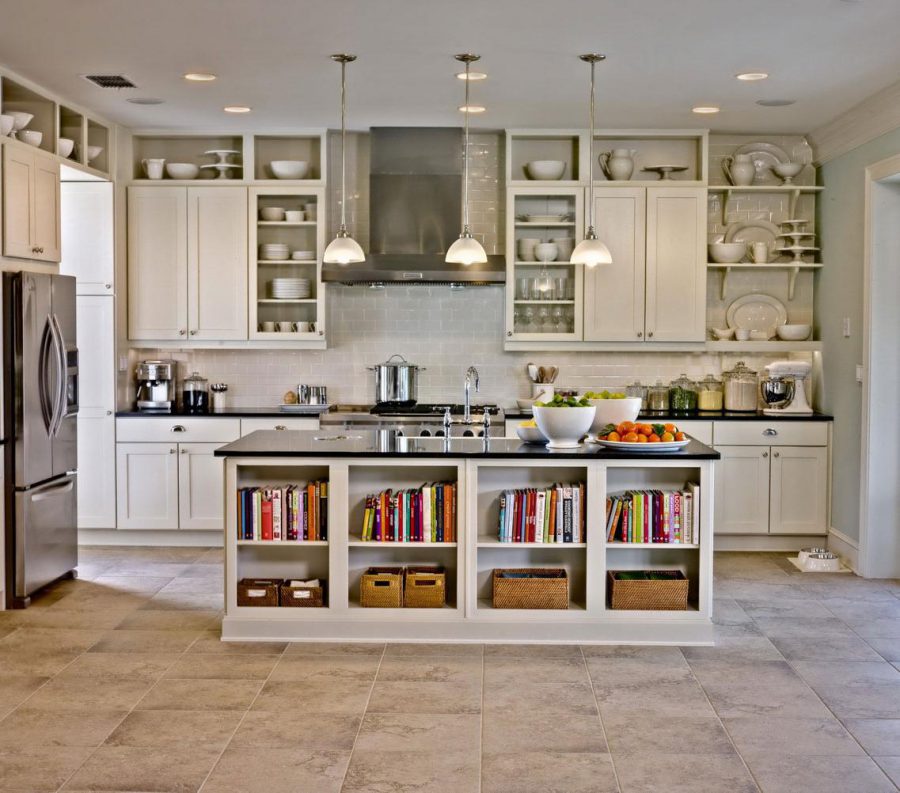 As you can notice, many of the kitchens remodel on a low budget are in one color and with simple ornaments, such as books, baskets or lamps. Try remodeling your kitchen using this inexpensive renovation idea and revive your old kitchen with some new modern looks.
16. Kitchen Remodel Ideas Black Granite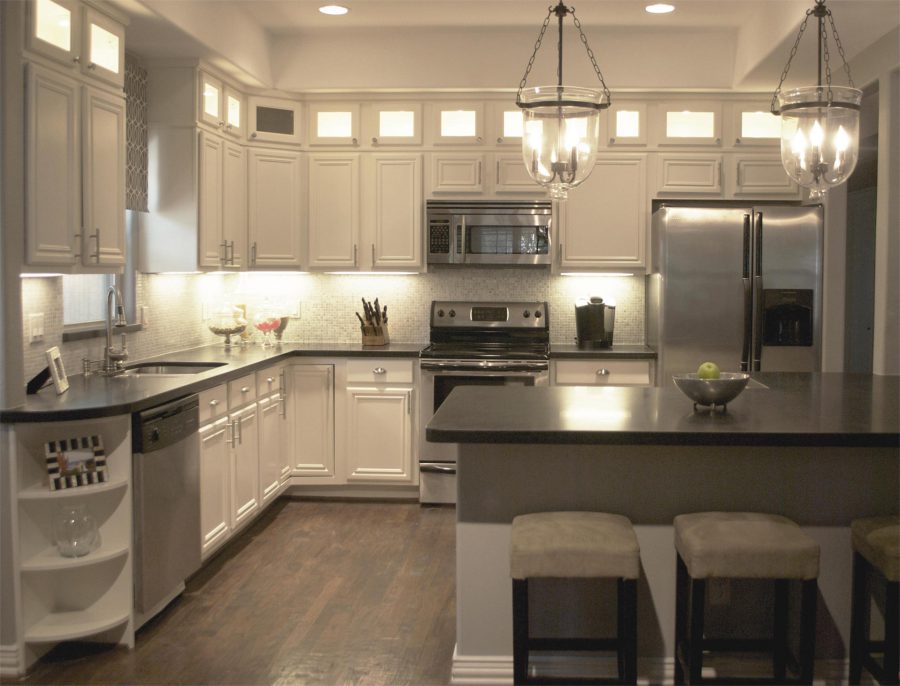 Renovating your kitchen with black granite will give the space a neutral, pleasant tone and turn your traditional kitchen into a modern simple one. Don't hesitate to remodel your kitchen using this idea and enjoy your new inviting kitchen cabinet.
17. Rustic Kitchen Remodel Lighting Ideas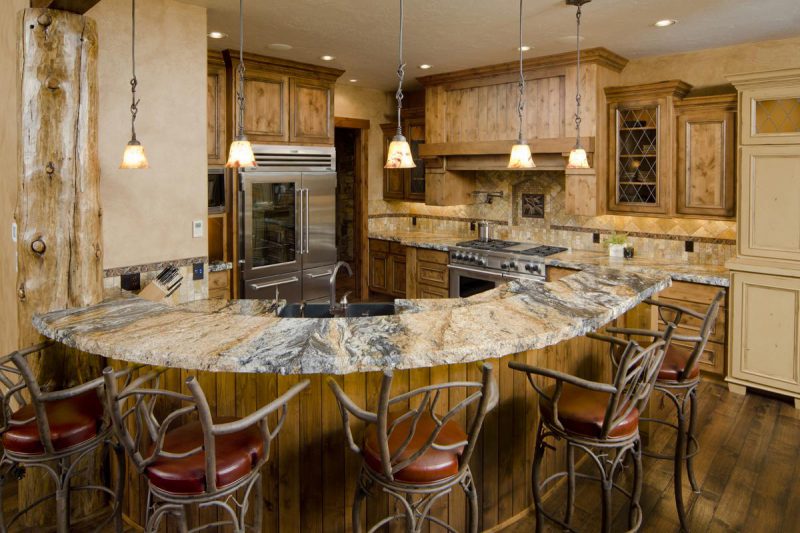 One of the kitchen's most important features is the lighting; Although it may seem like a simple task to chose the perfect lighting for your kitchen space – it's not, however, we're here to help if you want to remodel your rustic kitchen lighting. Are you tired of the usual boring lamps? Why don't you chose a few hanging vintage lamps like the particular ones on the picture and turn your kitchen into a much warmer place for hanging out with your family or friends? Pick the ones that suit your kitchen style and its color best and don't hesitate on 'stealing' this idea and remodel the boring lighting into a majestic one.
18. Kitchen Remodel Lighting Ideas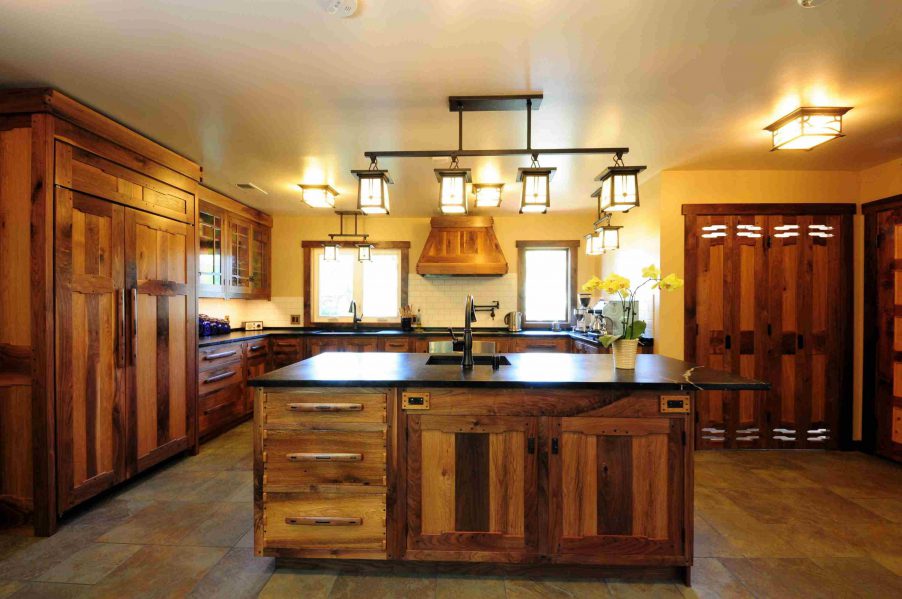 Choosing the right lighting for your kitchen is important for creating a pleasant space where you'll get to spend the most of your spare time with your friends or family. We know you're bored of the usual lighting and want to find something modern and unusual for your kitchen. Why not choosing the particular lighting style like the one we're offering on the picture and create a warmer kitchen with the perfect lighting? Feel free to 'steal' this idea and realize it even today!
19. Kitchen Remodel Sinks Ideas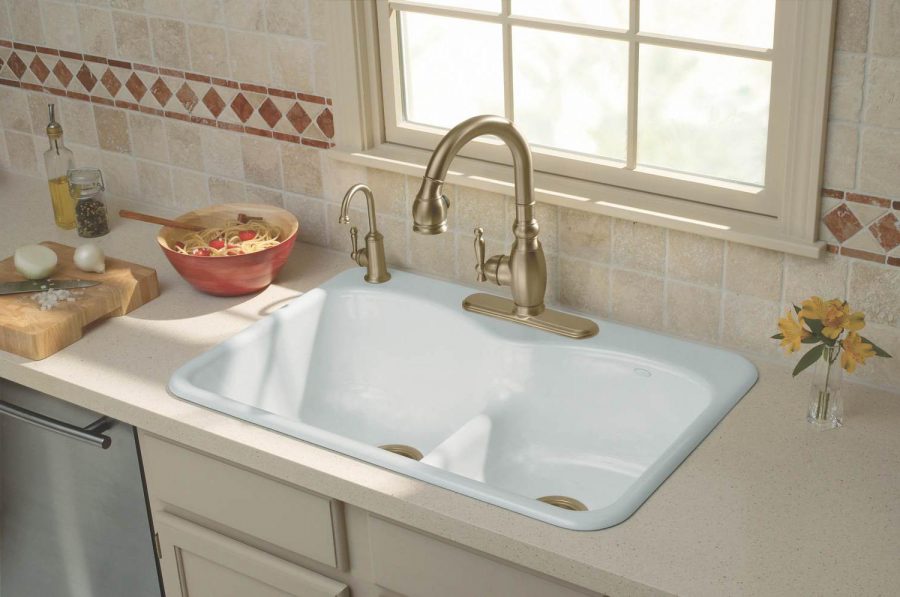 You can never go wrong if you remodel your old sink into a simple white one like the particular in the picture. A sink of this kind matches every kitchen's style, especially the ones in warmer colors, such as pale brown or white, wrapping the space in elegance.
20. Kitchen Renovation Color Ideas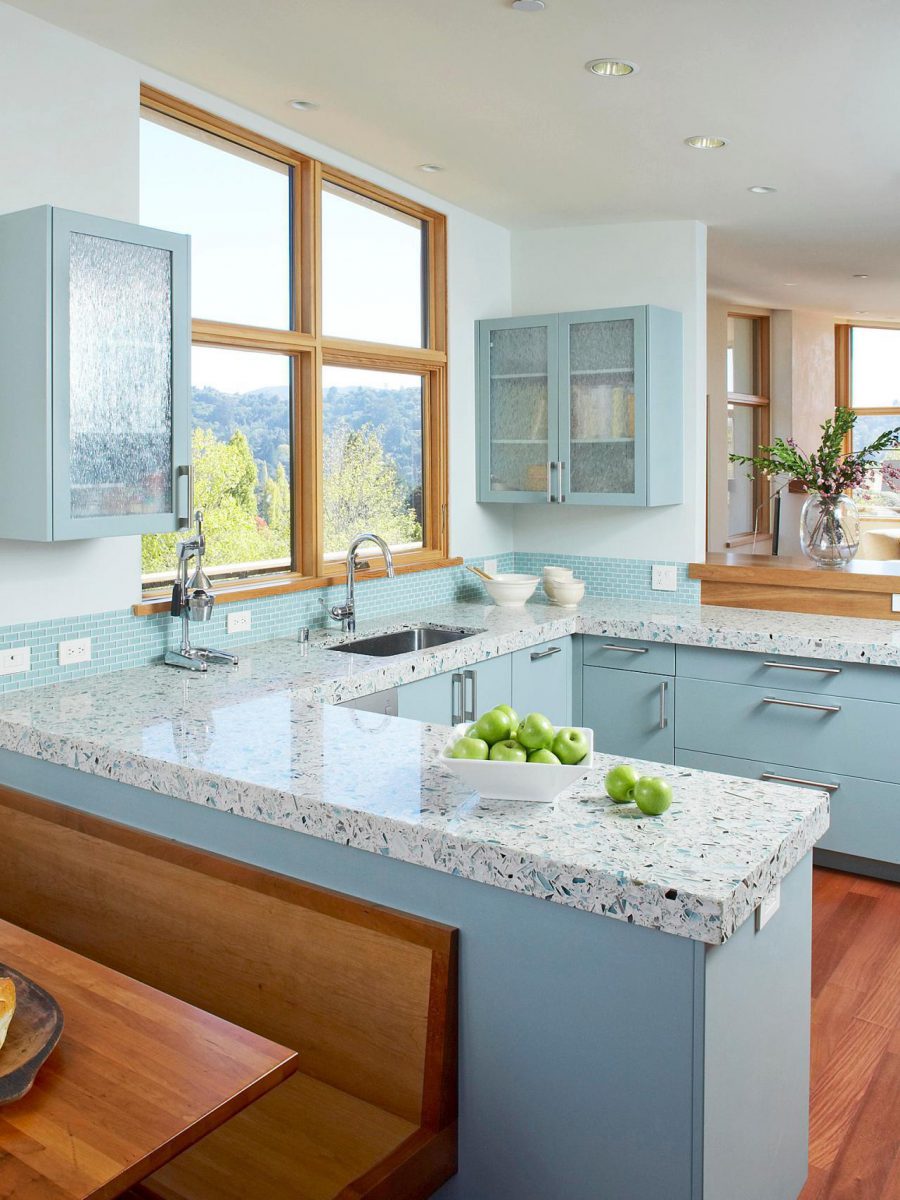 If you're tired of the boring white walls and equipment for your kitchen, consider repainting your walls in blue, green or some other color different from the usual ones used for kitchen walls. After you can buy an equipment in matching the color and enjoy your new colorful kitchen. We don't doubt you will be amazed by the outcome at the end of the day.
21. Kitchen with Cherry Cabinets Remodeling Ideas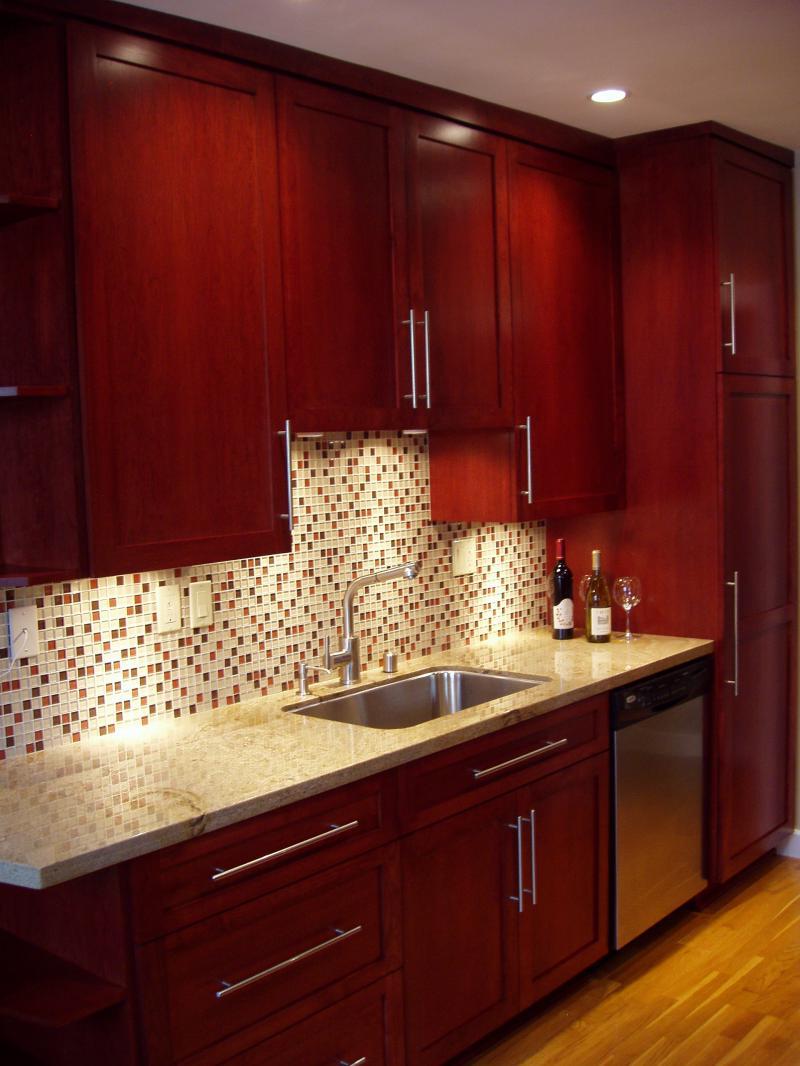 Remodeling your old-fashioned kitchen using the cherry cabinet doors and drawers will give the entire working space a striking appearance and turn it into a modern kitchen. Use this idea to create a picture-perfect kitchen where you will enjoy your cooking time.
22. Kitchen Design Remodeling Granite Countertops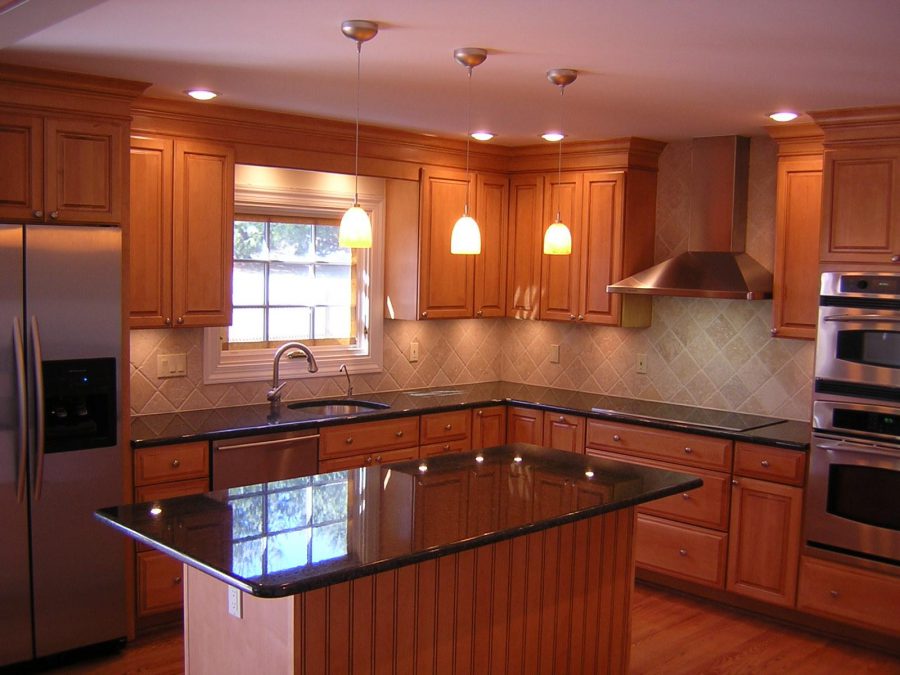 Granite countertops are recently the most common material homeowners use to remodel their kitchens. The granite is a very durable and natural decor material that will give your new kitchen a very pleasing look. Don't hesitate using it for remodeling your kitchen and embellishing your home in a unique manner.
23. Kitchen Renovation Ideas with Dark Wooden Cabinet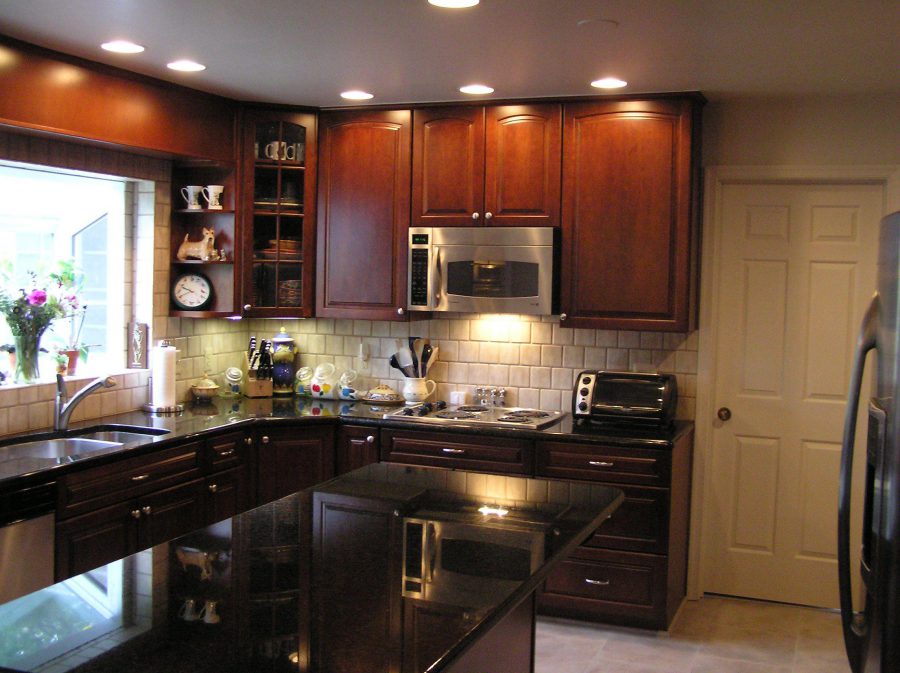 A renovation idea focused on aesthetic simplicity and impeccable quality for your kitchen – adding a dark wooden cabinet that gives your kitchen a simple yet classic tone. The granite table and other equipment matching the color of the wooden cabinet from a contemporary style, turning the old kitchen into a wonderful and highly functional working space.
24. Large Kitchen Renovation Ideas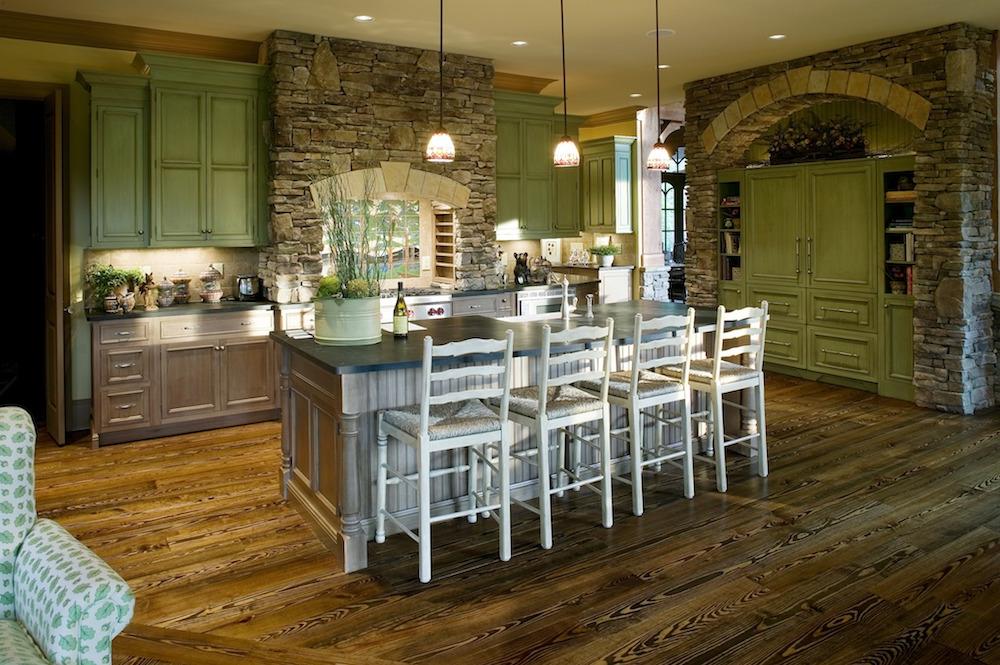 Probably one of the most beautiful kitchens you've ever seen, the large type kitchen that's perfectly lightened will definitely win your heart. If you were looking for a creative idea that matches the size of your large kitchen, this is the one you should use. Don't fear to renovate your old boring traditional working space by turning it into a bright kitchen cabinet like the particular one on the picture. Aside from the cabinet's new design, consider adding some stone walls that will fit perfectly into your new favorite cooking spot.
25. Luxury Kitchen Renovation Ideas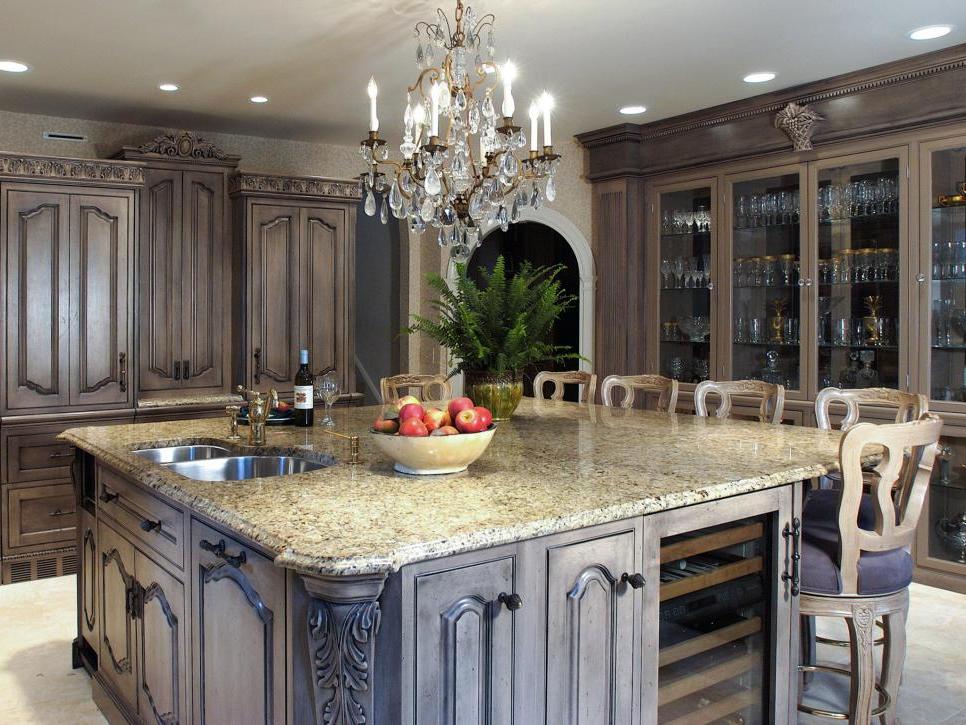 A luxury home requires a luxury kitchen and kitchens like that call for extraordinary details along with the use of beautiful ornaments, expensive equipment and rich colors, such as golden or every shade of brown and gray. A renovation idea in the luxury style and design is recommended for the homeowners with a deeper pocket and refined taste. However, money can't buy creativity and we're aware that some of you may not have an idea on how to turn their old traditional kitchen into a luxury one that matches your lifestyle. Anyway, we're always here to help; 'steal' the particular idea on the photo and use it as a startup for your kitchen renovation.
26. Modern Kitchen Cabinets Designs Remodeling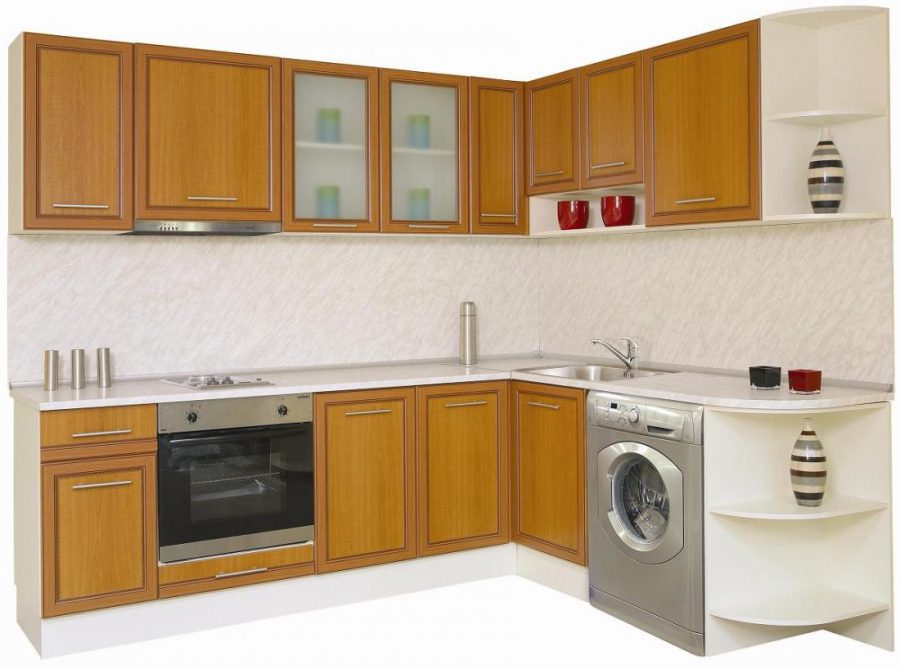 A modern kitchen suitable for smaller homes or tiny apartments. Simple, elegant and beautiful – this remodeling idea will bring freshness in your home and turn your cooking space into a pleasant functional kitchen. Ornaments aren't needed in a kitchen like this one because the kitchen is an ornament itself.
27. Narrow Kitchen Remodeling Ideas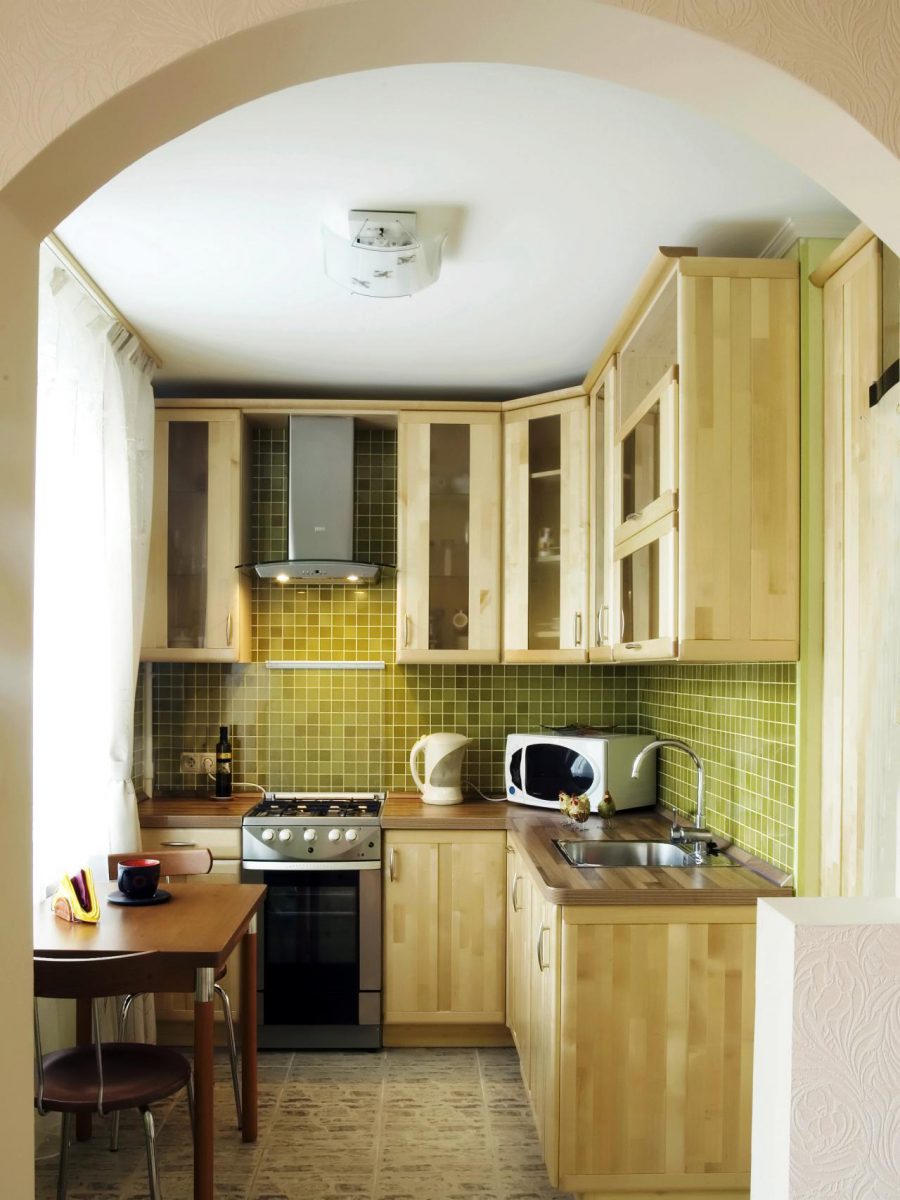 Another remodeling idea perfect for a narrow home or apartment. A simple, bright and perfectly organized cooking spot with a small dining table for two. Don't hesitate to use this idea and remodel your old kitchen by turning it into a contemporary and colorful place like this one on the photo. We're positive you will be satisfied with the end result.
28. Oak Kitchen Cabinet Remodel Ideas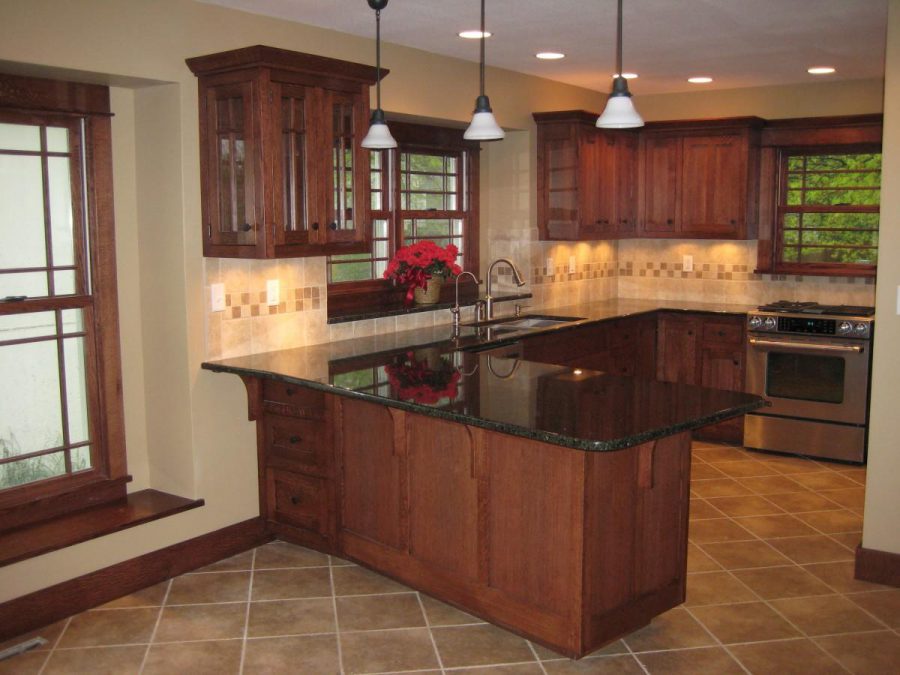 No other kitchen could compare with the oak kitchen in dark brown that gives every home a warm tone, wrapping it in elegance. If you're looking for a remodeling idea for your kitchen, don't doubt choosing this one and turn your boring kitchen into a delightful cooking space.
29. Old House Remodel Ideas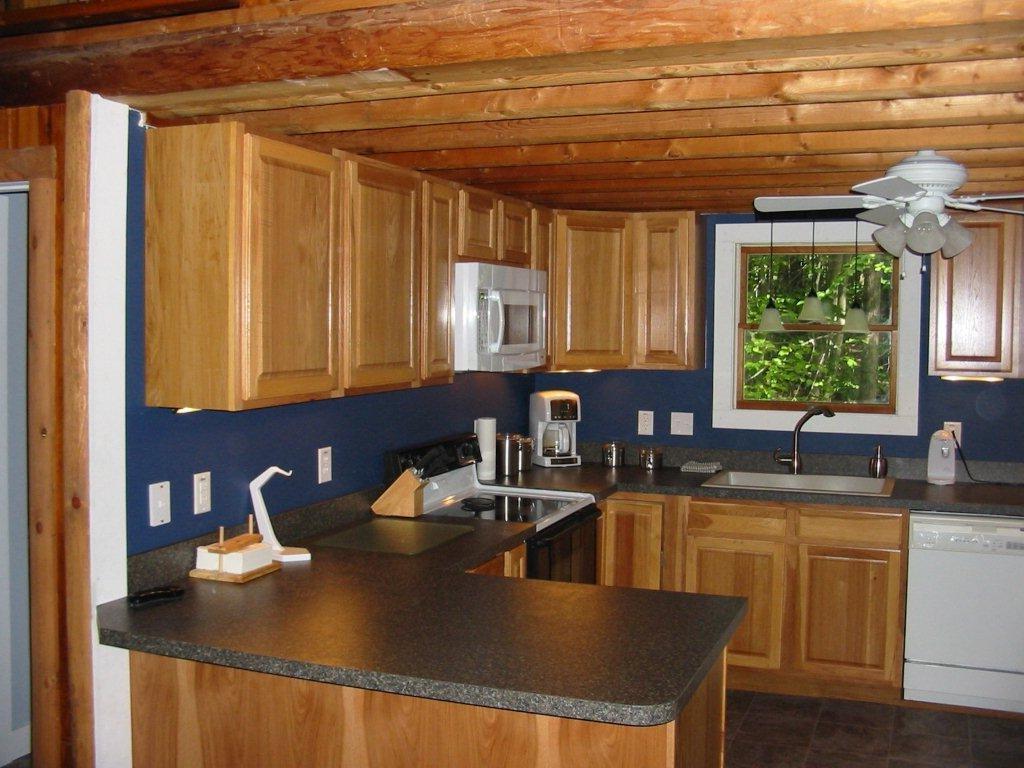 A kitchen like this will bring you back in time everytime you enter it; however, you can't deny that it looks cozy and well organized. Choosing this remodeling idea for your kitchen will turn it into a perfect place where you can spend your spare time preparing delicious meals for you or your family.
30. Open Kitchen Renovation Ideas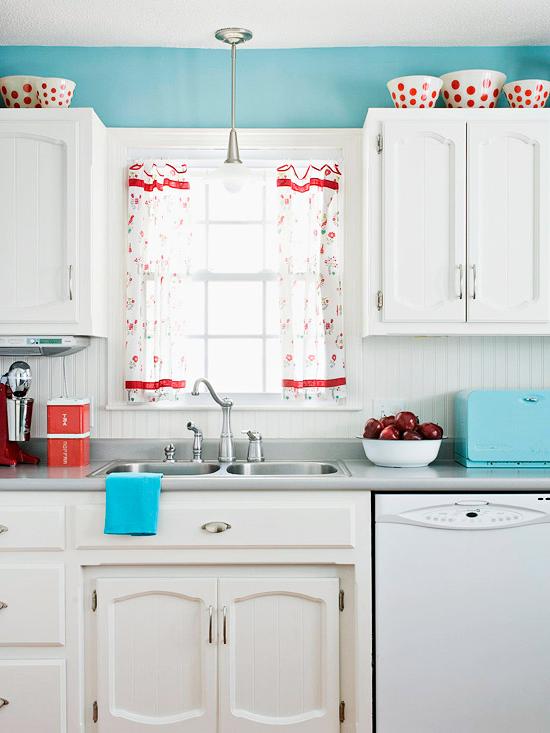 You'll fall in love with this simple yet beautiful kitchen at first sight! The freshly painted blue walls perfectly match the white design of the entire kitchen, and the red ornaments just add a colorful finishing touch to the entire space. Were you looking for a renovation idea that will give your new kitchen a striking appearance? You've just found what you were looking for – feel free to steal the idea and realize it even today!
31. Retro Kitchen Renovation Ideas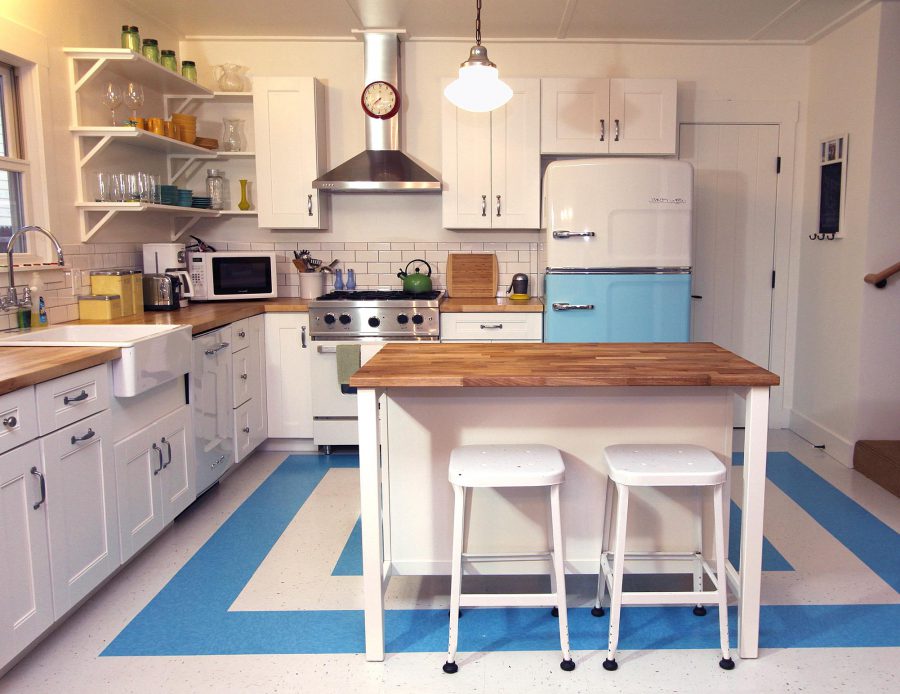 If you want to revive the nostalgic fashions of the past and go back in history every time you enter your kitchen, try the retro renovation idea and turn your ordinary kitchen into an unordinary one. We're pretty sure you won't regret your kitchen cabinet design choice after and enjoy your new retro cooking spot together with your friends or family.
32. Rustic Kitchen Renovation Ideas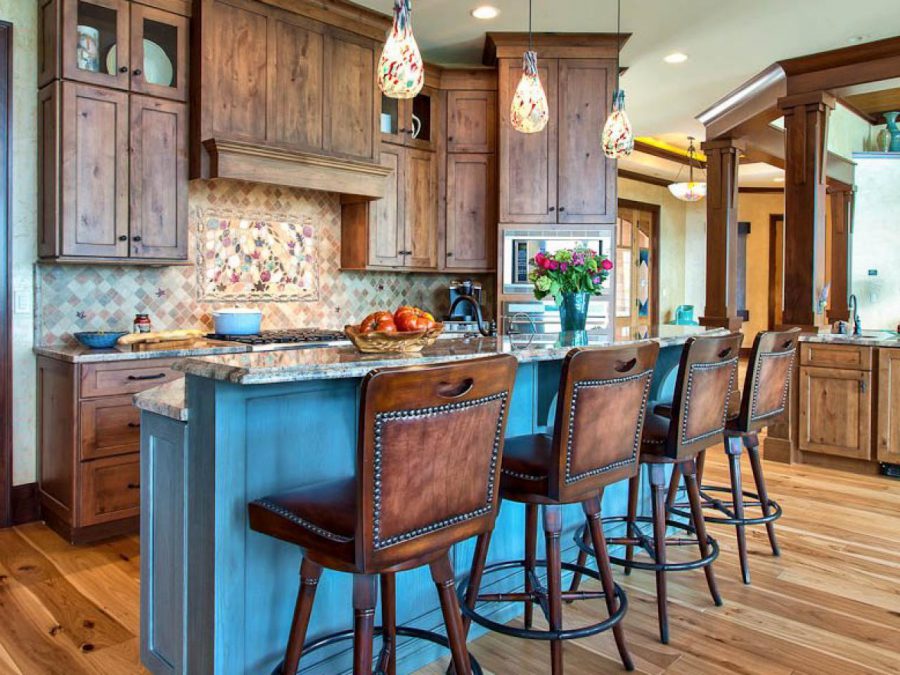 Known for the warm earthy colors, the rustic design will turn your ordinary kitchen into a mix of elegance and simplicity. Adding a granite bar with high chairs matching the kitchen will only spice up the entire space; a rustic kitchen cabinet renovation will provide you will a brand new cooking spot designed in a unique manner.
33. Small Kitchen Remodeling Ideas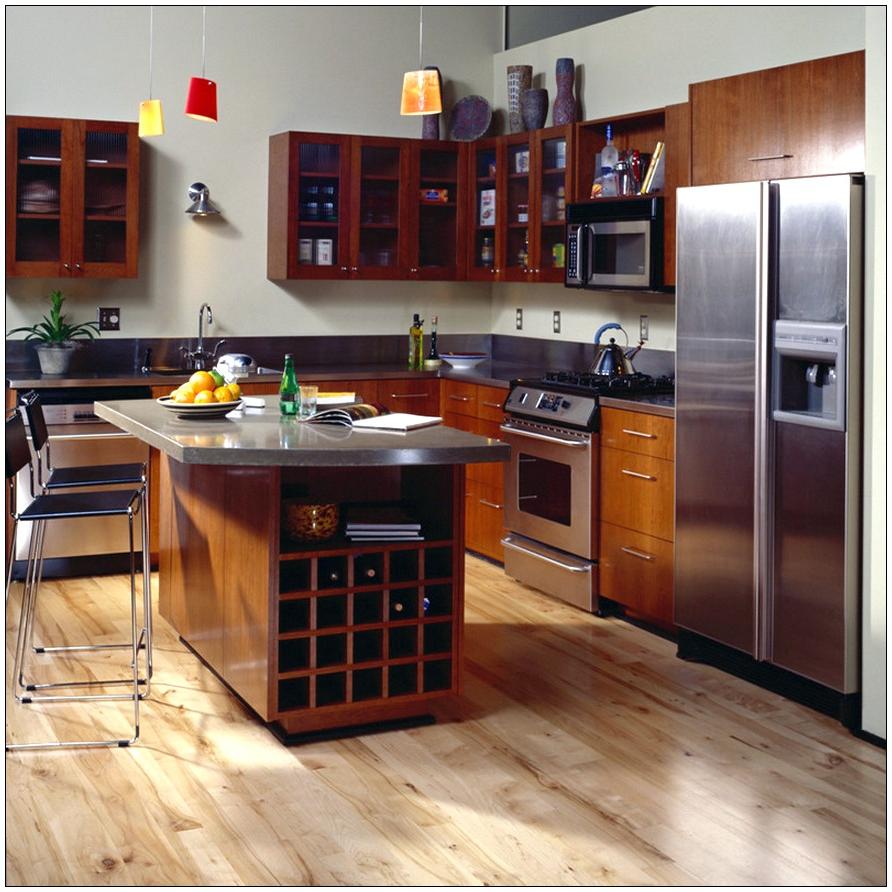 One of the many remodeling ideas for a small apartment or house kitchens. This particular consists of many colorful ornaments, dark brown cabinet doors and a unique table that matches the color of the entire kitchen. Simple and beautiful, this kitchen will become your favorite cooking spot once you remodel it in this elegant style.
34. Tuscan Kitchen Remodel Ideas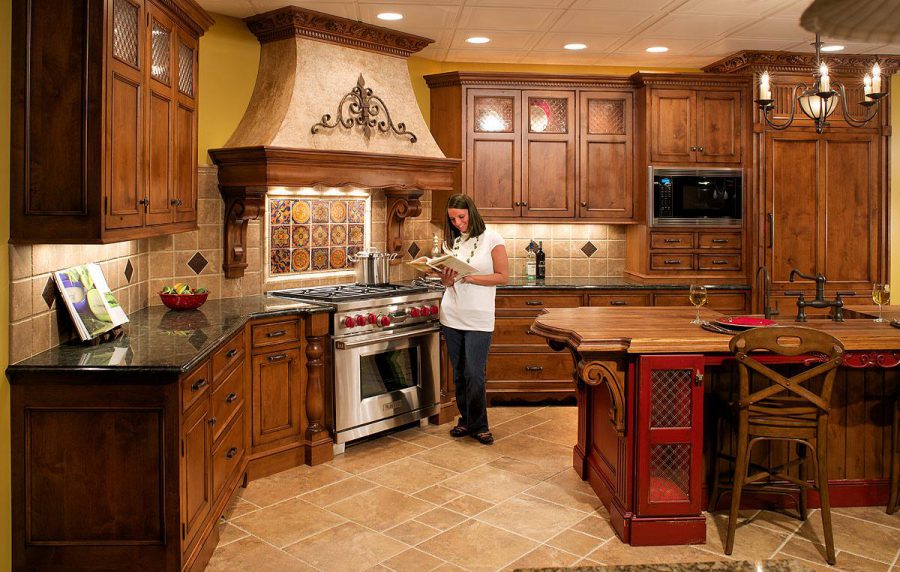 Tuscan kitchens have become pretty popular lately due to their ability to give every home a comfortable warmth and inviting appearance. A mixture of traditional and vintage style, the Tuscan design will become your favorite for remodeling once you use it in your kitchen. We're pretty sure you'll finish remodeling the entire house in this style after.
35. Ultra Modern Kitchen Renovation Ideas
If you're not a big fan of vintage or Tuscan kitchens and aim for something more modern and contemporary, we offer you this idea of ultra-modern renovation for your kitchen. Adding an unusually shaped granite table and blue lightened cabinet doors are enough to get the ultra modern tone to your kitchen.
36. Unique Kitchen Remodeling With Low Budget Countertop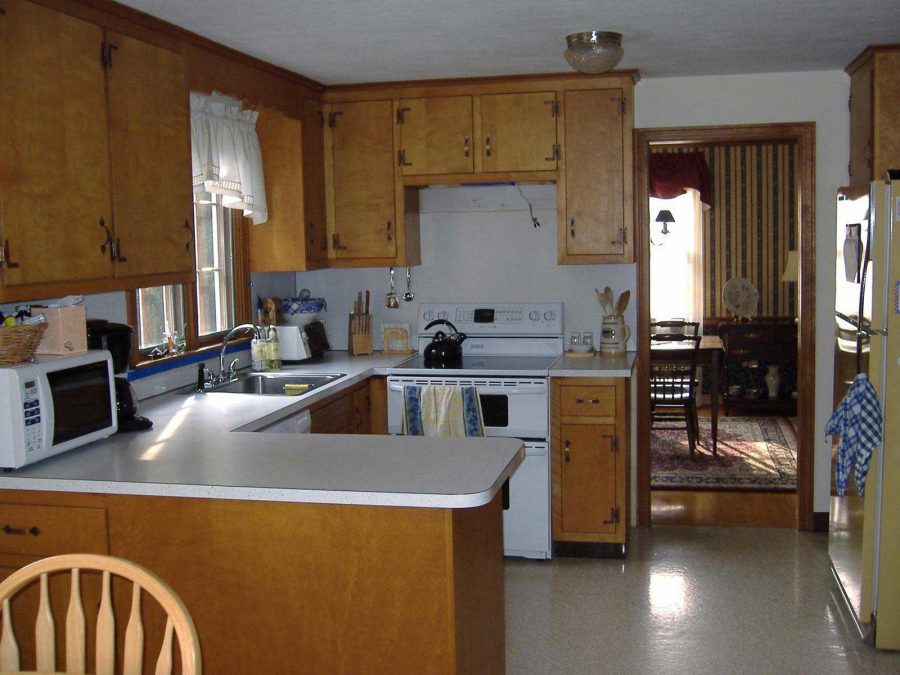 Instead of spending a lot of money for countertops, try something more simple and less expensive like the particular while countertops on the picture. Although it's simple, this remodeling idea gives your kitchen a pleasing look and warm tone. Chose this kitchen cabinet idea and remodel your cooking space in a unique manner.
37. Victorian Kitchen Renovation Ideas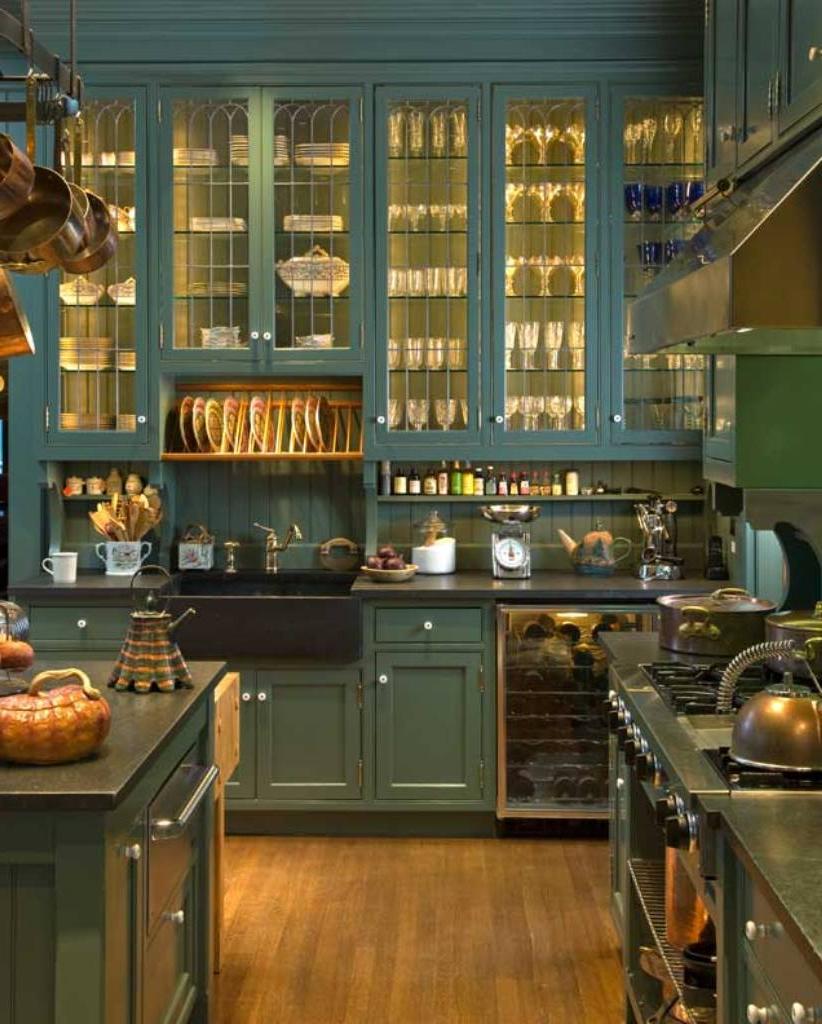 Only the Victorian style and design can provide a splendid beauty and turn your simple kitchen into an ornament to your home.The Victorian design is known for its graceful carvings and gothic ornamentation and remains one of the most common styles when it comes to renovation, especially kitchen cabinets renovation. If you're looking for something overly adorned and classy, use this idea and turn your ordinary kitchen into an admiring extraordinary cooking spot.
38. Vintage Kitchen Remodel Design Ideas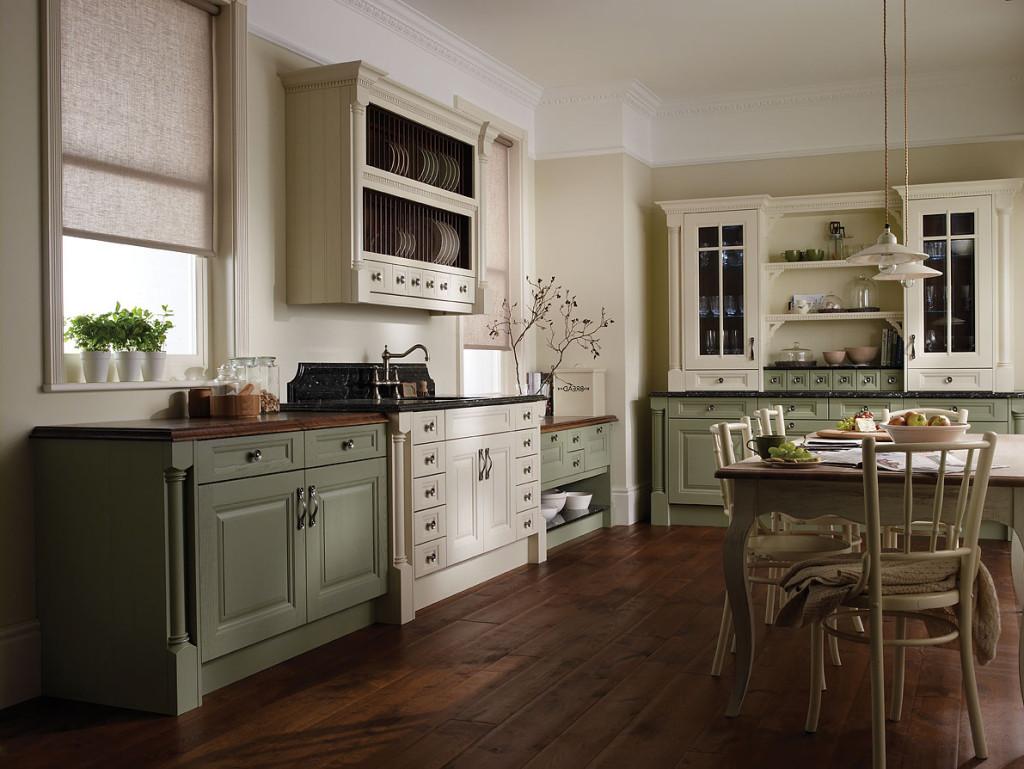 Known for its nostalgic details, the vintage style will give your kitchen a clean and classic old-fashioned look, as well as striking appearance. Don't hesitate on turning your modern boring kitchen into an old-fashioned one that will become your favorite home space after remodeling.
39. White Kitchen Renovation Ideas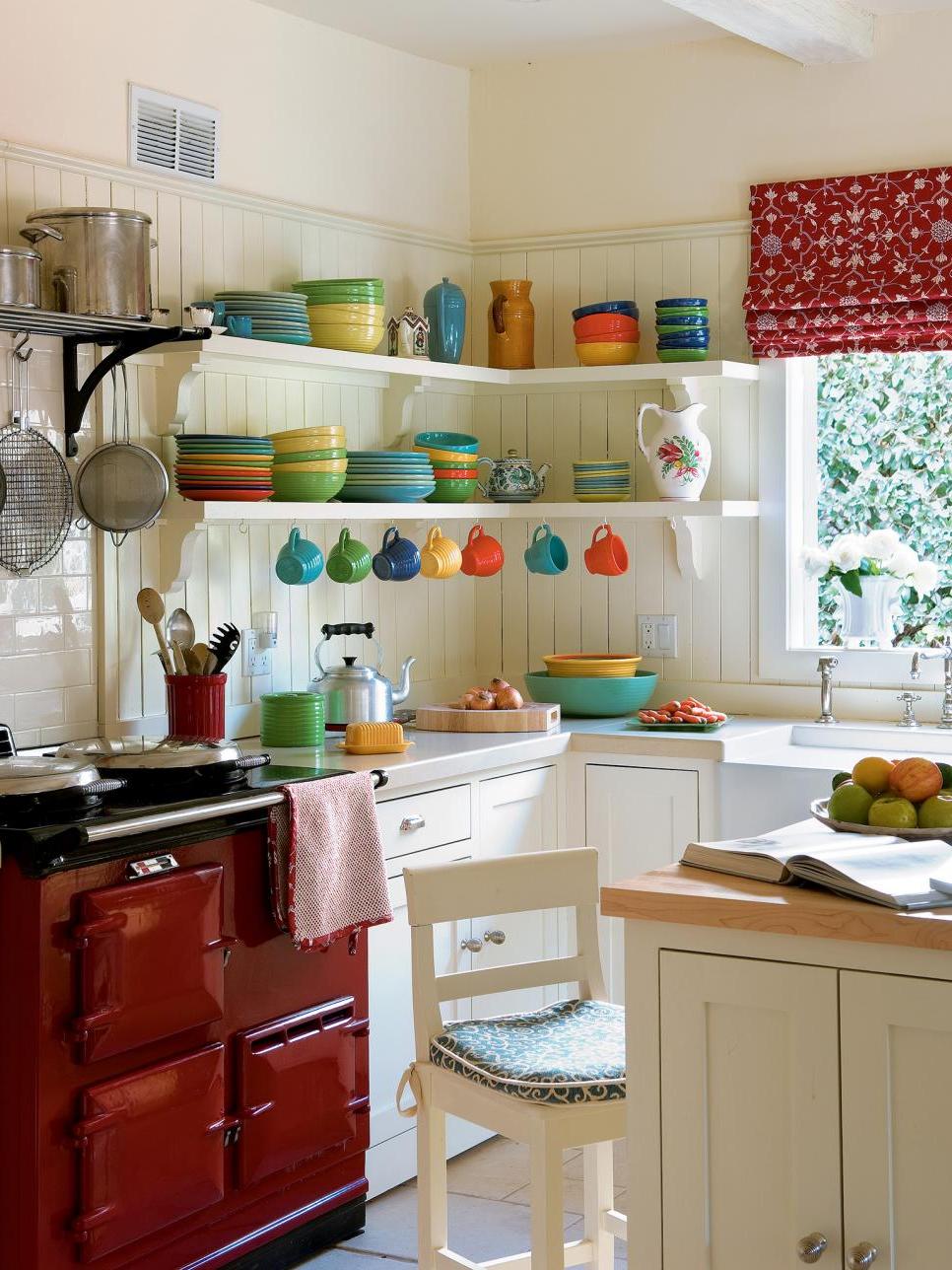 If you're looking for something classy, you can always choose the white kitchen renovation idea and remodel your cooking space in a simple manner. You can never make a mistake while choosing this design; by adding some ornaments in different colors, you can turn your boring kitchen into a clean colorful place where you and your family can share your everyday meals together.
40. White Painted Oak Kitchen Cabinet Remodeling Idea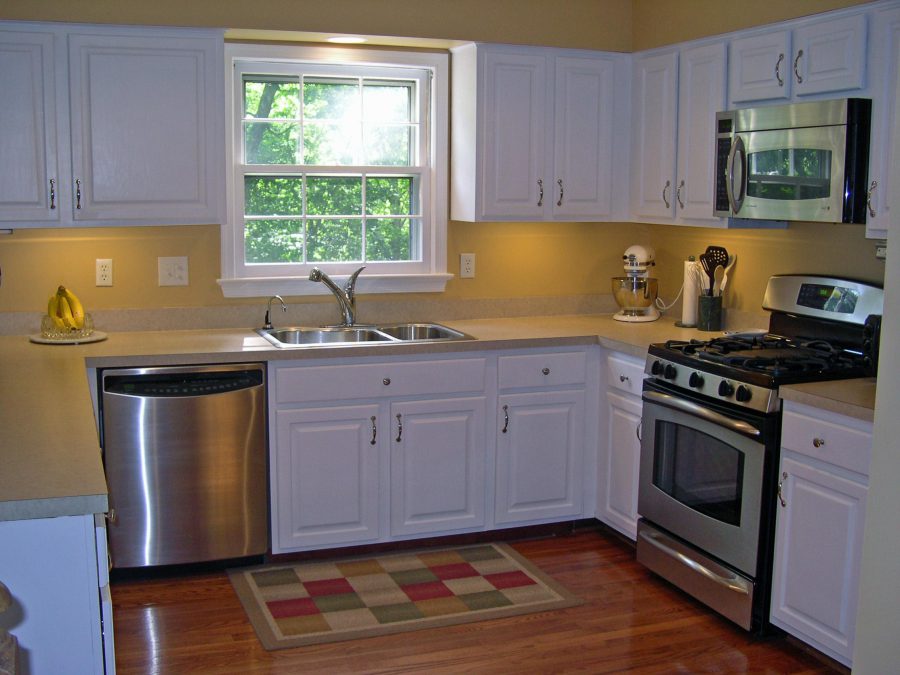 Instead of buying a new kitchen cabinet, why not repaint the old one and give it a brand new fresh look? If you have a regular oak kitchen, grab a white paint and give it a simple tone without spending much of your budget. You'll bring freshness in your home without renovating the whole kitchen.