The times when laundry rooms were strictly a utilitarian space are over. We give you proposals for putting together charming and well-organized corners.
When we think about the design and organization of the house, we often do not pay attention to some spaces that we then use daily and that are super important in the home dynamics. We forget to plan the place where we will keep cleaning products, where the dirty clothes, the washing machine, the dryer and everything necessary for ironing will go, among other things.
If your home is small, sometimes there is no room to build a good laundry room. But it's a matter of getting creative and somehow practically solving everything you need in a small space or in non-traditional places: in fact, in the United States a closet is usually the laundry space and works very well.
On the contrary, when space permits, the best is to organize the washing, drying and ironing of clothes in a separate environment.
We share some ideas and tips on how to decorate a laundry room to make it a well-organized and functional corner that makes some tasks less tedious.
30 Laundry Room Designs To Turn Your Laundry Room Into A Dream Space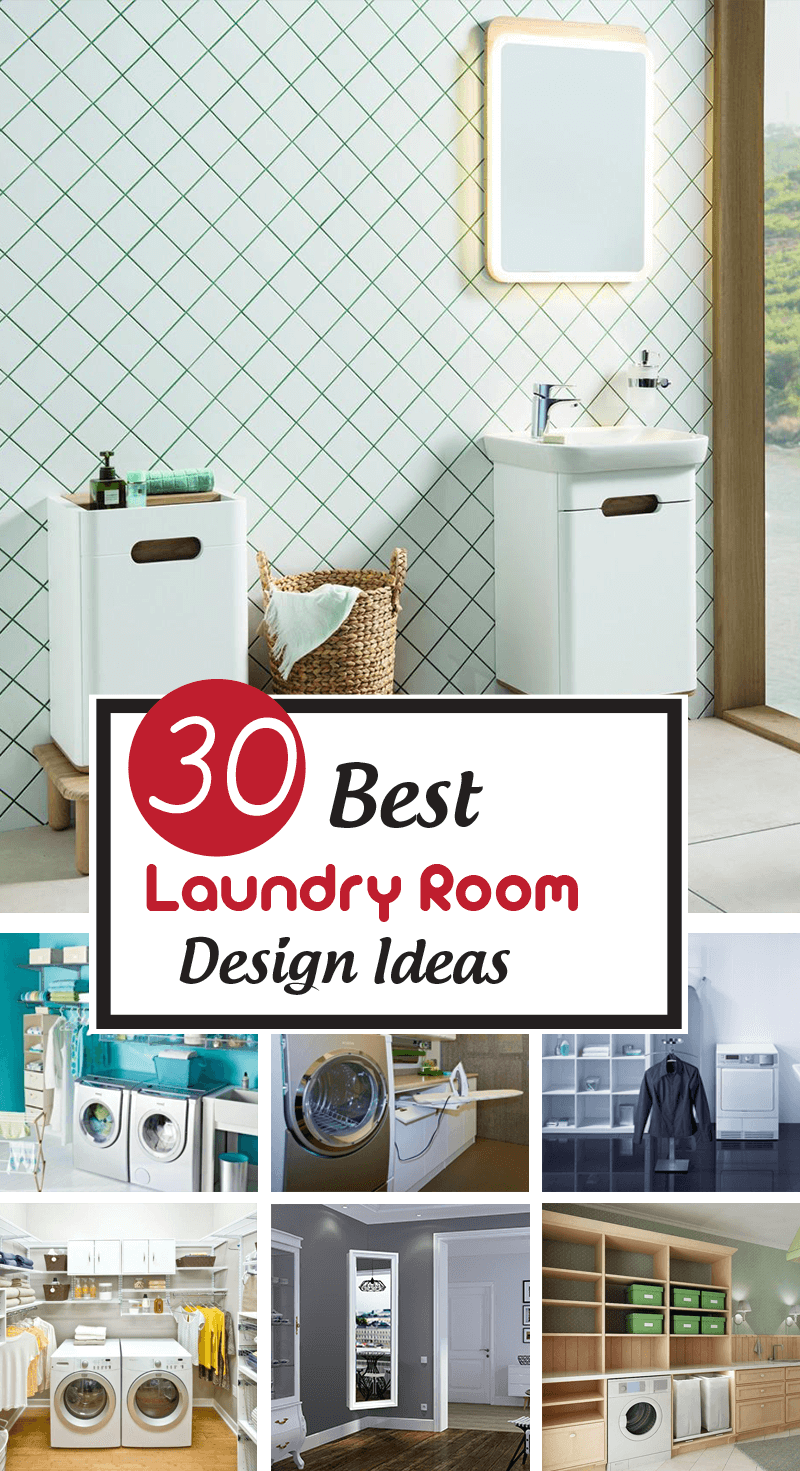 Washing, ironing, and folding clothes are often hated household chores and you are no exception. But, if you manage to do them in a pleasant space, it may make everything much easier for you. These pretty and simple ideas will help you create a laundry at home, in accordance with the rest of the decoration you have.
Times changed and each room in the house is thought in detail, taking advantage of every corner with furniture and organizers. The laundry rooms ceased to be strictly utilitarian spaces, generally ugly and disorderly, and today more care and dedication are dedicated to them.
Even the design of laundry room furniture changed dramatically. And there are plenty of accessories, from baskets to clotheslines and ironing boards that allow you to put together super nice and functional places.
Place And Elements The Laundry Room
A Dreamy Laundry Room Designs
If you have an empty or unused room, you have a wonderful laundry room. In addition to having a water connection, with enough space you can install an ironing center, have cabinets and drawers to keep clothes clean and ironed, coat racks for freshly ironed shirts, storage and shelves for detergents and cleaning products and space for towels, sheets and tablecloths.
Introduce elements that provide warmth, such as wicker baskets to deposit clean clothes, nice boxes to store clothespins and other accessories … This classic style with a rustic touch looks great, but if you prefer another roll you can adapt it to your liking with more furniture chord.
In The Kitchen
If you do not have the possibility of allocating a single room for your home laundry room, you may have to put a washer and / or dryer in the kitchen. A very apparent solution is to reserve a part of the kitchen furniture to the washing machine, if possible, with a door that hides it and the set is better integrated. It is best to locate the washer and dryer next to facilitate the passage of wet clothes from one to the other.
When the space is tight, you can stack the washer and dryer on top of each other on one of those tall vertical modules and hide it through a closet door. You can also leave everything in sight without any qualms, since everything is white, furniture and appliances are not out of place.
Don't forget that the washing machine requires water and drain installation plus a plug. In general, a cold-water tap is sufficient. Optionally, a hot water tap can be added in the event that the equipment does not heat the water. The drain connection tube must be located on the wall at least 40 cm high to ensure proper discharge.
As for the location of the washing machine, the most sensible thing is that it is located near the laundry room to optimize the installation of water and drainage. If it's front-loading, you can put a table on top and take advantage of the space. When there is little space to set a table, the top-loading washing machine is the one, since they are narrower.
Dryer
The dryer is an increasingly used appliance, especially in winter. An independent equipment of the washing machine requires an exclusive plug. If you don't have a lot of space and the washing machine is front-loading, you can put it on top.
Remember that you must think of some space to put the washed and dry clothes. If you don't plan it, then it will be messy in a corner waiting for the iron, and all the effort to organize the laundry room will be in vain.
Sink
To wash fine clothes and other items it is very useful to have a sink. There are different sizes, so you must choose according to the available space. The important thing is to choose a suitable water tap so that the length of the spout allows the water jet to fall centered on the base of the chosen sink.
Granite or stainless steel sinks are available at affordable prices (these have a greater variety of sizes).
Water Key
When the installation includes hot water (recommended for hand washing), the advice is to choose one of the single-control types, since it allows the water temperature to be adjusted more easily. In general, the models are suitable to put on the wall, since they offer more space to manipulate the buckets.
Clothes Rack For Clothes
It is important to locate it in an airy area inside the laundry room and, in the case of a closed environment, promote air movement with an extractor if necessary.
Clotheslines are available in multiple shapes, systems and sizes. The extensions can be fixed to the wall above the laundry room. Ceiling ones allow more hanging space for long clothes or sheets. And the folding floor ones are useful as a complement, since they can be taken outdoors and take up little closed space.
Baskets For Clothes
The baskets for clothes are necessary to put, on the one hand, the dirty clothes (separated into white and color), and, on the other, the clothing to be ironed. If you have room to iron, the table must be arranged so that you have within reach a table where you can leave your clothes ironed, and also a coat rack where you can put the clothes that will be stored hanging on hooks.
A tip that few of us consider and that can be super practical: it is convenient to leave a sewing kit on hand to correct any loose buttons, broken areas, etc.
Ironing
Ideally, the ironing board should always be ready for use, with the laundry baskets close at hand and places to support the ironed clothes. For this reason, the folding table hidden inside a storage unit is very practical.
Electrical Installation And Lighting
The laundry and ironing room must have multiple plugs, suitable for consuming appliances and properly grounded and with a thermomagnetic tablet.
Regarding lighting, the sector that requires the most light is the sink area and the ironing board area, whether natural or artificial. In the latter case, fluorescent tubes or LEDs are ideal because they give an even illumination with few shadows and consume very little energy.
Cleaning in our home is not only limited to surfaces that have to be swept and mopped and dusted, we also have to wash clothes, so in almost all homes there is a washer and dryer that makes this task easier at home.
Now, let us show you some examples of dreamy laundry rooms for you get inspired or copy.
1. Tiny Laundry Room Designs With No Place For Clothes
Not all houses have the good lucking on counting on a whole room to set the laundry room, so you will need to have to deal with the lack of space. In this case, owners who have small cases can use solutions like this one of setting a rack on top of the Wall or ceiling to hang clothes.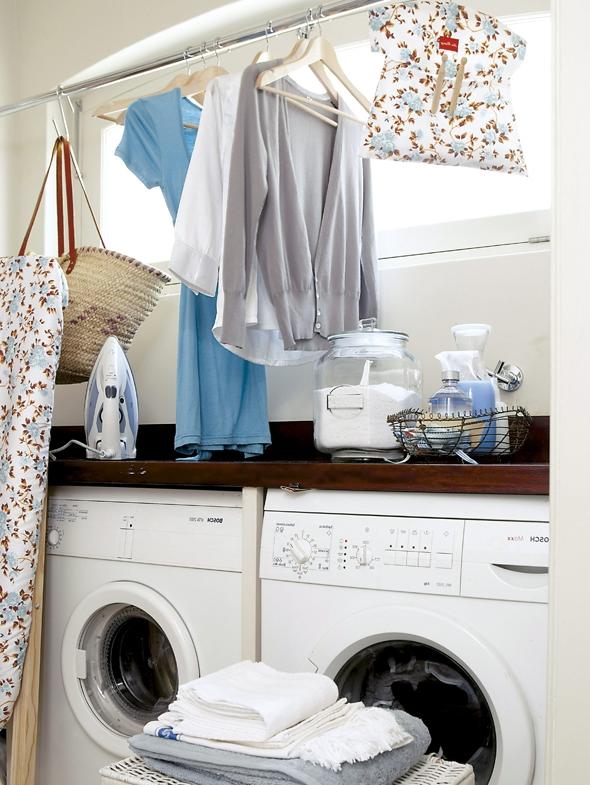 2. Bright Turquoise Laundry Room Designs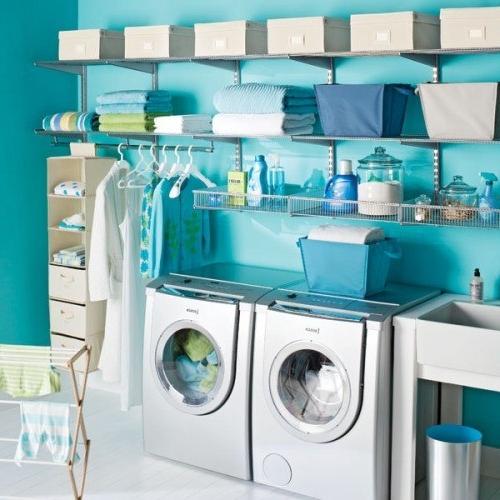 If you have a space for a laundry room, things are made easier because you can add purchased or custom furniture and organizers that allow you to order everything you need.
3. Medium Size With Clothes Bar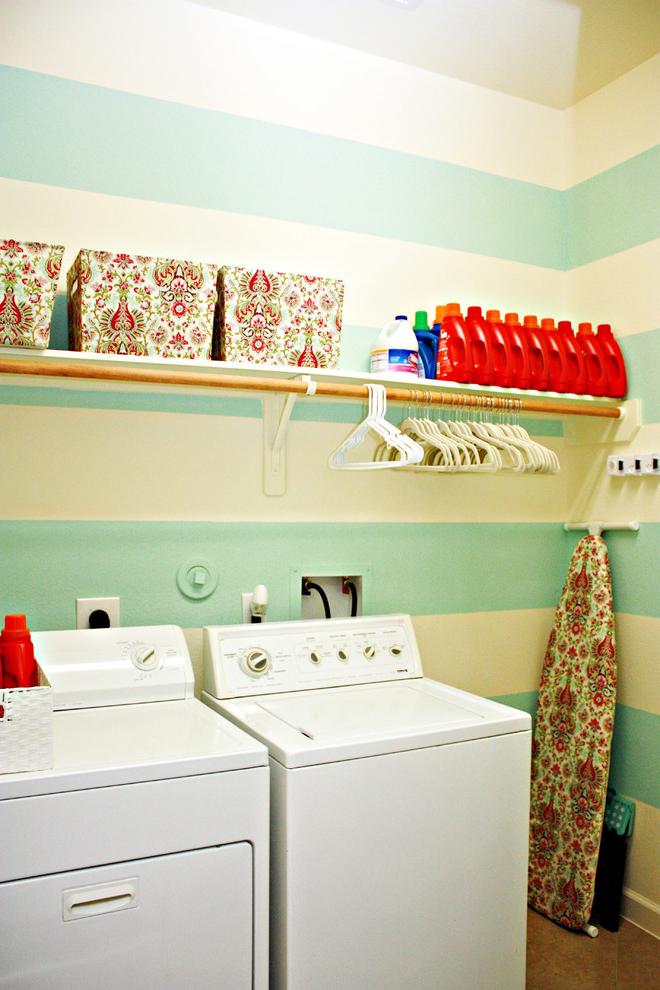 This laundry room is not very large, but it still gives a bit of size to create an interesting space for washing clothes, drying and other tasks. The ironing table has to be folded after each use so it is placed on the side of the washing machine, and the long bar helps to have a space to hang the clothes.
4. Comfortable And Compact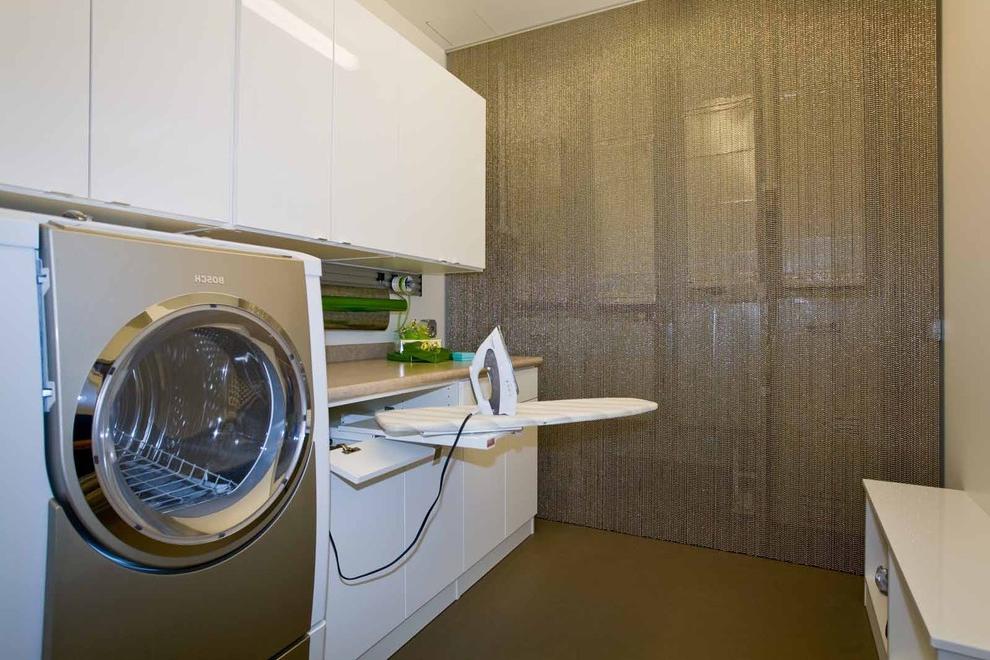 This laundry room has a compact size that was seized from a small side of the home. Any small room can work to create this space that will help a lot. The ironing table hides in a shelf after usage and all the walls were very well used installing cabinets
5. Large Laundry Room Designs With Space For Two Washing Machines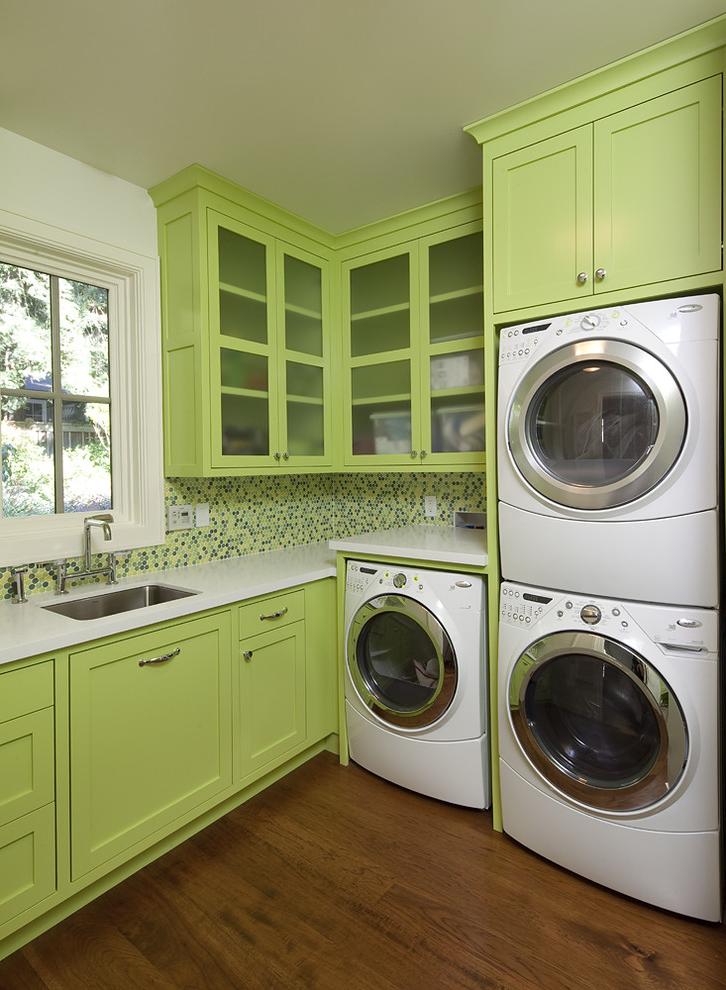 If you live with many people you may face lots dirty clothes to wash. This can make your laundry day a nightmare that lasts for long time, and for that the best solution is having two laundry machines that allow you to wash more clothes faster. This laundry room is big enough to feature 2 machines, one drier and lots of storage space. A dream come true for many people.
6. Eclectic Style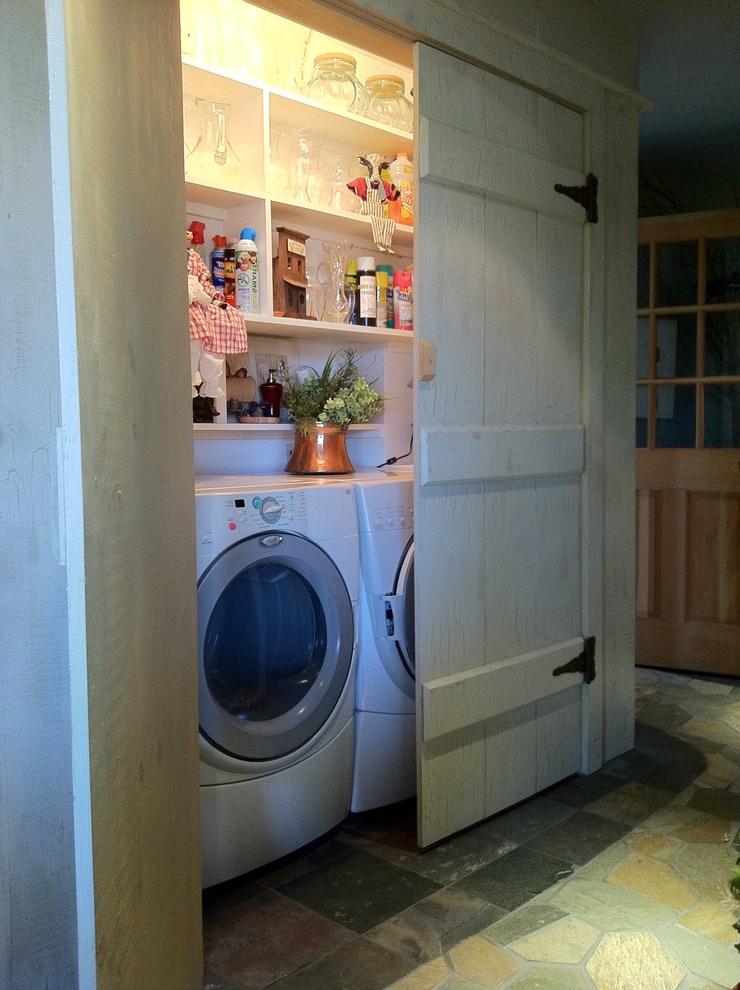 If, your house is small or does not have a separate laundry room, you can put it together in a corner, with specific furniture, or join a modern, increasingly used proposal, which is to "fit" it into a built-in closet. With shelves, hooks and small white cabinets hanging on the back wall you can design a cute and practical space, where more things enter than you imagine.
7. White Furniture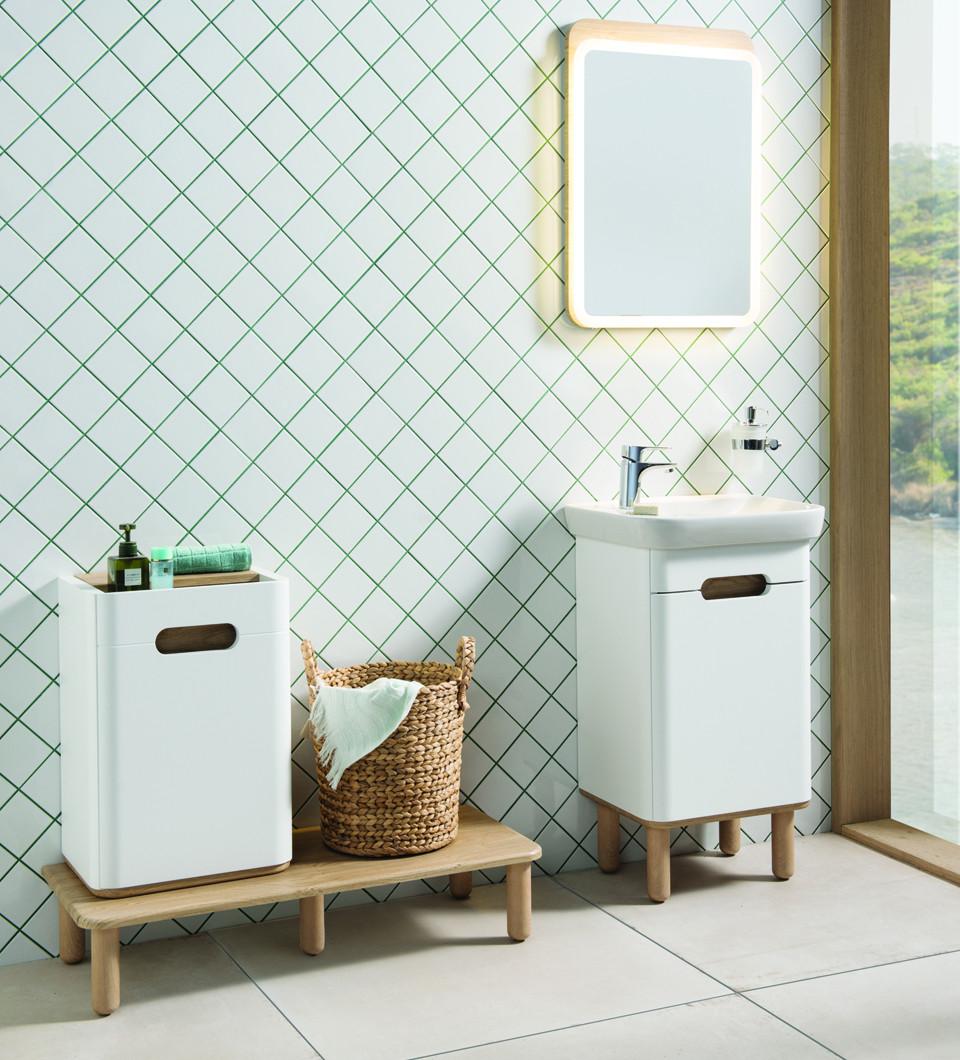 White reigns and the most luminous and fresh tones, which allow for a broader sense of neatness and reflect light, and the decoration is completed with colored organizers and even decorative vinyl, which are super lighters.
8. Wide Cabinet With Many Spaces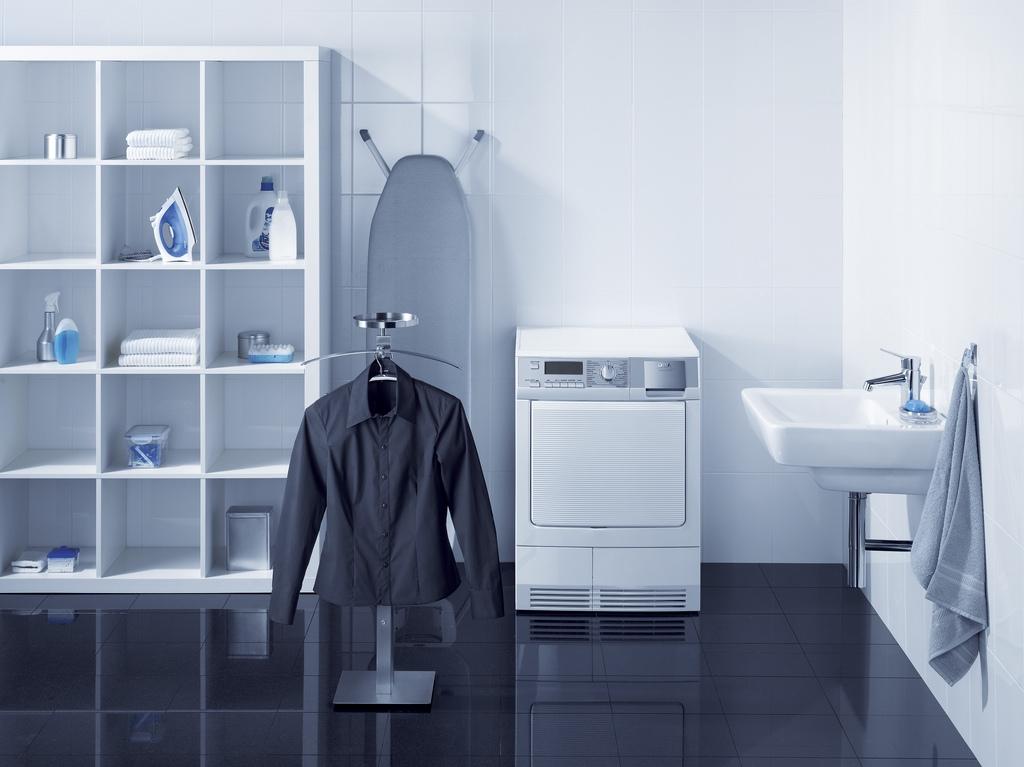 This is a dreamy laundry room that features a large and very clean space. It is normal to see laundry rooms that are mainly white because this color reminds cleanness, which is what everyone wants from a laundry room. The open cabinets have many spaces to store anything and there is a hanging space, as well as an ironing table.
9. Wide Visibility Thanks To The Big Glass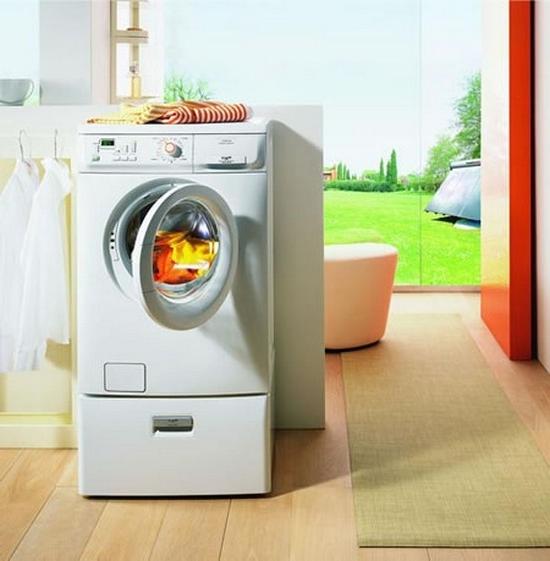 Laundry day does not have to be completely secluded, especially when you have a large window like this one that allows you to see around and feel less locked up. this room is wide and very light thanks to the huge window that let lots of natural light enter the room, making the day less boring. Studies show that surround annoying tasks with pretty things reduce the annoyance.
10. Laundry Room Designs With Cabinets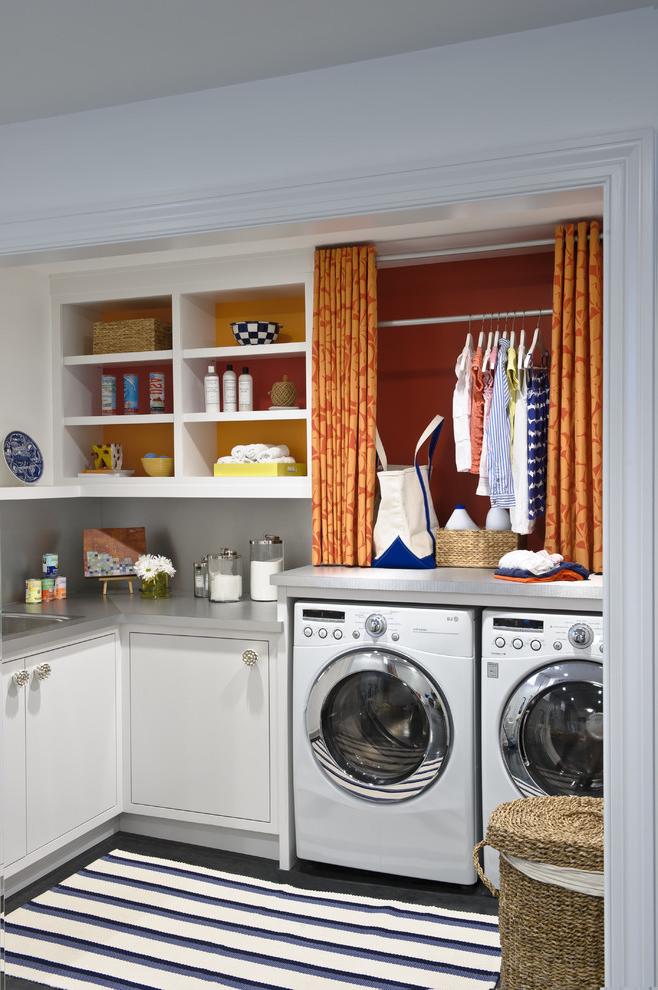 If you want to have a really comfortable space to do laundry, the best thing to do is maximize the space to let it store anything you need to complete the task, because laundry is not only detergent. it uses other things such as fabric softener, hangs, and many other items. Make sure that if you have a laundry room you consider using cabinets to really seize the available space.
11. Laundry Room Inside A Closet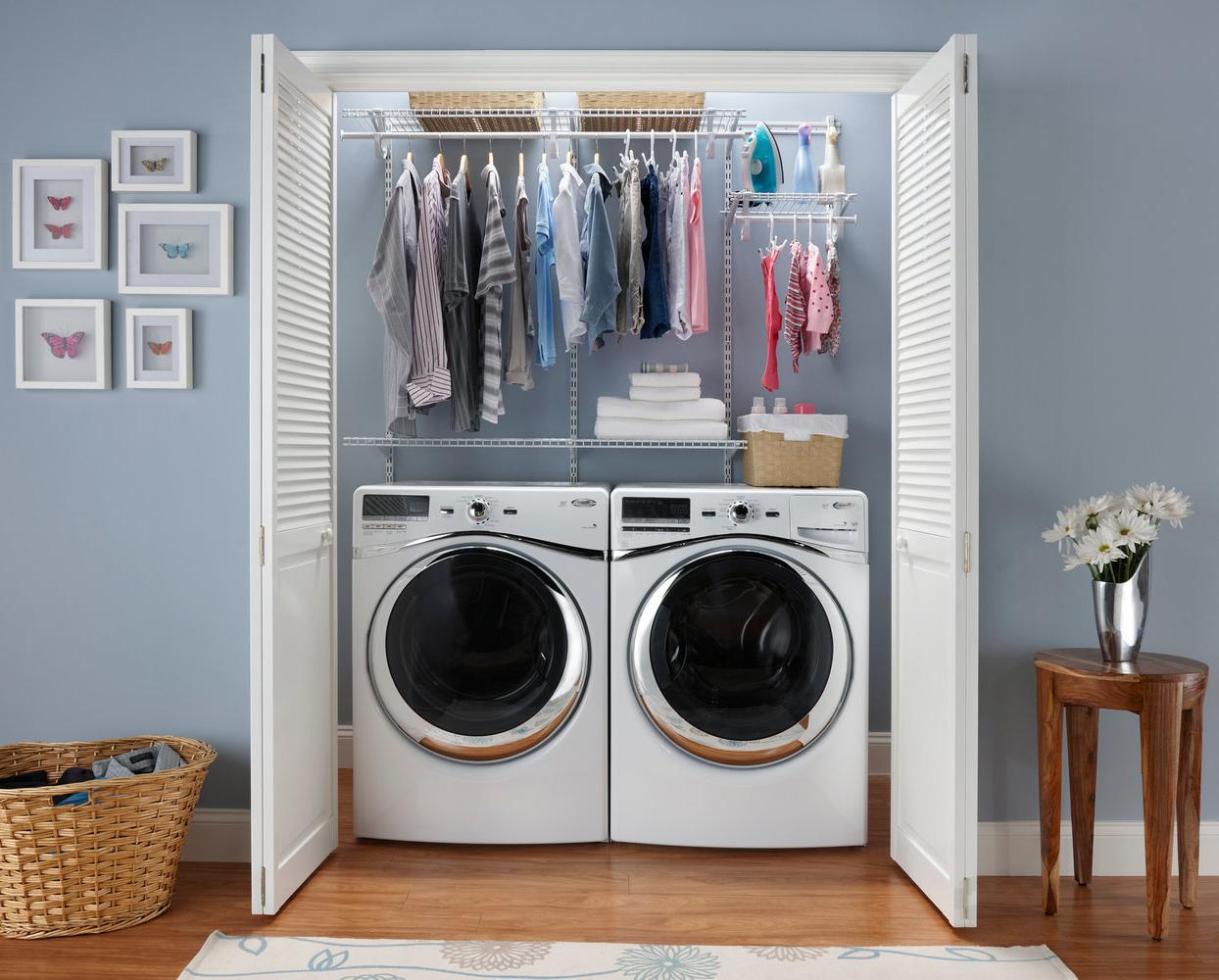 Most houses do not have a laundry room because houses are getting smaller and smaller. For this reason, many builders are creating small closets to locate your laundry machine and your dryer to help you have these devices protected and away from been seen. This closet is big enough to have both devices side by side, and seize the higher space by placing racks to hang the close up.
12. Light Colored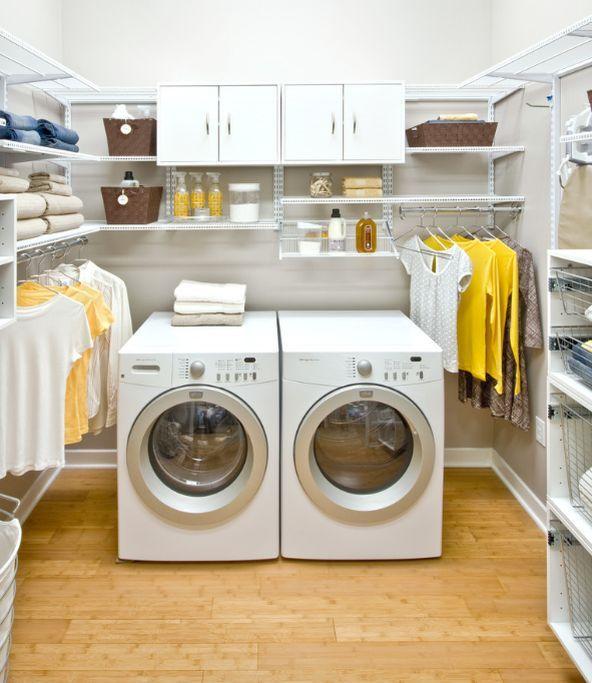 This laundry room presents really light colors that help make the space seem larger, and it also used very wisely by locating many shelves with hanging clothing spaces to make sure everything fits in place and nothing has to be outside.
13. Remodeled Laundry Room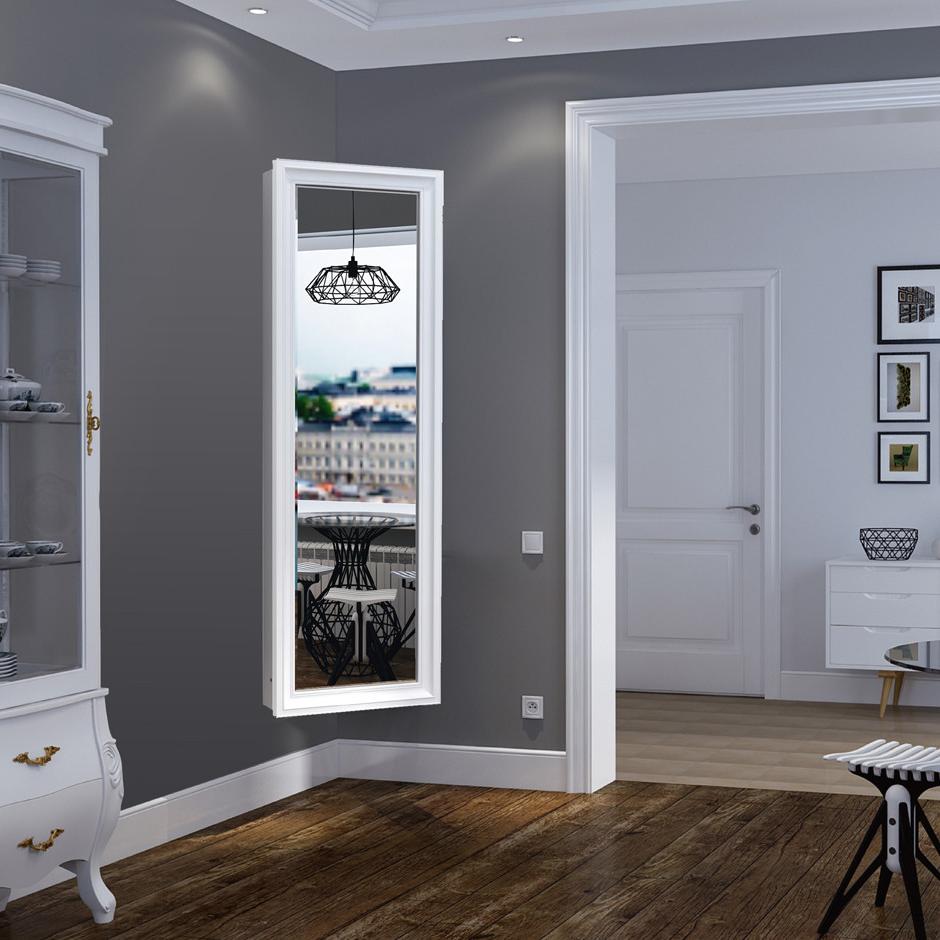 This is a remodeling Project that took a small room that was not really been used wisely and converted it into a nice laundry room that has everything needed to face the laundry Project seriously.
14. Modern Laundry Room Designs With Clean Design And Small Cabinets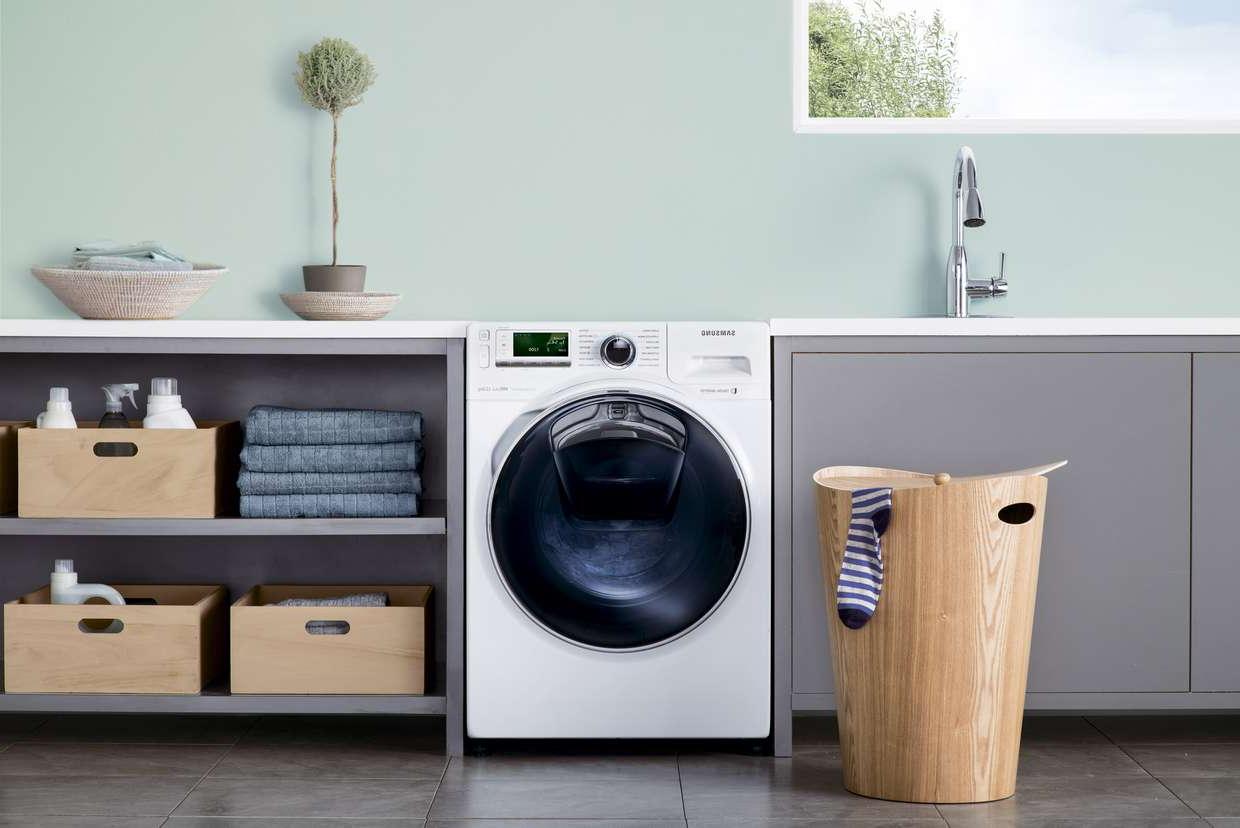 This laundry room has a modern and very clean design that features light colors such as grey and Green, and cabinets that occupy only the lower half of the walls. The boxes and basket made in wood add a special touch into the design.
15. Storage Space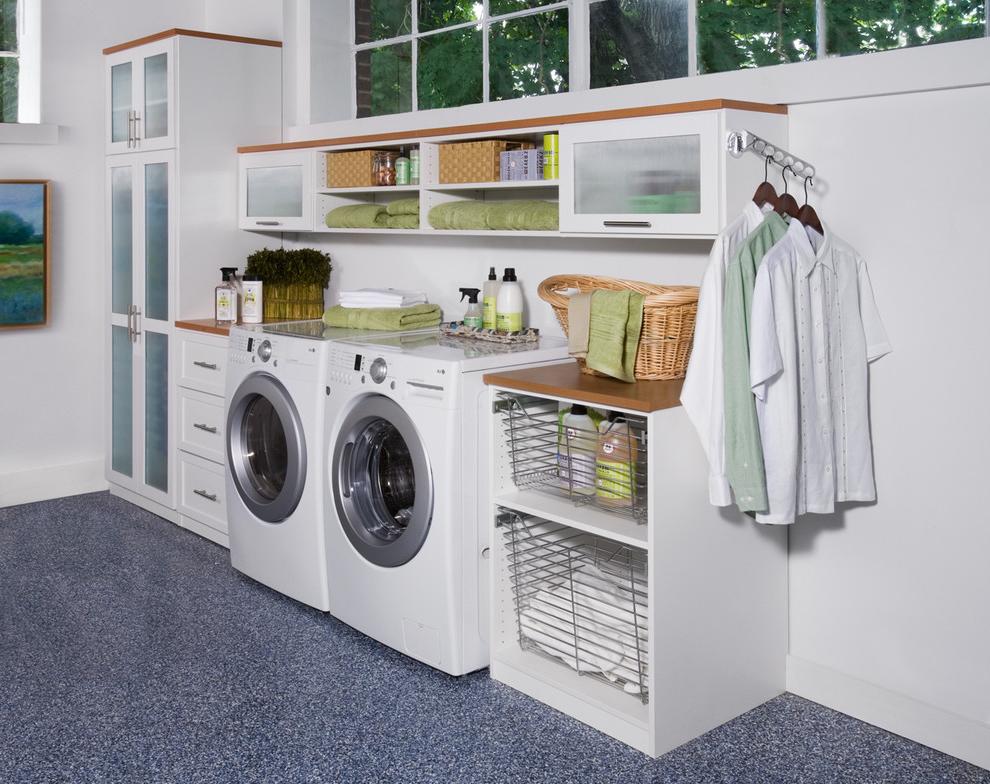 This laundry rooms live lots of space to store anything you need without making it too crowded. using only one Wall to place cabinets on the lowest and the highest spade gives the chance to leave the other walls empty.
16. Storage For Laundry Room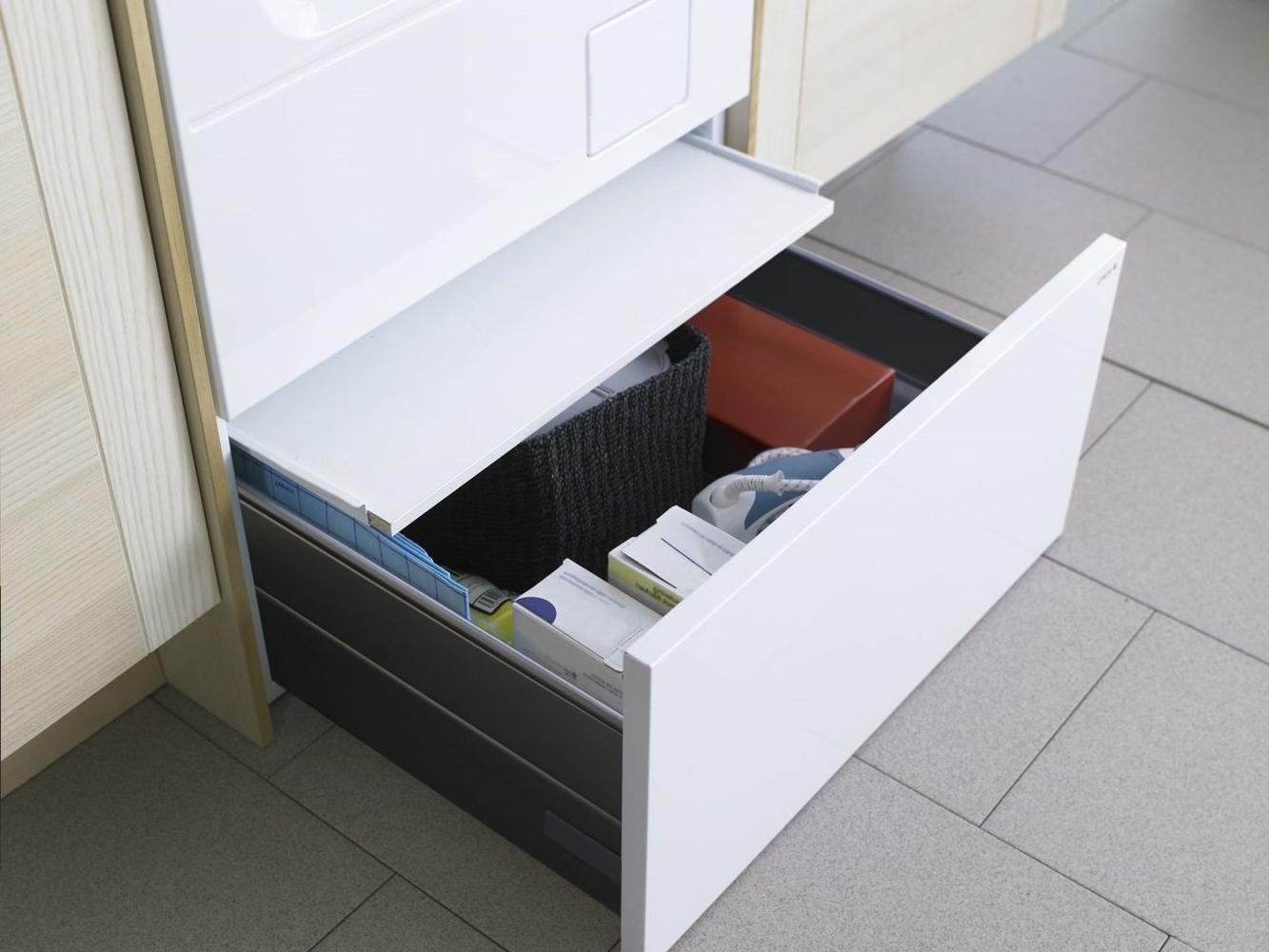 When creating your laundry room store facilities, there are many options you can use like shelves, cabinets or drawers. The installation will depend on the use that you pretend go give to it. Drawers on the floor can sometimes be more comfortable because you can open it and close it with your feet.
17. Large And Pretty Laundry Room With Storage Shared With A Little Office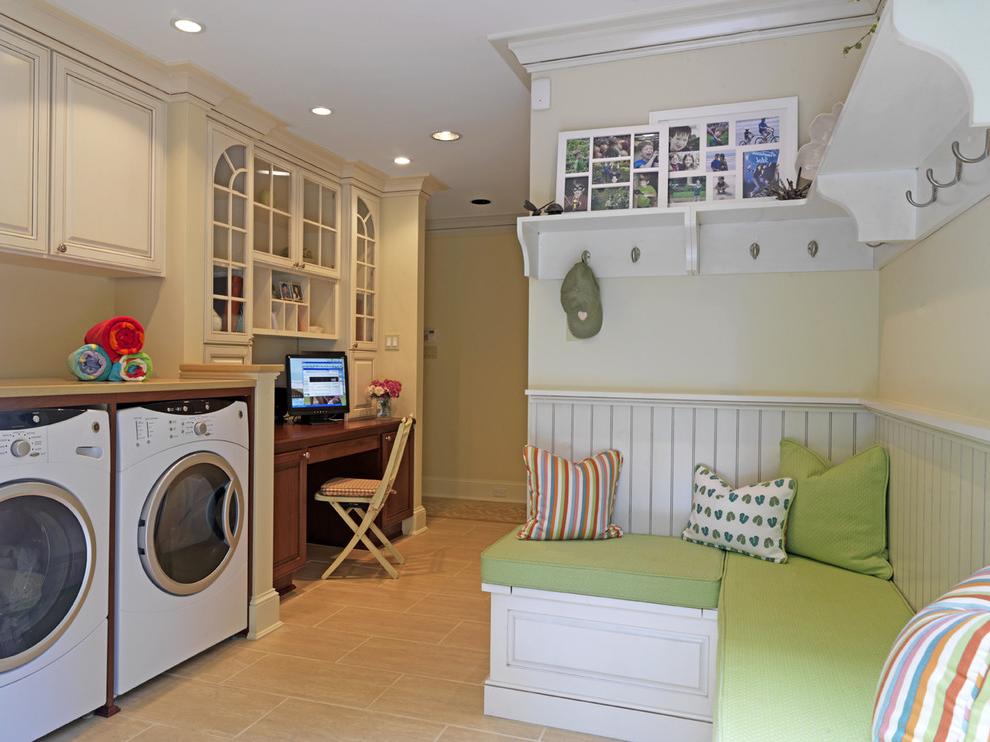 Today, unconventional laundry rooms are organized by sharing space with a children's playroom, a carport, or even a balcony. In these cases, the key is to include good equipment for closets, with enough space to store everything, and tables with multiple uses. It is essential to choose adequate storage systems for our needs.
18. Wall Decorations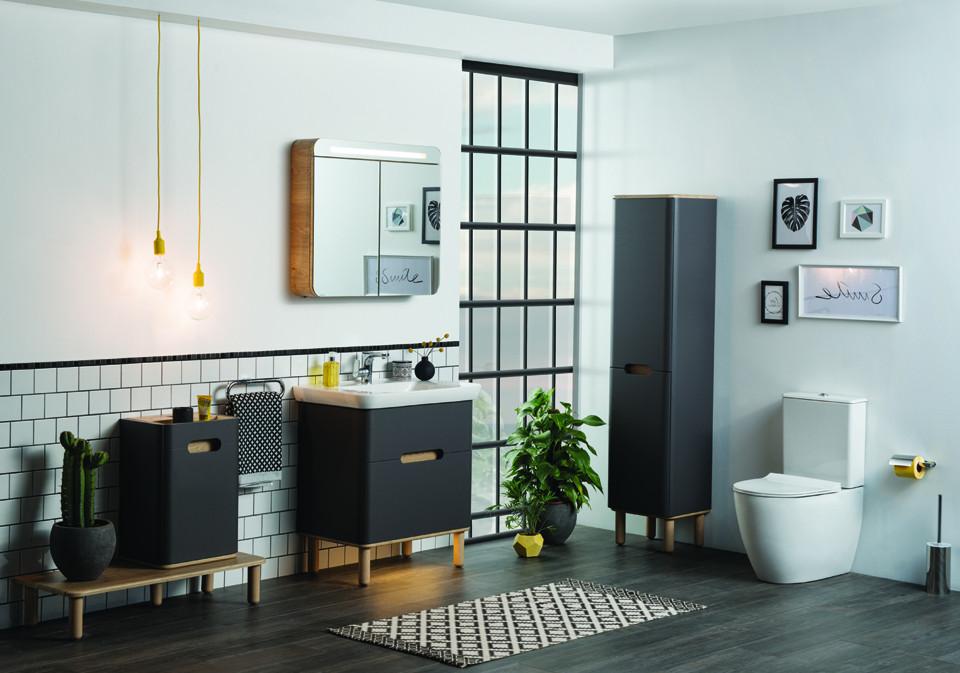 Just because it is only a laundry rooms, that does not mean you do not have to decorate. Ad paintings, photos, stickers, and other decorations to beautify the space you will be spending lots of time on.
19. Small Laundry Room With A Sink And A Window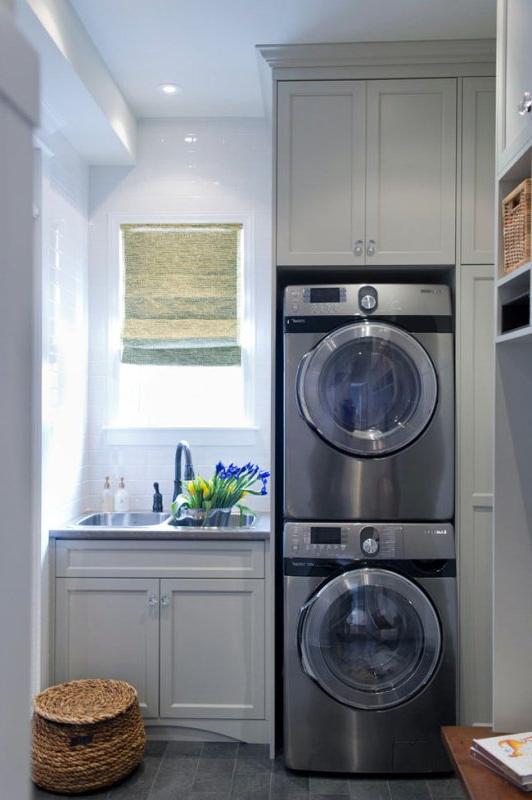 This laundry room is very small but very well used. The washing machine and dryer are on the top of the other and there is a sink right beside them if you need to wash something delicate. The colors help to make the space look wider.
20. White Narrow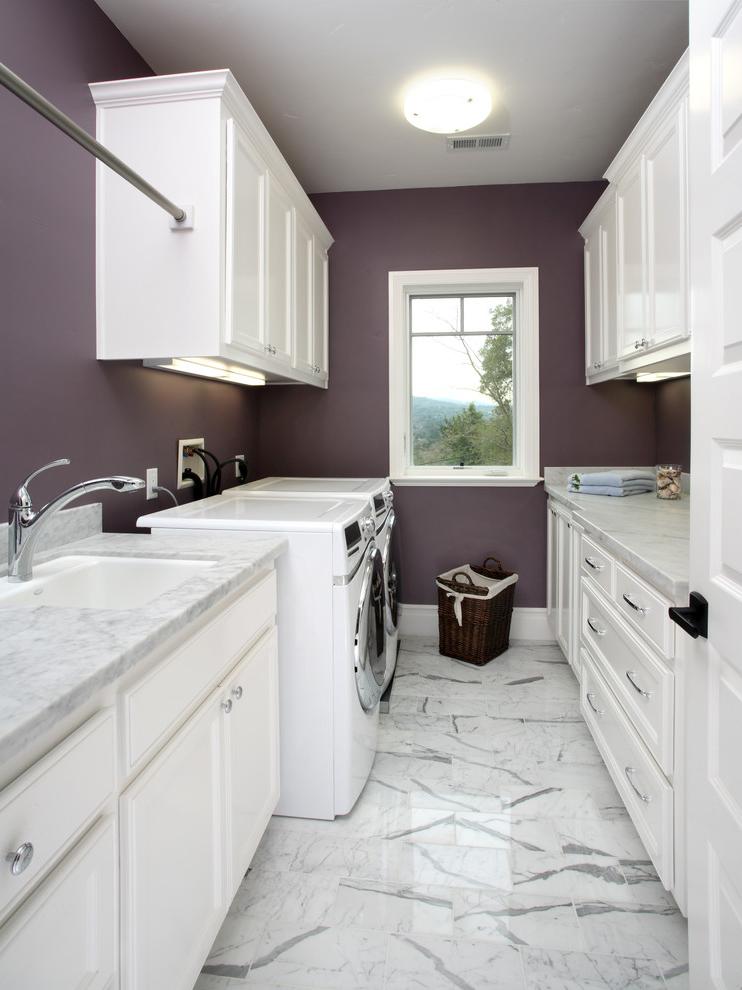 If your laundry rooms is going to be located in a long and narrow room, you can make the best of the space by placing cabinets on the sides, in the higher and lower ends of the walls. Use light colors for all the appliances, cabinets and floors to make the space look bigger. You can contrast it with a darker color on the walls.
21. Small Laundry Room In A Corner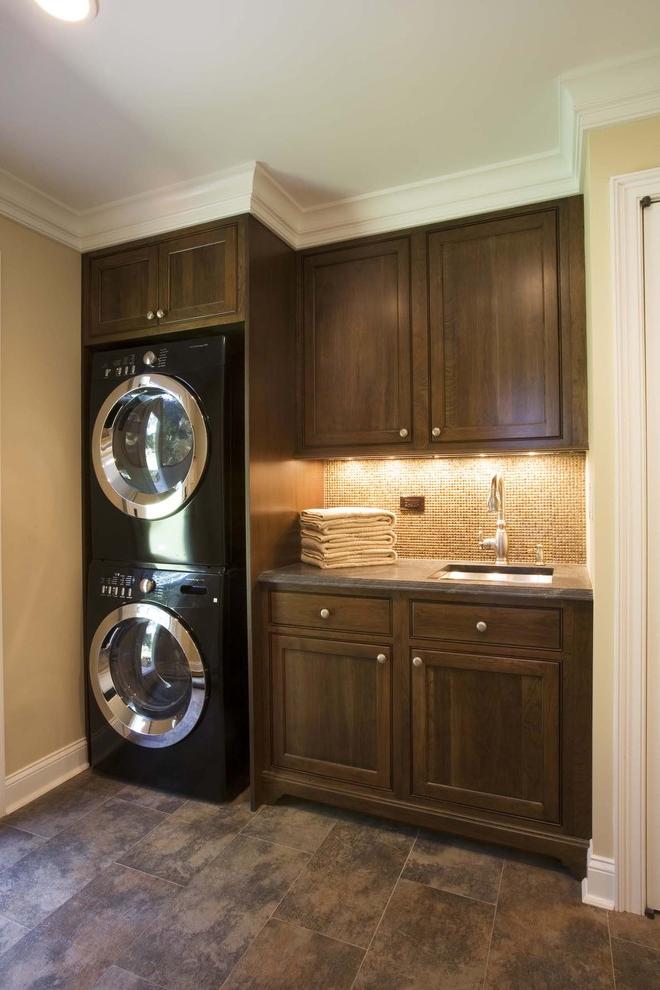 If the only space you have to install your laundry room is in a corner in the kitchen, use the space wisely by creating a beautiful space like this one that use dark cabinets in wood, a mountable washer and dryer and illumination on the sink bar. Even the appliances are not hidden it does not matter because they look great.
22. Small Closet Laundry Solution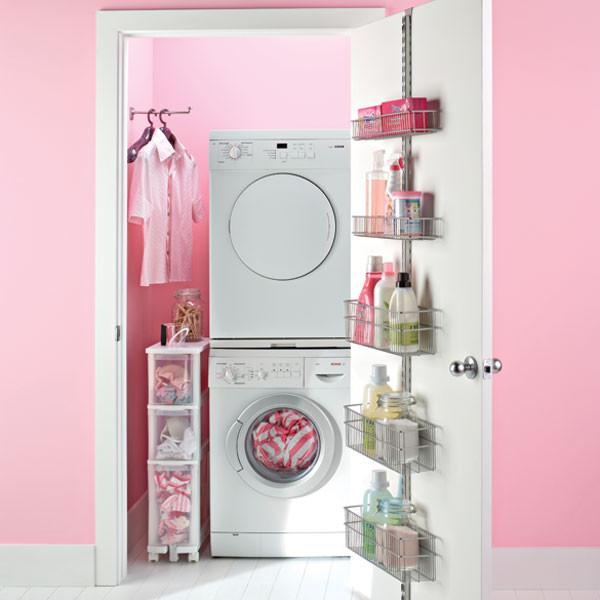 Just because your laundry room will only be tight and small closet, that does not mean that it has to be a mess. This tiny space is tidy and pretty, and even the small free space in such small facility is well used. The baskets in the door give the final touch for a very well used space.
23. Lots Of Laundry Baskets For The Room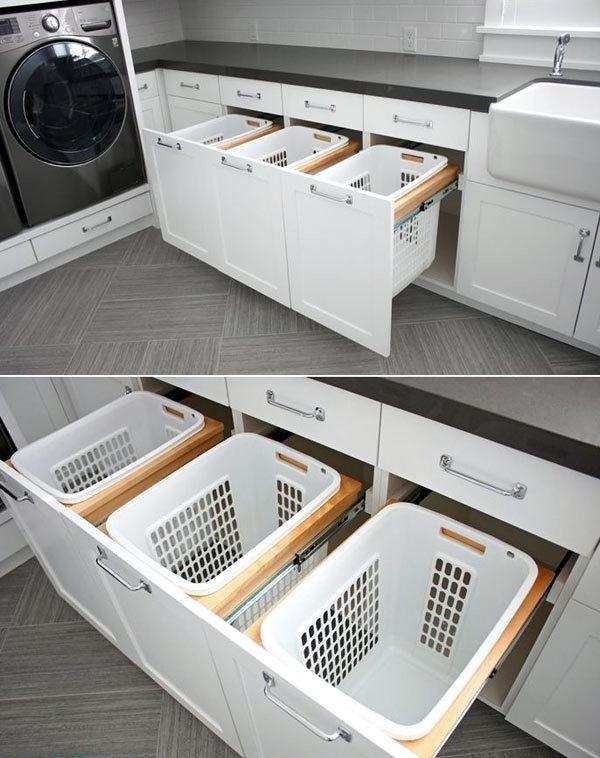 These cabinets are thought for storing the dirty laundry as you can see from the picture. Hidden behind a very pretty drawer, this solution works great for keeping everything in order and keeping the style.
24. A Wonderful And Large Laundry Room Complemented With Green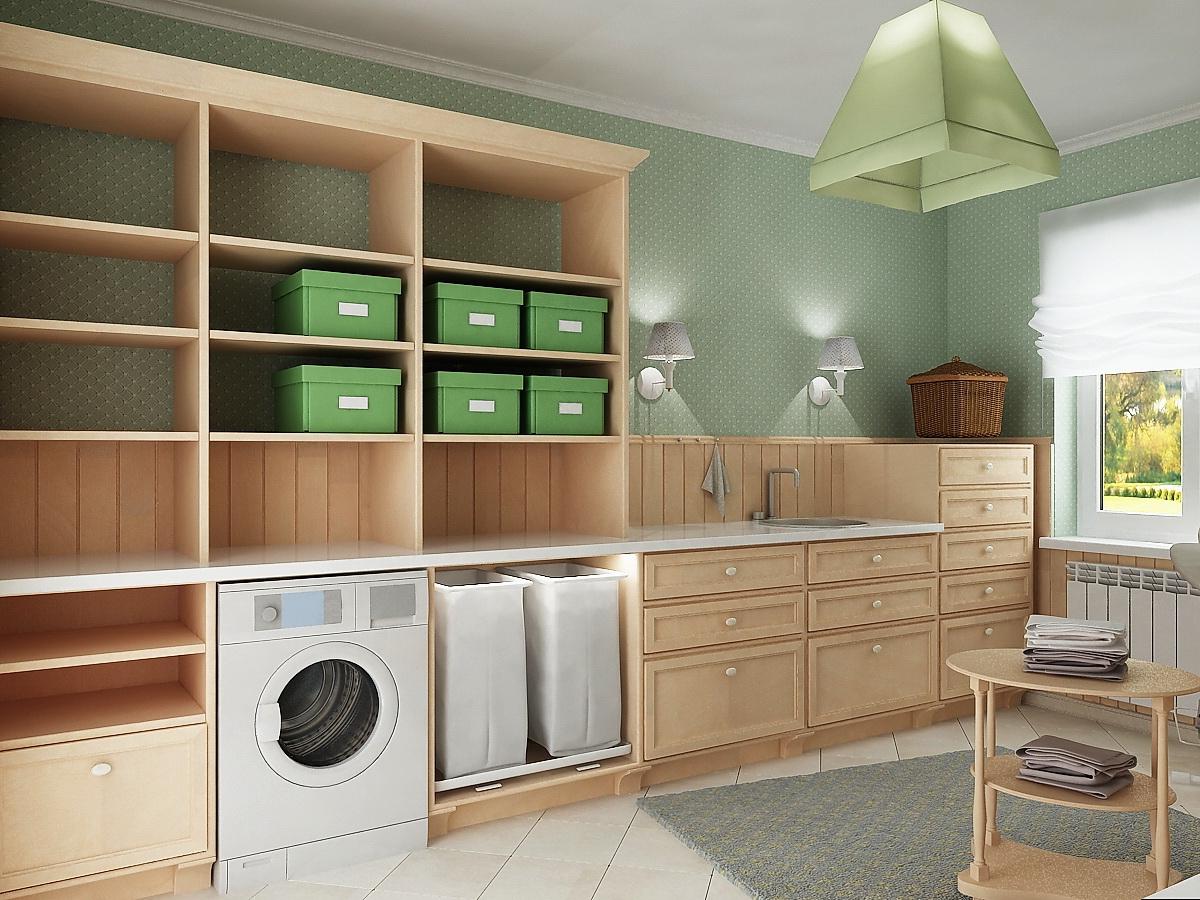 This large laundry room has all the space one would need for this type of room, and the Green accented help the wood color look better and more natural.
25. Complements For A Laundry Room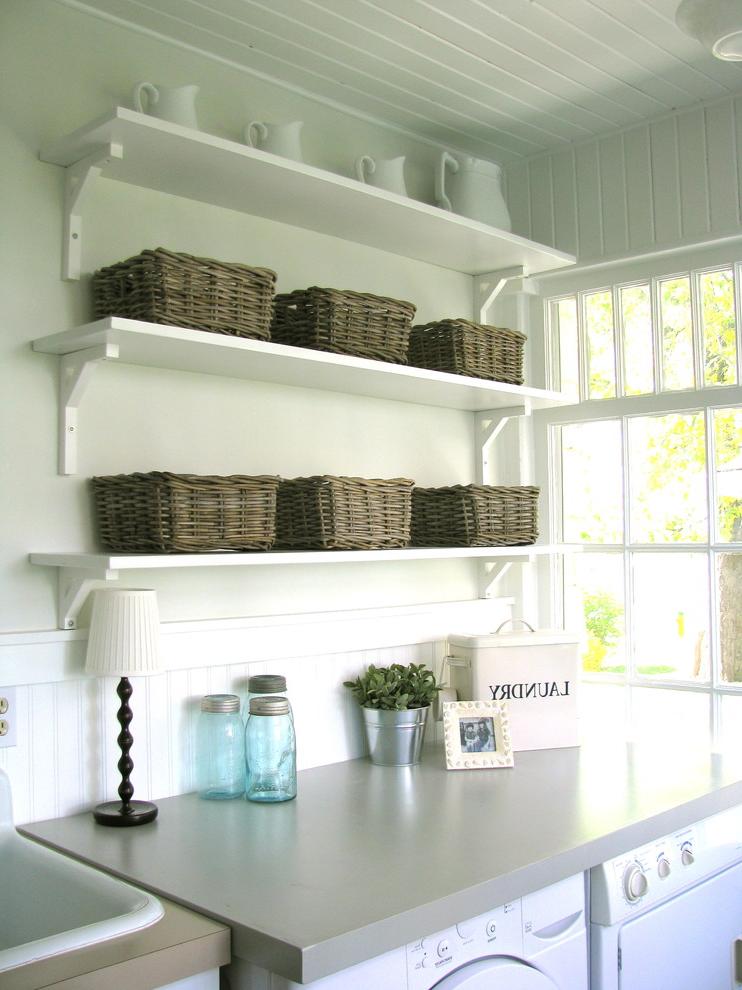 When designing and organizing your laundry area, make sure not to forget important elements that will help you keep order. Baskets and boxes will help you do the trick.
26. Unique Laundry Room Designs That Shares Space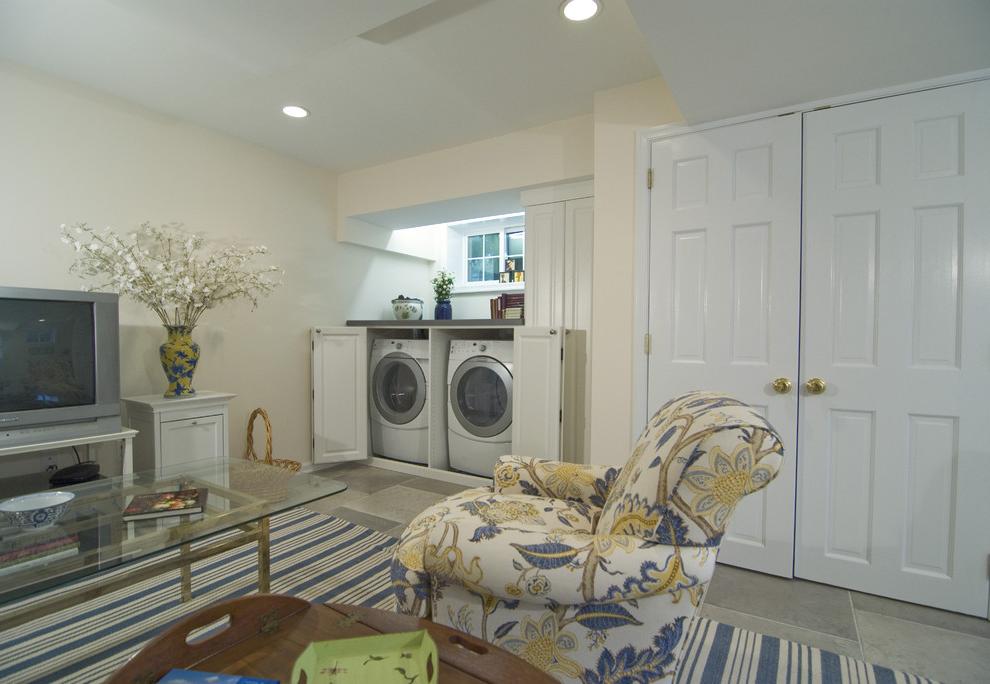 This design may look rare, but the space in the TV room was optimized to set up a little laundry area. The great side? you will be doing your laundry at the same you are watching your favorite TV show.
27. Vintage Styled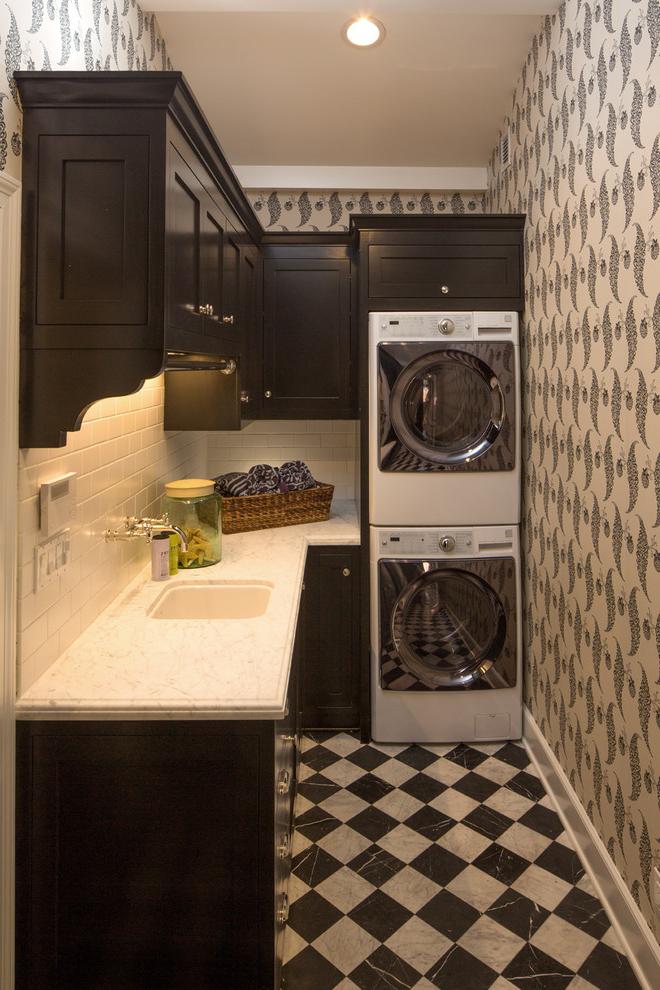 Vintage look great everywhere, even on laundry rooms with top of the line modern laundry appliances.
28. Vintage Elements In A Traditional Laundry Room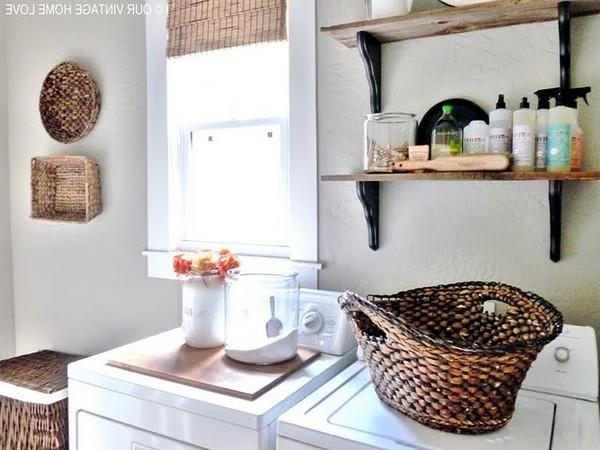 This is a very traditional laundry room with regular not to old, not to new appliances and lots of vintage elements like the wicker baskets and the wood and forged iron shelf.
29. White Colored Laundry Room Designs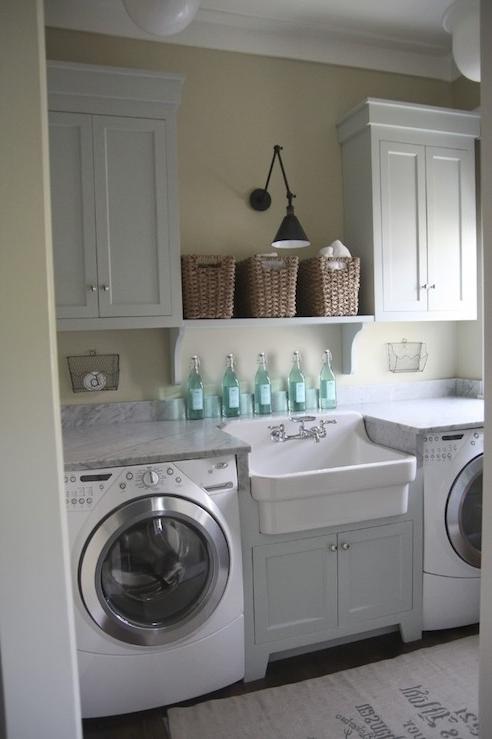 if you do not know what color to choose for your laundry area, do not think any further: white is the best option. not only because it is light as you want your clothing to be, but also because it makes the space that is normally small look bigger.
30. In The Bathroom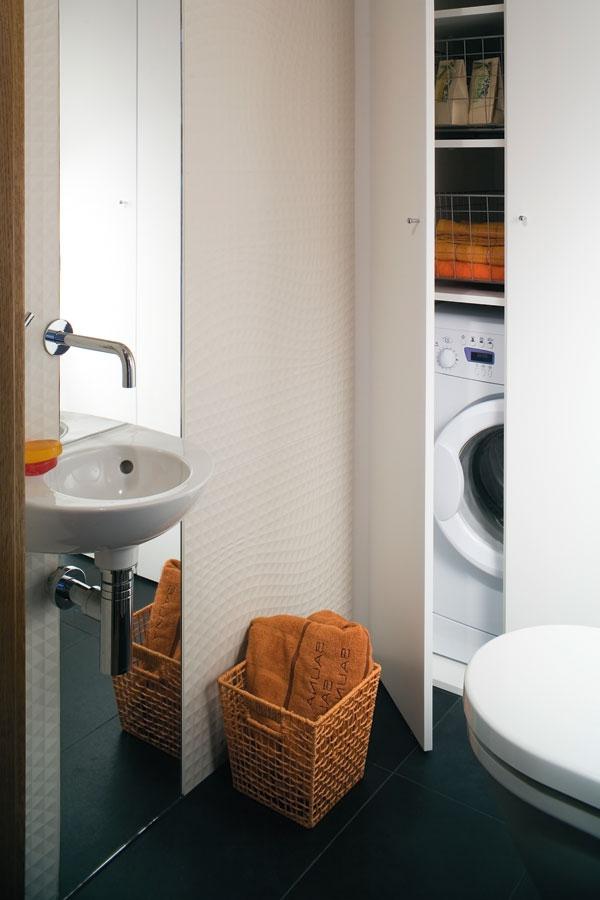 Another perfect place to locate your laundry room is the bathroom because you can take advantage of the already existing plumbing system.
Conclusion
Today we have shown you many advices, along with the simple and beautiful ideas that are on the net to create your laundry at home. Did you like any? Did you find inspiration? Leave your comment.