When we are passionate about a style there is no way that we cannot take it even to the most remote and unexpected place in the house just to enjoy it.
Country decoration never goes out of style, year after year, the decoration of this style continues to be renewed, either in its Shabby Chic aspect or with the rural Chic, the natural and rural air of this style of decoration continues to make interior design lovers fall in love again and again.
The farmhouse bathrooms transport us to a state of relaxation and serenity, making us believe that we are in a sanctuary or in a spa.
Every day there are more bathrooms with this decorative trend, for this reason, in today's article we offer you 25 decoration ideas for farmhouse bathrooms so you can decorate your bathroom following this style.
25 Farmhouse Bathroom Vanity Designs That Will Fill Your Home With Life And Style No Matter Where You Live

Farmhouse style bathrooms are ideal for those who want to get away from the routine urban world around them.
Simplicity and naturalness with a touch of elegance. This style is characterized by using raw wood materials and natural stones, as well as metals that add shine and glamour.
The essence of the style lies in using the materials and personality of the farmhouse houses of yesterday. The modern farmhouse style takes part of these elements and combines them with contemporary touches to create a new aesthetic as well as functional style.
Here are some basic rules in this design style
The Beauty of Natural Stone In a Bathroom
Despite being a timeless classic, if farmhouse wooden interiors seem very common to you, there is another material that represents the true essence of rustic style: stone.
If you achieve a point of balance between the walls, the floor and the ceiling, you can turn your bathroom into a totally different and original room. Don't worry if it's out of place with the rest of the house; this will make the bathroom even more special.
Farmhouse Bathroom Furniture
One of the most important components that will define the style of the bathroom is the furniture. Simply by changing the furniture you can achieve a subtle country atmosphere without having to do major works.
This works especially well in modern farmhouse bathrooms that already have a wood or stone element. Swap out the vanity for a handmade wood one and incorporate weathered wood paneling. You can install a vintage-style sink with a mirror in the middle with an antique copper frame creating a rustic focal point in your bathroom.
Bathtubs in copper and stone
Freestanding bathtubs have become fashionable in recent years. The rediscovery of mid-century design together with vintage and Art Deco style combine old style bathtubs with more modern elements.
Within the farmhouse style, copper bathtubs have become fashionable. This characteristic shiny piece is gaining adherents over time. In addition, they quickly become the focal point in any bathroom they are in.
It is said that a bathroom with a bathtub made with the correct selection of metals (including copper) or natural stone can be beneficial for your mood and health. So, if no metal fits into your style, think about putting a stone bathtub to give a "spa" touch to your bathroom.
If you have a small bathroom we do not recommend putting this type of bathtubs.
Textured Glitter Walls
Worn materials, lackluster walls, wooden beams, refurbished and stone decoration, contrasting textures and natural beauty are characteristics that take on a special role in farmhouse bathrooms, to the detriment of the artificial.
All these surfaces will turn your daily farmhouse bathroom into a cozy space, full of serenity that will help you rejuvenate. Warm tones are essential to create a farmhouse bathroom with a very "vintage" vibe.
This does not mean you should forget about bright colors, but make sure the shades you choose are delicate and have a matte finish.
The lighting of a farmhouse bathroom
While styles like rustic and industrial were born out of sheer necessity, they tend to fit very well when paired with one another.
Industrial-style lighting in farmhouse bathrooms adds a dash of excitement to the space. If what you are looking for is something log cabin style, you can put metal and wood lamps.
If you combine these ideas with a natural and spacious ventilation concept, you will have a beautiful farmhouse bathroom that is both cheerful and classic.
Let us now show you some great examples you can copy or get inspired by
1. Modern And Affordable Farmhouse Style Bathroom With Dark Colors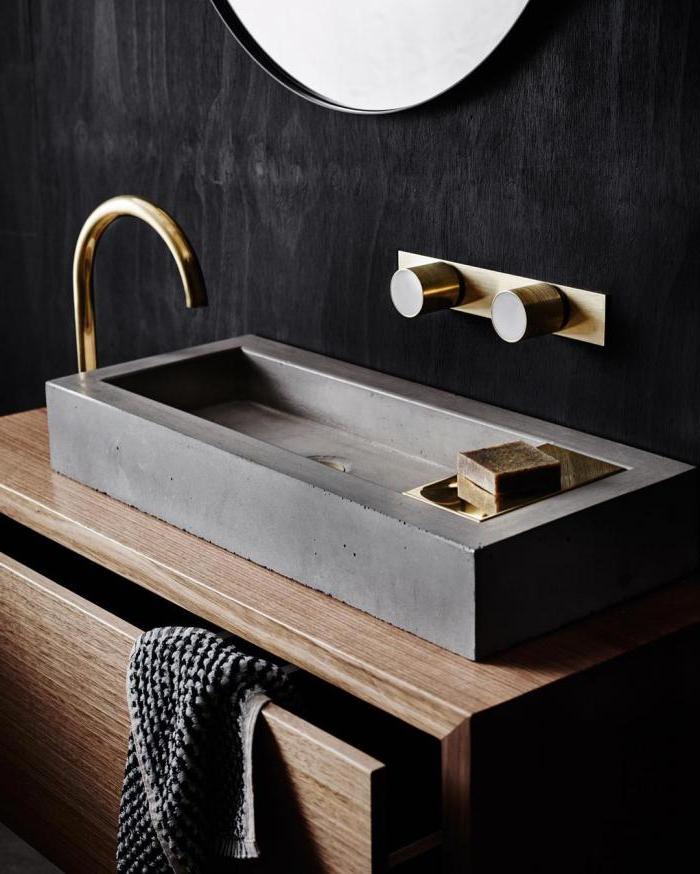 Ultra modern but also very farmhouse, this affordable bathroom features dark but natural colors like black and brown. It also combines stone and wood, two basic elements of the farmhouse decoration style. the bronze taps put the finishing touch on this sober and imposing bathroom.
2. Antique And Beautiful Farmhouse Bathroom Vanity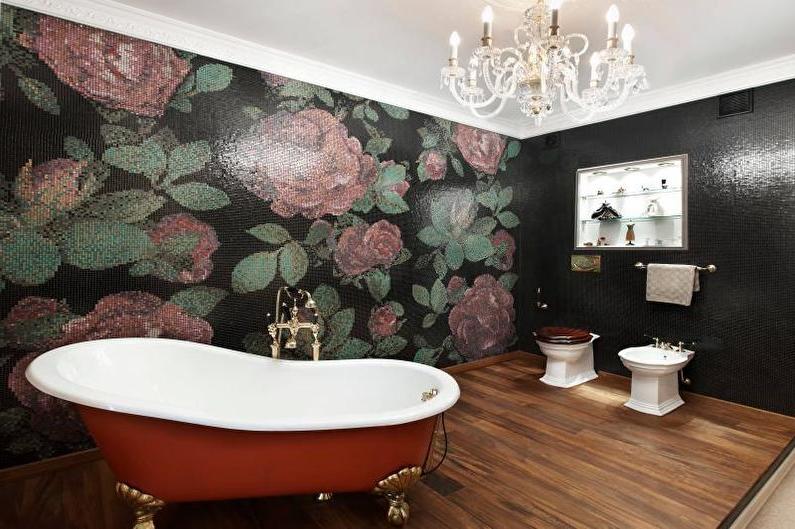 Nature always brightens any environment, without a doubt. Plants provide much more than a beautiful shape or color. They are ideal to beautify homes, you just have to learn to choose them: You must consider what type of plant combines and suits in the space. If you have a planter plant it and water it daily but if you don't have it … Place the plant or flower in a pot. Another more original option is to install wallpapers with floral figures to complete the farmhouse style
3. Farmhouse Bathroom With Black Vanity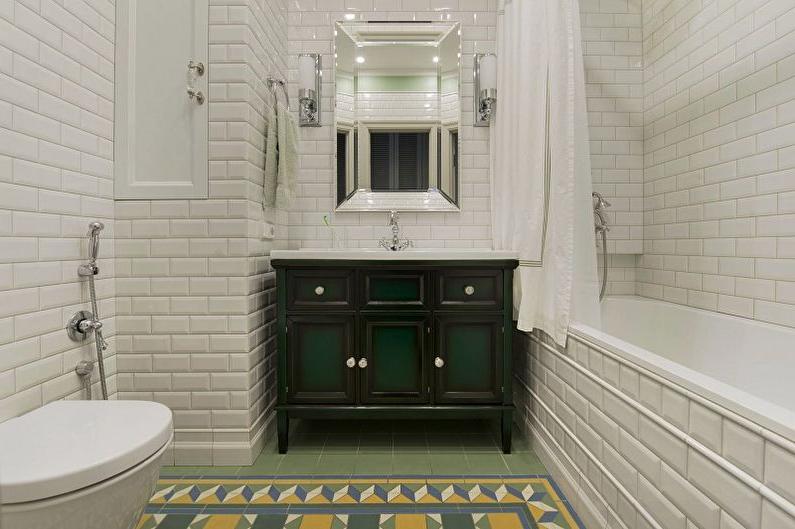 The tiles work perfectly in these farmhouse style bathrooms because they are very practical to clean and wash without having to be damaged by water or humidity. In this project the tiles combine perfect with the black farmhouse style vanity made out of wood.
4. Cheap Yet Stylized Farmhouse Style Bathroom With Dark Colors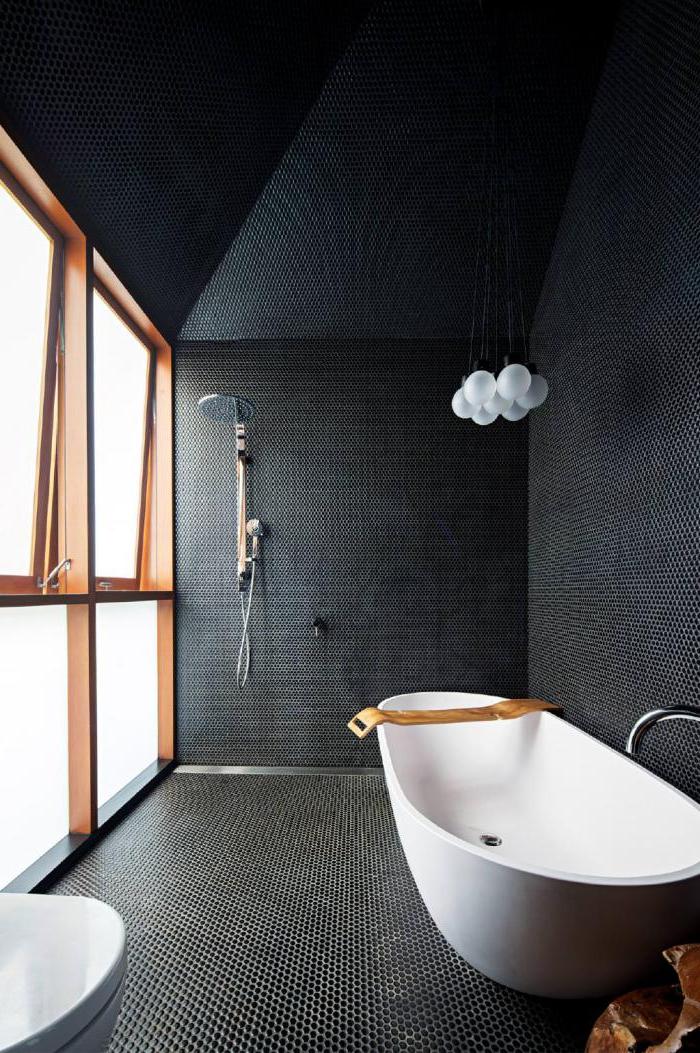 The style stands out for the use of noble and poorly treated materials. Wood, stone, brass, wicker, cotton … materials that shine with their own light in a farmhouse bathroom. And not only on walls and vanities, but also on floors. In short, the farmhouse style brings nature and freshness everywhere, also in your bathroom.
5. Decorative Farmhouse Styled Bathroom With Decorative Vanities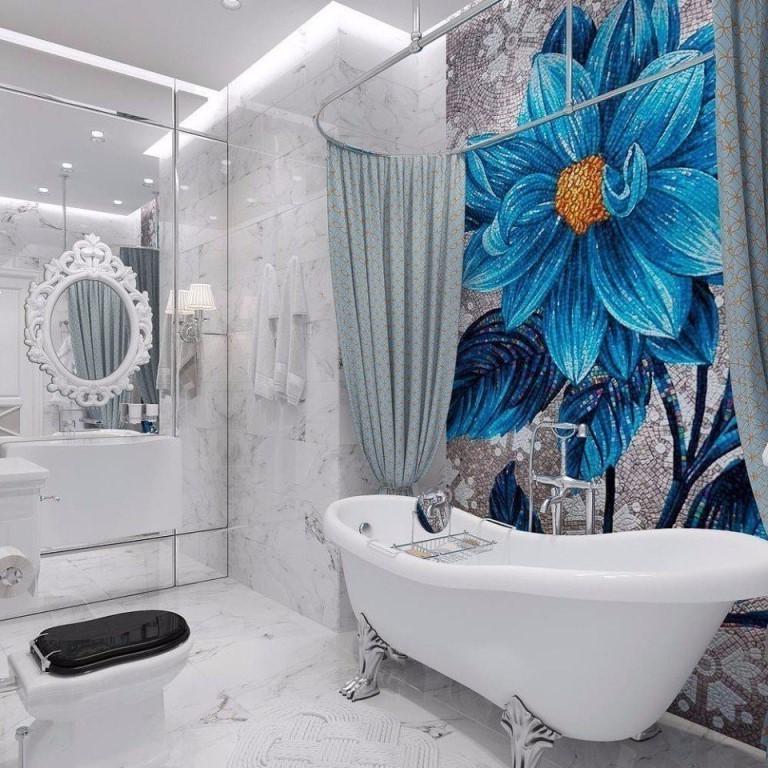 This is a super luxurious version of a farmhouse style bathroom and vanities. Using the favorite farmhouse elements such as the freestanding bathtub with metallic legs, the very light colors, the stone tiles, and even the flowery tapestry, it was possible to make this bathroom very beautiful and very luxurious, but that still falls within the farmhouse style. Luxury and farmhouse styles can be combined
6. A DIY Project Farmhouse Bathroom With Wooden Vanity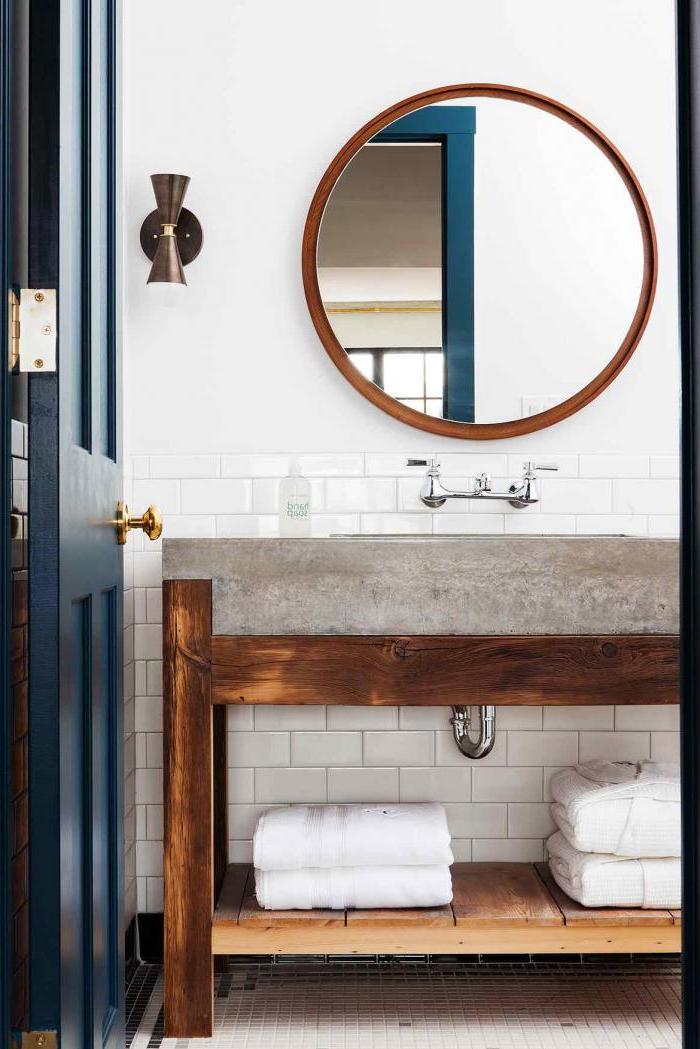 Close your eyes and imagine that farmhouse, surrounded by nature and breathing fresh air. Yes, the farmhouse style wants to convey that to you: that idea of peace and tranquility that is lived in the countryside. A peace that not everyone can have and that the farmhouse style bathroom can transmit with the combination of certain elements.
7. Farmhouse Decoration With Wooden Vanities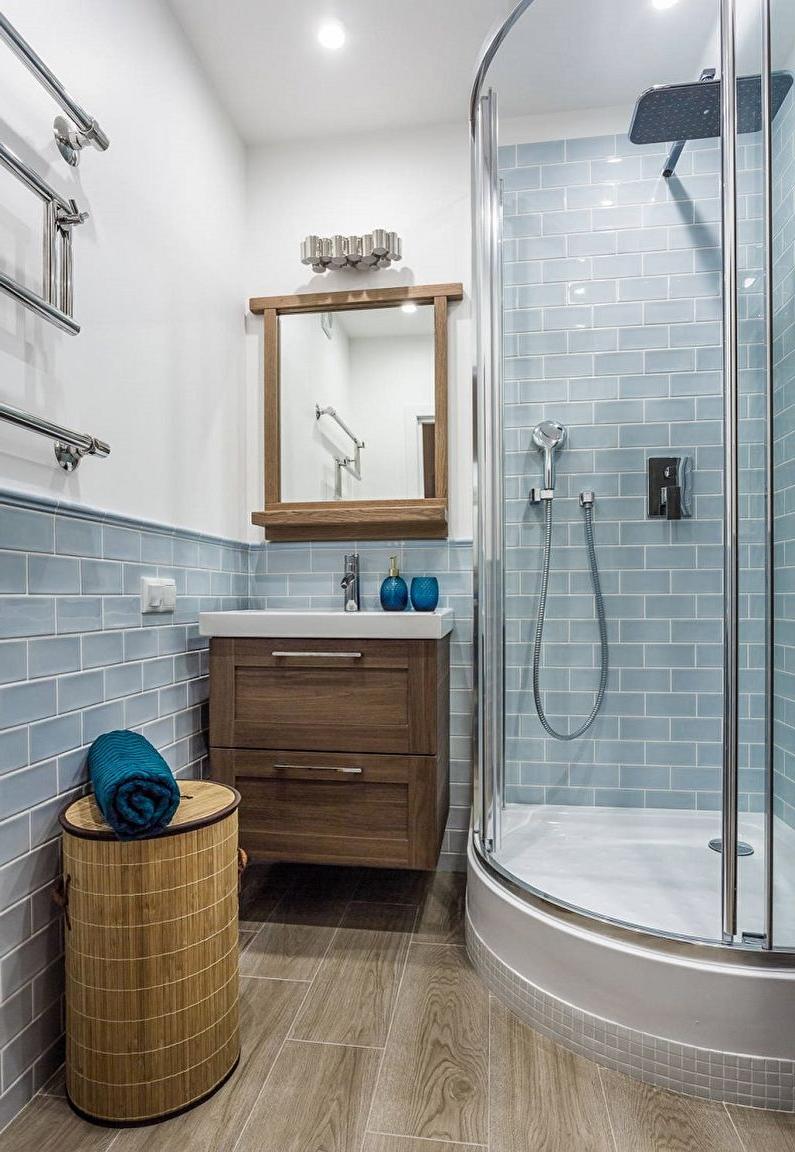 This style of decoration can be defined as an interesting farmhouse design choice but much more modernized. Here you can see the basic elements of this style of decoration, such as light colors, the use of wood, very simple vitrified tiles and metal in the accessories. No one said that the farmhouse always has to be vintage.
8. Designs Very Farmhouse For Any Home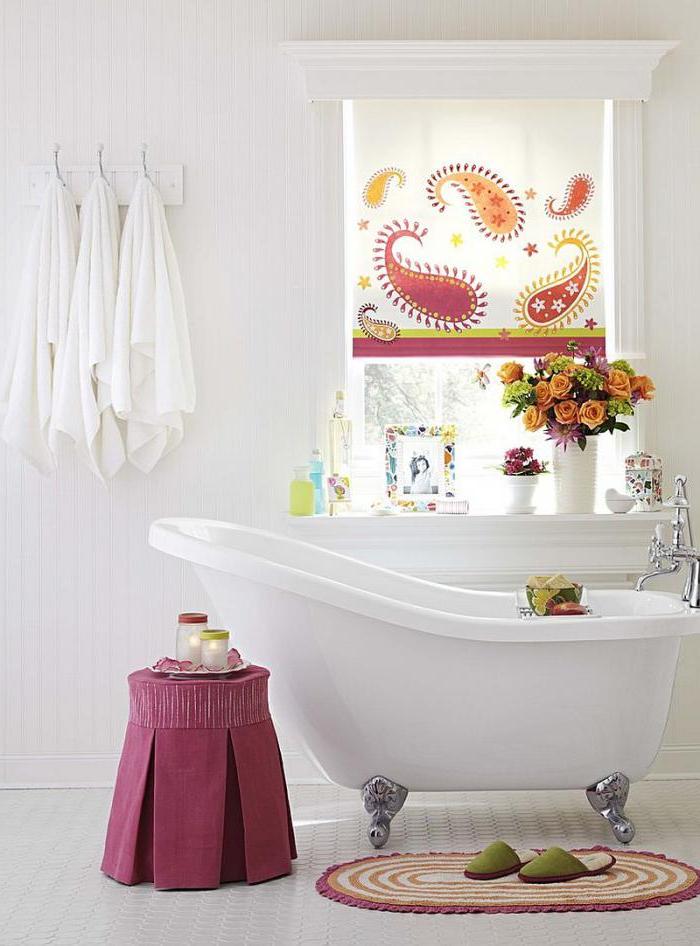 Lots of natural light, light colors, fabrics and flowers are some of the elements widely used in the farmhouse style. You can see all of them in this bathroom that would be just as great in an apartment in the city as in a small house on the outside. The farmhouse style does not depend on the location of your house, with the right elements you can make your bathroom look farmhouse styled even if it is on a busy city street.
9. Farmhouse Style Bathroom And Vanities For Narrow Spaces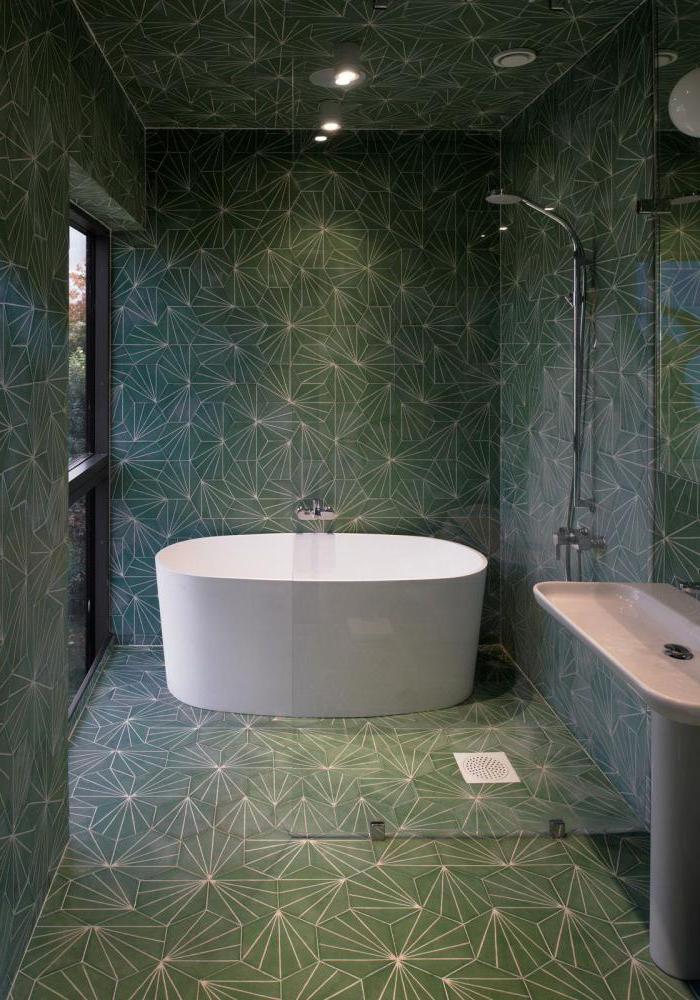 This green tile with brown details is very reminiscent of nature, and in combination with the freestanding bathtub and pastel colors go a long way in creating a well-updated farmhouse style.
10. Farmhouse Style Bathroom With Vanities With Drawers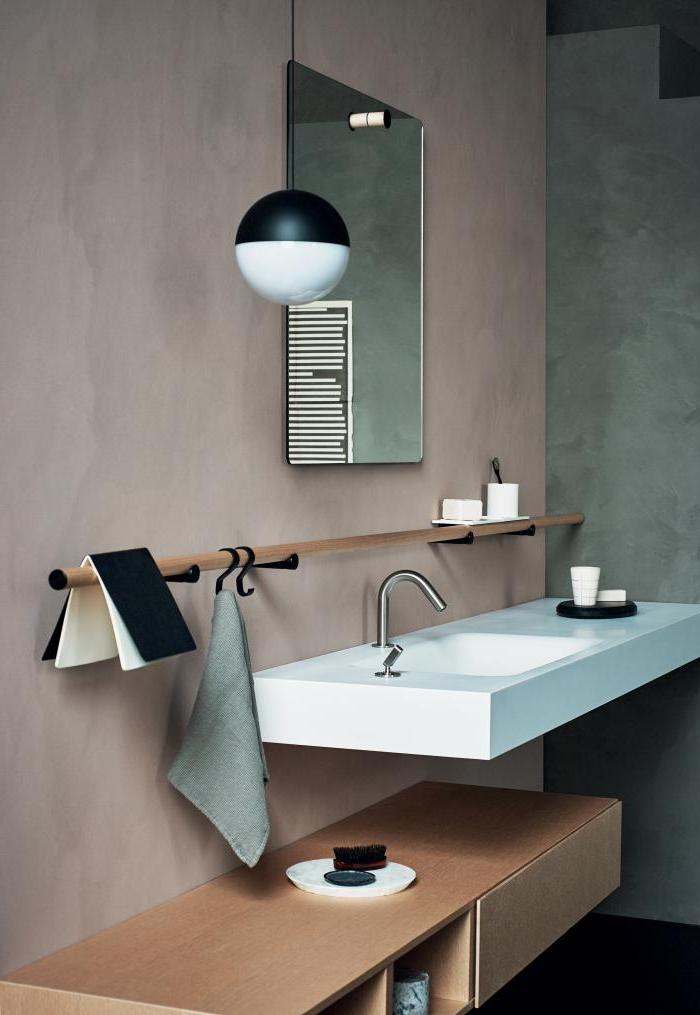 A modernized version of the farmhouse style bathroom with wood and earth colors that is ideal for a modern house in the city. The farmhouse style does not have to be old; you can keep this style using the appropriate elements for this purpose, such as materials and colors of the style.
11. Chic Farmhouse Style Bathroom With Tiled And Mosaic And Wood Vanity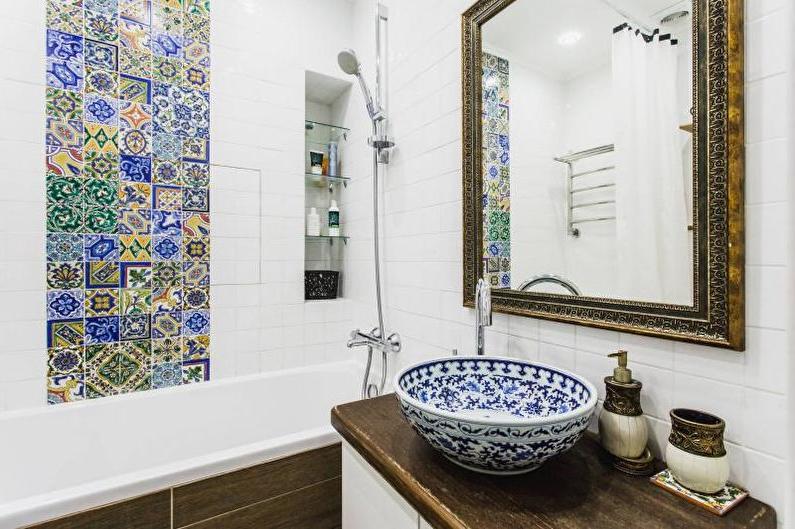 Another element that is usually seen in farmhouse-style bathrooms are mosaics that can be tiled or of other types. These ethnic designs are perfect with this style because they recall ancient times that are still aesthetically beautiful
12. Farmhouse Style Bathroom With Vanity In The Corner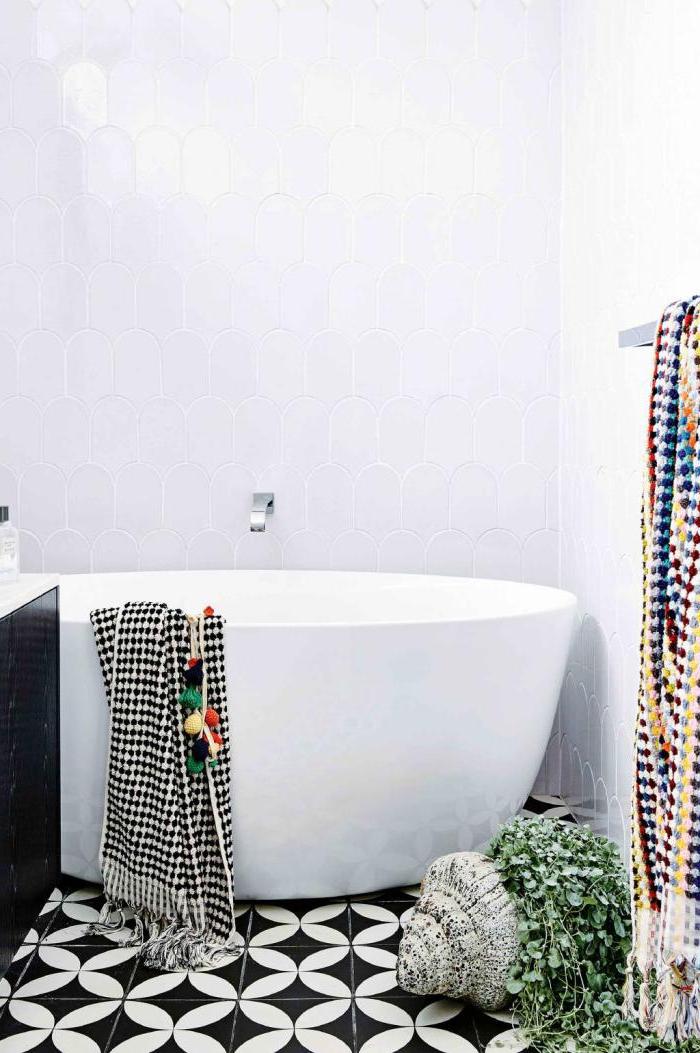 If you like the farmhouse style, go for some elements that enhance it, such as the use of stone, light colors, natural fibers and the presence of plants. All these elements will help you configure your bathroom with a farmhouse look regardless of whether your home is in the city or not
13. Farmhouse Style Bathroom With Wooden Vanities And Clear Colors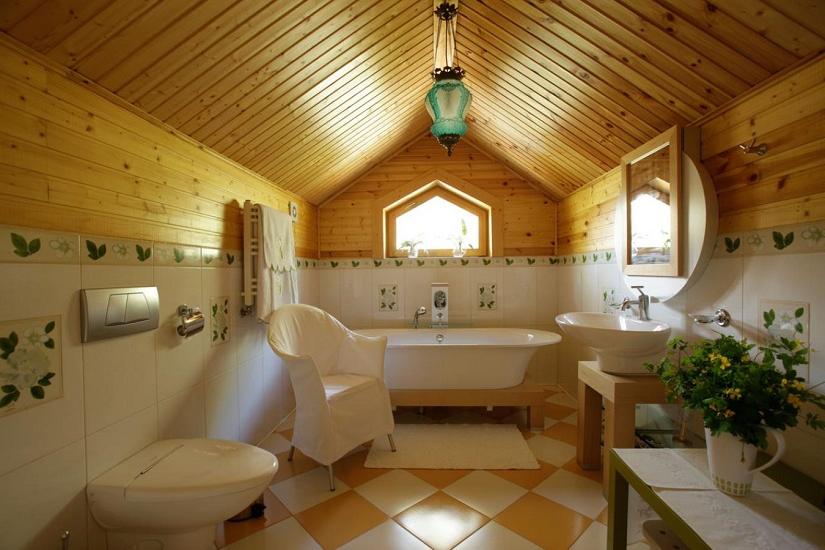 The color palette is one of the most important characteristics when choosing the tone of the farmhouse room. The pastel range is widely used in this style as it gives it a more rustic and subtle look, distinctive of traditional decoration. Also, the prints with flowers, trees or branches are used a lot but always under the tones: Cream, yellow, blue, pink or pastel green.
14. Farmhouse Style Master Bathroom With Stone And Natural Colors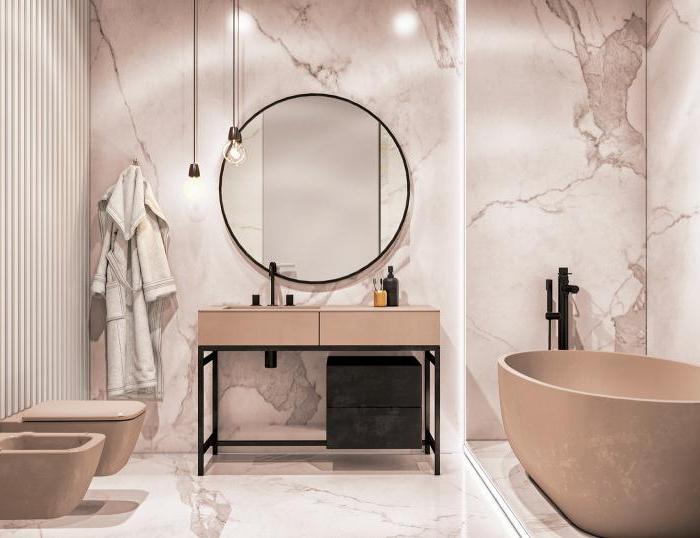 This bathroom shows utilities of stone in a very attractive earthy color that combines perfectly with the marbled granite floor and walls in a super elegant and highly stylized pink color. The large round mirror adds a very modern touch to this modern farmhouse style
15. Modern Styled Farmhouse Bathroom With Clear Color Vanity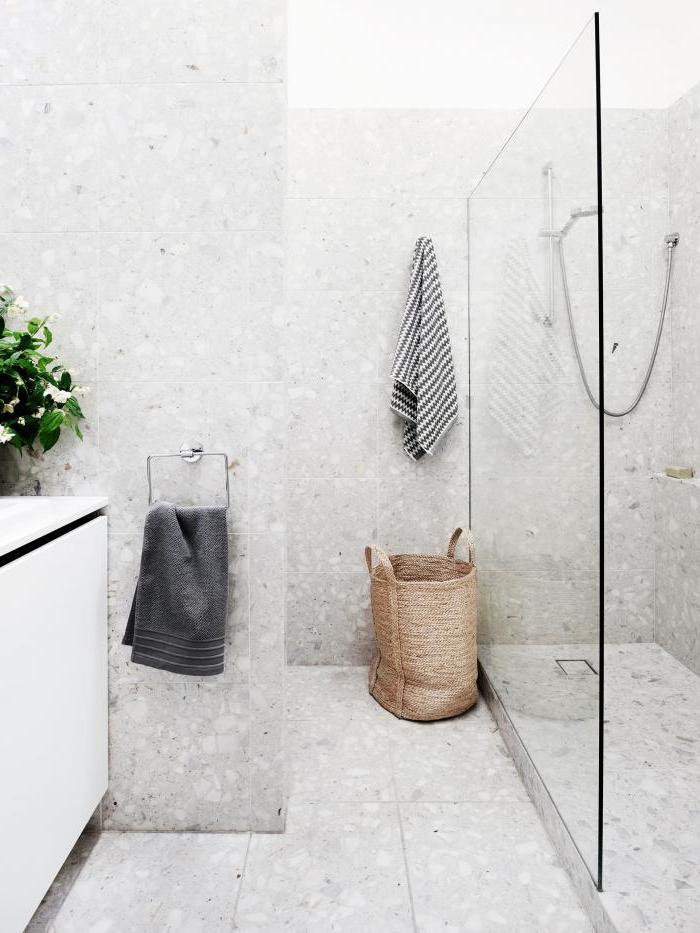 Stone is a fundamental element in the farmhouse style. This material helps create a country and rustic style while maintaining elegance and good taste. This bathroom shows exactly that, with many rustic elements typical of the farmhouse but displaying them with great elegance and style
16. Modern Style Farmhouse Bathroom With Wood Vanity And Clear Colors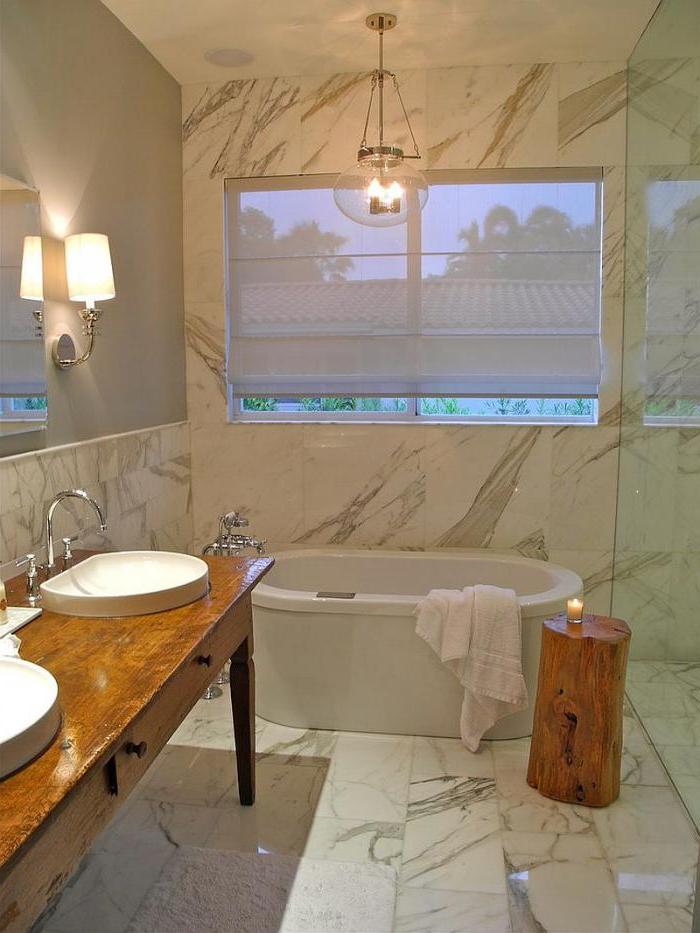 Freestanding bathtubs are very farmhouse-style, either with legs, or like this one that doesn't have them. Sinks and table matures help enormously to create this style of decoration that make so many fall in love
17. Modern Styled Farmhouse Bathroom With Bronze Colored Vanity And Giant Mirror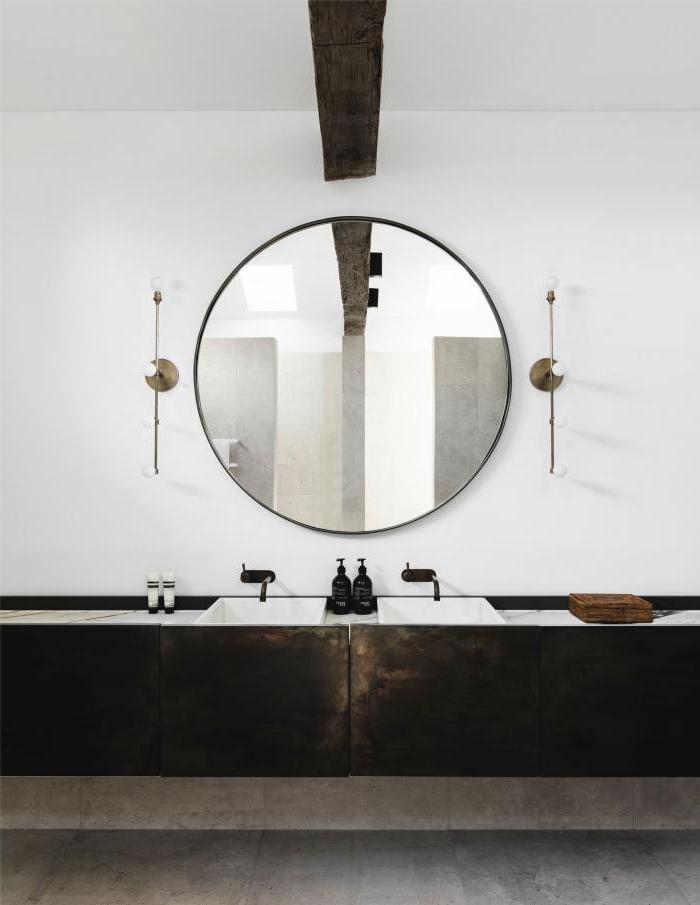 A very modern farmhouse bathroom but with all the materials you are looking for: wood, iron and bronze, in addition to using very farmhouse colors such as copper and gray. The giant mirror is a great touch
18. Farmhouse Style With A Touch Or Modernity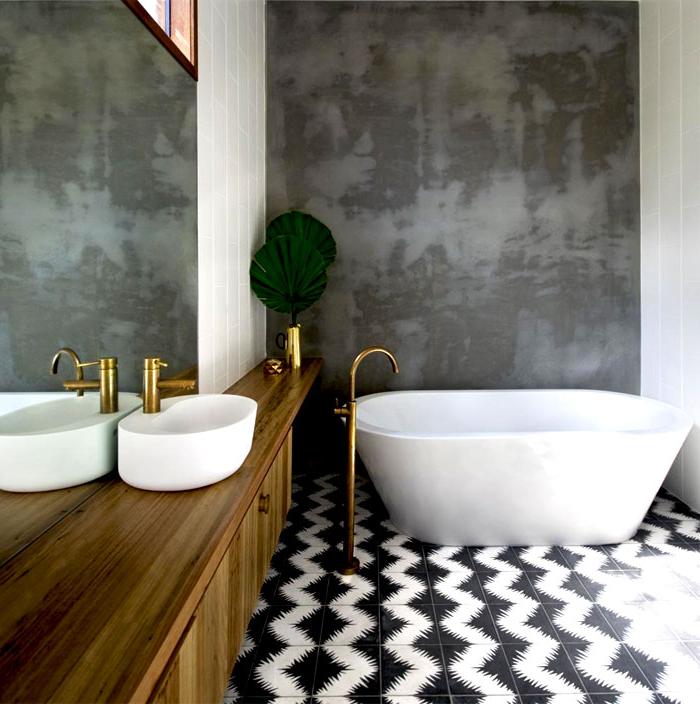 A modern farmhouse bathroom, with wood and bronze elements, and the freestanding bathtub, but this time without legs. The fake ornamental plant brings a necessary touch of green.
19. Farmhouse Bathroom With Oak Wood Vanity, Walls And Ceiling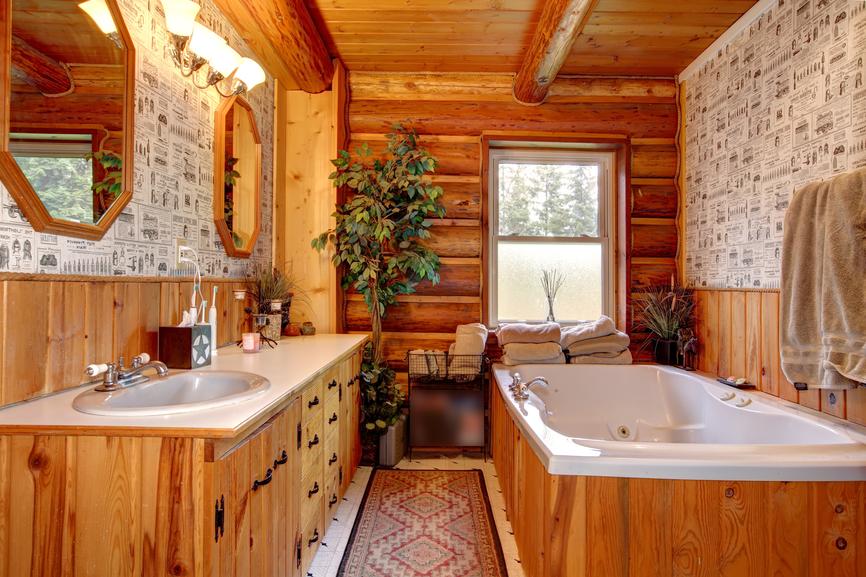 If something says farmhouse is the use of wood, so this bathroom is a perfect example of everything the farmhouse style can be. From the ceiling to the wash, this bathroom has wood everywhere
20. Wood And Tile Reclaimed Bathroom Vanity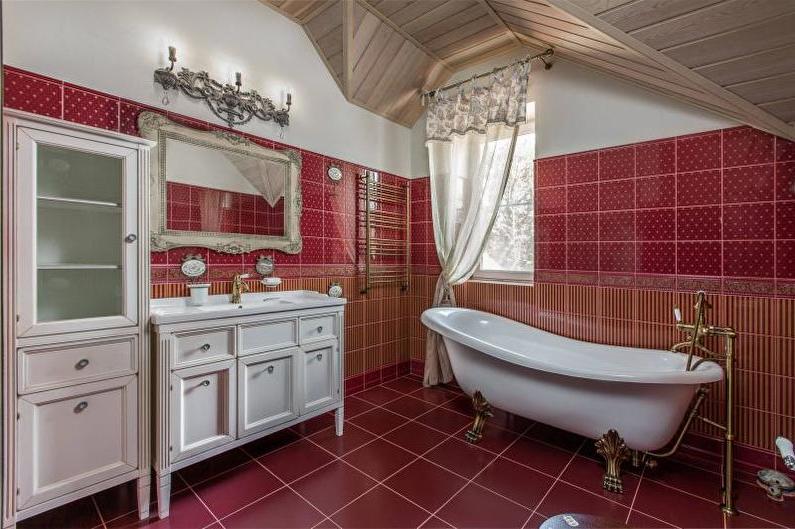 This is a very modern farmhouse bathroom, since it uses red tiles with a country print, however it maintains other aspects of the farmhouse, such as antique and wooden furniture, wrought iron accessories and a bathtub with legs.
21. Rustic Styled Farmhouse Bathroom With Vanity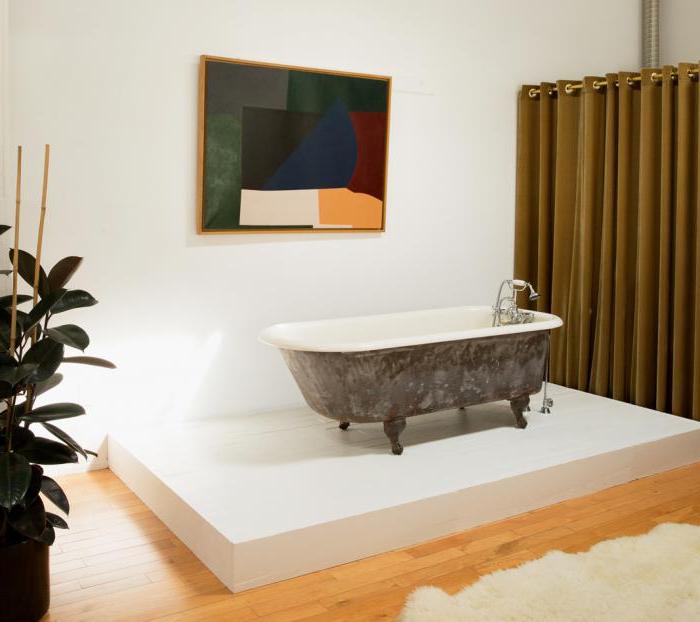 The wooden floor in the farmhouse bathroom gives it a warm, natural look. It is perfect to withstand the passage of time; of course, everything will depend on the traffic that exists in the room. In addition, this floor is very resistant and adapts to many styles. You must be very careful not to spoil or scratch it, always remember to clean it thoroughly because this type of flooring is damaged very quickly when dust accumulates.
22. Victorian Style Farmhouse Bathroom With Wood Vanity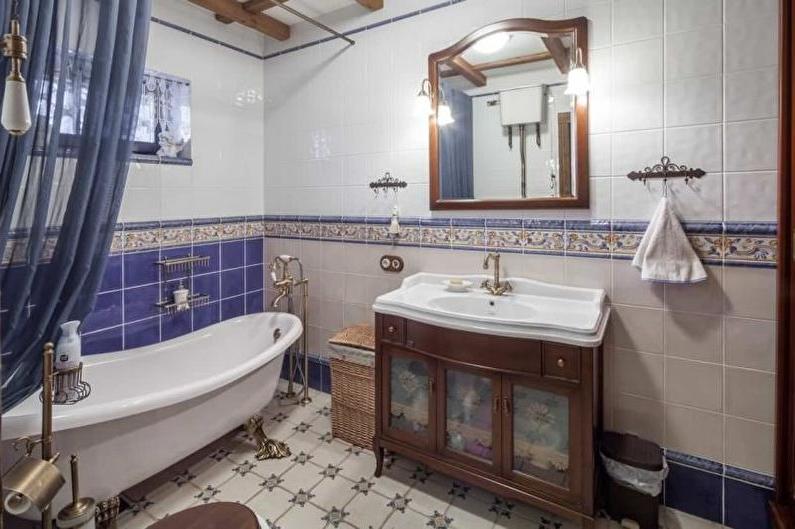 This farmhouse bathroom has an antique style of decoration, with the independent bathtub, sink and mirror made of wood and forged iron accessories, not counting on the colors that fit perfectly in the range recommended for this style.
23. Vintage Farmhouse Bathroom With Wood Style Vanities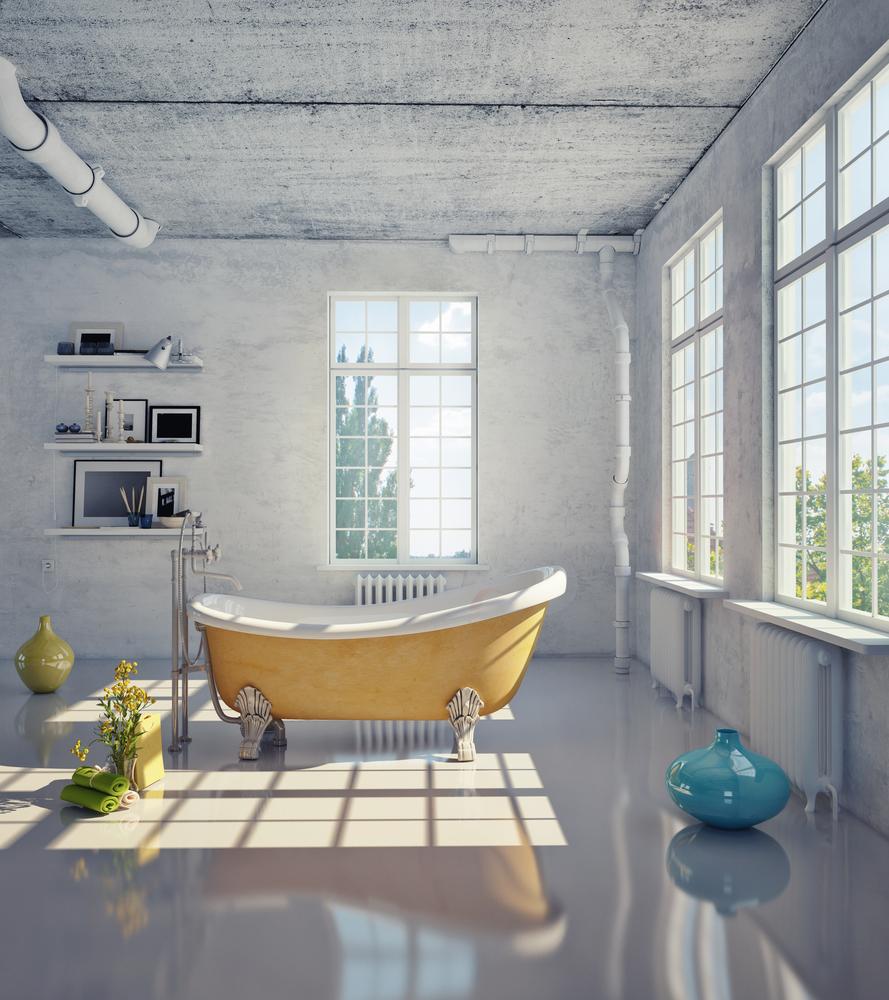 If there is something that makes up the farmhouse style, it is its natural lighting. When we recreate styles we must think about all the details, it is not enough simply to want the room to look this way or that, rather we must know why: In Western times there was not much electric light in the rooms, it was a mixture of chandeliers, candles and some other lamps, that is why large windows were located to celebrate the passage of natural light.
24. Farmhouse Style Bathroom With White Color And Wooden Sink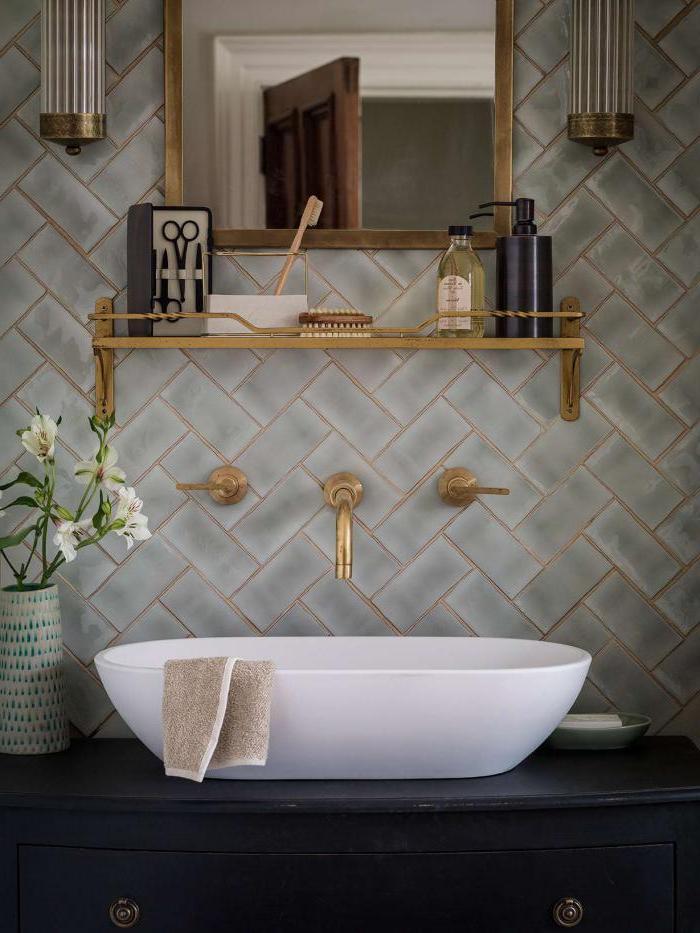 In this bathroom, the bronze pipes and taps, as well as the shelves and retro lamps, help a lot to create this farmhouse style. External-style sink adds style and luxury in this beautiful farmhouse-style bathroom
25. Clear Colored Farmhouse Bathroom With White Vanity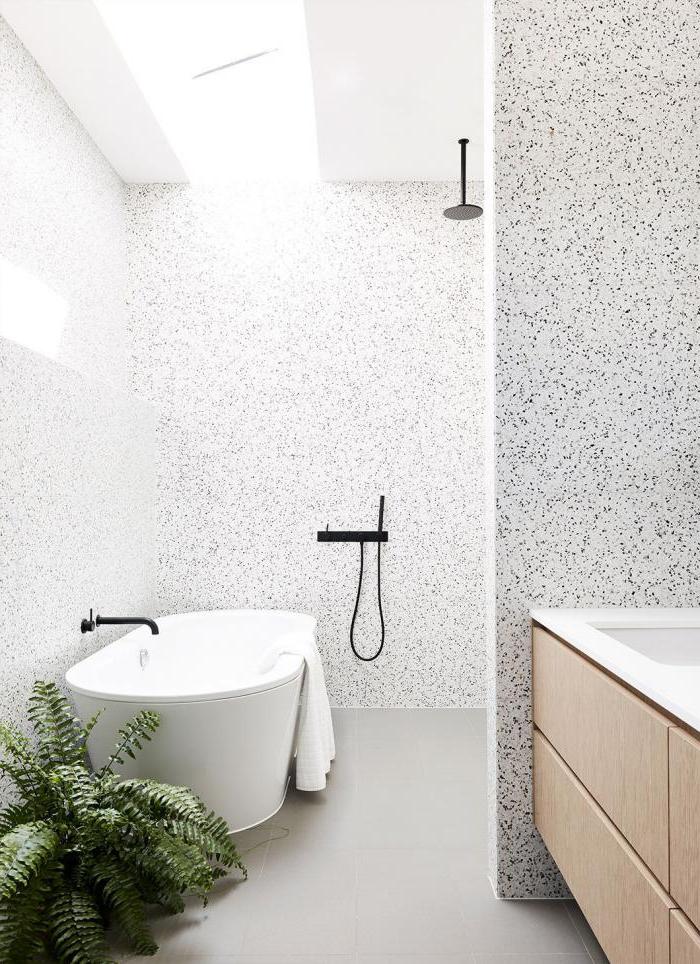 Light colors, natural light and the use of plants are a basic of this style that evokes the countryside and summer as well. Here you can see how the walls and furniture combine perfectly with light colors and natural textures. Modern but very rustic.
Conclusion
Every day the love for nature is more popular. Therefore, the farmhouse style bathroom is a trend.
The farmhouse style is ideal for those who love nature and are not looking for a pretentious design. Once you are encouraged to convert your bathroom to the farmhouse style, it is quite likely that you will be tempted to extend this style to your master bedroom as well.
Until recently, the farmhouse bathroom had been somewhat more typical of farmhouses and was even associated with a not very modern concept. Today, this style has been reinvented and in addition to modernizing the country houses, they have managed to settle in places where this style was not present before. Today, they have become a modern and current concept.
For this, the style has spread. And it is increasingly common to see it in all kinds of environments, not only in the most rustic ones. If you are one of those who like this style, you most have liked to discover more about this style and see some recommendations on how to have one in your own home
On this occasion we gave you the best advice so that you create the best farmhouse style and you can decorate the bathroom with a lot of creativity, what do you say, do you dare to apply it in your home?