30. Rustic Pallet Patio Fire Pit Sitting Set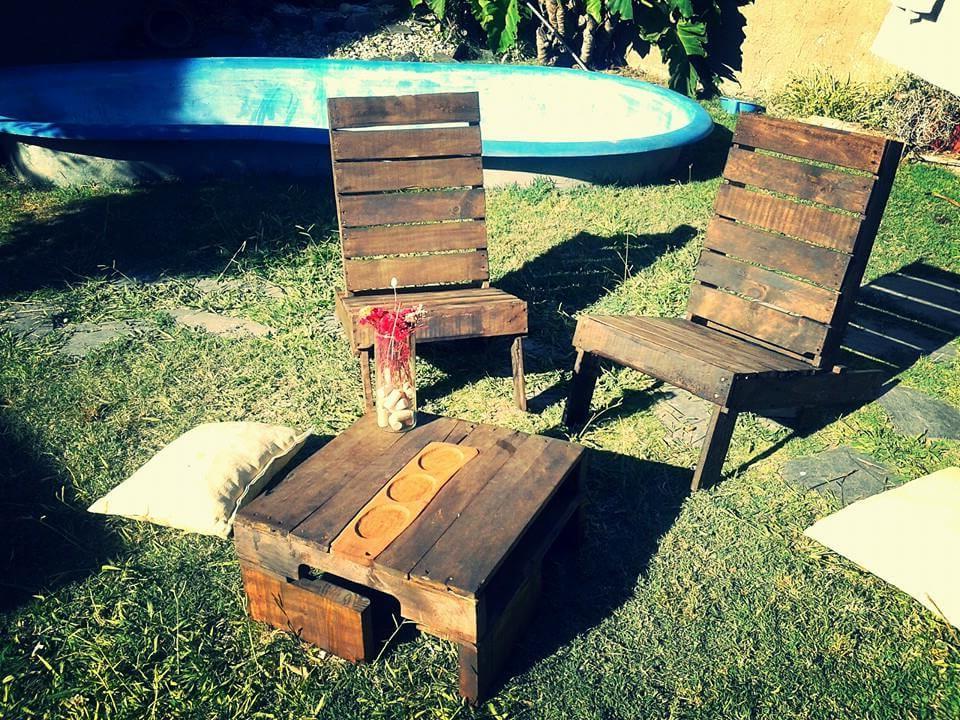 The outdoor makes a more fabulous place to pass your spare and free time and what the best way to expose yourself to the natural environment than enjoying a beautiful evening on your outdoor fire pit. The rustic pallet patio fire pit sitting set provides the best setting for two people to relax close to each other, and the chair has an inclined down style that adds beauty to the whole sitting arrangement. The pallet coffee table is swiftly placed in front of chairs to add a unique setting, and the pallet lengths give it a pretty rustic look. More chairs can be added to fit your whole family or group.
31. Rustic Pine Coffee Table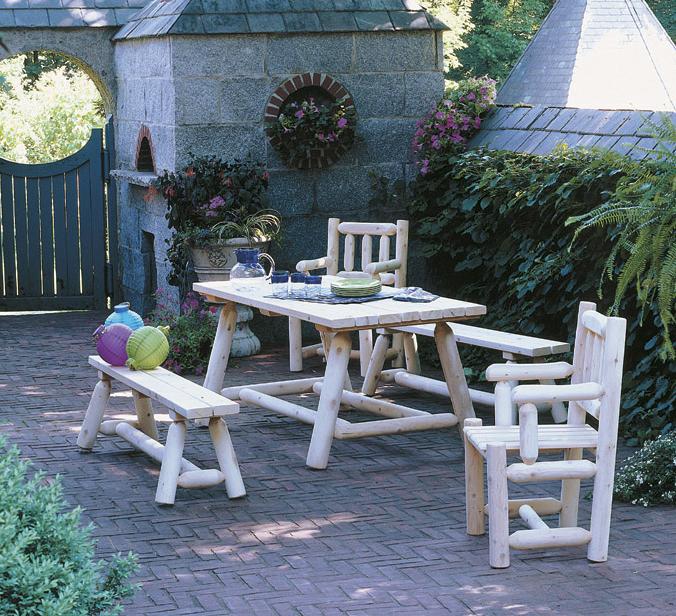 This rustic coffee table is made of hardwood with a combination of style and massive base that makes it durable and sturdy. It comes with a rough and fine finishing that gives it a luxurious look and functional furniture to complete the decor with a rectangle look and a drop of rustic charm. The rustic pine coffee table has a distressed finish with two benches and two seats that blended well with the table to give a simple and elegant design.
32. Rustic Pine Dining Set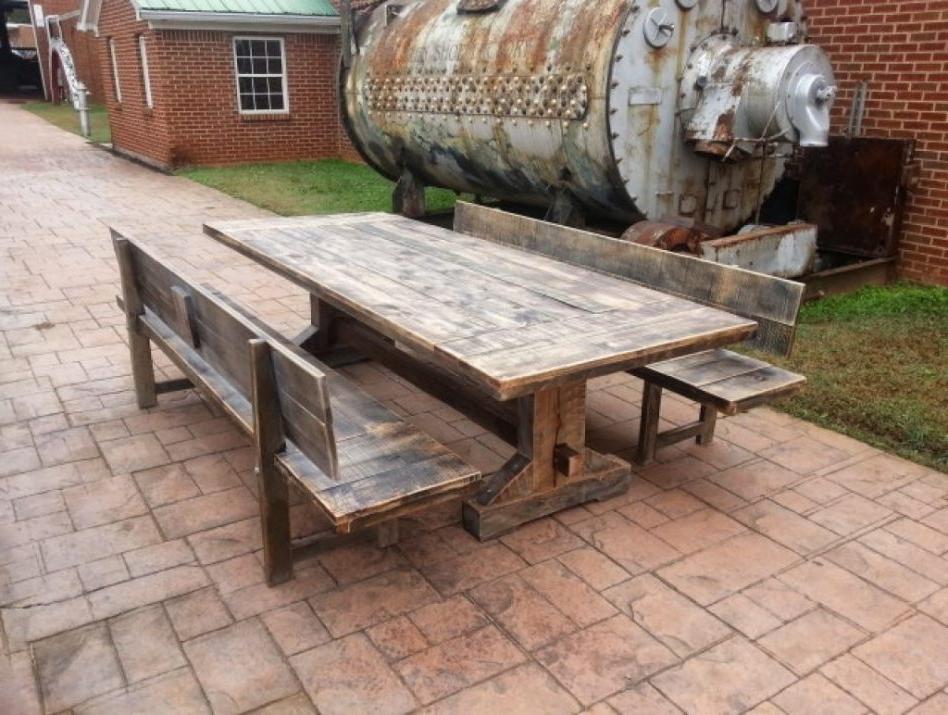 This Rustic Pine Dining Set has a linear pattern that brings out its natural variation and alternating hues to create a unique design. The rough and hand-applied finish gives it an antique appearance, and it's built using the tenon case and traditional mortise construction style. This Rustic Pine Dining Set has a durable construction that guarantees years of service to your family and free use. The long rectangle shape of both the bench and tables give it enough space for your loved ones to enjoy their dinner in comfort. The seats have a supporting back that is relaxing and with long and sturdy legs to support any weight while the table has unique, stylish legs that are craftily shaped and strong enough to hold its length and weight.
33. Rustic Porch Furniture for Lounge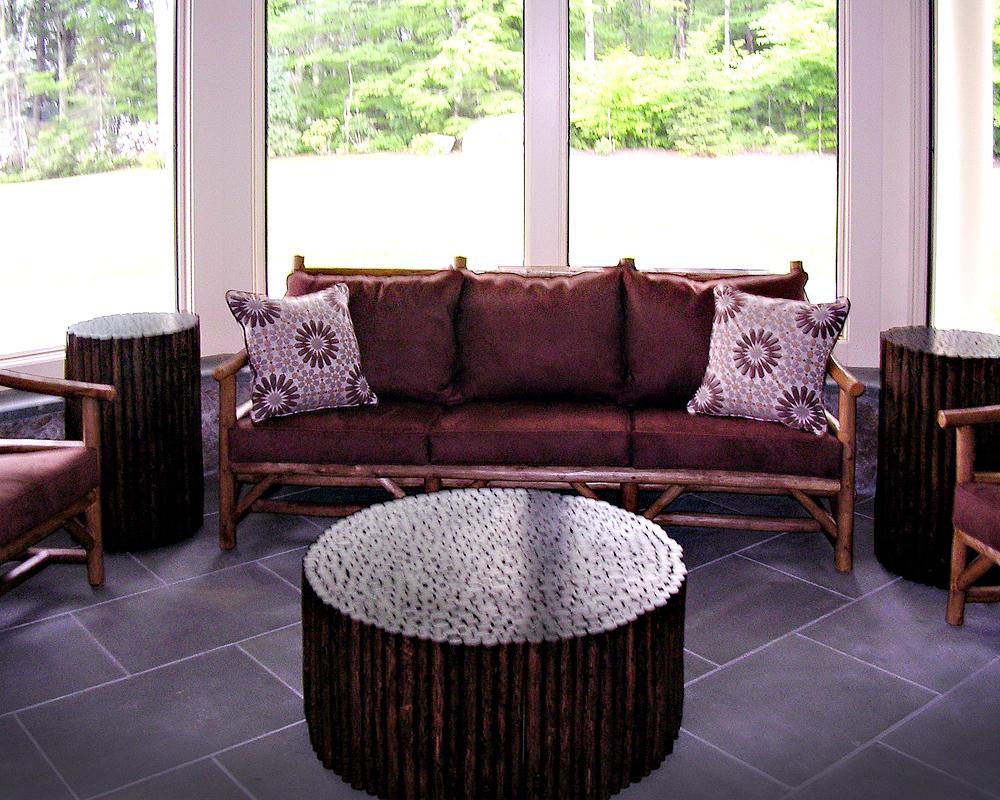 The premium and beautiful five-piece sofas set with high density and extra padded cushions are perfect for entertaining your friends, and they can easily be arranged in endless ways. Attractive and durable, the sofa set features high-quality materials, and it quickly holds ups the demand of garden parties, summer barbecues and afternoons spent lounging. The rounded accent table adds classy look with its beauty and well-crafted look. The side tables are long enough to hold on to your drinks, and other food items and the chairs are made of a rustic wood material that gives it a super look. The extra padded cushions offered back comfort and made of high-quality fabric that prevents dirt.
34. Rustic Ranch Outdoor Furniture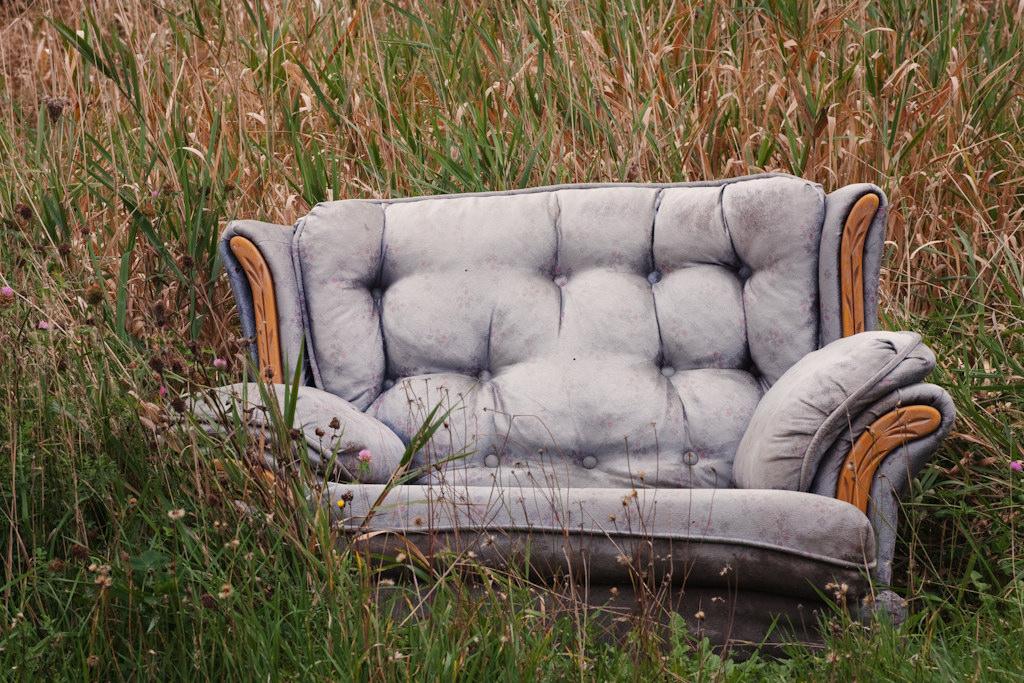 The rustic ranch outdoor furniture gives a feeling of exciting and relaxed life and ideal to place in any place in your ranch. The seat can comfortably handle two people, and it has contemporary styling and ensemble in a unique showstopper. The cushions fill you luxury conformity and comfort, and they are covered with moisture and water repellent fabric. The pillows can also stay outside for the year-round, and the seat is sun-resistance, mould-resistance and insects –resistance making it durable. The arm cushion is well designed to give the outdoor a sense of fashion and well filled to provide you with comfort as you read a book or just listen to your surroundings. It's a stunning and versatile seat that every rancher should own to complete the look and feel of rustic furniture's.
35. Rustic Small Rattan Chair Ideas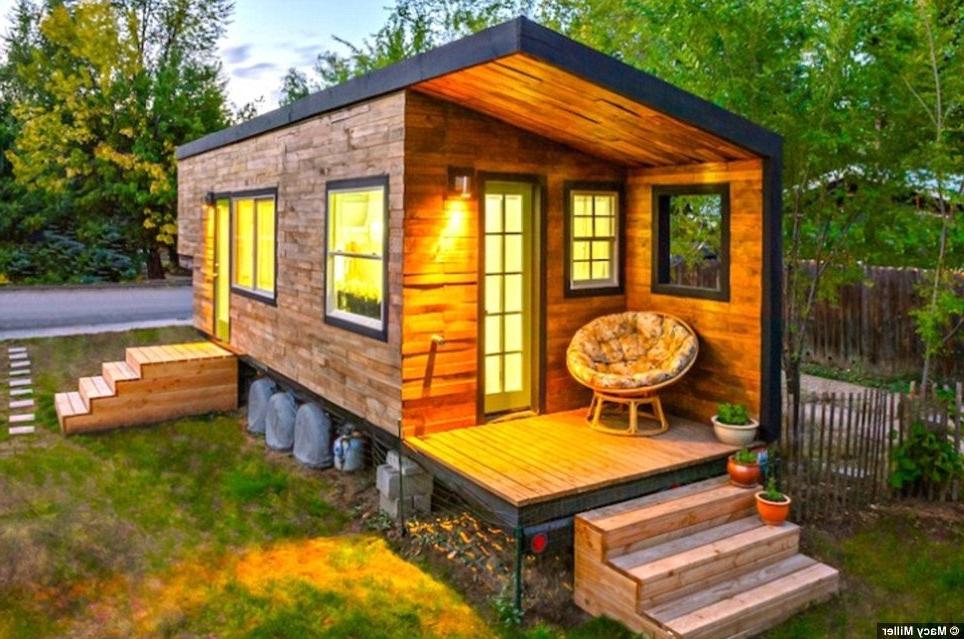 Add a splash of fresh colour to your patio with this beautiful small rattan chair. The chair comes with a vibrant and printed tapestry cushion that will brighten up your outdoor surroundings, and the pillows are filled with the recycled poly-fill making them environmentally friendly. This colourful and trendy stained chair adds flair to your outside patio and its sturdy construction with comfortable cushions gives you the chance to relax and enjoy reading a book or meditating. You can choose from a vast of multi-coloured and premium tapestry fabrics according to your taste and preferences since it provides various options to fit any decorating taste. Exotic and Eco-friendly, this Rustic Small Rattan Chair adds class and pizzazz anywhere. The chair does not need any assembly, and it has a cabin style.
36. Rustic Teak Outdoor Furniture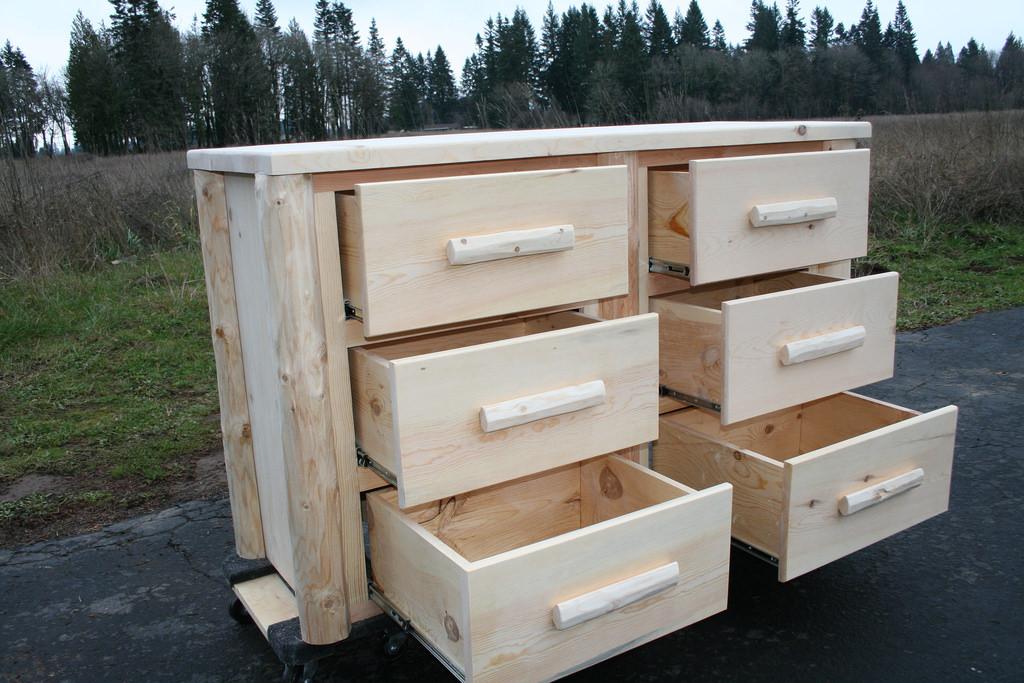 This eye-catching chest drawer is made of durable and robust hardwood that makes it resistant to water, insects and moisture. It has six drawers giving you ample space to store your outdoor stuff without compromising the area. It has a full and thick design making it easy to compliment the other outdoor furniture's and it's handmade from plywood and solid pine wood which is well treated. The side wood is big and robust making the drawer sturdy while the moving wheels make it easy to move it from one place to another. It has wooden knobs with metal gliders that make it easy to operate the drawers and the rustic smooth, and its apparent deep interior makes this rustic teak outdoor furniture fit well in any outdoor space.
37. Rustic Timber Outdoor Furniture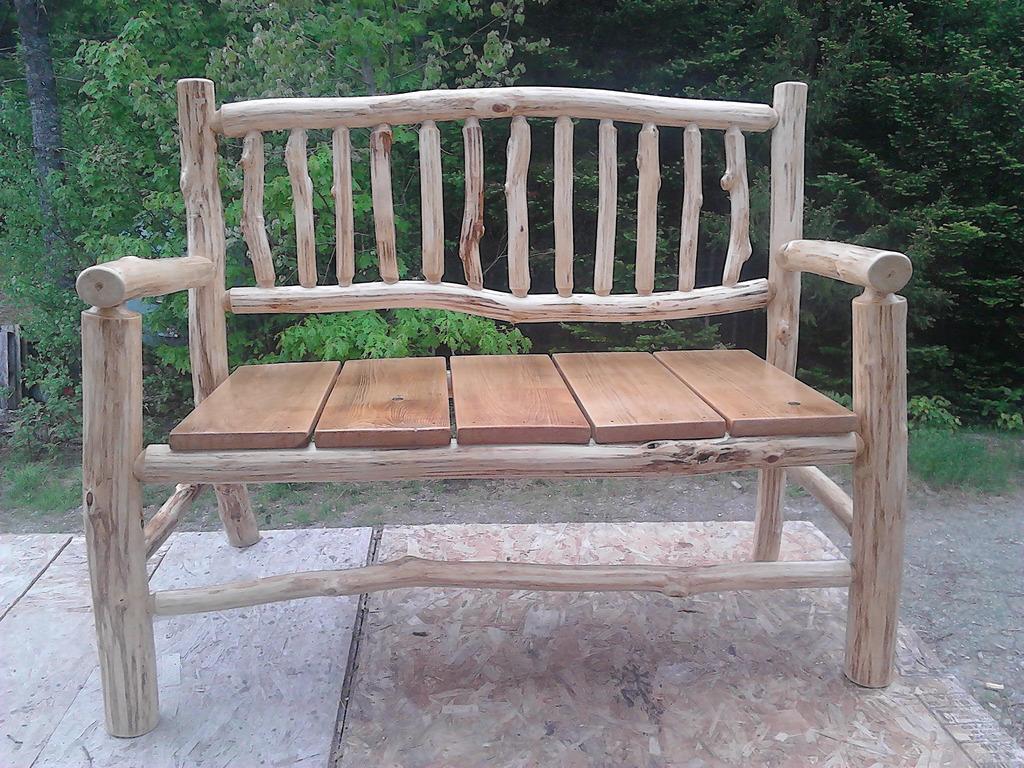 Enjoy a relaxing and refreshing family and friends gathering right in your backyard. Evoke a mountain lodge or campsite feeling with this eco-friendly timber with rustic finishing that makes the classic outdoor sitting style. Have a chat on this beautiful rustic timber outdoor bench that is expertly crafted from a solid and premium timber with tenon and mortise joinery. The wood is insect resistance and naturally decays, and it can comfortably seat three adults with its sturdy design and construction. For more comfort, you can add cushions.
38. Rustic Wicker Outdoor Furniture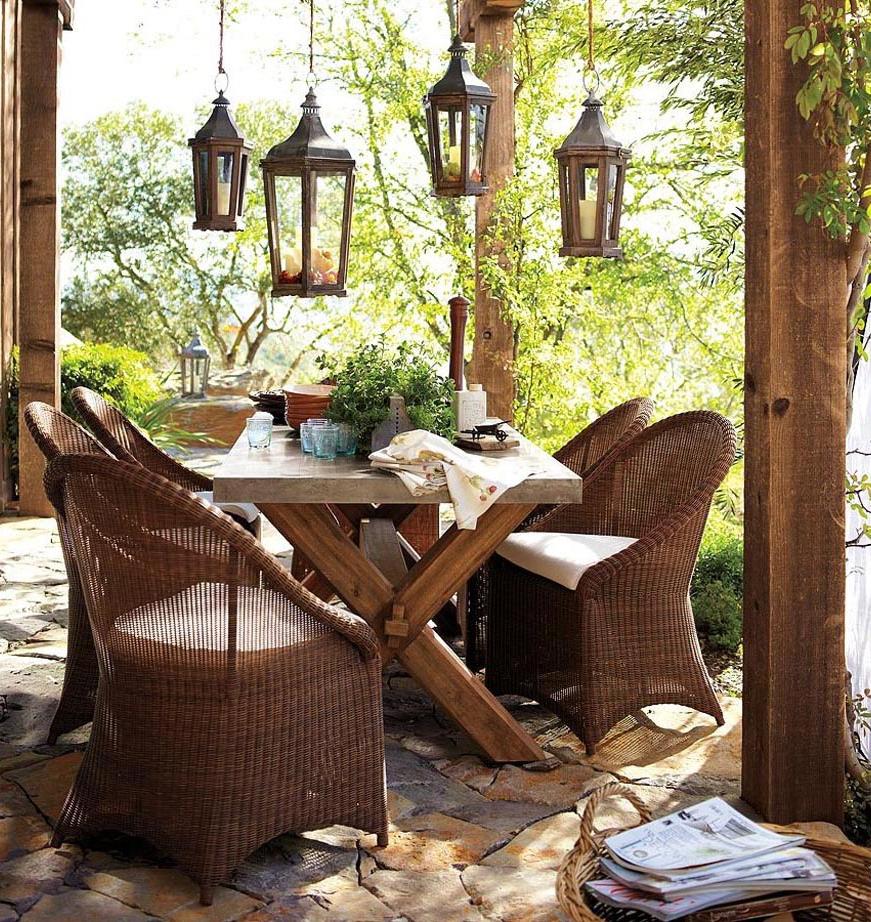 Entertain your loved ones with a modern flair of beauty with this attractive Rustic Wicker Outdoor Furniture set. Any outdoor space or patio will super and instantly welcome with this five-set seats and a classy looking table with a ceramic top. Its woven wicker makes it look cosy. It's also a weather resistance seat with seating cushions that are thick and filled to provide conformity and luxury. Enjoy your dinner and coffee under the starry of the night sky with your friends and let the surroundings give you peace of mind as you enjoy your drinks. The wicker is added with UV protection to prevent it from fading, and the frames have powder-coated aluminium to help in resisting scratching. The polyester cushions are also easy to clean, and it's simple yet chic.
39. Rustic wood DIY furniture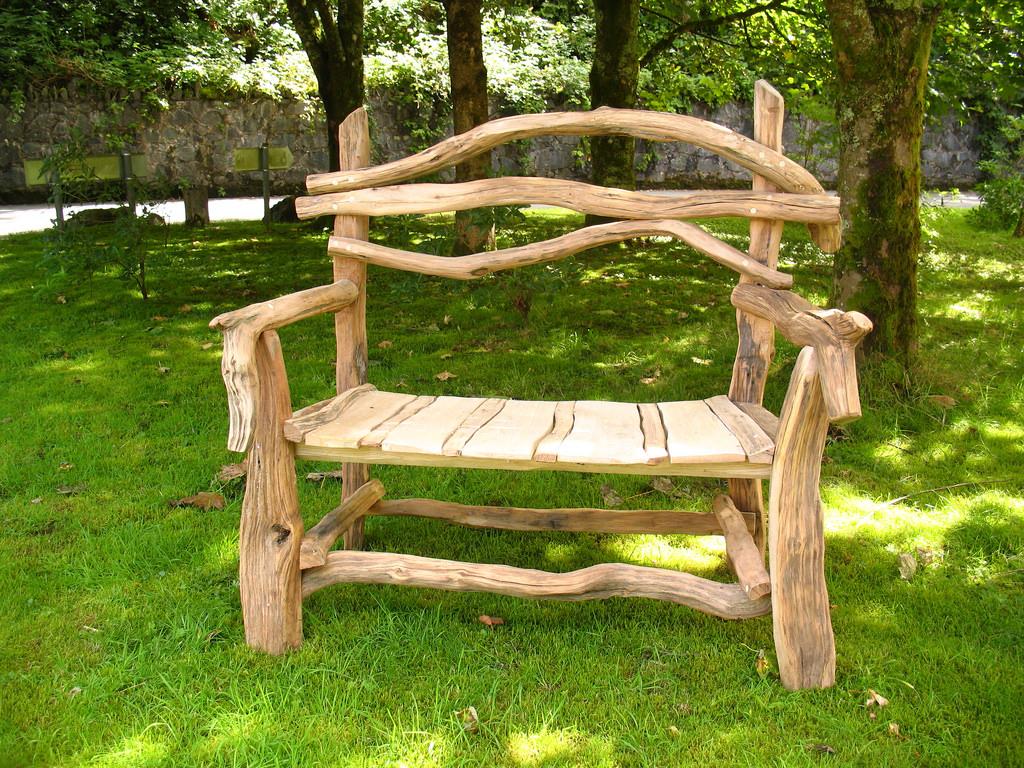 This rustic wood DIY is quite easy to construct in your backyard since you just need timber and the joiners. It offers the perfect example of rustic beauty, function and versatility with its innovative design that will enhance the look of any garden. The DIY garden bench provides you with extra seating arrangements, and it also adds a distinctive decorative element. The open and stylish back gives it a super look and the armrests provide you with additional seating comfort. The bench gives you the opportunity to relax and enjoy the peace of the outdoor living. It suits well in any corner of your garden making it an excellent way to have a touch and feel of rustic look while providing the best space plan. It offers the best seating when for having a drink with your buddies. The rustic wood DIY bench is eco-friendly and very easy to clean keeping it looking good.
More Rustic Outdoor Furniture Decor Ideas On The Next Page…