40. Rustic Wood Kitchen Furniture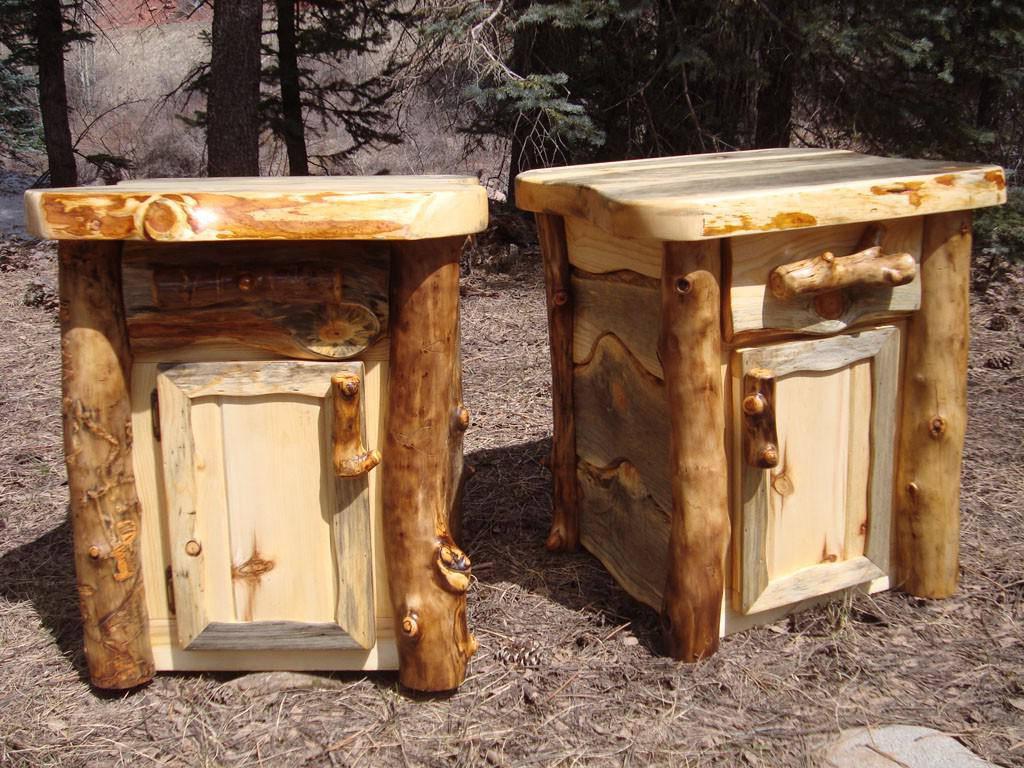 Nothing beats the beauty and classy look of a rustic outdoor kitchen cabinet. The rough and well-crafted wood is constructed with lots of craftsmanship bringing out its charm and adding a chic look to your garden. It has a wood finish with a smooth top with a knob opener. The inside has enough space for you to keep your outdoor kitchen stuff and legs are strong enough to stand on any ground space. It's also water, moisture, and insect resistances making it long lasting. The rustic wood kitchen furniture is lightweight making it easy to move from one corner to another and enjoy your barbeque.
41. Rustic Wood Pallet Restaurant Furniture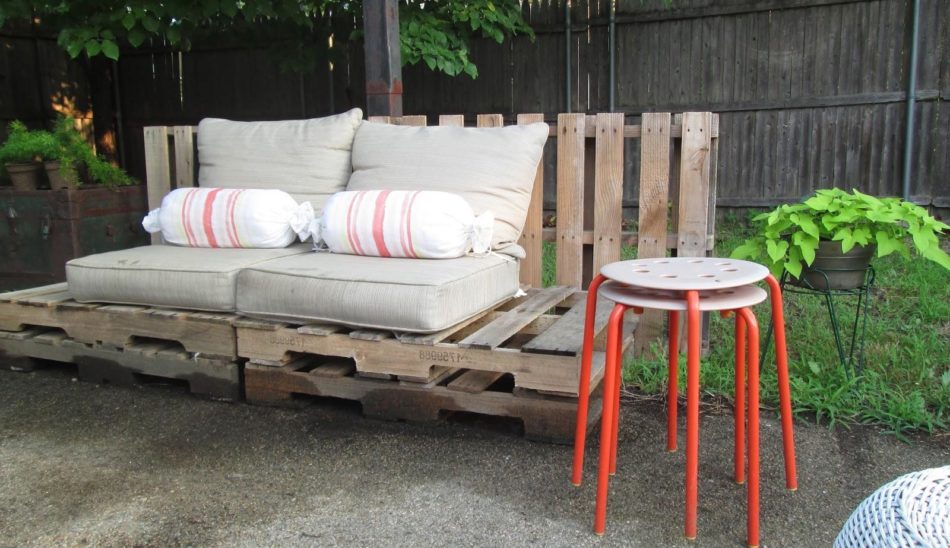 The Rustic wood pallet restaurant furniture gives you a beautiful sitting arrangement and comfort in any part of your garden. It an easy to arrange furniture and you just need six cases of a wood pallet, organized in two sections and a systematic manner. The other two rustic wood pallets are put in a slanting and standing style to act as the back. Take four high-density pillows two of them for the seating and two for your back; this will give you the comfort you need as you relax reading a book or taking a glass of wine. The wood pallets are lightweight and made from rustic and unfinished wood. They can also be stained or painted to add a personalized home décor. The restaurant's tool is made of garnished metal making it durable and it's also painted matching the throw pillows. It is strong enough to hold various glasses. The throw pillows can also act as support for your back.
42. Rustic Wood Sofa for Garden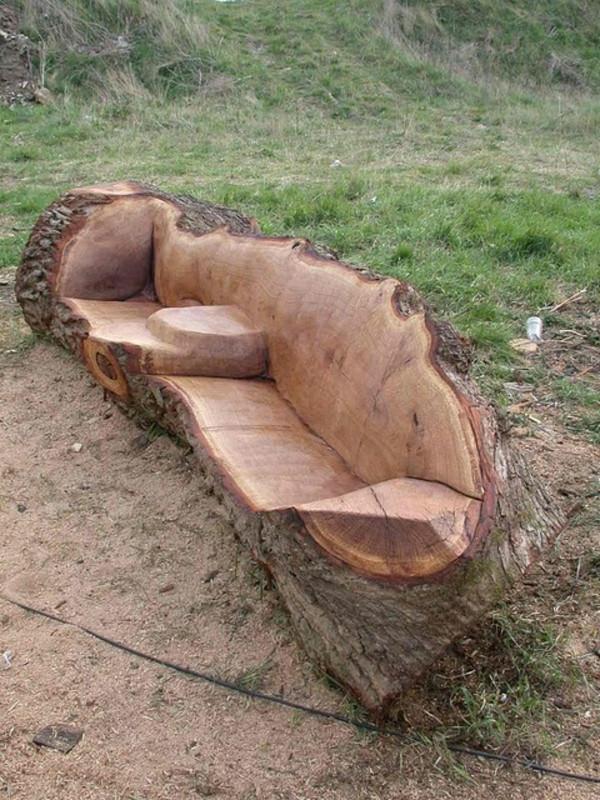 The elegant and beauty of hand carved wood sofa fits perfectly into every patio and garden adding chic to your outdoor living arrangement. It gives the ideal companion for your afternoon coffee with friends or a lazy day relaxing and enjoying the beauty of nature. The sofa is curved by a skilled artisan from a trunk of a tree with the inside smooth designed to give you comfort and the outside left with its rugged beauty. The Rustic Wood Sofa for Garden stands alone as a natural work and vision of art that brings a unique and organic charm to your garden. The beautiful sofa can be used on a daily basis and the minor cracks and knotholes add a unique exquisiteness. It's a profoundly durable sofa for outdoor use and can serve both in practical and decorative ways.
43. Rustic wood vintage furniture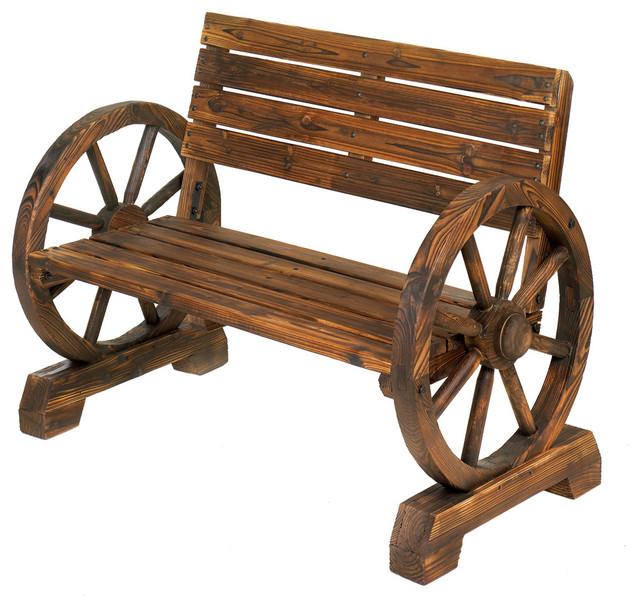 This is Rustic wood vintage furniture that features a vintage industrial iron wagon with classy looking wheel bench and a distressed wood finish. The wheeled legs are comfortably connected to a robust curved wood giving the sturdiness they need, and the back is well combined to ensure you enjoy your comfort as you lean back reading a book. Its brown finishing colour adds a classy look and is treated to withstand rain, moisture, sun and insects. The well-crafted and robust wood will last for a generation, and it serves as functional and practical benches that add chic to your home. It has an industrial inspiration.
44. Pure Painted Wood-Rustic Patio Furniture Sets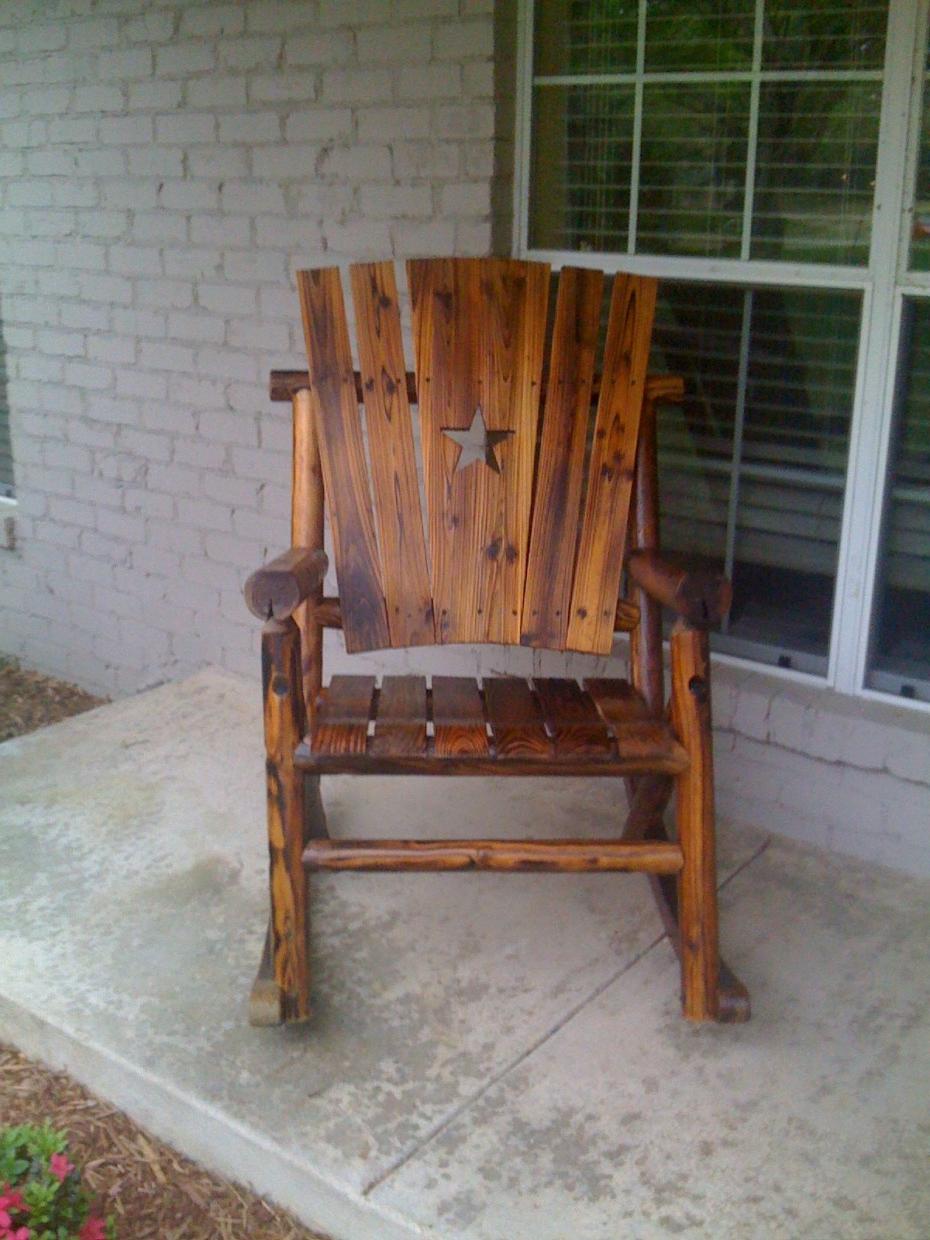 Simple and yet unique, firm but surprisingly comfortable, this is an armchair that is made of fir log and solid pine with a classy rustic charred finish. Each of the woods is individually milled and cut before its being polished and charred and then sealed with clear coats of unique vanish that gives it a glossy finish making it perfect for outdoor living. It's assembled using selected durable logs and polished to provide a bright look that blends with other furniture's. This rocker has bolt system and patented nut. The unique star hole design adds more beauty to its perfect look.
45. Spider Table and Root Chairs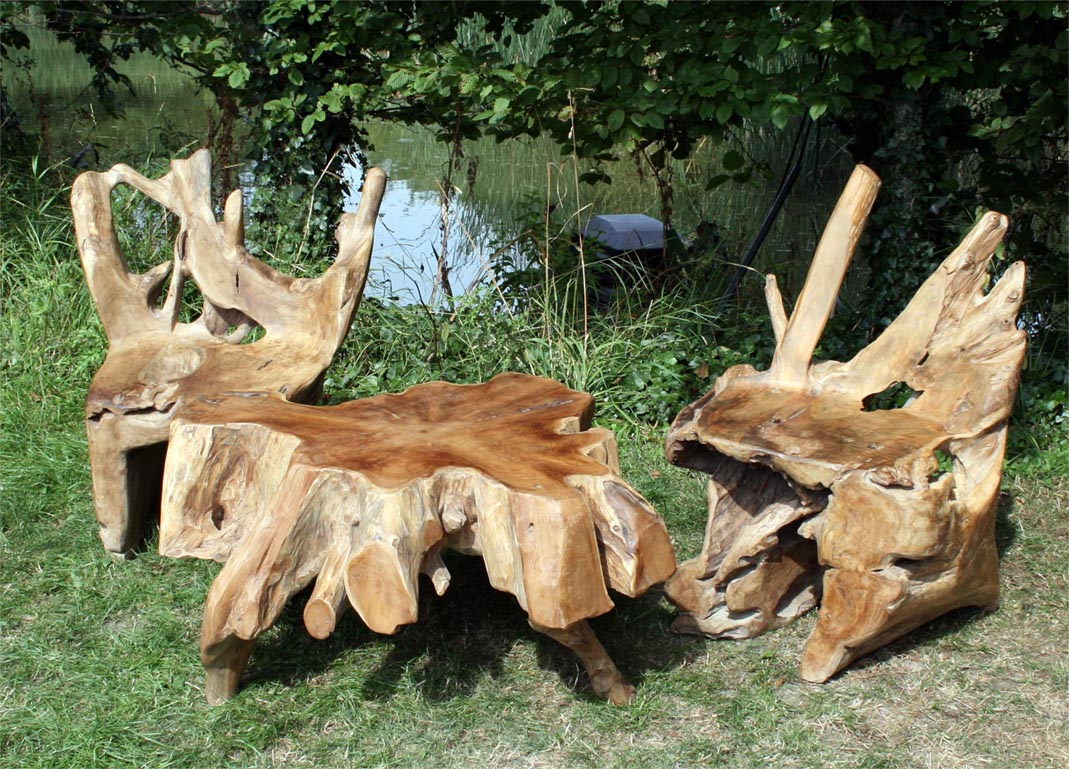 The spider table and root chairs are constructed using solid and rugged wood with artistic design to bring out the fresh change in your outdoor living. The table has a twisted design with well curved and strong legs that make it stand strong and also durable, and it's wide enough to fit various stuffs. The spider curved adds a stunning look that is appealing and welcoming, and the top is painted to give you an exclusive appear. The root chairs are directly curved from a tree trunk and left rugged to provide a gorgeous appeal, and the seating is made smooth to keep you relaxed. It's quite easy to keep the spider table and root chairs clean since you just need to wipe with a dry cloth and apply oil to keep the set gleaming. The wood is water, insects and moisture resistance hence giving you years of service and it merely adds rustic craggy beauty to your garden.
46. Unique Outdoor Wicker Rustic Patio Furniture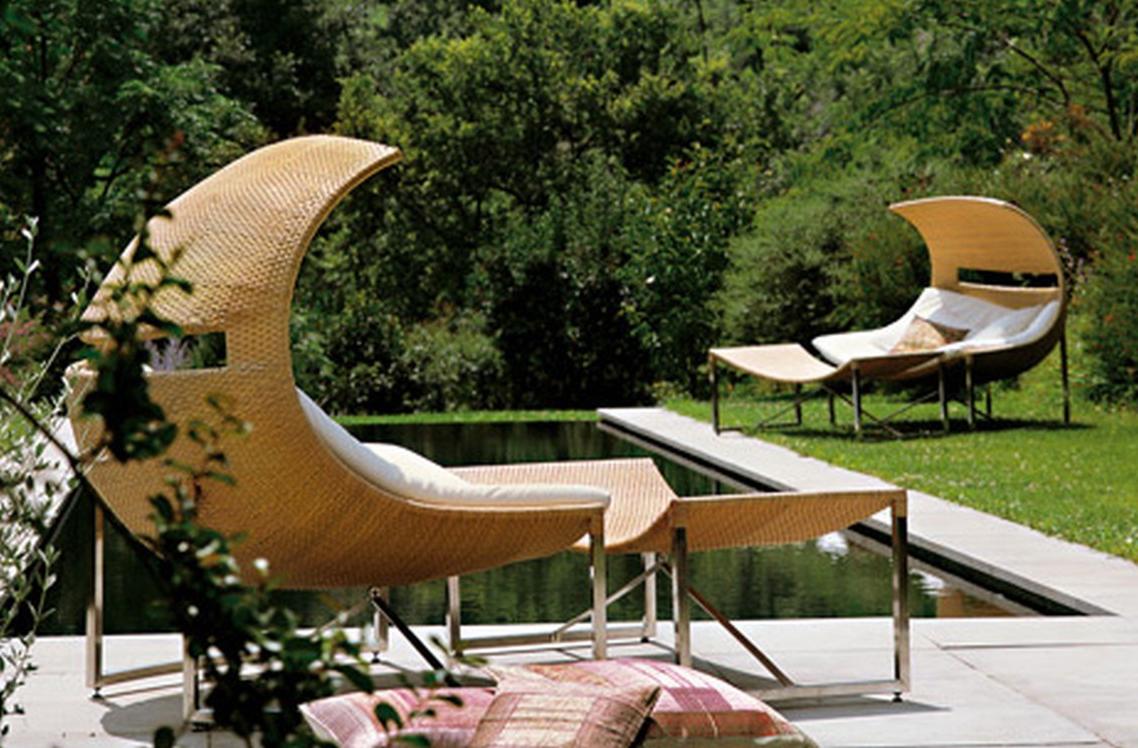 Enhance the comfort and calmness of your body with this stunning and unique outdoor wicker rustic patio furniture. The lounge rustic furniture can be used comfortably on your home patio, beside your swimming pool, Lake House or on an exotic area. Build from high-quality metal and wicker, this sturdy collection will last for years, and it has a classy design that features slanting base and swooping curves. The multi-coloured finish lounge has a sling foam style cushions that provide you with an ergonomic sitting posture and total comfort. The reclining backrest provides you with your desired sitting position, and the unique outdoor wicker rustic patio furniture is resistance to any harm caused by UV rays. They are waterproof which makes them ideal for any season and the metal legs are strong enough to hold any weight. You can use it without cushion or add more cushions to fit your style.
47. Unique Rustic Outdoor Furniture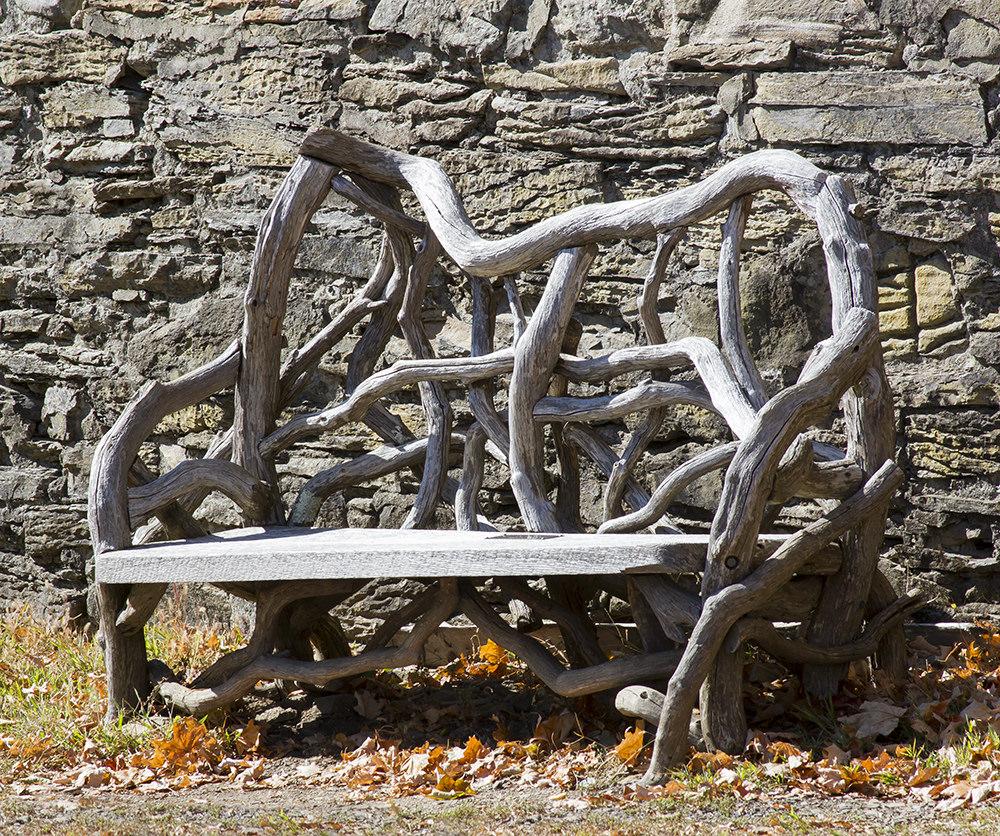 A sweet and straightforward bench made of rustic wood that is well interlocked with each other to give a unique and stunning back to provide a new level of well put together look. It makes the ideal functional and practical addition to your garden with its pleasant design and sturdy wooden frames that ensure you enjoy maximum durability and support. The root-like design makes this bench firm and comfortably in any corner of your garden, and it gives a diverse add of natural touch and effect that is picturesque. The seating can be crowned with cushions for more comfort, but it looks more natural when left bare since it smooth. It's weather resistance unique rustic outdoor furniture that gives a fresh look and blends well with other garden and rustic outdoor furniture.
The outdoor space needs to have a unique and rustic feel and touch that gives a welcoming look and fit with your home style and decor. Rustic ideas and designs for your outdoor space add exquisiteness, chic and refined look to your home.