Wood panels or terrace board are most commonly found in the form of wooden floors but this isn't the only way you can use this beautiful material. These slim timber boards can be used to make beautiful outdoor decking, porches, wooden facades and even furniture!
24 Terrace Board or Wood Paneling Ideas: More Than Just Floorboards

Timber is a material that can be easily adapted to change up the appearance using stains, sealants and paint so you can mould it to suit the exact look you want. It can also be specially treated so it can be left outdoors or even exposed to standing water without being damaged at all. Really, when it comes to working with wood as a part of your interior design the possibilities are endless! Its natural wood grain brings a rustic feeling into any setting, imbuing the space with an atmosphere and feeling of comfort while it serves its practical purpose. It is hardy and durable so it can withstand the weather and even become more beautiful with age as it weathers.
To show you how many different ways you can use terrace board in your home here are:
1. Snaking Timber Decking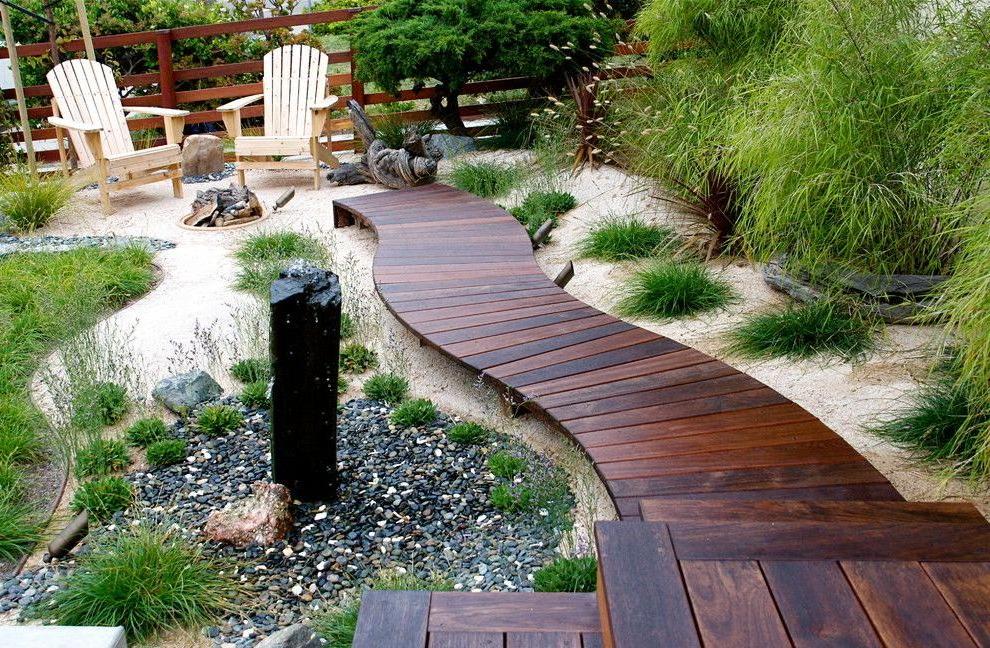 This beautiful outdoor decking starts at a timber platform, which leads you down a winding pathway to a little garden oasis. The sandy garden beds have been designed to mirror the shape of the decking lined by shaggy bushes. This beautiful walkway makes going into the outside space an event. The oasis it leads to is furnished by a set of timber sun chairs around a fire pit on small pebbles, an idyllic little refuge away from the house.
2. Multi Coloured Deck Chairs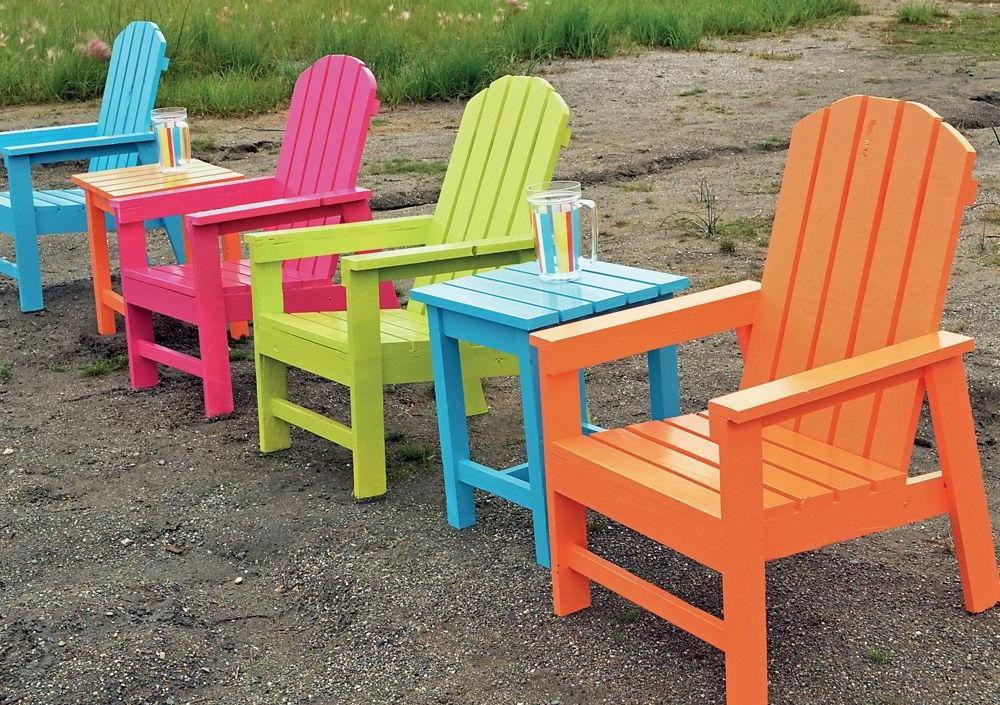 In this setting terrace board has been used to make classic deck chairs. These iconic pieces of outdoor furniture have been paired with a set of matching square side tables have been updated by being painted in neon colours with the tables mixed and matched between them to bring some fun colour into the garden or on the sand beside a seaside home.
3. Wood Paneled Outdoor Patio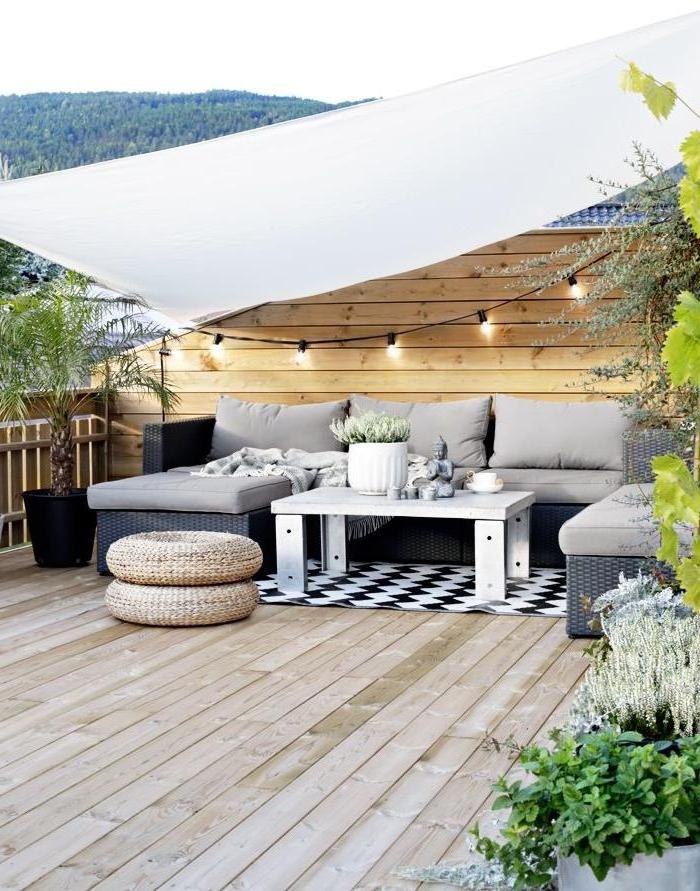 This rustic outdoor patio takes advantage of materials and their natural beauty to blend with the rural surroundings. The space utilizes cool treated timber decking with a warmer wood paneled wall and a low picket fence, encapsulating the outdoor living space in timber. The natural surroundings have managed to make their way onto the patio itself through the lush plant life that adorns the patio area.
4. Raising Timber Decking And Steps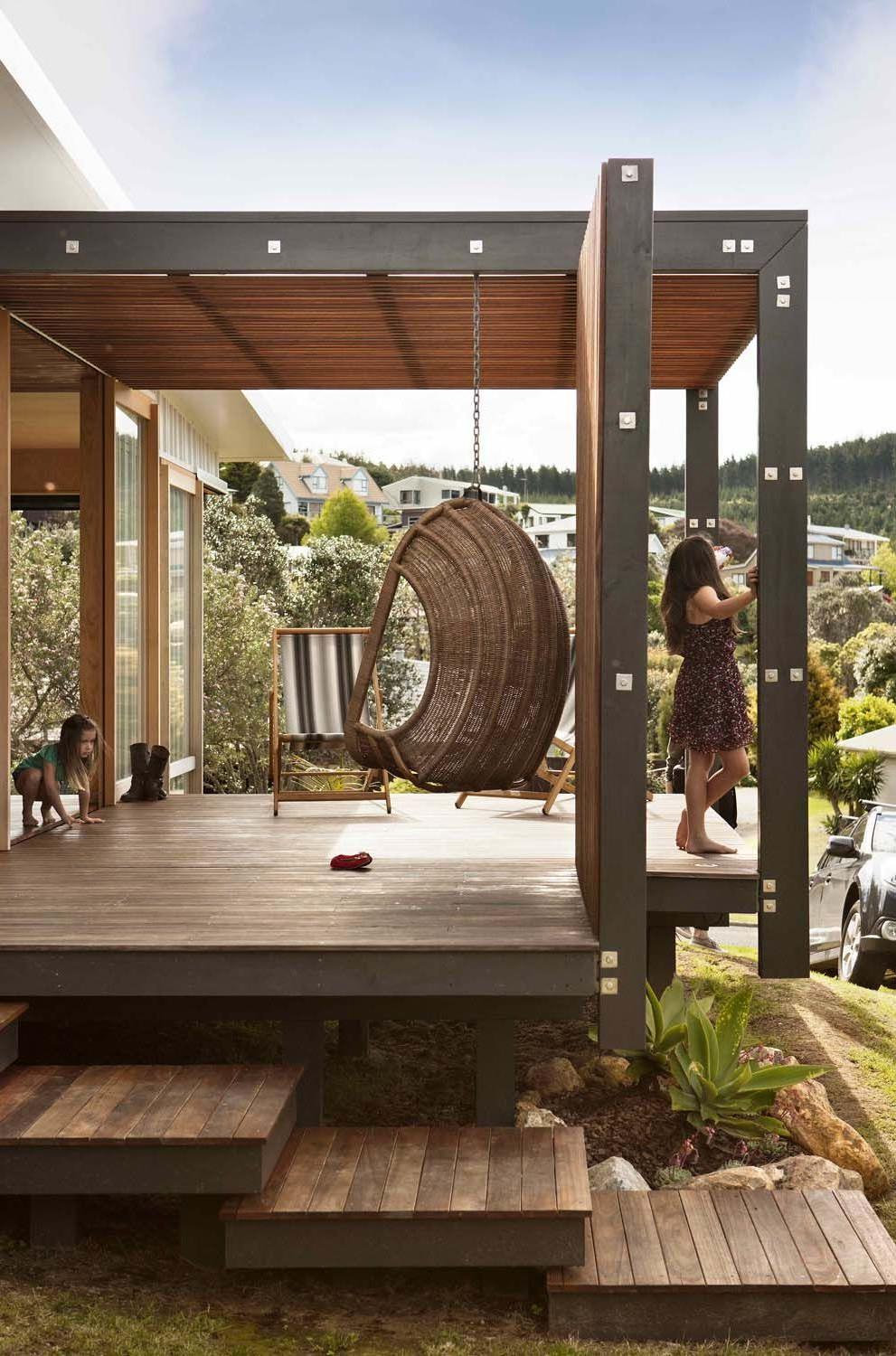 This beautiful decked front porch is reached from the street by large square steps that seem to float up to the rustic outdoor area with hanging woven chair. The slim decking is set in a chunky, metal framework with no balustrade so the overall aesthetic is not so bulky. The stunning porch provides you with a gorgeous view over the surrounding tree lined hillside, a gorgeous place to relax in summer.
5. Modern Terrace Board Sauna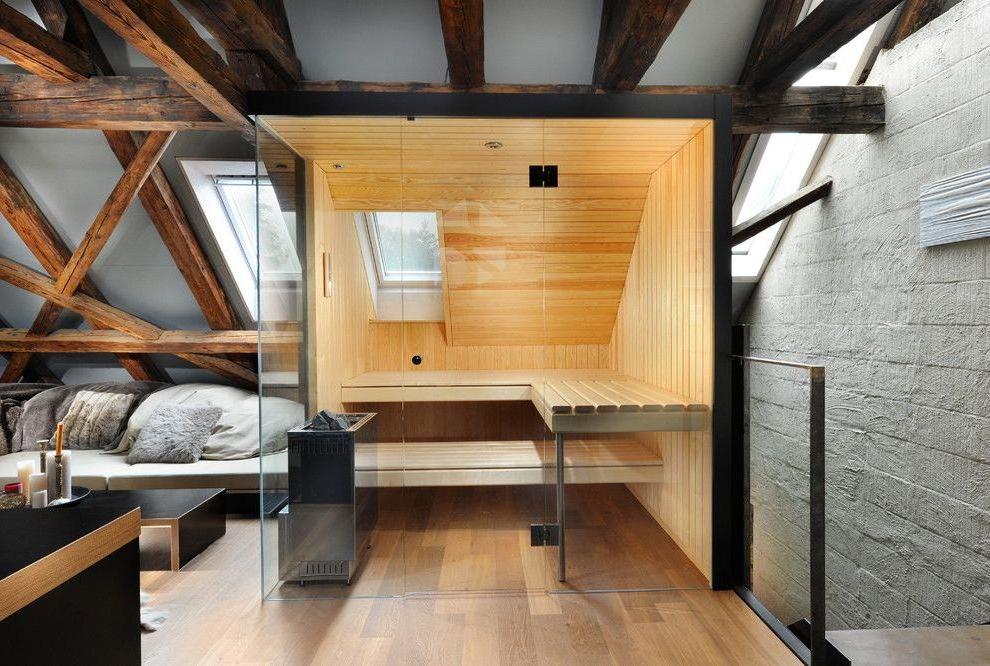 This modern take on a traditional sauna is faced in two materials; half pale wooden paneling and half seamless glass with its own pitched skylight and layered bench seating. The light timber makes the little room within a room stand out against the pale grey walls and dark exposed timber beams of this gorgeous pitched space. This design unique design is placed in an unusually open setting which makes it a stand out feature in this contemporary apartment.
6. Gorgeous Apartment Decking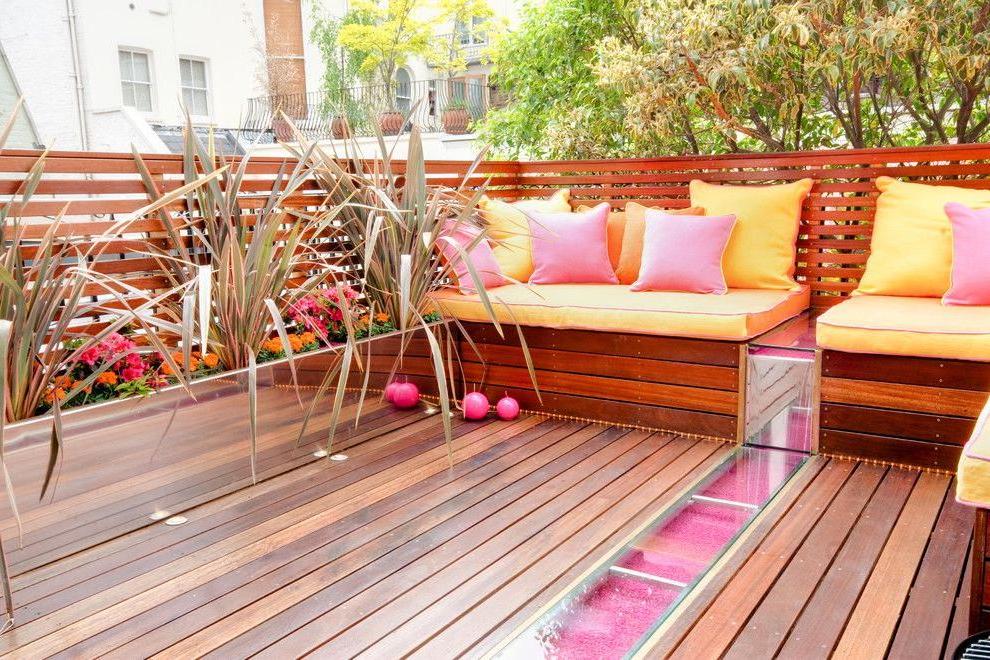 This large apartment is fully paneled in warm timber decking that runs up onto the bench seating with a tall wooden screen as a backrest. Glass blocks have been built into the middle of the decking and filled with pink stones to bring colour into the space in an unexpected way. This pop of colour is echoed in the soft furnishings that adorn the chairs. A chrome planter brings some colour and texture into the space while reflecting the warm timber decking which makes it disappear almost completely into the background.
7. Contemporary Timber Façade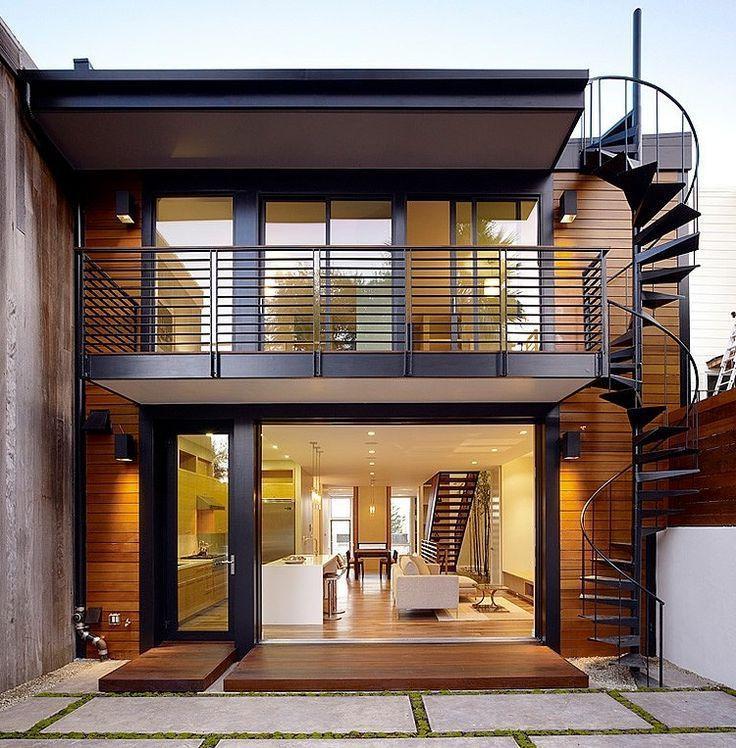 This contemporary home shows how terrace board can be used as a gorgeous facade. The treated timber covered the whole exterior wall, which contrasts against the black metal work in the staircase, balustrades and doorframes. Wood paneling have been used in a secondary form in the two blocks of decking sitting on the ground floor to create coordinated thresholds in front of the sliding door and entrance door.
8. Sophisticated Roof Decking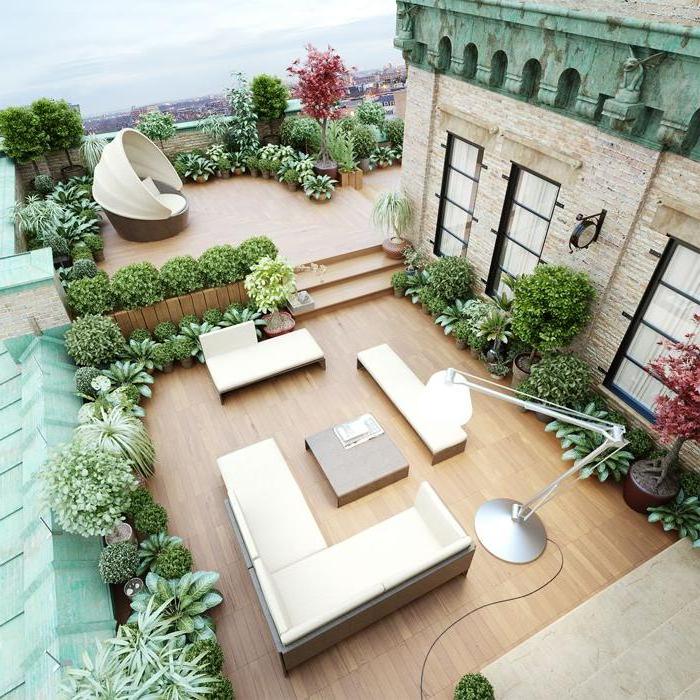 This old stone house sits on a tall hillside with super sleek timber decking that wraps around the house on the top level to take advantage of the stunning panoramic view of the town below. The large outdoor space is made up of different areas separated by steps that serve different purposes and provide their own unique view. These areas include an outdoor lounge and a large domed relaxation platform with views on two sides. The sprawling deck creates the perfect location for large parties and entertaining on special occasions.
9. Crossed Entrance Way Decking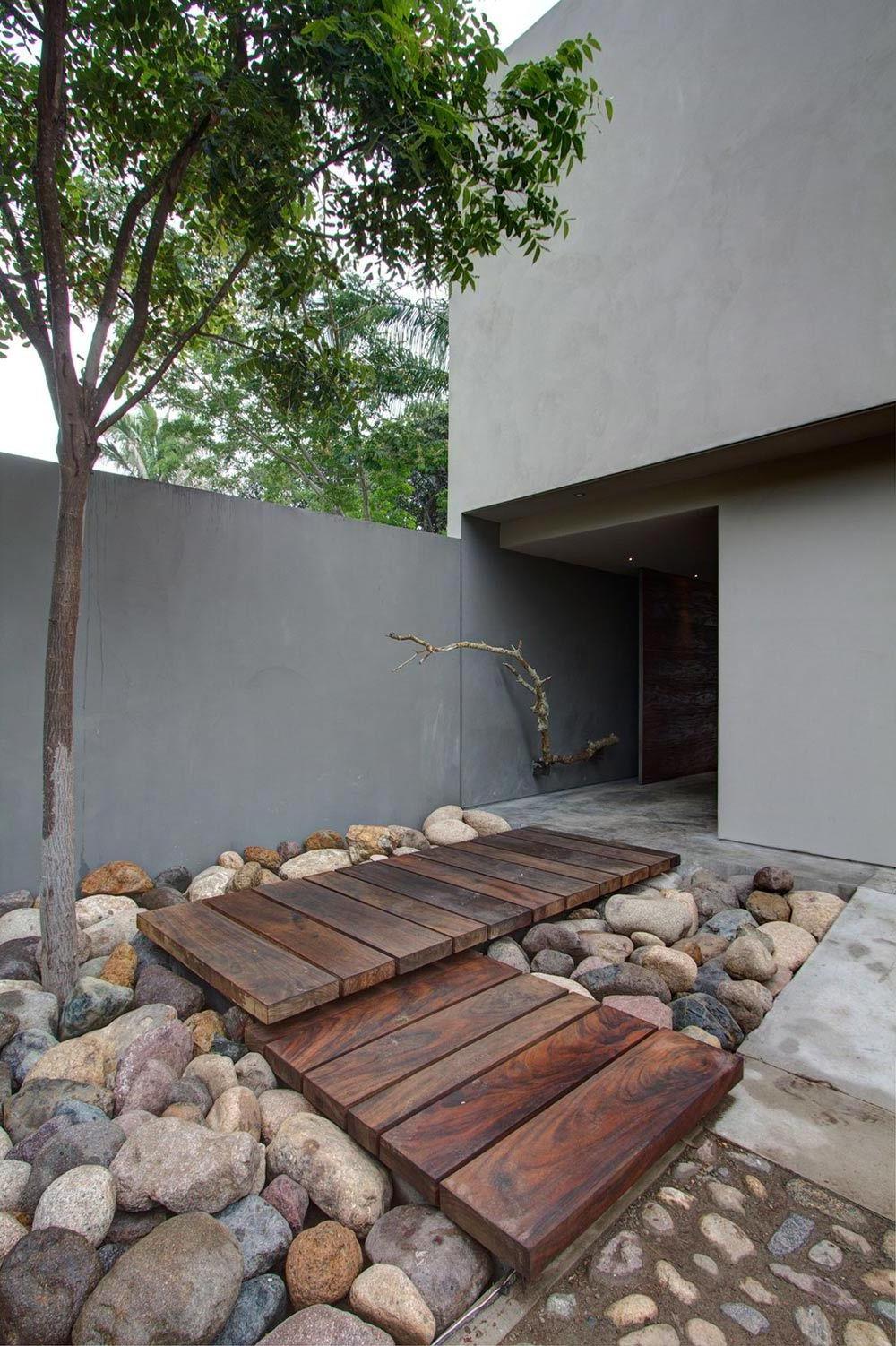 The entrance to this modern house has used thick wooden paneling to create chunky walkways made of two layers that overlap one another at right angles that lead you from the driveway to the front door. The walkway is surrounded by large stones, a skinny tree and solid grey walls and the resulting aesthetic makes the simple act of arriving at home an event.
10. Wood Paneled House And Decking
Wood paneling has been used in three different areas of this cozy home that all come together to create a harmonious space that celebrates the materials versatility. Cool toned weathered looking wooden decking wraps around a white timber house furnished with painted white wood paneled couches and tables that have been decorated with cushions. This carefully designed patio is a great entertainment space in the summer.
11. Luxury Yacht Decking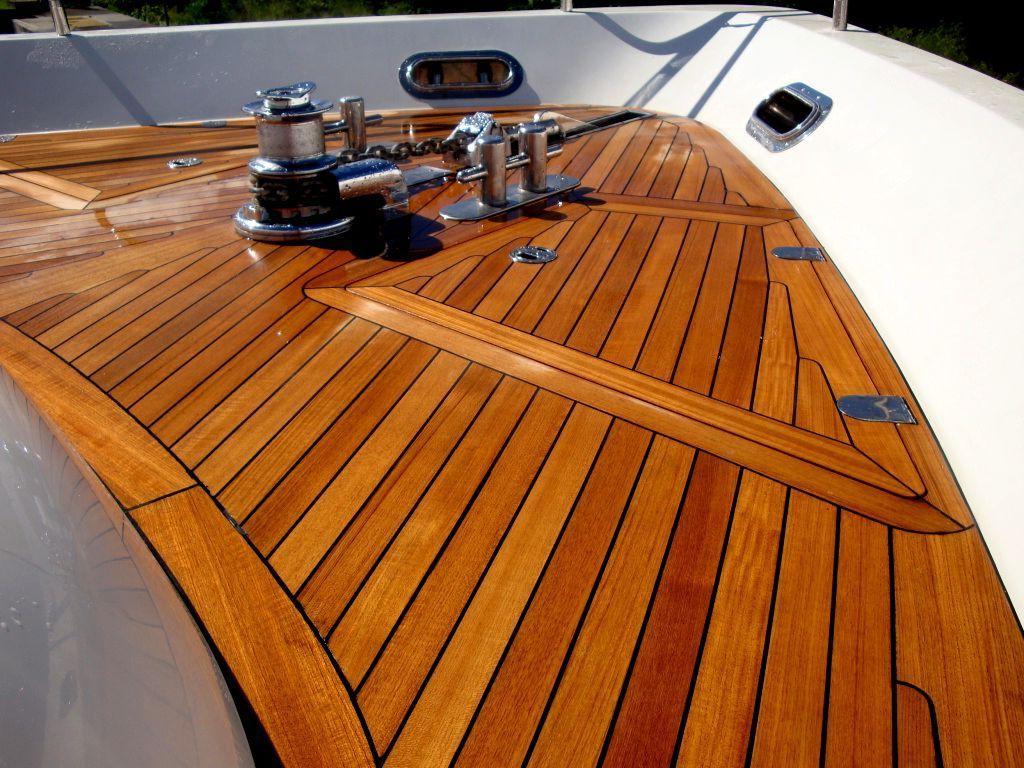 Timber decking isn't just restricted to the land, it can be found at sea too. Some highly polished specially treated timber has been left exposed to finish the bow of this luxury yacht. This kind of paneling is very expensive as it needs to be so well prepared to subjected to large amounts of sea water on a regular basis so this is an extra glamorous touch to add to an already enviable yacht.
12. Dual Toned Modern Paneling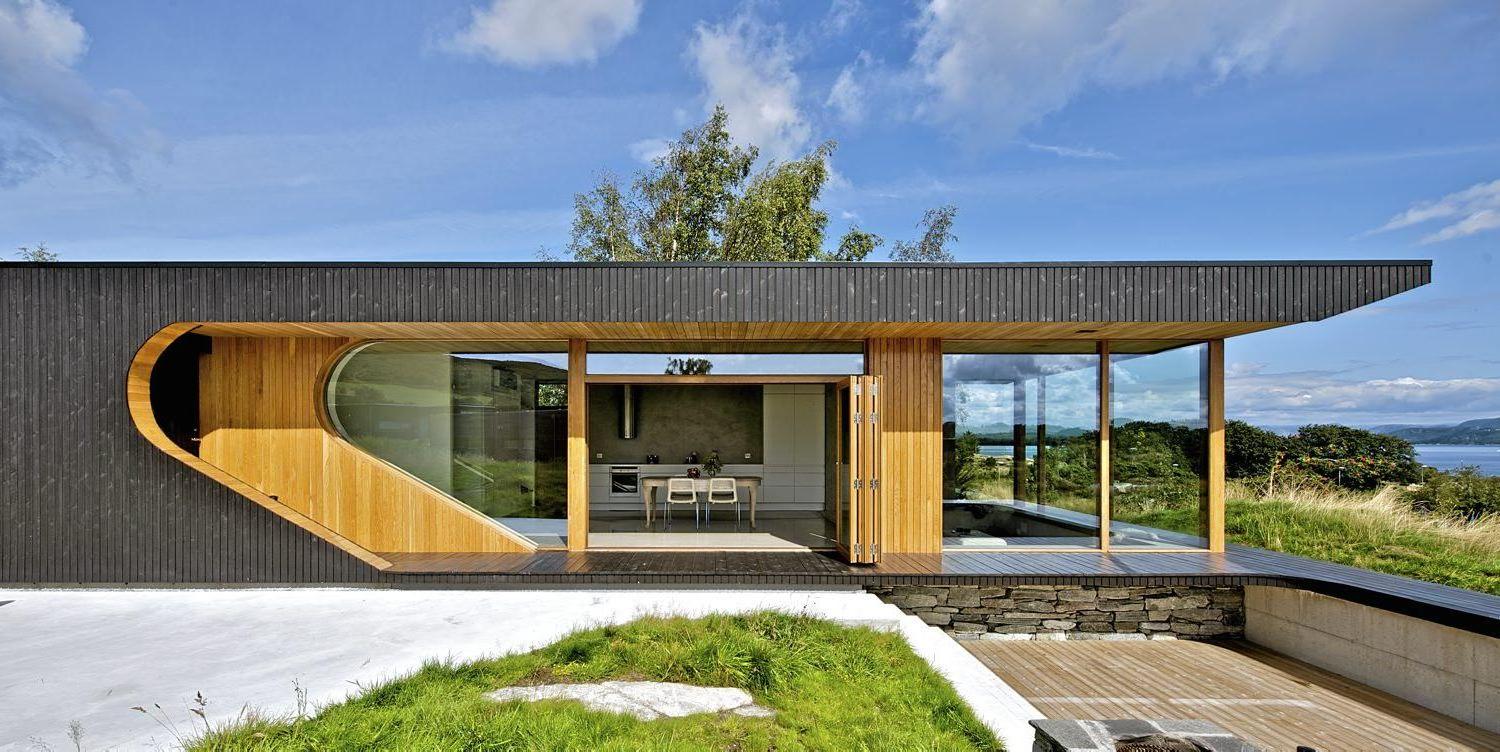 This gorgeous hillside home is a striking modern design that has been built of classic materials. Two distinct layers of timber paneling, a stained black and a bright raw pine, have been placed vertically and contrasted against one another in an aesthetically pleasing unique shape. The light timber sitting within the dark frame gives the façade depth and makes it just that little bit more eye catching. A covered black timber deck sits at the front of the house to take advantage of the view over the water.
13. Floating Timber Lily Pads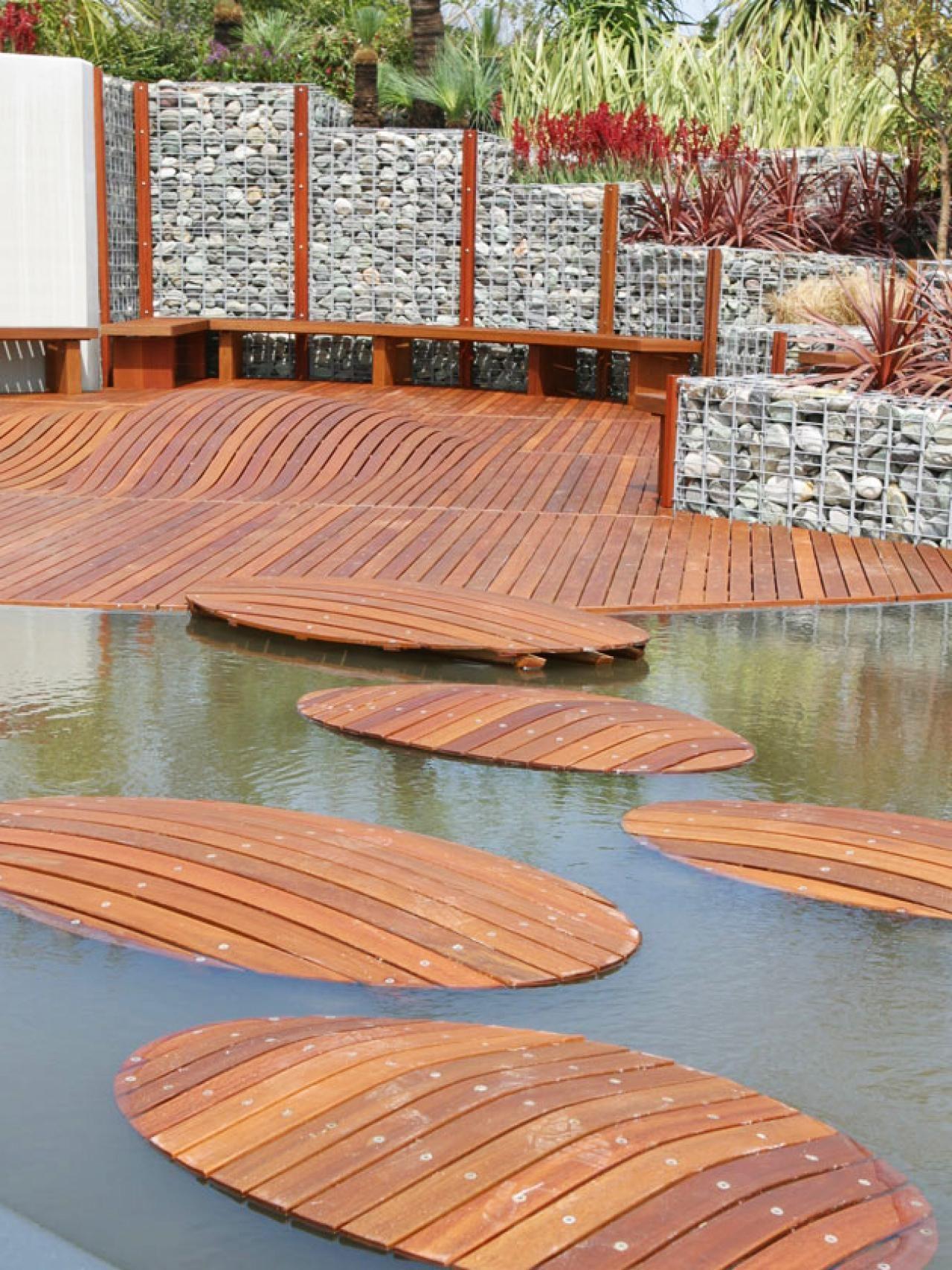 This striking garden pond design uses a specialized treated timber to create curved timber platforms whose edges dip into the water and appear to float like lily pads on the water's surface. This life size sculpture leads you towards the flowing timber patio on the other side of the huge pond. The decking beyond features timber bench seating and mesh rock wall that all combine to create a stand out outdoor recreation area at the bottom of your garden.
14. Statement Decked Patio Garden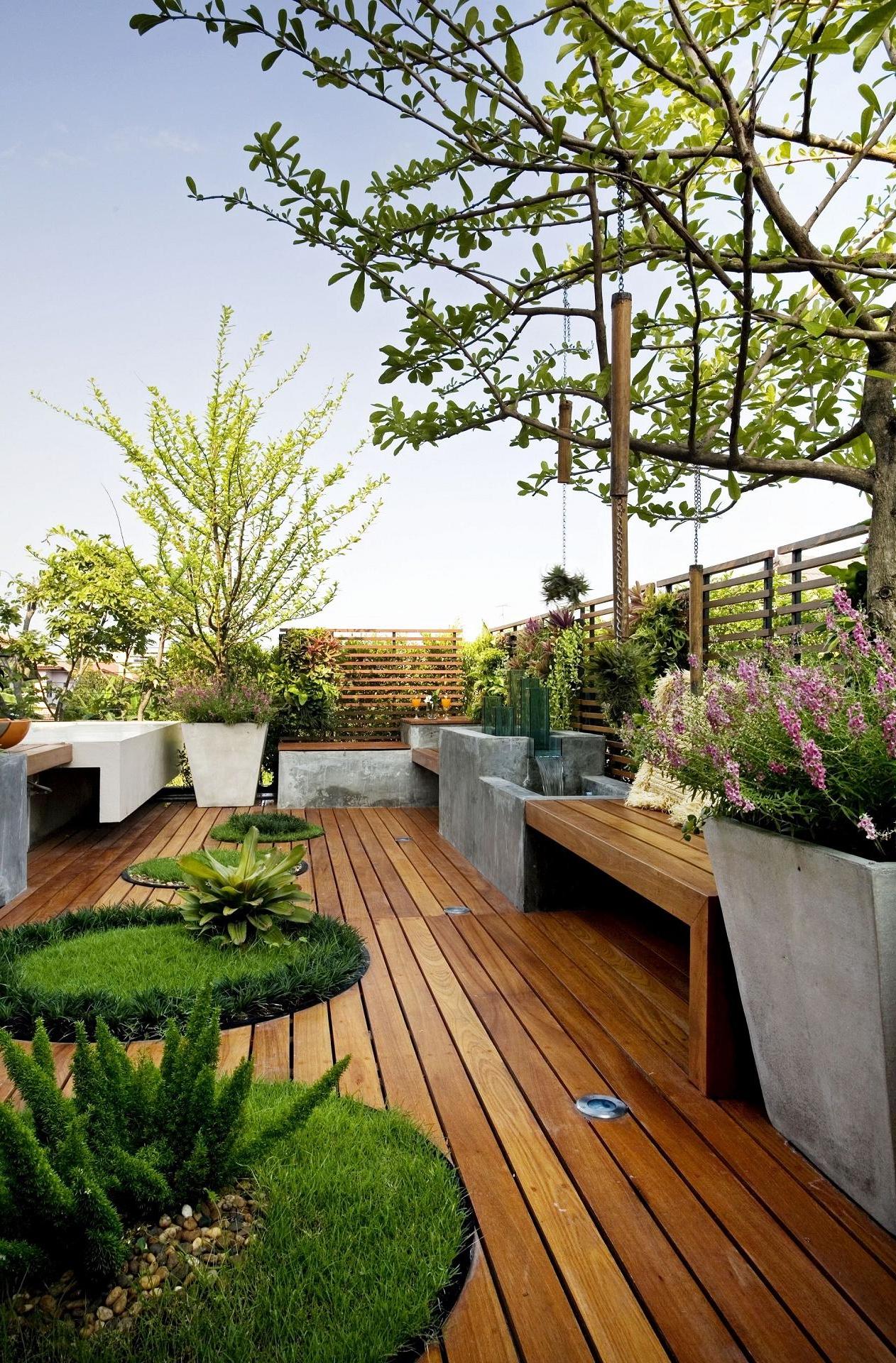 This version of terrace board takes the form of a narrow patio with timber decking and a matching built in benches. Timber screens have been placed around the perimeter to grow creeping plants and allow for privacy while adding another layer of timber within this natural setting. The patio brings in the experience of having a garden through big concrete planters throughout the space and quirky circles of grass punched out of the decking. The little islands of grass reduce in size as they lead you through the space. Up lighters have built into the decking for nighttime entertainment and to illuminate the plants life in the dark.
15. Spacious Modern Patio Deck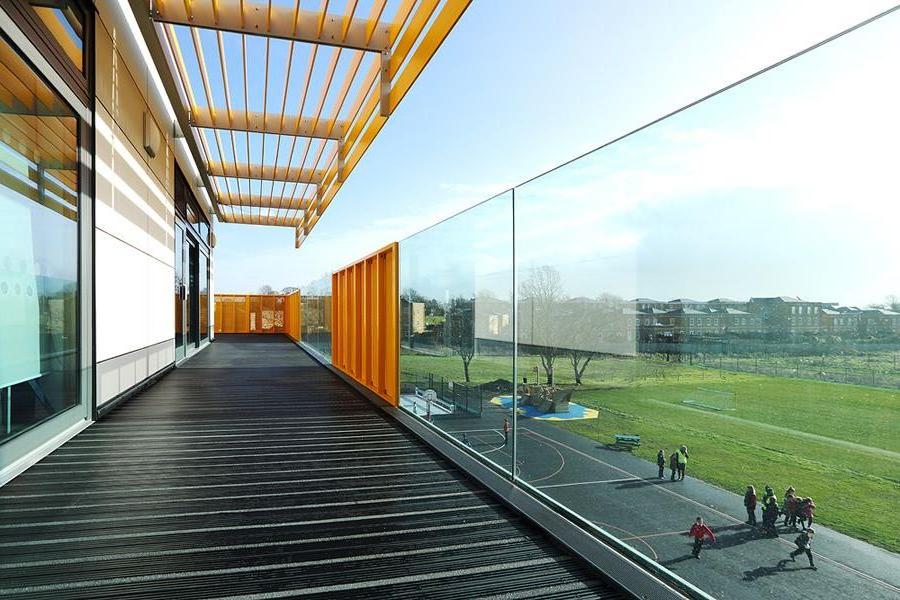 This spacious recreation centre features a large decked patio that wraps the whole way around the building. The black timber floor has been paired with a warm timber screen overhead for shade, wrapping you in wood paneling. The same shade of timber panels used in the screen has been placed between panels of glass balustrades unevenly along the deck and around the corner for more visual appeal.
16. Cool Timber Porch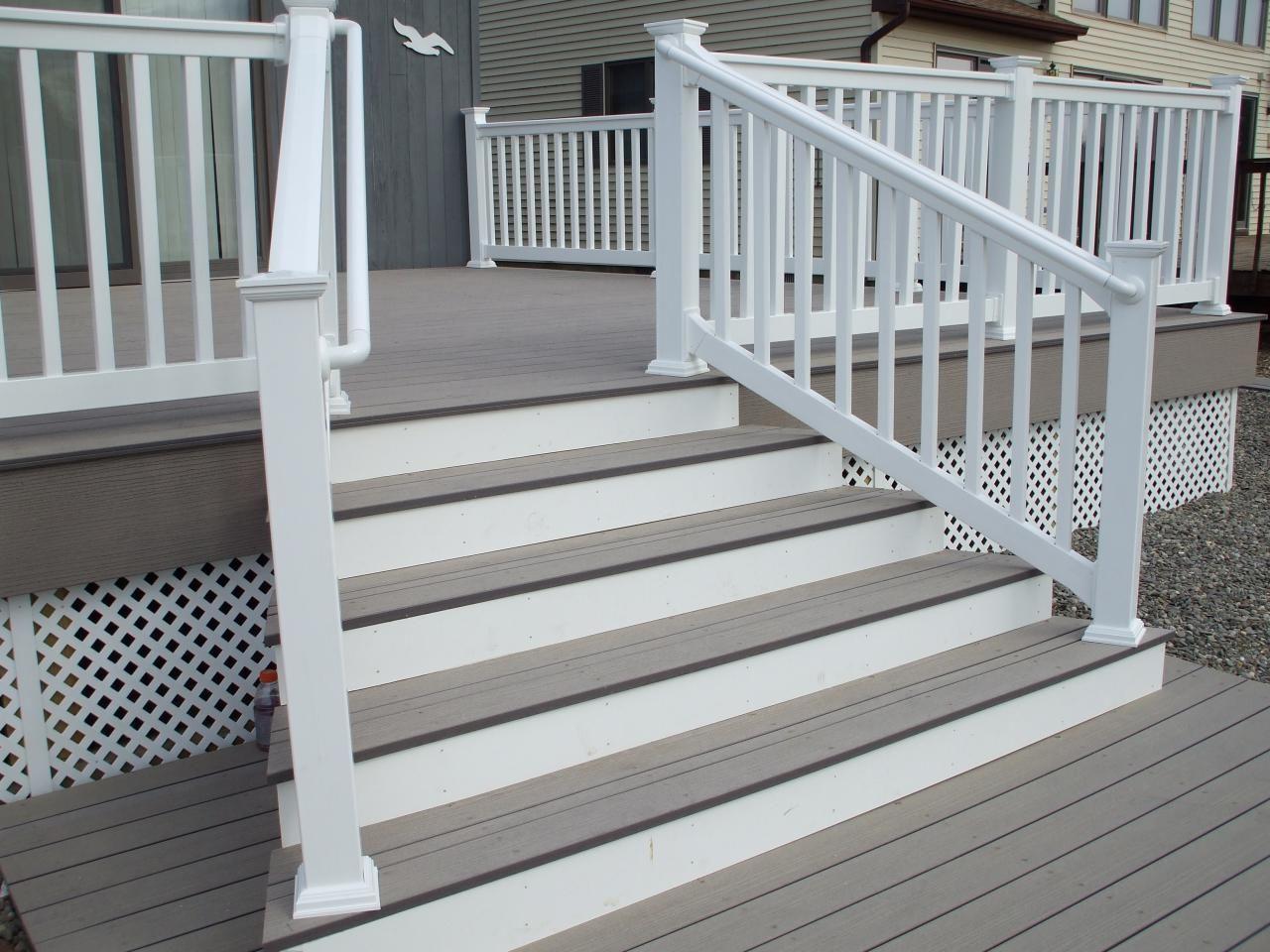 Cool timber decking has been used here as a pathway to the elegant V shaped staircase and up onto the large porch. The cool timber has been treated so it can be left exposed and makes the whole exterior space feel cohesive. The house itself is faced in darker vertical timber paneling while the crawl space of the house is concealed by timber mesh screens. This is a true testimony of how terrace board can be used in so many ways within one design.
17. Glamorous Mountain Top Decking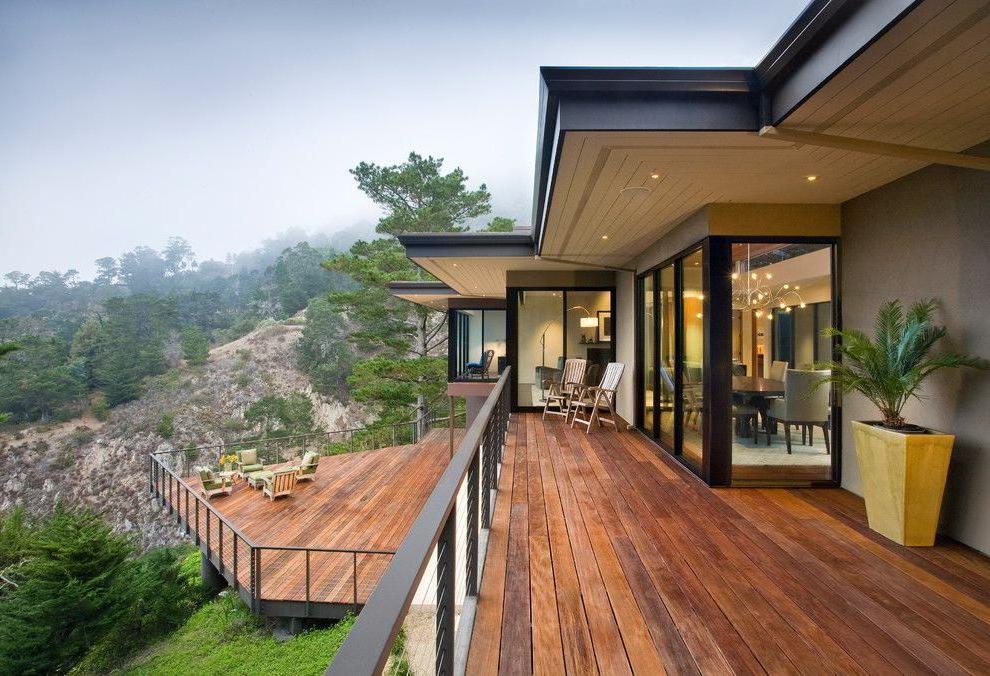 This modern house features two layers of patio decking looking out over the misty mountainside. The outdoor lounge furniture sits on the furthest spike of the deck that sits out over the drop of the cliff below, so you can relax while being suspended in nature. This set of patios are the ideal space for outdoor entertaining that really packs a punch. Wood paneling has also been use overhead in the closed eaves that protrude in dramatic spikes across a portion of the patio to provide shade and some visual impact in this already breathtaking home.
18. Slatted Wooden Screen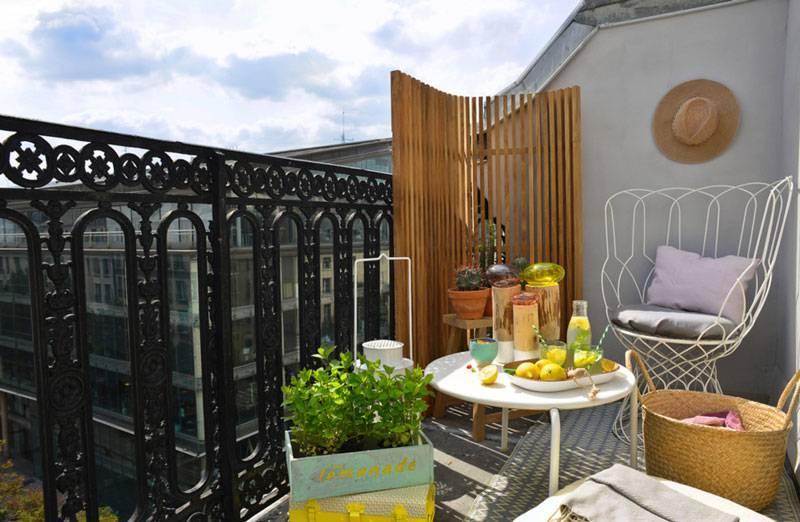 A wooden screen is another way that wooden paneling can add a layer of texture to an outdoor space. The thin vertical slats have been built into a corner and specially treated so it can be left outside. The screen provides privacy from the surrounding apartments while you relax on your little patio as well as acting as a shading device for the metal armchair in the corner.
19. Sophisticated Decking With A Sea View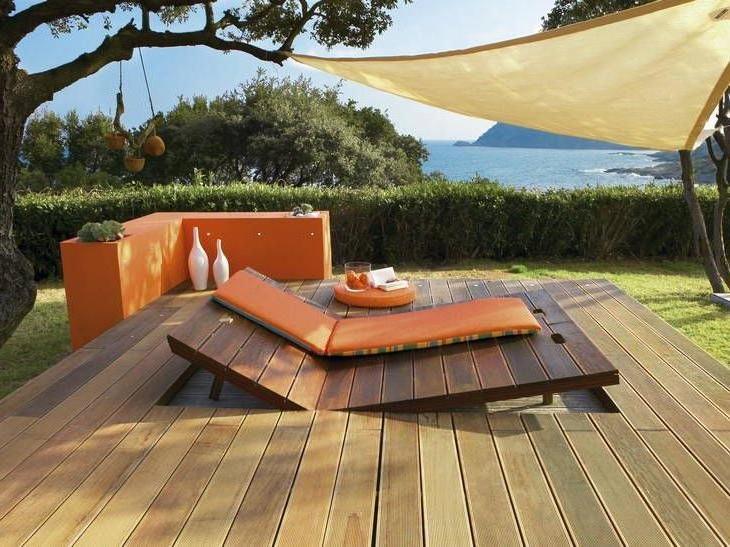 This innovative timber platform stands out from your average deck because, hidden in the surface, are a pair of sun loungers that you can pop out of the decking as you need. The design is really simple yet effortlessly smart and gives you the option of using the raised deck in its entirety or as a sun bathing spot. The spaces is shaded by three trees and a sheet of tarpaulin strung between them, creating a beautiful multi use spot for you appreciate the gorgeous sea view while you get your tan on.
20. Rustic Timber Decking And Wooden House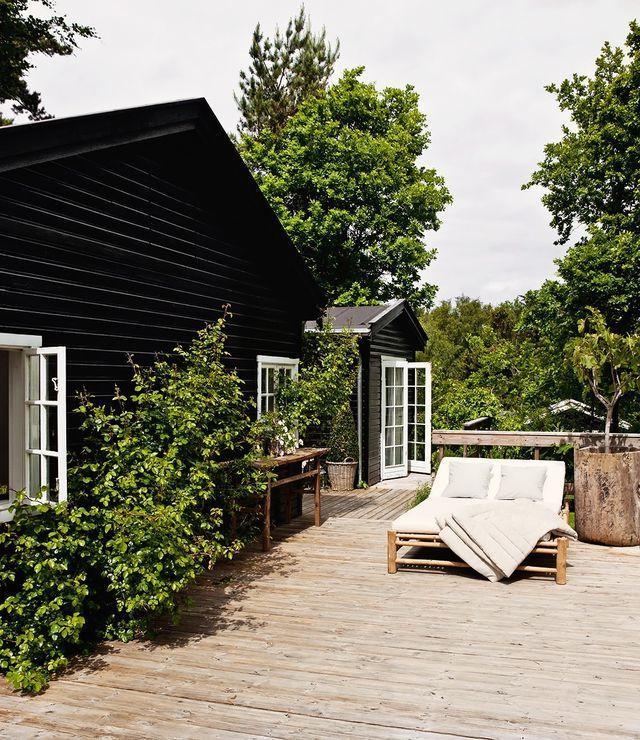 This is another property that uses wood paneling in multiple different applications to create a little cohesive bolthole within nature. The house itself is made of horizontal wooden paneling painted an inky black with a rustic weathered wooden deck in front of it. The balustrade for the patio and the double sun lounger continues the trend of using wood paneling to really double down on the aesthetic. The open patio space provides a beautiful place to take in the beautiful natural surroundings and escape into the outdoors from time to time.
21. Bright Timber Pier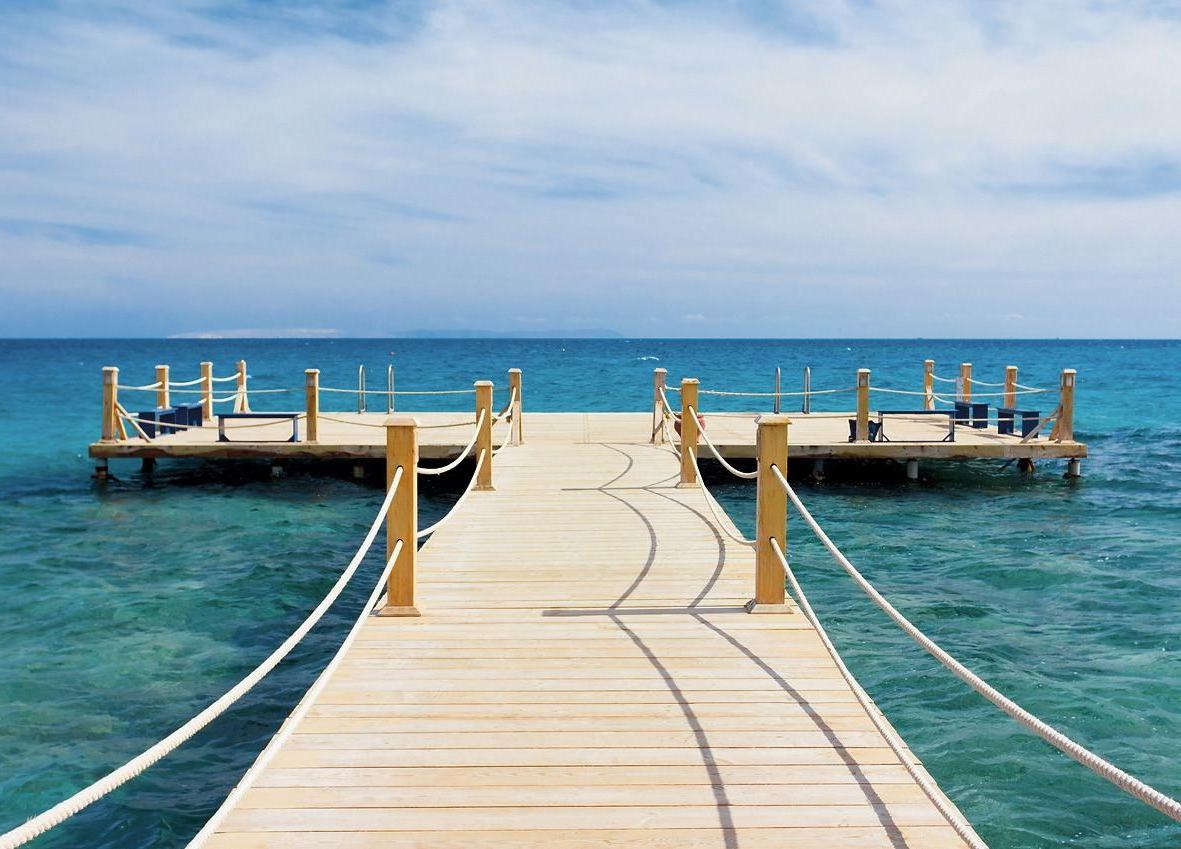 This gorgeous marine timber has been constructed into a jetty whose pale hue stands out brightly against the azure sea. The whole structure is held above the waterline by large marine grade posts driven into the seabed. Piers like this provide you with a gorgeous place to hang out that hovers above the sea so you can either sit and relax in the sun or jump in to have a swim and climb out via the stairs built into the deck.
22. Timber Island Pergola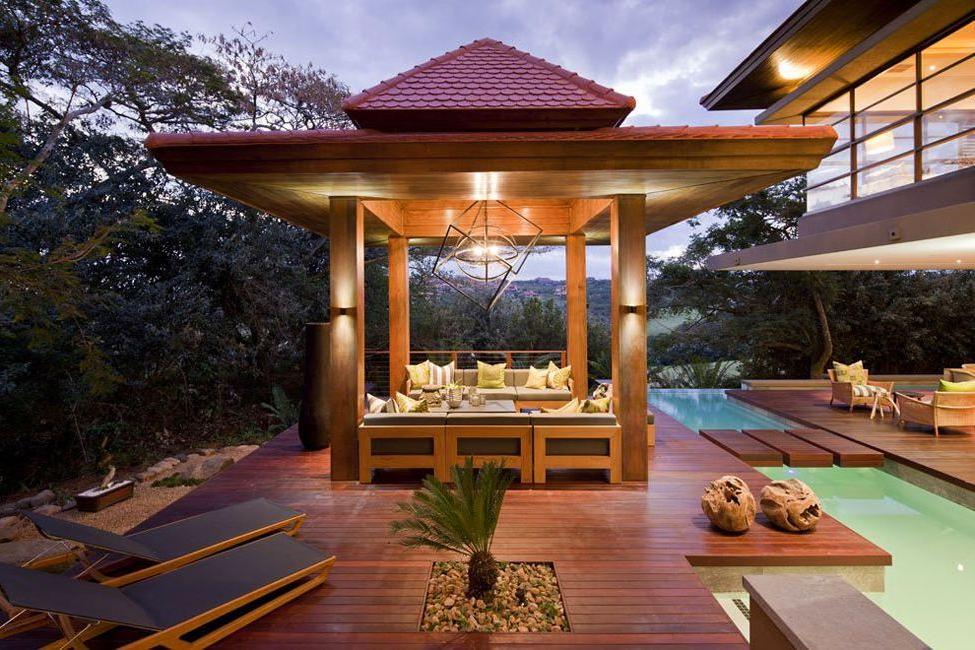 In this luxuriously large outdoor entertainment area timber decking run underneath the massive cantilevered first floor over the pool and into an island that houses a gorgeous timber pergola. Three island steps made of the same treated timber act as a bridge over the pool for guests to reach the comfortable pergola and glamorous sun loungers on the island beyond. The pergola lights the little island with a statement light fixture to make the space alongside the moat like pool so it can be used for entertainment at all times of day.
23. Wood Paneled House On The Hill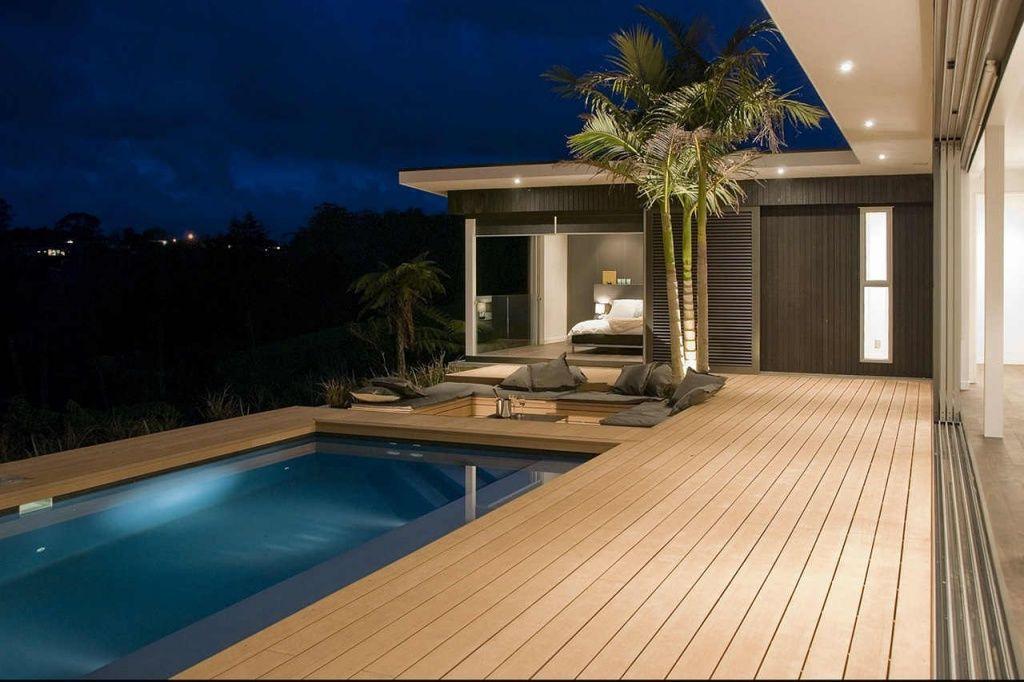 This sleekly modern hilltop property has, as we've seen before, used a combination of wood paneling applications to create a cohesive exterior to the house. Smaller deep grey panels cover the walls that are placed both horizontally and vertically that create a fine texture across the facade. In contrast the patio and poolside is made of a light timber decking that appears to run seamlessly from one end of the space to another. The timber holds within it an azure pool and a recessed seating area that is beautifully unique and cozy.
24. Ship Lapped Home With Raised Deck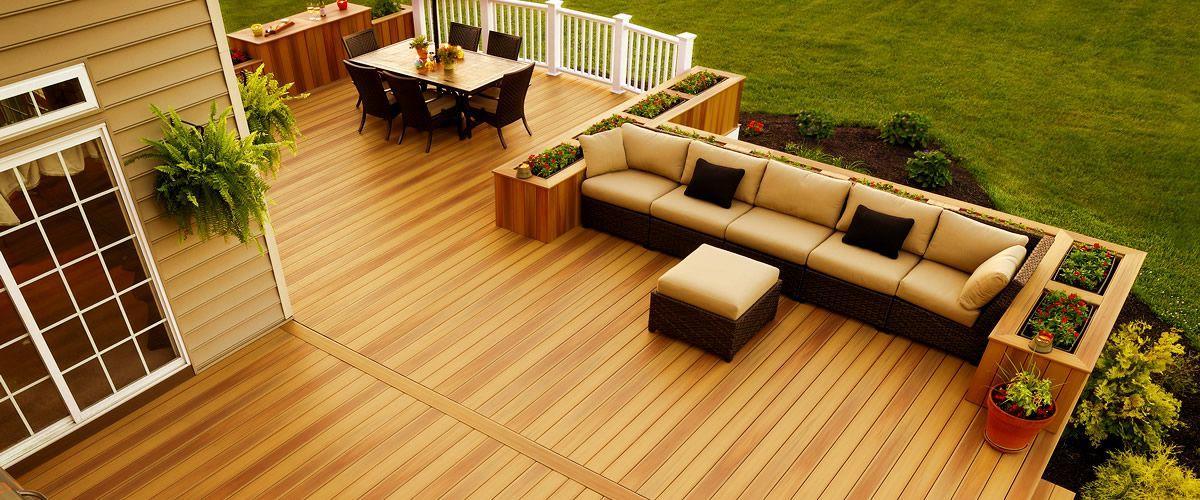 This traditional sandy coloured ship lapped house uses timber throughout the exterior with a warm smooth timber decking that wraps around the house on three sides. The paneling even runs up onto the planters and outdoor barbeque area so it feels as if the space has been carved of the same homogenous material. The space creates a little pocket for a built in massive outdoor couch and dining area beside the BBQ to make this the quintessential outdoor entertainment area.
Conclusion
As you can see, when it comes to terrace board you can use it just about anywhere you like! From beautiful outdoor decks to super unique partially submerged timber lily pads, wood paneling has your back. It can become the feature material for your house or just an accent piece in a particular spot. Different shades or wood grains can be juxtaposed against one another to truly show off the true beauty of this natural material. Its rustic beauty is unmatched in any setting to make your space feel comfortable and cozy.
This aesthetic is so easy to personalize and make your own, no matter where you put it, so why not consider wood paneling when you next want to update your home with something new.