Everyone loves to enjoy the fresh air and warmth outdoors but I guarantee that a set of well made and nice looking furniture will make you enjoy all of that much better. To make your task easier I took time and came up with some super unique, appealing and high quality commercial outdoor furniture. Whether it is for the pool side, outside your restaurant, patio, garden or porch, these elegant ideas are just the way to go. I have featured 47 of the very best commercial outdoor furniture that will make your stay outdoors worthwhile each and every single day, take a look to choose which one is your favorite…
Check Out The Collection of 47 Amazing Outdoor Furniture Collection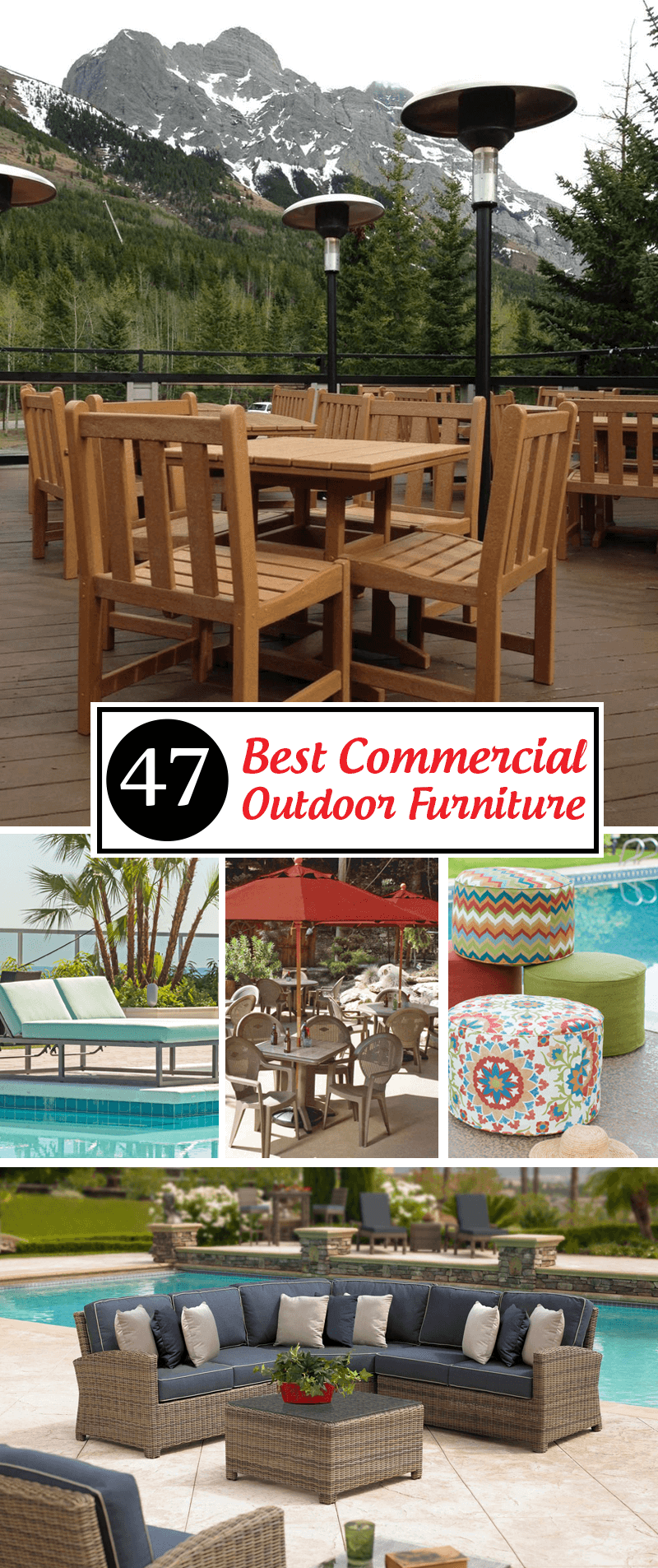 1. Aluminum Outdoor Patio Furniture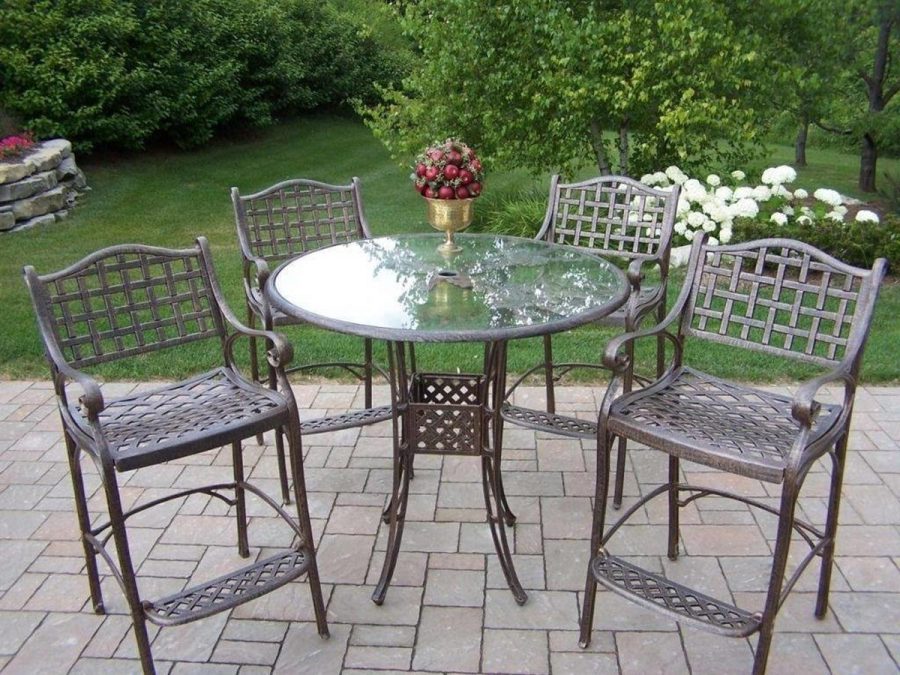 For hotels and resorts, this set of aluminum outdoor patio furniture will definitely be the perfect pick. With its super beautiful grey finish and checkered designs, the set has a very elegant appearance to attract people from all classes. The set includes a medium height glass top table and four chairs to accommodate you and your friends or family. Both the chairs and table are made with curvy bottoms to avoid causing any kind of damage to your patio. With high quality aluminum well curved and smooth chair armrests anyone would enjoy the flawless view outdoors on this set of aluminum patio furniture.
2. Aluminum Stainless Steel Outdoor Furniture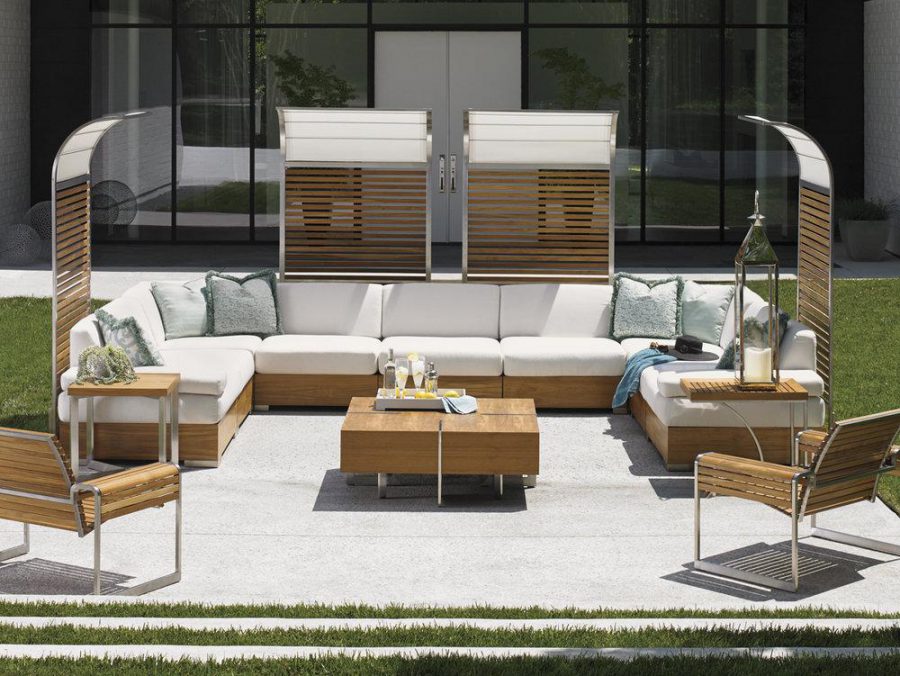 With its contemporary design and super attractive shiny aluminum finish, this stainless steel set of outdoor furniture. Aluminum is one of the best materials for outdoor furniture but the detail of stainless steel creates a very unique and exquisite appearance which makes this set ideal for all those five star hotels and even homes for those who love extra ordinary staff. I love this set because of the way stainless steel aluminum perfectly complements the smooth wooden material to create an overly stunning look. It is made up of a short square table, two chairs and long sofa with very well padded comfortable seats and cushions. It will give you the excellent balance of elegance and style.
3. Best Commercial Patio Furniture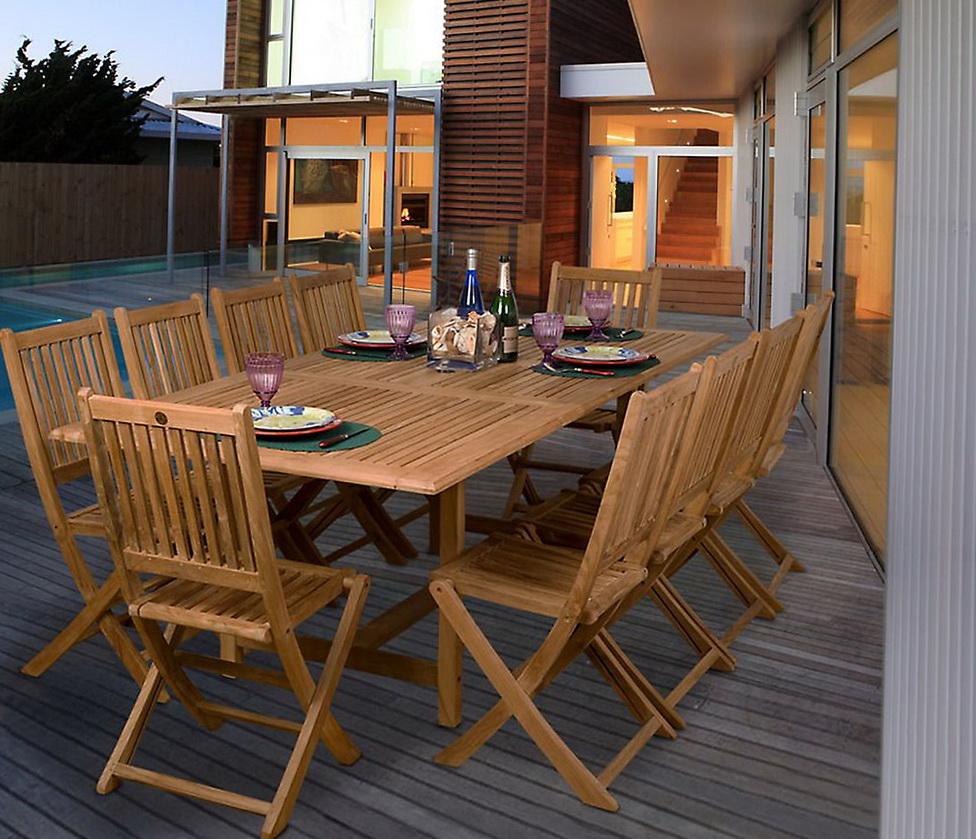 This traditionally designed set of furniture is perfect for any restaurant patio. It comprises of a really spacious table, large enough for 8 to 10 people to dine at the same time. The chairs are designed with criss-crossed and fold-able legs to ensure maximum support and easy storage whenever they are out of use. The design of the chairs matches perfectly well with that of the tables offering you that really neat traditional appearance. This outdoor furniture set is great for homes too, thanks to its chairs that easily fold away for storage so if you have one of those huge families with many members you can as well consider trying it out.
4. Best Pool Furniture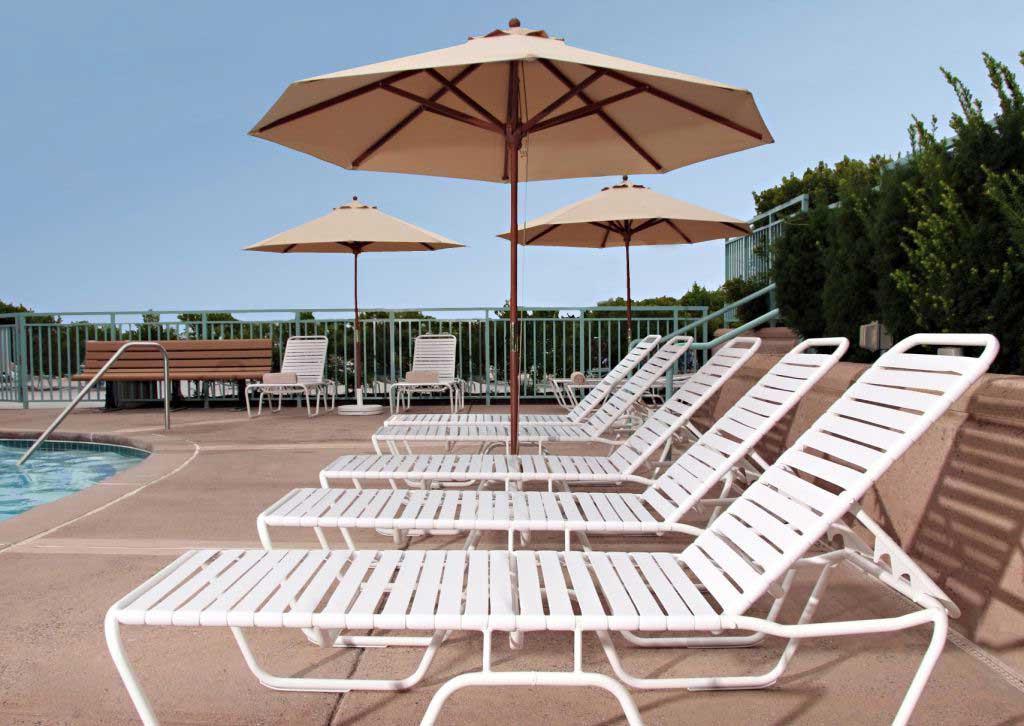 After or before having that relaxing swimming session you will need to enjoy the breeze of the sun. The all white aluminum pool benches are designed with long lasting two inch straps and a very durable aluminum frame. For your hotel pool lounge, patio or pool deck, these benches have the classy appearance you need. These commercial outdoor furniture are made with protective glides on the legs to avoid scratching the surface and they can easily be adjusted to four different positions. When it comes to storage, it is very simple to stack the benches away. They are just the perfect companion for the swimming pool.
5. Best Wicker Furniture For Garden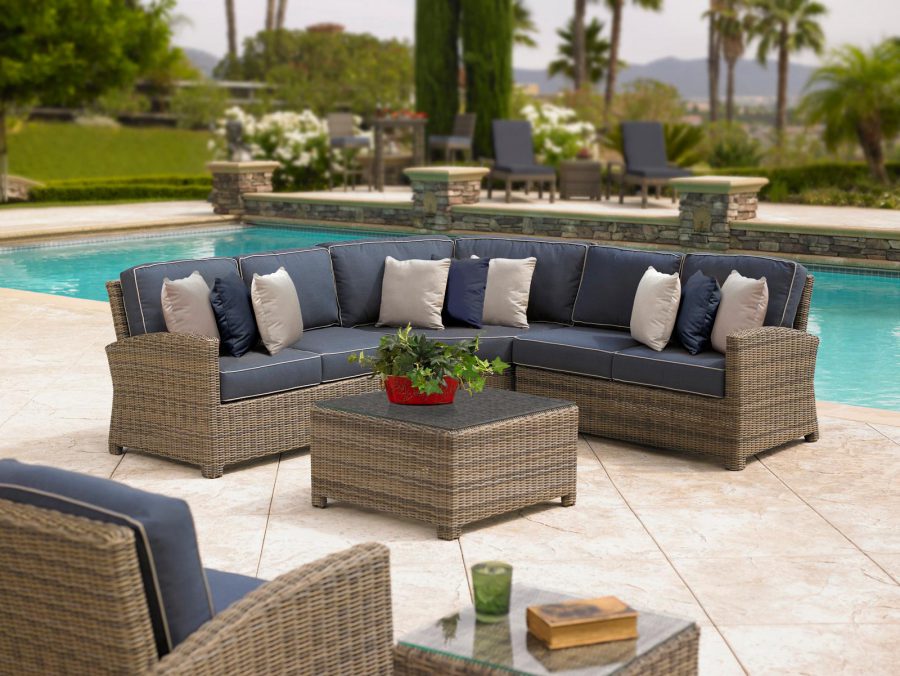 This modern four piece rattan outdoor wicker furniture set is without a doubt the most appropriate choice for your garden. The entire set is designed with warm neutral colors to create a very warm and beautiful addition to that gorgeous garden of yours. It features a very sturdy steel frame wrapped up in all weather rattan wicker, rattan is very beautiful but most importantly it is detailed with wicker that is sturdy enough to withstand all kinds of weather. For added comfort it comes with well cushioned pillows and seats. You will enjoy an entire evening in the garden on such good looking and comfortable furniture.
6. Blue Outdoor Sofa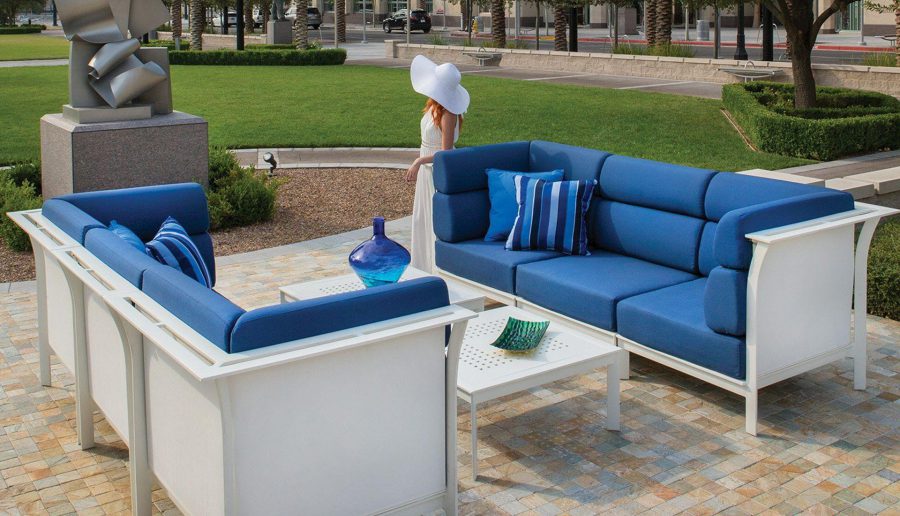 Quit all that traditional wooden brown furniture and look out for something more daring, some color will definitely not do you bad but rather make your whole outdoor area much more attractive. This set features very smooth uniquely designed cushions in blue color for a very modern appearance. The frame is made of sturdy aluminum furnished white for that perfect blend with the blue cushions. The cushions are removable which makes it quite easy to wash and maintain.  The set comprises of two three seat chairs and two tables plus cushions some in plain blue and others in multi colored plaits. Its lightweight and durability makes this furniture set worth trying out.
7. Cheap Outdoor Furniture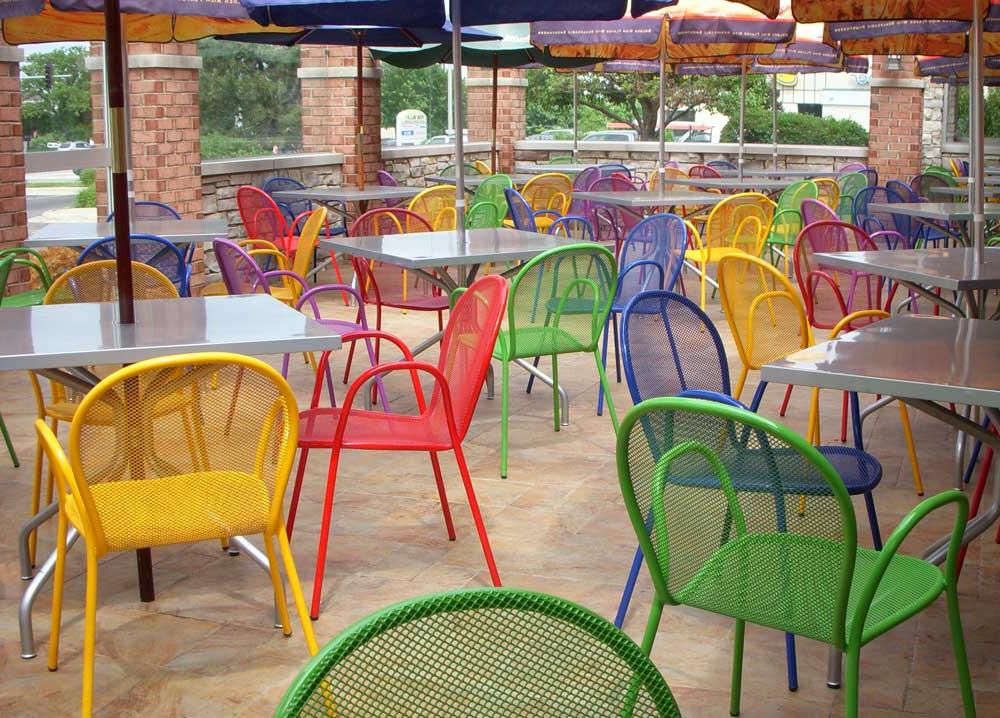 Sometimes you don't have to spend too much to get high quality furniture that will make your outdoor space look completely amazing. Take for example these multi colored chairs and aluminum tables will get your attention the very first time you set eyes on them. The mesh design is super unique and the idea of chairs having very many different colors is very brilliant because that way it attracts all kinds of people including men, women, children and teens among others. To avoid the monotony of colors all over the place the tables are left in plain shiny silver and placed at a height that makes it very easy for anyone to reach out for their drink or whatever they may be eating.
8. Cheap Outdoor Restaurant and Seating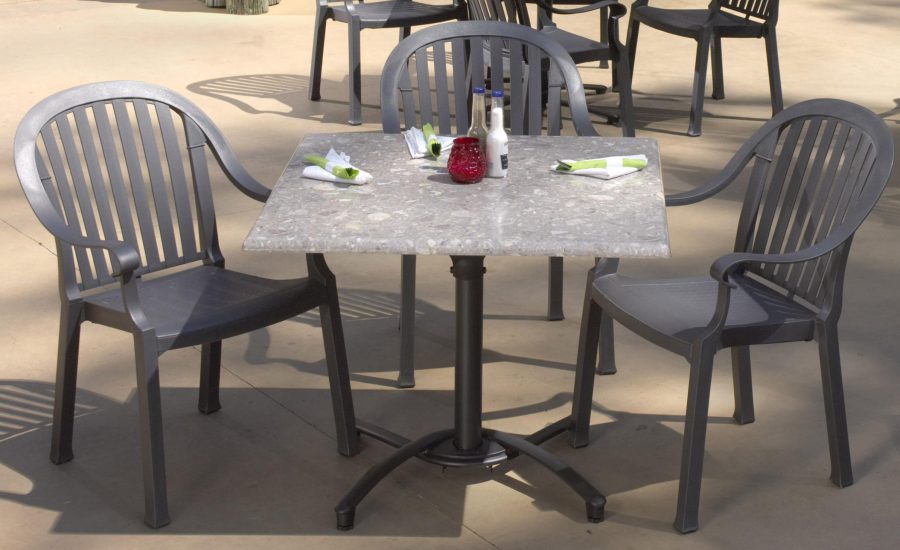 If you are planning on starting a restaurant soon here is a fantastic set of furniture that you should consider without having to worry about over straining your budget. This outdoor restaurant furniture set comprises of a square table and four chairs all nicely finished with one of the most elegant colors, grey. This simple set will add a contemporary look to your restaurant. The table displays a well designed smooth top while both the table and chair bottoms are detailed with rubber to ensure that the floor stays in excellent condition. For as long as you take good care of your furniture, you can be rest assured it will last for a very good period of time.
9. Classic Outdoor Lounge Furniture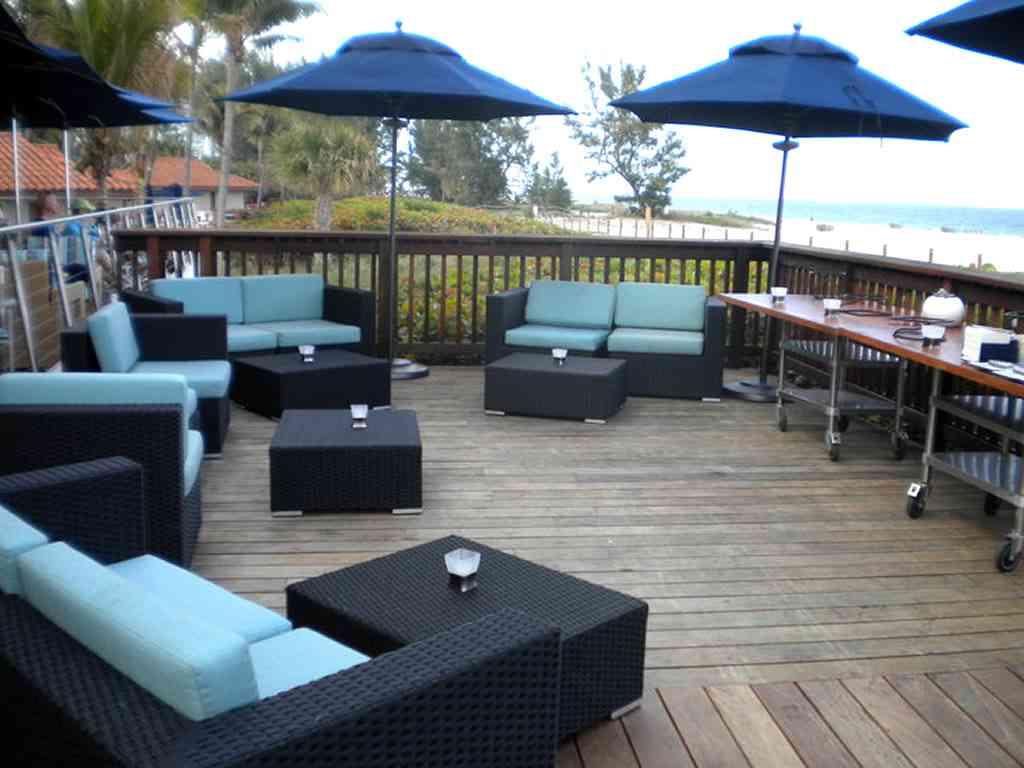 For that super gorgeous and classy lounge area, the furniture set featured in the picture above is such an excellent choice. Besides the extremely comfortable traditionally designed seats, the set also includes very rare tables to allow you sit while you sip on your favorite drink. It combines an amazing modular design together with incredible colors to make your lounge beautiful like never before. This furniture set is completely effortless as it doesn't require assembly like many other pieces do. It is weather resistant and very durable all thanks to the high quality construction it is designed with.
10. Classy Simple Outdoor Furniture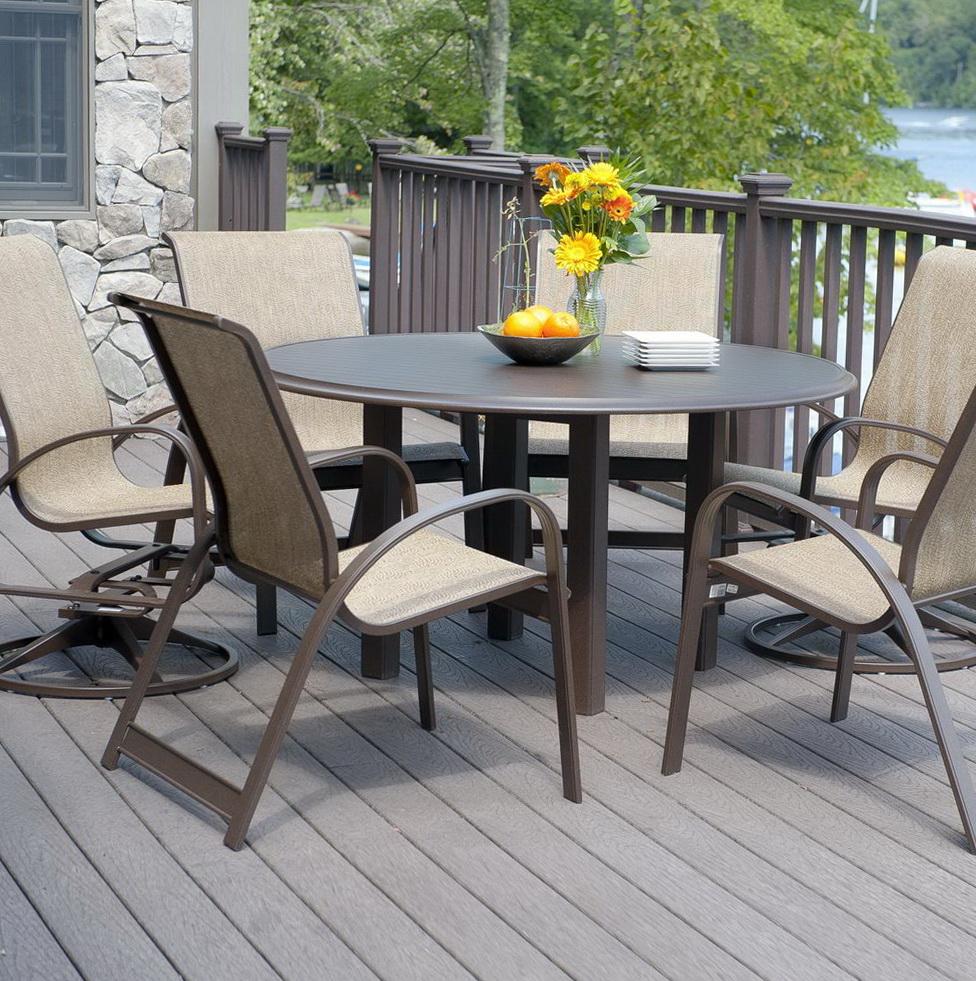 Simple is always the best way to remain classy and this furniture set just proves that, not too many colors or extra ordinary designs but still very attractive and chic. There is no definitely no way you will fail to enjoy your outdoor area with such a fabulous set of furniture. The seven piece set comprises of six comfortable chairs and a smoothly furnished round table, this is enough for you and your guests to sit and enjoy meals together while admiring the beautiful nature and fresh air outdoors. For those of you that have modernly designed yards, you can always spice it up with this simple and classy set of furniture.
11. Comfortable Furniture Set With Fireplace
An outdoor fireplace doesn't only create most the most beautiful scenery but also adds a touch of elegance to your yard, patio or lounge. If you by any chance have any of an outdoor fire place at home or at your hotel, this comfortable furniture set will be a great complement for it.  It is a set of two chairs and a slim table all made from high quality wood and detailed with a very nice dark shade of blue to match up any outdoor setting. The chairs are given a slanting design for full back support and it also comes with cushions for even more comfort.
12. Commercial Outdoor Benches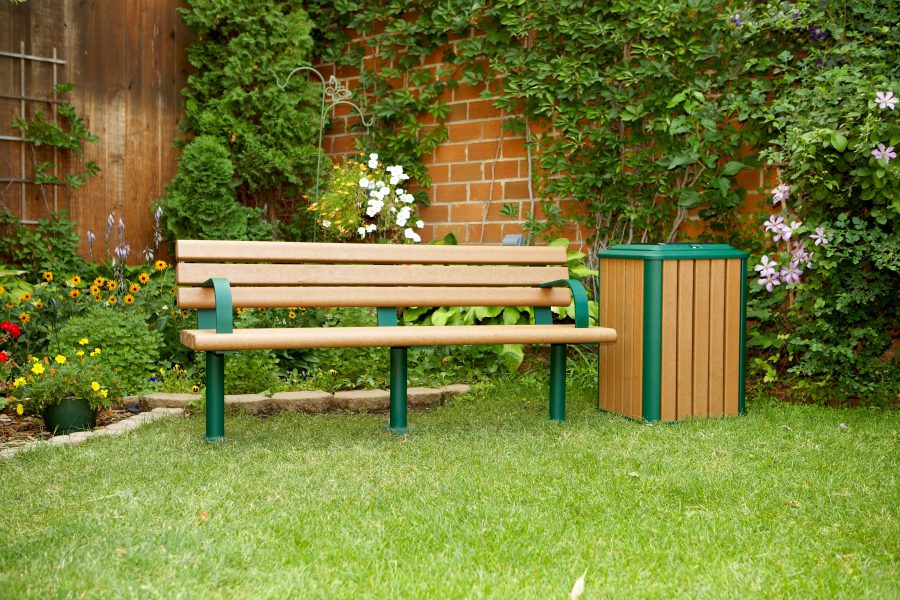 The combination of stability and a very classic look makes this outdoor bench worth spending some money on as it will make such a fantastic addition to your yard or garden. With its size, the bench is perfect to accommodate about four or five either for a discussion or simply hanging out. Its light brown shade is highlighted with green arms and legs with large surface area on the bottom to avoid damaging your terrace. It is designed from commercial grade wooden material that is very durable and long lasting even through harsh weather conditions.
13. Commercial Outdoor Chaise Lounge Chairs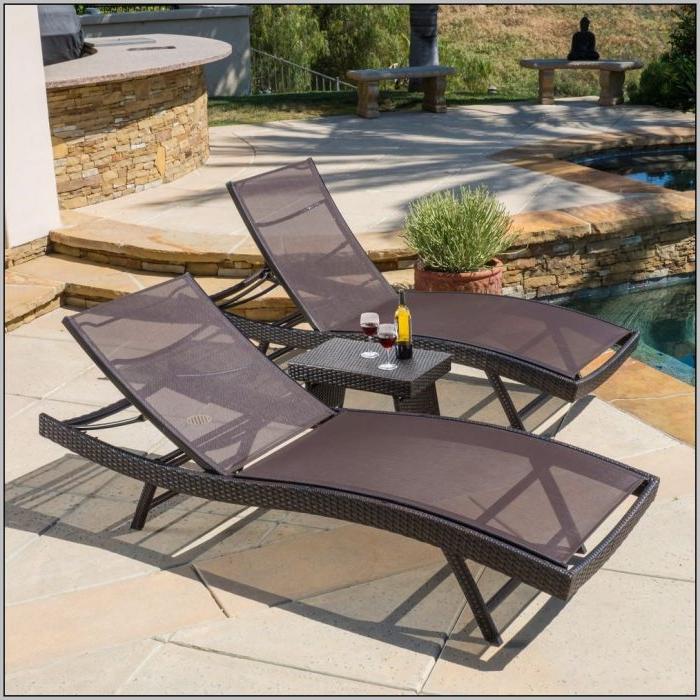 Add the perfect dining spot to your lounge with this commercial outdoor chaise lounge chairs. This is an eight capacity bench to accommodate you and your family or friends for a social gathering or business meeting. Whether it is during those hostile summer or winter seasons, this chair is designed with the tough material to resist and stand the taste of time year after year. It flaunts a very simple design in light brown and sky blue details to create the perfect relaxing spot in your lounge. It is a three piece set with a table and two side chaise chairs, it doesn't require any assembly so you will get comfortable immediately.
14. Commercial Outdoor Wicker Furniture Ideas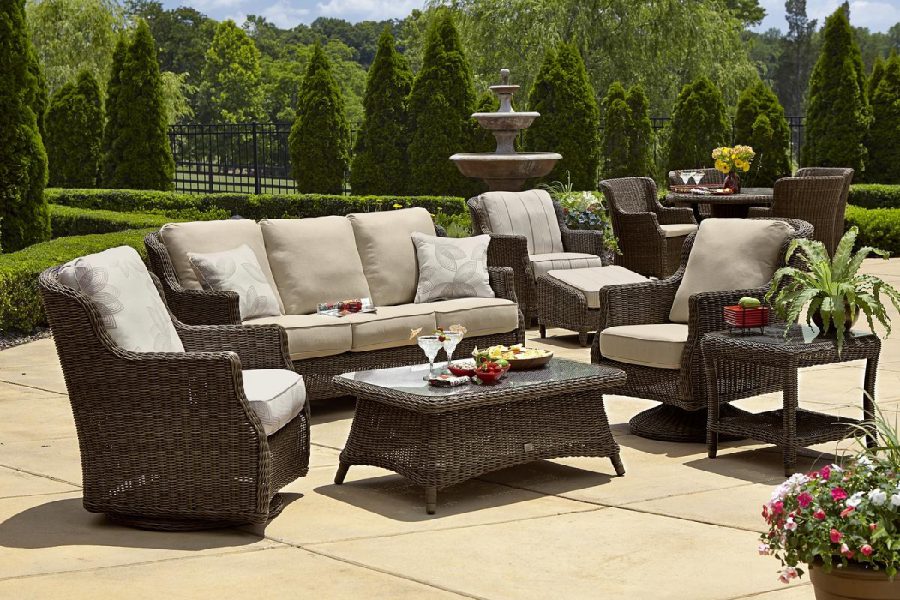 With wicker there is absolutely no way you can go wrong reason being it is one of the best materials when it comes to outdoor furniture. This dark brown commercial wicker outdoor furniture set is highly functional yet at the same time very modern and stylish. With its resin wicker weather resistant material and removable washable cushions it requires very low maintenance every after a while. Because it comprises of so many different pieces, this set can be used in very many various settings both commercial and residential. Like I said this set is very functional so you may not only stop at using it outdoors but indoors as well if you so wish.
15. Commercial Park Benches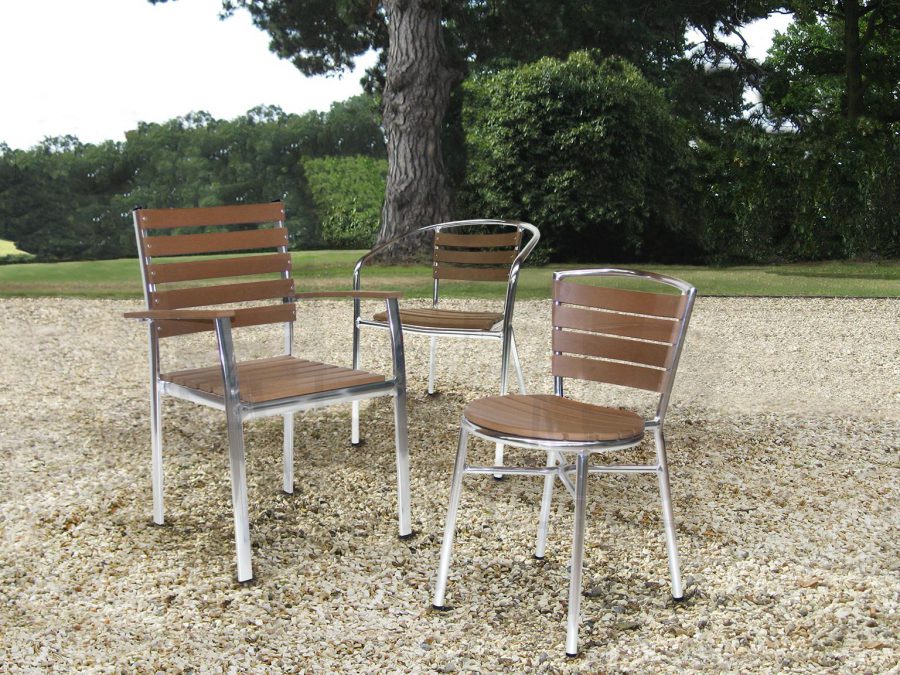 This is the perfect furniture set for parents who love to take their kids out to the park. It is a three piece set with a chair for mom, dad and their little one. Featuring the best quality aluminum frames and well furnished wood to create that natural but at the same very modern appearance. These benches are all light weight which it very easy for you to carry them inside when weather gets too harsh or when shifting to any spot of the park that feels most comfortable. Legs are enclosed with plastic on the bottom to prevent any damages.
16. Commercial Patio Furniture Set For Bar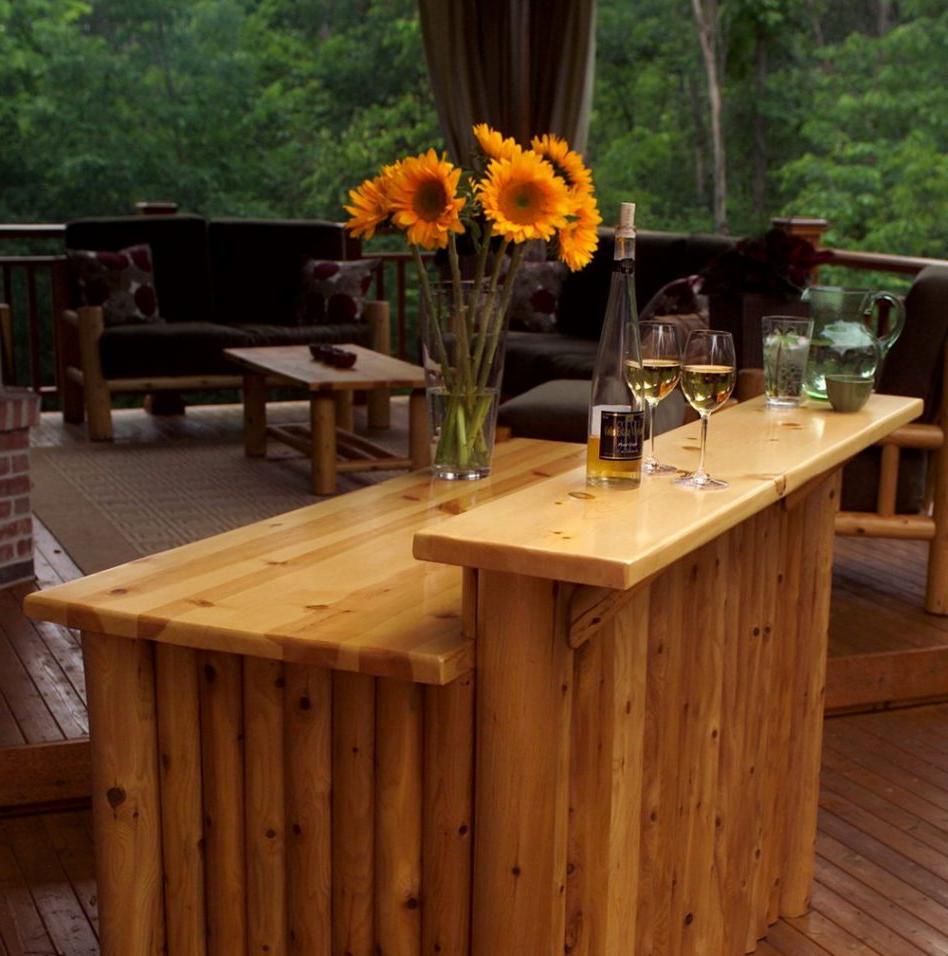 I bet everyone would love to sip on their favorite wine or whisky while enjoying the breath taking appearance of nature outdoors and for that here is commercial patio furniture set made specifically for the bar. Made from the highest quality smooth and well furnished wood, the two level bar table retains its natural look while at the same time offering that super stylish addition to your outdoor space. It also comprises of sofas with super soft and comfortable dark brown cushions. With a bar like this, you will definitely attract  great deal of customers with a bar set with such beautiful but very rare furniture.
17. Commercial Patio Tables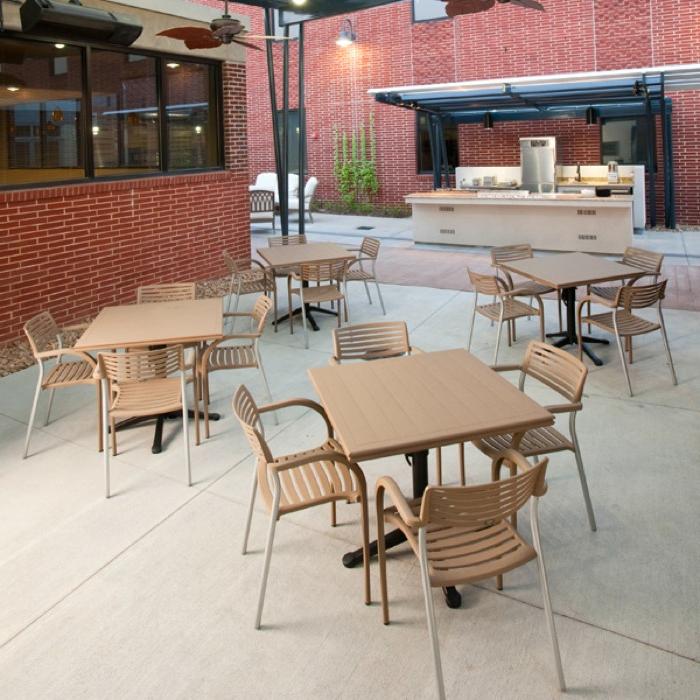 Improve the outdoor space of your hotel, restaurant, cafe, bistro or even home backyard with this super elegant set of commercial patio furniture. The set includes square shaped well textured tables to prevent drinks from easily spilling off from the table while the chairs are constructed from high quality aluminum and coated with smooth brown plastic material. Both chairs and tables feature durable and non-fading material which enables them to last for a really long period of time. They are designed to resist all kinds of weather however carrying them away when the weather gets too harsh won't hurt since they are all lightweight.
18. Commercial Patio Chairs For Garden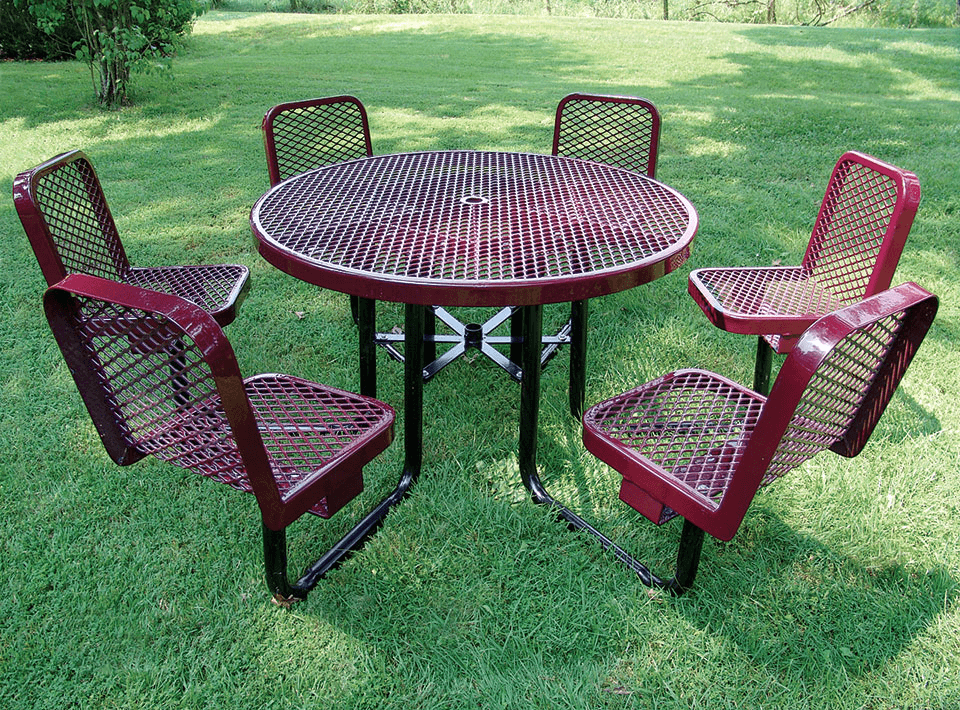 With its spacious round table and firm back supportive chairs, the commercial furniture set in this picture would absolutely be the most appropriate for your garden. Both the chairs and tables are designed from heavy gauge and premium quality metal mesh that is very durable and coated with plastic material which makes them much more comfortable and more resistant to different kinds of harsh weather. The corners on the chairs are beveled to ensure maximum safety of little ones during play time. This furniture sets' coating is corrosion free and extremely easy to clean so you will definitely not have to worry about maintenance.
19. Commercial Teak Furniture Set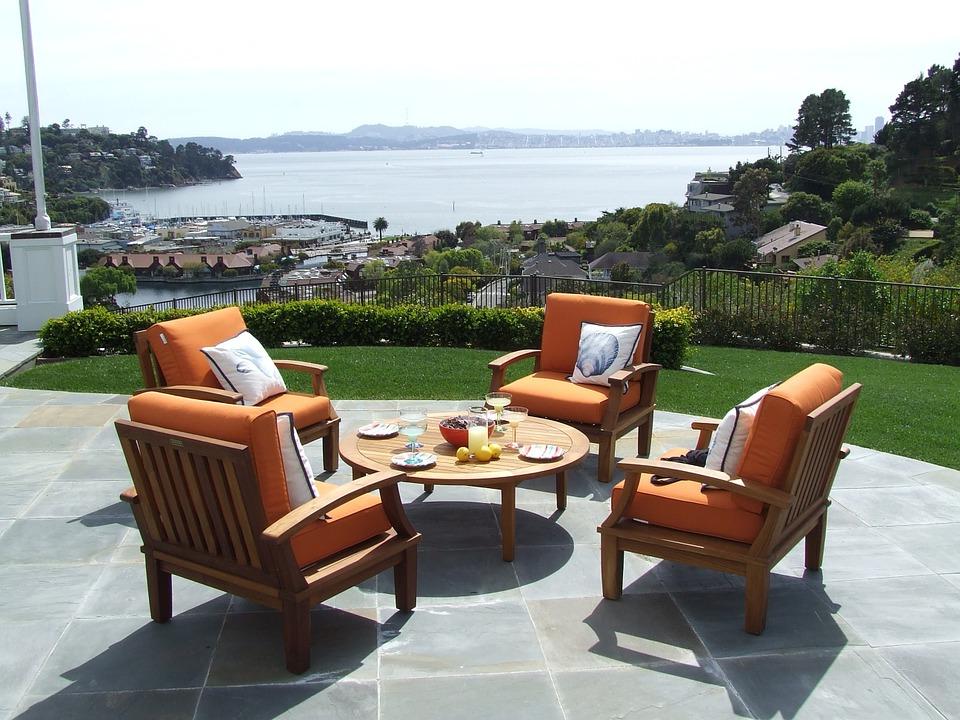 If you love going for daring lifestyles then I can assure you that this is the furniture set that you have been looking for. Orange as a color is beautiful on its own but the way it matches with the furniture will create a much more appealing look for your back yard. The table and chairs are finished with a very natural shade of brown but most importantly constructed from premium quality wood meant to lasts for years. If you have enough outdoor space you really need to make use of that space by adding to it this gorgeous set of commercial teak outdoor furniture.
20. Cool Outdoor Furniture For Cafe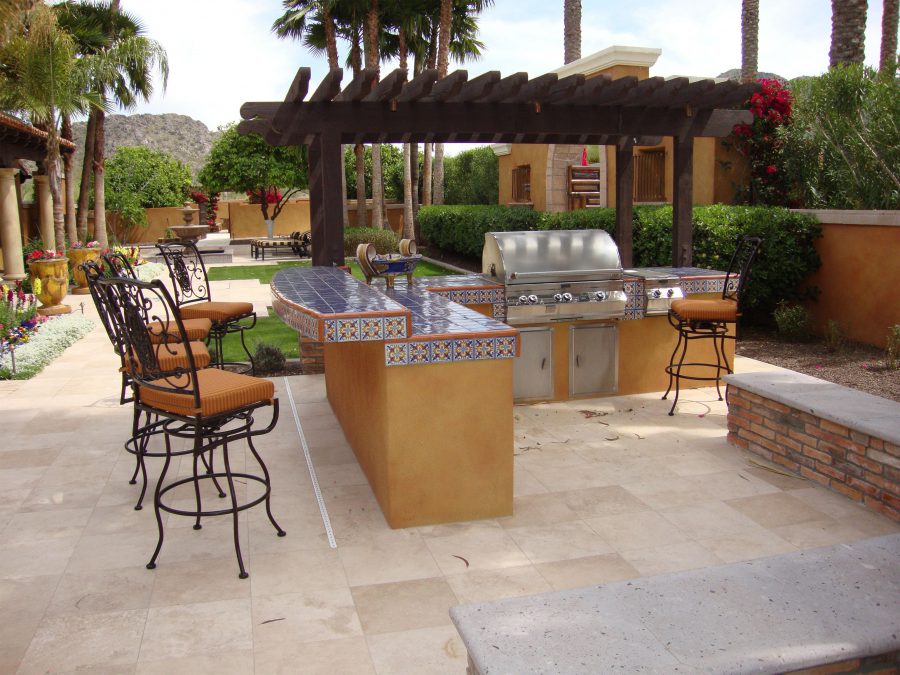 If you thought high chairs were only meant for the bar, well I guess you got that wrong because here is a beautiful set of high chairs meant for cafes. Most of the cafes have the same furniture settings and customers are getting tired of it therefore if you are planning on setting up one to beat the competition, this is one really unique idea to start with here. With its nicely molded aluminum frame and modern design, this furniture set will definitely make you cafe look stunning and outstanding. For added stability, the chairs are made with wide spread legs and to ensure maximum safety of your floor, the chair legs are enclosed in plastic material at the bottom.
21. Hexagon Outdoor Furniture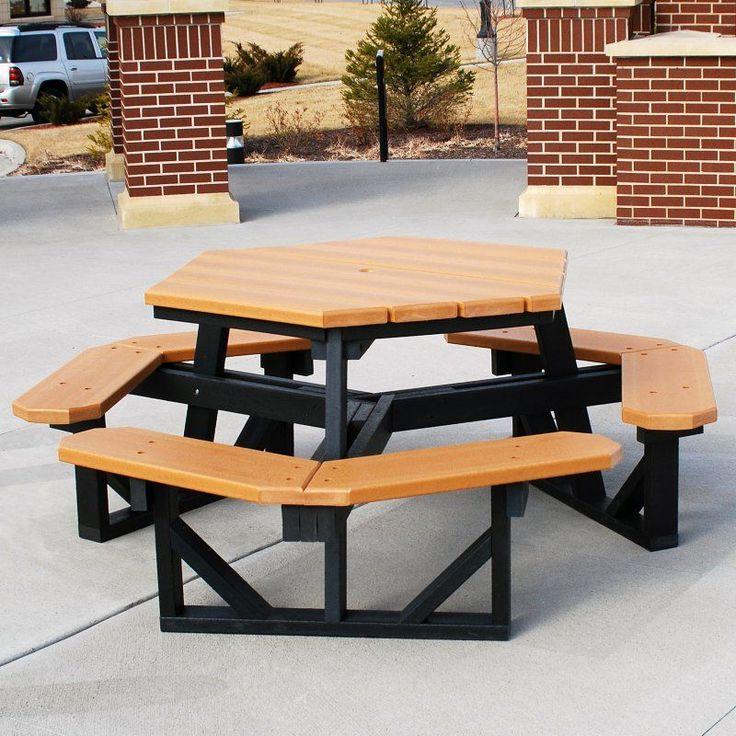 Put together from many different sized slats of resin wood, this hexagon shaped table has taken over people's hearts in the industry simply because it doesn't only stop at the unique design but also adds to it comfort and durability. It is constructed from the best quality recycled plastic, naturally furnished and in case you need an umbrella you will only have to insert in the middle of the table as it comes with the umbrella hole already drilled in. Its features a vandal resistant surface for greater resistance towards hard weather. The hexagon outdoor furniture is availed in various colors that you can choose from.
22. Inexpensive Outdoor Furniture Ideas For Your Home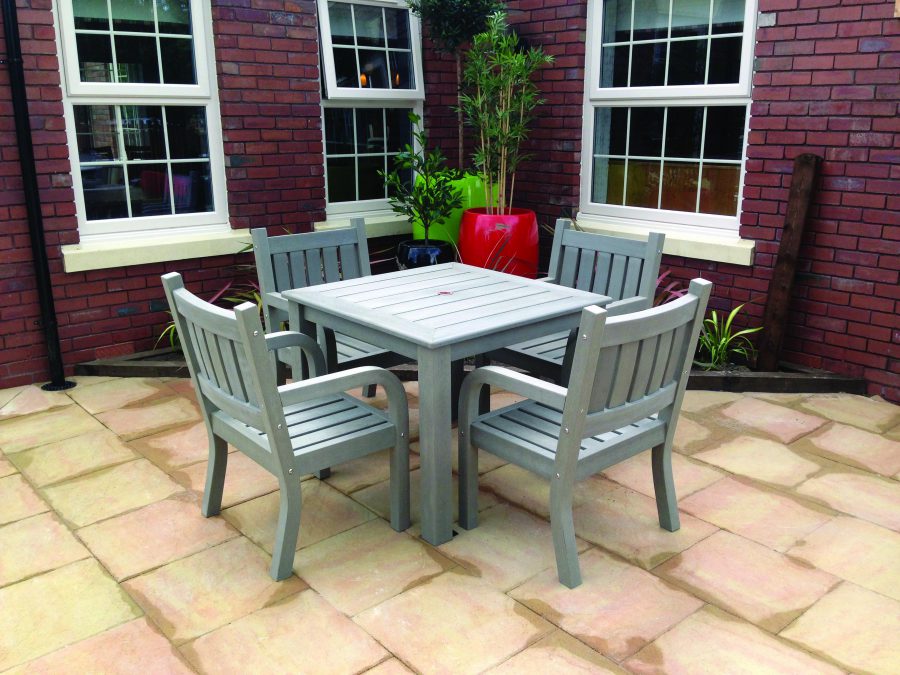 You can turn your home into one of the most outstanding ones without having to strain your budget too much all thanks to this beautiful grey furniture set. It is designed from the type of wood that is amazingly durable as it is resistant to mildew, decay, rots, termites and fungi. Even with its great quality, this type of furniture is not overly priced so you can definitely have the perfect relaxing spot in your home while saving some money for more important things. The set includes one square table and four chairs which makes it ideal for both indoor and outdoor use.
 23. Inexpensive Outdoor Furniture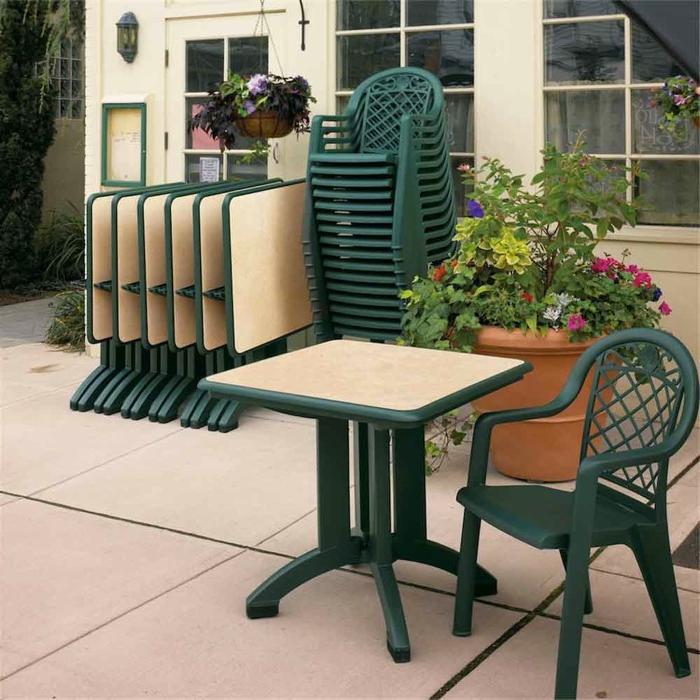 In case you have been looking for outdoor furniture that doesn't look like just any cheaply made staff but at a friendly price well your search has finally come to an end because you have finally found what you want. This is a very stylish, practical table and chair set appropriate for anyone who doesn't have enough storage space. What I love the most about these tables is how lightweight and flexible they are, when you are done using them you simply have to fold the away. This amazing set can be used in so many functional settings for example when you have extra guests at home or hold small gatherings and parties.
24. Iron Restaurant Patio Furniture
Along with the rest of your outdoor decor, this iron restaurant patio furniture set will help enhance the appearance of your restaurant's outdoor space. Designed from tough and sturdy iron, the set includes a round table and four chairs with very stylishly molded legs and checkered designs for a more appealing look. For added comfort the chairs are made with curved arm rests and back rest on to which you can lean and enjoy dining with your friends or family. The bottoms are enclosed in plastic to avoid damaging your patio and because iron is such a long lasting material, you will enjoy this set for so many years.
25. Metal Frame Outdoor Furniture Set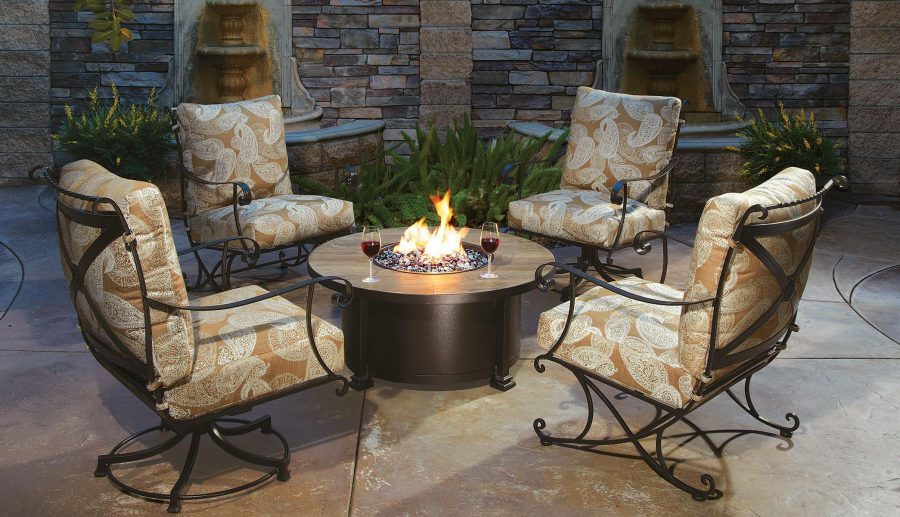 There is no way you can still give excuses for not adding that super classy and outstanding look to your patio or backyard when you can have such incredibly beautiful furniture. The furniture set features high quality powder coated steel metal frame that is very lightweight but unlike other metallic materials lasts a really long period of time. Cushions are made from soft foam to give you all the comfort you need while you enjoy the warmth of your outdoor fireplace. Thanks to its durability, this furniture set is really appropriate for various outdoor environments such as patios, lounges and backyards.
26. Modern Outdoor Wicker Furniture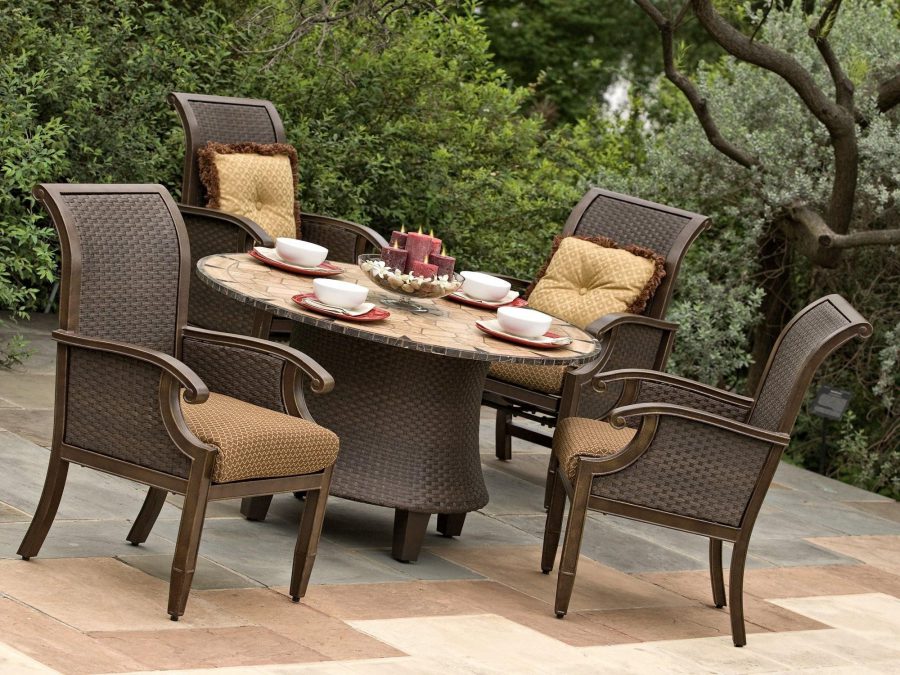 Make that brave transition from traditionally designed furniture to something modern just like the modern outdoor wicker furniture displayed above. Designed from high quality and durable wicker this furniture set has the ability to support above 300 pounds on each seat. The entire set is wrapped in premium quality and high grade wicker in a very natural but beautiful dark shade of brown. It includes a very uniquely molded table with a top in attractive hexagon patterns and four chairs with well padded cushions for maximum comfort. Whether it is on the balcony, lounge, patio or backyard, you can be rest assured this is the perfect set to make your home look modern.
27. Outdoor Bench Set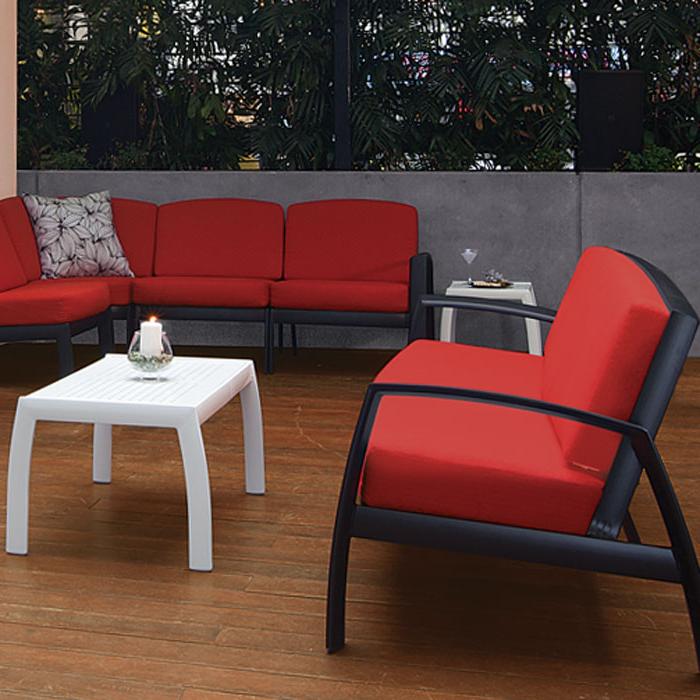 And for the red fanatics here is a bench set made just for you to have that smile on your face, red being the stunning color that it is, I can guarantee this furniture set will give you outdoor space the most beautiful look you have ever seen. It is always good to hang with a friend or two, this is why this bench set is made with benches that can accommodate more than one person. The cushions are clothed up in weather proof and long lasting material that is very easy to clean. Besides the ergonomically designed benches, the set also comes with white tables to enhance the already divine appearance.
28. Outdoor Benches For Garden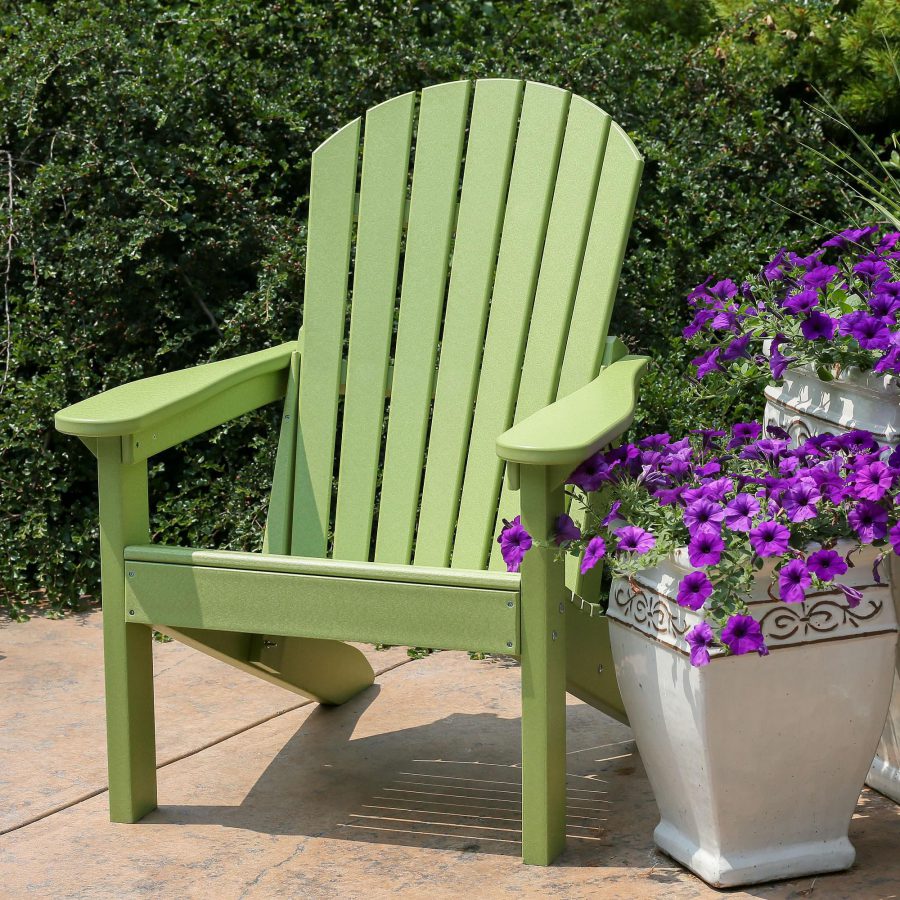 Take advantage of this garden bench's comfort to enjoy the warmth and beauty of your garden. Because it is designed from the best quality wood this bench is guaranteed to last for a really long period of time. The seat is ergonomically designed with curved backrest for maximum support for the back, wide armrests to keep your hands well supported together with a super comfortable seat. Even if you plan on spending hours in the garden, this bench will make you enjoy each minute of your stay there.  Its color is the most appropriate for the garden as it matches perfectly with grass, leaves and several other green plants.
39. Outdoor Commercial Furniture For Restaurant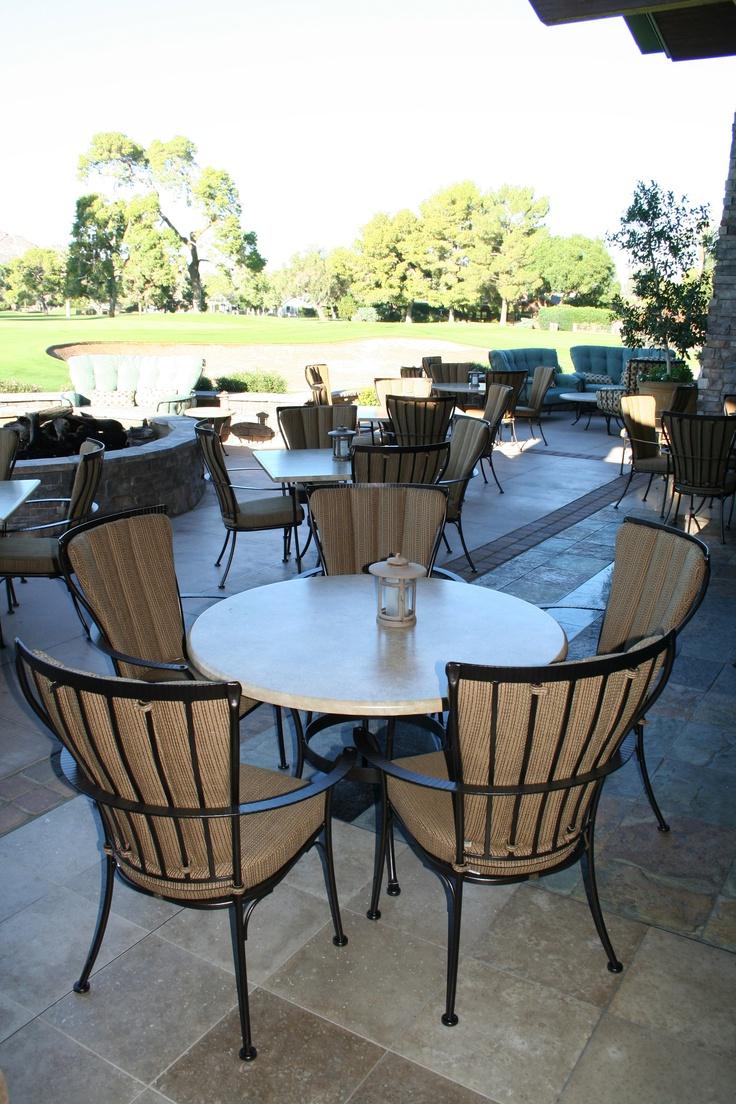 Made from high quality materials and heavy gauge metal this furniture set deliver the maximum stability and firmness. Legs are covered up with plastic just to avoid the table and chairs from hurting you floor. The set comprises a round table with a very smooth top and five chairs allowing you and your peers to enjoy meals together. Despite their amazing quality, all pieces in this set are lightweight so you will not find any trouble carrying them inside when weather becomes too harsh.
30. Outdoor Loveseat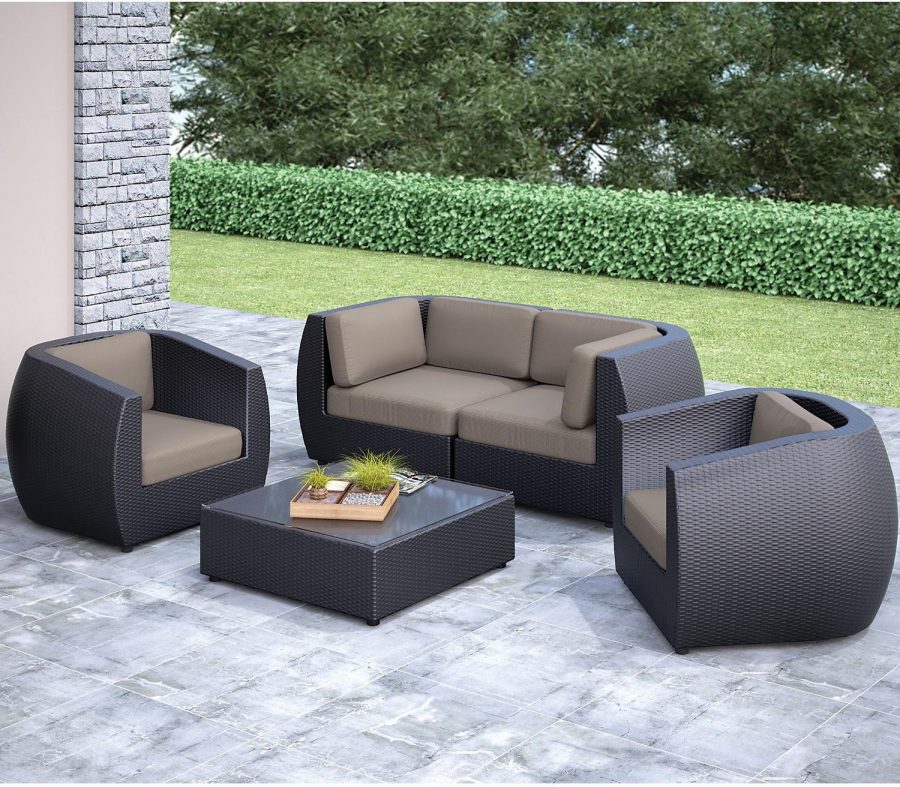 With this outdoor love seat you can turn your outdoor space into the coziest and most intimate place. The color and design of this furniture set creates warmth and a very appealing look for the love birds to have a really good time at any hour of the day. Pieces are detailed with wicker frames and come along with soft cushions to keep both you and your customers in the most comfortable setting ever. This commercial grade furniture set flaunts a very modern and elegant construction making it super functional in both residential and commercial settings. It includes a double sitter sofa, two chairs and a table
 31. Outdoor Ottoman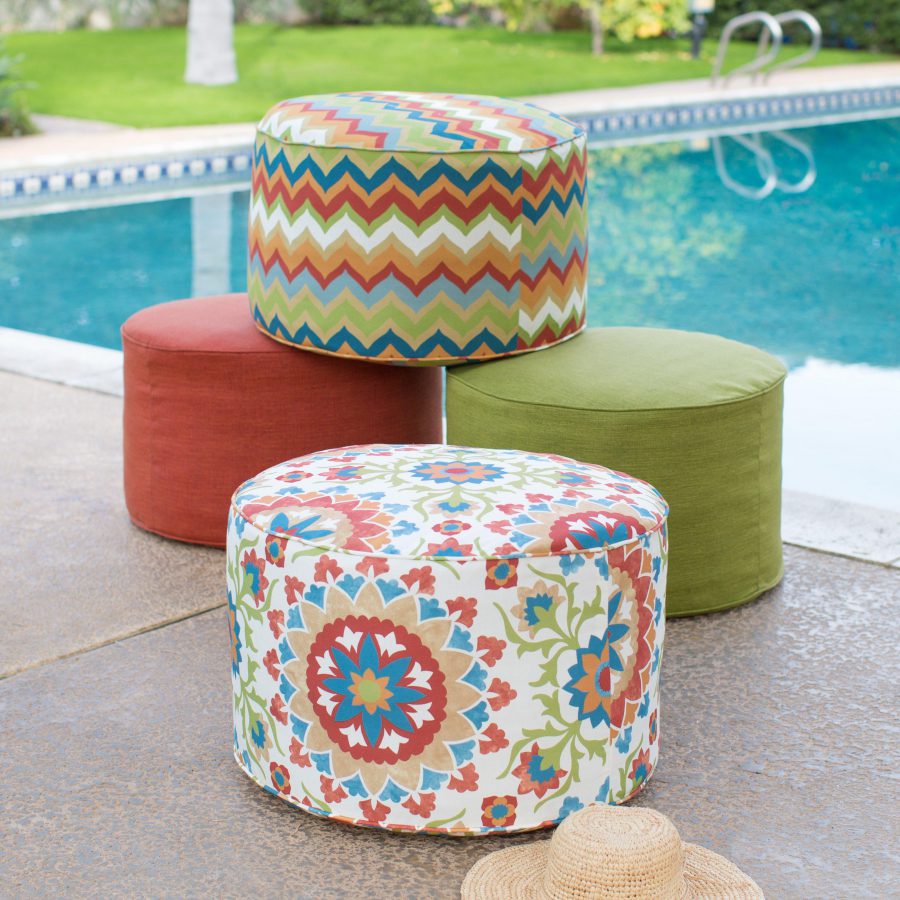 The best way to add that contemporary statement to your outdoor areas is with ottomans, along with all other beautiful decor you have outdoors all you need is decorate it more with this set of eye catching ottomans in floral designs, patterns and some in plain but very outstanding colors. They are enclosed in weather proof materials which not only makes them long lasting but also maintenance a lot simpler. Outdoor ottomans are extremely flexible so they will look good in any part of your yard and if you prefer you can even use them indoors.
32. Outdoor Oval Love Seat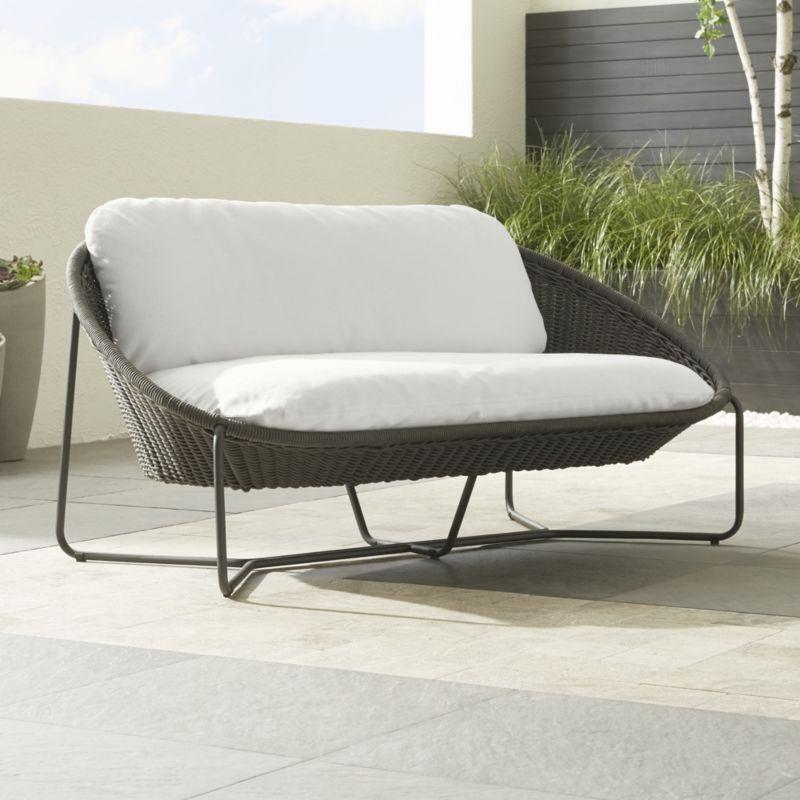 Very simple, unique but above all very practical is exactly what you should expect from this outdoor oval love seat. It displays a really rare but stylish design that will look in any spot of your outdoors. In this pretty piece of furniture you can sit and have a good relaxing session together with your partner while you take advantage of that cool and refreshing outdoor breeze. It features a strong frame wrapped in hand woven rattan and comes with a plush large cushion for extra comfort.
33. Outdoor Restaurant Patio Furniture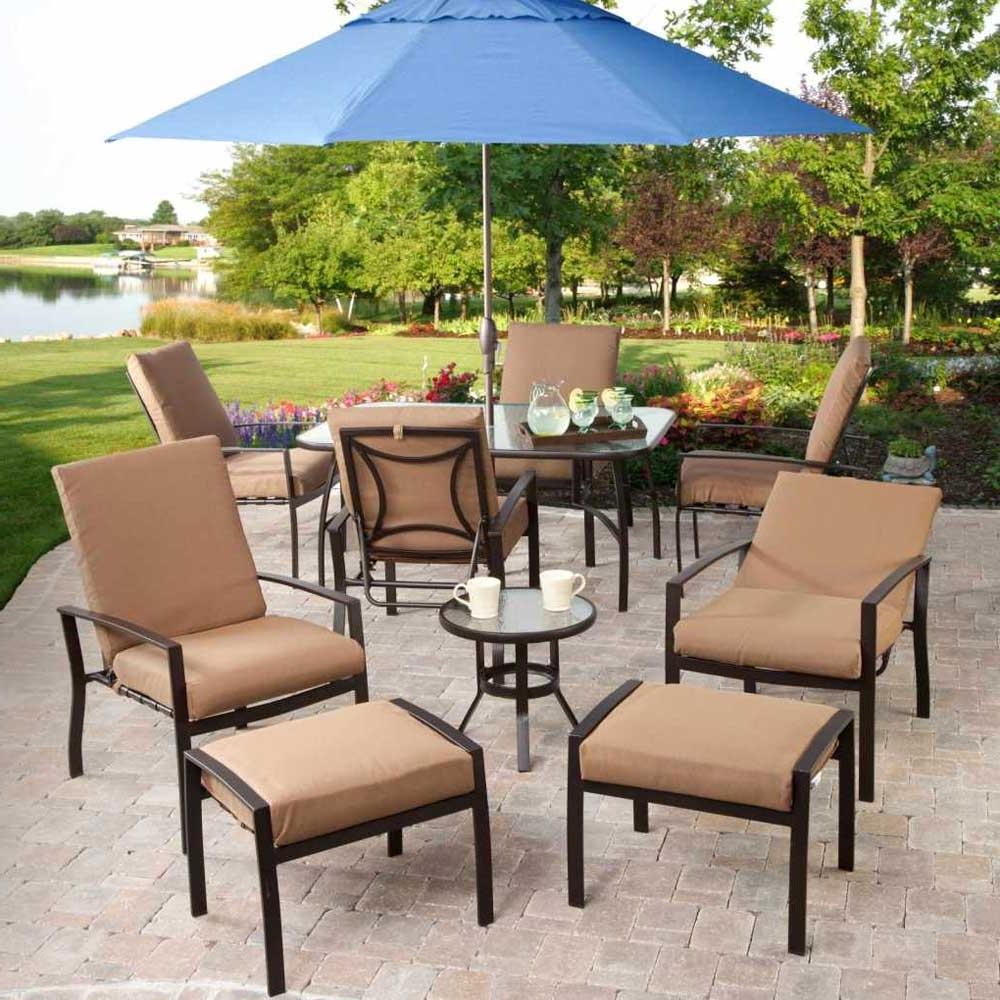 There's absolutely no way you can go wrong with brown in different shades and the set displayed in the above picture proves so. This outdoor patio furniture set is designed with sturdy metal frames in dark brown and cushions in a lighter shade of brown. Cushions are covered up in weather resistant fabric to enable them last longer.
34. Outdoor Restaurant Tables
They are so many ways to attract customers and you restaurant set up is one of those, if you have a restaurant with only high quality furniture you will definitely attract a larger pool of customers as compared to one having just any cheaply made furniture. Here are very sturdily constructed restaurant tables matched up with chairs of the same color to create a very neat and well organized outdoor dining space. This stunning furniture set up is ideal for family gatherings and parties.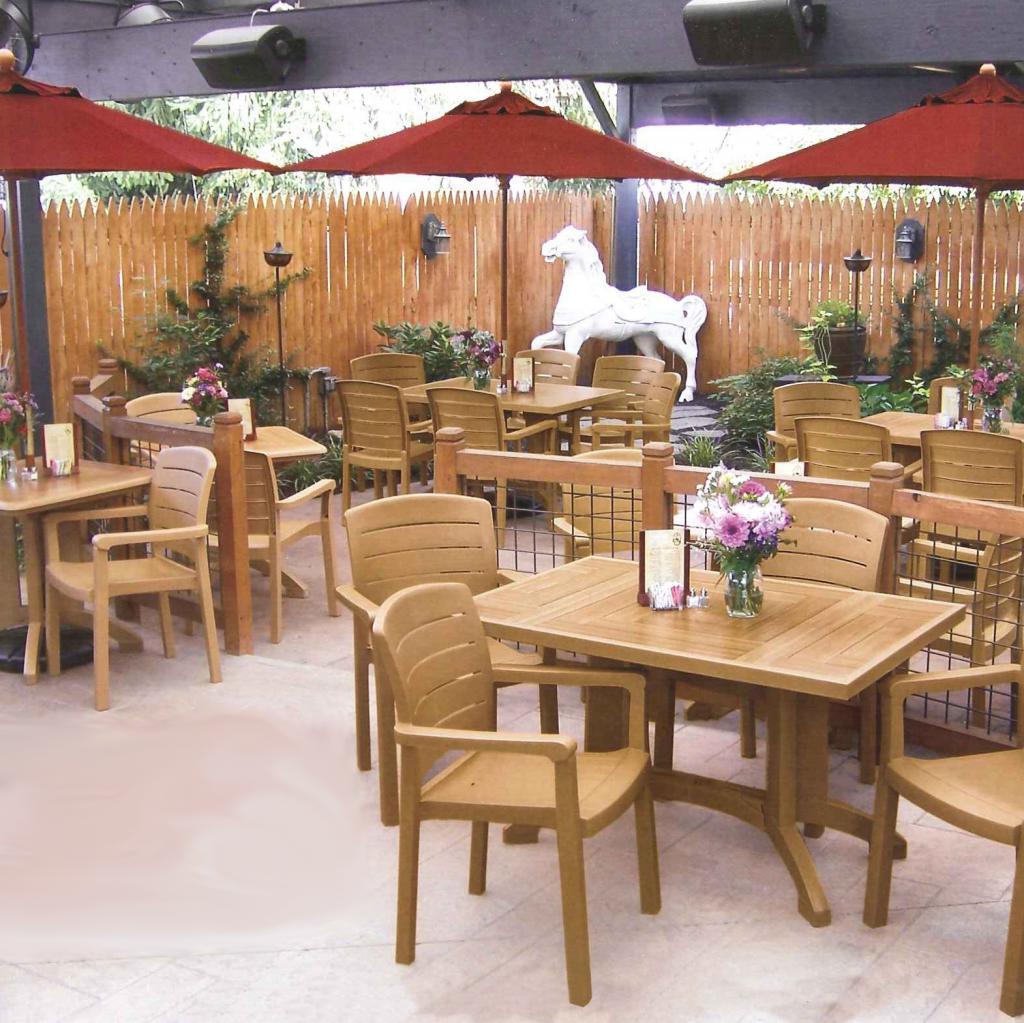 35. Outdoor Swinging Hammock
Featuring a very strong and firm support base, good looking hand woven rattan and easy assembly, this outdoor swinging hammock is absolutely worth each and every penny you will spend on it. It comes with a shade attachment just in case it gets too hot out there, you will not suffer the heat but rather continue enjoying the cool outdoor breeze. Furthermore the swinging hammock comes along with soft and comfortable cushions plus a well padded chain to make your leisure session completely filled with lots and lots of comfort.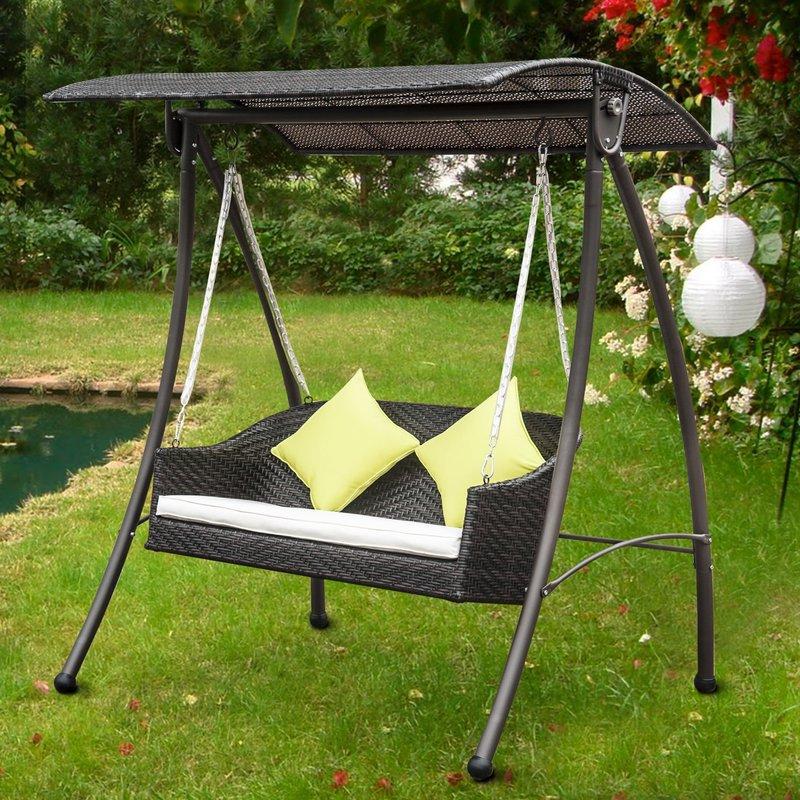 36. Outdoor Wooden Furniture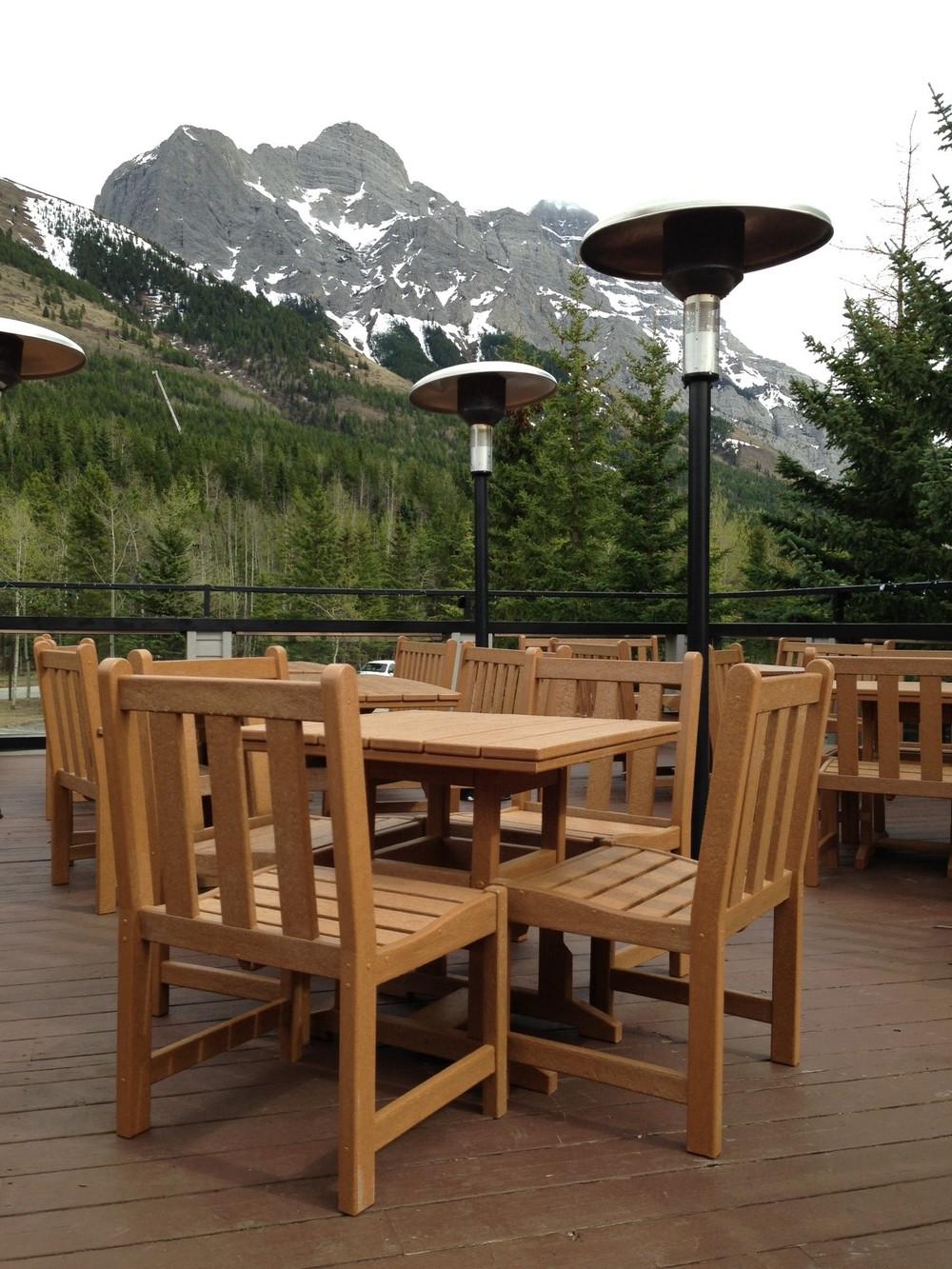 Wood is one of the most reliable materials for outdoor furniture especially if it high quality wood just like the one displayed in this picture. These sets of wooden chairs and tables create a very natural but appealing appearance in both commercial and residential places. Accommodate lots of people at the same time while making your outdoor space look super elegant.
37. Patio Dining Tables and Chairs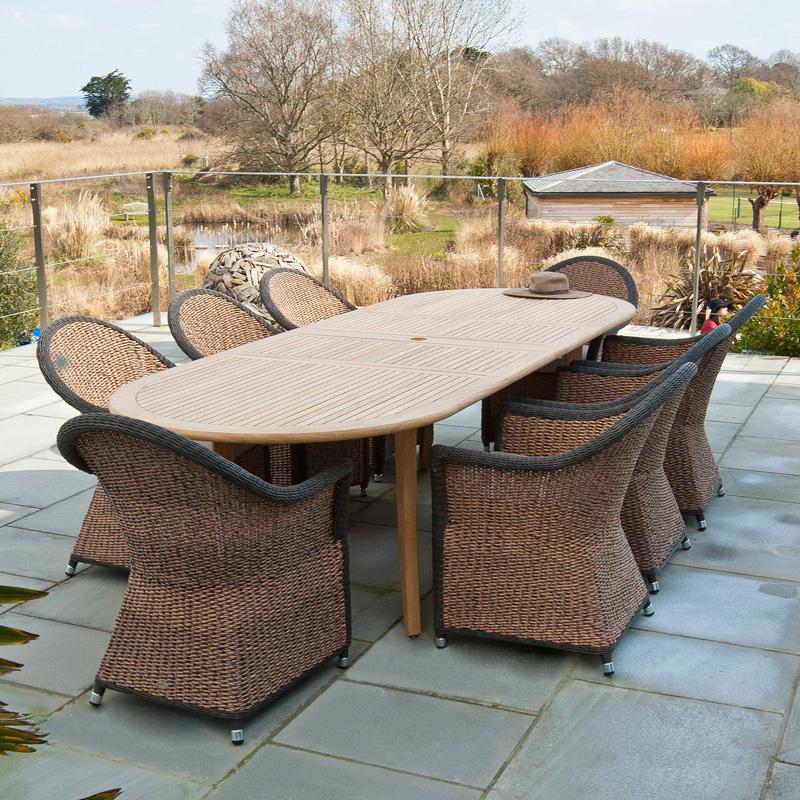 Meals will even taste better when you dine on such a beautiful dining table, the table is beautifully designed in a unique oval shape and put together with super comfortable chairs. The gorgeous 9 piece set includes a table and eight chairs, just the perfect solution to anyone looking for furniture for big groups of people.
38. Plastic Armchair For Outdoor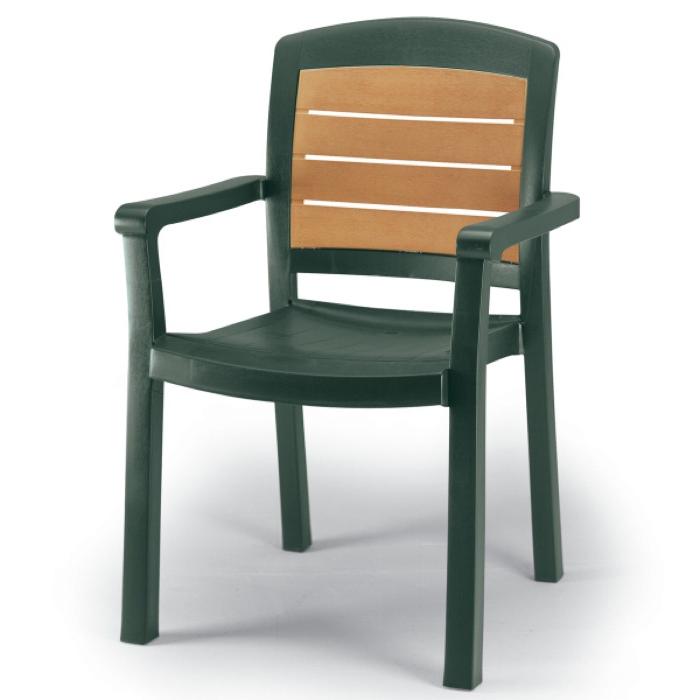 Finding plastic chairs with such comfortable armrests is very rare which is why you really need to get yourself hooked up with this one. Just from its display anyone can tell it has been constructed from exceptional quality plastic material. It is all painted in green with a brown detail on the backrest for that eye catching look. This plastic armchair is great for spending sometime in the garden, pool side, balcony or backyard.
39. Plastic Chairs For Restaurant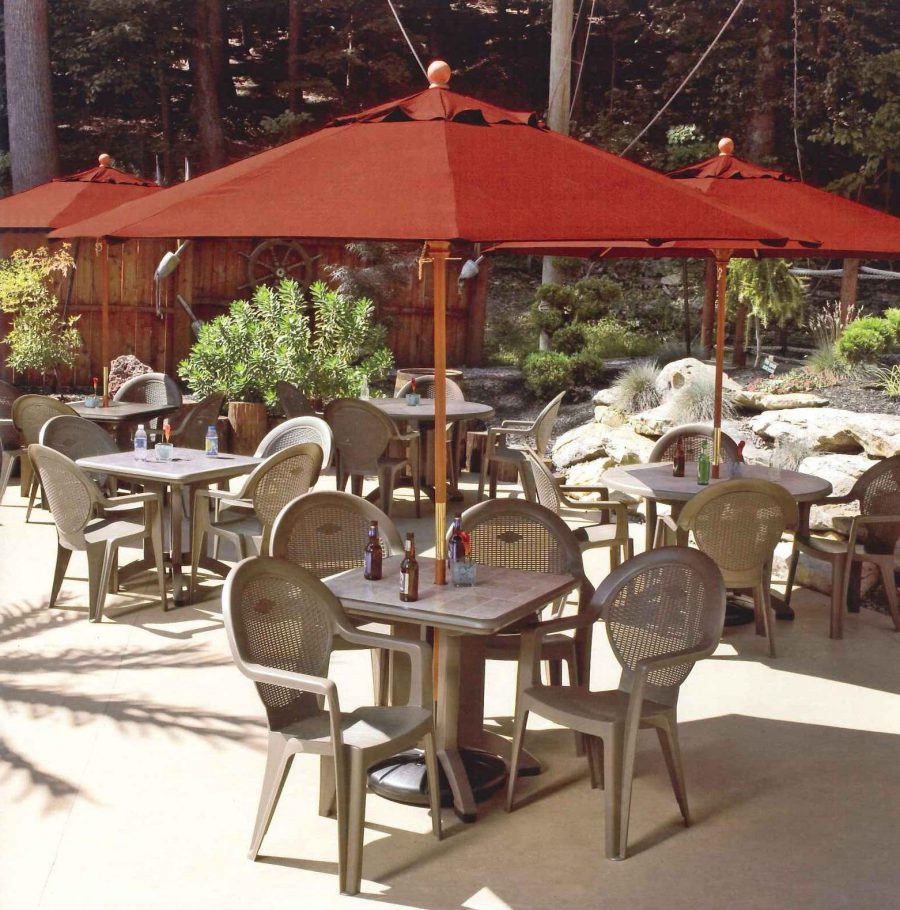 Set up a very beautiful and modern outdoor restaurant with these plastics chairs, not only are they comfortable but they are also extremely easy to take care of and very easy to maintain. Cleaning these chairs will only take you a few minutes since you simply have to wipe them with a cloth damped in soapy water which is not the case with many other types of furniture. They are detailed with cuts outs on the back rests and constructed from the highest quality plastic that is very stable and long lasting. If you like you can as well use these chairs for home or office.
40. Pool Side Furniture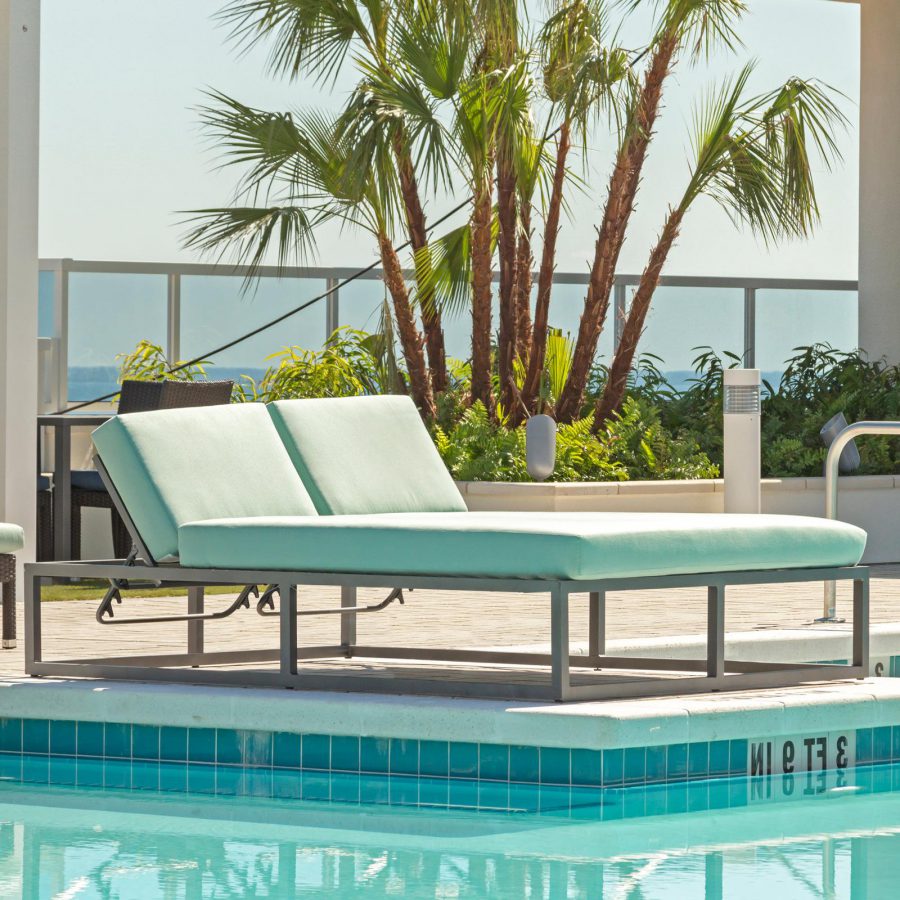 Enhance your pool side area with this simple but super comfortable furniture. The double bed is designed for two people so you can have more fun at your swimming sessions with your friend or partner. It is made from heavy gauge metal that is rust and stain resistant, also not forgetting its back rest is adjustable allowing you to adjust to any position in which you feel most comfortable. The cushion is enclosed in PVC material that dries up only after a few minutes
41. Simple Outdoor Furniture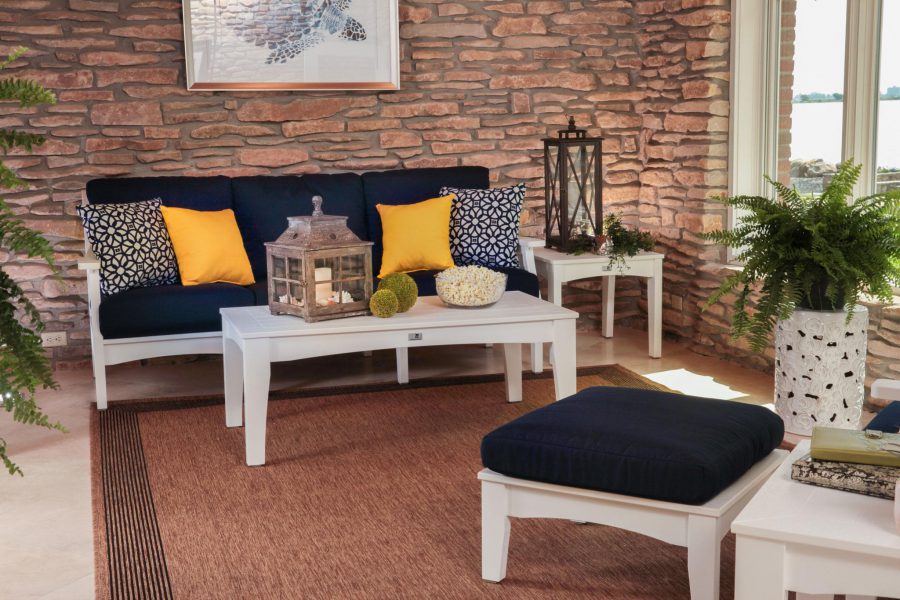 White always gets my attention simply because it goes beyond looking divine and matches perfect with the rest of your décor to give the most fabulous looking outdoor environment. It includes well padded navy blue cushions to give you all the comfort you need after a long day while the sturdy wooden frame is finished in attractive white color. This set is suitable for both indoor and outdoor use especially on the balcony. It is completely effortless as it doesn't require too much assembly.
42. Sun Bed Outdoor Patio Furniture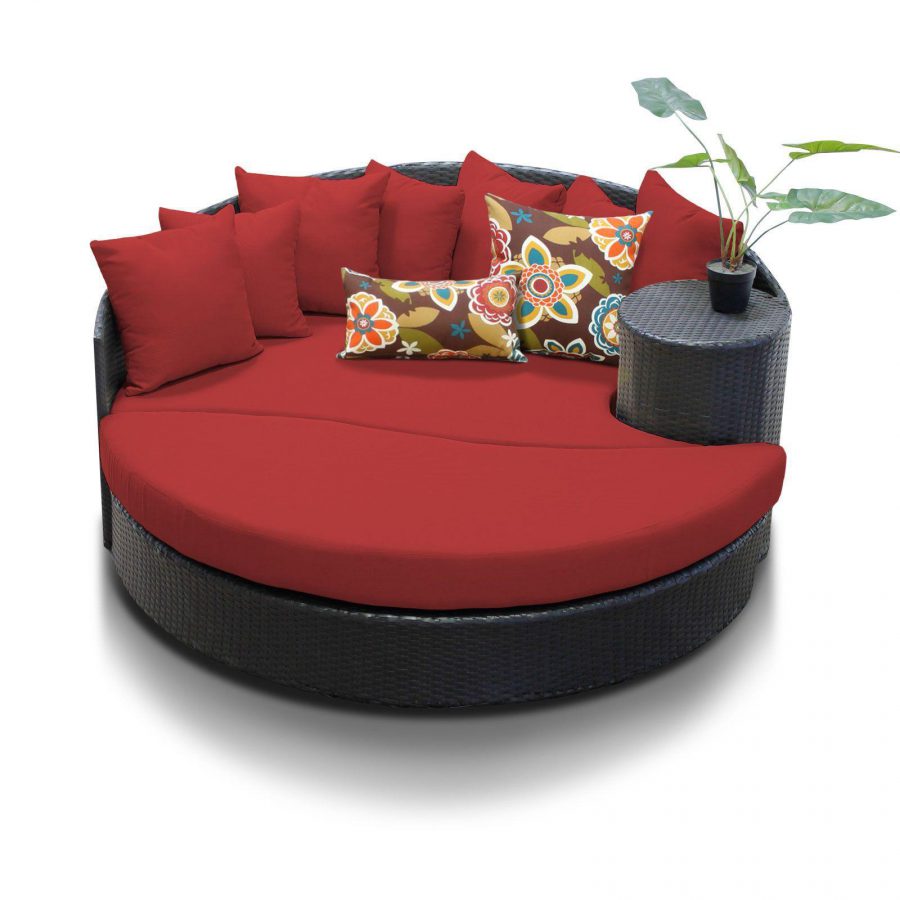 On those summer nights there is definitely no better way to relax other than this circle shaped sun bed. This extremely beautiful sun bed is not only ideal for patios but also for the pool side, lounge, front yard, back yard or even balcony. Its lavish thick cushions are not only meant for comfort but also give you the feel of luxury, trust me you will feel like the king or queen while laying down or sitting on the sun bed. Thanks to its all weather construction, it is the perfect solution for outdoor use. It can easily be adjusted to different heights and comes fully assembled for you to enjoy there and then.
43. Swing Chairs For Garden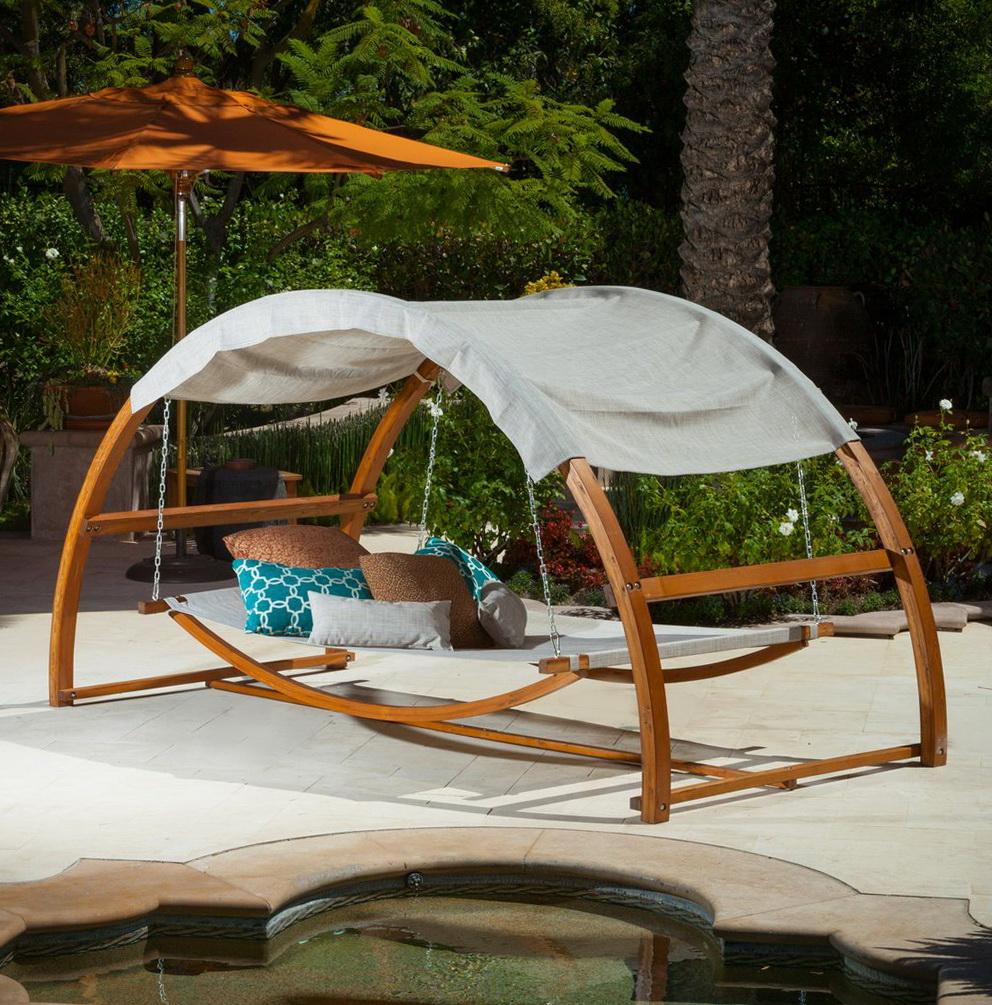 The garden is the most relaxing place for you to relax after having that really long day but you can make you time even more enjoyable with this garden swing chair. This swing chair is very unique, completely outstanding and will make your garden look super stylish. The seat is designed from tough materials not only for stability but also to ensure long lasting durability. It is sturdy and firm enough to let two people have a good time at the same time so you really need to create the coziest hangout spot in your garden with this beautiful swing chair.
44. Unique Outdoor Furniture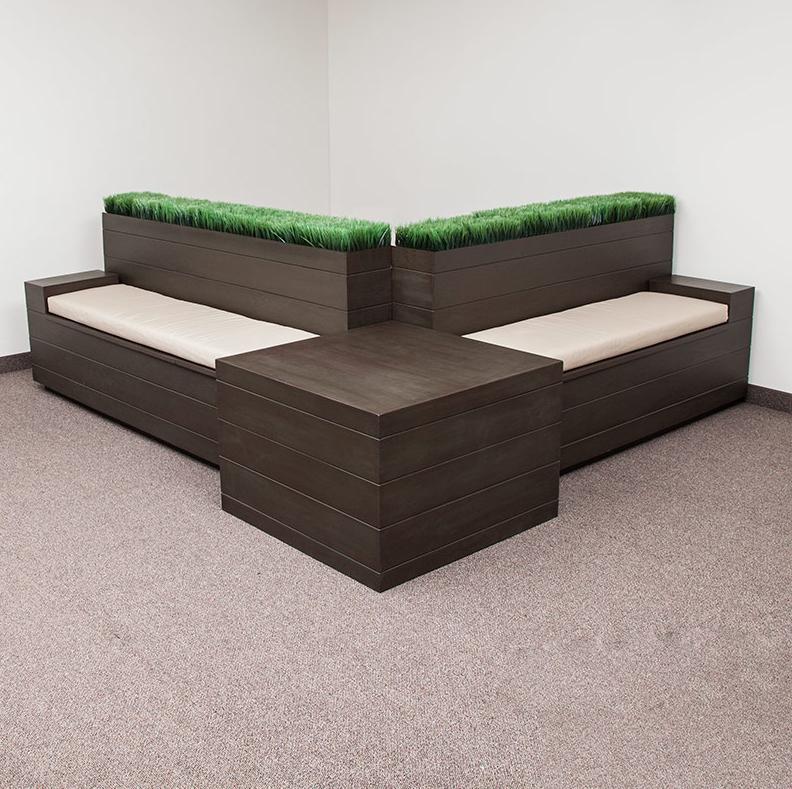 Leave alone those outdoors benches, chairs and sofas that you have seen around everywhere you go, here is a super unique set that will get everyone turning heads. Apart from the exceptional quality wood used to construct these benches and table we also love the rare design of faux grass on top of the bench which is the most unique thing it. Like I always say sometimes you just have to be simple to pull off the most elegant appearance and this is exactly what is displayed by this furniture set.
45. Weather Proof Outdoor Rattan Furniture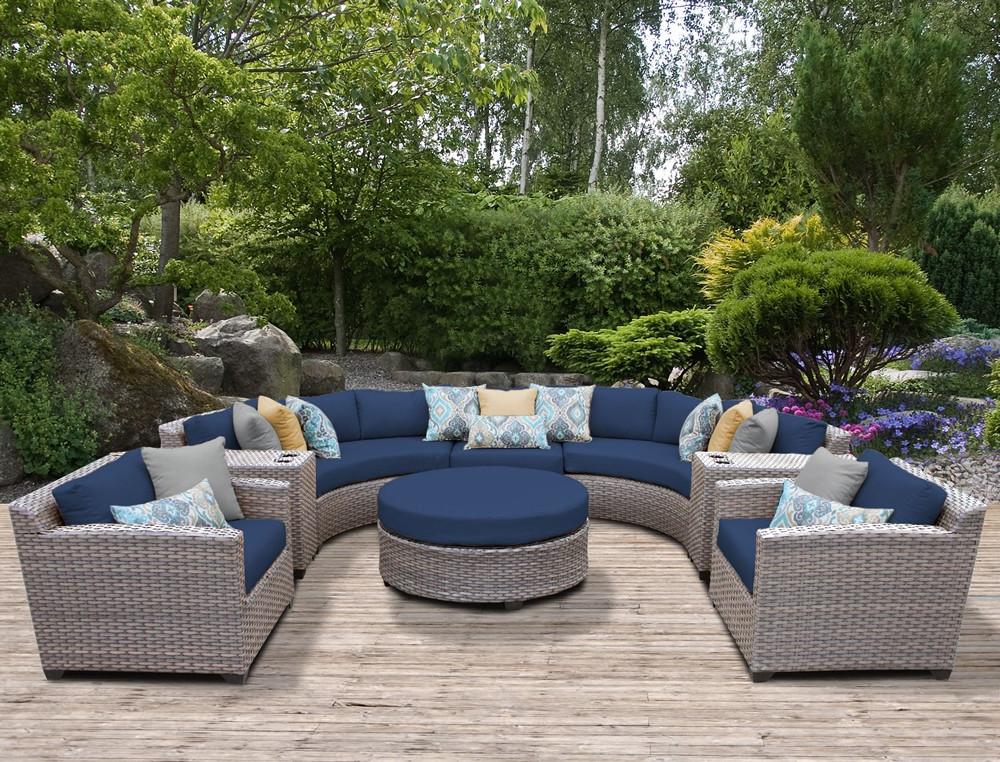 No matter how harsh the weather gets, it will be no reason for you to worry when you have such a high quality weather proof outdoor rattan furniture set.  Considering the several pieces it comes with, this set gives you a lot of flexibility to configure it in any way you feel is most suitable. Its combination of grey and blue is really attractive and we also love how it is matched up with that round ottoman. In case you come across this set, don't hesitate to try it out because it is everything you ever hoped for, stylish, very modern and sophisticated and ideal for families as well as guests.
46. Wicker Dining Sets For Outdoor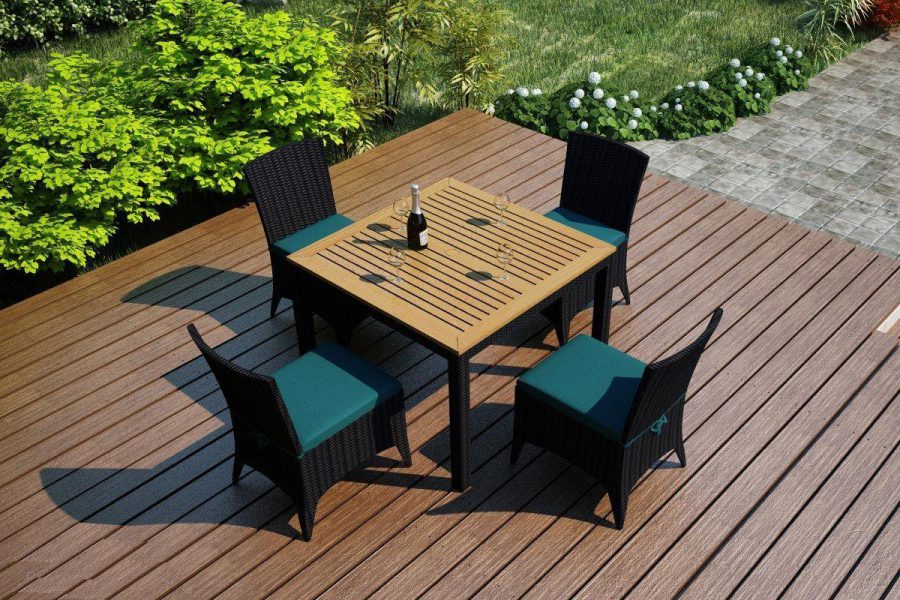 Dining outside the house is always fun for everyone and it doesn't matter whether you are dining with friends or family. Designed from black all weather long lasting wicker and detailed with cushions in a bold shade of blue, this dining set will make such an elegant addition to your favorite hangouts outdoors whether it is the pool side, yard or lawn. This modern set includes a very beautiful square shaped table and four chairs with strong weather proof and comfortable cushions.
Weather Proof Outdoor Rattan Furniture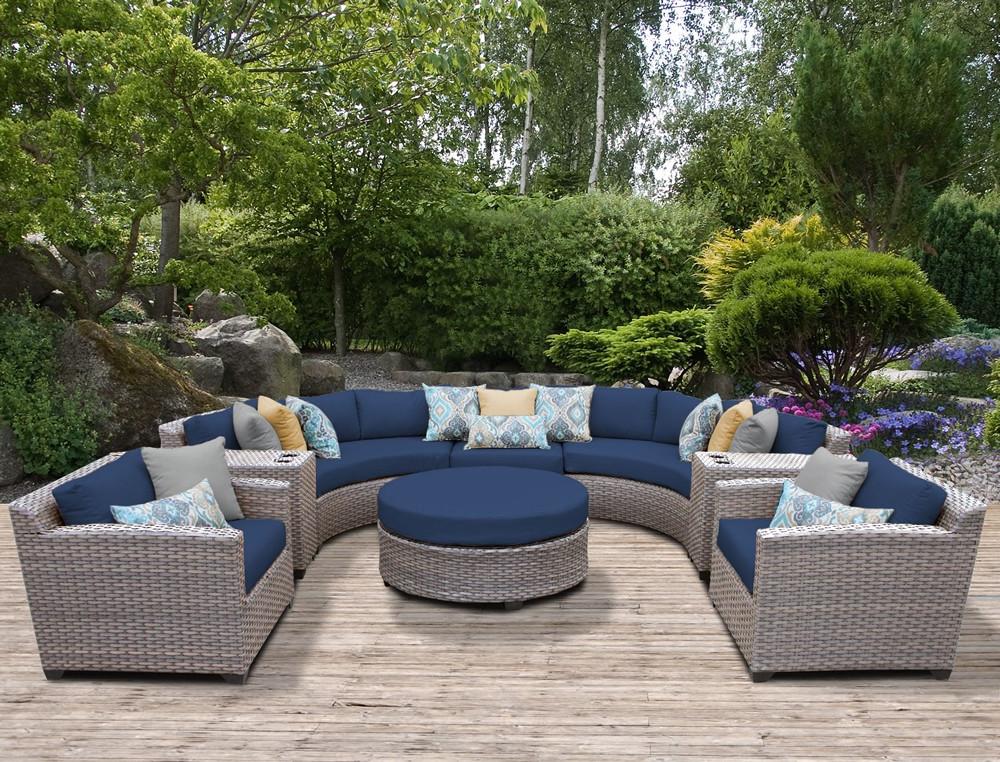 When choosing the Weather Proof Outdoor Rattan Furniture you must consider the appearance, quality, comfort and durability and the dining set featured in the above picture combines all of that. If you are looking for the best furniture for your business whether it is a restaurant, cafe or bistro, these sets of tables and chairs will perfectly work for you. Each of the square tables has capacity to accommodate about four people but most interesting both chairs and tables are made from high grade wood that is very durable. With their high quality construction, you can as well feel free to use a set of these in your home either on the balcony or outside in the garden.