Everyone loves to enjoy the fresh air and warmth outdoors but I guarantee that a set of well made and nice looking furniture will make you enjoy all of that much better. To make your task easier I took time and came up with some super unique, appealing and high quality commercial outdoor furniture. Whether it is for the pool side, outside your restaurant, patio, garden or porch, these elegant ideas are just the way to go. I have featured 47 of the very best commercial outdoor furniture that will make your stay outdoors worthwhile each and every single day, take a look to choose which one is your favorite…
Check Out The Collection of 47 Amazing Outdoor Furniture Collection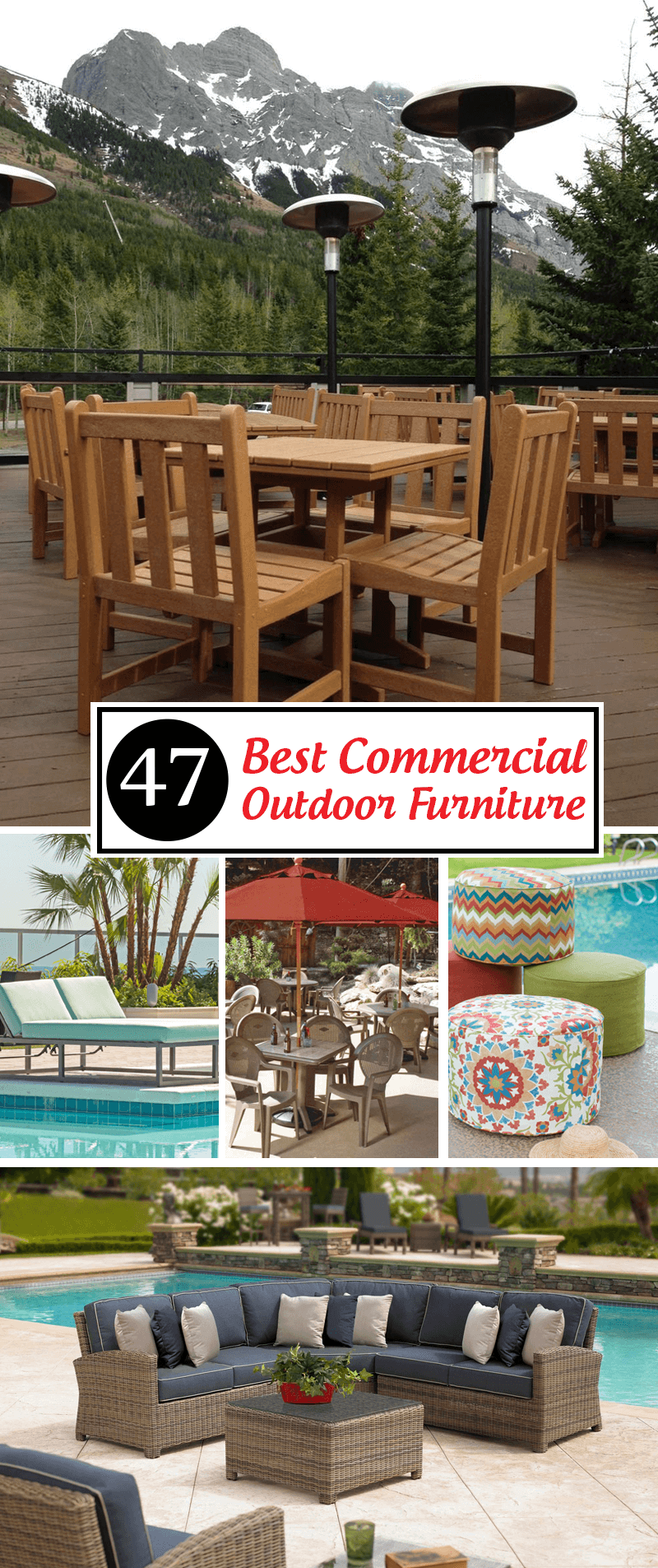 1. Aluminum Outdoor Patio Furniture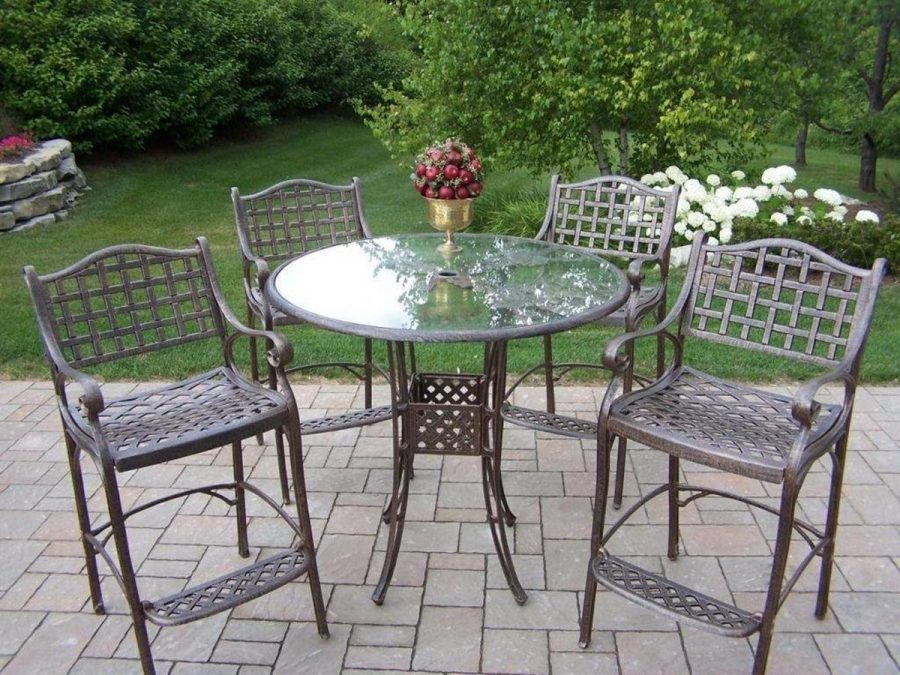 For hotels and resorts, this set of aluminum outdoor patio furniture will definitely be the perfect pick. With its super beautiful grey finish and checkered designs, the set has a very elegant appearance to attract people from all classes. The set includes a medium height glass top table and four chairs to accommodate you and your friends or family. Both the chairs and table are made with curvy bottoms to avoid causing any kind of damage to your patio. With high quality aluminum well curved and smooth chair armrests anyone would enjoy the flawless view outdoors on this set of aluminum patio furniture.
2. Aluminum Stainless Steel Outdoor Furniture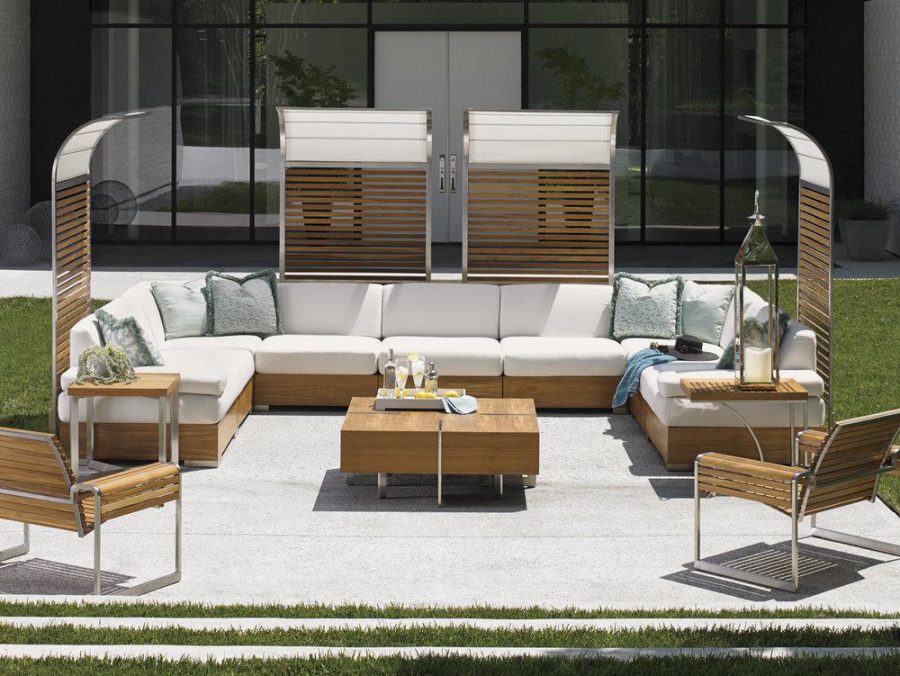 With its contemporary design and super attractive shiny aluminum finish, this stainless steel set of outdoor furniture. Aluminum is one of the best materials for outdoor furniture but the detail of stainless steel creates a very unique and exquisite appearance which makes this set ideal for all those five star hotels and even homes for those who love extra ordinary staff. I love this set because of the way stainless steel aluminum perfectly complements the smooth wooden material to create an overly stunning look. It is made up of a short square table, two chairs and long sofa with very well padded comfortable seats and cushions. It will give you the excellent balance of elegance and style.
3. Best Commercial Patio Furniture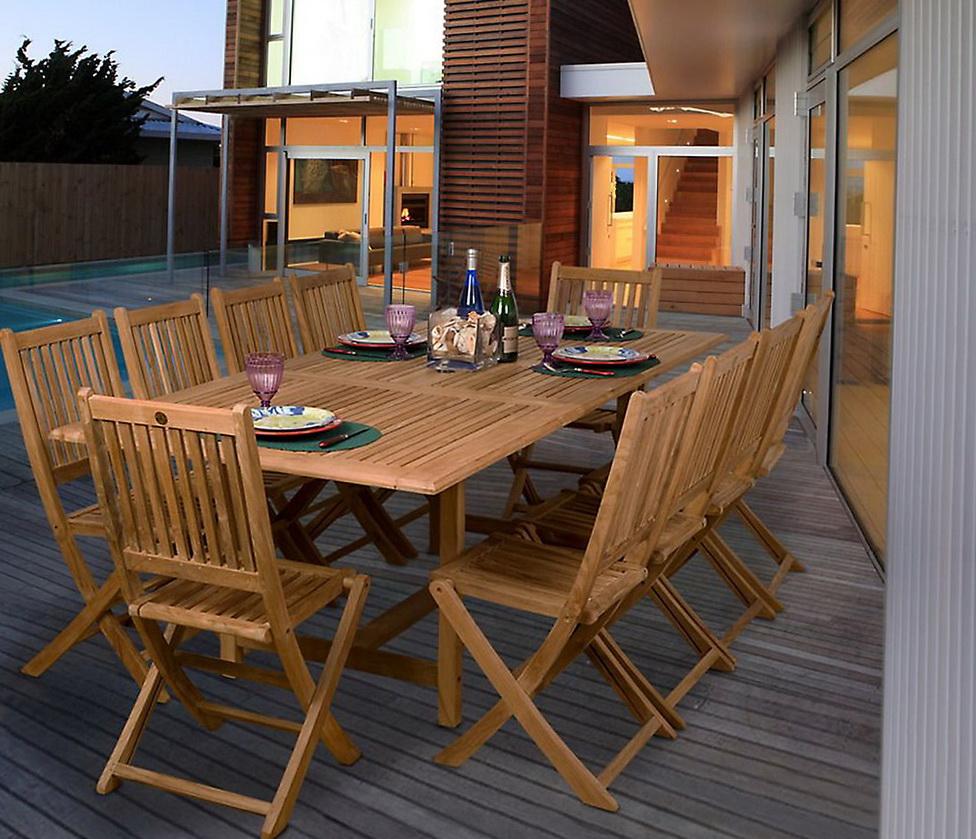 This traditionally designed set of furniture is perfect for any restaurant patio. It comprises of a really spacious table, large enough for 8 to 10 people to dine at the same time. The chairs are designed with criss-crossed and fold-able legs to ensure maximum support and easy storage whenever they are out of use. The design of the chairs matches perfectly well with that of the tables offering you that really neat traditional appearance. This outdoor furniture set is great for homes too, thanks to its chairs that easily fold away for storage so if you have one of those huge families with many members you can as well consider trying it out.
4. Best Pool Furniture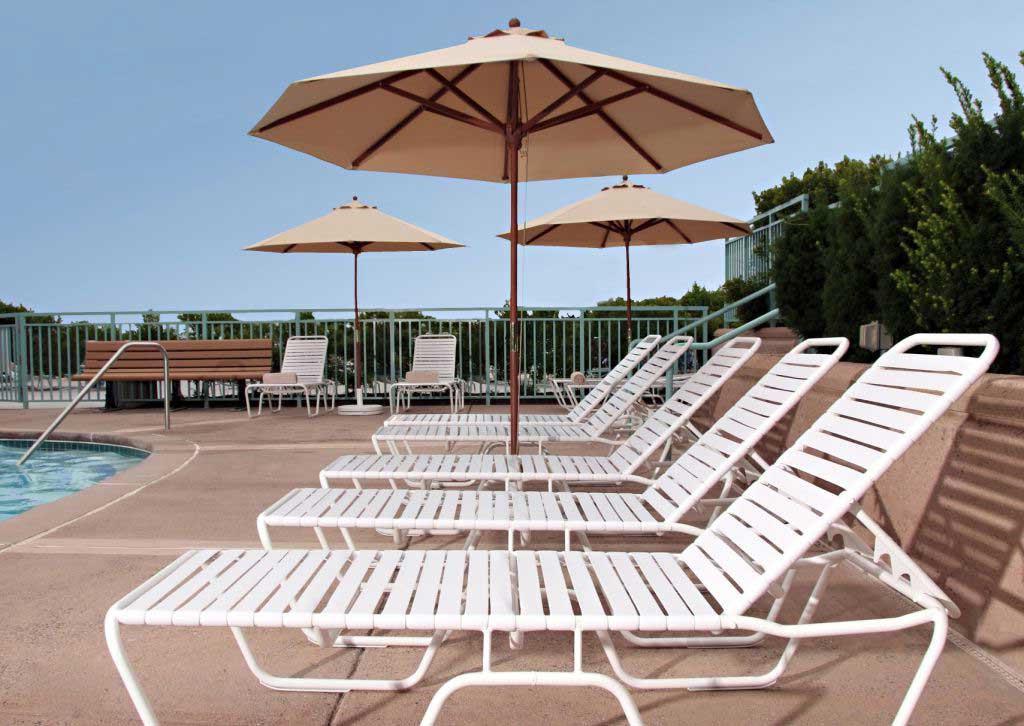 After or before having that relaxing swimming session you will need to enjoy the breeze of the sun. The all white aluminum pool benches are designed with long lasting two inch straps and a very durable aluminum frame. For your hotel pool lounge, patio or pool deck, these benches have the classy appearance you need. These commercial outdoor furniture are made with protective glides on the legs to avoid scratching the surface and they can easily be adjusted to four different positions. When it comes to storage, it is very simple to stack the benches away. They are just the perfect companion for the swimming pool.
5. Best Wicker Furniture For Garden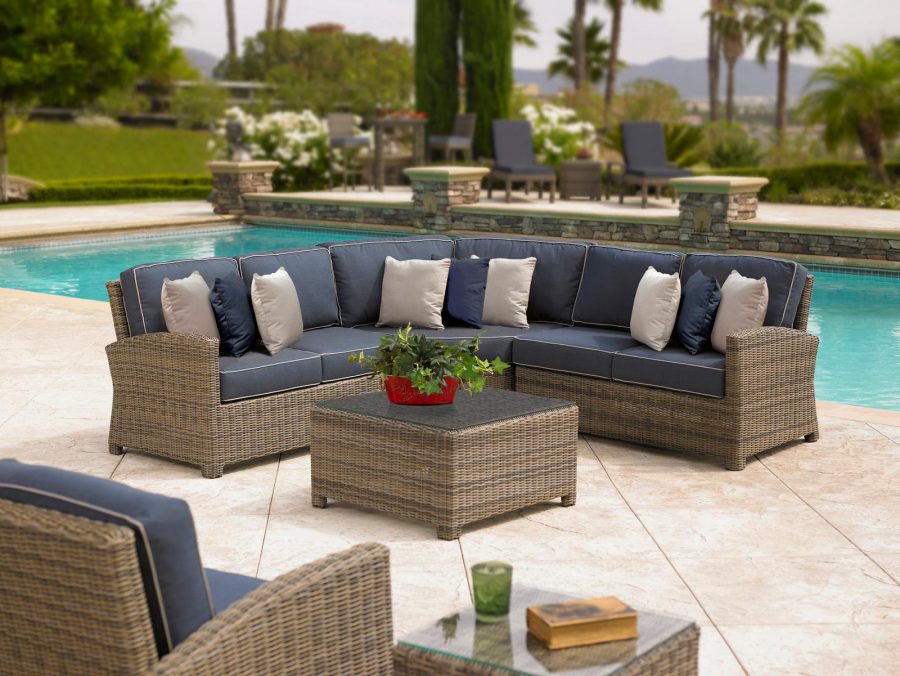 This modern four piece rattan outdoor wicker furniture set is without a doubt the most appropriate choice for your garden. The entire set is designed with warm neutral colors to create a very warm and beautiful addition to that gorgeous garden of yours. It features a very sturdy steel frame wrapped up in all weather rattan wicker, rattan is very beautiful but most importantly it is detailed with wicker that is sturdy enough to withstand all kinds of weather. For added comfort it comes with well cushioned pillows and seats. You will enjoy an entire evening in the garden on such good looking and comfortable furniture.
6. Blue Outdoor Sofa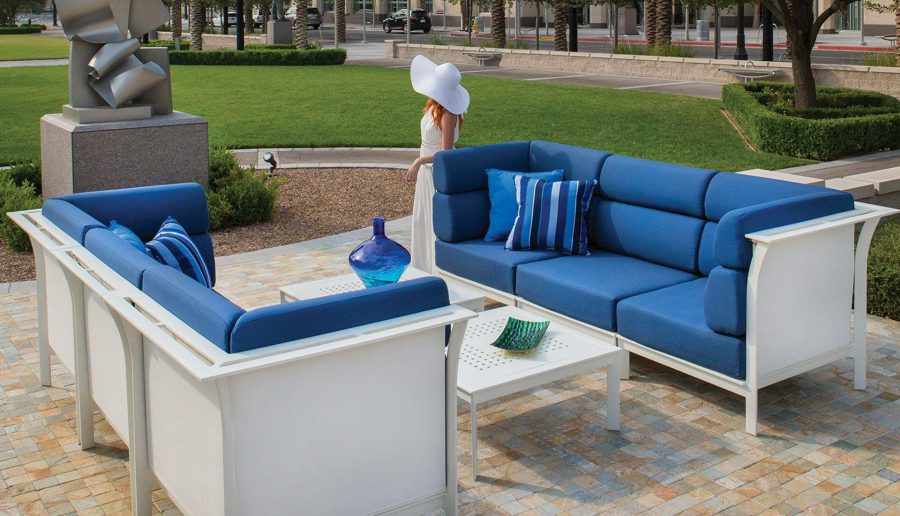 Quit all that traditional wooden brown furniture and look out for something more daring, some color will definitely not do you bad but rather make your whole outdoor area much more attractive. This set features very smooth uniquely designed cushions in blue color for a very modern appearance. The frame is made of sturdy aluminum furnished white for that perfect blend with the blue cushions. The cushions are removable which makes it quite easy to wash and maintain.  The set comprises of two three seat chairs and two tables plus cushions some in plain blue and others in multi colored plaits. Its lightweight and durability makes this furniture set worth trying out.
7. Cheap Outdoor Furniture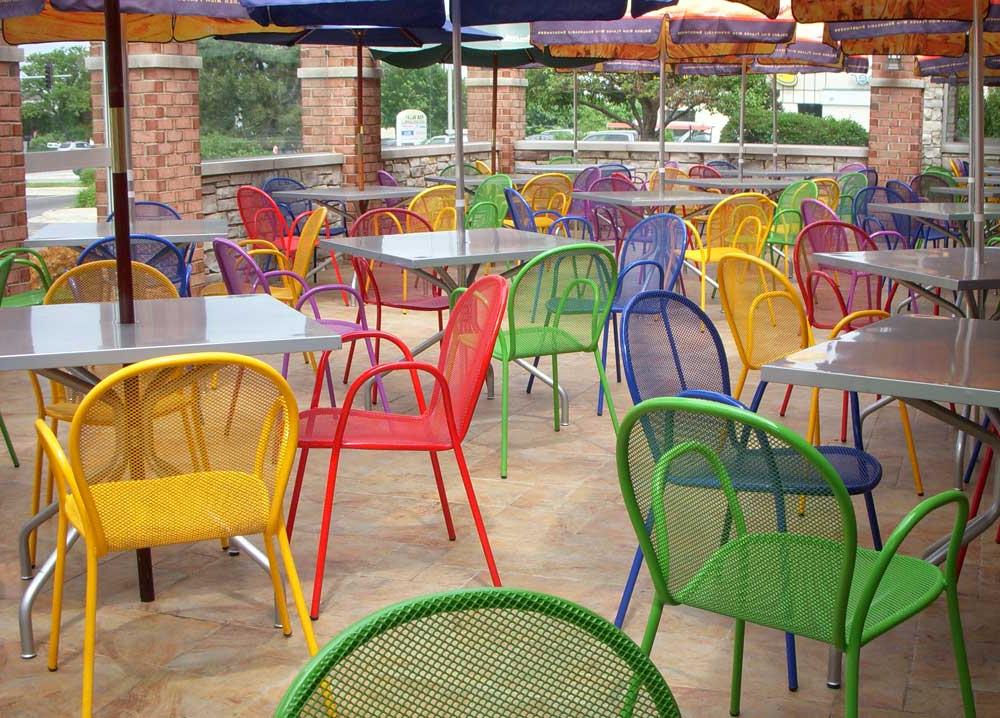 Sometimes you don't have to spend too much to get high quality furniture that will make your outdoor space look completely amazing. Take for example these multi colored chairs and aluminum tables will get your attention the very first time you set eyes on them. The mesh design is super unique and the idea of chairs having very many different colors is very brilliant because that way it attracts all kinds of people including men, women, children and teens among others. To avoid the monotony of colors all over the place the tables are left in plain shiny silver and placed at a height that makes it very easy for anyone to reach out for their drink or whatever they may be eating.
8. Cheap Outdoor Restaurant and Seating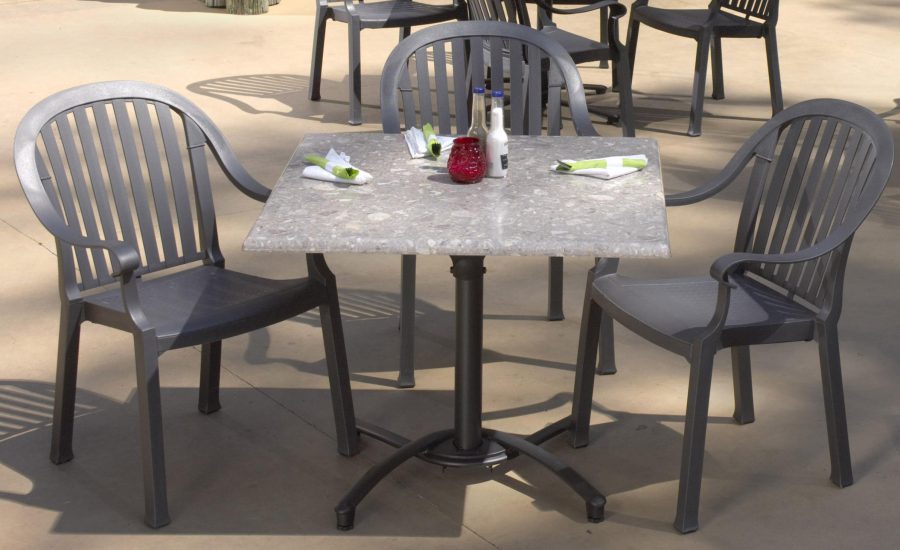 If you are planning on starting a restaurant soon here is a fantastic set of furniture that you should consider without having to worry about over straining your budget. This outdoor restaurant furniture set comprises of a square table and four chairs all nicely finished with one of the most elegant colors, grey. This simple set will add a contemporary look to your restaurant. The table displays a well designed smooth top while both the table and chair bottoms are detailed with rubber to ensure that the floor stays in excellent condition. For as long as you take good care of your furniture, you can be rest assured it will last for a very good period of time.
9. Classic Outdoor Lounge Furniture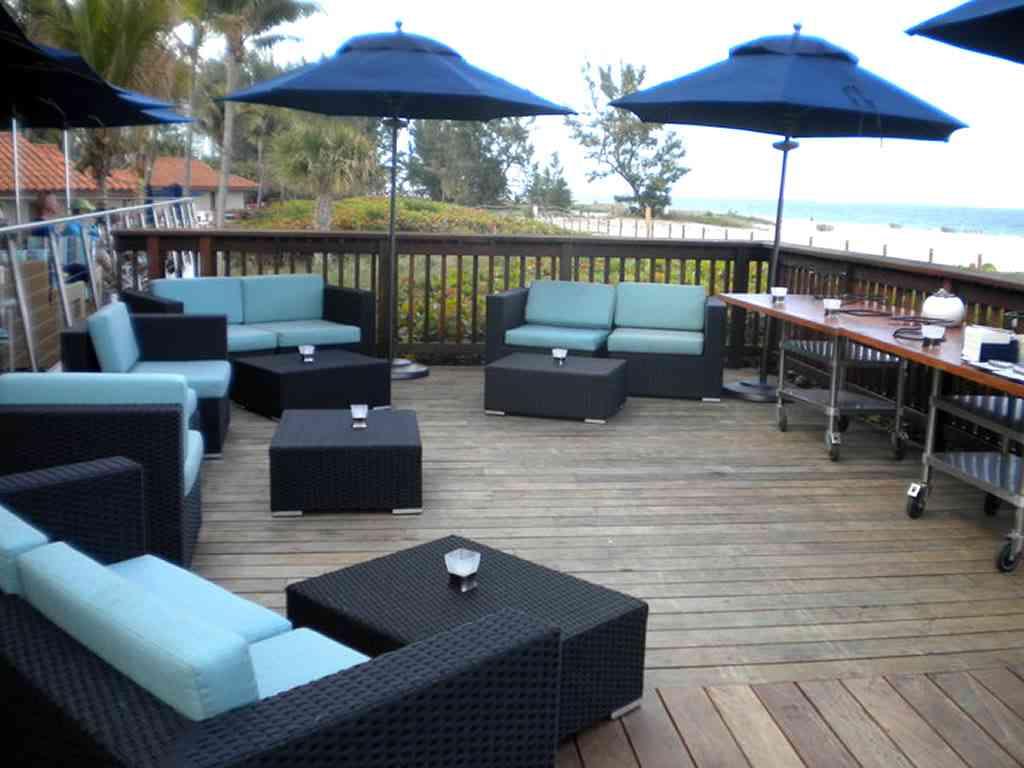 For that super gorgeous and classy lounge area, the furniture set featured in the picture above is such an excellent choice. Besides the extremely comfortable traditionally designed seats, the set also includes very rare tables to allow you sit while you sip on your favorite drink. It combines an amazing modular design together with incredible colors to make your lounge beautiful like never before. This furniture set is completely effortless as it doesn't require assembly like many other pieces do. It is weather resistant and very durable all thanks to the high quality construction it is designed with.
More Outdoor Furniture Design Ideas On The Next Page…