10. Classy Bathroom Vanities
Would you like to have bathroom vanity custom made to meet your exclusive needs? The vanity is an absolute mark of your stylish bathroom. They come in varieties of shape and sizes to choose from depending on the size of your bathroom.
Beside color and prices, consider the space of your sink counter, wall-mount or freestanding, style and storage capacity when shopping for your bathroom vanity. A custom made detached vanity that perfectly fits the glam space suit the appealing of the lustrous, modern design plenteously provide storage space and heighten roominess illusion.
Vanity design elements of lots of drawers and lift up doors have been incorporated to increase good storage capacity.
Let your bathroom appeal with white or creamy vanity to complement color of other decor and bathroom accessories.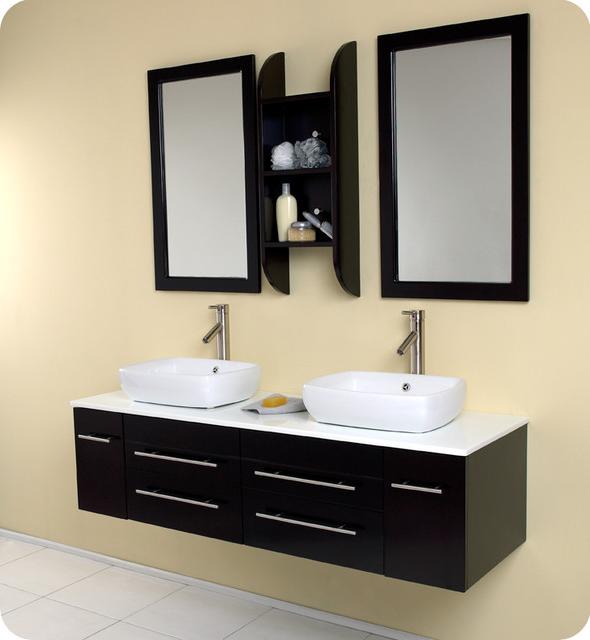 11. How About Door Less Shower
Are you the sole user of your bathroom? Think outside the box and plan for a door less shower. Door less bathroom design idea is an architectural interesting design for modern people. Partitioned with tempered-glass, the wide doorway allows convenient access to the spa set apart from the main room by a shift in flooring tile color and texture.
Packed with handsome tile treatments and pampering fittings, door less shower's interior, heighten the bathroom's vintage fascination and also increase the sense of your bathroom space. A showerhead placed at high curb keep the spa water from spattering outside the door less shower's enclosure and accommodate persons of any height thereby enhancing comfortable and refreshing shower anytime of the day.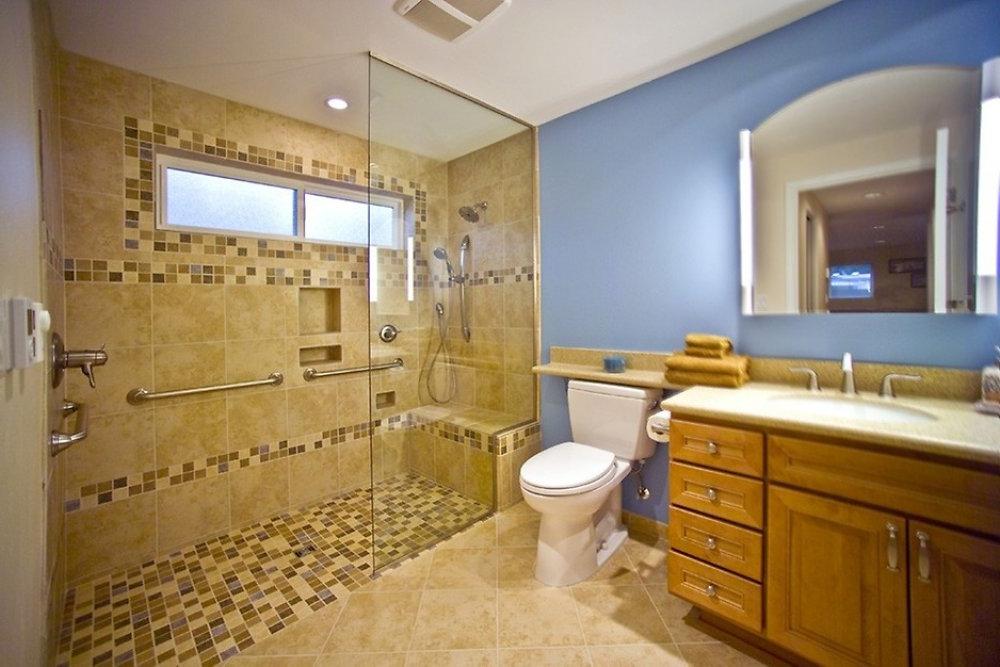 12. The Saster Suite Retreat
Would you love to have a bigger bathroom that is connected and more open your bedroom? You would probably want to get a spectacular view of your bathroom's freestanding bath, beautiful basins, and custom vanities from your bed.
The master suite retreat is a luxurious bathroom that features marble on every surface and sliding doors for you to open or close off from the bedroom. The room's appeal is edging on contemporary, fresh and crisp. Get creative and craft your master bathroom space with dark walnut cabinets, creamy limestone accents and milky walls to enhance fresh natural aesthetic.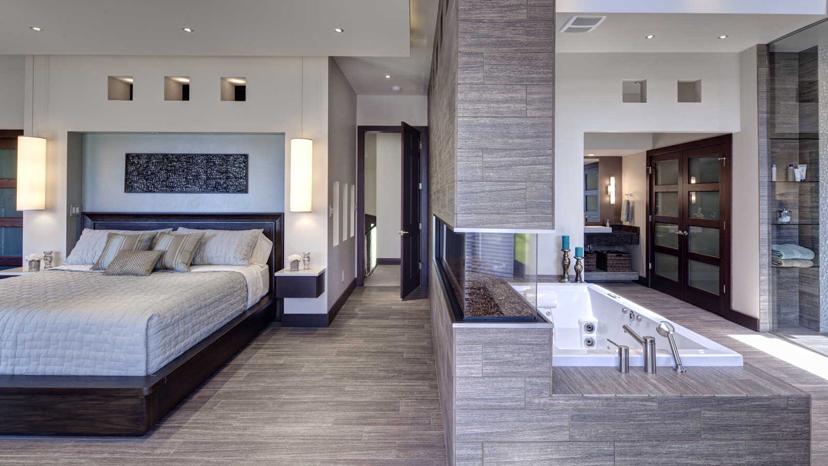 13. Mirroring Your Bathroom
Mirroring your bathroom is a bright bathroom design idea. Increase your bathroom inclusive image by bringing in an elegant bathroom mirror and avoid any oversight through its bright LED lights! Don't neglect your bathroom mirror to dry and cut. Portray your unique panache with classic ageless mirrors to the artistic contemporary ones.
Mirror your bathroom to make it appear bigger besides reflecting the room's lights. Ideally fit your bathroom vanity tops or counters with an architectural bathroom mirror on a white marble base support or hang it vertically on the wall to produce high quality image when viewed from all angles.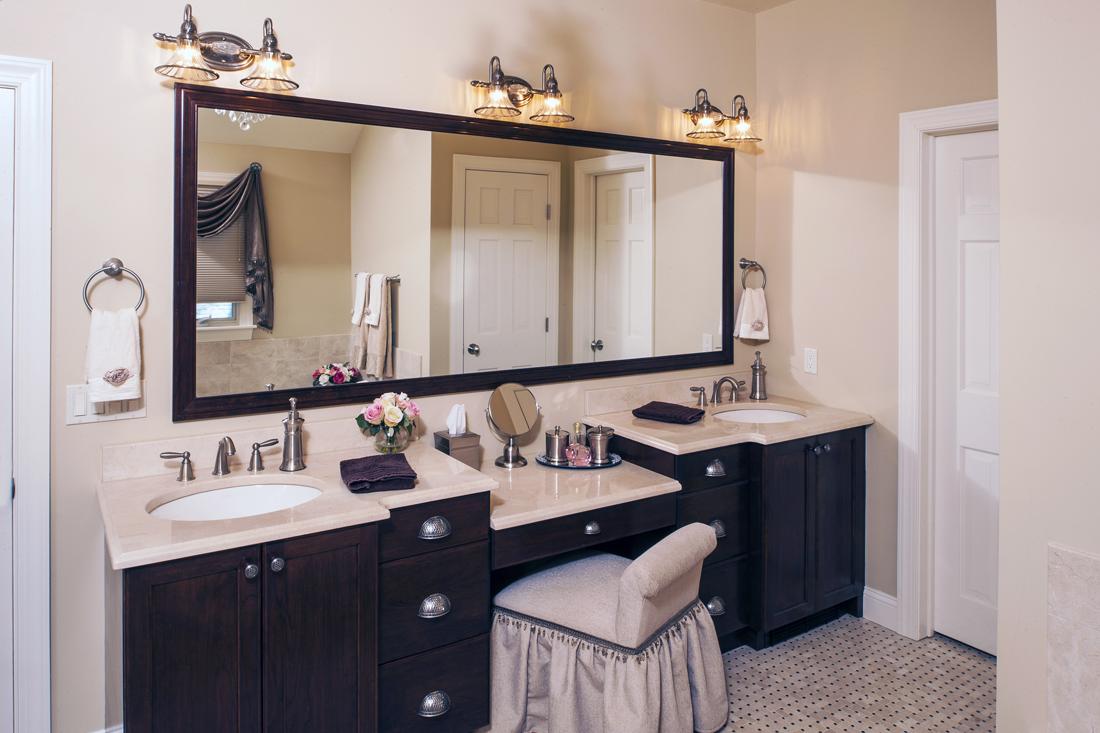 14. Edgy, Urban-Loft
Found in the marvellous and polished urban feel, the urban Loft bathroom design idea is extricated on the modernized stylish with its milky Espresso Brown varnish. Elegant, unpretentious and in due course tasteful, the vital bravura of Urban Loft's white quartz marble tops, oval white sink, flat doors and freestanding vanity is a honed up-to-the-minute turn, popular intriguing hit in luxurious category.
Its wooden unit base slides painted glossy- white, provides storage for your bathroom accessories whereas beauty salon-like illumination is produced by a light beams.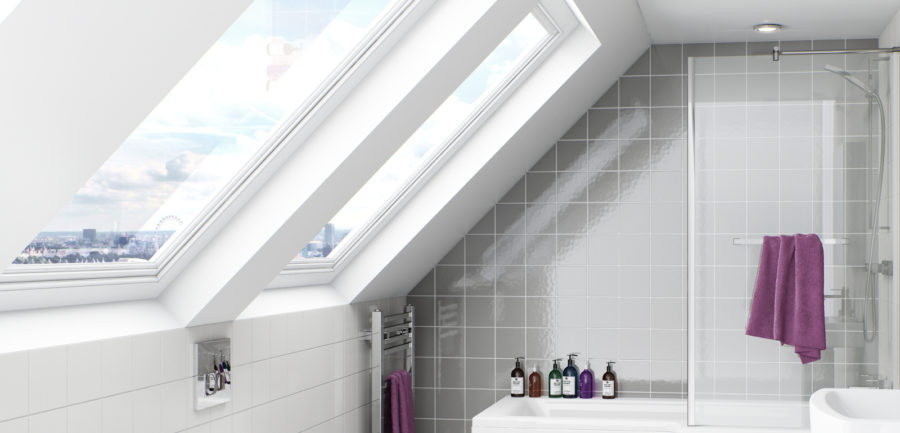 15. Earthy Modern Bathroom
Furnished with wood patterned-accent tiles and warm brown earthy hue-beige, this bathroom design idea inspires a sense of comfort and cordiality in spacious bathrooms. The abiding combination Black floor tiles and white walls color design banks on the thriving clean lines and color palette to conquer a lustrous stylish look. Fitted amid binary pieces of glass, an enormous onyx brings an astonishing shower screen and the bathroom wall into one.
With the sparkling clean toilet, shower cabin, a double sink counter top, before a wall-mounted mirror and wall cabinets, this modern bathroom concept validates how objectively slight space can effectively be utilized in a purposeful way. The utmost remarkable thing in this design is a built-in bathtub– an all-glass with a see- through vintage lying contentedly in the space that regards natural veining ads and the earthy palette.
Coalesce to this model refinement with the modernized bathroom design to realize a stagier up shot. It is set in pure white, sea foam blue and light wood textures that are all in perfect harmony.
16. Exotic Ambience Bathroom
Enhance your bathroom's ambience architectural space sorts and supplement the shower recess patterned tiles with an Art Deco style mirror. Include warmth and quality with limestone floor under a limestone edge behind profound showering tub for divider mount spigot and washing frill. Bring on board an ethnic-vibe to a spa feeling by fixing a Moroccan smooth luxurious washing tub to bring an intricate exotic unadorned pattern ambience.
With this alongside a cool oval tub in a rosewood veneer clear lacquer coat and a ceiling-steed spout flowing water, the bath spa creates a sensation of exotic scene.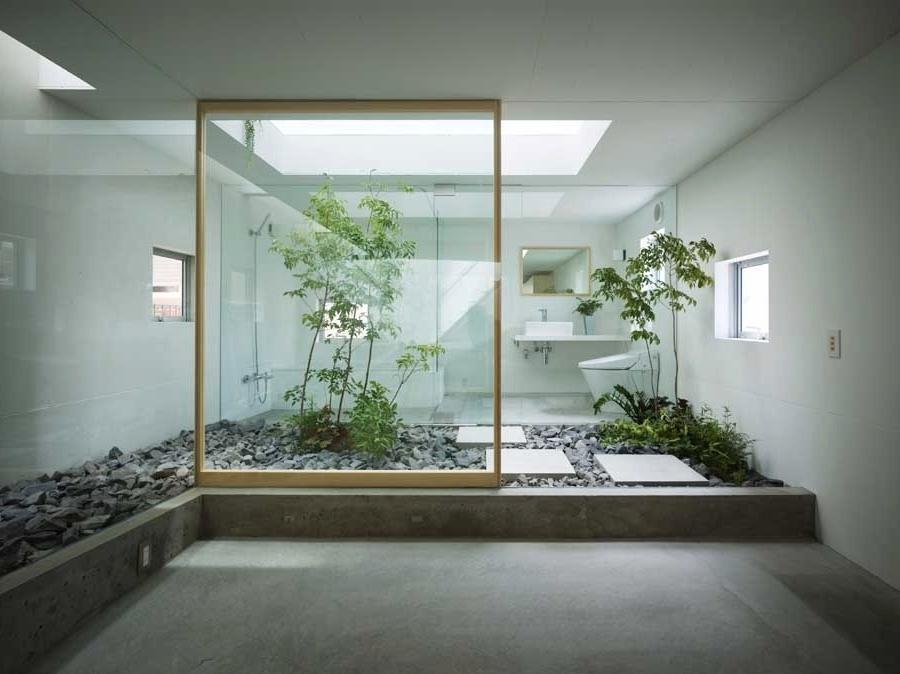 17. Contemporary Bathroom With Concrete
Make an audacious flooring design with black and white geometric flooring tiles to bring about a textural, exceedingly unique and classy bathroom.
This ideal bathroom design idea features gray walls, ceramic floors, a cast-concrete vessel sink, a freestanding tub, flat-panel middling tone wood cabinets, wooden countertops and block wall covered directly by a veneer of brick finish coat.
This bathroom design idea brings about with poise a combination of classic aspect seen in the mirrors with modern flooring and vanity. Concrete bathroom design is solid in its own edifice offering an irresistible contemporary requirement and rejuvenating energy efficient stylish spa.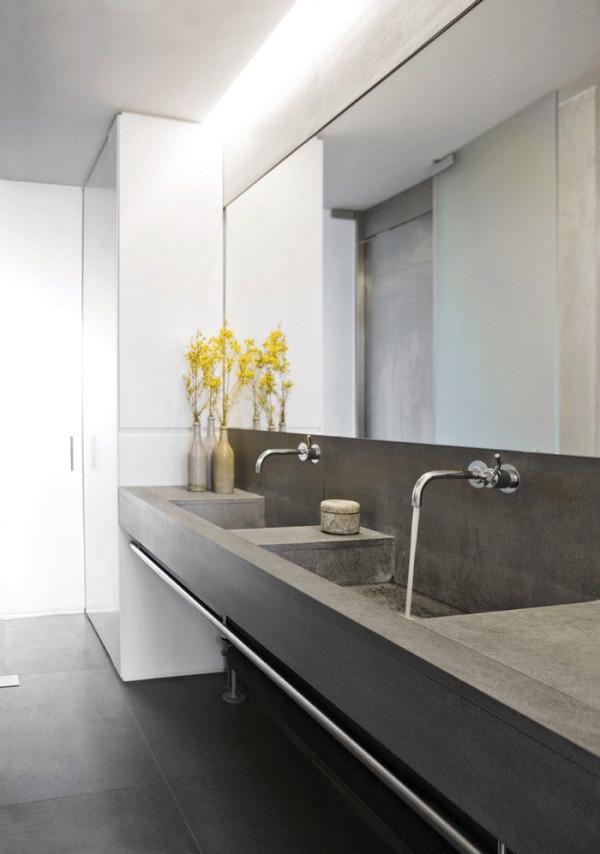 18. Bathroom With Angular Geometry
Temper your bathroom's effect of corners and angles by combining your bathroom curves to make it an inspirational contemporary model. Two sinks on the principal wall with drawers beneath and other angular walls with shelves, counters and cabinets under. The prominence on the curves or angular shapes is to convey moniker element of art deco elegance and highlight the exquisite patterns created.
Define this bathroom design using reflective surfaces and contrasting textures. Wall-mounted mirrors above the counters and sinks and marble and wood making up the counters and vanities underlines the bathroom's geometry to give a calming yet carnal lovely bathroom.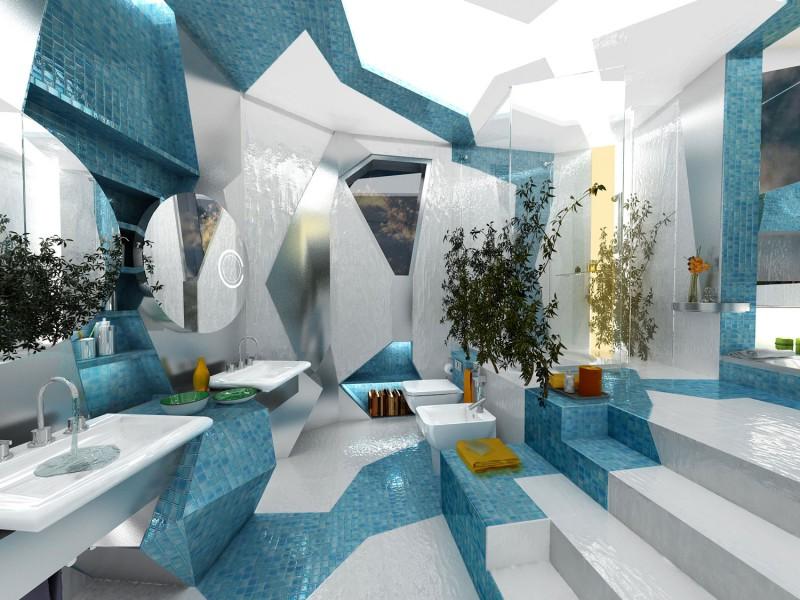 19. Floating Elements Bathroom
This upper- level bathroom design idea hoists the room's components as they are seen to float. The limestone countertop slabs, tub and sink touching only at rifling area on the wall critical to the room's unfixed impression. The Floating Vanity tot up to the modishness of an open bathroom and solves the jumble sense of a limited floor space needed leg room. A sink and a cabinet below it are considered as part and parcel of most bathrooms and this is where a choice for custom fitting floating cabinet and vanity designs to fit in flawlessly even in the small bathroom space is crucial. Go for a retro look with a splash of colour to align all elements in a precise fashion fixed in an appropriate position and absolutely parallel to the ground.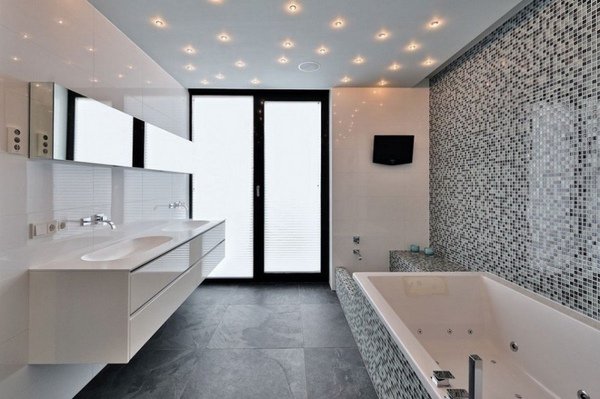 More Bathroom Decoration Ideas On The Next Page…