40. Open Plan Bathroom
Open plan bathroom design brings the joy of taking shower in the same room where you sleep. This has come to be a prominent attribute in luxury hotels all around the world.
Erected glass-walled that act as a room divider and without curtains and mounting peek-a-boo showers permit natural light to break in through the space, air to freely flow implying logistical self consciousness especially when sharing the room with people never intended to strip before. The in-room tubs add another aspect to the show. This offers the somewhat sexy unique circumstance suite one might rent.
The open-plan bathroom design gets the most out of floor space and permits both natural and bulb light to illuminate surfaces in the room. Smack in the central point of its top-floor suite is a floating claw-footed bathtub that seem to be part of the furniture.
The open plan bathroom is more ideal for youthful and elegant who would love to open up their living spaces and also turn their bathrooms into spa-like central points.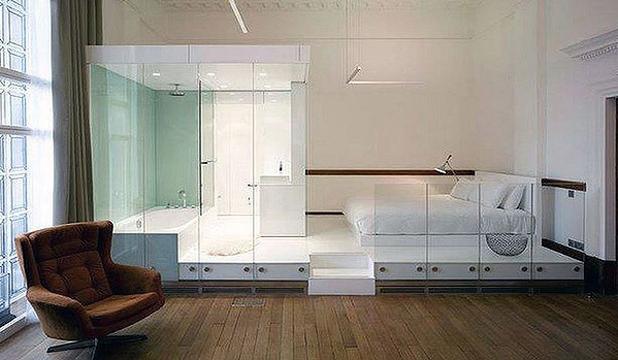 41. Kids' Bathroom
Kids' bathrooms are designed for children whose parents would want their children to start appreciating their own privacy and also for convenience purposes especially when there is a separate bedroom for the kids. For every parent, safety of their children is their first priority. Kid's bathroom therefore needs to be packed with safety products of which most of them come in several designs.
Tub mats, for instance, prevents instances of children slipping on the smooth flooring tiles or in the bath, the same is true to pads that is stuck to the bottom of the tub. The color scheme for these bathrooms should blend with the kid's bathroom scheme especially when bathroom be next the bedroom. Therefore the same color theme need to be continued on through. Avoid making the bathroom look too busy by use of shower curtains and wall papers. Instead, fix character-motivating shower curtain just adjacent to a painted wall in a harmonizing color with a theme boarder.
Shampoo bottles, theme toothbrushes, fixtures and towels that come in matching colors would definitely add to the unified look. Drain and faucet covers prevent children from accidentally banging against metal edges when taking a bath or turning on the hot water by accident. Install toilets with snapping lids to prevent curious kids to come upon a potential drowning hazard.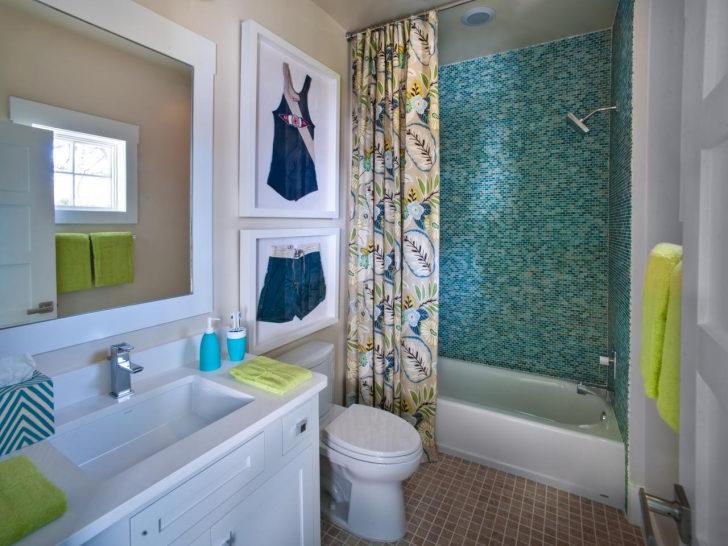 42. Handicap Accessible Bathroom
This bathroom design minimizes accessibility challenges for people who are physically challenged particularly those who use wheelchairs. Portable bathroom seats such as a plastic chair or small stools in the shower are essential for the bather for sitting while enjoying the shower. Attached to the wall fold-down seats or built-in benches make a great option for bathrooms with open or enclosed shower stalls Installed stylish grab bars in showers or on the wall close to the bath tub allows flexibility and makes a great addition to accommodate the bather by offering support and stability.
Hand held showers of about 50-60-inches hose are also of vital good especially for bathers who use wheelchairs and are challenged to stand on their feet while bathing. For bathers who love a relaxing soak, a walk-in tub provides convenient bathers with stiff limb joints access to the bath tub fixed with a single-handle faucet allows easy adjustment for the water flowing into the bath tub with no tight twist or grasps. For the toilets, add height to the toilet for the user to sit comfortably and convenient transfer to and fro the wheelchair by installing thicker toilet seats.
For bathers who use wheelchairs, light switches with push button should be positioned to their convenient reach to create an easy access to the bathroom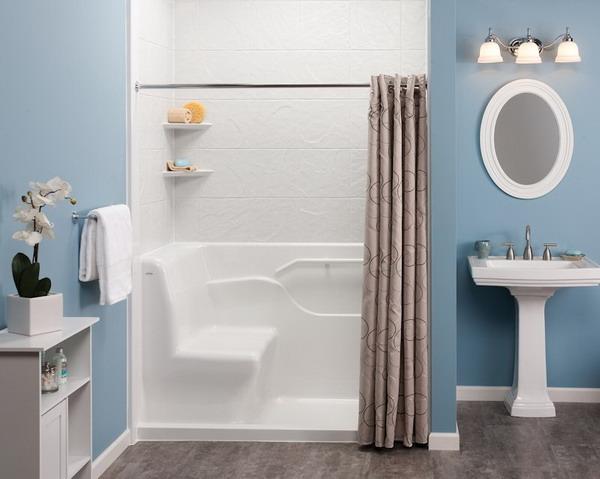 43. Arabic Bathroom design
Arabic bathroom design takes bathroom styling and décor the next level. With their communal bathing culture the bathrooms elements and structures inside are bedazzling state-of-the art. Arabic Bathroom designs Arabic bathroom design takes bathroom styling and décor the next level. With their communal bathing culture the bathrooms elements and structures inside are bedazzling state-of-the art. From the bathroom curved doorways, fixtures and stylish tiled walls, an Arabic impressive elegance and array is portrayed. A combination of lime motor, buffed up stone and black Marseilles soap coat is tinted with natural powder is spin into perceptible curves and finally applied into the bath space. The embellishment of this washroom proxy the porcelain bathe elements made of copper. The bath tub is for the most part adequately gigantic and sunk into mosaic tiled stands to increase its water carrying capacity. To harmonize the whole setting, mirrors are set in fascinating patterned framework and also applied in windows and also restroom lights.
.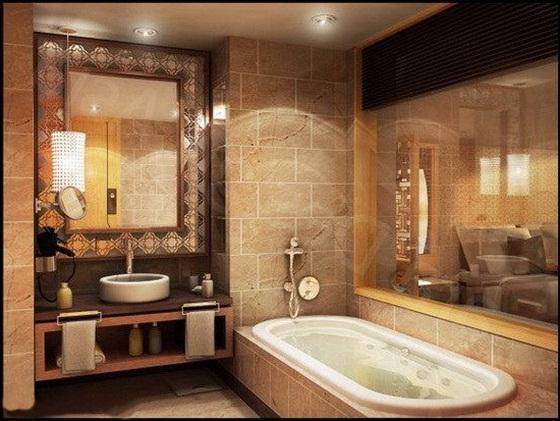 44. Hindu Design Bathroom Ideas
The Hindu bathroom design is inspired by element of earth, water, air and fire set of scale within the Asian culture. Natural stone and earthy materials are the form the basic elements of the design. A mixture of wooden properties and texture together with a fine balanced mute tones and lighting brings a tranquil spa conditions to the bathroom.
Walls are painted with dark, rich brown or even white. The light brown wooden flooring and furniture add outdoor ambience to the modest design. Sliding bathroom doors that open out to the luxuriant gardens with screens add flair to the design. A raised bowl-type sink contained by the counter top gives extra elegance and an old-world vibe to the bathroom.
An open shower and bath tub that mix together flawlessly brings the feeling of bathing in a deluxe outdoor waterfall. Asian ornamentation is all about efficacy and simplicity. Natural tones and clean lines are central to this Asian bathroom.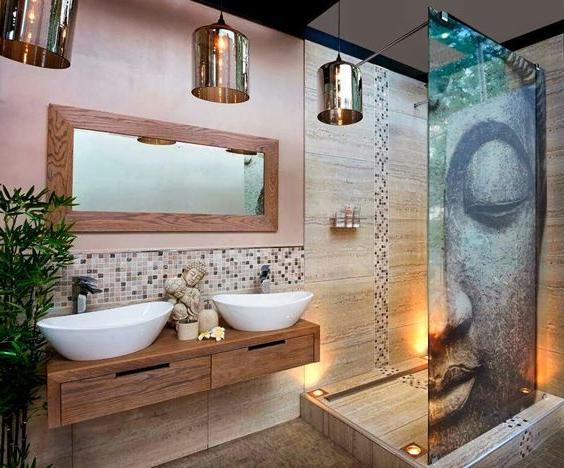 Transgender bathroom design is prominent in buildings where guests are not permanent dwellers or in office buildings. Promote greater privacy by erecting considerable stall walls to extend floor to the ceiling with each stall fixed with controls to mask voices of users.
Urinals are fixed in the mix to utilize fully both bath space and water and also have the "GENTS", "LADIES" and also "GENDER NEUTRAL "signs by the bathroom door and at the hallway where immediate users of respective sexes can easily see and feel the convenience.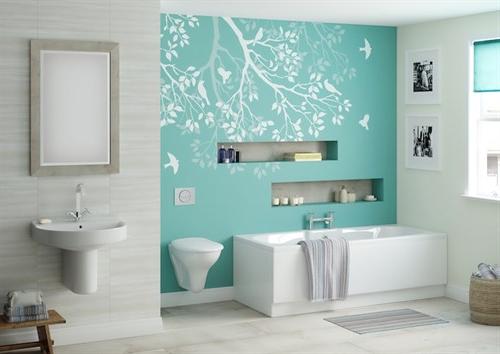 45. Bus bathrooms
Inter-city luxurious buses incorporate on-board toilets to save passengers on board from journey delays caused by frequent stop-over when passengers are pressed. Comfortable toilet seats are fixed to the corner of the small space has piping system connected underneath to the holding tanks connected to an air vents leading directly to the bus exterior store the wastes until the bus reach the terminals.
They have a holding tank with the traditional blue juice. An air vent directly lead waste fumes to the exterior to ease the bus from stuffy odour during the journey. Although most of these buses don't offer showers due to limited carrying capacity of water and considering the number of passengers on board, necessary fixtures, sinks , dispenser and tissue rollers are elegantly fixed with high quality mats of the floor and deep-brown soft fabricated walls.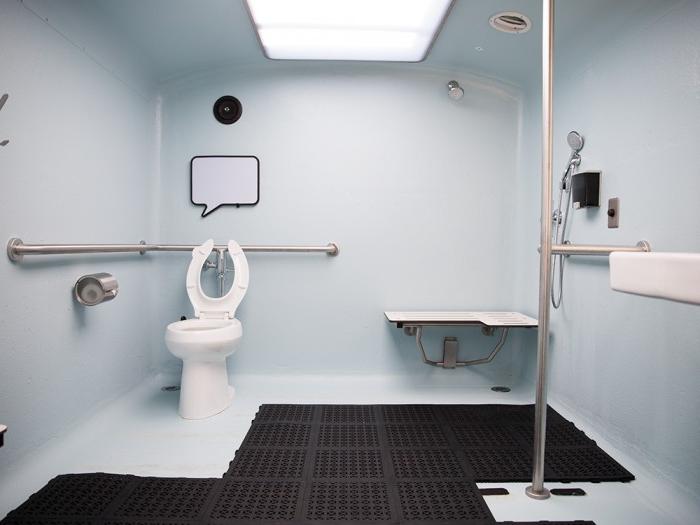 46. Airplane Bathroom Design
Airplane bathroom design for first class passenger comes with showers and sometimes full time attendants for the shower spa. Airplane lavatories are equipped with a cushioned bench seat, and urinal in the Gents side. Together with the sink and toilet the vanity mirror is nice-looking and awesome.
Fixed with a folding lath, these airplane bathrooms provide an ample space for changing clothes without necessarily treading directly on the dirty bathroom floor or on clothes. The UV light gadget fixed on these bathrooms to illuminate the light on all surfaces – sinks, toilet seats, counter tops and walls to sanitize and kill all invisible microbes by causing them to burst to make the surfaces hygienic for users.
Hands-free faucets, trash flap, soap dispensers, toilet seat and lid plus a hand dryer are incorporated to minimize the waste of tissue towels. A flooring vacuum-vent system keeps the lavatory as clean as possible between cleaning schedule on the plane.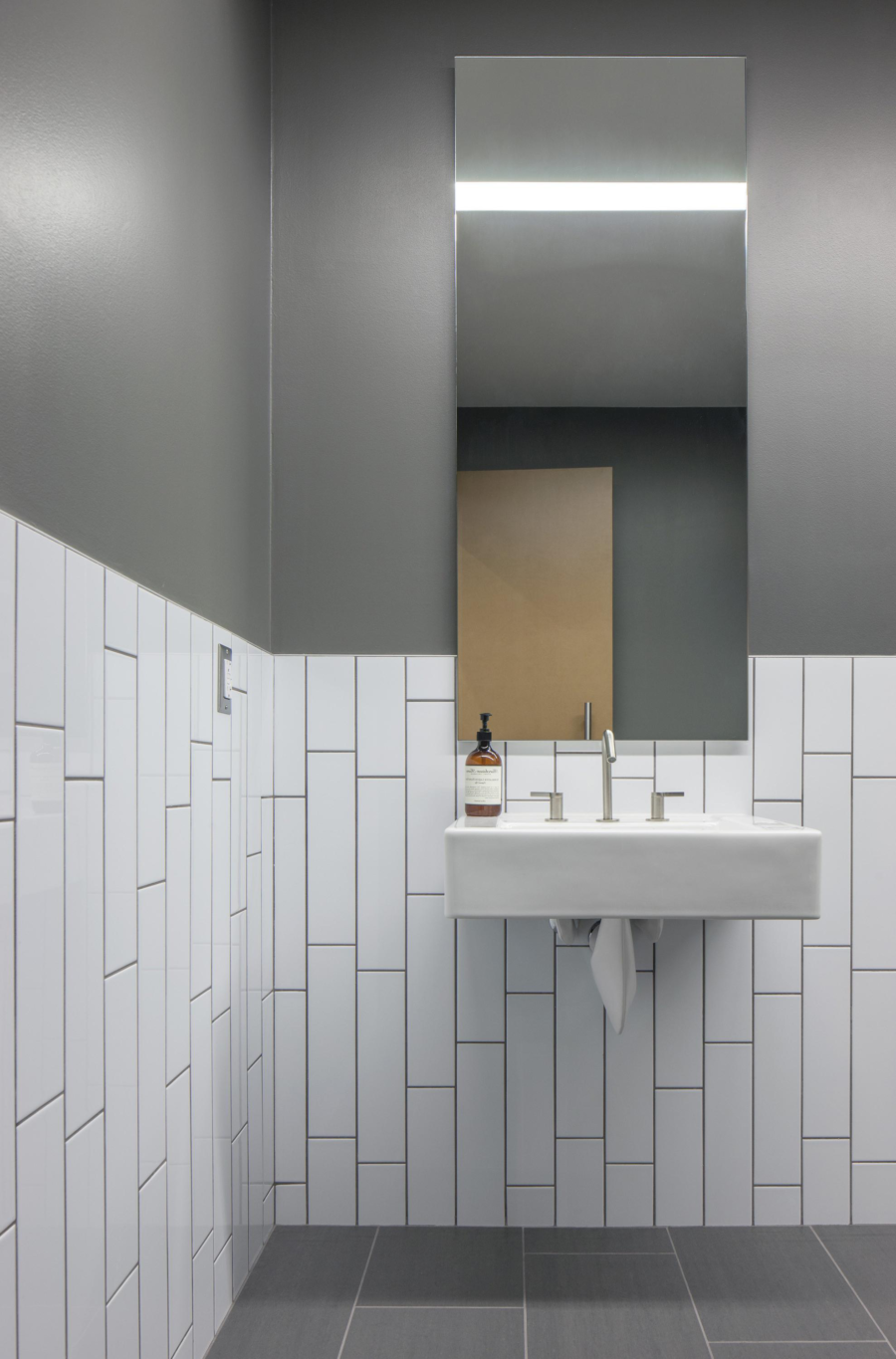 47. Portable Bathroom
For many decades, portable bathrooms have lacked lavish reputation. Worked in cutting edge bathroom style, these bathroom modules open into minimal available spaces in the field, or streets and join themselves with minor construction work. Modern portable bathrooms are fully self-contained and come with water for the sink, toilet paper, soap and paper towels.
Fixture such as a lockable door with "occupied" sign on the exterior, a ventilation vent pipe holding tank, mirror, running water sink and a coat hook makes the bathroom convenient to use when pressed. Some more advanced mobile have exterior light system which activates when unit door is locked to stop unexpected surprises and maintain the still atmosphere of users' experience.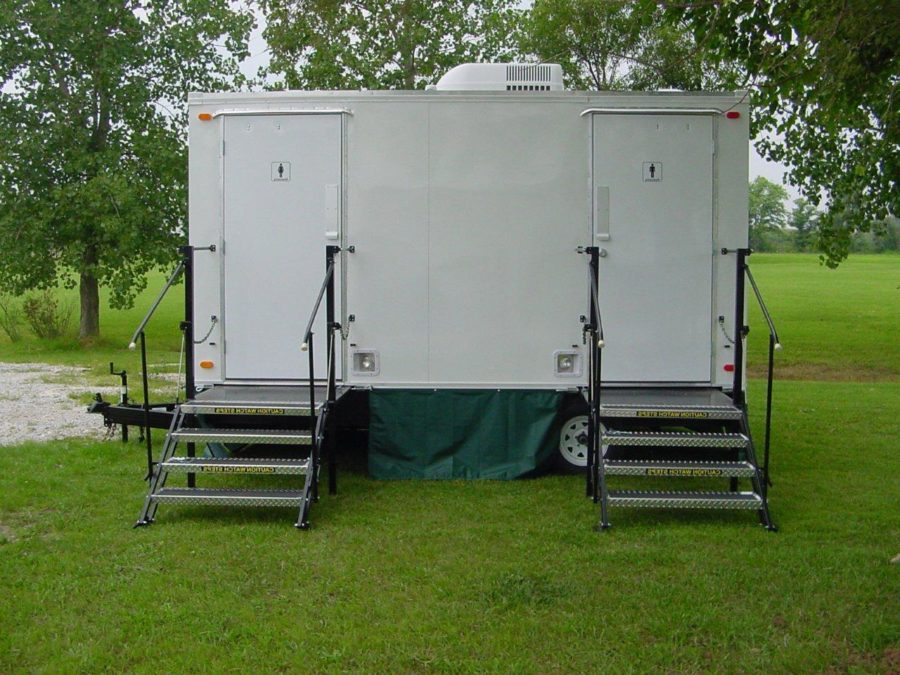 48. Office Bathroom design
Make your office bathroom gorgeous and attractive for a surprising retreat. Find some easy to maintain copper and brown gold-colored knobs to make the bathroom look more stylish, in spite of the nerve-racking odds in the work place. Bust out bright light color scheme such as crimson or turquoise.
Office bathroom is a key indicator of your office team's culture. Don't ignore its condition. Loaded it with swanky amenities, such as running water sinks, temperature controlled interiors, and a flushing toilet.
Avail basic accessories tissue paper, first Aid kits, pain killers, feminine supplies, air purifying sprays and a full length mirror. Grab some artwork, a plant and unique fixtures too. The office bathroom gets positive notice from your team members, clients and guests. Keep the interior well-lit with a monochromatic floor color scheme to create the looks of an airy, modern office bathroom that is guaranteed to please.