30. Eclectic Bathrooms
Eclectic bathroom design is well-known by illustrations of mix and match aspects from several complementary or contrasting styles. The design is predominantly deal for hallways or next to guest rooms in half or three-quarter baths or guest rooms that stand alone, rather detached from the largely aesthetic plan of the rest of the house.
Smooth wall tiles contrasted with an archetypal claw-footed tub on a modern stand, archaic tub-filler system and enclosed pedestal sink basin on vanity or a cabinet brings complementary effect to the bath space. Add natural elements such as unfinished natural wood for bathroom seats, storage cabinets and mirror frames, or contrast with bright, light countertops and tiles to create an eclectic feel.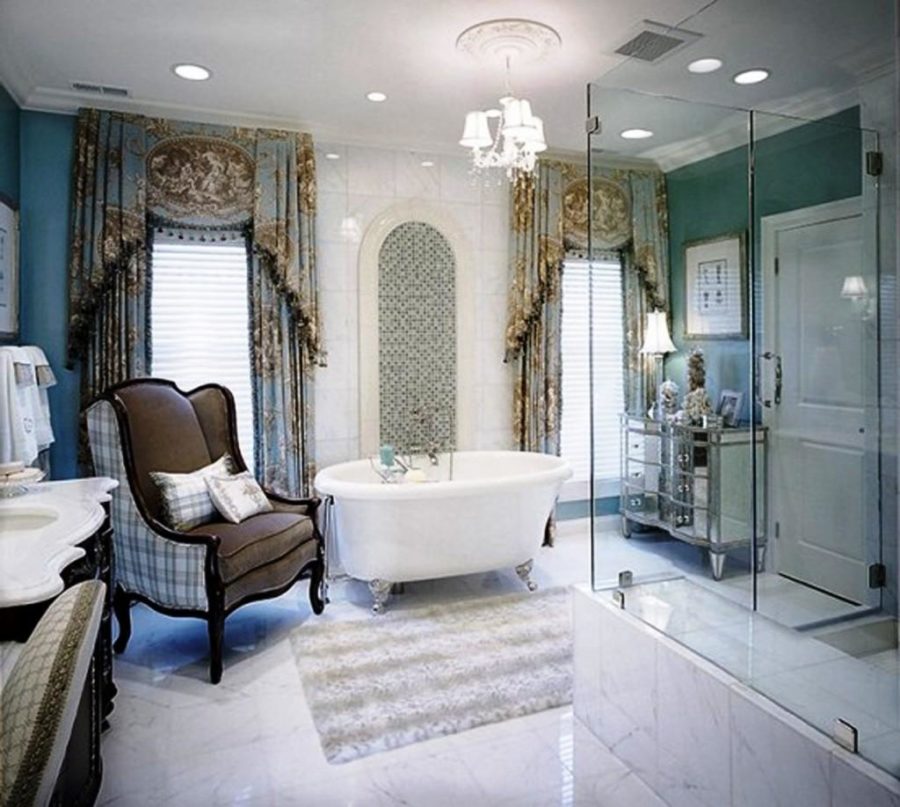 31. Tuscan Bathroom design
This bathroom design idea originates from Italy's fabled Tuscany region. Renowned for its distinctive architecture and beauty, it encompasses a rustic blend of textures and natural themes. With its popular color themes of Ochre, soothing Mediterranean blues and terracotta, Tuscan-style bathroom surfaces are lusterless rather than sleek or flashy in appearance.
The lusterless theme in the Tuscan Bathroom brings about relaxed and soothes elegance that brings feeling of being in a vacation villa. With its airy and light translucent window covering, natural light beams which is an imperative element in this bathroom design illuminates the surfaces, matte stone countertops, rustic benches and natural components such as potted plant or flowers on the window boxes.
Marble flooring, hand-painted natural sandy colors add some style and wall's art work and garden scenes, all add to the laid-back feel to the Tuscan bathroom design.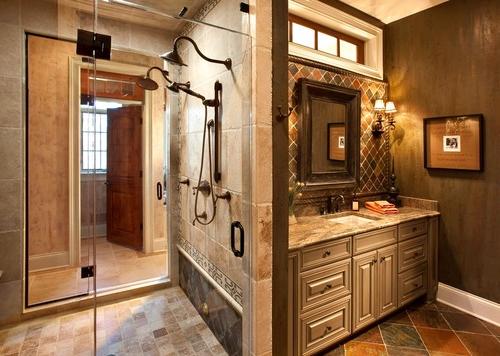 32. Arts and Crafts Bathrooms
Arts and Crafts bathroom designs are featured by wood mirrors vanity and cabinets that have been made in Arts and Crafts style elements to create a timeless and classic bath space.
Its porcelain pedestal sinks which common facets of Arts and Crafts style bathrooms add some essence and weight to the design and blends with the natural wood tinges of mirror frames and cabinets.
Tile flooring with black and white mosaic patterns are an ideal harmonizer to the pedestal sinks and wooden cabinets, as they're obtainable in a variety of hues and shapes. A bowl-shaped porcelain tub or claw-foot tub acts as the bathroom's focal point combined with a copper finishing attach extend the classic timeless feel and visual interest, of the Arts and Crafts bathroom.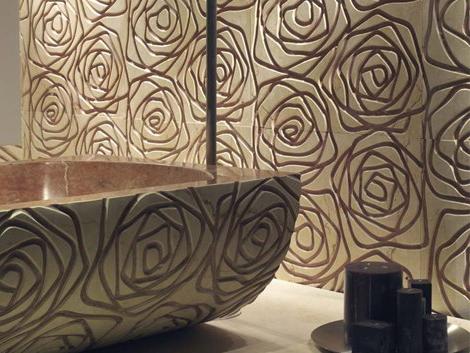 33. Spanish-Style Bathrooms
Spanish Style is one of the best bathroom design idea which integrates idiosyncratic qualities like sunny colours – orange, yellow, bold red hues and terra cotta tiles. The profuse use of terracotta tiles on countertops, tabletop surfaces and flooring takes after elaborate backsplashes and entire walls to intricate the gorgeous mosaic art work.
Spain's Moorish artefact of arched architecture is featured in windows, doorways to toilet stalls. The curved style is also reflected in the design of furniture and mirror frames to make the bath space soothing yet lively.
Furniture is often fairly rustic and built from hardwood that is painted in bold and bright colours to bring inside a tad of the outdoors and highlight an association to the Mediterranean region's natural magnificence.
Textures and bold patterns are also key features of Spanish-style bathroom design to artfully convey seaside scenes or pastoral in addition to abstract patterns in exciting colour theme. Add texture to the walls by featuring stucco and also fringe on window curtains and furniture cushions to enhance visually discrete texture.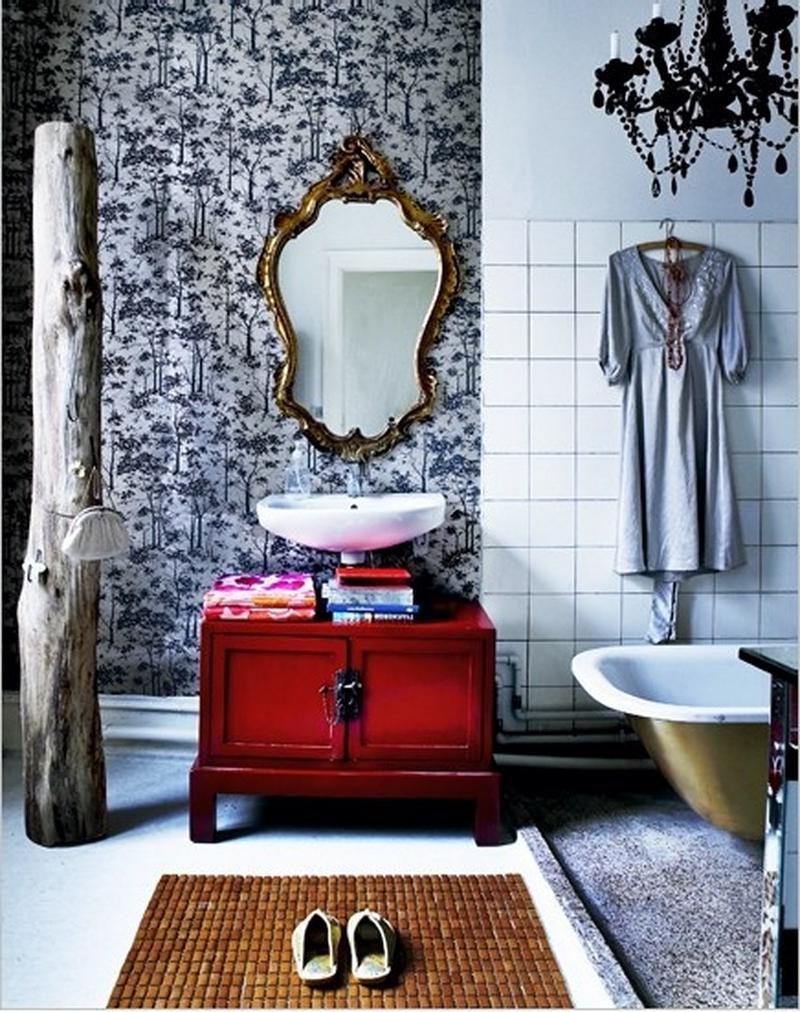 34. Mediterranean-Style Bathroom Design
Mediterranean-style bathroom design takes after the relaxed a snug style establishes in homes of countries along coasts of the Mediterranean Sea.
Mediterranean design has a tendency to incorporate colours motivated by the natural beauty of the Mediterranean regions. Colours such as rusty reds and browns, in addition to bright, sun-washed hues together with warm yellows, bright turquoises, crisp whites and brilliant blues are emphasized as a main scheme on floors, walls and ceilings and are also used as intonations right through the design, accessories, linens, and on backsplashes.
Traditional terracotta-style tile are found on sink tops, in showers, counters, as well as cabinets. The furniture – bathroom seats, cabinets and vanity are made of natural wood painted in trademark Mediterranean colours to add a colour-saturated and lively element to the design.
The doorways or bathroom entrances and shower stalls are curved or arched. Terracotta features depicts scenes of inside-sea-life and abstract patterns intricate artwork on curtains and linens in a unique classic architectural style.
Walls are textured by applied stucco marrying well with inlaid furniture decorative patterns, plus unique adornment like expertly carved chairs or tables' arms and legs to continue the highly wrought style that is relaxed and elegant.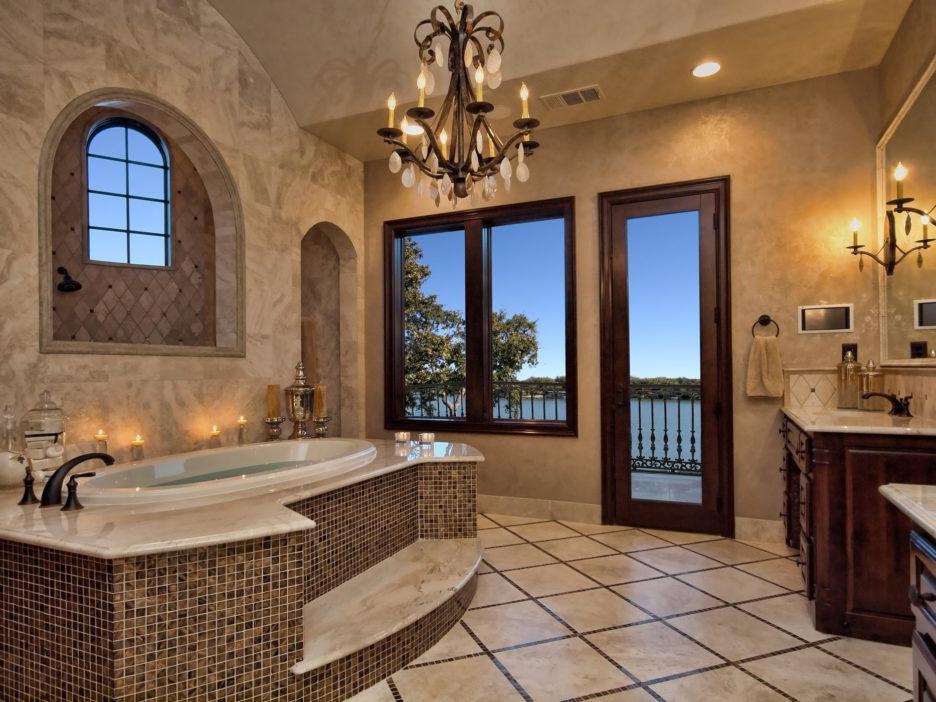 35. Transitional Bathrooms
Transitional bathrooms design integrates modern design elements with traditional approaches. This bathroom design employ clean lines and a soothing style without using undue overly bold flourishes. The common color schemes – beige, white and light, Tan, grey; all tend to remain to the classics as they pull together the modern and traditional styles of other accessories and fixtures.
For an understated but classic look, marble or natural stone make up flooring and countertops. Midcentury contemporary cabinets paired with traditional features such as natural wood bathroom seats and classic pedestal sink are ideal to create an appealing and visually unique bath space. Placing your bathtub by the window makes the bathing experience doubly relaxing.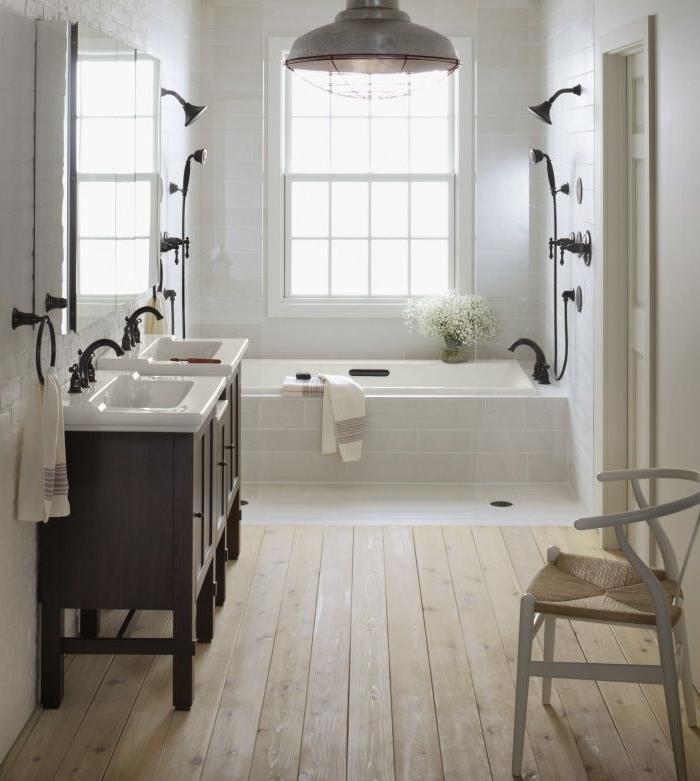 36. Black and White Bathrooms
Black and white bathrooms design is a great way to uphold stylistic minimalism. They also facilitate experimentation with any design without nerve-racking about color matching. The bathroom walls with wallpapers in a ticking style create enormous visual interest in clear-cut design. Wall tiles in bony strips of black and white, sited near eye level, extending around the bathroom add much visual punch. A porcelain white tub and sink is used to give a traditional look that suits taste for classic style. For modern tastes, a black toilet or tub is definitely an option to fall for while classic claw foot tub is best for vintage taste.
Accessories carry on the black-and-white furnish theme in the bathroom. Jars for toiletries, linen storage baskets, pots or vases, and artwork are widely in black-and-white designs.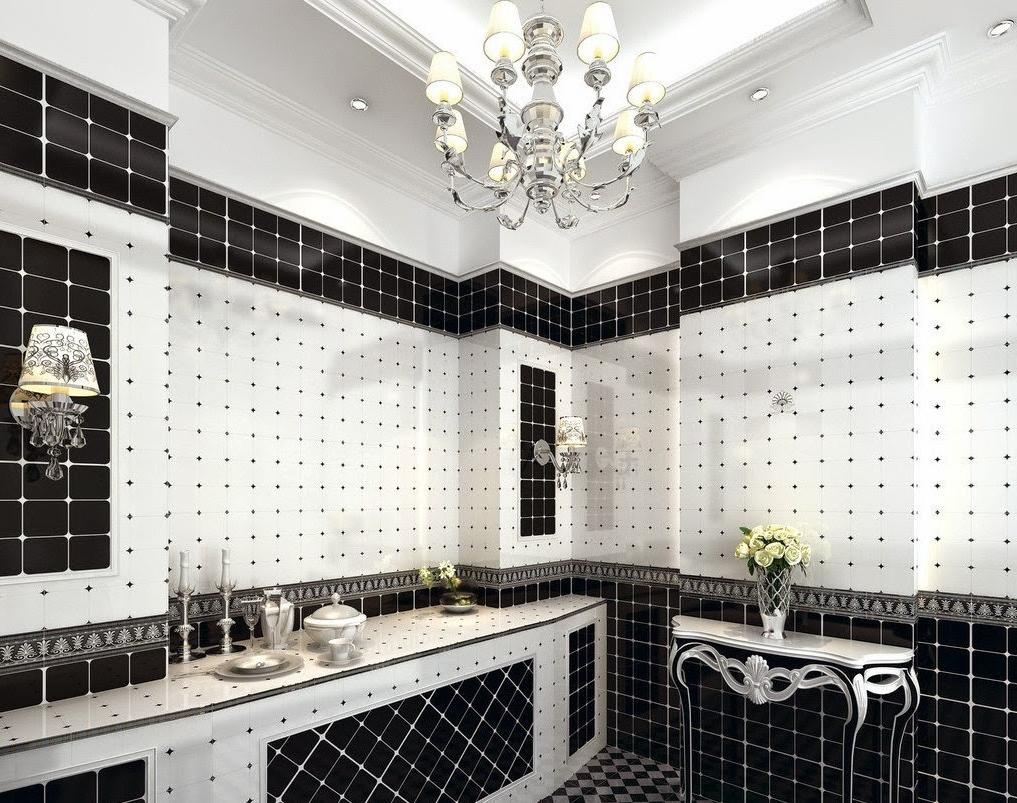 37. Rustic Bathroom
Rustic bathroom design is for those whose style is inclined towards unmoved country comfort s well as for those champs who would love rustic design 5o bring the sense of outdoor in their bathrooms.
For all rustic bathrooms, wood is the main material used and best for walls. Also bead board paneling stained to the owner's taste and preference along with ornamental wainscoting makes the bathroom more welcoming and relaxing. Tones such as golden browns and greens are fundamental for a rustic feel whether for staining or painting.
The rustic bathroom's elements such as ceramic pedestal sink with metallic faucet integrates well with accessories that complement wrought iron and wooden features used in other elements – from shelving to mirror frames.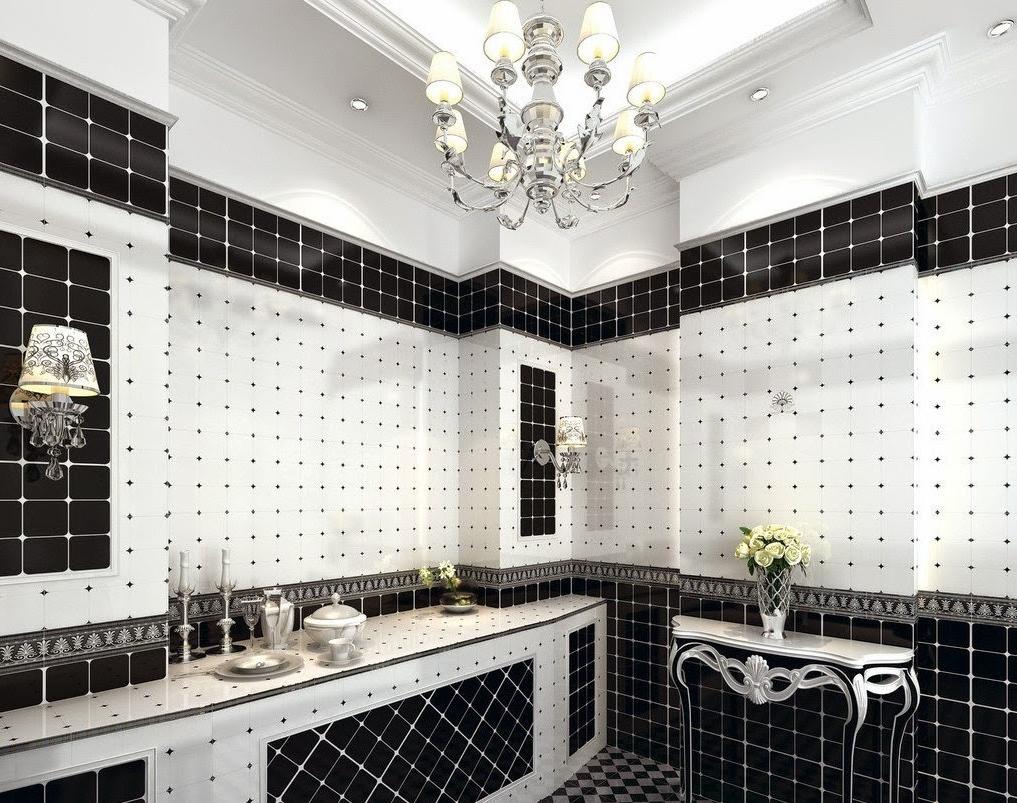 38. French Country Bathroom Design
French country bathroom design features a soothing blend of style, romance and comfort. This design is stirred by the unperturbed elegant style establish in the French country domains of the 19th century. Prominent colors for a French country bathroom are browns, greens soft blues, and yellows.
Gentle but lively colors as well as natural and earth tones are best with this simultaneously elegant and relaxed style. Colors can be set out through wall paint, countertops and flooring, or accessories, and as well incorporate a primary color right through the design.
Cabinet style generally incorporates crown mounding, ornate raised woodworking, or cut-outs, making it to be similar to cabinetry that that are on armoires, dressers or other classic furniture pieces. Bathroom seats are often antique replicas in the style. Ornately tufted seats with carved arms and legs combine with other down-to-earth designs for dressing tables, to reflect a country fashion.
Natural wood shelving, storage units or wicker baskets combine well with the more formal aspects of the space and offers a country approach to the bath space. Consider a primary colour scheme for the walls to integrate design elements such as tile work or wallpaper. The wallpaper feature natural scenes in period-accurate designs like-toilet.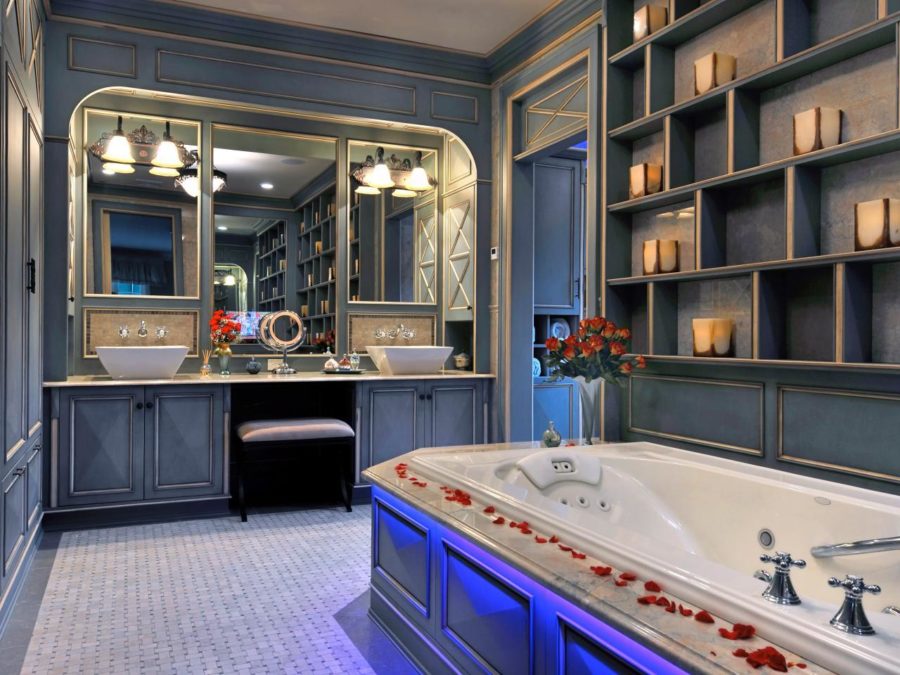 39. Shabby chic bathroom
Shabby chic bathroom designs add a comfy, welcoming and relaxing space. The unofficial nature of a shabby chic bathroom offers the ability to blend and match elements and decor for an elegant and unmoved style.
The design is well known to feature a mix of decor and furniture pieces that are either naturally weathered or which have been artificially weathered. The impression realized by this blend of well-used and well-loved elements and ornamentations is one of casual lavishness — shabby chic designs offer a comfortable welcoming and informal air bath space.
Antique furniture pieces such as bathroom seats, cabinets or under-sink cabinets and countertops combined with sinks perched on former dressing tables or chests of drawers for a casual, repurposed impression. This furniture is a mix of wood and metal represents more traditional or classic style as opposed to more modern or contemporary ones
Bathroom accessories, lighting fixtures, artwork, mirrors and other ornamental items for shelving or windowsills are all of vintage styles.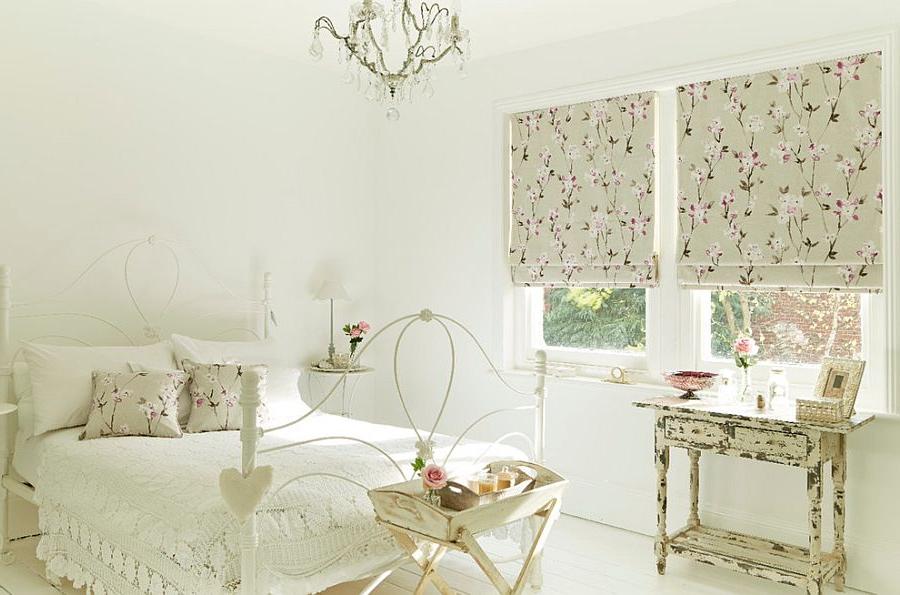 More Bathroom Design Decoration Ideas On The Next Page…