How to decorate a small bathroom can be presented as a challenge for many, but it is not just the decoration that can make you worry, one of the factors that can arouse more anxiety is to find enough storage space for all our bathroom accessories. In today's article we will focus on storage solutions for small bathrooms, so you can take note and be inspired by these ideas.
The good thing about these solutions is that they are available to everyone, since it is not about doing big works or drastic solutions. These are storage solutions easy and available.
So keep reading to see the latest trends in the bathroom storage cabinets' world.
35 Bathroom Storage Cabinet Ideas That Won't Be a Pain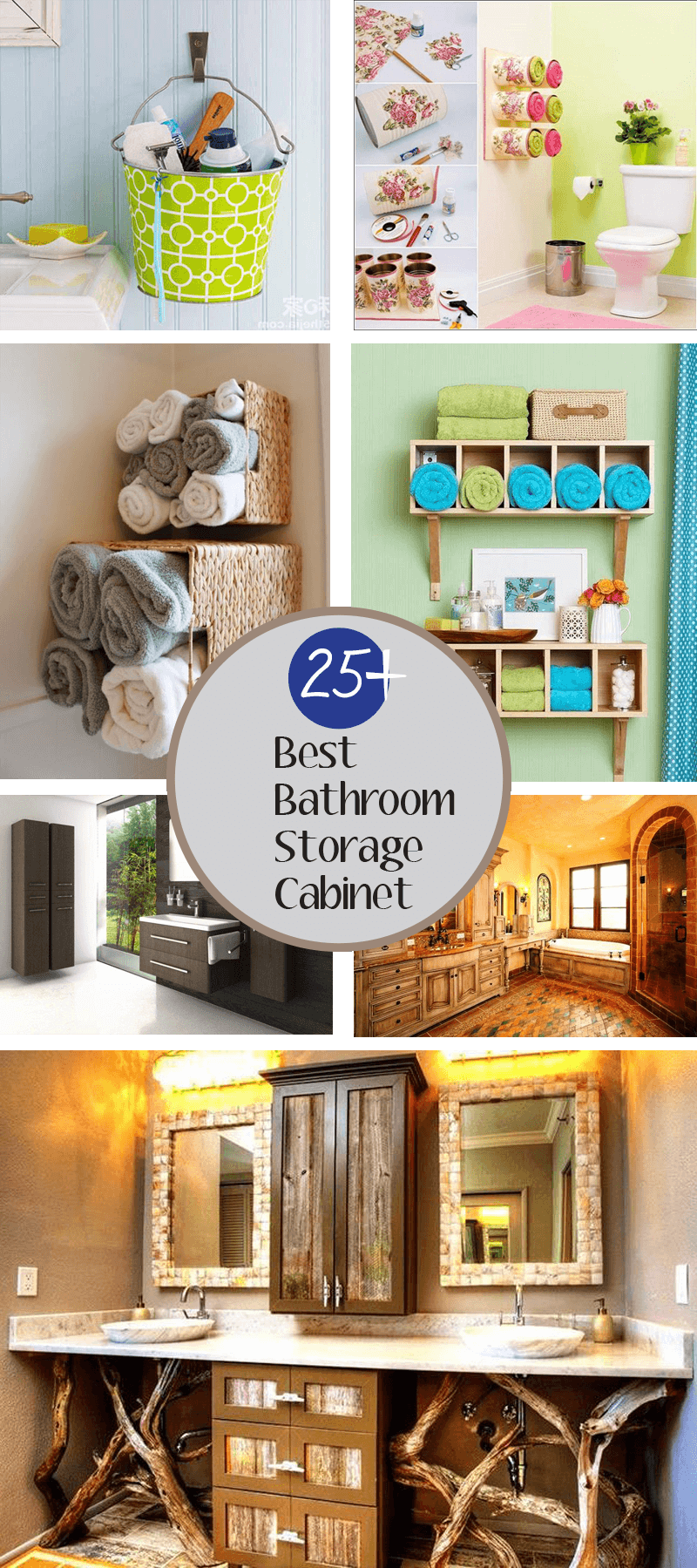 The smallest room in the house, in most cases, needs some pampering when it comes to decorating it. With this, we refer to the ability to make the most of your style and especially the space you have. And the fact is that the bathroom is much more than a room of passage, it is the room dedicated to personal hygiene, to get beautiful before leaving home and our particular area of procrastination at the end of the day. In this way, and despite that lack (or not) of space, it becomes an extension of our bedroom.
So, for the bathroom not to become jut an area of passage, we need to choose the right furniture. Beyond the sink, toilet, shower and / or bathtub, there is another item really important in any bathroom. We are talking about bathroom cabinets. There is a wide catalog of cabinets with which to equip our bathroom. The golden rule is simple: whatever you decide to chose, it must go in consonance with the aesthetics that you have given to your bathroom, and they also must be functional. It is not worth to include a piece of furniture just because it seems nice to us. The furniture you choose must go with the overall style of the bathroom.
If you did not imagine how many fantastic ideas there are to take advantage of every corner of the bathroom in order to keep everything in order, in this space we will show you a selection of the 35 most interesting ones so that you stop complicating yourself.
Are storage, order, and aesthetics becoming a headache for you in your bathroom? Try this ideas at home and end your suffering.
1. Use Metal Buckets To Keep Things Stored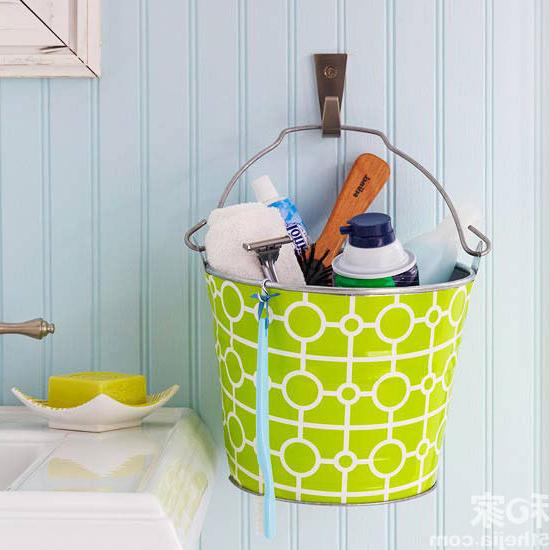 The wall can become the ideal place to create storage space, and not just with furniture and cabinets, there are other ideas that can work very well in your small bathroom.
Using hanging cubes as a bathroom storage cabinet on the wall can be very cool and fun, such as this one in the picture. You can use several buckets giving each one its own use, and indicating it in a sticker.
2. Use Towels Rails To Hang Storage Baskets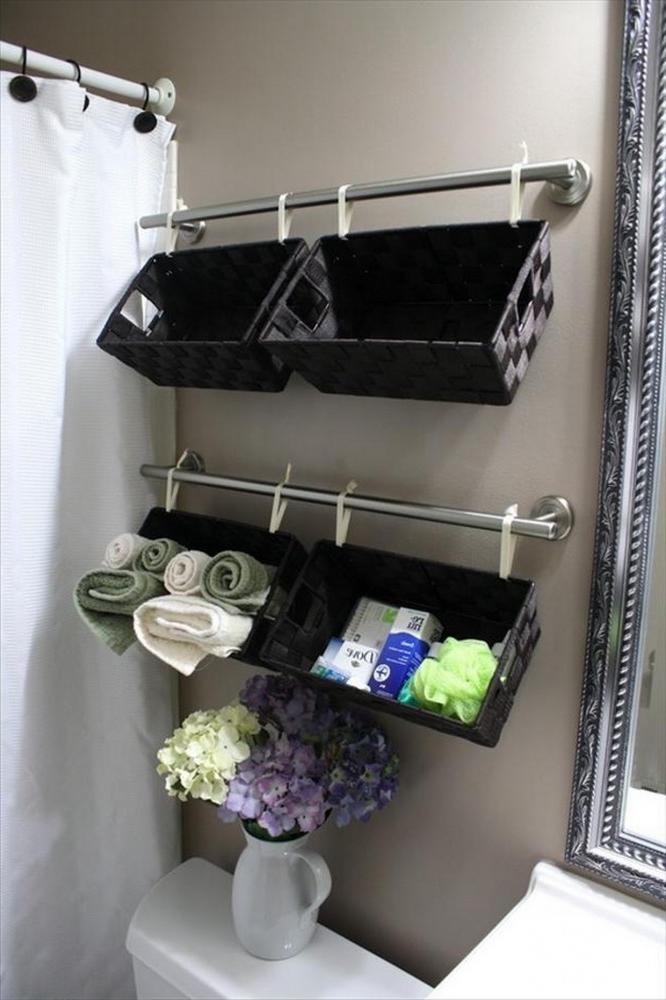 One of the most wasted spaces is the space above the toilet. Previously, when the chain was located at the top, it was difficult to take advantage, but today there are even floating toilets, where the upper part is fully visible. This gives you the chance to install some rails and use them to place baskets like in this example. Extra storage space in no time.
3. Storage Containers To Put At Any Free Space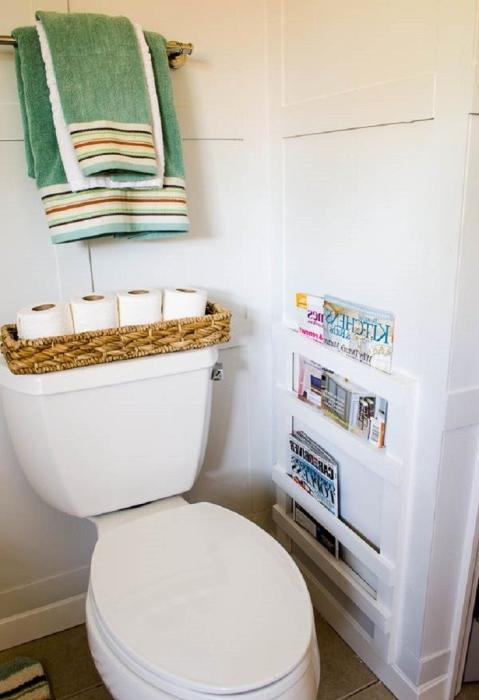 As not all the bathrooms are the same, you can find different ways to make the best from bathroom to bathroom. For example, another way to take advantage of the storage space on the toilet is with this formula so original, with wicker baskets. This is ideal for very small bathrooms.
If you are looking for another item to decorate and store at the same time, the baskets are perfect. In addition to providing a warm and subtle air, you can place clothes, makeup or some other element of personal use in them.
4. White Cabinets To Complement A Colorful Bathroom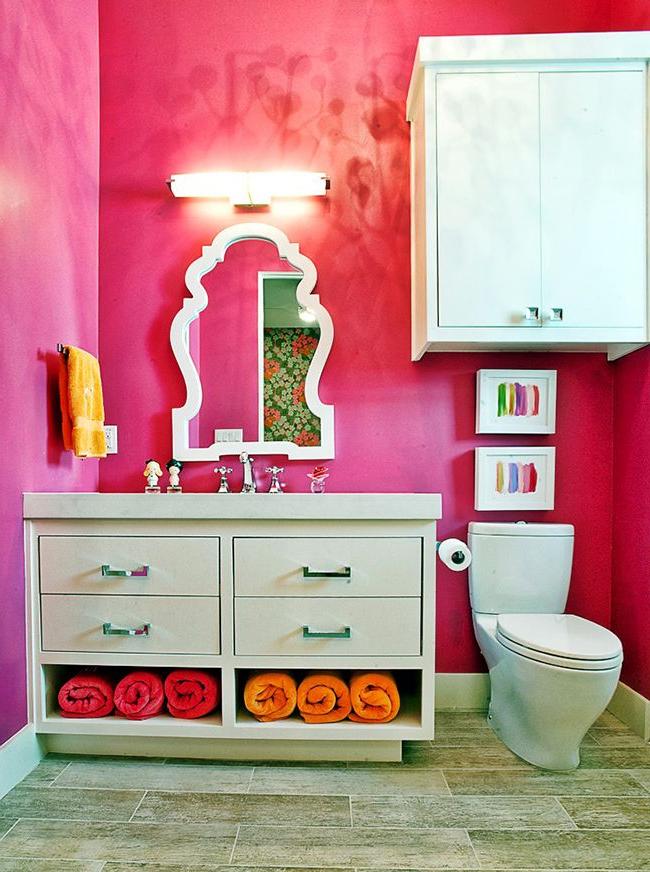 Shelves are a very conventional idea for storage, if your bathroom is too narrow you can place shelves on the toilet. Like in this colorful room that is the perfect balance of colors, decorative details and functionality.
5. Boxes Shelves To Keep Storage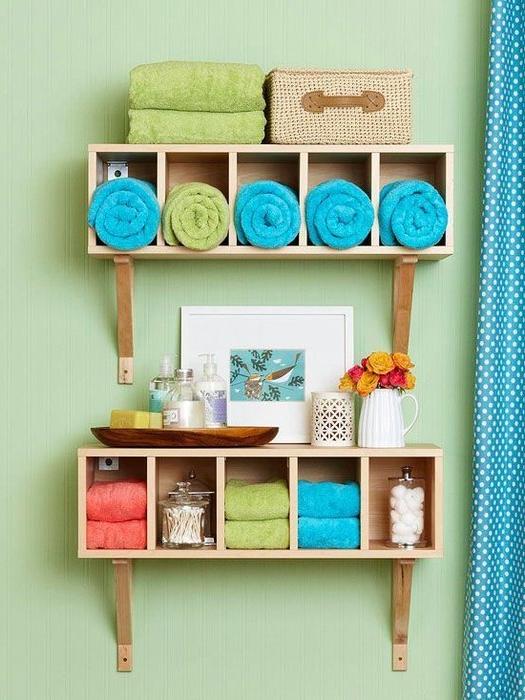 The idea of placing aerial shelves favors reduced spaces since they leave the floor free and give a feeling of spaciousness. You do not need to place many to do the trick, with some, like two or three will suffice like in this design where the aerial shelves are used to storage towels, cosmetics and more.
These type of shelves can also be used to take advantage of the sink area. Just combine the colors of the bathroom storage cabinets with the rest of the bathroom, so that they match and have a better decoration. This furniture is very practical, do not take up much space and are the perfect solution for bathroom storage.
6. Shelves And Boxes To Keep Everything Tidy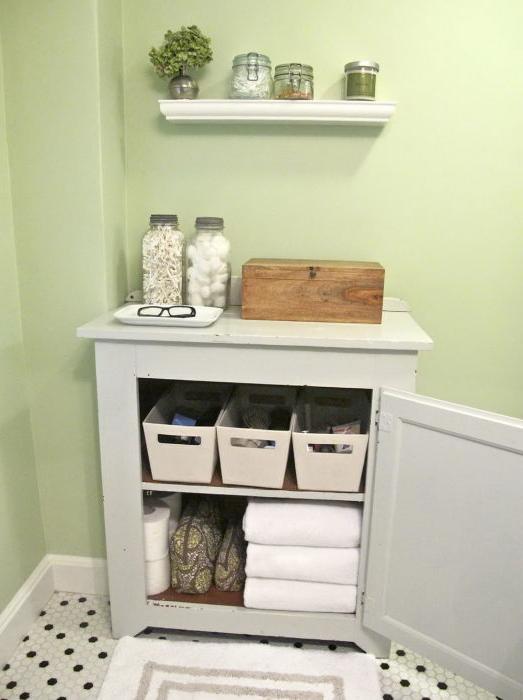 The shelves are great for when you want to include items in the bathroom, without spending a lot of money. You can even get a few sheets of wood and build your own bathroom shelf. The size will depend on the tables, and you can place as many shelves as possible and be ready to use. It should be noted that in addition to being useful is a good decorative element, yes, what you put in it, you should try to keep it always in order. You can play with the colors to make it stand out or leave it with the natural color of the wood.
7. Vanity Solutions For A Modern Bathroom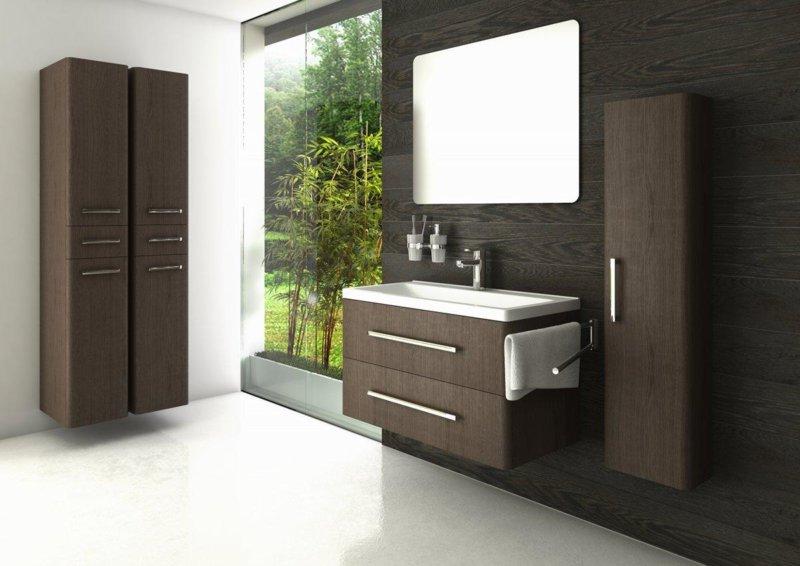 The closets and narrow furniture, able to fit in any space, are other stars of the storage space for bathrooms. Most of these bathroom storage cabinets offer unique solutions to take better advantage of the bathroom space. Also, when they are used to stylish a modern bathroom like this one, the result is simply beautiful.
8. DIY Bathroom Storage Cabinet Solution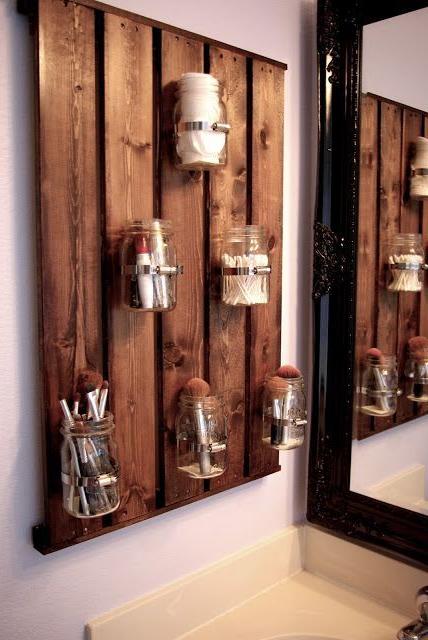 Getting storage space in your bathroom does not have to be hard or expensive. There are actually was to get extra storage space with virtually 0 investment with this piece of furniture. It is nothing but a wooden table placing glass bottles. It is the best way to get storage and recycle.
9. Cheap, DIY, Creative And Beautiful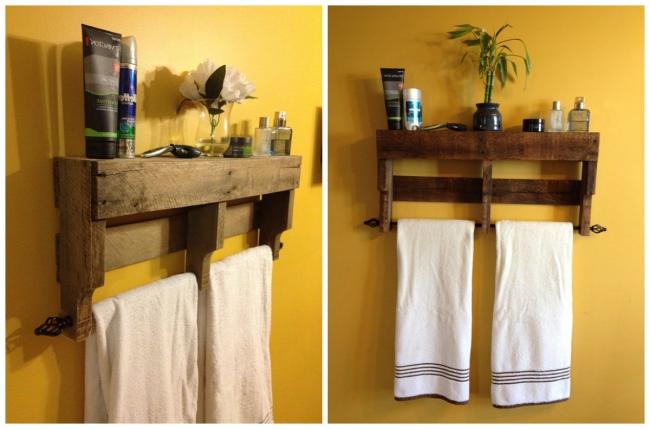 In bathrooms where the available space is especially small, as in small homes , we must use creativity and make the most of each element placed in it, always seeking to organize extra storage areas.
Incorporating hangers to hang towels next to the shower, organizers adapted to bathroom doors or double-function elements, such as modern towel radiators, are ideal solutions for this type of space. These pieces offer us a great versatility, because they allow unifying accessories, optimizing the small space. Investing in this type of functional elements is therefore a way to make the purchase made profitable.
But if you do not have any money to invest, you can always approach some DIY projects like this one that used pallets to create this inventive towel hanger.
10. Color, Unique, And DIY Project For A Floral Bathroom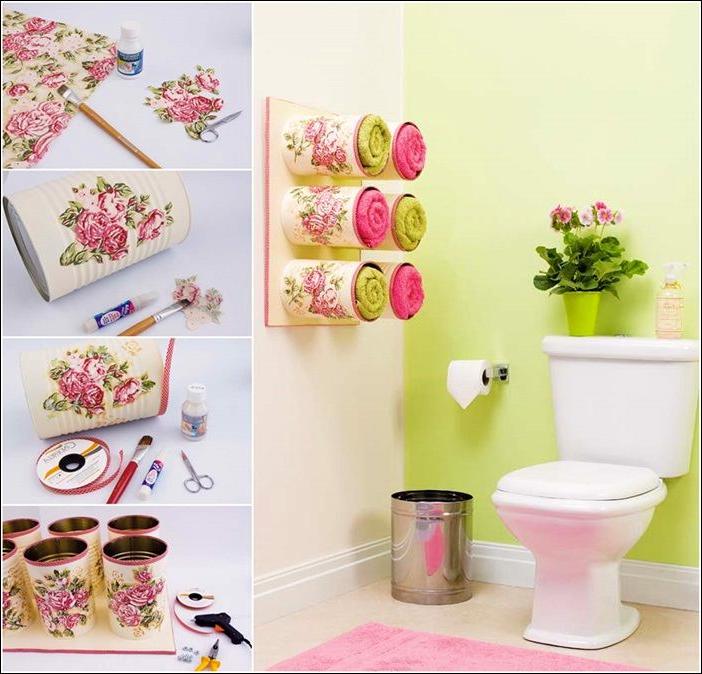 Paying attention to bathroom decoration also helps you take advantage of it. Incorporate those small decorative details, which serve to decorate but also to organize, or that adds a touch of color, automatize the bathroom, etc. Placing flowers or using an original container, including original DIY objects, to place aromatic soaps or fragrances that you like, are perfect resources to balance the environment and make it more pleasant.
That is exactly what this idea states. The storage containers made out of cans are a perfect way to reduce waste and give more space to the bathroom.
11. Make The Best Or The Corner With Baskets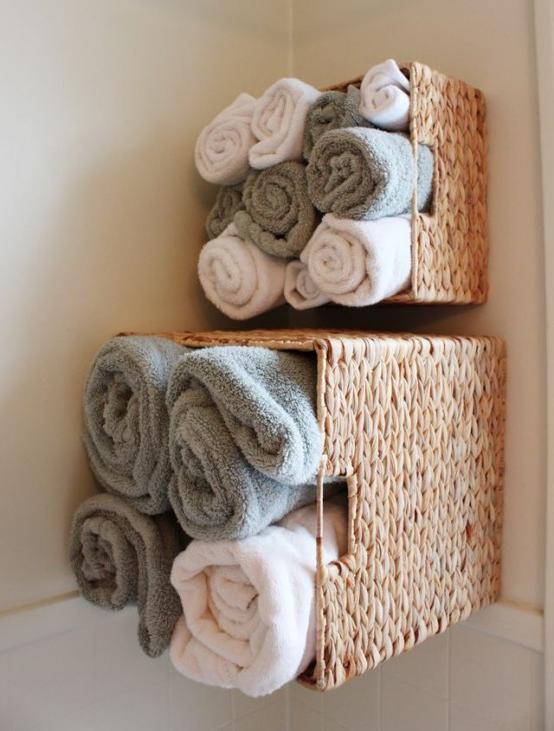 A good idea to take advantage of the entire bathroom's space is to use baskets. For example, under the main counter, you can place large drawers or organizer baskets with enough space for all kinds of necessary elements.
These baskets are made in rattan, a natural material that gives a great warmth to the environment, while allowing a good conservation of its content since being an open fabric has good ventilation and they also have multiple uses, like in this room, where they were nailed to the wall to maximize the space on the corners.
This idea also makes it a good option for the laundry basket, and in addition, the basket will give the bathroom a warmer touch, which never hurts.
12. Use A Sink Cabinet Even On A Big Sized Bathroom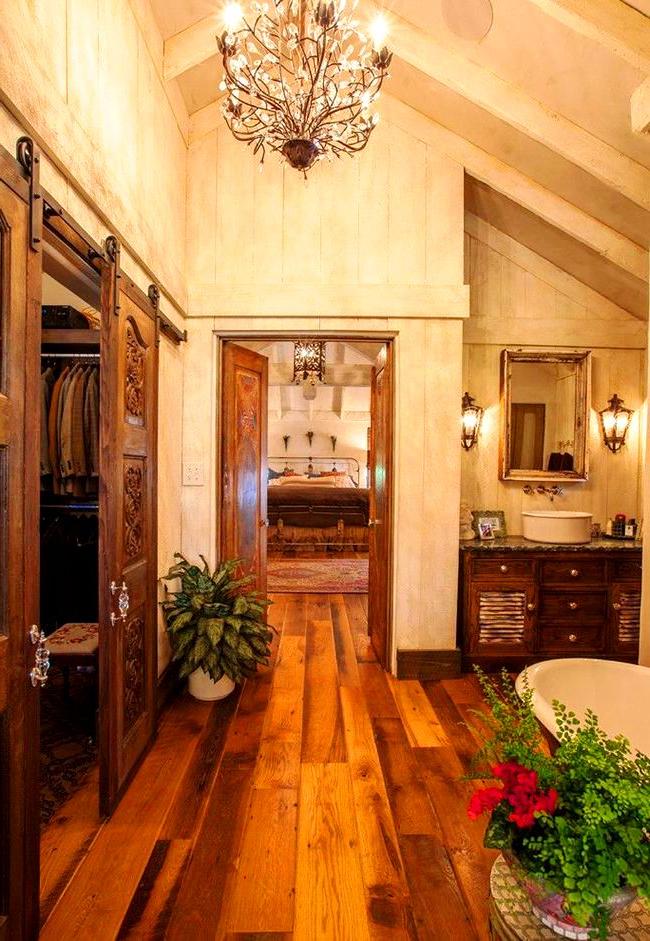 One of the most useful furniture in every bathroom is the one that is placed under the sink. If we can have a cabinet under the sink of great capacity, we will have a perfect ally for the organization of the space, because we will have a good storage space inside.
No matter the size of your bathroom, this is a storage fundamental, since it is nearer than any other cabinet when you are making up, brushing your teeth, washing your face, etc.
13. Make Hanging Cabinets With Anything You Have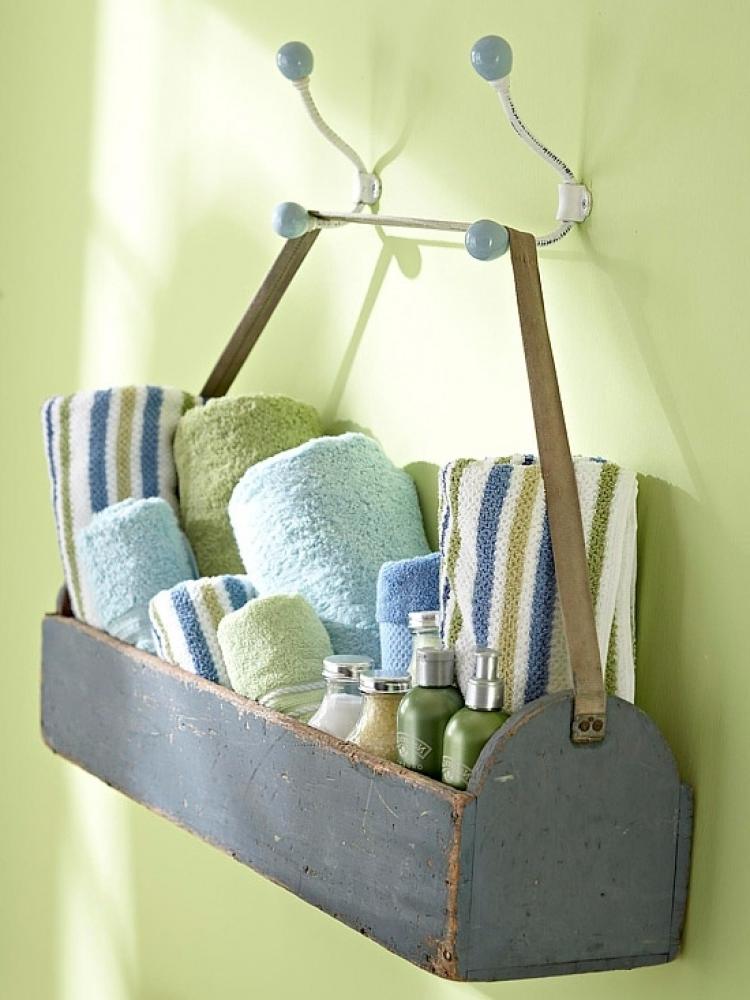 Especially if you have a small bathroom, you will need to come up with new ways to find storage spaces to keep amenities, brushes, towels, razors, or any other thing.
For this, it is just a matter of a little creative thinking to find new ways to add space and to also take advantage of old thing that in any other way you would throw away.
Check out this old wooden tool box as a bathroom storage cabinet that just had to be hanged on the wall to create an extra space to keep things. Any small bathroom would thank this.
14. Pockets For The Door DIY Style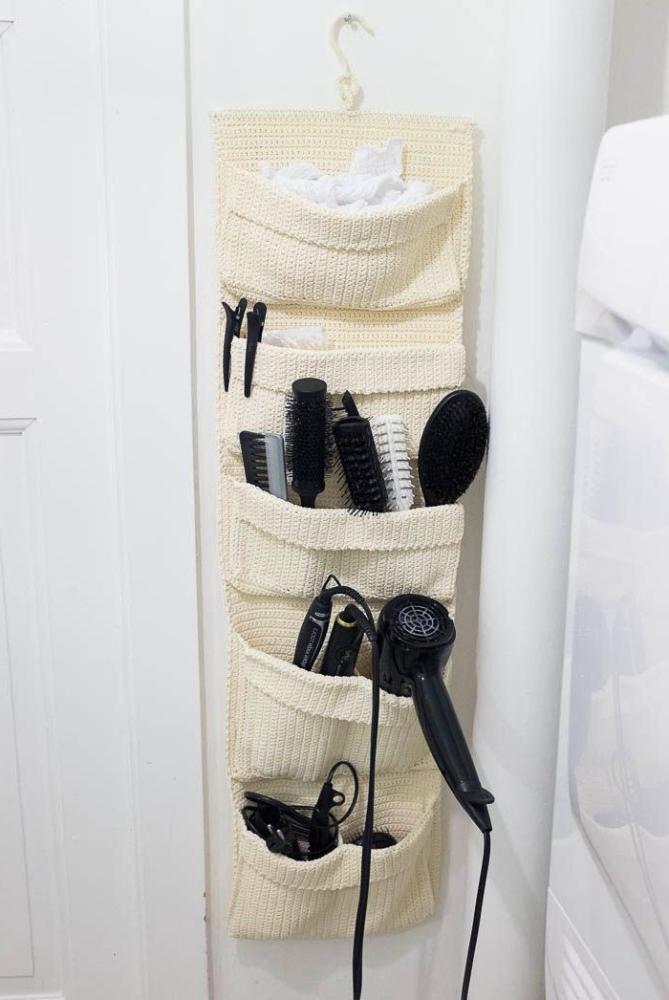 In a bathroom, the ideal is to have a sliding door, but otherwise, the bathroom door can become an ideal place for the storage of our bathroom accessories. The storage in the bathroom door can help us save a lot of space.
A pocket in the back of the bathroom door is a good idea if you want to have things in a place that does not get in the way. It offers you the possibility of hanging things like towels and jackets. It is a good idea to decorate very small bathrooms.
15. Use Decorative Storage Boxes Under The Sink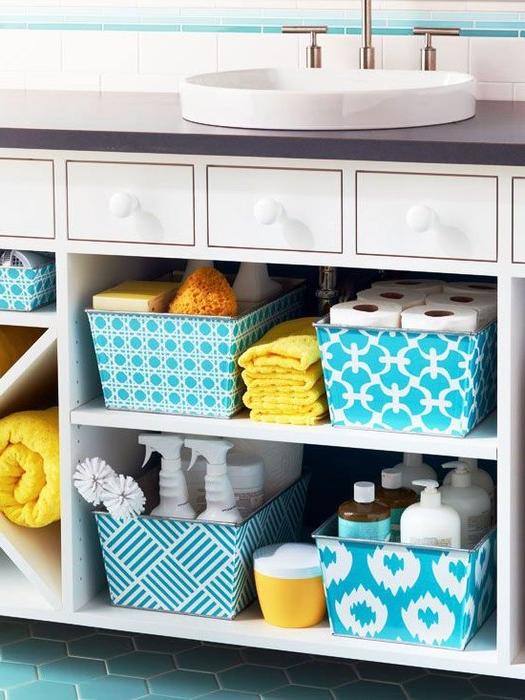 Little need to be said about this storage solution. The furniture under the sink is essential to make the most of the space of your small bathroom. You can even make it more organized if you use storage boxes to keep everything in the cabinet ordered and easy to access.
16. Gain Space With A Mirrored Cabinet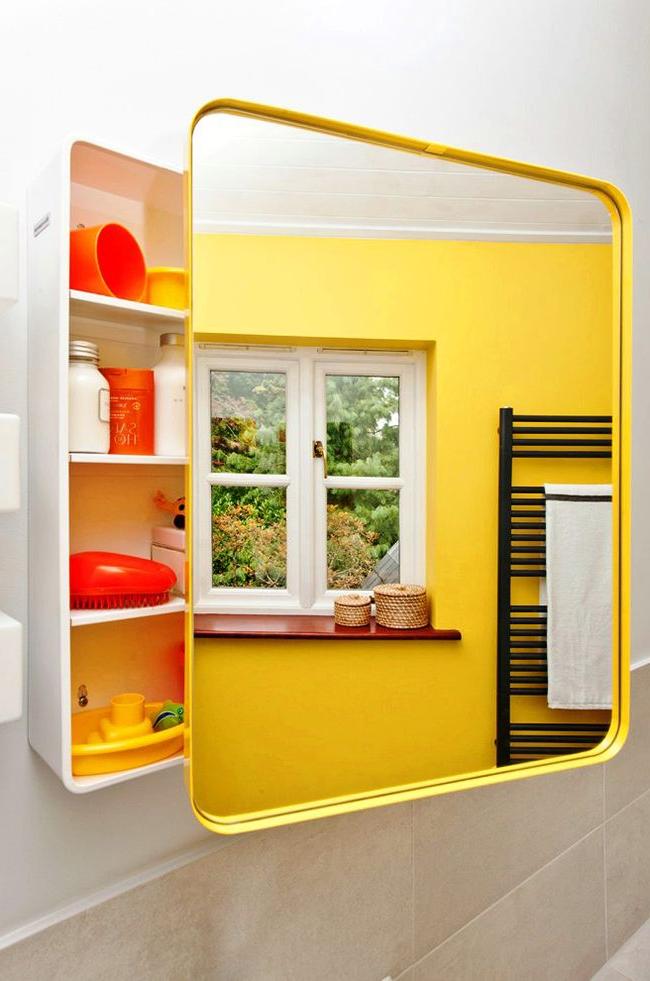 The most functional bathrooms make each corner an important source of storage. And where we apparently see a mirror, it actually hides a small closet capable of storing the most basic tools that we all need while we use the sink. The color and style also enhance the bathroom's overall style.
17. Take Advantage Even From The Sink With Hanging Storage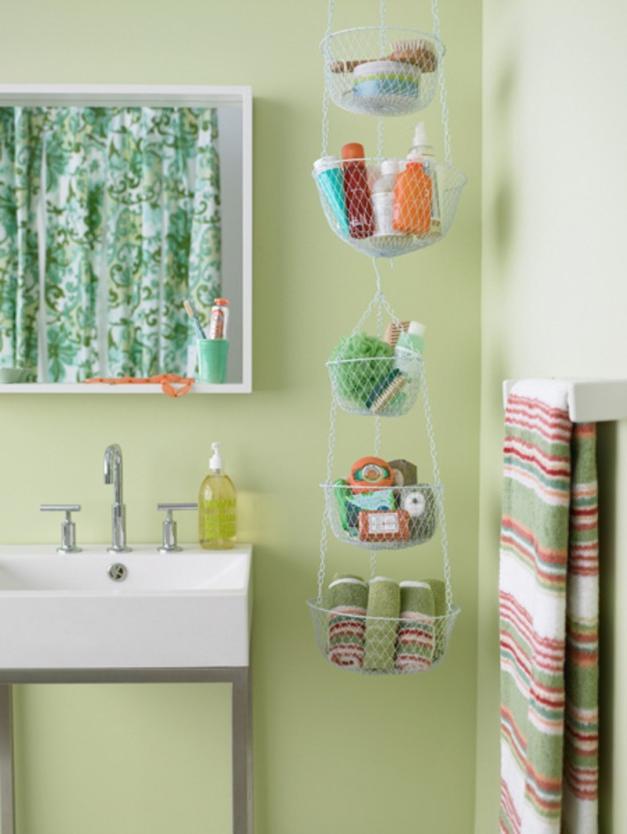 We mentioned before that when you have a small bathroom you need to make the best from any available space. In this example you can see how even the ceiling was use to create space for storage. It is just a few metal baskets hanging from the roof. Depending where you locate it, use them to storage something you would need in that place.
18. Modern, Elegant, And With Style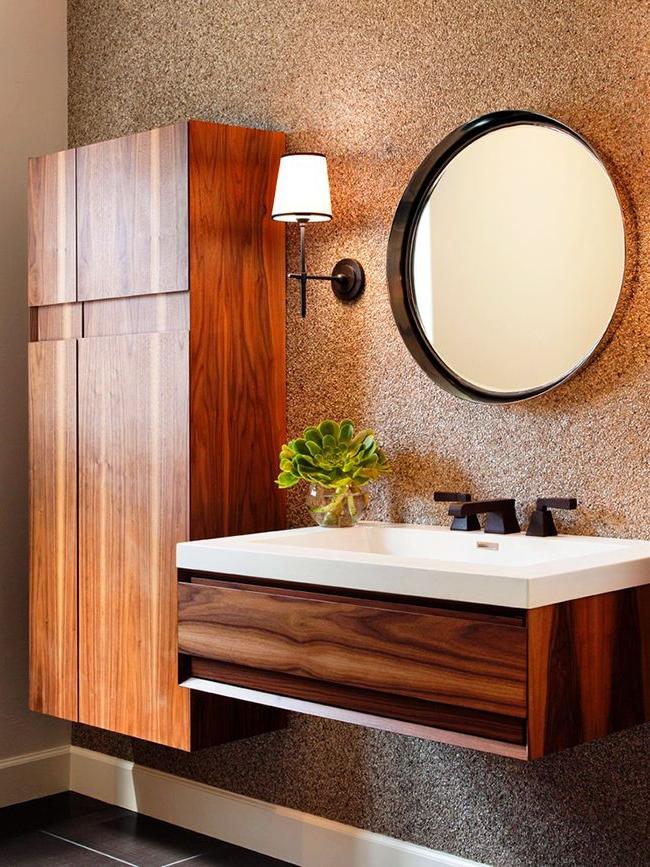 Modern bathrooms are a trend these days. Their polished finishes and luxurious appearance make them a very popular option. With this style, choose dark colors and wood finishes, like in this example that really screams modern.
19. Easy And Cheap Hanging Space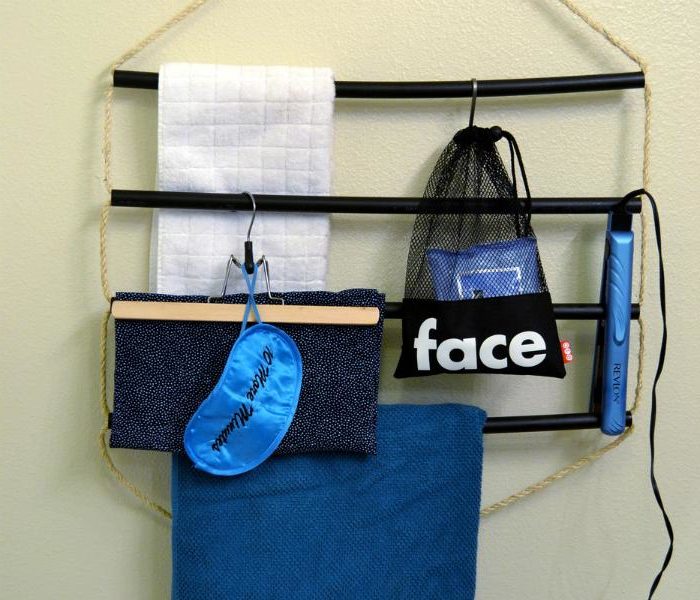 Have no money to make more storage space in your bathroom? It does not matter, thanks to Internet and DIY channels, you can find great ideas like this hanger used to store several thing on the bathroom. You can make it any size you want and place it in the most comfortable place for you.
20. Make Pockets To Use The Walls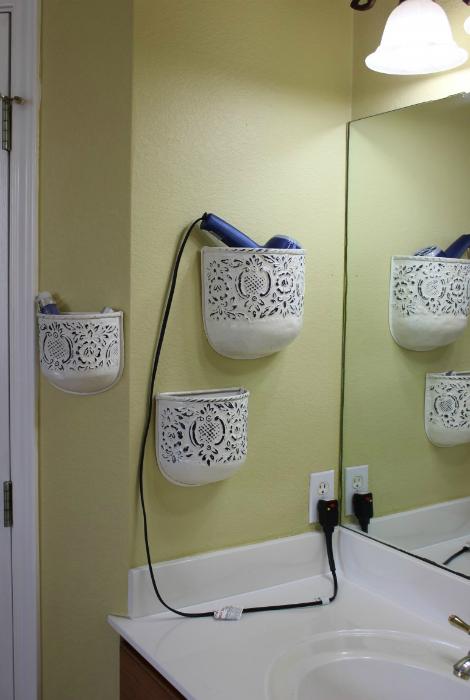 Another great idea to make the best of your bathroom space is to place different size pockets in the walls, preferably near to the door, sink, toilet or shower, so they are easy to reach when the content is needed.
21. Use Pots To Store Small Things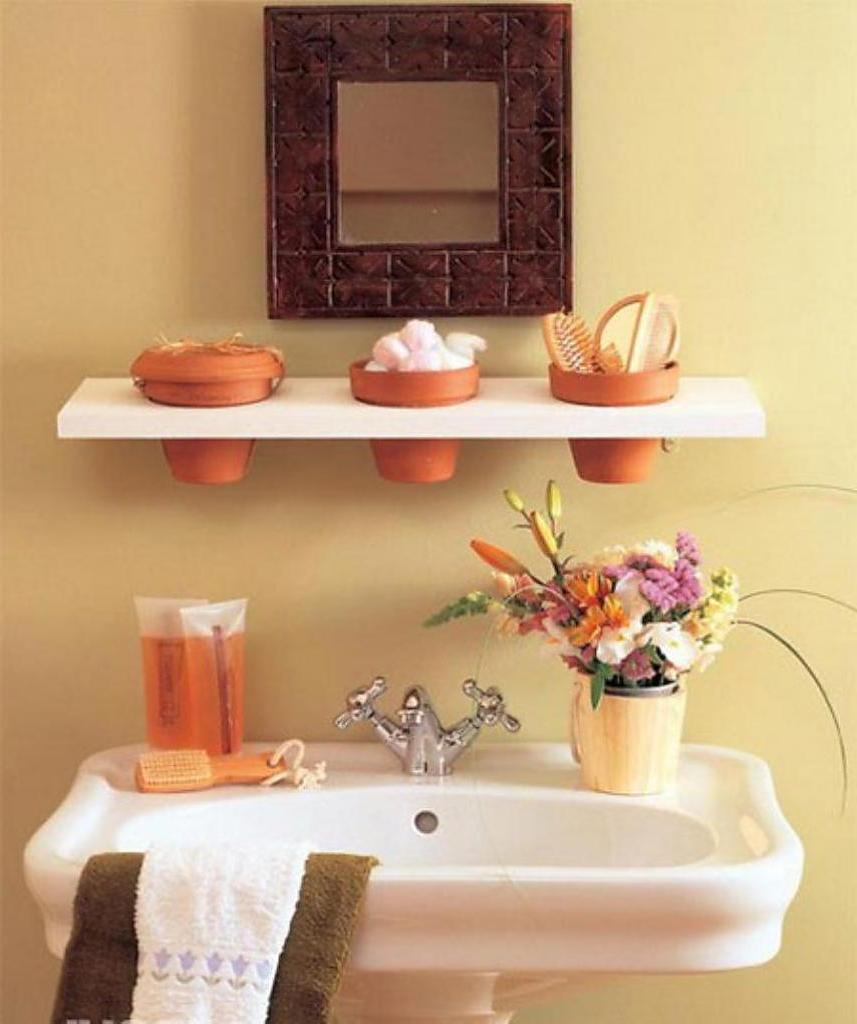 You do not necessarily have to include a lot of furniture, tables or cabinets to be able to store the essential things in your bathroom. It is essential to consider the space you have, and then, depending on the size you have, get ways to store that are consistent with the space. The idea will always be to take advantage of every free corner and make it useful, like in this bathroom, where the space on top of the sink was used to place a very interesting DIY storage solution.
Made with pots and a little shelf, this is ideal to store small things, such as toot brushes and paste, combs and others.
22. Get Practical Items To Improve The Use Of Space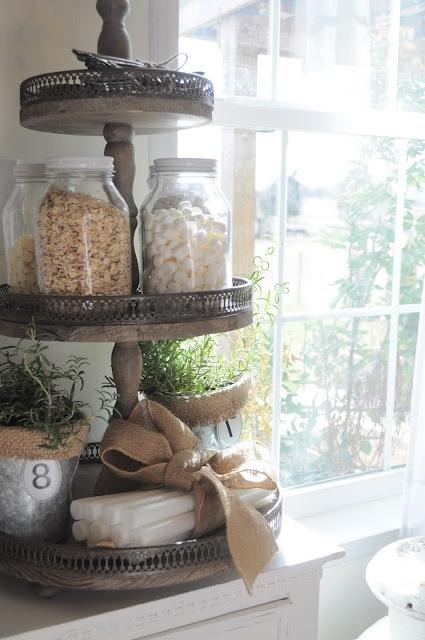 To find narrow shelves adapted to the space available are also a storage solution very witty, you can take advantage of corners or wasted spaces, and even of old kitchen wear. In this example, an old kitchen tray is now a great multi level shelf to keep things of different sizes.
23. Use Rails To Place Storage Baskets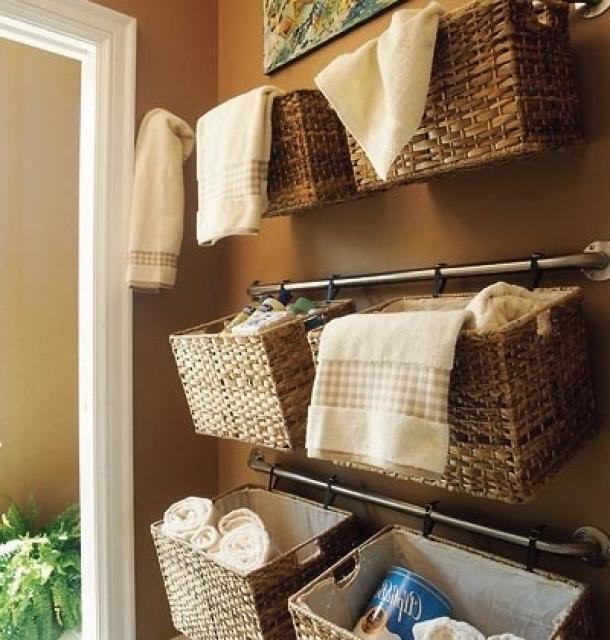 To maximize your bathroom space, use elements to compartmentalize large drawers or incorporate some organizing baskets, are simple ways to make the most of these precious spaces and to have everything in order, making the bathroom work like a clock. These baskets placed in rails are the perfect to keep everything in order without losing the style.
24. Design Storage In A Rustic Bathroom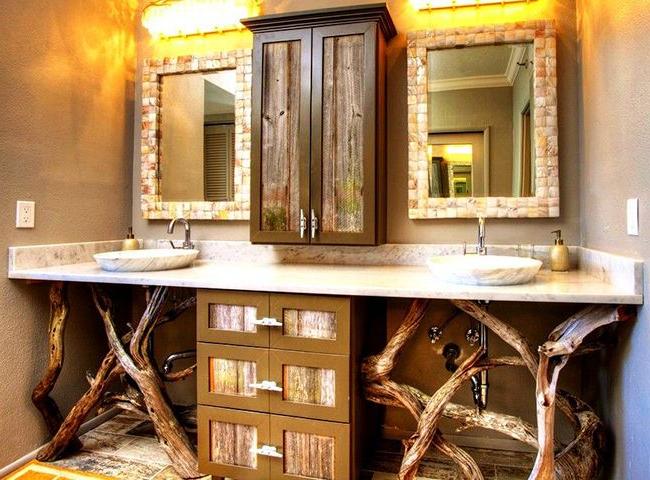 Any storage space, no matter how large, will be useless if it is not well planned. You must think well about the design of this piece of furniture, in the chosen format (if it is suspended or goes down, for example) to adapt it in the best way possible to the available space and, of course, to think about the proper distribution of drawers.
This example shows a rustics style bathroom, where the cabinet's size, style, color and material matches perfectly.
25. Create Easy Cabinets Under The Sink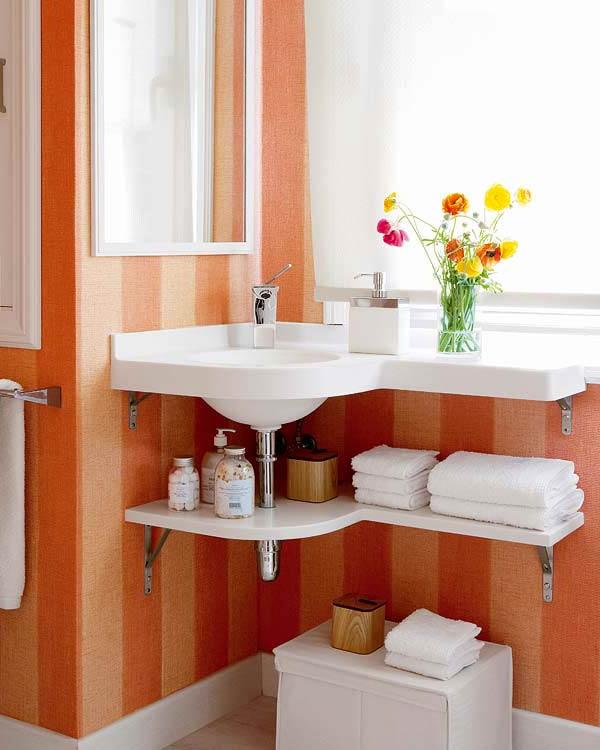 Small bathrooms are the order of the day. Current houses have small bathrooms, and there is nothing that you can do about it. You must come up with an idea and know how to take advantage of the maximum space by squeezing your creativity. In this example, it was simple to create storage space under the sink with this shelf installed at the bottom of the sink. The little box on the floor completes the trick to seize the opportunity under the sink with little money.
26. DIY Multilevel Buckets As A Bathroom Storage Cabinet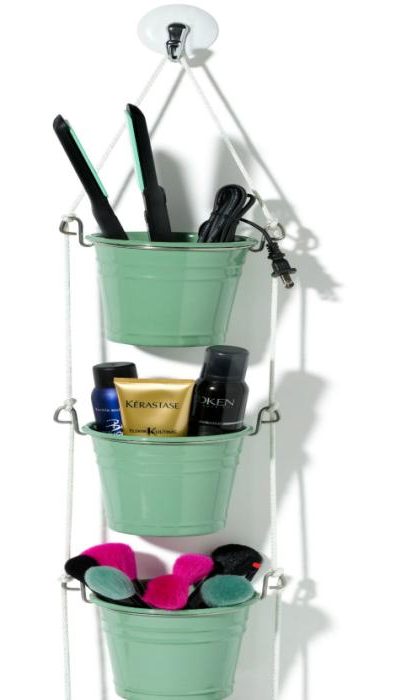 When talking about storage for bathrooms, there are many ideas that come to mind. Whether you have a very spacious bathroom or something small, what counts when deciding how to put in order the elements you have, is the creativity that you apply. Whether you buy some furniture for this space or you improvise with so many others, the idea is that you locate them strategically, so that they are part of the decoration and take up as little space as possible. Like in this example, where improvised buckets can turn into this great multi level storage space.
27. Choose Wood For A Traditional Feeling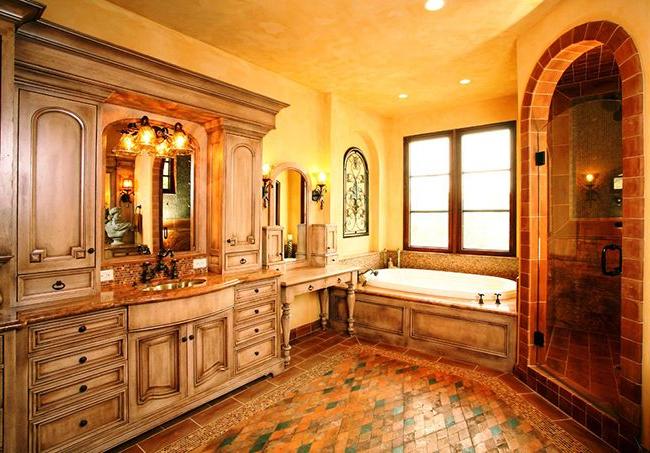 In the bathroom, the distribution of the storage space is fundamental for the furniture to be functional. The drawers and compartments must be designed in relation to the objects that we are going to store in them and in a way that allows us to have all the objects of daily use accessible and ordered. In this bathroom, almost completely made with wood, things will be easy to find thanks to the wide space of storage. When your bathroom is big, it is just a matter of where to put each thing.
28. Save Space And Get Easy Access To Stored Goods With An Open Cabinet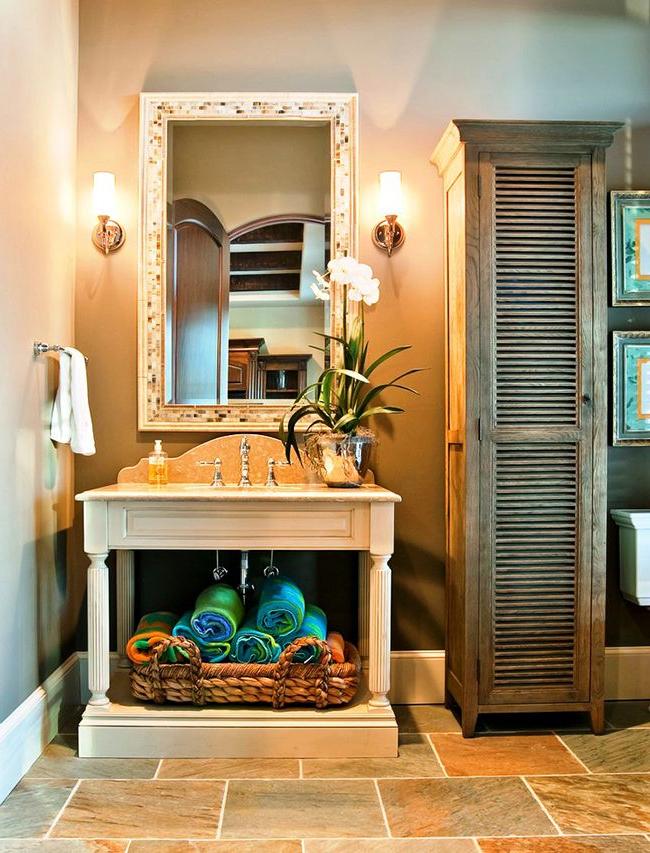 A low open vanity is perfect for any bathroom that is looking for functionality with a nice design first and foremost.
In general, any object designed to manage the available space will make the bathroom much more practical and, consequently, will help us to have it more clean and tidy. We can, for example, incorporate removable trays inside the open cabinets to organize the personal care products, like in this example.
29. Improvise A Rack With Something Old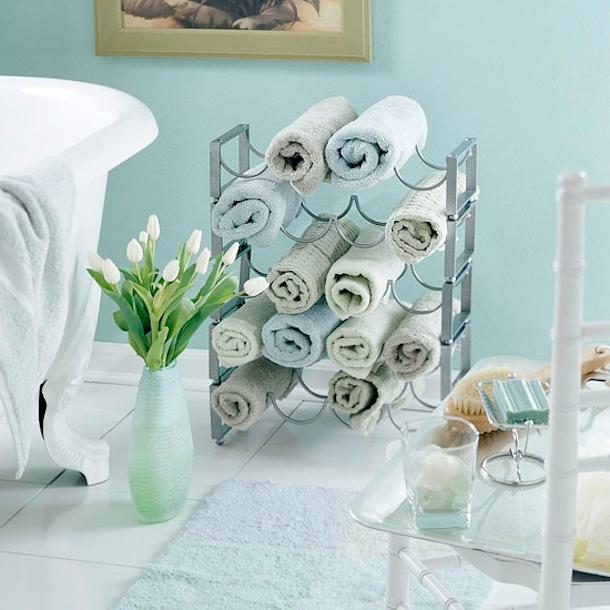 The bathroom has become a space for relaxation, tranquility and privacy. That is why its decoration and structure have become essential, like any other area of the house. The idea is to create a functional space, that covers all the basic needs and that in turn is a pleasant and welcoming environment, even using things that are normally reserved for other functions. Take a look of this towel rack, which is taking advantage of an old wine bottle dispenser. With a little paint, and imagination, you can come up with things that are amazing.
30. Find Unique Ways To Create Storage Space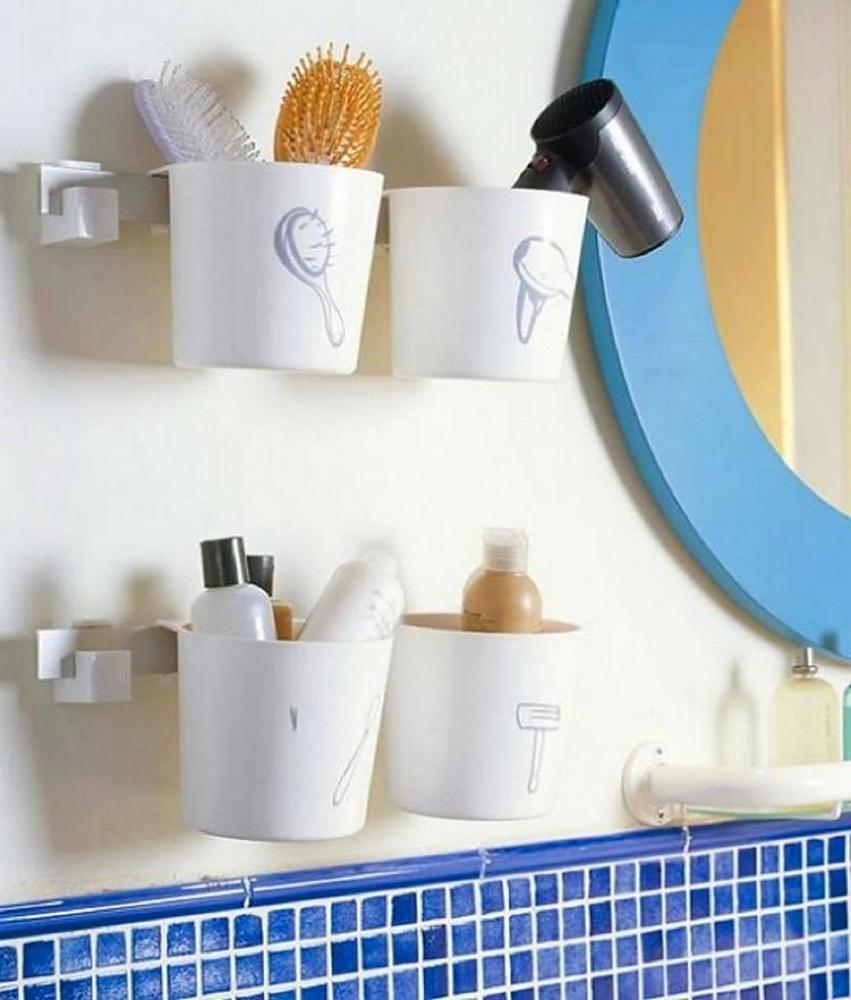 Usually we think of the walls as the supports of the house and the things we put on them, but rarely do we see their full potential.
The walls give us the opportunity to expand its volume only what is necessary, to create storage solutions that do not steal too much space. It is an excellent idea, like here, where simple plastic mugs were used to give this little bathroom a little more space.
31. Use Verticality To Make The Best Of Any Space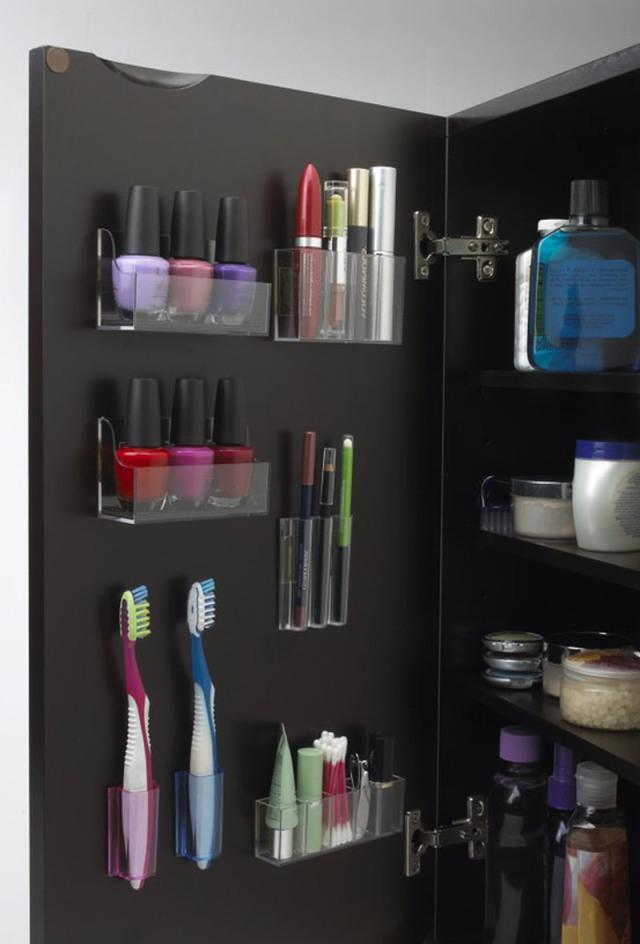 Whether you buy it, or you build it yourself, storage spaces will maximize the space of your bathroom. Any little space can be used to add some more storage to our bathroom, like here, where the cabinet's door is also an ally to get more storing space.
32. Use Vintage Details To Enhance And Give Extra Space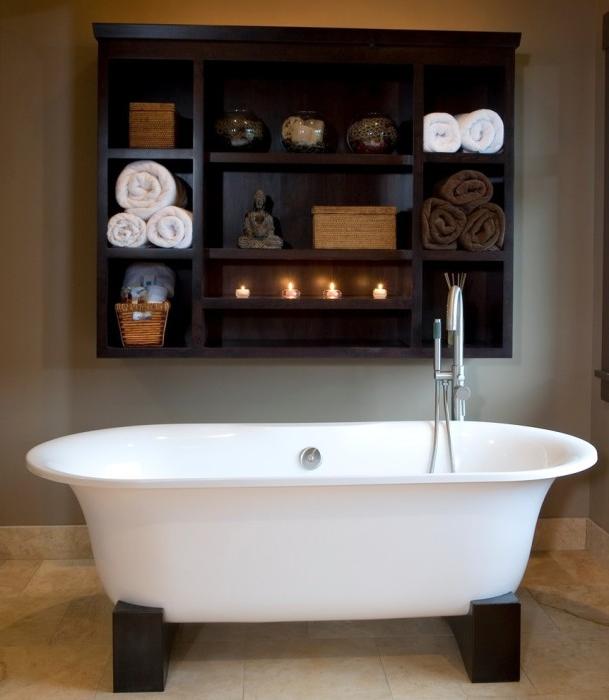 Each of our days begins and ends in the bathroom; therefore it is very important that this place in the house is beautiful and functional. It is possible to create a cozy atmosphere throughout the house, and the bathroom is no exception.
And an always-cozy style is the vintage style, like this bathroom that incorporates the beautiful wooden cabinet, ideal to put candles before taking a bath.
33. Make Storage Space Without Making It Look Busy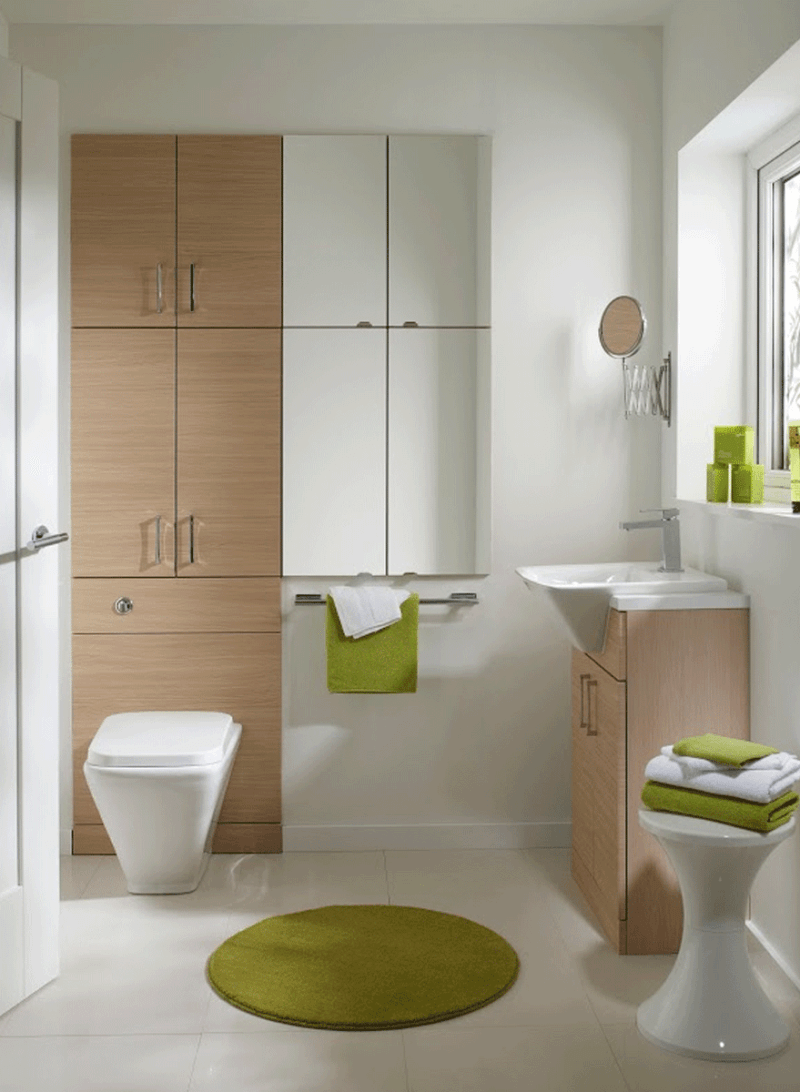 Placing furniture organizers in the bathroom does not mean to bulk furniture everywhere; it is about optimizing space and doing more in less. To help with this, if possible, make sure your furniture is made to measure. A sink with doors a foot deep is enough to store paper packs, some bottles of lotions and soaps, utensils to wash, etc.
In this example we can see a beautiful bathroom with lots of storage without looking too crowded. The soft color and modern style of the decoration finish the project.
34. Find Wood Baskets And Place Them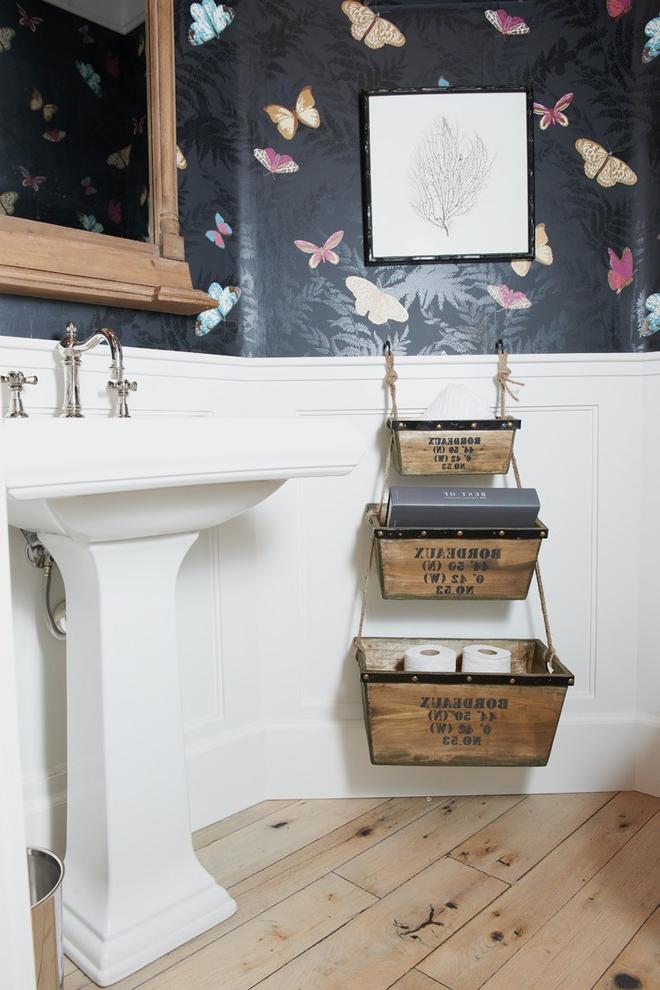 Storage in the bathroom must be practical but also aesthetic, since many of the objects are visible and are part of the decoration. So even the storage solutions we can come up with have to take design under consideration. In this example you can see how you can reserve some area to stack objects that you will not need every day, and reduce the space they occupy.
35. Use The Space Under The Sink To Store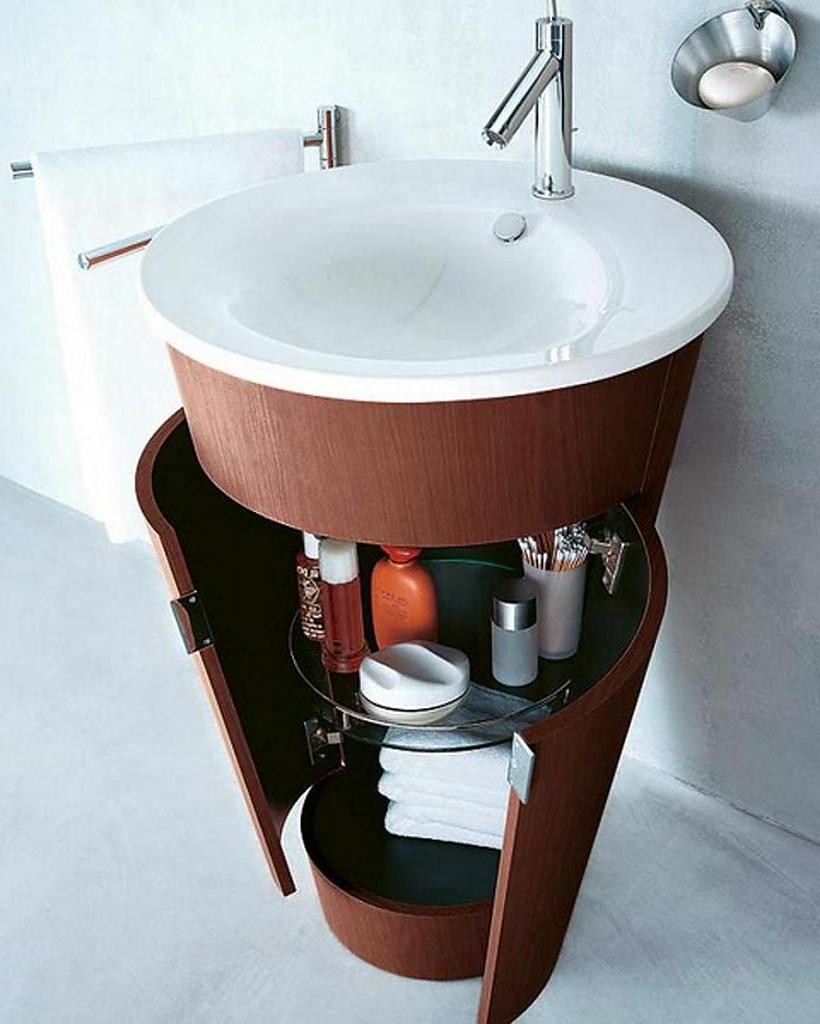 How many things do we need? In fact, many of the things we keep and for which we occupy too much space do not even use them, we have them by habit or thinking that someday we will need them and that day never comes.
So, a good advice is that before starting to install drawers and shelves in the bathroom, select the things, equipment, appliances and accessories that you and your family really need, discriminate the rest, and based on that, project how many storage spaces you really need.
What better way to get home and enter a clean, tidy and well-lit bathroom to rest from the hustle and bustle of the day with a delicious shower. And nothing compares to starting the day with a fresh shower in a space with everything at hand and instead, to avoid the rush and anguish because you cannot find the hairbrush or there are no clean towels.
Most of the houses have small bathrooms because in the design they preferred to give more space to rooms. Although it is usually a small room, we almost always try to make it more cozy with some accessories and decoration elements.
The problem is that we do not always know how to distribute their capacity and we end up with a mess of bottles, cosmetics, toilet paper and other items commonly used in the bathroom spread everywhere with no sense of organization.
With this article, we wanted offer you some tips and ideas if you have a smaller bathroom and you do not know how to organize it and keep it in order. These tips are meant to make your life easier by giving you ideas on distribution and organization to maximize and take good advantage of your bathroom space. Now it is just about choosing which one you want to apply to your home!