Gray is the trending color, and it has everything you need to keep your bedroom space looking natural, neutral and chic. It's compatible with the room decor, rugs, beddings, drawers, mirrors and any other bedroom furnishing since its great natural touch and feels works magical. The muted bur of grey contrast and compliments over various design decor in your room delivevering the desired results for couples, bachelorette or bachelor bedroom. They give a relaxing, pampering and good sleep with grey as their room hero. These 40 stunning grey bedroom furniture ideas, designs and styles will leave your room charming and give a complete makeover.
40 Outstanding Grey Furniture Ideas to Make Your Home More Beautiful

1. Accent Pattern Light-Grey Bedroom Furniture with Classy Looks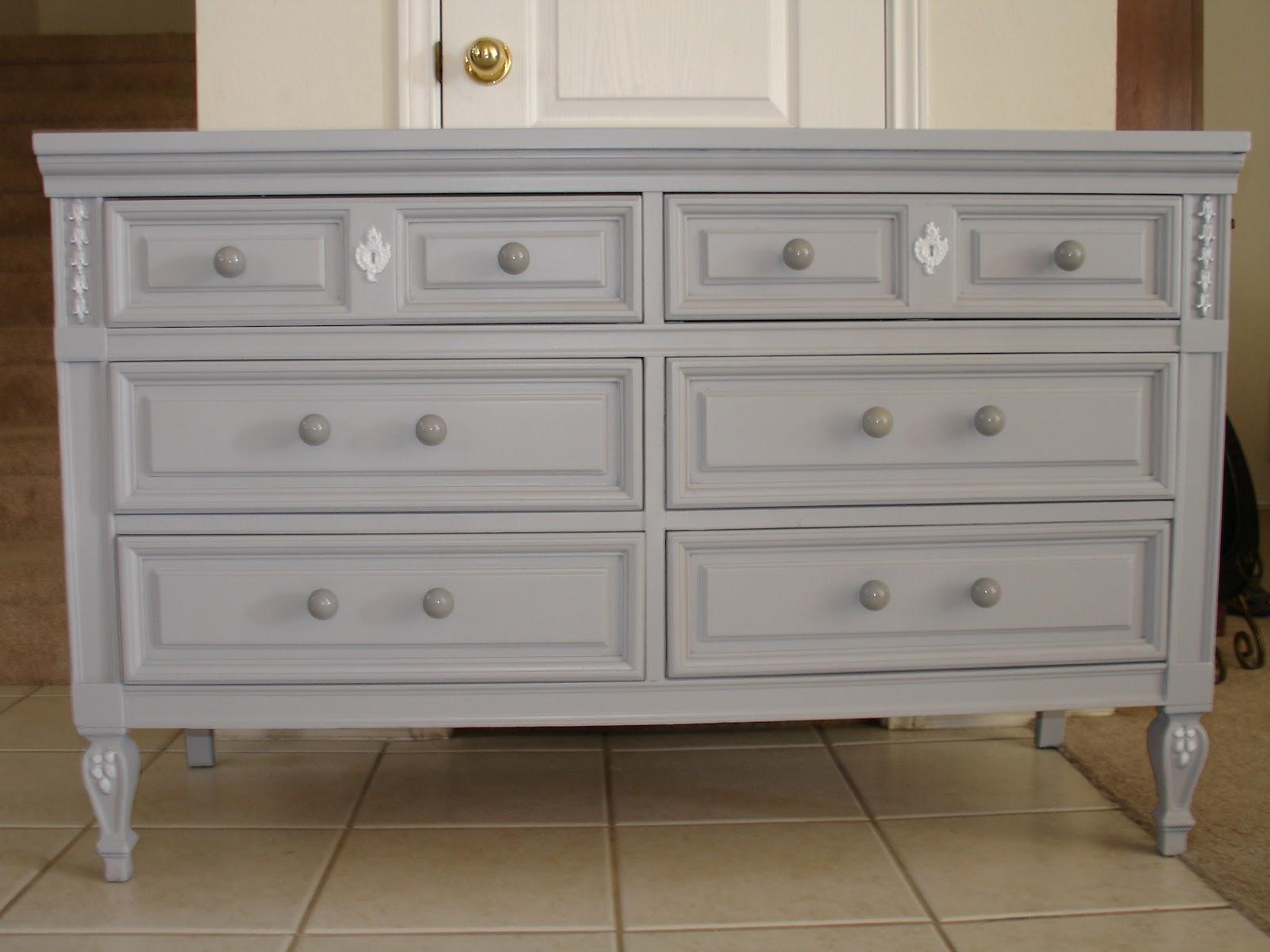 This chest drawer displays a show of elegant from all its angles. It has a light-grey finishing that is highlighted by the use of rubbed mouldings and unique tapered spade feet. The eight drawers have an elegant cup pull hardware that is veneered in the grey patina finish. It has a base material of solid wood and manufactured wood that makes it super durable plus it has enough space to keep your bedroom organized and looking fashionable.
2. Amazing French Grey Bedroom Furniture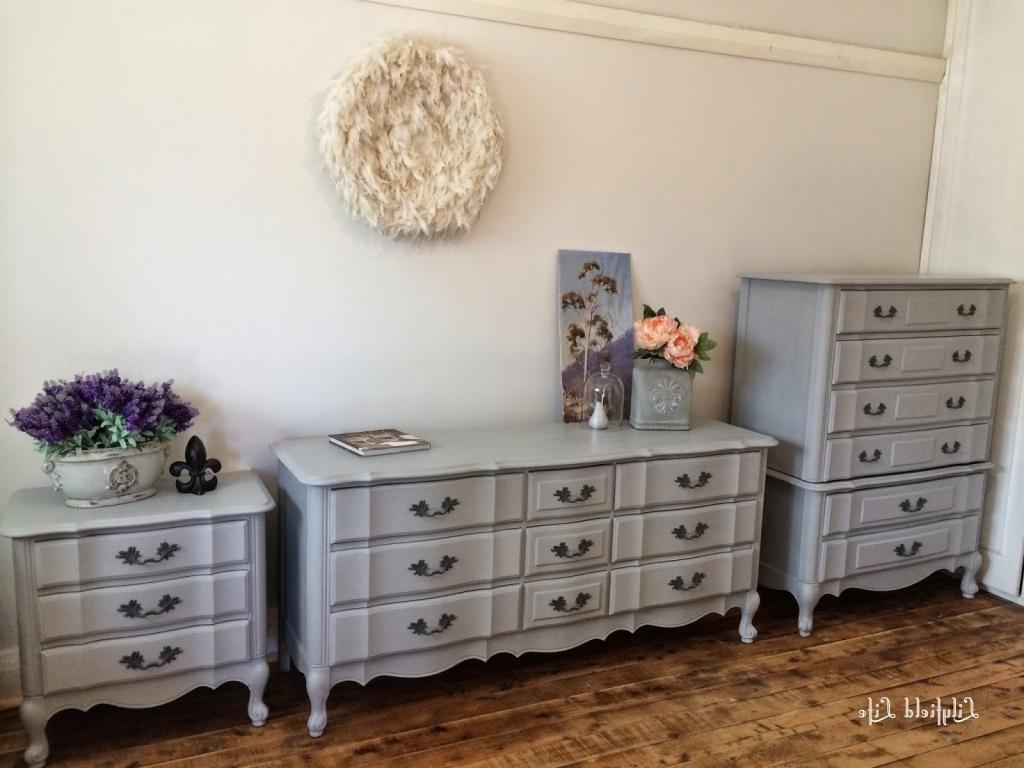 The French grey chest drawers will create a unique visual fantasy in your master bedroom using its traditional shape that has a modern interpretation. Its color wood finish lends a remarkable and distinctive elegance giving you super ultimate convenience. The three drawers are designed with spacious drawers that keep your staff organized and your room clutter free, and they also enhance the furnishing decor. The top of the drawers is flat making them best for placing your artistic drawings and fresh flower vases.
3. Antique Grey Bedroom Furniture Design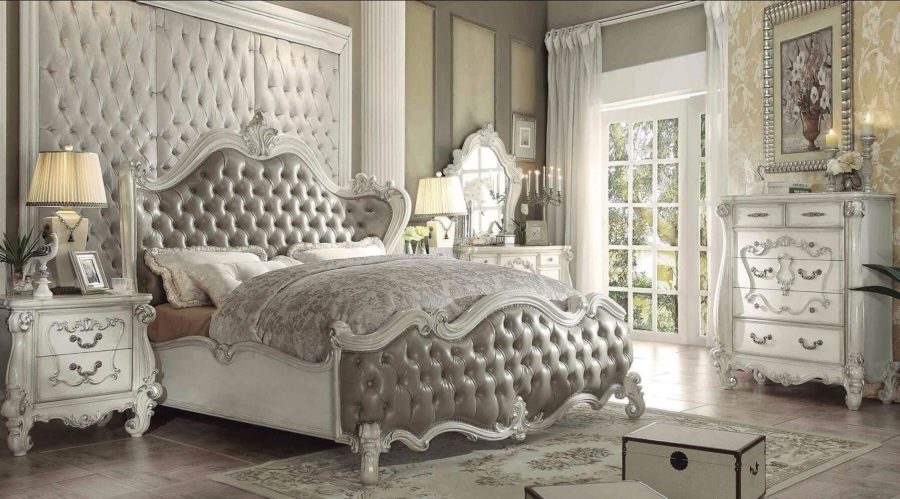 Tracing back the antique grey bedroom furniture set expressed with conviction and intent of its rich and warmth that's accented with the grey leaf brushed all over each of the piece uniquely. The collections radiate its opulence with an intensity of passionate beauty designed to get its crafted uniqueness illuminate in the room. The bed has a luxurious and well-elaborated style with faux leather upholstery that is well punctuated with deep diamond pattern and also elaborated on the headboard.
The drawers are well crafted with classy and enough space to store with simple style and chic leg designer that matches with the bed. Each of the items in the room is designed to bring out its unique beauty and complement the other making the room sophisticated and modish. The magnificent set of room furniture features the support of a wonderfully bright and large master bedroom giving understated, fresh and perfect relaxation hideout.
4. Black and Grey Bedroom Decoration Ideas
This contemporary bedroom set becomes a unique and stunning centerpiece that fits perfectly with your modern suite. The set includes a low profile classy bed that features stitched headboard panels and super smooth chamfered edges. 6-drawer dresser with a long mirror, a chest drawer and the nightstand helps to meet your entire bedroom storage needs. The chic and ebony finish of all black and grey tone is striking and will go well with various color palettes. This stunning and stylish bedroom collection is the staple of your modern-day bedroom.
5. Brown Antique Grey Bedroom with Storage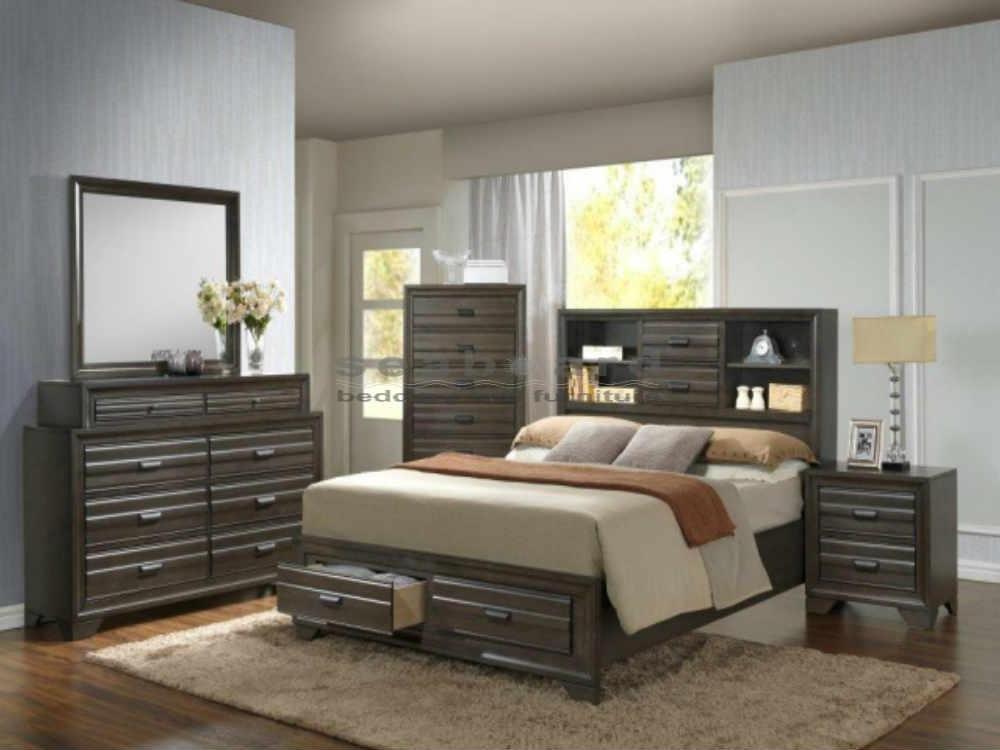 The brown antique furniture collection of one solid bed with storage conveniences on the footboard and headboard offers the best solutions to having your stuff within reach. The chest drawers, dresser and nightstand offer more storage services giving you enough space to move around and create a magical feel. The carpet and the decorations complete the room striking beauty.
6. Buxton Light Grey Painted Bedroom Design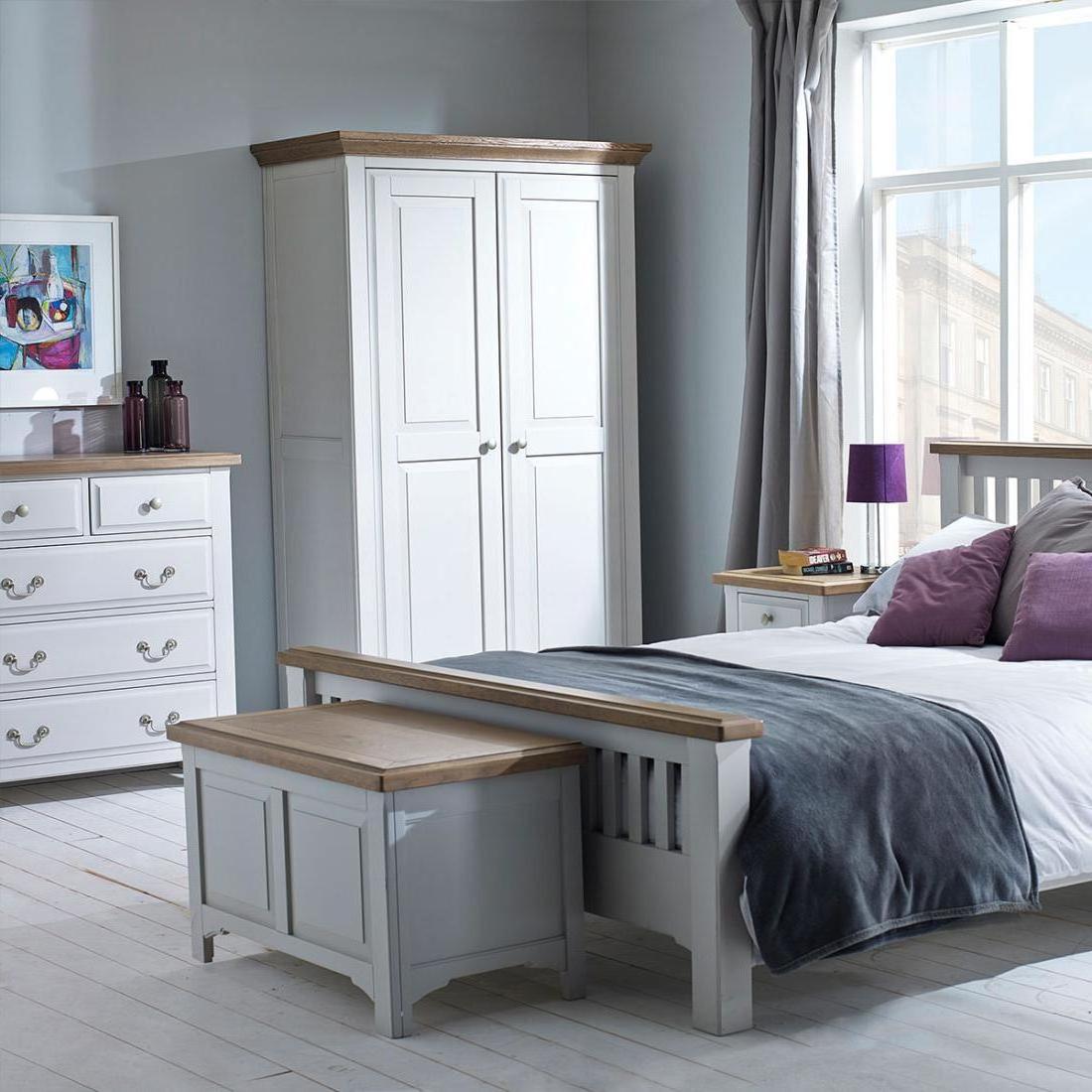 The light grey bedroom offers a neutral taste of beauty that adds a refreshing sophistication and makes it versatile enough for it to play well with the other colors. It helps to add excitement to the room with the five drawers and a two-door wardrobe with a footboard that is flat to give a seating area. The long drape curtain is well lined to bring out its luxurious look while the pillows add a touch of artwork to provide a refined, soft and an oasis of tranquillity.
7. Cheap Grey Bedroom Furniture Sets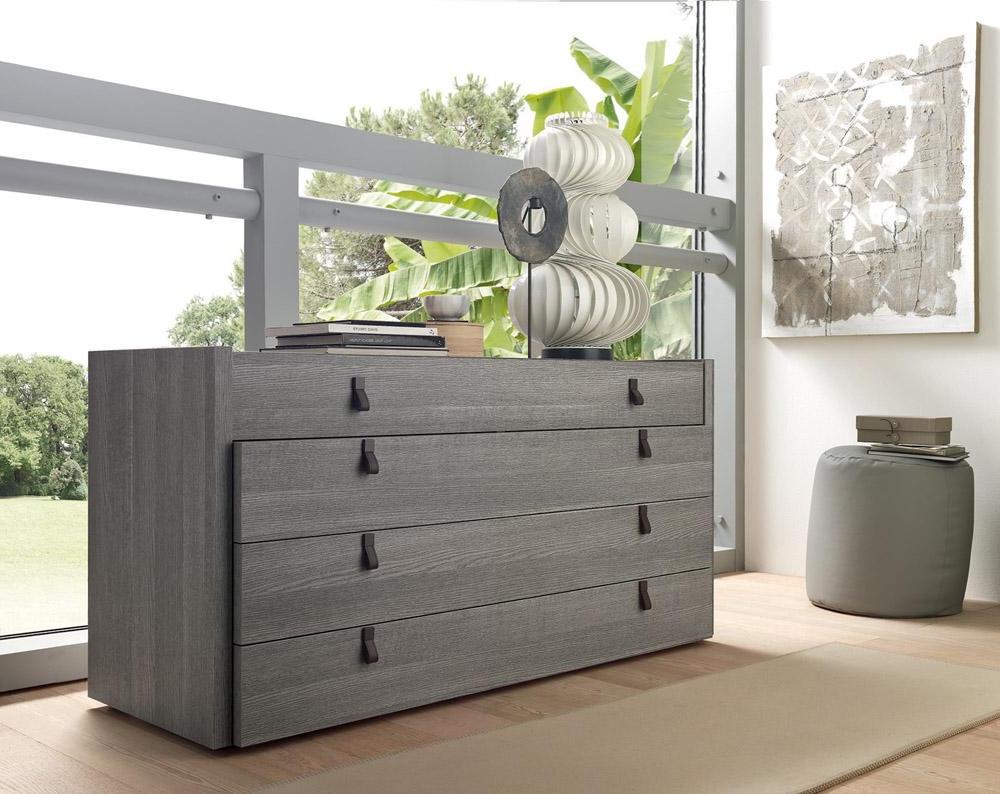 The four drawer set is spaced enough proving ample space to store your valuable and other bedroom bits and pieces. It well constructed with classic hardwood that makes it super durable giving you years of services. The flat platform offers the best place to keep your books, hold the table lamp stand that adds its stunning beauty and other room artifacts. The full corner seat blends well with the room decor giving the room an uplifting vibe of wellbeing that is vibrant, breezy and fresh.
8. Cheap Grey Bedroom Furniture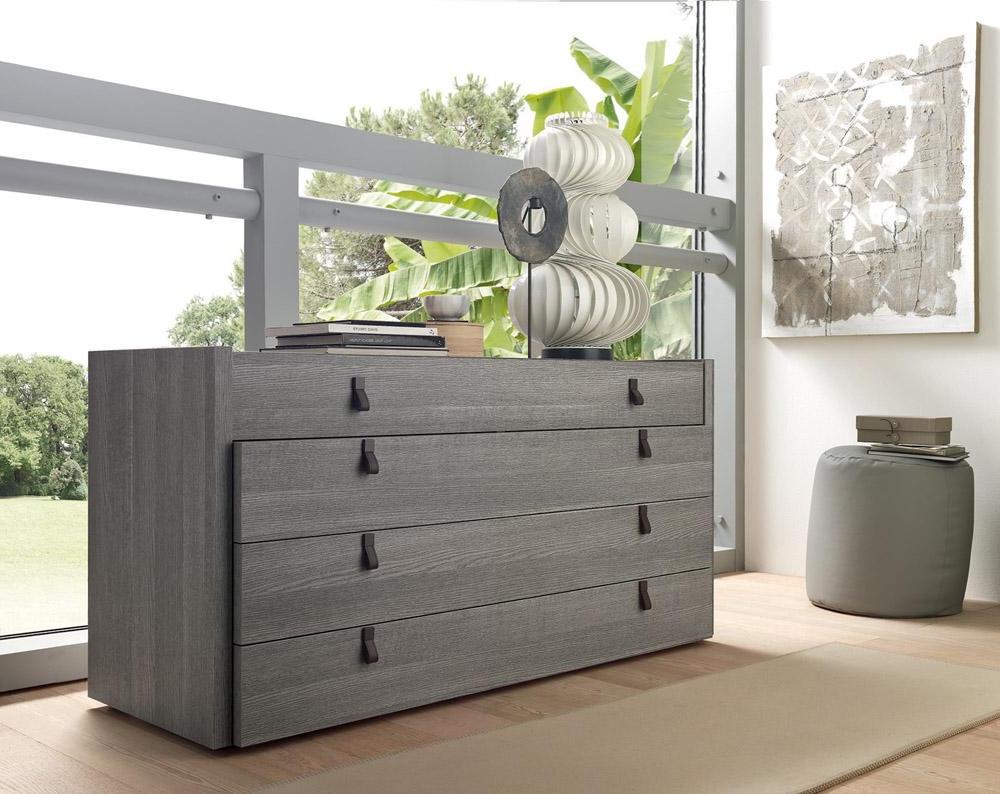 The fresh and vibrant grey furniture collection conveys a vibe of wellbeing, growth, and health that makes your room to relax and soothe you. The peaceful grey furniture includes a metal bed with long drape curtains that blend with each other resulting in an urbane and tranquil feel. The curtains also give unlined beauty, and when opened they throw a luminous light in the whole room. The combination also brings out a dramatic accent for the entire place giving you a luxurious feel while the bedding adds their touch passionate appeal.
9. Classic Dark Bedroom Furniture Sets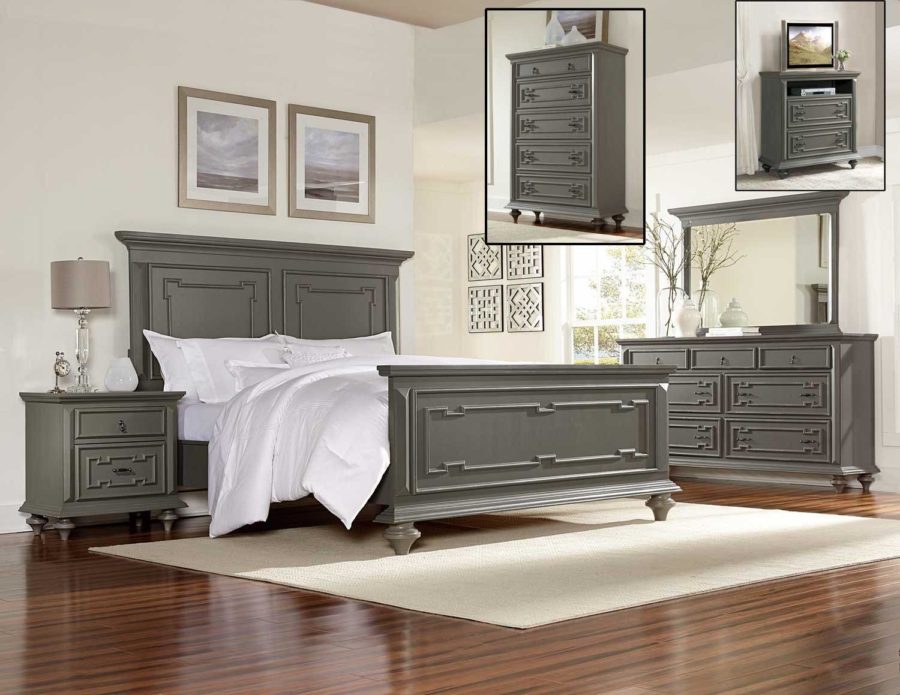 Patterned to the perfection, the classic dark bedroom furniture set uses concrete and an autumnal hue to bring out its beauty. The grey bed made of robust wood that is well veneered to bring outshining look with the white bedding are sparkling, classic and peaceful. The drawers and dresser with mirror add the much need patterns that are strong and not overpowering while the area rug keeps a moving eye all-over the space adding the vital interest to the monochromatic bedroom color scheme. The wooden floor adds a touch of warmth.
10. Cool Grey Bedroom Interior with Black Furniture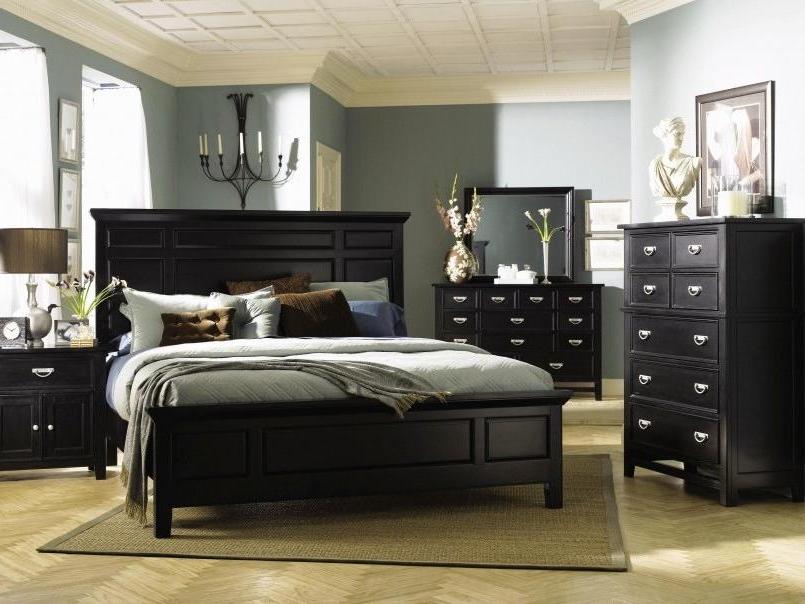 This room brings out a stunning contemporary style with the classy wooden bedroom collection with an ebony finish that blends well with any other room color palette. The cool grey walls sit beautifully with the luxe black furnishings and the comforting textiles helping to create a harmonious scheme. The chest drawers are well crafted and spacious to hold your stuff neatly, and the quirky bedside collections accent to the room giving it plenty of interest and lots of charm. The artwork collection showcases the room curiosities coupled with a gallery wall of chic antique pictures combined with enamel flower vase with fresh flowers.
11. Dark Grey King Size Wood Bedroom Furniture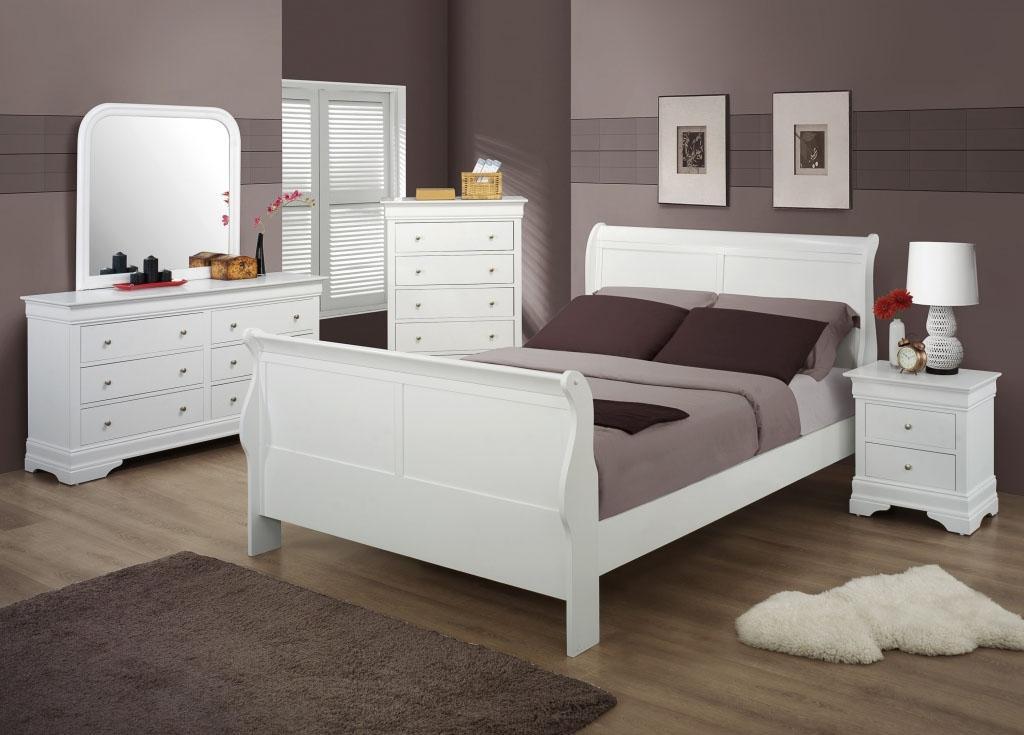 Gray has an ideal minimalist hue with the room space highlighting its charm under the LED lighting and the pure white furniture. The room creates scheme full of various attracting and wow dynamic. This deluxe room has a fantastic sunburst mirror with drawers that can fit anything and a bed stands that hold your lampstand s and other small decorative stuff. The wall has a masterclass decoration with color grey giving the room a cheerful and bright hue with a touch of the retro appeal.
12. Grey-Brown Bedroom Furniture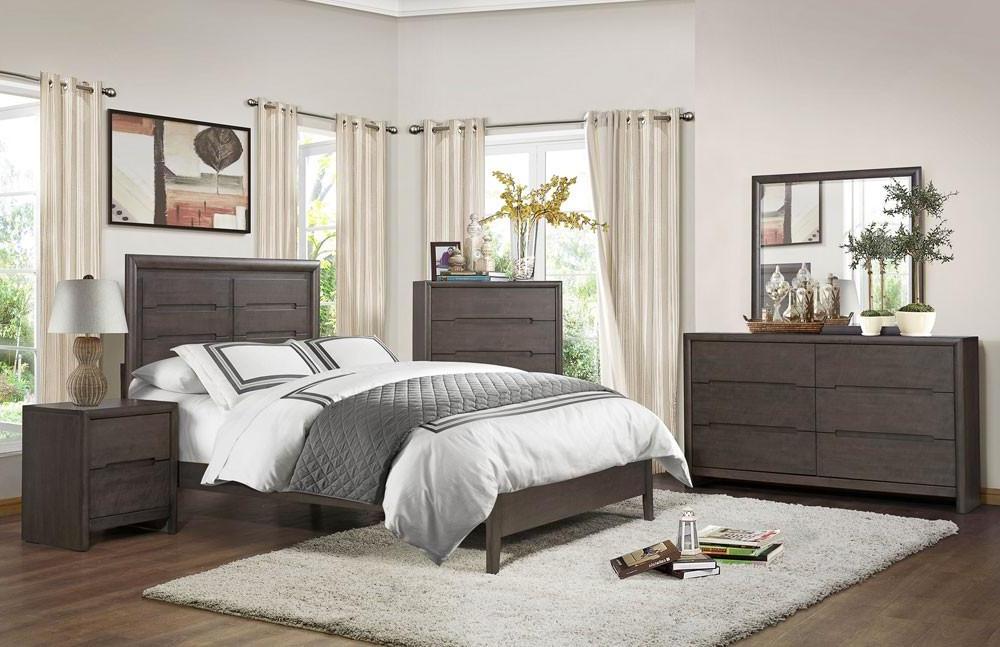 The room has antique furniture that is centered by a dresser with six drawers, a chest drawer, a bed stand and a bed with white and grey beddings that bring out the versatility of grey. The room has a stylish look with brown accents and the tactile drape curtains with the opulent furniture design makes the room scheme feel out of the ordinary. Artificial and natural flowers play a significant part in neutralizing the color palette in this room. The symmetrical layout and the traditional furniture have a decorating style that shows a sense of humour and an added touch of romance and fun.
13. Grey and Black Bedroom Furniture Ideas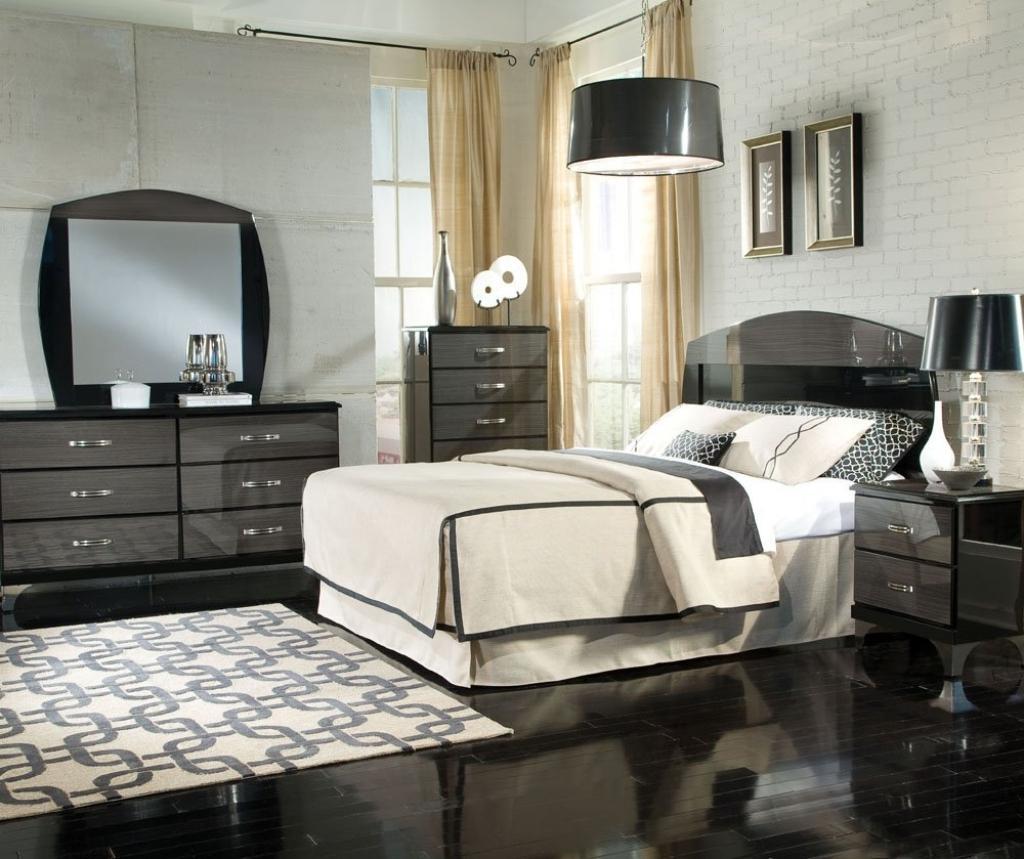 This recognized contemporary bedroom has an elegant style due to its grey and black color scheme. It has the hottest lamp that sits on a standalone side table, and it has also incorporated a mixture of various styles of furniture that gives it an incredibly chic look. The lavish mirror pooled with the hanging chandelier adds charisma, and the bed features beautiful joinery that makes it strong and durable. The geometric carpet acts as the focal point while the grey bedding and printed pillows help to comfort the grey drop wood floor and lighting. The various chest drawers in the room add the classy storing resource that keeps your place shining and spotless.
14. Grey and Coral Bedroom Design Ideas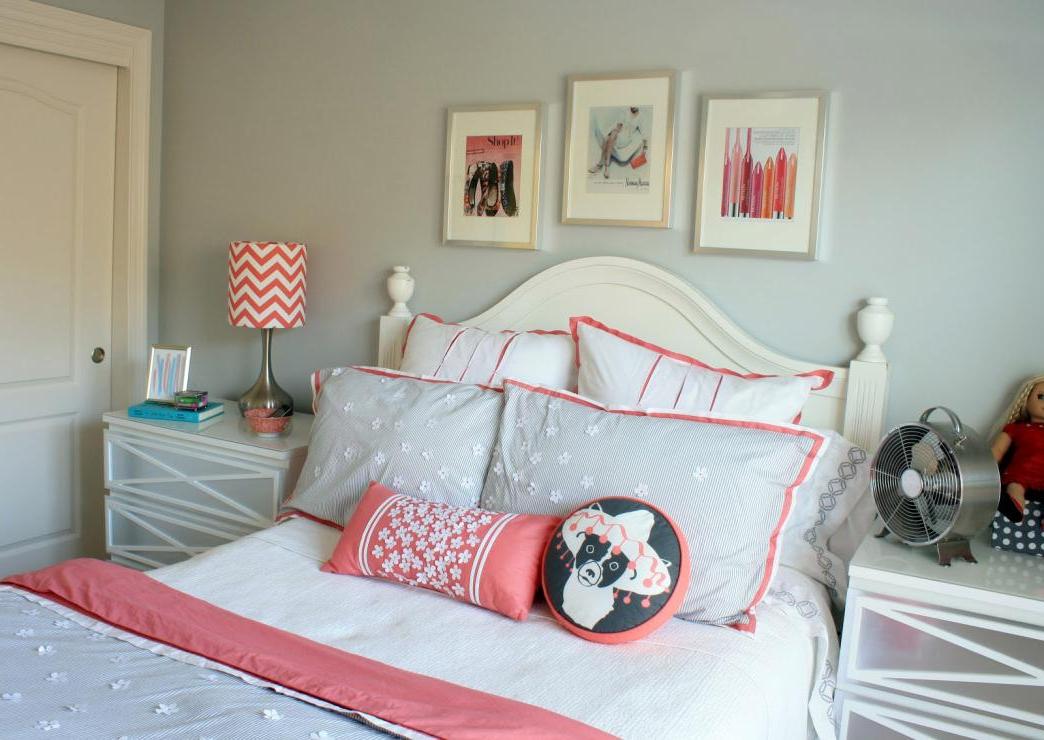 This is yet another room where the grey scheme brings out an entirely sleek and charming modern look. The immaculately painted walls are well paired with hardwood bed and beddings with a touch of pink that has a smooth and elegant finishing making them fabulous. This room gives a beautiful apartment feel, and the soft-colored accessories keep the furnishing decor relaxed and natural. The pink color palette in the room proves it's a great way of adding a touch of romance and breezy to any place.
15. Grey and Golden Bedroom Design Ideas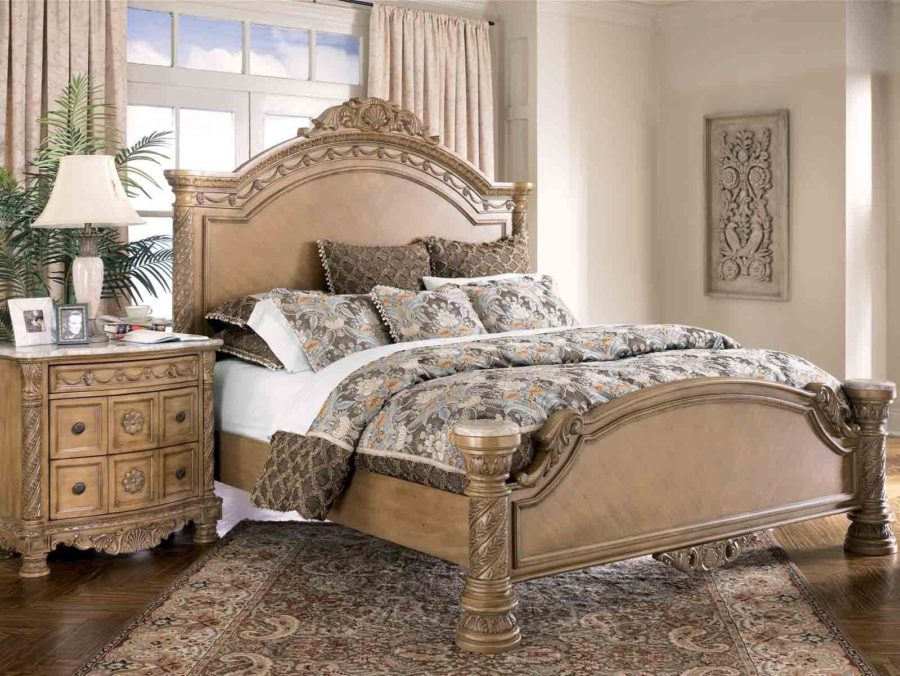 The gold color added a touch of texture to this room and characterized with a sturdy bed with gold finishing that brings out beauty. The designed high headboard adds charm and character to the room while the side bed stand brings out the vibrant shades of natural tones while giving a home to the lampstand, family portraits and natural tulips all adds life to this room. The big window helps to illuminate the room while the wall pictures bring out the artistic feel while creating a magical touch and the patterned bedding with the matching rug complete the striking look in this room.
16. Grey and Tiffany Blue Bedroom Makeover Ideas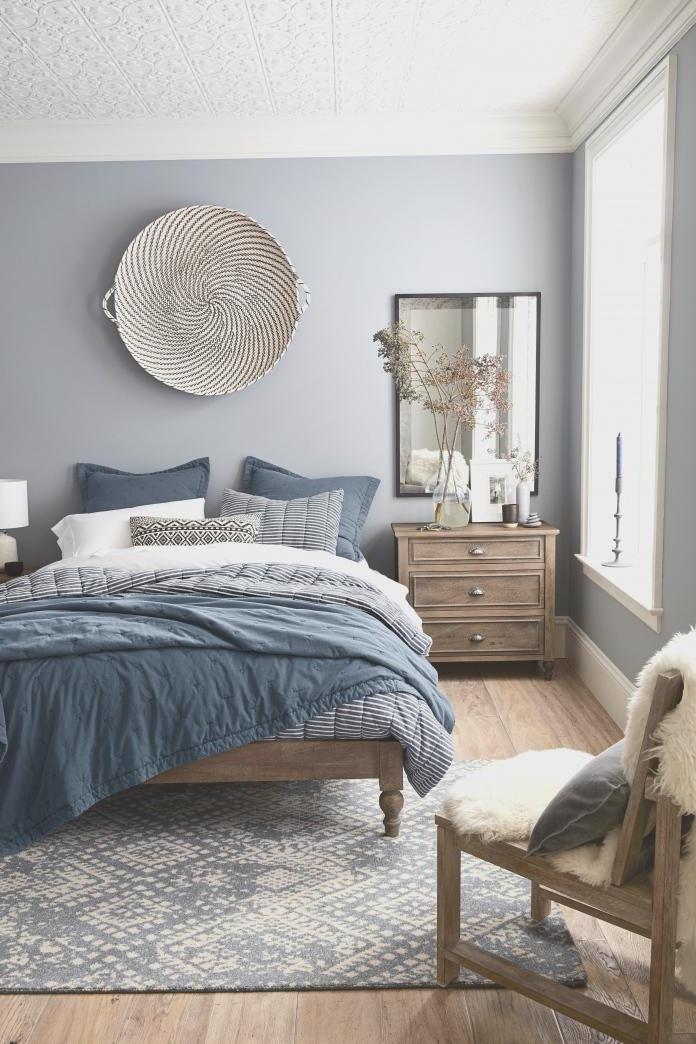 This room has signature pieces like the textual color, decorative wicker plate, antique chair, rustic looking bed stand and natural tulip flowers. The bed is covered with high fabric beddings that reflect the beauty of the wall bringing out a stylish room with a mixture of subtle furniture pattern with a block of grey acts giving it a neutral base keeping the scheme classic contemporary. The bedroom has a simple look that is practical and functional to provide a relaxed good sleep any day or time.
17. Grey Bedroom Bench Design Ideas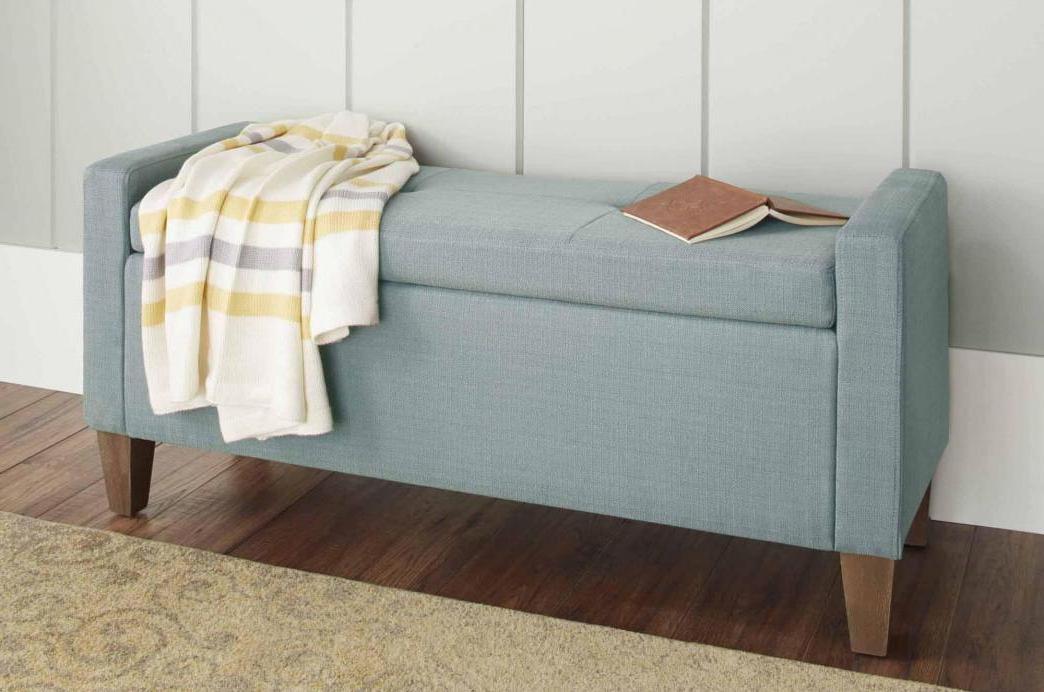 The chic look bench offers the perfect relaxing mode in your bedroom. It's well crafted with durable hardwood and straight legs making it sturdy, and the platform is well cushioned to give you a comfortable seating as you read your book or meditate. The bench is made of a high and robust material that is well embroidered to provide it with a permanent look while the cushions are removable. The hardwood floor and the printed carpet with the surrounding decor harmonize the bench giving your bedroom a welcoming and tranquil mode.
18. Grey Bedroom Brown Furniture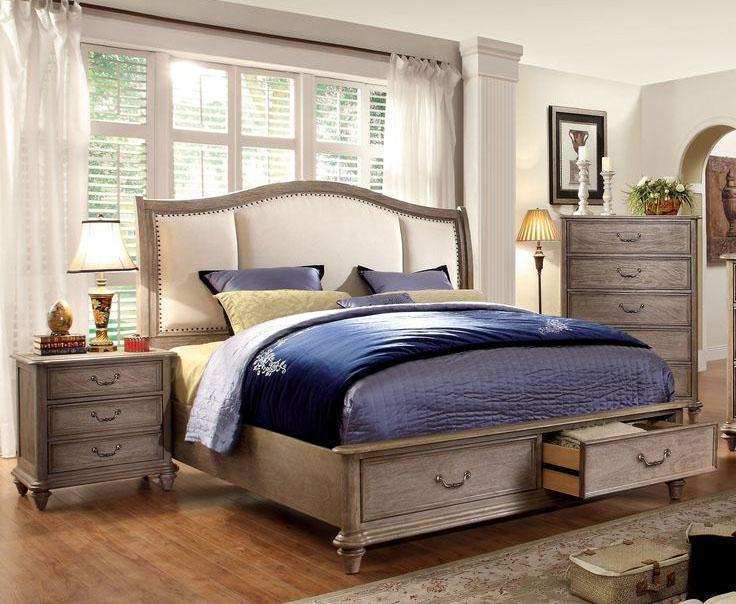 Clean, crisp, dramatic and dark, this bedroom collection offers luxuriantly contemporary style that gives you easy rest for many years to come. The sleigh headboard with ornate and puffed panel design with the bevelled detailing present a touch of flair giving simple, beautiful results while the pair of chest drawers and the drawers at the bed foot keep the blankets and other beddings close at hand. With this smart combination of smooth gliding and shelved drawers with a striking pull, hardware ring is as practical as it is charming. The whole bedroom gives you a welcoming glance that is alluring.
19. Grey Bedroom Furniture Set Decor Ideas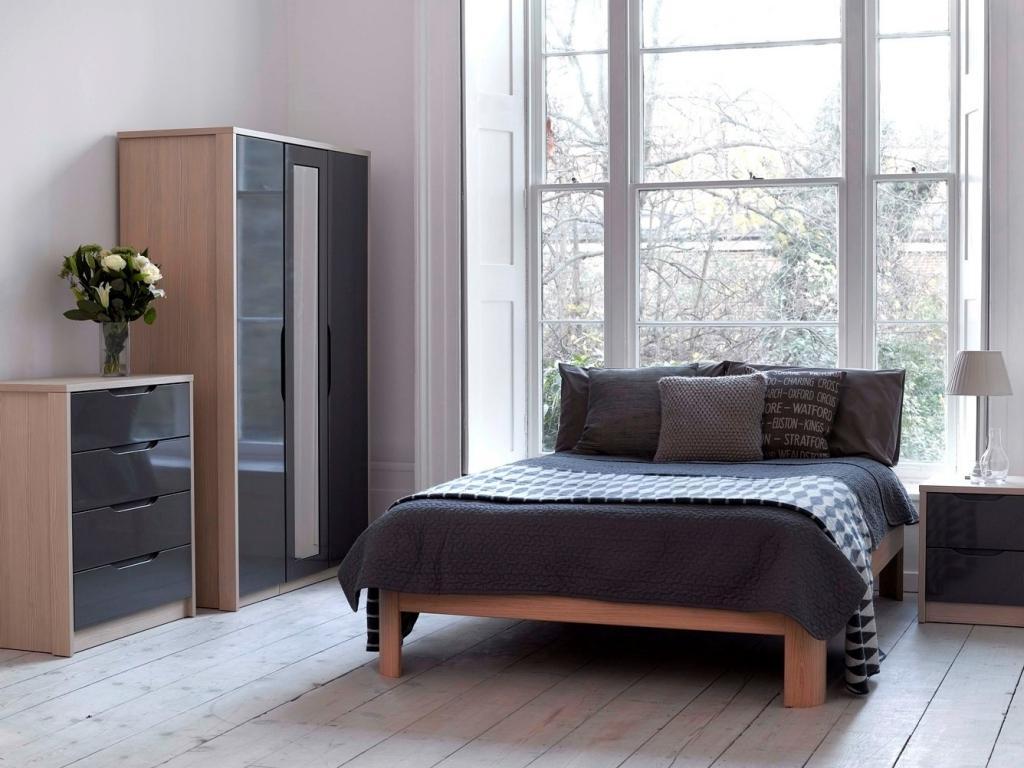 This bedroom collection is the epitome of the modern decor. It brings out classy style moulding with lavishing furnishing that has a simple look. Complex, rich finish is sure to make your space look plentiful with the elegance and warmth. It includes a queen bed made of high styled wood, and a side bed stands with two smooth gliding drawers and a chest drawer with the modern pulls and knobs and a wardrobe that has two sliding doors. The drawers put emphasis on to their style to bring out elegance and offer enough storage space while the bed is made of engineered wood and veneer. The beddings have a grey touch matching with the surrounding bringing out its modern-day magnificence.
20. Grey Bedroom Ideas with Dark Wood Furniture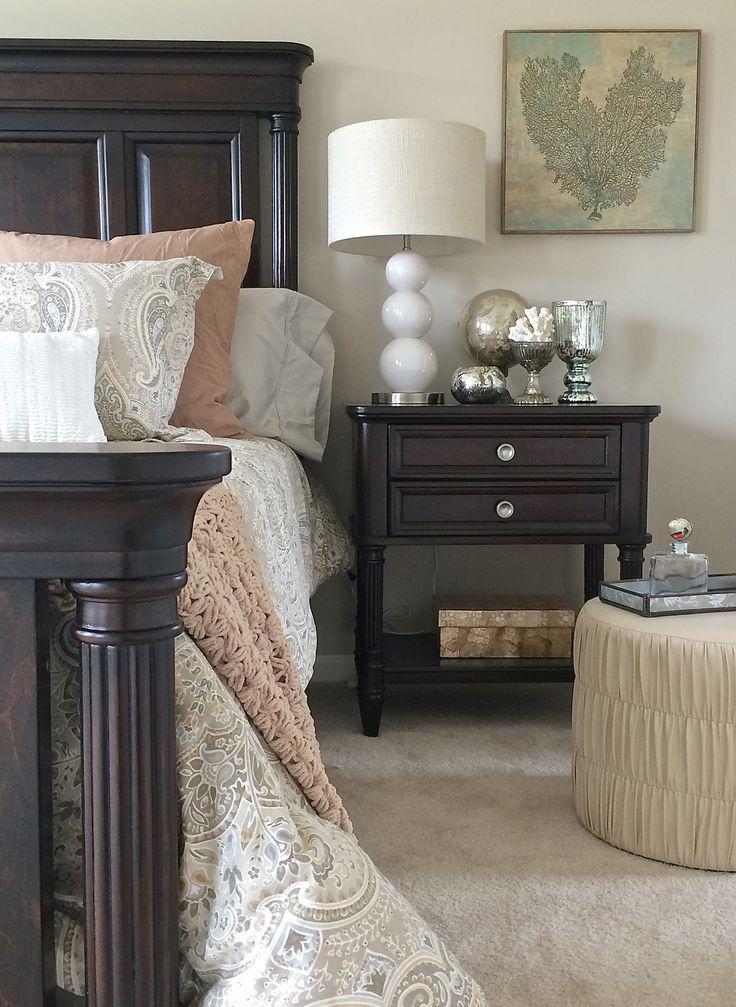 Influenced by the modern design, this grey finished bedroom offers structure and space. The side bed has two drawers, and a down open space ideal for keeping personal stuff while the silver coated cups and other artifacts add the much need shinning look. Add a long hanging chandelier to lighten up the room. The full seat is versatile enough to offer various services in the bedroom, and the lampstand with round design brings out a sleek visual. A vase of fresh flowers add a natural look with soothing effects.
21. Grey Color Combination with Dark Brown Furniture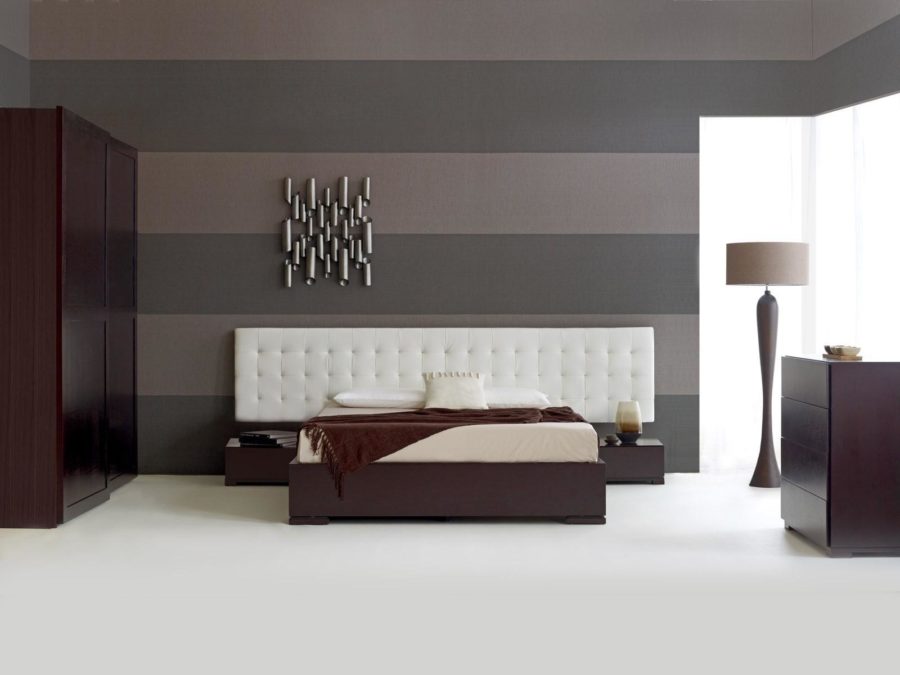 The smooth chest drawer and coordinating bed with attached nightstand brings out the modern style of beauty to your master bedroom. The classic bed features a white upholstered headboard that's made of sumptuously fabric easy to care and smooth faux leather, and the two attached nightstand bring out their dark brown beauty completing the bed. The curvy shaped stand-alone lamp stand brings a chic look, and all the pieces in this room are dressed with a veneer of walnut finish on their laminated particle board to create an inviting contrast with the grey accent. They have a solid wood leg. The wardrobe has a magical beauty that contrasts with the wall color palette and also its decorative artifact.
22. Grey Dark Wood Bedroom Design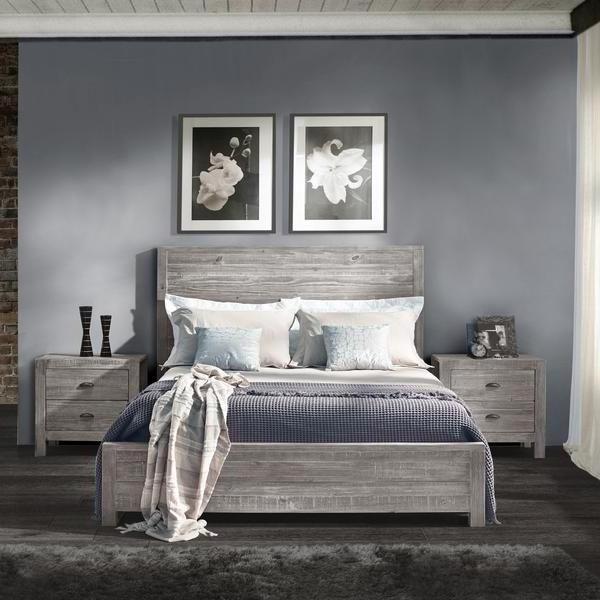 Traditional designs influence this bedroom collection of dark, grey wood with a classy finishing that brings out structure and space. The expansive panel of the bed headboard offers the sleek visual look while the multiple drawers provide the room with needed space accessories. The set includes a durable and robust bed and panel headboard with a hint of parquets style and a low footboard that provides a smooth visual and easy access. The two drawers nightstand have a center metal glides making it easy to access them, and their sleek chrome handles allow you to access your contents quicker. All the pieces are super crafted from a solid wood giving them long-lasting durability and bring out a natural charismatic exquisiteness.
23. Grey Fabric Upholstery Tufted Bedroom Benches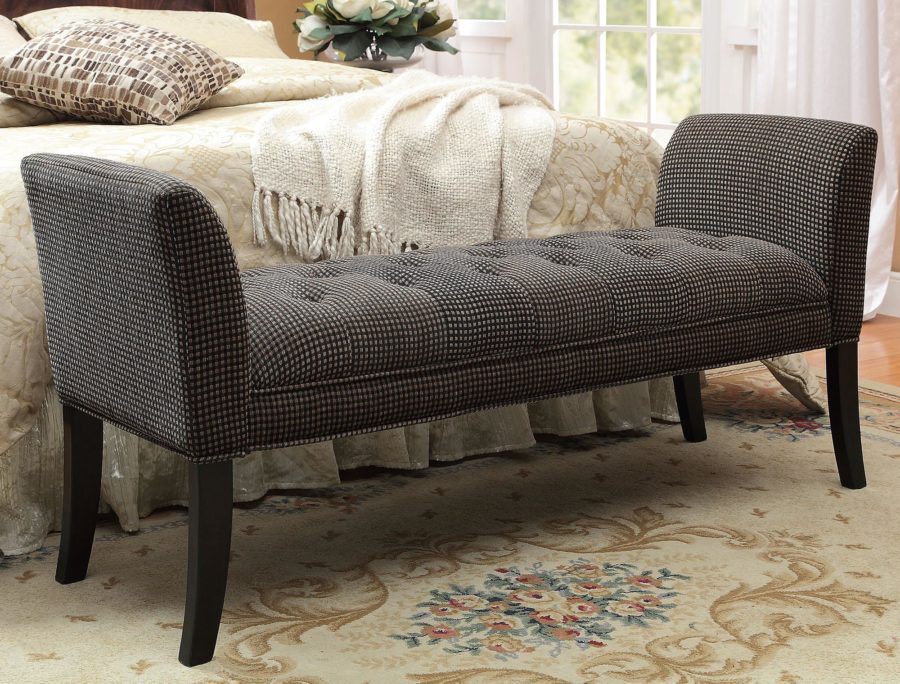 The grey fabric upholstery tufted bench offers the ideal accent piece to your bedroom with its velvet look adding elegance and warmth. With its decorative buttoning tufting and a tremendous luxurious velvet fabric, this bench has a settee-style making it a pleasure to site and lounge one. It gives the perfect addition to your master suite and acts a multi-functional item. The all-over decorative buttoning brings chic, and the creamy soft touch velvet fabric completes the modish look. The beautiful and solid wood legs have a mid brown tone, and the end of the bench bring out their tasteful purses and scarves. Use it as a decorative seating in your bedroom near the dresser or window and let it bring radiating plush.
24. Grey Furniture Dresser Including Cherry Wood Flooring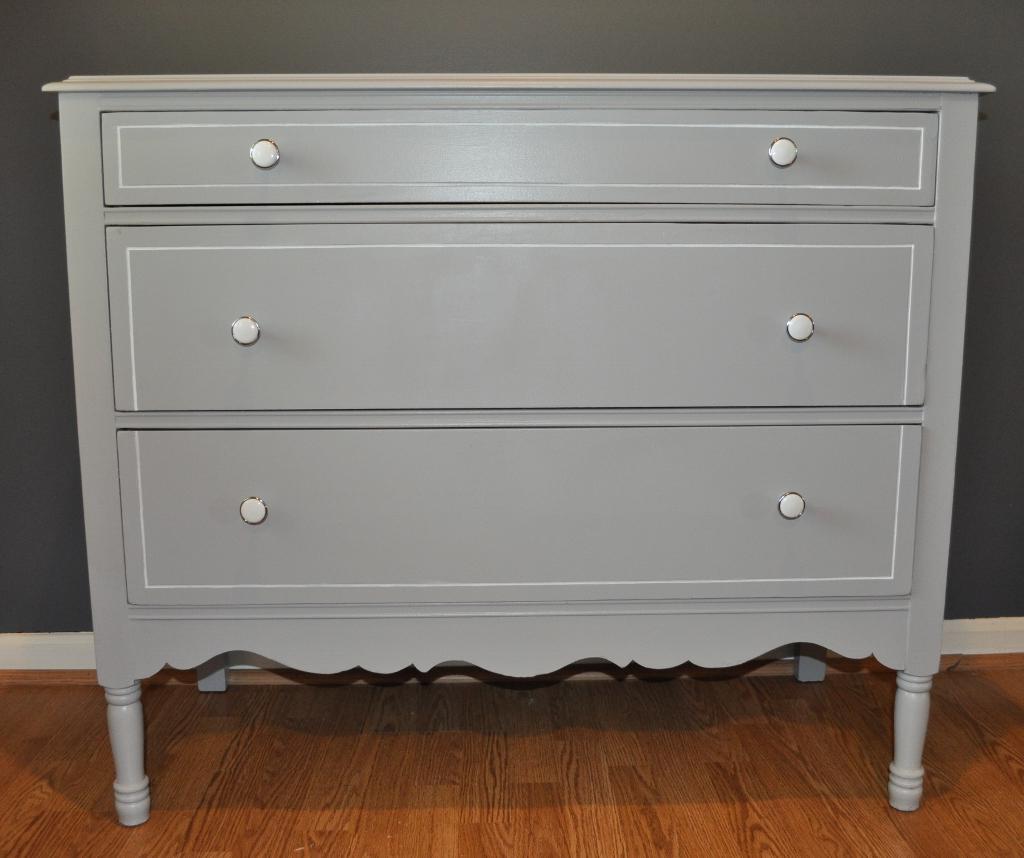 The 3-drawer acts as a transitional dresser offering plenty of private storage space while also bringing out its pure magnetism to your bedroom. Its simplicity makes it easy to assemble without using any tools, and it has passed the 50-pound test of tip-over and the voluntary ASTM safest standards tip-over making sure the dresser won't fall. It coordinates well with the cherry flooring adding a touch of sophistication to your room. The chest is also easily adapted on various corners of your bedroom adding a bit of natural beauty. It has three drawers with metal drawer gliders with gray finishing and constructed from engineered solid wood making it hard-wearing. The deep drawers also pull easily from gliders giving you a smooth move when looking for your stuff and dresser has a high end look that mix together with room interior decoration.
25. Grey Linen Fabric with Grey Bedroom Sets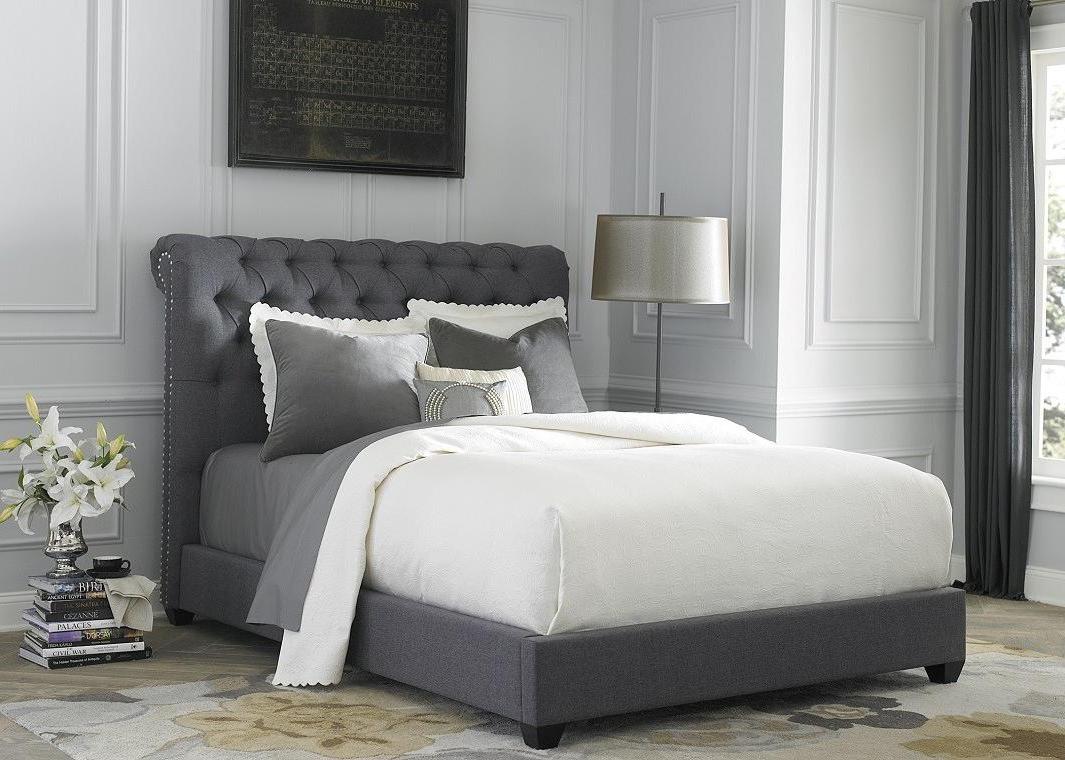 Sophisticated and sweet, the archetypal charm of this bedroom collection showcases the superlative outline of the modern design. The grey Linen is made of high cotton fabric that is easy to clean and has an appealing look of smoothness and softness on a button-tufted headboard with complete accentuated crystal sparkles making the leatherette upholstery to pop beautifully swiftly.
The headboard upholstery of grey color brings out a sparkled design that immediately brightens your room, and the button design showcases crystal –like gorgeous acrylic accents. The well-arranged books act as flower vase holder with fresh tulips engages the room with a touch of nature and plush. Additionally, the straight stand-alone lamp shade reflects the natural light through the window keeping your room lightened up during the day. The faux leather offers a bright feel, but it also wiped down for super easy cleaning.
26. Grey Wicker Bedroom Furniture Ideas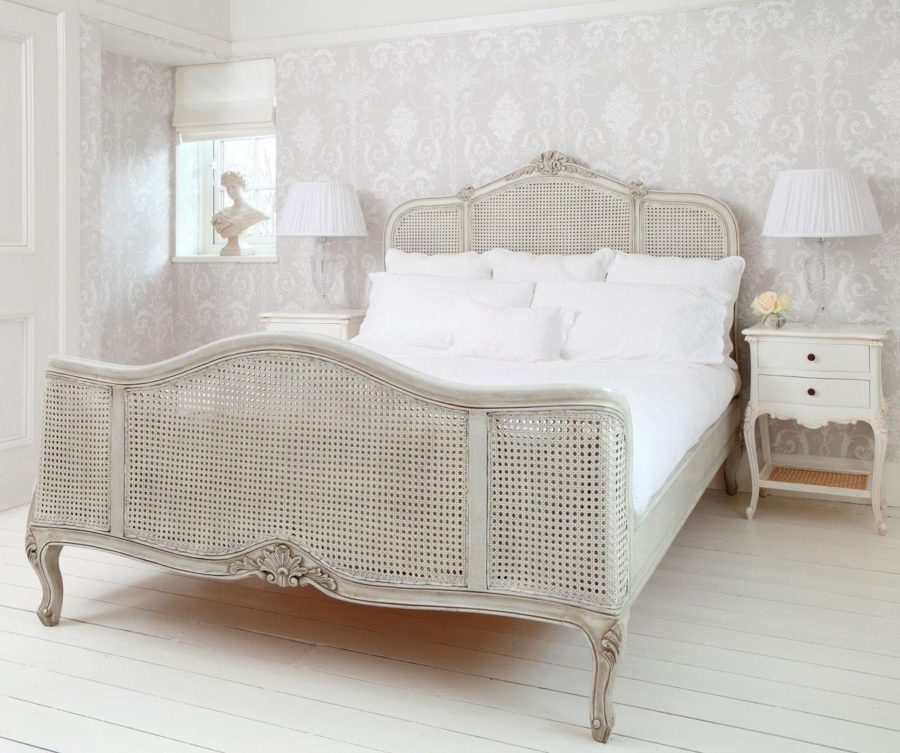 Bring your master bedroom to a modern country style with this unique looking wicker bedroom furniture set. Constructed from solid wicker materials that bring out their natural chic, the collection offers decorative accessories, and the wicker is durable and sturdy. The grey wicker is well wrapped and woven to give headboard upholstery that is shining and welcoming while its natural neutral tone mixes admirably with the other room decor making the decoration a breeze. It embraces a robust attention; the textured bed frame draws attention and gives you years of comfortable sleep. The wood floor brings ups the country style with a feeling of rural environment offering vintage signage while the wicker rattan material on the bed completes the stunning loo. The nightstand and the lampstand match with the beddings giving this room an accented and alluring feel.
27. King Size Grey Modern Bedroom Set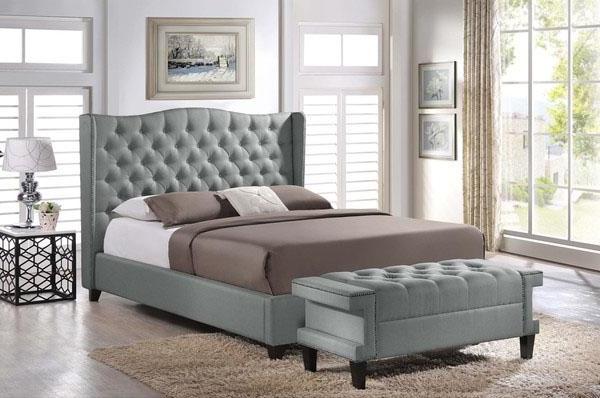 The king size grey modern bedroom set emanates classiness and lures with its super combination of shined nailhead trim and jewel-tufted accents. The chic and smooth faux leather upholstery provides effortless glistens to the bedroom making it become an immediate focal point with its dual functionality and unique curves structure. The soft and silky leatherette upholstery is adorned with attention-grabbing buttons with crystal-like acrylics, and it also has a curvaceous camelback structure that is outlined with the shined nailhead trims. The matching bench features a long seat with padded cushions for relaxation, and it can easily double up as the footboard making an easy bedroom placement. The pre-drilled holes in the headboard legs offer an easy screw detachment and attachment, and it has an adjustable height design that accommodates platform bed frames. The metal frame nightstand with the puffed rug, artistic pictures, and the long drape curtains completes the charming look of this bedroom.
28. Luxury Bedroom on Grey Tones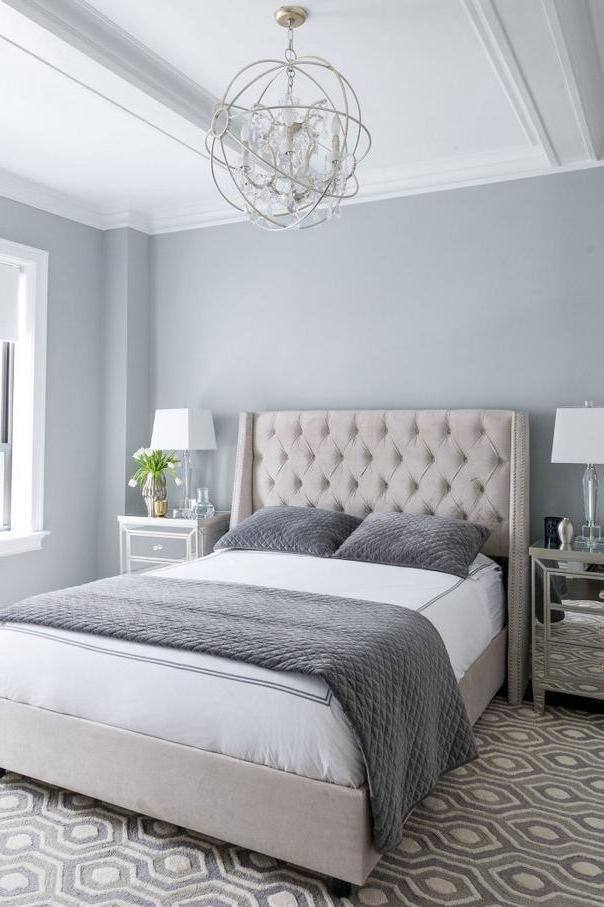 Add a wild and luxury twist to your master bedroom with the stunning setting of grey tone bedroom set. The bed has an expansive buttoned and tufted headboard that provides smooth, soft and silky leatherette with comfort while the beautiful nightstand has a matching grey veneer with a glass top face. The low platform bed creates a refined bedroom setting with its camelback headboard that is well adorned to bring out its luxury feel and touch. The nightstand provides a top drawer with a lined felt and it also showcases the mirror face that reflects in the whole room and the acrylic knob accents with the full-extension metal glides gives easy access to the drawers. The grey veneer lends its beauty while the glass look on the nightstand top with etched pattern brings out a smooth silhouette.
29. Modern Grey Bedroom Furniture Set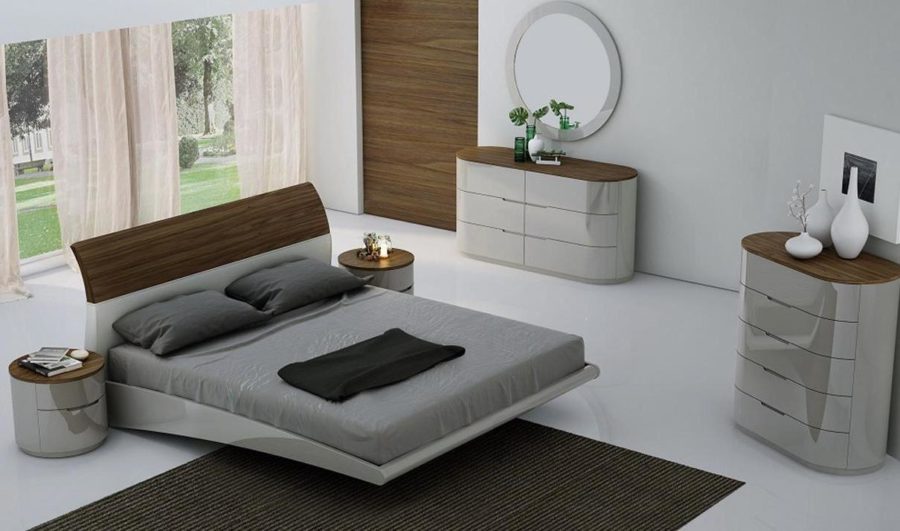 Give your master suite an exceptional design that is permanently surrounded by beauty. The modern bed comes in two gorgeous finishes that give it a sophisticated look with the linen. And hardwood upholstery headboard brings a splash of wow look with its robust hardwood trimmed to provide an appealing well-appointed sleep. The low platform bed has a stunning shaped design and surrounded by oval shaped two dressers with a flat, smooth wood top are best for storing most private things, and the top offers the best place or the artistically shaped flower vases. Additionally, the around mirror attached to the matching wall creates an astonishing beauty.
The round nightstand with wood veneer flat top is easy to operate with their sliding mechanism, and all the furnishings in this room are well veneered for extra prettiness. The walling and flooring tone of paint intermingles with ever fittings adding together a taste of exquisiteness and charisma.
30. Nightstands Dresser for Grey Bedroom Design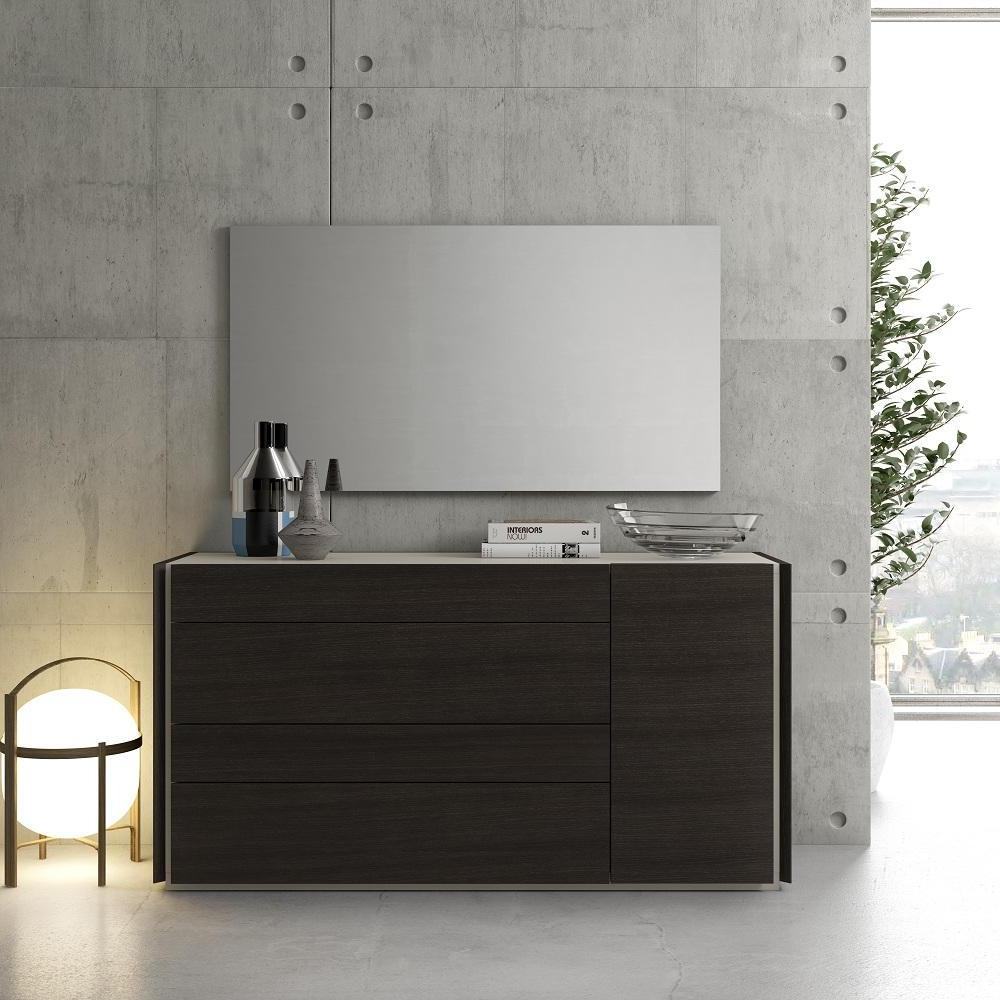 Modernize your bedroom and give it a classy look with the latest top-notch nightstand dresser. This high gloss grey lacquer nightstand has clean-modern lines that add a sophisticated look that will easily blend with any room decor and design to add a modern edge. It's made of painted metal and MDF is making it quality and built to last. The drawers have ball bearing and side metal glide making them easy to operate. The flat white top has created a center of attention effect with the walling bring the room to plush.
31. Oak Grey Bedroom Furniture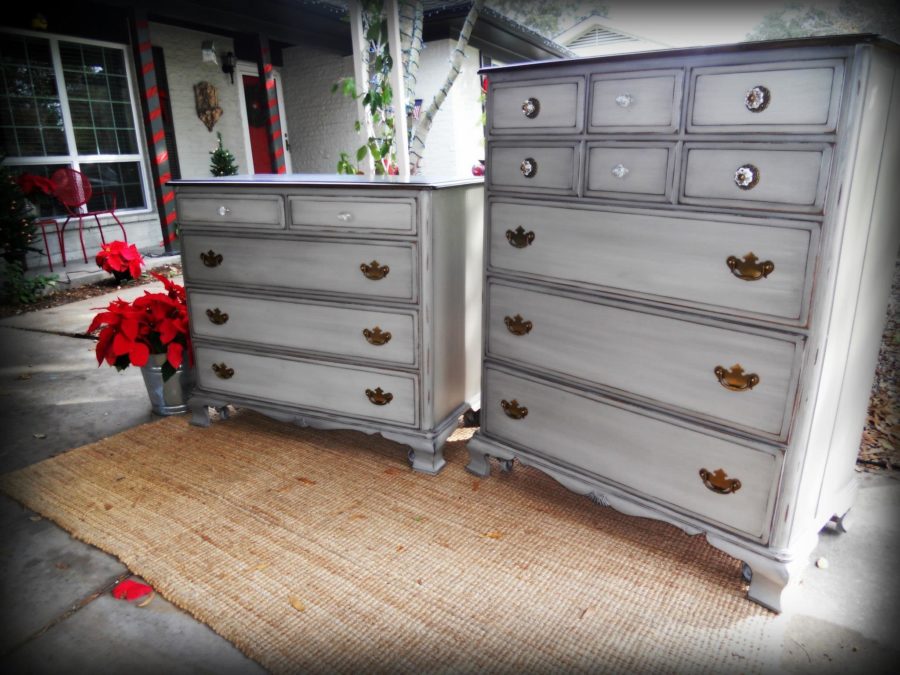 Keeping your bedroom free from any mess creates a sense of enlarged space and soothing feeling. The 14 drawers and double dresser are perfect for arranging your items and bedroom garments and blankets within reach, private and clean. Made of weathered oak finishing that goes well with, modern, coastal and shabby chic setting, the drawer has a non-toxic laminated board particle material that ensures your safety. The oversized cases have an element of ring right to its value.
It's an eco-friendly drawer with a rustic look that emphasizes on its natural fabrics and homemade elements blending with floors and the furniture. It brings out a farmhouse style with a decor that carefully draws inspiration from the casual and distressed paint finishing's imparting a sense feeling of comfort and warmth. The oak dresser brings out artistic distress with its gorgeous aged ultimate that is sure to impress with no fussy design natural texture and grains.
32. Oak Wood Vinyl Bedroom with Light Grey Wallpaper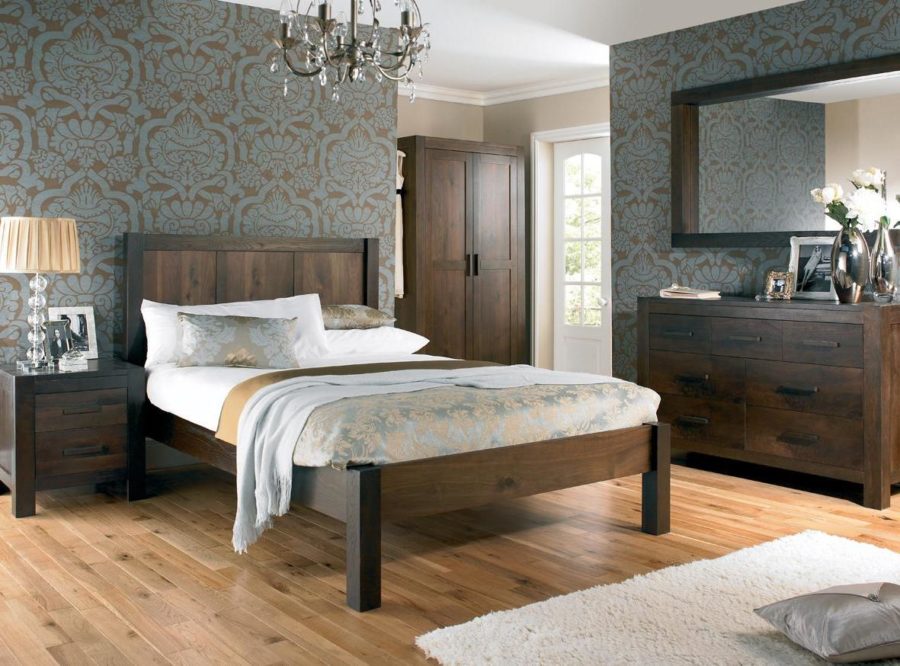 The natural warm look of the solid wood furniture deliveries a rustic, clean aesthetic to your room suite. The design features a rustic looking panel headboard that is well supported by classy looking flowered grey wallpaper mixing them resulting in a fascinating look. The headboard and footboard are made of solid pine wood from Brazil making it eco-friendly sturdy and yet lightweight. This helps the bed, dresser, and the nightstand to bring out its magical rustic edge look that is distinctive and industrial style. The set is made of excellent craftsmanship with quality in mind and attractive color hue of grey to add to any room theme and decor. The hanging chandelier illuminates the long and wide mirror providing the room with lightning and brightening it up while the wardrobe with two doors and an easy to pull and close knobs offer storage services. The tone of this room is completed by a puff rug that is plush.
33. Pine Grey Bedroom Furniture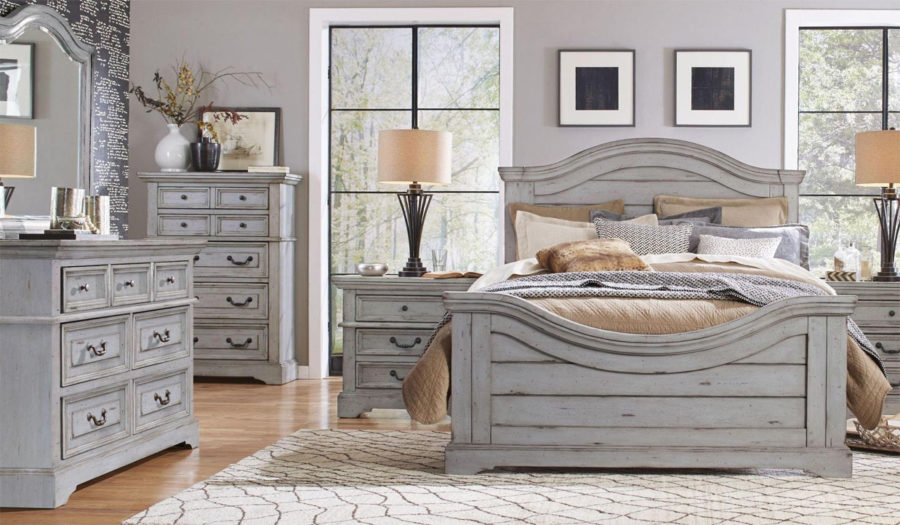 The varying tone of pine grey can bring beautiful accent colors on the wall and furniture set for any modern bedroom. It feature a cultured bed showcasing antique tones of charming that enhances your bedroom settings and two dressers with enough drawers are easy to operate with the easy to pull and push hardware while the bed nightstand looks charming with a vase of fresh tulips and designed lampstand. The bed has camelback designed headboard and footboard that are made of hardwood and showcasing a single tone trim. The wood floor adds a tone of warmth while the beddings complete the bedroom set by showing their inviting appeal and adding depth and character. The printed rug lies comfortably under the bed enhancing the bed's features of color tone giving a feeling of affection, kindliness and convivial.
34. Rustic Bedroom Gray Furniture Ideas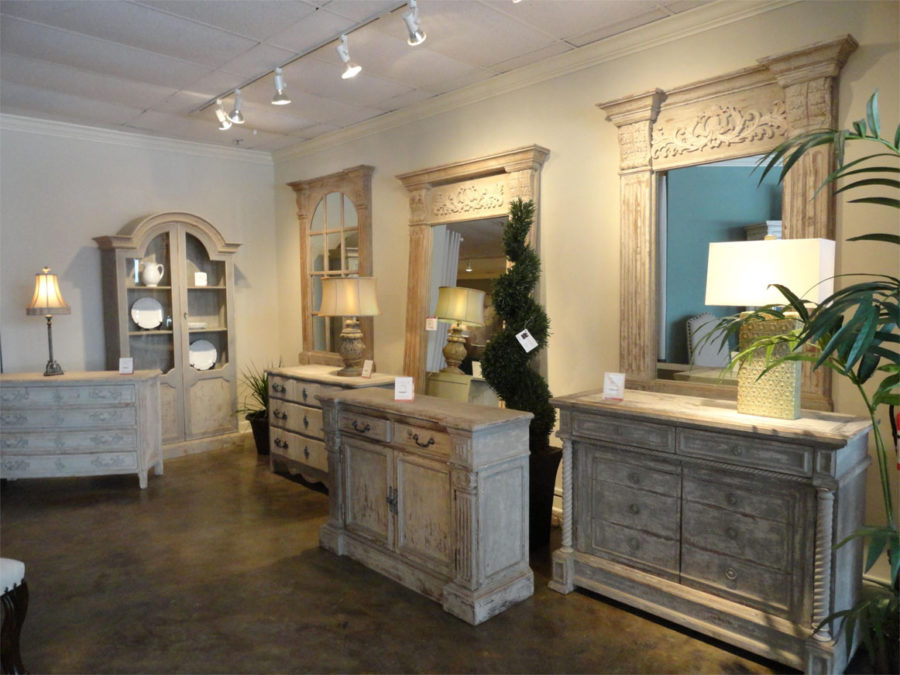 Enough storage space means clutter free, striking and well-arranged bedroom and this rustic bedroom grey furniture offers you with dream look and services. They have a weathered oak that blends with contemporary and traditional settings. Each of the drawers is well crafted with high solid wood that gives its unique look bringing out their natural fabric of homemade elements. The cabinets are also made of multi-layer materials boasting their durability and strength and bringing their casual feel with distressed paint finishing. The differently designed lampshades of different sizes impart the room with a feeling of warmness and ease while the natural plants bring out the touch of nature. The wall unit looks perfectly with melamine utensils, and the shinning floor combines the whole set empowering the room's magnificence.
35. Silver and Grey Queen Bedroom Furniture Ideas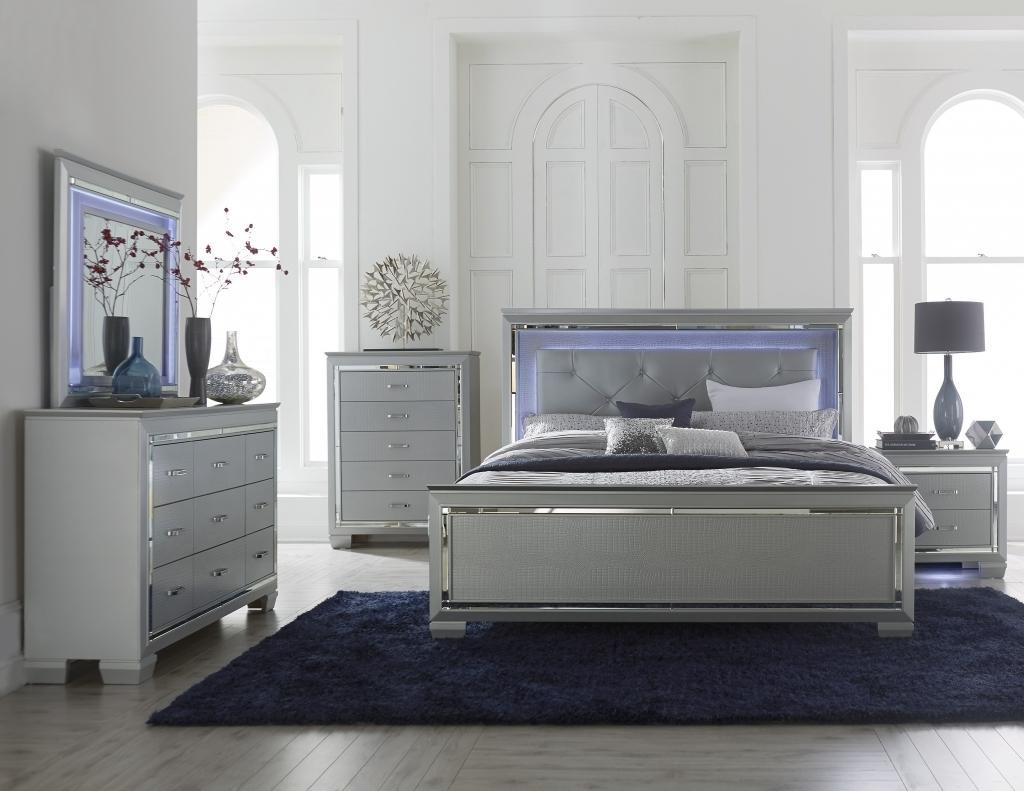 The combination of grey and silver in your bedroom is charismatic and chic bringing out a fresh look that is stunning and exciting. It features a robust silver finished bed frame, one nightstand, chest drawer, a dresser and mirror all with the tone of silver hue that balances the grey tint of color. The queen bed is complemented by a trimmed mirror with a silver look around the headboard while the LED lights keep the bed looks warm, and the light grey colouring around gives an envying look. The rug carpet and wooden floor have a charming effect on the whole room bringing you to a pleasurable stay and relaxation. Made of natural wood that is constructed to give a durable and sturdy bedroom set the finishing is exceptional and soft fabric beddings offer a smooth and soothing plush. This room has decorative flower vases and other items that outline its enchanting feel.
36. Traditional Grey Wood Furniture Bedroom Design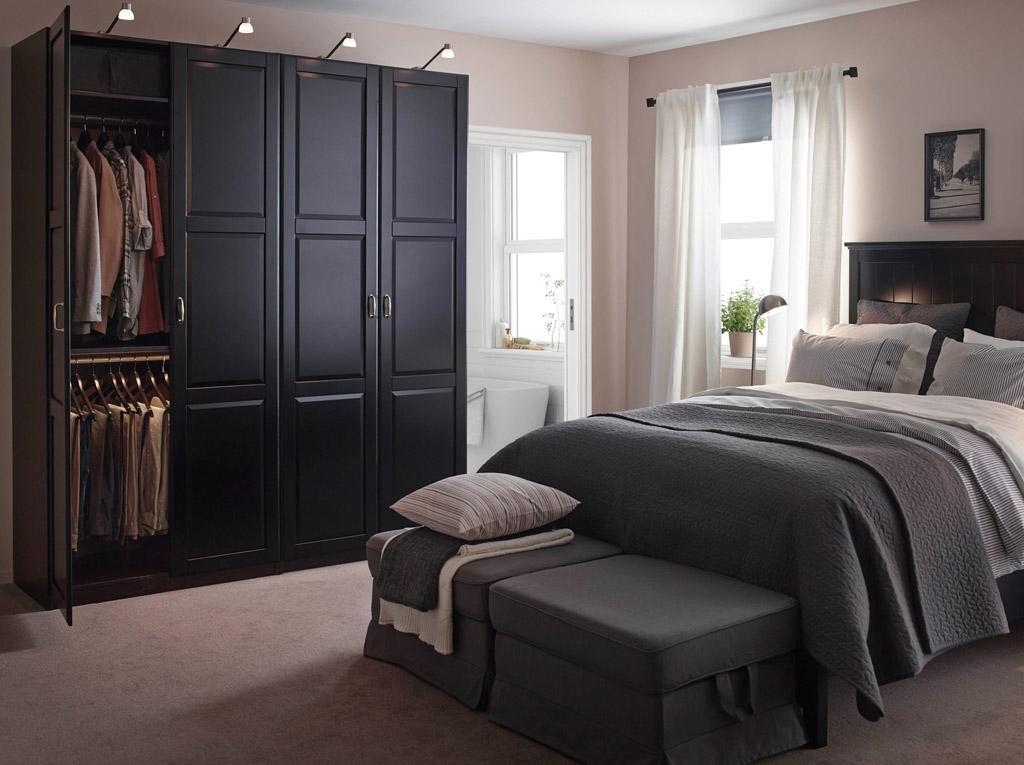 Creating a calming and soothing effect to your bedroom, this traditional grey wood furniture set adds a striking look. Its soothing grain of textured grey finish on the wardrobe the footboard stools and the headboard helps you to enjoy your mornings, and it complements well with most of the bedroom decor. Sit up on your bed and lean comfortably against the wear and durable, resistant headboard while reading a book or scrolling through your phone or just solving the day's crossword. Organize your clothes and accessories in the double door wardrobe with sliding hanging rails keeping your stuff neat and fresh and also boast a contemporary look. The closet has an interlocking mechanism that helps only one day to open at any given time and counterweight back panels that restraints it from anchoring so much to the wall. The footboard stools are dressed in grey removable fabric, and the large padded cushions are comfortable to sit on, and the high standard reduces any risk of tipping over. Start and finish your beautiful day immersed in the elegance tranquillity of your bedroom.
37. Victorian Grey Bedroom Furniture Ideas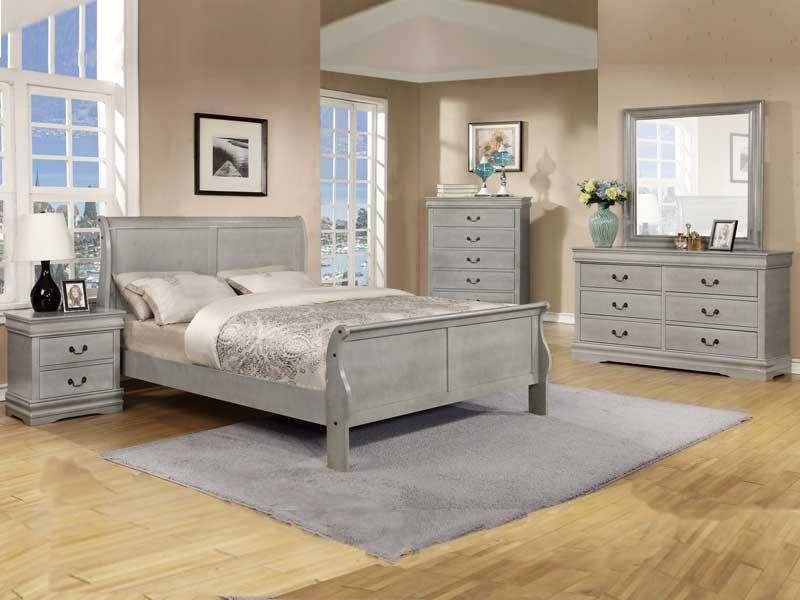 Design a rustic and chic sleeping space with Victorian grey bedroom furniture collection. The bed is made of a durable wooden frame of classy grey veneer giving a smooth look while the full blanks headboard and footboards lend a tremendous vintage touch to your room. The bed chest drawers, bed stand and dresser with rectangle mirror are inspired or rustic theme and made of wood veneers and solid wood that are heavy-duty. The headboard also showcases wide plants that present a slatted appearance and the shag rug compliment the wooden floor.
38. White Cabinet for Grey Bedroom Design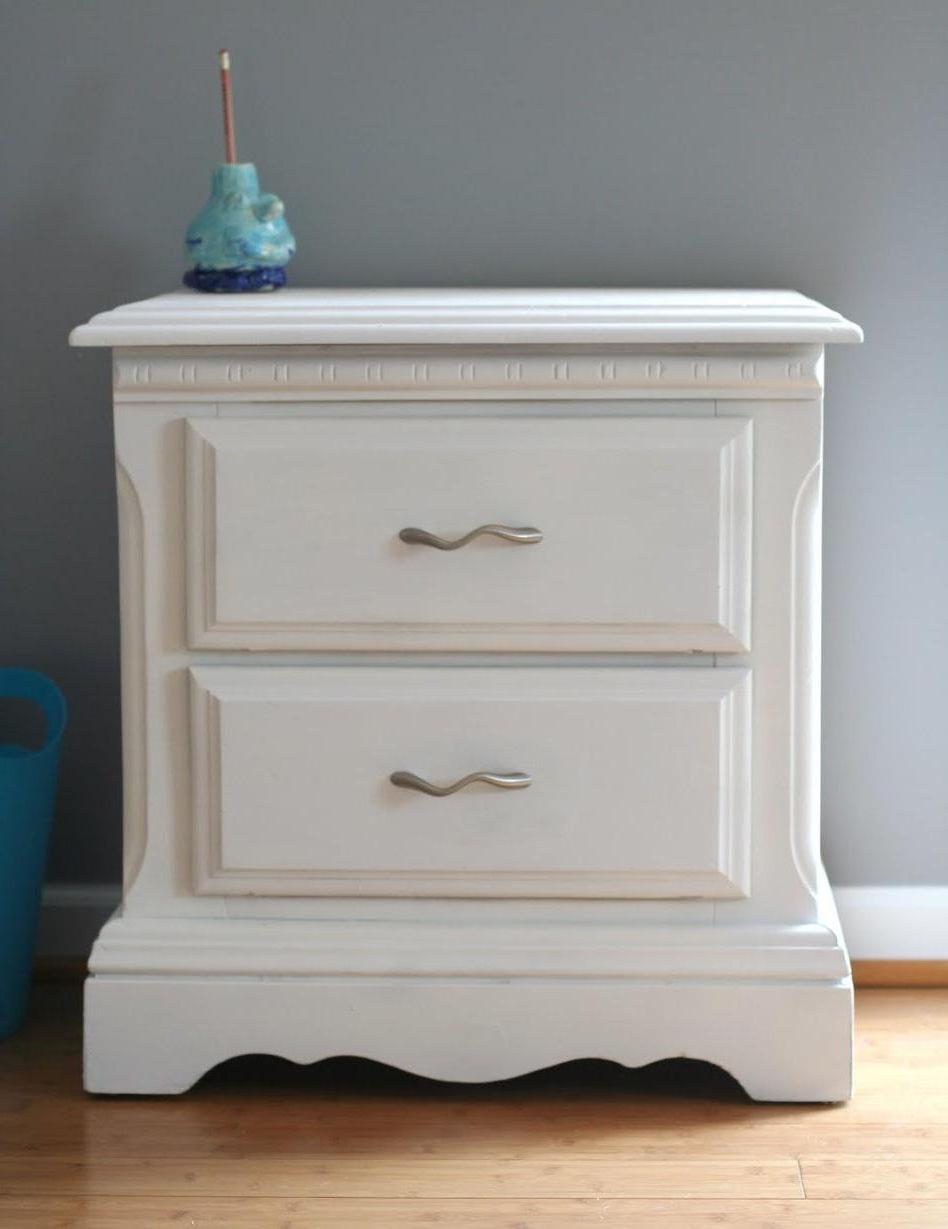 The In-val mobile cabinet features two great drawers that can accommodate your most private files and personal items. It has a contemporary white finish that showcases the wood grain in its varying shades of grey, and white and both of the drawers are easy to operate. You will be organized in the most straightforward and fastest time with this valuable saving space bedroom cabinet which has a flat top with the double and faced durable melamine wood. The cabinet is stain and scratch resistance giving it years of service with its washed oak white finish while the white cabinet is highly veneered to match with your bedroom furnishing and decor bringing out exquisiteness.
39. White Grey Bedroom Makeover Design Ideas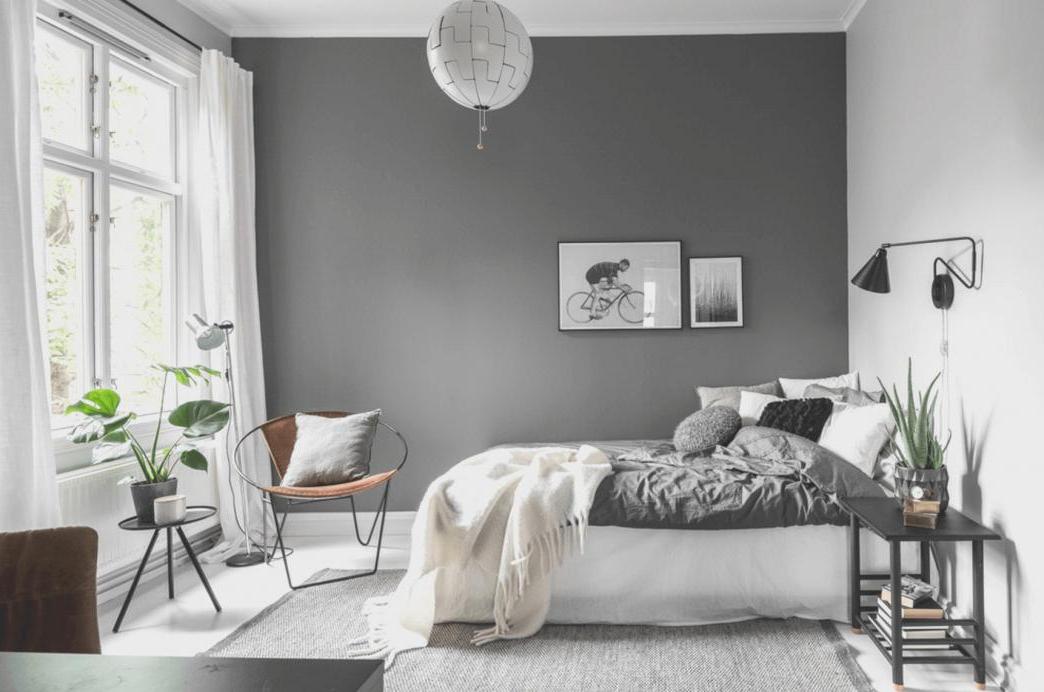 Relax in luxury in a white-grey bedroom scheme that is inspired to bring out chic, and the unique shape of the bed and other room furniture gives a stunning style that is welcoming. The whole room is designed to create calming effects with its natural ambiance. Its soothing grain textured of grey on the walls and the surrounding furniture helps you enjoy a peaceful morning while the large window illuminates your room with light and makes it airy. The windows are strategically placed to ensure you enjoy the outside beauty of nature when sipping a drink or relaxing in your bed while the queen bed gives you an option to lean over the clean and dirt resistance painted walls as you plan your day while the side table with a vase of natural plants makes the perfect place to place your stuff and books. The comfortable metal built seat with cushions helps you enjoy a relaxed time, and the wall painting brings out a touch of riding spirit and the whole combination creates a complete makeover for a bachelor pad giving it an affordable collection that's adorable for years.
40. Yellow Grey White Bedroom Design Ideas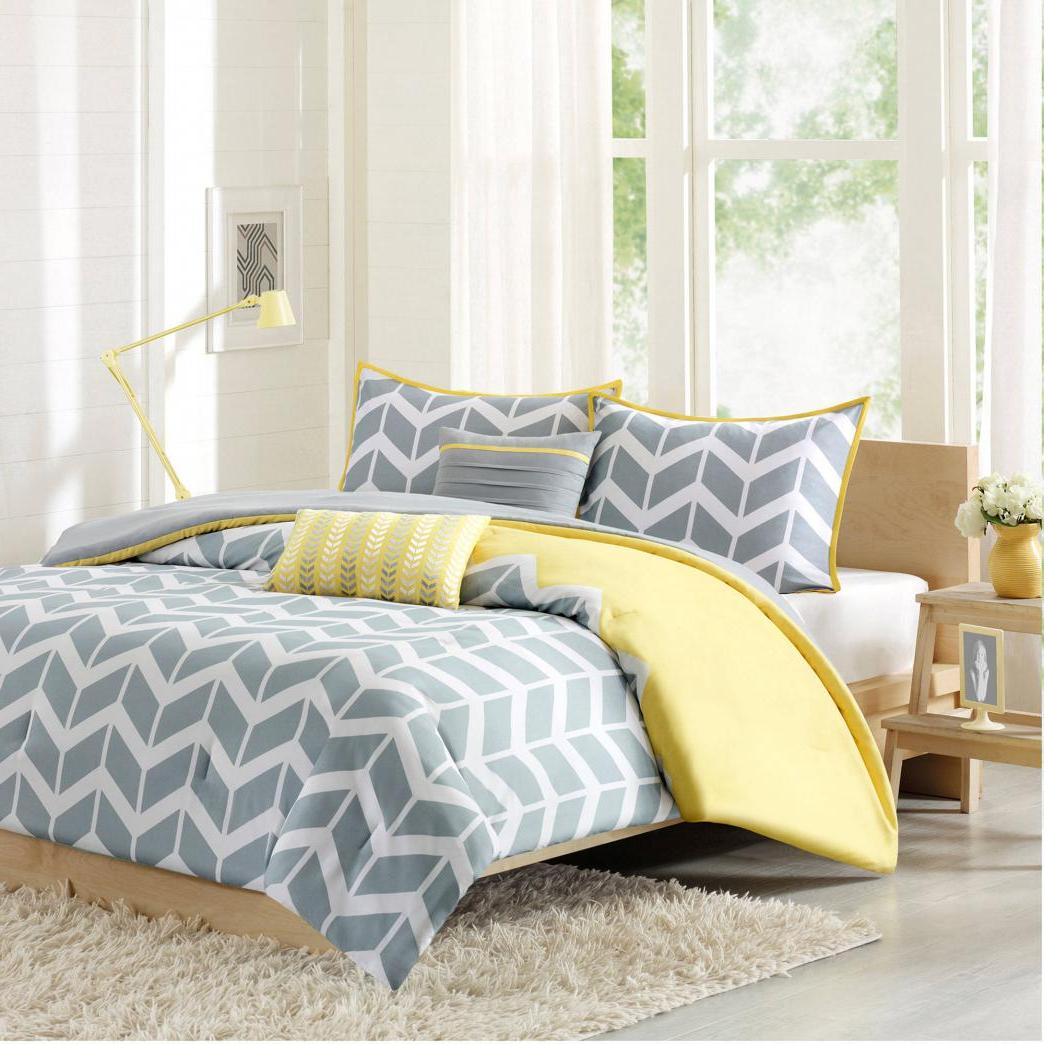 Add a fresh and crisp update to your bedroom with the yellow-grey white bedroom collection that is made of high premium engineered and solid woods. The set incorporates a classic look of clean white finish that lends a touch of an airy charm and collection features a homemade brand of high-quality fabric beddings with a bit of yellow and white that harmonizes the grey flooring and walling. The bed is made of high-quality natural wood that is crafted to bring out decorative feature to your bedroom and can give years of service. The color combination merges well to create a great modern masterpiece bedroom while creating a calming haven.
There we have listed out a most exceptional selection of grey inspired bedroom furniture from the world of different interior design. You can choose from the most quite an understated plan or opt for the more extravagant regal style that will weigh up your bedroom giving it a majestic look that has a royal treat. Grey can break up any color palette and add a modern edge of beauty giving your room look that immediately draws the eye. Regardless of whatever color scheme, you want in your bedroom; grey has the power to create a striking and stunning system that makes it enjoyable and fun when decorating.