It is every book lover's dream to own their own home library; that one room that exists purely to celebrate the written word and house their ample book collections. Who wouldn't want to curl up with a good book surrounded by your passion?
If you have a big house with a room to spare, this could even be realized. Many of the examples in this list show how one little room can be transformed into a statement library with some shelving and a comfy armchair. Not everyone is fortunate enough to be able to devote a whole room just to books however, but don't let that deter you. Compact, apartment friendly shelving units can take up very little space while providing plenty of space for your papery friends.
40 Gorgeous Home Libraries For The Book Lovers Out There

Libraries can even become a design feature of a room. Whether it is a beautiful shelving unit or a full floor to ceiling library within your living space, your books and the way you display them can become the statement décor of any room. No matter what your budget and available space is your creativity is all you need to fuse together your books with interior design.
So if you love books and dream of one day building a library of your very own here are:
1. Topsy Turvy Abstract Shelves

This iconic home library system is made up of toppling, round edged polygons that look like they're going to fall over at any second. The unusual configurations mean that you can stack books upright or on their side depending on what look you're going for. Stacks of large books sit on the cushioned carpet beneath the shelves. The rest of this unique library is quirky and weird, just like the shelves. It features unique hanging orb light over hole in the floor and a carpet in complementary colours. A lime green armchair with a standing light provides a comfy spot to read beside the fun library art piece.
2. Floating Shelves With Step Ladder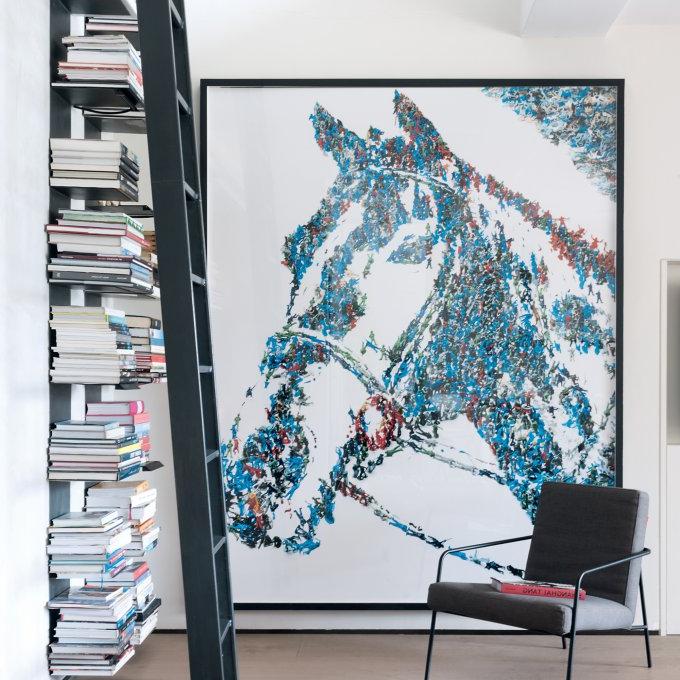 This minimal library has been created by a stack of horizontal invisible shelves tied together by the black stripes that run parallel to one another from floor to ceiling. The books stack horizontal like one continuous wobbling tower to the ceiling. The top shelves can be reached via the old library style sliding stepladder. This is a beautiful version of a library that can fit into the smallest spaces in a compact, modern environment.
3. Library Under The Stairs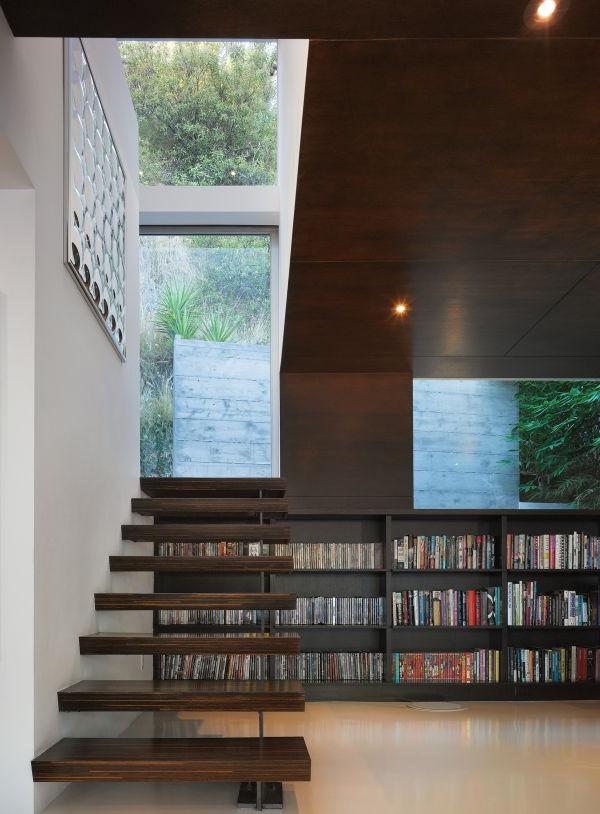 This contemporary style library in this dramatic, luxury home is cleverly tucked under an innovative floating staircase so the glazed stairwell lights the library without direct sunlight hitting the books and potentially damaging them. The stairs, ceiling under the stairs and bookshelves in the library collaborate as one piece in a distinct dark wood. The shelves provide ample shelf space to store books of any height. And, as an added bonus, this is a fitting place to keep your Harry Potters.
4. Floor To Ceiling Library With Spiral Staircase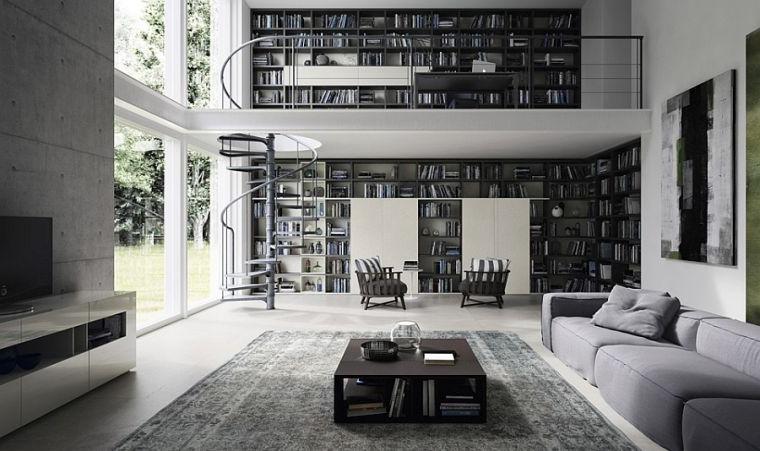 This monochrome library is open to the generous living space and floor to ceiling windows and morphs into a new kind of feature walls. The floor to ceiling library shelves in the double volume space are interrupted only by the floor slab of the mezzanine that makes up the library's second storey. The stacks themselves are cool toned and unobtrusively fit into the grey room but it's the well-chosen design details that make this special. The shelves on the ground floor wrap around the corner and create a nook that two armchairs sit inside for reading in a space that is visual separate from the lounge space. The real showstopper however is the metal spiral staircase that rises through a circular hole in the floor, joining the two levels of the library.
5. Navy Doorway Library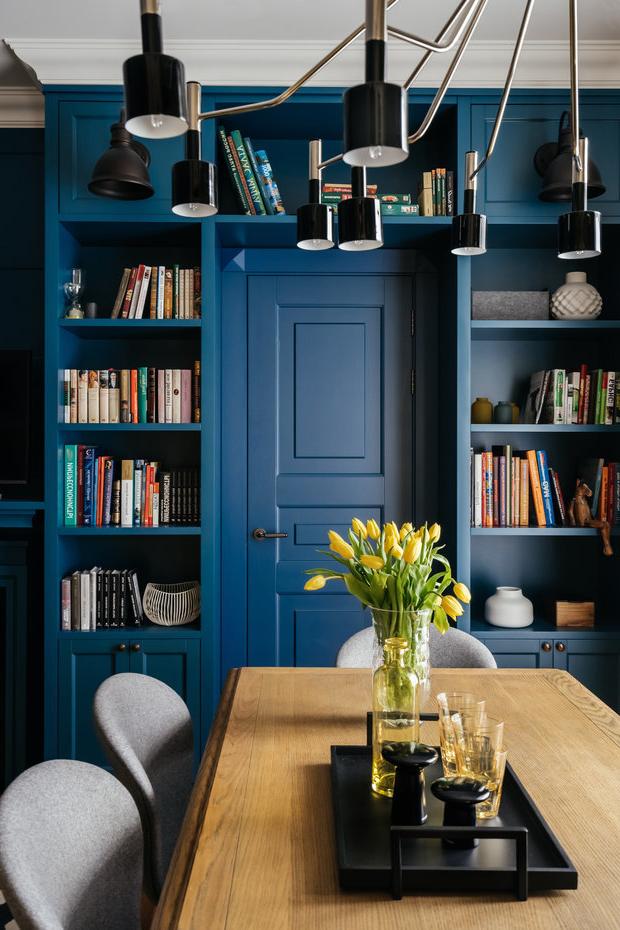 This highly contemporary dining room has used cleverly combined library shelves and a statement colour to form a feature wall encapsulating the door. Navy blue shelves and cupboard space wrap up and over the lintel with the recessed door tucked inside. The neutral tones of the dining space in front of it complement each other well and stand out beautifully against the starling blue backdrop. The multi coloured spines create a patchwork that adorn the shelves alongside some cute vases for some added texture and depth.
6. Library Display Case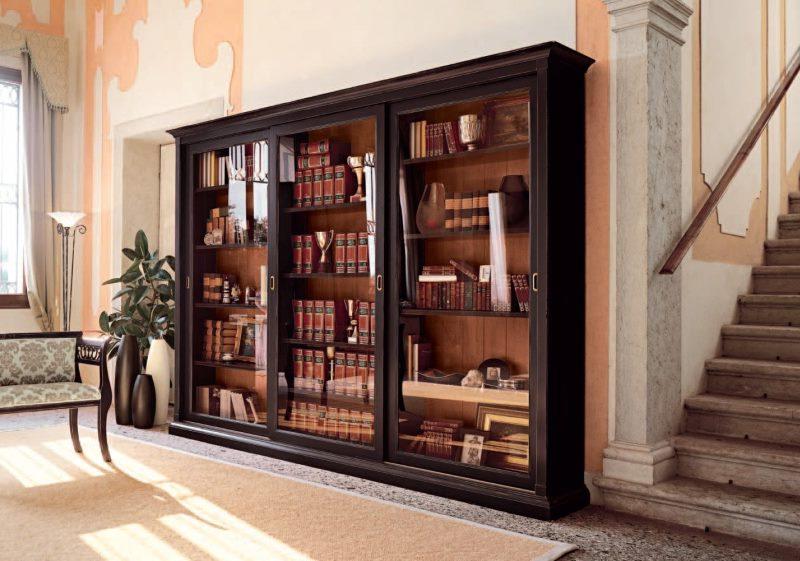 This huge full height vintage display case in double volume room is a dramatic way to store your more prized antique books. Its austere air of dark academia fits perfectly into the grand interior with its tall windows and columns flanking a stone staircase. The library of valuable books are interspersed by trophies and framed pictures to create some visual interest and show off some of your accomplishments along with your collection.
7. Glazed Set Of Library Display Cabinets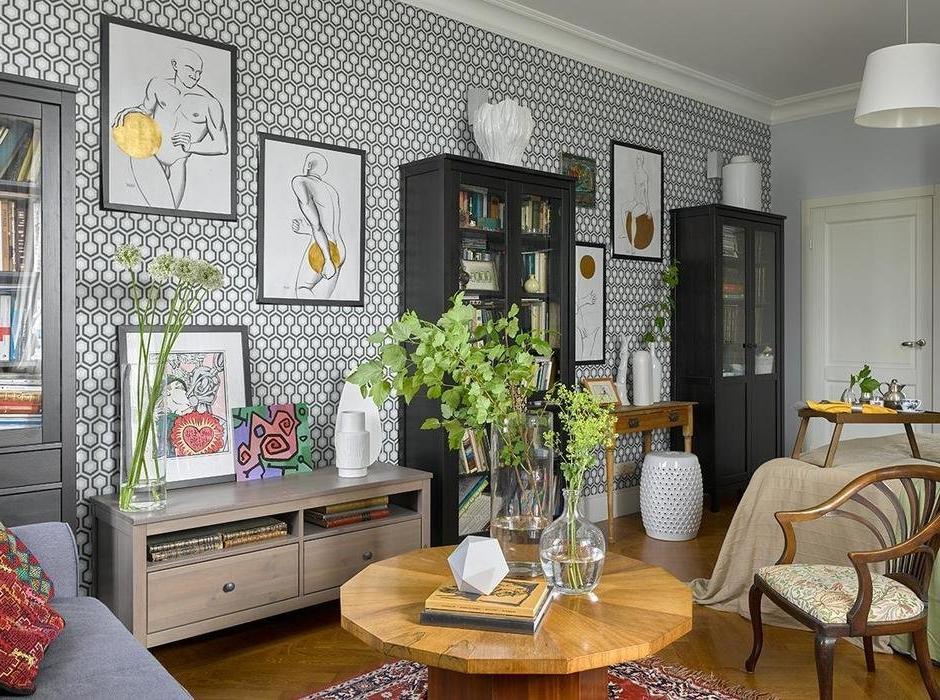 This lounge has a really eclectic interior from the vintage rug, timber furniture, freshly picked greenery to the trippy honeycomb patterned feature wall. The library is housed in three tall black cabinets with glazed doors so the books peep through but they are kept packed neatly away in their black casements. Using cabinets like this provides space to store items like books or small knickknacks that could appear messy, especially in a space as busy as this. White decorative elements have been used throughout the space; which work together with the solid black cabinets to create breaks in the visual madness.
8. Hidden Closet Library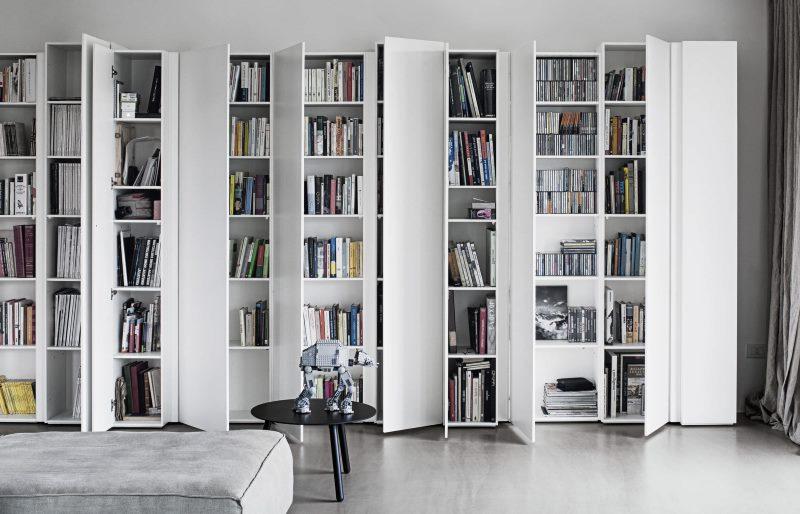 In this modern home a series of thin white closet units with built in shelves have been repurposed to form a full wall of library shelves. If you are a fan of a more minimal look that you don't want interrupted by the rainbow of book covers in multiple sizes, this solution is ideal. They also save you the hassle of having to hang shelves! The look can be changed up day to day from fully exposed, half closed half open or a sleek white blank space. This makes the space multi use due to the fact that the books can be hidden away, creating a white wall to decorate or set tables in front of to create an entertainment space.
9. A Sneaky Space Saver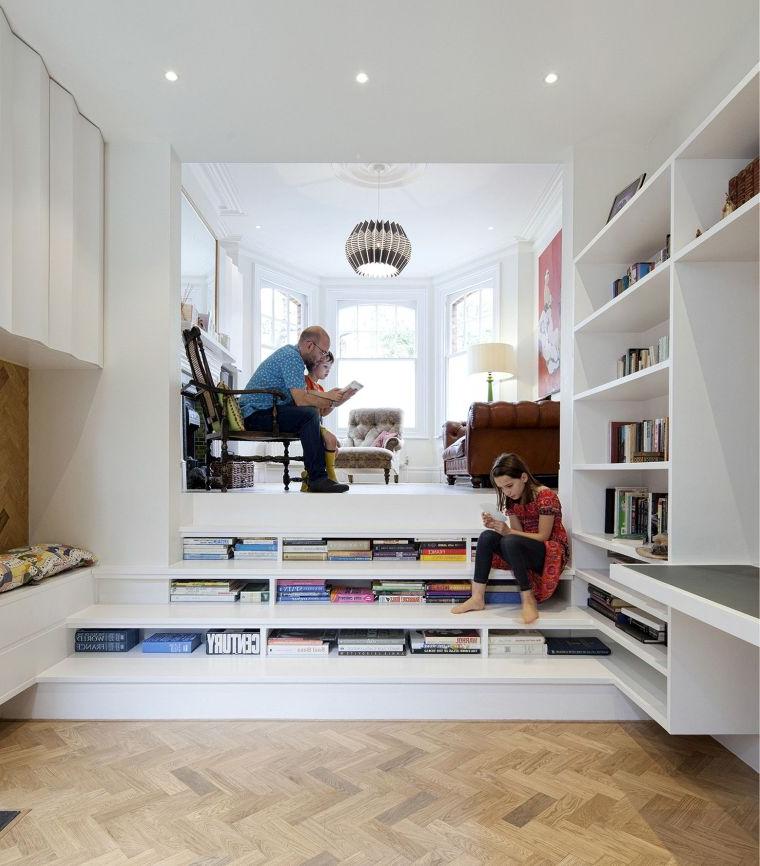 This unique home library has shown how to use every bit of space in a long thin home. Books have been stacked horizontally under the steps for innovative looking riser that makes use of a space that most people don't even consider as being useful. The bottom shelf juts out sleekly forms the bottom of the tradition library shelves on the wall. This set of shelves makes it easy to grab a book from the shelf as you walk up the steps into the naturally lit living room to sit and read. To further promote creating a pause in your day to read a little reading nook built into the wall unit on facing the shelves on the opposite wall, even the wide steps are comfortable to sit on so you have no excuse but to put your feet up and indulge in a good book.
10. A Rotunda Of Books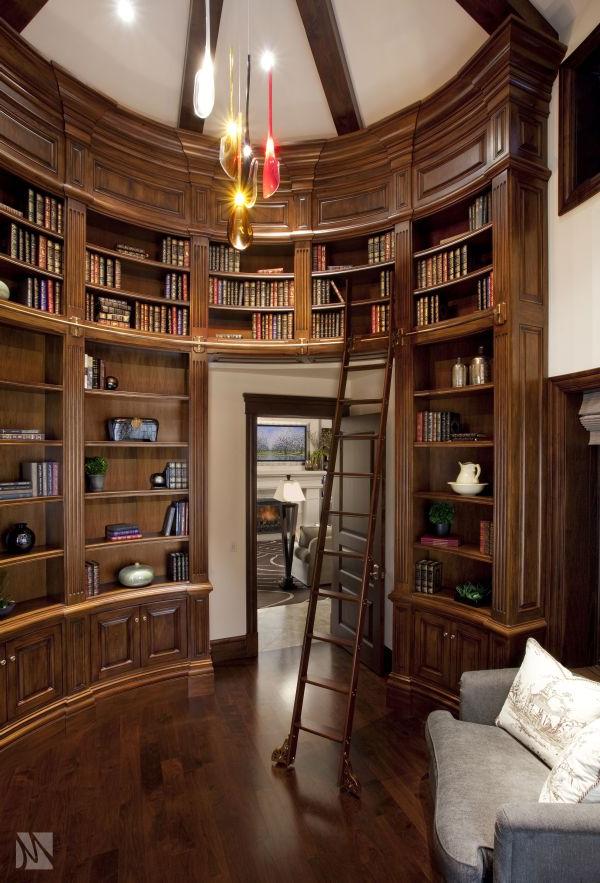 A library that has stepped from the pages of a dark academia novel, this beautiful round room has been rendered in an old school dark wood reminiscent of old college libraries. The circular room with floor to ceiling shelves is topped by a beautiful vaulted ceiling and accented by a Beauty and the Beast style rolling stepladder that traverses its circumference. The shelves at a reachable height have been decorated with a few books and decorative elements with the majority of the books set above the door so you have to go through the ritual of climbing the stairs to the books above and wheeling yourself along to find the perfect choice. A large fireplace and comfy armchairs have been added to create a cozy little reading nook, why would anyone want to leave this room?
11. Diagonal Versus Horizontal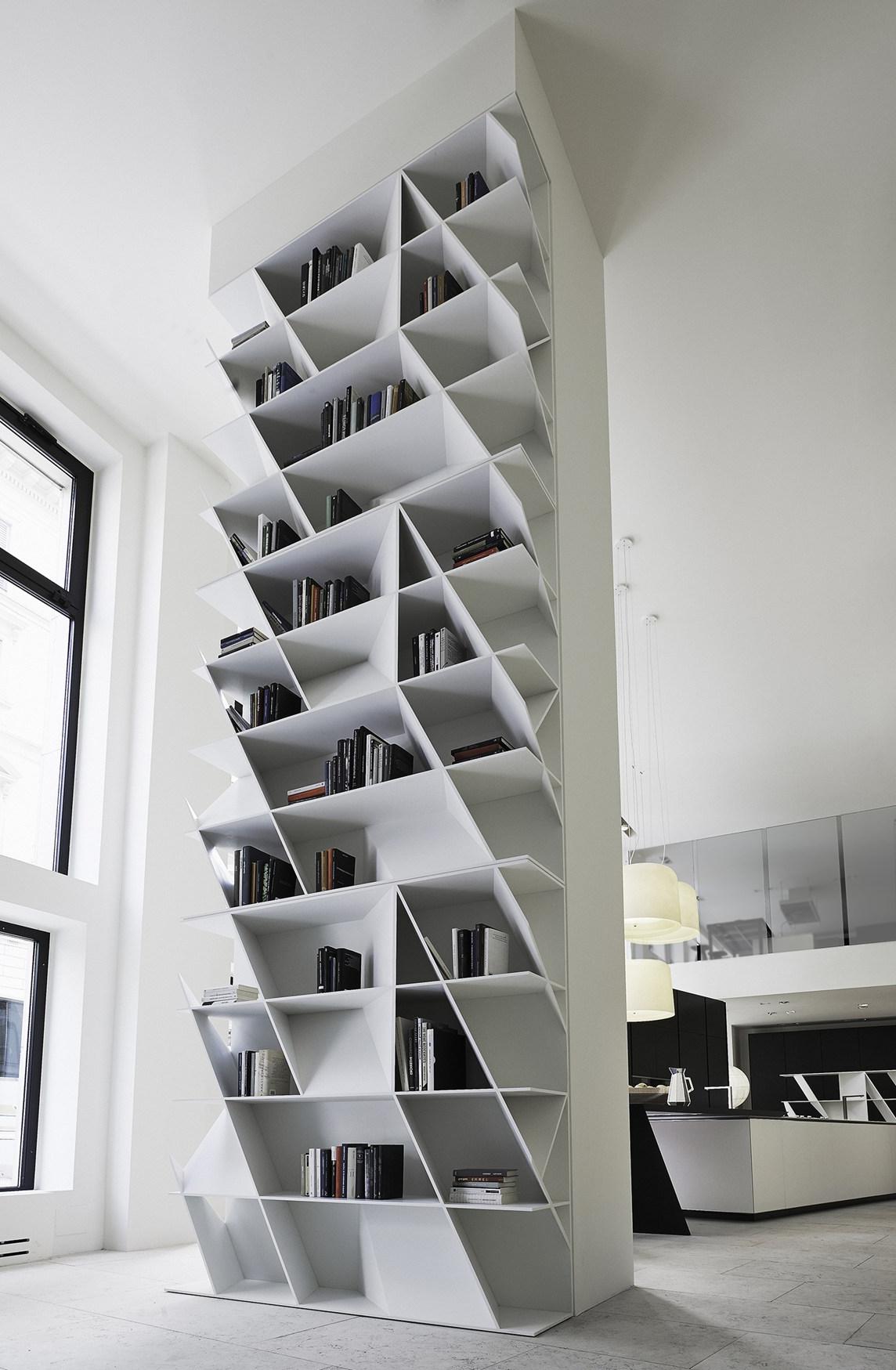 A tall white skyscraper of shelves on a freestanding wall forms a striking library in this modern home. The geometric design is made up of thin metal sheeting painted white against white wall. Pockets to store your books are created by the overlapping horizontals and diagonals are uneven in size and shape across the whole structure. Due to the uneven design the look of your library is adaptable depending on your book placement, the amount of space left open and colours of each book.
12. Wall Of Vertical Shelves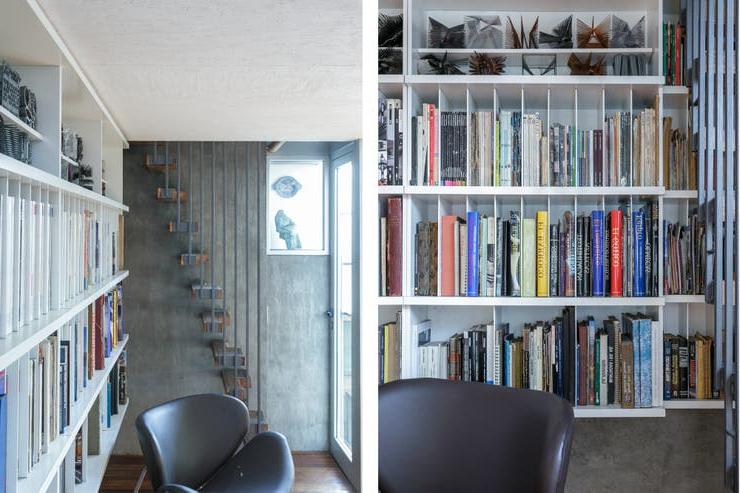 This gorgeous little reading space has imitated the stacks of a real library to create a little tunnel of books for you to peruse at your leisure. The traditional plywood shelves have been replaced with modern floor to ceiling shelves made up of thicker horizontal shelves and thin vertical pieces. The vertical elements create thin slivers of shelf than can only fit a few books, not wholly practical but a new look at the very least. The bright array of tall coffee table books line the two shelves which, along with the raw concrete wall and suspended staircase, creates a little reading corner to place a modern chair. The small cubby hole shelves above the books provide space for decoration for this little minimal room.
13. Pitched Luxury Library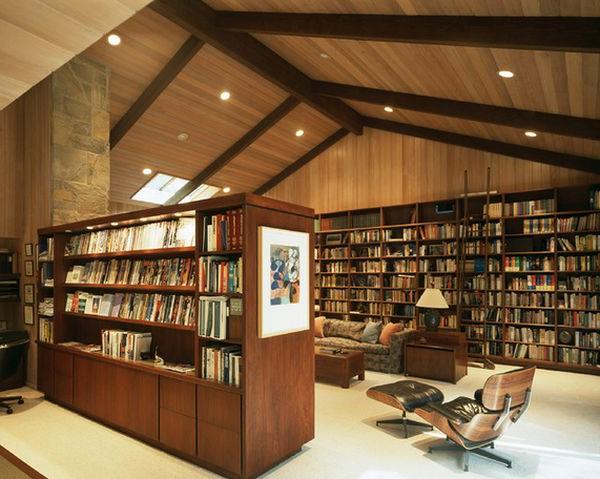 This breathtaking library shows off that you have the luxury of a whole room for books. The wood paneled room harks back to your traditional library but in a lighter wood and with a pitched ceiling that helps make the space feel bigger and less closed off. There is plenty of room for freestanding shelves and wall shelves that are accessed by a sliding ladder for the true library experience. A designer armchair and thick white rug add to the feeling of glamour while the soft couches add an extra layer of comfort to the space where you can relax and read.
14. Library With Window Seat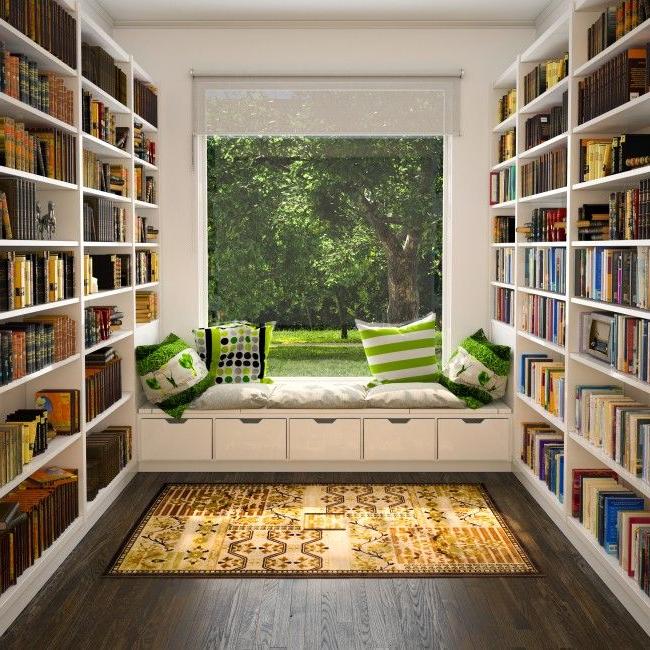 This little library is a quaint little room that offers floor to ceiling white shelves to store your ever expanding book collection. The dark floors and vintage carpet hanker back to the traditional wood paneled libraries in a very light contemporary space. A large window allows your to bring nature into the library space; which makes it really unique. A window seat with drawers has been built into the space between the two walls of shelves to take advantage of the beautiful view while you sit and read your boom. For an added touch the green cushions of the seat have been chosen to coordinate with the luscious greenery outside that creates an idyllic little reading spot.
15. Repurposed Grand Piano Bookcase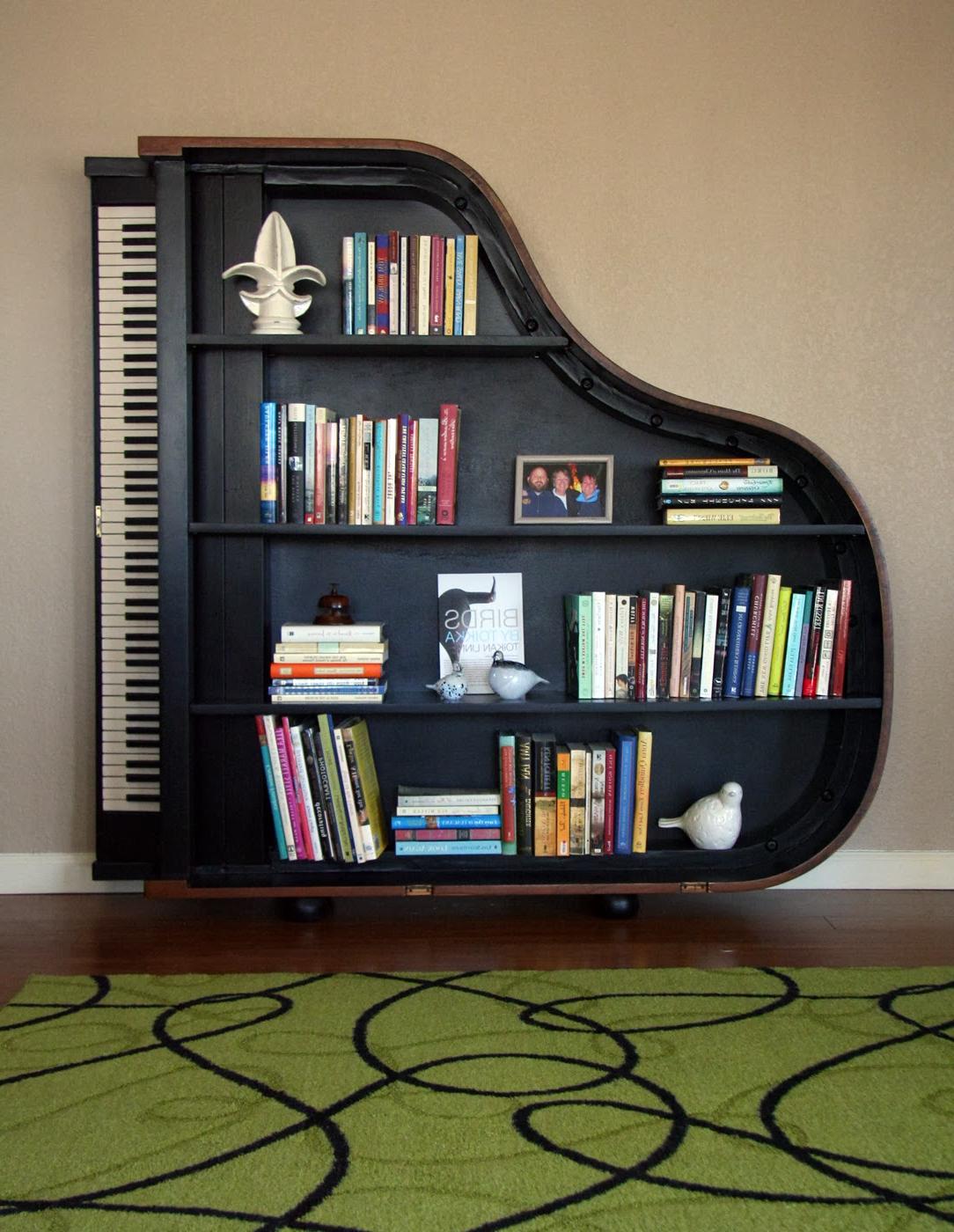 This novelty shelf unit is made from an upcycled baby grand piano to create a completely unexpected home library. Upcycling is a great way to reduce waste and breath new life into object like this beautiful instrument that has been stripped of its musical insides and restored just enough to look presentable. This results in a fun and unusual B shaped shelving unit with a series of shelves of different shapes and sizes. The books can be stacked upright or piled on top of one another to change up the look. The black body of the instruments creates a blank canvas to show off the books and the decor interspersed throughout with fun decorations and framed photos.
16. The United States Of Books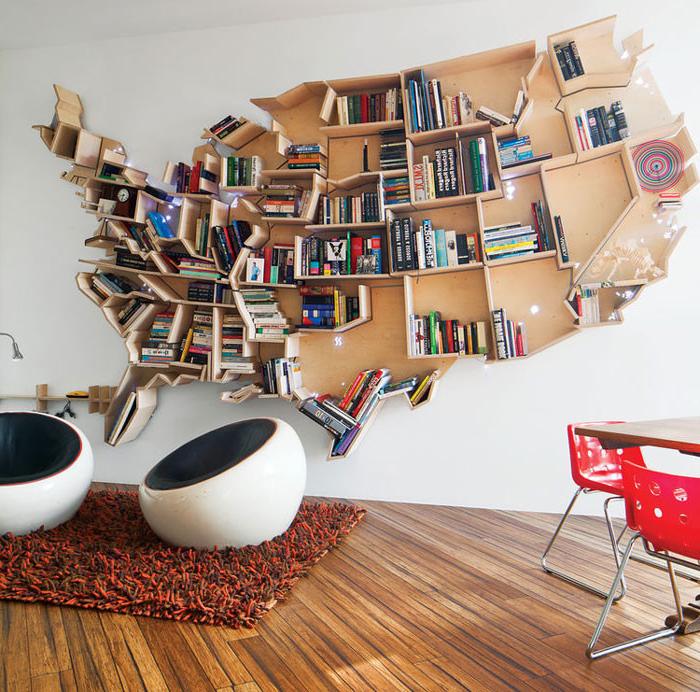 This stunning pale wooden bookshelf that has been built in the shape of the United States Of America and doubles as a piece of wall art. This quirky design gives you the opportunity to store different books in different states. Each state has its own preferred storage technique, vertical, stacked or even on the diagonal depending on its size and shape with space for some decorative elements in the smaller states. The large scale wooden structure works nicely with the wooden floors and makes a really big statement. This style of library is creative and fun and could be made to represent any country you like. The little circular chairs provide you with a space to sit in and read on the wacky soft carpet.
17. Book Shelves Inside A Desk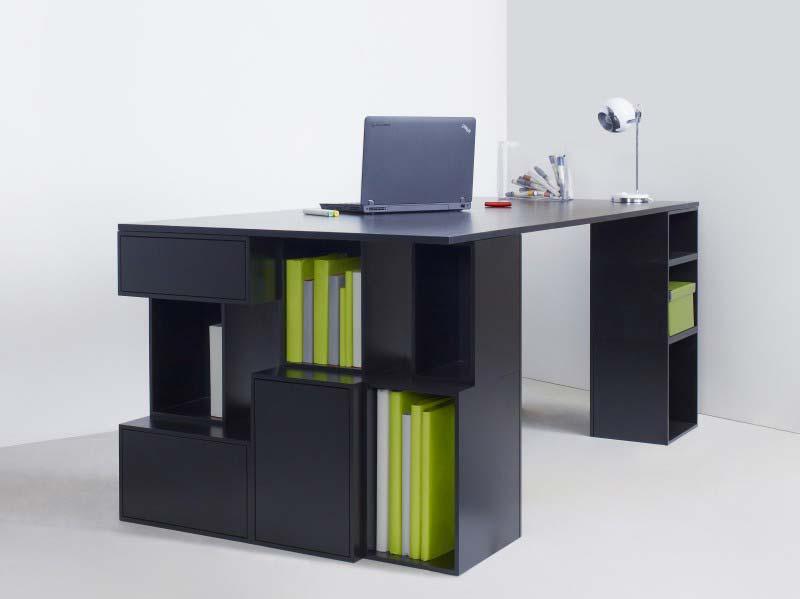 If you are really limited on space a clever use of your home office station can become multi use by incorporating shelves to form a mini library. This really modern geometric design uses a combination of recesses, solid black block and negative space to create shelving and legroom. The matte black allows the colour in the room design to come from the books themselves.
18. Mandala Style Decorative Shelving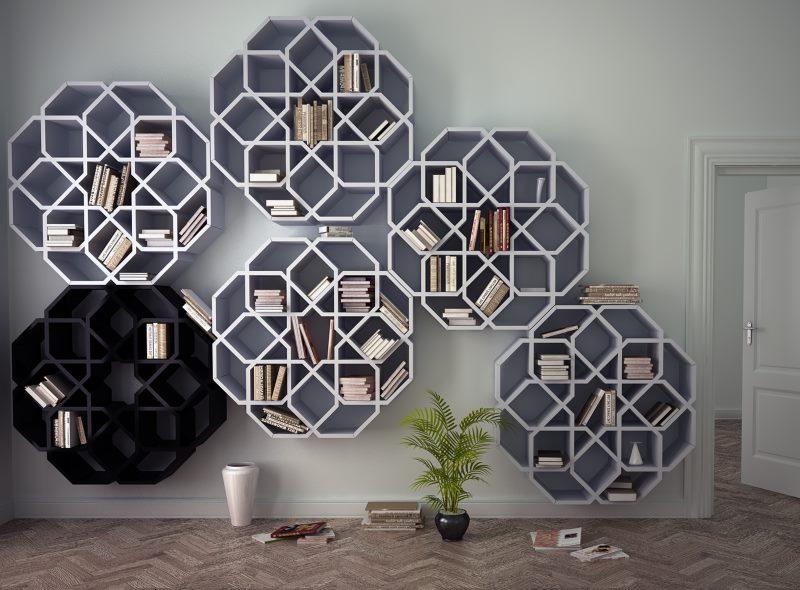 This eye catching library wall is created by a series of six mandala shelving units in a soft lilac shade with one black unit for contrast. Mandalas are really popular right now so why not create some really trendy home décor with them that also stores your book collection? The series of different shapes created by the symmetrical design give you spaces for stacking books horizontally and vertically depending on the book or shelf size and shape. This is a stunning example of how you can create a dramatic wall decoration and library all in one.
19. Book Tetris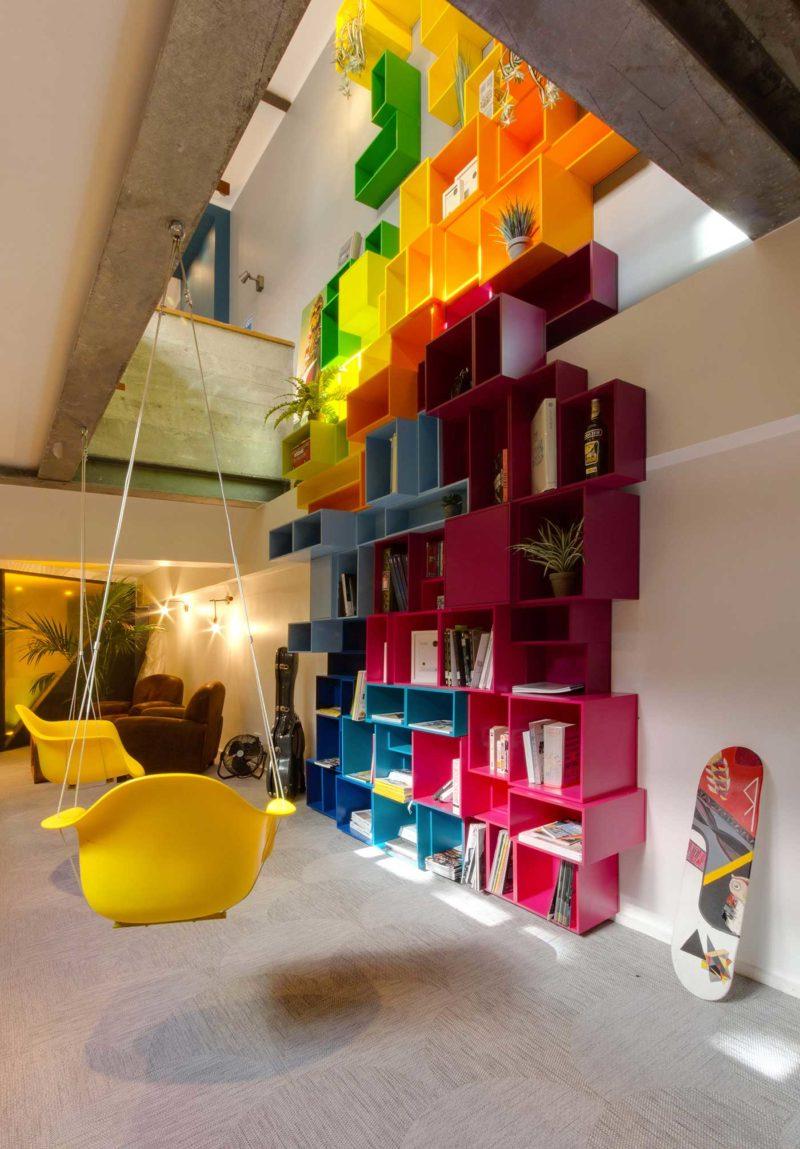 This completely novel home library is constructed out of shelves in various shapes and colours that are stacked through double volume space like a giant game of three-dimensional tetris. This really quirky style bring colour into a monochromatic space and injects it with a hint of whimsy. The library chairs are made of a sunshine yellow plastic hung from the lintel in the form of swings, which helps bring together the young and exciting vibe.
20. Double Volume Stairwell Library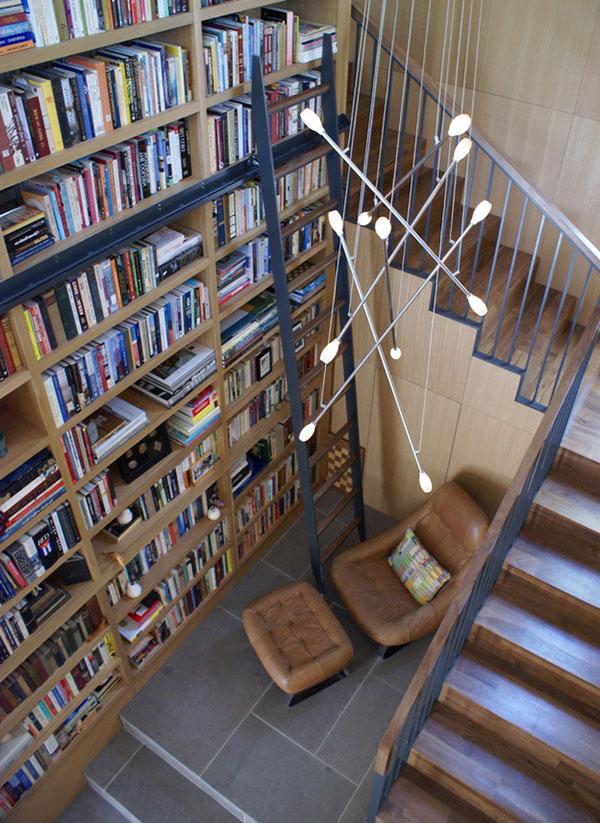 In this beautiful stairwell the library has become part of the staircase and vice versa. The bright double volume space is fully packed with shelves accessed, of course, by the classic sliding stepladder. A comfy leather armchair with footstool nestles itself between the shelves and the stairs in a peaceful space to relax and read. To fill the space in between the stairs and bookshelves a delicate modern chandelier drifts in little flecks of light from the ceiling.
21. American Gothic Book Cabinet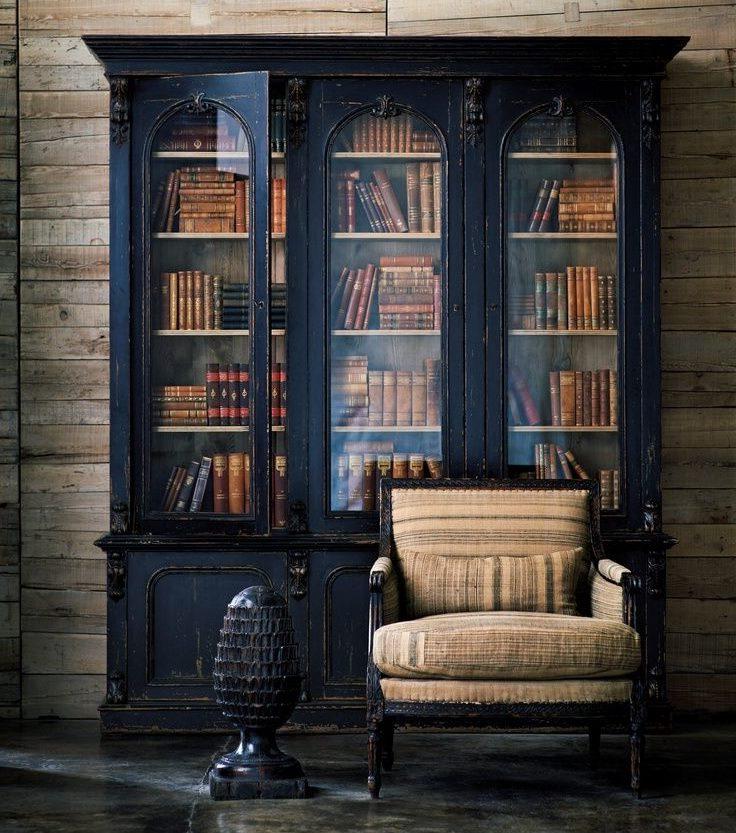 A valuable set of leather bound antique books would feel right at home in this American Gothic style black wooden cabinet. This little corner library area screams dark academia with its black wooden paneling and dark flooring that is made more comfy with the addition of a soft armchair to read in front of it. The black cabinet features three arched glazed doors with carved wooden details and entablature that makes this really iconic.
22. Double Storey Library With Spiral Staircase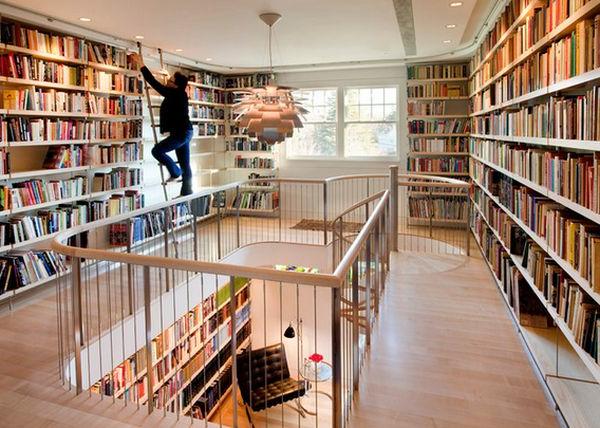 This gorgeous library spanning over two floors jam packed with books from floor to ceiling is every book lovers every dream. You can move through this space by climbing the delicate spiraled staircase and sliding along on the wide wheeled ladder. Once you've perused the shelves and slid around the gently curving room you can descend down the staircase to the ground floor where there is a designer armchair for you to relax and read in style.
23. Minimal Stacked Shelving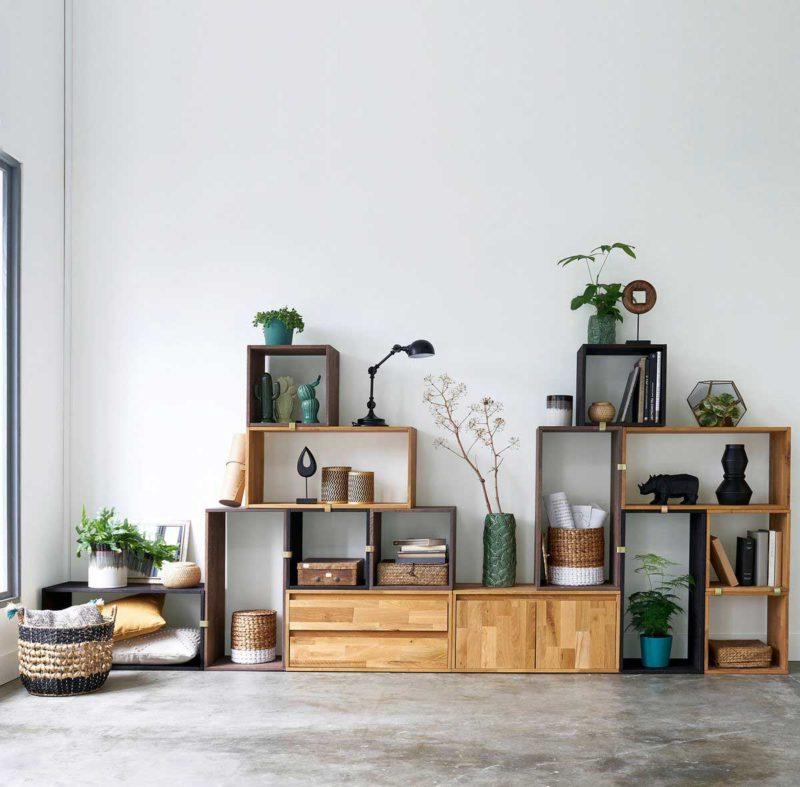 If you only a small amount of books or if coffee table or photography books are more your thing then this fun stack of box shelves are for you. This series of black and wooden cubes can be stacked however you see fit to suit the look and storage you need. This rustic eclectic storage style becomes part of your décor when you alternate the boxes contents with decorative elements to look more uneven and fun. The addition of living plants among the books also brings life into the library, literally.
24. Continuous Bent Sheet Metal Shelf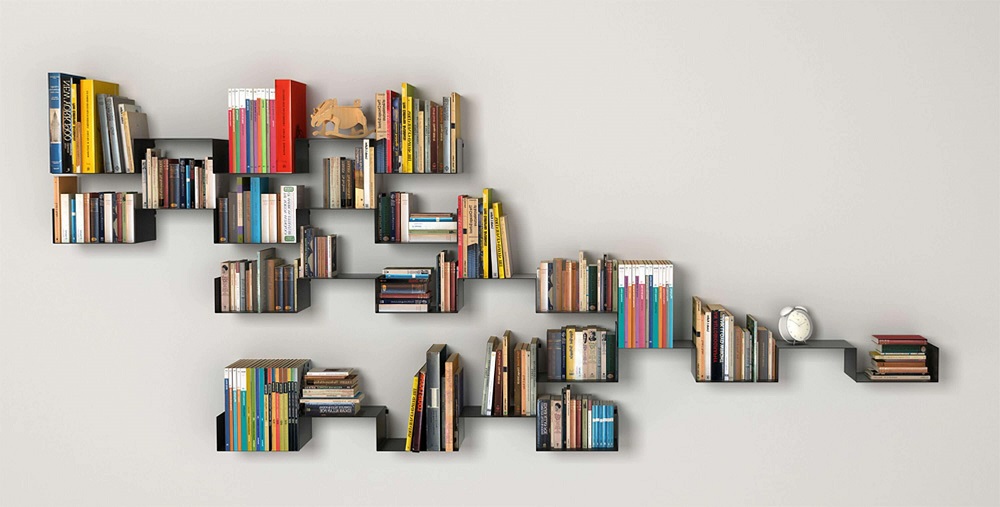 This innovative design uses one piece of black sheet metal in one continuous uneven shelf forming square pockets for the books to slot into creating an abstract piece of legible art. The rises and dips provide places for the books to fit upright or stacked horizontally interspersed with some decorative knickknacks. When its full the metal shelf itself disappears and the books seem to float in space on the wall.
25. One Of A Kind Kitchen Library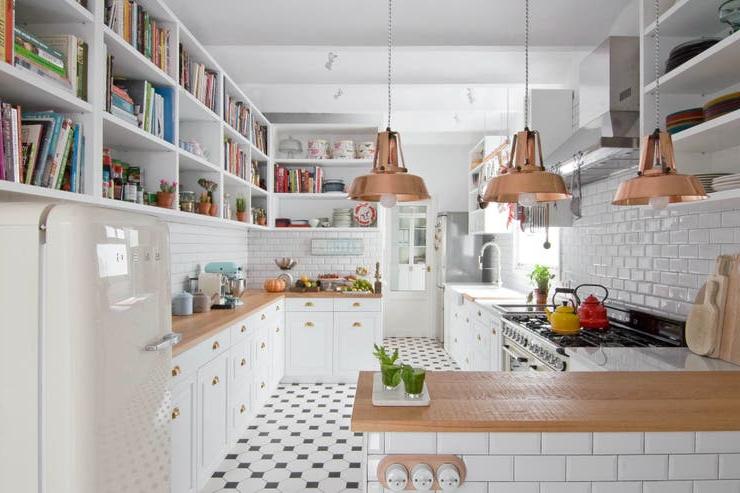 The owner of this gorgeous kitchen clearly loves cooking and is a connoisseur of cookbooks so instead of using the space above head usually reserved for more cupboards they have created a recipe book library. The kitchen has a huge amount of storage below the counter because it is so big so they shelves above are free to display the extensive collection of colourful cookbooks while keeping them away from the oven for safety.
26. Mezzanine Library Shelves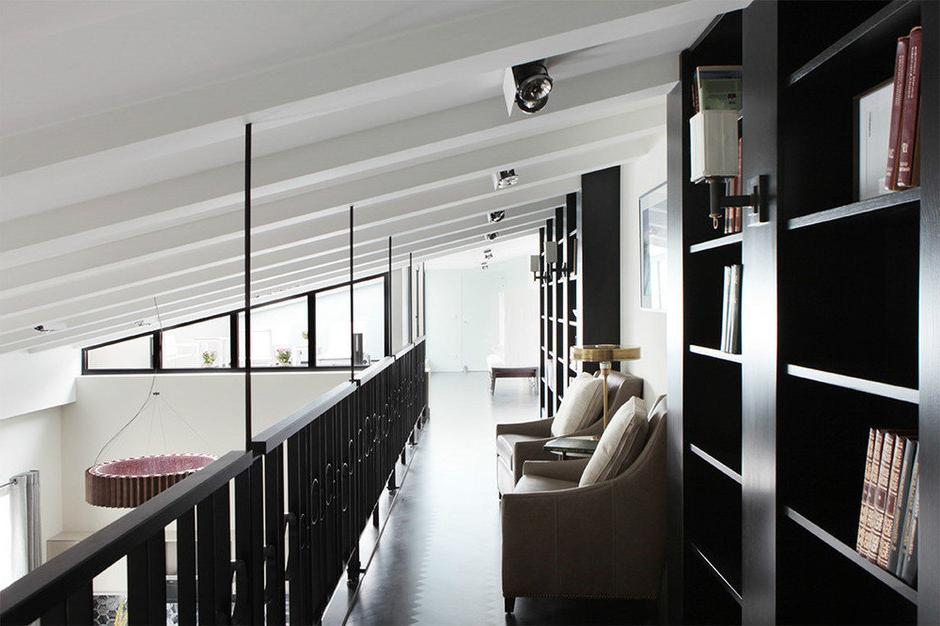 This contemporary home has cleverly used the double volume pitched space of the living room to create a mezzanine library lit by triangular clerestorey windows. The sleek black shelves, floor and balustrade run the full length of the living space below to provide plenty of shelf space. At the centre of the space a pair of chairs and an elegant gold lamp gives you a place to read overhead.
27. Modular Collapsing Polygons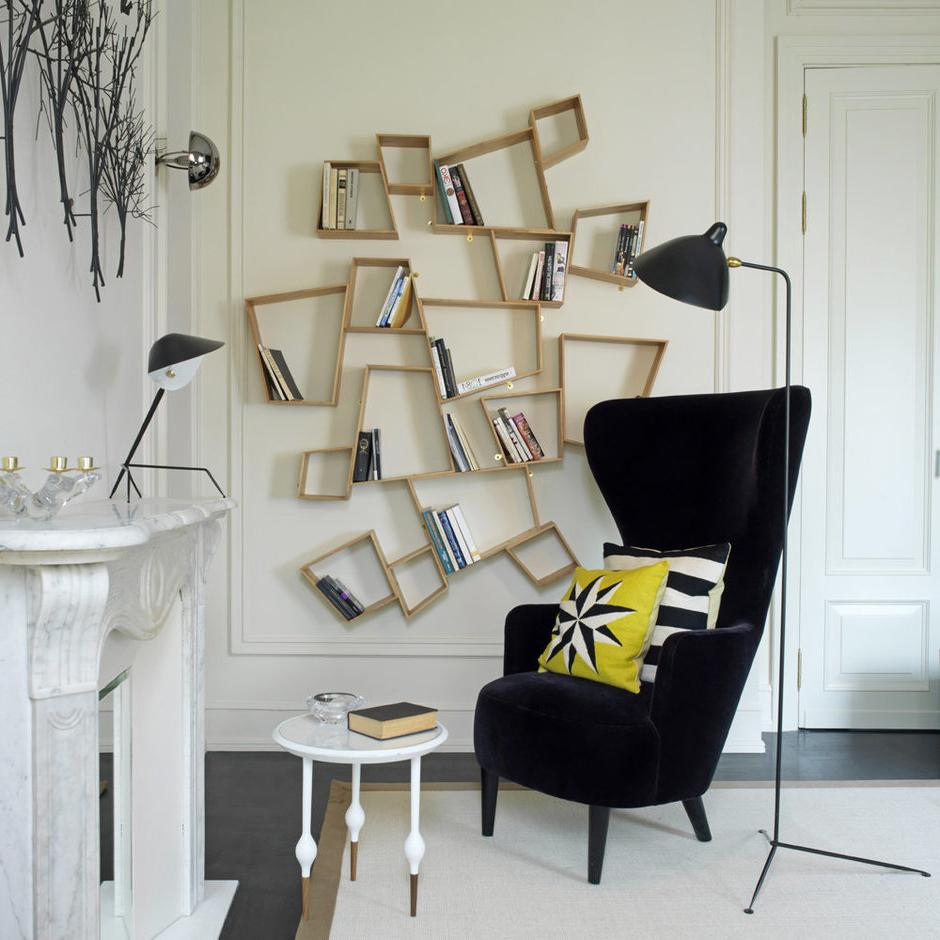 This library unit is another piece of abstract art created by books. The uneven unsymmetrical polygons stack on top of one another as if they're about to tumble over. The fun shapes of the box shelves allow you to stack the books in different ways depending on the shelf angles for an appealingly chaotic appearance.
28. Old School Glamour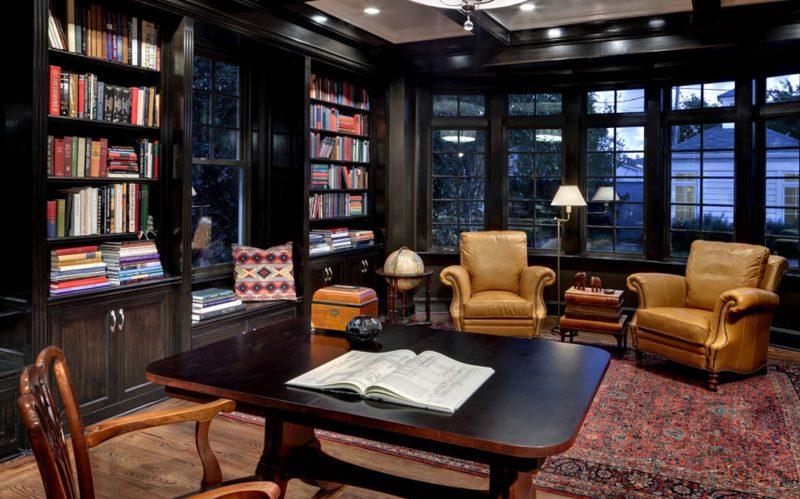 This library has been outfitted with dark wood paneling to resemble the glamourous libraries of the past. The luxurious leather chairs, vintage rugs and antique furniture make this feel like the type of library you might find in a luxury penthouse apartment. The dark shelves run floor to ceiling and incorporate a window seat to read into them. The wall of windows means that the space doesn't become dark and cave like because of all the wood, which would have had to be artificially in the past.
29. Niche Above The Fire Place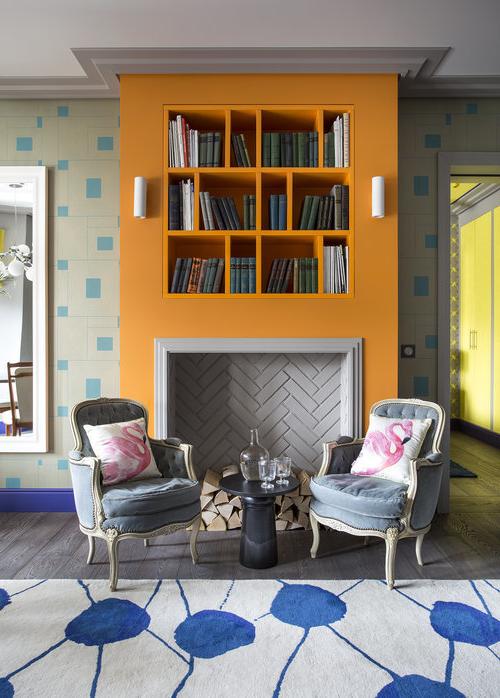 This home library is a very quirky and colourful room alive with colour and pattern from the crazy rug to the vivid orange chimney library filled with books. The grey faux fireplace stacked full of logs is just for show so there's no need to worry about accidentally setting you library alight. The velvet antique chairs provide you with a comfortable place to read and have a drink in the evenings.
30. Niches To Store Your Passions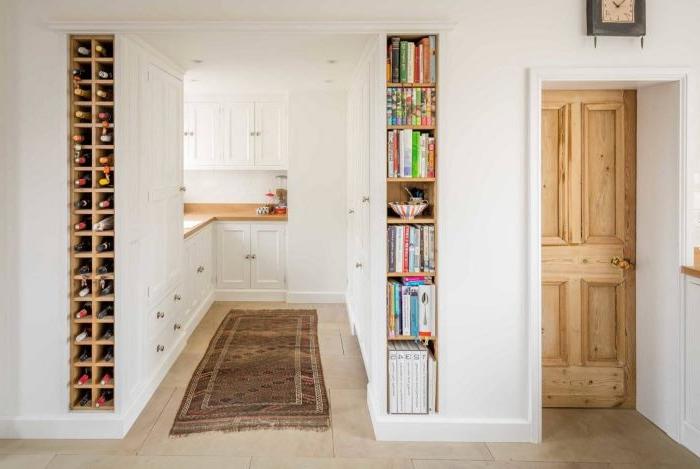 This is the perfect example of how to use up every little bit of space is a smaller apartment. These niches on either side of the kitchen entrance use recessed niches in the wall to hide wine on one side and books on the other. This pair of skinny shelves breaks up the solid white wall while the books themself bring in some uneven pops of colour into the monochromatic room.
31. Honeycomb Book Shelves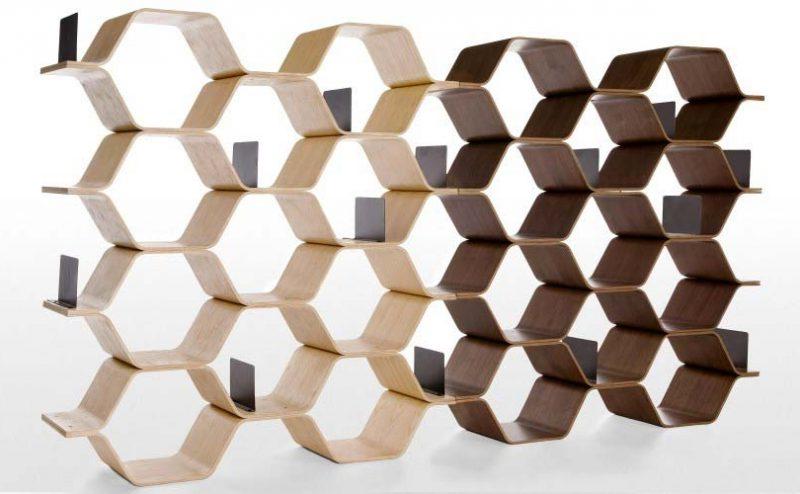 These honeycomb two-toned bookshelves are striking enough to become its own wall sculpture which is really effective against a colourful wall. Some hexagons feature vertical elements to keep the book standing up straight. This repetitive design allows you to play with the design by strategically leave some open for visual effect or placing different coloured books in each hexagon.
32. Wooden Trellis Bookshelf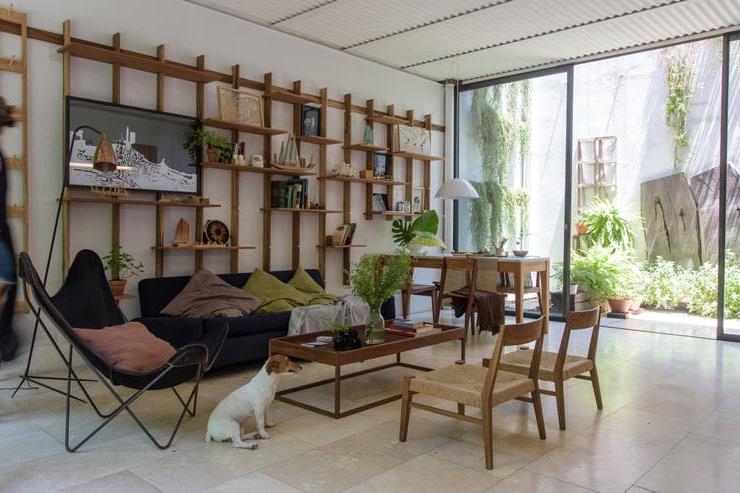 This simple shelving system has been inspired by a garden trellis with horizontal elements that form bookshelves. This unique feature wall can house a small collection of books and decorations. The small garden outside full of plants, which has clearly influenced this design, extends indoors through the pot plants that accompany the books.
33. Exposed Brick Home Library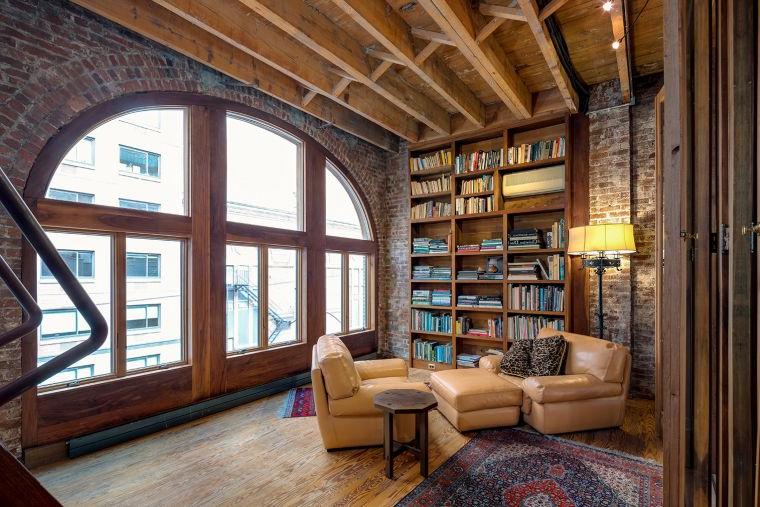 This stunning exposed brick home library has been designed to let the natural materials shine through. The built in shelves that run from floor to ceiling and match other timber elements in the room like the exposed timber beams with crisscrossed joists and dramatic arched timber framed window. Sumptuous pale leather armchairs sitting on vintage rugs are all that's needed to make this room the perfect spot to sit and read.
34. Industrial Pair Of Library Shelves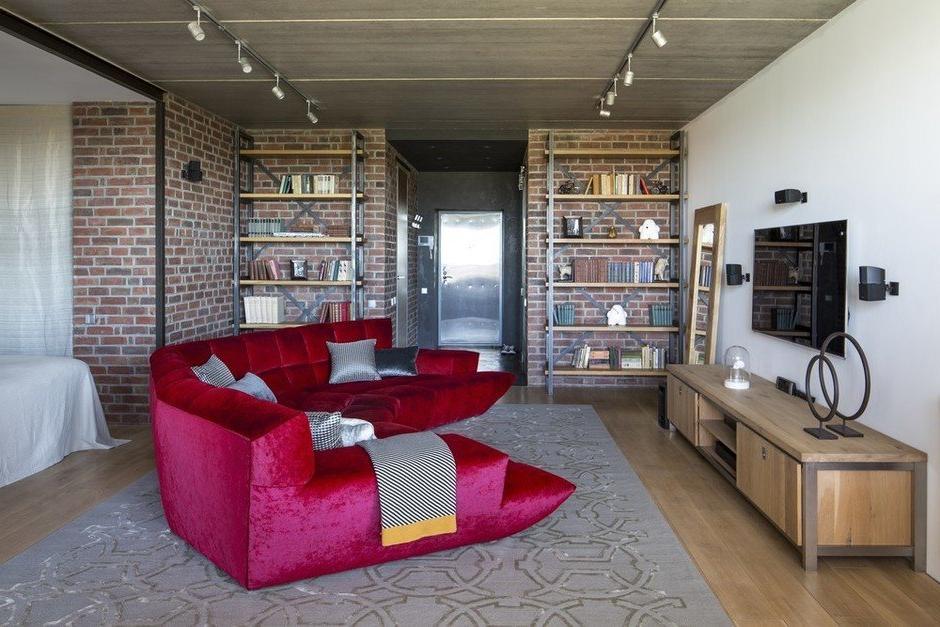 This quirky interior filled with inspirations from different eras, different colours and different patterns. The library has an industrial influence; which sits on an exposed brick wall. The timber shelves are hung in metal frame with crossed metal support beams. The minimal collection of books are held up by cute decorations as bookends.
35. Surreal Leaning Bookshelves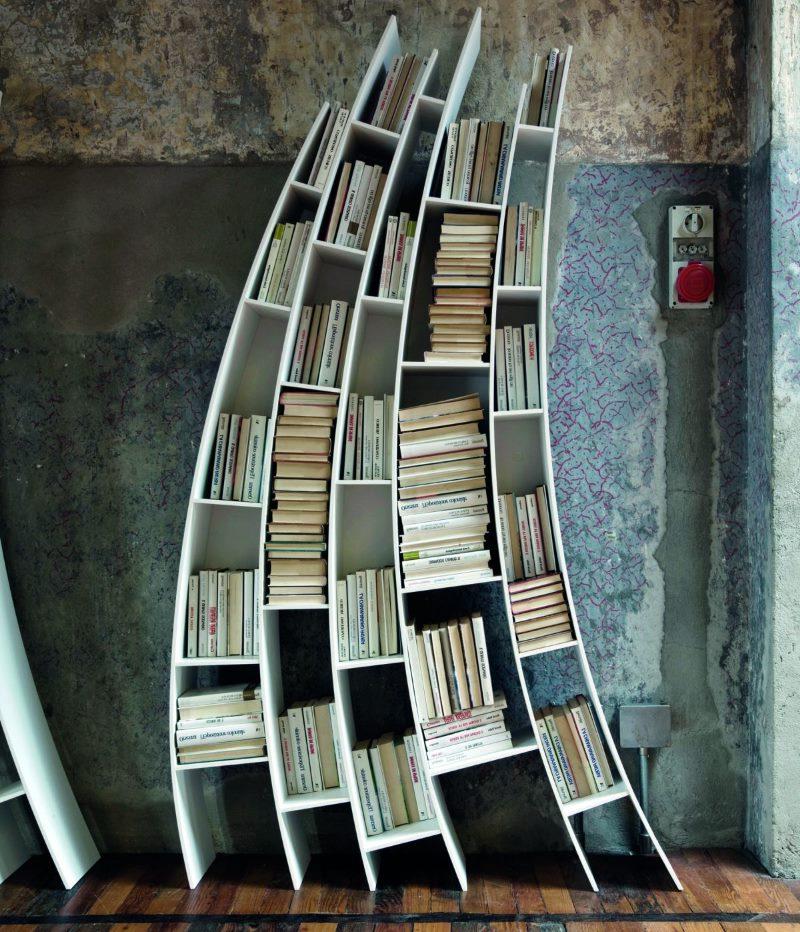 This surreal Tim Burtonesque takes the traditional bookcase and stretches it like clay to create this leaning stack. The books themselves are placed on the shelves in different figurations; spines out, spines in and sideways; to add extra chaos to the six legged bookshelf. The piece of wacky art sits perfectly against the shabby chic purposefully torn wallpapered wall.
36. Just Read It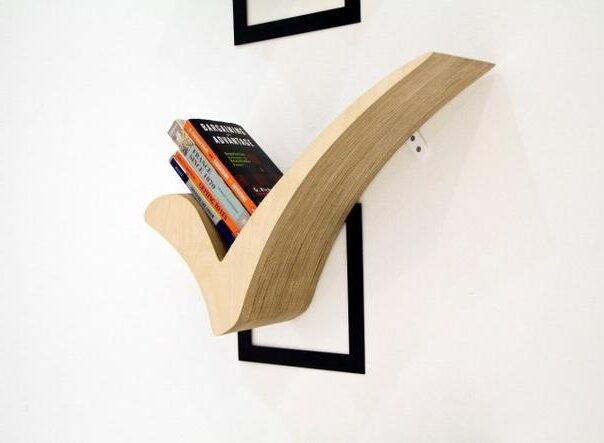 This library is in the form of a novelty large-scale checklist running up the wall. A painted checkbox is ticked off by timber check mark that resembles the Nike logo. The shelves are angled so that you can stack your books diagonally along the arch of the tick without them falling off.
37. Little Boxes Hanging On A Wall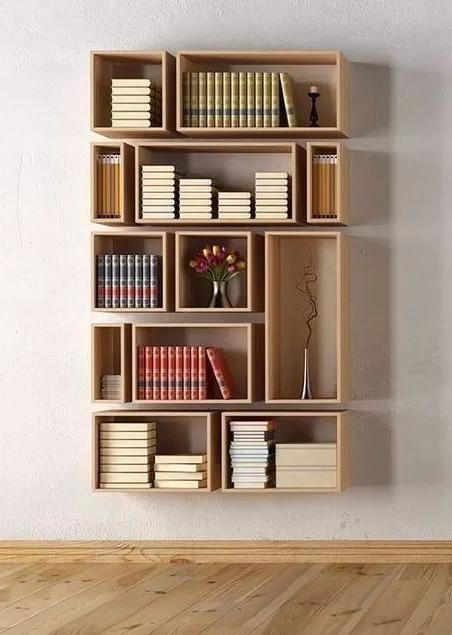 This micro library consists of a series of different sized boxes that hang in a rectangle, some of which hold house decorations and some holding books. The boxes are constructed from a very simple timber so the decorations inside become the focus. The books can be both stacked upright or horizontally to personalize this look while the negative space between the shelves forms a beautiful pattern.
38.Timber Library Grid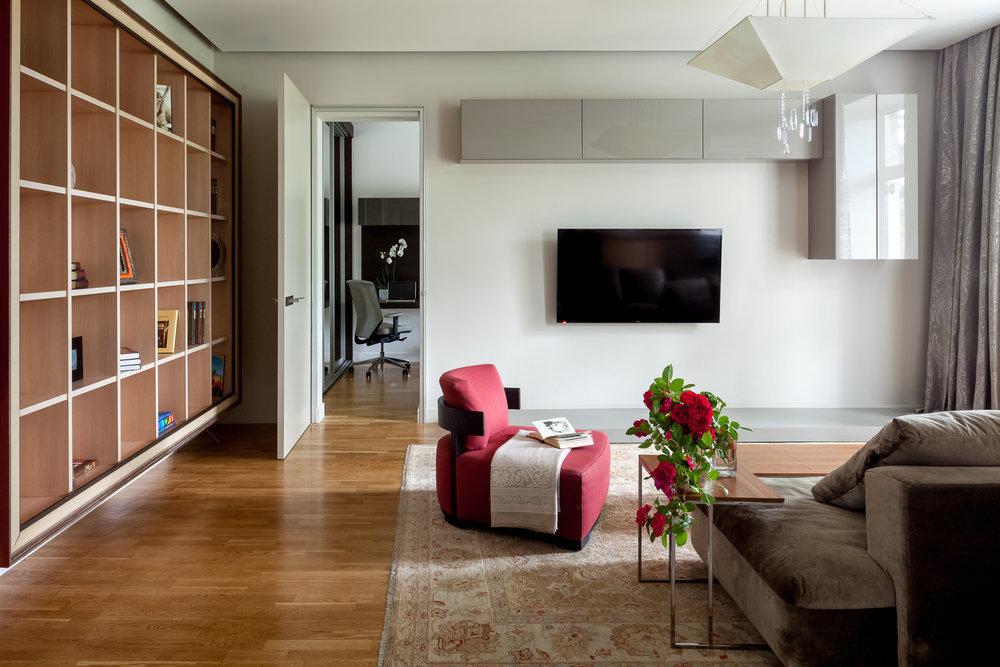 This super modern design hovers above the floor in a surreal manner that creates a permeable wall separator to create the illusion of divisions without losing the light and ventilation. This checkerboard of square timber cubbie holes provides a wall full of shelving for books and décor with light and views that peek between.
39. Hanging Timber Boxes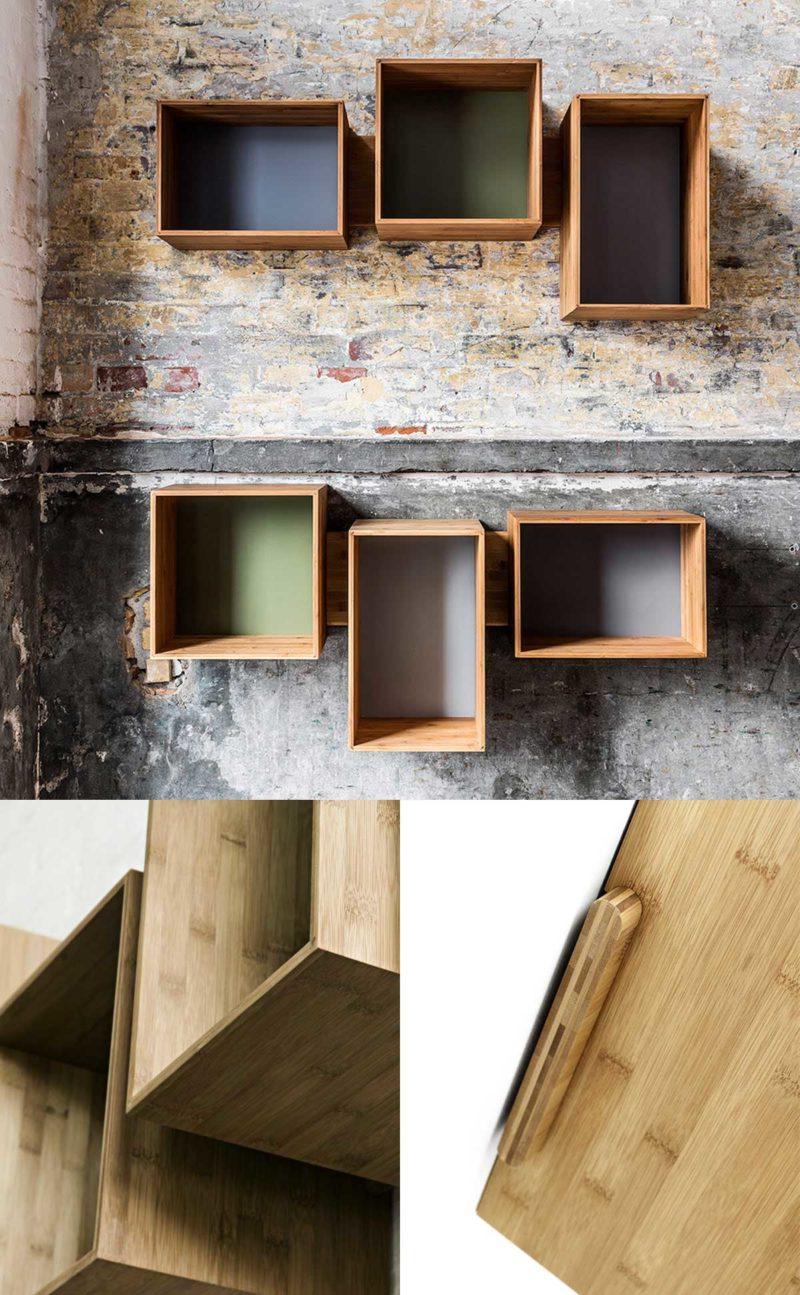 These paneled wooden boxes float on the wall at different heights with a built in timber hook, creating a patchwork of colour to display your books in front of. This style of library can be easily DIYed so you can stain the wood whatever colour works for you and change up the colour at the back depending on your room's colour palette.
40. Home Library Flanking A Fireplace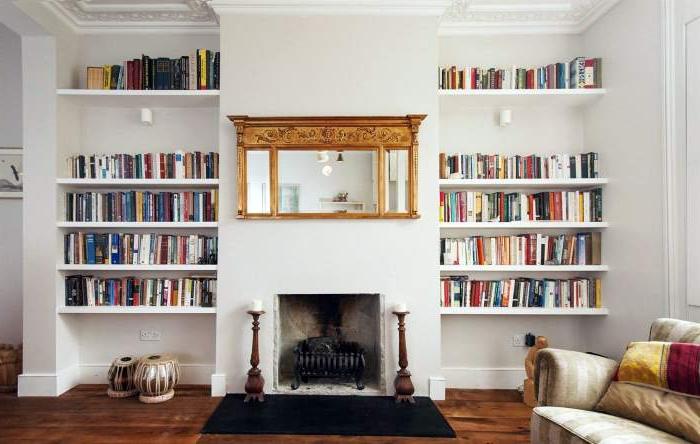 In this beautiful living room recesses next to the fireplace become the space for a stand out home library. The twin quintet of shelves flank a wide hearth with gilded mirror over the mantelpiece with a small fireplace at the centre, far from any naked flames. The white walls and white shelves of the library allow the gold and black elements to stand out in a very statement way.
Conclusion
These gorgeous and creative home libraries show how much fun you can have displaying your books making plain bookcases a thing of the past. If you have a great love of books using them to decorate your home by housing them in interesting and stylish libraries is a no brainer. Their nostalgic beauty is a design element that can become integral to your interior design.
Having books around your house no only brings aesthetic beauty to the table but also motivates you to pick up a book and expand your mind through the worlds of novels or cold hard facts of nonfiction. By choosing to decorate with your books you help to lead your eye towards them on a regular basis to draw you away from your screens and into an armchair to get lost in another world.
Whether it's a whole room or a shelving unit, your dreams of having a home library can be realized and you will never regret it.