21. Rustic Entryway With Hardwood Floors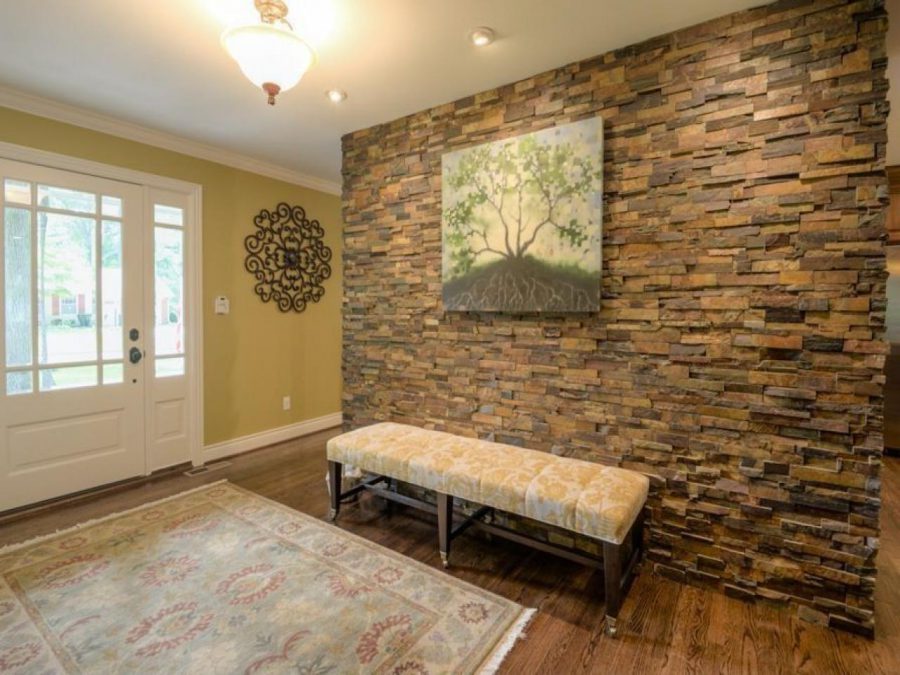 As we all know the rustic furniture refers to a simple, artless, unsophisticated yet extraordinary and remarkable design. Often used in warm brown colors, this kind of furniture are the right choice for those who prefer adding a warm and unusual style in their home. This freestanding rustic bench perfectly matches the hardwood floors and the whole interior of this entryway space, turning it into a beautifully decorated area that will delight you and your guests with its splendor.
22. Rustic Foyer Table for Entryway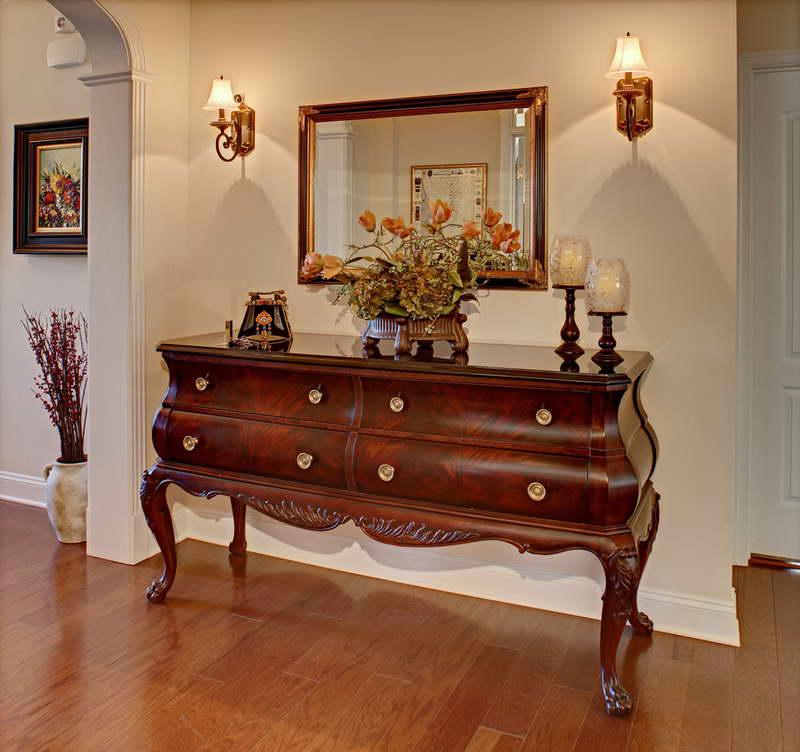 Another Foyer table in a rustic style that can be used as a decoration for your entryway. As we know, rustic interiors derive their warmth and simplicity from the sense of history and this foyer table with a mirror matching its style and ornaments used to embellish the furniture, even more, will definitely turn your space into a warm home with a striking entryway.
23. Rustic Foyer Table Ideas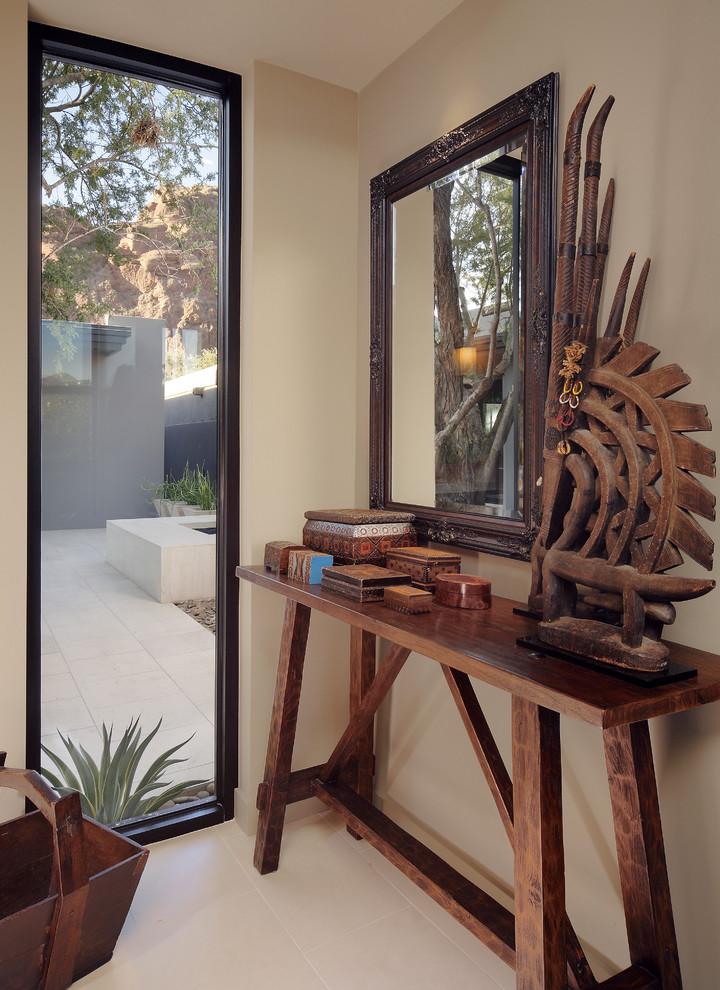 We just can't get enough of these rustic foyer tables! The variety of their shapes makes it harder for us to chose the right furniture in this kind of style, however, we're always there to help. What do you say about this large-sized table in shiny brown color as your new entryway decoration? Reminding of those tables from the old movies, this foyer table will bring you back in time when the Rustic furniture was most common among people who wished to design their home in a unique manner. Regardless of its size, this elegant foyer table can also use you as an area where you can place your family photos, decorative candles and flowers, as well as other ornaments by your choice. The wall-mounted mirror just gives the whole picture a more sophisticated look you won't be able to resist.
24. Rustic Hallway Entry Furniture With Painting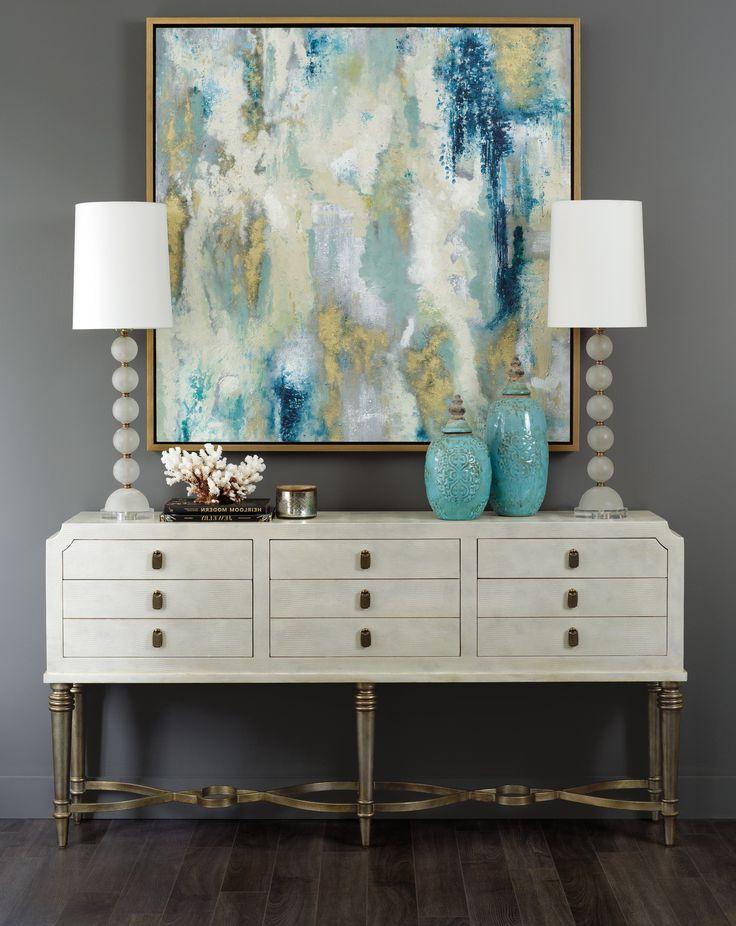 Not the kind of rustic furniture you're used seeing, this white one is a blending mix of classic decor with a modern twist, supported by matching color bulbs giving the entire table a unique finishing touch. As for the trestle legs of the table, you can see that they're perfectly designed to match the details from the drawers and the frame of the marvelous painting giving you entry a glamorous and classy look.
25. Rustic Wood Entryway Decorating Ideas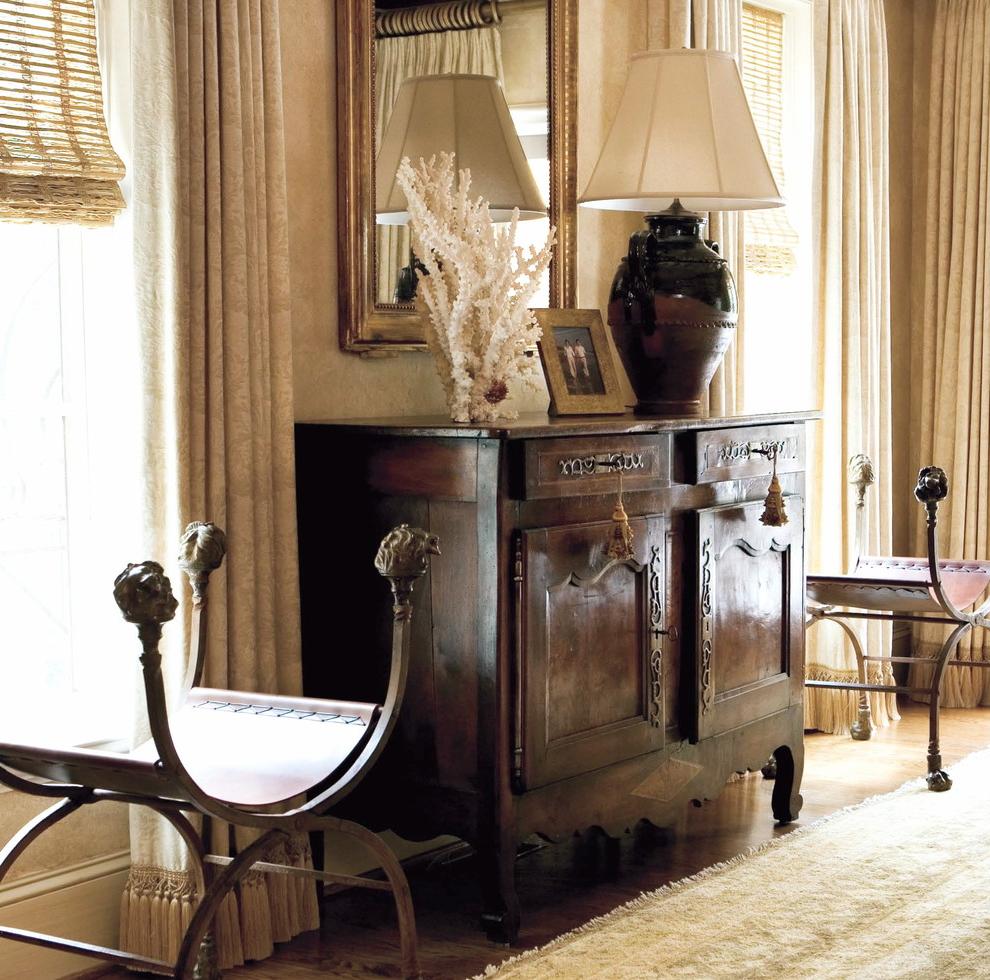 Just another rustic piece of furniture as an idea for your new entryway decoration. The entryway furniture idea with rustic wood table matching the whole interior of the home can also be used as a living room decoration. The lovely details on the drawers and the whole appearance of the furniture together with the aristocratic chairs will definitely embellish your house and attract your visitor's attention at first.
26. Single Stand Entryway Table with Grey Fabric Sofa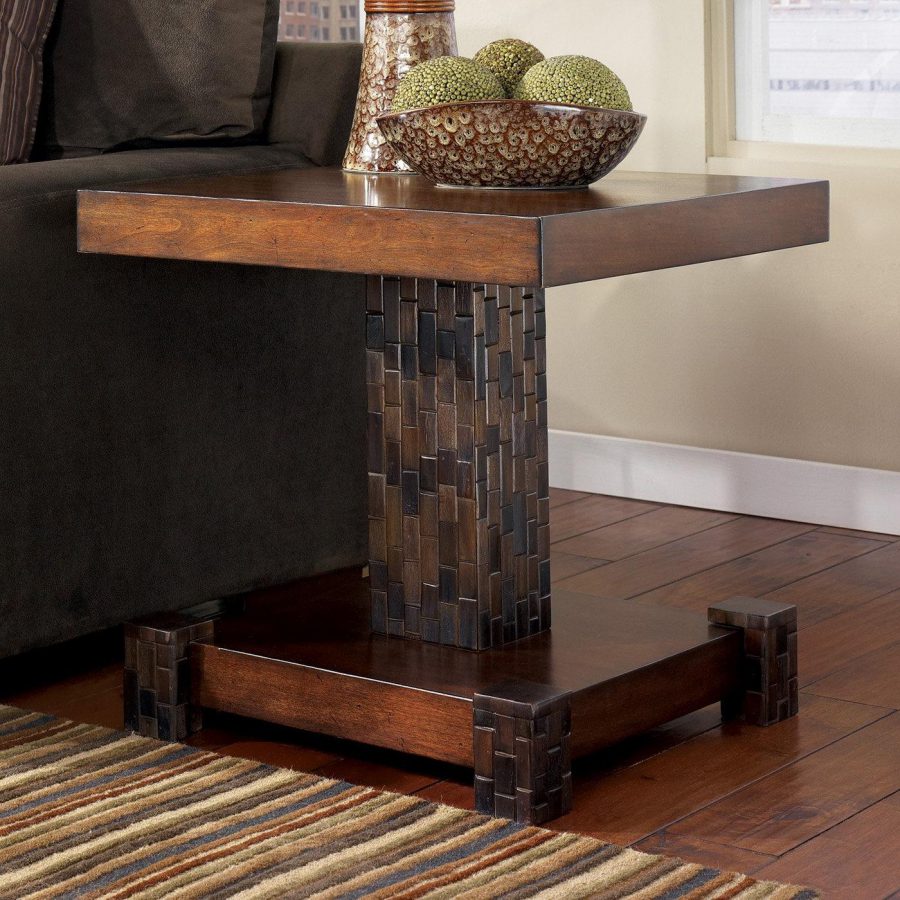 If you're looking for the perfect Single Stand Table with a place to rest once you come back from work, this is the right choice for you! The square-edged brown table with decorative trestle legs and the Grey Fabric Sofa are the perfect match for your free entryway space. Don't hesitate on getting this perfect match for your entryway new looks and make your home a pleasant area for you and your family.
27. Small Entryway Furniture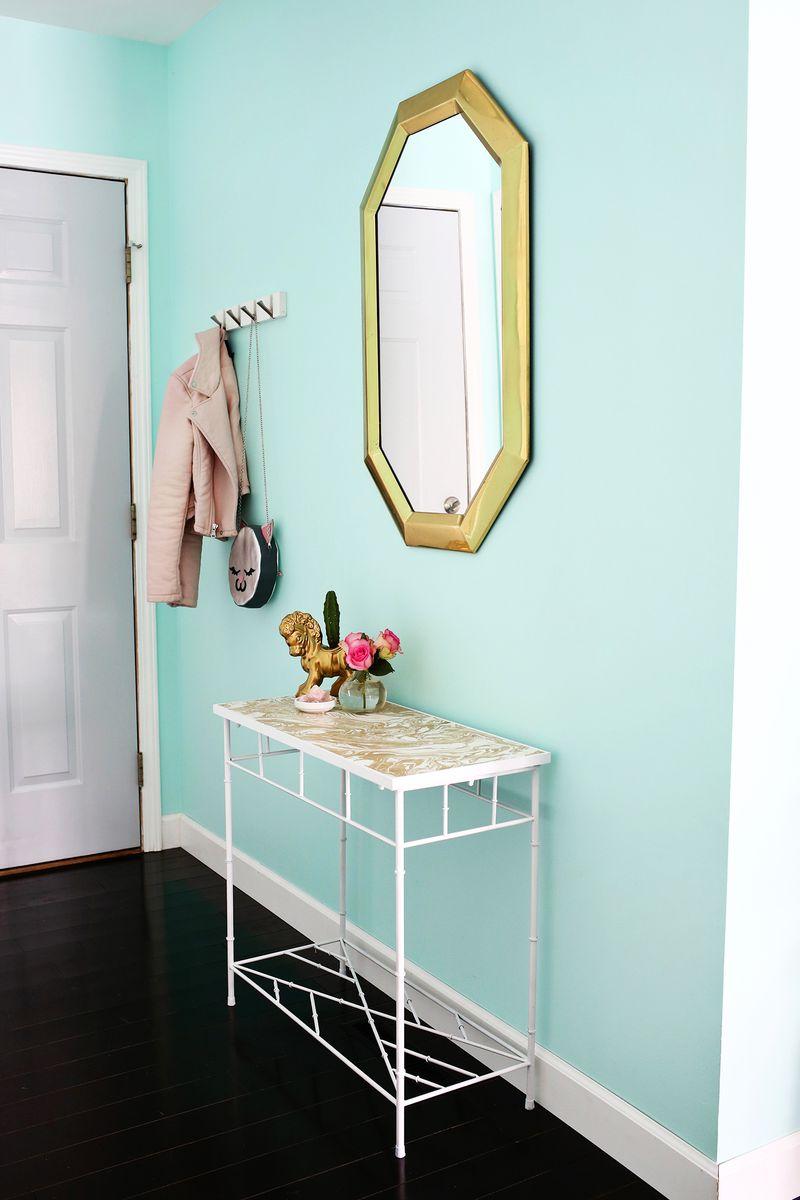 Minimalists, we've come up with a wonderful idea you can use to decorate your entryway! It includes a small white table that will match every space you place it, and a classical wall-mounted mirror you'll fall in love with immediately! Don't hesitate on getting one of this for your house and turning it into a beautiful classy home with a hallway that leaves a clean and lasting impression.
28. Small Entryway Rustic Table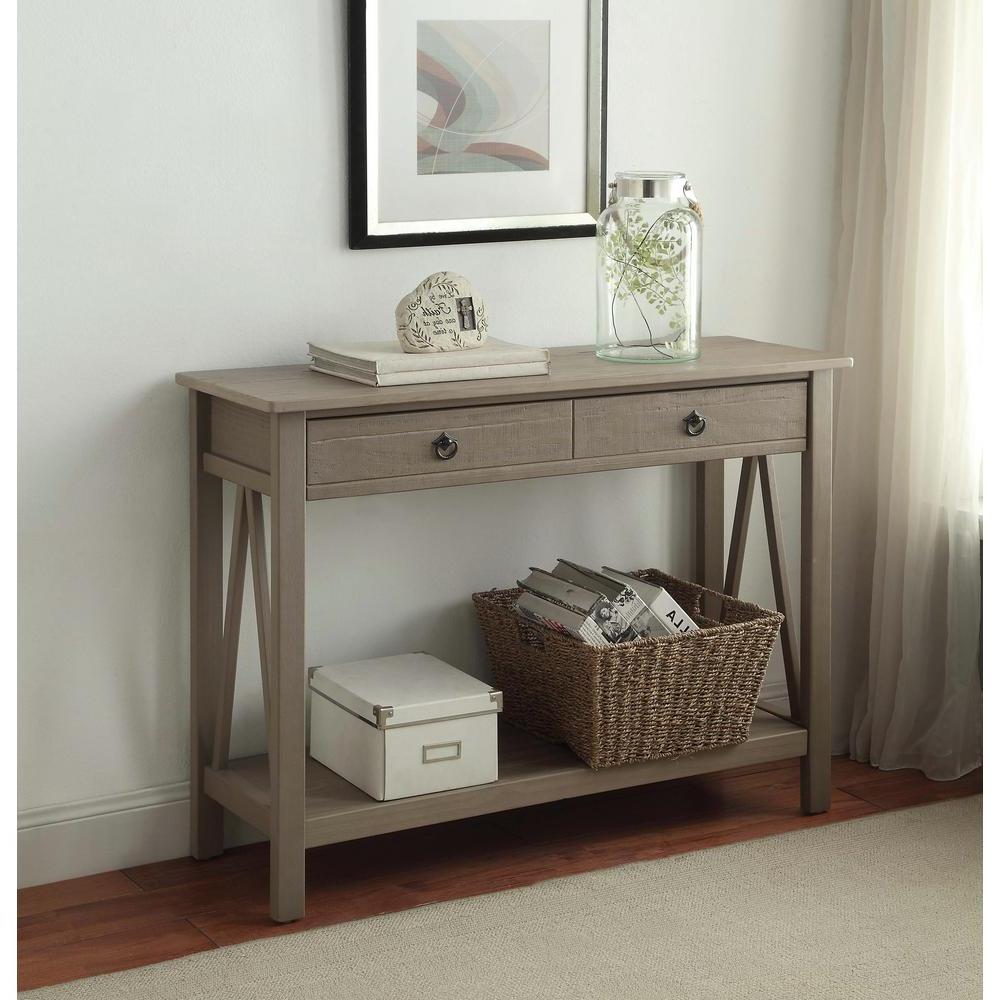 Getting back on the Rustic furniture, we have this small and simple yet irresistible rustic table in pale gray as an idea for your new entryway decoration; you can also place it in your living room and enjoy your new perfect piece of furniture. The lower part of the table can stay empty or be used as a book storage in a basket – a detail that gives the whole table an even more rural aspect. A furniture like this will impress you every time you enter your home and make your future visitors jealous of your new lovely rural table.
29. Small Entryway Table Ideas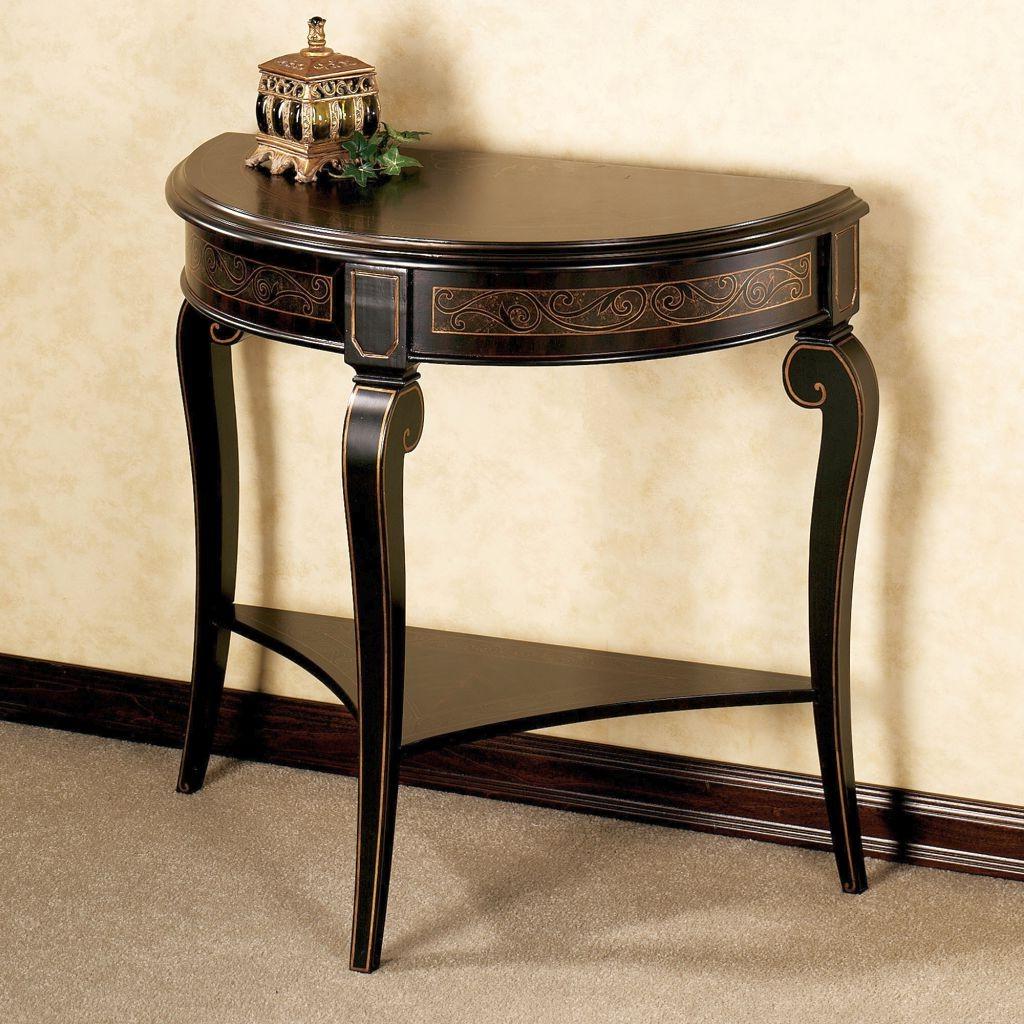 If you liked our ideas for you hallway decoration by far, then you're going to love this one! You can't imagine a more simple yet classy table than the one we have to offer. This space-saving half-rounded table with elegant decorations will fit perfectly if you live in a small house or a small apartment. Only one ornament placed on its surface is enough to make a striking piece of furniture for your entryway and leave a lasting impression at your guests.
30. Solid Wood Storage Bench Set For Entryway Decoration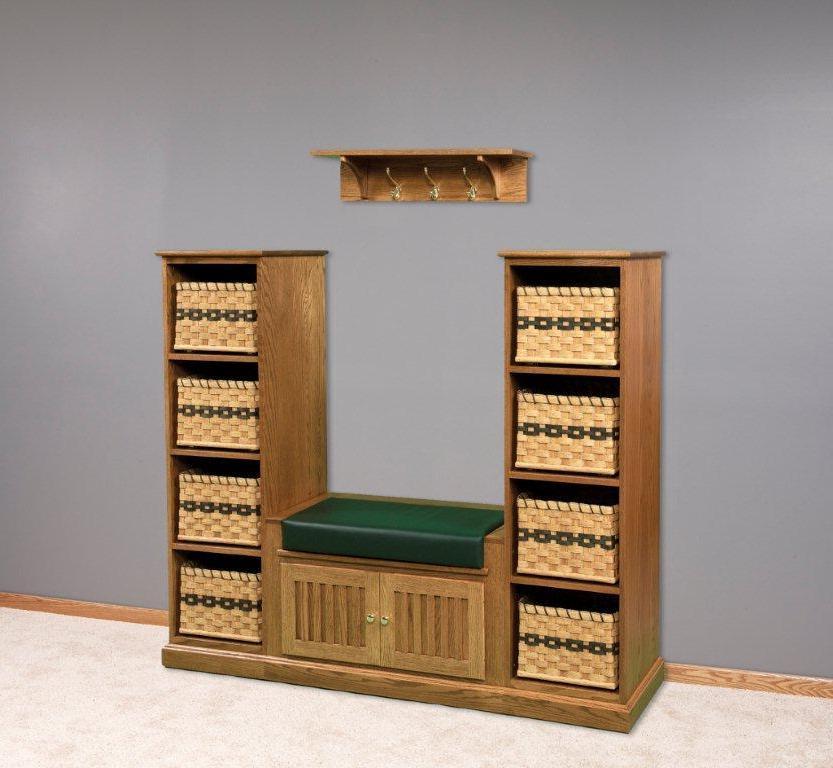 When you think you've seen it all in furniture, there comes this Solid Wood Storage Bench Set that will prove you wrong! A three in one piece of furniture that will definitely catch your eye due to its simple yet perfect design. Practical, useful and most important of all – ideal for using your free hallway space. The many cubbies are perfect for clothing storage and saving some of your primary closets. Aside from every benefit, you get from this Storage Bench, you also have a comfortable one seat cushion for resting or sitting while you tie your shoes.
More Entryway Furniture Ideas On The Next Page…