In recent years, numerous innovations have been carried out in the field of construction. Many of these projects focus on the idea of sustainable housing.
It is increasingly common to find large shipping containers, used to transport goods on ships, converted into spectacular houses.
Home Storage Containers: A Sustainable And Less Expensive Housing Alternative
Houses with maritime transport containers are an interesting option, which allows building houses very quickly, at a low price and in an ecological way, since we recycle a marine container. In addition, because it is a construction in which a steel structure is reused to give it new life, it is a system that deserves its attention due to its degree of respect for the environment and the great reduction in energy costs during the construction process.
But it is not only a full-fledged ecological construction. Also its quality compared to other materials such as brick is another interesting feature that few, but more and more people begin to know.
That is why today we want to offer you some nice ideas and inspiration in the home storage container field. You will find from small rooms to huge houses and including offices and more.
30 Home Storage Containers Ideas That You Will Be Impressed By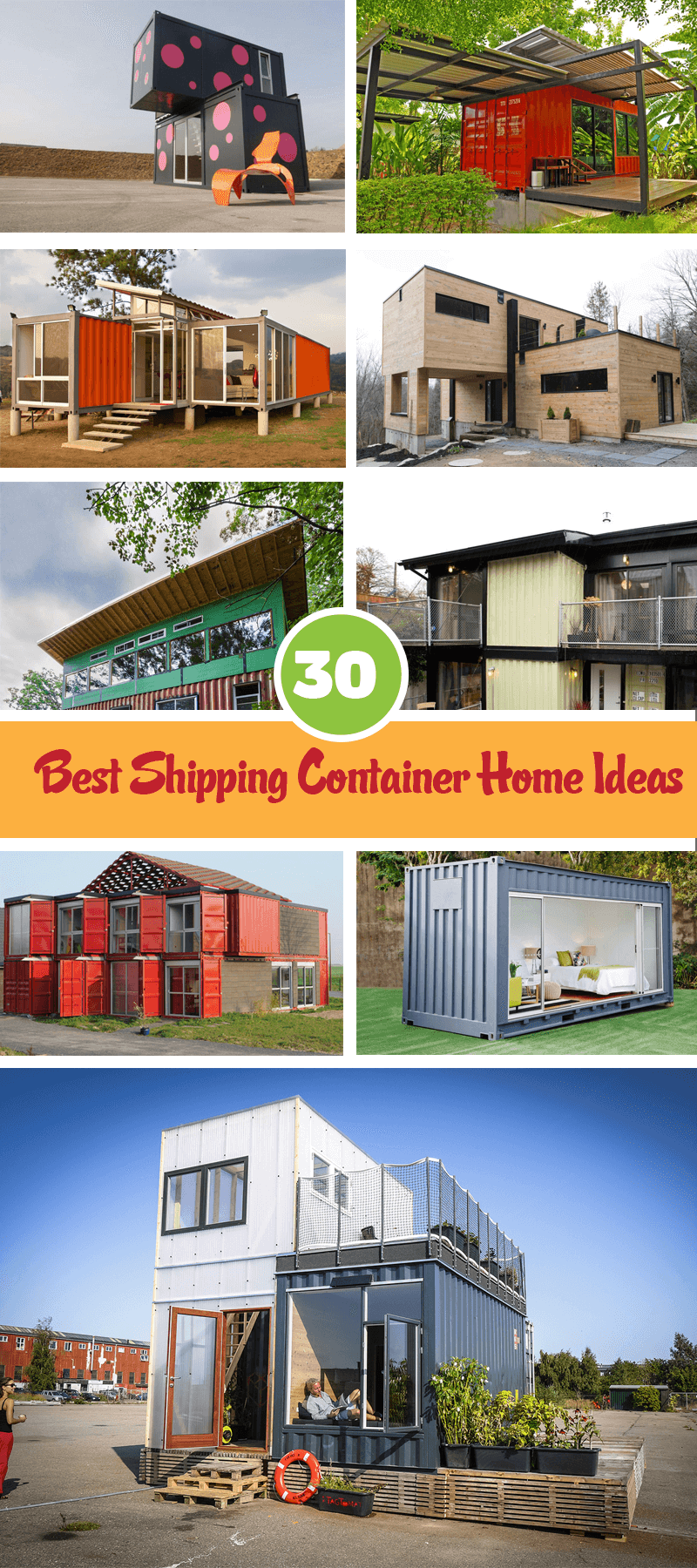 At present, container houses are increasingly recognized as a good alternative to traditional construction. The market for modular prefabricated houses is very wide and varied. But, why are houses made with containers the best option for those who think of an economic and ecological system?
This recycling of steel containers for the structure of the house is one of the main environmental advantages, because by recycling the units, they are given a new use, their accumulation is avoided and they have to be melted for reuse of steel, with a huge amount of energy used in the process and large amounts of CO2 emitted.
Another of the ecological advantages of a prefabricated and modular construction system is the reduction of energy consumption used throughout the construction process.
Check out this stunning 30 different constructions made out of recycled containers.
1. Guest House Made Of Containers
This is a very modern guesthouse built with containers. One of the containers is painted blue; the other was sectioned in two parts and overlapped to the blue container to add living space. After having assembled all the pieces they added the windows and the sliding doors to make it look more like a house. For some people, it may take a while to notice that this house is made with containers. A great proof that everything can be turned into something.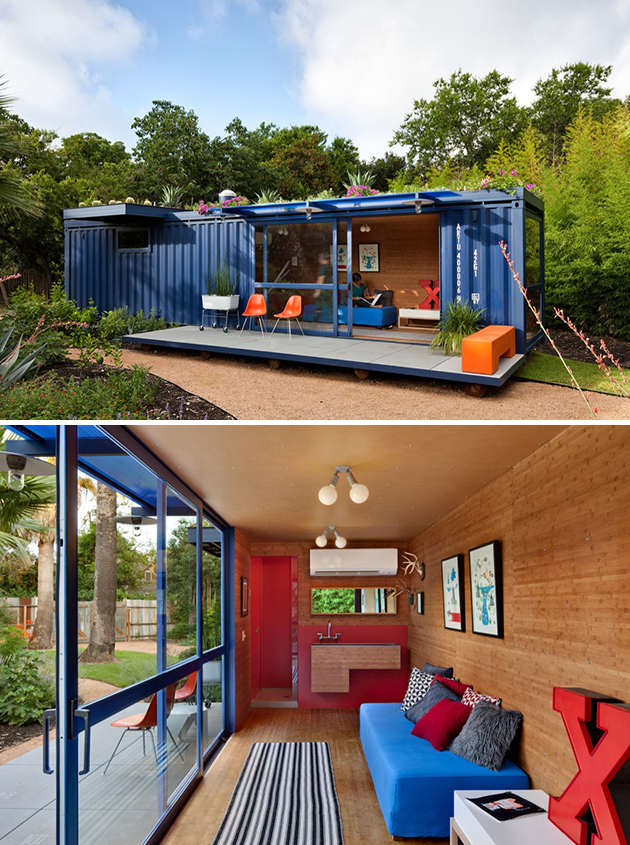 If you know something of traditional construction, you will know that constant water consumption is necessary for the realization of mortar or concrete mixtures during the construction process.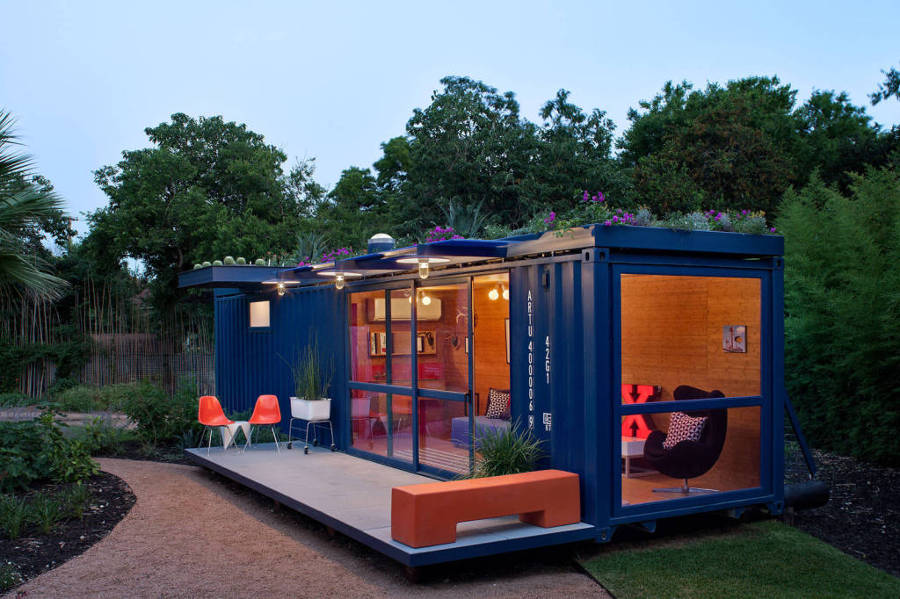 In modular homes made with containers, these water consumptions are reduced to minimum because the assembly is made all prefabricated and dry.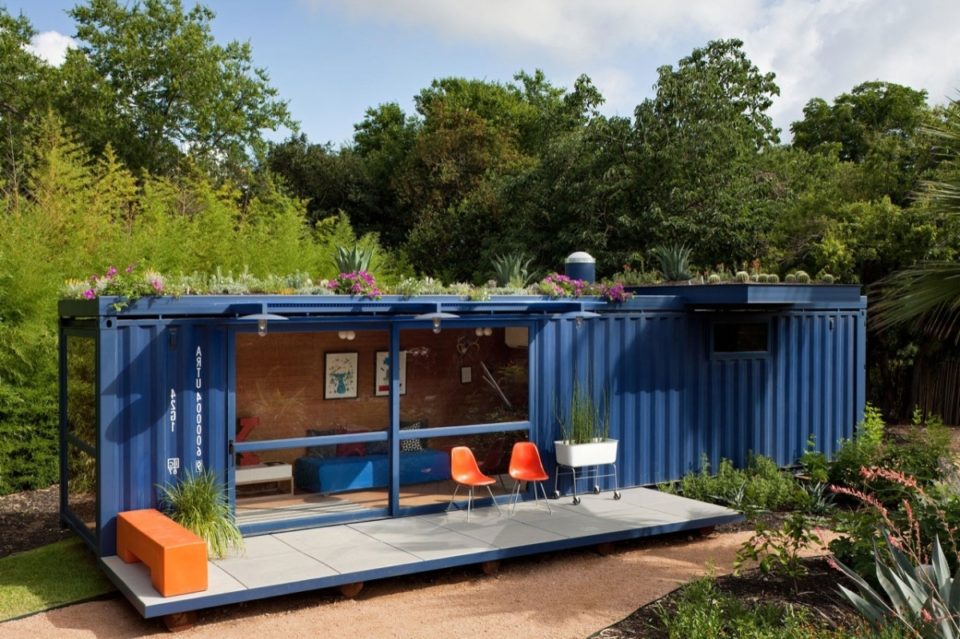 For those who think of more sustainable alternatives to traditional construction, thinking about building by reducing water consumption during the assembly process is another of the important conditions to consider from the beginning of the project.
2. "Maison Container" Also Known As Container House In France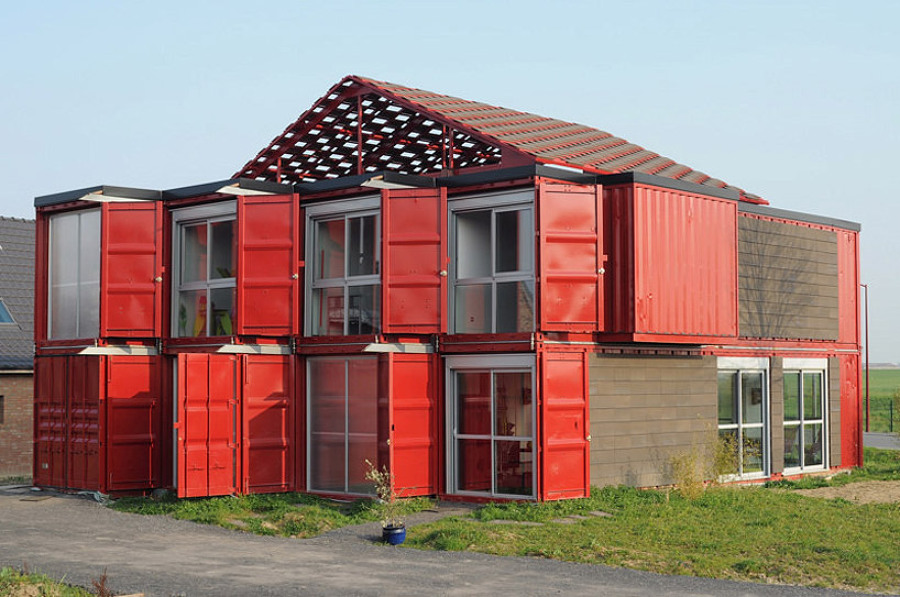 This project was very complex to do. This house is located in France, and the French architect Patrick Partouche designed this house in 2010 that, although was built with containers, perfectly imitates the traditional design and layout you would normally find in any house. This contemporary house has approximately 2,240 square meters and cost more or less 221,000 euros to finish it. With a huge size and a one of a kind style, this is a house that stays on people's minds.
3. Project Containers Of Hope In Costa Rica Made By Benjamin Garcia Saxe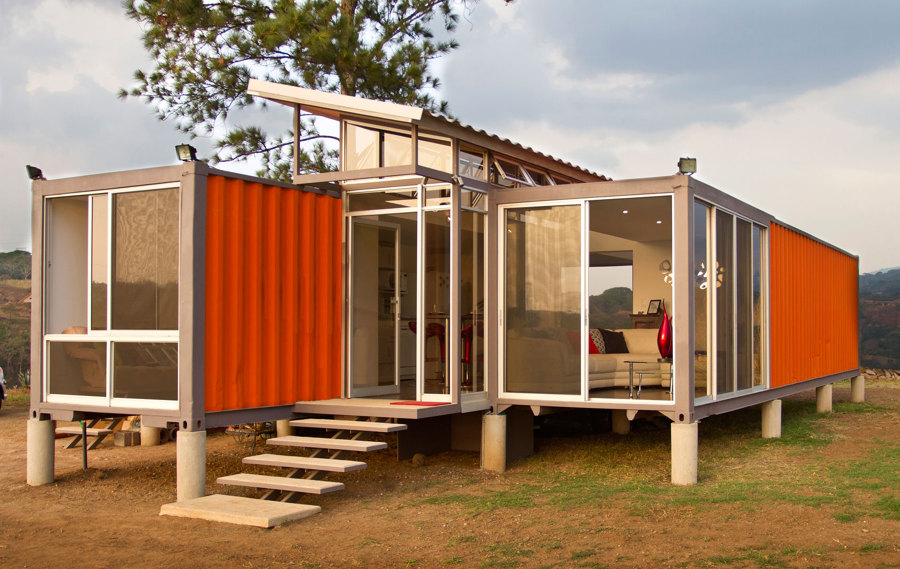 Benjamin Garcia Saxe has built a cozy little house based on containers for the structure in Costa Rica for only $ 40,000. This project in particular focuses more on the union of housing with the nature that surrounds than in the construction itself. The house is very beautiful and modern and it has extraordinary landscapes. The only downside is that it is too small, but that again, depends on who lives in it. For a couple or a single person, this house is a hit.
4. Eco Intelligent Home Built At The Mojave Dessert With Storage Containers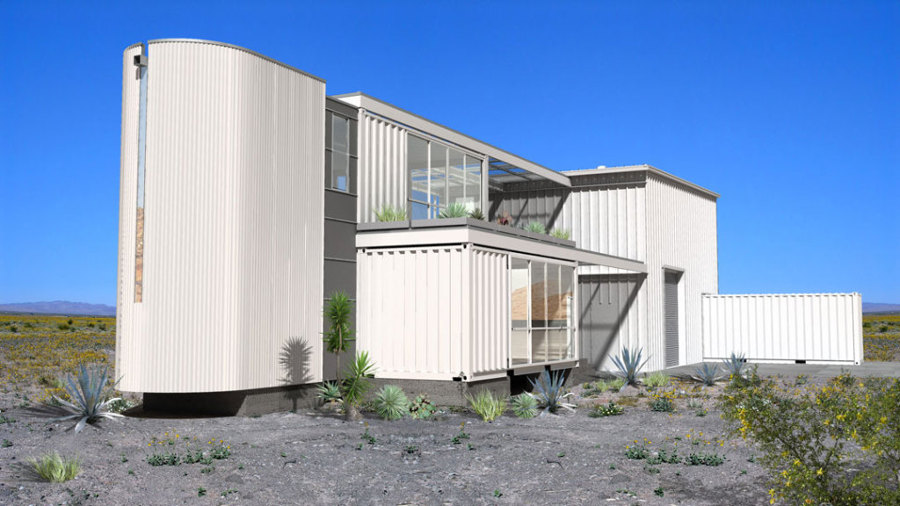 in this house made out of storage containers by Ecotech Design has a professional touch that is not very common in houses made of storage containers. This house is very well made ant the kind of professional touch you normally see in "normal" houses, is not absent in this design. This house makes another level of home storage containers. This house is located at the Mojave Desert and has 2,300 square meters.
5. Eco Friendly Home Storage Container Made By CG Architects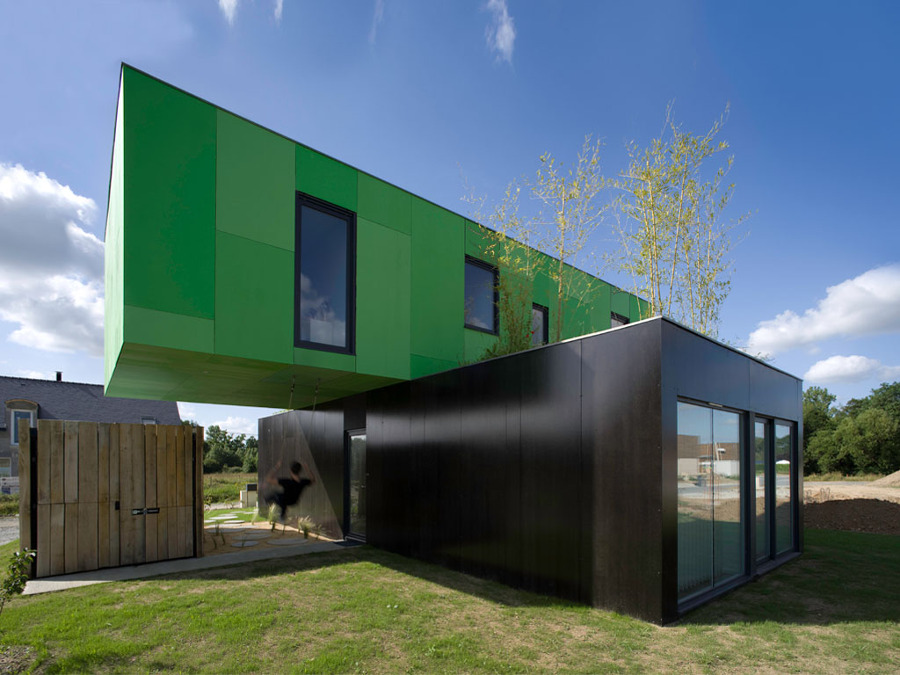 In France, Clément Gillet has built a prefabricated individual residence with materials that respect the environment. The main ingredients of this residence are a few old shipping containers. The design consists of two containers (one on top of the other) forming a cross, hence the name "CrossBox".
6. A Magnificent House Made Out Of Containers In Australia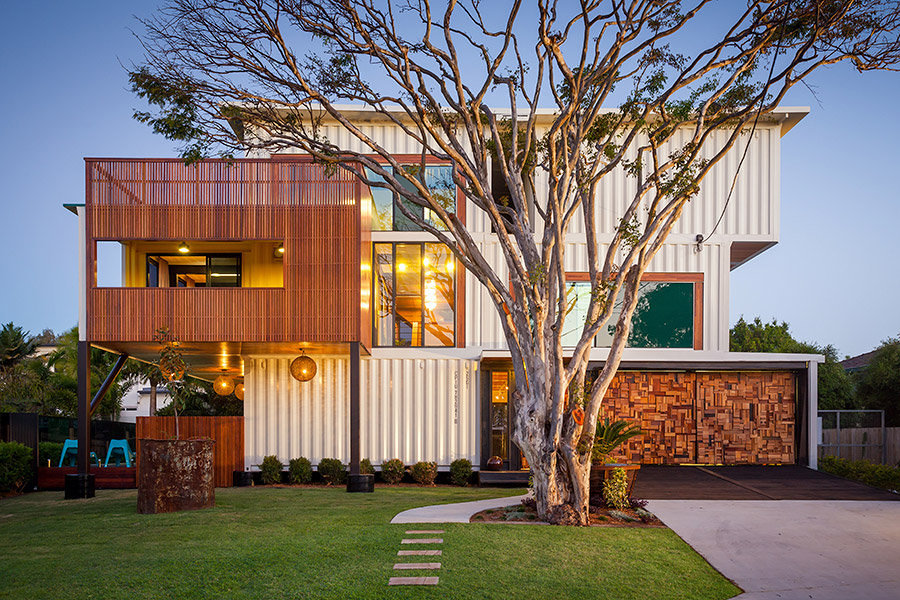 It took a total of 31 containers to build the house. Wood is the material chosen to decorate the interior. Made by Todd Miller of the company ZieglerBuild, this house made with shipping containers is an example of how some things can put aside their traditional use to become something totally new with great utility.
7. Cozy Home Storage Container In Canada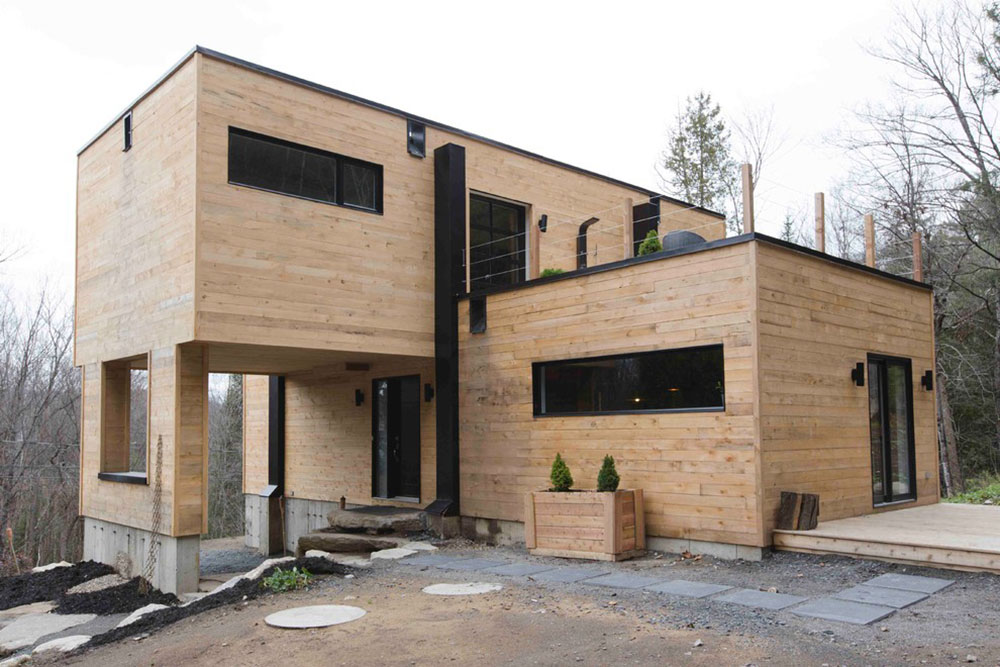 The work initially planned seemed too difficult for several companies, so Dubreuil decided that she would build her future home on her own and, subsequently, she founded her own construction company, Les Collections Dubreuil Inc. Its main objective was to find a company that would transport and cut the containers according to their indications. Finally, Dubreuil managed to find a company willing to do so. The work cost him in total around 350,000 dollars. After two weeks of work, the containers were ready and a construction team made with them the framework of the future housing in a single day. On the outside the containers are covered with pinewood.
8. Savannah Project By Architect Julio Garcia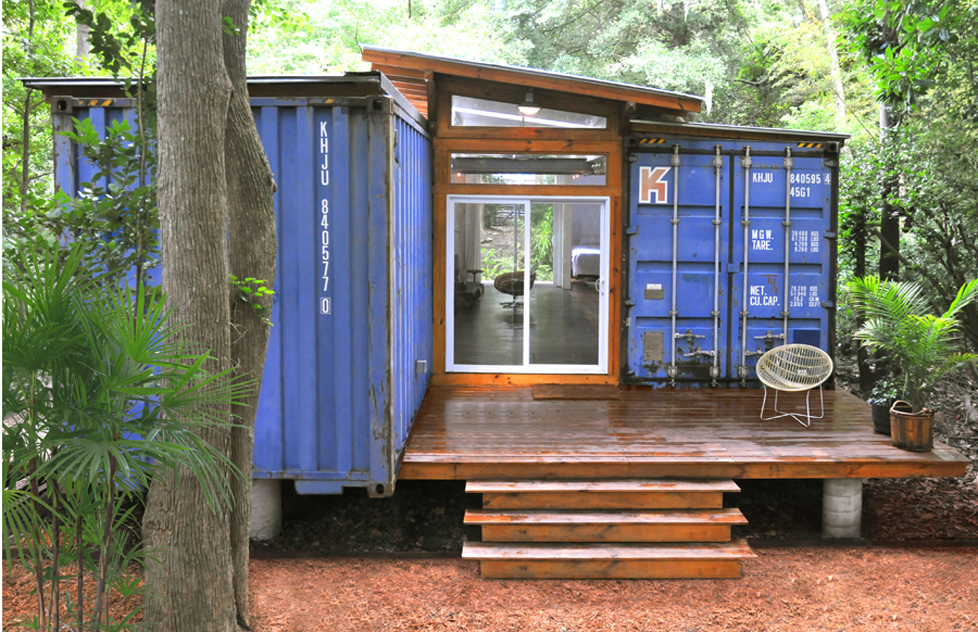 We will know the design of a house made of recycled containers, for this design two containers of 12.5 meters long each were used, the finished house still has the original characteristics of the old container even with its large safety locks, the final result It is a very original design, it is noteworthy that this model has been created by an artist so we emphasize its originality, let's see. We can clearly see the two containers on both sides and at the center a separation element of approximately 1.6 meters wide built of wood, this element is higher than the level of the roof of the metal containers, which allows that inside the house this better lit, the house sits on concrete circular reinforced piles. A view of the back of the house clearly shows that the design is replicated on both sides compare with the top photo, in both however it has been possible to create a small wooden terrace.
More Wood Benches Decoration Ideas On The Next Page…