31. Rectangular Marble Table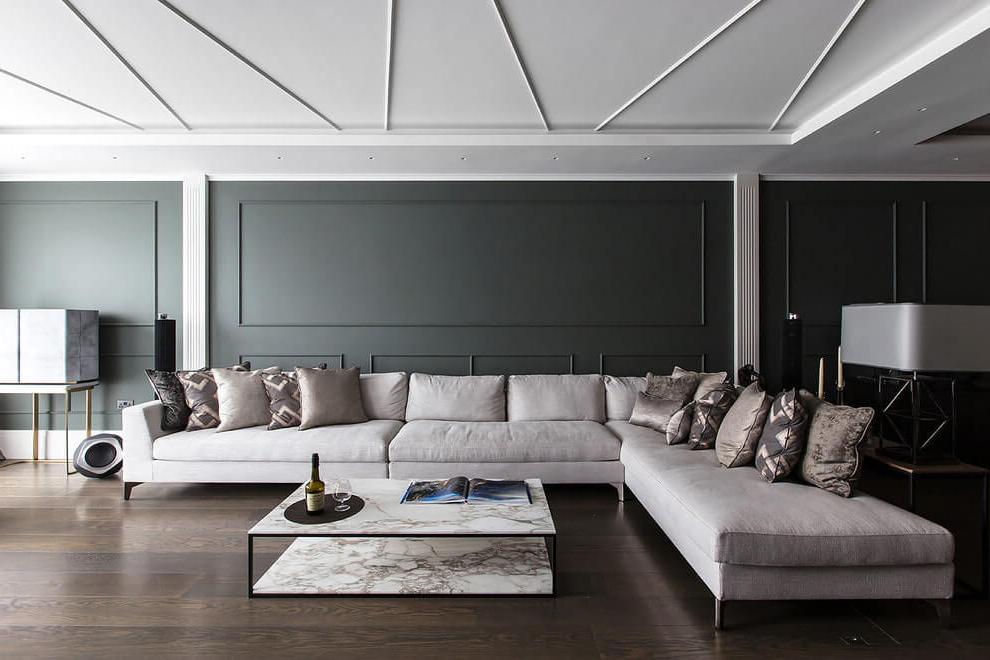 This startlingly gargantuan living room with a massive L shaped couch wraps around the elegant marble coffee table. Two layers of thin marble are held in place by a dainty black framework that makes it seem as if the top layer is floating in space. The lounge itself is super glamorous with dark, moody timber floors, dark walls and well placed white accents and linear mouldings. The table fits in perfectly with this austerity with its modern design and expensive material.
32. Trio Of Wicker Stool Tables
This lounge is the quintessential rustic interior with a mix of woven and natural textures from the pitched ceiling, amorphous hanging lamps and woven rug so this trio of wicker stools fit right in. The wicker 'seats' on a timber bases are lightweight so they can be moved around the lounge depending on where you're sitting and what you need it for with ease. These can be combined with trays for drinks and snacks which may be unsteady on the soft wicker surface.
33. Rustic Reclaimed Timber Coffee Table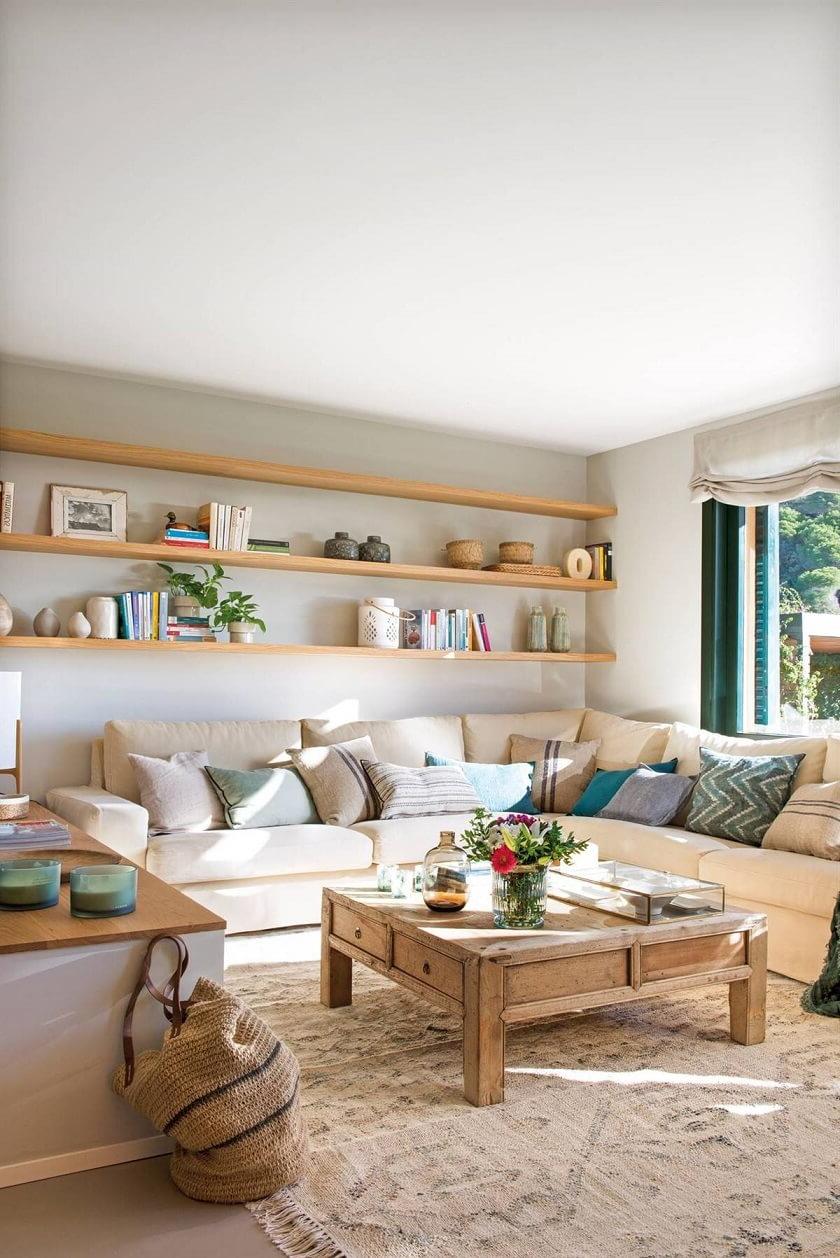 This large inviting lounge has a big L shaped couch that wraps around big, chunky timber coffee table. The square table is an ecofriendly design made of reclaimed timber that highlights the naturally weathered character of the material. The thick surface includes a set of drawers on both sides to store things that are necessary in a lounge, like TV remotes, but ruin up the overall aesthetic of the space.
34. Upcycled Timber Box Table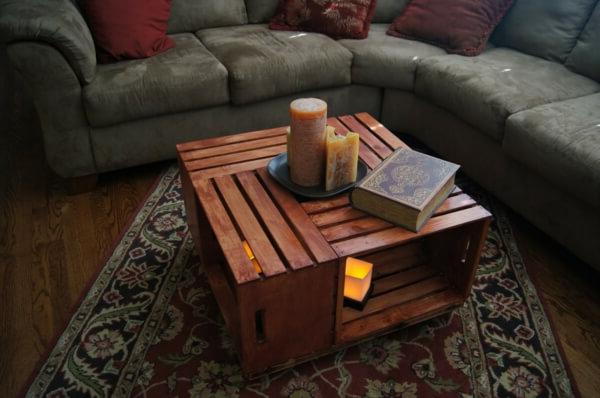 This beautiful table is made of a series of four wooden crates that have been turned on their side and interlocked to create this innovative design. The distinct slatted design has been stained a deep warm brown to fit in with the moody atmosphere of this gothic lounge. The open side of the boxes create cubbyholes on four sides that can be used for storage or unique lighting as they have done above. This design would be an cheap and easy one to replicate yourself at home as upcycling DIY project.
35. Concentric Circles of Plywood
Laminated plywood has been used to create this gorgeous circular table to great effect as the cut side of the thick tabletop shows off the beautiful manufactured wood grain. A tripod of thin V shaped holds up the chunky surface legs with rounded ends, which makes it appear light and delicate. The black concentric rings that adorn the rim of the table tie in with the circular mirrors and the black details throughout the room in the table legs and chair.
36. Unique Triangular Table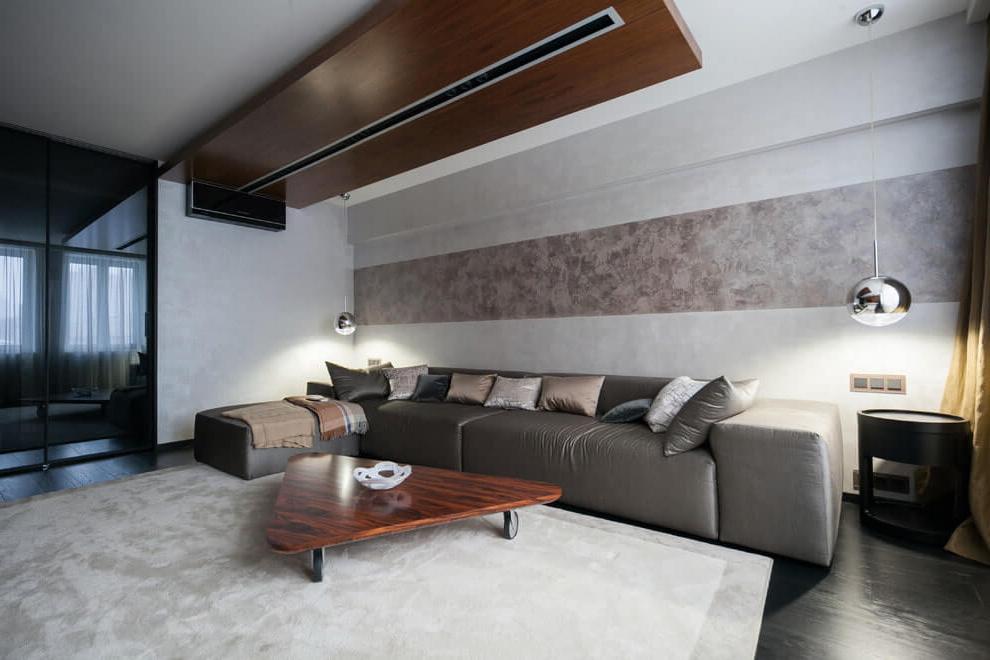 This super modern design is a glamourous amalgamation of textures and finishes signed off perfectly with the unexpected triangular coffee table. The unique little table has rounded edges and sits on some sleek little castors so it can be rolled around and used anywhere in the room. The timber suspended ceiling above it has been clad in the same timber as the table to tie the room together visually.
37. Trio Of Tree Trunks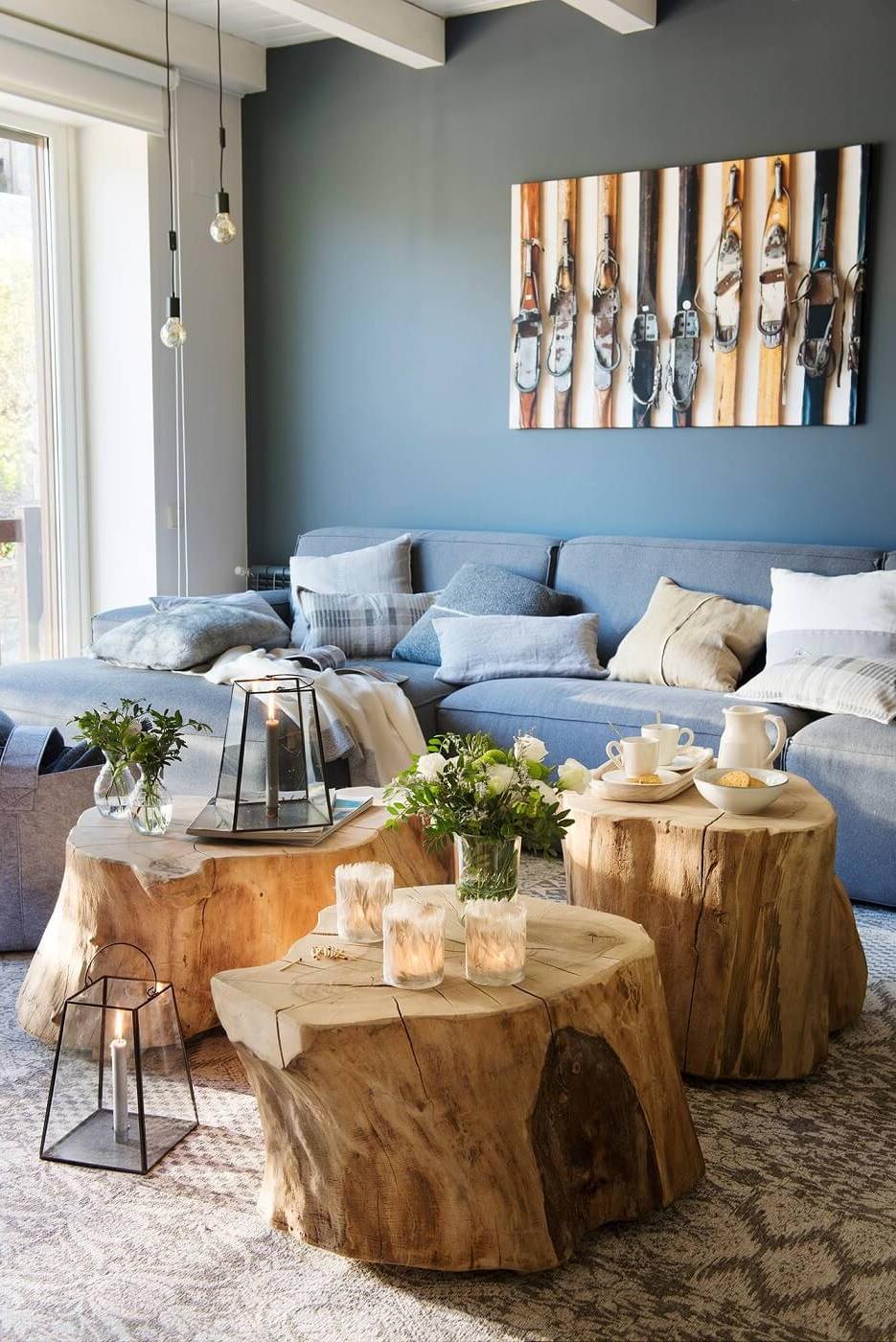 This aqua contemporary living room uses the tree trunk style of tables we have seen in the past but in a very chunky and rough way. The thick slices of tree trunks have had their bark removed and sanded lightly so the natural surface texture of the naked wood is brought to the fore. The tables are cut from huge, twisting tree trunk and left scattered on the lounge floor to display their natural shape in their full beauty. In one quick design decision the coffee tables become the centre of this beautiful room by bringing nature inside the home to celebrate it.
38. A Round Metal Drum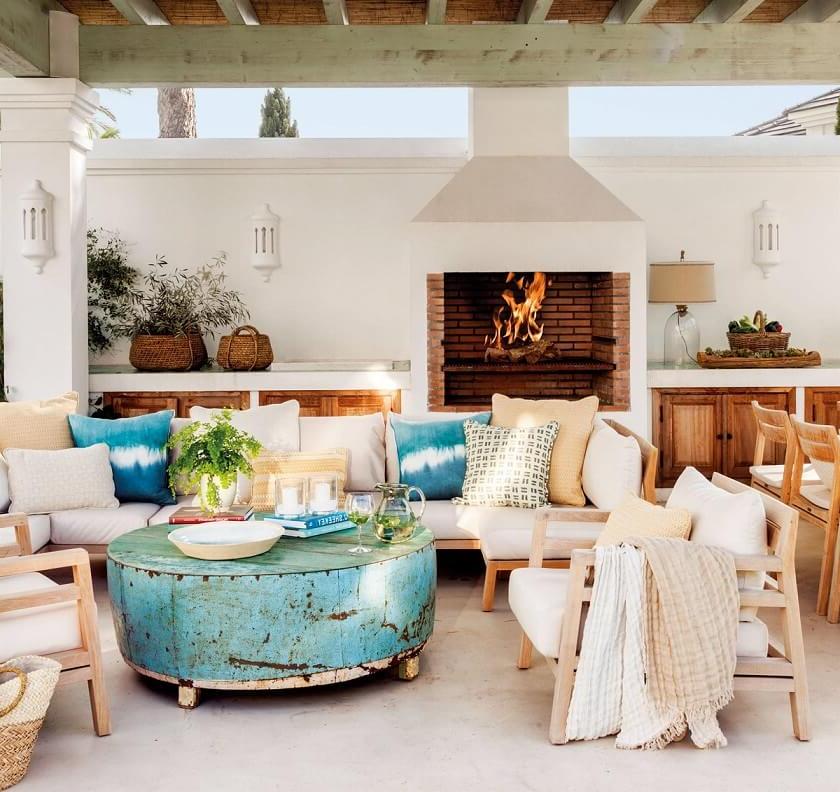 This striking outdoor patio coffee table is surrounded by a corner couch and armchairs in a pale timber with cream cushions, which allows the rusted, teal drum to become the focal point of this outdoor entertainment space. The bright riveted wheel sits on a timber base with short legs. Its squat, rotund shape is a pop of colour in a space full of neutral colours with wooden details. The overall aesthetic is light and summery and make you want to lounge here all day long in the hot sun.
39. Vintage Wooden Coffee Table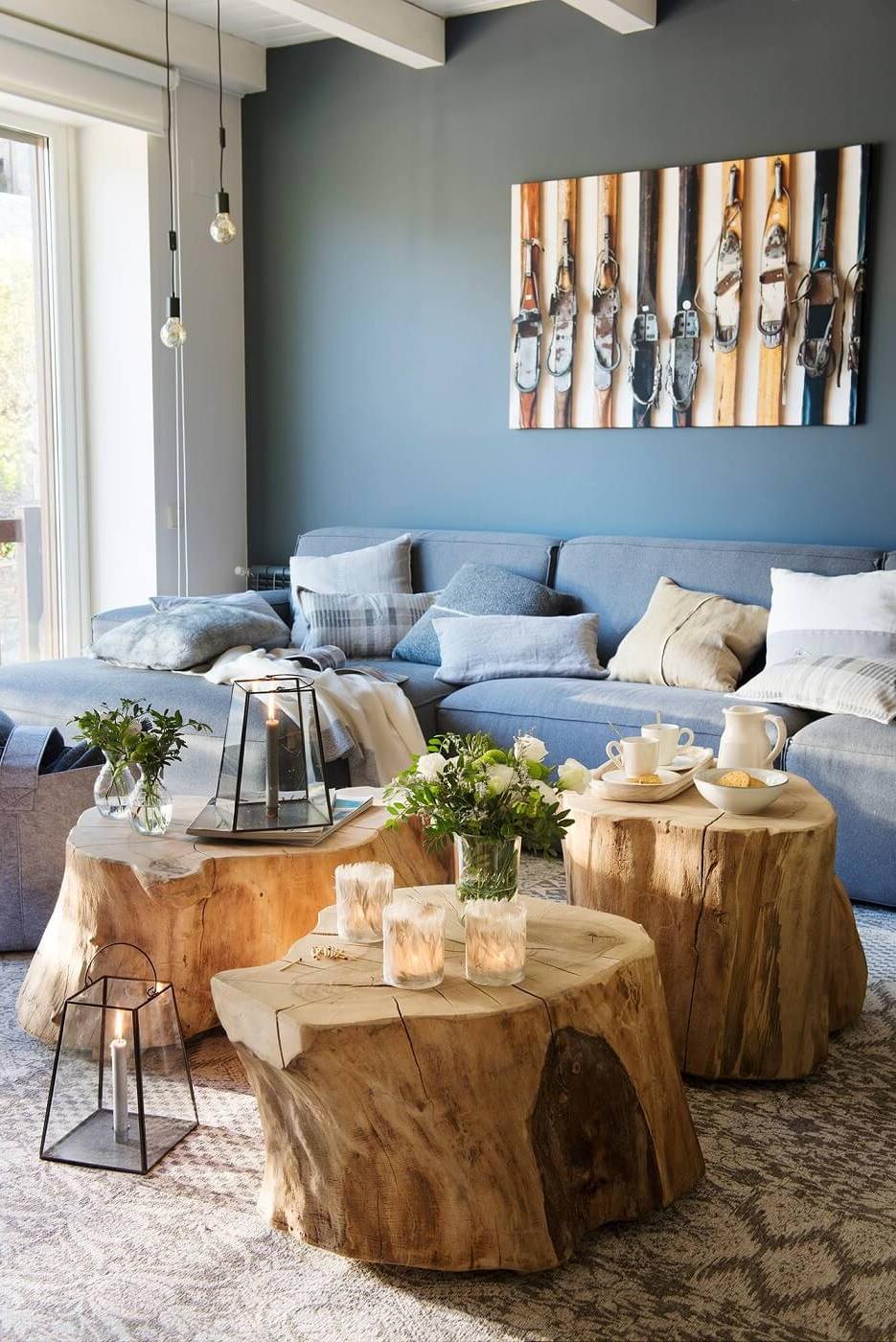 This bright rustic interior is quite neutral when it comes to the walls, ceiling and soft furnishing but the rusticity comes out through the textures of the fireplace, layered mirror, the woven rug sitting on the red brick flooring and the distinctive table. The chunky wooden vintage coffee table is a gorgeous antique store find that really brings this rustic look together. The coffee table is both beautiful and useful because it has a built in drawer with metal handles on both short sides of the table to store any miscellaneous lounge items that may be cluttering up your space.
40. Vintage Baroque Coffee Table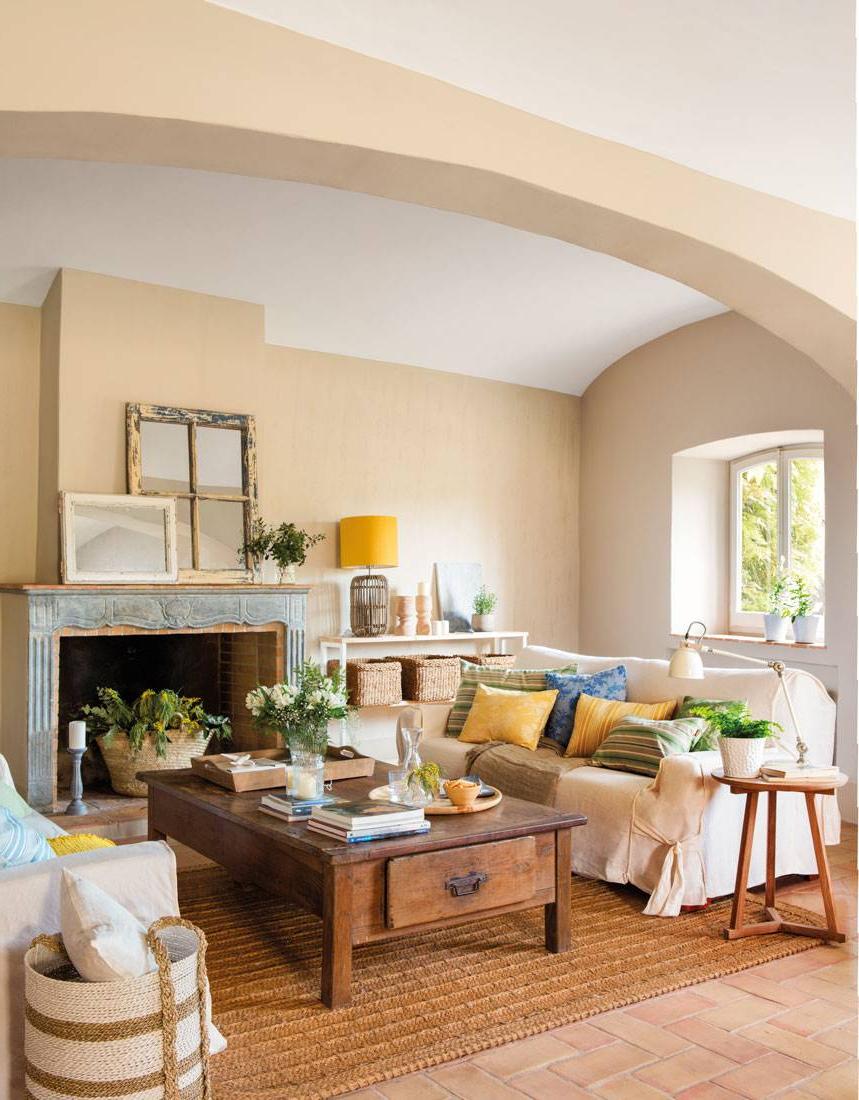 This lounge is one that you wouldn't be surprised to find in a glamorous manor house in the French countryside. The room is decorated in the Baroque style, which is clearly expressed in the matching furniture set that furnishes the entire room. The coffee table is one of these Baroque pieces. The design is made of an elaborated carved timber, which appears as if one solid piece that has been manipulated into beveled edges, stylized leaves and an intensely opulent curlicued crest with dramatically curving legs. As if this piece wasn't detailed enough, it has been painted in a classy combination of cream, silver and gold to highlight every little detail. This is one truly impactful room to walk into that's almost intimidating is its decoration even down to its small coffee table.
Conclusion
As you can see a coffee table is far more than just a place to set a cup of coffee or a remote control. They can be vintage pieces that have been given a new lease on life, a polished contemporary piece or some nature inspired pieces of upcycled art. Choosing the right table for your space can make the difference between a space that looks merely nice and a space that feels stylish and beautiful. The only limits you have are the amount of space you have to work with and your own unique design vision.
So don't underestimate the style power behind the humble coffee table and use this knowledge to branch out and try something new.