11. Ying Yang Decoupage Table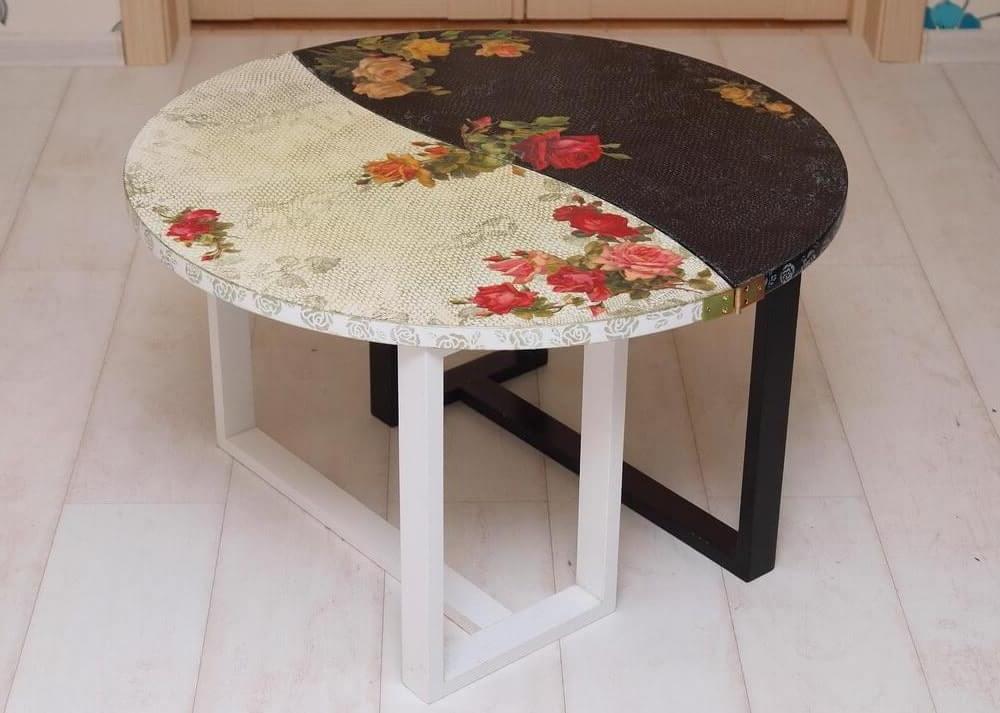 This circular black and white design decorated with floral patterns that can easily be DIYed at home using found furniture, paint and some good old fashioned decoupage. This particular design however conceals some transforming trickery. The gold hinges hidden on the side of the tabletop allows the two pieces of the table to be split apart and swing out to form a longer skinny black and white design that can to serve more people. This delicate design with unusual T shaped legs is compact and adaptable depending on how you need to use it. Decorating a table in this way is a cheap and fun way to reinvigorate an old thrifted table, whether it splits apart like this one or not.
12. Reclaimed Palette Coffee Table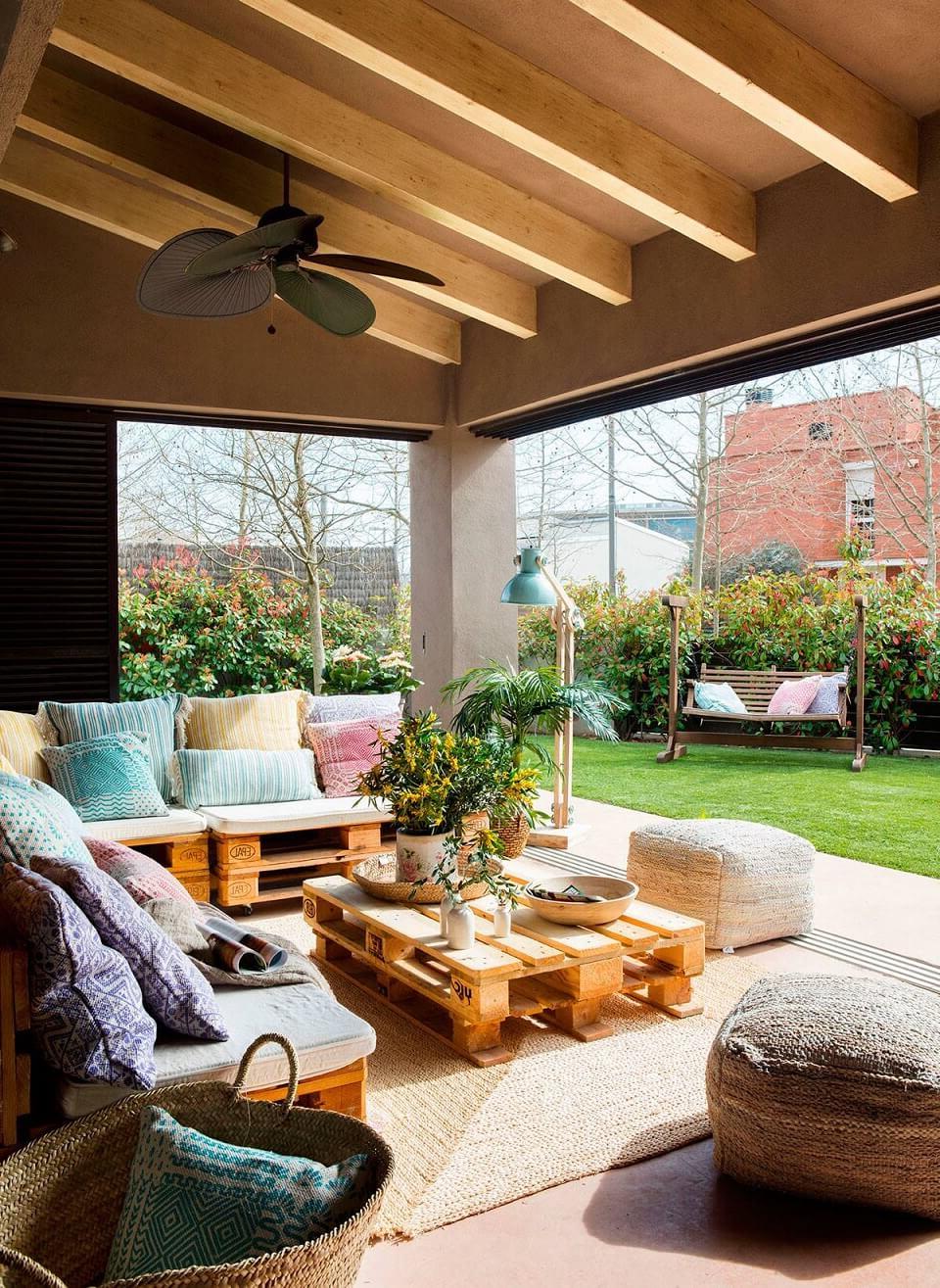 This rustic outdoor patio furniture has all been made of old reclaimed palettes. This is a look that can be easily DIYed at home from salvaged palettes that you can find online or from any scrapyard. Timber palette DIYs are hugely popular right now, especially in the ecofriendly community, and the internet is brimming with great tutorials on how to easily make palette furniture at home. The table is formed from two layers of timber palettes that's have been stained in the same warm pine tone as the outdoor sofa. This durable and ecofriendly design provides plenty of space for decoration and some snacks and drinks while you lounge outside in the sun.
13. Stack Of Planks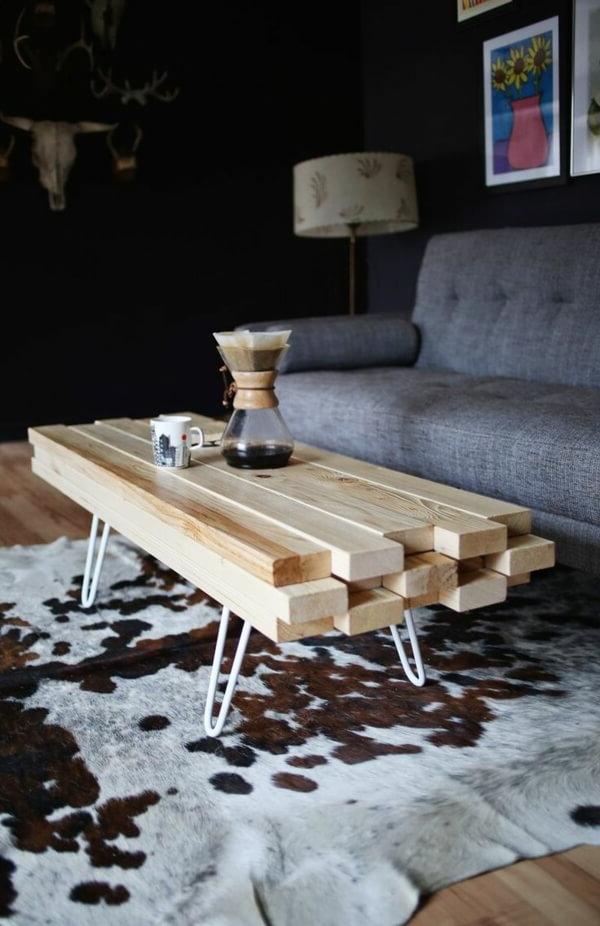 This contemporary lounge has been carefully festooned with some beautiful and statement pieces like the grey couch and animal skin rug around the real focus of the room; the unusual coffee table. The play on the traditional wooden table consists of a white V shaped legs that hold aloft an uneven triple tiered stack of planks. The varnished pale wood planks have been glued together to resemble an uneven natural stack of building material that has made its way into the lounge.
14. Contemporary Table Top With Built In Plant Pot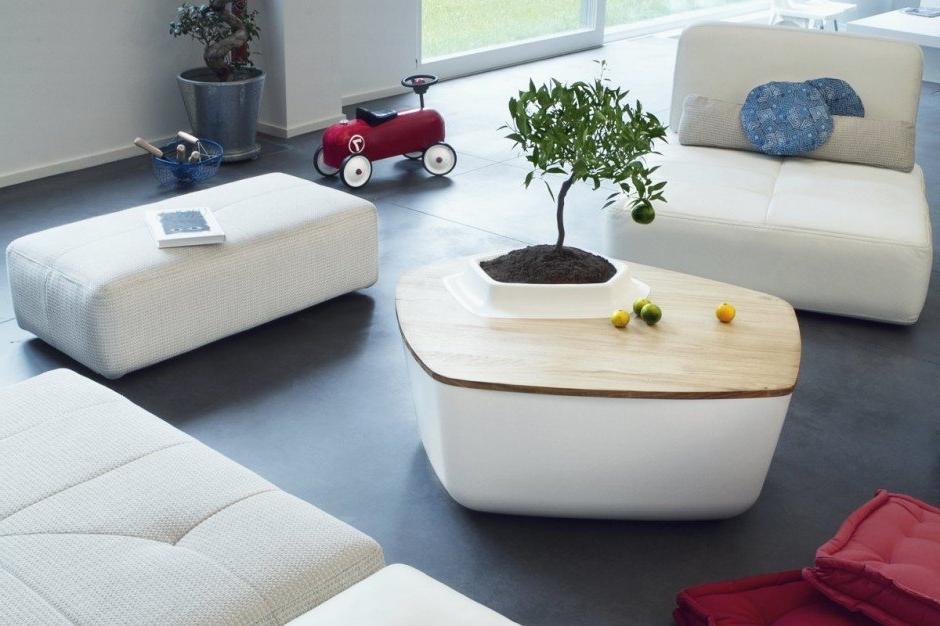 This small obelisk coffee table uses an oval shape but with a slight twist that comes from the gently curved angles around its circumference. Its solid white mass acts as a true centerpiece in a modern monochromatic setting. What makes this table truly unique is the tony bonsai tree dropping fruit right onto the table; which allows you to bringing plants and nature into a modern space in an unexpected and beautiful way. What makes this whole design so cohesive is how the thin wooden tabletop relates to the little tree that sits on top of it while the pure white plant pot relates to the white table base.
15. Timber Coffee Table With Slide Out Shelf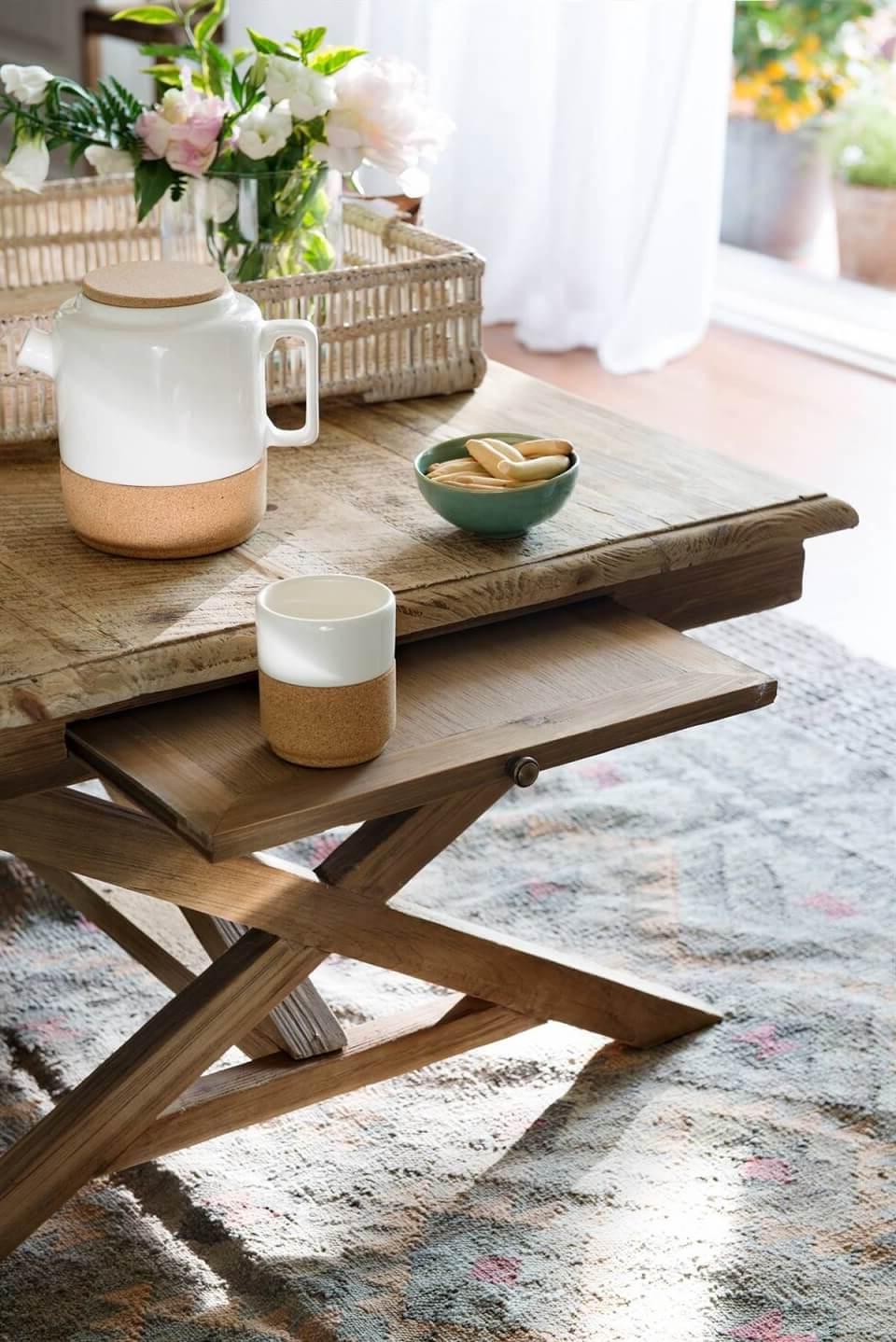 This rough wooden table is an artisanal style that is innovative but still simple with a classic elegant design. The crossed legs and beveled tabletop is built out of a detailed grained wood that lets the material be shown for its true beauty. The innovative element comes in through the tiny inconspicuous handle that allows you to pull out an extra shelf if you need more space on the tabletop or to bring the table closer to the couch so you can reach your cup of coffee with ease.
16. Fold Away Metal Trestle Table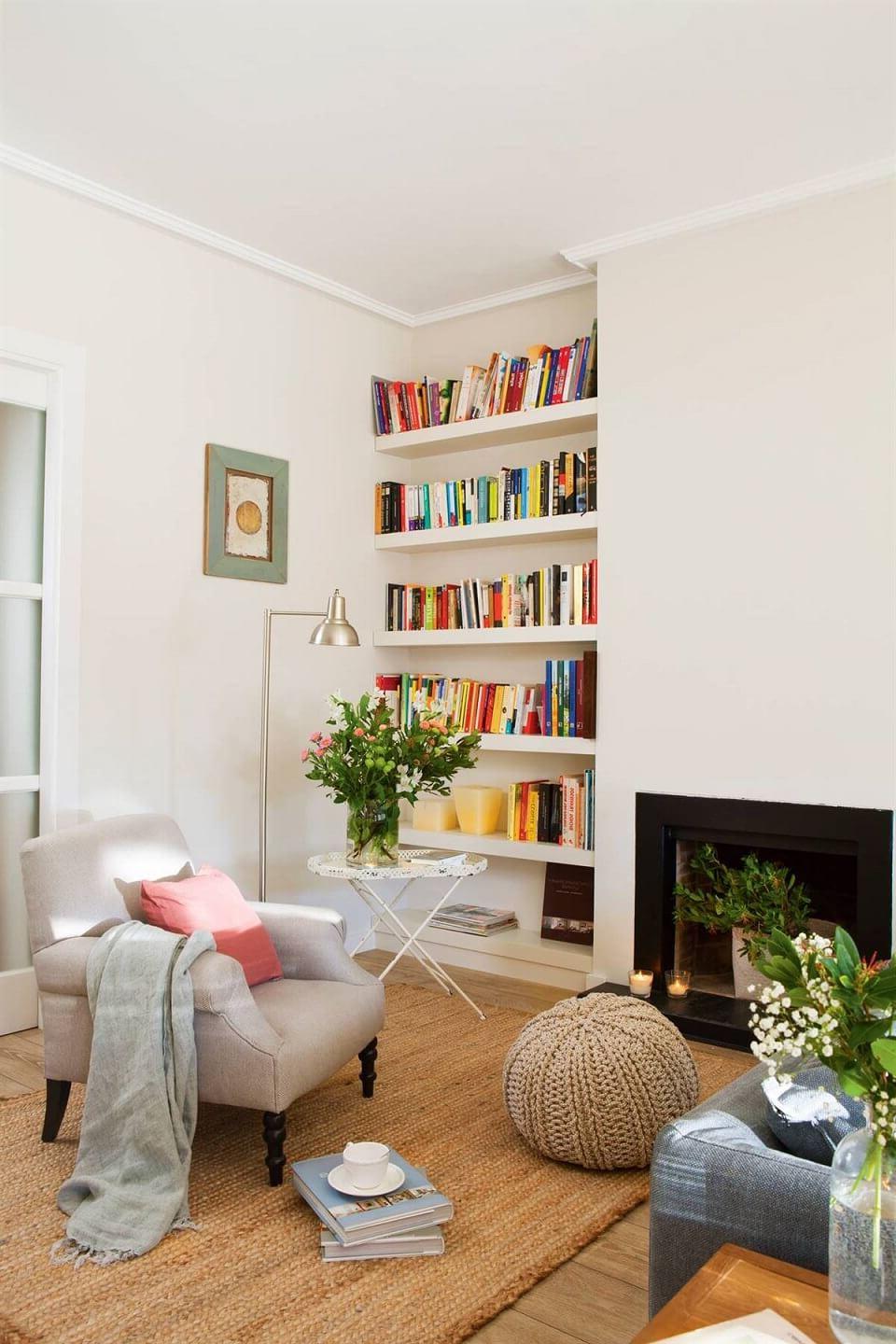 This cozy little living room has cleverly used a small white trestle table that is lightweight and easy to fold away and move around in your space according to your needs. The simple metal surface offers a plain canvas for the decoration on top which works alongside the stack of big coffee table books that acts as a secondary table of sorts for a cup of coffee. Moving the coffee table from the centre of the space to one side leaves room for a comfy poof for you to rest your feet on while you rest beside the fire.
17. Tree Stump Cross Section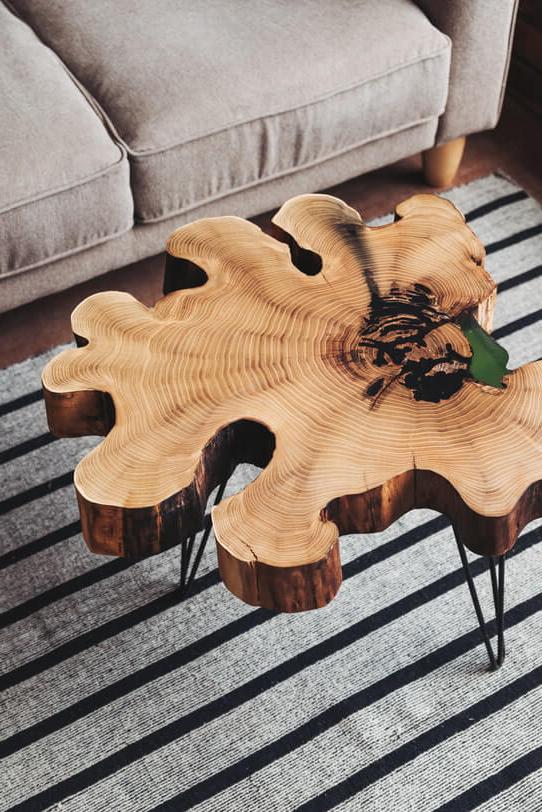 This gorgeous table has used the naturally grown beauty of this incredible felled tree to its greatest advantage. The tabletop is created wholly of the cross section of a dramatically twisting tree with the bark still on with rippling edges and uncountable rings showing its great age held up by thin triangular prism metal legs. By putting nature's power and beauty on display eliminates the need for any extra decoration and stands proudly on its own against the striped rug.
18. Simple Rectangular Prism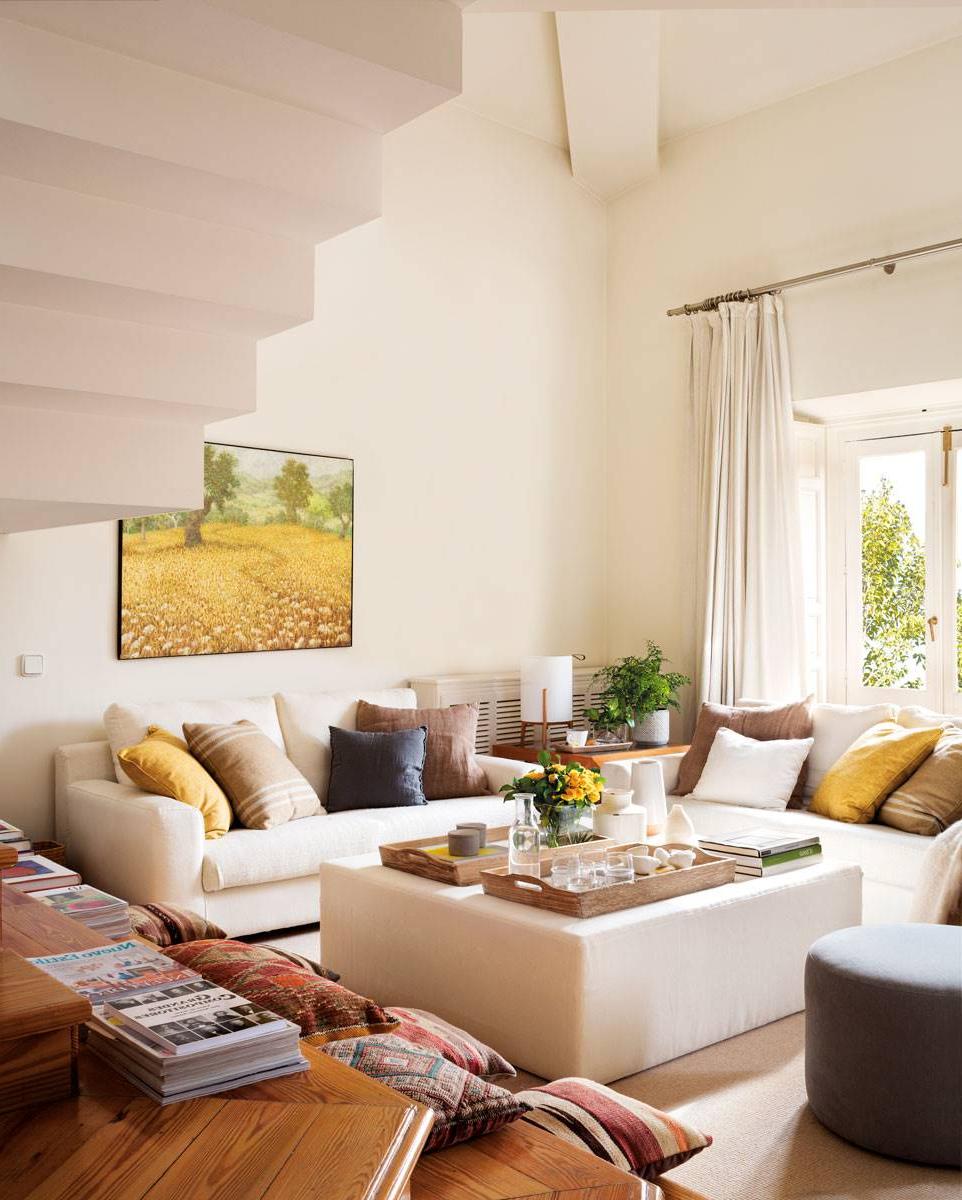 This large lounge takes advantage of its size by using a monolithic white upholstered block as a statement coffee table. The whole room has used white as its main design point from the walls, pitched ceiling, under the stairs and couch, which the coffee table slots into seamlessly. The large square contributes space for an element of colourful decoration and the addition of wooden trays makes it useful to hold drinks or snacks.
19. Low Wooden Mesh Coffee Table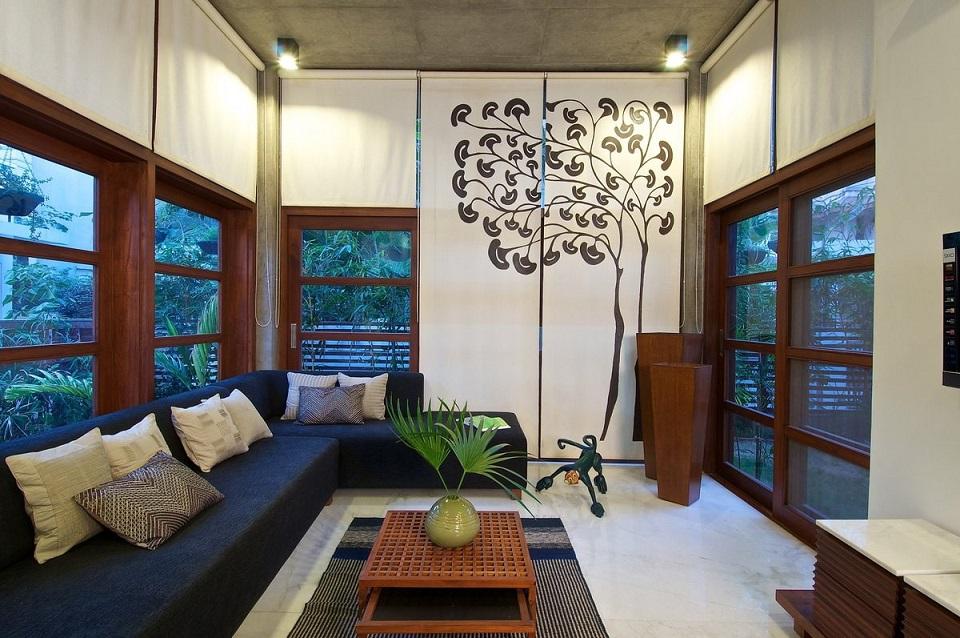 This Japanese inspired wooden mesh tabletop sits really low to the floor within this minimal space. The simple design includes an unexpected slide out shelf on one side to supply extra space and a flatter surface than the mesh to pop a cup of coffee onto. The material of the table matches the window frames and planters in the room for a very cohesive look, which is reinforced by the real plant on the table that is echoed in the graphic version on the white pull down blinds behind it.
20. Two Little Tree Stumps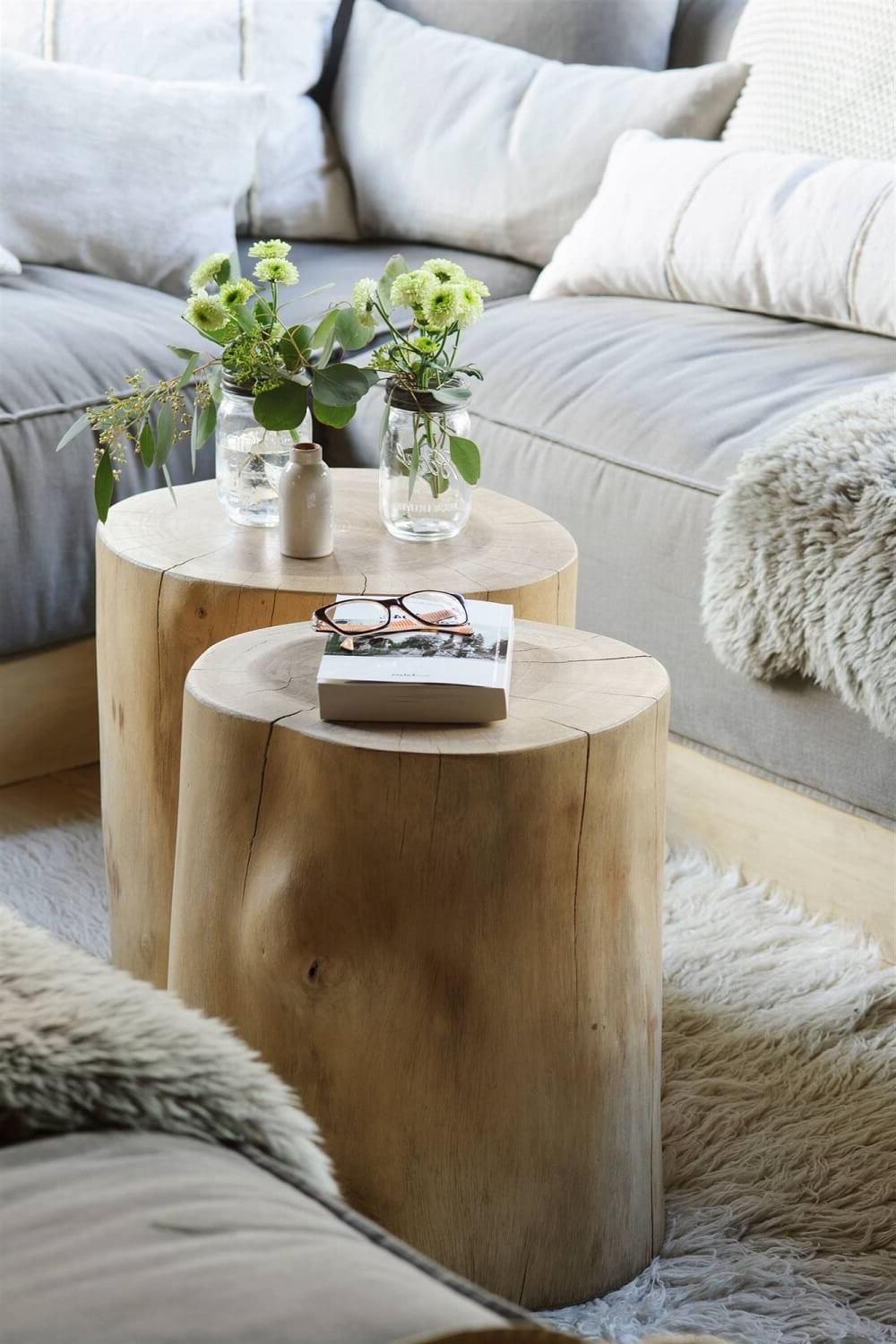 This cute little pair are another version of the iconic upcycled tree stump tables that we've seen before. The smooth tree stumps have had their bark removed and been sanded smooth to let the natural material speak for itself. The small space between the big, soft couches needs small coffee tables to keep the space useable and these two accomplish that while also providing space for decoration on one and everyday items on the other. These kinds of tables can be made easily at home from reclaimed timber to reduce your garden waste and be rewarded with a gorgeous piece of furniture at the end.
More Small Coffee Tables Decoration Ideas On The Next Page…