One of every home's most important features is its entryway and regardless to that, the entryway furniture or decoration plays a big part at getting a warm and pleasant feeling while entering your home or leaving a lasting first impression for your visitors. Anyway, we know that not everyone can come up with creative furniture concept and that's why we're here to help you decorate your entryway using these 40 entryway furniture ideas. Not every house is a home, because a home isn't a place but a feeling, and with these delightful ideas, you will finally turn your space into a sweet and cozy home that will impress everyone at first sight.
40 Amazing Entryway Furniture Ideas Which Will Grab The Attention of Your Guests

1. Console Tables for Entryway Decoration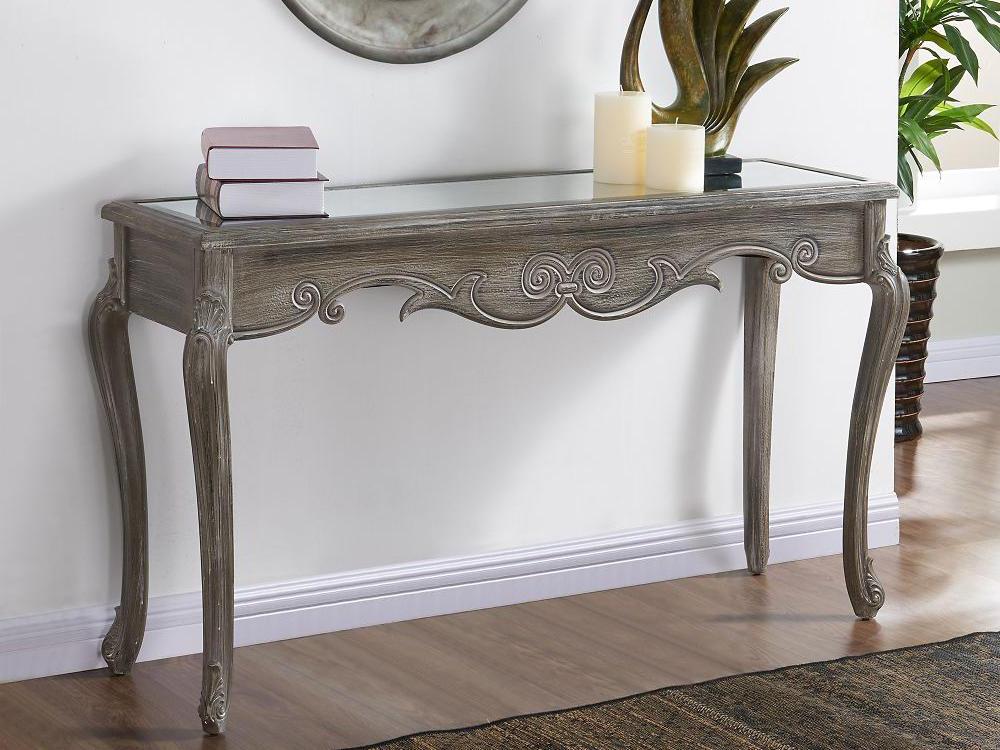 Console tables remain as a popular entryway decoration due to their practicality and delightful design. The particular one on the picture is a blending mix of classic decor with a modern twist, supported by ornament brackets that give the entire table a unique finishing touch. Console tables can be either movable or fixed against a wall, however, they always embellish the entryway in a way no other piece of furniture does, serving as a spot you can use to arrange your favorite books, scented candles or some ornaments that will match the design and color of the table and make your entryway's appearance even more striking.
2. Entry Farmhouse With Traditional Wallpaper Rolls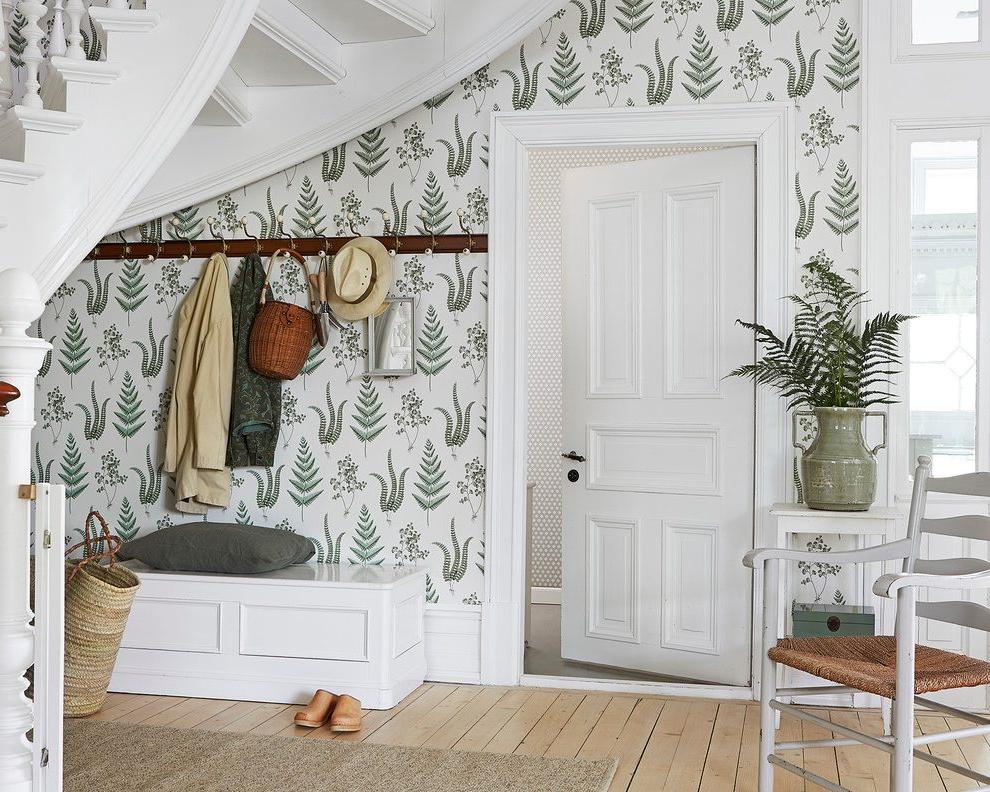 For those who prefer more classic entryway, there's the farmhouse entry with traditional wallpaper rolls, giving the entryway a clean and pleasant look. If you decide to decorate your entering space with this simple yet elegant wallpaper rolls, embellished with hat hooks, every time you enter your home will feel like entering a warm, graceful place of enjoyment and relaxation. Wallpaper roles are quite popular lately due to the large selection of patterns and easy assembly, allowing people to experience a more exciting way of decorating than the usual one-color walls.
3. Entryway Furniture With Drawers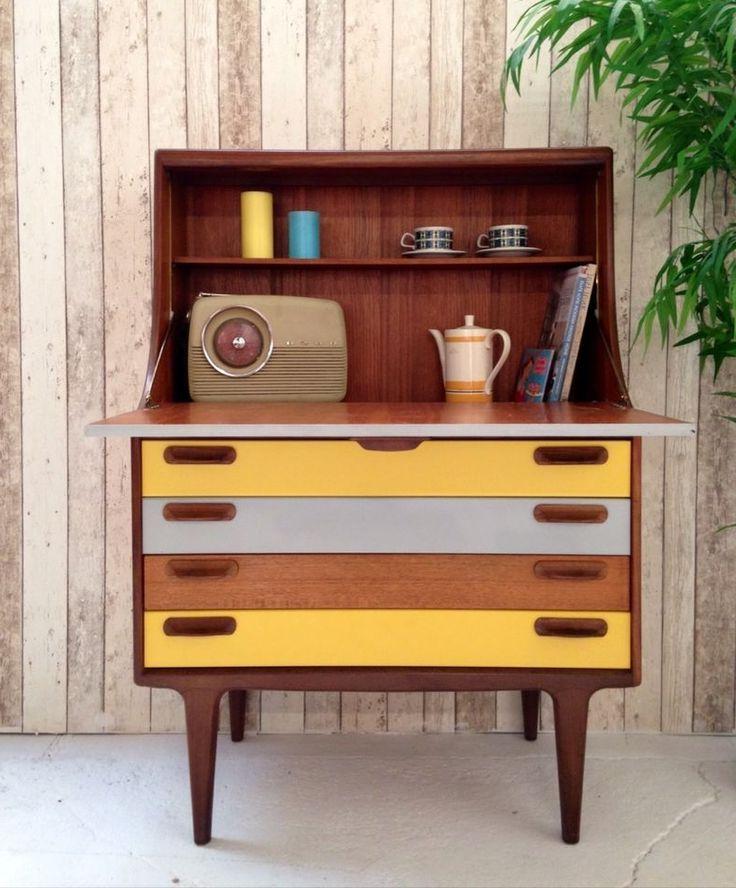 There isn't a more practical piece of furniture than the entryway small desk with drawers. Besides the ability to be moved, this little desk allows you to decorate your entryway the same way console tables do, only this piece of furniture gives you a bit more sophisticated looks. The drawers that can serve as a spot where you can put some of your important things where you can always have them on sight are a big plus and the warm colors of this wall-mounted timeless little desk will modernize your space in a way that no other piece of furniture can.
4. Entryway Furniture With Storage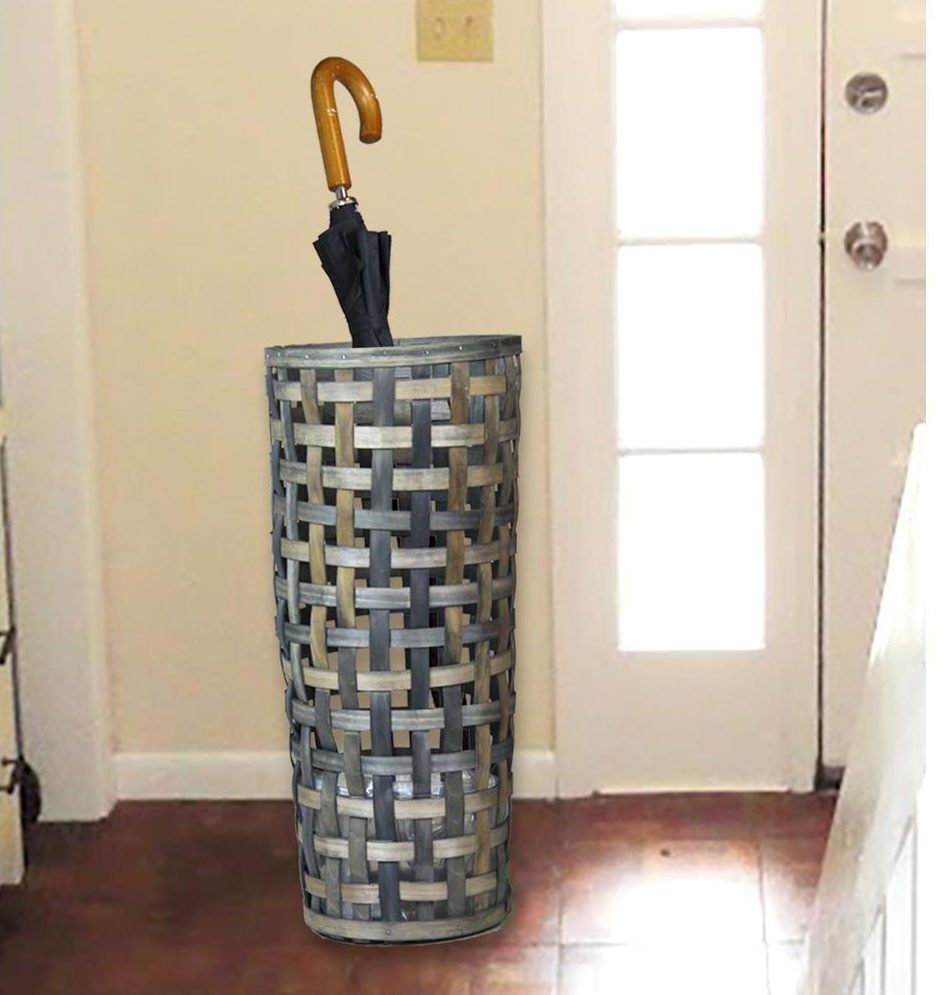 Although entry spaces are sometimes tricky to furnish due to the need to combine aesthetic appeal of beautiful yet functional furniture, umbrella stands are always there to ease up your work. If you're living in a climate where rainy days are frequent, then a piece of furniture with storage as this umbrella stand is a 'must' addition to your entryway furniture. Besides saving your floor from getting wet, the umbrella stand can also embellish your space if you chose the right design and color, however, we'll help you with your choice, suggesting you this particular piece with compelling design in warm colors. Aside from playing a useful part in your everyday life, the umbrella stand will also remain as a small beautiful decoration to your entryway.
5. Entryway Hallway Furniture With Mirrors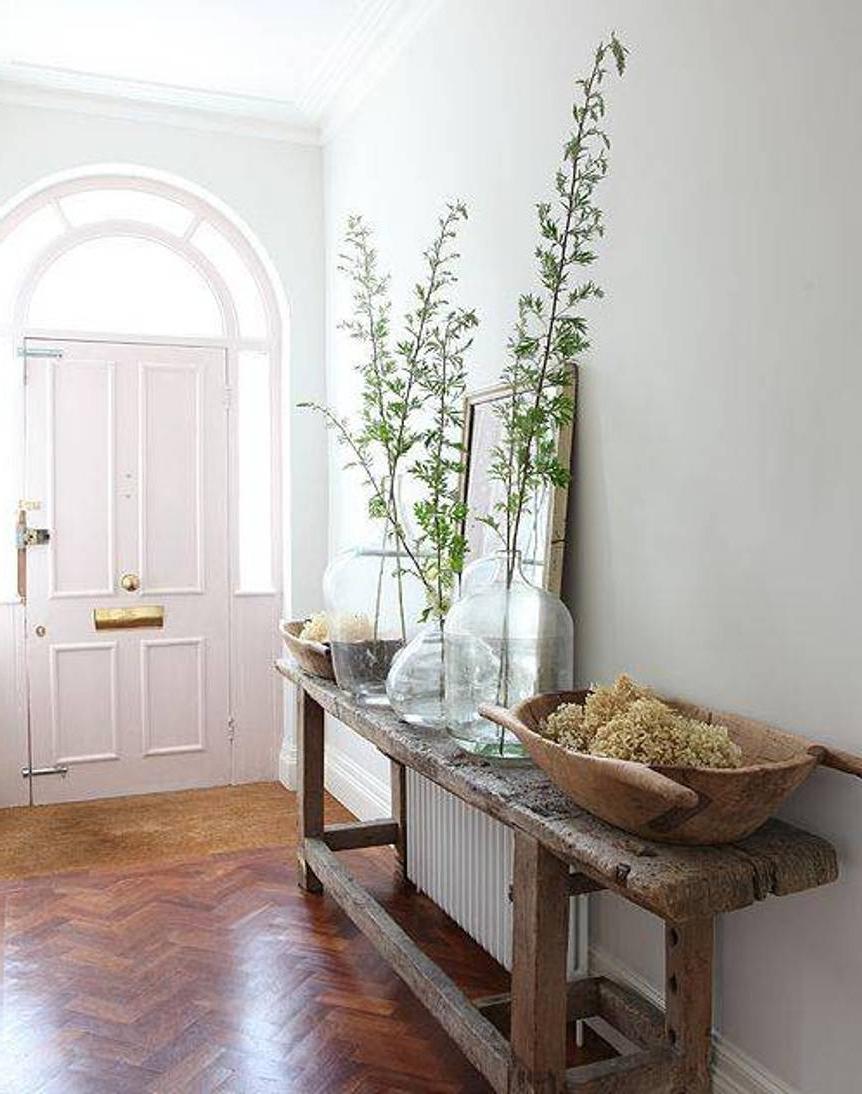 Choosing a entryway furniture idea with mirrors for your hallway means choosing an entrance that leaves a lasting impression, however, the impression isn't the only benefit you will get from this piece of furniture. The particular wood table with the flower ornaments and the small mirror standing in between are an elegant way to decorate your hallway.  Having this furniture will overwhelm you with warmness every time you enter your lovely home, and will make your guests jealous of your new hallway decoration.
6. Entryway Shoe Storage Furniture Ideas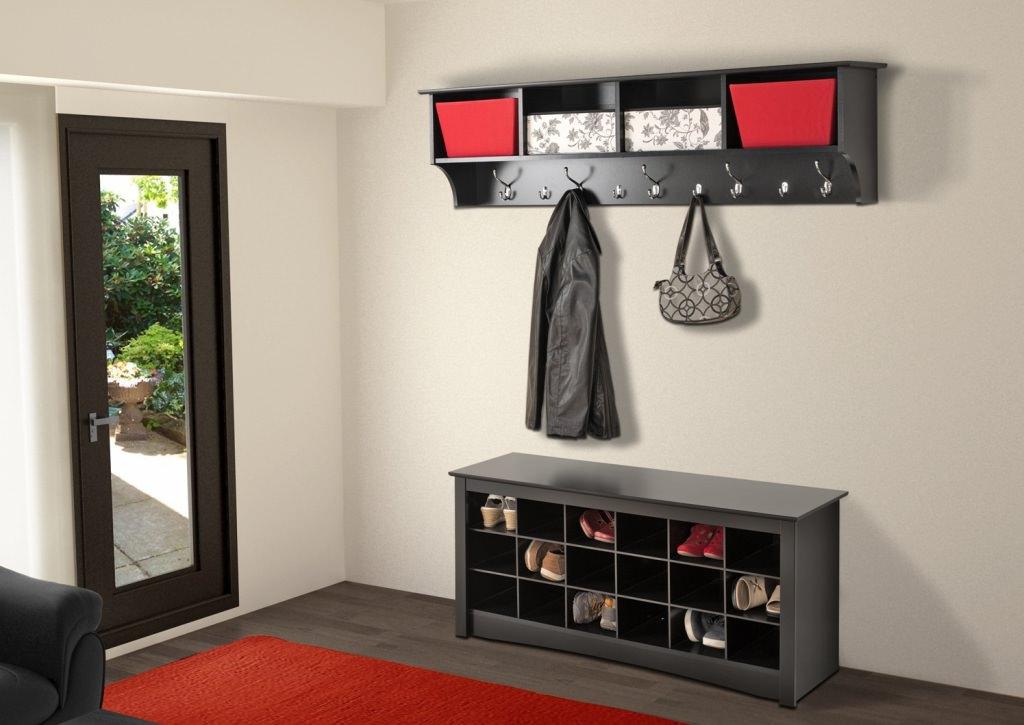 If you want to keep your hallway welcoming and organize comings and goings with unique spots for your shoes and coats, the entryway shoe storage furniture is the perfect fit for your needs. An elegant piece of furniture with smooth dark surface and red and white buckets you can use for keeping your scarves, gloves or something else that was just 'too much' in your ordinary closet. All you have to do is pick the one that fits your free hallway space and matches your walls, and enjoy this practical idea to organize your space the way you always wanted.
7. Entryway Storage Bench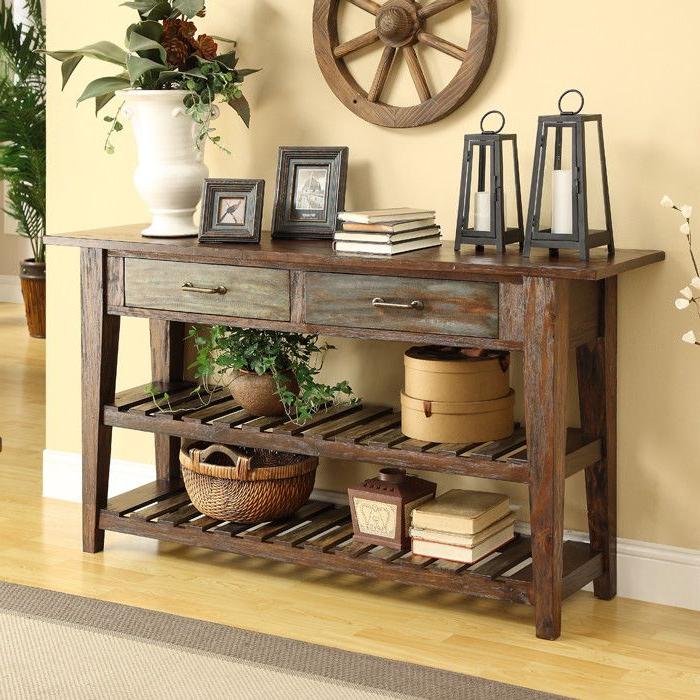 Except for the charming looks that give your home the farmhouse welcoming feeling, the storage bench is one of the most practical pieces of furniture you can use to organize your hallway space or just use it as a decoration to your entryway. Aside from the delightful wooden design that reminds of a very old and well-preserved desk with drawers, the bench will become your favorite spot for keeping family photos, meaningful books or your beloved flowers that will embellish your hallway even more. Don't hesitate on getting one of these for your home because the benefits you'll gain are worth the price and effort and will impress you and your guests wit its splendor.
8. Entryway Tables of Narrow Spaces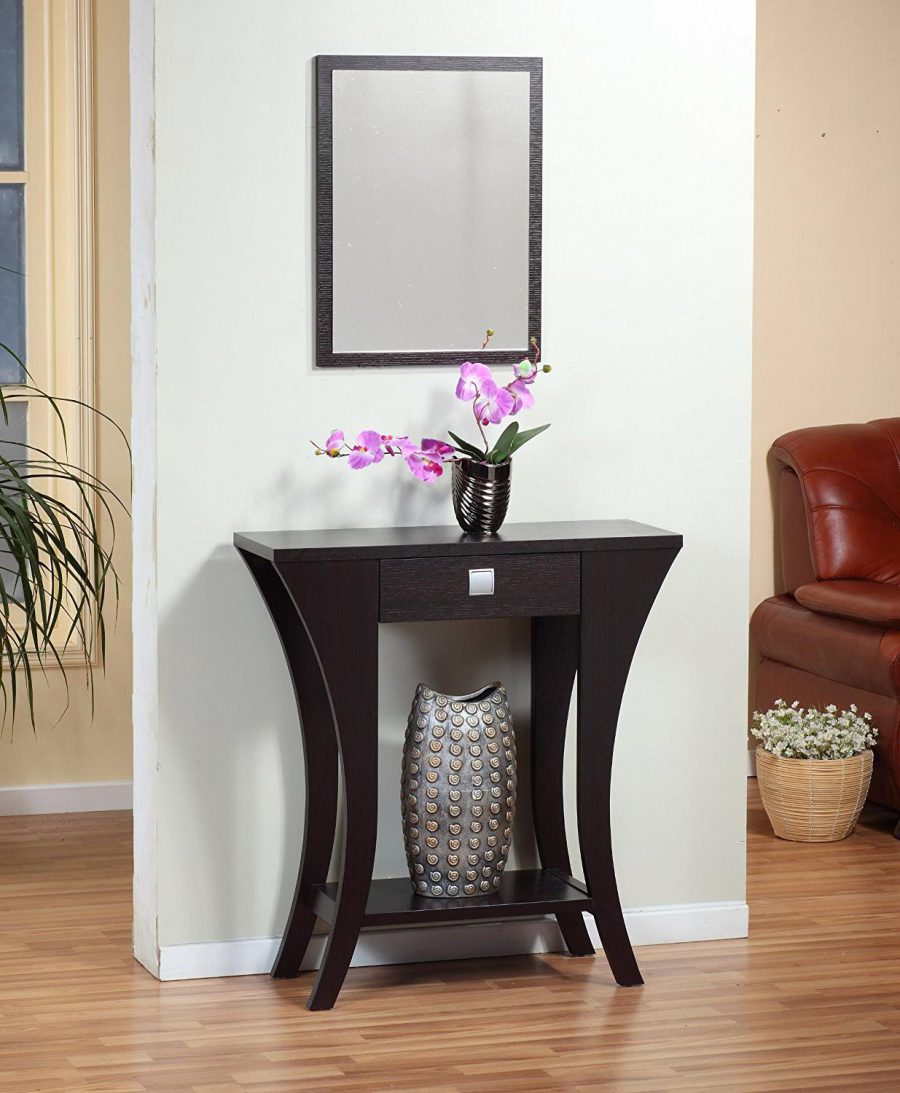 An exquisite accessory for entryways, hallways or smaller apartments that will embellish the space with its simple yet elegant design. The space-saving table with a rustic finish and carefully crafted tripods can also be combined with a mirror matching its color to give the space even more striking appearance and impress your future visitors.
9. Foyer Decorating Ideas With Accessories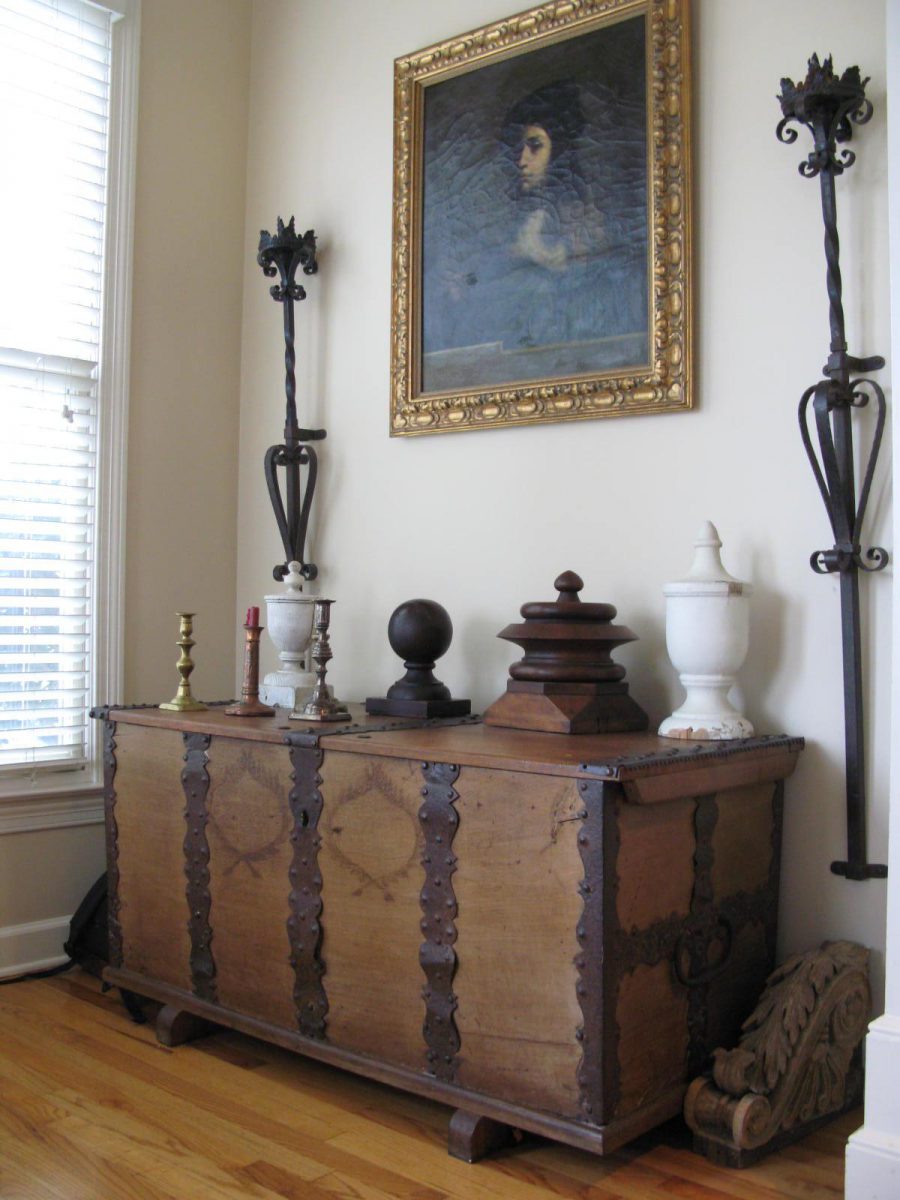 For the fans of aristocratic and baroque designed furniture, we have something that you'll fall in love with at first sight! A foyer in rich brown color with elegant decorations on the surface and aristocratic ornaments will definitely leave you breathless. Although the foyer is more suitable as a living room furniture, you can also use it to decorate your hallway if you have more space. No matter where you decide to situate it – the foyer will embellish your home and give it a warm tone like no other furniture.
10. Half-Rounded Entryway Desk Decor Ideas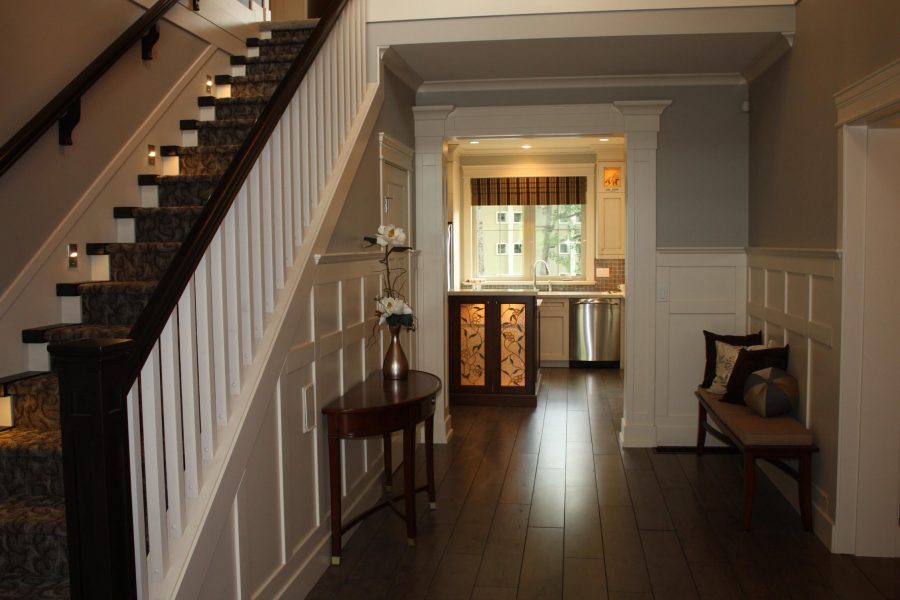 Housewives, you're currently looking at your new favorite half-rounded desk decoration for the entryway of your lovely home. Chic and appealing, the half-rounded tables are the most frequently decor furniture, especially for hallways. Put a simple vase with your favorite flower on this kind of tables or some of your ornaments and enjoy the welcoming feeling by walking into your home every day.
11. Italian Entryway Furniture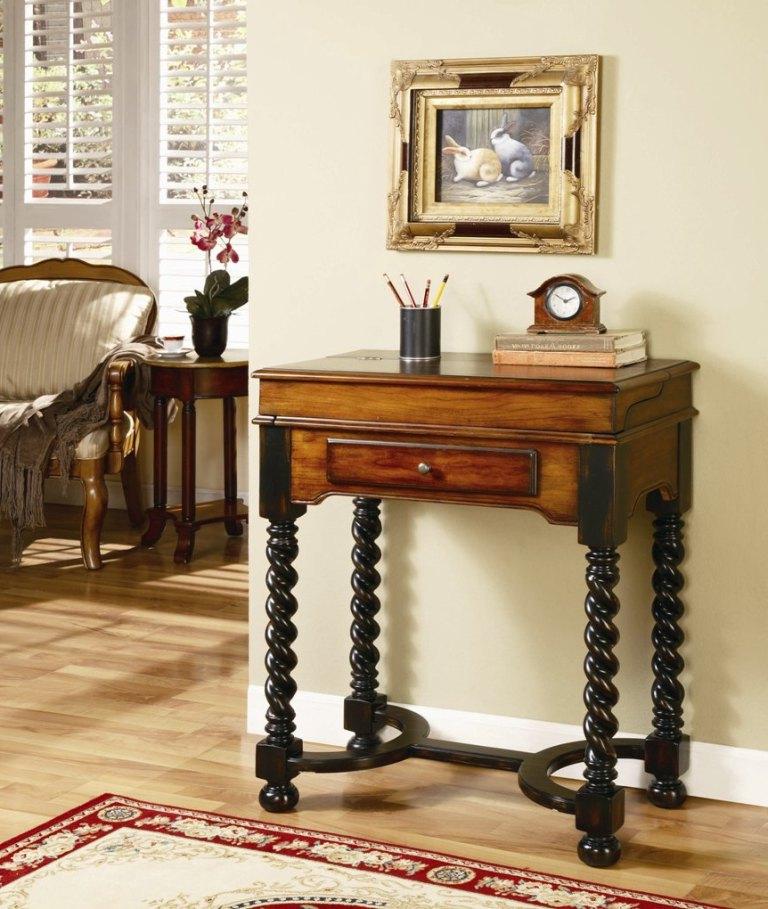 Those who prefer to add an Italian touch to their home can get the Italian entryway wood table and enjoy the Italian décor. A unique design and an aesthetic appeal of beautiful yet functional furniture with helical spikes and a simple drawer you can use to store your keys or other miniature things that can easily get lost around your house. With choosing the Italian entryway, not only you will have a unique piece of furniture but also embellish your home's hallway.
12. Metal Entryway Furniture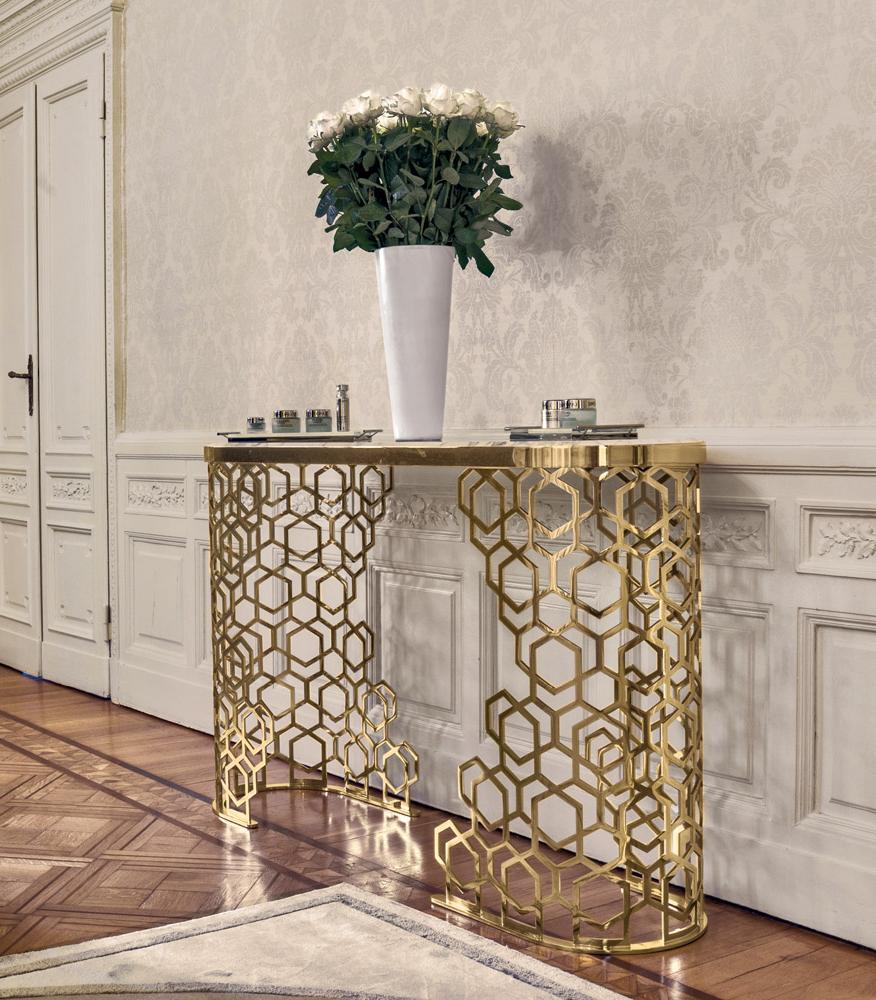 Metal Entryway piece of furniture that screams "LUXURY AND STYLE". If you're want to buy a furniture with a striking appearance and unique design, this is what you've been looking for. There's no need to add any ornament to its surface because the table-like remains as an ornament itself. Don't hesitate to get this piece of metal furniture and decorate your home's hallway in a unique manner.
13. Modern Entryway Furniture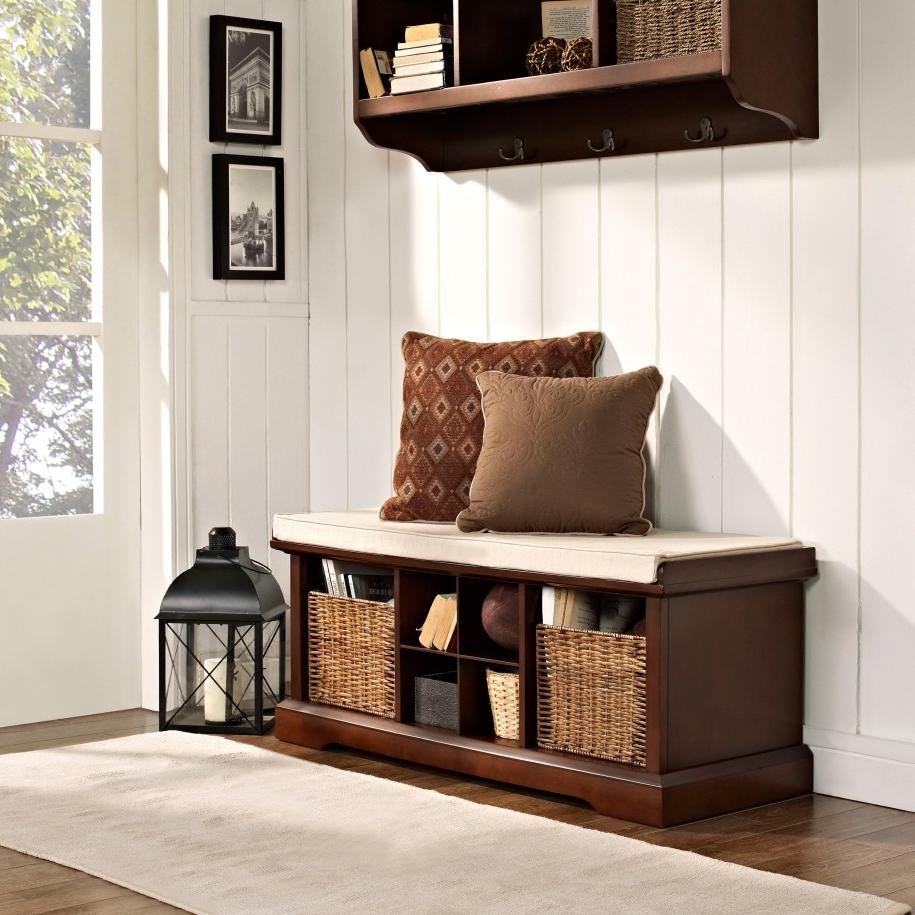 If you're looking for something classic and alluring, this modern entryway furniture will perfectly satisfy your needs. However, this isn't just a simple piece of furniture; you can use its empty lower part as storage for books, and the upper part of a seating area. Having a modern furniture like this one will not only embellish your entryway and serve as a resting area, but also amaze your visitors and make them fall in love with your unique piece of furniture at first sight.
14. Mudroom Entryway Furniture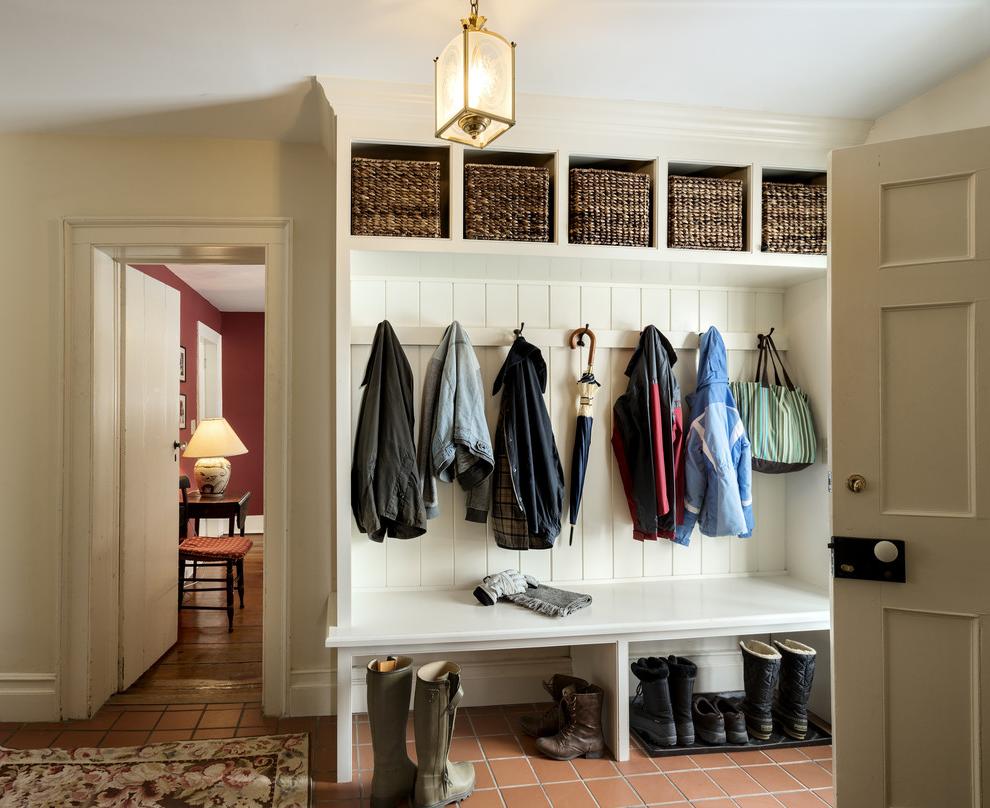 Mudrooms are quite popular lately due to their practicality and useful purpose. However, unlike a front entry that can be seen by all and used by visitors, the mudroom remains usually as a secondary entrance. Although it's a hardworking space, the mudroom entryway is helpful for keeping your home clean and organized. Consisted of elegant hooks, racks, white bench and few cubbies that can be used for storage of other clothing, the mudroom entryway furniture will definitely find its place at your home, keeping your hallway clean and shiny.
15. Oak Entryway Furniture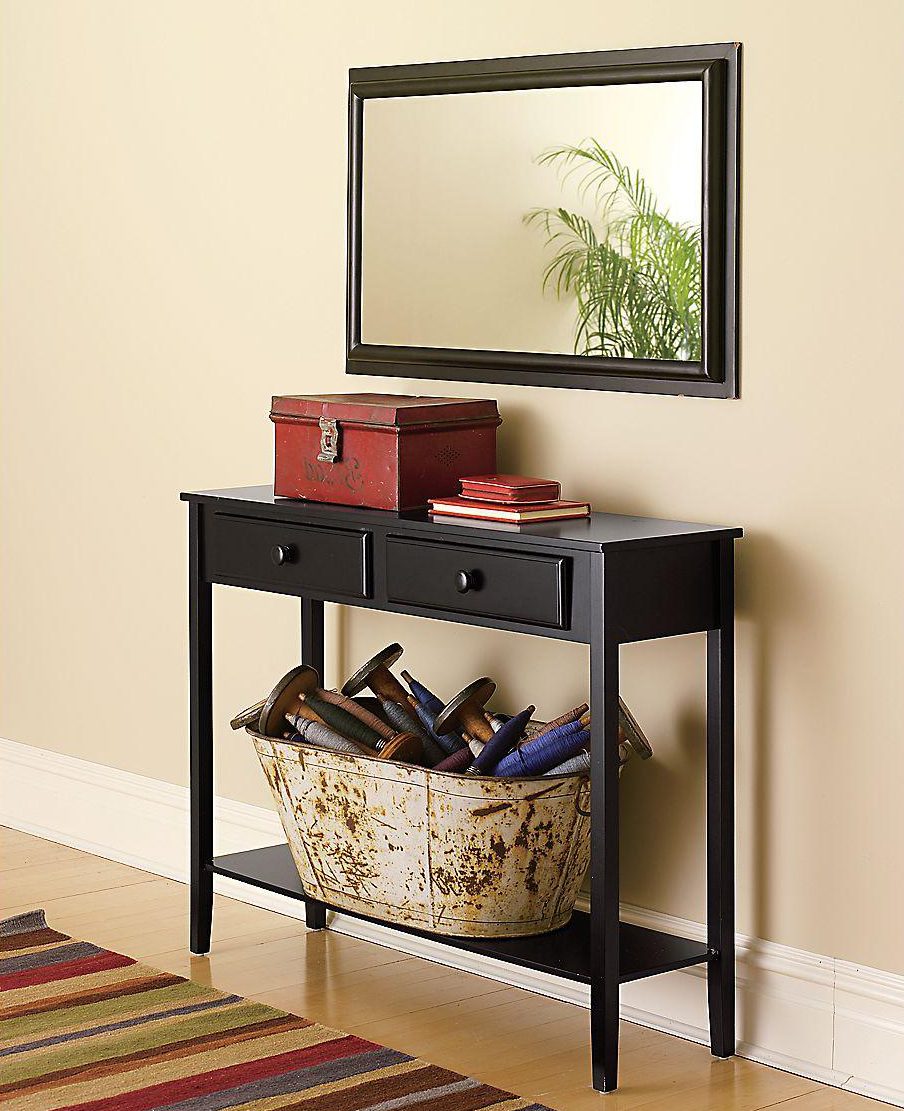 Oak furniture, especially tables are one of the most beautiful pieces of furniture that you can never make a mistake while choosing. This particular idea of combining the oak table with a mirror and a container filled with tools is for the ones who don't prefer classic decor but a unique and an unusual one. With a simple black design and two tiny drawers, the oak entryway will definitely embellish your hallway and attract your guest's attention once they notice its unusual details.
16. Oriental Entryway Furniture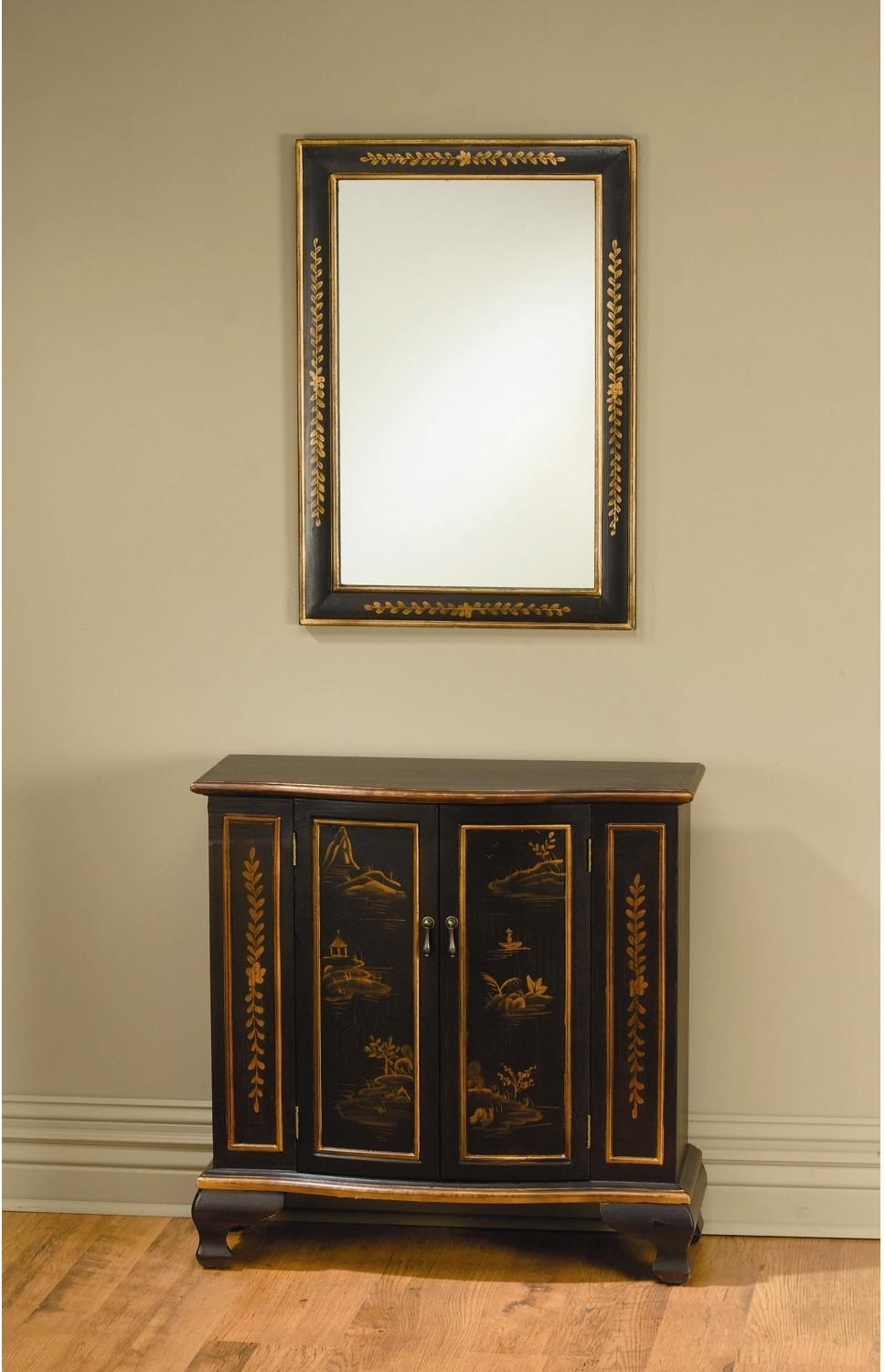 Oriental entryway furniture is for those who want to add a touch of the East Asia culture in their home. A simple, freestanding and delightful piece of furniture together with a mirror in the same unique style and design that will embellish your hallway the way that no other furniture can.
17. Outdoor Entryway Furniture
Not everyone is interested in decorating the inside of their entryway but the outdoor entryway that can also embellish the entire house appearance and overcome with its grandeur. Our suggestion for your new outdoor entryway look is the simple wooden bench, accompanied by pots with your favorite flowers. Sometimes simple can be more beautiful than bedecked and this particular idea proves that.
18. Reclaimed Wooden Entry Table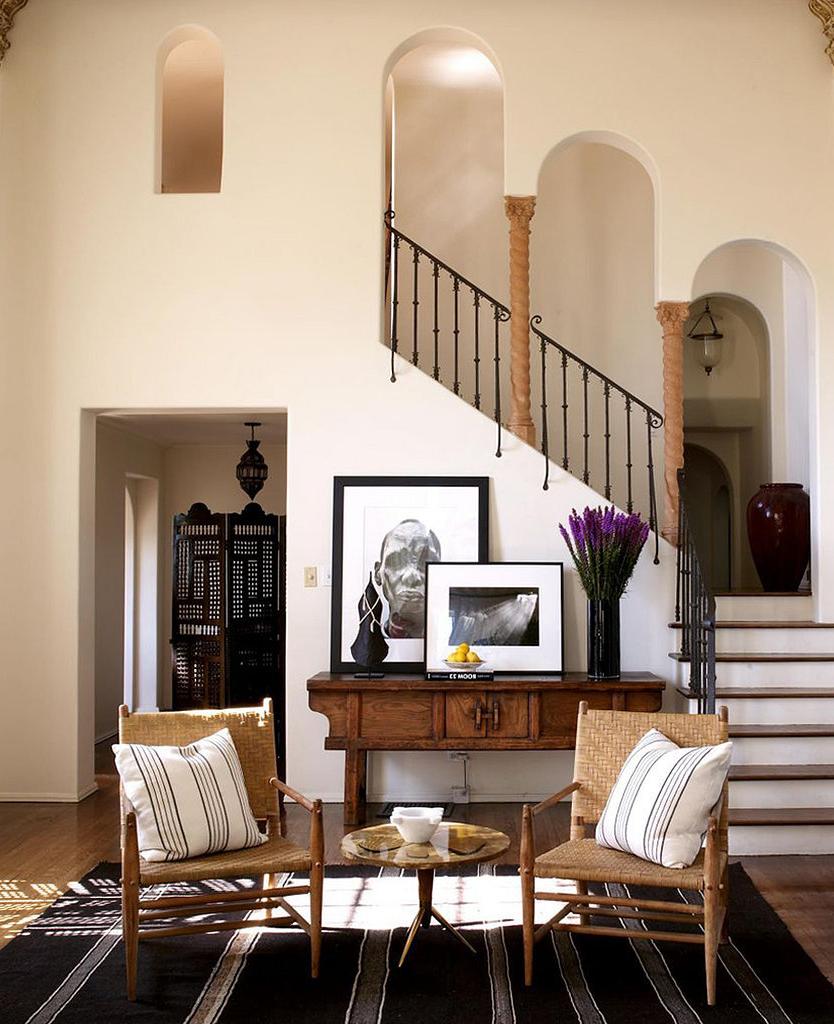 Reclaimed wood is recommended for those who prefer using one of the purest forms of recycling and preserve the nature. If you're among the ones who cares for nature, here's an idea for your new entry – amazing table made of reclaimed wood that can be also used as a piece of furniture in your living room. A table with this size is the perfect area where you can place your family photos, vases with colorful flowers and other ornaments that will embellish your home's entryway even more.
19. Rustic Entryway Benches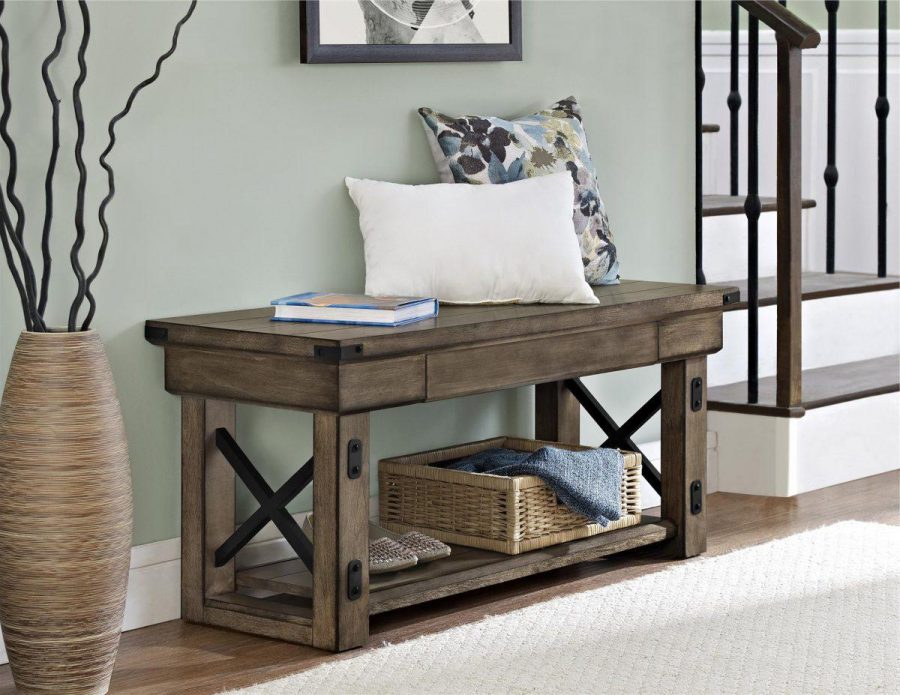 If you're a fan of Rustic home arrangement, this rustic entryway furniture idea with decorative benches will definitely meet your taste. A simple wooden table-like piece of furniture with an empty lower part you can use to store your slippers or blankets in case you decide to arrange a pajama party at your place. No matter the purpose, the simplicity of the wall-mounted furniture will definitely add a warm tone to your home's entryway.
20. Rustic Entryway Design Ideas With Great Coat Hooks Cubby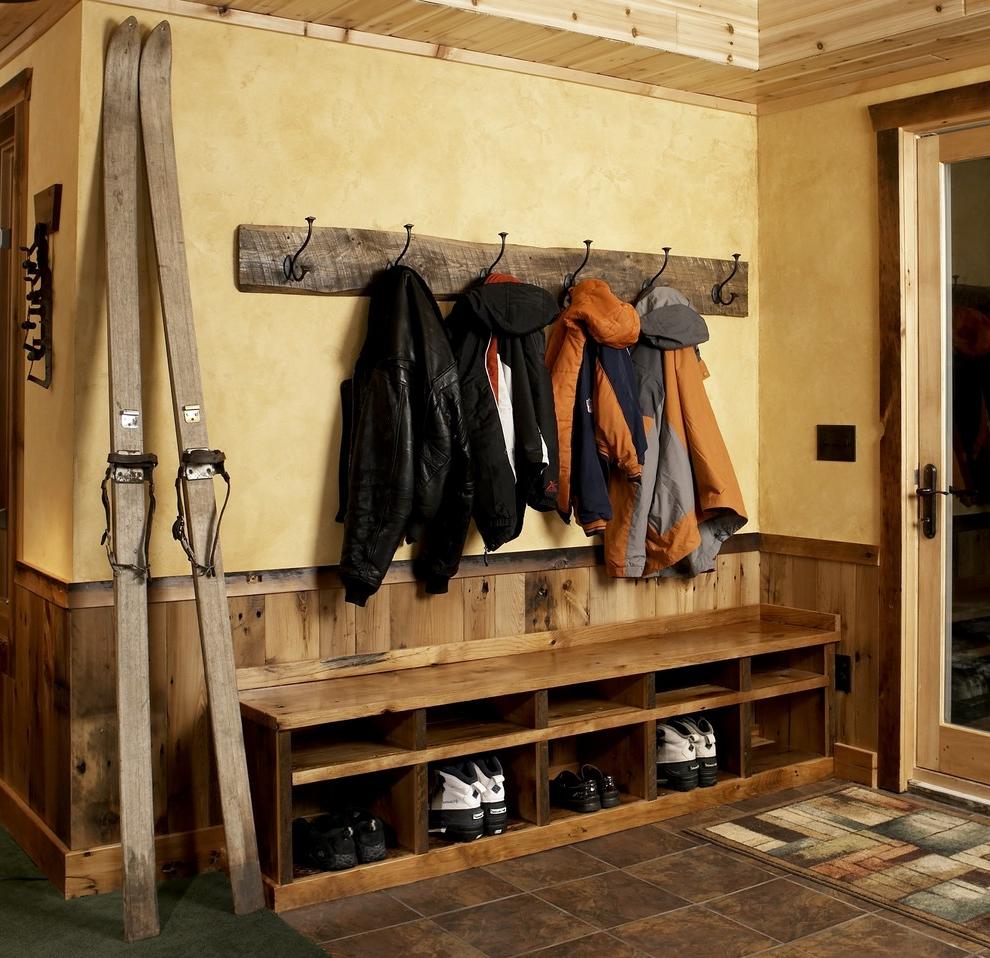 Aside from the previous rustic entryway table, this one is also a countryside piece of furniture which resembles the popular mudroom. Anyway, this entryway design idea with great coat hooks and cubbies differs from the others designed only for homes; you can also use it as an entryway furniture to decorate your new ski resort or some other object where taking off your shoes is necessary.  Aside from the charming looks that give your home the farmhouse welcoming feeling, this is one of the most practical pieces of furniture you can use to organize your hallway space or just use it as a decoration to your entryway.
21. Rustic Entryway With Hardwood Floors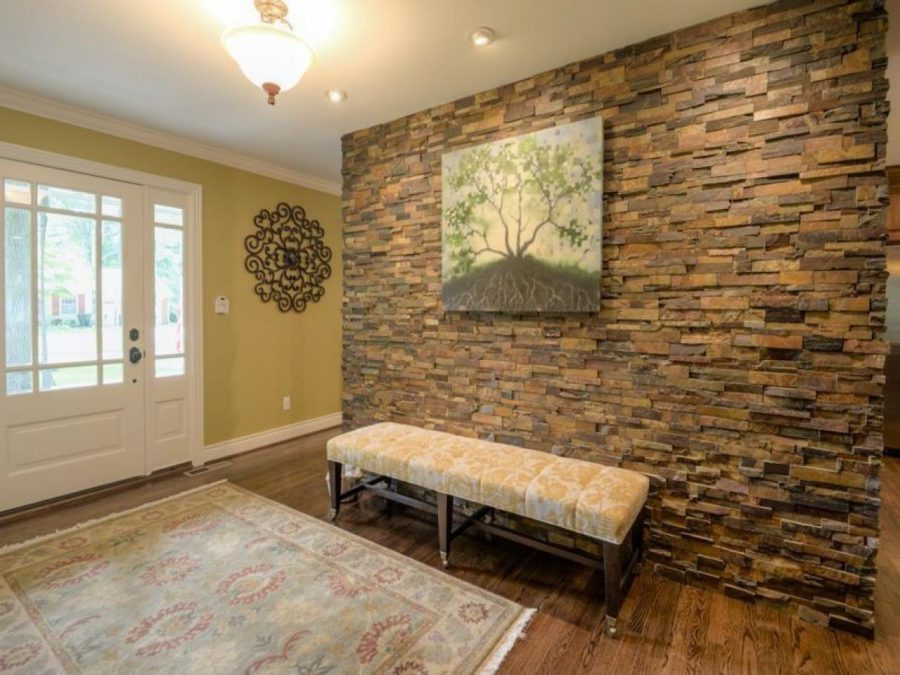 As we all know the rustic furniture refers to a simple, artless, unsophisticated yet extraordinary and remarkable design. Often used in warm brown colors, this kind of furniture are the right choice for those who prefer adding a warm and unusual style in their home. This freestanding rustic bench perfectly matches the hardwood floors and the whole interior of this entryway space, turning it into a beautifully decorated area that will delight you and your guests with its splendor.
22. Rustic Foyer Table for Entryway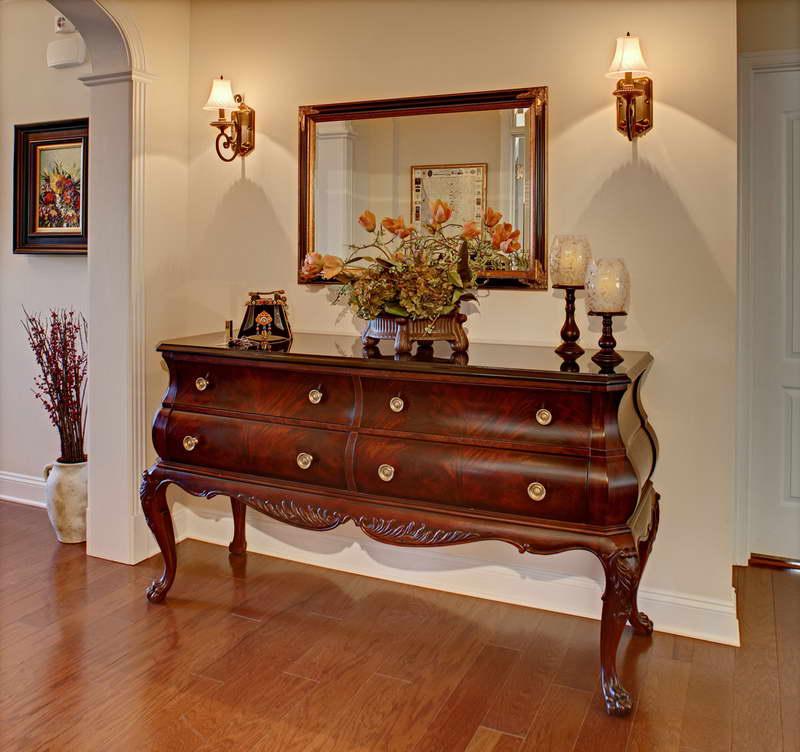 Another Foyer table in a rustic style that can be used as a decoration for your entryway. As we know, rustic interiors derive their warmth and simplicity from the sense of history and this foyer table with a mirror matching its style and ornaments used to embellish the furniture, even more, will definitely turn your space into a warm home with a striking entryway.
23. Rustic Foyer Table Ideas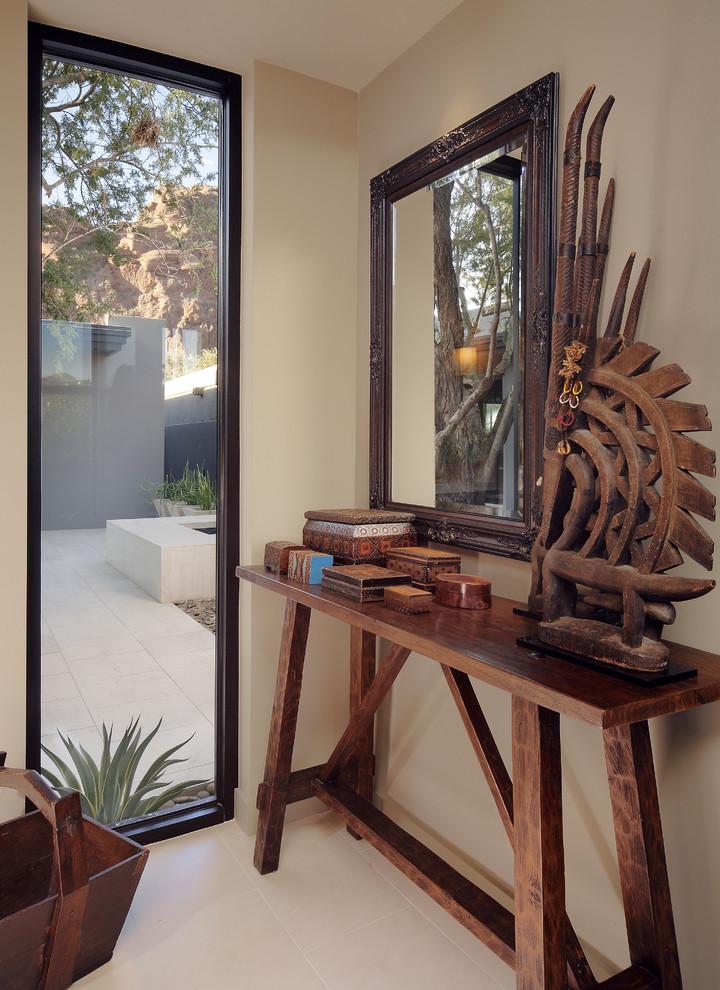 We just can't get enough of these rustic foyer tables! The variety of their shapes makes it harder for us to chose the right furniture in this kind of style, however, we're always there to help. What do you say about this large-sized table in shiny brown color as your new entryway decoration? Reminding of those tables from the old movies, this foyer table will bring you back in time when the Rustic furniture was most common among people who wished to design their home in a unique manner. Regardless of its size, this elegant foyer table can also use you as an area where you can place your family photos, decorative candles and flowers, as well as other ornaments by your choice. The wall-mounted mirror just gives the whole picture a more sophisticated look you won't be able to resist.
24. Rustic Hallway Entry Furniture With Painting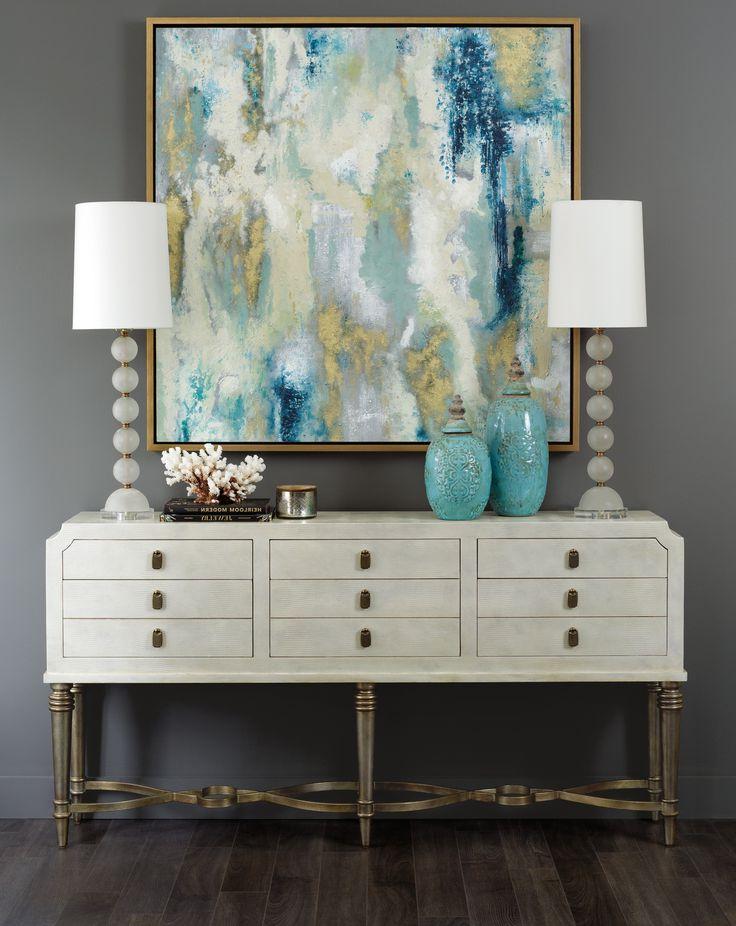 Not the kind of rustic furniture you're used seeing, this white one is a blending mix of classic decor with a modern twist, supported by matching color bulbs giving the entire table a unique finishing touch. As for the trestle legs of the table, you can see that they're perfectly designed to match the details from the drawers and the frame of the marvelous painting giving you entry a glamorous and classy look.
25. Rustic Wood Entryway Decorating Ideas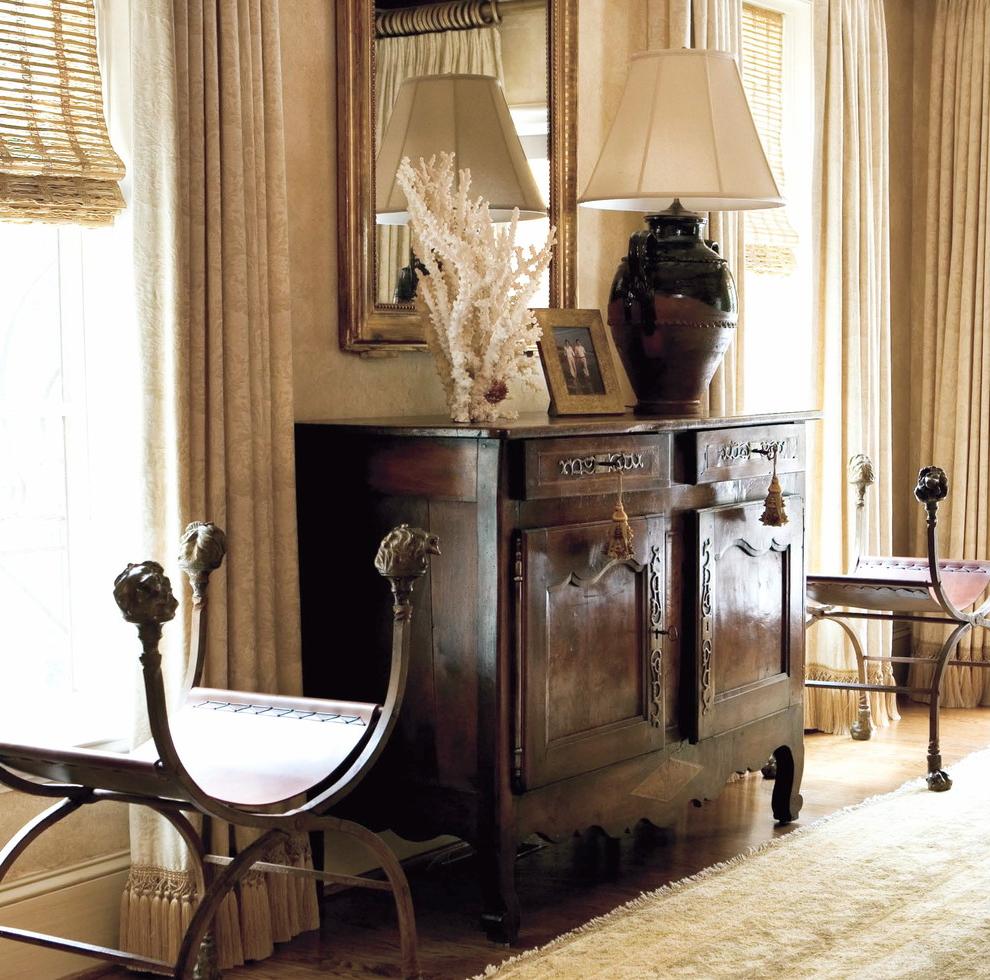 Just another rustic piece of furniture as an idea for your new entryway decoration. The entryway furniture idea with rustic wood table matching the whole interior of the home can also be used as a living room decoration. The lovely details on the drawers and the whole appearance of the furniture together with the aristocratic chairs will definitely embellish your house and attract your visitor's attention at first.
26. Single Stand Entryway Table with Grey Fabric Sofa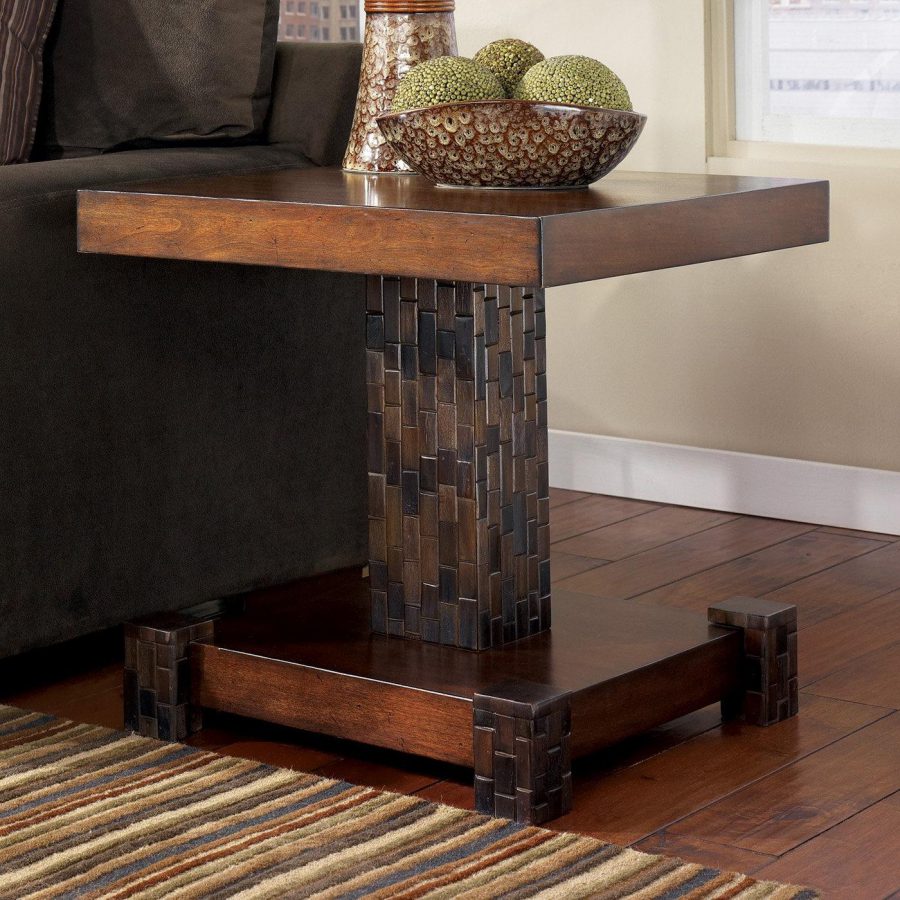 If you're looking for the perfect Single Stand Table with a place to rest once you come back from work, this is the right choice for you! The square-edged brown table with decorative trestle legs and the Grey Fabric Sofa are the perfect match for your free entryway space. Don't hesitate on getting this perfect match for your entryway new looks and make your home a pleasant area for you and your family.
27. Small Entryway Furniture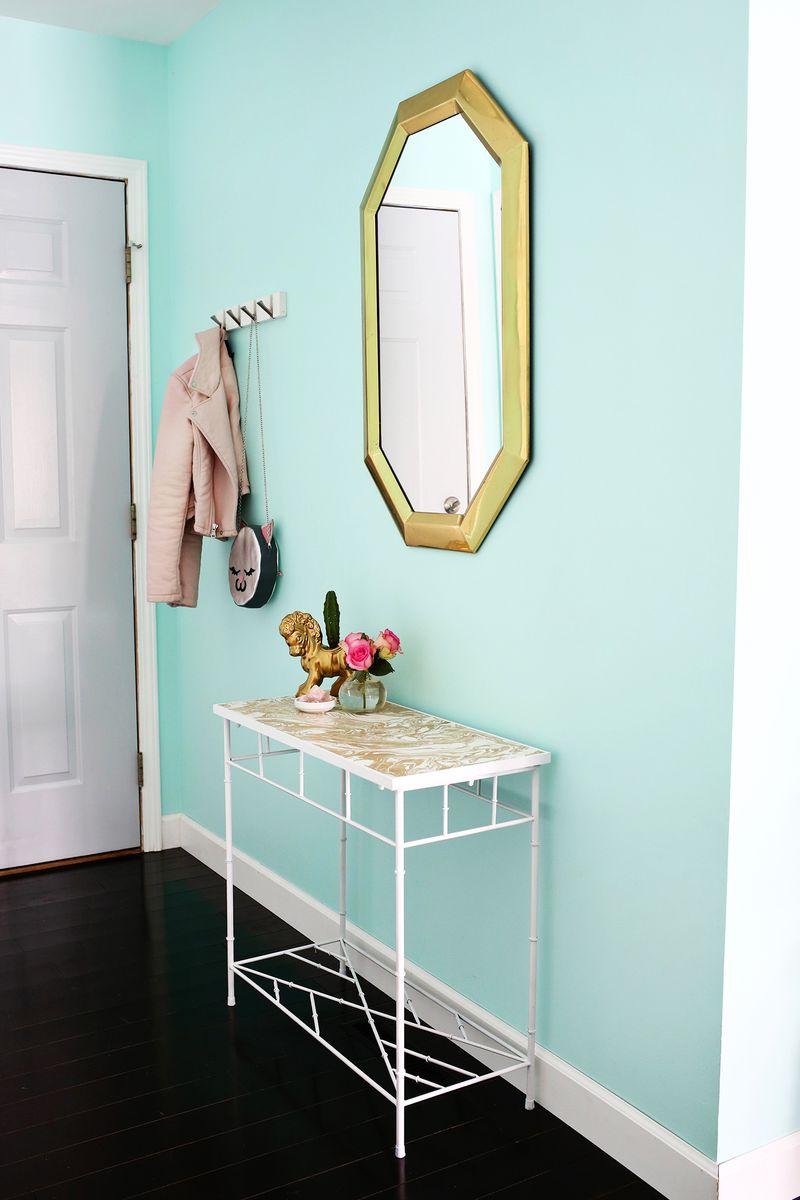 Minimalists, we've come up with a wonderful idea you can use to decorate your entryway! It includes a small white table that will match every space you place it, and a classical wall-mounted mirror you'll fall in love with immediately! Don't hesitate on getting one of this for your house and turning it into a beautiful classy home with a hallway that leaves a clean and lasting impression.
28. Small Entryway Rustic Table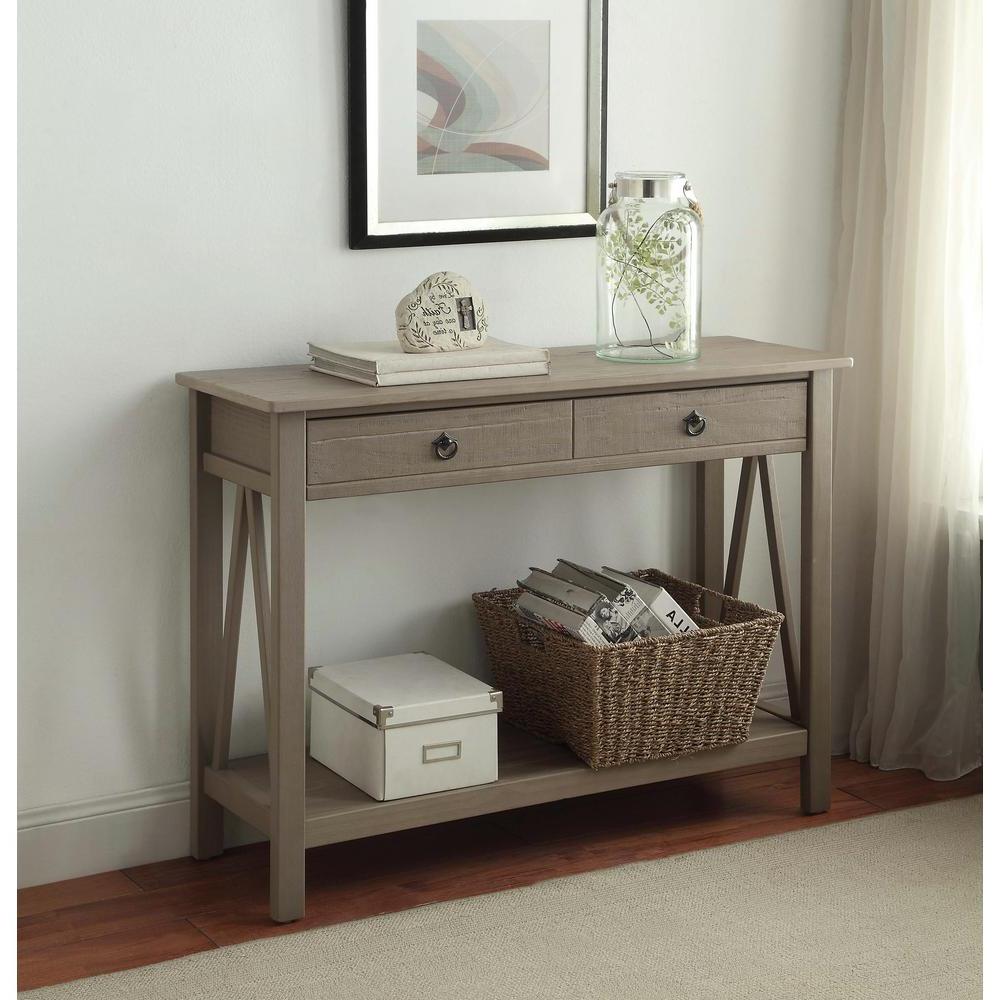 Getting back on the Rustic furniture, we have this small and simple yet irresistible rustic table in pale gray as an idea for your new entryway decoration; you can also place it in your living room and enjoy your new perfect piece of furniture. The lower part of the table can stay empty or be used as a book storage in a basket – a detail that gives the whole table an even more rural aspect. A furniture like this will impress you every time you enter your home and make your future visitors jealous of your new lovely rural table.
29. Small Entryway Table Ideas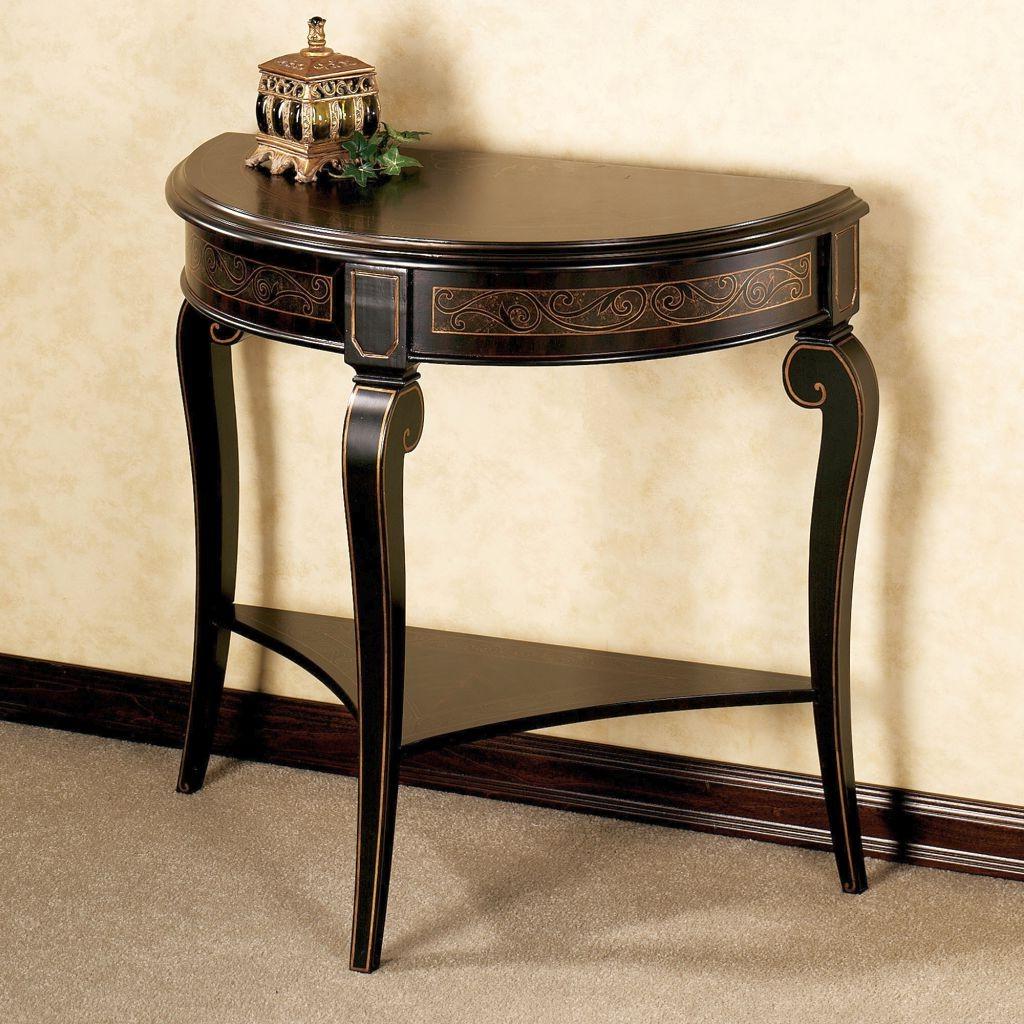 If you liked our ideas for you hallway decoration by far, then you're going to love this one! You can't imagine a more simple yet classy table than the one we have to offer. This space-saving half-rounded table with elegant decorations will fit perfectly if you live in a small house or a small apartment. Only one ornament placed on its surface is enough to make a striking piece of furniture for your entryway and leave a lasting impression at your guests.
30. Solid Wood Storage Bench Set For Entryway Decoration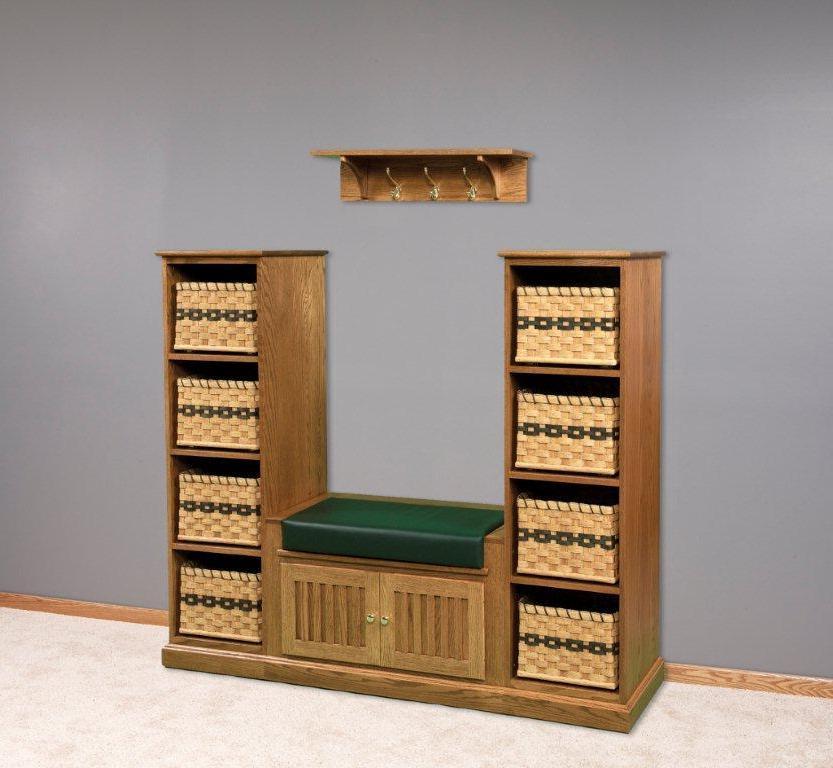 When you think you've seen it all in furniture, there comes this Solid Wood Storage Bench Set that will prove you wrong! A three in one piece of furniture that will definitely catch your eye due to its simple yet perfect design. Practical, useful and most important of all – ideal for using your free hallway space. The many cubbies are perfect for clothing storage and saving some of your primary closets. Aside from every benefit, you get from this Storage Bench, you also have a comfortable one seat cushion for resting or sitting while you tie your shoes.
31. Traditional and Rustic Entry Decorating Ideas With Coat Rack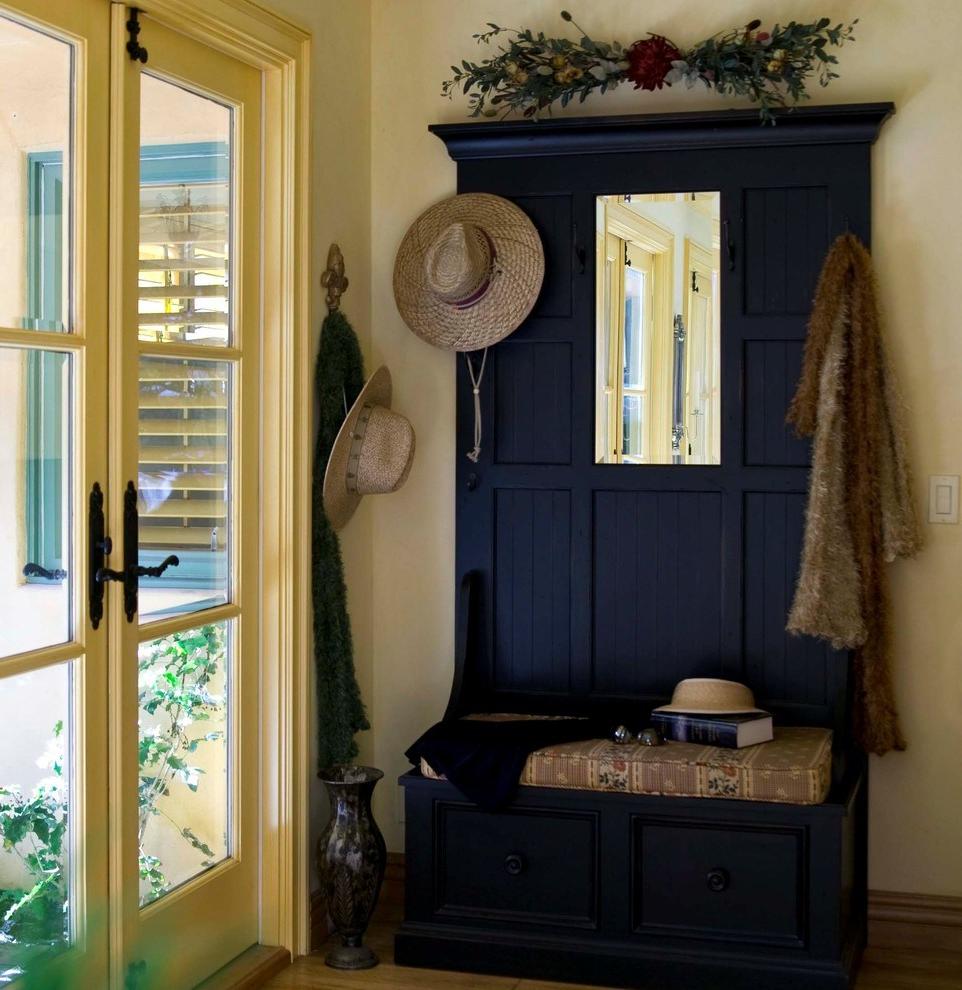 If you're looking for the perfect entry decoration with a traditional and rustic style – this entryway furniture idea is beyond your expectations! A simple, classy piece of furniture in dark blue with a coat rack that will fit your hallway perfectly. Just looking at it, makes you gasp and say "wow" and we know it! Don't hesitate on getting one of these for your home and leave your visitors jealous and astonished.
32. Traditional Entryway Design Ideas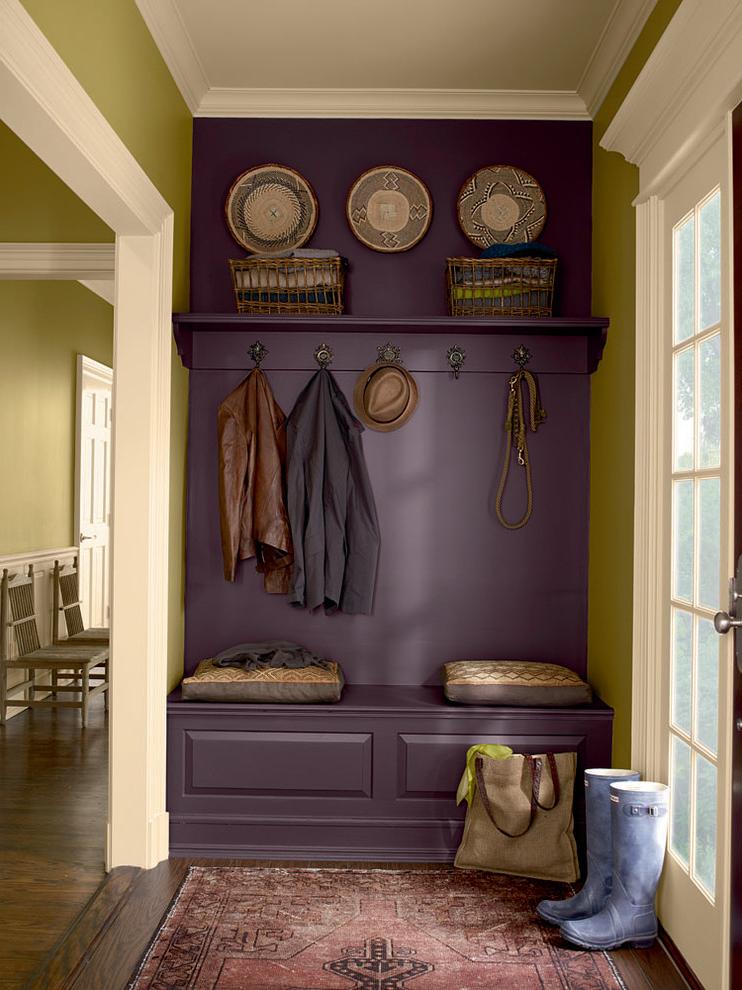 A dark violet traditionally designed furniture for your entry that leaves the impression of walking into a cozy and clean home. The many coat racks and sitting bench with a few pillows make this furniture a practical piece that can be used for filling up your empty hallway area. Nestled between the walls, this storage bench will not only serve as a useful component but also as a decorative piece of furniture for embellishing your entryway.
33. Transitional Entryway Furniture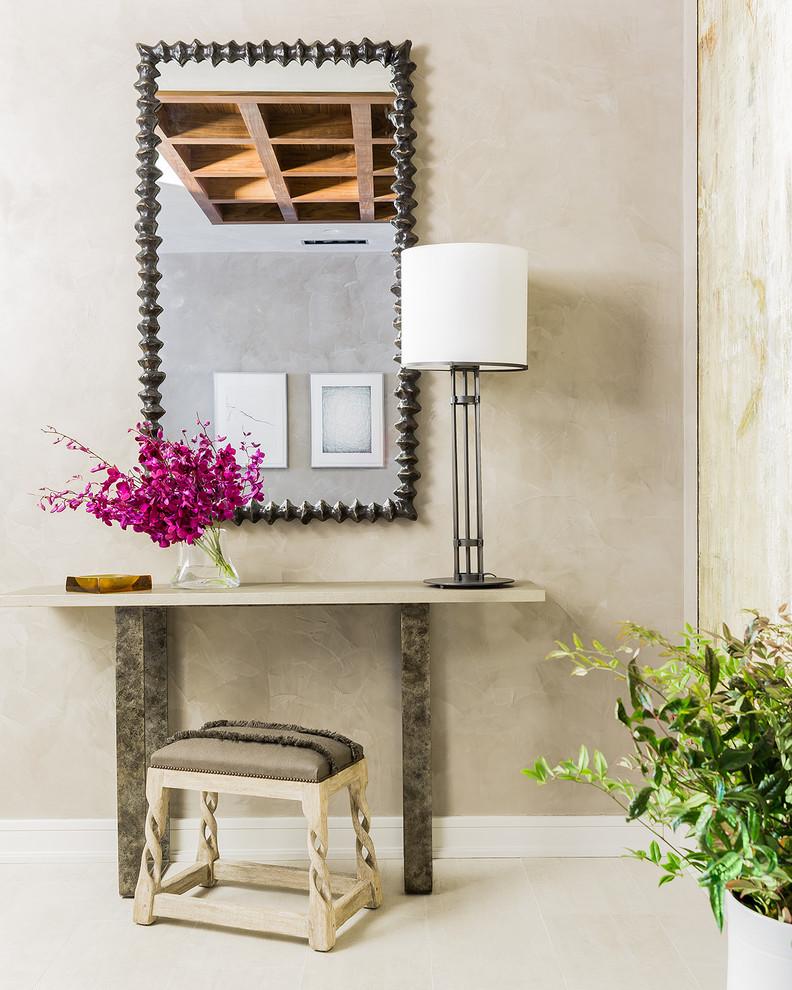 Ladies, we've just found your perfect transitional furniture that screams "BEAUTY" and "CLASSY". A simple table with a wall-mounted decorative mirror and a tiny wooden chair that will win your heart. This combination can be used as a decoration to your home's entry without the chair, or as a furniture for your bedroom which can be useful for when you're getting ready for an evening party. Either way, this charming furniture will perfectly fit into the home of the ladies who tend to perfection and simple beauty.
34. Tropical Entryway Furniture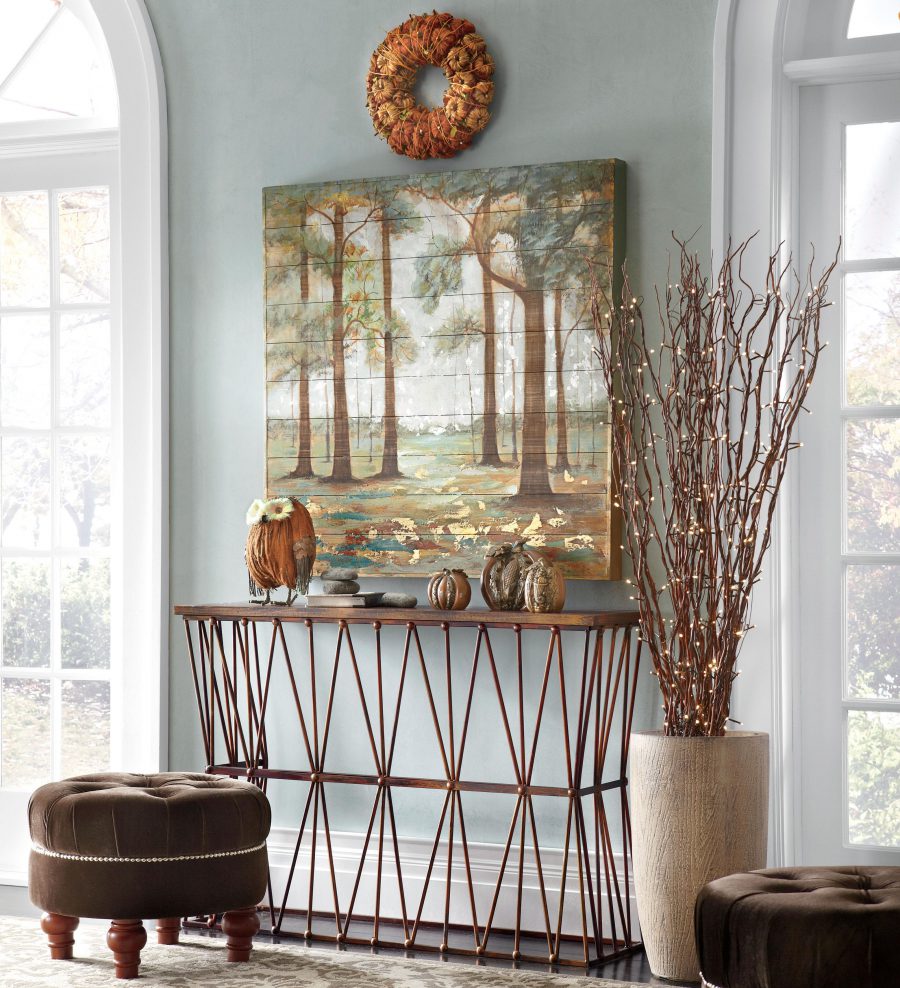 You just can't stop looking at the tropical furniture, are we correct? Of course, we know because we couldn't either when we saw it for the first time. Imagine having this in your home as a decoration to your entryway or simply use it as a piece of furniture for our living room. The perfectly crafted table in brown with its interlaced details and the painting above are just a perfect combination with a striking appearance. If you have a free space in your hallway you don't know how to fulfill or a place for this beauty somewhere in your living room, don't hesitate on getting it and impress your guests next time they visit.
35. Tuscan Entryway Furniture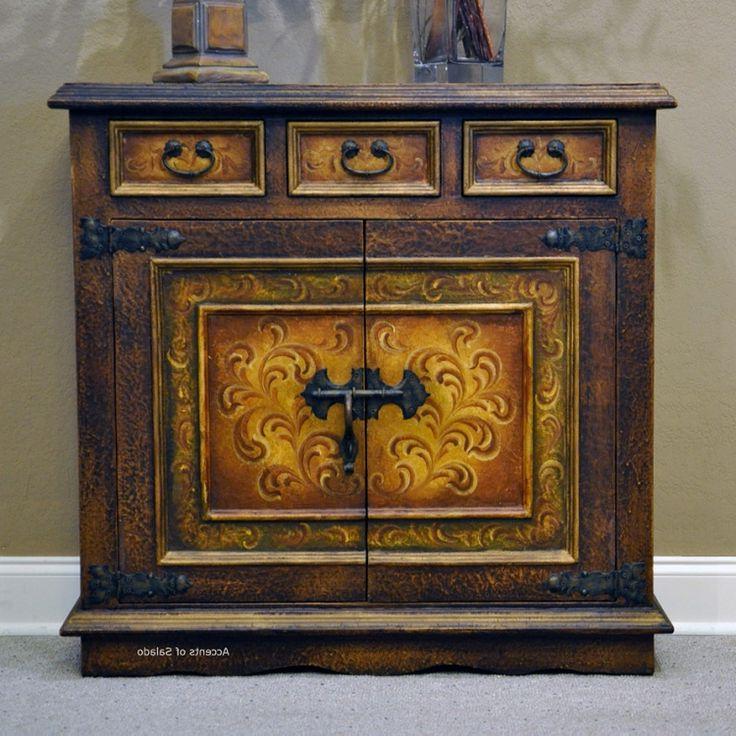 Evoking the spirit of the Italian countryside, the Tuscan furniture whispers of history and homeyness. A square-edged small piece of furniture in shades of brown that's just perfect for small home entryways or small apartment hallways. Aside from its unique Tuscan decoration, this desk-like furniture has two wickets that open, showing empty space that you can use to store your books or other daily items inside. Don't miss the chance to embellish your entry with this extravagant furniture with earth tone colors that will bring a touch of the old-world charm in your home.
36. Unusual Entryway Furniture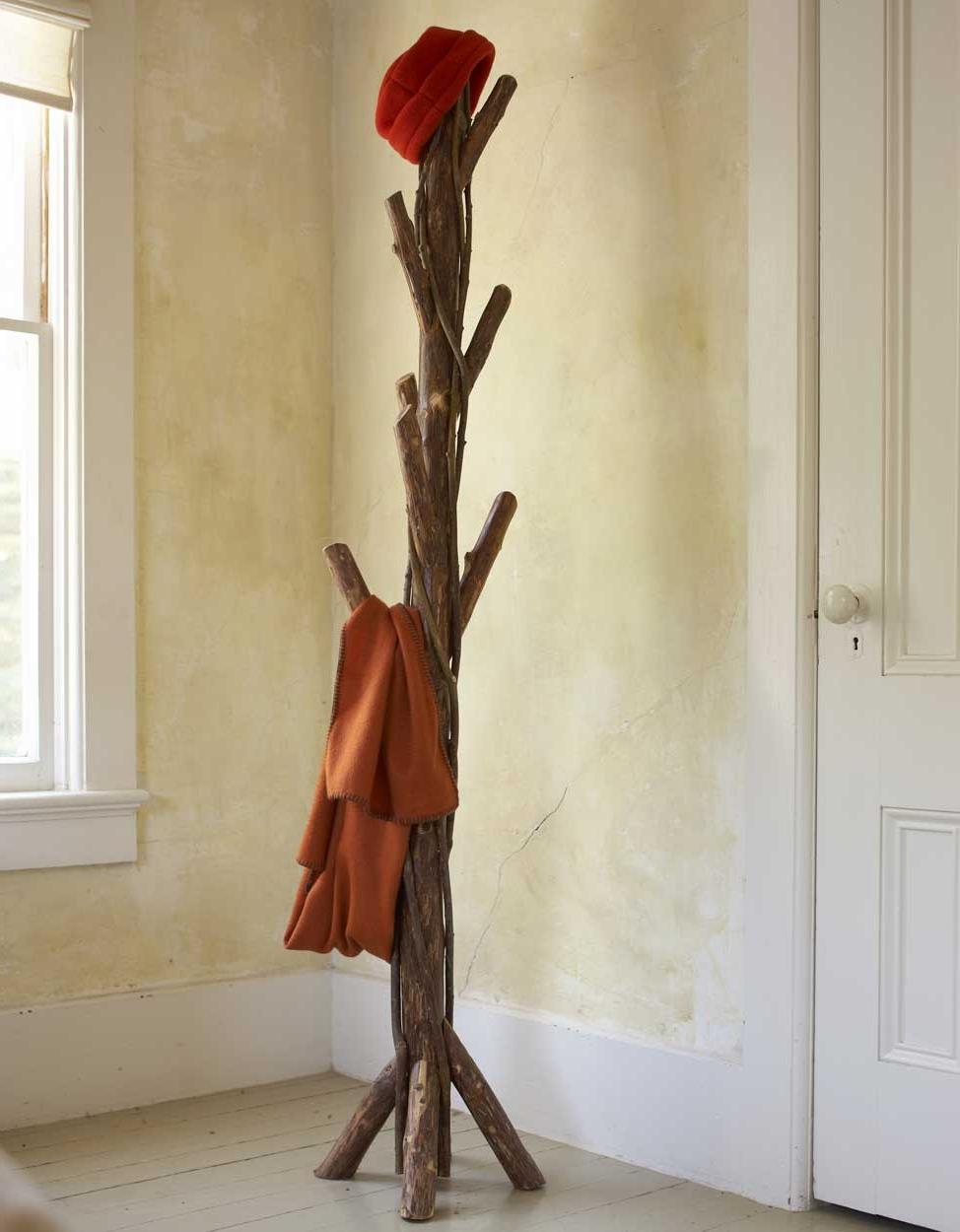 Nature lovers and artists, we've just found your new favorite rack for your hats, coats or scarves. It remains as an unusual entryway furniture idea due to its tree-like appearance giving you the feeling you're entering nature once you enter your home. Anyway, with a little inspiration, we're sure you'll find the right spot to place this amazing piece of furniture that will bring you close to nature and its beauty. Having this rack at home means becoming more aware of the beauty in everything that's surrounding you all the time. Happiness is in the details, remember.
37. Victorian Entryway Furniture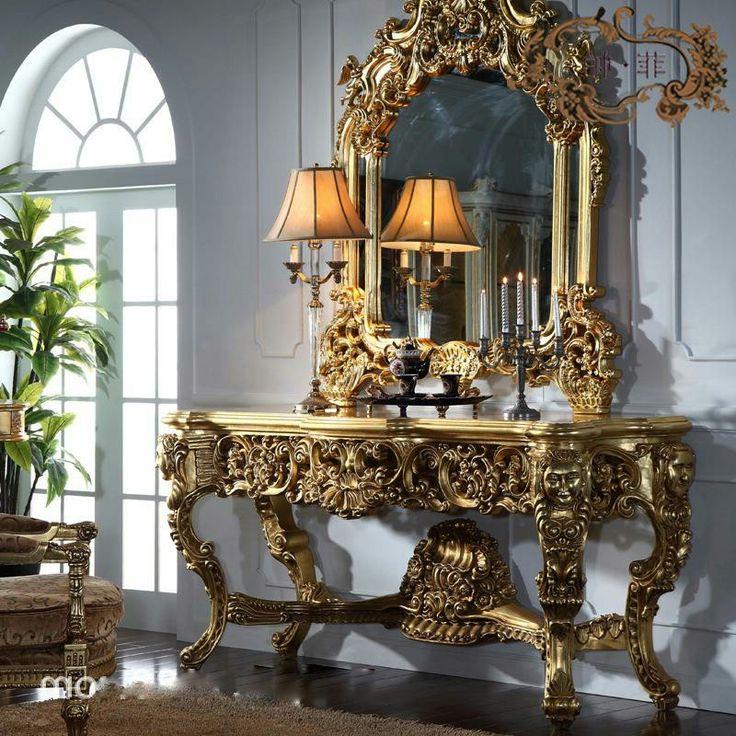 The Victorian period was known for the tightlacing trend, as well as for the women who were rather humble and decently dressed, however, those aren't the only marks of this era. People back then were also known for their overly adorned taste about everything, including furniture. Aside from the fact that they didn't like simple things, we must admit that their complex furniture was absolutely stunning. Today, we've decided to represent you an idea that includes a Victorian furniture in decorating your hallway. If you have a large untapped space, then the Victorian pieces of furniture like this one will definitely bring back the old Victorian charm back in your home. However, not every home is decorated to fit this kind of a table, so have in mind that some of the furniture must match this golden beauty. Her golden touch will cuddle your eyes every time you enter your home; you can also use it as an ornamental piece of furniture for your living room.
38. Vintage Entryway Furniture Design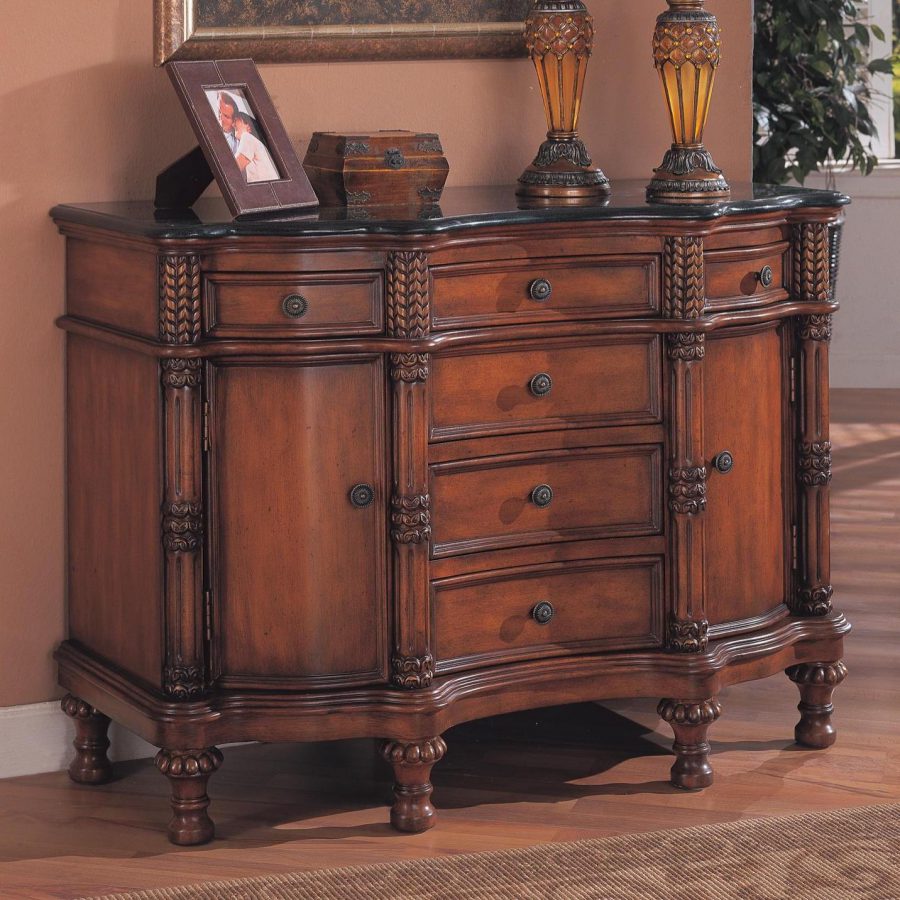 A reminder of old times when vintage desks were modern, this one will bring the old-time charm into your home. This vintage entryway furniture is a blending mix of something old and something new giving you the kind of look you can love forever. The many wickets are just an extra detail that will make you want this vintage piece of furniture even more. If its large size is perfect for your unused free space in your hallway, don't hesitate on getting it and embellish your home even today.
39. White Entryway Furniture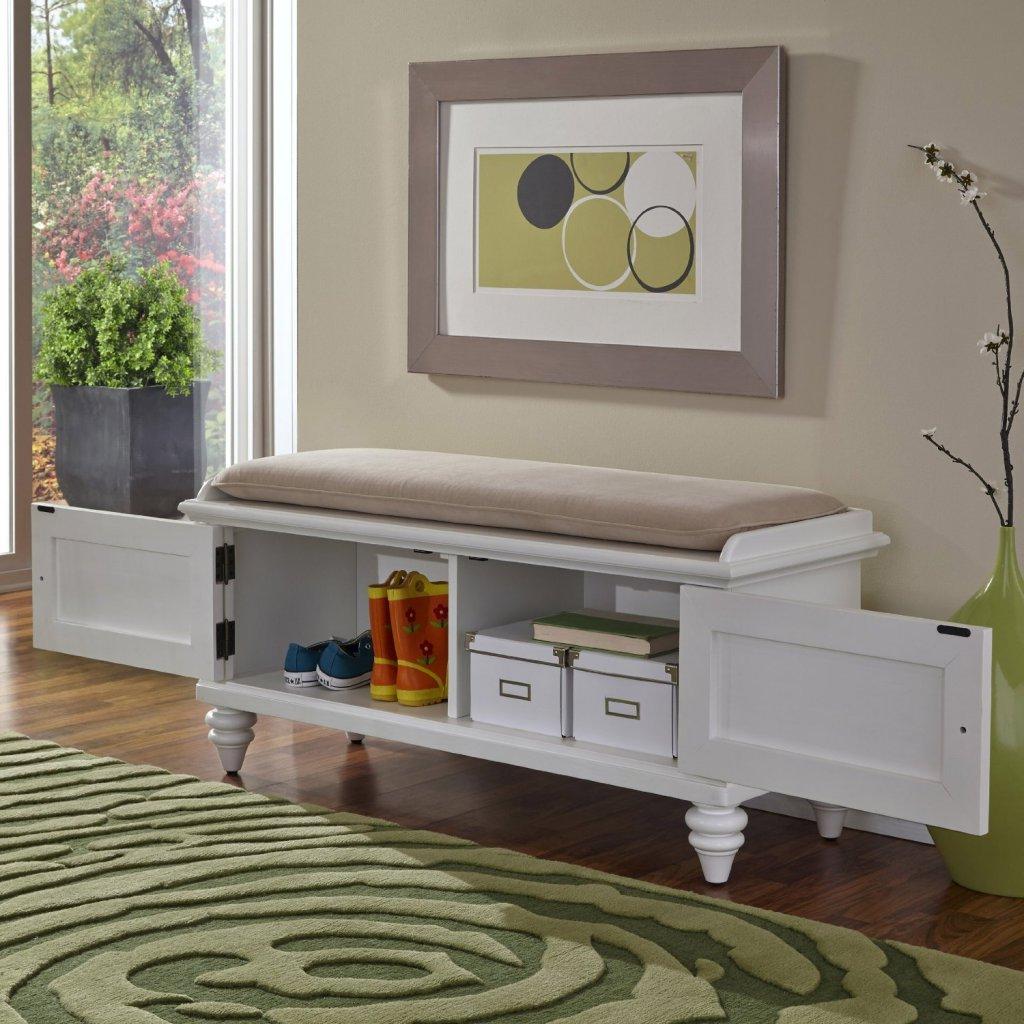 You're looking at the probably most practical piece of furniture ever. The bench-like white furniture with a large cushion for resting and the wickets that open and show a large space you can use for shoes or books storage is just perfect. Although it's intended as a decoration to your entryway, no one can't stop you from placing this lovely piece of furniture in your living room and enjoy its practicality. No matter where you put it, adding a painting or a picture above this white entryway bench-like matching its color will embellish your living room or hall space even more.
40. Wicker Entryway Furniture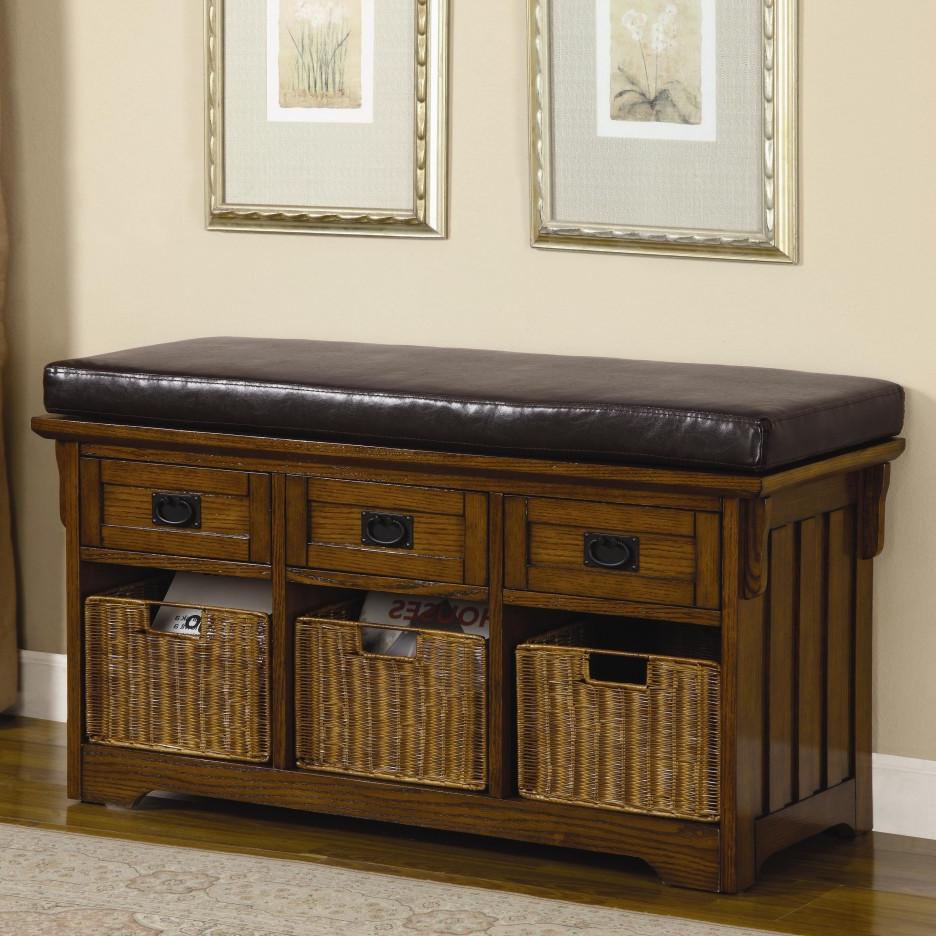 Seems like our last ideas are the most practical ones, showing you that except for embellishing your space, the furniture can also serve you as a useful storage piece. For example, this Wicker Entryway furniture is one of that practical furniture you'll fall in love with. If you're not yet, just check out the upper part of the furniture covered with a leather material, resembling a cushion. This means that except for decoration, the furniture can also serve you as a resting place; however that's not everything this brown wooden furniture has to offer; there are also the few baskets placed on the inside. You can use them as a storage place for your blankets, books, scarves, hats, gloves or other daily items and clothing. No matter the use, this wicker furniture will definitely embellish your home and will delight your guests with its splendor.
40 Mind Blowing Entryway Furniture Ideas to Welcome Your Guests
We hope we've helped you with these ideas of decorating the entry of your home and embellish your hallway. Mixing all kinds of style that will fit everyone's taste, we've presented you some rustic, vintage and classic furniture, including tables, half-rounded tables, benches with practical use, mudrooms, storage furniture, metal furniture, a simple idea for decorating your outdoor entryway and other. No matter which idea you chose, you won't make a mistake because each is simply perfect and unique in their own way, just like us humans.