If you are looking for some of the best ideas for kitchen cabinets then we have got you sorted with some of the most excellent ideas. In here you will find some of the most unique, stylish, contemporary, and modern styles that you can install in your kitchen for the best looks. Do you want to completely change your kitchen cabinet? Do you want to just remodel? Whichever you want we go you sorted in this article for the 50 Best modern kitchen cabinet ideas! All you have to do is just sit back, relax and get spoilt as you explore through these eye catching ideas that are suited or a king/queen.
Check Out The Picks of Our 50 Best Modern Kitchen Cabinet Ideas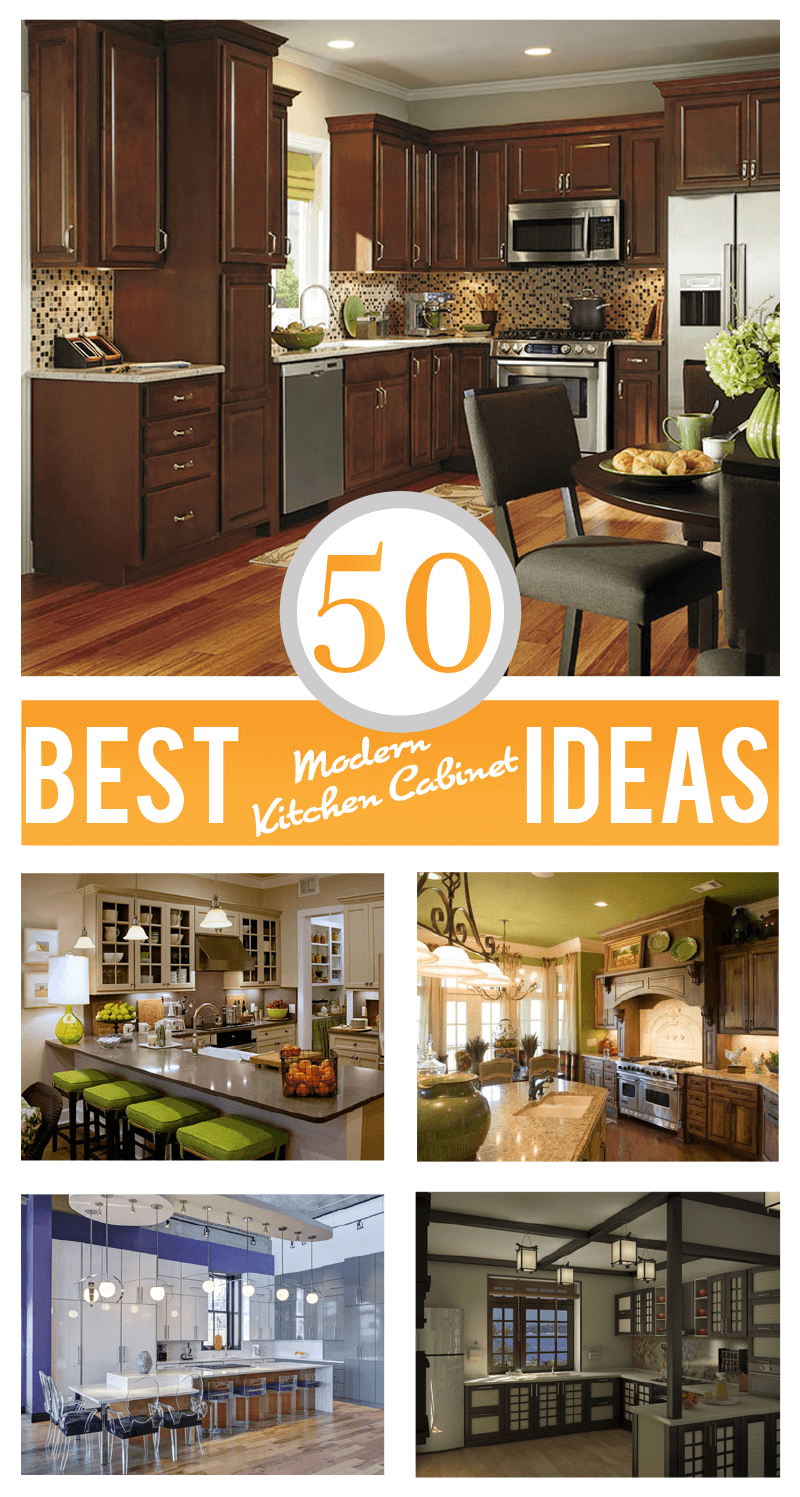 1. Modern White Kitchen Cabinets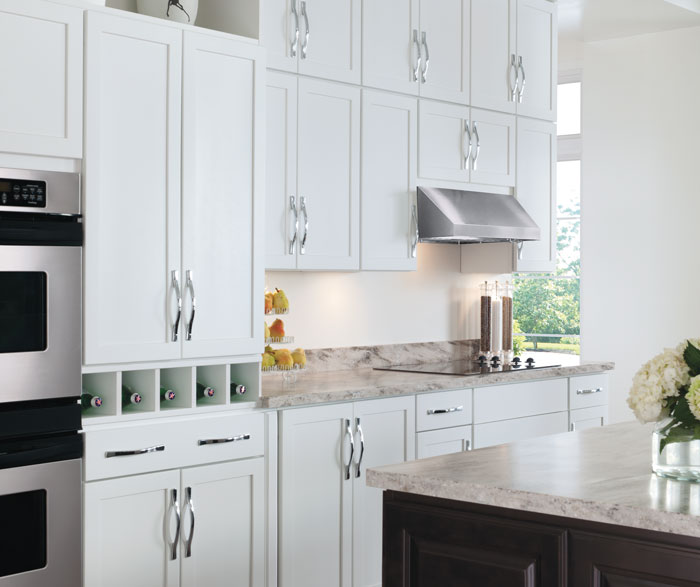 Source:
When you feel ready to make a true statement in your kitchen then you can go white! You could either paint your old kitchen cabinets to white or just purchase already painted white kitchen cabinets. This finished white cabinet look is definite turn heads and bring about a high level of cleanliness to the entire kitchen. This particular white kitchen cabinets have been finished off with a silver metallic handles however you can use any colors of handles of your choice and they will still match perfectly. When thing about choosing white kitchen cabinets is that you need to make sure the kind of material used won't easily get stained or even scratched so that you can maintain its beauty throughout.
2. Unfinished pine kitchen cabinets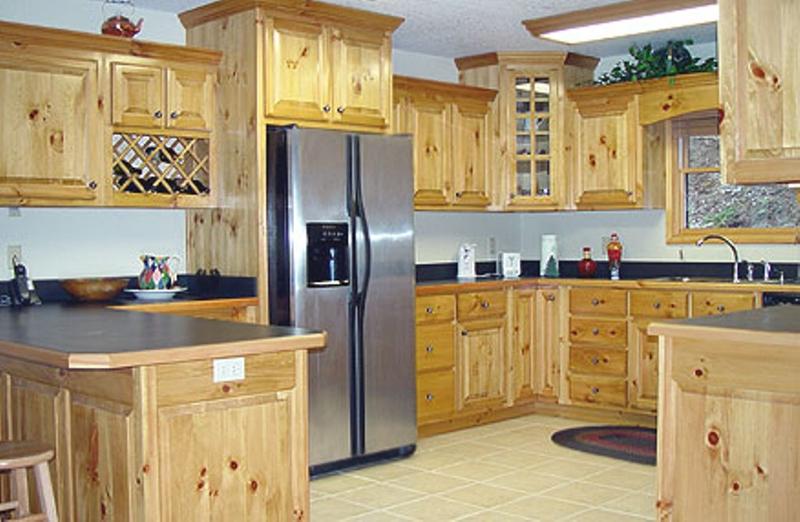 Source
If you want to always benefit from a warm and comfortable rustic feel while at the same time have a cottage inspired kitchen style then look no further than this unfinished pine kitchen cabinet. This will assist you in the process of creating a natural kitchen with a rustic style because of the nature of the wood used that is very flexible and rough.
3. knotty pine kitchen cabinets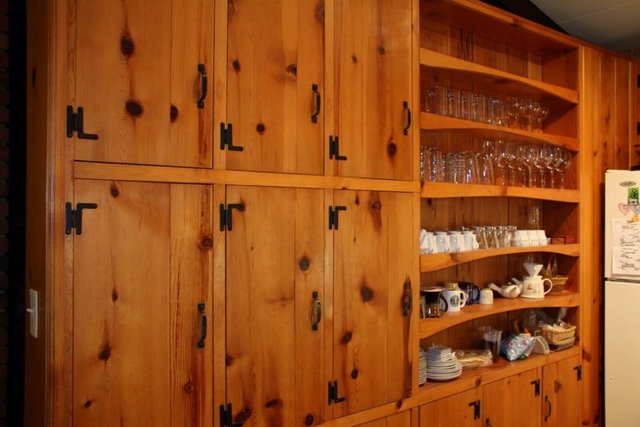 The reason why knotty pine is highly appreciated is due to its distinctive wood grain and natural whorls referred to as knots that help it create a rustic look. If you want a smooth surface then you will have to sand it and then after you can use nearly any stain on knotty pine through selecting the color and finish that will suit the room kitchen best. Another important thing about choosing a stain in knotty pines is that you have to carefully consider the generally effect that you would like to achieve in your kitchen or space.
4. Black kitchen cabinets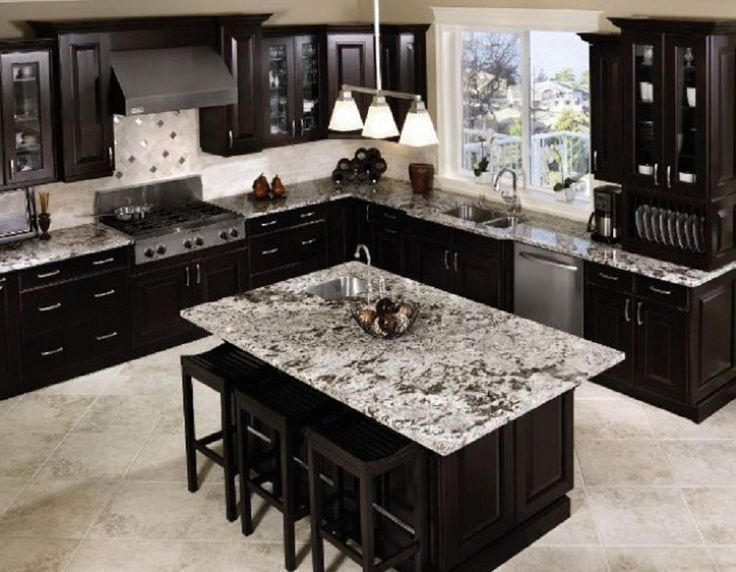 Source:
The beauty about black kitchen cabinets is that not only will they look unique, but they also have the ability to hide stains and other damages. They have a way in which they will bring out the color of the wall painting and other things making them appear brighter. Plus they will also make the kitchen smaller than it actually is. When you are painting your cabinet to black make sure you choose high quality paint or you can purchase the cabinets that are already painted black
5. Traditional kitchen cabinets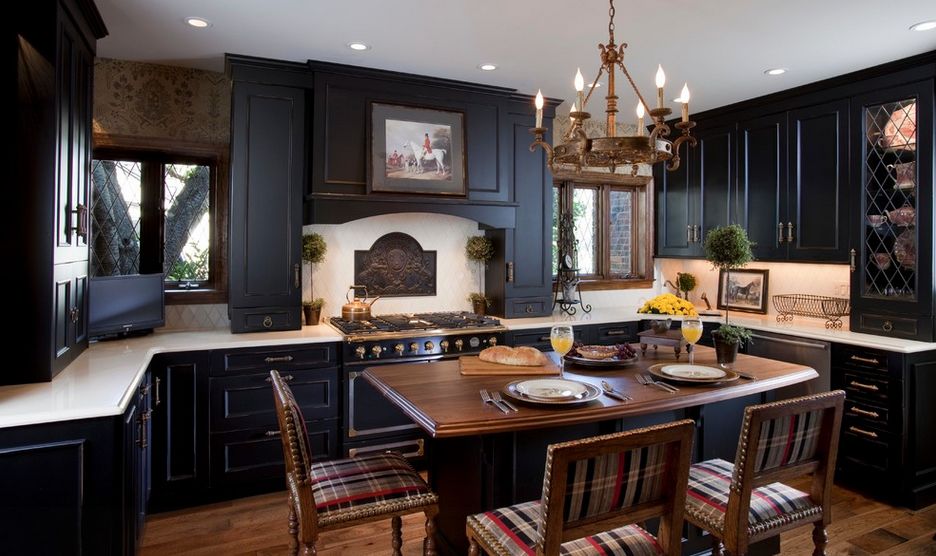 Source:
If you want functionality to meet elegance in your kitchen then you need to go for the traditional kitchen cabinets. They are still one of today's most popular designs due to their ability to pull of a timeless design elements along with classic details. Pictured above is a black colored traditional cabinet with woods tomes that are warm and contains earthy hues that are paired with the distressed color so as to balance everything out perfectly.
6. Wood kitchen cabinets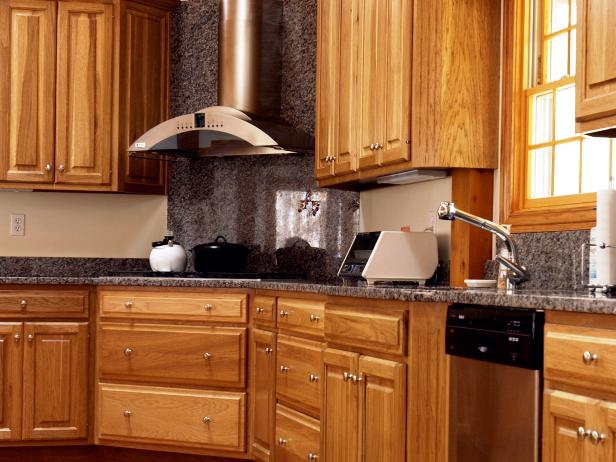 First of all, wood is the most common material that is used for kitchen cabinets mainly because of the wide range of qualities, styles and finishes that are available. The best part is that it also has the ability to create truly custom designs. Now maple wood has an attractive grain, is intricate, resistant to scratching and cracking due to its toughness. Then the oak wood is inexpensive and abundant plus has a strong composition and unique grain while the cherry wood contains a rich tone and will darken as time passes by especially due to exposure to light plus its softer as compared to maple. Finally, the birch wood has a high rating in regards to choice for cabinets due to its smooth texture as well as ability to hold stain. So if you are looking for wood then you can choose among these types mentioned.
7. Birch wood kitchen cabinets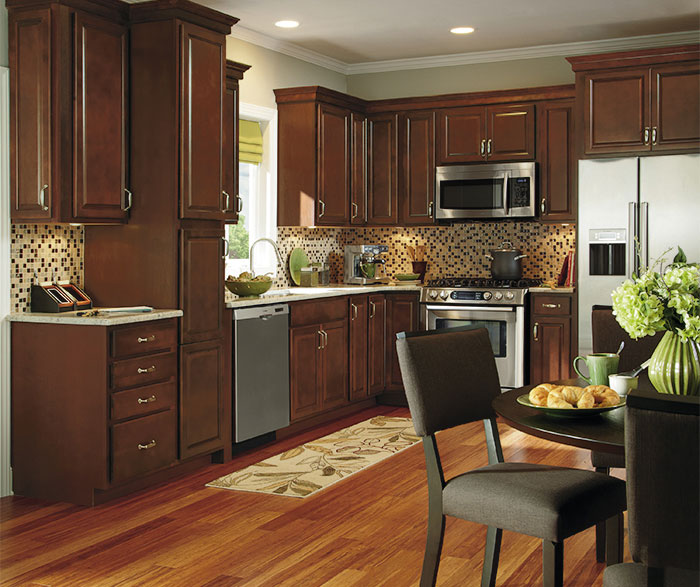 The birch wood is basically a plentiful hardwood that is obtained from the Canadian and northeastern united states forests. If you are looking for affordable kitchen cabinets then this would do because of its abundance. Its wood is pale like pictured and contains a slightly yellowish cast. It makes the best natural finish and will exhibit a very straight and natural uniform.
8. European kitchen cabinets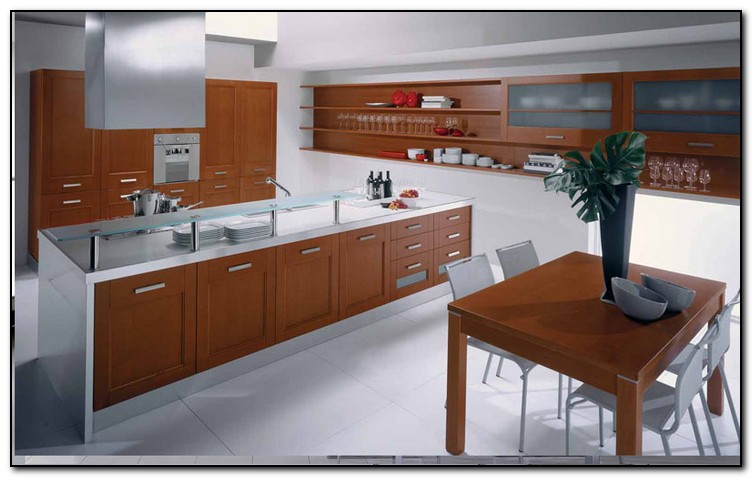 Source:
Now the European style cabinets are constructed with a higher level of modular craftsmanship that is used by European cabinet makers. One of its unique characteristics is that they incorporate hidden hinges on them. The hinge style is so identical with this style of cabinetry and the through using this hidden hinge, the European style cabinets are more expected to have no frames so that the storage space as well as access is maximized while the weight minimized like as you can see pictured above. Most of these cabinets have horizontal graining and a modern styling as their identical characteristic.
9. Stainless steel kitchen cabinets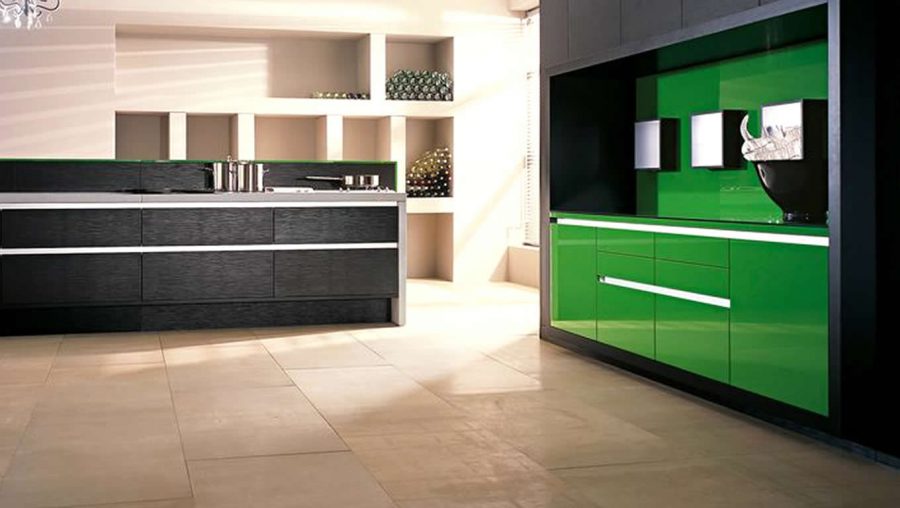 Source:
Apart from stainless steel kitchen cabinets being extremely easy to clean, they are also very durable and are sanitary material which is a very important feature for a kitchen that is frequently used. If you are an earth-friendly homeowner then this is a better choice for you because stainless steel kitchen cabinets are considered to be green products which mean you can recycle them and they are non-toxic as well as simple to clean without any use of harsh chemicals. If you have an outdoor kitchen then this would be a great pick because of their ability to hold up quiet well against the elements. In the picture above, the green color brings some warmth to the kitchen.
10. Oak kitchen cabinets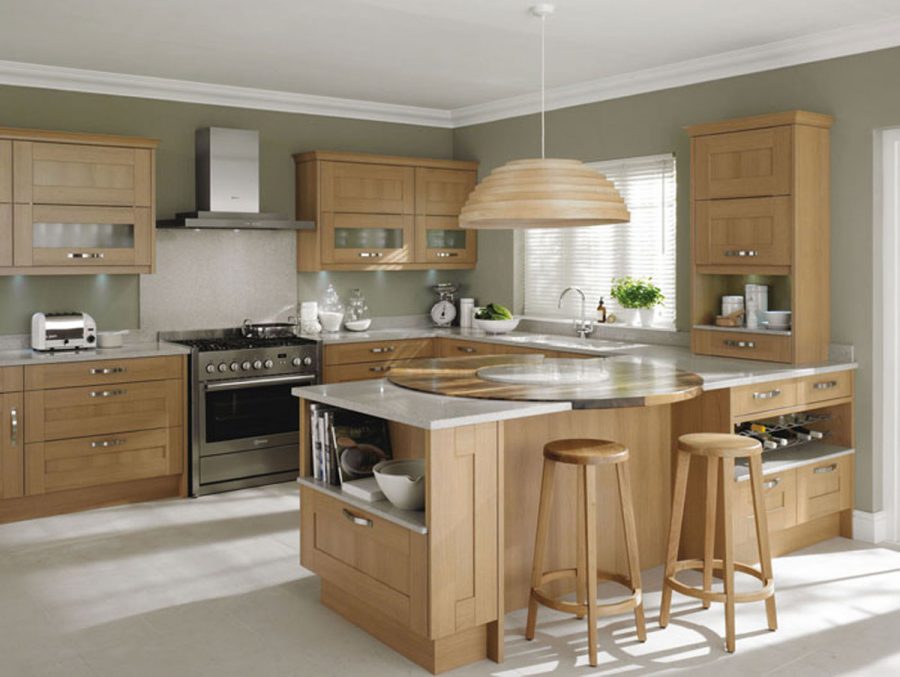 Source:
Oak Kitchen Cabinet is one of the best pick of our best modern kitchen cabinet list. It is mainly because they are not only affordable but very durable as well. Actually oak is the most widely available wood and they have a wide diversity of cabinet styles. Another reason to love the oak kitchen cabinets is that they have a coarse texture and highly visible grain pattern that most people prefer. The image above is a clear example of the best oak kitchen cabinet.
11. Pecan kitchen cabinets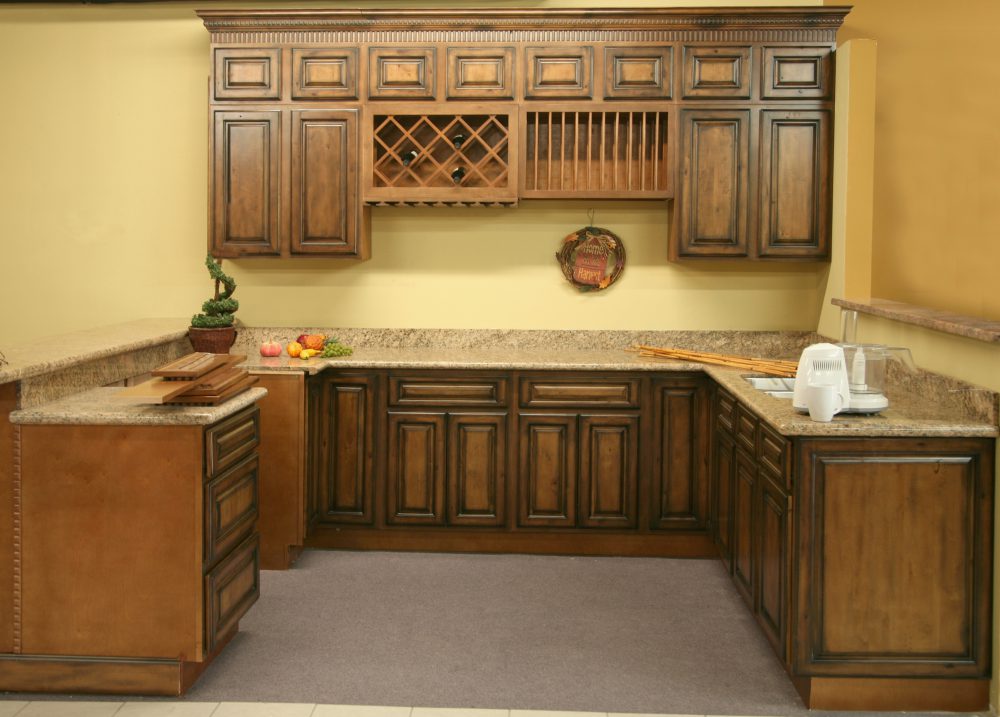 Source
One of the reasons why people like the pecan wood cabinets is because they do come in a variety from the blonde or white to the reddish brown and dark brown like in the image above. It has very dramatic wood colors that are within a piece that come in courtesy of this wood type's sapwood or heartwood. In image show a Rustic Pecan kitchen cabinet which is more radical in color as well as grain variation as it features wavy and irregular patterns. These random knots, mineral streaks, wormholes, picks and burls do add a natural charm and rustic outward show to it.
12. Contemporary kitchen cabinets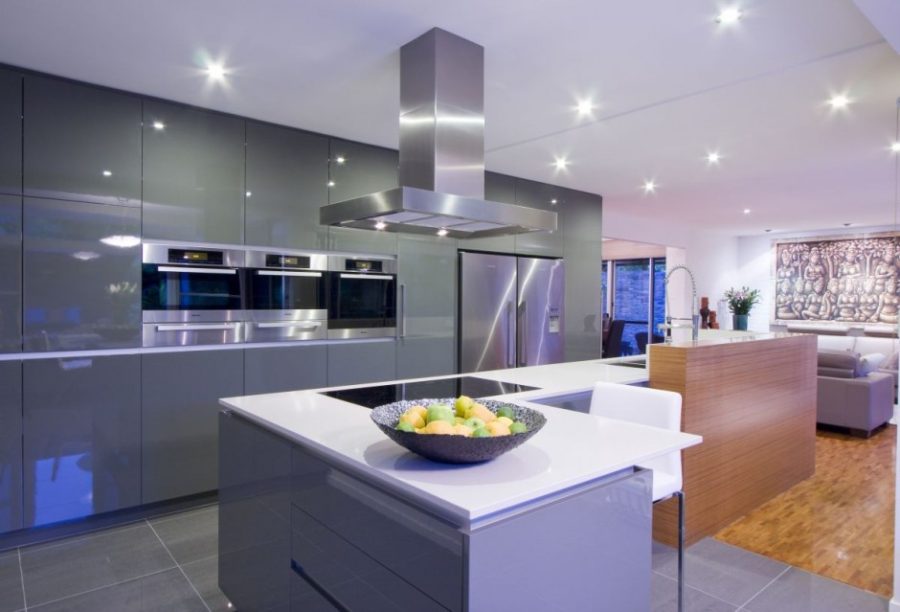 Source
First of all contemporary means a design that is current to the present time! Contemporary kitchen cabinets don't have any raised or crowned panels but rather they have flat surfaced with simple and sleek hardware without any other decorative accents. This makes them perfect for small kitchens or tight spaces. Most materials used in these cabinets are man made like for instance metals, glass, concrete and plastic.
13. Semi-custom kitchen cabinets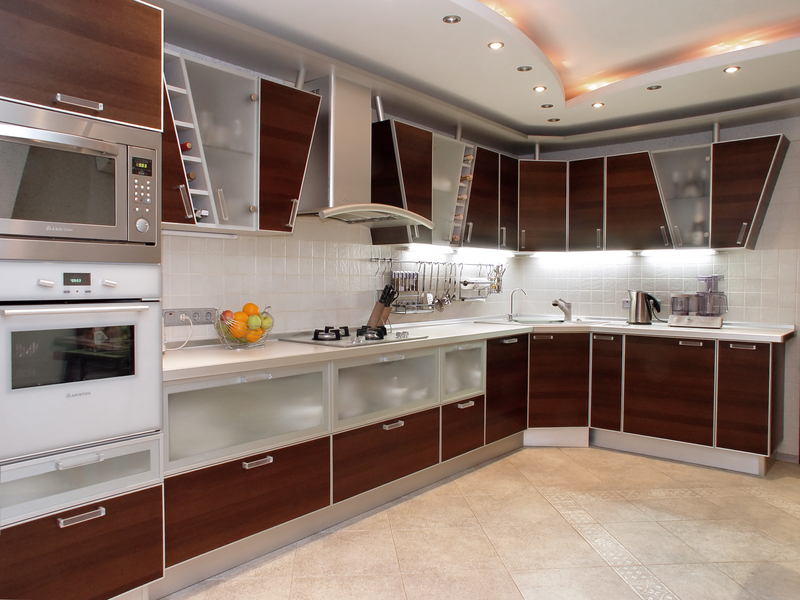 Source:
Semi-custom kitchen cabinets also sometimes known as the hybrid solution is basically a combination of your existing pre-made or even pre-fabricated materials that are already installed into your kitchen with a built to order custom cabinets. The good news is they are constructed with high quality material like plywood that is sourced from North America. In the image above, there are cabinets that are with wood and knobs and then others with glass making it a perfect blend for a modern kitchen. These cabinets will provide additional storage depending on your kitchens dimensions. Also the existing cabinets will be refaced well so as to match the new ones.
14. Vintage kitchen cabinets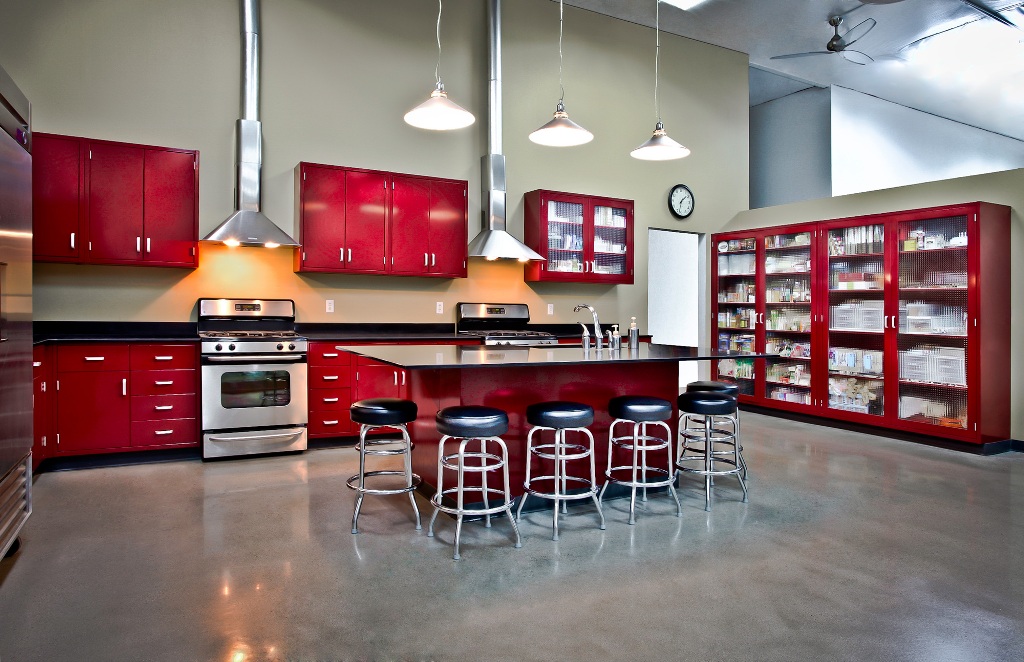 Source:
You can recycle or refinish old cabinets in an expertise way that will make it look updated and stylish. When you comes to vintage kitchen cabinets, all you have to do is play around with the finishing to achieve something that everyone will one and admire. Like in the image above, the cabinets have been polished to create a very smooth surface and then they have been painted to reddish brown that brings out the color of the wall, floor and other kitchen appliances perfectly.
15. Metal kitchen cabinets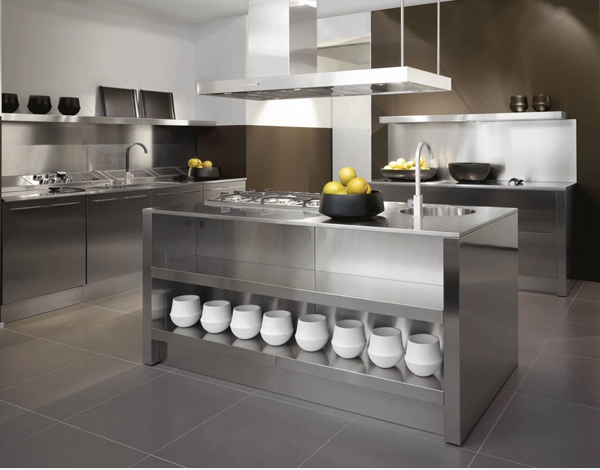 Metal kitchen cabinets are what we refer to as the modern contemporary kitchen cabinets because unlike wood these ones are made using man made materials and in this case metal. They are not new on the market because they were all the rage in the 1930s and 1940s mainly because of their low cost, terrific look and ease to care for. They typically come in white but they can be sprayed to different colors if you like. They might look somewhat sterile and cold but they are extremely east to maintain. The one in the image above is silver painted and it comes some gorgeous brightness into the room.
16. Contemporary Cherry kitchen cabinets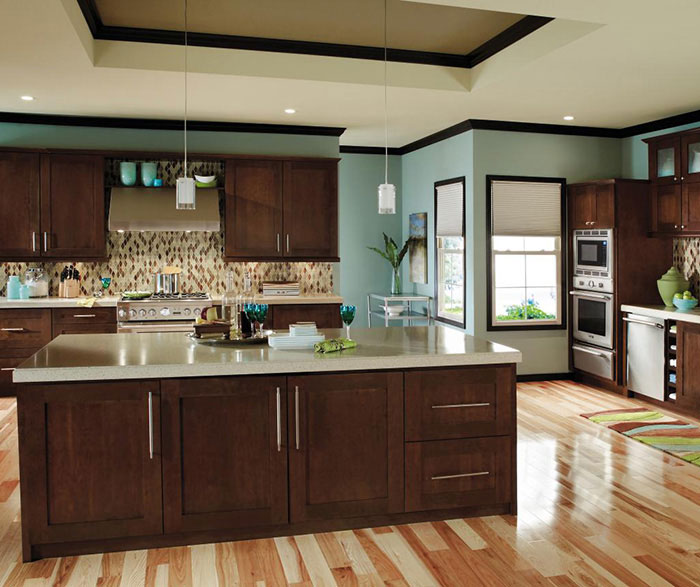 Source:
The cherry cabinets might not be as expensive as compared to other premium woods like mahogany but again is more costly than other lighter woods or cabinets made from the particleboard. One of the ways to go unique is through the contemporary cherry kitchen cabinets as it will bring a modern look to the cherry material. Talk of having the best of both worlds. This cherry cabinet is dark brown in color but will certainly beautiful change color as it ages.
17. Cherry Kitchen Cabinet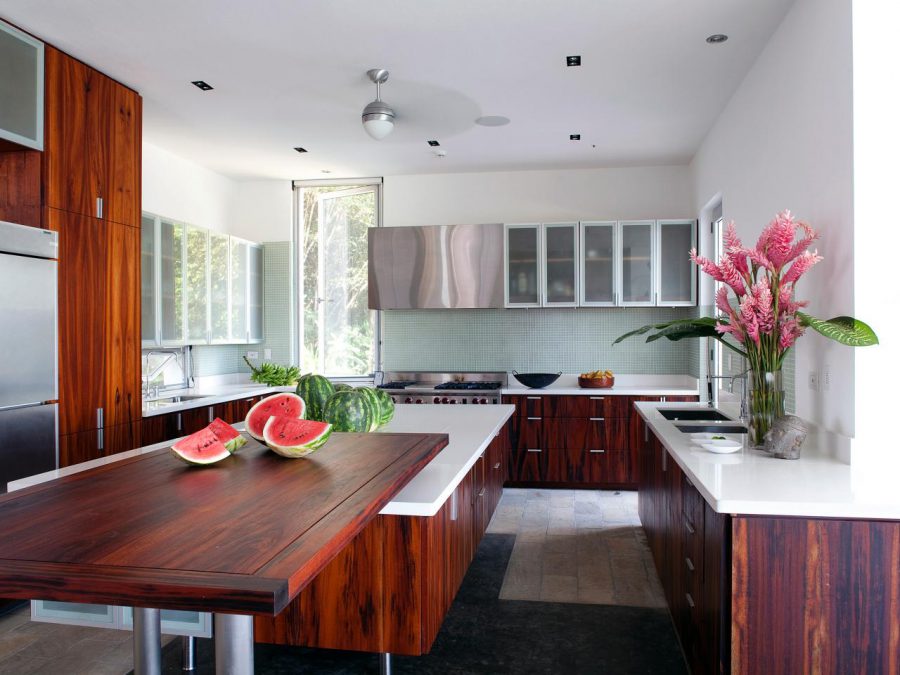 Source:
These cherry kitchen cabinets are associated with warm tones and a rich look and that is why they are majorities favorite. What you should know about cherry is that it tends to have predominantly red undertones but it can change in color from the pale yellow to deep brown like in the image. It a very smooth and satiny wood texture allowing it to allow any kind of stain beautifully and this is how your kitchen will remain looking awesome even after many years of using the same cherry kitchen cabinets.
18. Pull-Out Kitchen Pantry Storage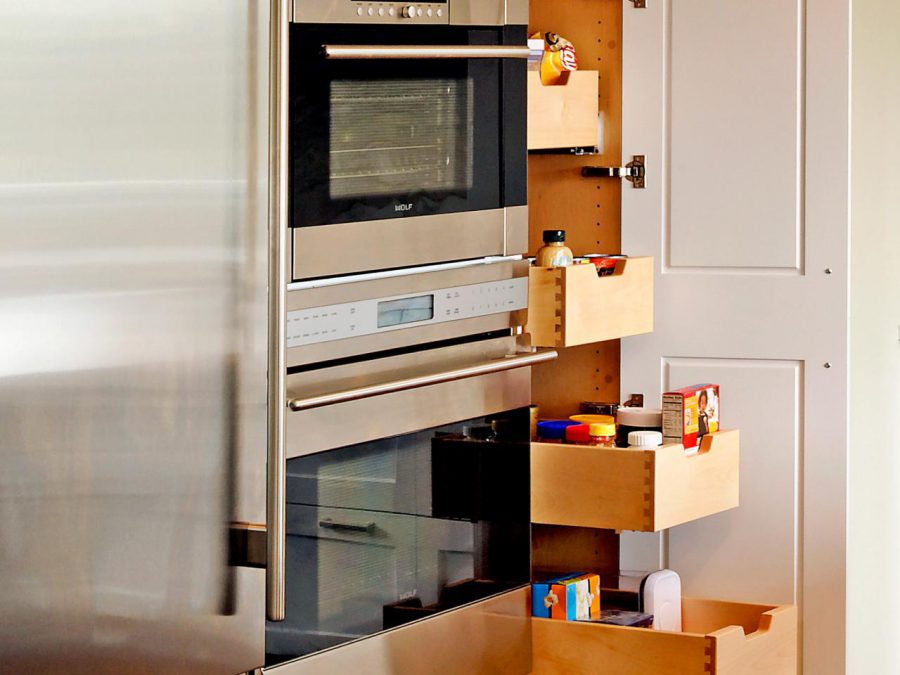 Source:
If you have a deep-set cabinet pantry then the best way to store your dry foods, canned items and even bottles is through installing a pull-out or rollout drawers and trays on the sliders. This is because it will let you easily pull out your food items without losing anything in the abyss of the deep and dark back cabinet. Talk of having easy accessibility! In the image above the pull out kitchen pantry is located to one side and they are arranged in a vertical way saving enough storage space. You will have easy access to the items you need through directly pulling it out or pulling out the pantry for the larger items.
19. Side kitchen pantry cabinet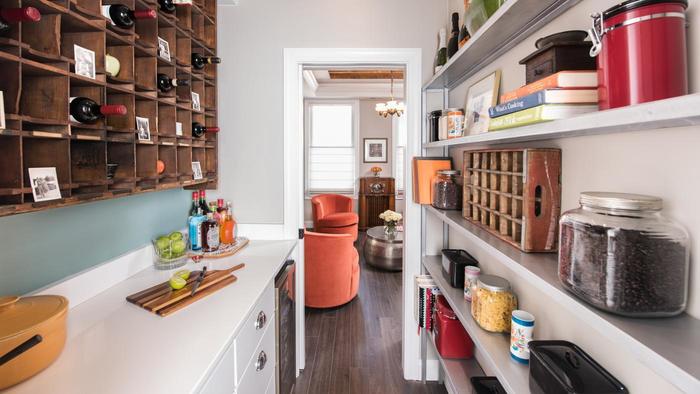 Source:
These side kitchen pantry cabinets are the best especially if you have a lot of items to store and also always require easy accessibility. They are built in a very shallow way with a few inches from the wall so that they don't take a lot of space and that you can easily locate and get you want you want. To one side are the smaller sized wood open cabinets for wine storage and then to the other is a painted wood open pantry for other kitchen related things.
20. High-End Kitchen Cabinets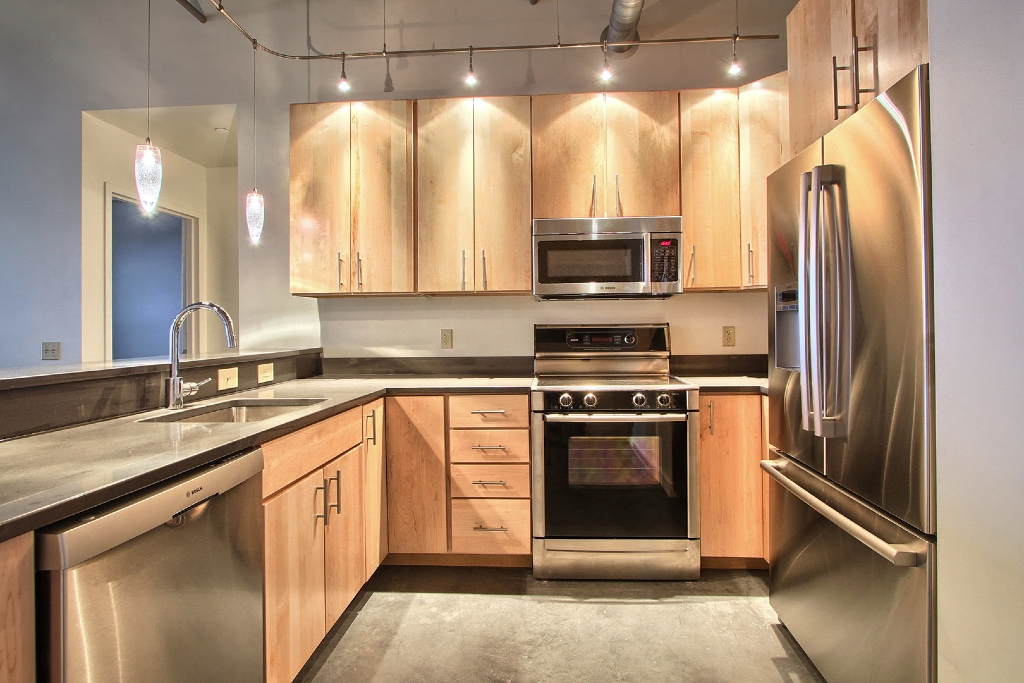 Source:
Forget about the basic granite because you need to have one of the most glamorous kitchens that have features like show-stopping countertops in exotic materials, rich textures and bold hues like the ones pictured above. The material of cabinets used here is very smooth and reflective and that it will it does mirror the lights on it providing the kitchen with a very cozy and calming atmosphere.
21. Solid Wood Kitchen Cabinets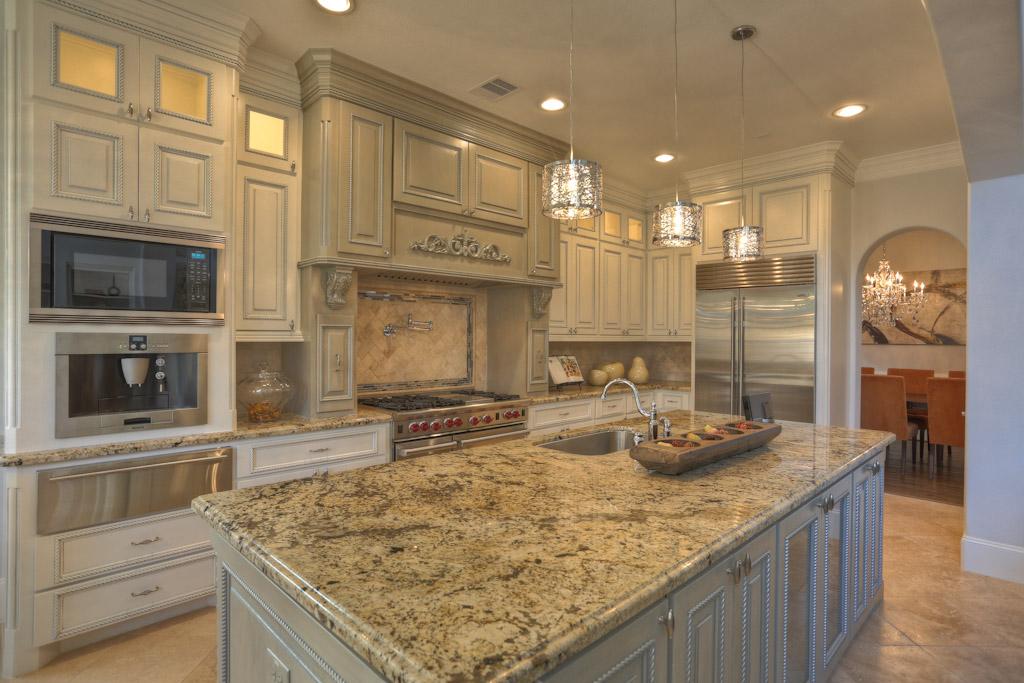 Source:
It is very common to find kitchens today that have been dominated by glass and stainless steel but there is a natural warmth and texture that can only be found in solid wood cabinets like the one picture above. Solid wood kitchen cabinets have features like mineral deposits and knots that greatly play a big role to their beauty and they can be highlighted by glazes and stains. Since solid hard wood changes over time, you can prevent this through maintaining the humidity levels in the room at or above 20% once the temperature is below 20 degree and also when its over 35% once the temperature is above 20 degrees.
22. Custom kitchen cabinet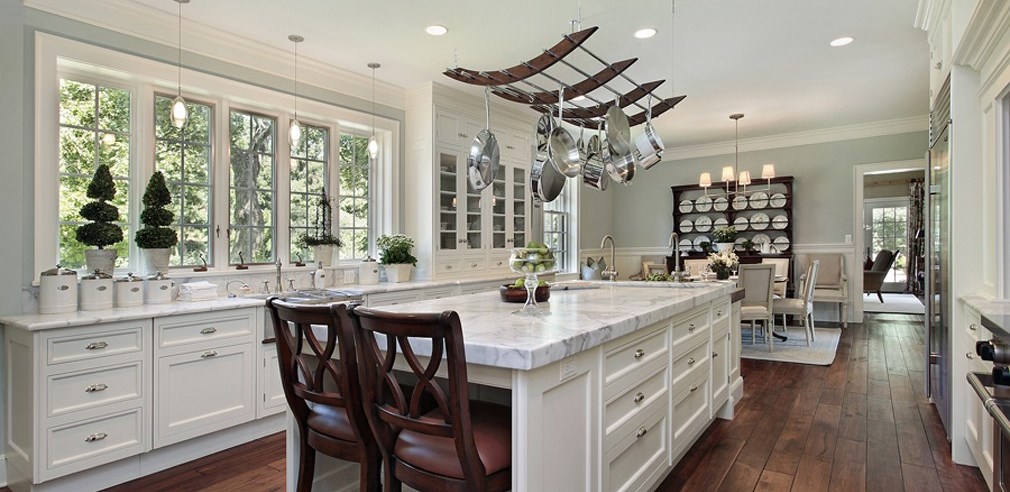 Source:
The best way to be unique is to go in for the custom kitchen cabinets as they are built to order. First of all, the measurements of your kitchen have to be obtained and then after the design that you would like and the team that is building it will work together with you on the layout so as to create the best design and build the cabinets to your specific liking with every single detail that you want. As you can see in the image above, all the cabinets have to custom made. The center cabinet is tiled at the top and it contains drawers for storage. To the window side, the cabinets have been placed in a way that there is enough room for the window without anything covering it.
23. Alder Kitchen Cabinets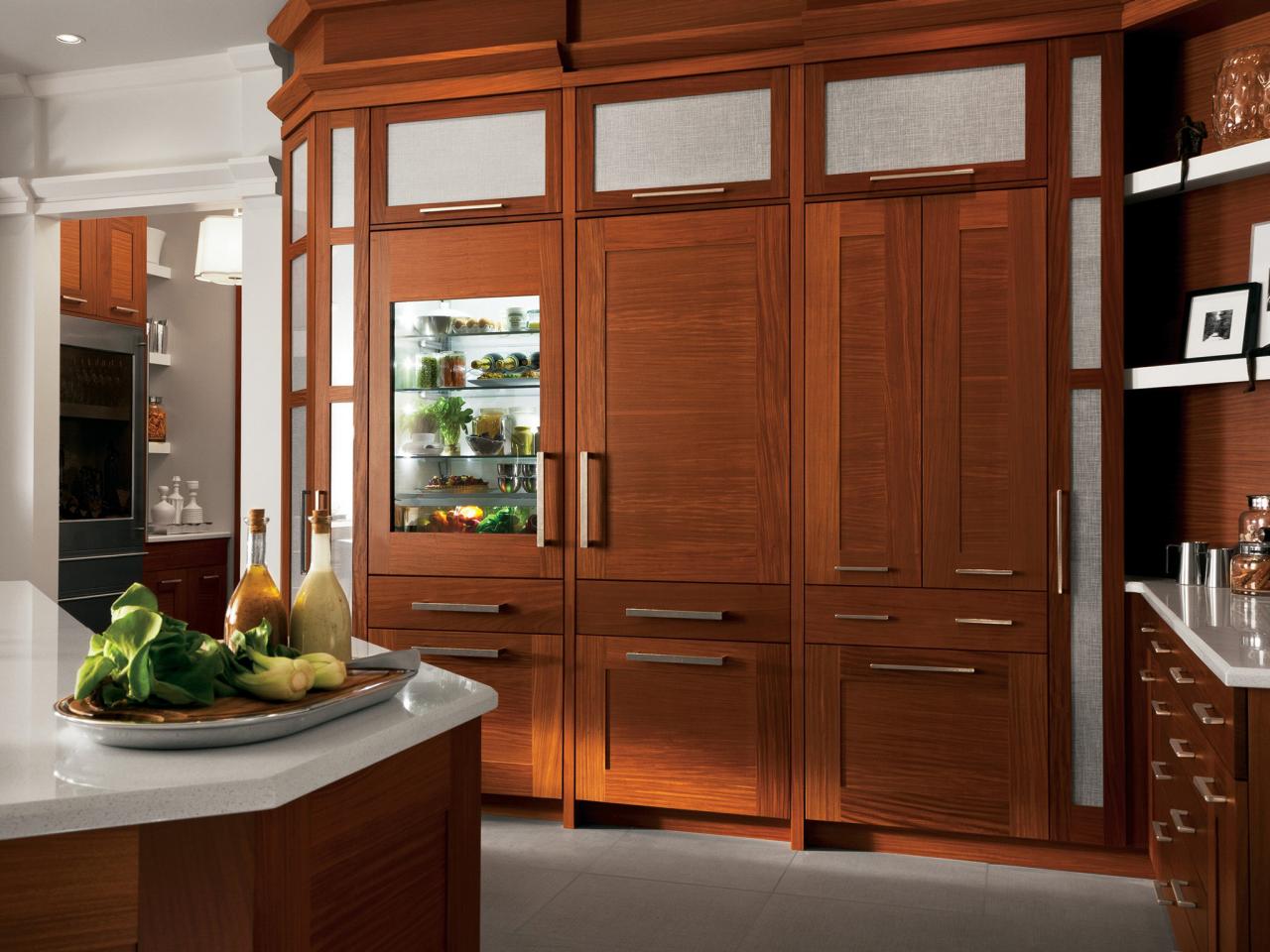 Source:
This alder wood cabinet pictured contains very gentle wood tones that are surrounded by a soft coloration of some white color that makes the entire kitchen look absolutely pleasing to the eyes. What I like about this alder wood kitchen cabinet is that it is quiet very clear and unmarked providing it with a soft indoor look. Alder woods come in different colors that range from the pale red to the reddish brown. What makes it a favorite though is its stable surface for finishes as well as stains.
24. Free Standing Kitchen Cabinet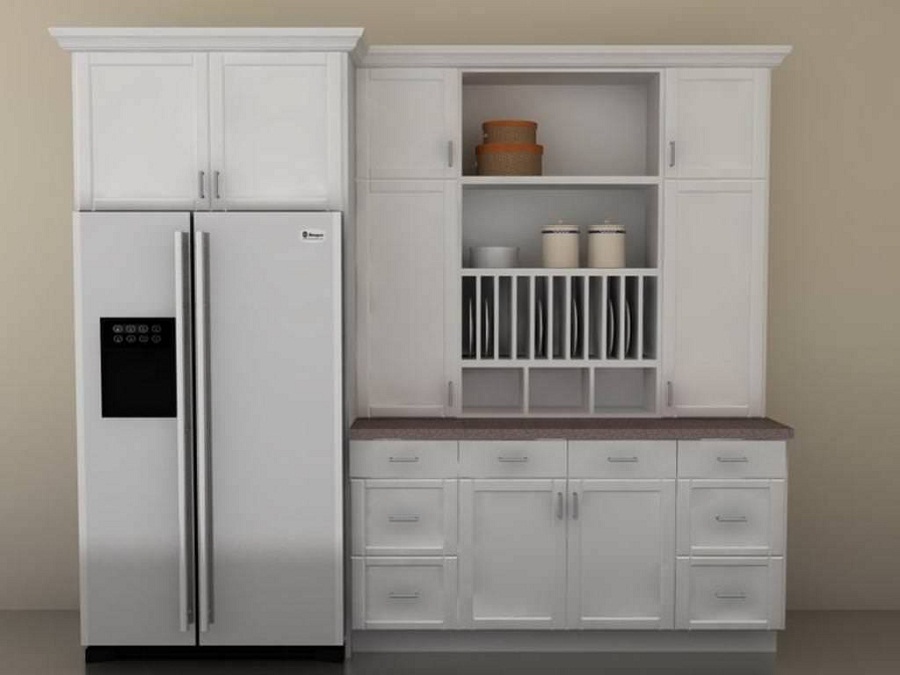 The number one beauty about the free standing kitchen cabinets is that you won't have to worry about damaging your wall or even extra costs of having it installed to the wall. Small kitchens also greatly profit from free standing cabinets that have removable shelves as they can hide the microwaves and small appliances like coffee makers and toasters. In the image above, one of the smaller free standing cabinets has been placed on top of the refrigerator while the others stand next to it in perfection.
25. Multi-Dimensional Modern Kitchen Cabinet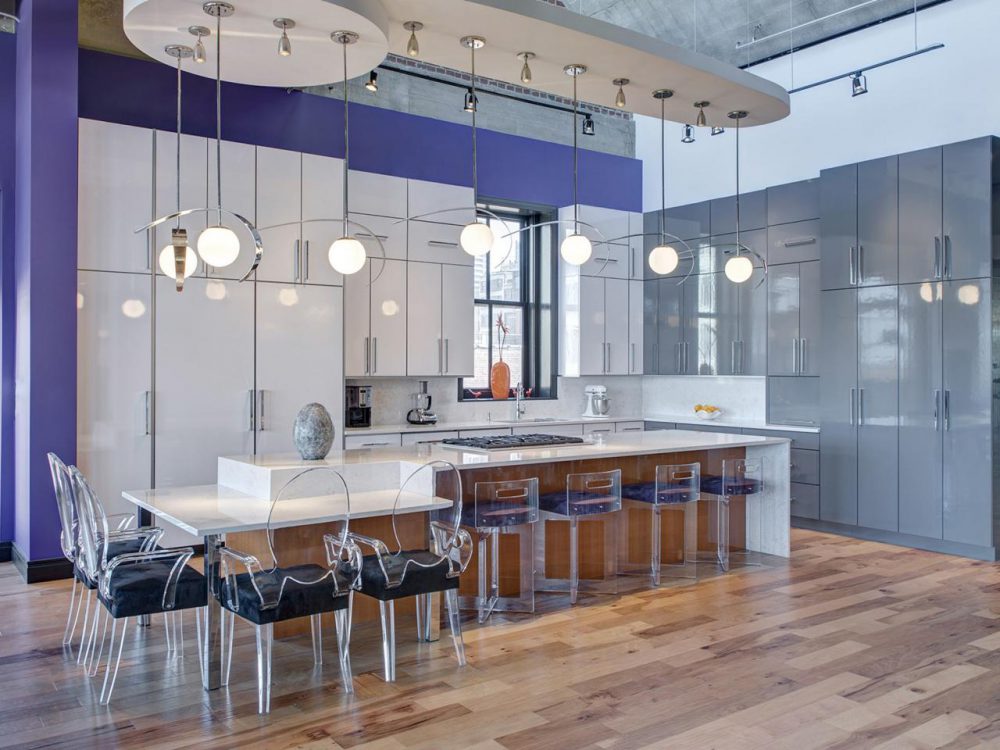 Source:
When it comes to multi –dimensional modern kitchen cabinets it means that the ones you can be able to use for multiple purposes. This kind of kitchen will make you do whatever you are doing like cooking, sipping morning coffee and so forth in style. The cabinets on one side are colored white while the other side grey making a perfect L-shape with contrasting finishes that all blend together to form a stunning space that is both functional and drop dead gorgeous. With those glass chairs and lights you are sure to always throw a party in your multi-dimensional modern kitchen.
26. Hickory kitchen cabinets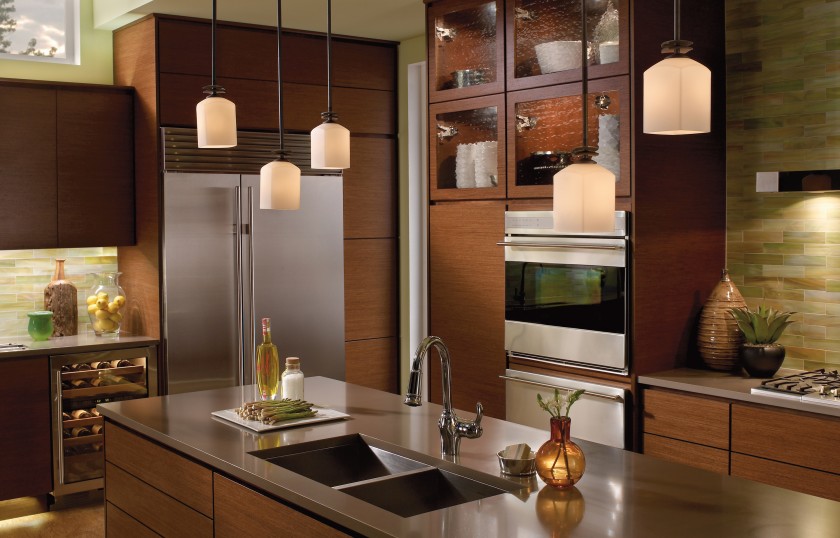 Source:
These kitchen cabinets contain a dramatic wood color that is within a piece due to the heartwood as well as sapwood if this kind of wood. Its colors do range from dark brown to blonde or white to reddish brown. What I like about it is that its naturally contrasting appearance will add to their appeal in the different kitchen designs.
27. Cozy Kitchen Cabinet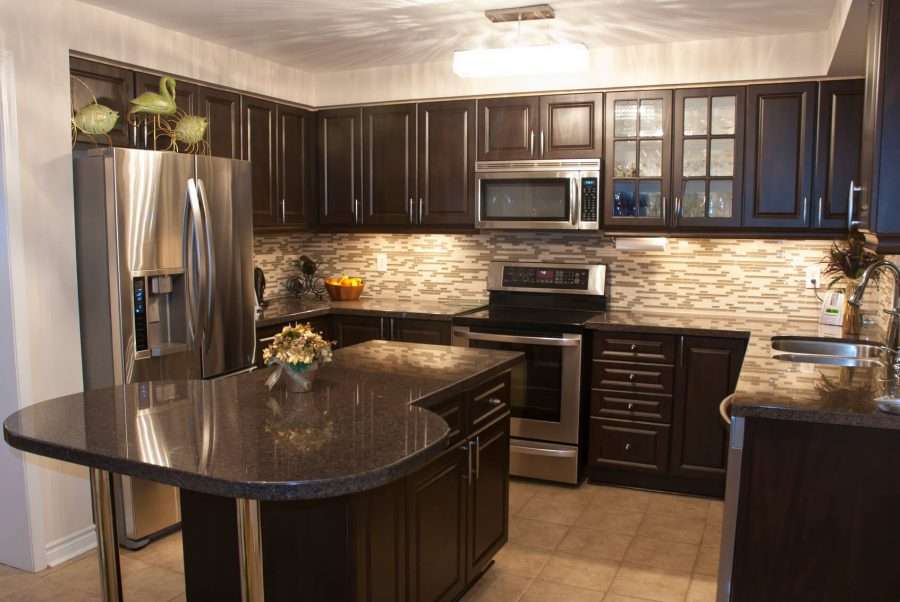 Source:
There is a way cozy kitchen cabinets have the ability to make you cook even if you don't feel like…I mean its beauty will put you in the mood. Well this particular cozy kitchen has been stuffed up with dark wood cabinetry along with metal hardware that is perfectly brushed. The black marble countertops as well as the patterned tile backsplash plus the aluminum appliances will provide an additional contrast to the kitchen.
28. Country kitchen cabinets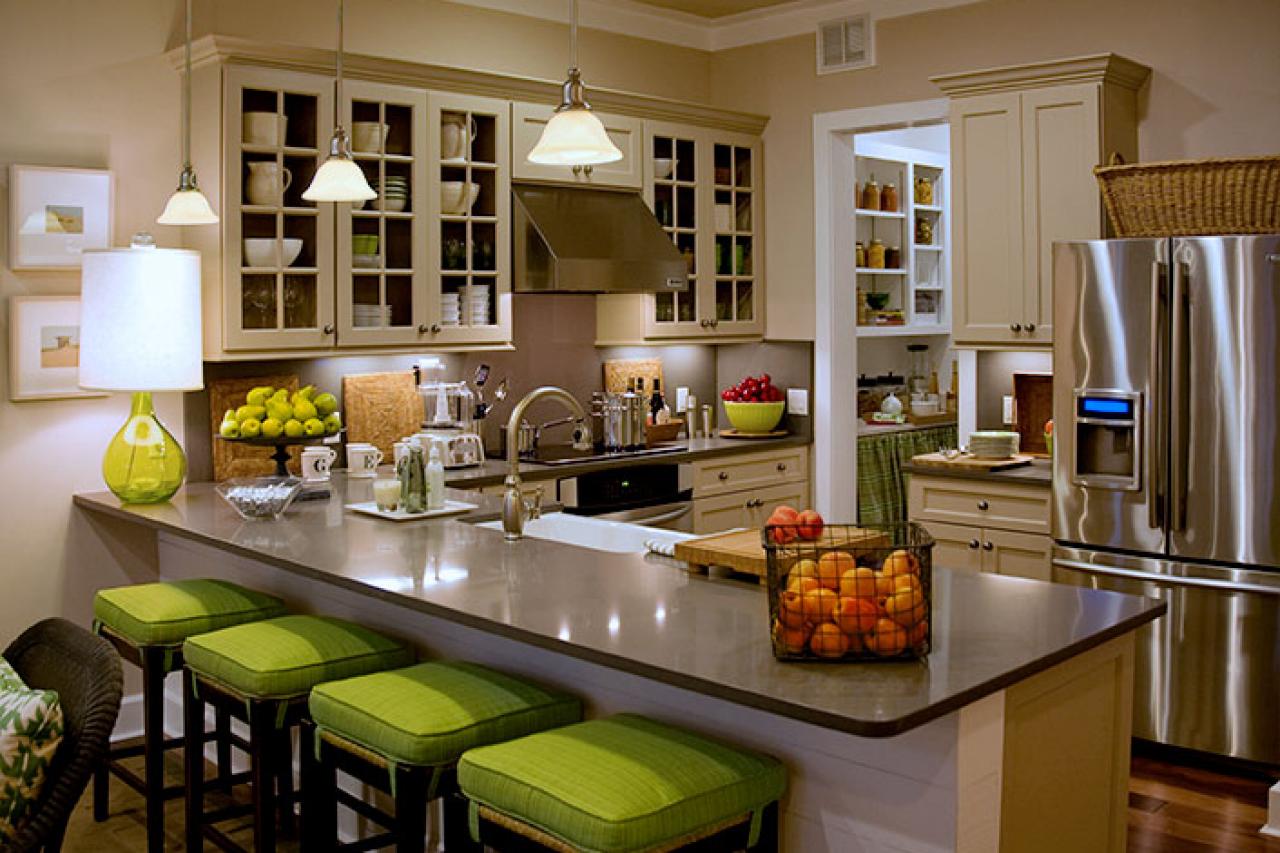 Source:
These country kitchen cabinets have been designed so as to be comfortable, warm as well as inviting with a very natural and yet timeless appearance. They are categorized under the traditional kitchen cabinets and make use of specific cabinetry so as to complete the signature country look like pictured above. Their cabinet styles are categorized by raised panel doors, decorative panels like stained glass, wire or tin and bead board that provide warmth as well as character to your cabinets. You can also add in charming country collectables to show off your personal taste.
29. Scandinavian Kitchen Cabinet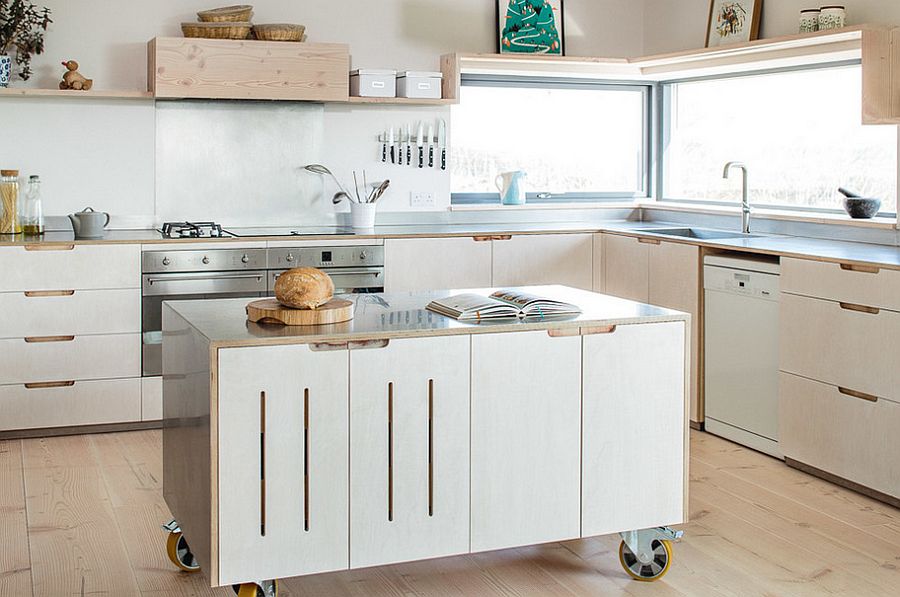 Source:
What makes the Scandinavian kitchen cabinets very popular is their open feel as well as modern style. Uniqueness to them is some features like the wooden details, white walls and colorful accents in the form of textiles and even other vivid flourishes. The center piece kitchen cabinet is built with tires which allow you to move it to any location especially if you want more space or to just clean beneath. The open space to the sides lets you have a proper view of the window and outside bringing in light and beauty to the kitchen.
30. Modern Scandinavian Kitchen Cabinet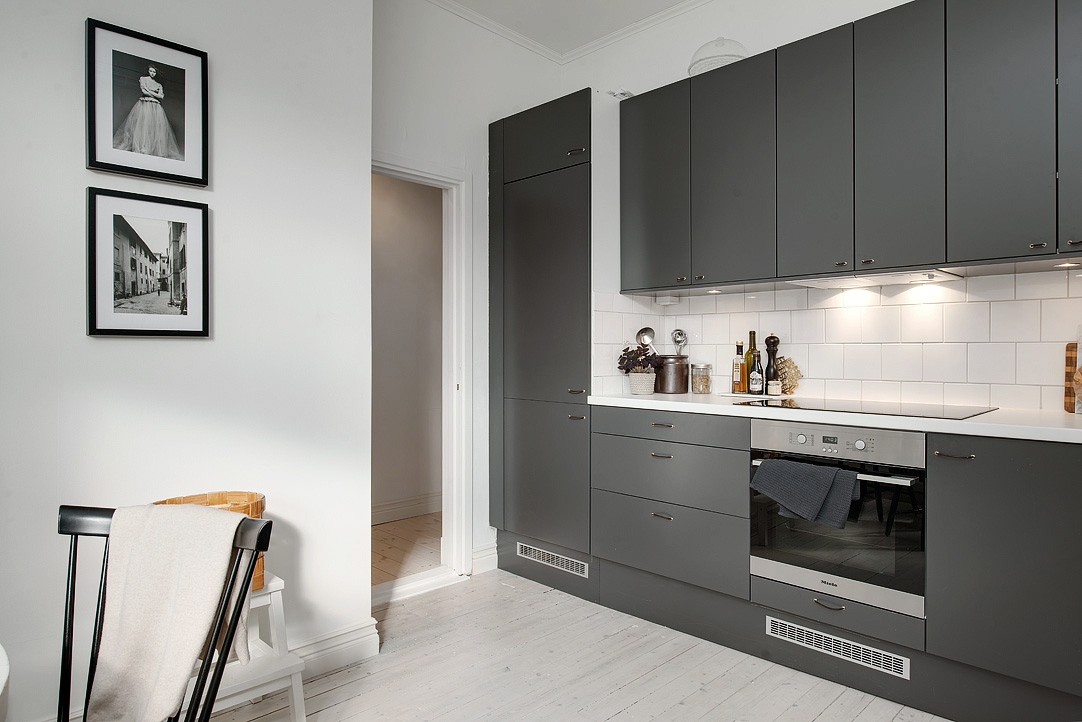 Source:
The use of a dark colored modern Scandinavian kitchen cabinet on a white wall is what makes this kitchen so modern and gorgeous yet so warm and cozy. The cabinets have only been allocated to one side of the room providing it will a less crowed and more organized look. The cabinets are actually metallic with some white tiles in between to make its design properly come out uniquely. This would perfectly do for someone who Is looking towards minimizing space.
31. Mid Century Modern Kitchen Cabinets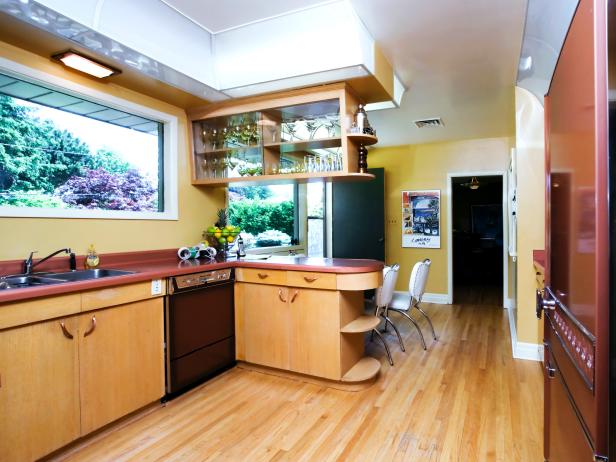 Source:
This is a perfect blend of a modern convenience along with a retro charm that is created to make a perfect recipe for a gorgeous mid century modern kitchen cabinets. For such a kitchen you will require a focal point and in this case it's the large kitchen island. Hope you have realized that some portion of the island works as a food prep as well as cooking area and there is a black marble surface along with a sleek cook-top. The cabinet is made using high quality wood that is smooth and well polished.
32. Remodeled Kitchen Cabinets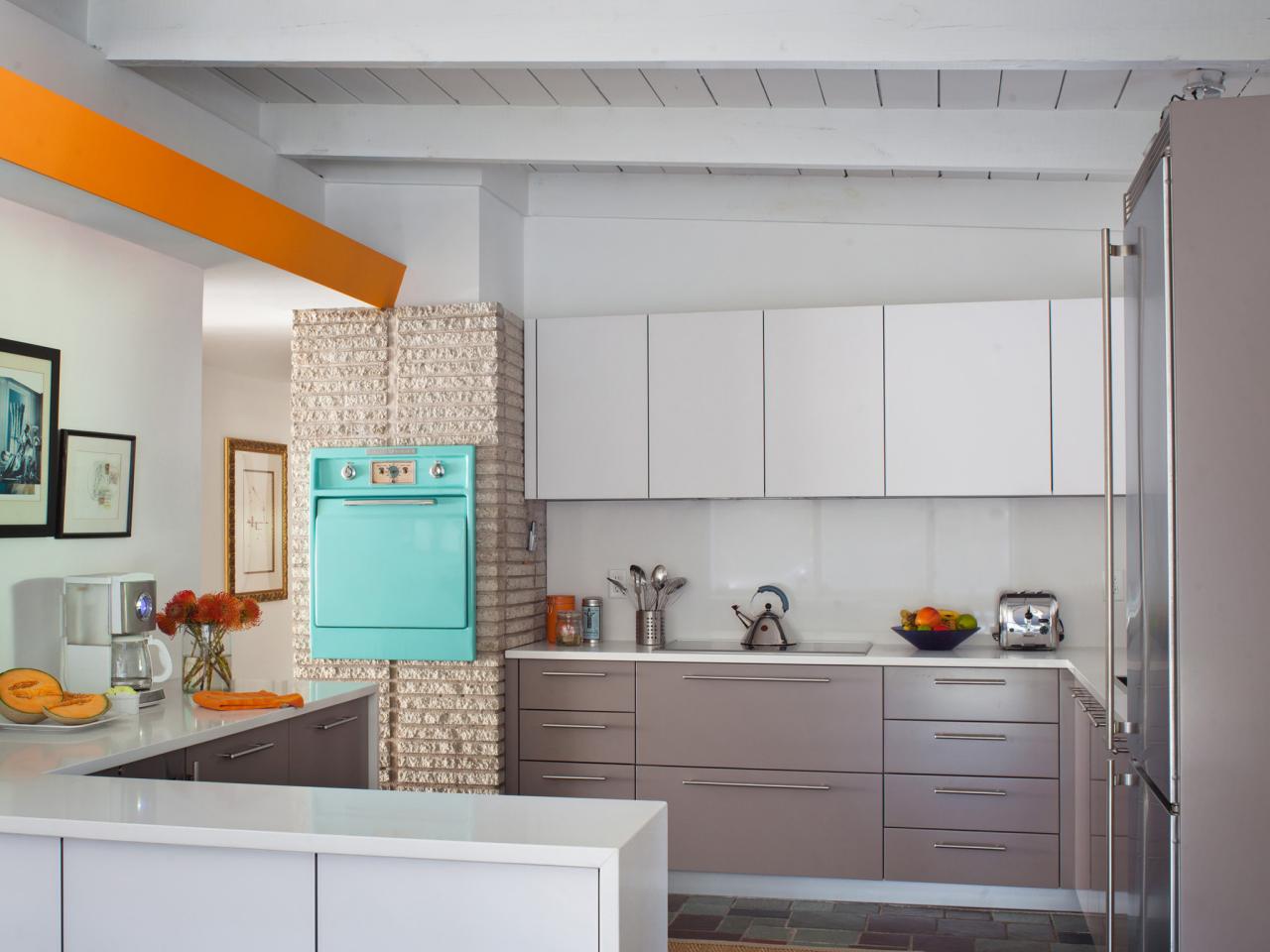 Source:
One of the quickest and easiest ways of trying to remodel or give a facelift to your kitchen is through painting the kitchen cabinets. The best part is it is also economical saving you a lot from purchasing the new kitchen cabinets. You can either choose to mix up colors or just go plain with your favorite new color. Another way to remodel the kitchen cabinets is that you can polish the wood but you will require a good polish so that it holds well and looks uniformly done. You can also rearrange the cabinets to a different way that is unique and then add some unique things like precious things that you have collected overtime like pots and so on to provide a modern and stylish remodeled look.
33. Laminate Kitchen Cabinet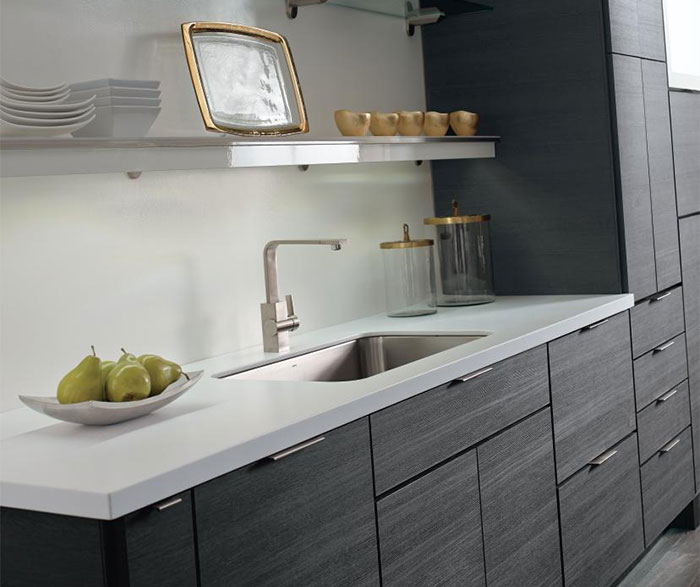 Source:
What I really like most about the laminate kitchen cabinets is that the only thing you will require to clean it is a water-based household cleaner plus a damp sponge. Simple! This kind of material is the second to most wood species and that is why it has become very popular. This sleek laminate kitchen will place your taste to a contemporary design with its beautiful gray and white design and the cabinet knobs that do provide a dramatic and contrasting finish.
34. Shaker Style Kitchen Cabinets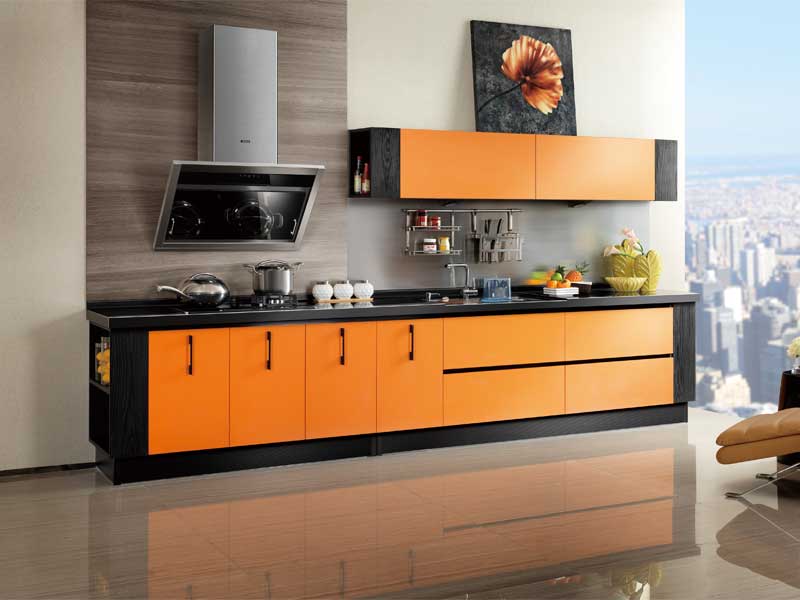 Source:
This kitchen is definitely ready for action as proved by its dramatic hood along with a professional range. This is the shaker kitchen cabinets that are able to convey a very classic good look. The orange and black color of the cabinets does provide contemporary gorgeous accents for this kitchen. This is the kind of kitchen that can be part of the living room especially if you don't have a designated kitchen space in your house.
35. Maple kitchen cabinets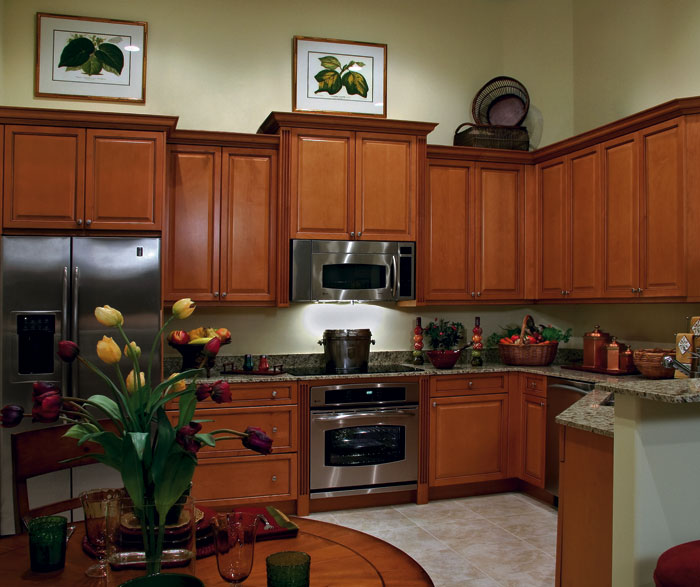 Source:
What I really find fascinating about the maple kitchen cabinets are their versatile hard wood design that lets them be used in both the traditional and contemporary cabinet styles. Most of these maple kitchen cabinets are predominately white to creamy white colored and infrequently contain slight streaks of reddish brown tones that will accent its grain. The thing about maple is that it is close-grained, hard, very durable, dense and sturdy that is why they are popular and they also feature uniform graining and a fine texture providing a smooth appearance.
36. Light maple kitchen cabinets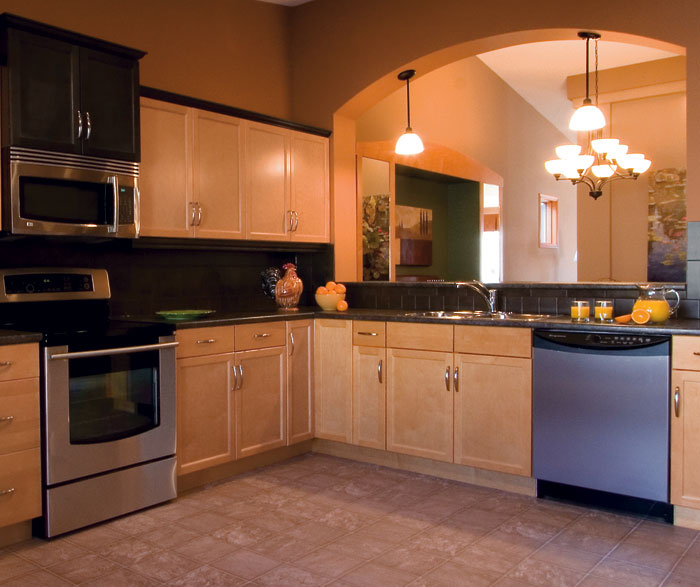 Source:
There is a way in which the light kitchen cabinets easily blend flawlessly with other kitchen appliances like the dishwasher, stove and the sink so as to create a work area that is very functional. These cabinets have been placed in an L-shape that provides it not only with a clean look but a simple one as well. The light maple design helps make the kitchen more relaxing especially providing a calm and cozy feel after a long day.
37. Low Kitchen Cabinet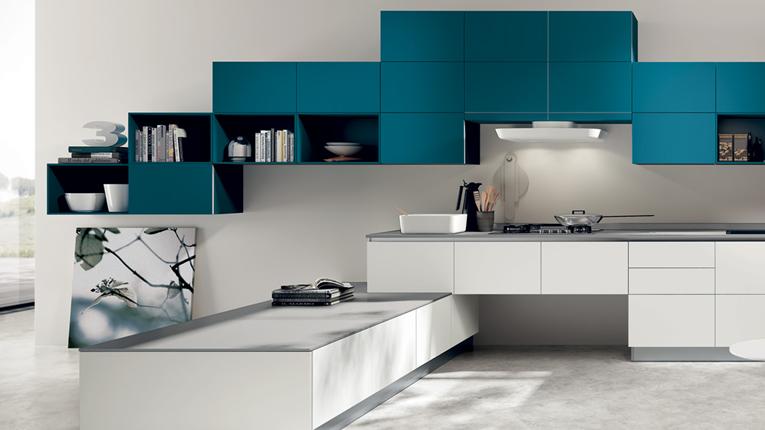 Source:
One of the best things about the low level kitchen cabinets is that they are suitable for housing television equipment and hi-fi along with other things like pictures, lamps or even books. However most importantly is that they will creatively complement all the functional elements in the kitchen so as to create unusual solutions. What makes them different are the interesting spilt level surfaces that have been created and it will effectively double the space so as to provide greater practicality like in the image above. In the image above the low-level base unit does an amazing job through acting as a creative continuation of the kitchen worktop.
38. Sophisticated Kitchen Cabinet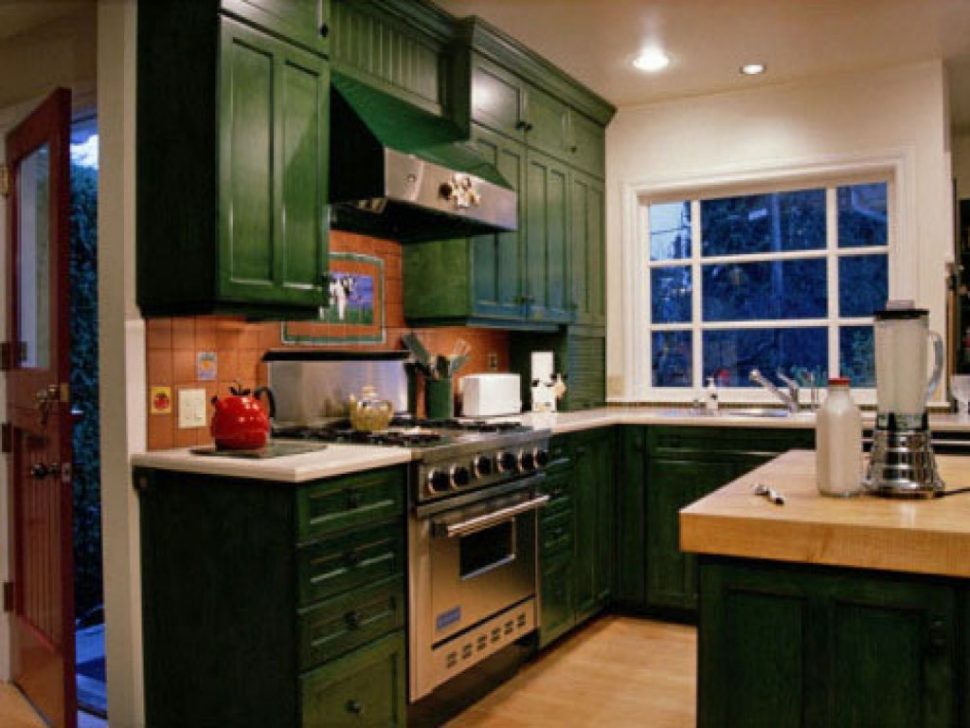 Source:
You can have your favorite color in your kitchen for a much more sophisticated kitchen cabinet style. This kitchen is colored dark green with some white porcelain countertop as well as wooden backsplash that creates a perfect combination. This is not only suitable for smaller kitchens but even the larger ones.
39. Modern kitchen cabinet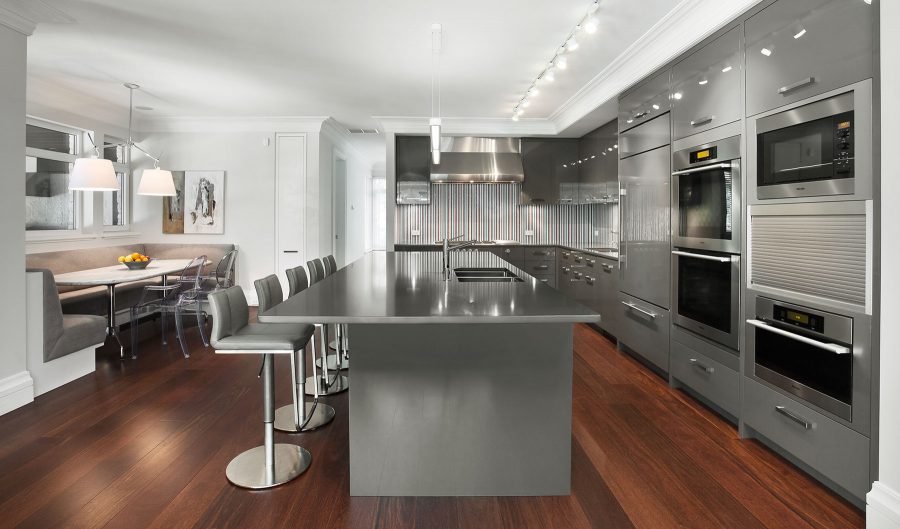 Source:
When it comes to modern kitchen cabinets, it's all about the decoration that provides people with the impression of confidence in who you are. If you are a discerning person that likes keeping your kitchen stylish and refined like yourself then you can go in for this modern kitchen cabinet. This one is made out of metal that is polished and colored silver that flows and effortlessly matches the rest of the kitchen cabinets like counter, sink and even the cabinet doors. The modern stainless steel warms up the kitchen while the wood floor sets off the perceived coldness.
40. Japanese Style Kitchen Cabinet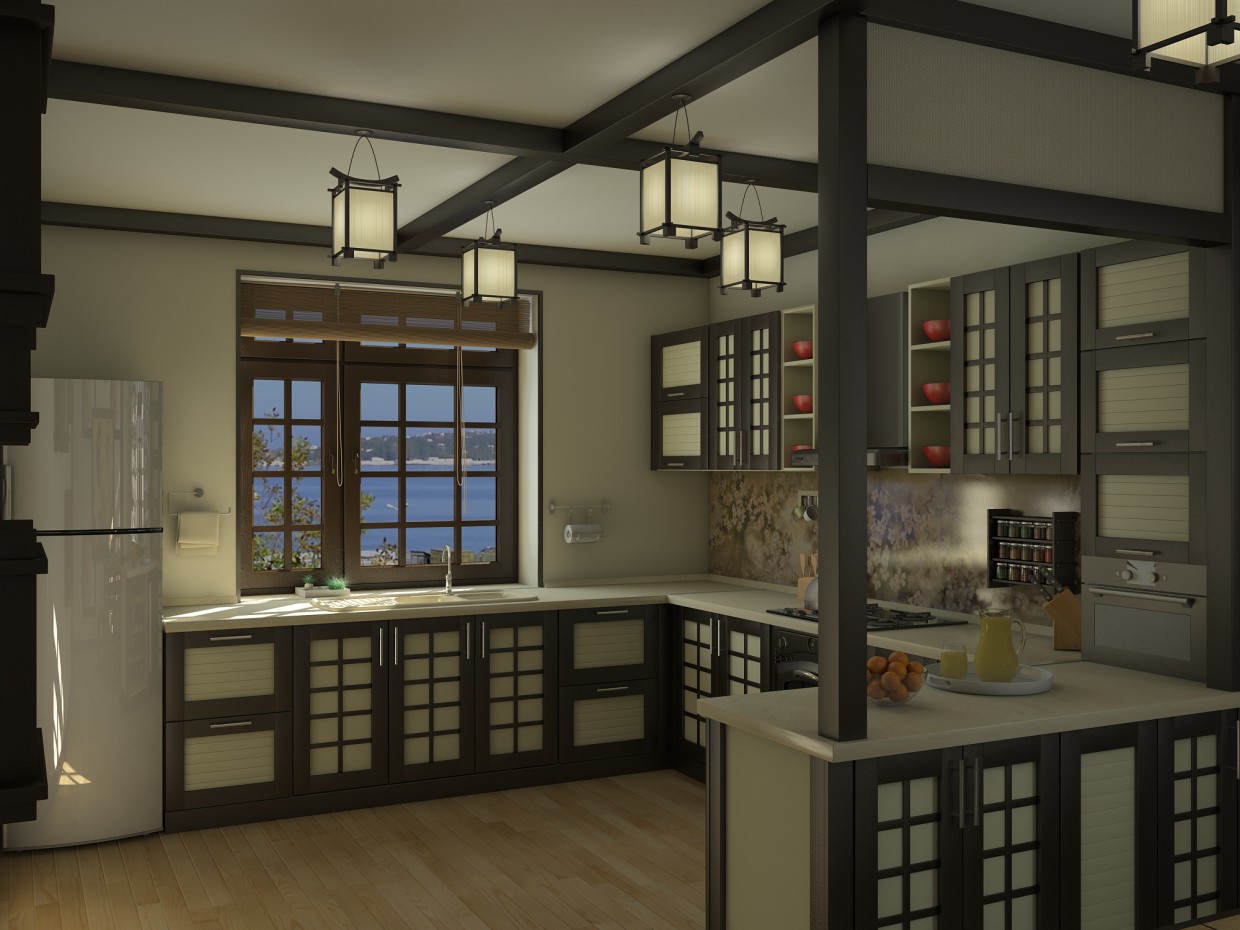 Source:
when it comes to the Japanese kitchen styles, they have best known for their simplicity and so when you bring that simplicity with a contemporary décor then you will achieve a perfect practical look with a hint of Japan while maintain the simplicity. What you should know about Japanese kitchen cabinets is that a lot of wood is used and this makes up in that way that it restored the balance after depriving the kitchen of all the pointless elements. This allows the design to remain simple but yet inviting and comfortable. Feel free to add any color like in the picture is dark green and cream.
41. Stylish kitchen cabinets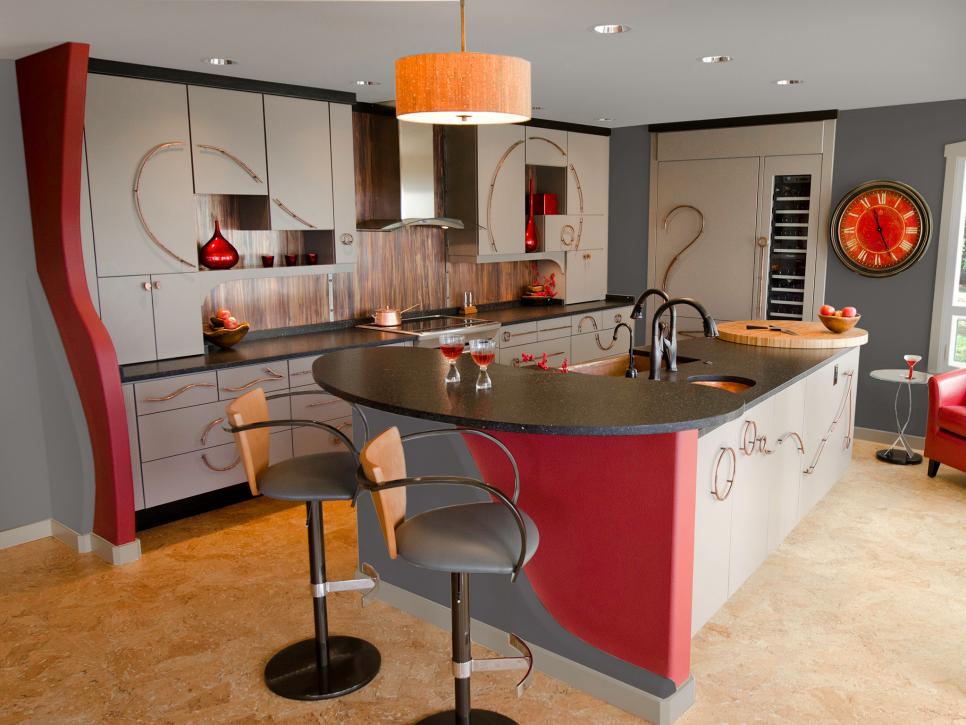 Source:
If you have been craving new designs for your kitchen then you need to stop and start with beautiful and practical kitchens cabinets for a stylish look. One of the ways you can go stylish is through adding some colors that match with your personal style. Like in the image picture, the cabinets contain some long metallic knobs that are been beautifully crafted in a way that looks like they are connected to each cabinet. The choice of the red, white, brown floor and the dark brown makes a perfect stylish and unique combination.
42. Gray and Blue Kitchen Cabinet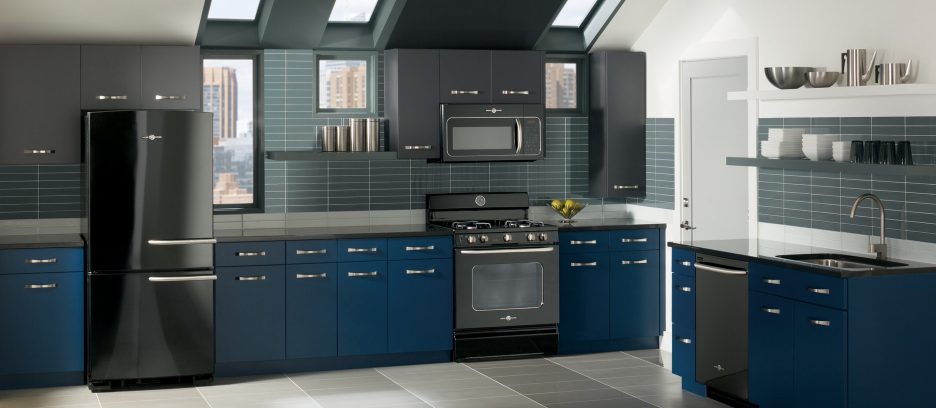 Source:
One thing I know about the Gray and Blue kitchen cabinets is that they are having a moment right now and the majority of people certainly do love it. You can chose from pale gray and other some other blues like the deep blue's like the one in the image above with a charcoal undertone. The thing about blue and gray is that they will always look awesome together regardless of how you blend it. In order to balance the color, we advice that you use copper or even brass hardware, porcelain sinks, classic white subway tiles, marble accents and the butcher block countertops.
43. French Country kitchen cabinets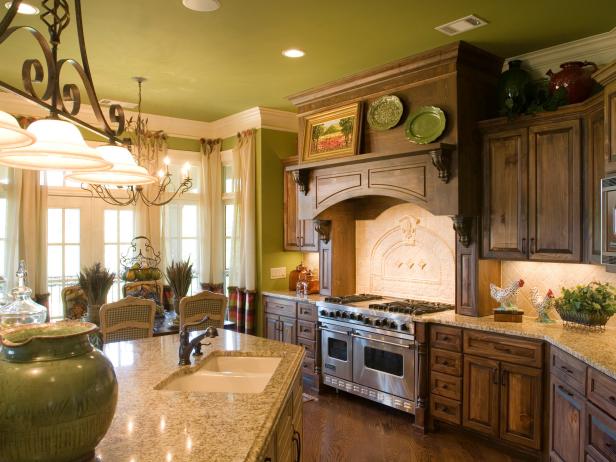 Source:
These French country kitchen cabinets do make use of natural materials for instance wood or even the earth-toned colors schemes so as to achieve a very comfortable environment that is favorable for some good cooking. Their cabinetry usually features things like the woodcarvings and other furniture like features like decorative moldings as well as intricate arches. When it comes to hardware, these cabinets usually make use of ornate and antique brass, iron or bronze. For additional touches, you can use leaded glass or wire grille door panel inserts to provide the cabinet with an authentic French country feel.
44. Double door kitchen cabinet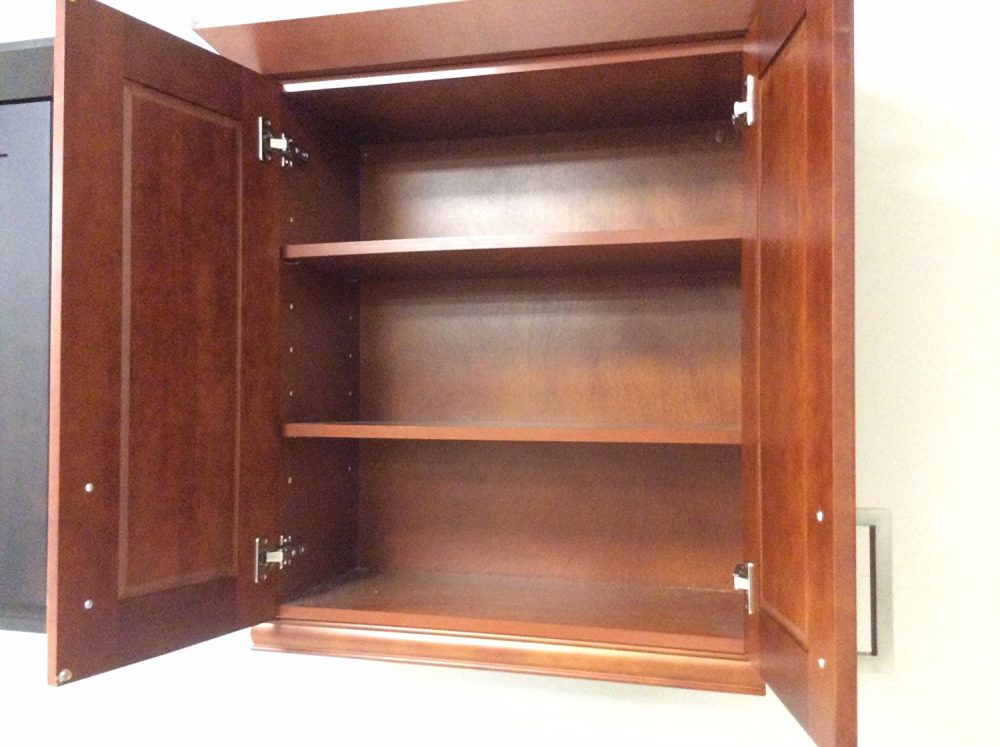 Source:
These double door kitchen cabinets are no longer a thing of the past because they are back on like a bang! I really like the fact that they can increase the storage space and then even open both the doors you will have a dazzling display of the things inside. However these might not be perfect for every kitchen because they can be an added expense and are not very easy to access.
45. Outdoor kitchen cabinets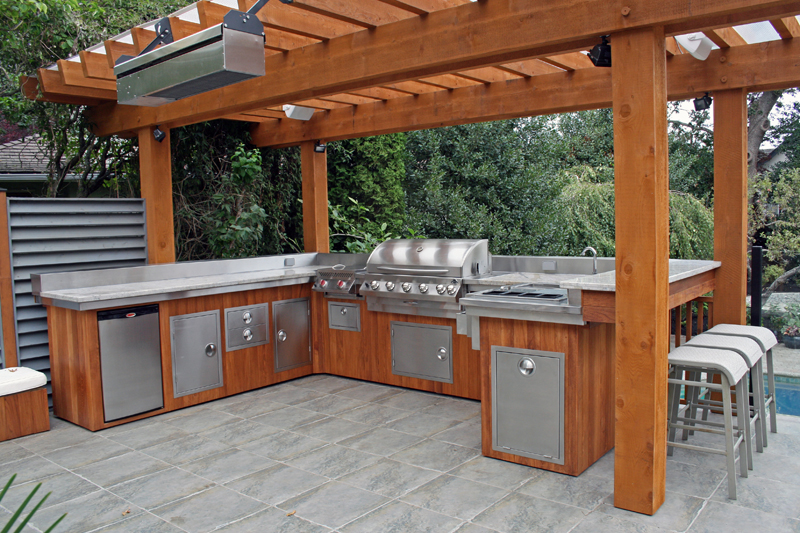 Source:
If you are the kind that loves the outdoors then you can as well shift your kitchen outdoors with this awesome outdoor kitchen cabinet pictured above. This is one of the best ways to transform the outdoor space into something comfortable and reusable. This idea is a combination of hard solid wood cabinets and stainless steel doors, countertops, chairs and appliances. The stainless steel is a great choice for outdoors because of its durability.
46. Commercial kitchen cabinets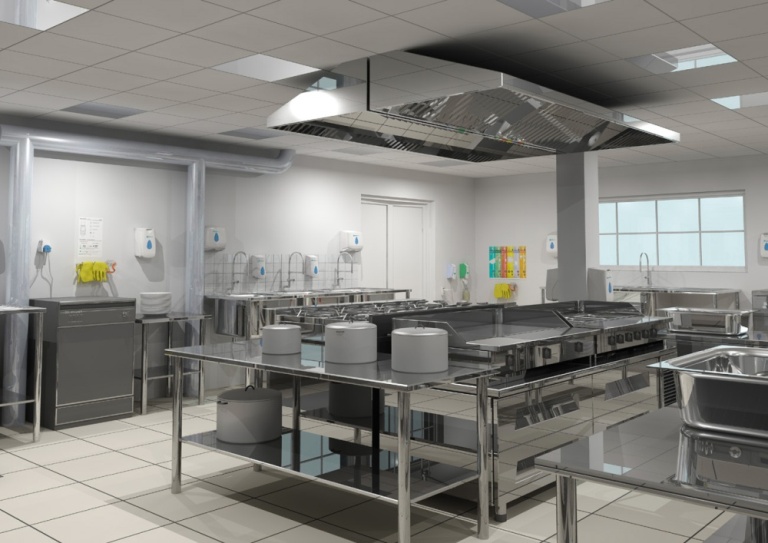 Source:
In the recent times, the best materials that are used for most commercial kitchen cabinets are a mixture of wood, stainless and glass. But again they have to be made only using high quality stainless steel like the image above mainly because of its long durability factor since all categories of people will be using it. Another advantage of using stainless steel in commercial kitchen cabinets is that they are corrosion free. Most of the large sized ones have been customized with stainless steel so as to store in cutleries, utensils and even food items that are available in the big hotels, restaurants and even other catering companies. However you can also use the wood kitchen cabinets but make sure that it is of very durable wood with a special coating that is especially waterproof.
47. Framed kitchen cabinets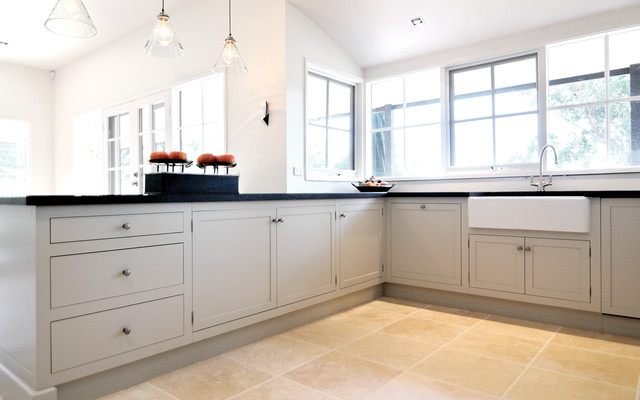 Source:
Now the framed kitchen cabinets are designed with a flat flame that is on the front of the cabinet. Actually you will find that it kind of resembles a picture frame just like in the image above. These kinds of cabinets are not considered new but rather older and it's a more traditional way of creating cabinetry as opposite to the new type of creating cabinets frameless. One of the main advantages of the framed kitchen cabinets is that the frames provide strength to the cabinet box and even prevents it from getting out of square.
48. Frameless kitchen cabinets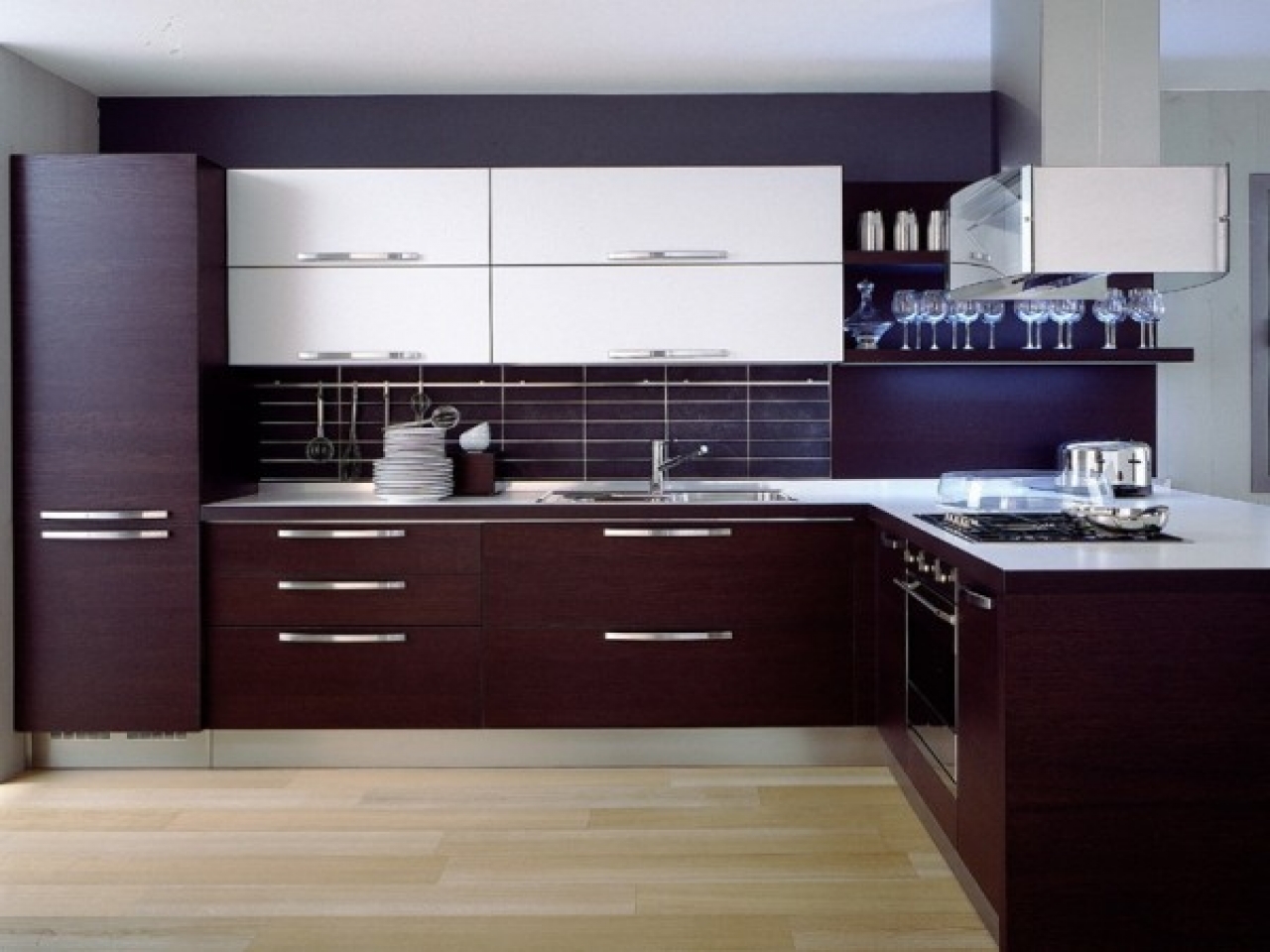 Source:
Now the frameless kitchen cabinets is basically a European method of making cabinets that has become so common especially among the American homeowners that are looking for a simple and yet a more contemporary cabinet design. Sometimes people refer to them as the full access cabinetry simply because it provides the user with a greater accessibility through getting rid of the face frame like you can sees to one side of the image above where the glasses have been allocated. When it comes to this kind of cabinets, it will depend on the thicker box construction for stability. Then also only the full overlay doors can be used with hinges through attaching it directly to the sides of the cabinet box.
49. Stock kitchen cabinets

Source:
What I found interesting about the stock kitchen cabinets are that not only are they more affordable but they are also most times ready to take home from the home improvement stores or even the cabinet specialty. It is for that reason why most of them are popular among majority of the home renovators. Most of them are actually sold fully assembled or they are ready to assemble with DIY instructions on how to personally assemble them so as to minimize on labor costs.
50. Cheap Kitchen Cabinets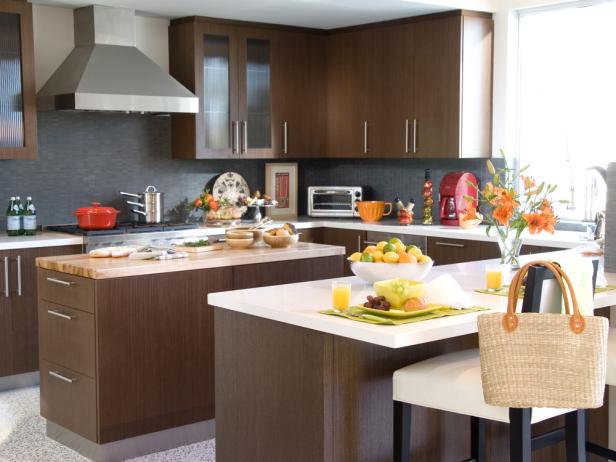 Source:
You can update or just change your entire kitchen cabinets cheaply without it having to cost you an arm and a leg. First of all you need to look out for some of those cheap but very durable materials and also buying an already made kitchen cabinet is most times cheaper as compared to custom making your own.
Please check Out the Video Portrait of 50 Best Modern Kitchen Cabinet Ideas