30. Modern Scandinavian Kitchen Cabinet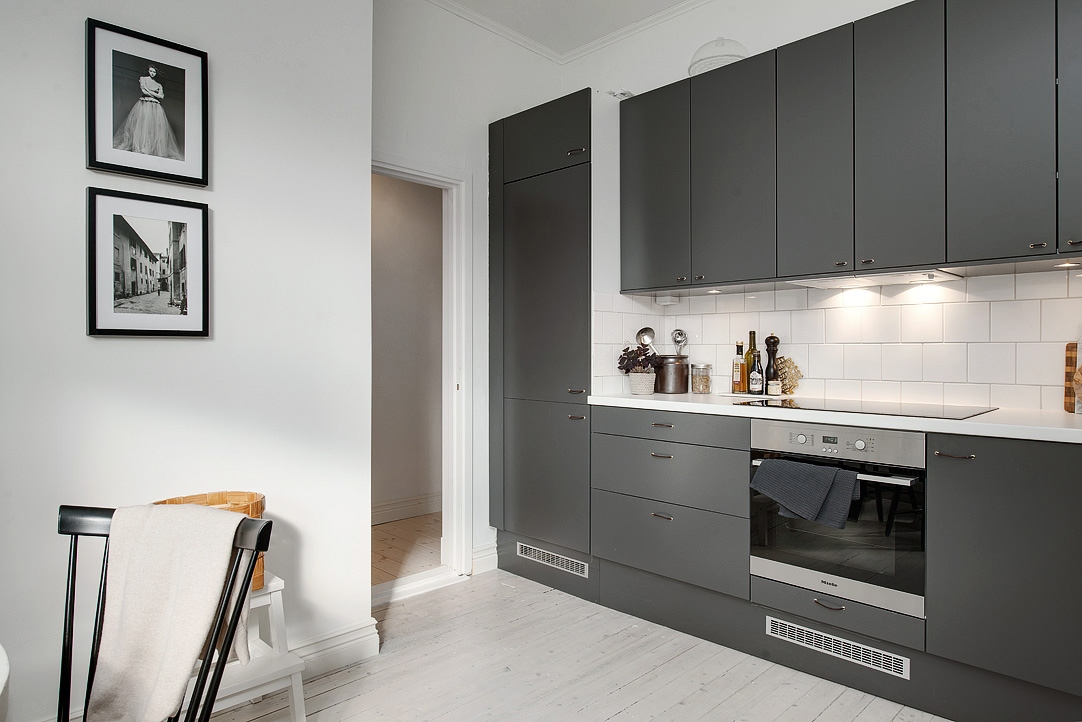 Source:
The use of a dark colored modern Scandinavian kitchen cabinet on a white wall is what makes this kitchen so modern and gorgeous yet so warm and cozy. The cabinets have only been allocated to one side of the room providing it will a less crowed and more organized look. The cabinets are actually metallic with some white tiles in between to make its design properly come out uniquely. This would perfectly do for someone who Is looking towards minimizing space.
31. Mid Century Modern Kitchen Cabinets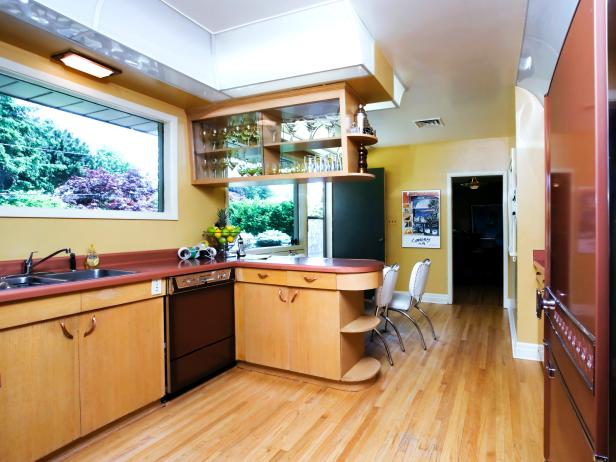 Source:
This is a perfect blend of a modern convenience along with a retro charm that is created to make a perfect recipe for a gorgeous mid century modern kitchen cabinets. For such a kitchen you will require a focal point and in this case it's the large kitchen island. Hope you have realized that some portion of the island works as a food prep as well as cooking area and there is a black marble surface along with a sleek cook-top. The cabinet is made using high quality wood that is smooth and well polished.
32. Remodeled Kitchen Cabinets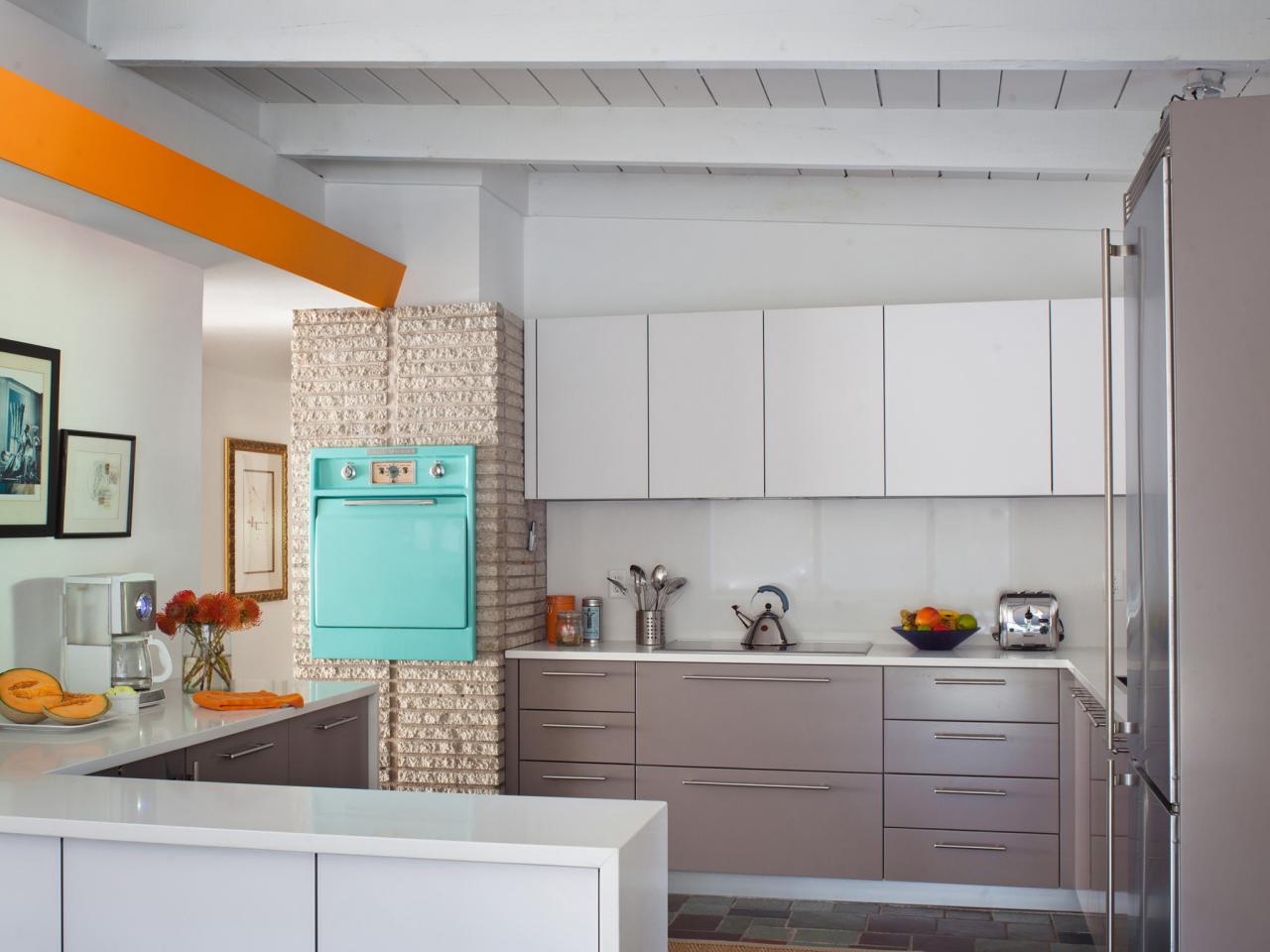 Source:
One of the quickest and easiest ways of trying to remodel or give a facelift to your kitchen is through painting the kitchen cabinets. The best part is it is also economical saving you a lot from purchasing the new kitchen cabinets. You can either choose to mix up colors or just go plain with your favorite new color. Another way to remodel the kitchen cabinets is that you can polish the wood but you will require a good polish so that it holds well and looks uniformly done. You can also rearrange the cabinets to a different way that is unique and then add some unique things like precious things that you have collected overtime like pots and so on to provide a modern and stylish remodeled look.
33. Laminate Kitchen Cabinet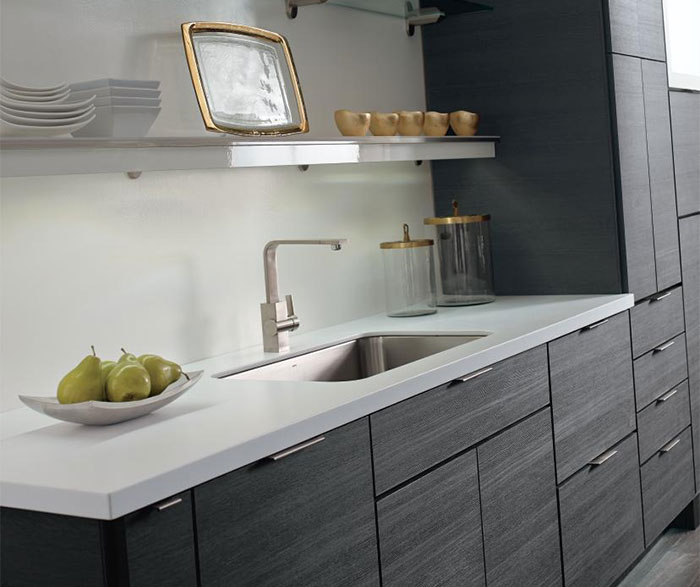 Source:
What I really like most about the laminate kitchen cabinets is that the only thing you will require to clean it is a water-based household cleaner plus a damp sponge. Simple! This kind of material is the second to most wood species and that is why it has become very popular. This sleek laminate kitchen will place your taste to a contemporary design with its beautiful gray and white design and the cabinet knobs that do provide a dramatic and contrasting finish.
34. Shaker Style Kitchen Cabinets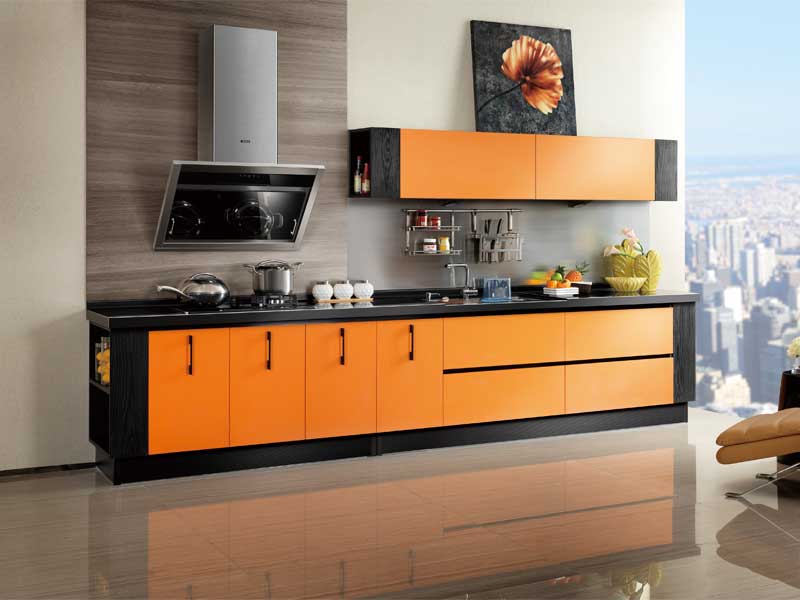 Source:
This kitchen is definitely ready for action as proved by its dramatic hood along with a professional range. This is the shaker kitchen cabinets that are able to convey a very classic good look. The orange and black color of the cabinets does provide contemporary gorgeous accents for this kitchen. This is the kind of kitchen that can be part of the living room especially if you don't have a designated kitchen space in your house.
35. Maple kitchen cabinets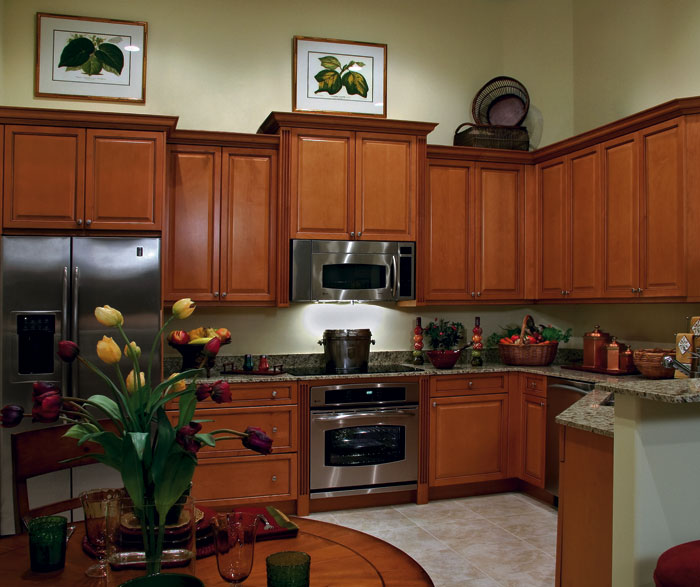 Source:
What I really find fascinating about the maple kitchen cabinets are their versatile hard wood design that lets them be used in both the traditional and contemporary cabinet styles. Most of these maple kitchen cabinets are predominately white to creamy white colored and infrequently contain slight streaks of reddish brown tones that will accent its grain. The thing about maple is that it is close-grained, hard, very durable, dense and sturdy that is why they are popular and they also feature uniform graining and a fine texture providing a smooth appearance.
36. Light maple kitchen cabinets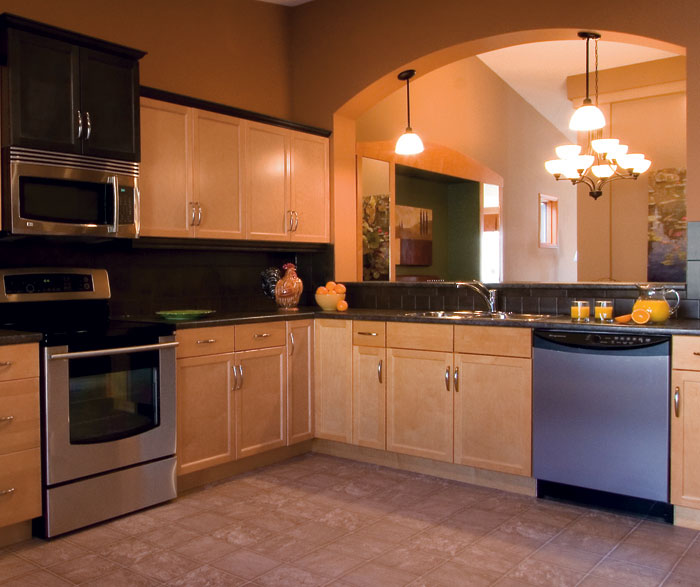 Source:
There is a way in which the light kitchen cabinets easily blend flawlessly with other kitchen appliances like the dishwasher, stove and the sink so as to create a work area that is very functional. These cabinets have been placed in an L-shape that provides it not only with a clean look but a simple one as well. The light maple design helps make the kitchen more relaxing especially providing a calm and cozy feel after a long day.
37. Low Kitchen Cabinet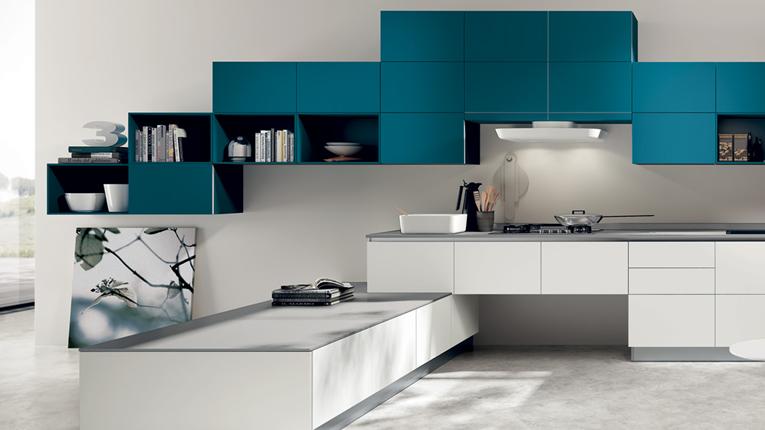 Source:
One of the best things about the low level kitchen cabinets is that they are suitable for housing television equipment and hi-fi along with other things like pictures, lamps or even books. However most importantly is that they will creatively complement all the functional elements in the kitchen so as to create unusual solutions. What makes them different are the interesting spilt level surfaces that have been created and it will effectively double the space so as to provide greater practicality like in the image above. In the image above the low-level base unit does an amazing job through acting as a creative continuation of the kitchen worktop.
38. Sophisticated Kitchen Cabinet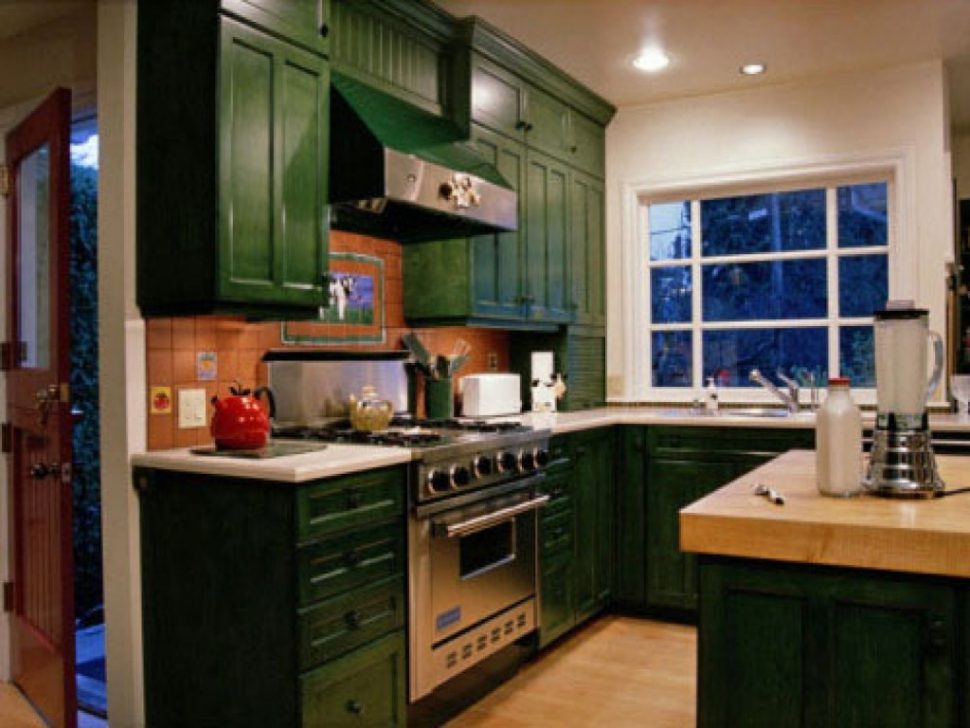 Source:
You can have your favorite color in your kitchen for a much more sophisticated kitchen cabinet style. This kitchen is colored dark green with some white porcelain countertop as well as wooden backsplash that creates a perfect combination. This is not only suitable for smaller kitchens but even the larger ones.
39. Modern kitchen cabinet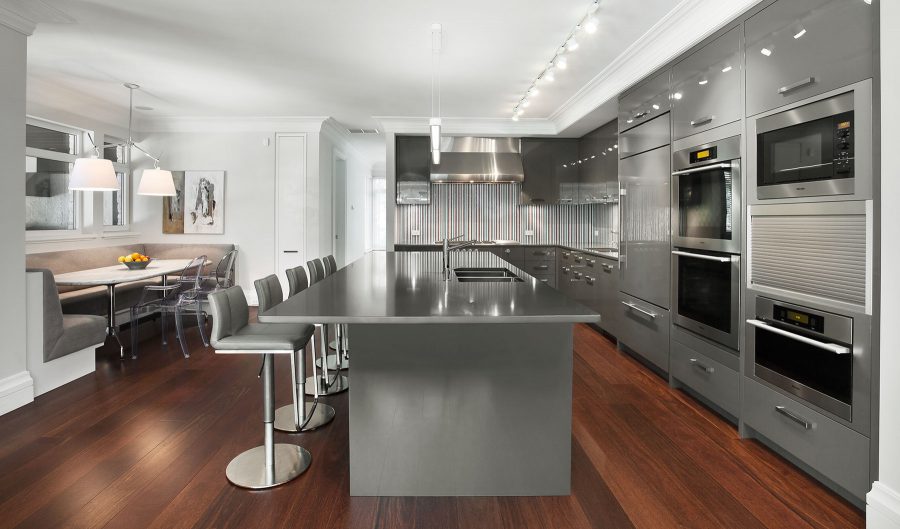 Source:
When it comes to modern kitchen cabinets, it's all about the decoration that provides people with the impression of confidence in who you are. If you are a discerning person that likes keeping your kitchen stylish and refined like yourself then you can go in for this modern kitchen cabinet. This one is made out of metal that is polished and colored silver that flows and effortlessly matches the rest of the kitchen cabinets like counter, sink and even the cabinet doors. The modern stainless steel warms up the kitchen while the wood floor sets off the perceived coldness.
More Modern Kitchen Cabinet Decor Ideas On The Next Page…