10. Oak kitchen cabinets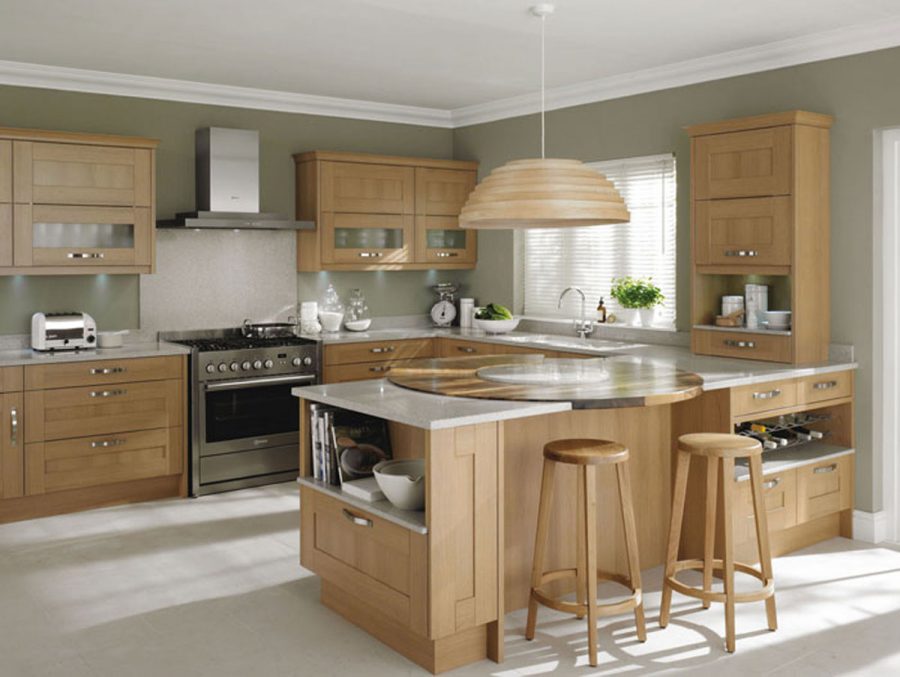 Source:
Oak Kitchen Cabinet is one of the best pick of our best modern kitchen cabinet list. It is mainly because they are not only affordable but very durable as well. Actually oak is the most widely available wood and they have a wide diversity of cabinet styles. Another reason to love the oak kitchen cabinets is that they have a coarse texture and highly visible grain pattern that most people prefer. The image above is a clear example of the best oak kitchen cabinet.
11. Pecan kitchen cabinets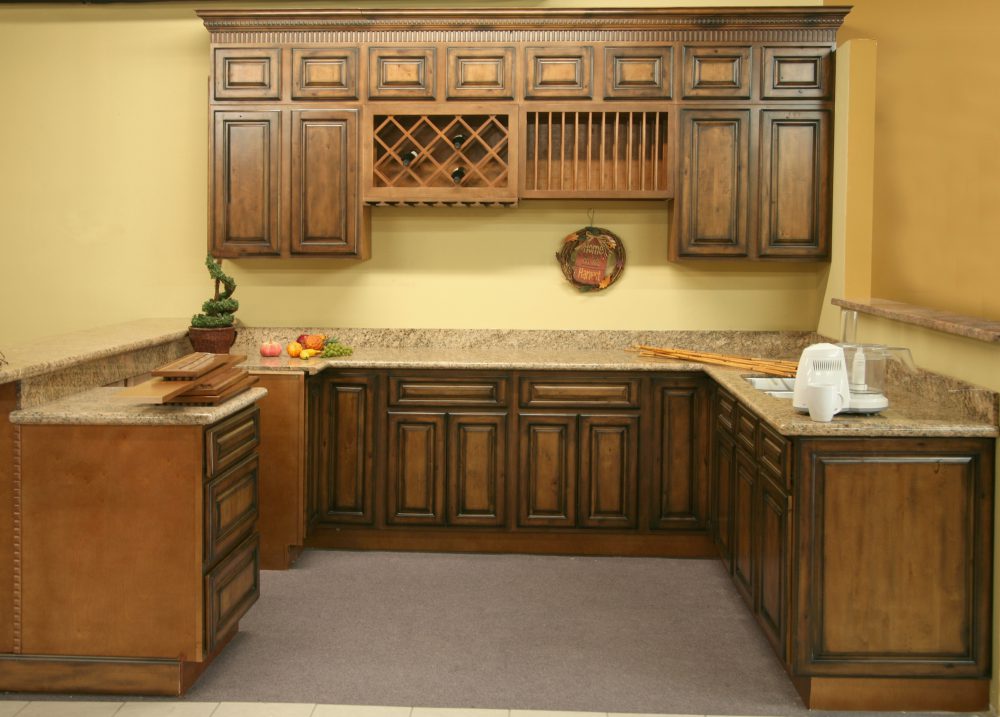 Source
One of the reasons why people like the pecan wood cabinets is because they do come in a variety from the blonde or white to the reddish brown and dark brown like in the image above. It has very dramatic wood colors that are within a piece that come in courtesy of this wood type's sapwood or heartwood. In image show a Rustic Pecan kitchen cabinet which is more radical in color as well as grain variation as it features wavy and irregular patterns. These random knots, mineral streaks, wormholes, picks and burls do add a natural charm and rustic outward show to it.
12. Contemporary kitchen cabinets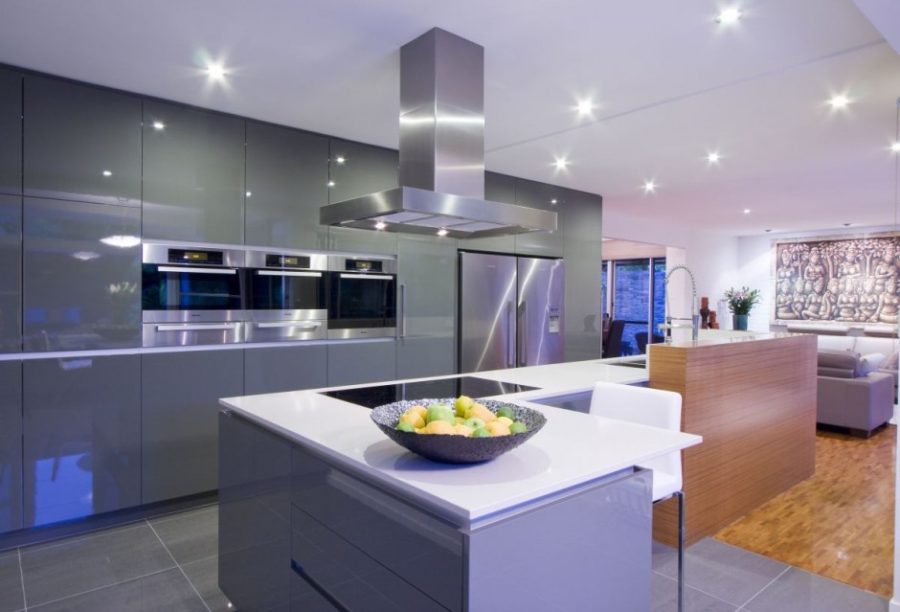 Source
First of all contemporary means a design that is current to the present time! Contemporary kitchen cabinets don't have any raised or crowned panels but rather they have flat surfaced with simple and sleek hardware without any other decorative accents. This makes them perfect for small kitchens or tight spaces. Most materials used in these cabinets are man made like for instance metals, glass, concrete and plastic.
13. Semi-custom kitchen cabinets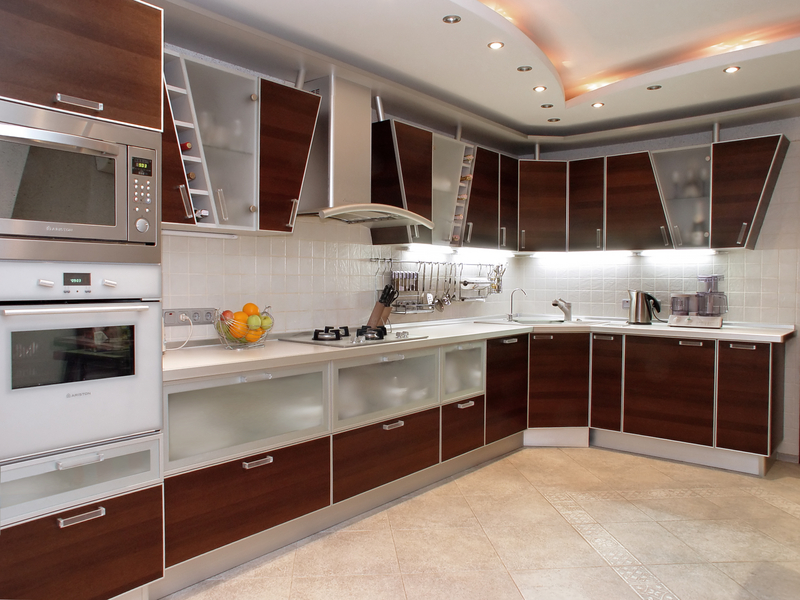 Source:
Semi-custom kitchen cabinets also sometimes known as the hybrid solution is basically a combination of your existing pre-made or even pre-fabricated materials that are already installed into your kitchen with a built to order custom cabinets. The good news is they are constructed with high quality material like plywood that is sourced from North America. In the image above, there are cabinets that are with wood and knobs and then others with glass making it a perfect blend for a modern kitchen. These cabinets will provide additional storage depending on your kitchens dimensions. Also the existing cabinets will be refaced well so as to match the new ones.
14. Vintage kitchen cabinets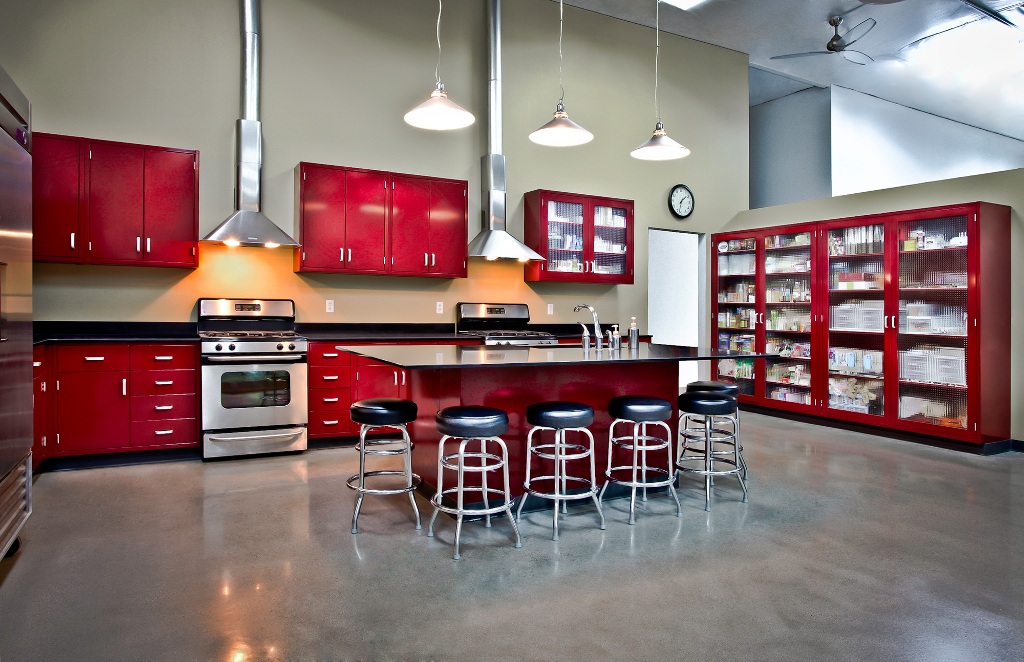 Source:
You can recycle or refinish old cabinets in an expertise way that will make it look updated and stylish. When you comes to vintage kitchen cabinets, all you have to do is play around with the finishing to achieve something that everyone will one and admire. Like in the image above, the cabinets have been polished to create a very smooth surface and then they have been painted to reddish brown that brings out the color of the wall, floor and other kitchen appliances perfectly.
15. Metal kitchen cabinets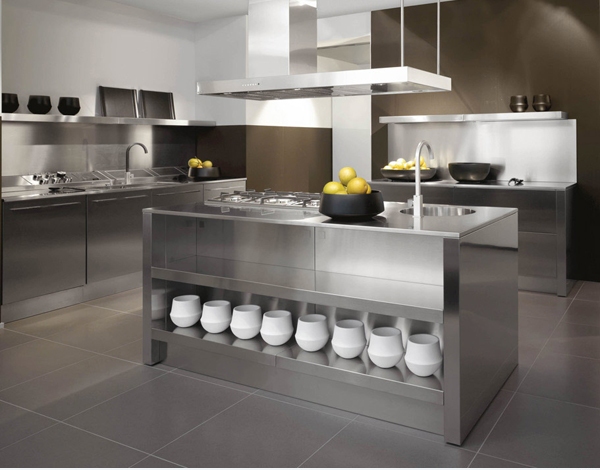 Metal kitchen cabinets are what we refer to as the modern contemporary kitchen cabinets because unlike wood these ones are made using man made materials and in this case metal. They are not new on the market because they were all the rage in the 1930s and 1940s mainly because of their low cost, terrific look and ease to care for. They typically come in white but they can be sprayed to different colors if you like. They might look somewhat sterile and cold but they are extremely east to maintain. The one in the image above is silver painted and it comes some gorgeous brightness into the room.
16. Contemporary Cherry kitchen cabinets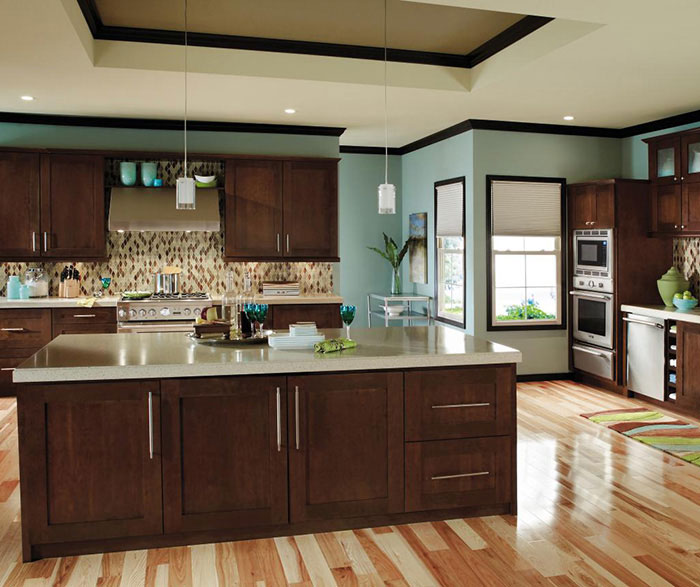 Source:
The cherry cabinets might not be as expensive as compared to other premium woods like mahogany but again is more costly than other lighter woods or cabinets made from the particleboard. One of the ways to go unique is through the contemporary cherry kitchen cabinets as it will bring a modern look to the cherry material. Talk of having the best of both worlds. This cherry cabinet is dark brown in color but will certainly beautiful change color as it ages.
17. Cherry Kitchen Cabinet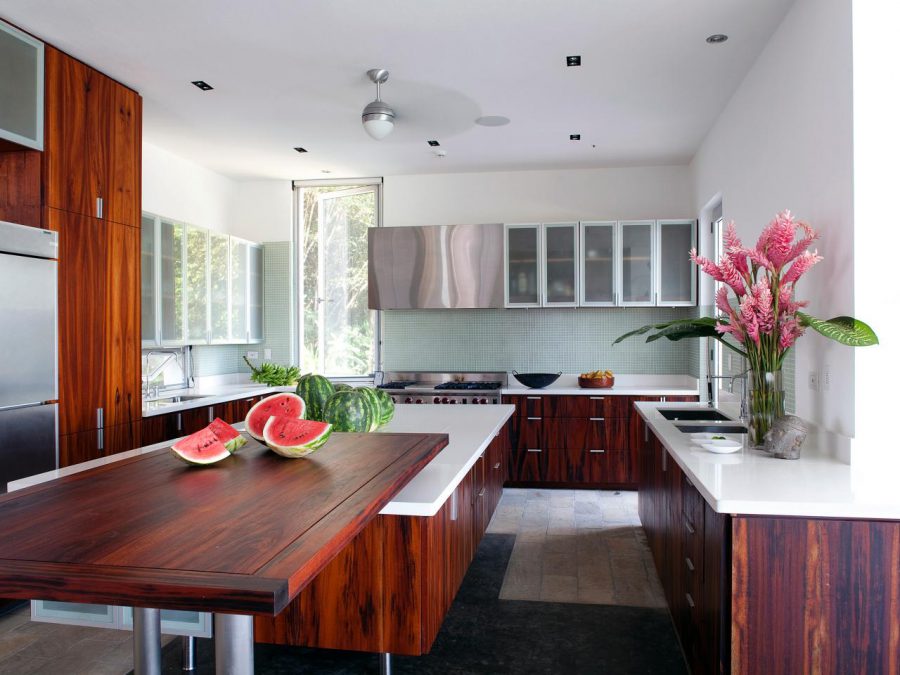 Source:
These cherry kitchen cabinets are associated with warm tones and a rich look and that is why they are majorities favorite. What you should know about cherry is that it tends to have predominantly red undertones but it can change in color from the pale yellow to deep brown like in the image. It a very smooth and satiny wood texture allowing it to allow any kind of stain beautifully and this is how your kitchen will remain looking awesome even after many years of using the same cherry kitchen cabinets.
18. Pull-Out Kitchen Pantry Storage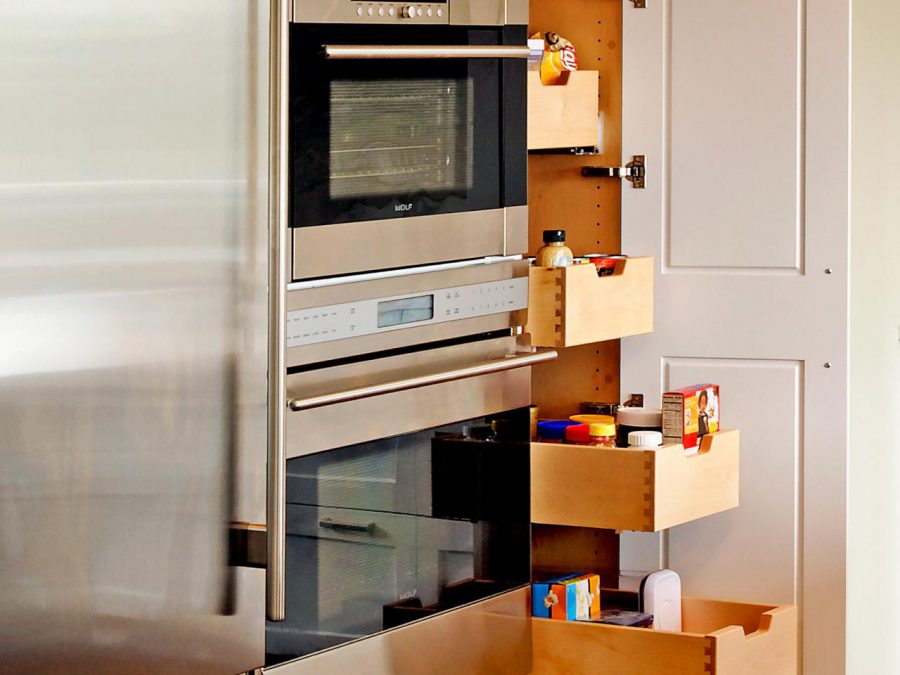 Source:
If you have a deep-set cabinet pantry then the best way to store your dry foods, canned items and even bottles is through installing a pull-out or rollout drawers and trays on the sliders. This is because it will let you easily pull out your food items without losing anything in the abyss of the deep and dark back cabinet. Talk of having easy accessibility! In the image above the pull out kitchen pantry is located to one side and they are arranged in a vertical way saving enough storage space. You will have easy access to the items you need through directly pulling it out or pulling out the pantry for the larger items.
19. Side kitchen pantry cabinet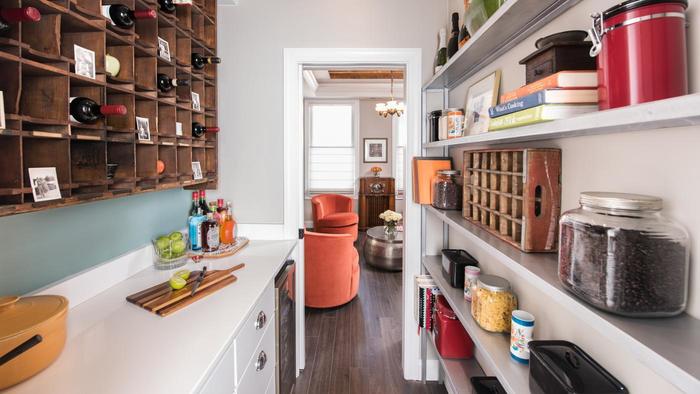 Source:
These side kitchen pantry cabinets are the best especially if you have a lot of items to store and also always require easy accessibility. They are built in a very shallow way with a few inches from the wall so that they don't take a lot of space and that you can easily locate and get you want you want. To one side are the smaller sized wood open cabinets for wine storage and then to the other is a painted wood open pantry for other kitchen related things.
More Modern Kitchen Cabinet Design Ideas On The Next Page…