40. It's Black and White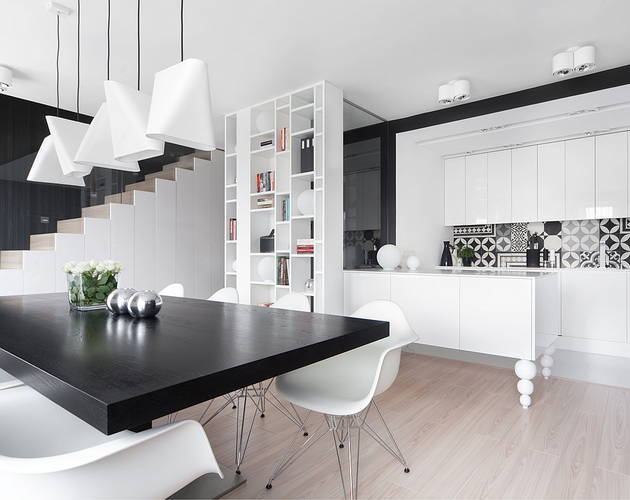 Black and white is a color combination that will never go out of style. And for a kitchen, this timeless combination works perfectly. The kitchen in this example has adorned its walls with black paint and left the cabinets white. As contrast, the flooring is left in a natural wood color for a warm deviance from the black and white theme. In addition, the backsplash wall is covered in a mix of black and white pattern tiles that go really well with the overall theme of the room.
41. No Shelves or Cabinets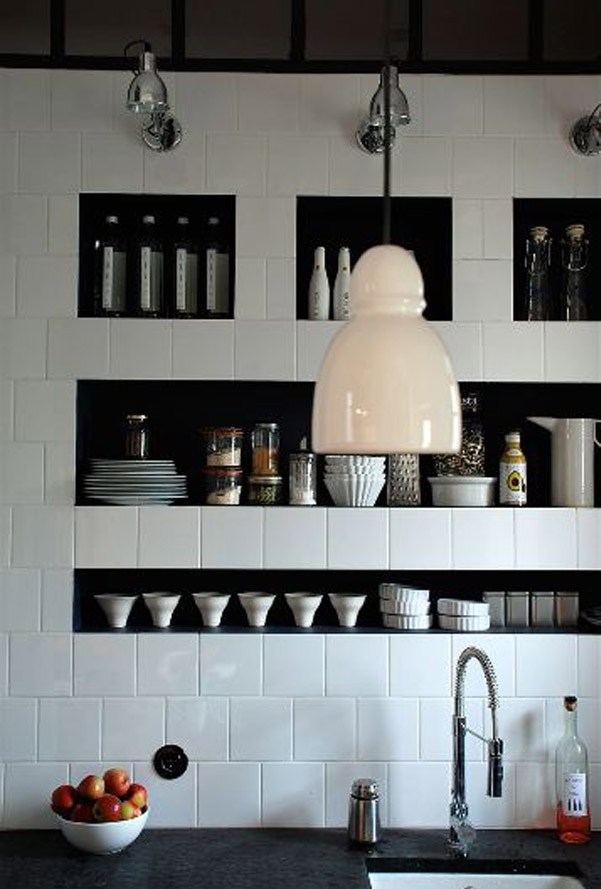 Shelves and cabinets are an important fixture in any kitchen. These cabinets help provide a storage option for anyone who needs to store their belongings in the kitchen for easy access. 2016 paved way for the use of open shelves instead of cabinets and cupboards. But for 2021, there just might be an influx of homeowners who opt for permanent fixtures instead of these two options. Just like the kitchen in this photo, the homeowner opted to give his kitchen a twist for shelving his plates, glasses and bottles.
42. Copper Saves the Day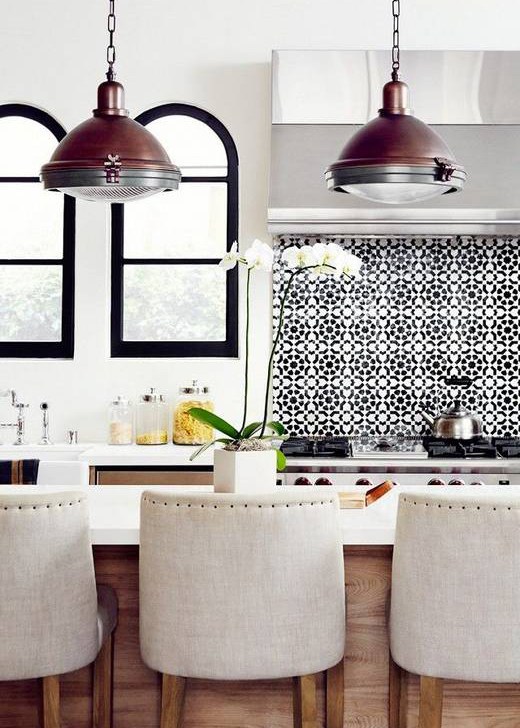 Another example of a timeless black and white design can be seen in this kitchen. The walls are painted white while the windows are painted in black. Not to mention, the backsplash tiles on the wall are patterned after a black and white template. Again, wood is used to counter the combination and make it more interesting to look at. What's different for this kitchen, however, is that the owner made use of copper pendant lights instead of going with the same black and white theme.
43. Signature Brass Chandelier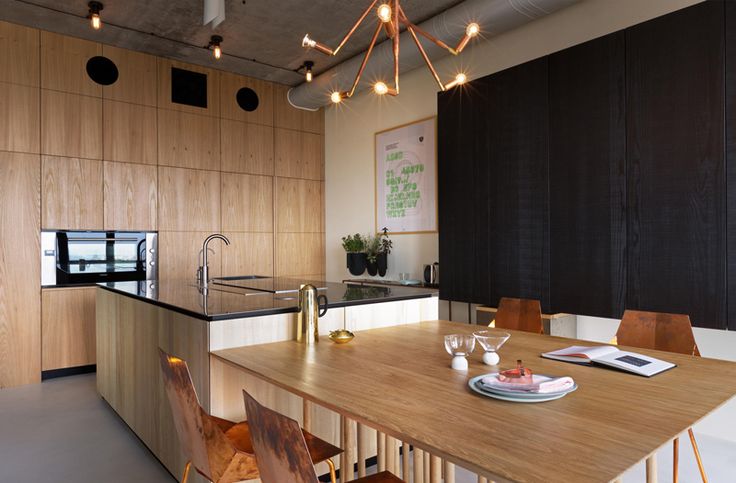 To conserve space in a kitchen yet still be able to have a kitchen island, a good idea is to include a table extension right beside the counter. This works best for kitchens with limited spaces as it eliminates unnecessary clutter in an area that could have otherwise been modified to begin with. Apart from connecting the kitchen counter and dining table, the kitchen is highlighted by a signature brass chandelier that breaks ordinary notions on how a chandelier should look like. A black wall cabinet is on one side of the room to give balance to the colors.
44. Simple Pastel Kitchen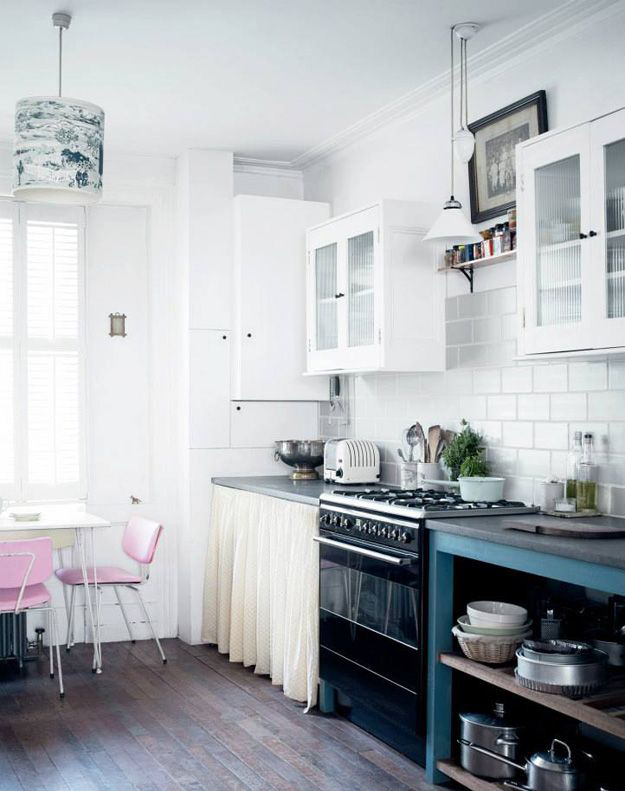 The biggest trend among kitchens in 2016 was the use of wood for floors and counter surfaces as well as painting the walls and cabinets white. This trend is not foreseen to die out anytime soon; and for good reason since white always looks good in any room. For this kitchen, pastels are used as an accent to the white walls and cabinets. The counter is painted turquoise and brown, which serve as welcome contrasts to the all-white theme of the room.
45. Stylish Backsplash Wall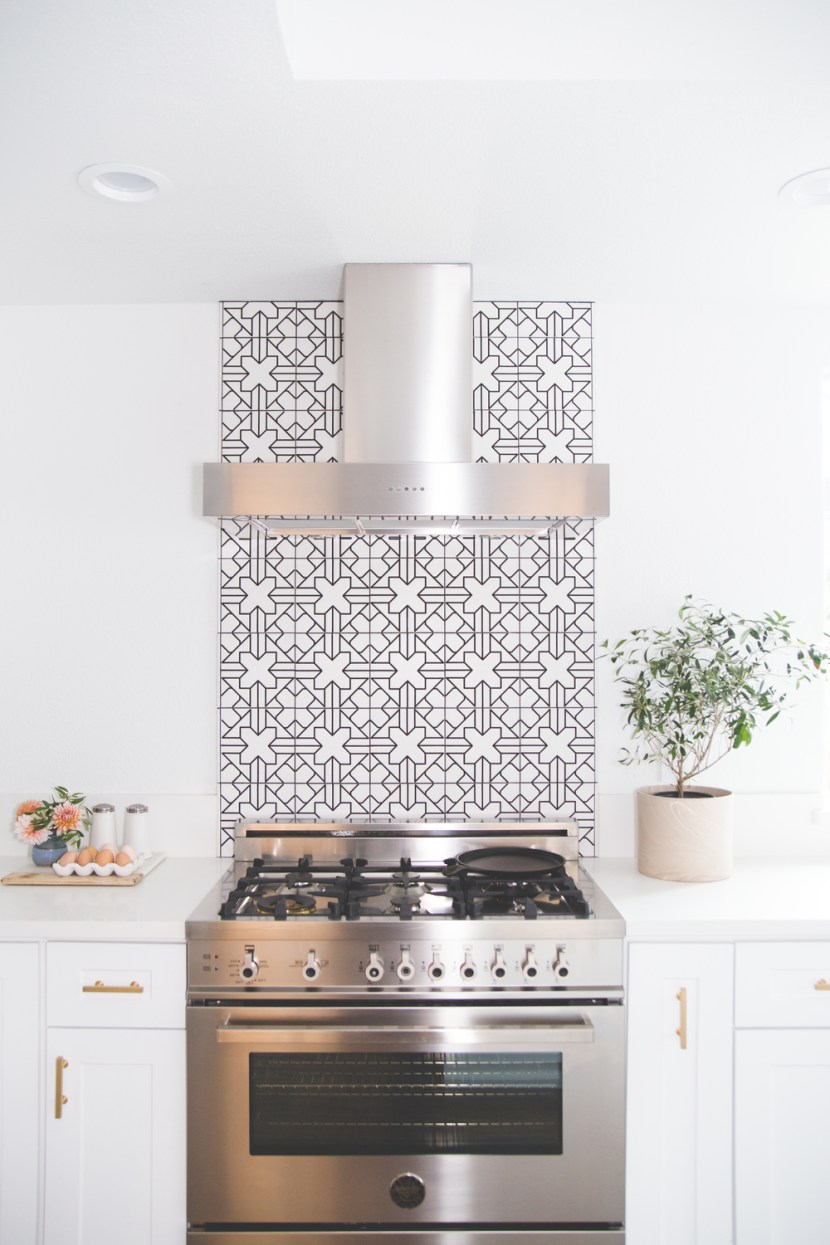 Another option for a backsplash wall is to make use of a pattern that's not typically used in homes. Geometrical patterns and shapes were pretty big in 2016. And as evident in this kitchen, the homeowner was creative enough to incorporate the shapes onto a backsplash wall, creating a distraction from all the white colors on the walls and counter surface.
46. Working with Space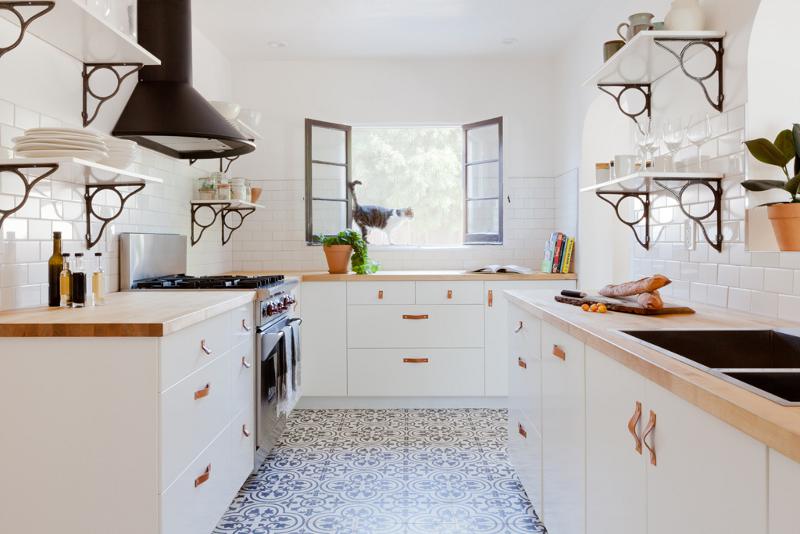 Some homeowners would usually think that a long and narrow kitchen is difficult to decorate. The problem is they don't really know how to use the space for their advantage. Because of this, they aren't able to make the most out of the kitchen. If working with a long and narrow kitchen, it's good to make use of open shelves and closed cupboards below the counters. It's also good to work with a single color theme so that everything goes well with one another. A good suggestion is to go with white for all the appliances to pair with the walls and counters.
47. Shades of Gray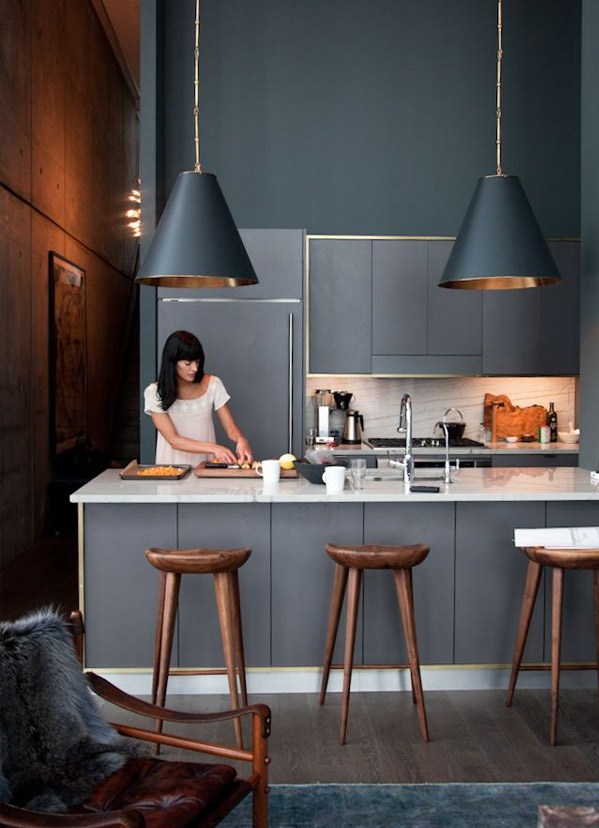 This kitchen completes each other's design with a gorgeous one-color theme using various shades of gray with golden borders on its lamps, countertop base, overhead cabinets, and even the refrigerator. The bar stools are wooden, which complements the hue of the flooring of the entire room. The entire look is hard to pull off but this kitchen manages to do it right.
48. Abundant Lighting

In any kitchen, lighting plays a very significant role in the overall design of the room. This is why there are many kitchens that make sure they have sufficient windows to accommodate the space. In the absence of natural light, there's always the option to include plenty of artificial light and make sure it is strategically positioned just above the table. In this case, the lighting from the large pendant lights serve as a complement to the light coming from the windows. As a result, the room feels brighter and warmer. There's also a comforting sense to the room, which is key to modern kitchens.
 49. The Modern Kitchen With a View

There's nothing better than a kitchen with lots of natural light flowing through it. And this kitchen allows in just enough light without making the room feel dull. The window even showcases a garden view. The overhead cabinets in the kitchen are simplistic and painted in matte black. Below it are a series of panel tiles that give contrast to the natural stone benchtop that forms an almost U shape that connects most of the kitchen together. The counter doubles as a breakfast counter, thanks to a couple of black bar stools strategically tucked in the bottom.
50. Black Meets Wood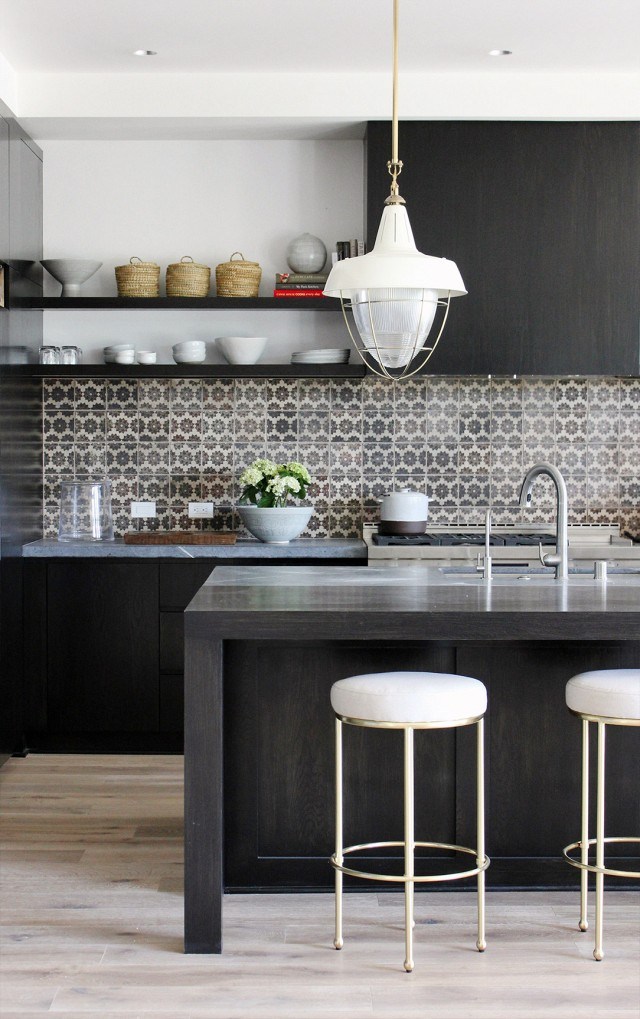 There's a sense of sophistication only a black kitchen produces. No other kitchen comes close to this since there's really something about the color that gives it an elegant appeal. The owner of this kitchen has made sure not to go overboard with the black theme as he has incorporated natural wood floors and the use of white furniture and lighting fixtures. The backsplash wall is adorned in a black and white ensemble that stays true to the overall theme of the room.
Check Out The Video Portrait of Best Modern Kitchen Design Ideas for 2021