31. Small Wall Wicker Basket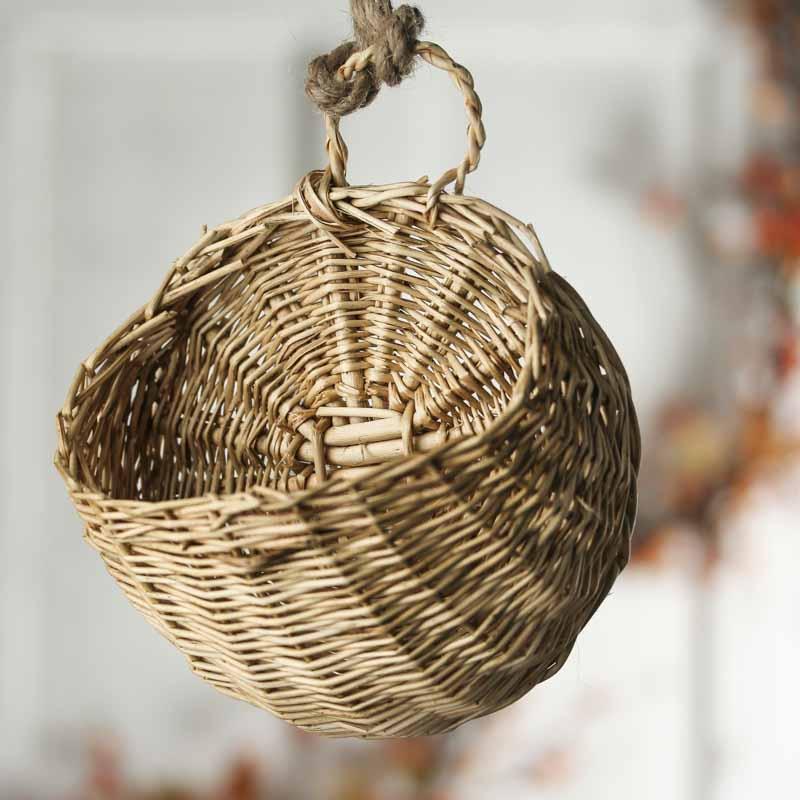 Hand-woven from the water hyacinth, this sturdy small wall wicker basket is both charming and rustic. The light braided band makes it easy to hand it well on your wall, and it has spiralling that makes the basket have an eye-catching look and classy enough to blend in any room in your house. It brings out a traditional design that adds a stunning flair bringing out its decorative and practical artistic look.
32. Square Baskets Design Ideas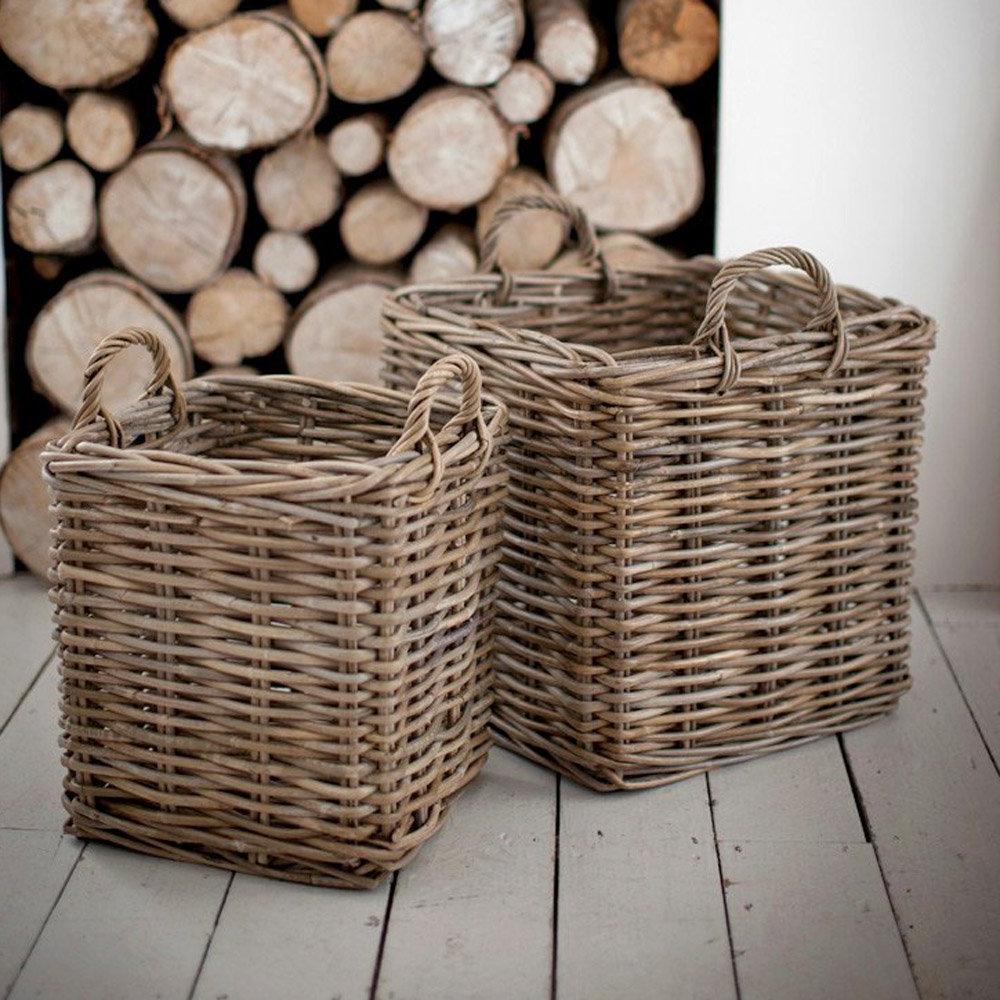 This is a Square basket with a stunning design that adds nature's beauty and warmth and stylized functionality to any room. The square basket offers versatility and perfect for storage accent in any setting. Its best-used multiple for storage and the well-designed round handles aids in moving the hoop around smoothly. It offers decorative and practical services to any room and well designed to add a natural effect of charm.
33. Towel Storage for Bathroom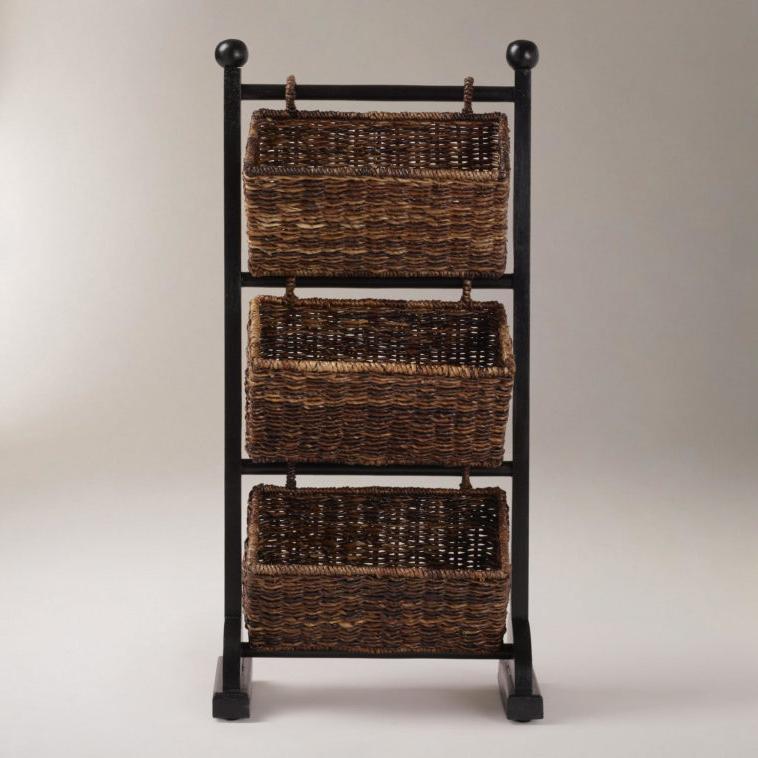 Beautifully attached to a sturdy and robust metal open cabinet, the towel storage bathroom provides excellent and organized storage. It features prominent and generous baskets that carefully connected to the metal with black accents that harmonize each other. The open cabinet has wheels that make it easy to move around, and it offers your bathroom with a stylish décor with functional beauty.
34. Traditional Antique Wicker Baskets for Kitchen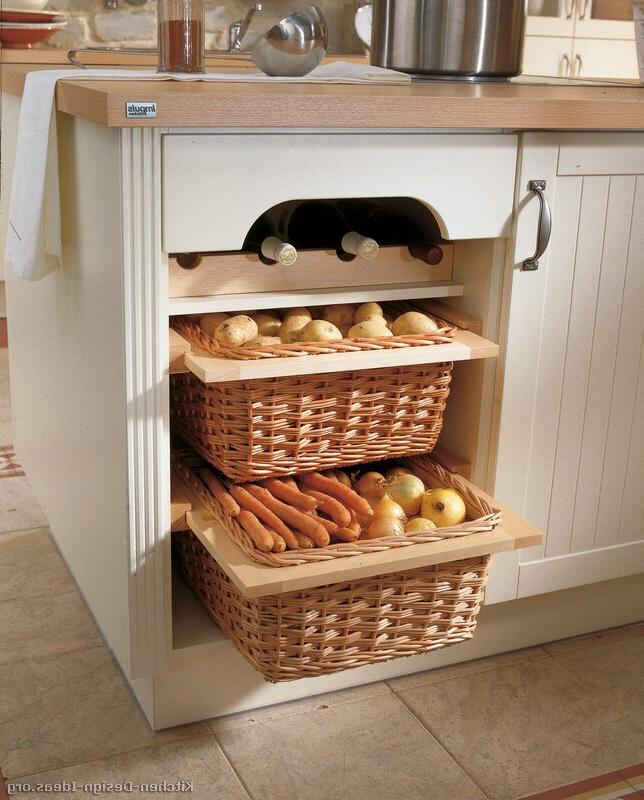 This kitchen antique wicker basket is classy, beautiful and organized to keep your kitchen essentials well stores and fresh. It gives your kitchen a super complete organized look with several grouping that gives it character and purpose. The traditional antique wicker baskets for kitchen make a signature arrangement. And it's well attached to the kitchen cabinet with solid wood ends that blends well with the basket. Best for storing your carrots, potatoes, carrots and other foodstuffs, the wicker basket makes your kitchen have a rustic charm.
35. Unique Basket Decoration Ideas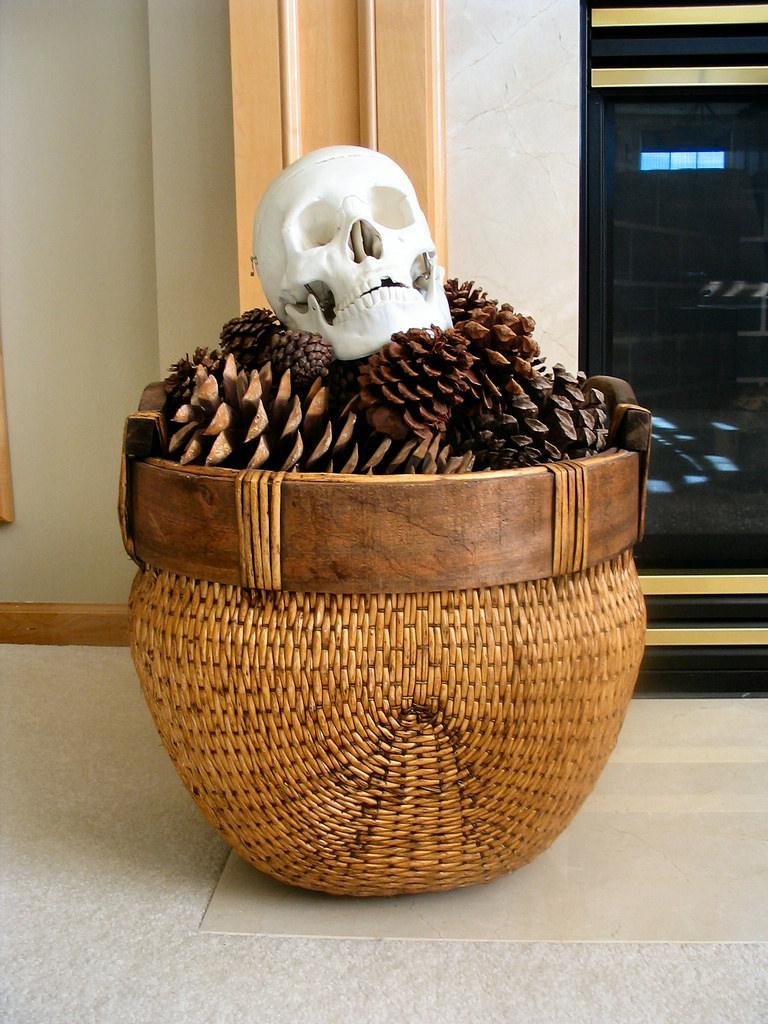 This round top wood wicker basket is perfect for display and for collecting and keeping your favourite things. You can use it for gourmet snacks and Halloween display of unique and scaring items. It comes with small handles on the side making it easy to carry, and the rounded wood belts us well secured with attached wickers making it stable.
36. Unique Wicker Storage Baskets Ideas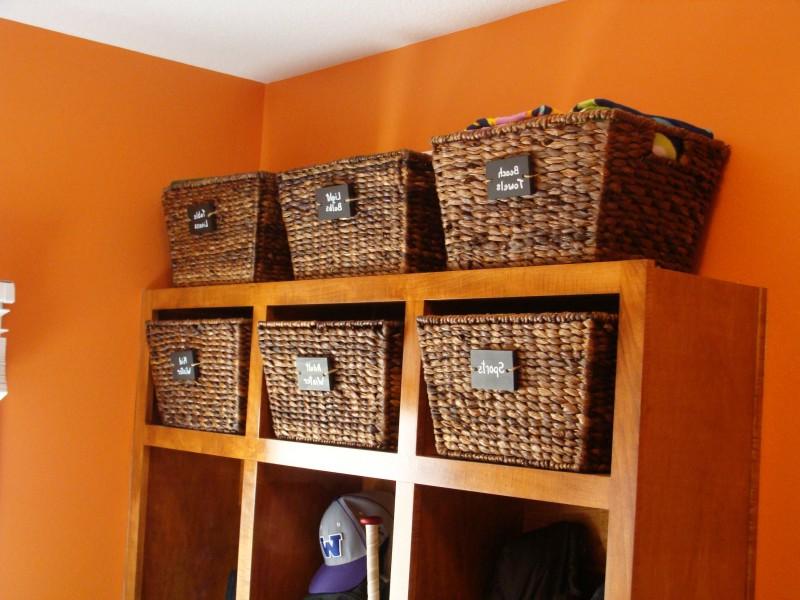 A woven wicker basket brings out a chic and chests breezy flair into any room. The classy wood frame makes the whole arrangement classic enough to bring out a contemporary aesthetic to your home. Fill the baskets with office supplies, linen, sports items, beach towels and others stuff. The baskets can be arranged systematically, put the first three well-labelled baskets on top of the wood frame, the other three below and the rest of space you can use it to set other stuff. The wicker baskets are strongly woven and removable. The combination of wood frame and wicker baskets give a direct beauty and style.
37. Very Nice Bench and White Baskets in the Child's Room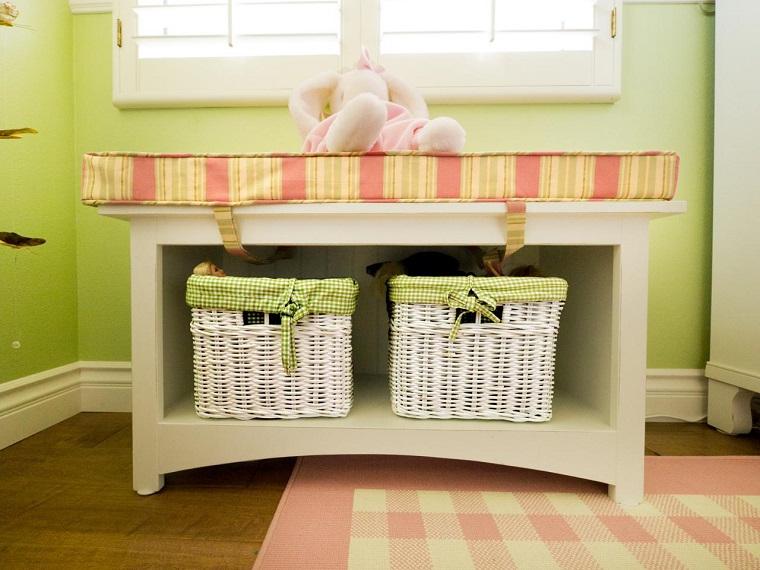 The two wicker storage bench is welcoming and offers the perfect perch to put your baby stuff and take a seat. The bench is crafted with sturdy and robust wood construction giving it a luxurious, clean and transitional look. It features two decorated white tome baskets with open style handles and a removable dyed lined to add a touch of simplicity to your baby's room. The wicker storage baskets are also well coordinated with colourful dyed fabric cushion for seating and the attached railing on the drawer keep the pillow in place. The natural fibre white basket gives the perfect storage for your baby toys and books while complimenting the room giving it a calm look.
38. Very Small Baskets to Decorate the Kitchen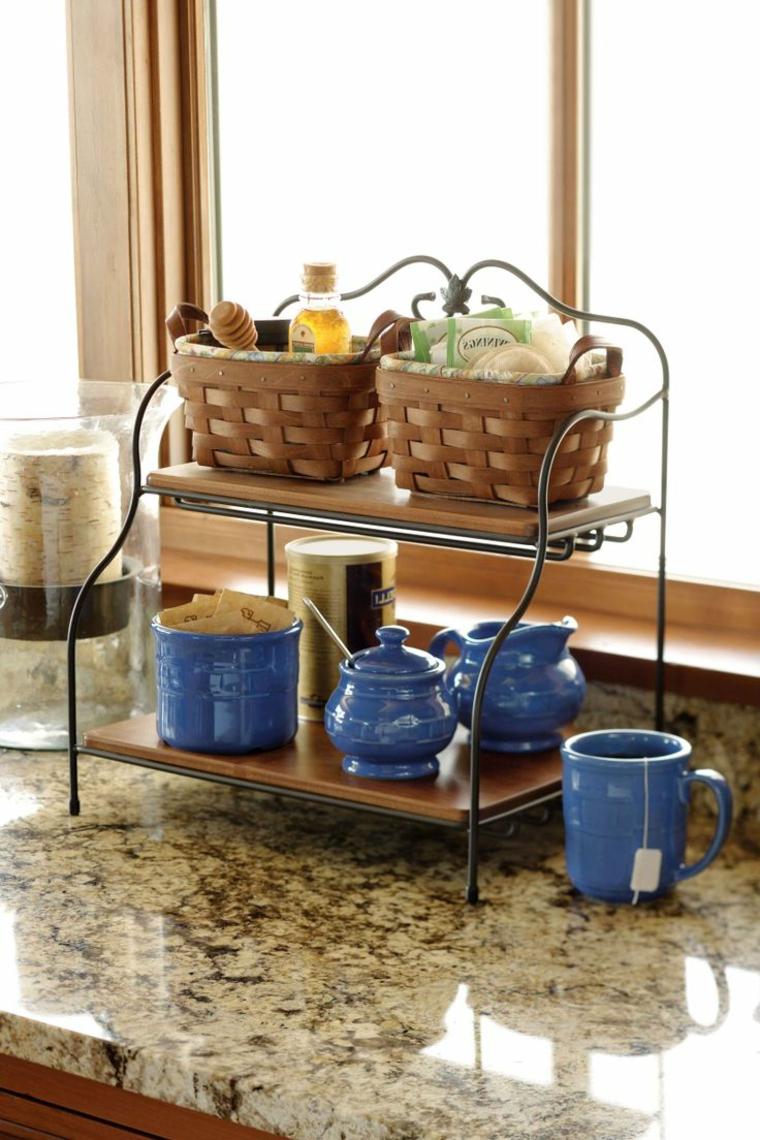 Adorable small baskets for your kitchen add a sense of elegant touch. They are firmly weaved together with stunning wicker materials making them ideal to be filled with various kitchen items. The baskets are well placed in on a metal frame and supported on smooth and matching pine wood making the whole combination add a trendy look to your kitchen. The smooth enamel kitchen countertops add to the other items completing the set beauty.
39. Vintage Grey Range Two Drawers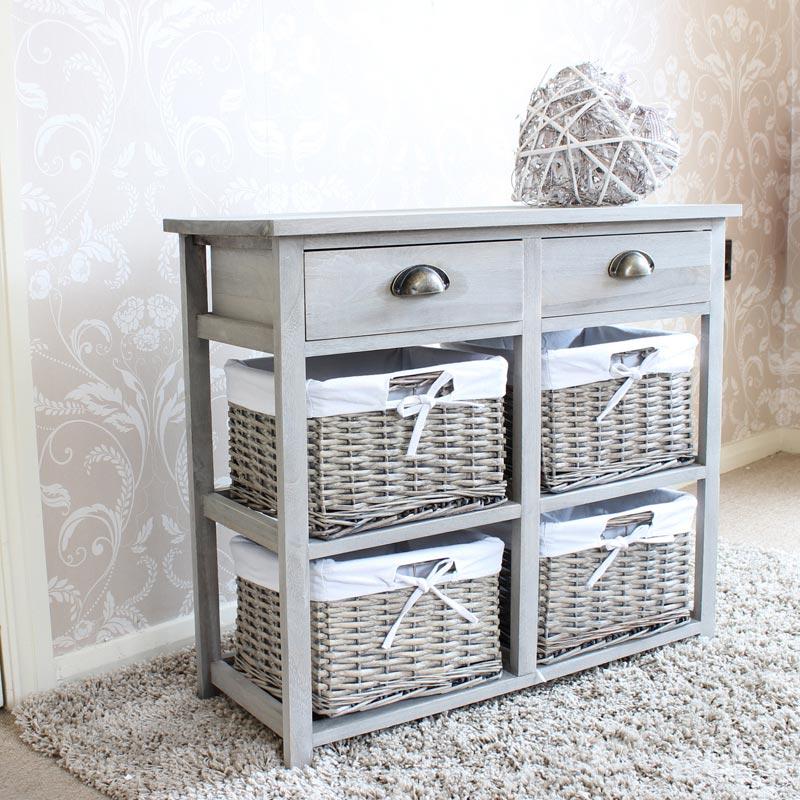 Give your bedroom, mudroom or entryway a rustic chic touch with these stunning eternal wood cabinet showcasing two drawers and four removable wicker baskets. The wicker baskets are super decorated bringing out their natural beauty, and the stylish removable lining adds to the charm of the vintage grey range two drawers. The wicker baskets are best for storing hats, shoes, and indoor and outdoor essentials and the top decoration completes the magic.
40. Vintage Wicker Storage Basket and Red Armchairs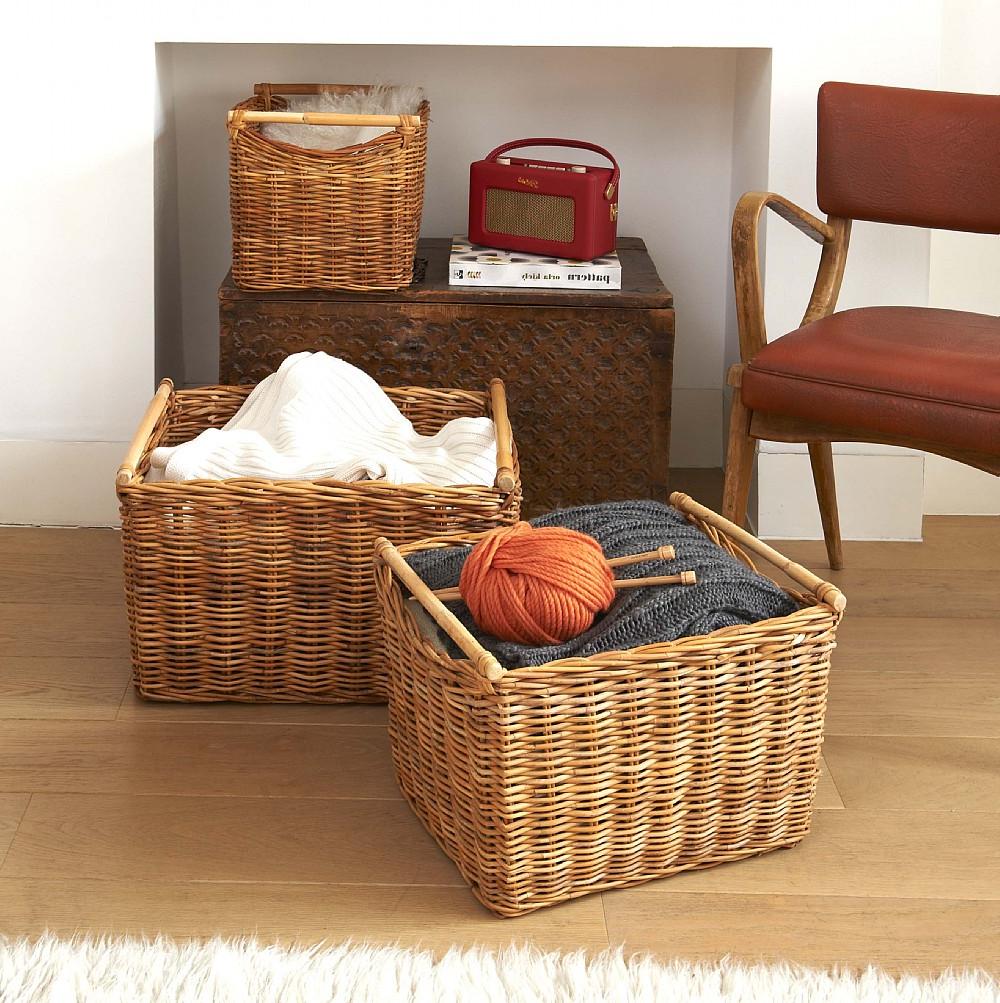 The vintage wicker baskets give a simple solution to storage without skimping on its style and beauty. The three-piece woven storage basket is made of dried and woven water hyacinth reed that showcases its natural beige hue and each of the basket strikes out its straightforward square silhouette with an in-built straight wood handle for quick and easy handling. Place them in your chamber and store your knitting items. The red armchair made of vintage pine wood and comfortable attached red cushion harmonize the wicker baskets making the room have a touch of tranquillity and exquisiteness.
More Wicker Basket Decorations On The Next Page…