41. Wall Decoration Ideas with Wicker Materials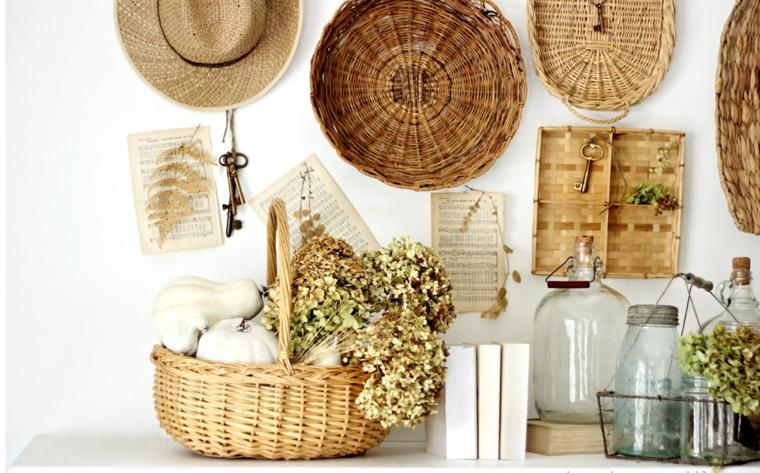 Wicker materials offer the best decorative hangings to any modern wall adding a concept of ethnic eco style. They are created using natural materials, and they can be used as cards or photograph displays. The wicker basket plates are also ideal for bringing out a relaxing and an environmental friendly decor style and they also act as storage space saving your space. Keep your keys hanging on the decorative wicker bowl and use the basket to store your kitchen items. Decorative wicker baskets, plates, serving trays or pots that are carefully hand-woven from the natural wicker materials add charm and warmth crating an accent of beauty to your home.
42. Wall Wicker Basket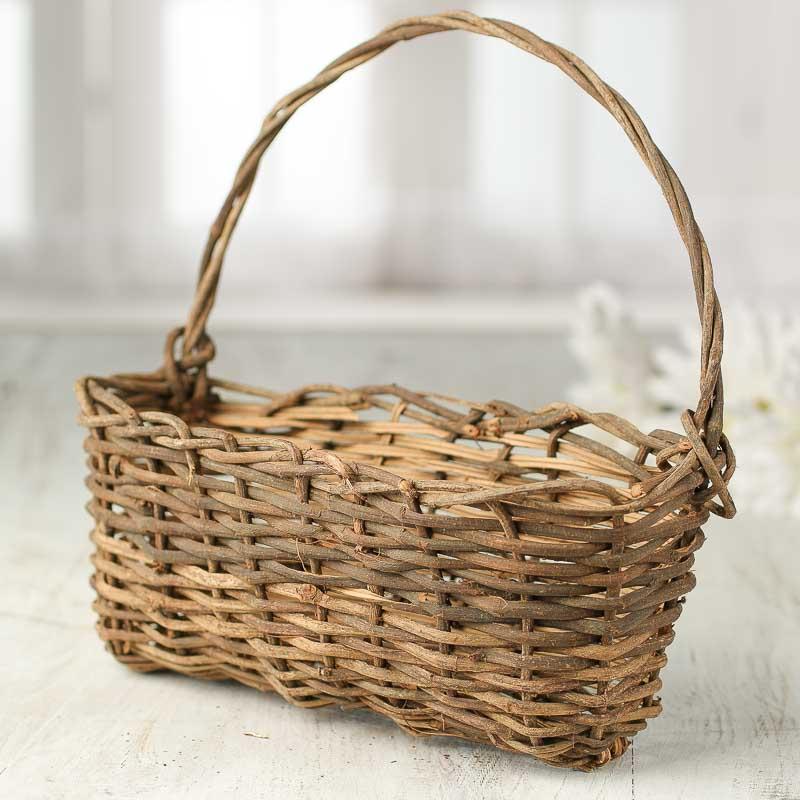 The wall wicker basket is perfect and convenient for catch-all for your mail, spare change and keys; this rectangle basket ensures you organize your space without having to sacrifice on your taste and style. This wicker basket design comes in several sizes to suit your needs, and the arching handle helps you move the basket around. It gives a beautiful taste that asserts with your interior decoration working with various colour styles and palettes.
43. White Wicker-Rattan Basket Decoration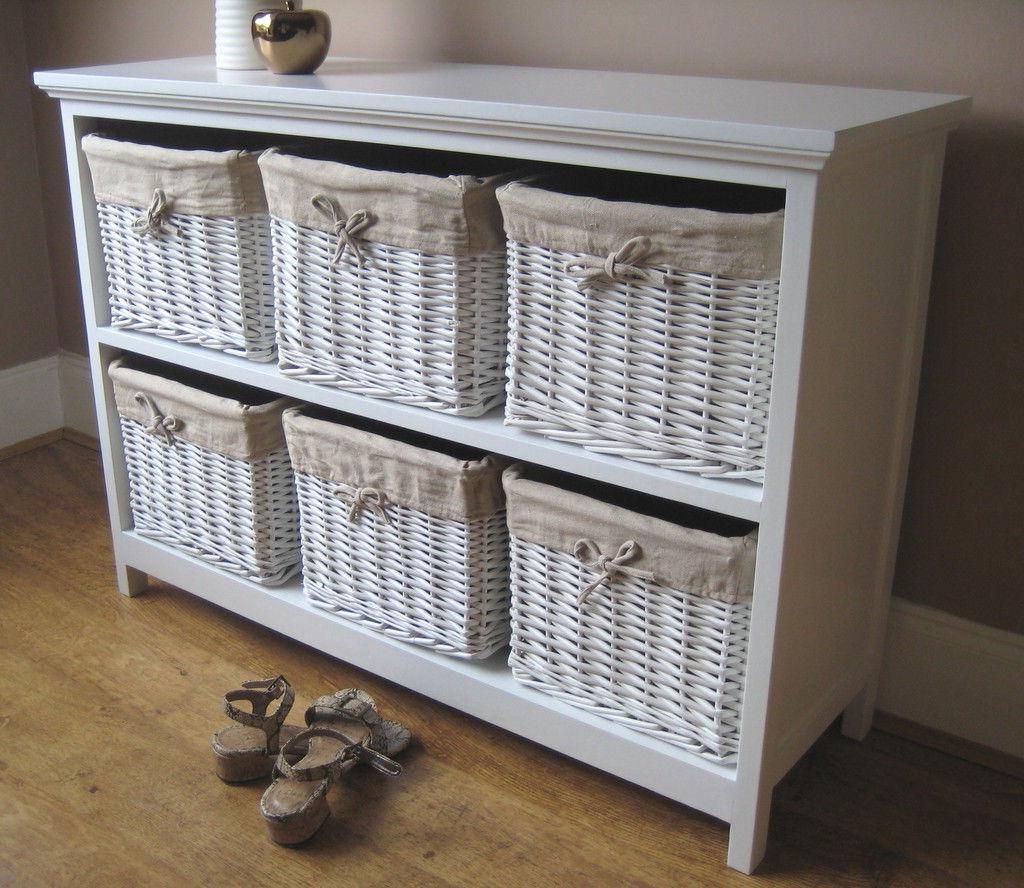 The cabinet frame is treated for a soft touch and feel, and it includes six white wicker rattan baskets that are well decorated to add chic. Though pleasant piece with a traditional silhouette you can add an inspiring echoing that allure by placing a glass lantern on top. The six wicker basket has an added taste of fabric that is well decorated to combine the vibrant look, and they are removable. You can virtually place this stunning cabinet combination everywhere and anywhere and lets its charm give significantly to compliment your home.
44. White Woven Laundry Basket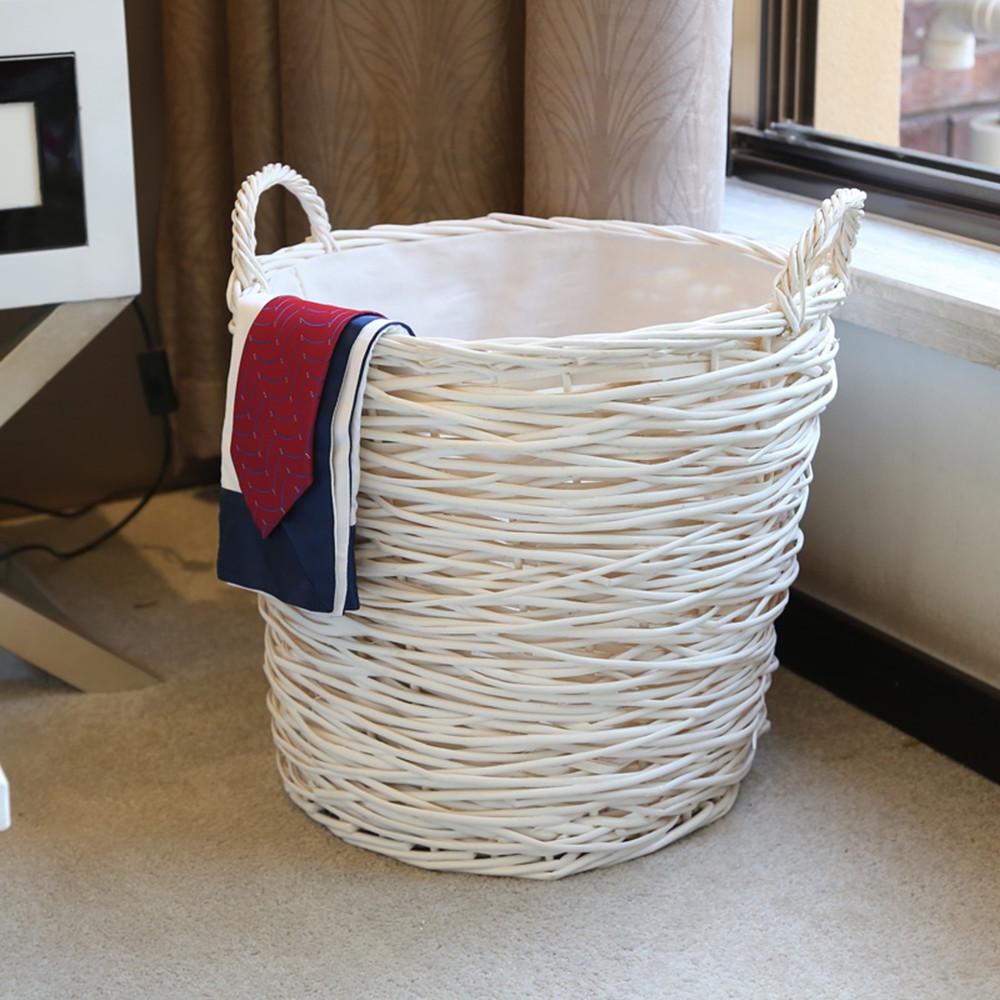 Stylishly sort your laundry with this White Woven Laundry Basket that is hand-woven with contemporary style. The basket has hand grips on its both sides making it super portable, and it's lined with a white canvas bag. It has a white coating for ease of cleaning, durability and appearance. The white coat finishing also adds a refined look, and it matches well with any decor in any room in your home.
45. Wicker Basket with Room Furniture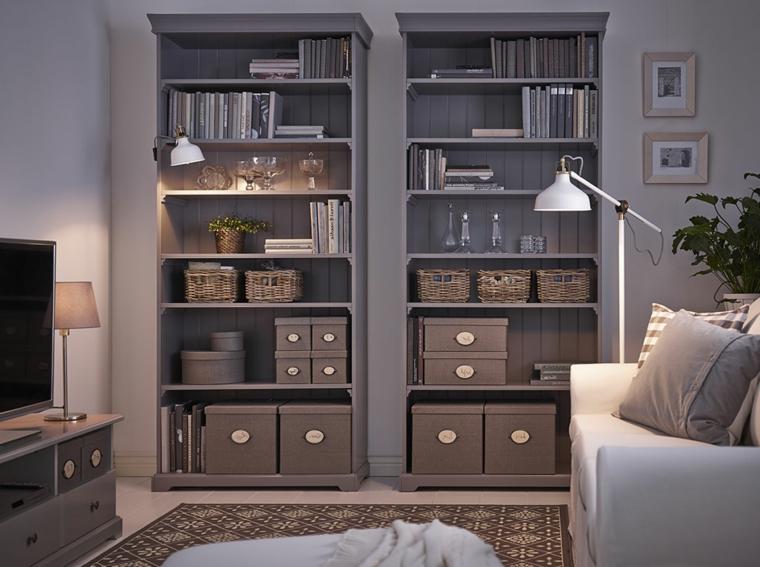 The stunning beauty of wicker basket is portrayed by their natural looks that evoke a feeling of coolness and serenity. A living room with a modern look and a well-designed cabinet that is embraced with five small and stylish wicker basket are all you need to create style and elegance. The wicker basket can be used to store various items like remote controls, books, keys and other living room stuff. The cabinet, rug, TV stand and seats have a contemporary look that blends well with the interior décor and complimented by the natural, classy look of the wicker baskets.
46. Wicker Baskets Inserted In Teak Wood Bench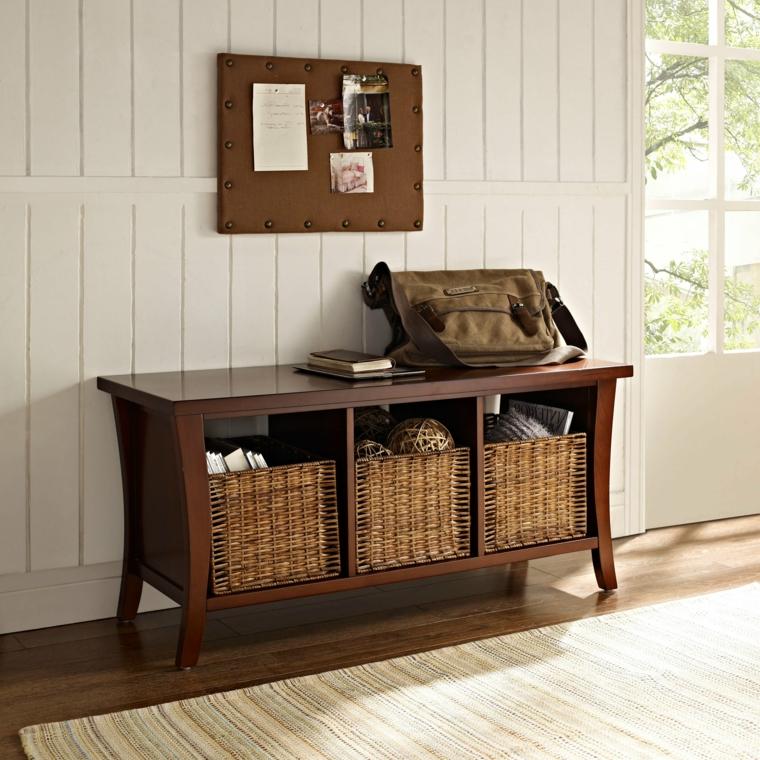 The perfect combination style and functionality, this Wicker baskets embedded in teak wood bench fit wells in your entryway. Featuring three inserted wicker baskets for a neutral finish and hiding clutter, this lovely piece brings out an organizational appeal to your home space. The bench is made of high MDF/Pinewood with veneer, and the baskets bring out their natural beauty and taste complimenting the bench. The bench offers the perfect place for keeping your bag while the baskets are ideal for keeping books, balls and other entryway items. The surroundings harmonize each other making the hallway super friendly and sophisticated.
47. Wicker Drawer Cabinet Ideas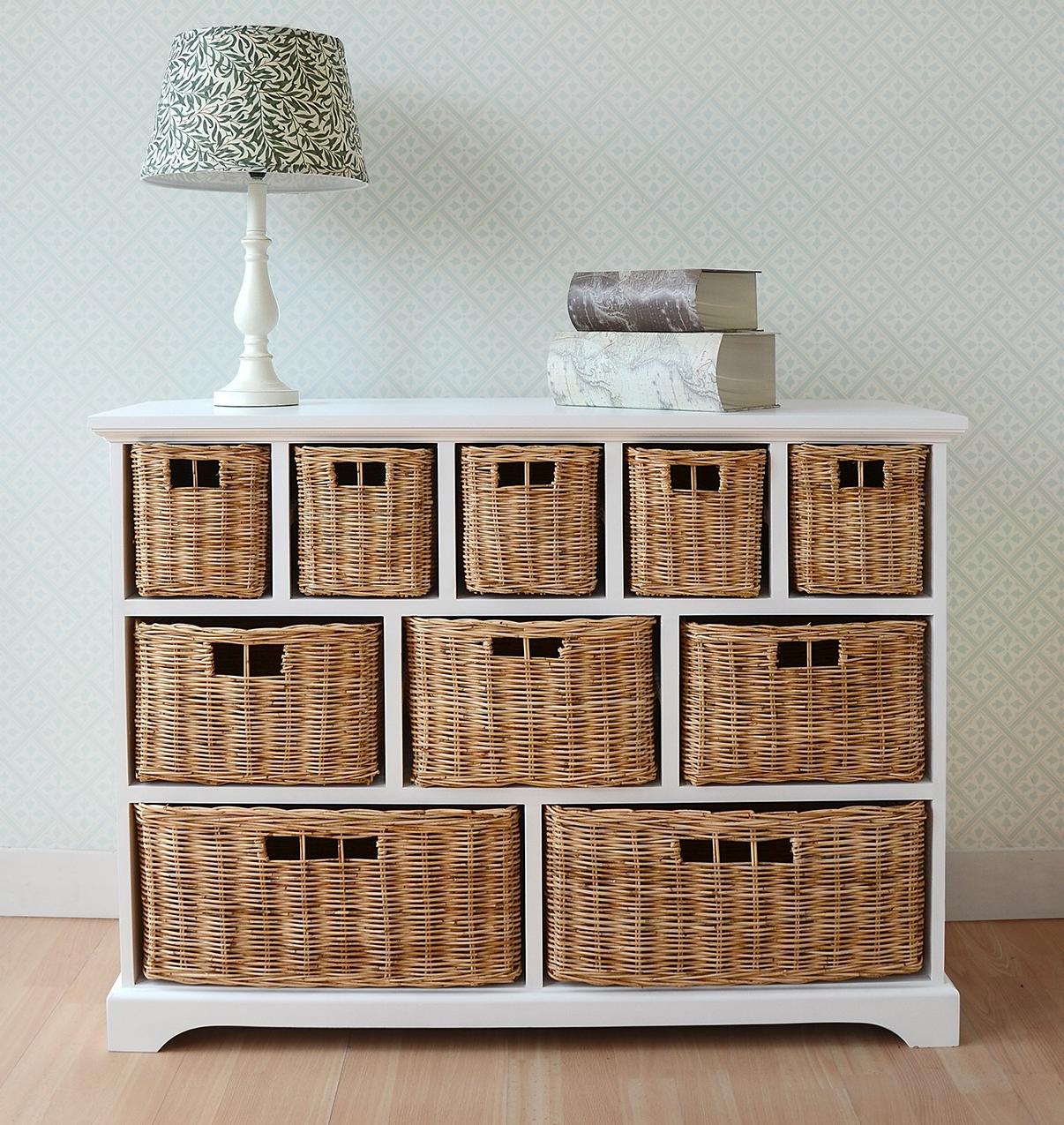 A versatile piece of beautiful furniture that is ideal for any home to bring out charming finesse. Place this beauty anywhere in your home and any room that needs style and organization. The wicker drawer cabinet is where fashion meets storage with ten well-inserted baskets that are crafted with natural beauty that brings our elements of style and rustic aesthetics. Use the ten pull-adorned basket drawers to careful and safely tuck-away all your out-of-season frills and also the seasonal accessories. The light distressed antique white finishing wood frame brings out its uniqueness, and additional of standalone lighting completes its beauty.
48. Wicker Picnic Basket Ideas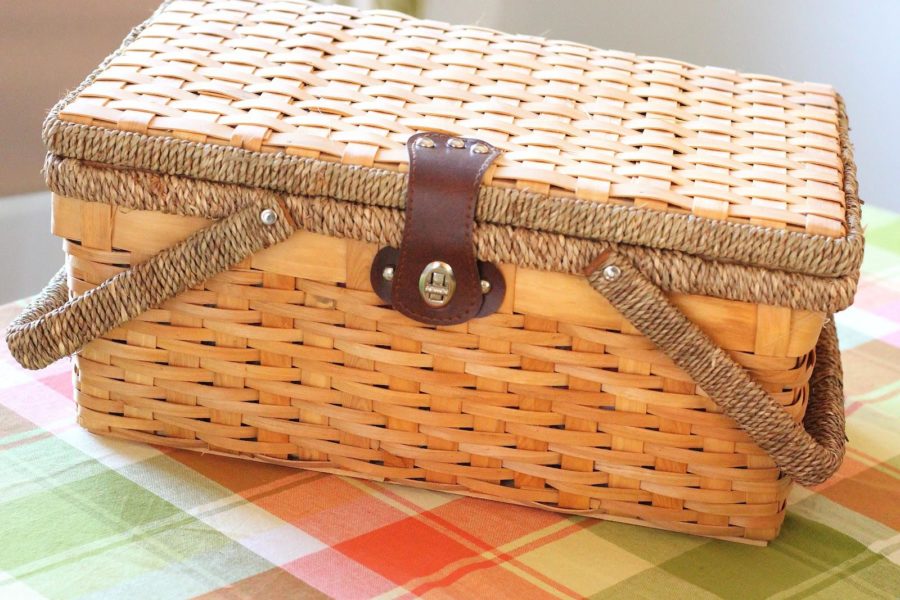 Grab your favourite picnic goodies and head straight to the park for fun filled moment with your loved ones with the Wicker Picnic Basket. This picnic basket offers the idea basket for your short breaks, and it's well crafted to carry your plates and silverware comfortably. It features a durable wicker construction with braided folding handles, an attached folding lid and a PU leather clasp. The attached folding lid will keep your picnic goodies safe. The picnic basket offers the best organizing and storage facility for your picnic household items. It has an overall design that is striking and welcoming.
49. Wicker Pots Ideas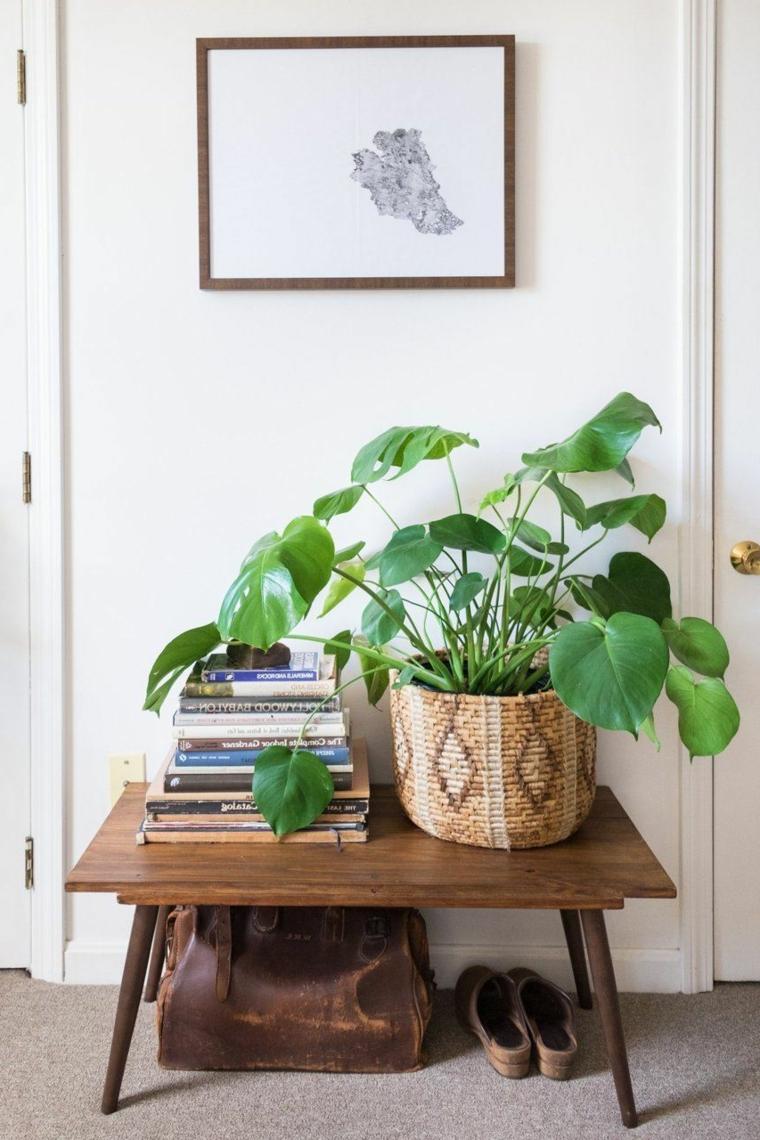 The rattan core round planter is perfect for your indoor houseplants. It comes with a plastic liner that keeps your floor and tables perfect clean from any spills. It's a lightweight and plush wicker pot that can hold an alarming amount of weight, and it adds a unique and fantastic pop of texture and style to your living room. The wicker pot is individually woven to bring out its natural perfection that compliments well with the surrounding. The designed pot is versatile enough to offer decorative and practical functions in your home.
50. Wicker Storage Basket under Bench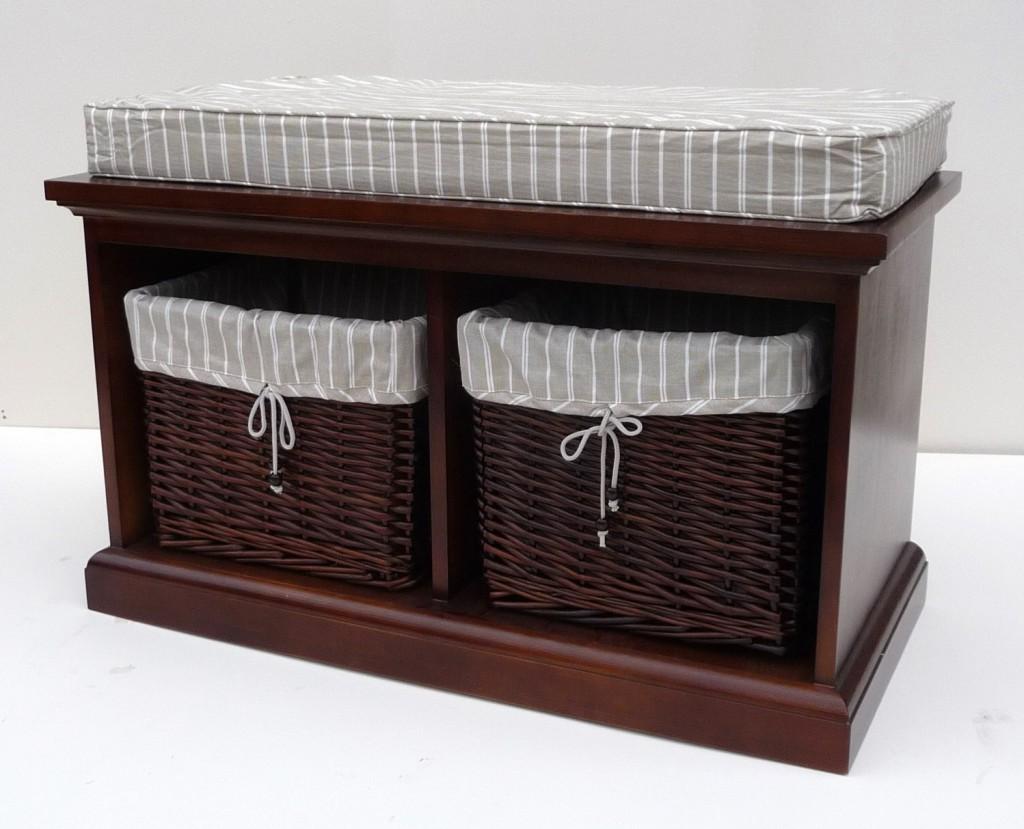 Wicker storage bench with stunning looking storage baskets adds a well-designed look to any home. The top is covered with a hard cushion that is comfortable sitting on and the bottom has two beautiful baskets with inside removable lining fabric that matches with the cover of the buffer. The bench is made of attractive and well veneered dark coating that brings out its elegance. A possible place to use this Wicker Storage Basket under Bench is on the entryway, end of your bed, living rooms, hallways and playrooms. The dark woven baskets with match bench bring out exquisiteness and modish look.
51. Wicker Storage for Closet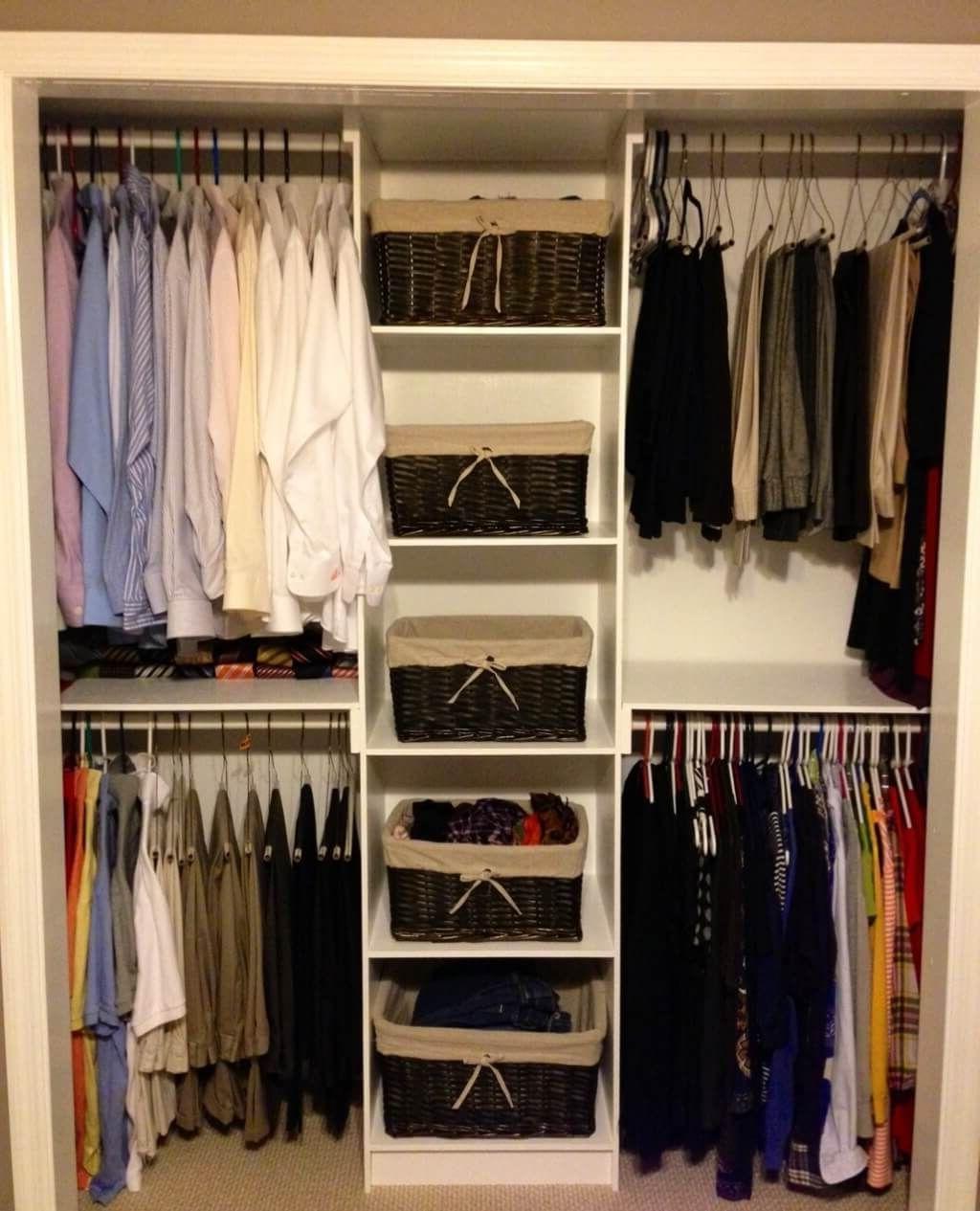 An incredible closet needs to be stowed with a style that gives you a fashionable way to organize your stuff and give you a closet system that keeps your things span and spic. The wardrobe is crafted of high-class wood with the shelves are adorned with wicker storage baskets that offer additional storage of personalized items. The five wicker shelves add a classy touch of beauty with their welcoming colour that compliments wells with your outfits.
52. Wooden Shelf and Wicker Baskets at the Entrance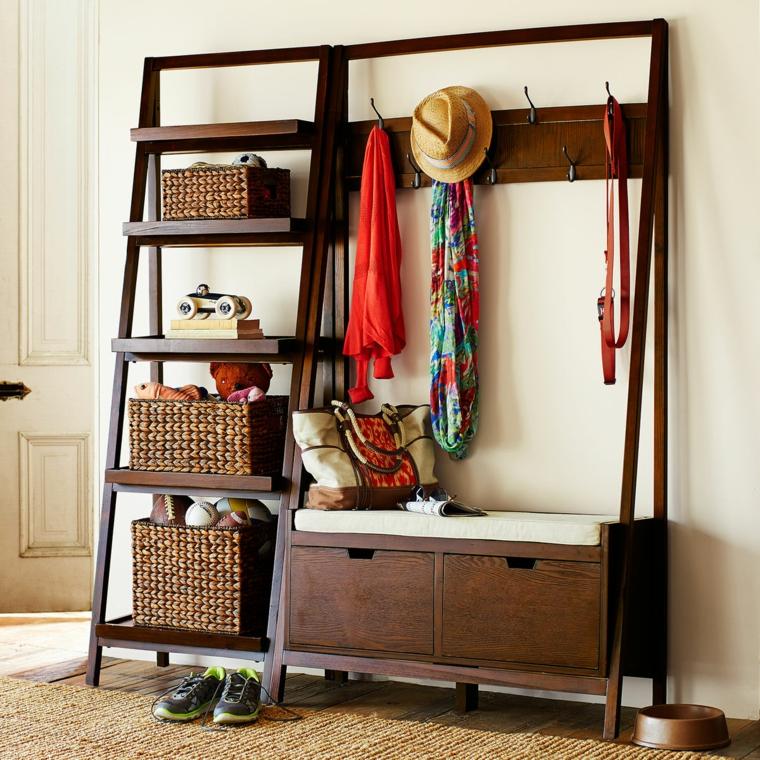 The beautiful long-standing wooden shelf is the perfect entrance style that gives a welcoming look, and the additional two storage baskets add the needed natural beauty. The wooden rack is made of elegant looking pine wood that has a classy finish with a seating area that gives you comfort as you change your shoes. The two wicker baskets are woven to their perfection and have enough space to store various items like toys, sports stuff and others. The hooks on the wooden shelf play the perfect space saver for belts, coats, and jackets among others. The Wooden shelf and wicker baskets at the entrance has n adorable look that is relaxing and classy.
53. Wooden Woven Laundry Storage Basket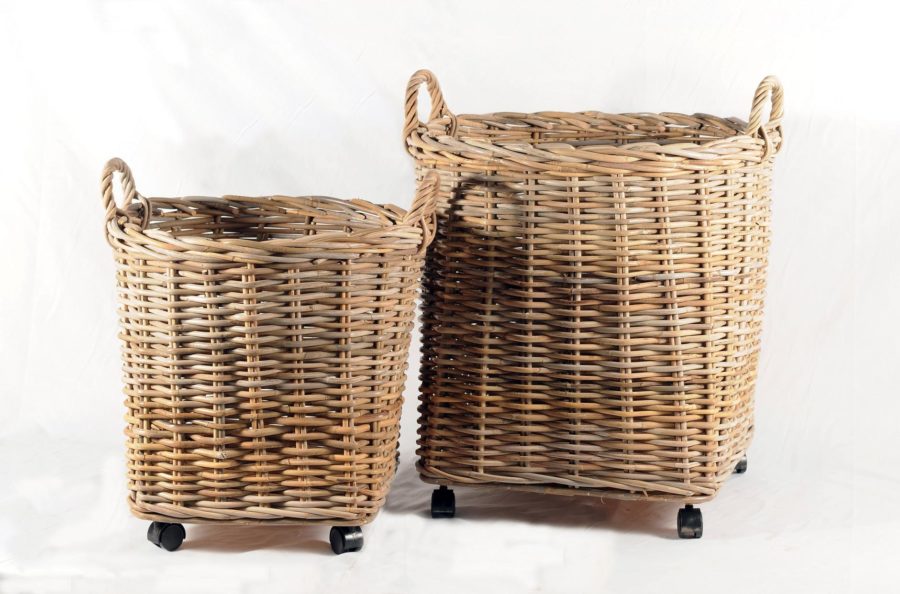 The versatility and yet sturdiness of this rounded rattan storage basket offer the best basket for neatly keeping your laundry. It's an essential addition to your well-pointed home, and it brings out a touch of a traditional style as it catches your dirty clothes. The timeless design makes it blend effortless from crisp contemporary, aesthetic to cosy cottages and the two handles and the wheels make it quite easy to transport it form any room to laundry room.
54. Woven Medium Basket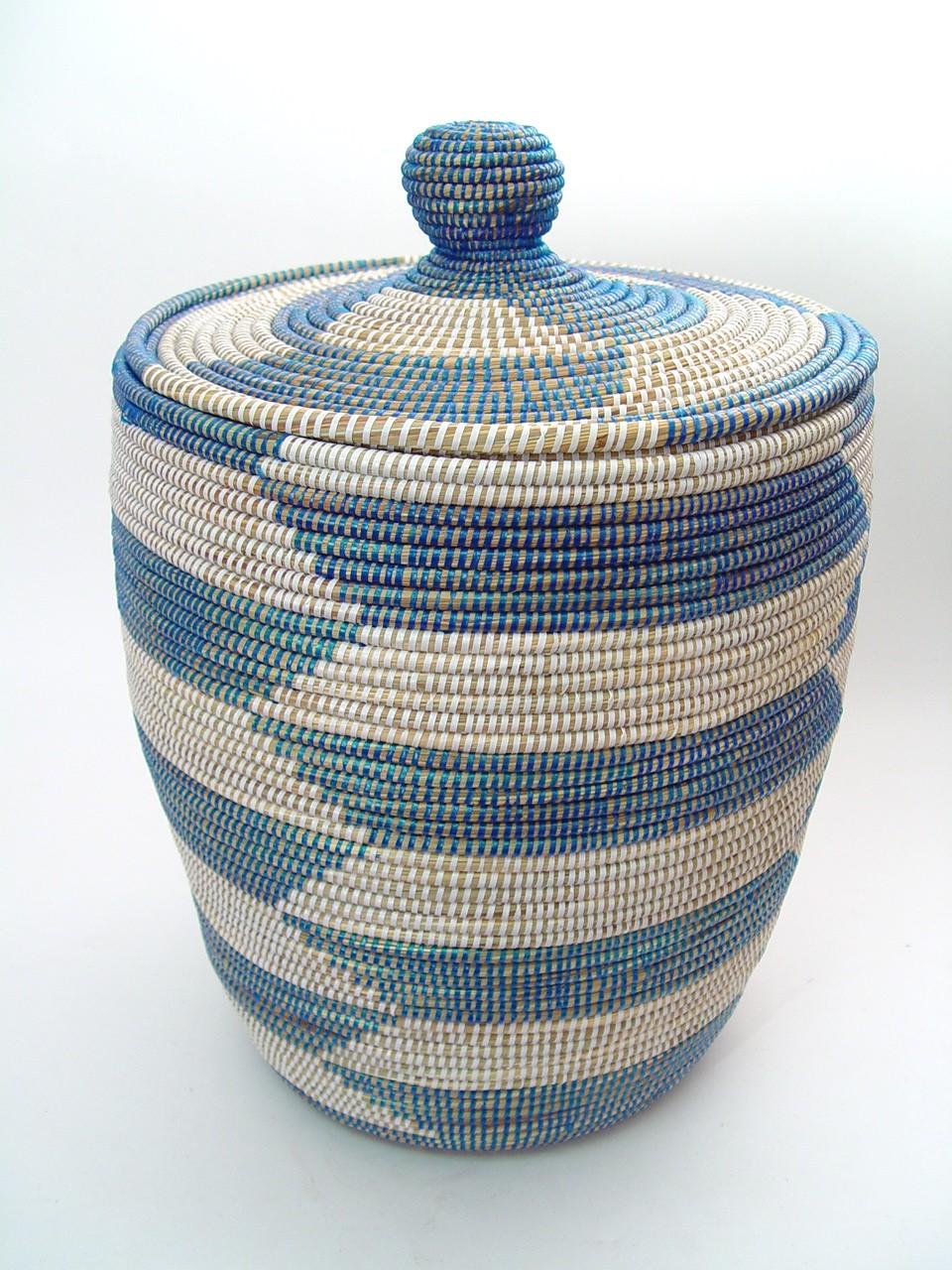 A medium study is woven round basket that is twisted by the rural Senegal women with a traditional technique that brings out its beautiful look. It's a graphically printed basket from the millet grass and also embroidered using the recycled plastic threads. They are ideal to be used for toys, towels, laundry and as entryway catchalls. They have a well designed and matching cover that fits perfectly keeping your things safe.
55. Woven Wicker Laundry Basket with Lid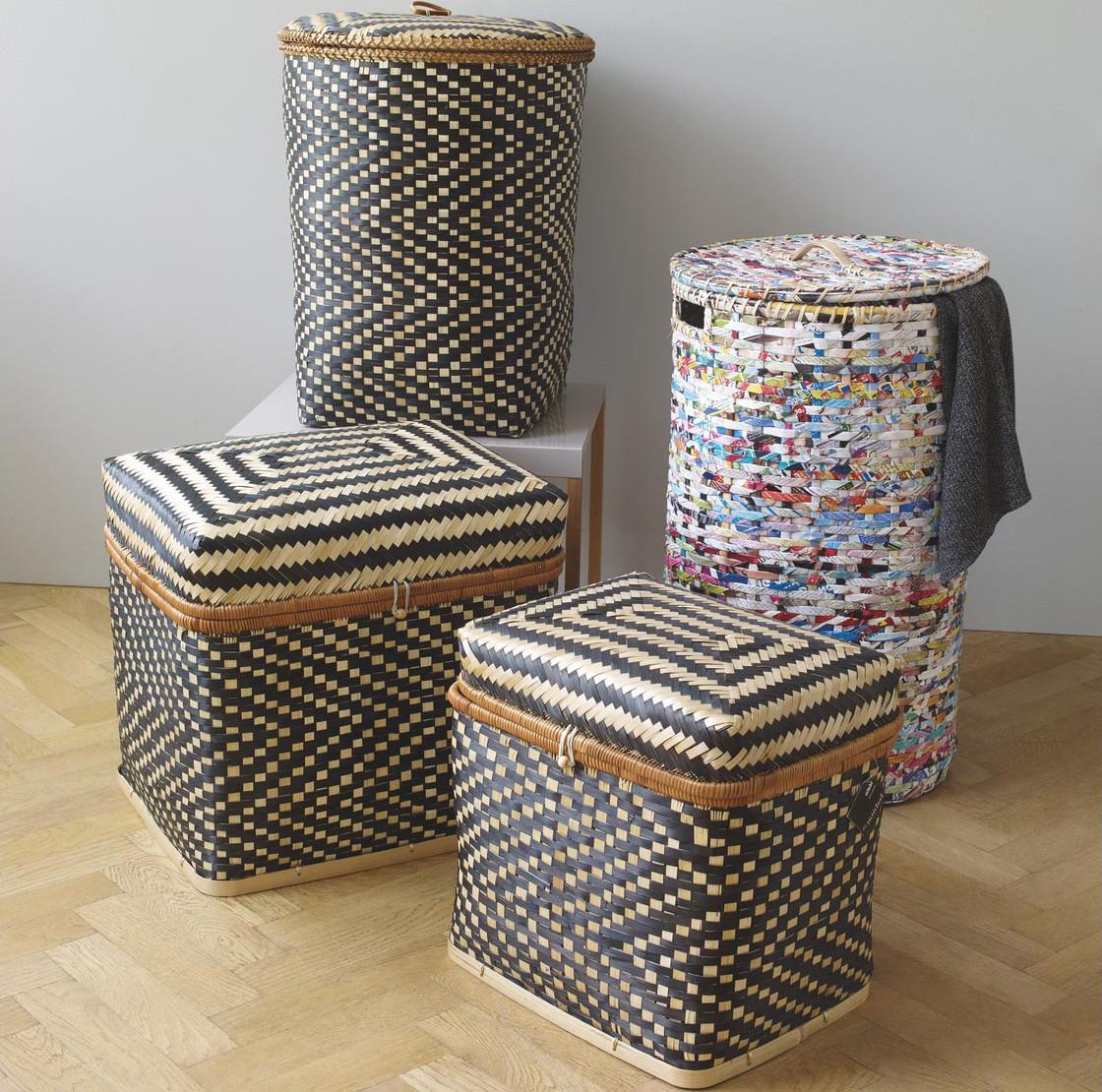 The bamboo patterned laundry baskets come with their cover that is used for apparel and decorations. They make a great way to organize and store your dirty clothes, and it brings out its attractive additions to your rooms. The basket comes in various shapes, sizes and colors giving you a chance to choose your style.
These intricate baskets super grace our homes everyday function with their stunning natural beauty, and each is hand-woven exclusively to bring out their natural beauty. They offer the perfect decorative and storage accents that are designed with function and form in mind. From various designs, shapes, colours and sizes you will find the ideal style and solution for your home. They make the beautiful hand-made storage solutions and beautify your playrooms, pantries, offices and other rooms offering you pure admiration and clutter-free home.