Kids can drive you nuts as they litter the house with their toys every other time and this has nothing to do with the number of kids you have reason being whether you have just one kid or more they all cause a terrible mess. However you can't really stop them because toys are everything to kids, it is from toys that they learn how to speak, how to play, how to associate and so many other important aspects of life. The best way to let your child enjoy his or her toys while keeping your home perfectly neat is through finding the best storage idea for their toys. But I know this will not be the easiest task which is why I have taken trouble to make a very reliable selection of 50 best toy storage ideas that your little one will love. On this list you will find toy storage ideas for boys and girls of all ages and in all colors, you just have to take your pick………

1. Play room toy storage ideas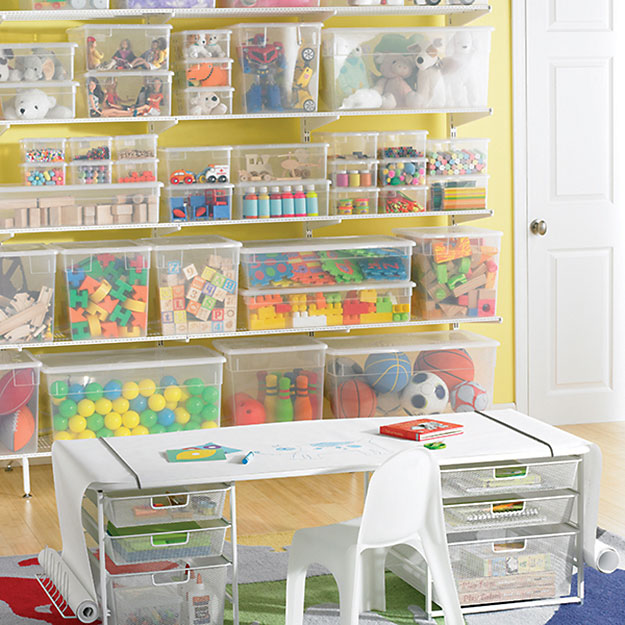 Your child will love her or his play room even more if it looks like the one topping our list here, this stunning toy storage idea combines quick accessibility of toys with maximum tidiness and on point organization. This is a set of very many transparent containers in different sizes to ensure that they can accommodate different sizes of toys. Since the containers are transparent your kid will be able to spot any of the toys they want to play with, there is definitely no better way to keep a playroom well organized. So if you have been looking for the best toy storage ideas for that angel's playroom then you will definitely not regret going in for this gorgeous set of transparent dishes.
2. Toy storage ideas with cabinets and baskets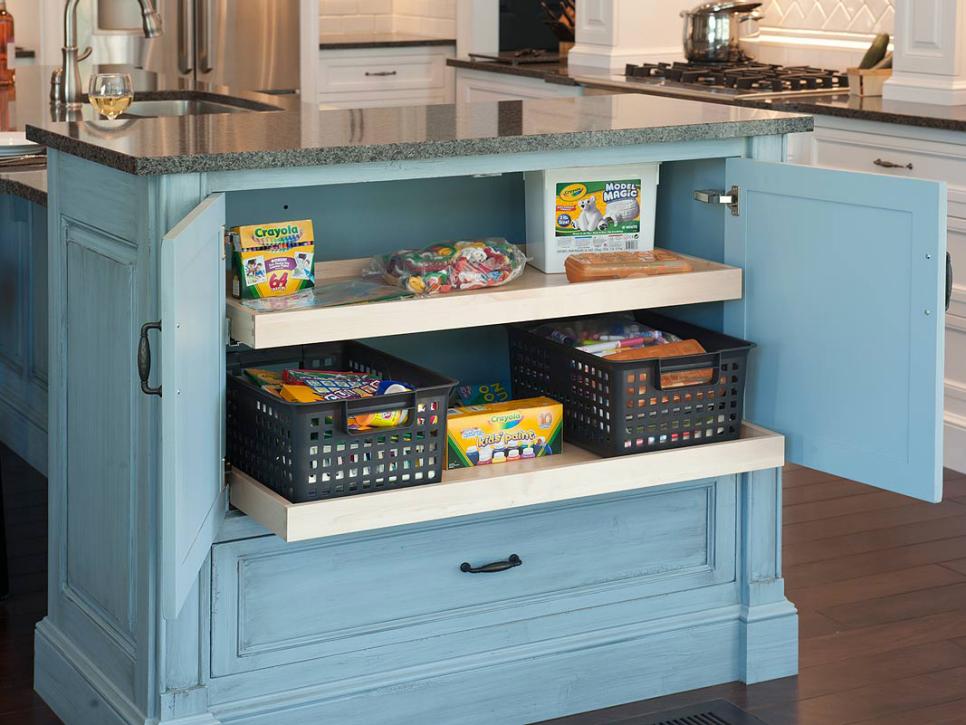 If there is enough space in your child's room then it is best to make use of that space and make the room look better with this toy storage that combines both cabinets and baskets. It features eight cabinets with the six top ones left completely open for easy insertion and removal of objects while the bottom cabinet is half closed to prevent items from falling out to the floor. This will work best for kids who are six years and above and with its neutral white finish, it is appropriate for both boys and girls.
3. Toy storage ideas for two year old kids

At two years your little one is overly active and they tend to scatter their toys all over so to prevent their toys from getting lost while at the same time keeping your house neat, this double tire chest will be a great choice. It has two open and spacious tires where you can easily drop his or her toys and they will pick them out without asking for your help. The upper tire which is larger is meant for the larger toys whereas the lower tire that is quite smaller in size is meant for accommodating those smaller toys that your two year old plays with.
4. Living room toy storage ideas
Much as this storage idea has enough room to accommodate a very huge amount of toys I really love the fact that doesn't take up a lot of space in your house and above all looks classy enough to be kept in your living room. In this five section toy organizer you can insert different size baskets and containers to help you keep away the mess of having baskets flooding around the room. With those stubborn boys in your home, trust me this will be your life saver especially if you have limited space in your home.
5. Toy storage ideas for boys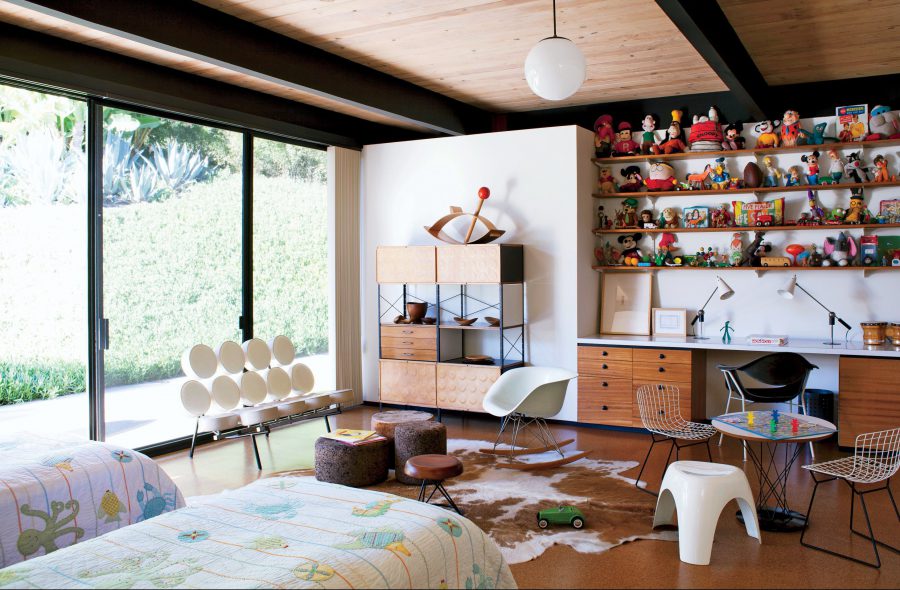 For those of you having trouble finding the perfect storage idea for your boys, these mesh basket organizers have just ended your search. These multi-functional storage bins can be used both indoors to store different kinds of sports items and outdoors around the pool to store swim toys and accessories. They are made with smooth rolling casters that make it simpler for you to push the bins to any destination of your choice and the small pockets on this side help you to safely store those really small toys. The mesh bins are wide enough to house large toys and this at the same time makes it very easy for little ones to drop and remove items.
6. Cabinets toy storage ideas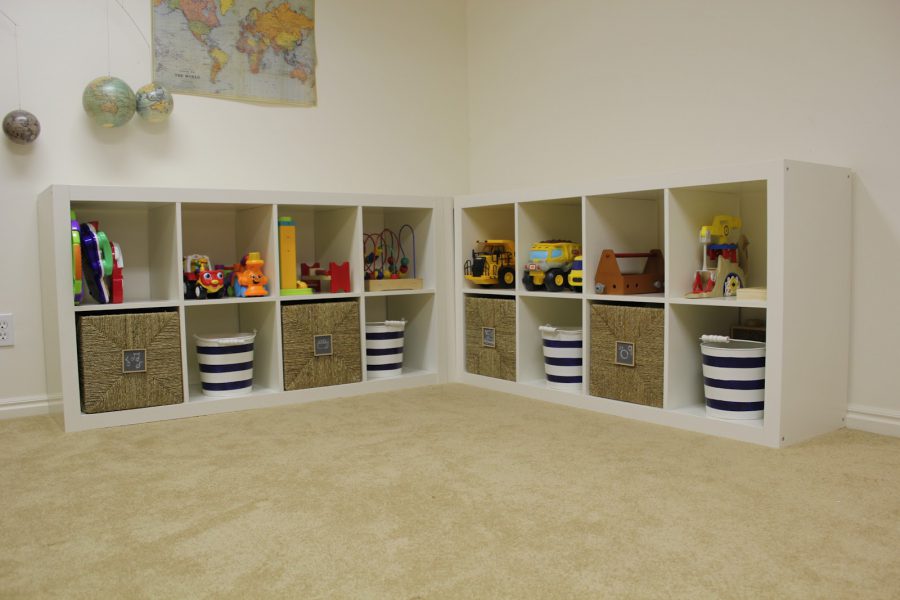 Make use of cabinets to avoid taking up a lot of your house space and unnecessary expenditure. Cabinets are one of the most versatile storage ideas you can go in for, this is because you can place toys in the cabinets directly or you can better yet get creative by inserting toys in buckets and baskets and them later placing those inside the cabinets. In this particular picture we love how the cabinets are detailed with white finish which matches incredibly with the paint on the walls of the room. They are very cheap but overly functional.
7. Hanging toy storage ideas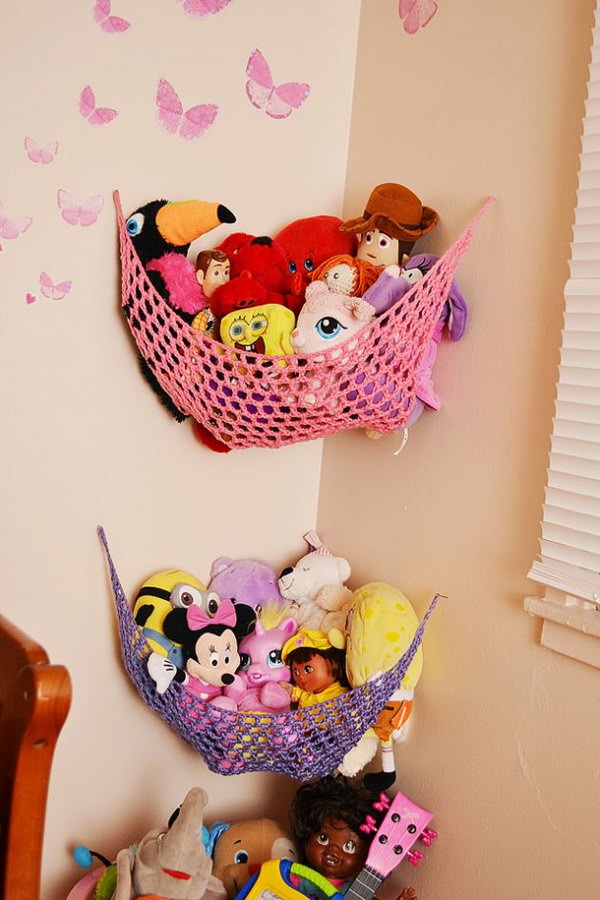 Did you know that you can get the best out of that space in the corner that you don't find important for anything? Well here are some colorful nets you can make use of that rarely used space to come up with the perfect storage idea your little girl. Because they come in various charming colors, it is very easy to customize you kid's room and make it look really fabulous. Just use nails or peg hangers to hang these nets and in just a few minutes you will have the perfect storage for your young one's toys.
8. Toy storage ideas for boy's bedrooms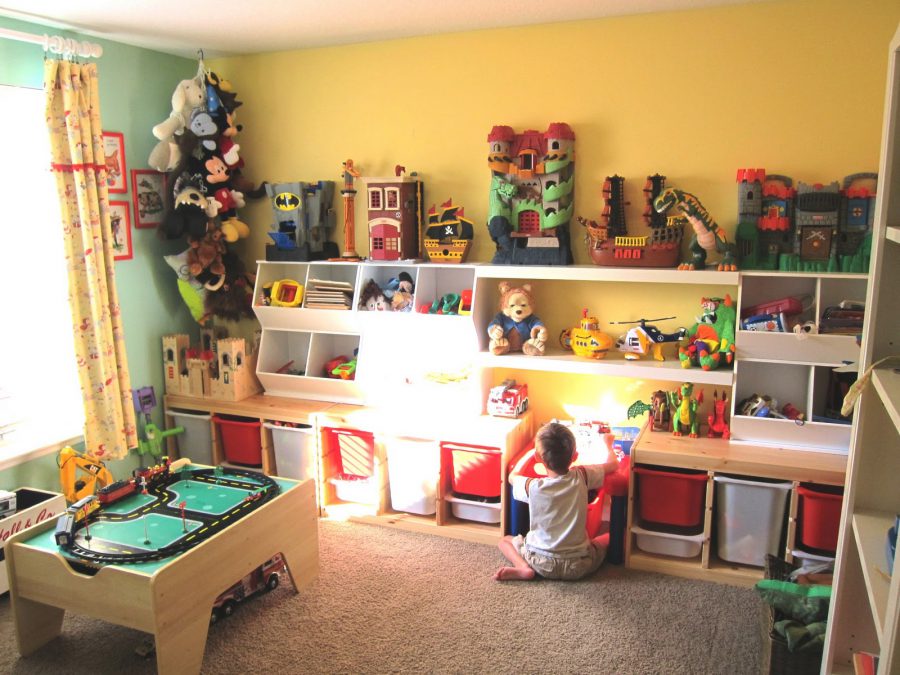 And now for your boy's bedroom, this three tire rack would definitely not be a bad idea. With its stable legs and relative height boys from three years can easily insert toys into all tires even the one at the top or easily grab a toy from there when they want to play with it. And just because I called this rack ideal for the bedroom doesn't mean you can't use it any other room, it has a very neutral finish which makes it a great pick for not only the bedroom but any other room of your choice.
9. Square cupboard toy storage ideas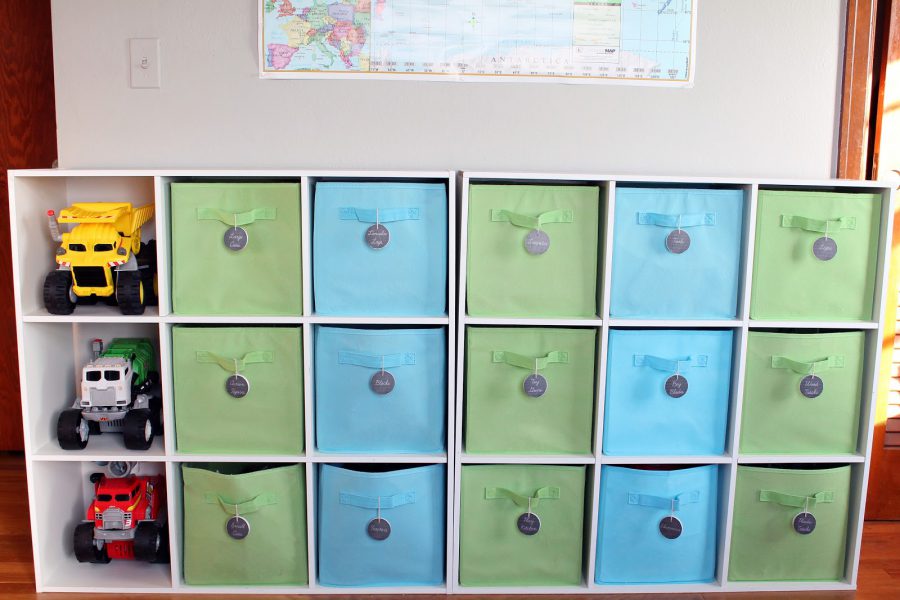 As simple as this square cubic cupboard may look, it features on this list because it is very basic and not only for toy storage but many other items such as CDs, DVDs and books. You can stash toys directly inside the square shaped shelved or better yet creating a more fancy look by inserting colored storage boxes inside first, these can be used by both boys and girls plus they can easily be found in any store and at really friendly prices which saves you the burden of having to search around too much.
10. contemporary toy storage ideas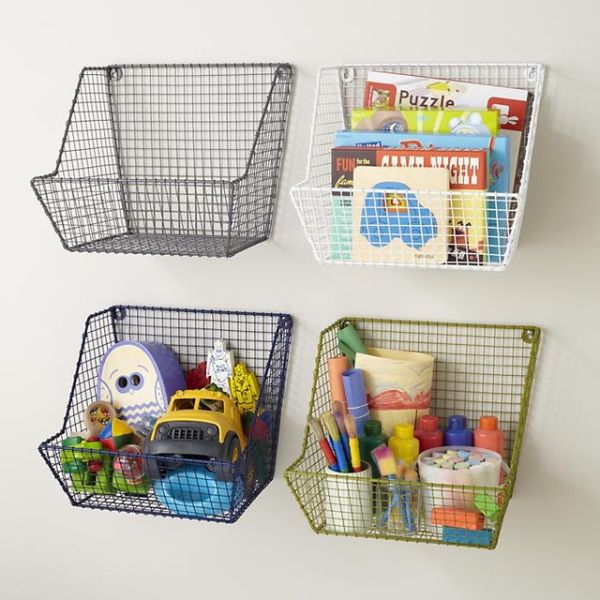 You can have the perfect storage for your child's toys while at the same time giving your house a very contemporary appearance with these wall hanging wire baskets. The baskets can easily be hang on the wall after kids are done playing and when they want to play again they can easily pull down any that contains the toys they want to play with. Instead of kids scattering so many different toys around the house they can play with just the toys in a particular basket at a given time which helps to reduce on the mess.
11. Wall garage toy storage ideas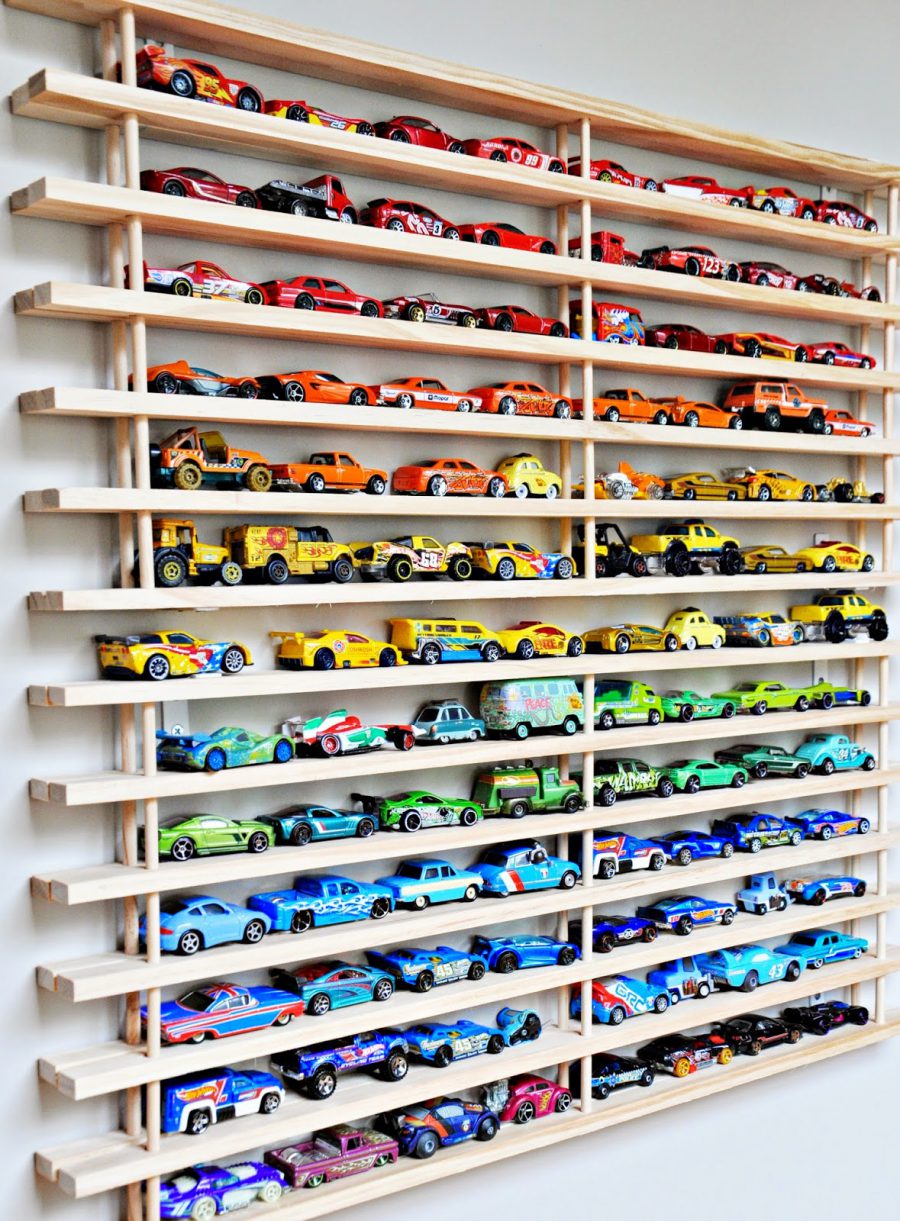 Sometimes you don't even have to spend extra money on the best storage for your little man's toys, you just have to get creative with what you already have in your home. For example in the above picture a shoe rack was turned into a parking lot of toy cars and I must admit is absolutely amazing. It is best to lean the rack against a wall so that the toys don't fall out and mind the height of your rack so that your kid doesn't find hard time putting his toys away when play time is finally over.
12. Animal toy storage ideas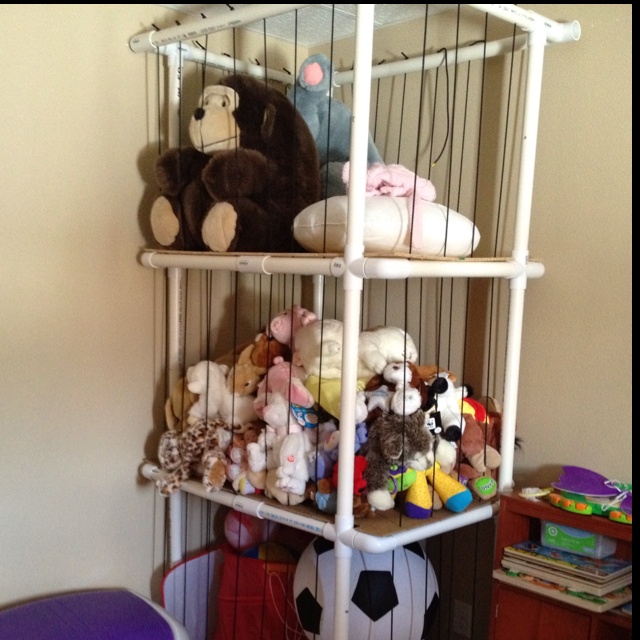 When you have one of those adventurous and interactive kids that love to play with stuffed animals it is very likely that you will find those bears and dolls almost everywhere in your home. However there is an amazing way in which you can put an end to the mess and that is with this toy storage cage. It has three tires and bards just like a real animal cage for your little one to enjoy narrating their stories about the zoo. Kids can see all their toys through the bars and in case they want to play with any of the animals they can use the large opening on top of the cage.
13. Unique toy storage ideas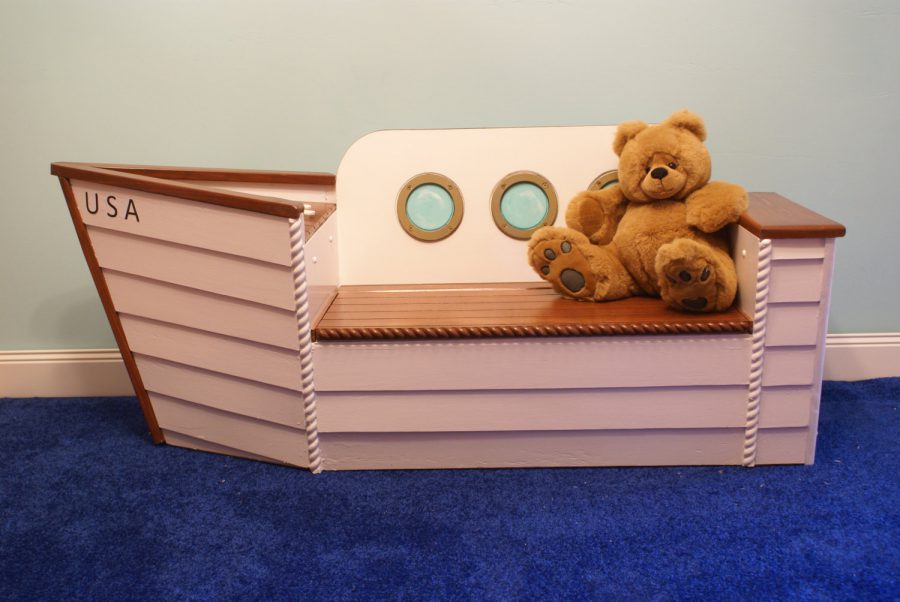 When I talk about storage ideas that any child will love, this is exactly what I am referring to, who can actually this can this has storage space for toys. It is designed in shape of a boat, it can act both as a seat and toy storage area. Because the seat is not so high away from the ground, kids find it really easy to climb up without an adult's help. As soon as they finish playing, you just have to open the lid and throw all toys in there. Every child will love to have this as storage for their toys.
14. Toy storage ideas for 16 year olds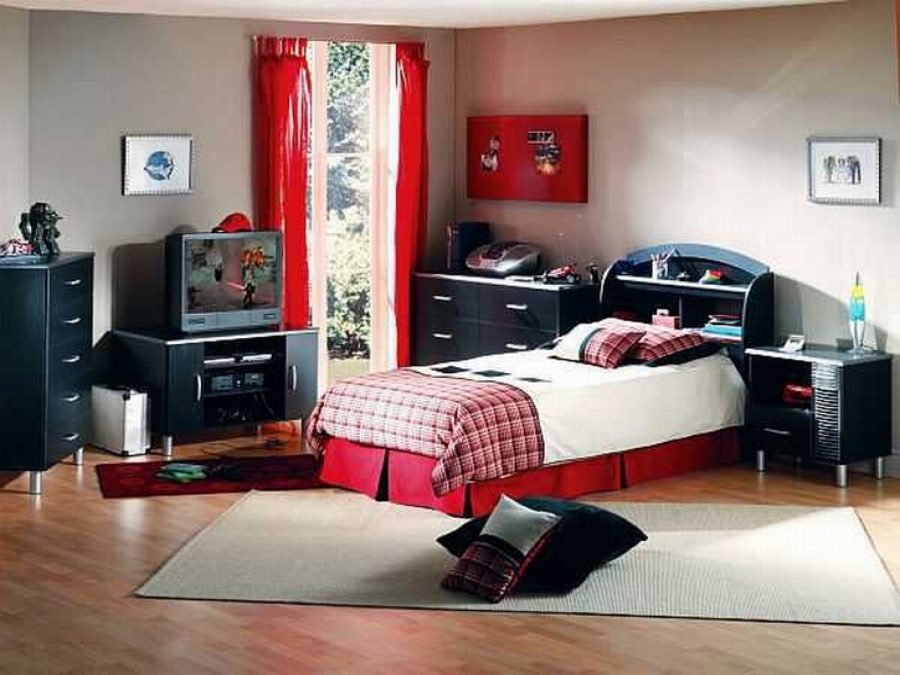 Yes 16 years olds are also kids and because they are extremely choosy it might be quite difficult finding them the perfect toy storage however above is a very good idea that we are sure will please any 16 year old. This elegantly furnished chest will not only store all their items also gives the room a very attractive look. It has 12 spacious and easily accessible cabinets to accommodate a variety of items such as books, photo frames, head phones and many other things that 16 year olds love to own.
15. On floor toy storage ideas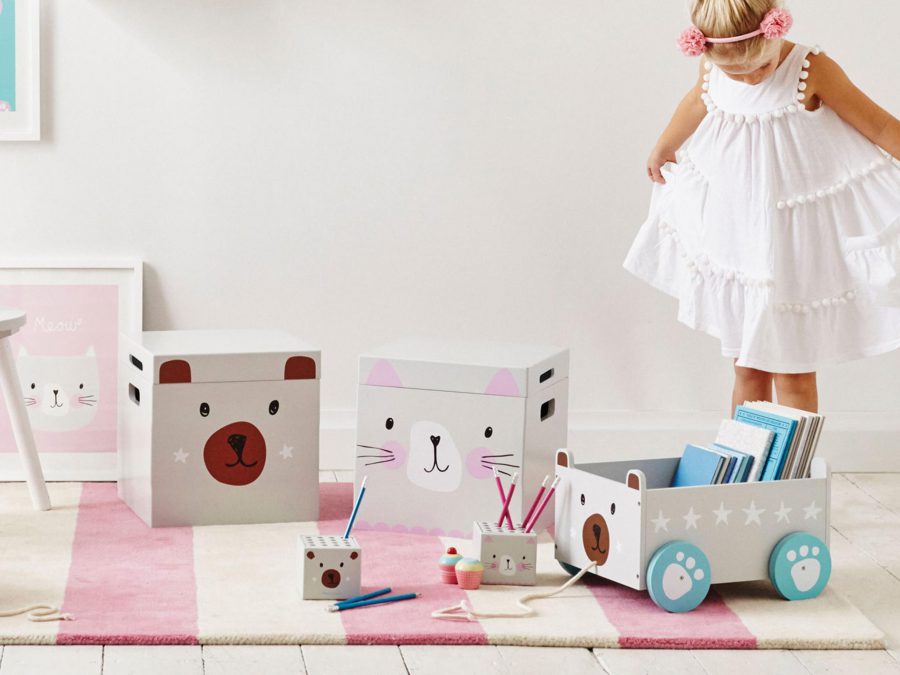 The easiest way to make toys accessible for the younger kids is with on floor storage ideas just like the one displayed in on the image above. These include creatively decorated bins and boxes into which kids can drop their toys as soon as they finish playing and quickly grab them out when they want to play. The other good thing with on-floor toy storages is that kids can also use them in their imaginary stories while they play so when playtime is finally over you just have to carry the boxes away and leave your home as neat as you found it.
16. Wooden toy storage ideas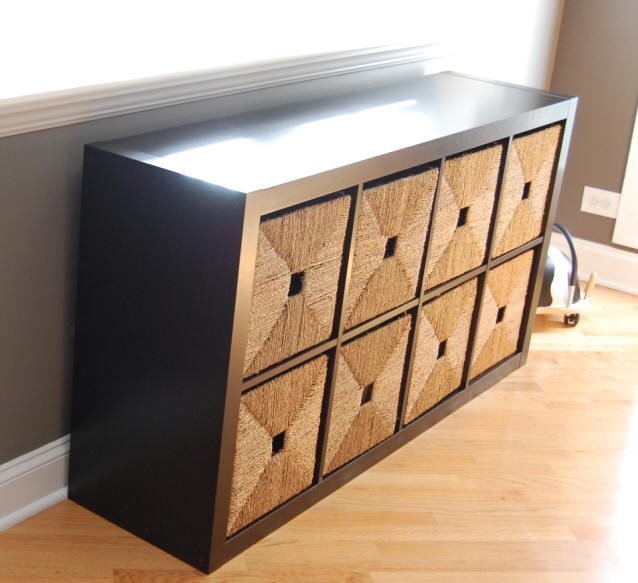 Wooden toy storages will give your home a very contemporary look as they match with the rest of decor. This dark brown wooden chest will look great in absolutely any room you choose to put it in whether it is the bedroom, living room or study room. It features eight cabinets with plenty of space for a good number of toys and a very smooth top where you can place some of your personal items or any other toys that may not fit inside the cabinets. With this wooden cabinet toy clutter will be the least of your worries.
17. Plush toy storage ideas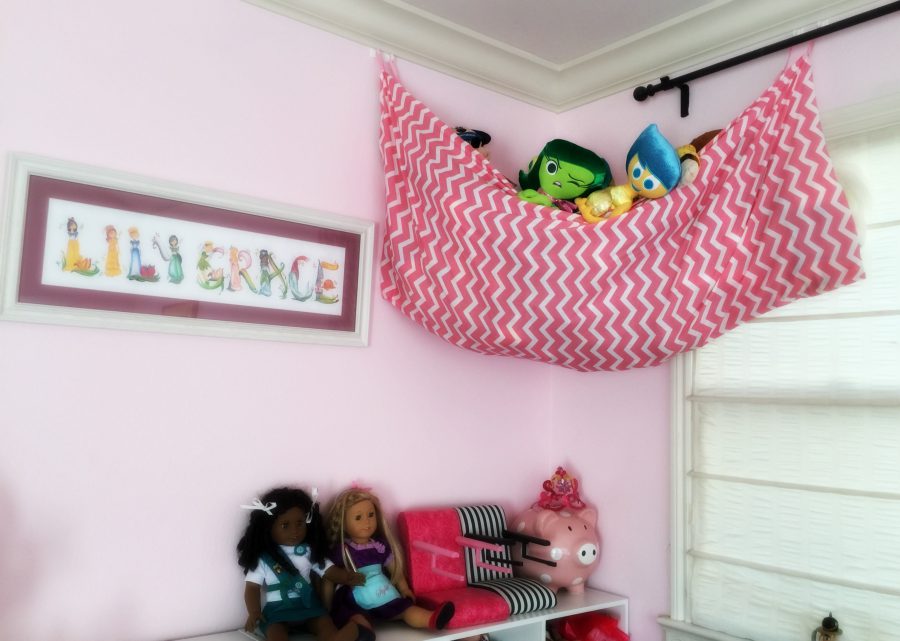 There is definitely no better way to store all those plush toys other than hanging them up. The best thing about this idea is that it is very cheap, you can use an old sheet or colored cloth, hang it up in one corner and throw all those plush dolls and bears in. After spending money on buying the toys the last thing you need is to spend more money on the best storage for them. This is a very unique toy storage idea, it is very simple, less costly but will definitely help keep her room looking super neat.
18. Creative toy storage ideas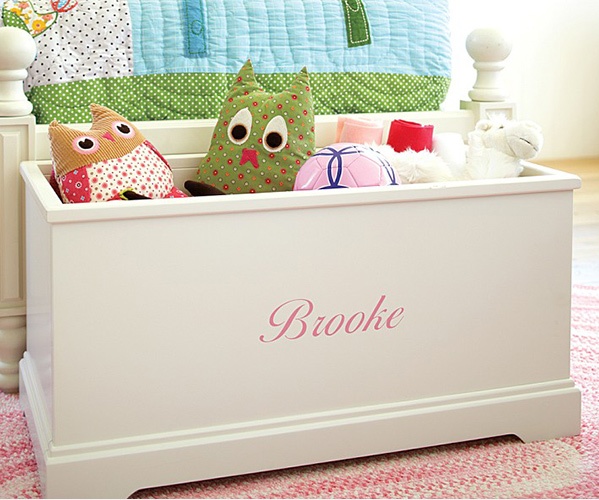 You need to get creative to add a touch of style to your kid's room to make her or him enjoy their stay there. Another one of my great ideas is this really simple but overly functional barn. It has no cover which makes it easily accessible and most importantly it has enough space for toys of different sizes and designs. Because of its attractive white finish, it is very easy for you to customize it with your kid's name. Get rid of all that stress of not having where to place your kid's toys after playtime by trying out this cute little bin.
19. Basket toy storage ideas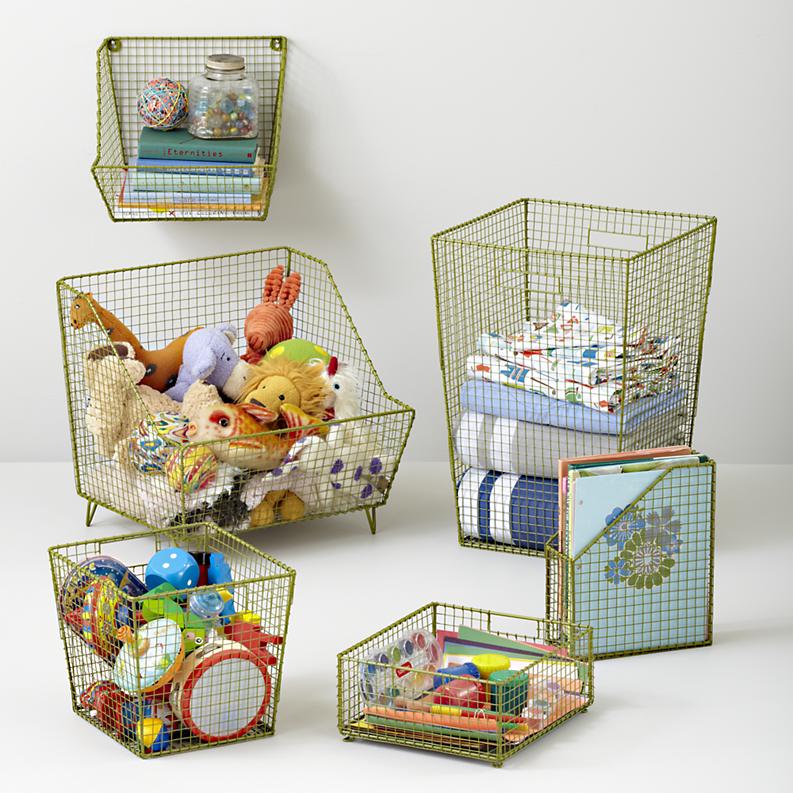 Stackable baskets can be used for storing toys both indoors and outdoors, given their size it is very easy to place them anywhere in or around the house whether it is in the garage, bedroom or outside in the shade. What I love the most about these baskets is the fact that they are not made with latches or covers that would have made them difficult for little ones to access their toys. There is also no need to label the baskets since all toys are clearly visible inside there, he or she can quickly pick any toy they want to play with.
20. Toy storage ideas for the study room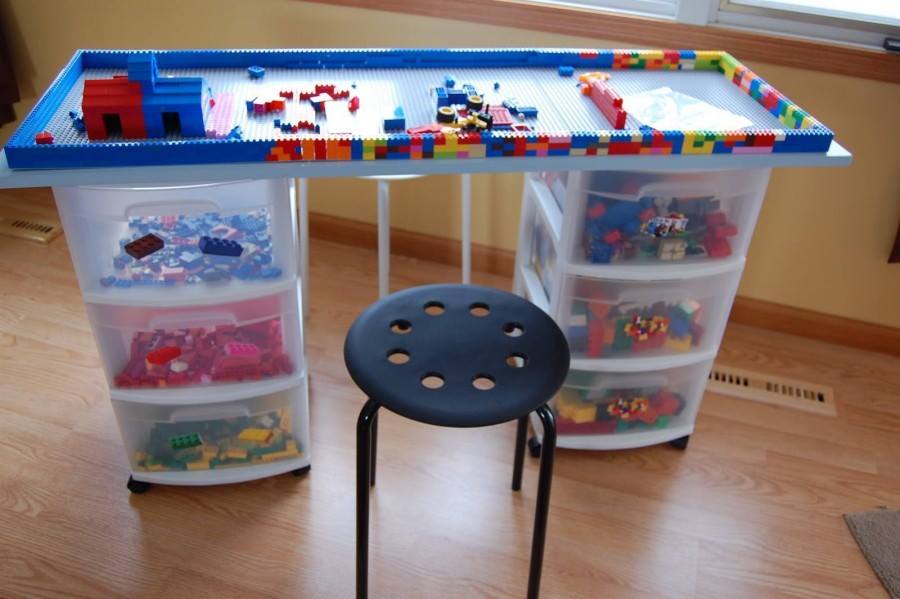 Kids at all stages enjoy playing with block sets and I can guarantee that there is no better way to keep the blocks safely stored other than this Lego table with stackable containers. This is not only for storage but can also be used by kids while they play. If you have a very young kid you can help them out this table together however the older kids really enjoy building up the table on their own. With those beautiful colors, this is without a doubt the perfect storage idea to put in your child's study room.
21. Toy storage ideas for toddlers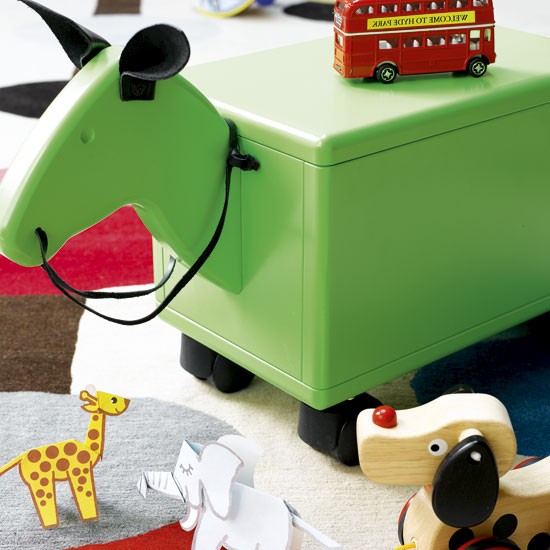 Put a smile on your toddler's face with this toy storage box designed in form of a horse, any toddler will fall in love with this toy storage reason being it looks exactly like one of his or her toys. It features smooth wheels which make it super easy to push around the room and opening its lid exposes you to the hidden storage space. Such creative storage ideas can be used as part of child's play story therefore you will have shot two birds with one stone.
22. Toy storage table ideas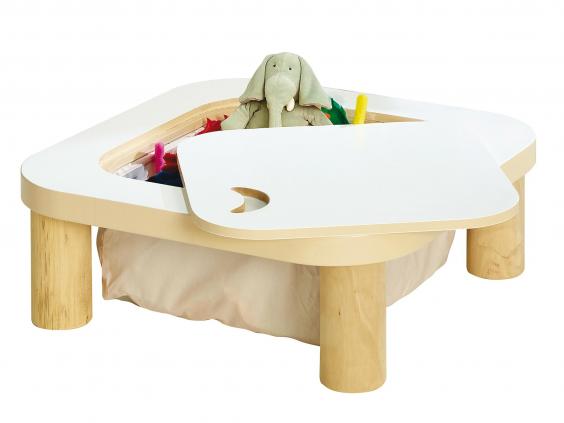 Maybe you have come across a variety of storage tables but I bet you haven't come across one as unique as this one. This is incredibly sturdy wooden table is designed with a large storage area underneath yet it can at the same time be used as space from which they can practice several leaning activities such as drawing and writing. With the quality of wood it is made with, this table is guaranteed to offer its usefulness for a very long period of time.
23. Incredible toy storage ideas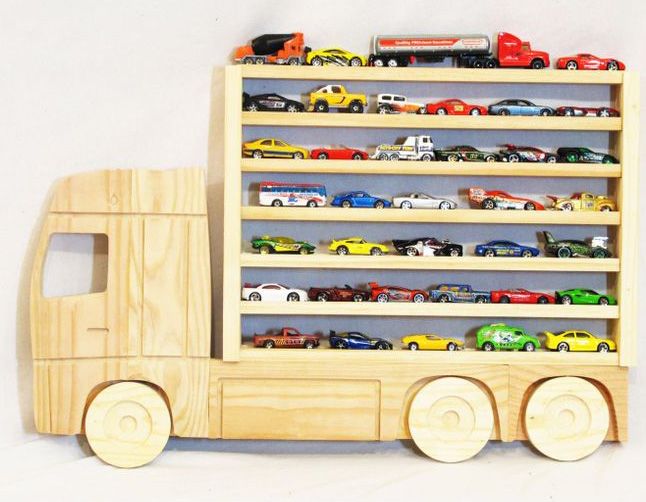 Knowing how much your little boy might love cars and own a good number of them, I thought getting a vehicle as storage for his vehicles would such a great idea. Made from smooth wood, this toy storage is cut out in shape of a car with shelves at the back where your little boy will pack his all his small cars. This is a very cool toy storage that can be placed absolutely anywhere in the house though it must lean against the wall to ensure that the cars don't end up falling out.
24. Simple toy storage ideas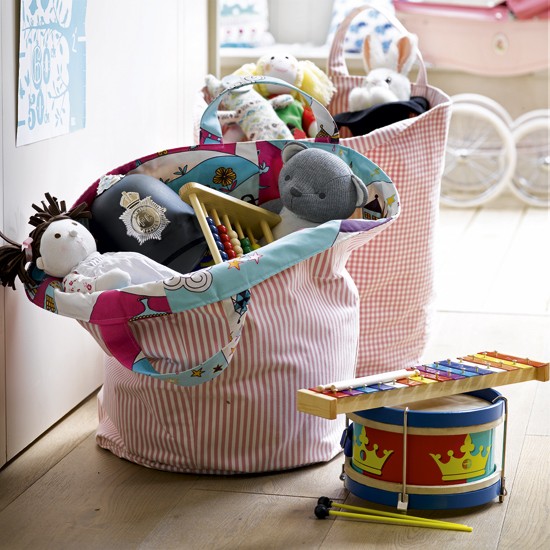 There is absolutely no need for you to strain and waste a lot of money on those overly expensive toy storages ideas when you can get yourself these simple bags at a very affordable price. These soft fabric bags have beautifully colored handles and they are large enough to accommodate all your kid's toys apart from the really huge ones. They fit well in the wardrobe or better yet you can stock them in one corner of your child's room. You will need about two or three of these bags depending on how many toys your child has.
25. Container toy storage ideas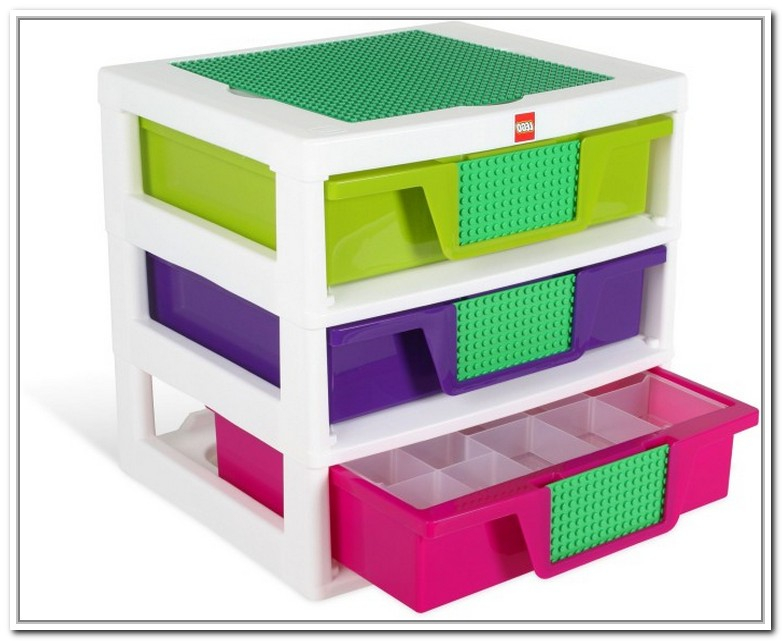 Containers are the commonest and one of the most affordable toy storages you will find on the market and this is why I have included this particular one on this list. It is beautifully designed with slide out trays and smaller cubes inside of the trays for simpler arrangement of toys. If any toys don't fit inside the containers you can place them at the top or better yet your little one can use it as a table. They are made of exceptional quality plastic material which ensures durability and long lasting use.
26. Off floor toy storage ideas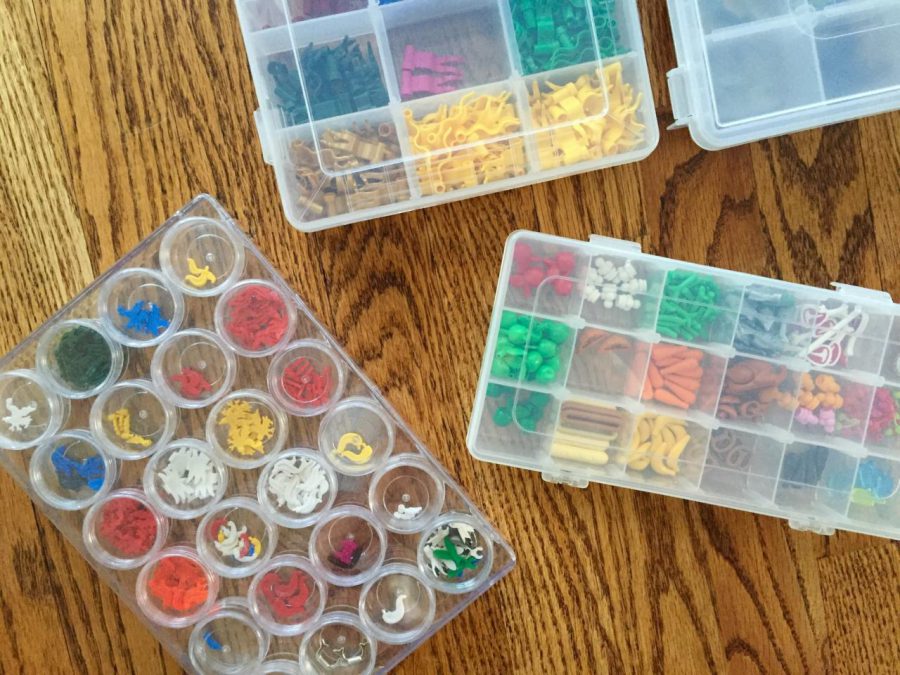 The best way to always keep your floor mess free is by going in for off floor toy storage ideas just like the one featured in the picture above. This a great idea for girls who usually play with dolls, make up kits, combs and other such toys. This hanging toy holder is made with different transparent pockets, each with enough space to hold either two or three small toys. As soon as your child learns how to pick or drop a toy in there you will never complain about toys messing up your home again.
27. Bathroom toy storage ideas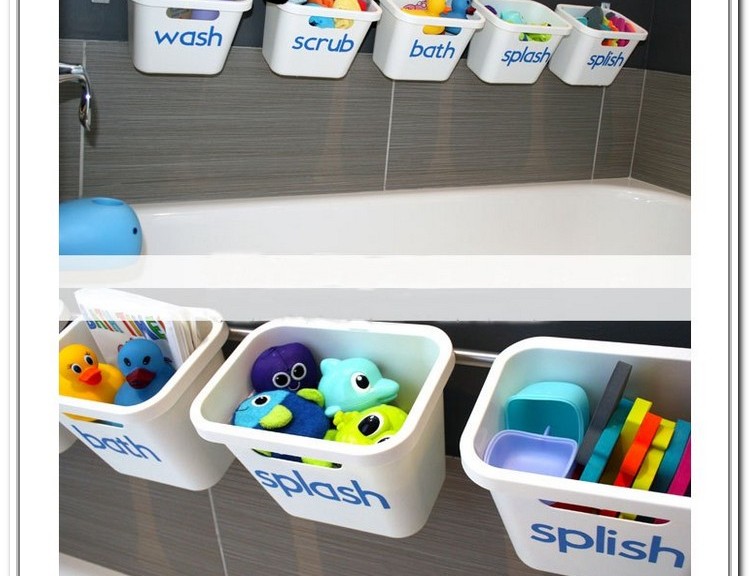 For some kids bathing time is actually a night mare however here I am providing you with a very nice trick to make them love their bathing sessions. The beautifully labeled buckets are meant to be hang around the bath tab to make it easy for kids to reach out for a toy while they take a bath. Besides keeping the toys in perfect order, these buckets also make the bathroom look very stylish and modern. Whether you have boys or girls, it doesn't really matter as this storage idea is ideal for both sexes.
28. Over the door toy storage ideas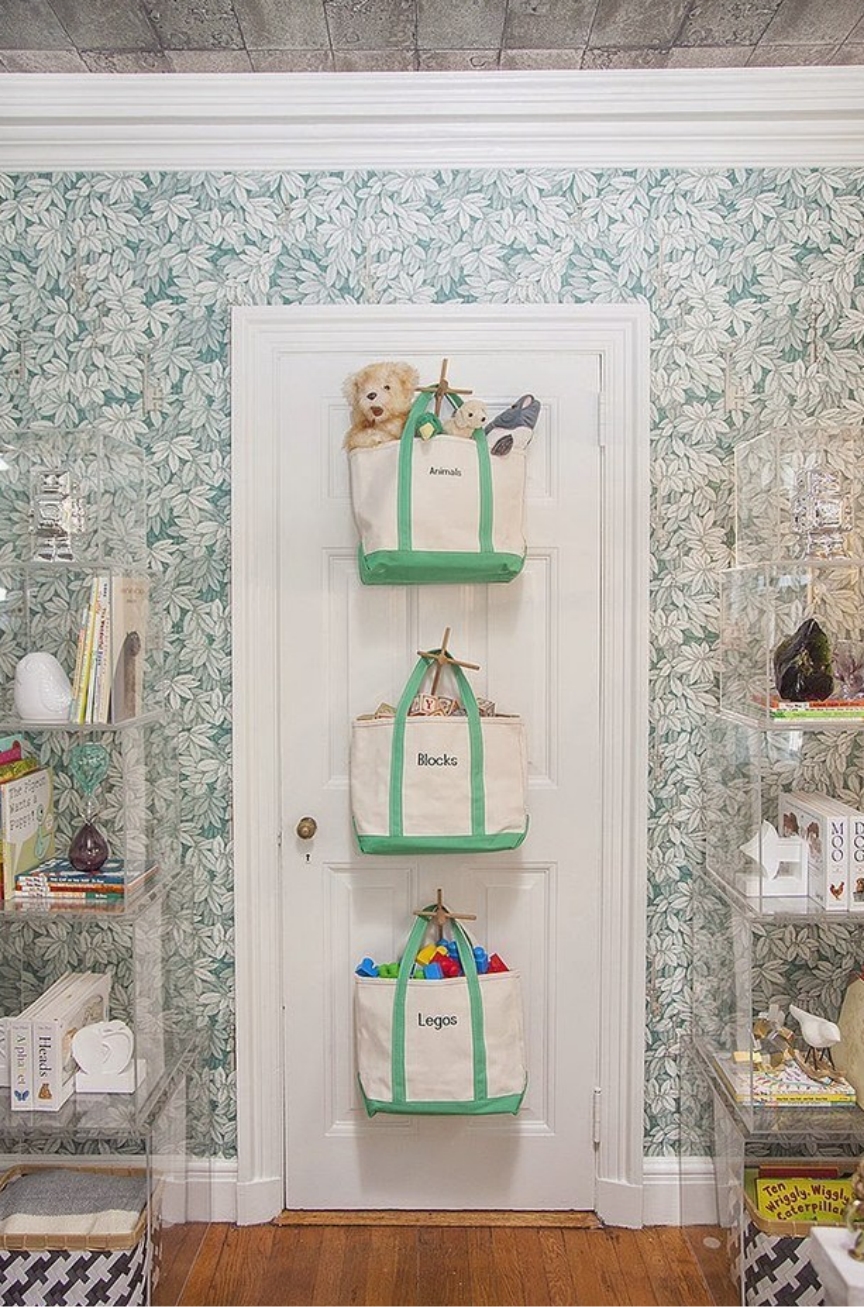 It is likely that you will have these tote bags in your home and not use them for anything not knowing that they can actually make the perfect storage for your kid's toys. All you need to do is have the bags labeled so that your baby will know which bag contains the toys they would like to play with and when play time is over you can simply hang them somewhere for example on the door like in this picture or on the wall. As you hang the bags up, keep in mind that they must be easy for kids to reach especially the younger ones.
29. Toy storage ideas for teens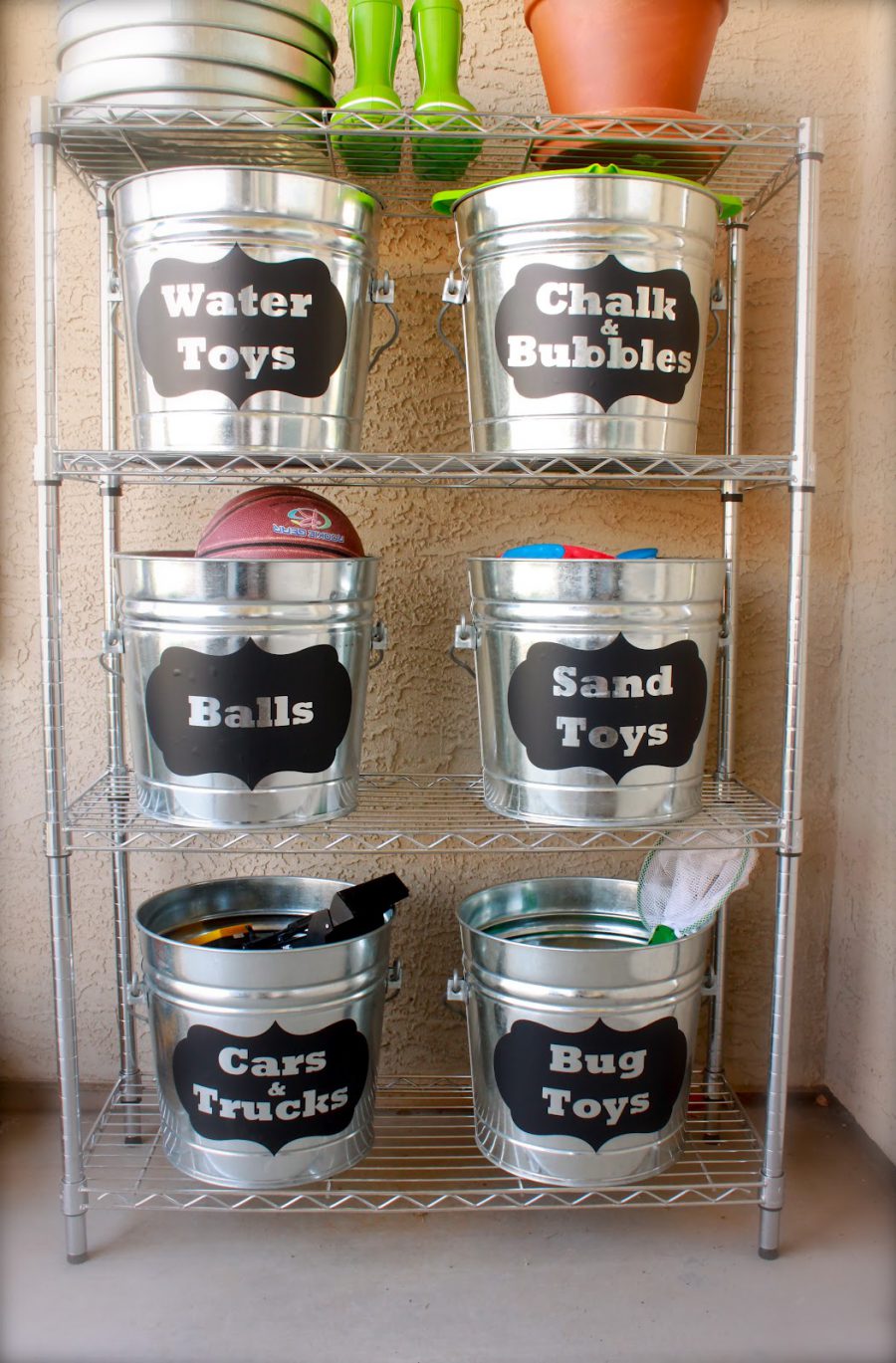 For as long as your kid is older than eleven years, you know that you can't get her the same toy storage as that of your four year old she will need something appropriate of her age and this wooden table will be such a great choice. The table features four sturdy legs with wheels so it can easily be moved around, three drawers and spacious tires where crates and baskets fit. I also love its warm brown finish and high quality construction.
30. Doll wardrobe toy storage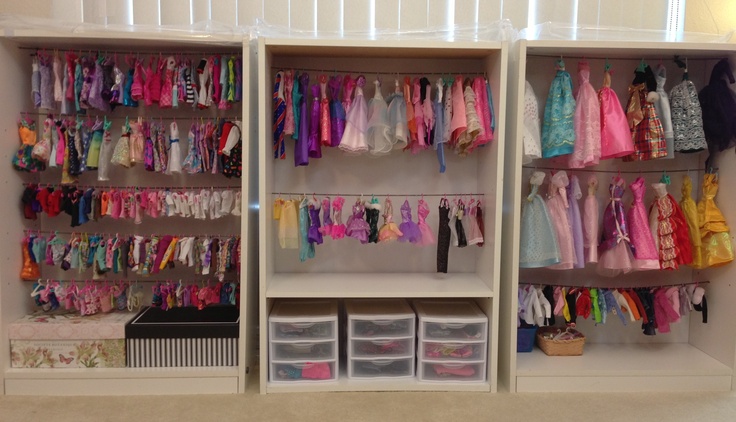 Don't let her throw her doll's tiny clothes everywhere in the room when she can have them beautifully displayed in a doll wardrobe. For a child who loves dolls, I guarantee that this doll wardrobe will be a dream come true. We love the versatility if this wardrobe as it can accommodate clothes on hangers, baskets, containers and so many other toys that kids love to play with. This will be perfect for storing all of your little girl's items including both the big and small toys. And the most interesting thing about it is that when she grows older she can simply take the doll clothes out and still use the wardrobe for whatever she likes because it can as well be turned into a book shelf.
31. Outdoor toy storage ideas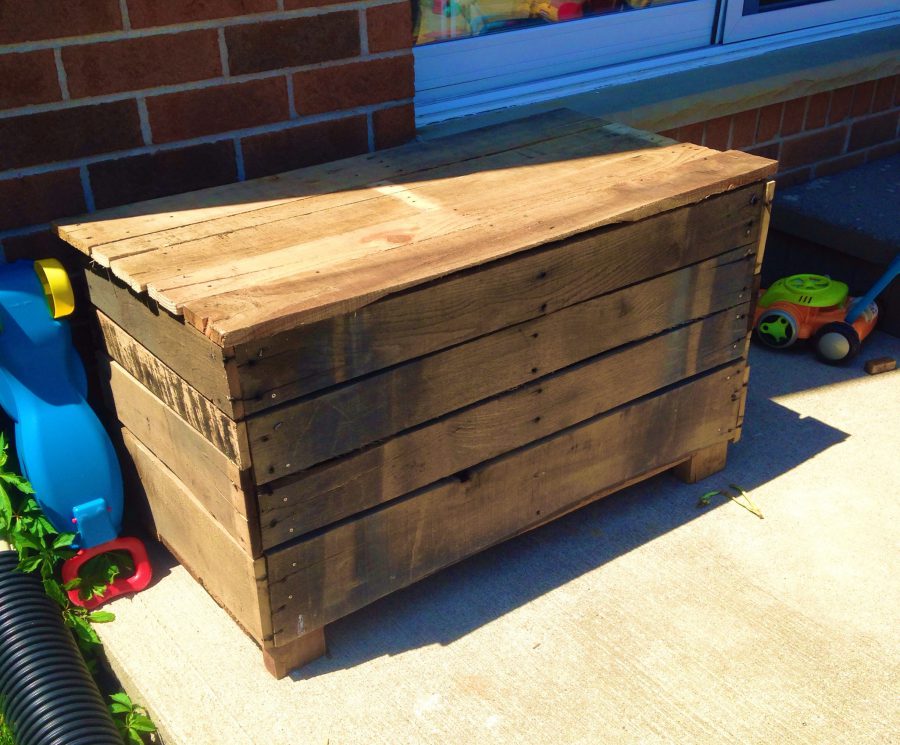 The perfect custody for all those large toys that you can't keep inside the house is finding shade for them outside the house and here I have included the excellent outdoor toys storage. Having this shelter in your home will keep your garage and house completely free of kid's toys and you can use it for storing other important items. It is constructed more a like a dog house, with double doors and windows for proper aeration on its inside. This outdoor shelter can placed wither in the garden or in the compound.
32. Stool toy storage ideas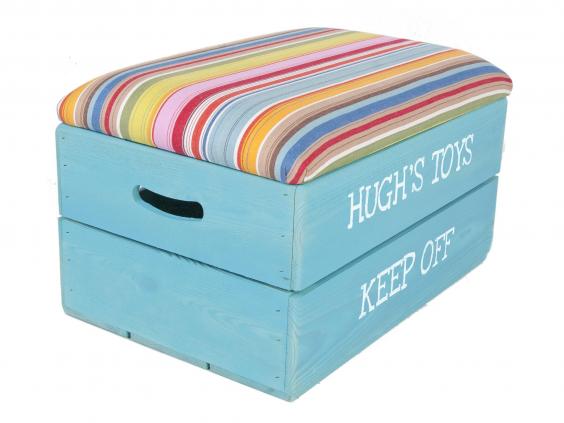 With the combination of a very attractive colorful appearance and amazing quality, there is no doubt that you and your little one will fall in love with your new toy storage. This box doubles both as a stool thanks to its comfortable and well padded top and toy storage. It has well curved openings on the sides which make it easier to carry from one place to another. It is availed in ten different colors therefore you can easily take your pick depending on what your favorite color is or what will match best with the of the decor in your home.
33. Shelves toy storage ideas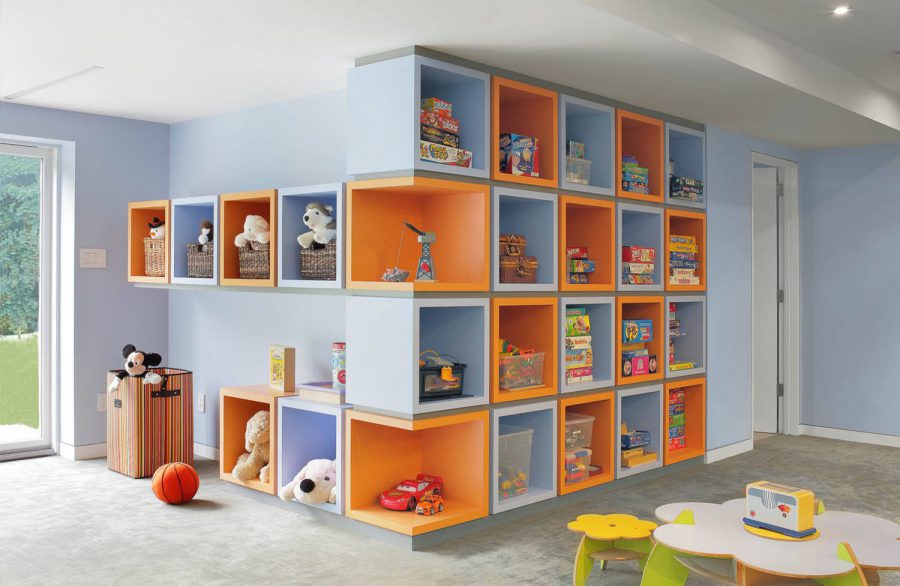 Whether it is in the bedroom or the living room, these simple shelves are the perfect addition to your home. Yes they appear very simple but they will keep your home well organized and looking elegant. They are already made with inbuilt tray like tires so you just have to make them lean against the wall and arrange the toys on, it is that simple. If you have kids that are eight years and above the taller shelf will be the better option while the shorter one can be used by younger kids to make accessibility easier.
34. Toy storage ideas for three year old girls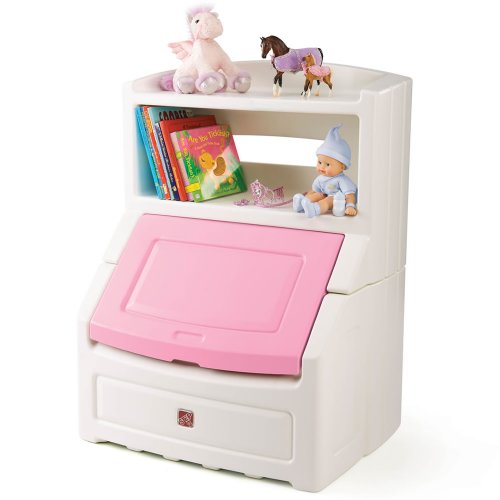 For story books, dolls and all other toys that you little one loves to play with this book case with storage will be a great pick. It has a single open shelf on the outside and very spacious storage with a sliding lid that offers quick accessibility of items. Its back panel helps to prevent books from dropping out and its assembly is quite easy.
35. Toy storage ideas for school going kids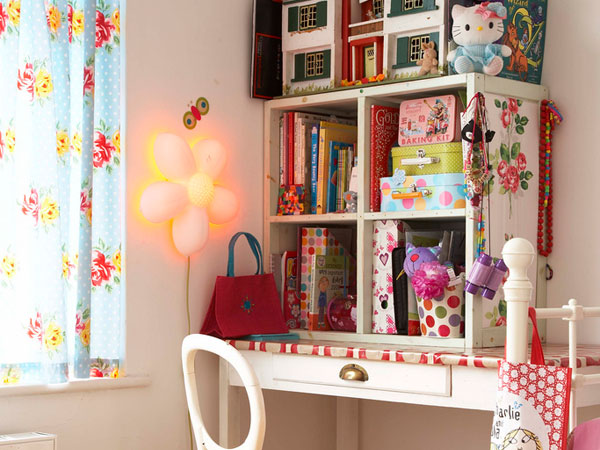 In this hive of cubic shelves your school going kids will find enough space to perfectly organize all her precious items including toys, books, jewelry boxes and all those other items that she treasures so much.
36. Fun toy storage ideas
This compact unit combines both storage and play elements so you will purchase it with peace of mind that your kid will love it. It is made with a book case where she can keep all her books, a magnetic chalk board for drawing and writing and finally multipurpose drawer made of fabric for storing all other toys that she plays with.
37. Inbuilt toy storage ideas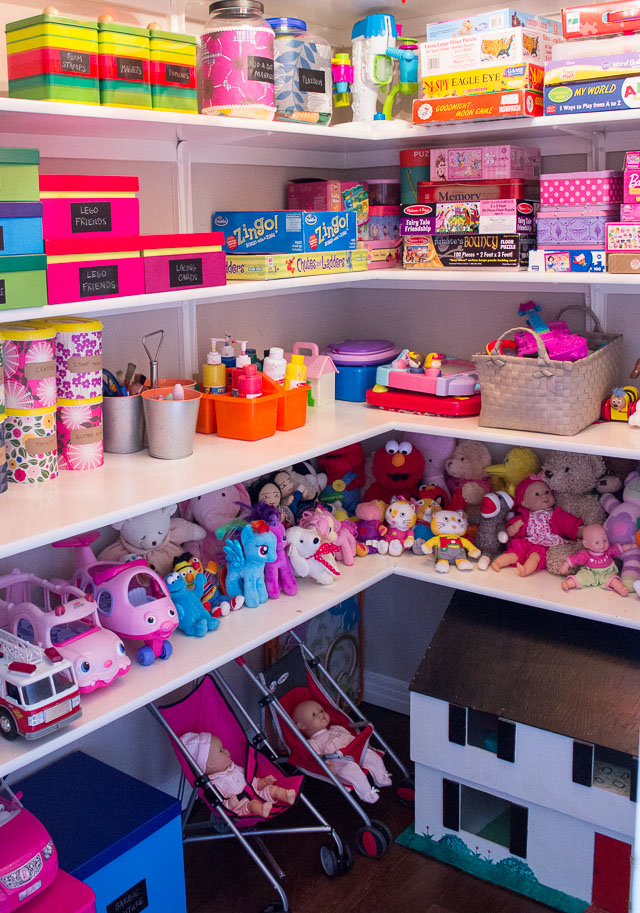 For families with more than two kids, this inbuilt toy storage idea is the most recommended as they offer a lot of space for a really wide variety of toys. The toy organizer is made up of wide shelves and left with large space at the bottom where the larger toys can be kept. Because of its white finish it will match perfectly with all decor in your home and with plenty of space it will work amazingly for all the kids in your home.
38. Crate toy storage ideas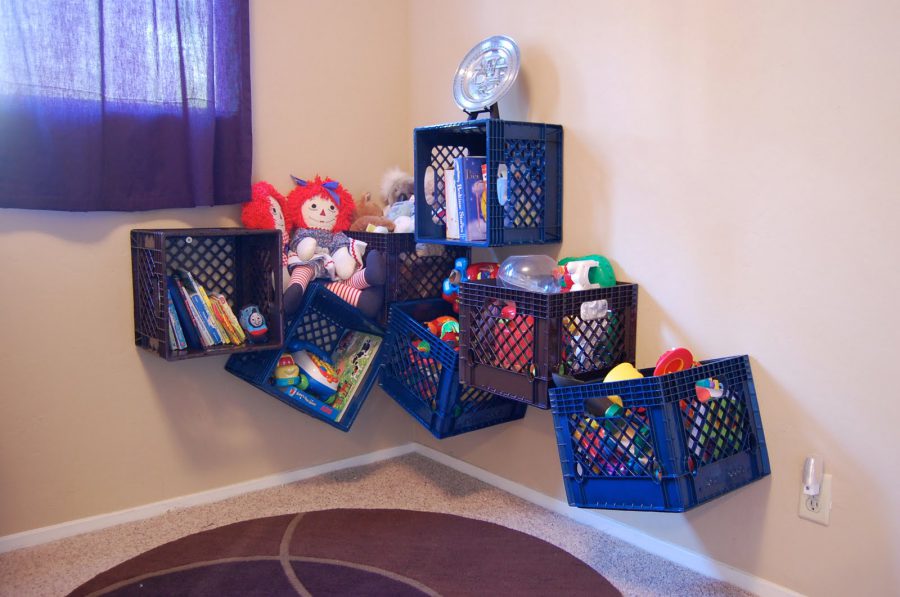 Like I always say as long as you are creative you will never fail to find the perfect storage idea for your child's toys. Milk crates were mainly used as book shelves back in the day however today they have popular again and I must agree they make such a cool storage idea. With this idea it is best to transform from the old ways of doing things and hang the crates up on the wall in a unique pattern instead of leaving them all scattered on the floor.
39. Under bed toy storage ideas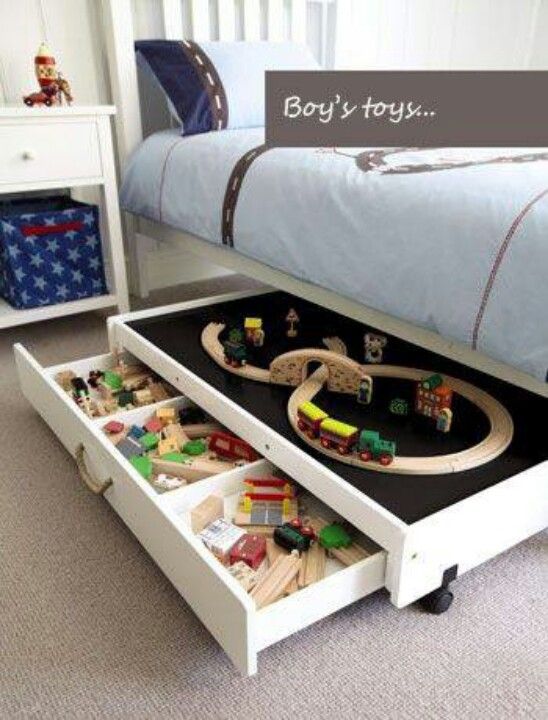 If space is your biggest problem then under bed storage is the best idea to go in for, these under bed drawers are a very essential way of utilizing space especially if it is already limited yet they help to keep the room very well organized. Some beds come with drawers built on while others don't but you if your boy's bed doesn't have them you can still purchase just like this one. It has wheels that make it easy to push under the bed or pull out and on the inside it is well sectioned for proper arrangement of various toys.
40. Double folding mesh toy storage ideas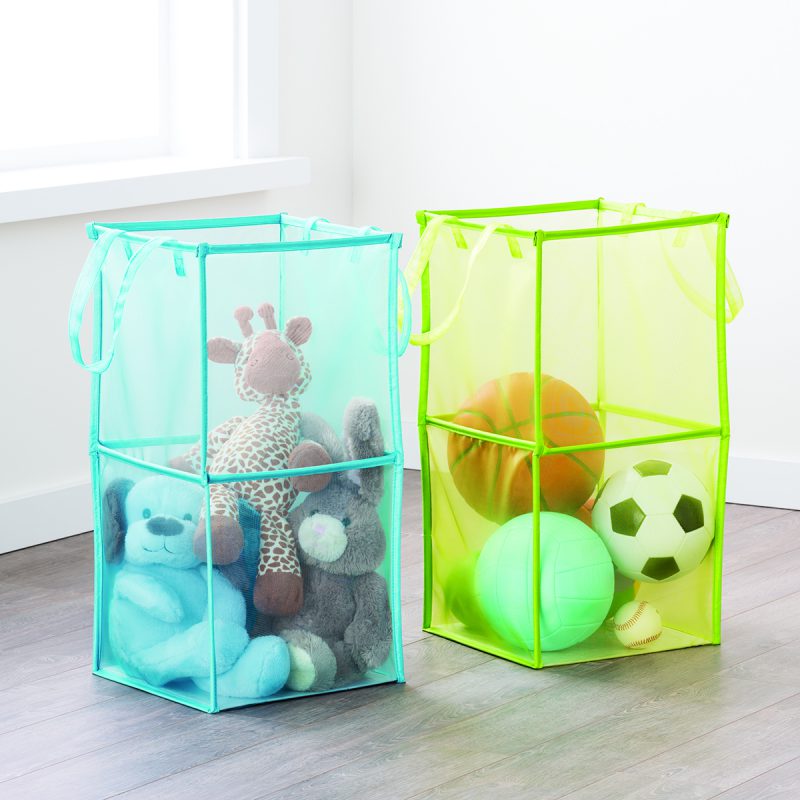 Open wire mesh baskets are great toy storages for both boys and girls, they are super portable which makes it easy to carry from one room to another. They are really easy to clean and can be used in absolutely any room of your choice.
41. Bags toy storage ideas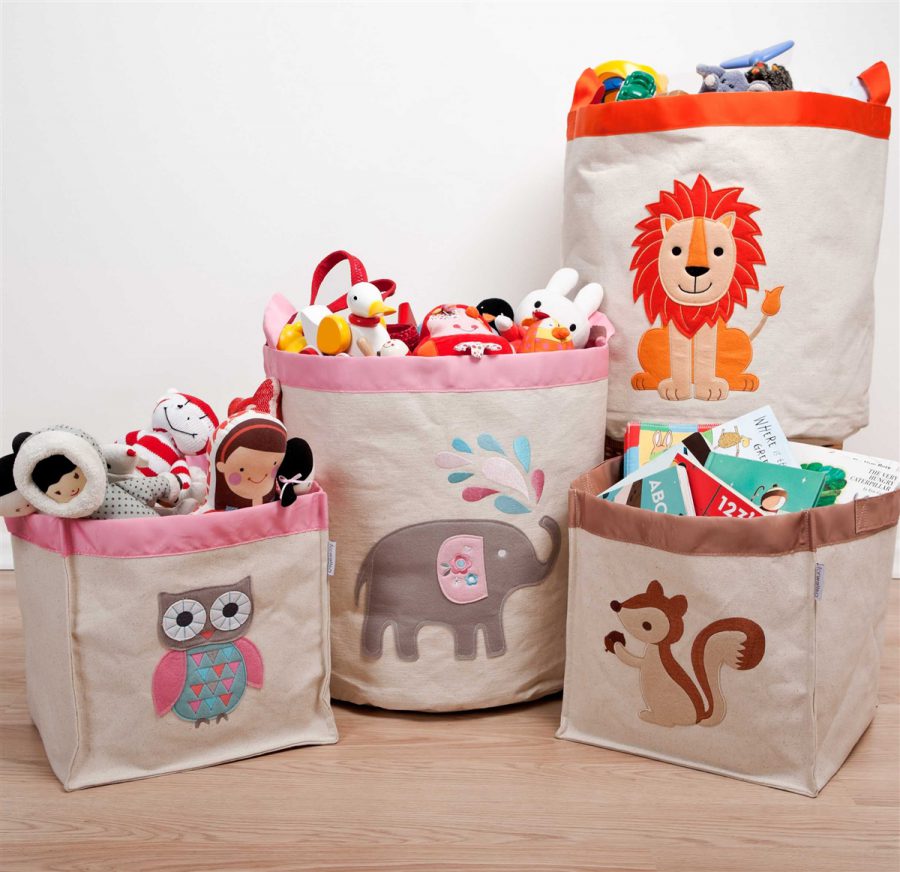 The large toy storage bags are detailed with very cute kiddish cartoons that any kid will love. Bags are very simple but they are also overly functional as they house toys of all sorts and various sizes. They will look good in your child's room.
42. Bench toy storage ideas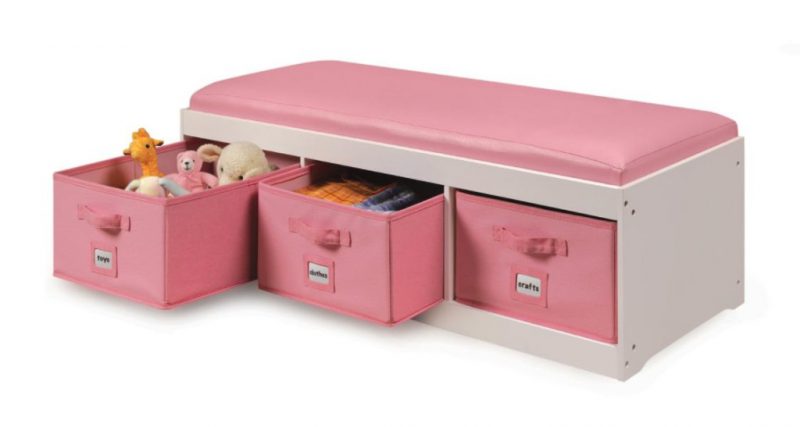 This pretty white and pink bench will look absolutely amazing in any girl's room but I love it more because of its unique functionality. On top it features a very well padded comfortable seat but below the seat it is also made with three storage compartments. In these compartments there are storage boxes that kids can easily pull out just the way drawers are pulled out in case they need to remove any toys. This is the best way to utilize the amount of space you have in your however small it might seem.
43. Beautiful toy storage ideas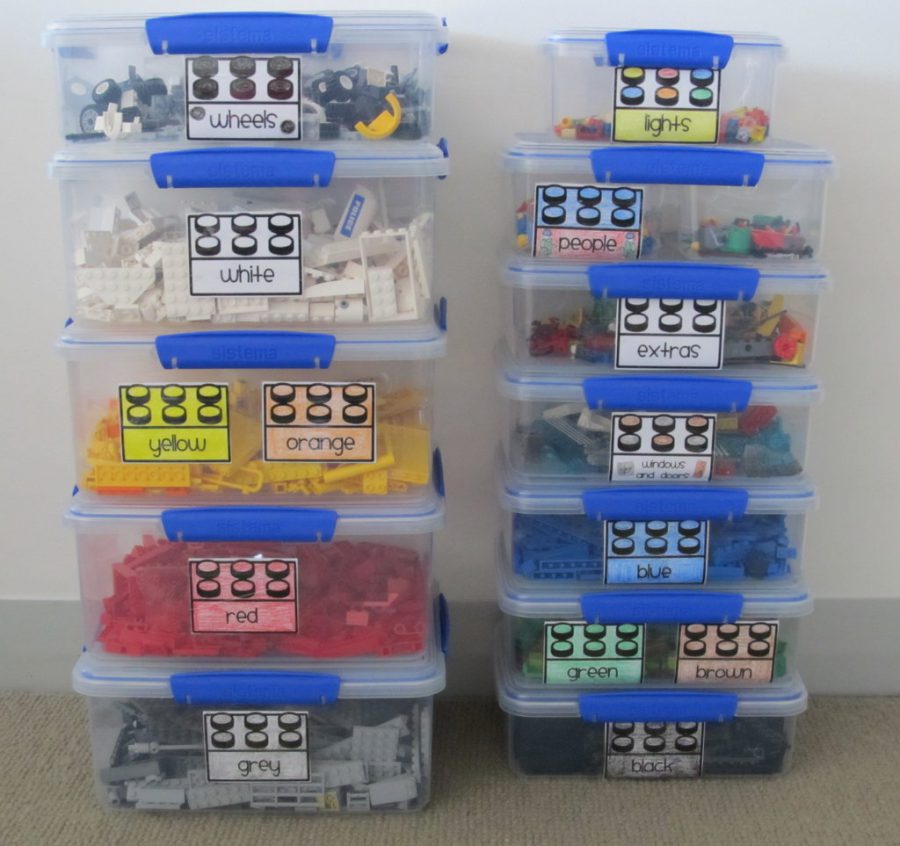 There are so many ideas that you can use for toy storage and these containers are one of them. This se of different size transparent containers is ideal for storing small toys, preventing them from getting lost while at the same time making them easier to find when you little one needs to play. For better organization and a more attractive look it is best that you arrange the toys in colors and label each one of the containers according the particular color. These can be used for kids of all ages starting from infants.
44. Single toy storage ideas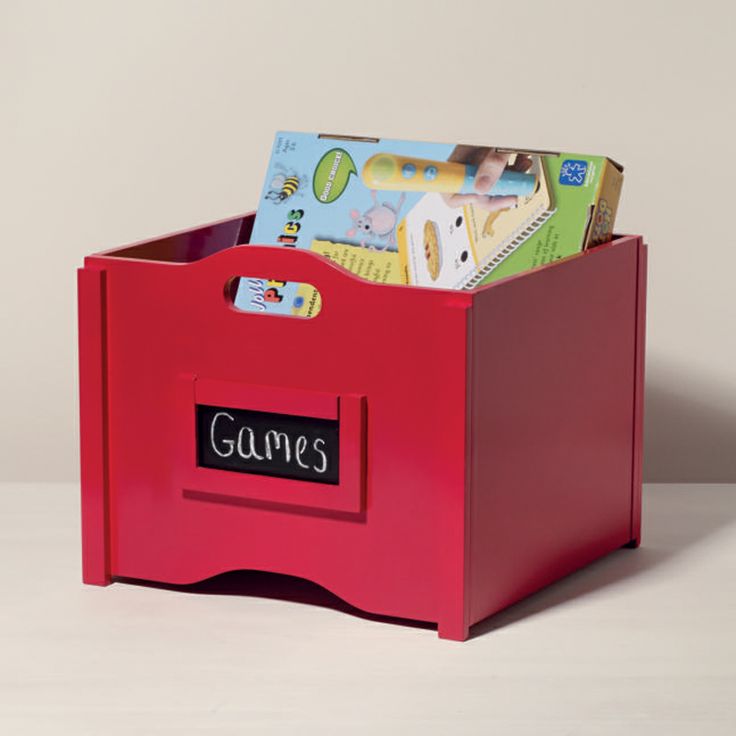 Single toy boxes or crate are actually my favorite toy storage for the simple reason that after play time you don't have to clean up the clutter on your own, but rather you can just instruct you little one to gather up their mess and quickly throw it all into the single box. This toy box doesn't even have a lid so which makes it even easier to access. Additionally it is beautifully designed and finished with a fine and smooth red color that gives it a very appealing look.
45. Intricate cubic toy storage ideas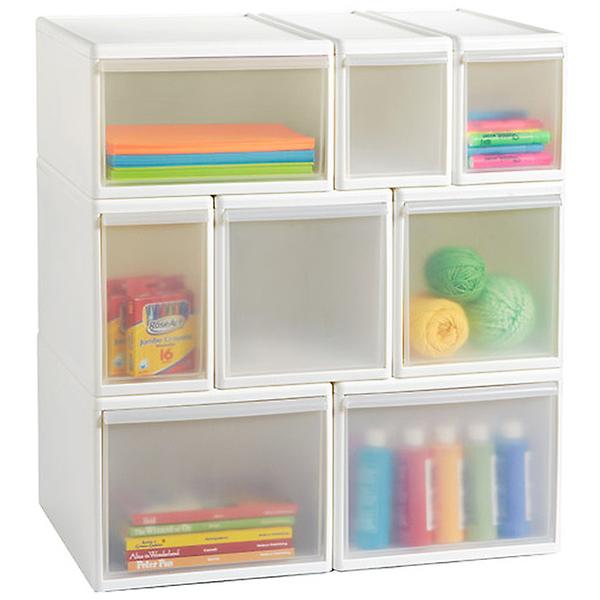 These modular transparent drawers can easily be stacked together into any combination of your choice given their various sizes whereby some are wide, others are narrow and other just medium. They allow you to make either a vertical or horizontal arrangement depending on what you want.
46. Toy storage ideas for girl's bedrooms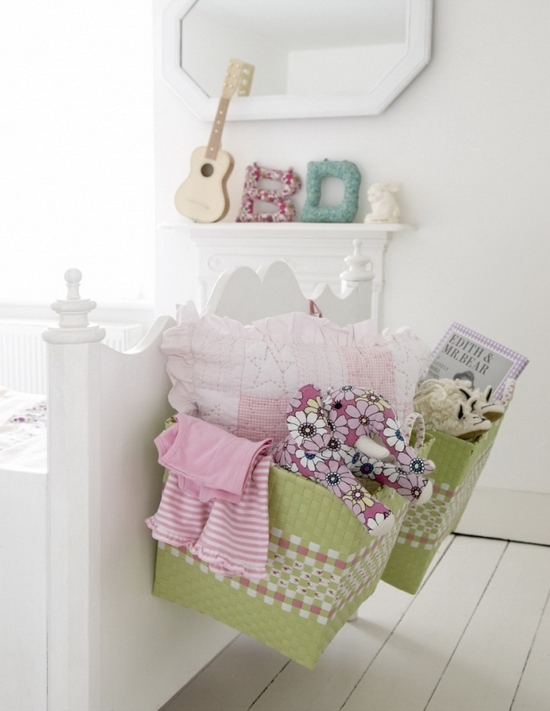 Add a touch of style to your princess' bedroom with these toy baskets, to utilize space they are at fixed either at the back or front of the bed. Whether your girl is playing around the room or on her bed, she can always reach out for the baskets to throw her dolls and all other toys inside the baskets. It is important to secure the baskets well on to the bed so that they are firm enough to hold the toys without collapsing.
47. DIY toy storage ideas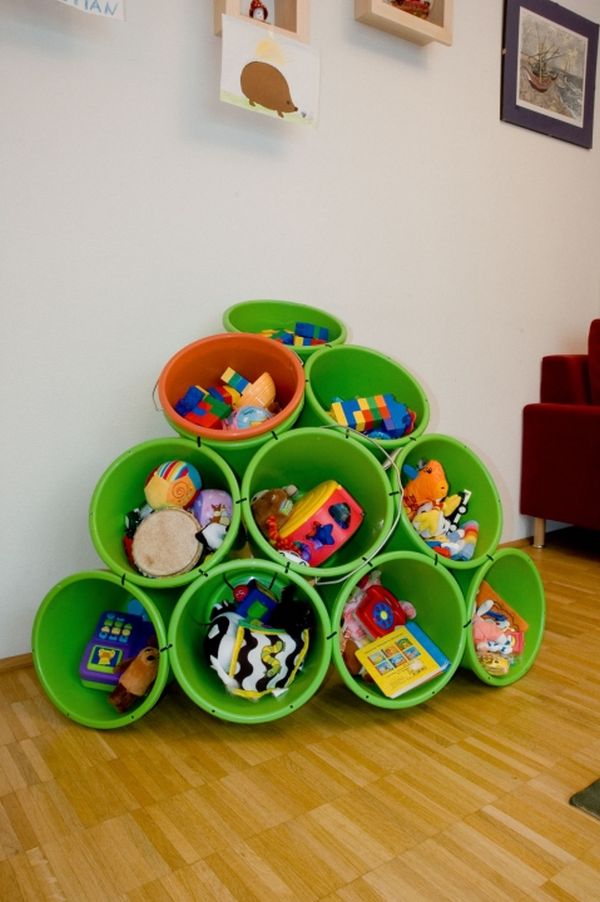 You can make your own storage using a pile of buckets and save your money for something more constructive. You simply have to gather a pile of bright colored buckets, in this image they used lime green buckets but you can choose any color that your child loves the most. These buckets feature pre-drilled holes though which ropes are passed to tightly tie all the buckets together. These buckets are tied in a form of a pyramid and it is quite easy to throw toys inside when kids finish playing or remove them when they want to play however not all toys can stay inside of these buckets.
48. Two tire cabinet toy storage ideas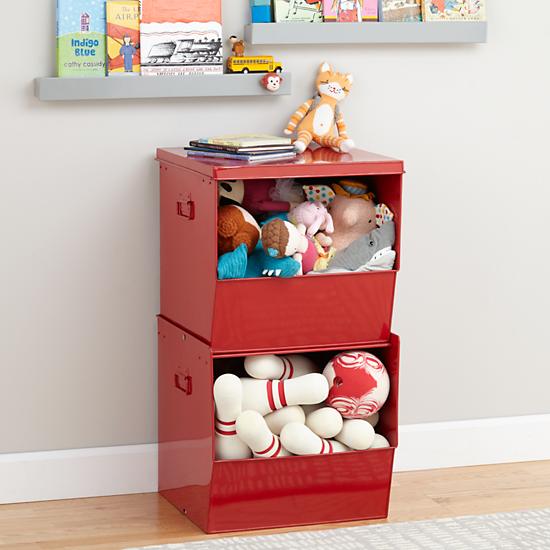 Here is a two tire metallic stackable metal bin, this toy storage is made of high quality long lasting steel. Both the top and bottom bin have plenty of space and they are half open to make it easy to stack toys inside and keep them in there without sliding out, some toys can even be placed on its top. It looks good in red but it is available in several colors for you to easily make your favorite choice.
49. Stackable toy storage ideas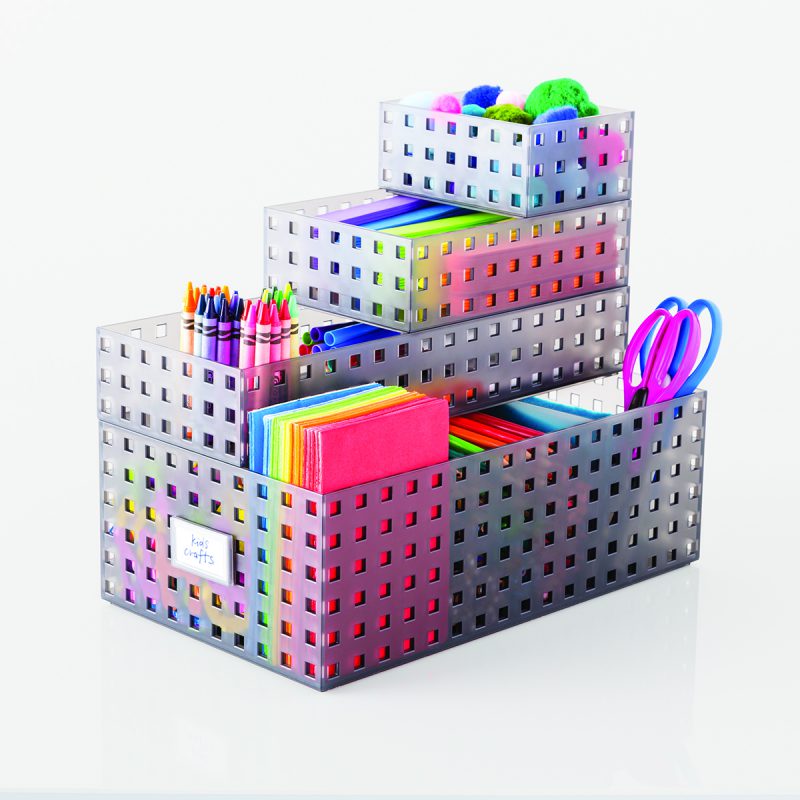 With their amazing quality, these polystyrene bins can be joined together to create the perfect storage for lots of kids toys. They are very flexible which allows you to change them into any design that you feel best pleases your little one.
50. Games toy storage ideas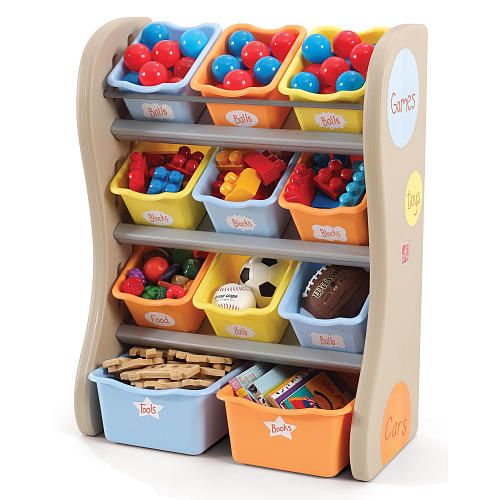 This toy organizer offers bins of different sizes therefore it caters for all storage needs, it can store all kinds of toys and the bins are removable which makes cleaning up a real breeze.
Check Out The Video Portrait of 50 Best Toy Storage Ideas That Every Kid Want To Have