If you are considering giving your home a touch of rustic style, perhaps the key is only to modify several elements of the decoration of your home. Today we want to show you great designs of rustic furniture of different styles and some ideas regarding interior decoration.
Many are the individuals who often confuse rustic furniture with old furniture and although it is true that there are similarities between them we must point out that the great difference lies in the independence of the first one. What do we mean by this? Simply that not all rustic furniture is old, but all old furniture has somehow rustic characteristics; much of the rustic furniture is made in the current days, and that is why we say that it is not old, we are likely to observe some imitations of Renaissance and Baroque styles but they are mere reproductions. Another of the main characteristics of rustic furniture is versatility and functionality, surely many of us relate them to objects or products destined for the living room, but this is not the case; Rustic furniture can also be seen in patios, gardens or roofs. Keep reading to learn more.
20 Amazing Rustic Living Room Furniture Ideas To Create a Unified and Charming Look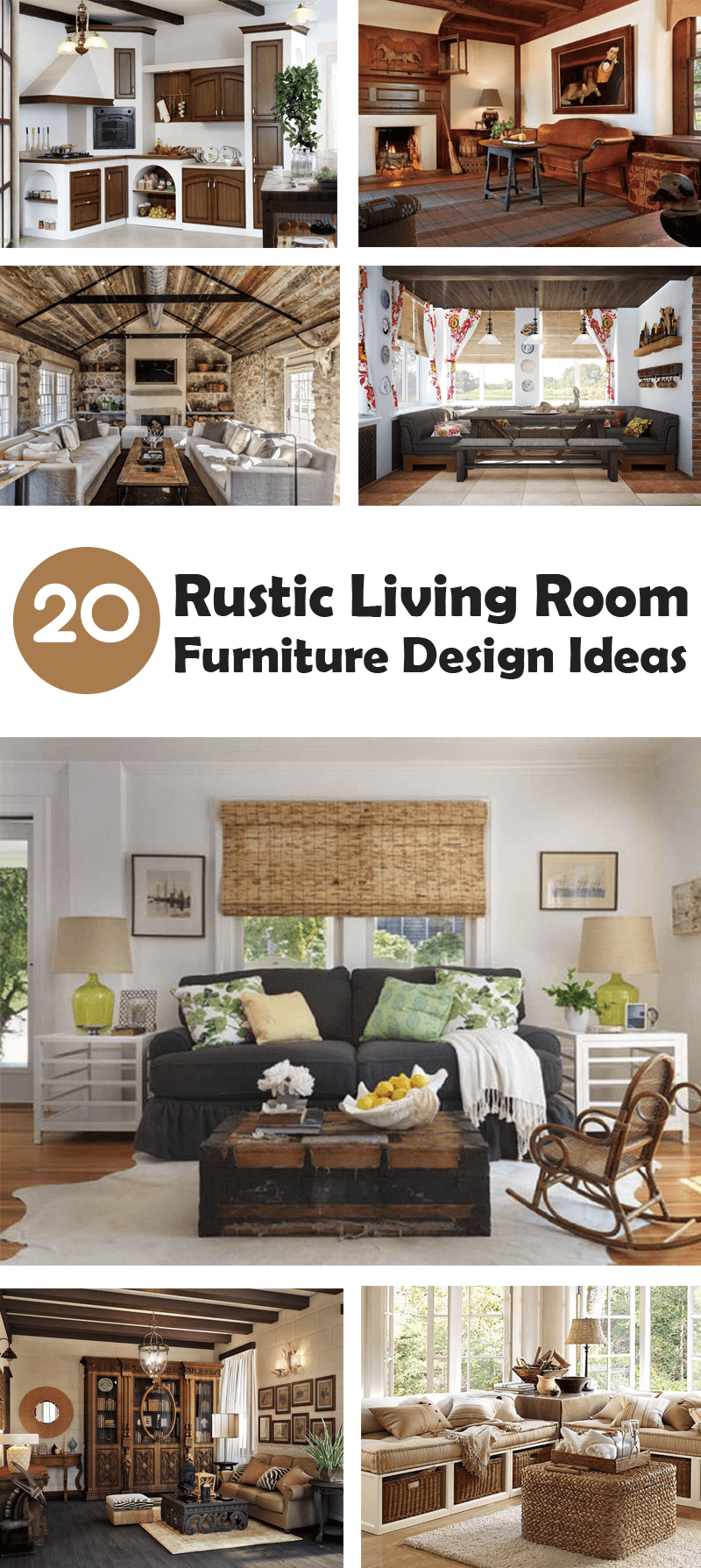 There are infallible secrets to create a rustic living room that apply to any home. No matter where you live, or what size your living room is, with these commandments you will achieve a 100% rustic design:
Materials: the so-called nobles stand out, that is, stone, wood and brick. Each of them, in turn, is presented in the most natural way possible. Hardly polished wood, exposed brick, and stonewalls, fireplaces, ornaments and objects.
Textures: they are aggressive and are linked to the tradition of each country and region. Leather, wool and raw fabrics are typical of rustic interior design.
Textiles: carpets, rugs and tablecloths can be multicolored, industrial cotton in many shapes and styles. The beauty and subtlety of these pieces are given by the varied shades, shadows and splashes, which at the same time produce lines of different thicknesses or geometric configurations of various sizes.
Color: it is the one that refers to the earth and the primitive culture of each place. The color sand, clay, as well as those that remember the diverse means of subsistence, country life, pastoral life, the life of fishermen … They are those that belong to this wide and cozy style.
Shapes: they are usually rough, handmade and manufactured, although you can find very delicate carving, pottery and goldsmith work.
Rustic wooden furniture can have a job of wear and tear on your painting or they can be recycled and old, since the rustic style in the decoration is related to the old, the traditional, and the vintage. As we will see from now on, the rustic rooms of this article are all worthy of style.
1. White And Wood Country Style Space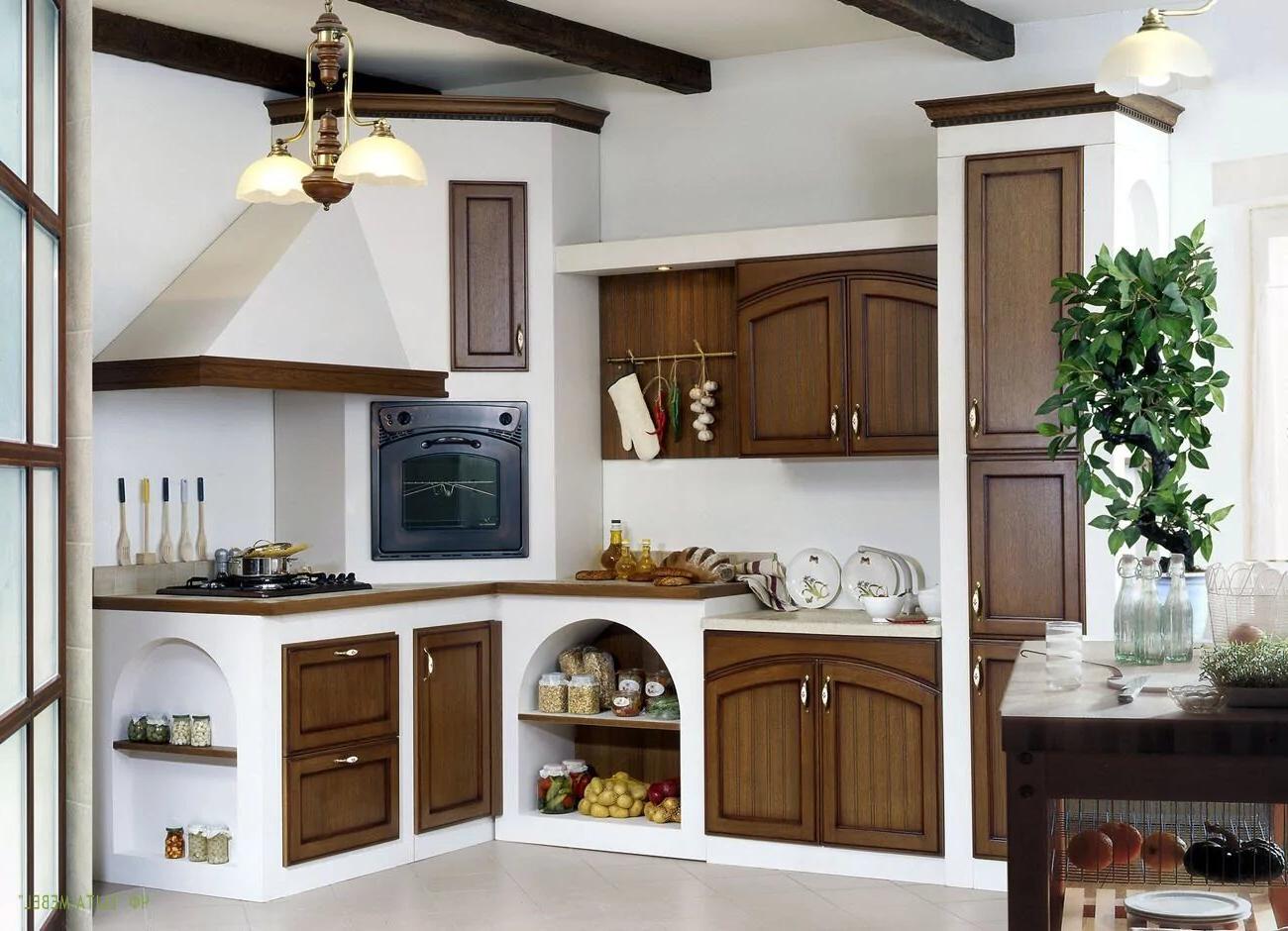 Metals such as iron or even steel are also a component of this mode of interior design. In this spacious room with integrated environments, the metal and the vintage design of the lamp emphasizes a very country decoration. The overall hue is led by matte white, and wood and plants complete the picture.
2. Country Style Living Room With Wooden Furniture And Chimney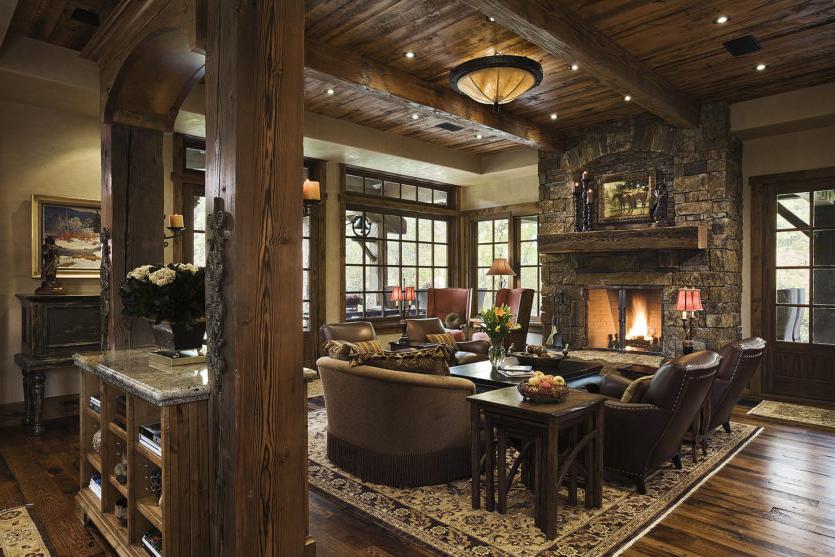 This is a beautiful style, where it boasts a highly elegant simplicity. The rustic design is applied to the walls, the windows, and the fireplace and even to the printed rug on the floor. The dark rustic furniture wraps up this elegant and cozy design where brown is the King of the colors.
3. Cozy, Elegant, Warm Living Room With Rustic Furniture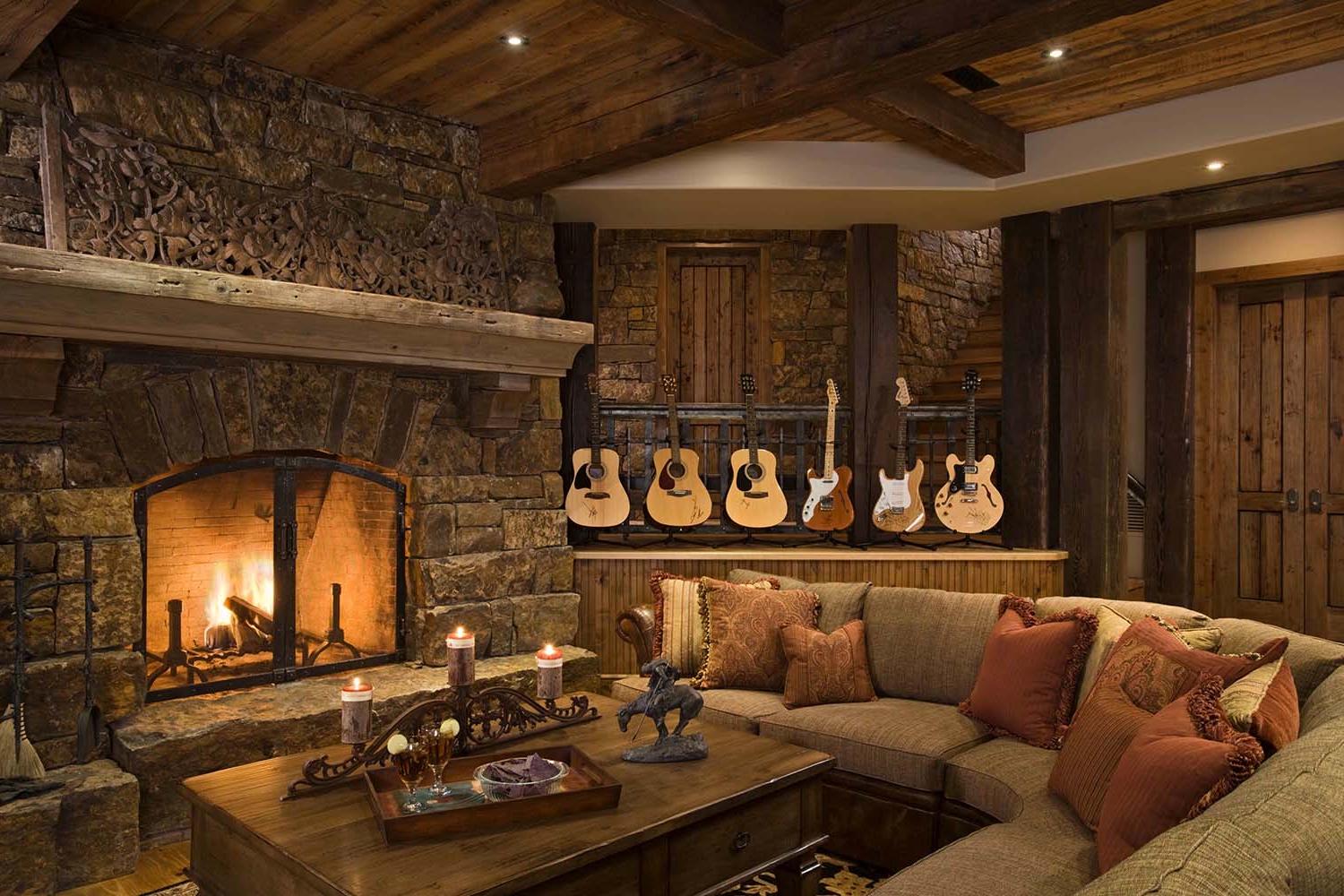 This beautiful fireplace of the firm is ideal for decorating a room of this style, both for its materials and for its traditional form. It is an optimal element if you want to recreate the style in a room, and at the same time to implement a natural heating system.
The atmosphere in general is proposed with all the elements that make the rustic style, from the roughness of the walls to the wooden ceiling, the textile of the cushions and the floor.
4. Elegant Rustic Living Room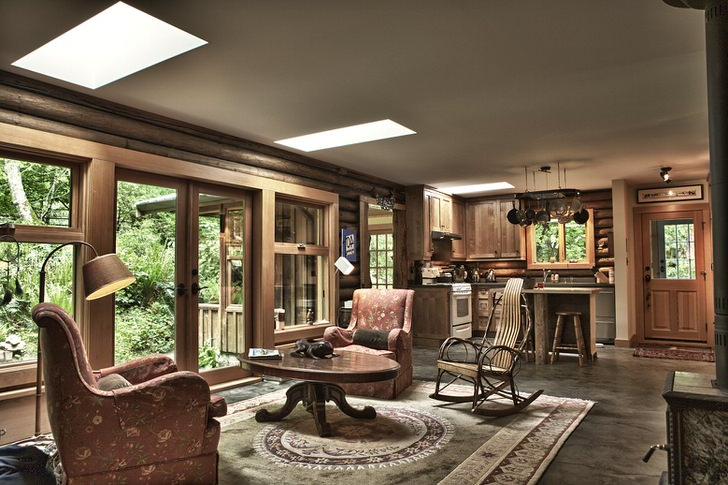 The rustic style can offer many simple and cozy scenes like the one in this room. Two elements stand out, the armchairs, as original as worthy of a vast tradition; and the solid wood coffee table.
5. Natural Wood Furniture In A Beautiful Bedroom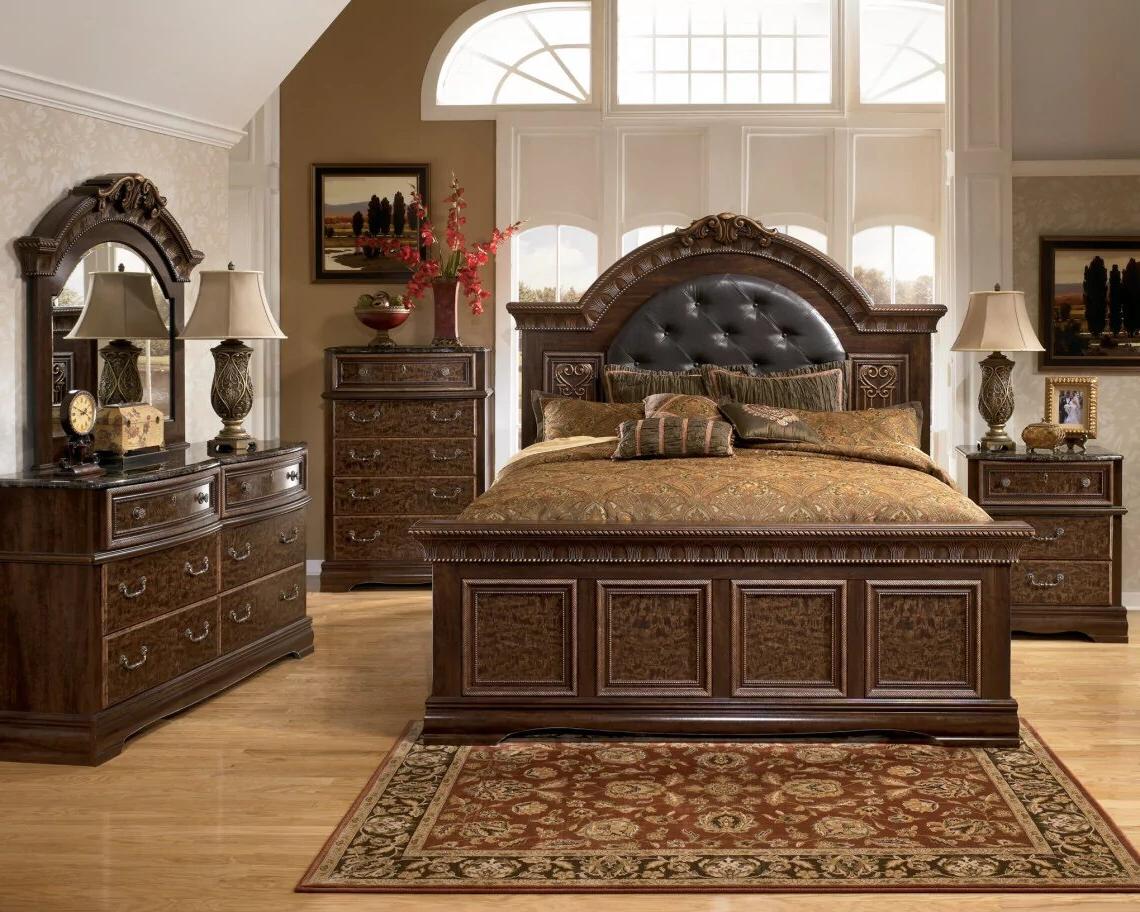 Everything you need to have to say rustic, this room has it. The rustic style is chosen for its warmth. Many times people think that to decorate a room with this style you have to live in the countryside or in the mountains, but it is not true. The rustic design can be recreated anywhere.
You may not have stonewalls and fireplaces, but you can implement wool rugs, cold-colored pillows or natural wood furniture like in this bedroom.
6. Rustic And Inexpensive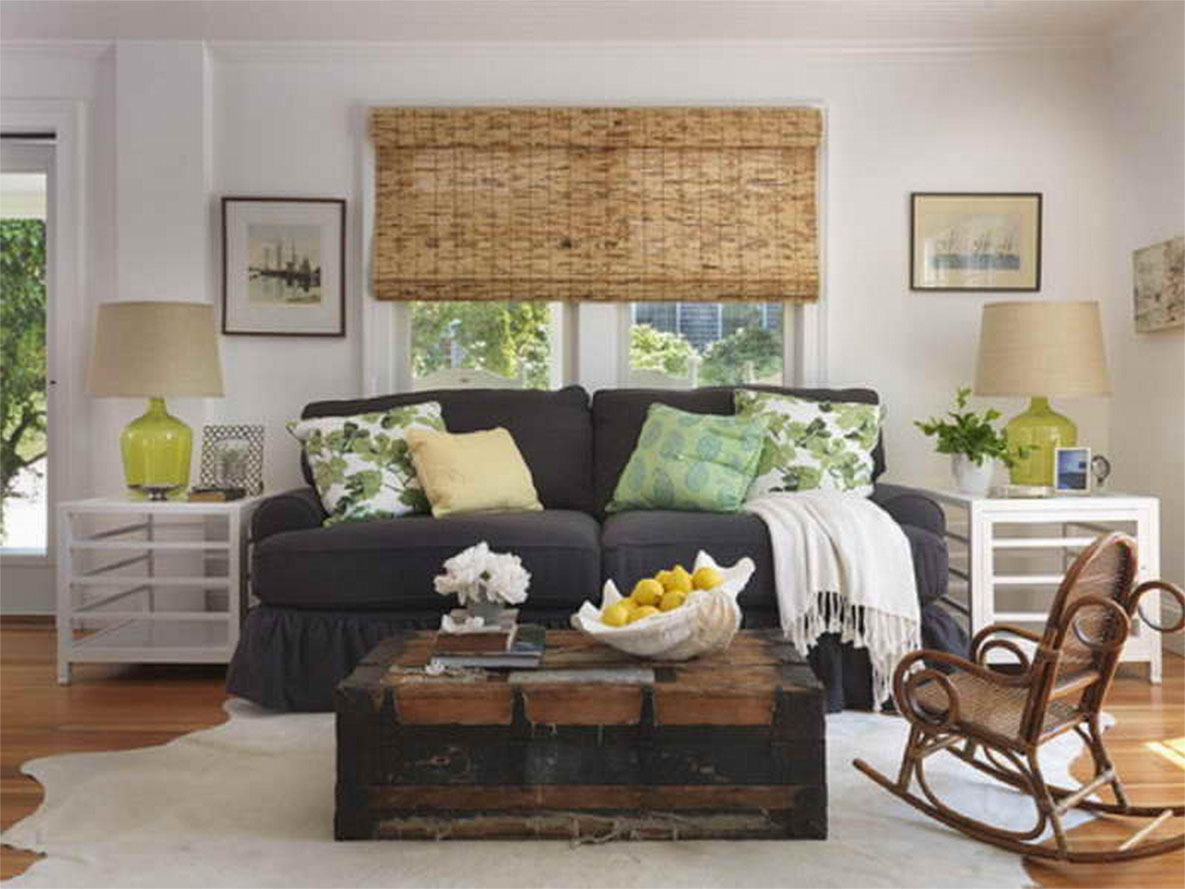 Remember that you can implement color in your rustic room using antique furniture with worn out paintings. It is another way of approaching a style in which, within the breadth of criteria, the taste for the old prevails. Also, the use of leather, like the one on the rug, is a plus.
7. Luxurious Rustic Furniture For A Living Room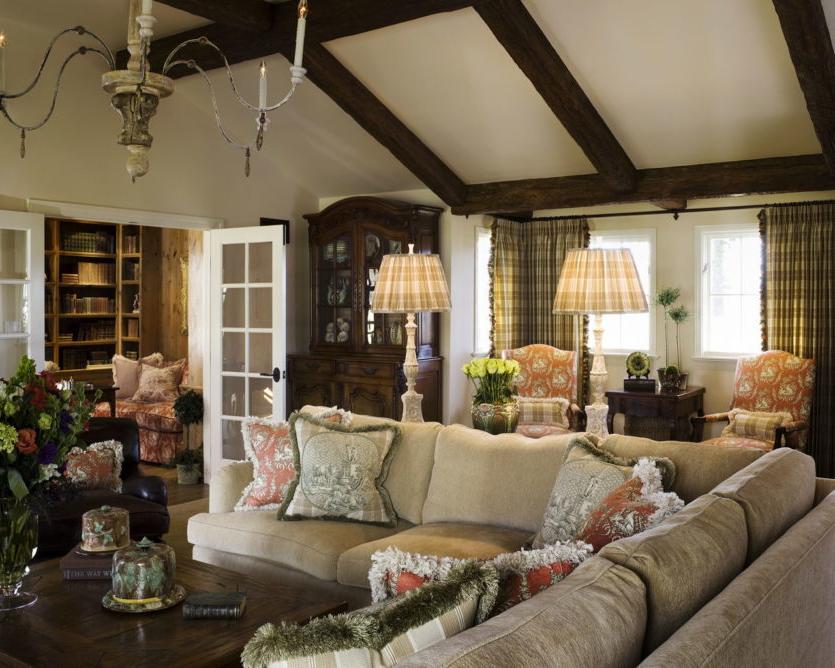 This design stands out with a delicate and cozy rustic style room. In this space each element brings its magic: the wood, the presence of restored old objects, the iron chandelier, and even the decorative objects in the coffee table. This is luxurious living room where anyone would feel comfortable.
8. Antique Rustic Furniture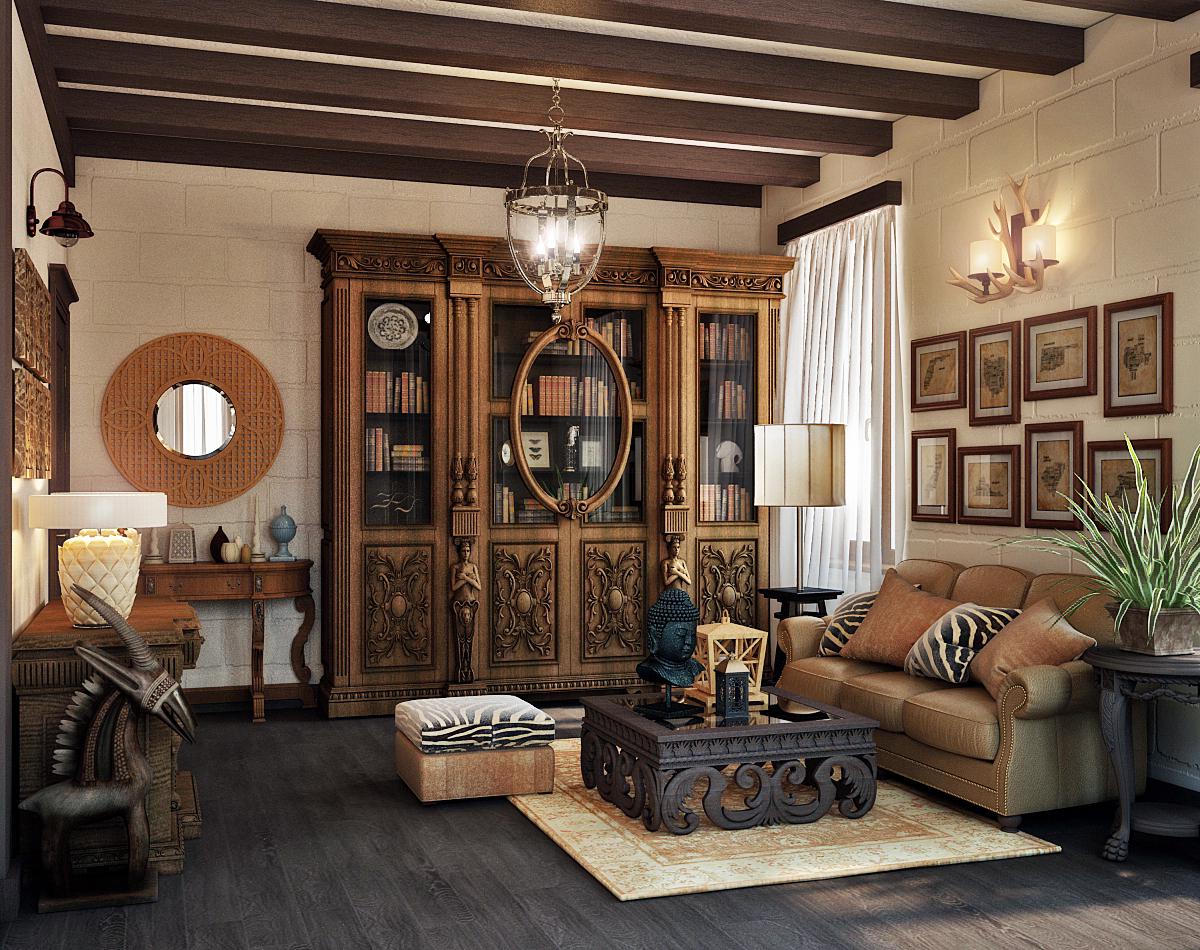 Using antique or vintage elements in the decoration, or on the furniture itself, is always a plus at the time to create a rustic living room. In this room, you can notice how many antique dark Wood elements are used to enhance this room's design, the wooden beams, the dark floor, and even the ways the photos are arranged in the wall complete the look.
9. Rusticity For The Dining Room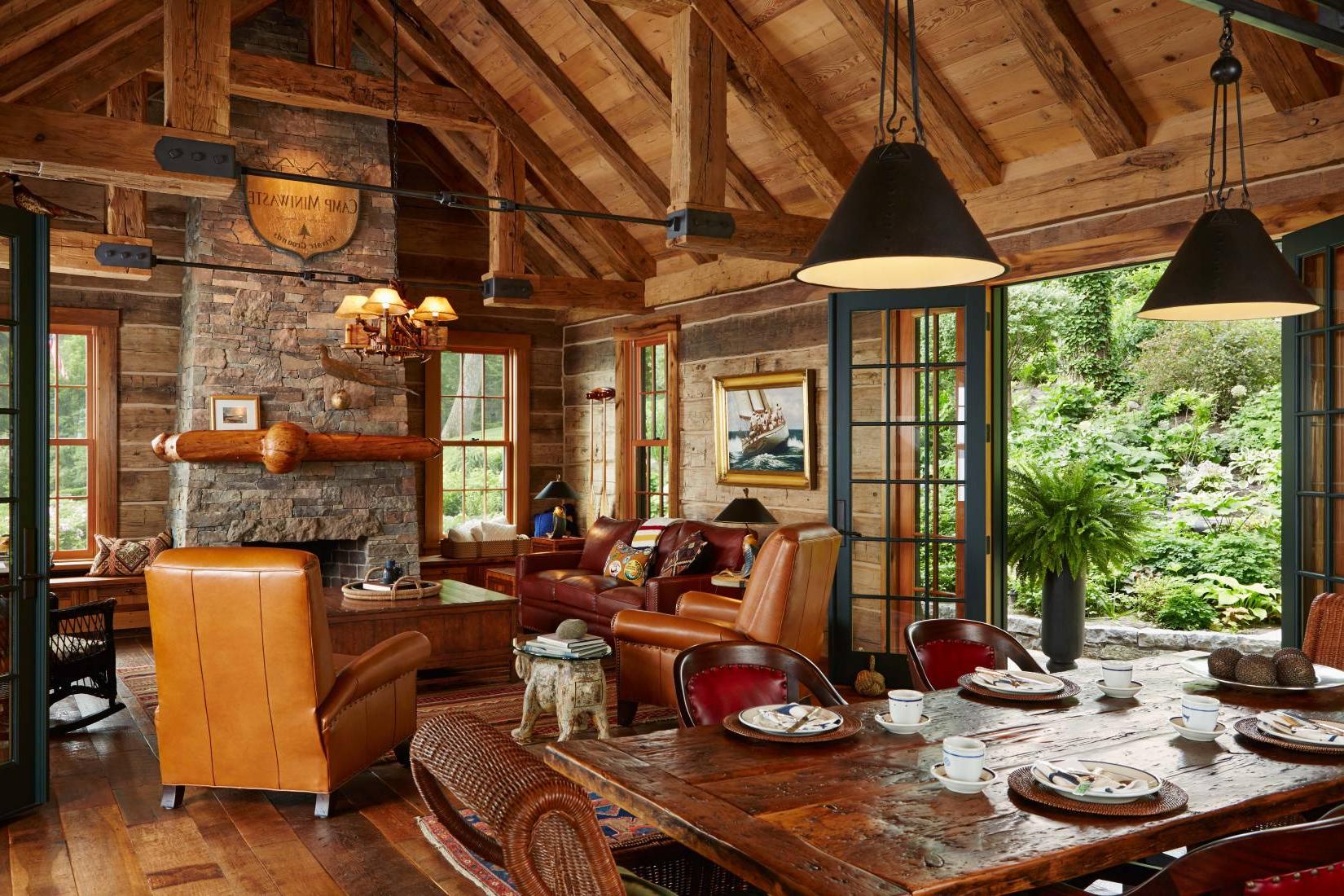 Any room can benefit from the rustic style decoration. In this example, the dining room has a beautiful rustic style that you can notice on the exposed stone fireplace, the natural wood ceiling and beams, the leather living room furniture and the cherry on the ice cream: a one piece wood table that is the center piece on this decoration.
10. Home Office With A Rustic Style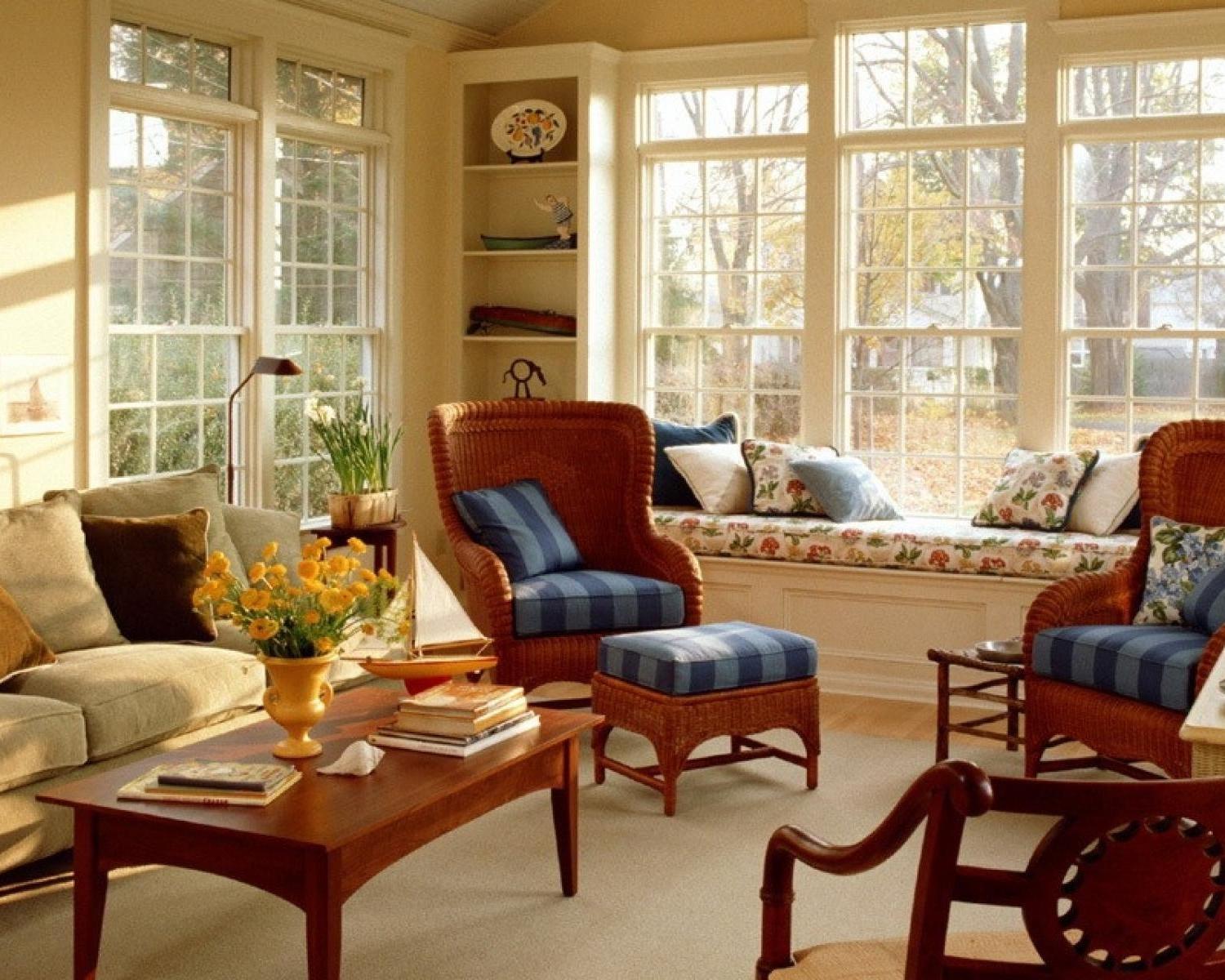 Who says rustic has to be only on homes? Your office can also embrace this style. This home office features rustic yet clean furniture like the armchairs and the coffee table. The combination of cream and brown is always a winner on this style.
11. Living Room Decoration Ideas For Any Type Of Home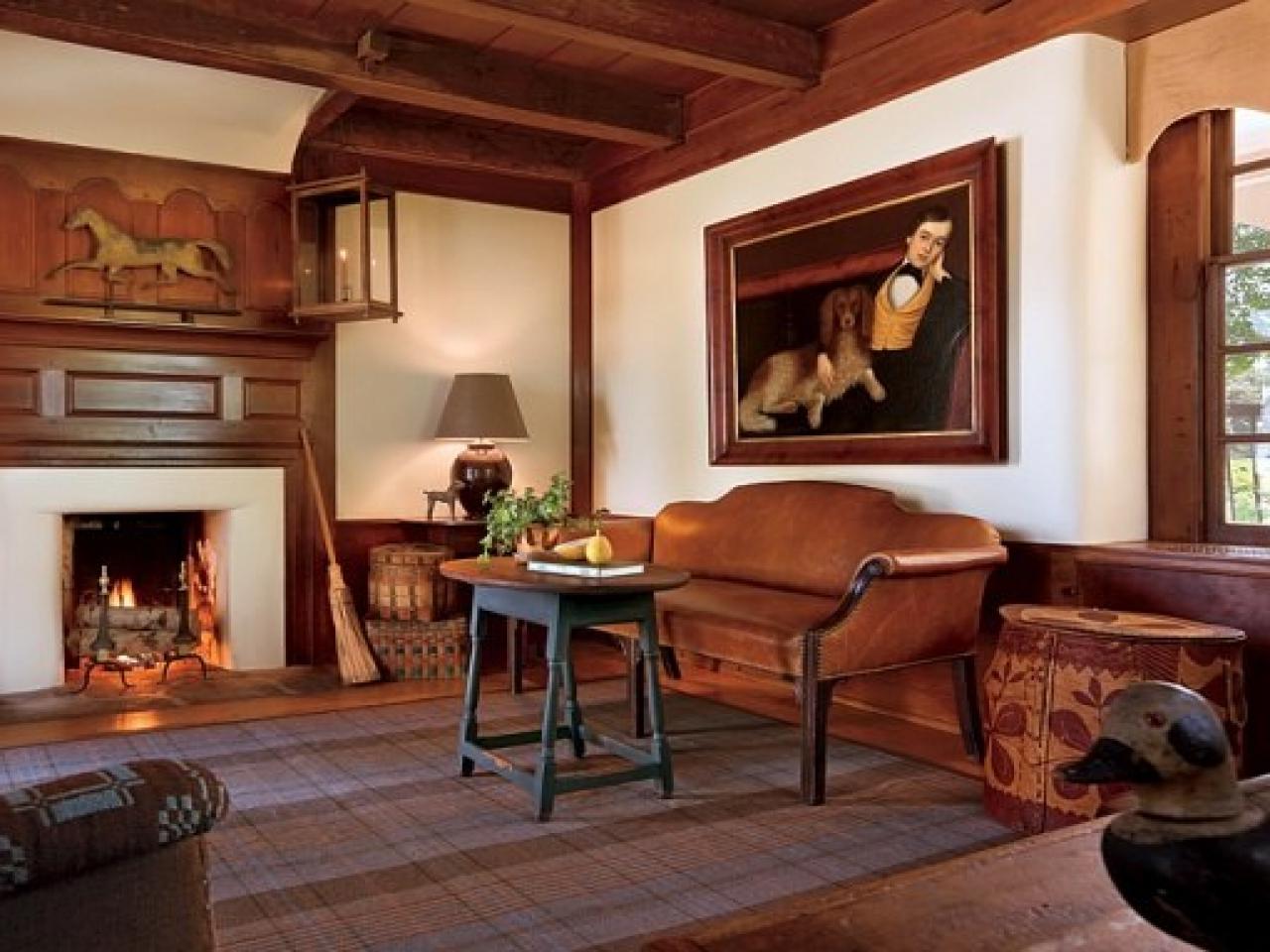 You can see different rustic ideas that you could implement here. You choose the one that best suits you: the wood fire place, the horse sculpture on the top of the fireplace, the leather sofa, the country style high coffee table, the vintage painting, the antique lamp… there are so many ideas in here it could be hard to choose just one.
12. Combination Of Rustic And Modern In One Design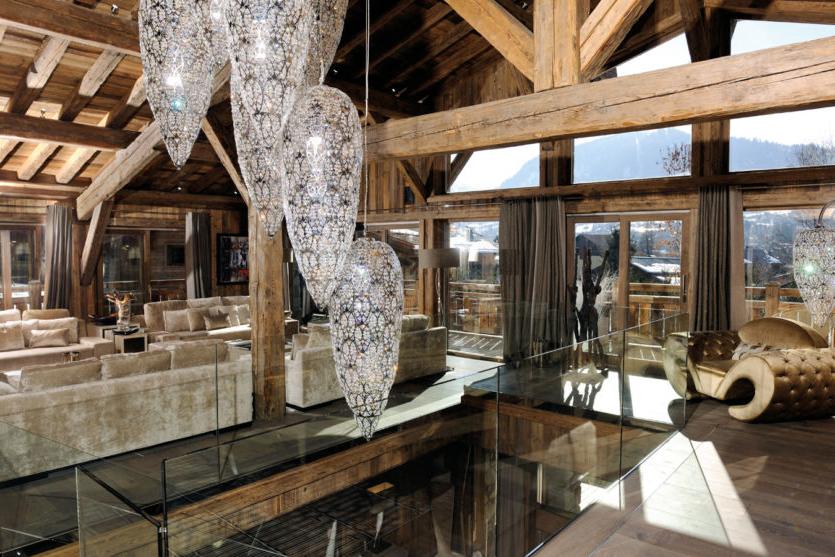 Mixing and matching is another style that is always welcome for those who are a little bit more eclectic. It is the case of this design where you can see how modern glass elements are well combined with the wood rustic style on this living room. It is a perfect example of how 2 styles can perfectly match together.
13. All In One Rustic And Modern Sets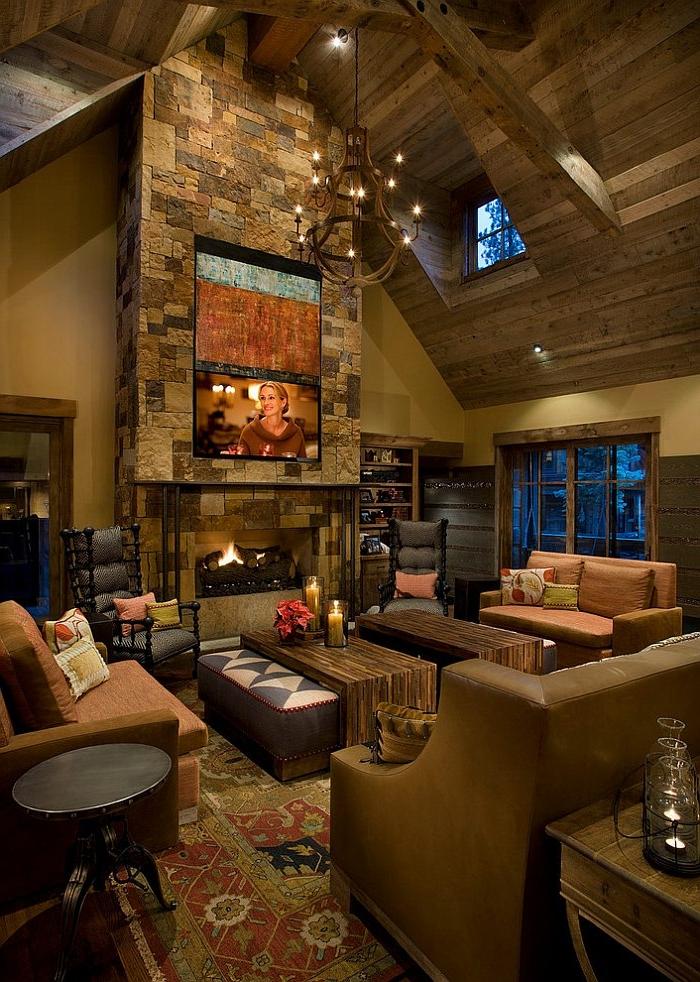 Here you can see another great example of how the vintage antique style from rustic works perfect with the most modern flows. In the top of the vintage rustic fireplace, the owners placed this gigantic TV screen. The clash of two worlds working great together.
14. Modern Living Room With Rustic Touches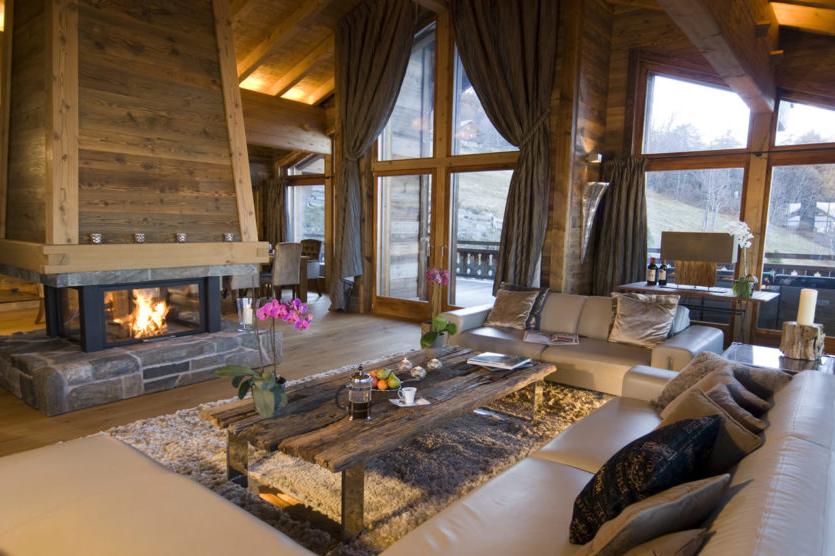 To have the rustic style you do not have to make every single part of your room embrace this decoration. You can combine different elements to create your own style, like in this home where elegant and rustic components are used together to come up with an original design.
15. Modern Rustic Furniture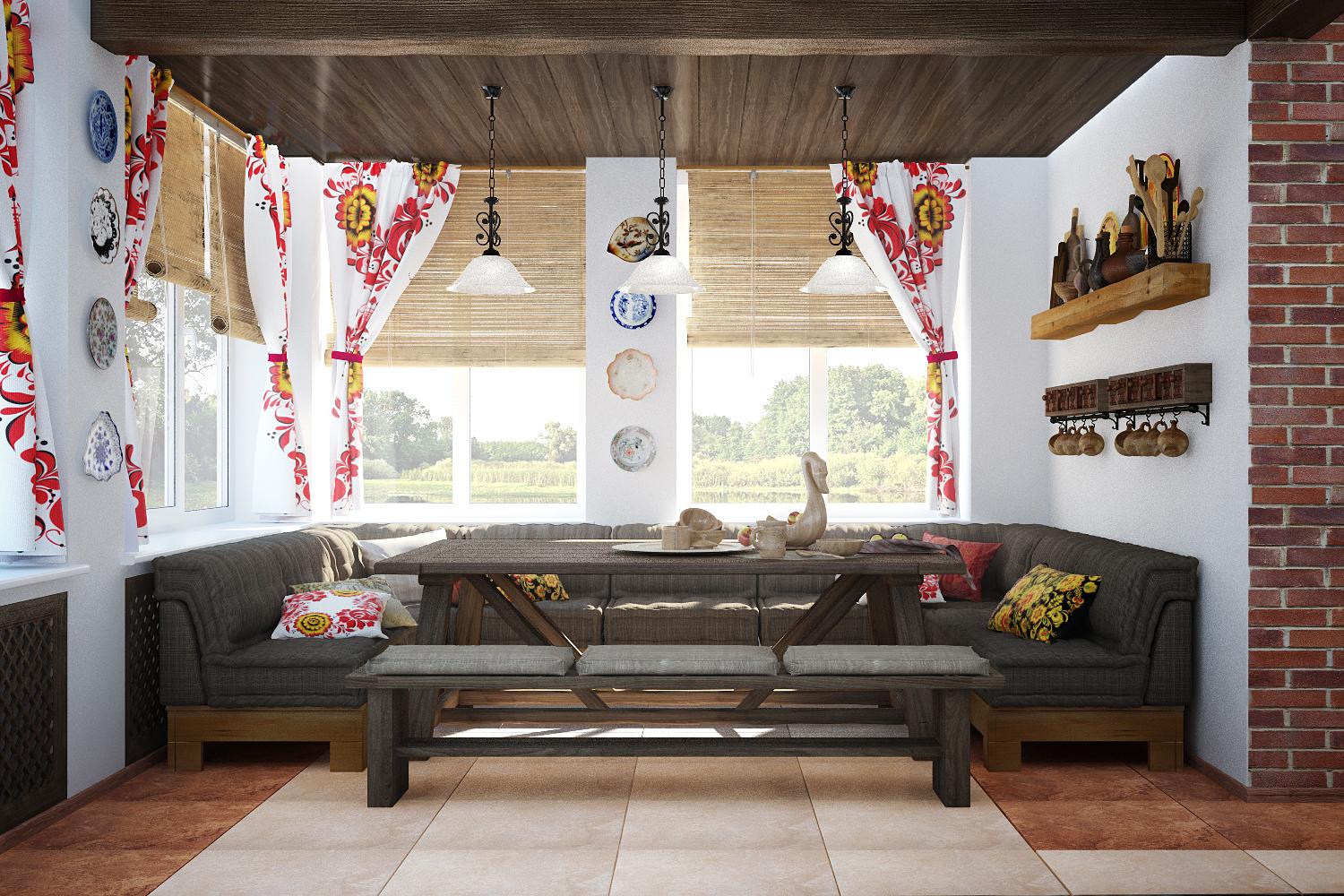 Rustic does not necessarily means old. This is a very modern furniture that has that rustic style given by the dark colors, the rough textures and the patterns on the fabrics. Also, in most rustic designs, wood is a must, and you can also see it here.
16. Rustic Wicker With A Soft Style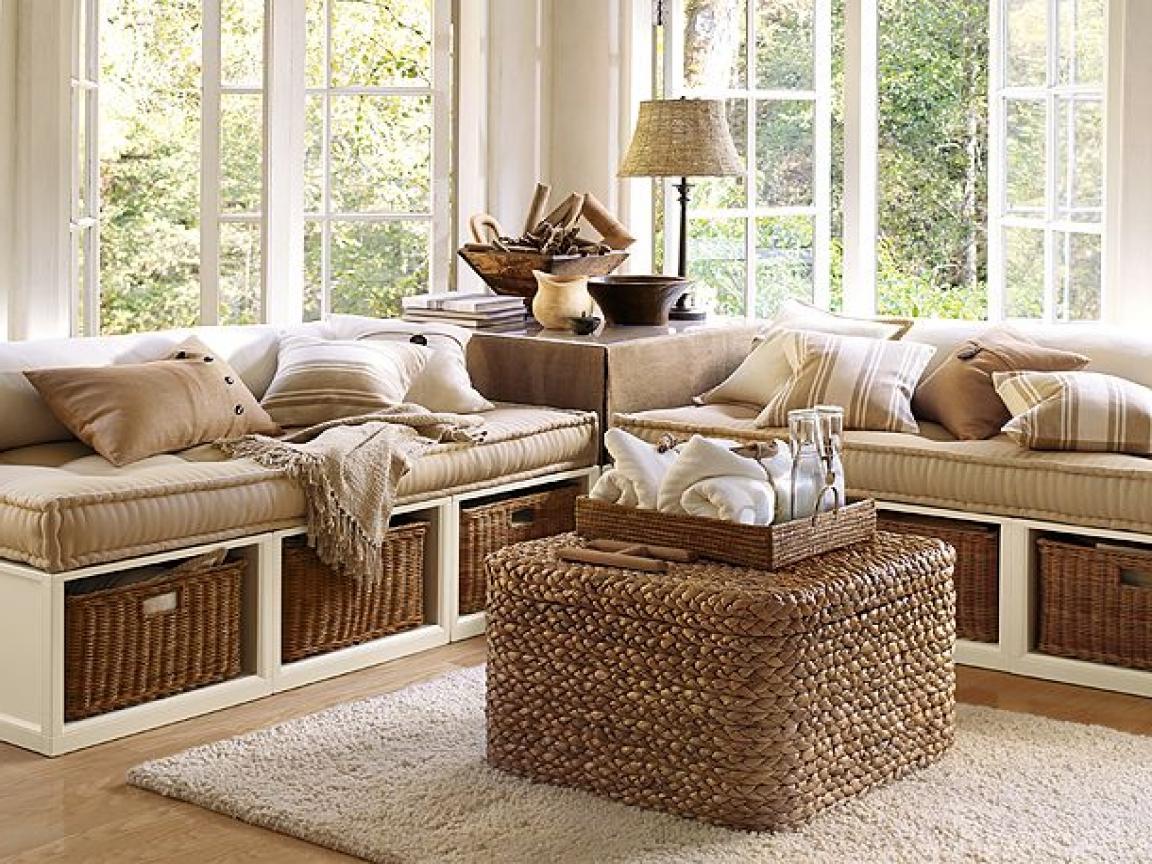 Also, to say rustic is not necessarily to say though. This room has a very soft style, and the rustic comes from the wicker baskets under the couch, as well as in the coffee table, that is conveniently also a storage box. Details like the lamps, and some decoration elements complete the style.
17. Rustic With Clear Colors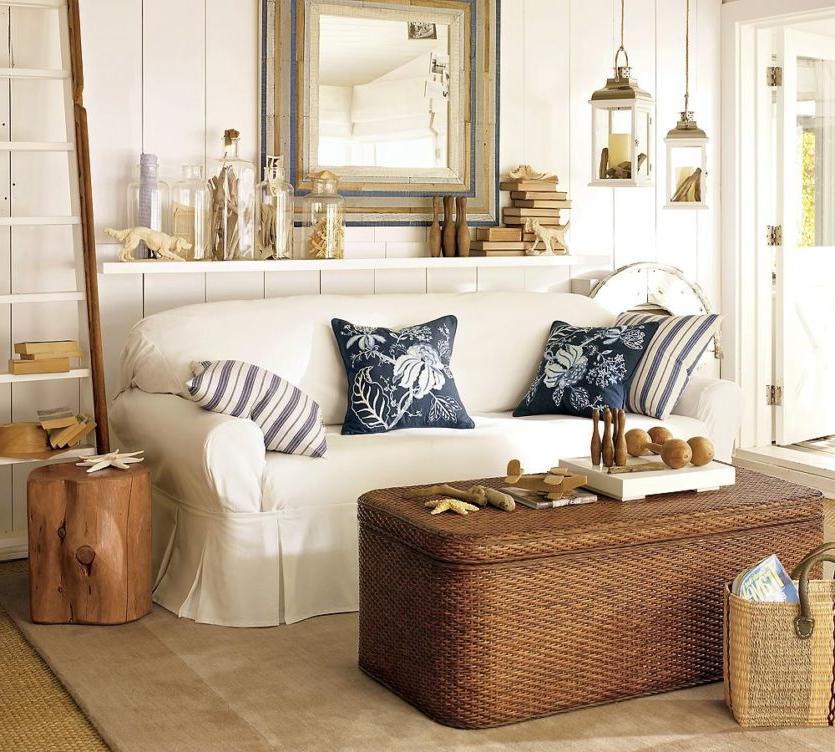 Here is another example on how rustic can be soft and pretty. Using soft colors, like white and cream, and adding rustic elements like the wicker baskets, or even the small wood stomp will do the trick. The exposed wooden walls painted white finish the style that is both rustic and romantic.
18. Rustic Style For A Small Living Room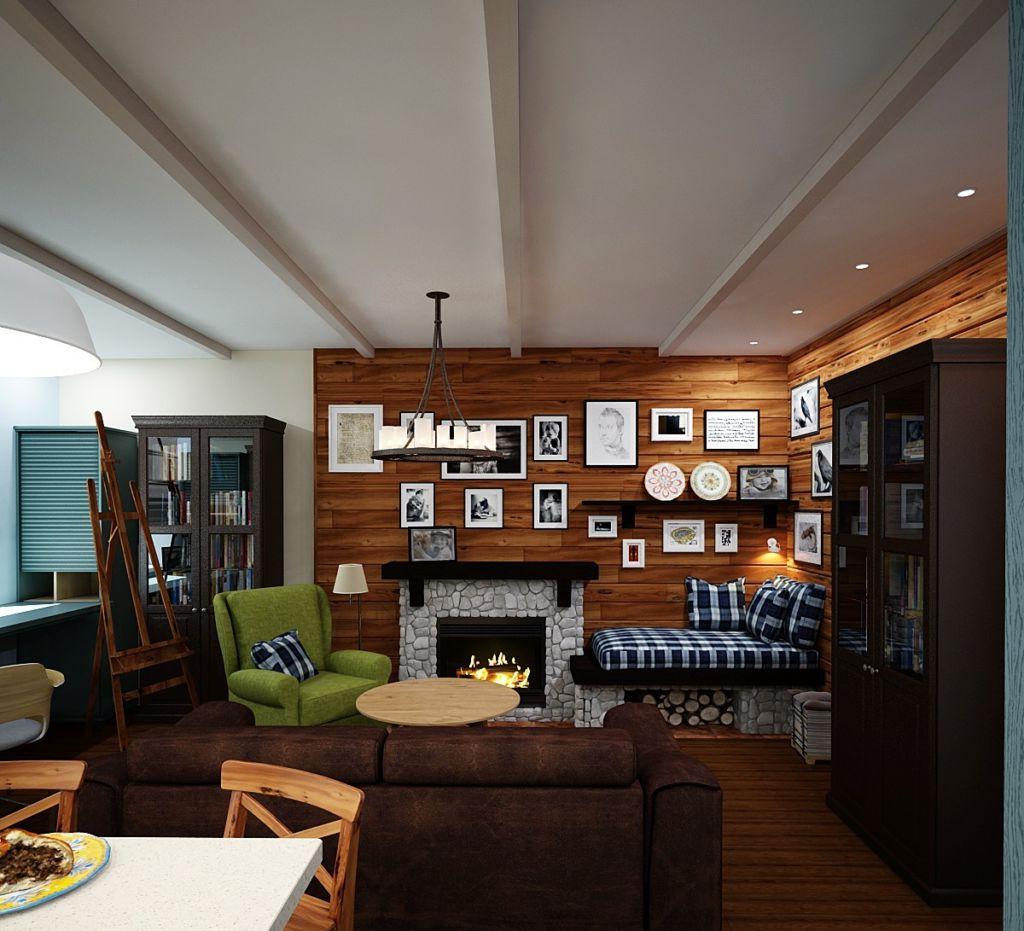 Even though the rustic style is normally use don big country homes, you can also use it in small city apartments or houses. This design features a wooden wall that showcases photographs and paintings in vintage frames, as well as a center chandelier made on iron, and a stone electric fireplace.
19. Large Rustic Living Room With Shelves, And Tables In Stone, Brick And Wood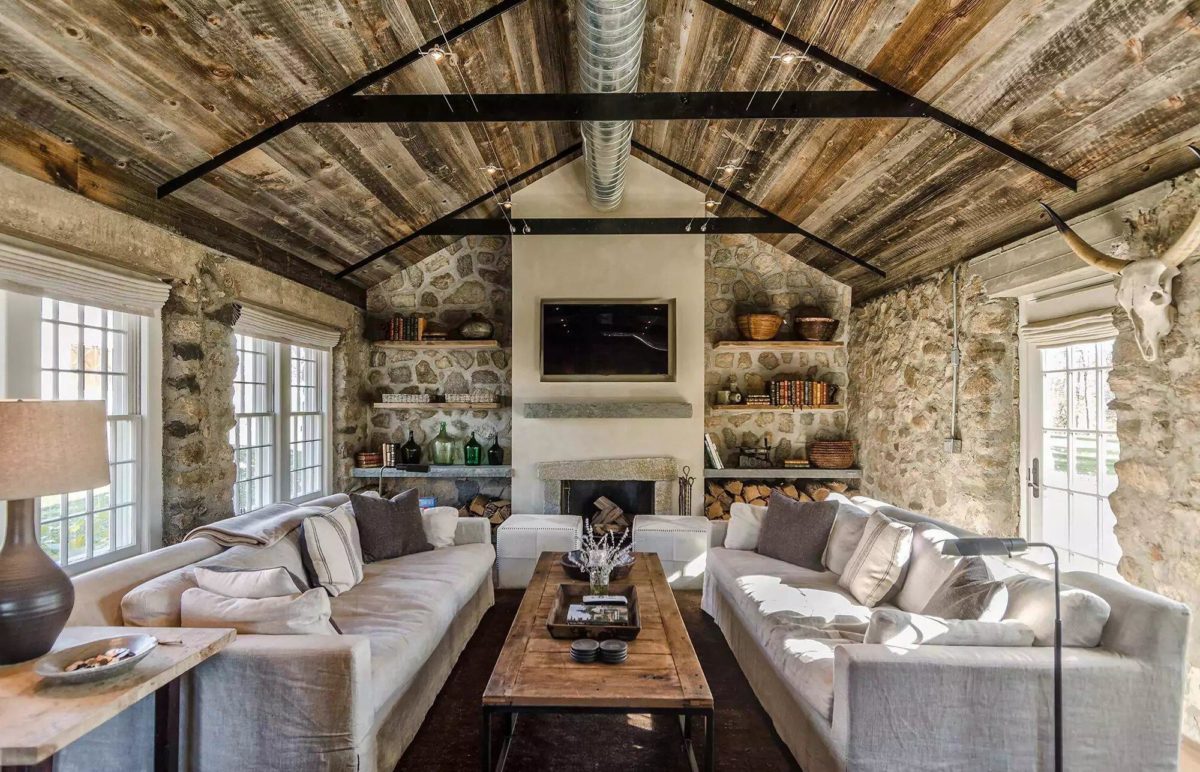 This home living room screams rustic. The country style home features local elements, like the wood on the ceilings or the exposed stone on the walls and columns, or even the animal's head hanging on the Wall. The bookshelves are made within the Wall in wood, and also let people see the marvelous stone that makes the house.
20. Ultra Modern Rustic Living Room Style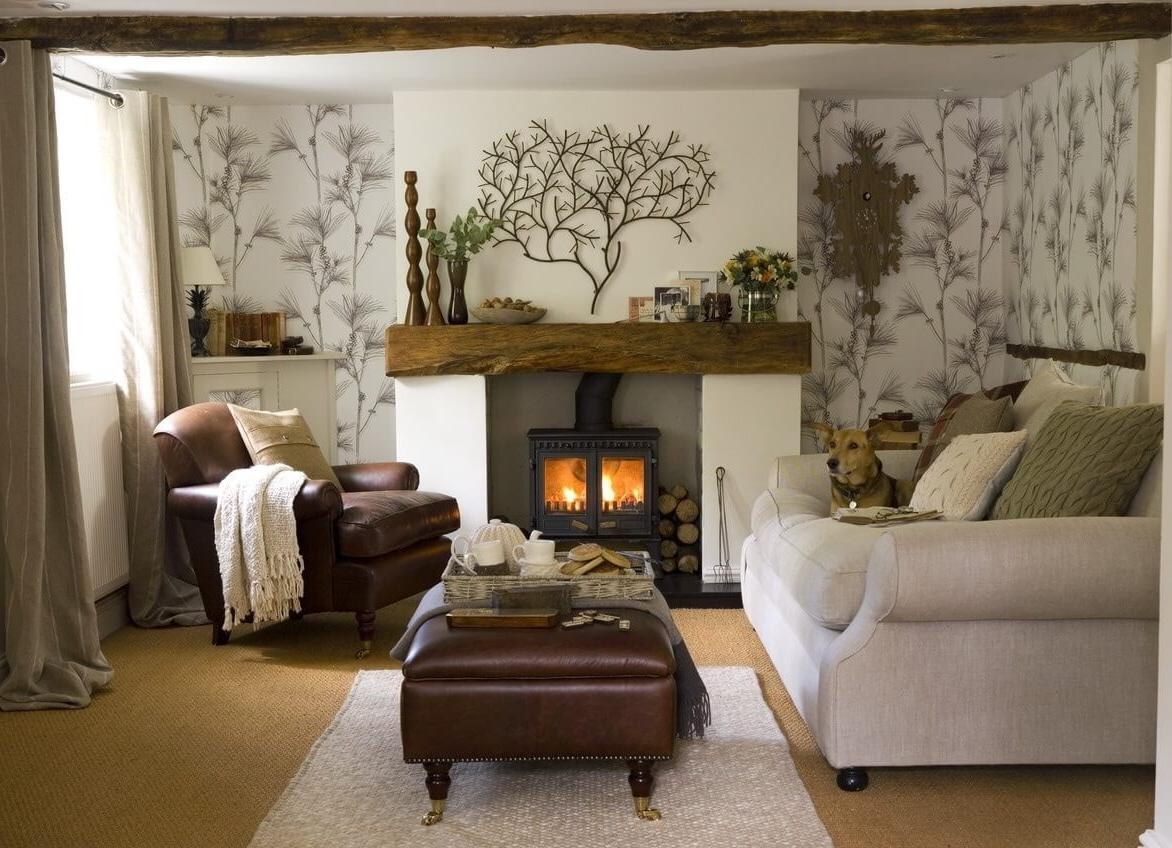 This is an elegant and modern design where the rustic touches are given by the exposed wooden beams, as well as the vintage fireplace and even some small details like the thick leather on the chair and coffee table. A balance between new and old, always looking elegant and classy.
If a warm and cozy space full of vintage-inspired finds and memories of history appeals to you, then rustic decor can be the perfect setting for your home. Follow these design tips and use rich leather, weathered woods and metal parts to give any place a homey feel, as well as these pieces of advice to create a unique rustic look:
Furniture and accents that look old will give your space a pleasant and warm appearance. Combine old furniture with modern-looking pieces, such as stuffed pillows, carpets, and wall sconces to keep the place from looking bad.
Focus on the wood. Shelves, consoles and coffee tables in solid wood are ideal as they are sturdy, but they feel cozy. Pieces made of reclaimed wood will bring an element of antiquity to your home.
Don't be afraid to mix and match the different metals. Copper, steel and iron look good together in a rustic environment. Iron wire baskets, copper jugs and steel bars are useful ways of incorporating metals into your space.
Sofas, armchairs and benches upholstered in buttery leather are practical and comfortable, while large wooden compartments and furniture with leather details exude the rustic appeal.
It's hard to go wrong with a rustic color palette. Generally a rustic environment is influenced by nature and the surrounding building materials; That's what it is about.
Choose a neutral color scheme and mix the suggestions of warm and fresh colors for a cozy and relaxed space that still radiates an indisputable energy.
Think of a traditional approach. A classic rustic color palette is forged in deep brown, gray, black and scripts of navy blue and sage green. Use warm brown tones and hints of paprika together in the same proportions to create a cozy home.
Making a rustic space is possible in any home, do not hesitate and create your own!